Why Arsenal Should Sign Dani Ceballos on a Permanent Transfer
Dani Ceballos is a player well-versed in the highs and lows associated with the elite level of professional football. Born in Utera on 7 August 1996, he joined the Sevilla youth system at the age of 8, spending five years in the academy before being released in 2009 at the age of 13 due to a chronic bronchitis problem.
Ceballos then played for his hometown club Utera before signing for Sevilla's arch rivals Real Betis in 2011 at the age of 15. Ceballos progressed quickly at the Estadio Benito Villamarín, making his debut for Los Verdiblancos at the age of 17 (before he had even turned out for the Betis B team) coming on as a substitute in a 1-0 home loss to Real Sociedad on 26 April 2014.
Betis would end up getting relegated that season, which actually ended up massively benefitting a then 18-year old Ceballos, as he played 33 games in the Segunda as Betis won promotion to La Liga at the first attempt. 
Over the next two seasons, Ceballos played 64 games in La Liga for Betis, a total of 98 first team matches by the time he turned 21. His performances for Betis as well as his performances at the 2017 UEFA U-21 European Championship, in which he won the Player of the Tournament award, led Real Madrid to spend €18 million (£15 million) on the Andalusian starlet.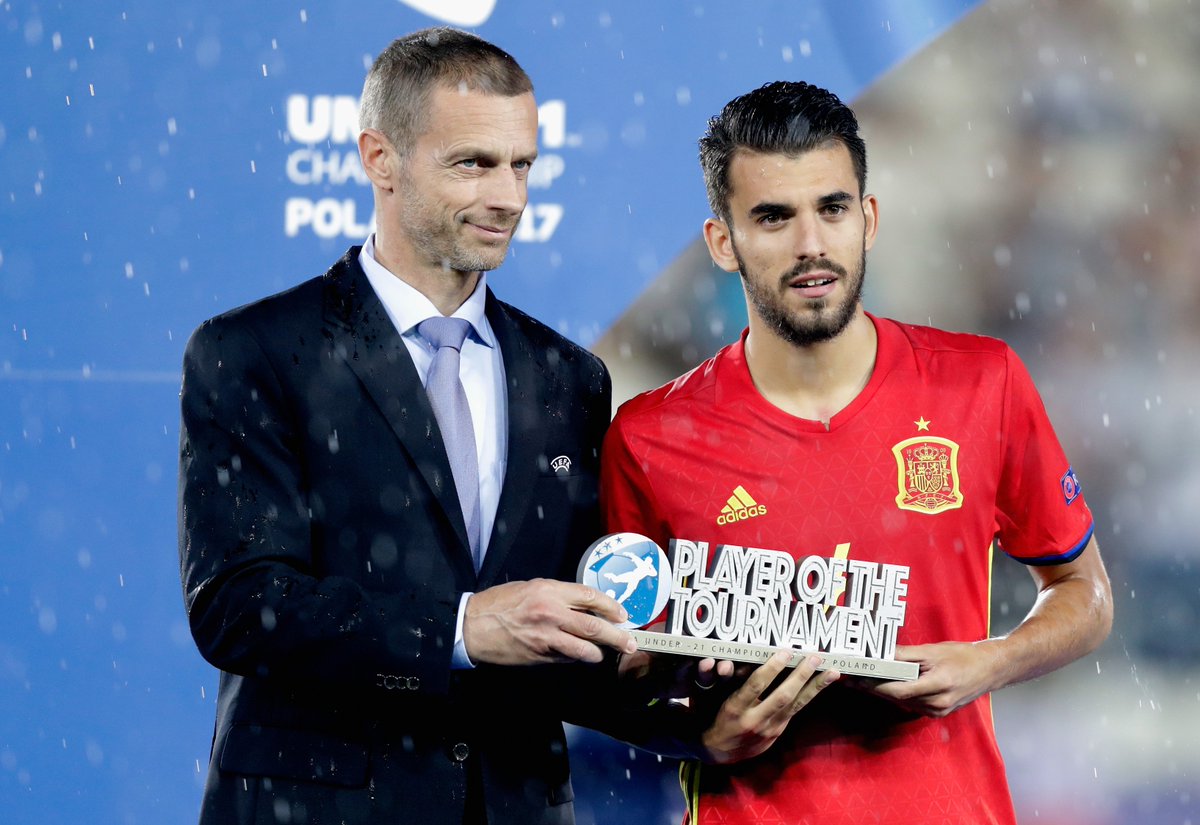 Photo: Getty
Ceballos struggled to make an impact in his first season with Los Blancos, with the Spaniard only playing 404 minutes across 12 appearances. In his second season at the Santiago Bernabéu, Ceballos played 1248 minutes in La Liga (according to FBRef) across 23 appearances, and the Utera native impressed even in his limited minutes.
In what was nothing short of a nightmare season for Real Madrid, Ceballos registered 3.61 Shot-Creating Actions per 90, 1.51 Successful Dribbles per 90 and 6.33 Passes into the Final Third per 90 as well as 1.58 Tackles Won per 90, 6.47 Successful Pressures per 90 and 1.08 Interceptions per 90. 
These all-round performances were not enough to persuade Zinedine Zidane to keep Ceballos for the 2019/20 season though, and the then 22-year-old became the subject of a loan bidding war between the two North London teams, Arsenal and Tottenham. On July 25th 2019, Ceballos signed for Arsenal on an initial season-long loan.
The Emery Effect
Ceballos played 11 times (7 starts) for Arsenal in the Premier League under manager Unai Emery before picking up a muscle injury in an away game against Vitória de Guimarães which he subsequently attributed to playing too many games in a short space of time. In an interview with MARCA, Ceballos said:
"[The injury] was in Guimarães, in Portugal, I think due to an excess of matches. I played 17 games in two months, I was the only player who had played all those games.

At that time I spoke with Unai [Emery] and told him that in all competitions, as long as I could and my body allowed it, I wanted to play it all. Sometimes you have to learn from mistakes. It cost me an injury, but you learn from everything."
Ceballos flattered to deceive in the majority of his 11 league appearances under Emery with one rather big exception, a 2-1 victory against Burnley in August. Let's take a look at some of the moments that got Arsenal fans so excited about the Spaniard.
In this situation Arsenal are counter-attacking and have a 4-on-4 situation with a late runner (Mattéo Guendouzi) providing support from deep. Ceballos moves from the centre of the pitch towards the left half-space which draws Ben Mee out of position for Burnley.
With Ceballos drawing Mee out of position, Pierre-Emerick Aubameyang runs into the space the Burnley captain has left behind which draws Erik Pieters in field. Guendouzi sees this and makes a run towards the space vacated by the Burnley left back. Ceballos spots this and plays a ball into Guendouzi's path.
This creates a relatively unopposed goalscoring opportunity for Guendouzi at the edge of the area, forcing Burnley goalkeeper Nick Pope into a save in the process.
Only a few minutes later, Ceballos finds himself in the left half-space with Joe Willock in possession deeper. Willock looks up and plays the ball to Ceballos, who looks over his shoulder as the ball is coming to see that Nacho Monreal is on his outside with the Burnley right back being drawn to Ceballos. 
Ceballos wastes no time getting to the ball to the now free Monreal and flicks the ball around Phil Bardsley first time with the outside of his right foot.
This allows Monreal to push up the left wing. But Ceballosdoes not stop there, as the Spaniard finds a pocket of space at the edge of the area to support Monreal who is being closed down.
Monreal plays the ball back towards Ceballos who hits a first time pass between two Burnley defenders to the onrushing Monreal.
Monreal gets in behind the Burnley defence and creates a goal for Reiss Nelson which was subsequently ruled out for offside on Monreal.
Later on in the game, Ceballos showed his intense hard-working attitude when he closed down Burnley's Jóhann Berg Guðmundsson to allow Aubameyang to score the winner. (Note Ceballos wheeling away celebrating like a madman).
Post-Emery Growing Period
Unfortunately for Ceballos, the injury he picked up against Vitória ruled him out until the 4-0 home win against Newcastle on the 16th February 2020.
Since then, Ceballos has established himself as one of Mikel Arteta's most trusted players making 13 league appearances (11 starts) after the Arsenal manager praised Ceballos for having "trained like an animal." In fact, during the Premier League restart, Ceballos topped Arsenal's metrics in pretty much every aspect.
Photo: Sky Sports
If we compare Ceballos to his Arsenal counterparts, we can see how the Spaniard has excelled this season. Statistically speaking, Ceballos blows Uruguayan international Lucas Torreira out of the water, with the Spaniard placing above the 75th percentile in 4 of the 11 metrics listed. 
If we compare Ceballos to the now-ostracised Guendouzi, we can see that Ceballos can perfectly replace the skillset lost if Guendouzi were to leave as expected.
When comparing Granit Xhaka to Ceballos, we can see that the two players complement each other well and somewhat make up for each other's shortcomings as has also been evidenced in their usage as a pivot in Arsenal's 3-4-3 formation that Arteta has utilised in the last few months of the season.
When we look at how Ceballos compares to other midfielders in the Premier League, we can see where the Spaniard has stood out this season.
Ceballos is crucial to Arsenal's creativity from midfield, as he is their only player to be above average in the league for both Shot-Creating Actions per 90 above Team Average and Passes into the Final Third per 90 above Team Average.
Ceballos also profiles well when we look at his Dribbling and Ball-Carrying attributes. Ceballos and the ostracised Guendouzi are the only Arsenal midfielders who are Team Average for both Progressive Carry Distance per 90 and Successful Dribbles per 90.
They are in good company in this regard, with Tottenham's Giovani Lo Celso and Chelsea's Mateo Kovačić not too far away. So has Ceballos helped Arsenal succeed this season?
Importance in the FA Cup Final
Ceballos was central to Arsenal's FA Cup success. Not only did his last-minute goal away to Sheffield United secure Arsenal's semi-final spot, but his performances in the Semi-Final and Final were instrumental in Arsenal's unlikely cup win.
From this we can see that Ceballos had an all-action performance in Arsenal's midfield. The Spaniard covered almost the entire pitch with his touches and was central in Arsenal's ploy to draw Chelsea into a high press by playing out from the back. Ceballos favoured the right hand side of the pitch as his midfield partner Xhaka did the same on the left hand-side.
Arsenal's midfield pivot stuck close together throughout the game and did not drift too far forward, instead allowing Arsenal's wing-backs (Héctor Bellerín and Ainsley Maitland-Niles) to support the Arsenal forwards throughout the game.
As we can see from the left-hand side, Ceballos and Xhaka played almost right beside each other which helped Arsenal provide security to their defence as well as helping to contain Chelsea's threat from midfield with Kovačić and Jorginho posing very little threat after the first 10 minutes of the game.
We can also see that Ceballos and Xhaka sitting deep allowed Kieran Tierney and Maitland-Niles to advance up the left-wing causing an overload on Chelsea's right hand-side, with both Arsenal goals coming from the area between Chelsea's right wing-back and right centre-back.
Conclusion
If reports are to be believed, Real Madrid may be willing to sell Ceballos for £23 million this summer and Arteta has already expressed his desire to keep him at the Emirates next season. With the financial implications of the COVID-19 pandemic and its effect on player recruitment, what better player could Arsenal sign for their midfield?
Ceballos is only 24, is now proven in the Premier League and has shown an ability to perform brilliantly under the tutelage of Arteta with whom he seems to have struck a great relationship. If he is available for the price that has been suggested, then Arsenal may have found the midfield presence they have missed since Santi Cazorla in the man from Utera.
By @DomC0801
Featured Image: @GabFoligno