Aleksandr Mitrović: The Old-School, Bull-Dozing, Stern-Faced Slab of Serbian Bulk
What you see is very much what you get with Aleksandar Mitrović. A stern-faced slab of Serbian bulk. Piercing, black eyes. Thick, burly biceps, scrawled with tattoos. A buzzcut that screams tough. You don't have to be a football expert to see that Fulham's newest Number Nine hasn't come back to the Premier League to mess about.
His granite demeanour has quickly become one to be feared. The embodiment of Slavic grit and passion, he's so far carried the newly-promoted side's goalscoring responsibilities on his broad, powerful shoulders, with an impressive five goals in six. The Cottager's attacking lynchpin. A force to be reckoned with. A powerhouse. He leads the line with the aura of a veteran target-man who's been doing it for years.
Except, he hasn't been, really. Aleksandar Mitrović, astonishingly, is just 24 years of age. It feels like the Serb has been around for years, when, in fact, he's younger than the likes of Ross Barkley, Alex Oxlade-Chamberlain, Wilfried Zaha and Nathan Redmond – all players who are still performing, with varying degrees of success, with that heavy burden of being labelled as a player with that sacred quality. Potential.  
Yet Mitrović, be it due to mere oversight, his "old-school", rather unfashionable bull-dozing style of play, or maybe even more simply, the fact that he's not English, seems to have escaped such scrutiny. No over-excited pundits predicting "big things". No YouTube videos, saturated with special effects and overbearing drum and bass, glorifying his every touch. Not even any sensationalistic stories of mega-money transfers to Europe's biggest clubs.
No, none of that showbiz. Remarkably, it cost Fulham a quite modest £23 million to prize the 90-kilo beast away from Newcastle United. That, for an international starter, already accustomed to the Premier League, and with, dare I say it, the potential to improve exponentially in the ten years of football that lie ahead of him. A steal, if I've ever seen one.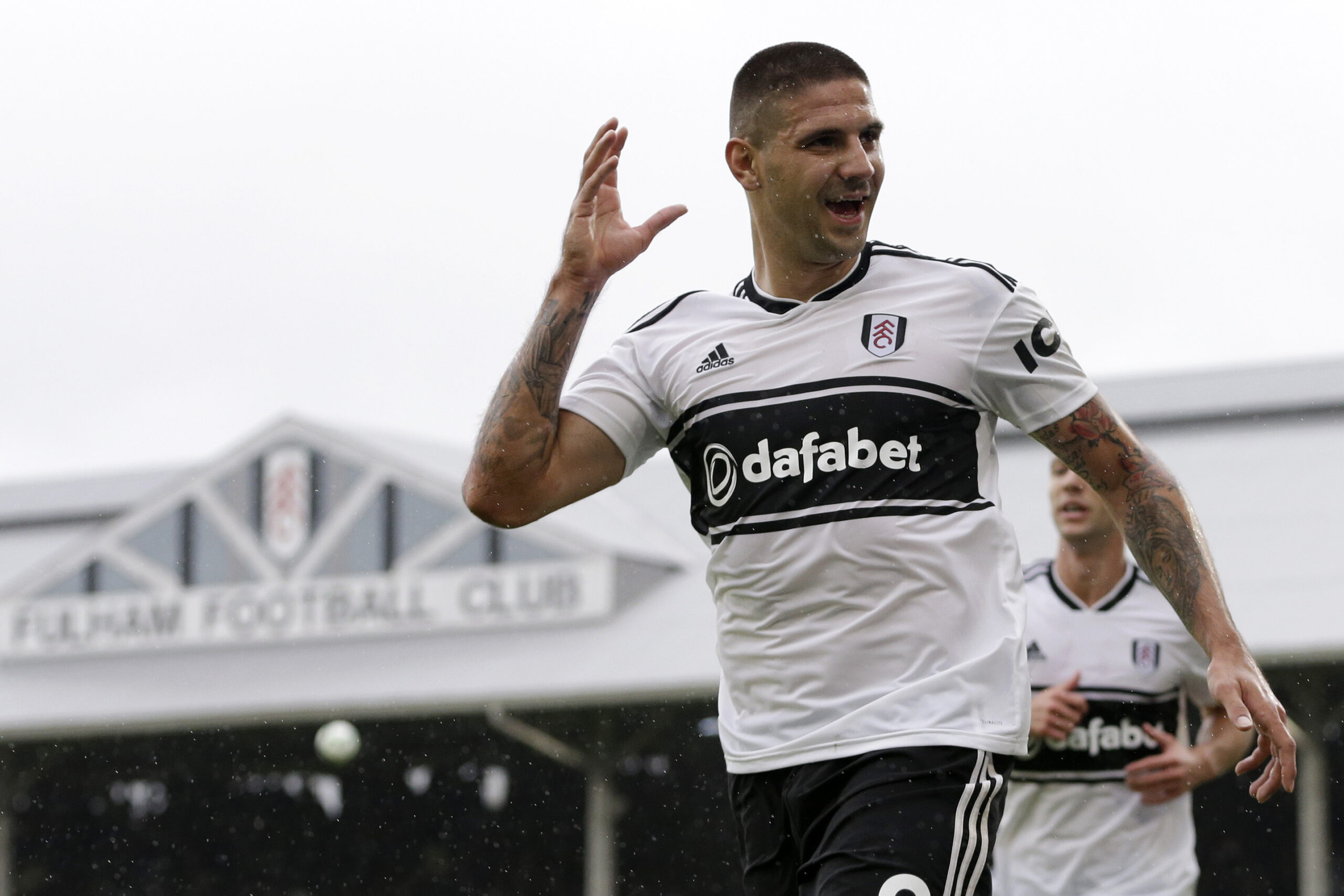 Photo: Henry Browne/Getty Images
And indeed, while, of course, it's early days, there already look to be signs of improvements being made to his game. As well as a rampaging start to this campaign, Mitrović bagged 12 goals in the latter half of the last, as Fulham charged to promotion success. An attacking focal point, the Serb's physicality and aerial presence has added a completely new dimension to an already exciting attacking unit – a dimension which many defenders seem to struggle to deal with.
It could be argued that the evolution of the typical modern striker into something that Mitrović quite simply is not, has given the Serb an edge. He's not particularly fast, agile, skillful and flashy – not like your Lacazettes, your Agüeros, your Firminos – the type of striker that modern-day defenders train hard to deal with. He's just a wrestler, a battler, an almighty, colossal handful. Many centre-backs simply aren't used to such physical tests anymore.
No, Mitrović isn't the only traditional target man going toe-to-toe with Premier League defenders, as Troy Deeney and Glenn Murray would argue, but his combination of raw strength, along with an insatiable appetite for goals and an instinctive understanding of attacking positioning, means he is one of, if not the, most effective.
Although not quite the last of a dying breed, Mitrović's bullish style of play seems to be slowly disappearing – from the upper echelons of our game, at least. Flicks and tricks, fancy hairstyles and elaborately rehearsed celebrations get the masses talking nowadays. Apart from that time when he got slide tackled by a Newcastle fan after scoring a dramatic equaliser against local rivals Sunderland, Mitrović hasn't really supplied any of that.
What he does supply though, is an abundance of under-appreciated, and sometimes overlooked, attacking play of the highest quality. No, he's not flicking the ball through people's legs and sending the crowd into raptures. Instead, he's holding the ball up to bring others into play, hustling and harrying defenders – getting under their skin – challenging for headers, chasing lost causes, tussling, fighting, wrestling. And, not to mention, getting on the end of those crosses, those through balls. Putting the ball into the back of net.
Of course, it's easy to jump on the bandwagon when a player starts the season as well as he has, but Mitrović has already shown us that he's capable in the past. It's rare to find such a young-yet-experienced, budding player with such a traditional, old-fashioned way of playing. Rarer still, to find one doing it so successfully at the highest level.
A large part of his early success at Fulham is indeed to do with his new team. His manager, fellow Serbian, Slaviša Jokanović, has worked hard to construct his newly-promoted side to supply his striker with the type of chances that he loves. Mitrović himself has expressed his joy at the number of opportunities being put on a plate for him at Fulham, praising his teammates for the number of crosses they're swinging in for him.
"I'm always in the box, around the box and close to the goal where I feel comfortable. I'm really enjoying my time here", he told the media after snatching a late equaliser against Watford last weekend.
A happy worker is a productive worker, so they say – and there aren't many more productive workers than Mitrović when he's at his best. The Serb's lighting start to the season, I would suggest, is just the start. I've said it before, but I really would like to stress the fact that this striker, so authoritative, experienced, reliable – is just 24 years old.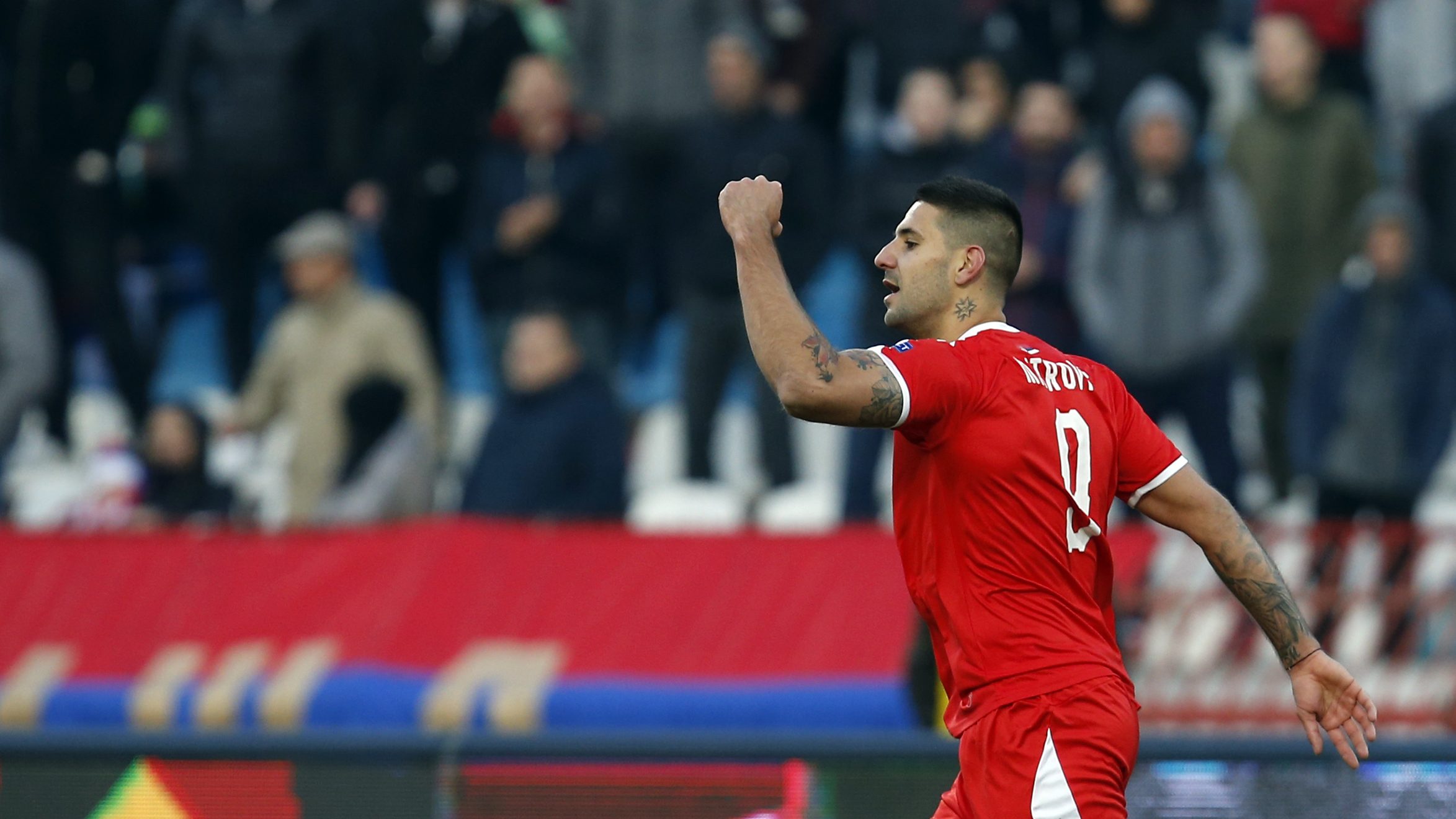 Photo: Associated Press
He's already scored 19 times for Serbia – the all-time record for his national side is 38. Bar a catastrophe, we're talking about Serbia's record ever goal-scorer here, and possibly even appearance-maker. That's no mean feat. He's got time to improve, time to get better – and I can only really see that he will.
If there is one thing holding him back though, it would be his discipline. The striker does have a history, especially during his stint with Newcastle, of letting his passion get the better of him. Still, there aren't many better people to coach that out of him than his ice-cool manager, Jokanović, who you certainly won't see swinging his shirt above his head in wild celebration any time soon. Something tells me you might find Mitrović doing that at some point this season, though.
That insatiable zest and hunger doesn't always translate to success, but it's certainly a key factor when it does. His recent triumphs have thrust the spotlight onto the young man for the first time in his career, really. Maybe now, people will begin to appreciate him for the spirited, resilient, exciting player that he is.
Oh, and potential. Whisper it quietly, but I think he actually has quite a bit of that too.
By: Thom Harris
Featured Image: @GabFoligno / Srdjan Stevanovic / Getty Images