Moise Kean's Renaissance in Paris
For one so young at 21 years old, Moise Kean has had quite an eventful and stuttering start to his professional career. Having already featured for four different clubs in the last five years, Kean is finally playing some of his best football at Paris Saint-Germain. His pace, offensive movement and great technical ability have allowed him to flourish at PSG. The Italian international has all the attributes needed to succeed at the highest level. His versatility across the front three forward positions has now enabled him to develop a dynamic trio with Kylian Mbappé and Neymar.
Kean has transformed himself in his current loan spell at France following a hugely turbulent season at Everton the year before. Free from the shackles of Merseyside for the time being, the 21-year-old has found the net 17 times in his most prolific campaign to date which includes three goals in the Champions League so far in six appearances – which have highly contributed to the Les Rouge et Bleus' season so far.
A year on from being an unused substitute in Everton's 3-1 win at home to Crystal Palace, Kean lit up the Camp Nou with a headed goal to all but seal PSG's 3rd goal on the night in an emphatic 4-1 first-leg win over Barcelona in the UEFA Champions League Round of 16. In Neymar's absence that night, Mauricio Pochettino trusted his number 18 to step up to the plate as he positioned Kean as a left-winger that night – a trust that evidently paid off. 
Kean's professional career began at Juventus in the 2015/16 campaign, aged 16, he became Juventus's youngest ever debutant in their 3-0 win over Pescara and scored his ever first goal for the Old Lady aged 17 – the game-winner at Bologna in a 2-1 win.
Massimiliano Allegri allowed Kean to gain first-team football at Hellas Verona in a loan deal the following season. With only four league goals and managing to find the net against the likes of Fiorentina and A.C Milan. An abductor injury sustained in March 2018, unfortunately, ruled Kean out for the season. The youngster returned to Turin for the 2018/19 season in hopes of a starring role in the side.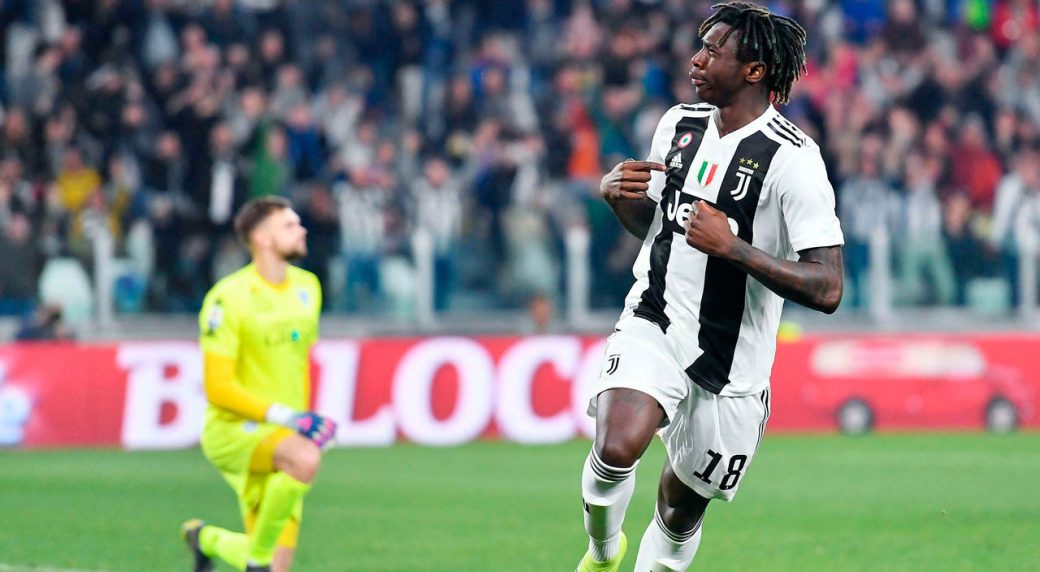 Photo: Alessandro Di Marco/AP
That summer saw Juventus spend big, as new boss Maurizio Sarri prized Cristiano Ronaldo from Real Madrid in a £105 million deal that would see Kean tumble down the pecking order. Having only featured for two minutes in the league, Kean was given the nod by Sarri to start against Udinese on March 8, 2019 – the youngster would go on to score twice in a Juventus 4-1 home win.  
Having blanked against Genoa in his next game, the 19-year-old fired four goals in four consecutive games to end the league campaign with six league goals and a league title under his belt. Amongst those six goals scored in the league, however, there was one goal the footballing world took alarming notice of. In Kean's second start for Juventus, he was subject to racial abuse and boos at the Sardegna Arena from a section of the Cagliari home faithful. 
Kean's response? Score the goal to win the game. Kean's celebration saw him put his arms aloft with a darted stare to the Cagliari supporters. That night saw Kean post a picture on his Instagram of his goal celebration with the caption: "The best way to respond to racism."
Leonardo Bonucci's comments after the game on Kean's celebration were subject to heavy criticism. "Kean knows that when he scores a goal, he has to focus on celebrating with his team-mates. He knows he could have done something different too. I think the blame is 50-50 because Moise should not have done that and the fans should not have reacted that way" he told Sky Italia.
Top players from around the world such as Raheem Sterling, Mario Balotelli and Memphis Depay responded to Bonucci's statement with huge disappointment, and in the coming days, Bonucci backtracked on his statement.
A move to Everton in a £25 million deal saw Kean arrive in Merseyside with high expectations and as one of the most coveted teenagers in the world. The Premier League had lured in one of the world's brightest young talents. Kean's statement on arrival was to bring Everton back into the Champions League. Something that unfortunately never happened. 
"I feel ready," Kean said upon joining Everton. "I have always had to take big responsibility because of my age." But Kean's debut season went downhill as months went by, managing to score just two goals in 29 league appearances for the Blues. The man that brought him to the club: Marco Silva, was increasingly poor in his man-management, starting Kean in only two games until he was inevitably sacked in December, leaving the Blues in the bottom half of the table.
Duncan Ferguson arrived as interim boss and Kean's horrid time at Everton continued, as the Everton legend humiliated and subbed off the youngster just 18 minutes after coming on against Manchester United at Old Trafford. A dejected Kean saw his number come up, and the number 27 walked down the Old Trafford pitch right into the tunnel.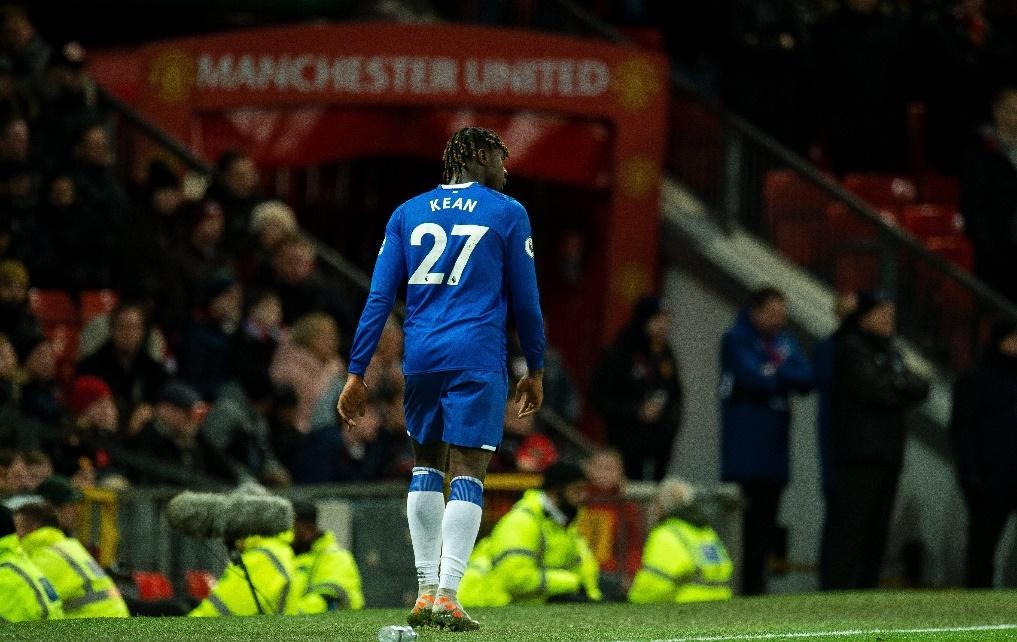 Photo: EPA
Carlo Ancelotti's arrival days later was marked as the perfect opportunity for Kean to kickstart his season, but the breakthrough of Dominic Calvert-Lewin saw Ancelotti opt to use the Englishman upfront as opposed to his Italian counterpart. Calvert-Lewin's form saw him score 13 league goals that season and Kean increase his cameo appearances off the bench. The youngster's off-the-field issues hindered his progress that year meaning life in England proved tougher than Kean initially expected.
Fast forward to the start of the 2020/21 season, Everton had agreed to sell Kean to PSG on a one-year loan deal with no option to buy. Kean's great relationship with Pochettino now sees Leonardo planning in advance to work out a deal with Everton that could see him stay beyond this season – a move that could please Everton and PSG. 
Kean's season so far in Paris has defied critics and proven all doubters wrong. In a season where PSG once again chase the elusive Champions League after last year's heartbreak – he could be a key man in bringing the trophy home with the help of his Parisian teammates.  A much more challenging title race in Ligue 1 this year against Lille and Lyon could see PSG having to fight more than they have ever fought for a title in years gone by and his 11 goals so far could be set to increase if his side can march to a record equally 10 titles. 
In regards to the Italian National Team, Roberto Mancini will have cast one eye on his young striker as he could select the 21-year-old for the European Championship that begins in June. With the likes of Ciro Immobile, Andrea Belotti and Kevin Lasagna in his way, Kean's performances from now till the end of the season will determine whether he gets the nod to start in the Gli Azzuri eleven.
By: Ahmed Ali
Featured Image: @GabFoligno / Aurelien Meunier – PSG