15. André Onana
A pretty sight. A wonder photo. André Onana in the calm of De Dijk – Ajax on synthetic grass. Child in his arms. Ball in the air. Laughter on his face. The Cameroonian in top form. Beautiful.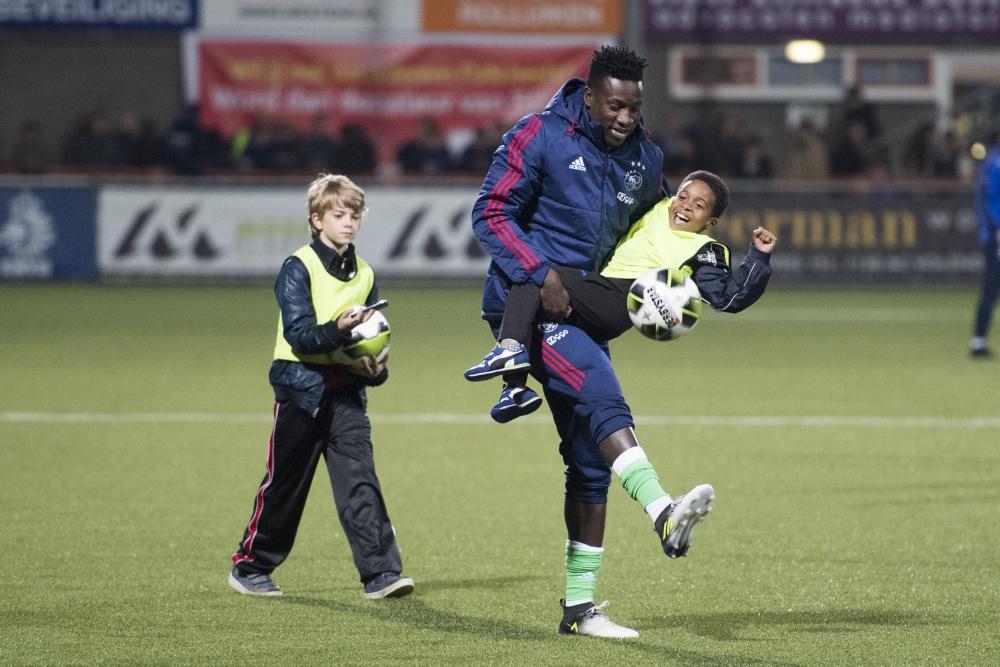 A small thank you to the photographer for capturing Onana precisely. Everything in this photo embodies the goalkeeper – he is always cheerful, has a big love for the game and has time for everyone. Maybe that is why he's so loved by everyone he's associated with. Adding his footballing qualities to this, you soon realise why everyone at Ajax gravitates towards him.
It's early 2015. Onana has just appeared in the capital of the Netherlands; arriving with Barcelona at Sportpark De Toekomst against a super talented Ajax U19 side in the Youth League tournament. Onana and Barcelona went on to lose 1-0, his team eliminated in a packed arena – but he stood out. Ajax noticed this too.
The Amsterdammers brought in Onana not too long after but the lack of scouting and the many doubts that did the rounds during the purchase of Onana already came back to haunt him – starting with his debut as an Ajacied where he did not have a great game. The youngster did not have a stable, easy-going development – instead he rather had a lot of ups, followed by downs, in quick succession. His stylish saves in the Jupiler League as the goalkeeper of Jong Ajax were quickly followed up by childish blunders. He was flattering to deceive.
The inconsistencies of his positive and negative performances had some questioning his place; casting doubt, at least to the outside world, on his future at the beginning of the 2016/17 season. First choice goalkeeper Jasper Cillessen took the reverse route that Onana walked and took off to Barcelona. There was a spot free between the sticks in the first XI. Ajax brought Tim Krul as the first team's apparent keeper, but the ex-Newcastle player was still recovering from a cruciate ligament injury. Bosz gave Onana – to the surprise of a lot of supporters and the media – a chance, and the rest is now pretty much history.
Within no time, Onana went from an insecure goalkeeper to a colossal stronghold. In the Europa League, vs. Panathinaikos (1-2) Onana was still Onana, but not much longer after Onana saved an important penalty vs. Go Ahead Eagles. It turned out to be a real turning point for him. The stopper became increasingly more important, producing saves for a squad that was still unbalanced. Football-wise, he helped Ajax break the opponent's first lines of defence, becoming a crucial factor in the building and breaking up play at the back.
Under Peter Bosz; long, high balls – except crosspasses – were strictly out of the question in the first phase of play. Onana understood this as no other – with his La Masia upbringing the main reason. Via the Samuel Eto'o Academy, Onana ended up in the famous youth team of Barcelona. In Catalonia, the Cameroonian developed through various youth teams as the so-called sweeper keeper, the ideal 11th man, the pivot on the pitch that so many teams lack.
Although it is difficult to measure how much players, especially goalkeepers, from the Eredivisie are worth, I can safely say that Onana is one of the best, if not thé best goalkeeper in the Netherlands. He is extremely strong in one on ones – he stands until the last moment. He can play football – he is extremely comfortable with long and short passes. He has always had great reflexes and has greatly improved his command of the area. He also speaks good English, Spanish and French, so he can communicate and play in almost any defence, once he leaves Ajax. And that will probably happen soon, regardless of his recent contract extension.
Onana's pivotal moments during the last season had him earn a new and improved contract 8 days before the Europa League final (vs. Man Utd, 2-0 loss). Finally, both club, player and the public thought, as negotiations had not been easy. Onana and his agent saw him equally important a pawn as Cillessen before him and argued that he deserved a contract befitting that. Nevertheless, Cillessen's old contract was far better than that presented to him. They however compromised, and Onana signed his new contract with full dedication. After all, the chance of playing at the highest level in Damsko was a fantastic honour, and the chance to stay at a club that wanted to build from here on – as they said – was promising. The latter, however, proved not to be true.
Although he promised that everyone will stay and that Ajax would get stronger with big buys; Bosz himself left. Davinson Sánchez and Bertrand Traoré also left Amsterdam. With a very strong financial position, Ajax is at the moment, a club deeply interwoven in a heavy malaise. The Amsterdammers are currently not producing great performances, trailing PSV in the Eredivisie despite having the better squad and are knocked out of Europe. The utter difference in performance from just half a year ago is the reason he can easily leave next summer. And he secretly deserves it too.
Onana is a very cheerful and celebrates every Ajax goal – in training, during De Klassieker or during any other (top) games. He works stupidly hard, has somewhat given up his international career with Cameroon to give his all to his club and is a full-time professional. All this, despite loneliness. Recently, Onana said he would not even recognise his own neighbour. That, is after almost three years of living in the Netherlands. A bit crazy, right? Maybe a transfer in the upcoming summer is the ideal outcome for him. A club like Napoli would be ideal for him.
Maurizio Sarri's outfit would be ideal for the Cameroonian. Football in its purest form – building from the back, attacking, scoring lots, winning – all which refer back to him and his education at La Masia. For Napoli, he fits in like a glove. He is a full-time professional just like Pepe Reina, which makes him the ideal candidate to replace him. A younger upgrade that could possibly last for over a decade, and the ideal player profile for the club from Naples. If he didn't break through and ended up on the bench, at least he could always still juggle with a ball as he lifts up a young footballer whilst laughing at the camera. That joy he constantly exudes will always be there.
By: Sjors van Veen/@SjorsVanVeen
Translated by: Thomas Anderson/@andoculture
Photo: @NxDzn