Scouting Report: Jack Grealish
With Aston Villa likely relegation candidates, the future of their star player and talisman Jack Grealish is becoming the topic of conversation. This report seeks to provide an objective insight into Grealish's current abilities and performances, before delving into a subjective analysis about potential transfers for Grealish.
Career Context
Grealish has been loyal to the Villa faithful, sticking with the club despite their relegation in 2015/16. Despite his obvious talent and a few potential moves away, Grealish has always been a Villa fan (having joined the club when he was just six years old). This loyalty is a topic of discussion later.
Statistical Context
In his sixth season as a starter since his debut in 2014, Grealish has been one of few positives for Villa in a disappointing Premier League return. With over 2,700 minutes played, he has been Villa's most used player.
He also tops Villa's goals and assists tallies, with seven and six in the league, respectively. Somewhat interestingly, he also tops the squad's yellow card tally with eight, but this isn't cause for much concern as he has no red cards. Some key stats are compared with similar attacking midfielders in the Premier League: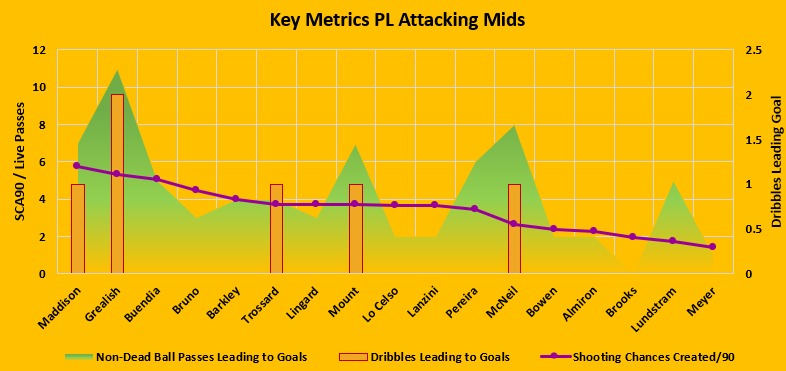 Figure 1: Metrics used = Live passes (non-dead ball) leading to goals as a seasons total, and dribbles leading to goals as a season total. The data is ranked by SCA/90; a more normalised metric (particularly in terms of minutes played). Data taken from FBref. City/Liverpool players excluded.
From this data we can see that Grealish has a high goal involvement in terms the season total of dribbles leading to goals, and live passes leading to goals. In terms of shooting chances created per 90 (SCA/90), he is second only to James Maddison. 
For a team that has such a narrow set of forward options, with the likes of Trézéguet, Wesley Moraes and Anwar El Ghazi failing to impress for the Villans, this is a highly impressive output.
Objective Performance Analysis: Leicester City vs Aston Villa Carabao Cup Semi-Final 1st Leg (8/1/2020)
Positioning
Grealish began as a left midfielder in a lopsided 4-3-3 (lopsided due to Villa's right winger often tracking back to mark Youri Tielemans and Dennis Praet). Grealish would often roam centrally to offer a passing option when Villa did counter (there wasn't too much in the way of regular build-up for Villa), or simply to play as an auxiliary false nine at times.
He was able to hold the ball up well by doing so, accumulating four fouls from this position in the first half, helping to relieve pressure on Villa's defence. The body-shape and positioning that Grealish used in defensive transitions helped prevent opportunities for Leicester.
Grealish's off-the-ball work helped direct play in a certain direction for example by forcing Christian Fuchs to pass back to his keeper in minute 10', by blocking off a channel ball to Jamie Vardy. He also chose to strategically hang back when Villa attacked in minute 30', halting Praet's counter-attacking attempt after a turnover. 
Actions
Grealish would often station himself between the lines if Villa had a sustained spell of possession in the 2nd phase. This offers Villa an option for central progression and prevents congestion in wider areas as Villa send their fullbacks forward. Grealish often drags one or two defenders with him when he moves centrally, opening space for overlaps.
He lost possession trying to execute a through-ball to an overlapping player in minute 24', but his intentions were correct. Additionally, he had dragged two defenders to him in this action, leaving a spare man out wide for Villa to attack with.
In the 12th minute, Grealish made a successful action between the lines, receiving on the half-turn and using his locomotion to drive past three defenders, thus creating a 2v1 situation for Villa on the left. He then timed a pass perfectly to the left back who was able to cross first time from a dangerous position.
Grealish contributed significantly to Villa's goal in minute 28' as he again used his locomotion to commit defenders and drive into the final third. His key pass attempt deflected back to El Ghazi who was able to cross for Frédéric Guilbert to score.
This is an example of how Grealish often picks up pre-assists by adding a lot of possession value to Villa's play, perhaps an under-appreciated facet of his game. This pre-assist is a microcosm of how Grealish is effectively Villa's catalyst, it is effectively Grealish's responsibility to evoke any central progression for Villa.
This notion was particularly noticeable when Grealish would even drop into 1st phase build-up (on the rare occasions that Villa did sustain possession). In the 35th minute, Grealish dropped deep to receive from Tyrone Mings, showed awareness to receive on the half-turn, and broke the lines with a good vertical pass. In the same phase of play, Grealish received the ball in the 2nd phase, and performed an inch-perfect 40-yard drive to switch the play to Leicester's underloaded side.
As the game wore on, and Villa still led (but were hanging on), Grealish drifted more and more centrally in order to hold play up and help relieve pressure. Due to having played for a 'weaker' side for his whole career, Grealish is somewhat of an expert at retaining possession under pressure, holding the ball up and drawing fouls. It was a monumental effort from Grealish to help Villa claim a 1-1 draw here.
This game was a perfect example of a typical Grealish performance. It is therefore apt for the writer to make subjective criticism of this match, which is applicable to Grealish's season performance as a whole.
Grealish's Ability and Current Level: A Subjective Analysis
Grealish's predominant attributes are visualised in a Venn diagram, which encapsulates the overlap between different aspects of the game Grealish is competent in.
Figure 2: Grealish's core attributes contextualised in the context of different areas of the game
Additionally, the writer's own judgement of what level Grealish is performing in these aspects is depicted in Table 1.

Table 1. The levels at which Grealish is performing certain aspects at.
These two models are used in order to reduce bias and normalise traits that are often intangible.
It is difficult to criticise Grealish due to the terribly-coached nature of this Villa side. One could suggest a higher goal involvement, particularly getting into shooting positions. This should be an area that Grealish aims to improve upon, especially if he moves to a 'bigger' team.
Potential Transfers
Grealish would make a perfect backup signing to Jadon Sancho at Manchester United. His ability between the lines would bolster United's midfield and attack to perfection, whilst his ability to roam across the final third to seek goal-creating opportunities would help United break down deep blocks.
Additionally, the writer sees no suggestion that Grealish has any mentality or personality issues that would see him crumble under the higher pressures faced at a big club. With the fee Grealish would be available for if Villa get relegated, he could be a bargain for United if they miss out on Sancho.
Conclusion
Grealish has taken a year or two extra to develop to this level that many expected him to reach, but he is finally playing at a standard that significantly outmatches Villa's own ambitions, and if Villa get relegated, a transfer away would be the optimal outcome for Grealish's individual development.
By: @utd_Visionary
Featured Image: @GabFoligno