49 Goals in 19 Games: How Schalke's Ozan Kabak Can Plug Liverpool's Defence
As the clock crawls towards the end of the January transfer window, Liverpool have an issue. Virgil van Dijk, Joël Matip and Joe Gomez are all injured. Whilst Matip may be close to a return, Van Dijk will be lucky to play in April and Gomez will be lucky to play at all this season. With form now dwindling, Jürgen Klopp has been forced to dive into the transfer market, and he's come out with a player he feels fits the task: Ozan Kabak.
Schalke 04 have conceded 49 goals in 19 games this season. Ozan Kabak has played a big part in the majority of those fixtures (14/19). Straight away this seems like something out of the panic-buy playbook, but is that really the case? Is Klopp taking a punt on a youngster, hoping he can develop him into a usable player? Or is this a more calculated deal, one Liverpool see as an incredibly smart piece of business? Remember, Andrew Robertson played for relegated Hull City before he moved to Anfield.
Rash and Reckless
When watching Kabak, it's easy to see why he is the third most yellow-carded defender in the German top flight. Unlike the more measured, and needless to say imperious, Van Dijk, Kabak attacks the ball with untimely aggression. He prefers to tussle with forwards, using his 6'1″ frame to almost throw the attacker away. 
Of course, this elite strength is a benefit to him in something like maintaining balance during a shoulder to shoulder, but sometimes he oversteps the mark. Furthering this, his willingness to get up close to forwards, when unsuccessful, is catastrophic. Major gaps are left in behind him that opposition, more often than not, exploit.
However, this power does make him a dominant aerial presence, winning more headers than any other U21 defender in La Liga, Premier League and Serie A. Sven Botman of Lille in Ligue 1 does beat him to the punch on that one, though Kabak has a greater success rate (71%) than the highly-coveted Dutch defender (70%). Only just.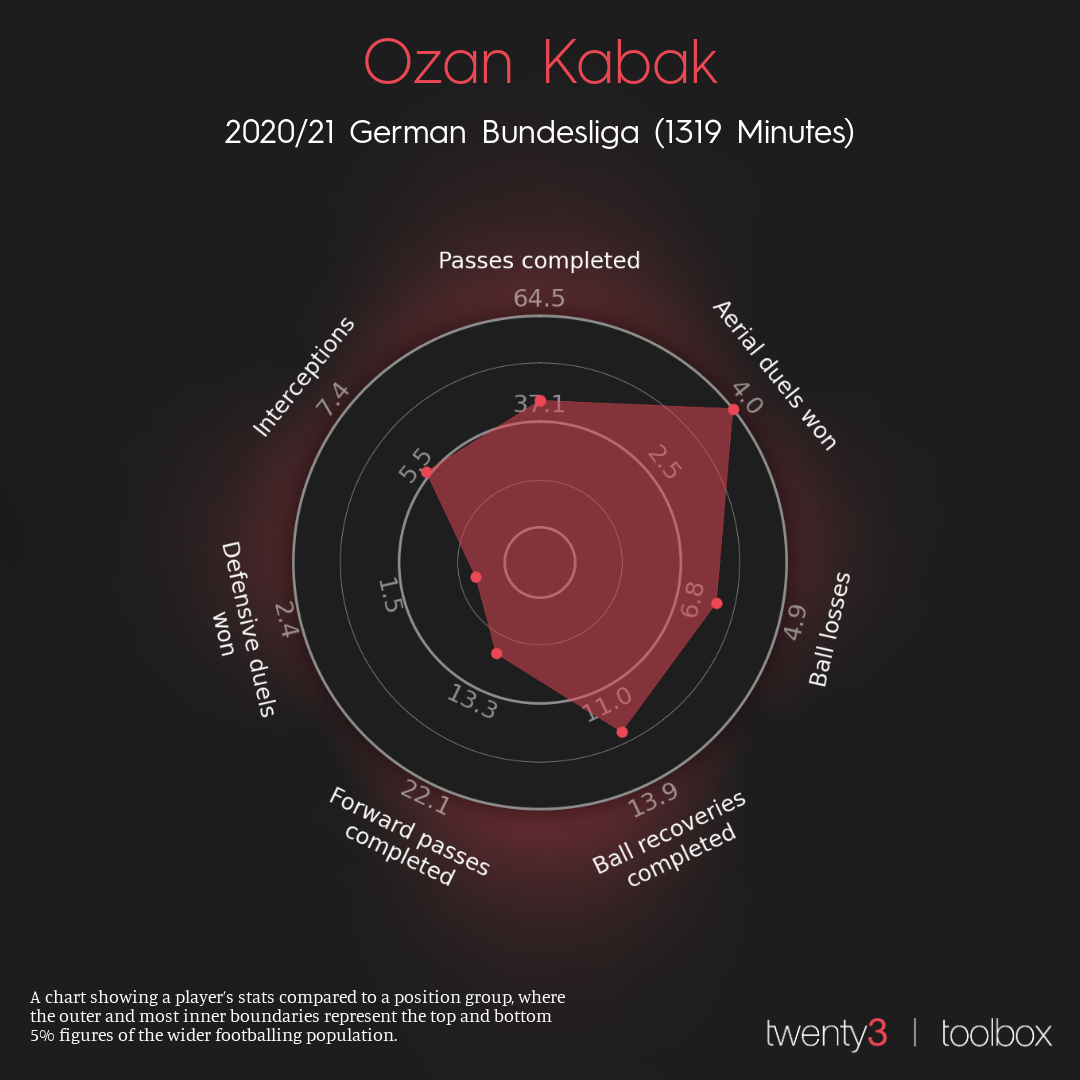 Potentially an issue with Kabak is his ability in possession. Whilst it's hard to find many defenders that can pass the football like Van Dijk, the graphic above highlights Kabak's inability to play the ball forwards. This is especially worrying in that the Bundesliga itself is a highly transitional league with a great emphasis placed on pressing the opposition. This only intensifies in the Premier League; Liverpool need a player that can shift the ball forward accurately under pressure. It's hard to make a case that Kabak is that man.
Nevertheless, there are plenty of positives in Kabak's defensive performances. His often forceful approach to regaining possession does work, recovering the ball on numerous occasions throughout the match (13.9 per 90). Also, his aggressive style should not be misinterpreted for a lack of footballing brain; Kabak reads the game well, making last-ditch efforts and saving Schalke from further embarrassment regularly. 
Despite Schalke sitting rock-bottom in the Bundesliga with the worst goal difference by far, it would be harsh to rule out Ozan Kabak entirely. I may have seemed harsh towards the Turkish 20-year-old, and he is still only 20, but positives are hard to find in a season as disastrous as Schalke's. Nevertheless, a £1m loan deal with the potential of a future fee (£18m) seems like good business for Liverpool. As to fit straight into the back four? Well, that most certainly is a riskier proposition.
By: Tom Quartly
Featured Image: @GabFoligno / Lars Baron – Getty Images