Ashley Williams: Liberia's Exciting Young Goalkeeper
When you think of Liberia, you think of George Weah, one of its greatest sons. A legendary footballer who shone in Europe during a highly decorated career which included him becoming the first and only African player to win the coveted Ballon D'Or in 1995. Since his heyday, Liberia have not produced any players as good as him but they do have some talented young players coming through and one of them is Ashley Williams. 
Williams was born in the Liberian capital Monrovia on 30 October 2000. As a youth he spent time playing football on the streets of Monrovia and joined local community club Duke FC. He was originally a left-back but after spending time as a goalkeeper while playing with friends he decided to change position. After he moved to fellow Monrovia-based community club Bassa Town Young Controllers he continued as a goalkeeper. This decision to change position proved to be inspired as he became their first-choice goalkeeper and helped lead them to the Liberian Third Division. 
The Montserrado native was subsequently signed for the 2015/2016 season by Gardnersville FC the feeder team of Liberia's biggest club, Liberian International Shipping and Corporate Registry (LISCR) FC. He spent the full 2015/2016 season and half of the 2016/2017 season there establishing himself as their first-choice goalkeeper.
LISCR FC promoted Williams from Gardnersville FC to their first-team squad as third-choice goalkeeper for the second half of the 2016/2017 campaign. At 16 years of age, he made his full debut for them on 24 May 2017 when he came on as a second half substitute in the Liberian FA Cup first-round first leg tie against Muscat. He then played the full 90 minutes of the return leg. LISCR FC went on to win both the Liberian First Division and the Liberian Cup that season.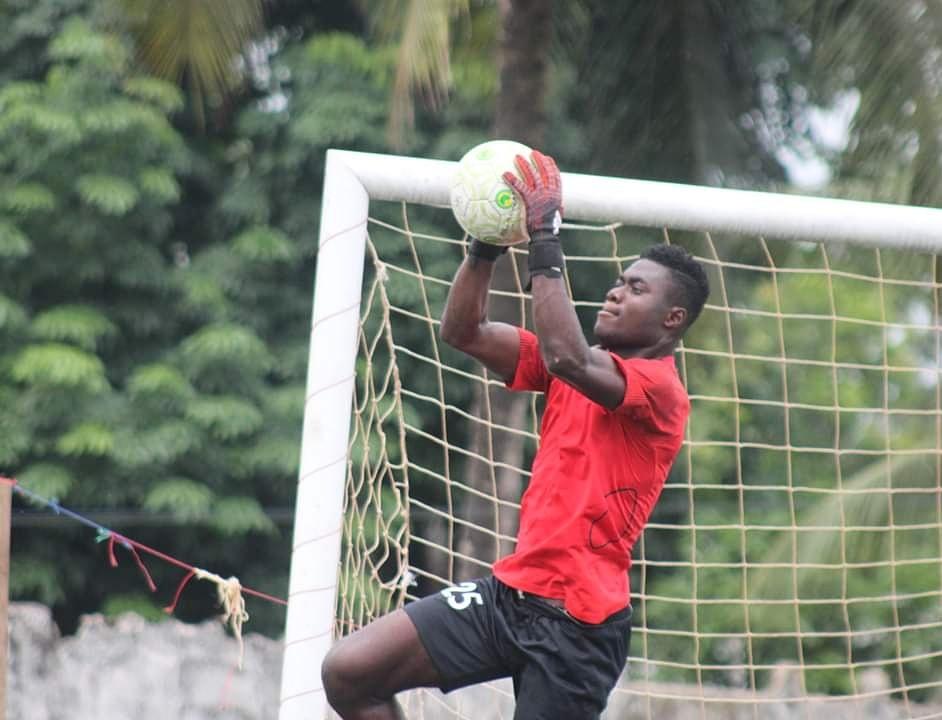 Photo: LISCR FC
After a long delay, the next season started in August 2018 under a new format of 12 teams divided into two groups of six. The top team from each group progressed to the final. LISCR only finished third in their group so missed out on retaining their league title. Williams managed to play seven games that season. 
On 27 February 2019, the 2019 Liberian First Division season commenced. It returned to its usual format of a 12-team league rather than a group stage and final which occurred the previous season. Williams played multiple matches for LISCR FC as they finished five points behind league champions Liberian Petroleum Refinery Company (LPRC) Oilers. 
Recently, Williams joined Spanish third tier club Real Balompédica Linense (RBL) on a year's long loan with an option to buy.
Williams has represented Liberia at international level. He played for his country at the 2018 Under-20 WAFU Cup as they finished runners up. His encouraging performances for the Under-20 side led to him receiving a call up to the senior men's team. At just 17 years old, he made his debut for them against Nigeria in a friendly on 12 September 2018. He has started a further nine games for his country at senior level and looks to be first-choice goalkeeper. 
Goalkeeping Attributes
Williams is an adequate height for a goalkeeper standing at 1.86m. He utilises his height along with a decent spring to good effect when dealing with aerially balls. These attributes in tandem enable him to catch or punch high balls played into the box even when he is challenged by opposition players. This is important because it means he can be commanding in this scenario which gives confidence and reassurance to his teammates.
However, on occasions, he is too bold and tries to punch or claim incoming high balls which you can see he is never going to reach. In turn, creating unnecessary uncertainty in the penalty area and sometimes presenting goal-scoring opportunities for opponents. This flaw can be improved upon with more experience and better coaching.
His decent spring is also evident when dealing with ferocious shots struck from close or long range that are heading towards the top corners or roof of the goal. He is capable of leaping to reach these shots and tipping them wide or over the bar, even when it looks like the shots will fly into the net. 
Photo: Goal.com
One of Williams' best attributes is his 1v1 ability. He bends his legs a little to give him the spring necessary to dive if needed, adopts a more vertical posture with his upper body, spreads his arms, which are bent to around a 120-degree angle, slightly away from his body and places his legs in a wide stance to make himself as big an obstacle as possible for an opposing player coming towards him.
Importantly, his lightning-quick reactions mean that in 1v1 situations he can rapidly move his already extended arm/s into the path of the ball to parry it away from the goal or quickly move his leg/s to block the ball going past him and into the net.
A key aspect of his 1v1 ability is his ability to maintain his pose for as long as possible. This forces the opponent to decide where they want to place the ball or whether to go around him. In some of the matches viewed, this resulted in hesitation and indecision from the opponent and enabled him to prevent a 1v1 chance leading to a goal. 
Williams displays a sound touch when receiving or intercepting a ball as well as good kicking and passing. Although he is left-footed he does not look awkward or particularly uncomfortable when controlling, passing or kicking the ball with his right foot. He is happy to receive the ball whether pressured or not, take a touch and pick out a forward pass to a teammate but if necessary, clear the ball immediately.
There are even instances when he has intercepted a through-ball outside the area, controlled the ball, carried it forward a few yards before kicking it long or passing it to a teammate. This shows not only his confidence in possession but also his calmness and ease with the ball at his feet despite being just 19 years old. 
With many teams adopting high pressing tactics which necessitates a high line to be effective, having a goalkeeper who is rapid and quickly reacts to balls over the top or through-balls for opposition attackers to latch onto is crucial, and Williams demonstrates this regularly.
He is usually first to retrieve or intercept through-balls or balls played over the top of his defence for opponents to run on to because of his blistering speed and acceleration combined with occupying intelligent starting positions which increases the likelihood of him reaching the ball first.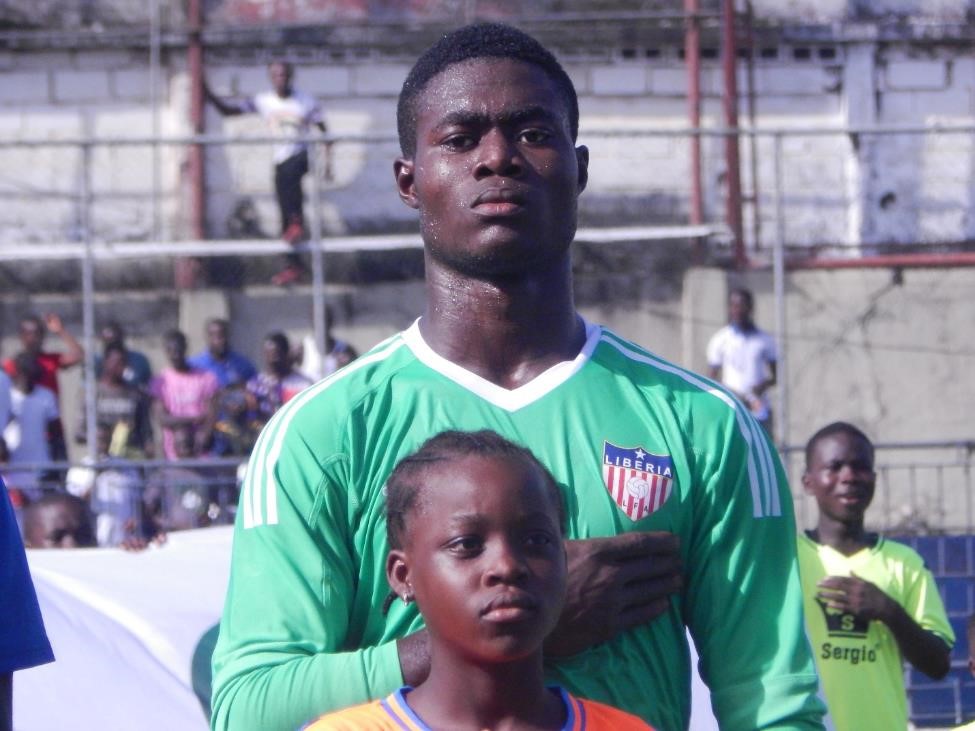 Photo: T. Kla Wesley Jr. / The Bush Chicken
Nevertheless, due to a mixture of inexperience, youthful exuberance and poor decision-making he is sometimes over-eager to intercept through-balls into the box or balls played over the top of his defenders. On occasions, he has charged off his line or outside the box to try and reach the ball even though it was clear he could not get there first.
This resulted in him either fouling the attacker and giving away a penalty or presenting them with a clear goal-scoring opportunity as he vacated the goal. In time, after gaining more experience and maturing he will improve his decision-making. He will be able to better judge when he should try to intercept or retrieve a through-ball or ball over the top, hold his position or retreat towards the goal-line. 
Long-term Potential
Having studied Williams over a number of matches for club and country, including in a CAF Confederation Cup preliminary round match plus games from 2021 AFCON qualifiers and 2022 FIFA World Cup qualifiers, he has potential to be a number 1 goalkeeper for a club playing in a top 10 European league.
This view is echoed by the current Liberia national team boss Peter Butler who said 'Williams has all the attributes to be an outstanding African footballer'. 
Potential Future Clubs
Williams has caught the attention of European scouts due to his impressive performances which landed him trials at Austrian Bundesliga side Rapid Vienna last year. Having lately joined Spanish third tier club RBL on a year's long loan with an option to buy he will be keen to prove his quality in Europe. It may be that Williams excels at RBL and they exercise their purchase option or after the loan he may return to Liberia irrespective of his performances.
Notwithstanding this, after a year's experience in Spain he should be ready for a step-up whether that be at RBL if they are promoted to the Segunda División (Spain's second division), a different Spanish club in the second tier, a club playing in the top division of a less renowned European league or a second division club in Germany, France or Italy. 
So, let's take a look at two clubs which could be the perfect stepping-stone for Williams:
1.
IFK Norrköping
IFK Norrköping are currently playing in the Allsvenkan (Swedish top division). As of 28 August 2020, they are fifth in the table after 17 matches having garnered 28 points so far. In reviewing the IFK Norrköping squad it is evident that they will need to recruit at least one new goalkeeper for the 2021 Allsvenkan.
Their first-choice goalkeeper is 23-year-old Isak Pettersson who has been their number one for a few seasons. He is highly thought of in Sweden due to his excellent performances for them which has led to him gaining two senior international caps last year, and it looks as if he will be leaving the club in December when his contract expires because he has not agreed a contract extension yet.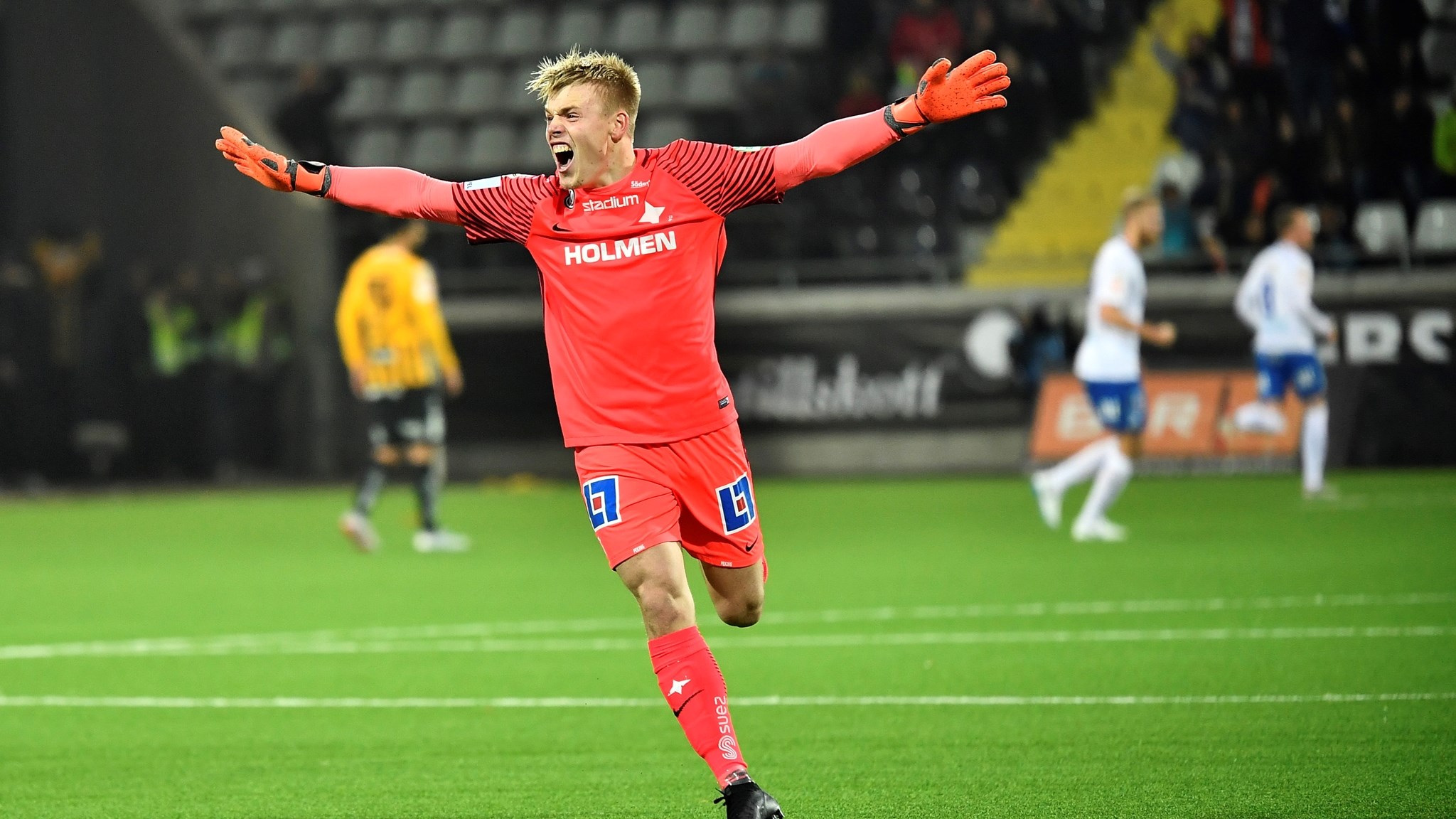 Photo: Björn Larsson Rosvall/TT
They have one regular back-up in Julius Lindgren who spent last season on loan at a Swedish third division side and has so far failed to show he has the credentials to adequately replace the soon departing Pettersson. For the 2021 Allsvenkan league season they should be watching how Williams develops on his loan deal at RBL in Spain because he would be a good long-term replacement for Petterson and a significant upgrade on Lindgren.
Similarly to Petterrson, he is left-footed, confident with the ball at his feet, can make stunning acrobatic saves, is astute in 1v1 situations and is very quick off his line. As an added bonus, if they signed him, they would be bringing in a player who already has a year's experience living in Europe and playing European football therefore he would find it easier adapting to life and football in Sweden. 
A permanent move to IFK Norrköping in 2021 would be good for Williams. He would be making a step-up from the Spanish third tier to the Swedish top tier. He would also be joining a club where he would have the opportunity to establish himself as their number 1 goalkeeper which would be vital for his development as a player. 
Clearly Petersson has improved immeasurably since joining IFK Norrköping and their goalkeeping staff should take a lot of credit for that. Williams can benefit from this too as the main deficiencies in his game can be ironed out primarily with better coaching along with more experience and maturity. 
2. Wolfsberger
Wolfsberger finished third in the Austrian Bundesliga (Austria's top division) last season after a fine campaign. This resulted in them gaining qualification to the UEFA Europa League group stages. As such, they will have extra money to spend this summer to invest in their squad to enable them to compete domestically to achieve a top three finish again and also progress as far as possible in the UEFA Europa League. 
Looking further ahead to summer 2021, for Wolfsberger to progress further and start to challenge Red Bull Salzburg for the Austrian Bundesliga title they will need to add more high-quality depth to their squad.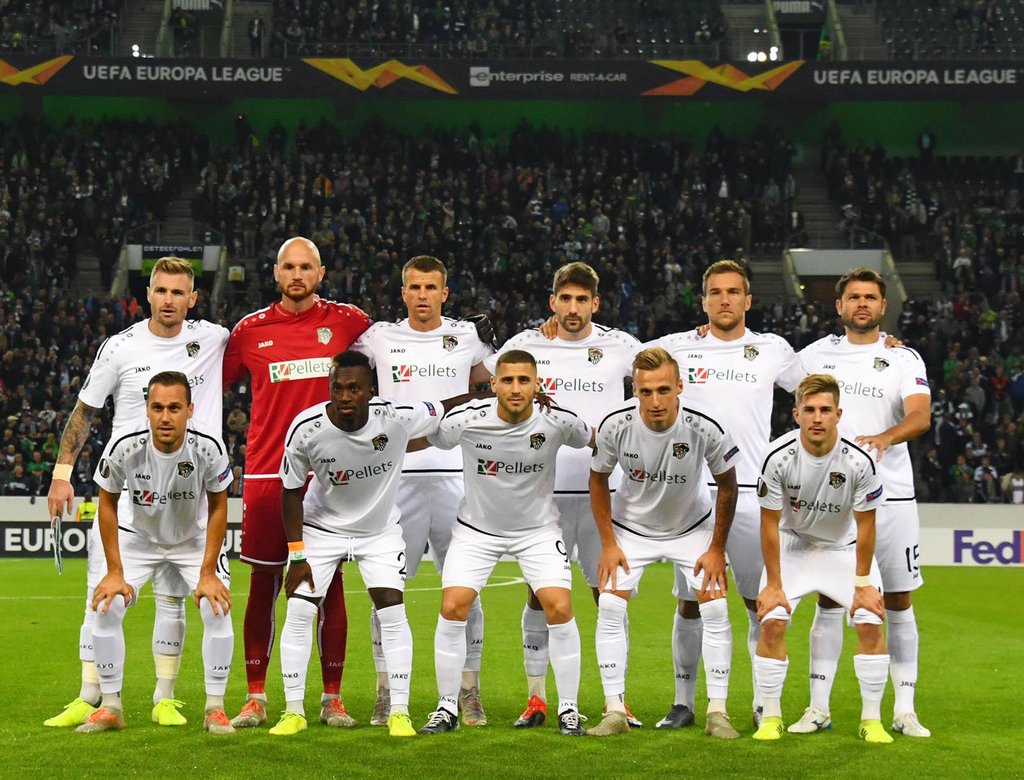 Photo: Wolfsberger 
This includes younger players ready to contend for first team places with already established senior players who are coming towards the end of their careers and are capable of replacing them. A position where this will become of paramount importance in the 2021 summer transfer window will be in goal. This is because their first-choice goalkeeper Alexander Kofler is already 33 years of age and will be 34 by the end of next season and his two back-ups Marko Soldo and Manuel Kuttin have failed to show they have the ability necessary to succeed him.
Additionally, they both have contracts expiring in June 2021 with no indication that they will be extended. Considering this, Williams would be a wise recruit to act as Kofler's back-up for around 12-24 months with the view to succeeding him after that. Williams would only be 20 next summer and would probably have developed markedly during his year on loan at RBL. He also has the attributes such as his good shot-stopping, quickness off his line, excellent 1v1 ability and composure in possession to be of the requisite standard to replace Kofler long-term. 
Moving to Wolfsberger would be a promising next step for Williams. They are a club taking huge strides forward in an increasingly competitive league and look to be heading in the right direction from a sporting perspective. Joining the club would enable him to learn from a very experienced player in Kofler, who has played in the Austrian Bundesliga for many years.
Watching and learning how a seasoned professional conducts himself every day both on and off-the-pitch and taking tips from them on aspects of his game he needs to improve on such as his decision making from crosses would be invaluable.
Providing Williams could demonstrate the talent he has in training and in any matches he was selected for, he would be in a prime position to succeed Kofler within a couple of seasons. This would be a far more advantageous position to be in than joining another club with an already established number one goalkeeper who is in their early, mid or late twenties with many more years ahead of them. 
By: Daniel Ajuh
Featured Image: @GabFoligno