Brian Brobbey's Breakthrough in Amsterdam
He's unstoppable, has an insatiable appetite for goals, and wants a move away from Amsterdam. In the 2018/19 season, Brian Brobbey scored 49 goals for the Ajax youth teams. He was playing against players up to four years older than him. It's fair to say he turned a few heads, even back then. Now 18, and in his debut season with the senior squad, he averages a goal every 54.5 minutes in the Eredivisie. But there's two things you need to know out Brobbey. First of all he has six months left on his contract. And second, Mino Raiola is his agent. 
"I think it's sad when players decide to leave too early here, especially when they spend their entire youth here. We really want to keep him. He can sign a nice contract and have a bright future here. He is young, eager, and has all the qualities you wish to see in an Ajax striker,"-Erik Ten Hag, Ajax Head Coach.
A cute in-to-out manoeuvre on Willem II's Jordens Peters saw Brobbey break free in the area. Credit has to be given to Nicolás Tagliafico's inch-perfect cross that found him, but the cool side-footed volley, on his 'weaker foot' no less, left little to be desired. It's the second goal in four appearances for the Ajax and Dutch youth international. 
Despite starting Sébastien Haller in attack, who arrived for a club-record fee of €22.5 million from West Ham on January 8, Ajax found themselves headed for a draw against Willem on Wednesday. In desperate need of a solution, Ten Hag subbed on the teenage forward for Noussair Mazraoui, and the results quickly followed. Brobbey scored within a minute of coming on, and four minutes later, he set up Dušan Tadić's goal to seal the victory.
The self-confidence Brobbey has to want to leave the playground that has seen some of the world's brightest talents develop seems to him like a risk worth taking. Raiola may have had a hand in this, and a high agent fee could stop some clubs from wanting to take a chance on him. Despite this, he has just six months left on his deal, the transfer fee involved will be ridiculously low. It's a waiting game now. If Ajax want any fee for him, they have to act fast. Otherwise, Brobbey will be free come the summer.
A Top Talent
The first thing you notice when watching Brian Brobbey is his sheer physicality. Young players often struggle to make a quick step up the first team due to the increased athletic requirements. Brobbey on the other hand well, I'd bet my money that he's one of the strongest players that Ten Hag has at his disposal.
Over the past couple of years, I have been lucky enough to watch the Ajax youth teams, primarily in European competitions, but also in domestic leagues. One thing about Brobbey became increasingly evident during this time: his link-up play is astounding. Comfortable in moving to wider areas, his final ball seems way beyond his years, and his ability to cross the ball is a dream for midfield runners. Combine this with his competence in backing into central defenders and suddenly Brobbey can be a nightmare for any defence.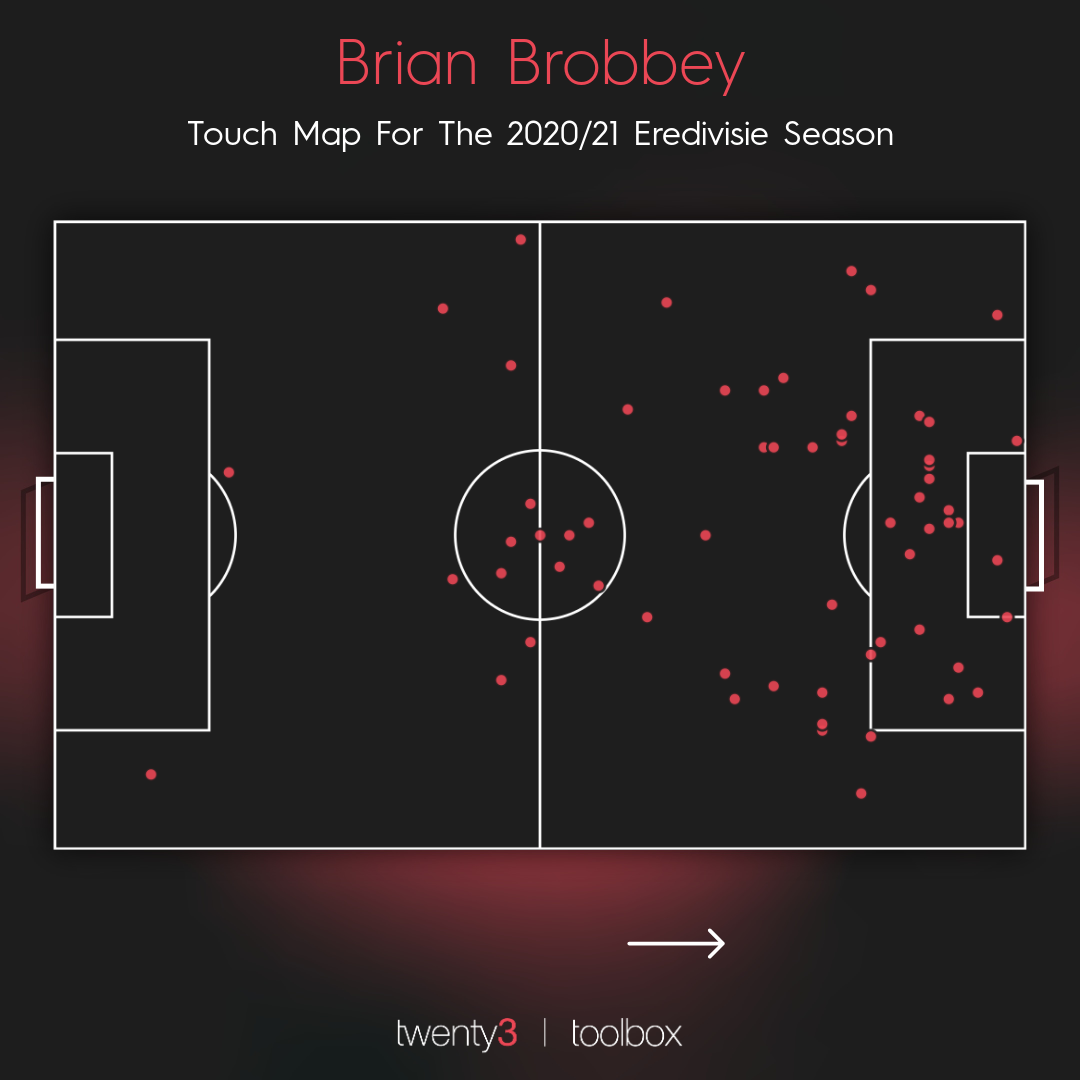 Photo: Twenty3/Wyscout
The next observation I am going to describe is a personal one, one that I think makes Brobbey very close to being capable of performing in the Premier League already. Being clinical in the English top-flight is very different to being clinical in another top league, the Bundesliga for example. It is a league known for it's fast-paced, transitional football and this indubitably leaves space in behind defences. Even the lower quality teams in the Bundesliga still will attempt to play progressive football. 
Consequently, this leads to forwards often having different kinds of chances to the ones that they would receive in the Premier League, where the majority of the bottom half of the table resort to a low-block, particularly against a side in the top six.
Ultimately, goalscoring opportunities end up arriving in tight spaces inside the area, with the goalkeeper, more often than not, rushing out to close down space. This leaves a very narrow window for the forward to work the ball around, or over, the goalkeeper. And this, this is Brobbey's speciality. Just when you think the ball has got too close to the goalkeeper, Brobbey will find a way to put the ball in the back of the net. 
He already has the necessary attributes to thrive in English football, but this defining characteristic has the potential to place him right towards the top end of European strikers. I'm not saying that the Premier League is the make it or break it of world football, but the current pool of players that possess the talent to perform on a consistent basis is minuscule. I think Brian Brobbey may fit right in. 
By: Tom Quartly
Featured Image: @GabFoligno / Soccrates Images – Getty Images