Emiliano Buendía: The Man Driving Norwich to Promotion
Since arriving from Getafe in June 2018, Emiliano Buendía has become one of those players that you just have to watch; somebody who puts bums on seats (or at least did prior to COVID-19 regulations). The Argentine attacking midfielder's sensational form has driven Norwich City to the top of the Championship table with 9 goals and 11 assists in 25 appearances; after 31 matchdays, the Canaries currently have a seven-point cushion over Brentford in first place. 
Capable of playing on either flank or behind the center forward, Buendía has mainly played on the right flank of Norwich's 4-2-3-1 under Daniel Farke this season. Playing alongside Mario Vrančić, Todd Cantwell and Teemu Pukki in attack, Buendía thrives in the 'advanced playmaker' role, popping up in pockets of space in between midfield of defense and roaming around the final third to receive in dangerous positions.
Using his intelligent movement, he will drift into areas to occupy the opposition defense, attracting the opposition players towards him, and leaving huge gaps for his teammates to exploit. In the below example against Bristol City, Buendía drifts infield to attract the opposing right wingback (Jack Hunt) towards him, before darting in behind the defense. Kenny McLean spots his run and lofted pass towards him, which Buendía does remarkably well to control before dinking it past Daniel Bentley and into the bottom left corner.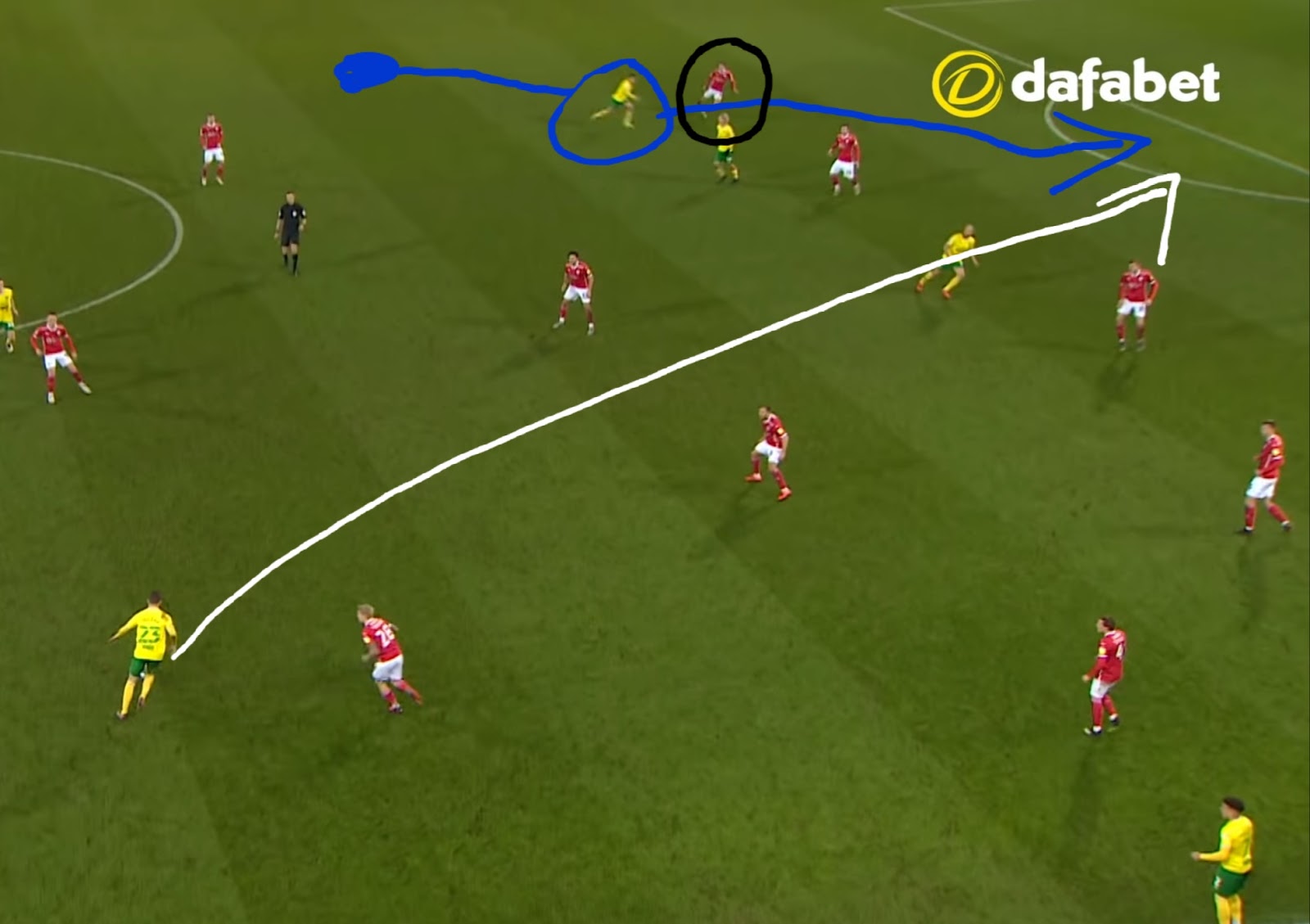 Note Buendía's movement in this example. Even if McLean did not successfully pick him out in space, Buendía's run has occupied Hunt and forced him to come narrow. This has created plenty of space for Norwich left back Jacob Sørensen, who is hugging the touchline and who could receive a pass in ample space. Buendía performs this move frequently on either wing, creating ample space for his teammates and discombobulating the opposing defenders.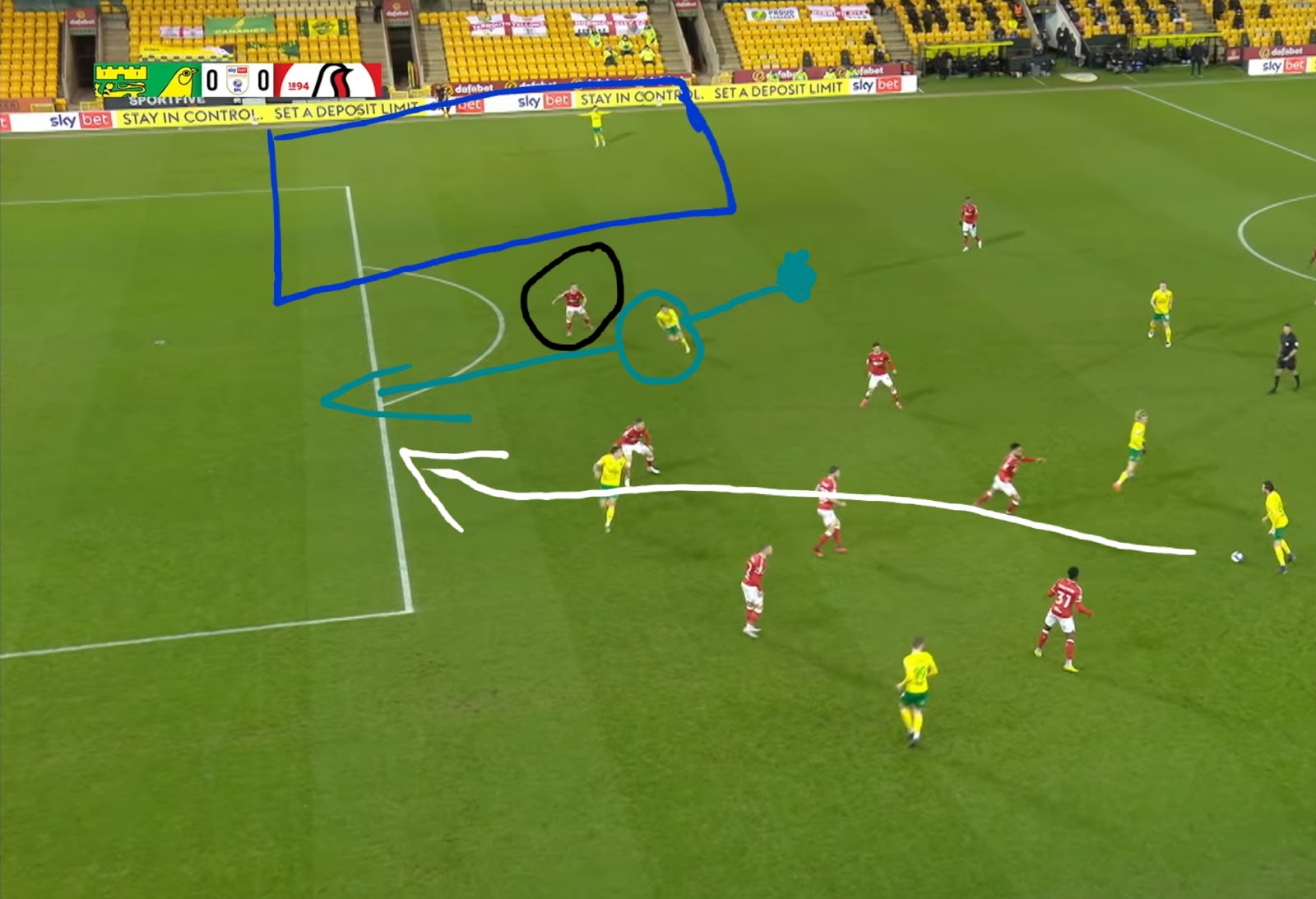 We can get another glimpse of his movement on the opposite flank. Buendía makes an incisive run in behind Bristol City's defense, drawing Taylor Moore inside with him and creating plenty of space for Norwich right back Max Aarons to exploit in the final third.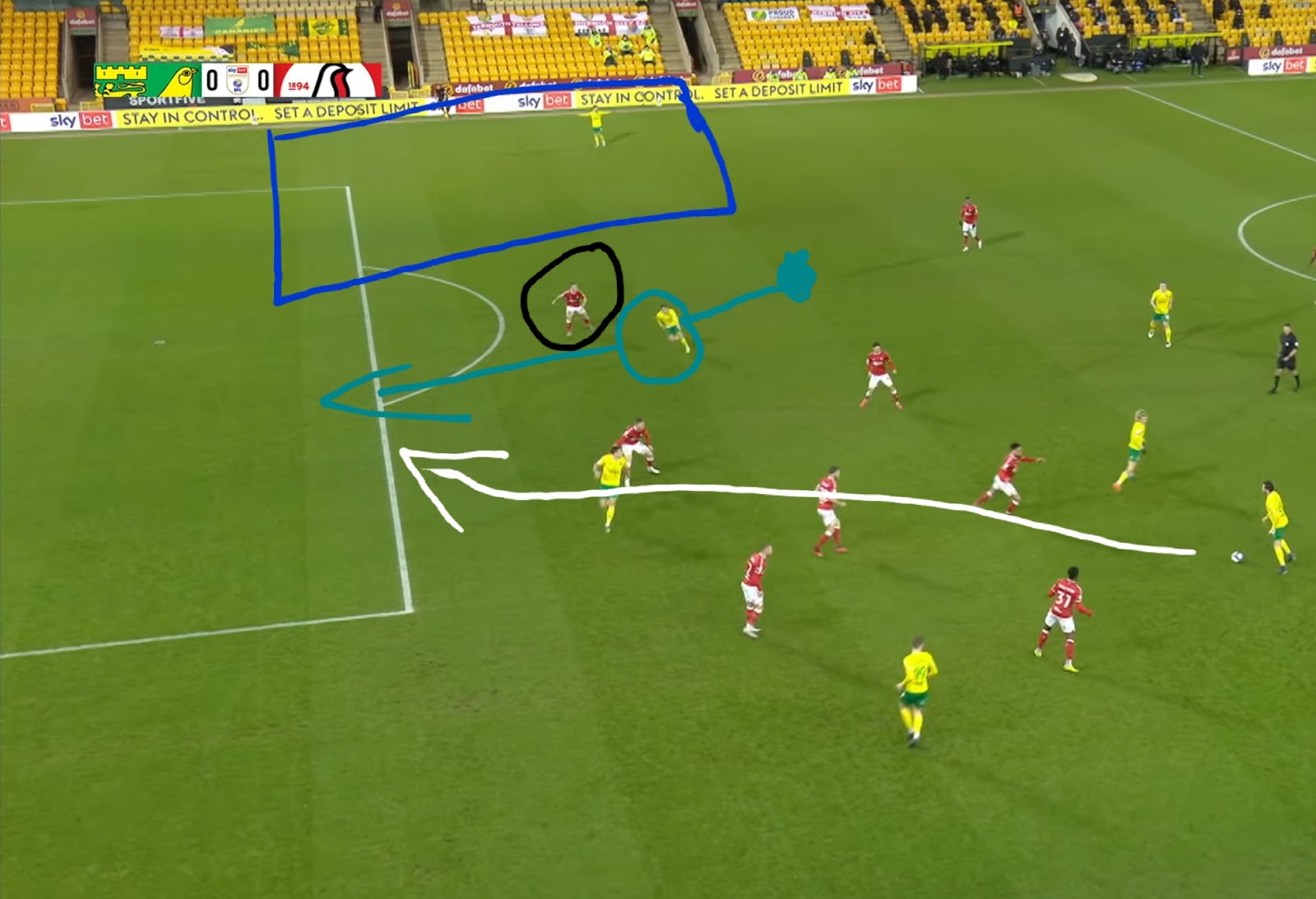 Whilst McLean and Oliver Skipp have formed a rock-solid pairing in midfield, Buendía is the 'quarterback' of Norwich, often dropping inside to receive the ball in front of the center backs. In the below example, Buendía drops deep and takes the ball from one of the center backs, which allows him to see multiple passing options in front of him.
Whereas Buendía often excels at picking up space between the opposition backline and midfield, he can also take up deeper positions nearby the halfway line and find his teammates between the lines. Buendía has a full repertoire of passes and can break the lines via a variety of methods. Whether it's pinging it across the field to switch the play or threading passes through the wings, he is perfectly equipped at unlocking defenses.
There are certain things that Buendía must improve on if he is to take the next step and become a consistent performer in a top league, whether that's the Premier League or elsewhere. For one, Buendía has a fiery temperament and can often retaliate to a rough tackle with a nasty foul of his own.
He has been sent off twice this season — a 0-0 draw vs. Middlesbrough and a 3-2 victory vs. Stoke City — and he received six bookings and one red card during last season's Premier League campaign. Buendía racked up a whopping 11 yellow cards in 36 appearances during the 2014/15 season, and whilst these numbers have gradually diminished — 6 in 20 in 2015/16, 2 in 12 in 2016/17, 8 in 42 in 2017/18, 7 in 41 in 2018/19 — it is clear he needs to rectify this in order to take the next step in his development.
Whilst Buendía was often criticized for his lack of goals last season — 1 goal and 7 assists in 36 Premier League appearances — he is currently enjoying the best goalscoring form of his career, albeit in England's second tier. Nevertheless, in order to make up for his inconsistent form in front of goal, Buendía will need to take his defensive output up a notch and help track back and stop opposing counter-attacks.
Overall, Emiliano Buendía has emerged as one of the most exciting attacking talents in England, and at 24 years of age, he still has plenty of time left before he reaches his ceiling. With the likes of Arsenal and Leeds United eyeing a move for the Argentine playmaker, he may be approaching his final days at Carrow Road — even if the Canaries bounce back to the top flight at the end of the season. However, Norwich can take solace in the fact that they will land a club-record transfer haul for the man who's taking the Championship by storm.
By: @BTL_Analysis
Featured Image: @GabFoligno / Stephen Pond – Getty Images