Jospin Nshimirimana: Burundi's Best-kept Secret
Jospin Nshimirimana was born in Mutimbuzi, a commune in the west of Burundi, on 12 December 2001. He joined local club New Regime when he was very young and played there for a number of seasons prior to joining Delta Star who, at the time, were in the lower divisions of the Burundian football league pyramid.
During Nshimirimana's time at Delta Star he helped them achieve promotion to the Burundian Premier League in 2017. He played for them throughout the 2017/2018 Burundian Premier league campaign. Unfortunately, they finished bottom of the league and were relegated although they did reach the final of the 2018 Burundian Cup.
For the following season (2018/2019), Nshimirimana moved to Aigle Noir Nakamba SC (Aigle Noir), who had finished third in the Burundian Premier League the previous season. The 2018/2019 season was hugely successful for him as he was part of their first-team squad who delivered the first league title in the club's history, winning the league by 13 points. Alongside this, they also captured the 2019 Burundian Cup and 2019 Burundian Super Cup. They finished the season as domestic treble winners.
Nshimirimana remained at Aigle Noir for the 2019/2020 season. He was one of their key players but was unable to lead them to back-to-back league titles. They ultimately finished third behind champions Le Messager Ngozi and second-placed Musongati.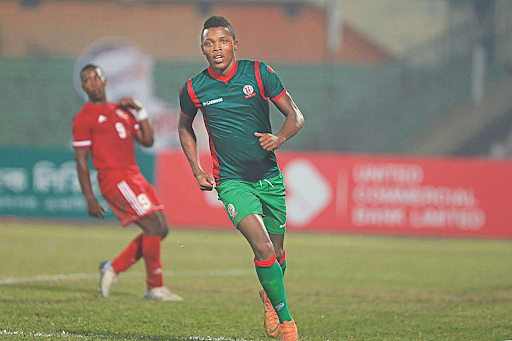 Photo: akeza.net
They also exited the CAF Champions League at the first preliminary round losing 5-1 on aggregate to Kenyan giants Gor Mahia. Despite the disappointments of their league finish and their unsuccessful CAF Champions League campaign, they did manage to win the second ever Coupe de l'Unite.
Nshirimana has represented his country at both youth and senior level. He played for Burundi's Under 20's in the 2019 Under 20 African Cup of Nations (AFCON). He received his first call-up to the senior national team for the 2020 African Nations Championship qualifying match against South Sudan. He made his debut as a second-half substitute in this game on the 27 July 2019 and managed to score the second goal in a 2-0 home win.
More recently, he appeared in the 2020 Bangabadhu Cup hosted in Bangladesh. He made four appearances and scored seven goals in this tournament as Burundi finished runners-up to Palestine. His exploits in this tournament resulted in him being awarded top goalscorer and player of the tournament. Overall, he has made five appearances at senior international level scoring eight goals.
Position, Attributes and Style of Play
Nshimirimana has been assigned a plethora of positions in his young career so far. At Aigle Noir he has predominantly played as an attacking midfielder in a 4-2-3-1 or 4-3-3 formation but they have also played him as a central midfield play-maker, a box-to-box central midfielder and a left winger in the same formations.
For the Burundian senior national side, he has been deployed most commonly as an attacking midfielder or a narrow right winger in a 4-2-3-1 formation although he has also played as an attacking midfielder in a 3-5-1-1 formation.
In the games reviewed Nshirimana played most regularly as a central midfield playmaker, an attacking midfielder and a right winger. In the central midfield role, it appeared as if his key responsibilities were to control the tempo of the game with his passing and create opportunities for his attacking teammates to exploit.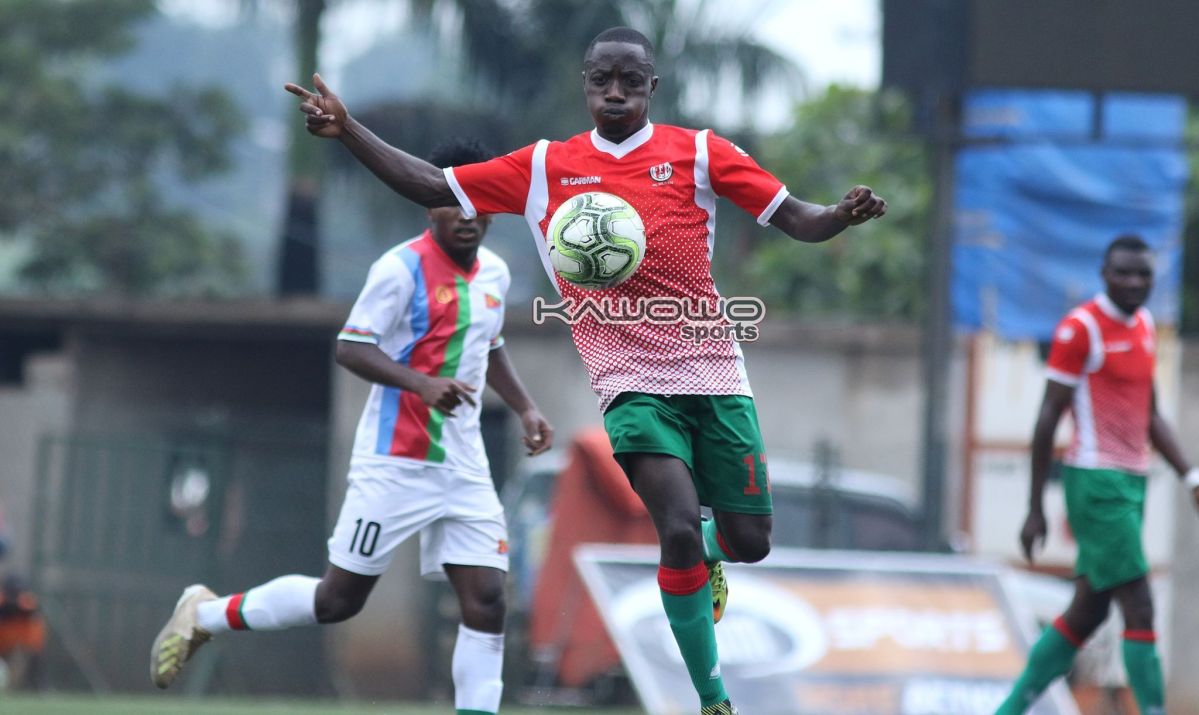 Photo: Kawowo Sports
Out of possession he was expected to help defensively and cover the spaces in central areas, that the opposition could take advantage of as quickly as possible. In the attacking midfield role, he was deployed in, the expectations appeared to differ. He was expected to attack spaces in behind the midfield and defence's lines across the pitch, receive the ball in dangerous areas and try to create goal-scoring opportunities and score goals.
It did not appear as if he was given much, if any defensive responsibility. The same applied for his right-wing role. In the right-wing role, he was expected to come inside to help with the build-up play and make runs in behind the wing-back to create chances and score goals.
Nshimirimana is 1.78m but at just 18 he may still grow taller. Even though he is not a tall player, he is effective when high balls are crossed into the penalty box because he makes well-timed jumps and has a high upwards spring. He looks as if he has quite a wiry upper body with some muscle definition on his legs which explains his good spring.
Currently, his lean upper body and slightly muscular legs means he is not too weak and easy to unbalance. However, to cope in a more aggressive and physically demanding environment in the future he needs to make sure he has an effective weights training regime to fill out his upper body. This will provide him with the core strength needed to thrive in a physically tougher league.
Speed-wise Nshimirimana is a pacey player but what stands out is his acceleration. His change of speed over a short distance from a standing start or when changing direction is difficult for opponents to handle and allows him to glide past opponents beside him or create separation between himself and opponents chasing him.
He also has a notable running style, specifically over his first few steps of picking up speed, as he hunches his back somewhat and leans forward with his upper body which seems to aid his acceleration. In conjunction with his speed and acceleration he is agile which is useful when he looks to evade pressure and find space with or without the ball in the final third.
Nevertheless, Nshimirimana looks as if he has average stamina. When played in a central-midfield position he struggles to cover the ground over a whole game and produce recovery runs when turnovers occur. While when he plays in an attacking midfield or wide position, he also spends a lot of time walking around when his team is out of possession.
To improve his stamina he should look to do extra endurance work in training or when he moves to a wealthier club with greater resources either hire his own strength and conditioning coach or work closely with the fitness coach at that club.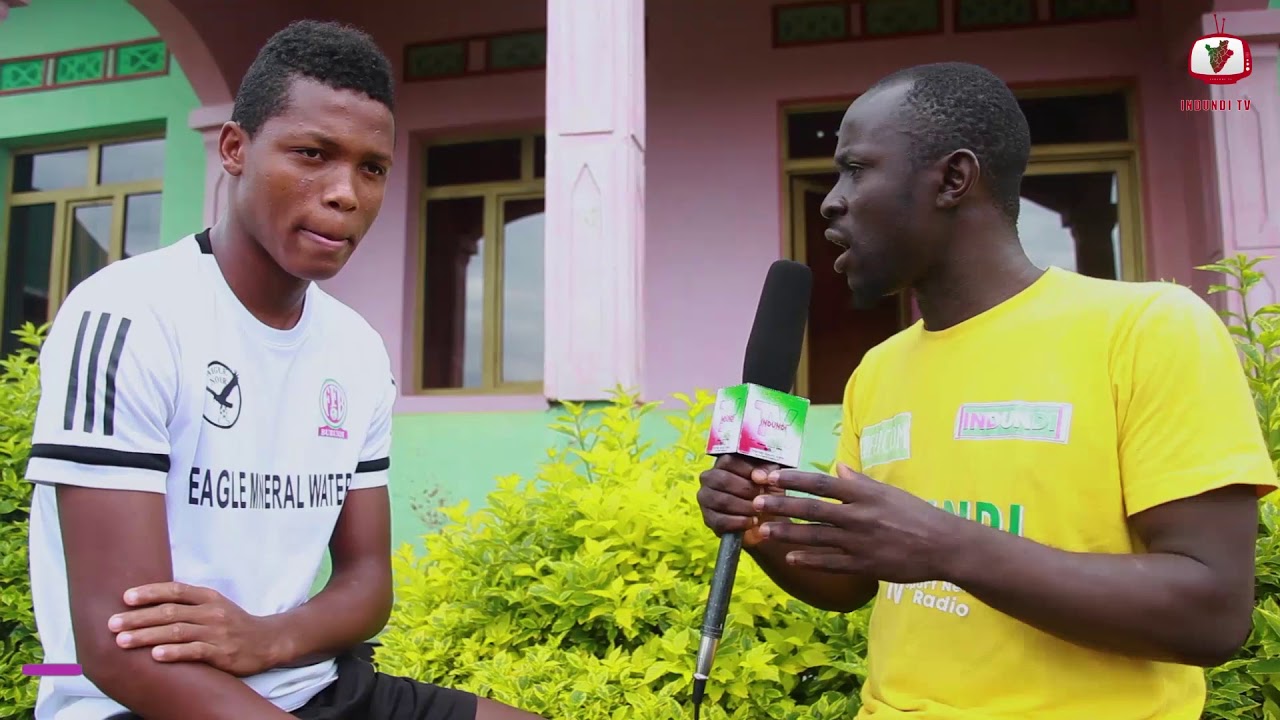 Photo: Indundi TV
Nshimirimana's off-the-ball runs are most evident when he plays as an attacking midfielder. In an attacking midfield role, he makes intelligent diagonal and arched runs into space behind the wing-backs and centre-backs to receive the ball from a teammate.
These runs are hard to pick up and help break-down stubborn defences because they stretch the opposition's defence and the space vacated by these runs can be exploited by teammates. They also create overloads especially in wide areas, as his winger and wing-back teammate can support him on the flank creating 3v1 and 3v2 situations.
To be a goal-scoring threat in the final third you need to be good at identifying small pockets of space in a crowded environment and placing yourself in that space to receive the ball. He is very good at this. In an attacking midfield or right wing position you can see him glancing at where the spaces are, then drifting off his closest opponent with a clever, subtle off-the-ball run and popping up with time and space to receive the ball in dangerous areas in and around the box.
This is an innate skill that cannot really be trained, and it seems to come naturally to him. A good example of this was his goal against Flambeau du Centre last season. He ran towards the opposition's penalty box with an opponent, who was marking him, a couple of yards ahead of him. At this moment, the ball was at his teammate's feet on the right wing just outside the box.
As his teammate entered the box on the right-hand side, he was a yard away from the penalty spot and slowed down abruptly. He then changed his direction rapidly by shifting his body weight on to his left leg and then running a few steps diagonally to the right towards his teammate who had the ball. This action created four to five yards of space between himself and his marker because they watched the ball and carried on past the penalty spot closer to the goal.
His teammate saw he was in space to be crossed the ball and then floated the cross fractionally behind a defender in front of him, into his vicinity. He lifted his right leg to volley the ball and his strike whizzed past the goalkeeper and nestled in the bottom-left corner of the net. This goal highlighted three parts of his game. His off-the-ball movement, his ability to find space in the box as well as his finishing.
With regards to Nshimirimana's finishing he combines ruthless composure with the ability to conjure up a diversity of finishes when given an opportunity in or around the box. He scores headed goals, volleys, tap-ins, 1v1 finishes and long-range efforts. Last season was the most productive of his young career. He scored 20 league goals, primarily from an attacking midfield position, and banked seven goals in the Bangabadhu Cup including hat-tricks against Mauritius and Bangladesh.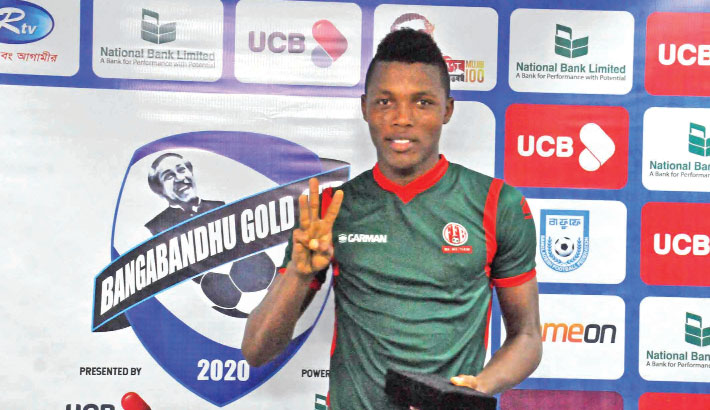 Photo: BFF Photo
In the match against Bangladesh he scored a perfect hat-trick which illustrated his finishing ability. The first goal came through a cross from the byline which was cut back. He cleverly anticipated the cut back by dropping slightly deeper around the penalty spot whereas all the defenders were expecting a ball across the face of the goal.
As a result, he received the ball in plenty of space despite there being five or six Bangladeshi defenders in the box. He took a quick left-footed touch and instinctively toe poked a smart finish with his right foot into the bottom corner. His second goal came again from a cross from the right hand-side. This time it was a floated ball bent into the box.
As it was curving away from goal he watched the flight of the ball, made his move towards it and found himself almost in line with the front post but demonstrated real strength in his neck muscles by redirecting the ball with his head delightfully, with dip and precision into the far corner of the net. The third goal was from a counter-attack late in the match. He made a positive run in behind the left back of Bangladesh, but the ball was over-hit which meant he reached it just before it went out of play.
The retreating defender closed off the angle straight to goal therefore he cut back towards the penalty spot with a couple of right-footed touches and then unexpectedly fired a disguised yet scruffy left footed shot into the near post which deceived the goalkeeper and found its way into the goal at the near post.
Nshimirimana strikes the ball cleanly, particularly, with his right foot. This is evident in many of the goals he has scored but also in the numerous free-kick attempts at goal he has taken. He utilises the shooting technique popularised by Didier Drogba and Juninho Pernambuco whereby they run at the dead ball straight-on and then open up their foot and strike the ball with their instep.
This is a difficult technique to master and the fact Nshimirimana can strike the ball like this and have attempts on target shows his proficient ball-striking capacity. It should also be noted that he is the regular corner-taker for both club and country. He produced multiple menacing corners in the games reviewed, which further demonstrates his ball-striking ability.
Nshimirimana has some inconsistency when it comes to his touch and close control. In the final third he usually has a delicate first touch and this helps him maintain possession or have an attempt at goal. He also shows quick feet when pressured by an opponent whether that be in a central midfield, attacking midfield or right-wing role and can move the ball quickly to evade pressure which is helped by his agility.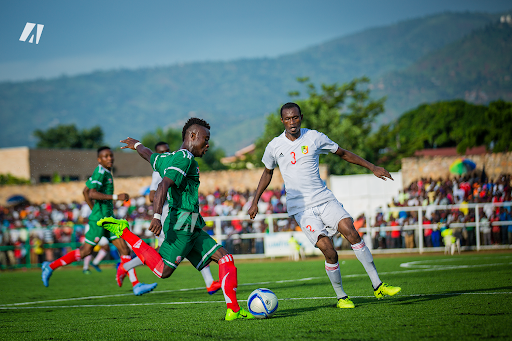 Photo: akeza.net
Alongside this, he carries the ball well at high speed with lots of small touches, especially over long distances, which demonstrates his good ball control. However, when playing in a deeper central midfield role he sometimes has a lax and heavy first touch which allows an opponent to pinch the ball off him.
This suggests he lacks focus when given more time and space to control the ball. He therefore needs to work on ensuring he has the same mental intensity when controlling the ball in deeper midfield positions as he does when playing higher up the pitch. This flaw should improve with maturity and more experience.
An aspect of Nshimirimana's technique which needs some work is his passing. When he plays in a deeper playmaker role, he can play a range of accurate ground passes. That includes simple five-yard passes as well as through-balls in between the centre-back and wing-back for an attacker to run on to.
Nonetheless, he regularly tries curved floated balls down the sides of the wing-backs, switch of play passes and longer balls over the top of the centre-backs but these are usually inaccurate. Either they are intercepted by the opposition or end up out of play.
To improve the accuracy of his longer passes he needs to work on this for hours and hours on the training ground. Alternatively, he could prioritise adding different ground passes to his repertoire and leaving those other types of passes to teammates.
Long-term Potential
Having closely watched Nshimirimana in matches for his club Aigle Noir as well as for Burundi he has shown he has the potential to become a good player for a club in Europe's top five leagues.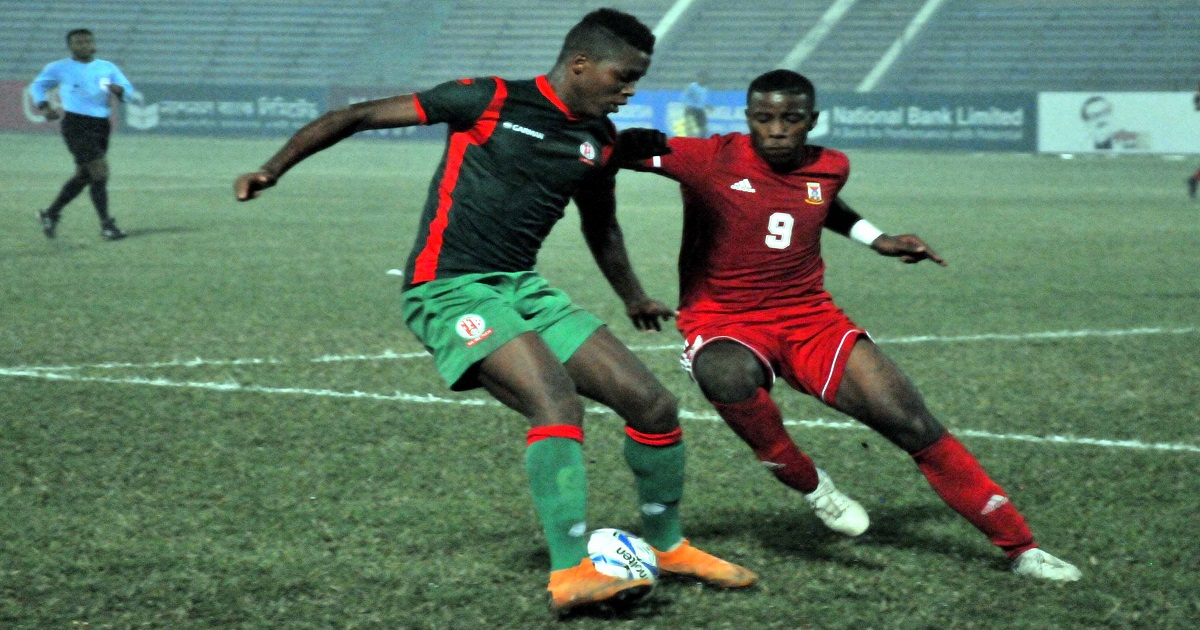 Photo: UNB
In terms of his longer-term development Nshimirimana needs to be played as either a central attacking midfielder or narrow right winger. Based on his characteristics those two positions are where he has the most potential to develop into an exciting player.
Potential Future Clubs
As Nshimirimana is only 18 years of age and has mainly excelled in the Burundian Premier League and in international matches for his country, a move to Europe may be considered too big of a jump. Nevertheless, he has some aspects of his game which are already of a high level and other aspects that can be worked on with better coaching and will improve with added maturity and experience.
Considering this, a move to a good European club with a strong emphasis on developing and honing young talent and providing first-team opportunities at the right time, would be an advisable next step for Nshimirimana. So, let's take a look at two clubs who fit the bill:
Belenenses
Belenenses finished in 15th place in the Primeira Liga (Portugal's top division) last season. They only escaped relegation by two points and will be looking to have a much-improved season in the 2020/2021 campaign.
Having looked at Belenenses' attacking options they do not have many players who can play in a central attacking midfield position. Their manager Petit usually implemented a 3-4-3 formation last season but did use other formations too such as a 4-2-3-1 and a 3-4-2-1 formation.
To enable Petit to use these systems more flexibly and interchangeably based on their opposition they need an extra player who can play as a central attacking midfielder. As such Nshimirimana should be signed to provide an extra attacking midfield option. He has attributes that would be hugely beneficial to them, especially as they struggled to score goals last season, managing only 27 goals in 34 league matches.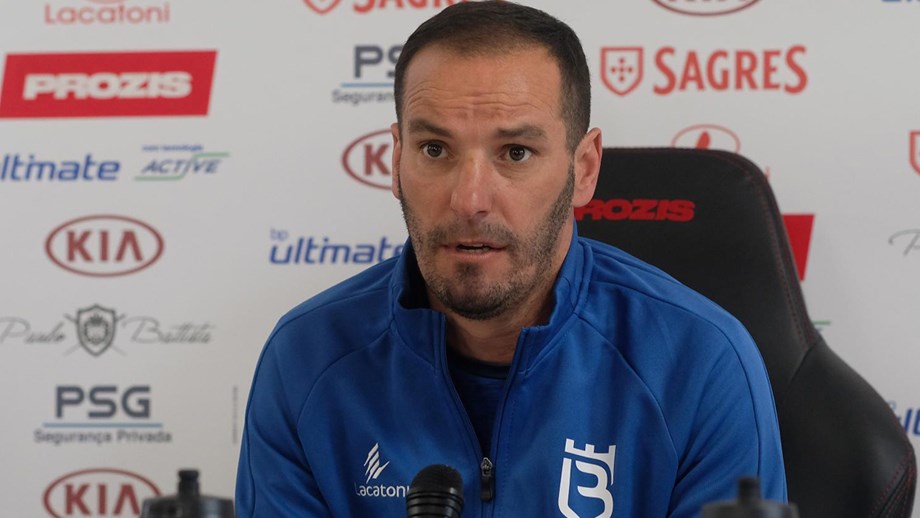 Photo: Pedro Ferreira / Record
That includes his off-the-ball runs, ability to find space in the attacking third to threaten opponents and his lethal finishing as well as his speed, acceleration and quick feet. Not to mention, he is only 18 years old with time to sharpen his strengths and improve his weaknesses, would be a relatively cheap option as any transfer fee is unlikely to be above £50,000 plus he has the versatility to occupy a wide role effectively or even a more deep-lying midfield role if required.
Nshimirimana should jump at the chance to join a club like Belenenses if they were interested. They are a small Portuguese club who survive in the Primeira Liga by developing their own young talent, signing inexpensive and undiscovered or unappreciated young talent, loaning young talent from other clubs as well as purchasing experienced low-cost players from, primarily, other Portuguese clubs or from Brazil.
Therefore, if they signed him, they have an incentive to develop him and give him first-team opportunities quickly. This is because they need their young players to contribute to them staying in the Primeira Liga. Secondly from a business standpoint, if their young players can excel that will enable them to sell those players for a healthy profit to a wealthier club domestically or abroad.
Playing in Portuguese football would suit Nshimirimana. He is used to playing in a low tempo league and even though the quality, intensity and physicality will be far higher in the Primeira Liga, the tempo would not be worlds apart from what he is used to.
Consequently, from a footballing perspective the transition from the Burundian Premier League to the Primeira Liga would not be as stark as it would be from the Burundian Premier League to one of Europe's top five leagues.
Heracles Almelo (Heracles)
Before the 2019/2020 Eredivisie season was abandoned due to the coronavirus Heracles had performed well. They sat in 8th position after 26 matches. They will be looking to build on this during the 2020/2021 season and achieve a similar position or higher.
Heracles, like many Dutch clubs have a young squad, with an average age of 24. Their squad includes some young players who have the talent to eventually be sold to more renowned clubs. With this in mind, they will be scouring the market all year round to identify talented young players who can supplement their squad and who have the potential to be sold at a significant mark-up.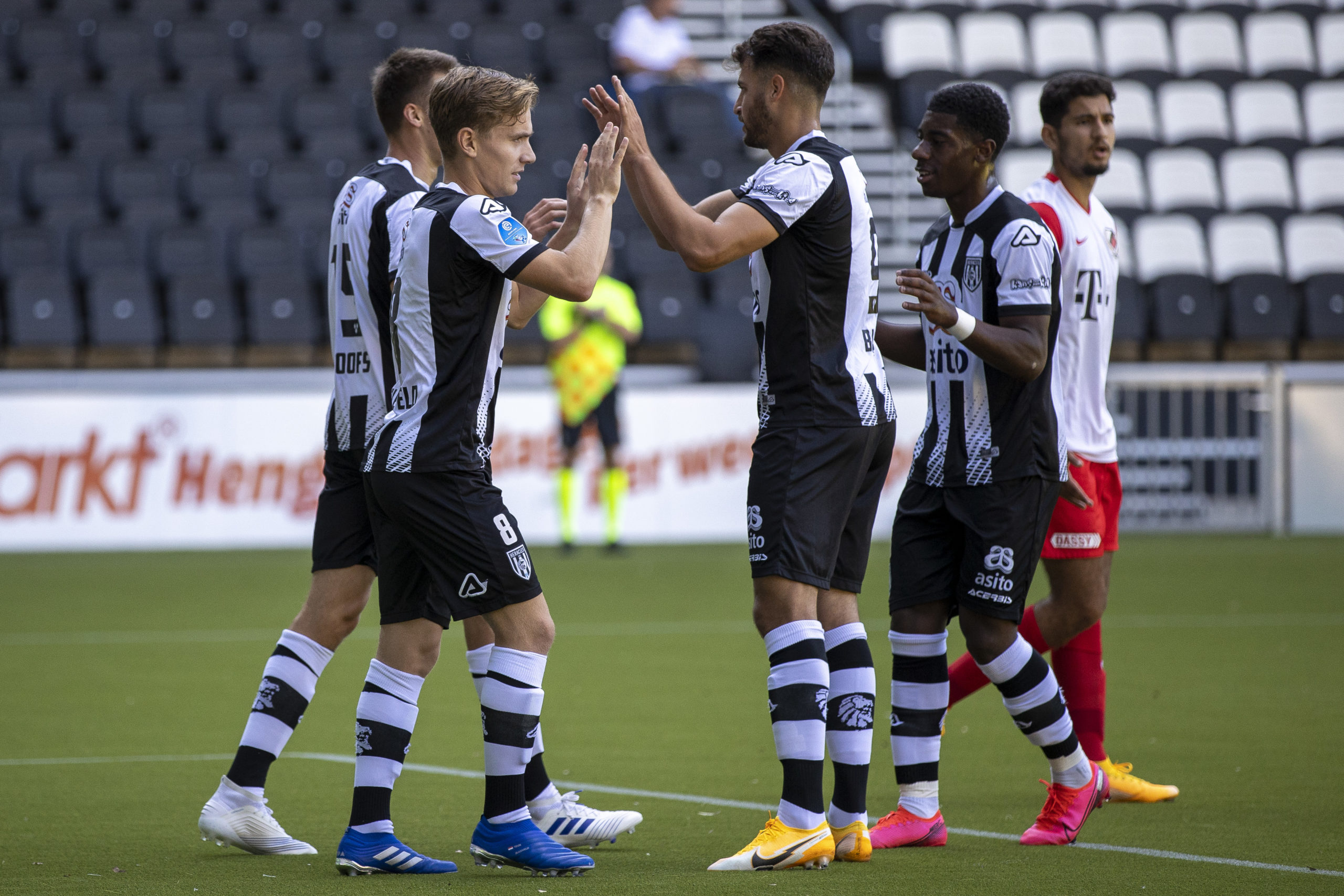 Photo: Michael Bulder / NESIMAGES
There are two positions in their squad which they lack depth: attacking midfield and right wing. To address this lack of depth in these two positions, in line with their recruitment philosophy and in a smart and cost-effective manner considering the impacts of the coronavirus pandemic on their financial status, they should sign Nshimirimana.
He is most effective as either an attacking midfielder or right winger, is only 18-years-old and has huge potential due to his key traits such as his diverse finishing skills, his spatial awareness in the final third and his acceleration. Additionally, he could be signed from Aigle Noir for a low fee compared to similarly talented 18-year-old's playing in Europe.
A transfer to Heracles would be a great next step for Nshimirimana. They have a strong emphasis on developing and harnessing talented youngsters and giving them first-team chances. This sort of environment would be exactly what he needs because of how young he is and how vital it is that he is developed properly over the next few years.
A bonus of joining Heracles would be that Nshimirimana's Burundi Under-20 and international teammate Mohamed Amissi is part of their first-team squad. Moving far away from home, for the first time, at such a young age would be daunting for Nshimirimana. Having someone at the club he already knows would be hugely beneficial to him. As such, Amissi would be able to help him settle and adapt more easily to life in the Netherlands.
By: Daniel Ajuh
Featured Image: @GabFoligno / akeza.net