Krépin Diatta: Senegal's Superstar in Waiting
At 21 years of age, Krépin Diatta is emerging into one of the most exciting young attacking talents outside of Europe's top five leagues. Born in Dakar, Senegal, Diatta began his career at the local Oslo Football Academy in Dakar before earning a move to Norwegian side Sarpsborg 08 FF in 2017. He would last less than a year in Scandinavia, leading Sarspborg to the Norwegian Football Cup Final with 5 goals, before earning a move to Club Brugge in January 2018.
After beginning his time in Belgium in the reserve side, Diatta eventually became a starter during the Jupiler Pro League Playoffs as Club Brugge narrowly edged Standard Liège to the league title. At the age of 18, Diatta impressed as a left wing-back in Ivan Leko's 3-5-2, whilst occasionally filling in on the right flank as well as the center forward position. A natural wide forward, Diatta has gained acclaim for his versatility and ability to adapt to meet the needs of his manager.
The following year, Diatta was selected in Senegal's 23-man squad for the 2019 Africa Cup of Nations and started in the opening match against Tanzania, grabbing the second goal in a 2-0 victory in Cairo. Whilst he was dropped from the eleven in favor of Henri Saivet after a 0-1 loss to Algeria, he continued to play an important role off the bench in Senegal's run to the Final and would go on to win Best Young Player award for his performances.
Diatta went from strength to strength after his tournament in Egypt, starting against the likes of Paris Saint-Germain and Real Madrid in the UEFA Champions League and registering 8 goals and 4 assists in 35 appearances as the Blauw-Zwart finished 15 points clear of Gent at the top of the table. However, this season, he has exploded onto the scene for Club Brugge, recording 9 goals and 1 assist in 21 appearances and attracting interest from AC Milan, Wolfsburg, and Borussia Mönchengladbach.
Crucial to Diatta's breakthrough has been the appointment of Philippe Clement, who replaced Leko as manager in May 2019 following a successful stint at Genk. Clement has shifted from a 3-5-2 to a 4-3-3, with Diatta operating next to Noa Lang and Youssouph Badji in the attack. Now playing primarily as the right-sided forward, with fewer defensive responsibilities, his potential as an offensive force is starting to show.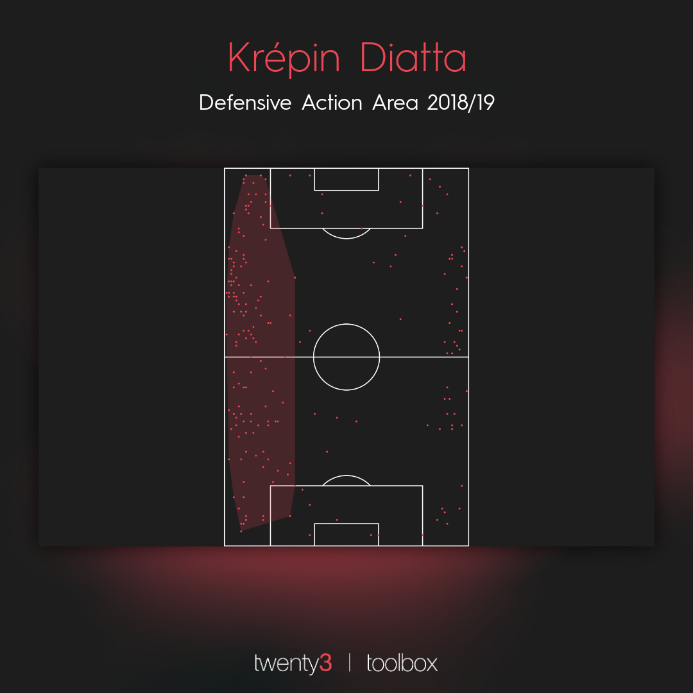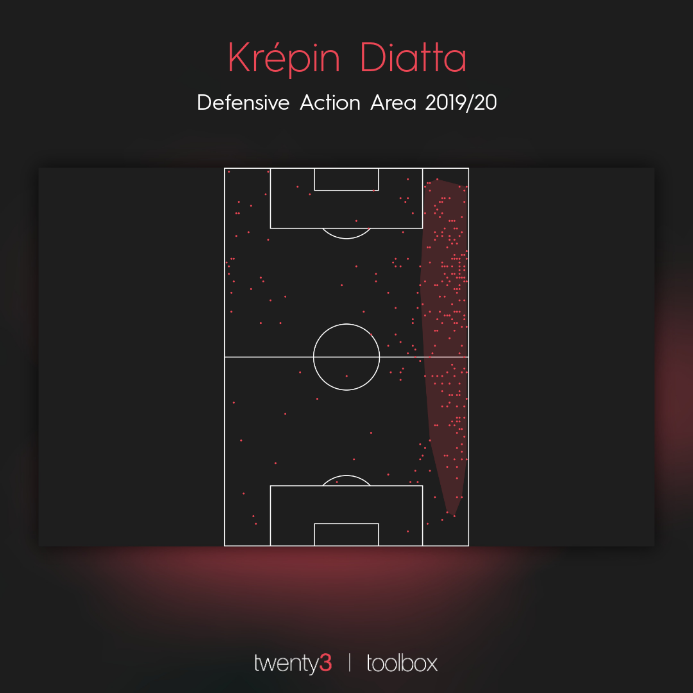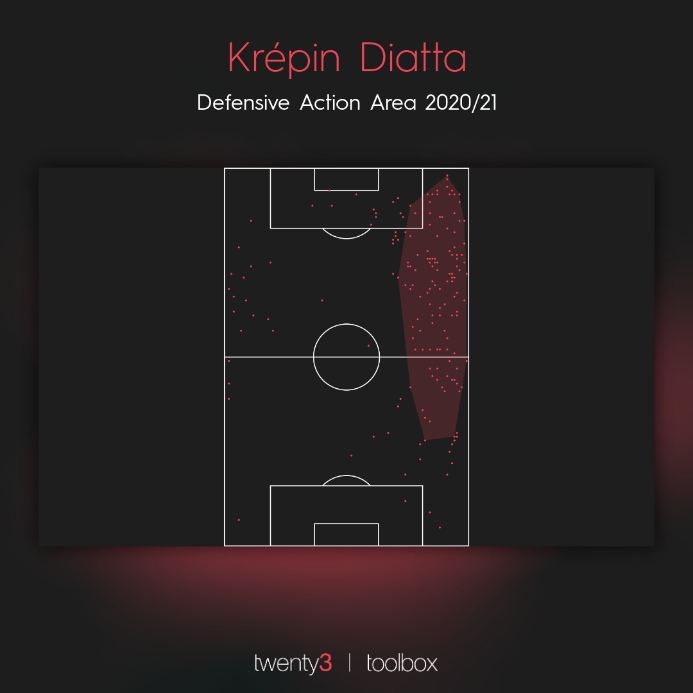 Photo: Twenty3/Wyscout
When deployed at wing-back, Diatta was expected to provide defensive stability as well as be a threat in wide areas when Club Brugge were in possession. As a result, like most wing-backs, he was required to be shuttling up and down the flank all game long. Having done that for two full seasons (more or less), adapting to the physical challenges of playing as a winger seems to have helped him generate a better output going forward.
Being able to conserve some more energy helps him stay mentally sharp as well, with the result that he often displays intelligent movement in and around the opposition's penalty area, with his well-timed runs proving difficult for defenders to deal with.
In the above sequence, Club Brugge have just won the ball back in midfield and are progressing down the left flank. Observe Diatta's position on the far side and the distance between him and the opposition left-back. Now, as the ball is played through to Brugge left winger Noa Lang, the entire Royal Antwerp defensive line starts to flood back to defend the box. Three Brugge runners also advance quickly, to get into goal-scoring positions.
Diatta, however, hangs back as the speed of the move increases, enabling him to move out of the field of vision of his marker, who does not consider Diatta the primary threat anymore. This helps him create a larger degree of separation. As Lang starts to cut inside, Diatta makes his move, bolting towards the space that has been created. The pass doesn't come this time, but the identification of space and timing of the run from Diatta is nothing short of exceptional.  
This kind of run, where he hangs back and belatedly sprints forward, is a regular feature of his game. He possesses the speed, both of mind and body, to carry it out with great effect. This is something that he had in his locker in previous seasons, but the license to do so is given to him more often now, with the result that he now registers 3.32 shots per 90, an increase on the 2.12 he averaged in 2019/20 and the 1.69 he put up in 2018/19.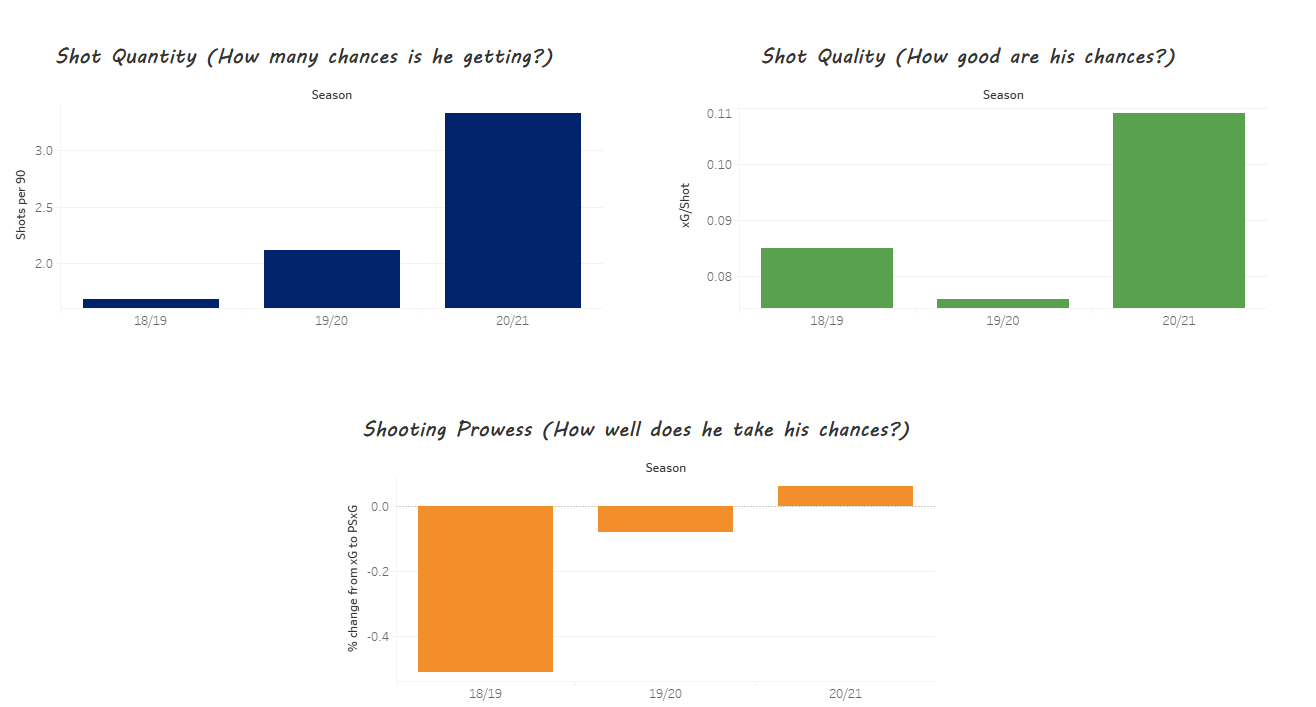 Not only is Diatta shooting more, but he is also shooting from better positions, and making more of the opportunities he gets. As far as he and Brugge are concerned, it is the perfect storm. This is likely something that would have been worked on in training, as this kind of jump is not a natural progression with all attackers. These numbers show that a conscious effort is being put in to improve the facets of his game which could help take Diatta to the next level.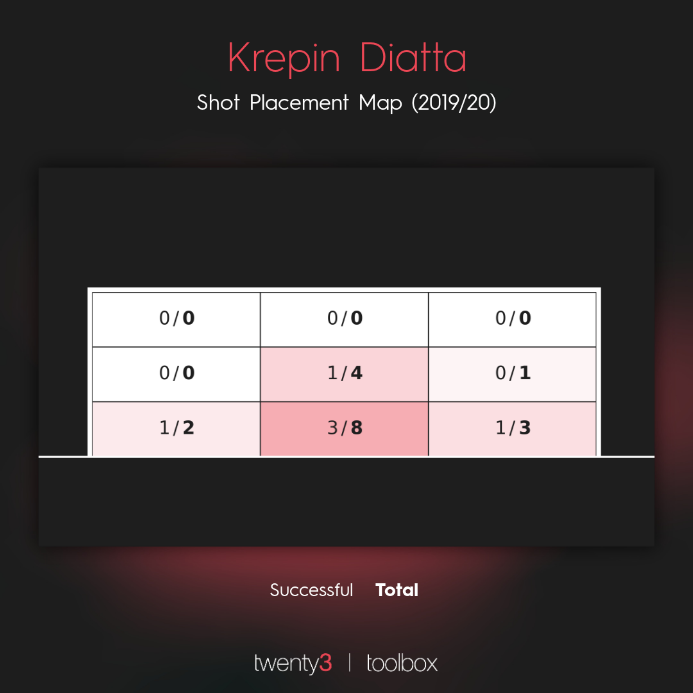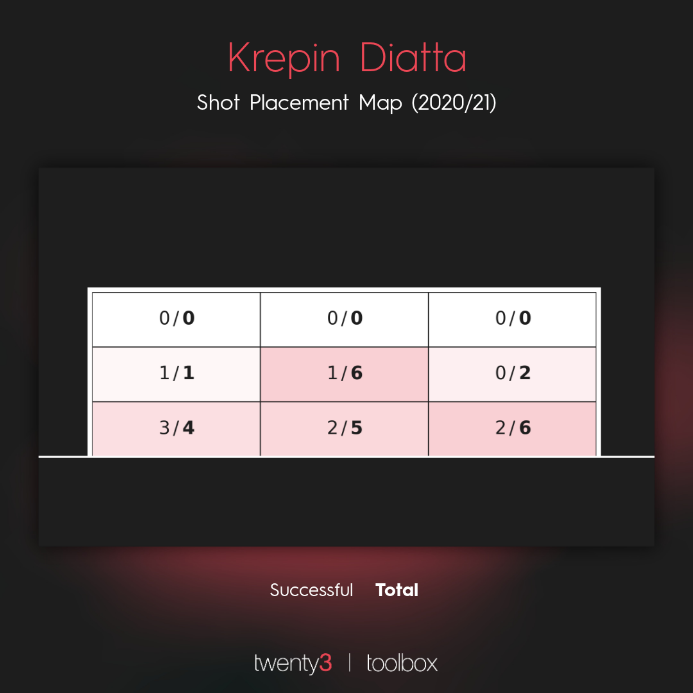 Photo: Twenty3/Wyscout
From his first full season in Belgium to now, there has been a promising shift; from simply looking to shoot, to then trying to consistently put shots on target and finally move on to placing efforts more precisely into the corners of the net.
In possession, Diatta offers his teammates a wide outlet, enabling them to expand the pitch, in addition to the runs he makes to receive the ball behind the opposition's defensive line. This is an important point to note as several wingers in today's game prefer to receive the ball in more central areas, with the full-backs taking up wider positions. This may be a consequence of his time at wing-back, but nevertheless, it is a useful trait to have.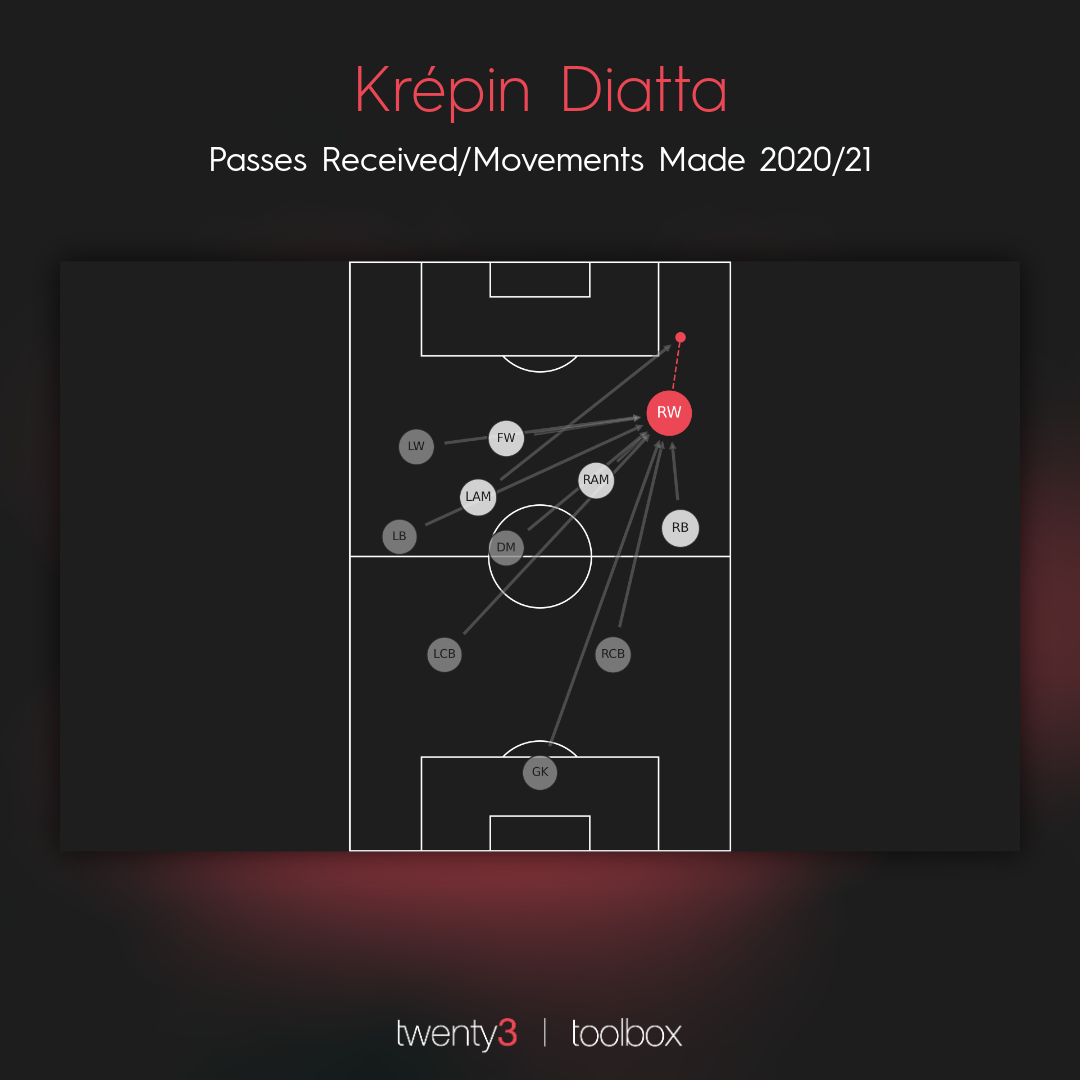 Photo: Twenty3/Wyscout
Whilst Diatta has come leaps and bounds this season, there are still a few areas he must improve upon in order to excel at the top level. When playing at wing-back, his pace often helps him track wingers, or recover if need be, but one-on-one defensive situations can catch him out. 
This usually does not have a detrimental effect for Brugge, given the low number of attacking opportunities they concede, but were Diatta to move to a team that does not enjoy the same kind of dominance in their league, this issue could intensify. He has a strong tendency to dive into tackles which can bring opposition attacks to a grinding halt when timed well but sometimes come across as reckless and sometimes even petulant.
With all respect to the Belgian Pro League, more skilled wide men will likely be able to take advantage of this, by either going past him or drawing fouls. Even in the final third, his eagerness to win the ball back when he loses it leads to him giving away cheap fouls, like the one below:
While it can be argued that this tendency could be weeded out with a bit of focused coaching, the slightly more pertinent issue revolves around Diatta's usefulness in build-up play. There is no doubt as to his ability in the final third and in the opposition penalty area. When moving the ball from the defensive to attacking third, he does not offer much by way of progression. Again, picking it up in attacking areas, he can drive at defenders and cause problems, but if he were required to get it to a teammate in that kind of position, he might struggle. 
This is borne out in a couple of statistics; firstly, his pass completion rate has remained just below 75% for the last 3 seasons, as a result of him frequently looking to cross or make high-risk passes in the final third. Secondly, his pass split between forward and backward passes is around 50-50, suggesting that he lacks the vision to cut through the defence, or, say, take a couple of players out of the game with a single pass.
Now, this may not be a weakness as much as a stylistic difference, but a potential red flag for prospective buyers. For example, if he were to play at wing-back for Graham Potter's Brighton, he would likely not suit their patient, possession-based style of play. For Nuno Espírito Santo's Wolves, however, he may fit better in the system, given their largely direct, counter-attacking style of play.
All told, Krépin Diatta is perhaps described best as a diamond that needs polishing. Going forward, he would be an excellent addition to most elite sides that like to play at a high tempo. Still only 21, the option is also there for clubs to buy him and have him develop for another season or two on loan elsewhere.
His versatility, in terms of the role he plays and the adaptability to play on either flank also makes him an attractive prospect. If his career goes as those in Belgium think it will, Diatta could follow in the footsteps of Sadio Mané and Kalidou Koulibaly and become the next Senegalese footballer to take Europe by storm.
By: Rahul Iyer
Featured Image: @GabFoligno / BSR Agency / Getty Images