Reece James: Under The Radar
Football is rarely straightforward for Chelsea fans. Even after all the success, the club has enjoyed during the Abramovich era, there is always something simmering beneath the surface. Chelsea, unquestionably, have a unique ability to overly complicate matters and create chaos.
After a tumultuous season that saw Chelsea lift the FA Cup, a period of uncertainty beckons. Who will be the manager? Who is coming in? Who is going out? What about the stadium? How about the owner? These are a few of the questions that have arisen since Chelsea fell way below expectations. Many fans are now questioning the direction of the club.
The lack of a tangible philosophy has been a common discussion point on social media and beyond. Equally, many fans are becoming increasingly frustrated by Chelsea's inability to bring through talented youngsters from their Academy into the 1st Team squad.
Notably, and at this point we probably should add unsurprisingly, Chelsea's Academy were able to produce another remarkable season. In contrast to the exhausting narrative that surrounds the Chelsea 1st Team, the club's Academy remains a refreshing departure from the drama. The lack of 1st Team minutes may give some a reason to criticise their success, but this sits largely outside the control of those within the Academy walls.
It is a problem that is complex and not easily solvable in Chelsea's current boom-or-bust cycle. Outside of Chelsea's convoluted development model, Chelsea's Academy is a world-class facility. They have created a conveyor belt of talent that both individually and collectively stands up to anything in world football across various age groups.
Chelsea currently have several prospects on loan and in-house who have the potential to be 1st Team players. When Chelsea announced their Academy Player of the Year for 2017/18, a lot of sensible money would have been placed on Callum Hudson-Odoi.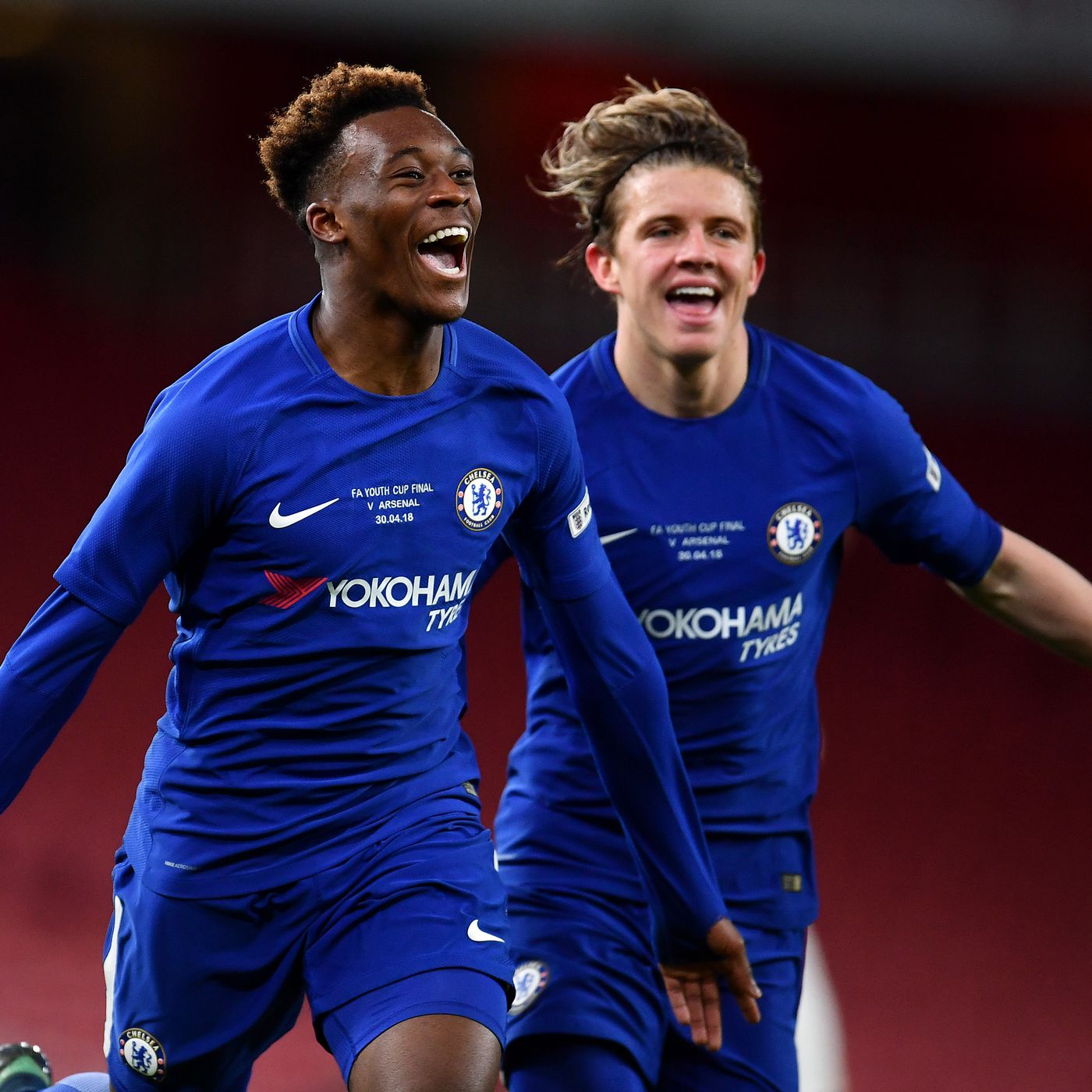 Photo: Justin Setterfield / Getty Images
The jet-heeled forward was coming off an exceptional season where he made his Chelsea debut and had shone for club and country in the development ranks. Despite attacking players usually receiving more love during award season, it was Reece James who came away with the prize. The eighteen-year-old defender has been superb in a campaign that saw him win more silverware than he could possibly carry.
James comes from a footballing family, so perhaps there is little surprise to see his rise to prominence over the last eighteen months. His father, Nigel, runs an elite coaching academy; his brother Joshua has been on the books of Fulham and Reading and his sister Lauren currently plays for Arsenal and England U17s. Having been with Chelsea since he was six years old, Reece's development has been fascinating to follow.
This season he has been called up to three different England age groups, winning both the prestigious Toulon Tournament (where he was named the tournament's best young player) and the UEFA U19 European Championships. James followed this up by winning the U18 Premier League (National Champions), U18 Premier League (Southern Champions), U18 Premier League Cup and the FA Youth Cup (as captain).
His growth from being a "good" Academy scholar to becoming one of Chelsea's brightest prospects has been an example to everyone. It hints at not only his fantastic attitude and work rate but also his ability to improve and absorb coaching. There have been clear improvements in almost every facet of his game.
From a defensive standpoint, he is incredibly difficult to beat. When you marry his physicality (James has a touch of Michael Essien's about him!) with great technique, you have a serious prospect on your hands. In attack, James utilises his previous experience as a winger as well as any fullback in developmental football. Crucially, he is comfortable in every third of the pitch (with and without the ball), and he is notorious for his superb end-product and intelligent link play.
It is rare to see a young player who relishes defending. James, however, seemingly enjoys the chess match with opposition wingers and takes immense pride in his defensive work. Unlike most modern fullbacks, whose only desire is to get forward as often as possible, there is a balance and diligence to James's game that makes him a very complete defender. You are as likely to see him beat his opposite man and deliver an inch-perfect cross as you are to see him fly into a tackle and emerge the other side with the ball.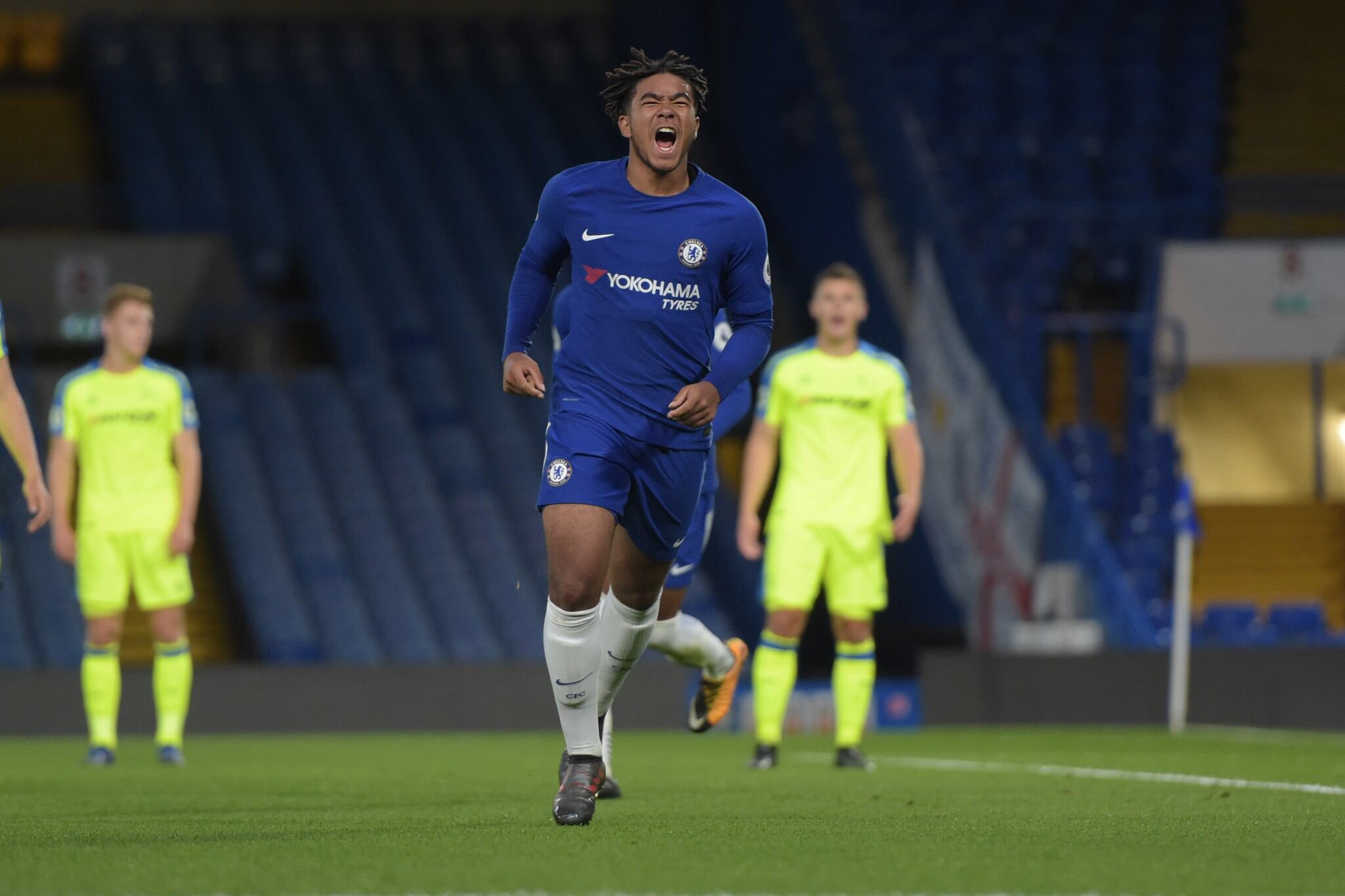 Photo: Clive Howes/Chelsea FC via Getty Images
His performance against Jadon Sancho in the FA Youth Cup (2017) was a precursor to the level Chelsea have come to expect out of him. Keeping the Borussia Dortmund player quiet over two legs helped solidify James's burgeoning reputation as a lockdown two-way fullback. That progression has continued this season, with the Chelsea youngster improving virtually every week.
When attacking, James has many strengths, but it is most likely his appreciation of space and those around him that might be his strongest. He integrates seamlessly with whoever he is playing with, whether for Chelsea or England. There is a confidence that his winger, centre back and midfielder take when he is supporting them. His passing is invariably accurate and often placed so his teammate can play the game at one or two-touch.
These minute details will help him at the next level. I enjoy the fact that you notice his background as a winger the second he receives the ball. His comfort in possession is tangible, rarely does he panic and he trusts his ability to not only retain the ball but play the progressive pass whenever it is available. Looking at players like Joshua Kimmich and David Alaba, fullbacks with the ability to probably play anywhere, James appears to be cut from that cloth.
We have already seen him move to centre back and act as a ball-playing centre half. His range and quality of passing are apparent (see the U18 Premier League National Final against Manchester United for evidence).
Historically, he has played as a wide player and it would not be surprising to see him excel in central midfield. These multifaceted players are becoming more crucial as the game continues to evolve. Being confident on the ball under any circumstance and having the courage to play aggressively are hallmarks of Chelsea's Academy, particularly under Jody Morris.
Fundamentally, James is a prodigious talent. At 18 years old, he has the raw athleticism to play Premier League football. When you blend this with his technique and football IQ, there is a real possibility for him to make an impression next season. If Chelsea are moving towards a more expansive and technical style of football, James should probably be in contention for a position within the 1st Team squad.
He lacks experience, as all young players do, but if we are solely looking at his ability then he sits comfortably alongside (perhaps even ahead) of what Chelsea can offer in a back four. The rise of Trent Alexander-Arnold at Liverpool should be used as a blueprint for the introduction of James from the Academy to Chelsea's 1st Team. You do not always need to go on loan for 25-years to be considered ready.
Importantly, the people I have spoken to who have met Reece all say the same things. In an era where many fans feel disconnected from players, James often stays behind after games to engage with supporters and has time for a conversation. He is very switched-on and represents himself and the club well. In terms of his personality on the pitch, this is arguably my favourite thing about him.
James is no-nonsense – if someone from the opposition is taking liberties, he is going to sort it out. He backs and protects his teammates, something I wish would happen in the 1st Team a bit more. It is not surprising that he was chosen to captain the team during their FA Youth Cup campaign. A highly respected member of the squad, he has the work rate and integrity to lead by example and vocally.
These little glimpses into his character reflect well on him and his increasing importance at the club. As the individual accolades suggest he has the talent to become a top Premier League right back. Sadly, the question at Chelsea is always whether he will get that opportunity to show what he can do. As someone who described signing his first professional contract at Chelsea as "a dream come true", I certainly hope so.
By: Joe Tweedie
Featured Image: @GabFoligno / Darren Walsh – Chelsea FC