Scouting Report: Dayot Upamecano
In the 2015 U-17 Euros, France marched past the opposition en route to their second U-17 Euros triumph, in a tournament that saw them score 15 goals and concede just two. But from that squad that achieved glory in Bulgaria, few names are starting regularly for Europe's top sides.
Of the select few, Faitout Maouassa has been a rocket at left back for Julien Stéphan's Rennes, Jonathan Ikoné has impressed for Lille since joining from Paris Saint-Germain, Odsonne Édouard finished last season as the top scorer in the Scottish Premiership for Celtic, whilst Jeff Reine-Adélaïde's debut season at Lyon has been curtailed by injury. But without a shadow of a doubt, the hottest prospect from that squad is RB Leipzig's Dayot Upamecano, who at 21 years old, is quickly emerging into one of the hottest center backs in Europe.
With long-term injuries to Willi Orban and Ibrahima Konaté, Upamecano has stepped up into a leadership role in defense this season, the Évreux-born player taking his game a step up under Julian Nagelsmann at Leipzig. Primarily deployed on the left side of a back three, he pulls the strings throughout the thirds with the passing of a midfielder and the athleticism of a fullback, while still retaining the sheer defensive grit that has seen the likes of Robert Lewandowski and Diego Costa nullified when up against the sturdy Frenchman.
Below is a graphic showcasing his statistics this season, comparing them to fellow teammates to highlight how he is the primary ball progressor for Leipzig.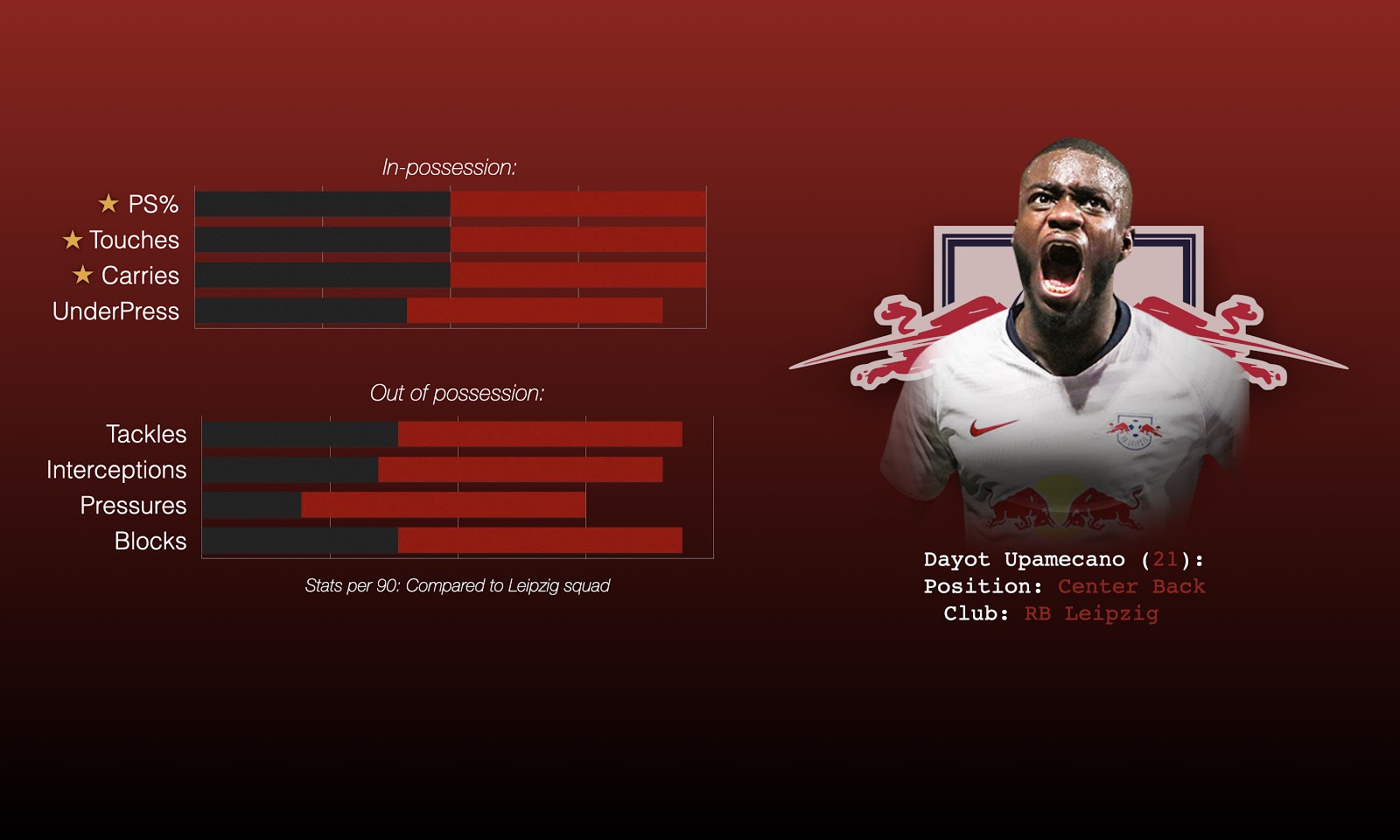 Playmaking Center Back 
In today's possession-based style of play, defenders who were once almost exclusively judged on what they do out of possession are increasingly being judged more on qualities you'd associate with the skill set of a central midfielder. Typically, the defenders who excel in these proactive approaches have the technical ability to not only beat the press with their dribbling, but break the lines with their passing.
Upamecano checks all the boxes for this profile. He has set the standard for U-23 central defenders, as he completes the most passes of players in this age range and position in the Bundesliga. It should come as no surprise that he was occasionally deployed as a midfielder at youth level. He is an incisive passer when playing through the thirds, capable of picking out teammates with either feet.
This season, he's been mostly utilized on the left side of the defense in  Nagelsmann's 3-2-5. From this position, he can pull the strings from a deep position, initiating progressive passing sequences with vertical passes and picking out forwards in the left half spaces. Nobody in Leipzig's active squad with a minimum of 1,000 minutes played has averaged more touches per 90 minutes than him, further underlining how influential Upamecano is from this position.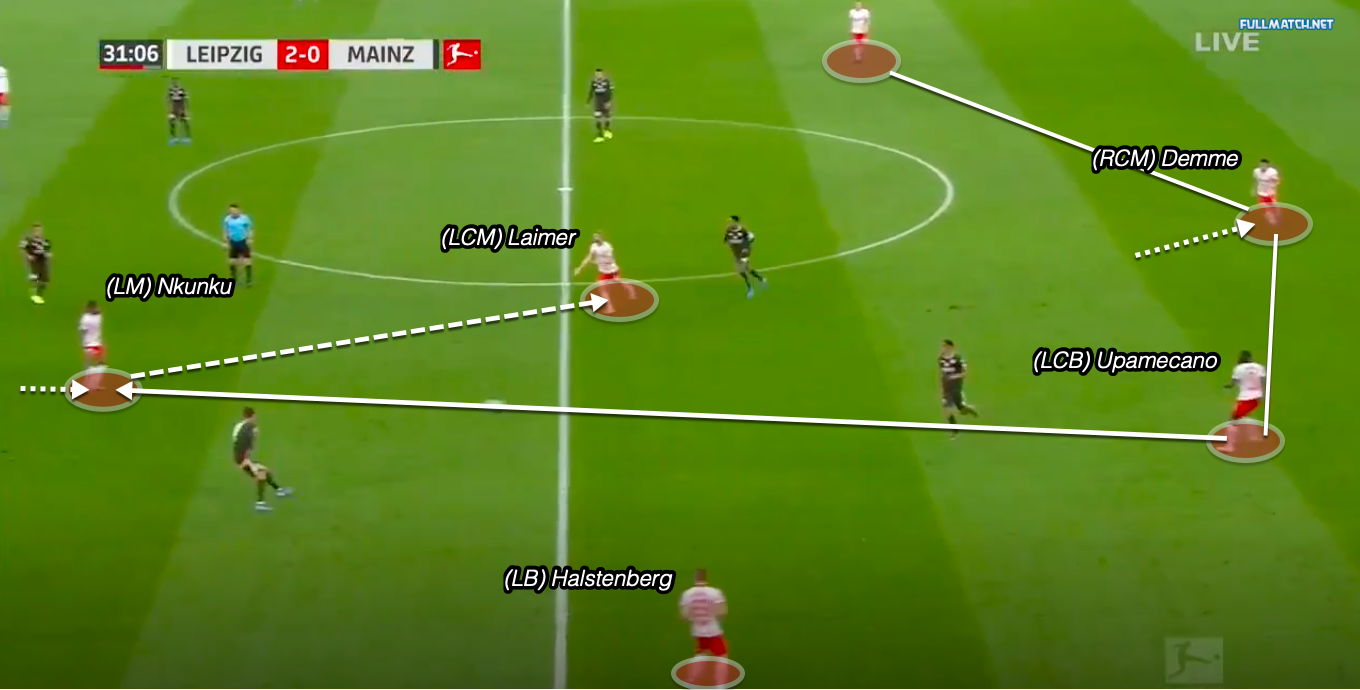 Breaking Down Defensive Blocks
When looking further up the field, it's rare to see a central defender be active past the halfway line, especially on the ball. Against narrow and deep defensive blocks, you'd usually look toward an attacking midfielder to make the difference, but why not a defender?
In many cases, the primary ball progressor now becomes a deep playmaker. What makes a defender particularly dangerous when playing in the opposition half is their deeper positioning which allows them to scan the pitch and execute a pass through the middle to the feet of a forward in an advanced position. 
In the goal sequence below, we can see that the structure of Leipzig facilitates this by making space. The fullbacks and left midfielder Christophe Nkunku provide balance of width in attack, while the attackers pin Mainz's defensive line back.
Konrad Laimer is not in a position to receive the pass, but instead drags opponents away from Upamecano to allow him to play a pass into the left half-spaces. This enables him to make use of his excellent ground passing to break the lines and play a pass directly to the feet of Yussuf Poulsen.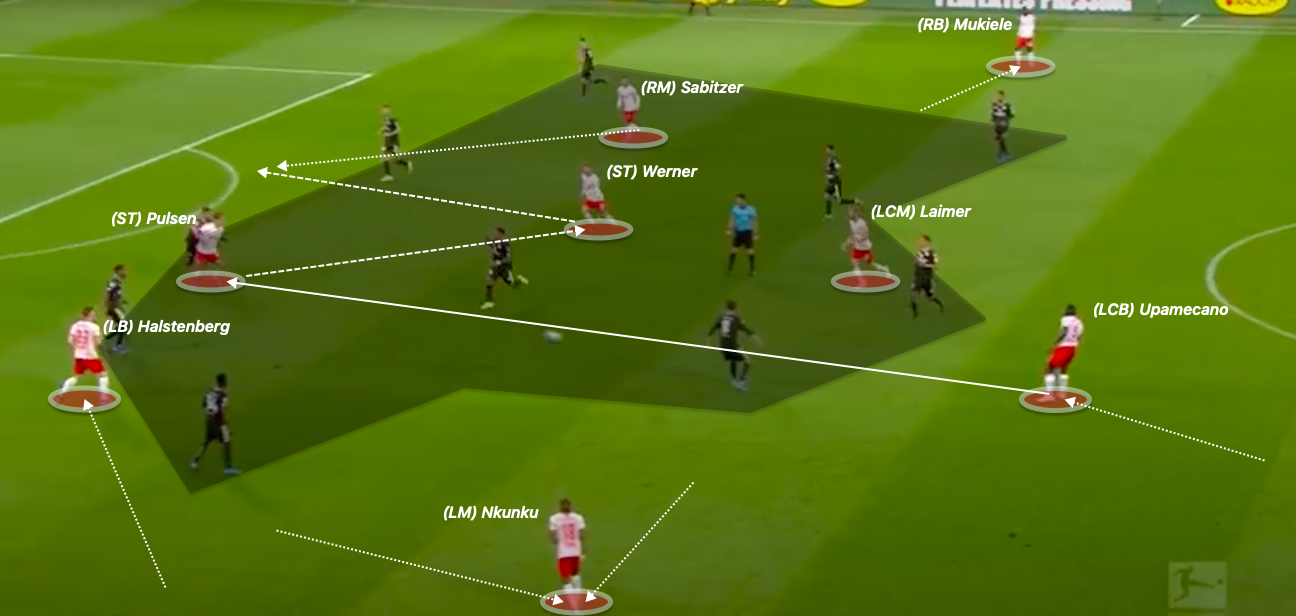 While Upamecano must improve his cross-field diagonal balls, as he often overhits them when attempting to find a teammate, his incisive passing and proactive thinking fits like a glove in Nagelsmann's vertical style of play.
Beating the Press
When Leipzig are playing inside their defensive third, Upamecano is cool, calm and collected. This season, he completed the second most passes under pressure of defenders in the Bundesliga.
As we saw in the quarter-final against Atlético Madrid in the Champions League, he shines when receiving the ball, never looking uncomfortable no matter how much pressure the opposing team applies. Always looking to advance play forward, he often drives into space after the lines of pressure have been stretched. He can 'burst forward with a brutal change of pace before finding a teammate between the lines.
Proactive Defending 
Unlike many of his compatriots in his age group, Upamecano excels off the ball just as much as he does on the ball. His athleticism and in-game awareness ensure that he's able to recover on the counter and protect the space in behind when playing in a high line. Inside the penalty area, he constantly keeps track of players around him, rarely losing focus of blindside movements.
He applies this proactive mentality when defending between the lines. When his team is defending a counterattack, he often pushes forward to engage the player who receives a pass with his back to goal, or who has already received the ball and is looking to carry the ball forward, as seen in the example below against Tottenham Hotspur's Dele Alli.
This is evident in his data, as he makes 12.6 pressures per 90 minutes. While he can sometimes time a tackle a second too late and in turn concede a foul, the reward outweighs the risk; even if he gives away a foul, he has still nullified an attacking movement before it reaches the penalty box.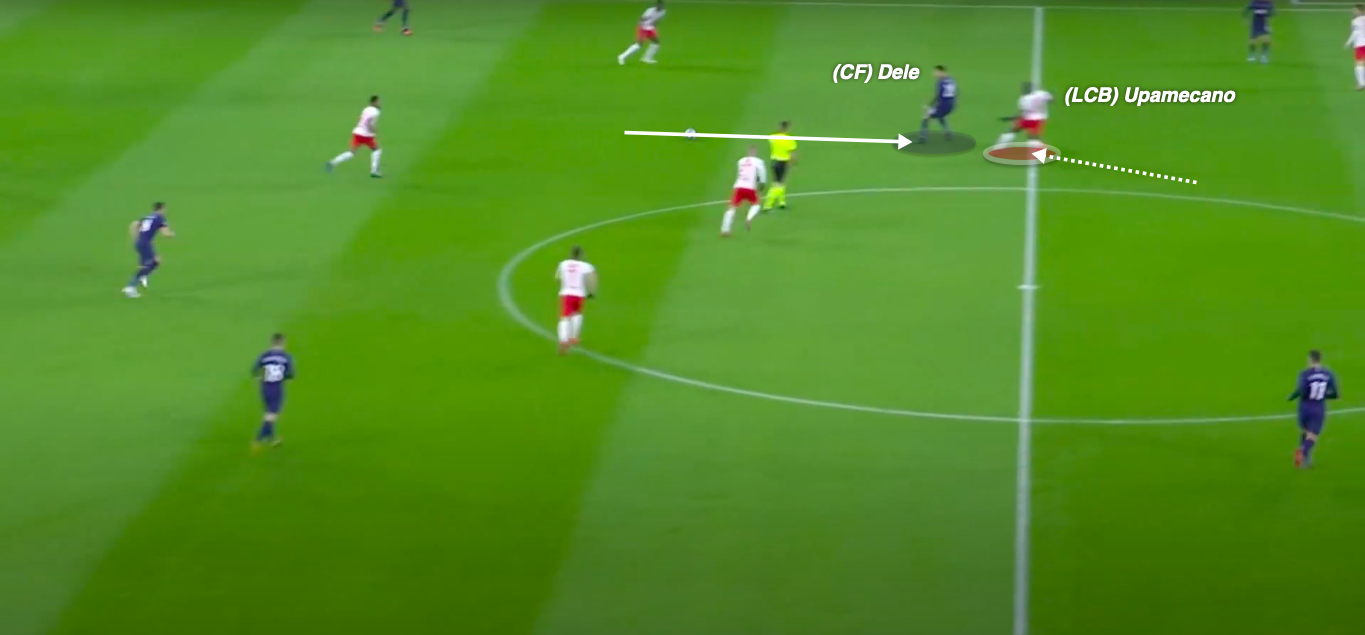 Defending in Isolated Situations
Due to Leipzig's aggressive pressing and high line, Upamecano often finds himself in isolated situations against opposing forwards, with no support from his teammates to defend the attacker. These types of scenarios can expose his glaring weaknesses in his game: rusty decision-making, lack of sprint speed, and poor body positioning.
In this example against Lucas Moura, he wants to engage with him and slow down the attack, forcing the Brazilian away from goal or winning the ball and ending it entirely. However, once he gets close to Lucas, he doesn't stick particularly tight to him.
His body positioning proves fatal, as he stops and squares his hips and feet, thus giving Lucas the chance to blast past him toward the penalty box and create a scoring opportunity.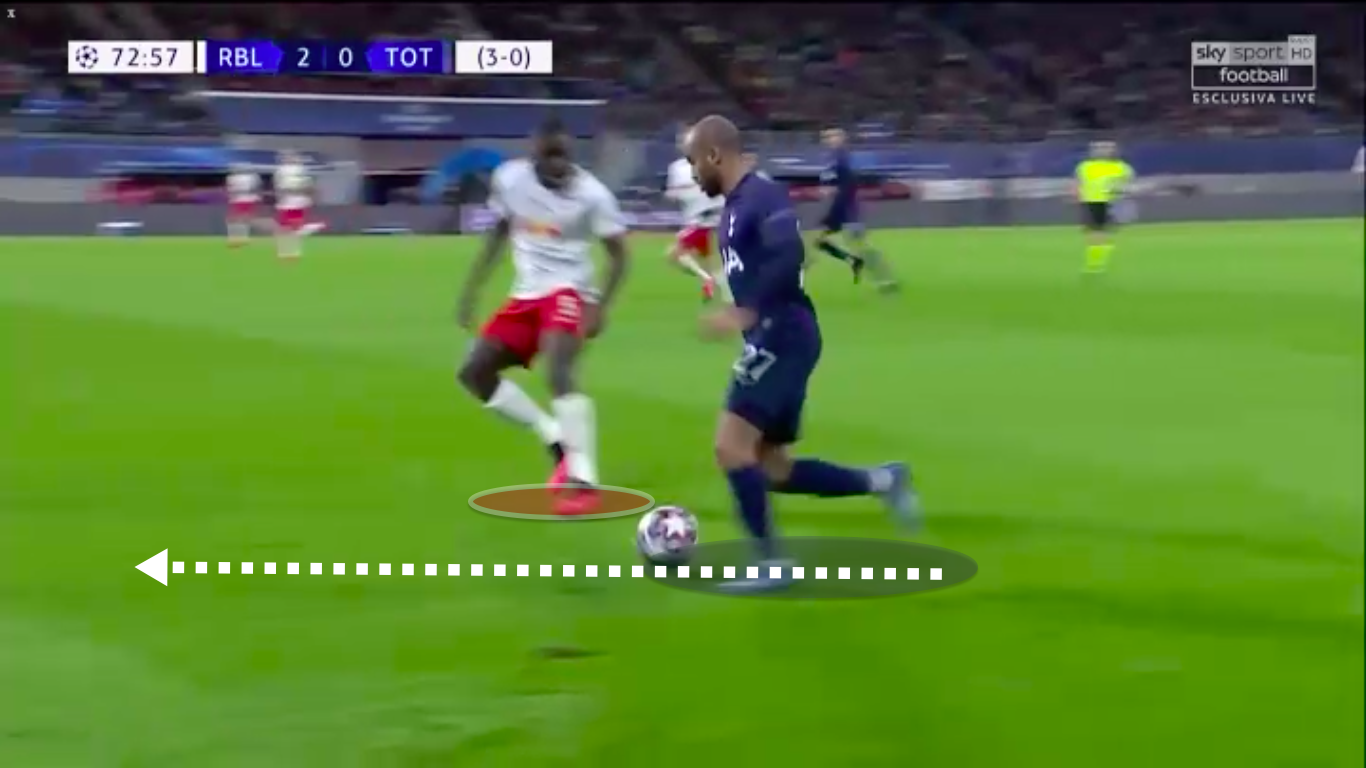 In a similar situation, Bayern Munich's Alphonso Davies receives the ball in behind the space left by Leipzig right back Tyler Adams. Upamecano goes to meet the Canadian out wide and has the same body positioning issues that left him exposed against Lucas. His sprint speed has shown that he can't keep up with quick forwards and recover from these mistakes either.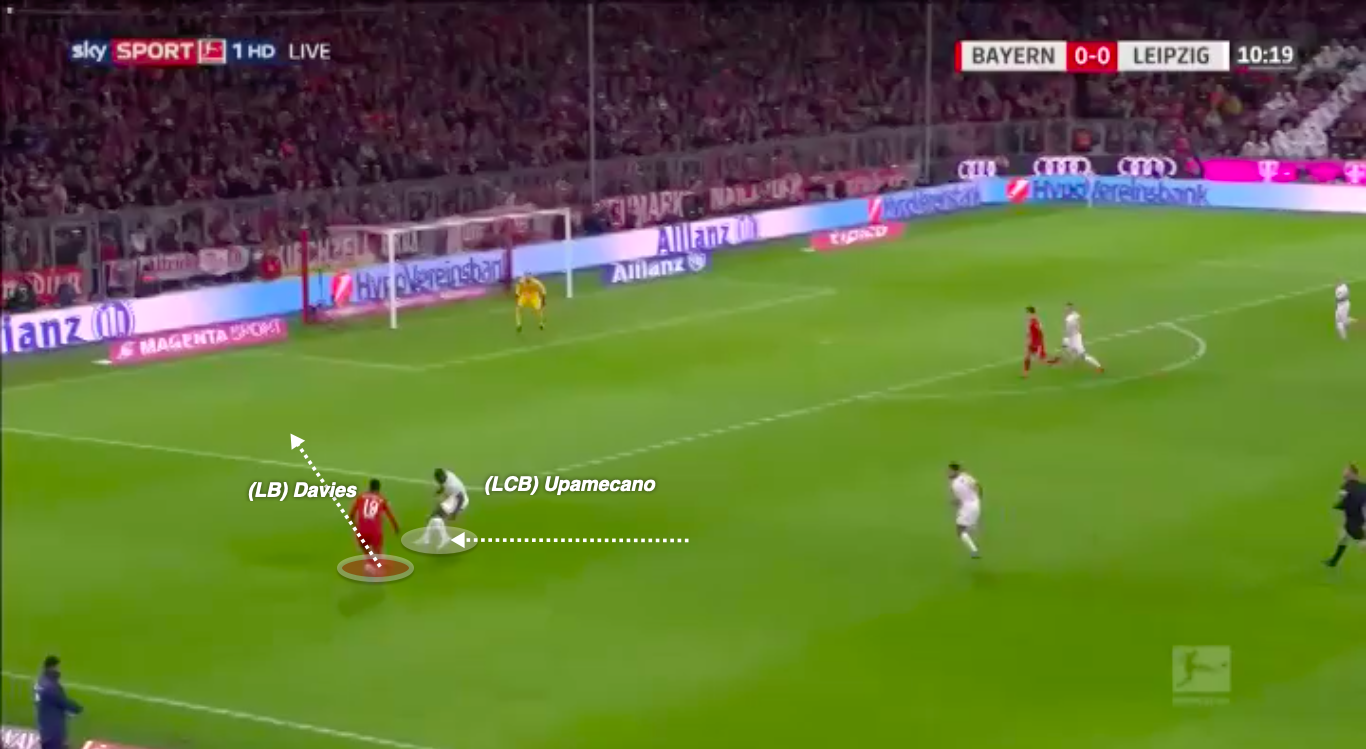 Conclusion
Whilst he seemed certain to depart Leipzig this summer, the COVID-19 pandemic and its economic repercussions meant that few clubs were willing to trigger his €60 million release clause. With just one year left on his contract, Upamecano decided to pen an extension until 2023 but with one catch: his release clause will drop to €42 million next summer (according to Kicker). Any club that is interested in purchasing him this summer would have to agree a fee with Leipzig, likely in the region of his previous release clause.
As such, this abrupt change of events means several things: 1) Upamecano will earn a significantly higher wage next season, 2) Upamecano will, in near certainty, enjoy one more season playing under one of Europe's finest talent developers in Nagelsmann, 3) Leipzig will hold onto their prized center back for one more season as they push to end Bayern Munich's domestic dominance and repeat their Champions League heroics, 4) There will be a bevy of suitors across the continent vying for his signature.
Whoever ends up winning the race will be getting one of the most dominant central defenders in Europe, who, at 21 years old, is still a long way from reaching his prime.
By: Craig Moniz
Featured Image: @GabFoligno / PressFocus / MB Media