Scouting Report: Édouard Mendy
There are a few examples of a meteoric rise and late bloomer more compelling than that of Édouard Mendy – a goalkeeper who signed his first professional contract at 24, in the second tier of French football, and who is set to play Champions League football at 28. Whether he remains at Rennes or moves abroad as rumoured, he will be in Europe's biggest showcase next season, a stage deserving of his talents. 
As recently as 2015/2016, Mendy was playing in the fourth tier of French football as a backup goalkeeper for Marseille's reserves but things soon changed for him when he signed for Stade de Reims in the second tier. Although signed to be a backup goalkeeper, he made his debut soon enough when number one Johann Carrasso got sent off 5 minutes into the season.
Mendy came on and put in a decent performance and then kept it up in the next two games, which he also played. Although he went back to being on the bench, he got to play a handful of games towards the end of the season. 
The full appointment of David Guion as manager shook things a bit at Reims, and one of the beneficiaries of that was Mendy whom Guion trusted to be his number one for the season. Mendy repaid that faith by having a truly wonderful season. He kept clean sheets in half his games, conceding just 22 goals in 34 games.
While the defensive structure, set up by Guion, in front of Mendy certainly played its part, Mendy was also heavily responsible for those impressive numbers as he delivered a string of fine performances through the season. He was by far the best goalkeeper in the league as Reims stormed to Ligue 1 promotion.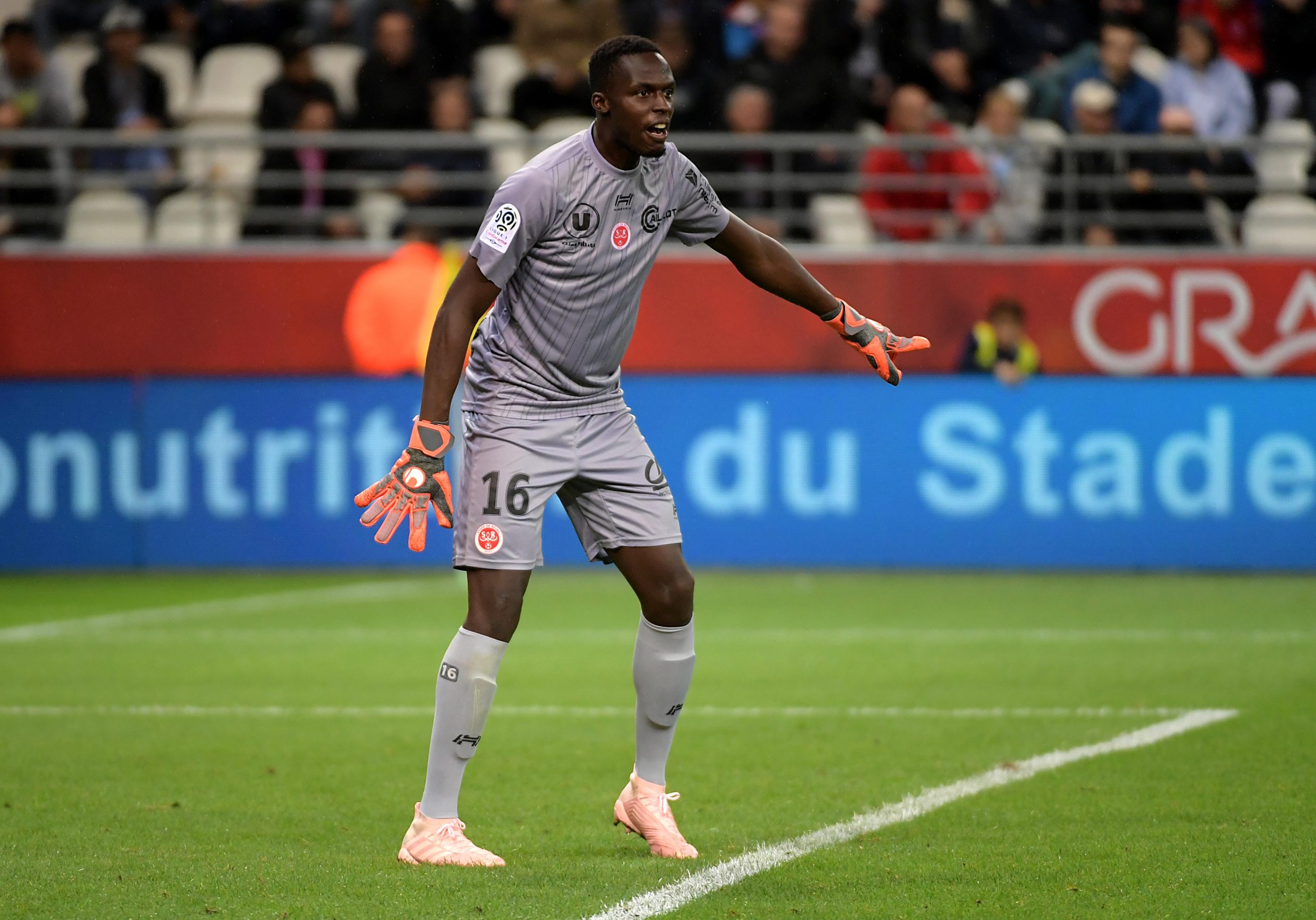 Photo: CAP / Ch Lantenois
The following season was Mendy's first in top flight football. Like the season before in Ligue 2, he was fantastic. Reims, despite being a newly promoted side, turned out to be a team that was really to beat. It was a team built on the same solid defensive structure in front of a goalkeeper who was competent when called into action.
They finished 8th and Mendy was joint-fourth for goals conceded per game and third for clean sheets (just 2 short of the highest in the league). His impressive showings caught the attention of Stade Rennes who signed him as a replacement for the departing Tomáš Koubek. 
With Mendy in goal last season, Rennes ultimately qualified for the Champions League for the first time ever, albeit in a Covid-19 influenced truncated season. Still, Mendy was one of the league's better goalkeepers although this time his showings were not as impressive as in the previous year.
It was a season in which Ligue 1 goalkeepers generally impressed and Mendy wasn't left out. Only his former club, Reims, conceded less than Rennes. Their goals conceded had gone from 1.36 per game the previous season to 0.85 per game. One of the key factors for this improvement was Mendy's arrival in the team. 
Standing at 6 feet, 6 inches tall, Mendy is a physically dominant goalkeeper with great shot-stopping ability and great reflexes. He has averaged a save percentage of 79% over the past 3 seasons (according to fbref), and boasts a PSxG+/- of +6.3 over the past 2 seasons. PSxG is expected goals based on how likely a goalkeeper is to save a shot. In other words, he has over-performed what was expected of him over the past two seasons and saved both Reims and Rennes from conceding more goals than they have. 
Aerially, Mendy is very competent and not afraid to step out of his line to claim a cross. He claimed 10.2% of the crosses into his box last season, the fifth highest in Ligue 1 and the 13th highest in Europe's top 5 leagues (4% off the highest tally). That's more than the likes of Thibaut Courtois (8.8%), Alisson (8.1%), Ederson (6.9%) and Jan Oblak (5.5%).
He oftentimes his attempts to claim crosses very well and shows dominance in the air when called upon. In terms of command of area, Mendy is quite competent. He is pretty vocal, enough to alert his defenders to danger and organise them accordingly. He rules his box often and makes sure that all the pieces are in place.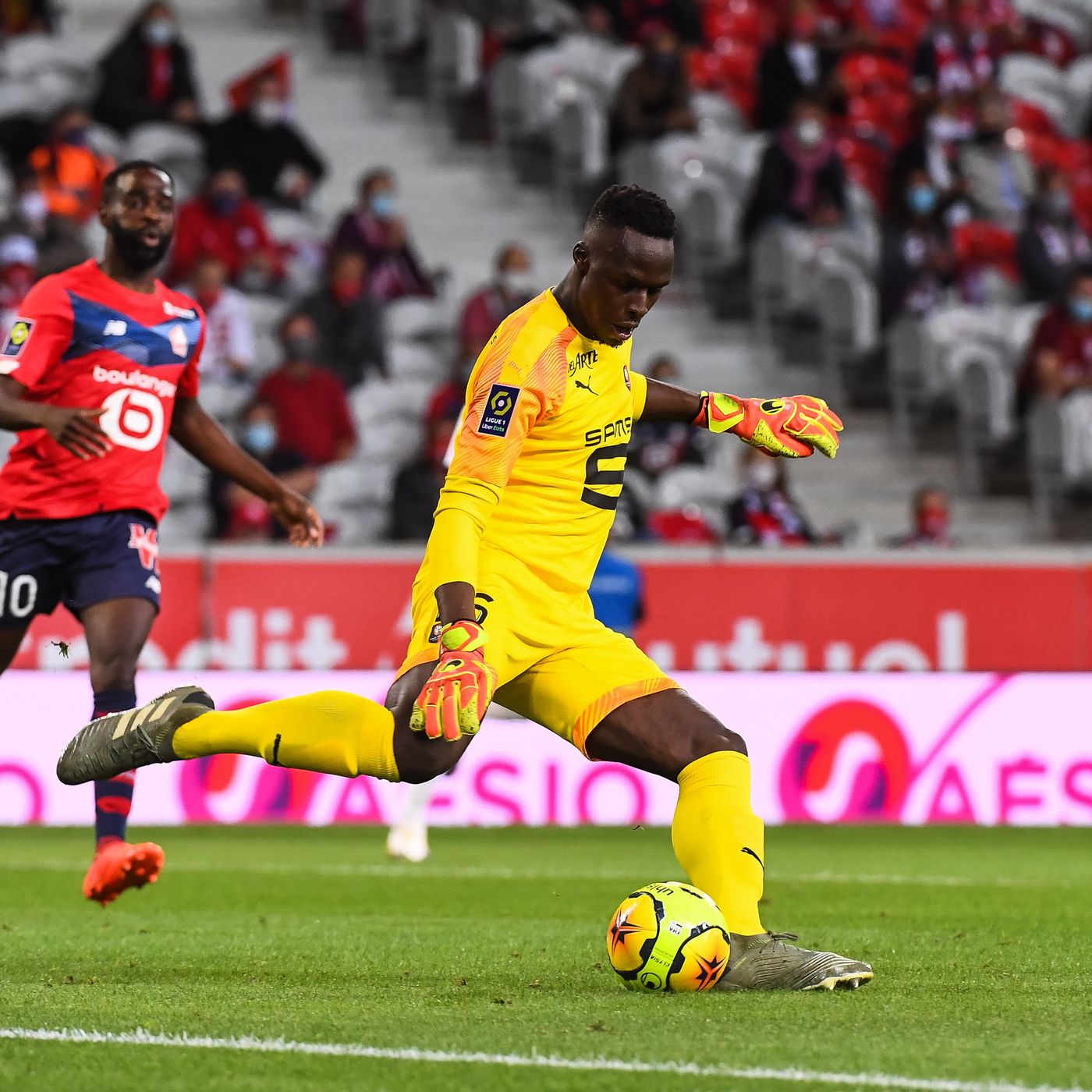 Photo: Baptiste Fernandez/Icon Sport via Getty Images
Mendy is also very competent when launching the ball. He completed 51.4% of his launched passes over 40 yards last season, the same tally as Ederson (who is well regarded for it) and with just under twice as many attempts. That put him at number 9 in Europe's top 5 leagues for that metric, an extremely impressive figure.
Over the past season, he has shown improvement in his sweeping ability when opposition strikers get in behind, but it isn't there yet and can be seen as a bit of a weakness. He does tend to be quick off his line, which is a good thing, and is usually able to make himself big in the event that the striker gets to the ball first and elects to shoot immediately.
In terms of ball-playing, he is above average and able to do what is expected, although he is not particularly a world beater in that. His above average competence in this just about gets the job done. His positioning on the line is sometimes a mixed bag as well although it doesn't particularly get in the way of his shot-stopping as he is able to use his reflexes to adjust to snap shots and more. 
All in all, Mendy is a very good goalkeeper with few notable weaknesses. His strengths lie in the more important aspects of goalkeeping from shot-stopping and reflexes to command of area and aerial competence. Considering how Reims and Rennes play, he has been the right fit for them.
It remains to be seen if he is capable of adapting when asked to do more than has been required of him so far. What is certain though is that, at just 28 years old, Mendy can still improve in certain aspects. After all, goalkeepers generally start peaking around their late 20s and early 30s.
By: Astorre S. Cerebronè
Photo: @GabFoligno / Manuel Blondeau