Scouting Report: Gian-Luca Waldschmidt
Another day in lockdown and another transfer rumour has come about involving a team expected to have a busy window.
Chelsea have been linked with a £20m move for Freiburg striker Gian-Luca Waldschmidt, a somewhat unexpected player and one that most fans won't know. With Chelsea looking to replace Michy Batshuayi and Olivier Giroud, it would seem a younger attacking player would be the way forward for Frank Lampard.
Let's indulge ourselves in Waldschmidt's season and see how he measures up to the current Chelsea forward line to see what type of player he is and if he is worthy of moving to a bigger club. 
Price Tag
In terms of the fee being talked about being between £20 million to £23 million, it seems a pretty low risk fee for someone with apparent ability and potential. It shows the way Chelsea are looking to do business, which has changed since Lampard has come in.
Looking to be shrewder in the market and looking to find players that will evidently bring something different to the team and have quality and qualities that the gaffer likes. Not forgetting the young, fresh team that is taking shape at Chelsea, the German also fulfills that criteria. 
Playing Style
Still just 23, Waldschmidt is certainly in the early stages of his career. He made a name for himself for Germany at the U-21 European Championships, scoring seven goals in four games to lead Germany to the final where they succumbed to Spain.
His performances brought him into the limelight as he returned to club football at Freiburg. He hit nine goals in the league before the Euros and this season his return was six goals and two assists in 16 appearances for the club without being a real starter – as he averaged 60 minutes over his 16 appearances.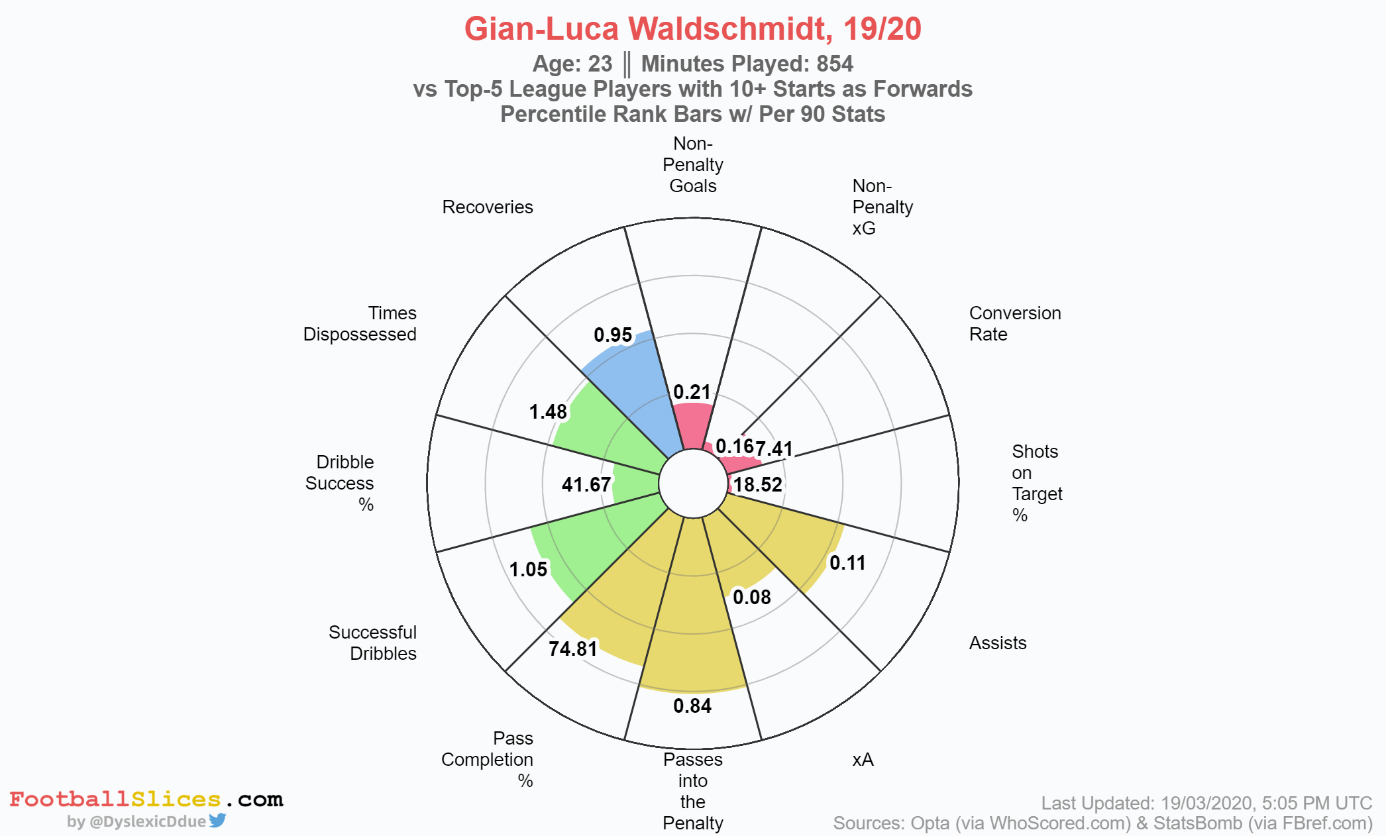 What is interesting is the type of player he is; it speaks volumes about the type of player Lampard is after if this is genuine transfer target. Short in stature at 5'9, his strengths are his dribbling, technical ability and set pieces.
His manager was quoted as saying: "He has good movement, good passing and is versatile." He also likes to shoot from distance, earning a bit of reputation and he has drawn comparisons to German legend Gerd Muller. High praise indeed.
Comparisons 
Turning over to the statistics, his stats show that he has a high pass completion and high amount of passes into the box – Illustrating his tendency to play slightly deeper behind the striker.
Comparing that to Giroud, Abraham and Batshuayi who's all are much lower, it shows he isn't the 'number nine' he was more of a forward who operates between the lines.
However, his shots on target and conversion are both poor – with only Batshuayi having worse stats. Adding in the fact he has the worst figures of non-penalty goals and non-penalty XG doesn't paint the picture of a real marksman.
Perhaps the ability is there and could be unlocked with better players around him? It would be strange to throw £20m at a guy who doesn't really set the world alight in terms of the finishing side of the game. 
Looking into more detail, we can look at stats per 90 in comparison to the other Chelsea forwards. According to WhoScored, he has the highest stats for Through Balls and Passes per game as well as having joint highest with Abraham for long balls and crosses.
It is interesting to think if he is slightly deeper than the other forwards he should more involved, in terms of passes. The key passes stat is higher for Giroud and Abraham due to their ability in the air and bringing players into play in that sense which Waldschmidt can't replicate. 
He has the second most shots (2.0 per game) and is offside the least and has the most dribbles (0.7) which shows that he does play high up the pitch, but he certainly isn't the most advanced as he isn't offside as much as your traditional number nines who are at Chelsea. One graphic we can look at, is tracking his shooting positions. As shown here: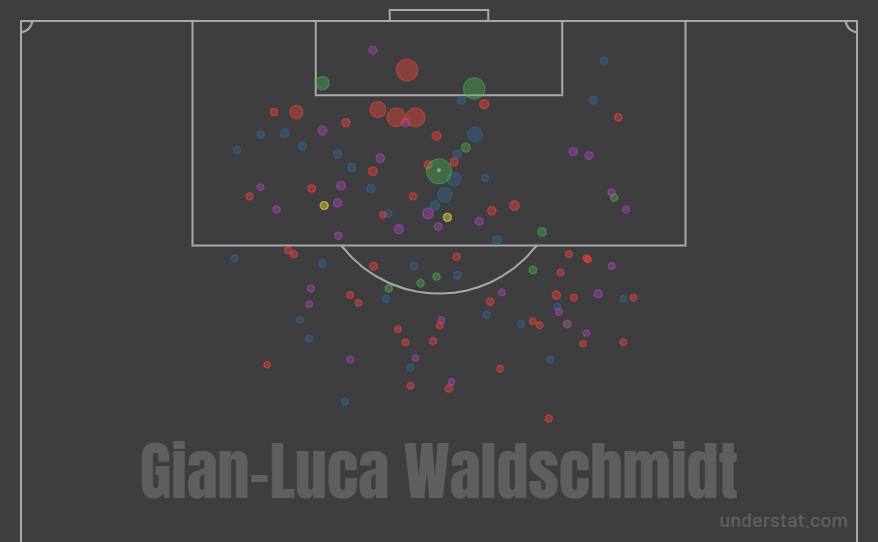 This graphic here shows plenty of attempts in and out the box showing that he likes to pick up slightly deeper positions and take aim.
Having someone in the Chelsea team who isn't afraid to shoot is indeed something new. Ziyech will bring that to Chelsea, but in general it's a quality that as a club Chelsea haven't had for a long time.
It may be something Lampard wants with the club reportedly interested in Philipe Coutinho. He did manage four goals from outside the box in 2019 however. 
Comparing to players just behind the strikers the likes of Christian Pulisic, Willian and Callum Hudson-Odoi we can get a better picture as to how he affects games. He compares more to Pulisic and Mason Mount, who both find themselves in more central positions as opposed to Willian and Hudson-Odoi who naturally are wingers.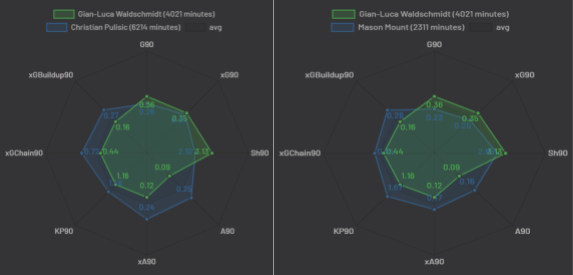 Looking at those two more closely, Waldschmidt has more goals, expected goals and shots per 90 than both those central focused players. Whilst the more creative side of the game concerning key passes, buildup and assists are inferior to the current Chelsea players.

Verdict
It certainly is a surprising rumour, with it suggesting Chelsea are looking for different, younger options in attack with either Giroud or Batshuayi definitely making way.
At 23, you would expect more of a return considering the experience which suggests perhaps while the talent is there from the goals he has scored, consistent performances don't seem to be at this level and again, a reason why the reported fee is quite low.
After comparing him to both the traditional number nines and creative forces at the club, he seems to offer something Chelsea don't have at this current time in terms of a real direct player in terms of shooting and someone who can operate near the striker.
However, his other stats fall flat in comparison and for people out there saying he could bring creativity into the team need to look at these stats and see that he looks for goal rather than the pass.
Are there better options out there? I believe so. If he were to sign, you can argue in his favour are the fact that he is young, talented, has an eye for goal and can improve with other young player and quality around him.
Although, there are players in and around his age who have done more at this stage of their career and would be less of a risk – however the low fee does bring down the idea of risk. 
By: George Priestman
Photo: Gabriel Fraga