Scouting Report: Marko Johansson
Marko Johansson has been playing regular football for 4 years now. Still, it feels like he never has had his real breakthrough yet. After years on loan in various Swedish clubs, he has experienced promotion to Allsvenskan, winning it, as well as suffering relegation. Mixing top performances with some less impressive actions, Marko's last four years have been something of a rollercoaster. Still, during the second part of last season, after a serious injury on Johan Dahlin, Johansson established himself as the starting goalkeeper for Malmö FF.
He will fight to keep that spot in the upcoming season, and after years of surrounding transfer rumours to bigger clubs, he will also not just be hoping to convince manager Jon Dahl Tomasson that he can live up to his long dubbed potential. Even though Marko is still just 22 years old, some might say they would have expected him even higher up in the footballing hierarchy by this time. So, considering the circumstances, you could say that it might be now or never for the Malmö-born talent.
For several years, Johansson has been the talk of the town in Malmö. Ever since his debut as a 16-year-old under Åge Hareide in Malmö's Champions League qualifier against FK Žalgiris Vilnius in 2015, Johansson has been seen as one of the brightest prospects in the Swedish goalkeeping line. During the circumstances of his debut, Malmö FF had gone to Lithuania without their long-trusted first goalkeeper Robin Olsen.
The now Everton #2 had after a couple of impressive seasons just left the club for Danish giants FC Copenhagen. In the weeks that unfolded had the reserve keeper Zlatan Azinović been fielded in between the Sky Blues's sticks, but on the bench had a lanky teenager been waiting to prove his worth. After 4 games without any game time, Johansson would get his chance 50 minutes into the game at LFF Stadium.
The 16-year-old Johansson impressed with his calmness and maturity when commanding over his more experienced teammates, and the game ended with him keeping a clean sheet during his brief 40 minutes on the pitch. Afterwards, his performance was praised both by his manager and team captain Markus Rosenberg.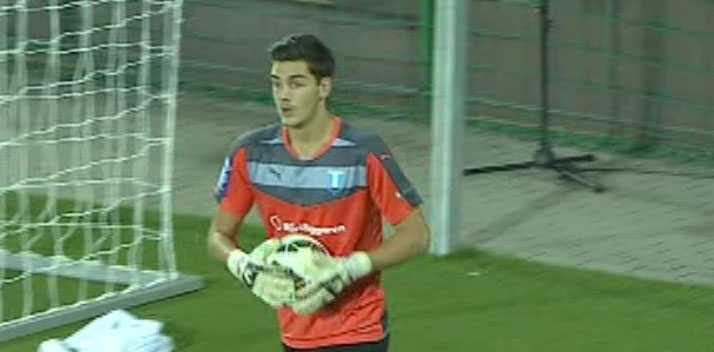 Marko in his professional debut for Malmö FF against FK Zalgiris Vilnius on July 21, 2015.
Down to Malmö FF bringing in the well experienced and former international goalkeeper Johan Dahlin just after the game against FK Žalgiris, Marko spent most of his time since that debut on loan. After spells at GAIS, Trelleborg and Mjällby, he has gained well-needed experience, and his best season during these years was arguably in 2017 at Trelleborgs FF.
He helped the team gain promotion to Allsvenskan, and ended up being linked to RB Leipzig and AS Roma, but it did not end with a transfer abroad. After suffering relegation with Trelleborg the following year, he spent last season on loan at Mjällby AIF. After nearly three and a half years on loan, it seemed like it could have continued this way if it was not for a rumoured bust-up between Johansson and the backroom staff at Mjällby.
Johansson then returned to Malmö last summer and just as in Lithuania, Marko got his next chance in the team due to an injury. Nearly in direct contact with his reentrance in the Sky Blues' dressing room, Dahlin was sidelined for the rest of the season with an arm injury. Johansson therefore nearly played every minute since his return and is now looking to build upon that for the upcoming season. 
As a player, the 1.93 cm-tall goalkeeper has always commanded his penalty area well and has never been afraid to get into challenges and engage in loose ball duels. One of his biggest strengths is also his astute abilities when playing out from the back. He always tries to help in the build-up with constructive and well-executed passes, and an indication of the latter is that his accurate passes have never dropped below 80 percent in any of his last 4 seasons. 
This does of course not provide us with the context of how demanding passes Marko is attempting. However, the teams where he has spent his last seasons have gone about their game differently. Specifically, GAIS and Trelleborg favoured more of a direct approach, and with him still being able to provide numbers like 81 percent at GAIS in 2019, and 85 percent and 81 percent respectively at Trelleborg in this metric, is impressive.

Johansson has also impressed during his last years in his ability to save close-range shots. He seems to possess calmness to wait for the attacker to make his move, and with good reflexes, he is in this way able to frequently save shots in situations that seem to be a given goal.
This is reflected in Johansson's close-range saves percentage. To provide context, I have compared Johansson's numbers during the season of  2020 with two other promising keepers in the same league, Pontus Dahlberg and Tim Ronning, both of whom have gotten plenty of praise and who could prove to be the long-term answer to Robin Olsen between the sticks for Sweden.
Looking at this metric, Johansson triumphed both in this regard last season, underlining what one might recognize visually. It has to be mentioned though that Rönning and Dahlberg respectively have faced slightly more close-range shots, but Johansson putting up good numbers in this metric is a frequent pattern. For example, the season before at GAIS, this stat of his was 68 percent.

Considering this quality, there are still some question marks. Again comparing Johansson to Tim Rönning and Pontus Dahlberg, now more generally, Johansson seems to be lacking behind. During last season, Markos' prevented goals per 90 were negative. Although just at -0.01, it was far from Dahlberg's numbers at 0.39, and Rönning's at 0.09.

Of course, we should here bear in mind that Dahlberg played only half a season in the league, and it can be harder to rack up good numbers for a goalkeeper playing in such a domestically dominant side as Malmö FF. However, there have been other likewise worrying problems for Johansson in the past. 
Since his first real professional season on loan at Trelleborg in 2017, Marko has never outperformed his Xcg, which is the post xG value of a probability of a shot to be scored. As you can see in the table below, he had an Xcg of 1.14 and conceded 1.14 goals per 90 At Trelleborg in Superettan 2017.
In Allsvenskan 2018 for the same club, his Xcg was 1.78 was per 90, but he still conceded 1.9 goals per 90. At GAIS in Superettan during the following season, the same metrics were 1.32 respectively. Last season when playing both for Mjällby and Malmö, he conceded 1 goal per 90, but with an Xcg of 0.98.
To again compare that to other goalkeepers in his age in the league, Pontus Dahlberg had in the season of  2018 an Xcg of 1.26, but conceded fewer goals with 1.18 per 90. In his half-season loan at Häcken last season, Dahlberg really impressed, and that is indicated in the fact that he racked up an Xcg of 1.06 per 90 , but only conceded 0.84 goals per 90.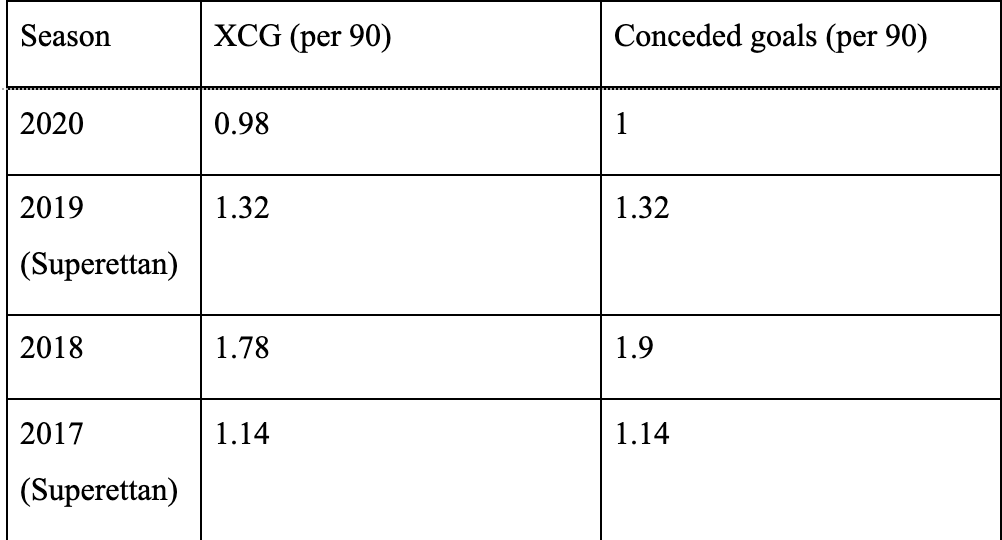 Following a prolonged winter break, Malmö will commence their 2021 season on February 21, taking on Västerås in the first group stage match of the Svenska Cupen. As we approach a new campaign, Johansson will have to answer the questions regarding his potential and prove that those promising 40 minutes at the LFF Stadium in Lithuania were an indication of what will come, not a peak in his career.
After a positive autumn with moments like lifting the Allsvenskan trophy, a marvellous save against IF Elfborgs's striker Per Frick in August and a new contract signed, Johansson seems to be up for the task. As he approaches his 23rd birthday, it is now or never for Marko Johansson.
By: Marcus Ejerblad
Featured Image: @GabFoligno / Malmö FF
Data provided by Wyscout and Instat