Scouting Report: Teden Mengi
The Manchester United youth academy serves as a source of great pride for its fans, both local and global. With an unbelievable run of 4000+ consecutive games over 90 years with a youth academy graduate being named in the matchday squad, United have truly earned their reputation as a club that gives youth a chance. 
It is a tradition that manager Ole Gunnar Solskjaer has spoken about wanting to uphold, and in the build-up to the new season, there is one name from the academy who has been strongly tipped to become the newest regular addition to the first-team—18-year old centre-back Teden Mengi.
Mengi has already made his debut for United, as a substitute in the second leg of last season's Europa League round of 16 tie against LASK, but he could conceivably become a more consistent fixture in matchday squads this season.
What Do the Stats Tell Us?
Evaluating defenders, especially centre-backs, using statistics, is extremely difficult. At best, the numbers can give us an idea as to their style of play, which is why this piece will be accompanied by video analysis.
For an initial look at Mengi, we can have a look at 3 main facets of a centre-back's game; how proactive they are, how successful they are when they do engage, and their ball-playing ability, a skill which has become of paramount importance for the modern central defender.
Compared to centre backs at youth level (who have played 1000+ minutes in the 2019/20 season), Mengi is about average when it comes to the total number of defensive duels he engages in and ranks third for interceptions (both adjusted for possession).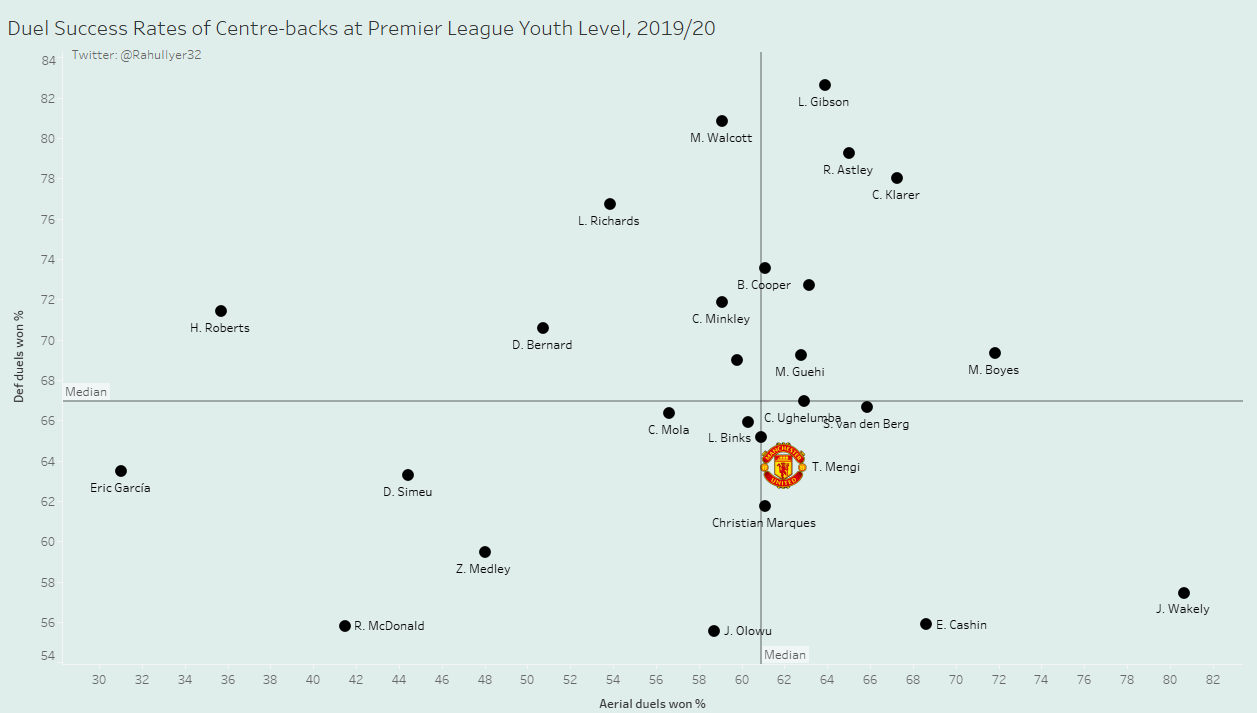 When it comes to how well he does when he is called upon to defend, he ranks well, if not great, with success rates of around 62% both aerially and in ground duels, not bad for the frequency with which he engages in them.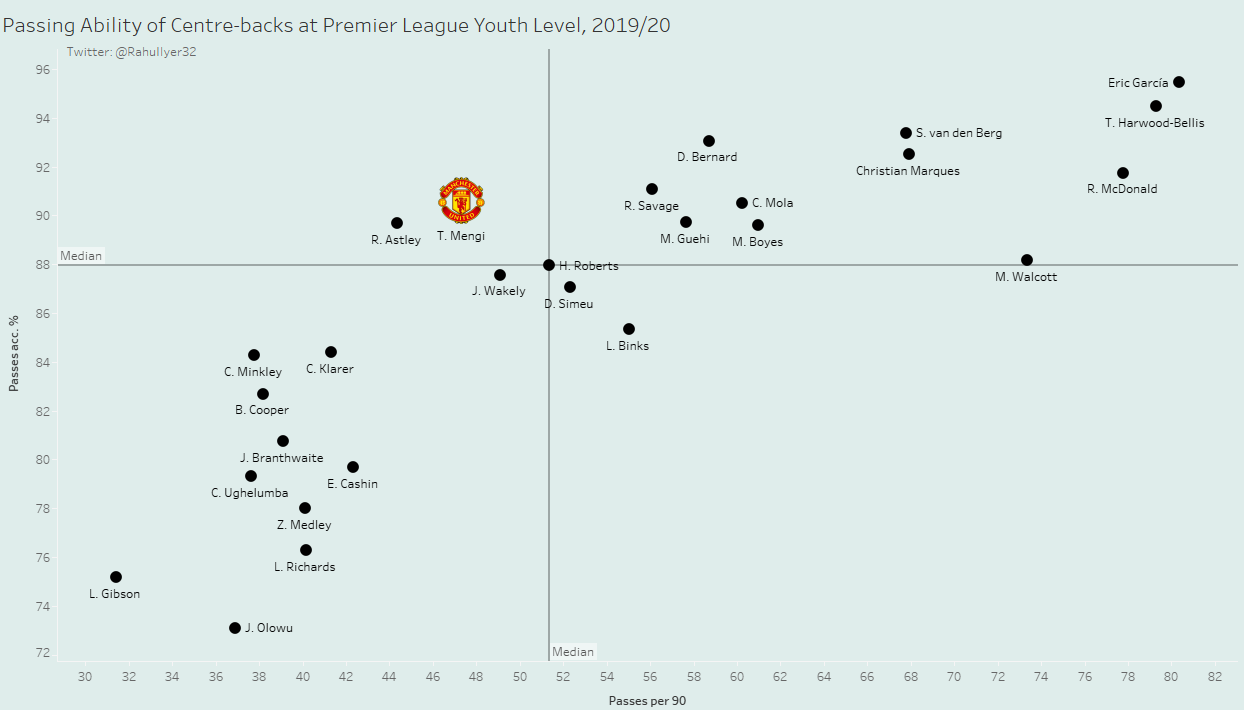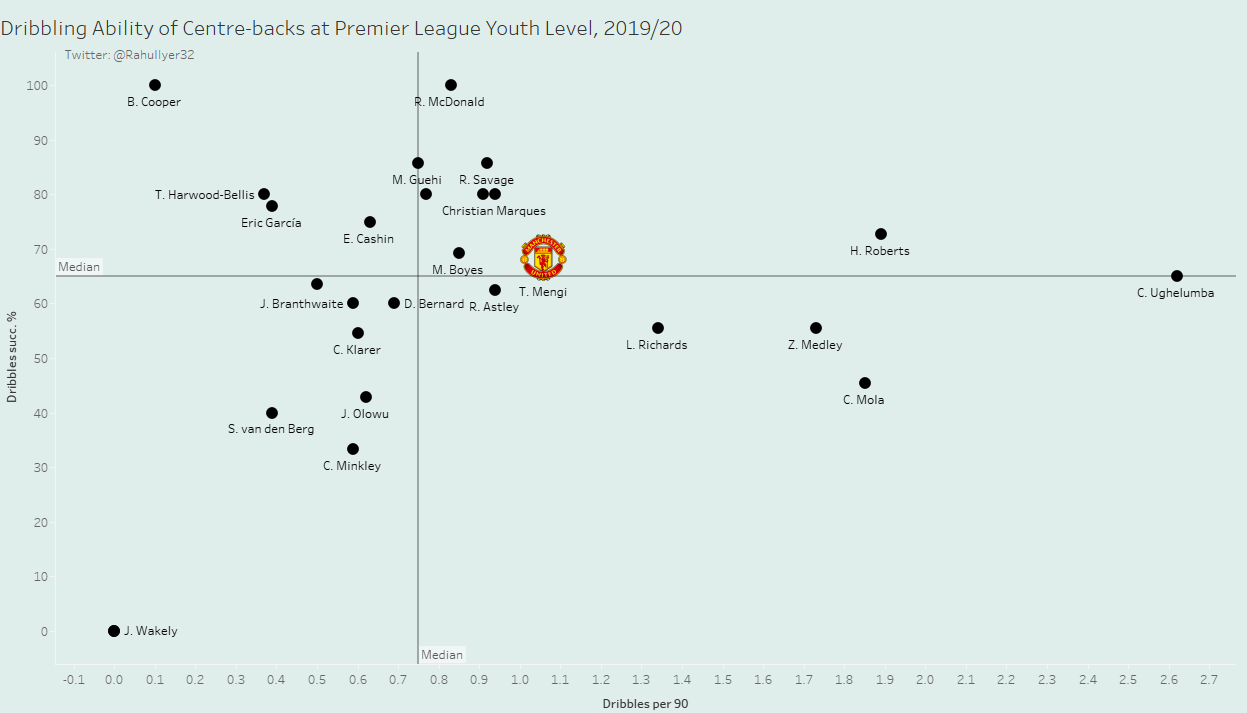 Coming to his ability with the ball at his feet, we can see from the above two charts that, at least among his age group, Mengi is a relatively secure passer, and can be considered above average when carrying the ball himself.
So, as we can see, the numbers start to present us with a rough outline of what Mengi's skillset might be; he is an active defender who comes out on top in individual battles more often than not. He is also a good distributor and a confident presence when pushing forwards (although this may be skewed due to the time he has spent playing at left back).
Time to push on, though, and have a look at the footage.
The Good
The numbers tell us that Mengi is an active defender, and that is something that's backed up by the eye test, both as a positive as well as a negative (more on that to come). The following clips are probably a couple of great examples of why the coaching staff at Old Trafford rate him so highly. When he's on song, he can look almost Rolls Royce-esque.
Both of these videos showcase an important part of Mengi's game that doesn't show up on a stat sheet: his composure. In the first instance, against Reading, running towards his own goal, Mengi does exceedingly well to control the high ball with an exquisite touch, use his strength to hold off his opponent, and lay it off to a teammate. It is promising to see that kind of calm head in someone so young.  
In the second clip, from Manchester United's friendly against Aston Villa last weekend, he shows good strength to keep Ollie Watkins away from the ball, orient himself well enough to chest it into a free area and advance with it, all in the space of a few seconds.
His tall frame and bulky build notwithstanding, Mengi is also very good at reading opposition attackers' minds and when faced with a one-on-one duel, is very rarely beaten. The following video snippet is just one of several examples.
He does almost everything perfectly in this scenario; he blocks off his opponent's primary route into the box, stays low enabling him to change direction quickly and most importantly, forces the attacker to make a decision which he then reacts to. It's a textbook defensive play, and it is brilliantly executed.
Another vastly overlooked part of a defender's game is their ability to scan the environment and gauge the situation around them with a quick turn of the head, not unlike a midfielder who is expected to do so when receiving the ball facing his own goal. 
This trait is usually one that develops more with experience, but Mengi shows some promising signs of development in this area. To examine this more closely, here is a look at two similar scenarios, from the same game. In both cases, Mengi and Manchester United are rushing back to stop Everton from mounting a successful counter-attack.
In the first clip, we see that Mengi has a glance over his shoulder mid-sprint, to get a view of his closest opponent. However, he then gets drawn inwards, towards the ball, and fails to get another look at him.
As a result, he is left free and could have been picked out by his teammate, had the latter taken a second to lift his head. From this sequence of play, it is clear that Mengi knows he has to keep an eye on his man, but cannot help but get distracted by the ball. 
The second clip, from later in the game, shows him alleviating the earlier error somewhat. He first has a glance over his left shoulder and spots no opposition attacker there. Instead of taking his next course of action with this solitary piece of information, he then looks over his right shoulder to get a better picture of the situation before positioning himself inside the box. 
The main takeaways from these pieces of footage are that there is a conscious effort being made on his part to take in his surroundings and while he isn't quite there yet, the signs of improvement are clear. Now that we've seen what Mengi's strong points are, let's have a look at what could potentially trip him up in the future.
The Not-So-Good
Staying with the point about taking in his surroundings, it's worth noting that Mengi has been deployed at both centre-back and left-back at youth level, and that there is a slight difference in his game between positions.
Whether it is the extra workload of getting up and down the pitch or the relative lack of responsibility (a mistake made by a centre-back often costs more than one made by a left-back) he tends to switch off at times when defending wide areas, as illustrated in the following videos.
In this EFL Trophy game against Salford City, deployed at left-back, Mengi is touch-tight to his man, trying to force him backwards, which he does successfully. However, once the ball goes back, he gets caught ball-watching. In the process, he is not left with enough time to take his eye off the ball and watch his man (notice him putting his arm out, searching).
When he doesn't feel the opposition winger within an arm's distance, Mengi assumes he is still out wide and takes a step leftwards, a grave error.
Once he plants his foot, thus shifting his body weight to the left, he is unable to quickly turn the other way upon seeing the pass go inside him and his man running on to it to cross. It's a passage of play that could easily have led to a goal, and it all stemmed from Mengi being caught ball-watching.
A similar pattern is seen below, against West Brom, another game in which he is playing at left-back.
Here, as the ball is played towards the United right, the winger on the opposite flank sets off on a run towards the penalty area. Mengi, who is watching the flight of the ball, fails to see him run off his back, and only spots the danger once he has built up a head of steam.
This results in Mengi requiring to double-time it back to his area, which is not ideal for two reasons: one, he may not always be able to catch up as he does here, especially with the increased physicality and speed at senior level, and two, if the ball is played his way, his speed makes it all the more difficult for him to be precise with whatever course of action he pursues. 
Another tendency Mengi has, which is perhaps a function of his youth, is his eagerness to win the ball. We know he is an active defender, so this should not come as too much of a surprise. However, there are times when he can be a bit overzealous, leading to his team being exposed.
Here, against Norwich City, Mengi steps out of the defensive line to press the opposition striker (who, to his credit, does well to keep possession). Once he gets away from him, it would be the opportune moment for Mengi to get back into position, seeing as his opponent is likely to be put under pressure by the left-winger and left-back.
Instead, Mengi chases him down, looking to win the ball back. This leads to an imbalance in the United backline and leaves them open. There is a high degree of separation between the right centre-back and the left-back, leading to a yawning gap opening up, which could potentially be attacked by two players (black arrows), and within the space of two passes (white arrows).
United going 2-0 down is definitely on the cards here. Luckily, neither do the opposition players make the run nor play the pass, so Mengi gets away with it.  It may seem a bit paranoid to be analysing situations where Mengi's mistakes did not lead to a dangerous development, but it's only sane to look at these scenarios to ensure they don't cost his side in the future.
All in all, Teden Mengi is a centre-back who is already equipped with several tools to make it at the highest level of the game. His weaknesses notwithstanding, his potential and promising development, both physical and mental, mean he could prove to be a star of the future.    
All statistics and match footage taken from Wyscout.
By: Rahul Iyer
Featured Image: @GabFoligno / Charlotte Tattersall / Getty Images