Scouting Report: Yari Verschaeren
Yari Verschaeren has won the Belgian Young Player of the Year award, established himself as a regular starter for his club, and made his international debut for his country – and he's not even 19 yet.
The 18-year-old Anderlecht midfielder, who graduated from their academy in 2018, is one of the most talented young players in Europe, with 40 league appearances and 3 international caps to his name already. 
The 2019–20 season has been a challenging one for Verschaeren, who had started 17 of the opening 19 league games before sustaining ankle ligament damage in November which would keep him out until the end of February.
He had only just returned to the side when the Jupiler Pro League season was suspended and then cancelled due to the coronavirus outbreak, meaning it has been difficult to build on a debut season which saw him win the Belgian Young Player of the Year award despite playing in a team that finished 6th in the league.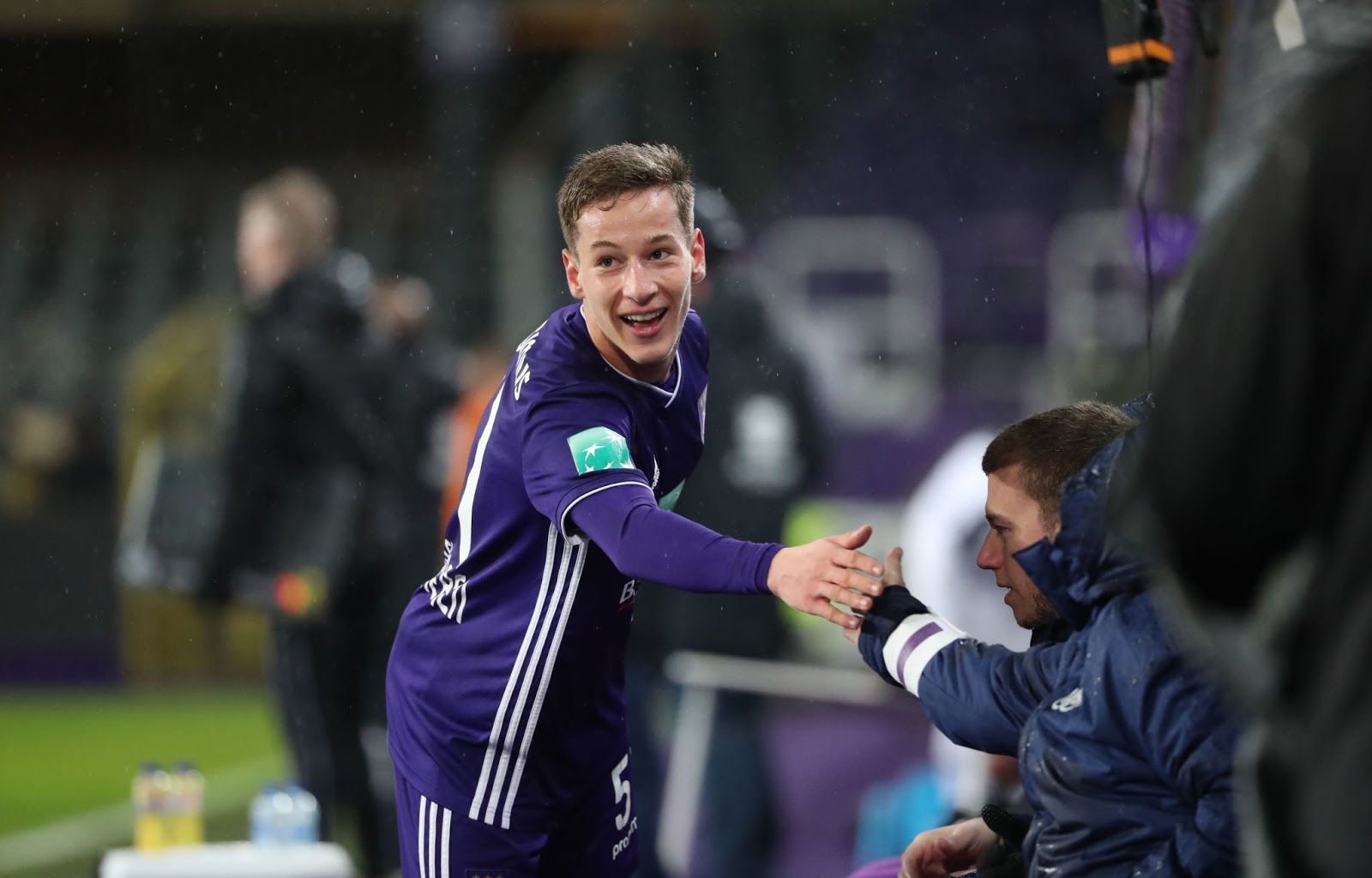 Photo: Vincent Van Doornick/Isosport
He has been used as a central midfielder, attacking midfielder, and right-winger this season as the team has largely stuck with a 4–3–2–1 formation despite a change in manager.
Vincent Kompany started the season as player-manager before stepping down from managerial duties, with club legend Franky Vercauteren stepping in. 
He is a two-footed technically gifted player, standing at 5'8 with a low centre of gravity giving him impressive agility and balance.
Verschaeren likes to get on the ball, registering 33.8 passes per 90 in the league with an 82% success rate. He has good passing range but tends to play fairly safe in possession, with 11.3 sideways passes and 8.6 backward, meaning that only 22.4% of his total passes are made forwards.
This is indicative of Anderlecht's style of play, a possession-based game with the focus on patient build-up from the back.
We can see that in Verschaeren's stats which suggest he has been told to retain and recycle the ball rather than move it forwards into more congested areas of the pitch.
He picks his moments well, however, with 6.5 progressive passes and an impressive 80% pass accuracy in the final third.
He is particularly dangerous when taking up good positions to receive the ball in and around the box.
In these situations he is very effective, finding space between the lines and making 3.5 passes into the penalty area per 90.
He is a very intelligent player, often acknowledging the need to create angles by playing one-two's with his teammates in order to progress the ball rather than trying to take on his man or attempt difficult passes with a low probability of success.
His delivery both from set-pieces and from open play is excellent. He has registered four assists in the league in total, one this season, with all four coming from aerial crosses into the box.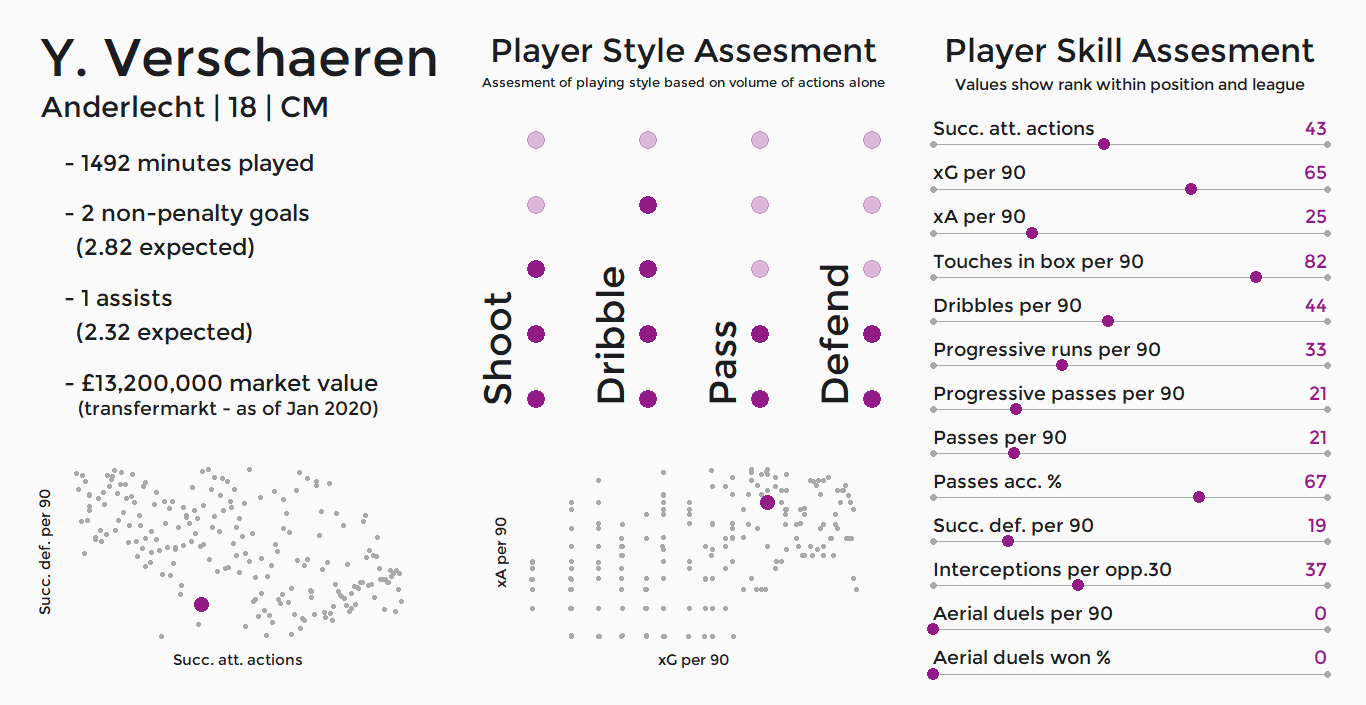 He is able to whip the ball in with pace and accuracy off of both feet and has already been put on corner-taking duties for his club.
He is versatile with his movement, able to come short to get on the ball, drift wide to get into a crossing position or use his pace to run in behind and look for the through-ball.
This makes him very difficult to mark as he can occupy multiple positions both centrally and in the channels.
He has an excellent first touch and close control, allowing him to move quickly with the ball and drive into the offensive third when space is afforded to him.
This ability has drawn him comparisons with compatriot Eden Hazard from club president Michael Verschuren, and the similarities are plain to see.
He averages 3.3 dribbles and 1.5 progressive runs per 90, able to evade pressure well by using his skill and agility to get out of tight areas. 
However, when entering a duel his stature and lack of physicality can often lead to possession being lost. He is averaging 9.5 offensive duels with just a 39.9% win rate, losing possession 10.3 times per 90.
At 18 years of age he is still developing physically so there is reason to believe that his ability to retain the ball in these situations will improve over time.
Verschaeren has four league goals in total for Anderlecht, with 2 coming this season.
He averages 1.1 shots per 90 with 22.2% on target, however, Anderlecht as a team only average 11.3 shots per 90, putting them 8th out of 16 league teams and suggesting a focus on creating good quality chances rather than on volume of shots.
He has shown excellent technique and composure in front of goal, particularly in the example below versus Charleroi.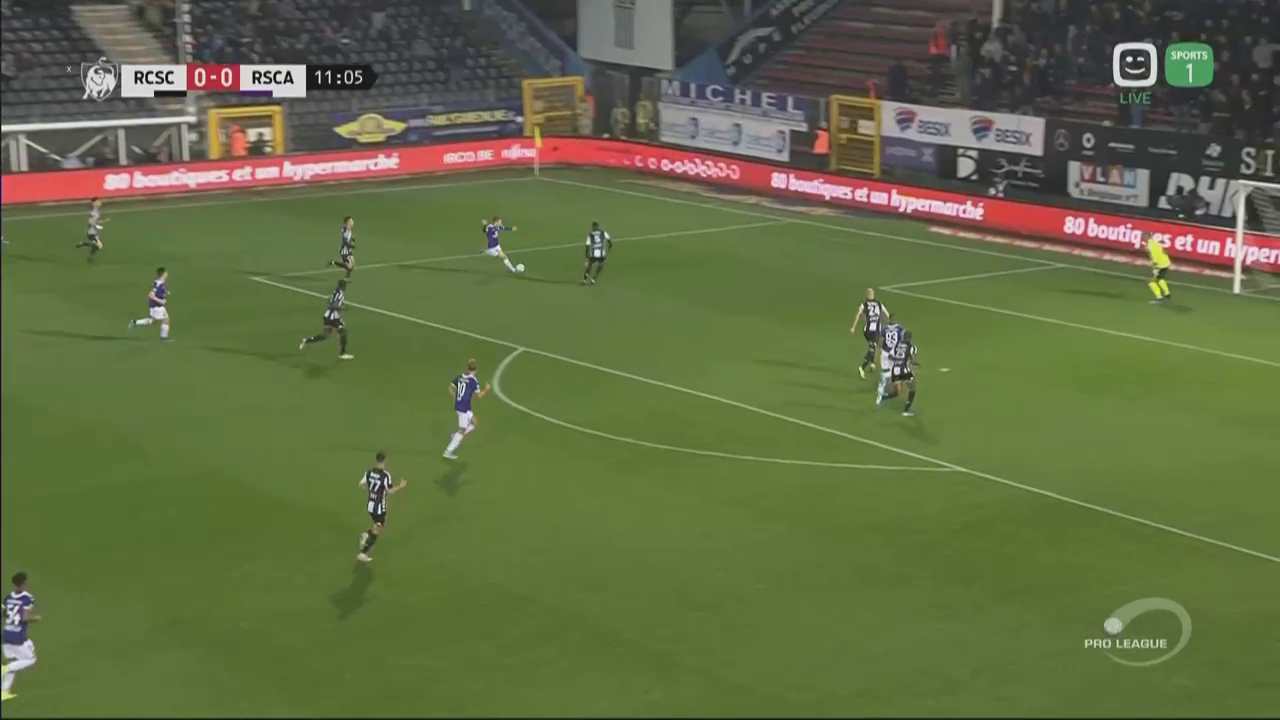 Here he received the ball in the box and had the presence of mind to lose his defender with his first touch, dropping his shoulder and cutting inside on to his right foot before firing confidently past the keeper into the bottom right of the goal.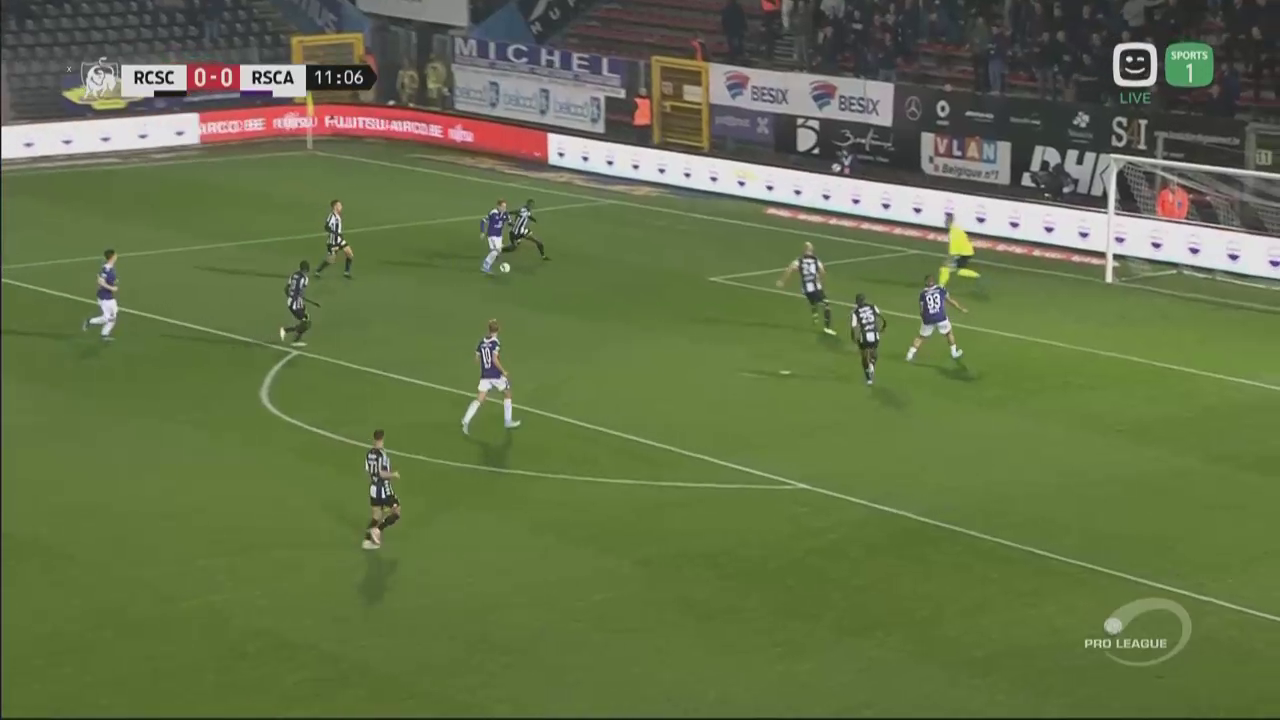 He also scored a brilliant goal for Belgium at the 2019 U21 European Championships, becoming the youngest scorer in the history of the competition, coming off the bench versus Italy to hit a curling strike into the top corner from 25 yards out.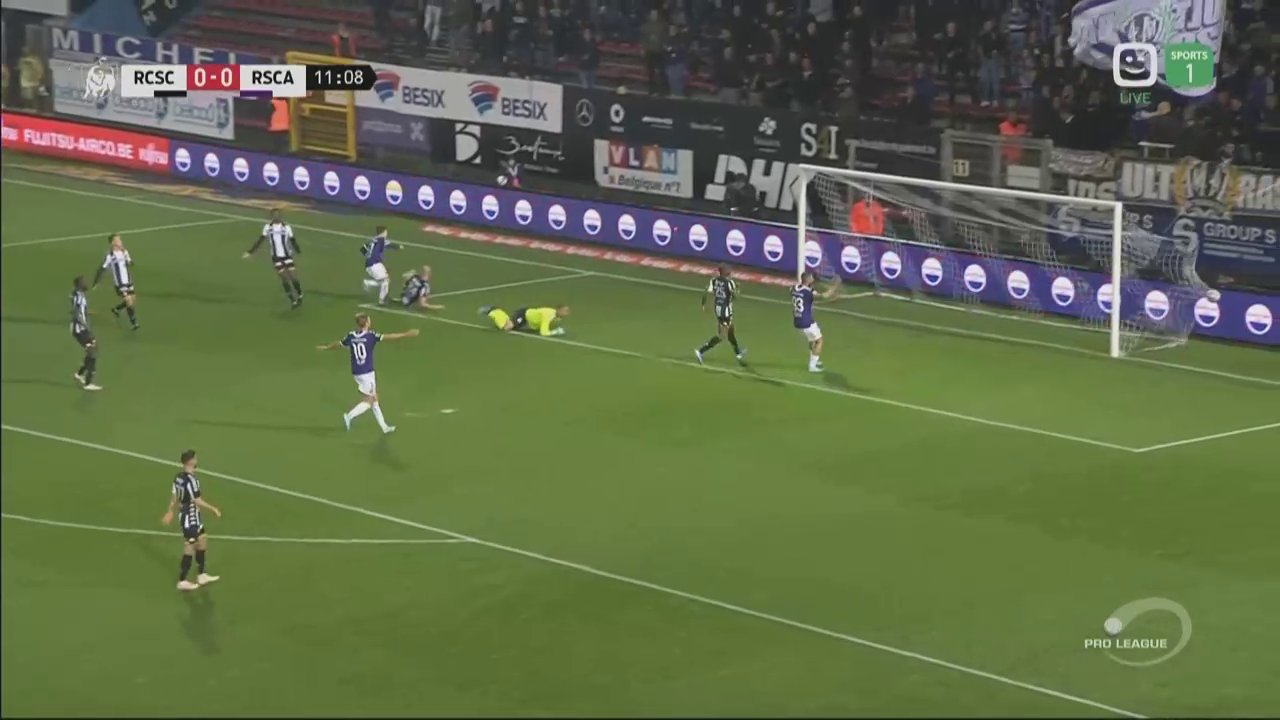 His defensive stats are impressive given the areas he plays in and his aforementioned physicality. He works hard and covers a lot of ground, averaging 2.9 interceptions and 4.6 ball recoveries per 90.
He will often engage a player with the help of a teammate, meaning he is not solely relying on his defensive abilities to win possession.
He could be braver in possession to create more chances from open play although we mustn't forget that this is an 18-year-old still finding his feet at senior level so will be growing in confidence with each game.
His technical ability is already of a very high level and his goals show a varied skill set, able to score from range or finish one-on-one.
We should see him contribute with goals and assists more regularly moving forward as he grows both as a person and a player.
Conclusion
The Anderlecht academy has produced the likes of Youri Tielemans, Romelu Lukaku, and Vincent Kompany over the years and the current crop of graduates are showing signs that this group could be special.
Verschaeren, who joined the academy at the age of nine, could be the jewel in the crown, with Belgium boss Roberto Martinez already describing him as a 'future ambassador of Belgian football'.
Scoring a penalty versus San Marino on his third international appearance will have done this prediction no harm.
All the evidence points towards a player with the ability to go right to the very top. He is already a very mature and intelligent footballer, defying his age with his technical ability and creativity.
An injury (and pandemic)-free 2020/21 season could see him become one of the best players in the Jupiler Pro League, ready to challenge at a higher level. 
A move to a top team might be too early at this stage, with regular first-team football being the key to his development. He has already been linked to a host of Premier League teams, with Wolves, Leicester and Southampton amongst those showing interest in January.
The list will continue to grow and, when Verschaeren eventually decides to leave Belgium, he will no doubt have his pick from the 'best of the rest'.
Feel free to leave a comment or suggestion for future player profiles below or on my

twitter

, stats provided by WyScout.

Vis by

@VillaAnalytics

.
By: Fraser Clark
Photo: Gabriel Fraga