The Best Footballers from the Tokyo 2020 Olympic Games
After the Euros and Copa América, the footballing world quickly turned their heads to Tokyo for the Olympic Games, which were again delayed by a year. There was yet more controversy here too, as the venue of the Olympics was under a state of emergency with rising COVID-19 cases as the event kicked off, but once more, we were treated to some very good sporting action, with the football not letting anyone down either.
In the Men's Football category, participating nations had to prepare their squads only using players born in or after 1997, with three overage entries allowed. We were, therefore, able to watch some very exciting young talents over the course of the two weeks which saw Brazil emerge with the gold medal. So, let us pick a permitted 22-man squad with only three overage players from the Men's Olympics to take a look at the best performers of the event.
Mohamed El Shenawy
Our first overage player is in the goalkeeping position, as Mohamed El-Shenawy makes the squad on the back of a very impressive Olympics campaign.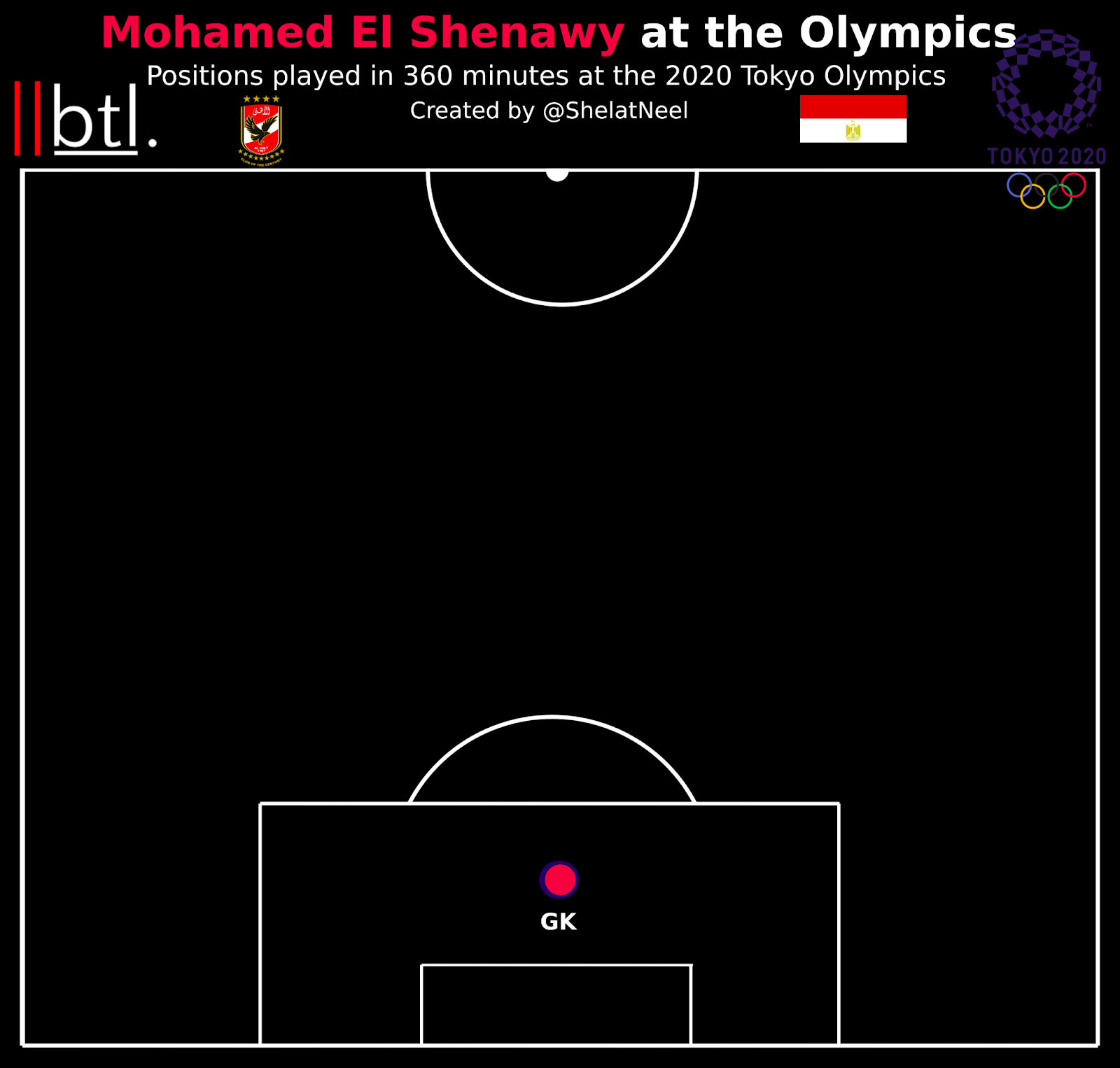 Despite being in a tough group with Spain, Argentina and Australia, Egypt made it through to the quarterfinals. A lot of that was down to their goalkeeper, who kept two clean sheets and made 10 saves in the three group games to add to the four he managed against Brazil, conceding fewer goals than any other keeper who played more than one match.
El Shenawy has been with Egyptian champions Al Ahly since 2016, and having signed a five-year contract extension less than a year ago, he seems to be going nowhere.
Unai Simón
After a solid Euros campaign, Unai Simón was back in action for Spain as he stood in between the sticks for the Olympics team.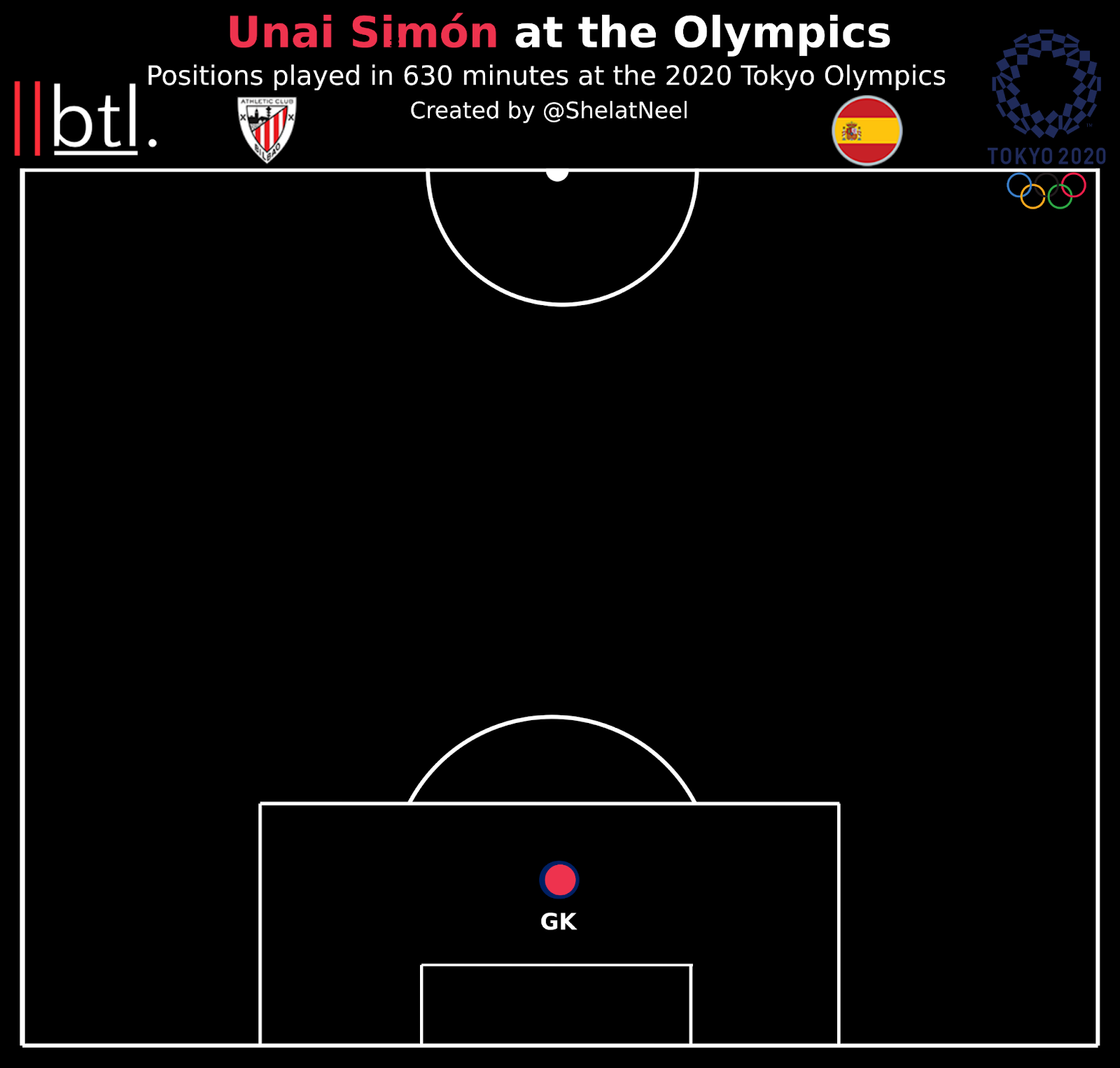 He only conceded five goals in 630 minutes of action, making 13 saves and managing a joint-highest tally of three clean sheets. To add to that, the Athletic Club man also averaged 45 touches and 32 successful passes per game, showing good footwork. Having only signed a contract extension last summer, Simón is expected to stay put in this transfer window.
Kosei Tani
Japan had a strong run to fourth place in the Olympics, and their goalkeeper Kosei Tani thoroughly impressed.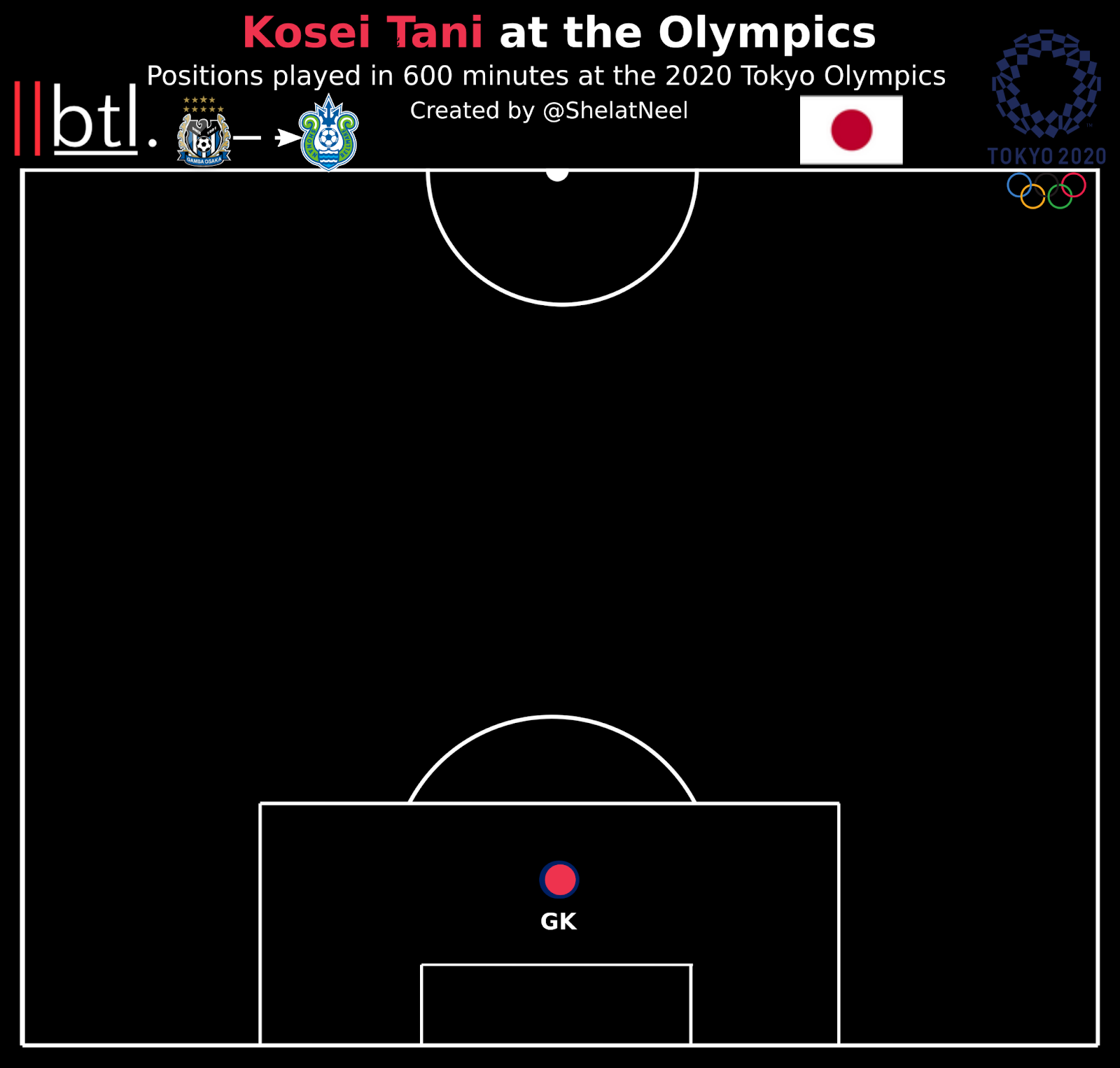 He too kept three clean sheets and made 14 saves as he let in five goals (three of which came in the last match), besides helping his nation progress in a penalty shootout against New Zealand. Tani has already played a match in the J-League with Shonan Bellmare, where he will be staying till next January (when his loan from Gamba Osaka expires).
Eric García
Spain's possession-based system naturally made their centre-backs look good in possession, but that should not be a reason to take anything away from their impressive performances.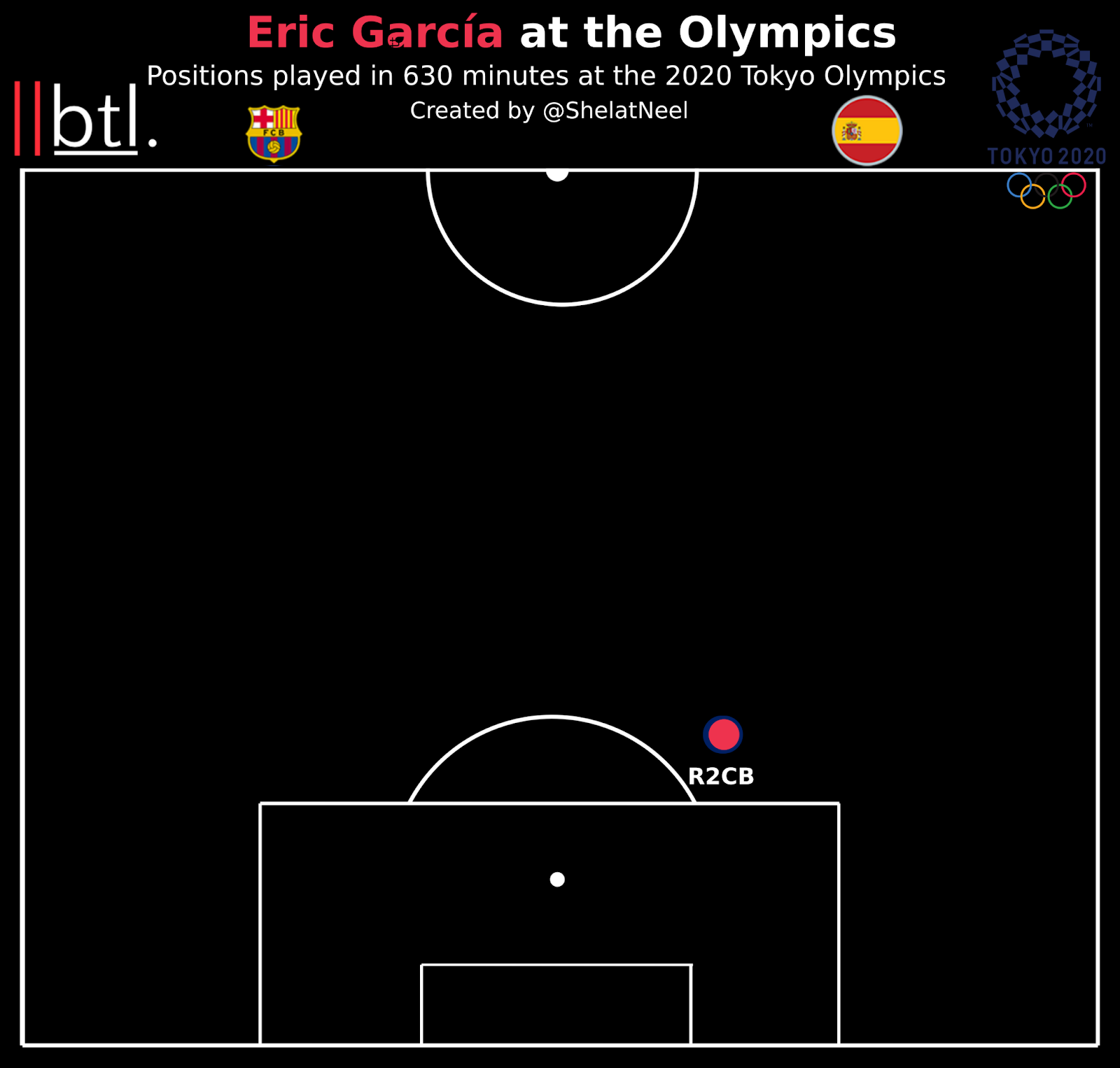 García completed a massive 654 accurate passes in the tournament at an accuracy of 93.97% and an average of 109 per game, naturally topping the tournament in that regard. He was solid defensively too, winning 20 duels at a success rate of 60.61%, and making 16 clearances and 11 tackles and interceptions. The 20-year-old defender made the switch from Manchester City to Barcelona this summer on a free transfer, signing a five-year contract.
Nino
Gold medalists Brazil had a solid defence en route to Olympic glory, and a lot of it was down to Nino.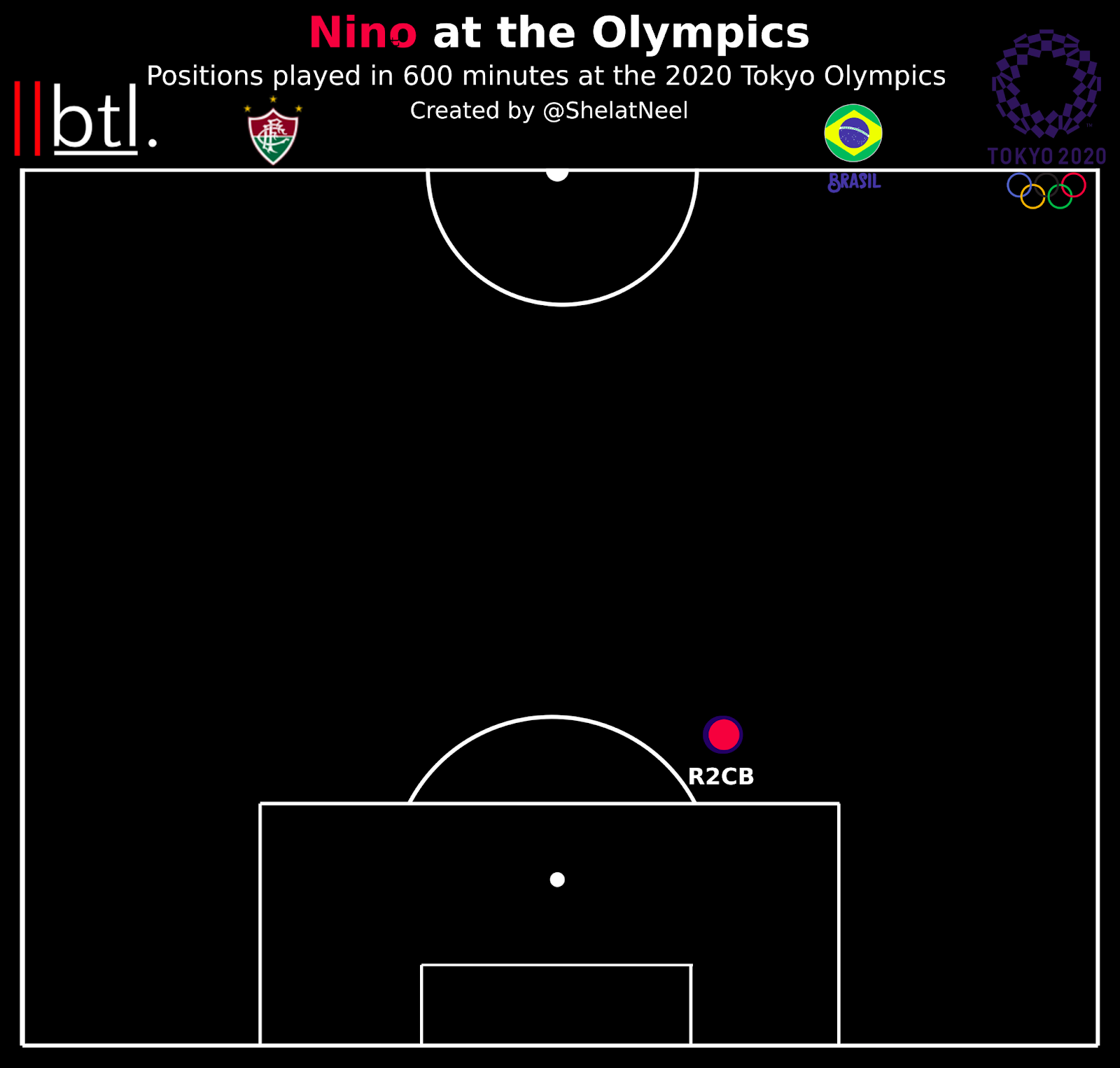 He was a calming presence at the back, winning 32 duels, making 12 tackles and interceptions and completing 18 clearances. Further, the 24-year-old centre-back's possession game was solid too as he managed 263 accurate passes at a success rate of 87%. Nino joined Fluminese in January 2020 and most recently signed a contract extension till 2024 in late June, so expect him to stay in Brazil for the near future at least.
Ko Itakura
Our next centre-back is currently on the books of Manchester City, and his name is Ko Itakura.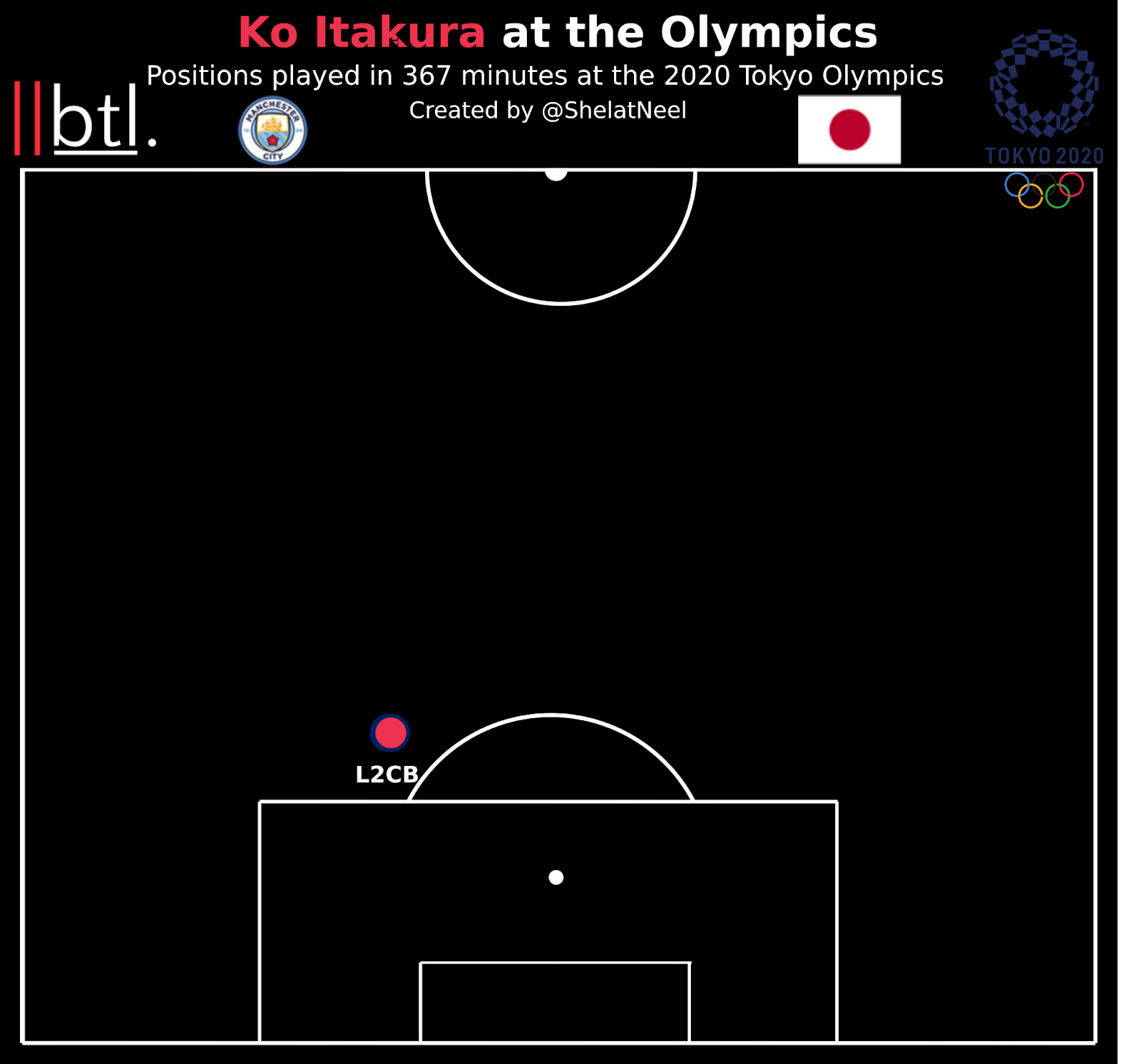 His defensive contribution was strong as well, as he pitched in with 27 successful duels, 11 tackles and interceptions and 8 clearances. He was absolutely solid overall, as is evidenced by the fact that he was only dribbled past once and did not make a single error leading to a shot.
The 24-year-old centre-back has just a year left on his Manchester City contract, and having spent every season on the books of the English champions on loan at some other club, it is safe to assume that he won't be sticking around. There is a strong possibility that he will seal a permanent move this summer as the Cityzens will not want to lose him for free, which is why Celtic are said to be interested in him.
Pau Torres
Our final centre-back is a Europa League holder, as Pau Torres figures in our squad.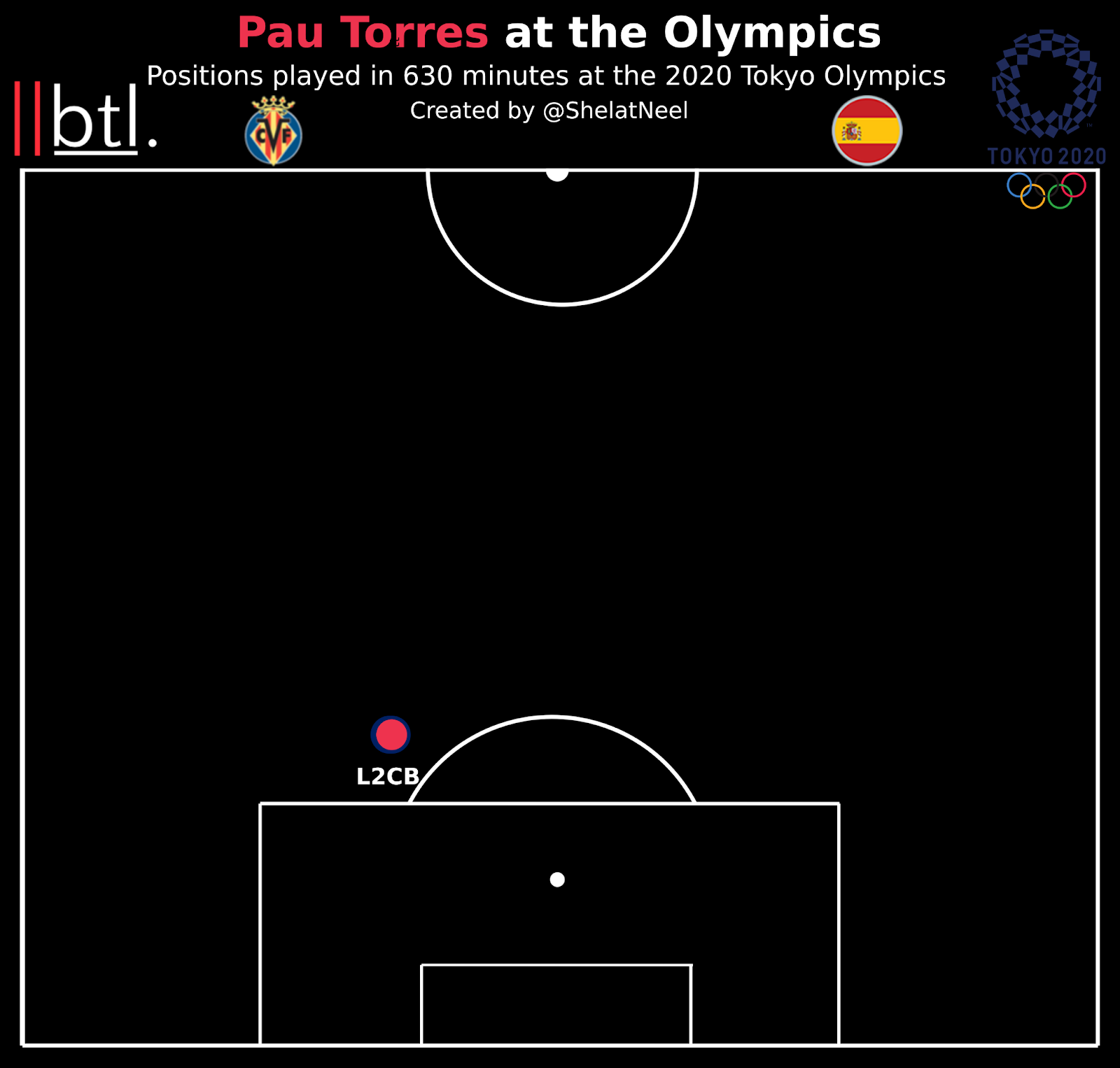 We've saved the best for last, because Torres' line-breaking passing was simply exceptional. A lot of Spain's ball progression was done through him, but his accuracy was not hampered at all as he completed 615 passes at an accuracy of 92%. With 27 duels won, 14 clearances and 13 tackles and interceptions, his defending was not half-bad either.
There doesn't seem to be any transfer news surrounding the 24-year-old defender, so he is expected to stay with Villarreal for another season.
Dani Alves
Can this man stop winning? The most decorated player in football history added another title to his name as Dani Alves bagged his first-ever Olympic gold medal.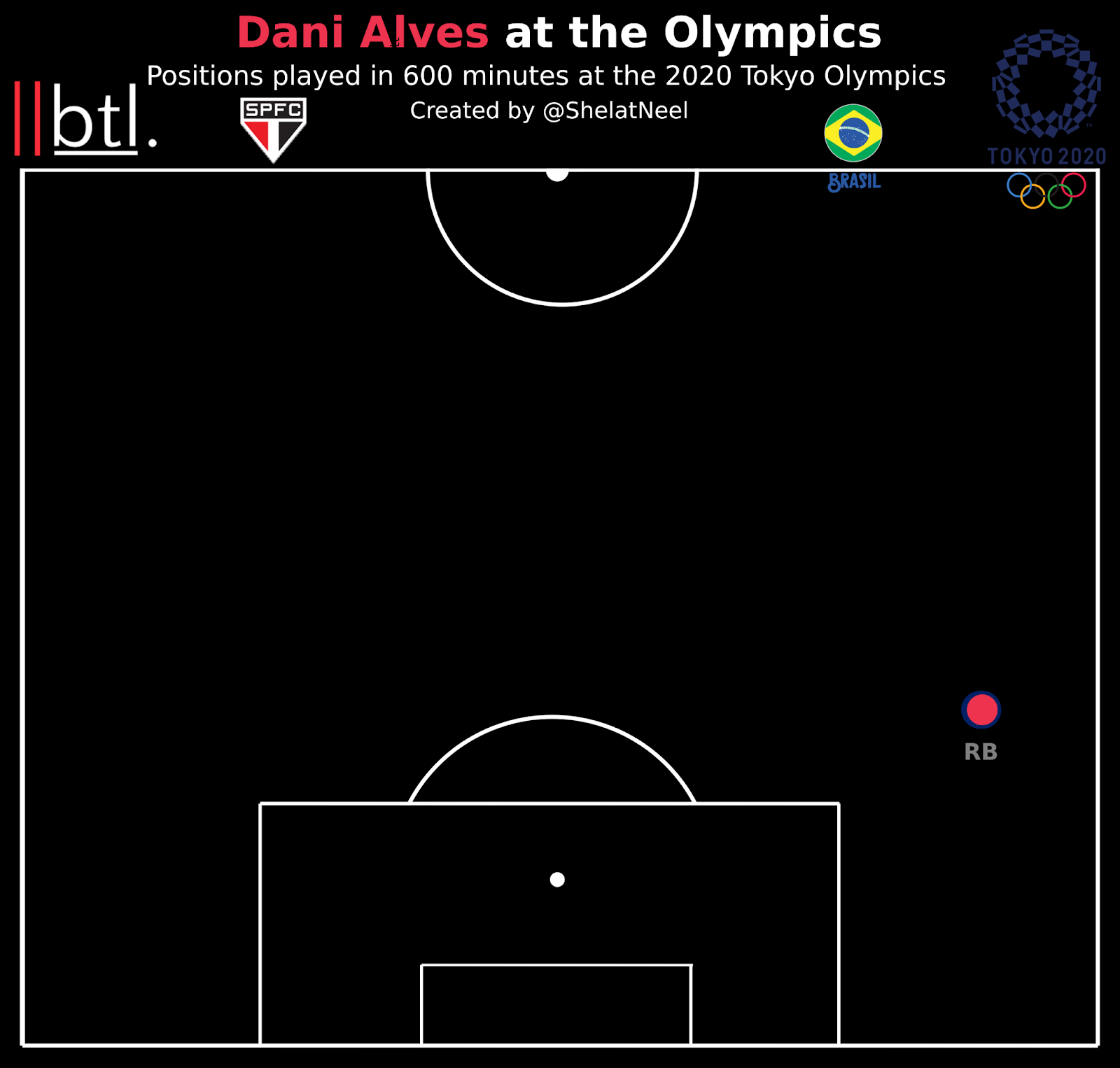 The veteran right-back completed more tackles than anyone in the tournament with 20, besides winning 37 duels and making 8 interceptions. Further, he managed a tournament-high 16 key passes, 10 accurate crosses, 8 successful dribbles and 3 big chances created. Alves' contract at São Paulo runs down in December of 2022, which could potentially be the end of his playing days.
Vladimir Loroña
Mexico's defence wasn't the most solid of those around at the Olympics, but right-back Vladimir Loroña looked quite impressive anyway.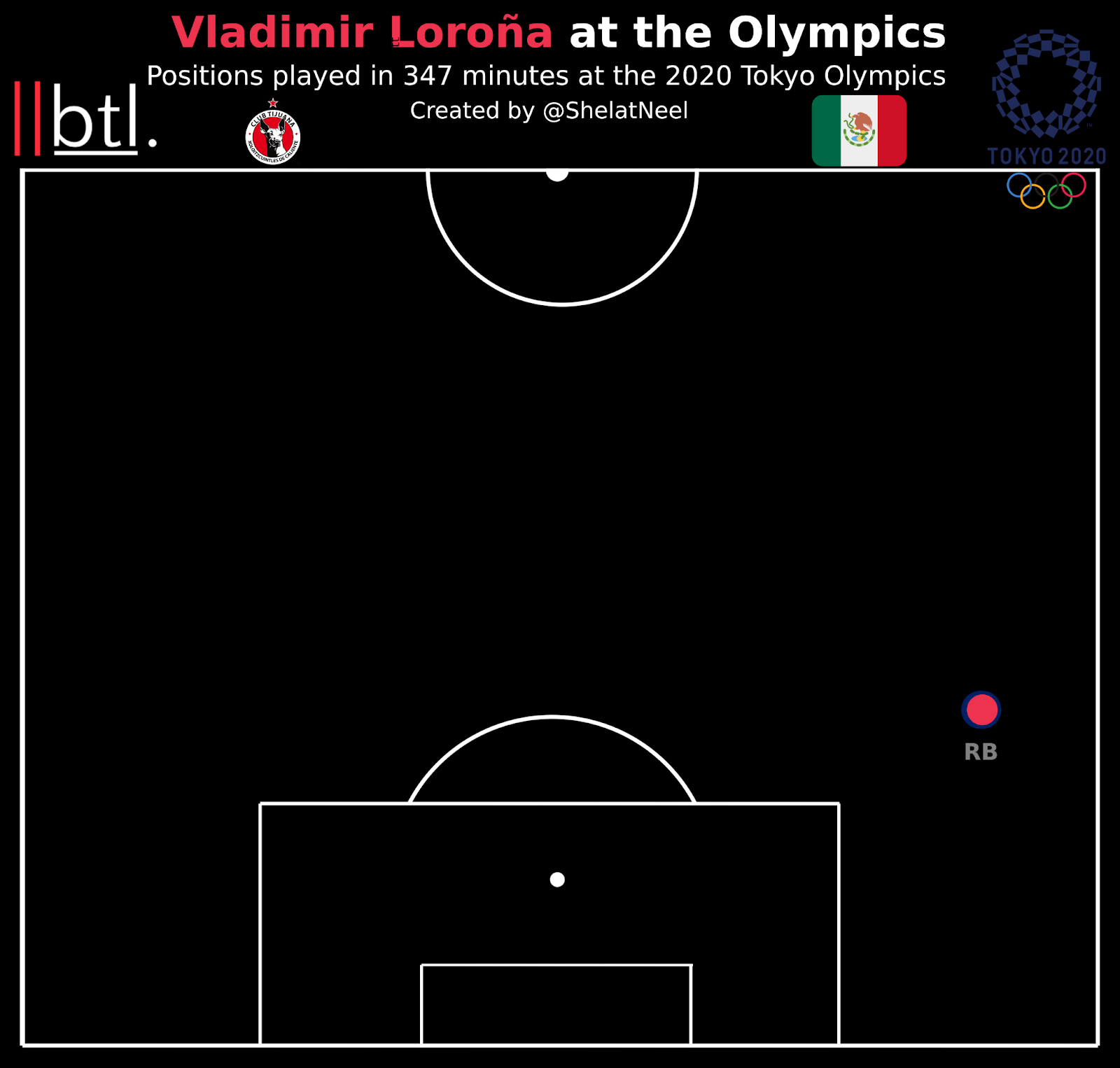 The 22-year-old did not do much in way of attack (though he did get one assist) as he failed to complete a single cross, but his defensive work was very useful. 33 duels won, 13 tackles, 7 interceptions and as many clearances represent just that. Loroña has a couple of years remaining on his current deal at Club Tijuana, so his future could be up in the air quite soon.
Guilherme Arana
Brazil's full-backs certainly were handy, as Guilherme Arana looked very good on the opposite flank to that of Dani Alves.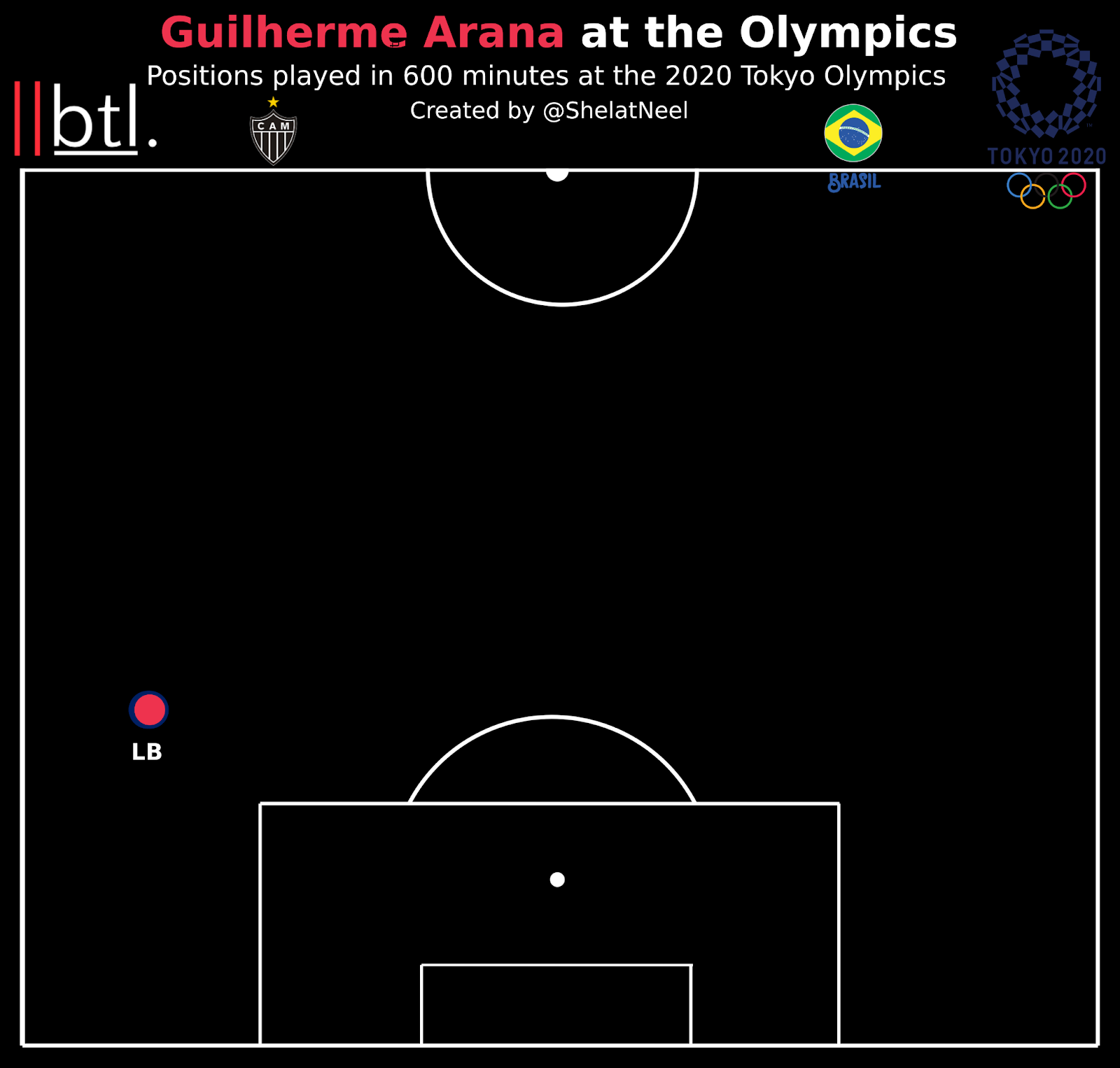 His numbers were not too far off from those of his captain, including 33 duels won, 18 tackles and interceptions, 5 accurate crosses, 4 successful dribbles and 2 big chances created. The 24-year-old defender left Sevilla for Atlético Mineiro in July, so he will be plying his trade in Brazil for the foreseeable future.
David Raum
Germany's Olympics campaign did not go to plan at all, which is why they have only one player in this squad. Truthfully, David Raum was not at his best either, but he was good enough to secure a spot ahead of the others.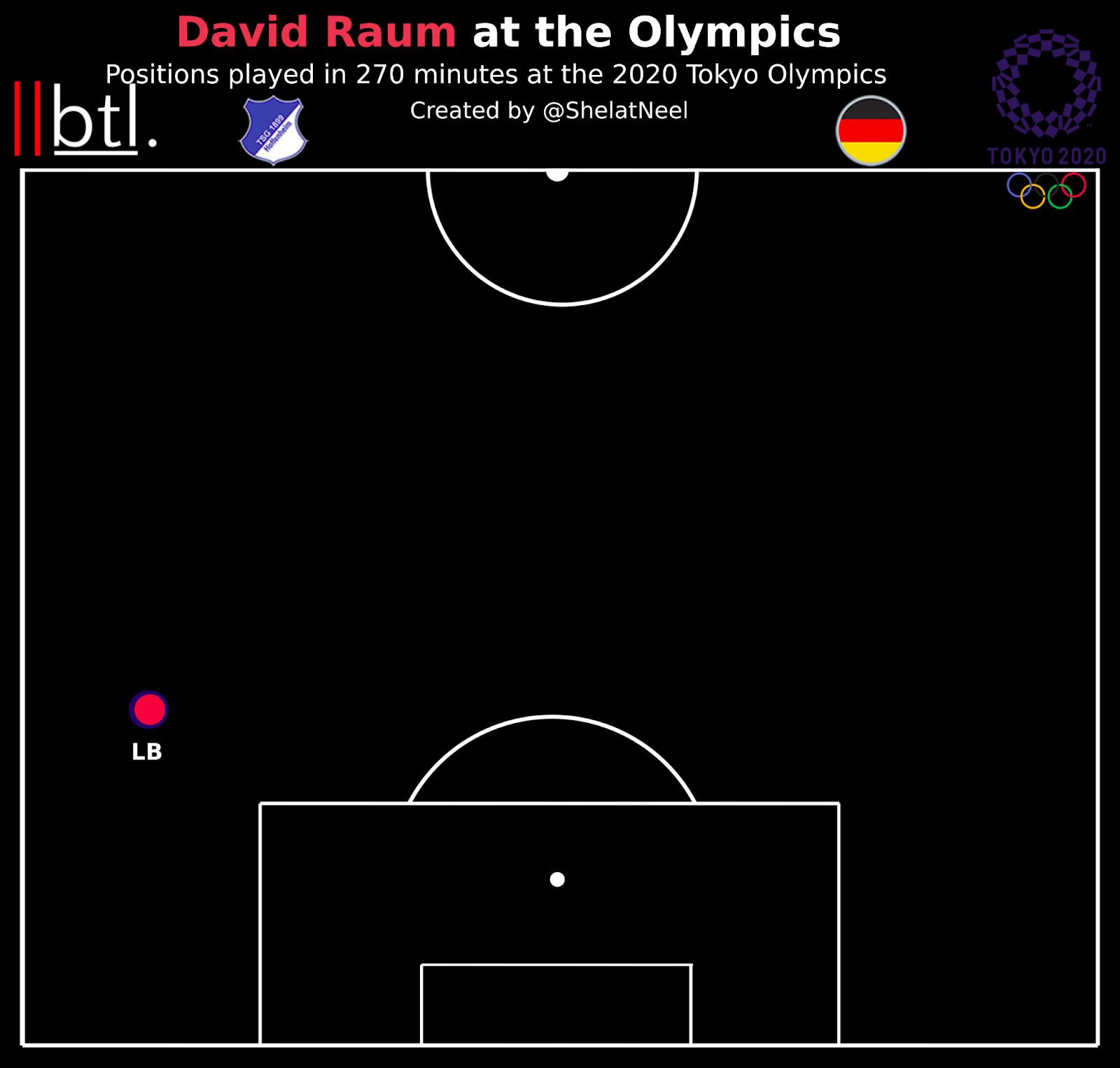 He completed 91 passes at an accuracy of 80% throughout the tournament, creating 4 chances and getting one assist in the process. Defensively, he won 5 ground duels, made 7 tackles and interceptions as well as 8 clearances. The 23-year-old defender completed a pre-agreed move from Greuther Fürth to Hoffenheim in July, so he is expected to feature in Sebastian Hoeneß' system this season.
Martín Zubimendi
We keep going with Spaniards in the central positions of our squad, as Martín Zubimendi begins the midfield selection.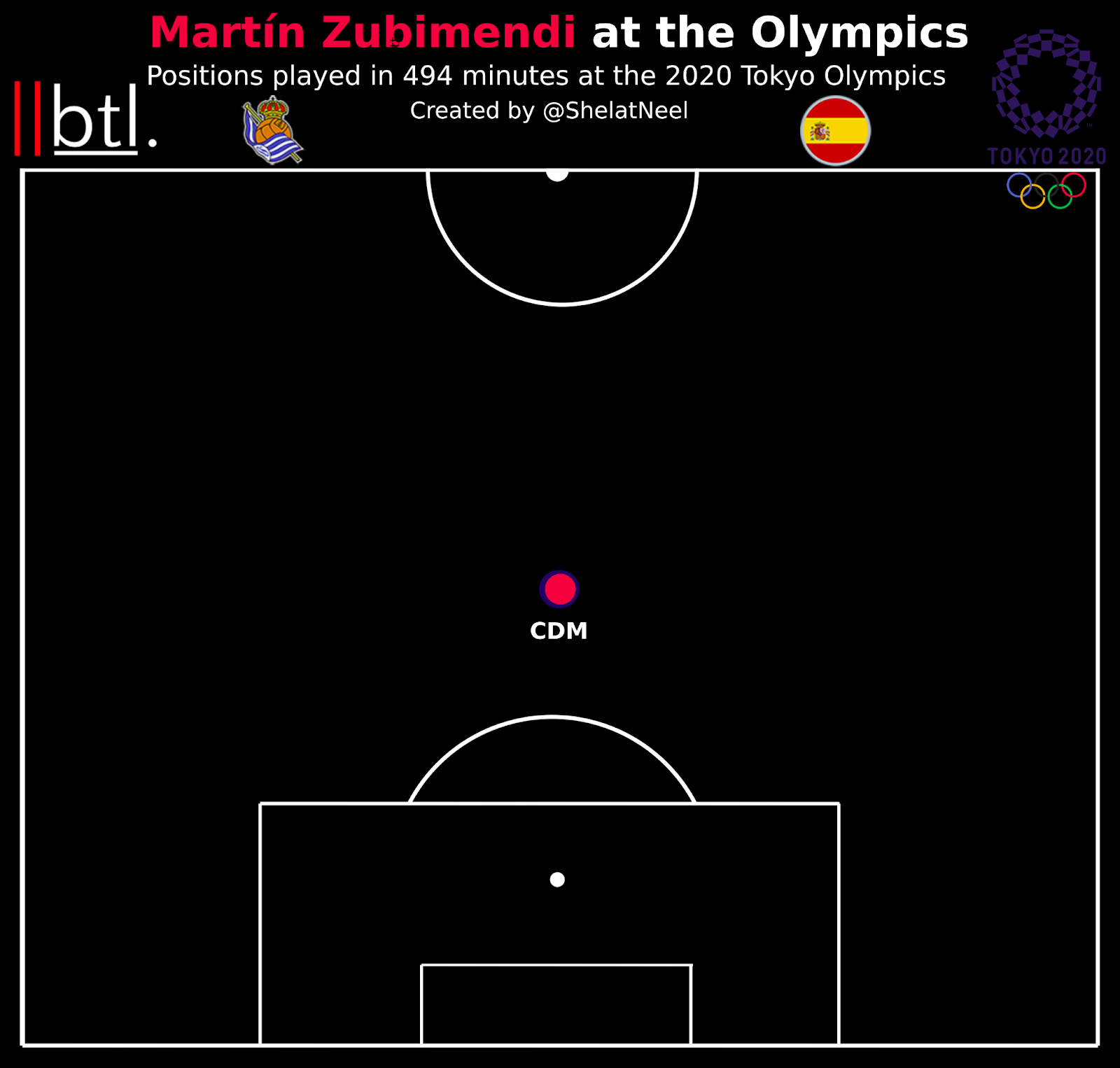 He was great both in and out of possession, completing 300 passes at an accuracy of 88.24%, winning 33 duels and making 17 tackles and interceptions. His ball progression and line-breaking passing was quite impressive too, as he helped by adding a right-footed option to counteract Pau Torres.
The 22-year-old midfielder has four more years left on his contract at Real Sociedad, so he should be expected to stay around San Sebastián for now.
Ao Tanaka
Japan looked very good in attack throughout the tournament, and one of the key men enabling that was Ao Tanaka.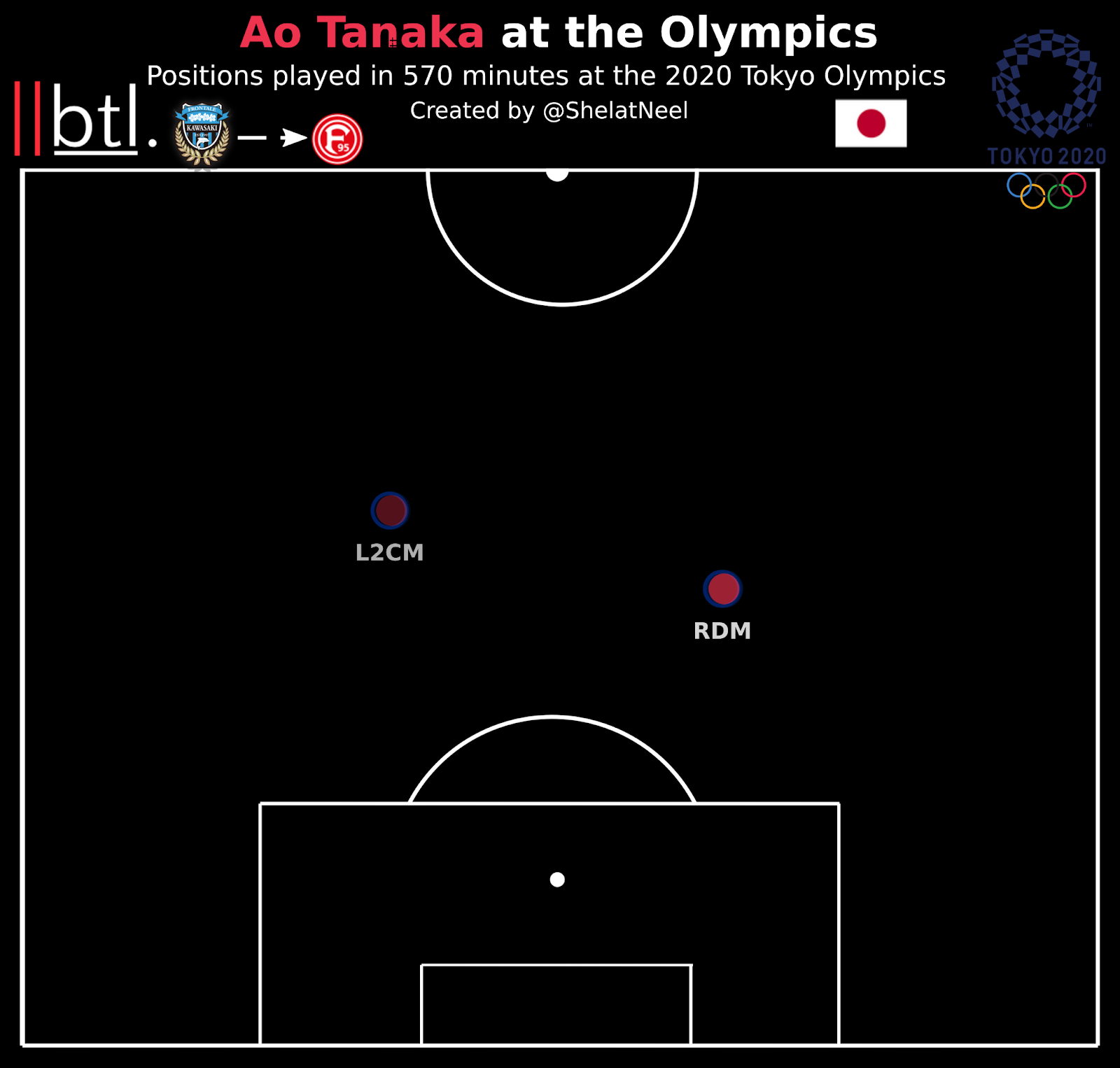 He looked solid in possession, completing 293 passes at a completion rate of 89% and successfully playing 27 long balls. Screening the defence against counterattacks was another aspect of his role, which he once again fulfilled very well with 20 duels won and 16 tackles and interceptions. The 22-year-old will feature in the 2. Bundesliga this season as he is on loan at Fortuna Düsseldorf, who have an option to buy which could be exercised in the summer of 2022.
Bruno Guimarães
Some more attacking players might have caught the eye more than Bruno Guimarães, but make no mistake – he had a sublime time in Japan.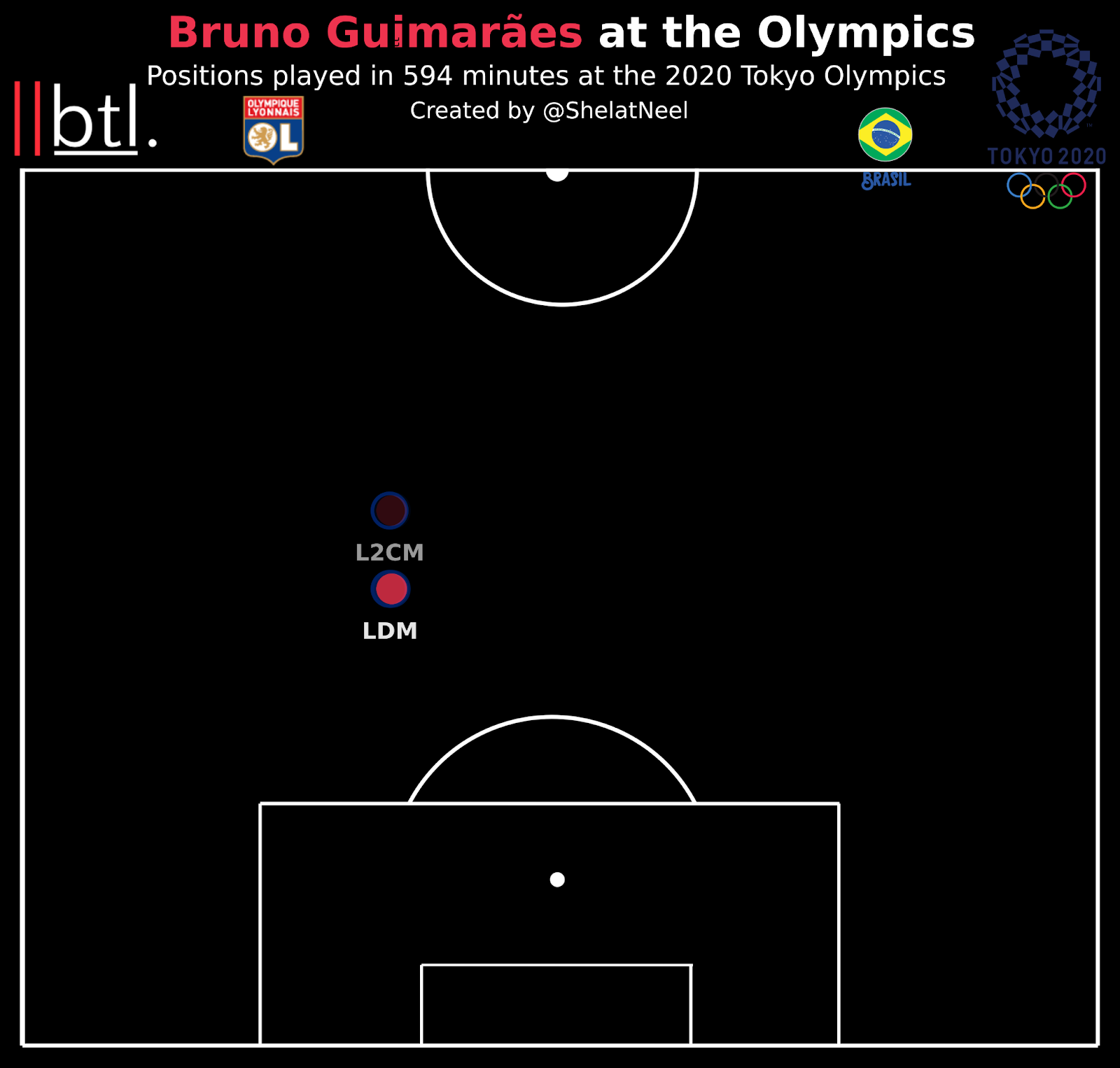 He was absolutely superb with the ball at his feet, making 383 accurate passes at a completion rate of 91.4% and creating 9 chances, 3 of which were classified as big chances, getting 2 assists for his efforts.
The Lyon man put in some great defensive shifts too, most notably against Côte d'Ivoire when his midfield partner Douglas Luiz saw red very early on in the match. This is reflected in the numbers too, most impressively 39 duels won and 16 tackles and interceptions. There aren't any concrete reports suggesting that Guimarães will find a move away from France this summer, but Arsenal fans certainly are hopeful.
Pedri
Pedri might have aged about 10 years in just one season having played over 75 games for club and country, but he impressed nonetheless in a more advanced role at the Olympics.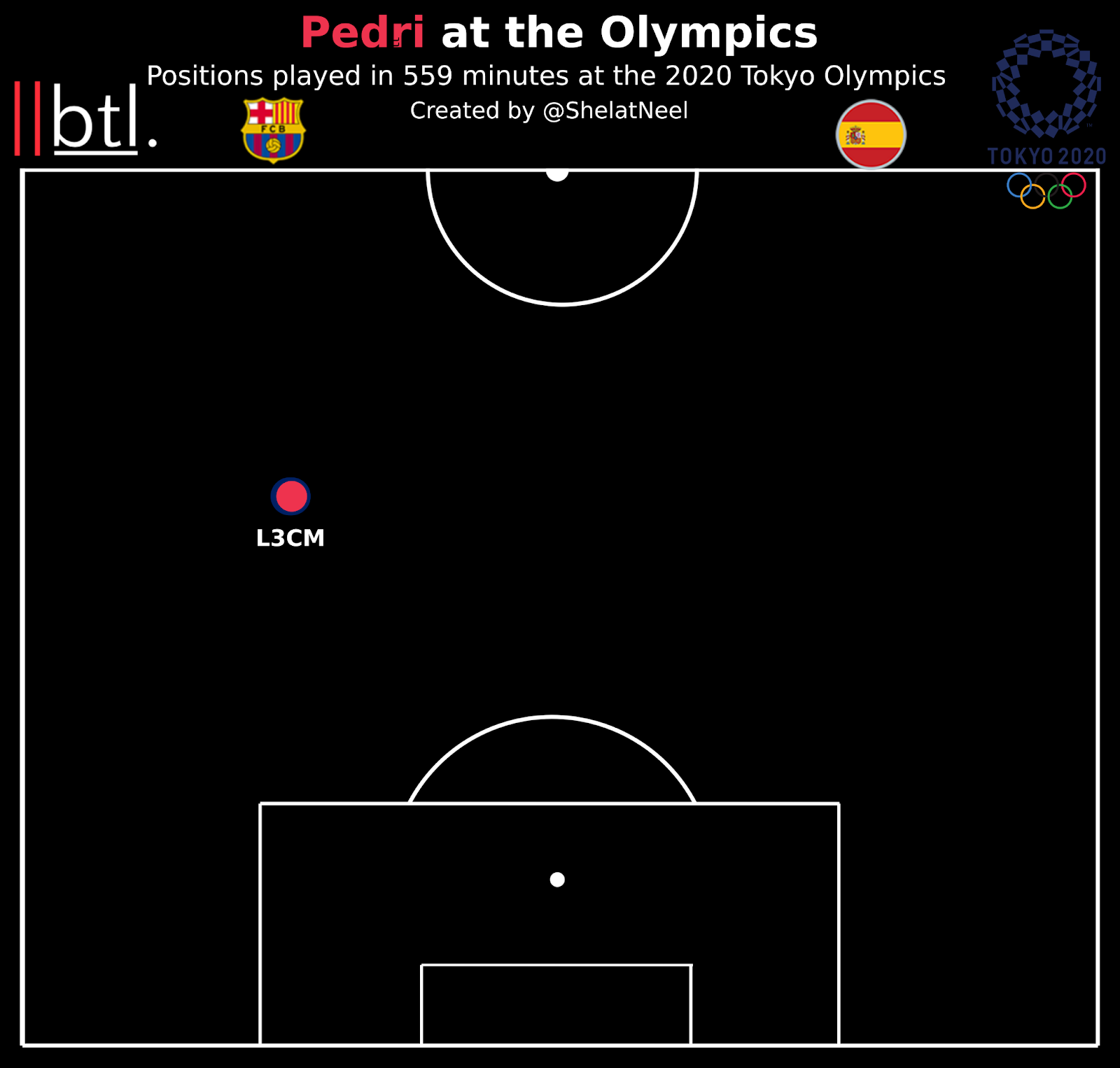 He did help out in defence a bit with 10 tackles and interceptions, but most of his work was done in possession, including 311 passes at a success rate of 87.3%, 6 shots and 5 chances created. The teenager's movements in the final third were helpful to his fellow attackers as well as they pulled opposition defenders away. Barcelona are in quite a situation right now, but at least they have a player of Pedri's calibre on their books, and they intend to reward him with a hefty contract extension.
Sebastián Córdova
There were a few big names in the Olympics who were expected to lead the goal involvements chart, but in the end, Sebastián Córdova achieved that feat following some very good performances.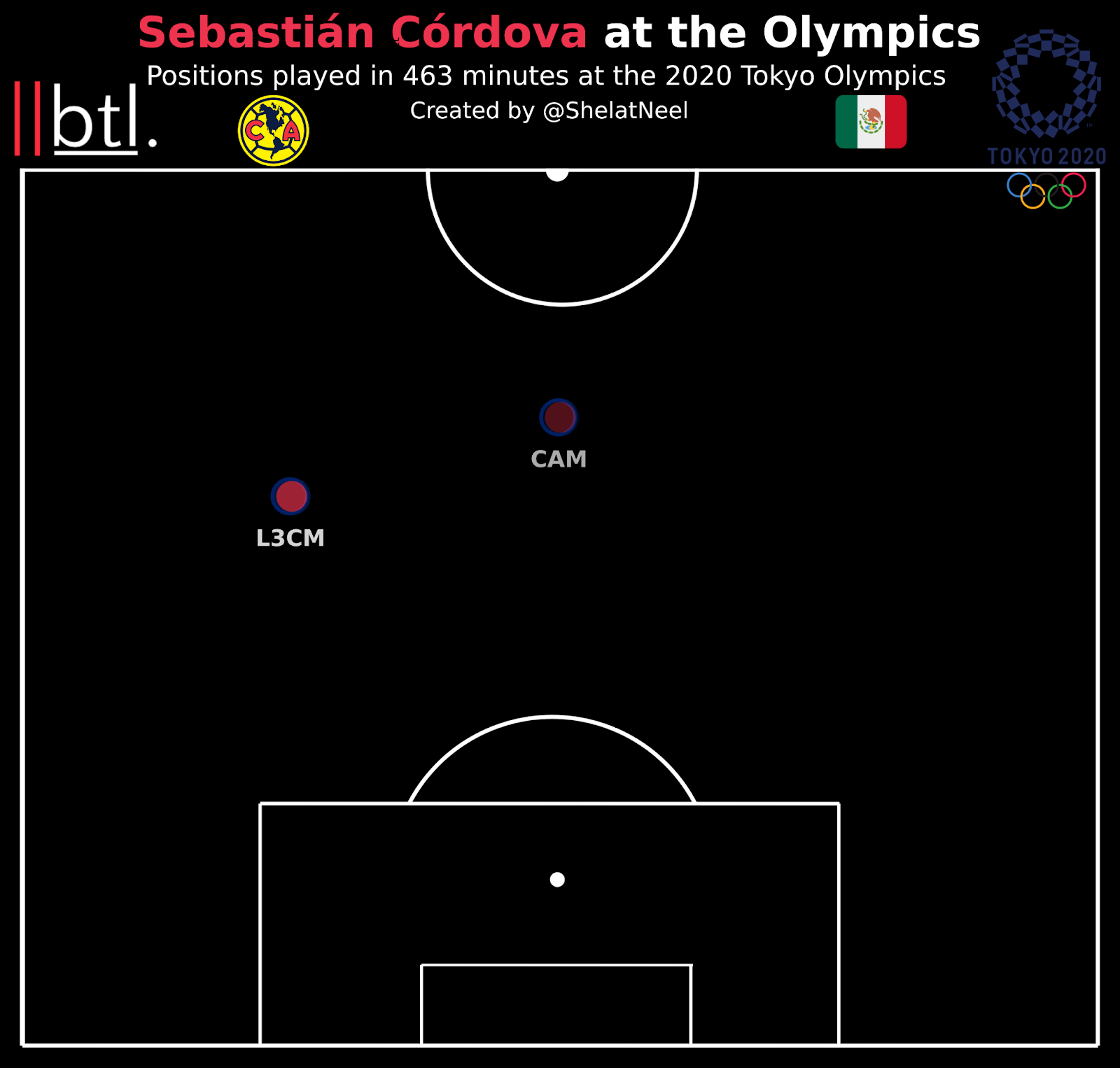 The Mexican was a serious attacking threat, returning with 4 goals and 3 assists from 13 shots and 10 key passes. Admittedly, two of his strikes were penalties, but that should not take anything away from his brilliant overall performances.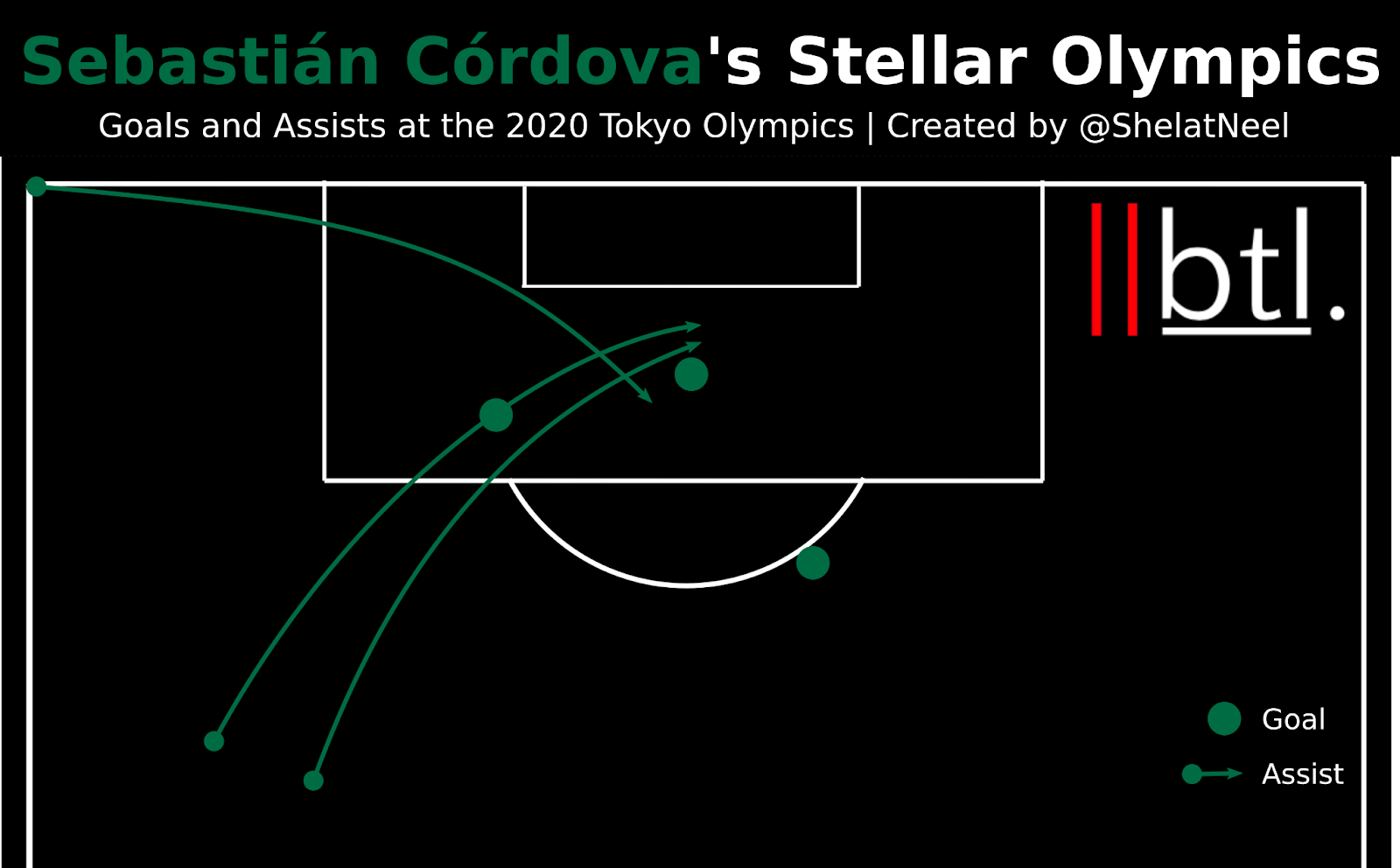 The 24-year-old midfielder has four years left on his current contract with América, and there does not seem to be any transfer buzz surrounding him.
Takefusa Kubo
A lot of the host nation's hopes were riding on the man they call the 'Japanese Messi', and Takefusa Kubo certainly lived up to expectations.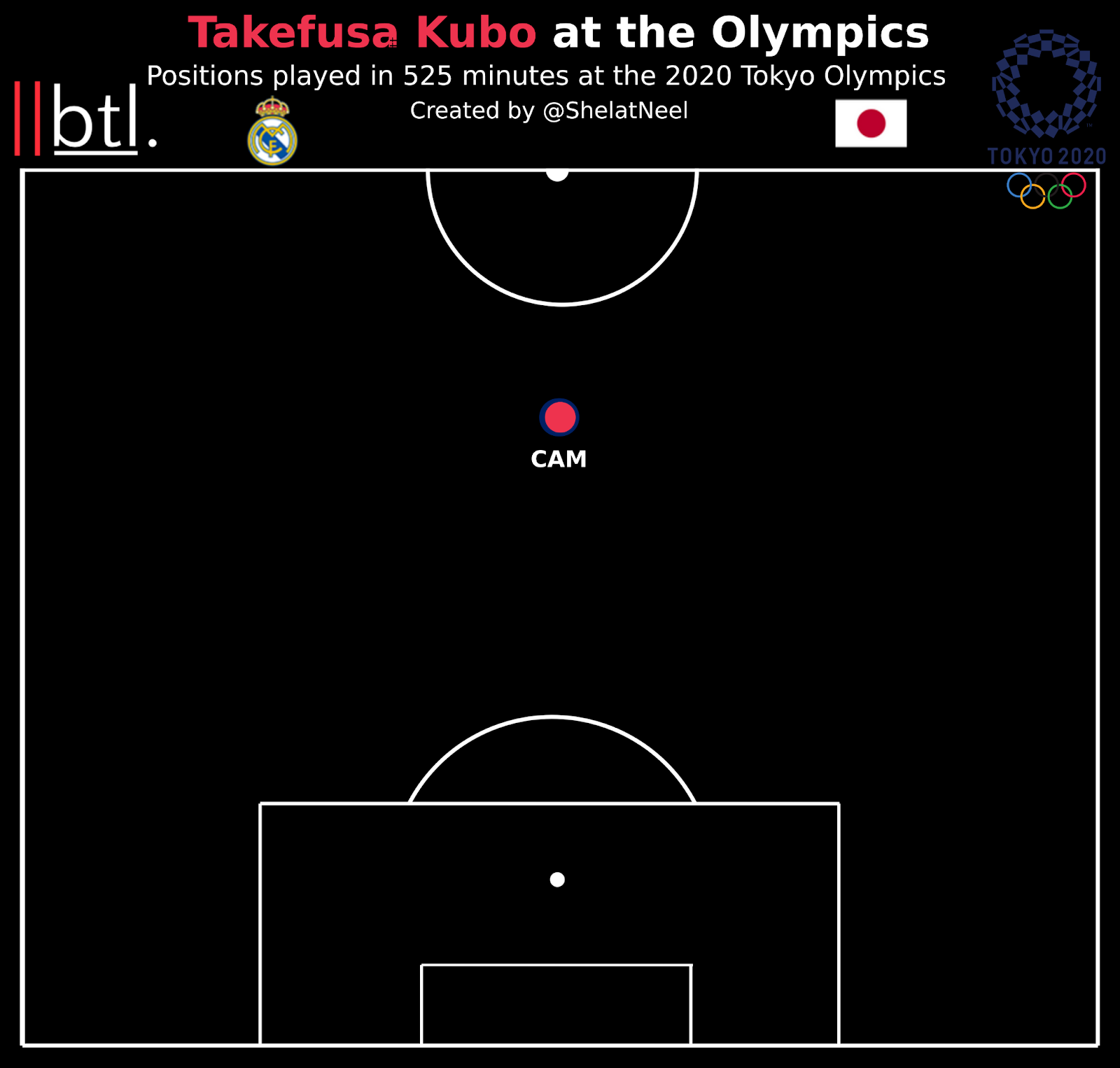 His attacking stats are simply dazzling, with 3 goals from 20 shots, an assist and 3 big chances created from 14 key passes and 10 successful dribbles. The 20-year-old attacker was a joy to watch too, just take a look at his winning goal against South Africa for example. Receiving a long pass from the opposite flank, Kubo brought the ball down effortlessly, cut away from the defender in a flash and picked out the bottom corner with a pinpoint finish.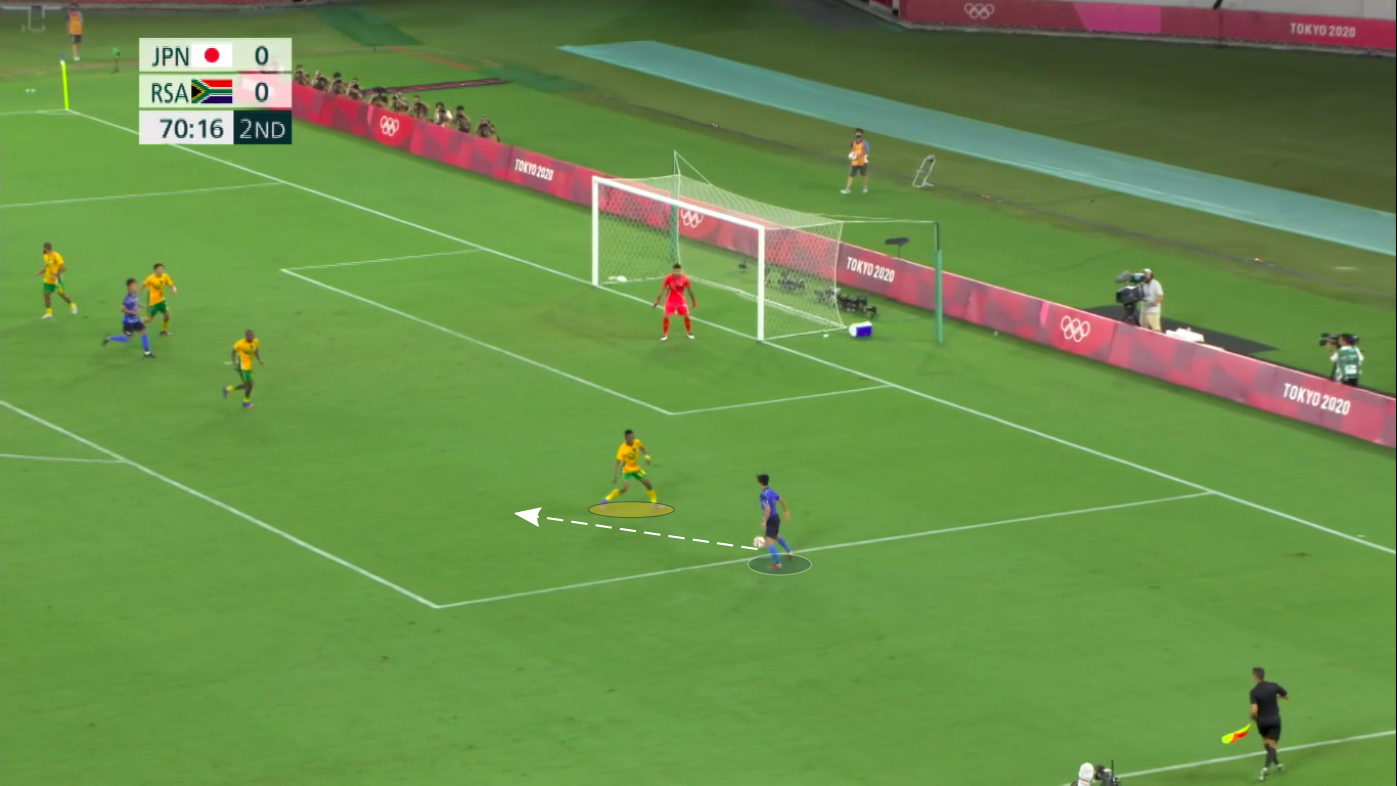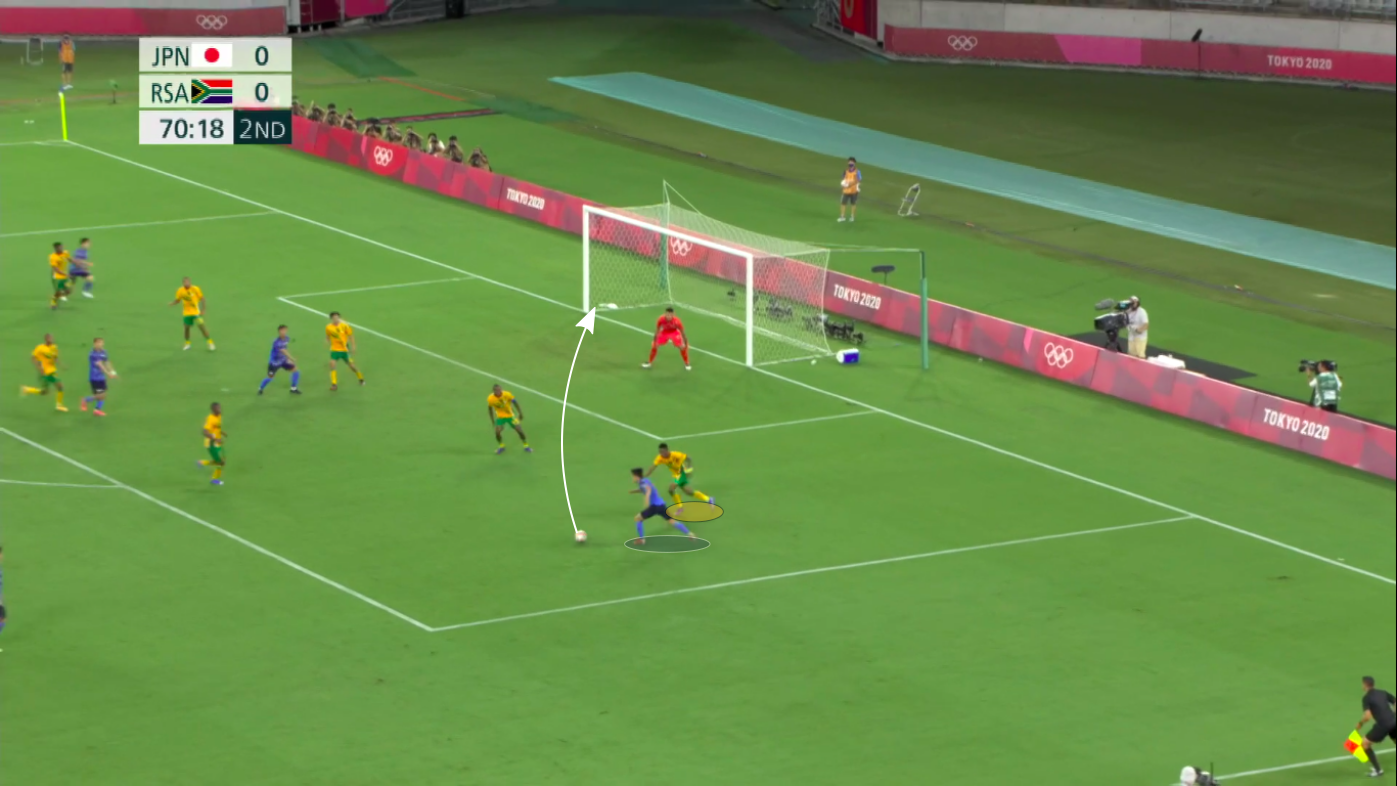 Although Real Madrid are very well aware of his talents, they still feel that a loan would be the best move for his development, which is why Kubo seems set to join Mallorca soon.
Antony
Moving on to attackers, we have another Brazilian in our squad, as Antony looked very bright on the right wing.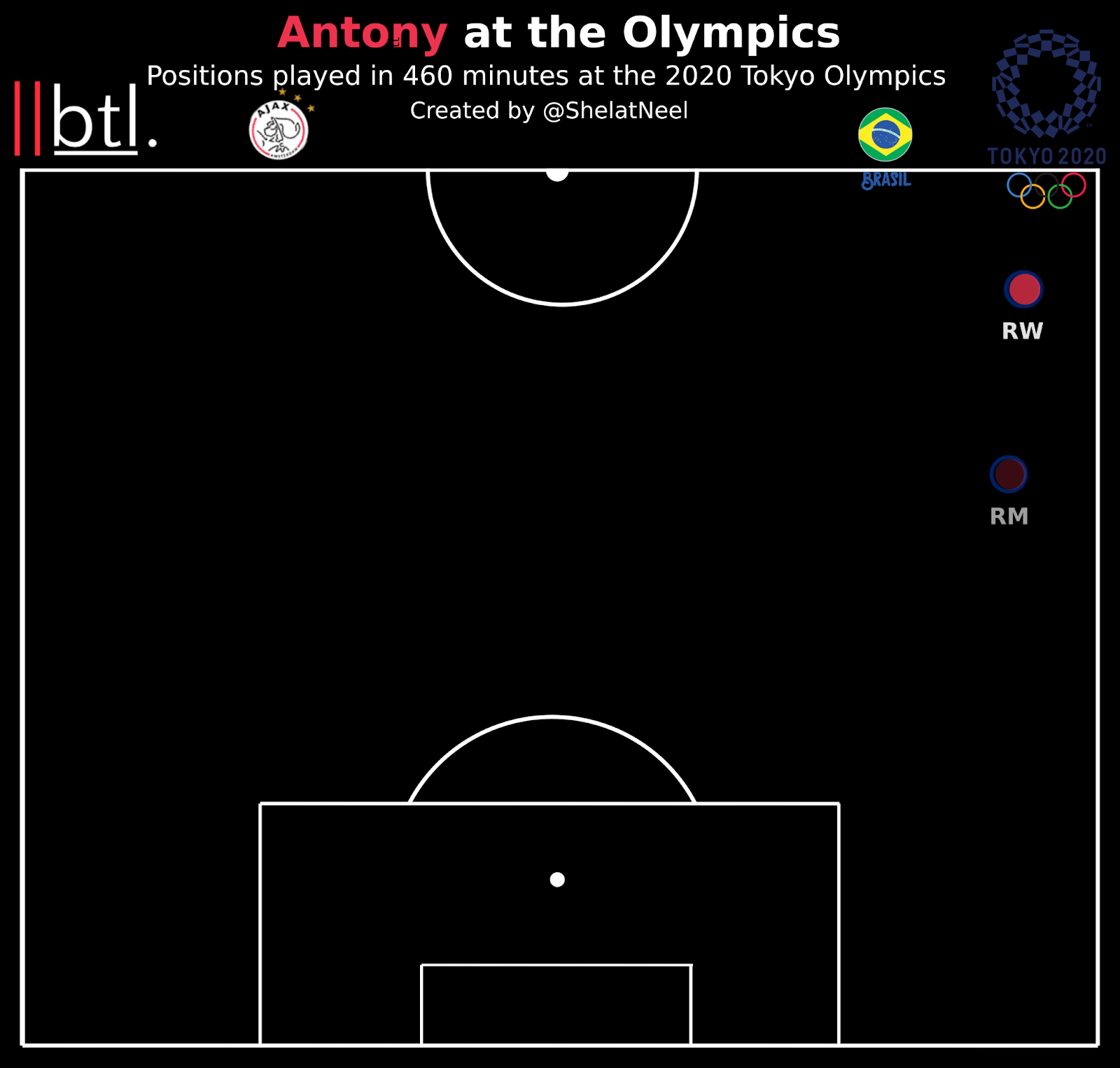 His shooting was not the best as he failed to hit the back of the net with any of his 11 attempts and missed 2 big chances, however he looked a real menace for defenders one-on-one as he completed a very high 63% of his attempted dribbles and made up for his misses by creating 2 big chances. His passing was in the spotlight after the final, as he set up the Gold-winning goal in extra time with a wonderful long ball.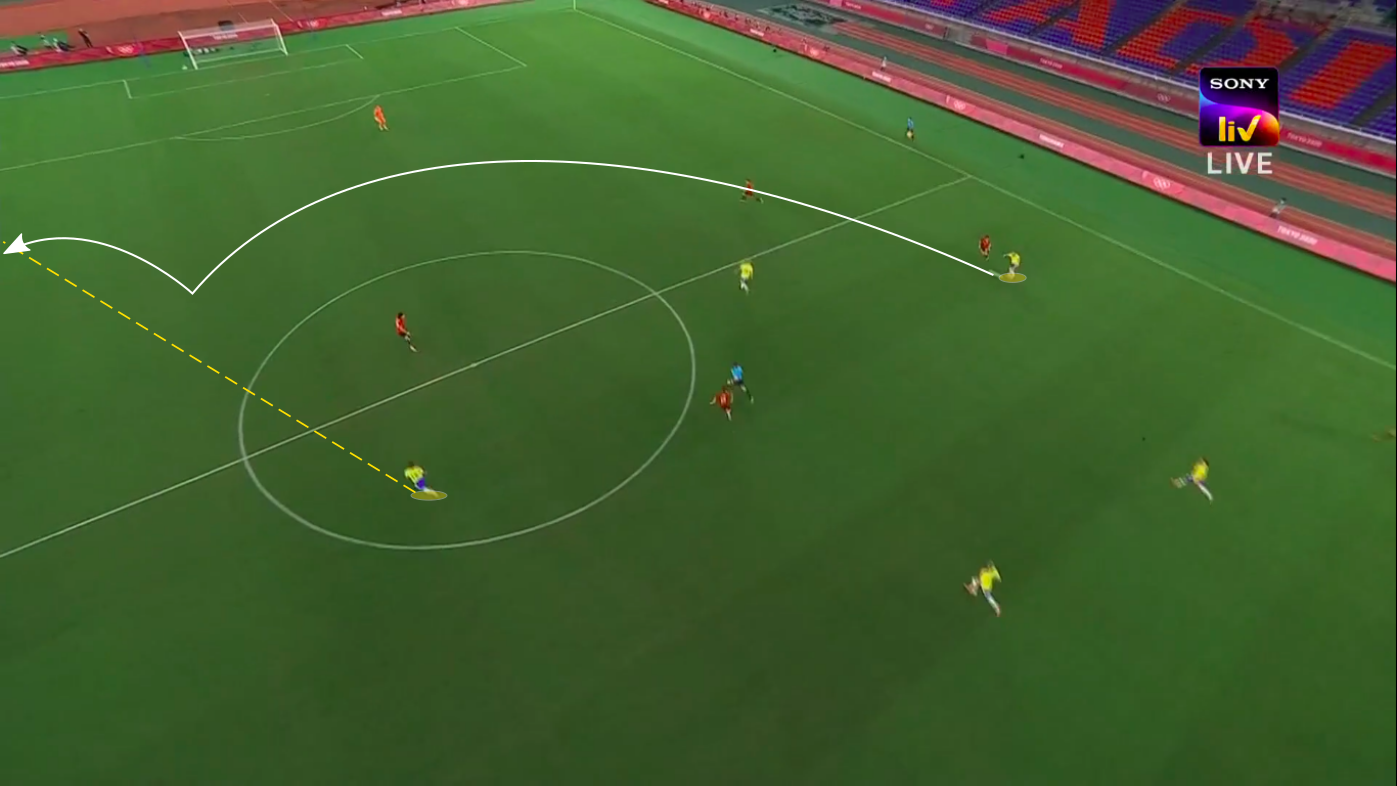 The Brazilian winger also worked hard out of possession, most notably in the final against Spain where he kept Marc Cucurella very quiet. The 21-year-old winger joined Ajax last summer and had a successful Eredivisie campaign with 17 goal involvements in 32 appearances, and he'll be raring to go again for 2021/22.
Dani Olmo
Another Spaniard who featured both in the Euros and the Olympics was Dani Olmo, who finally broke his goal-scoring duck.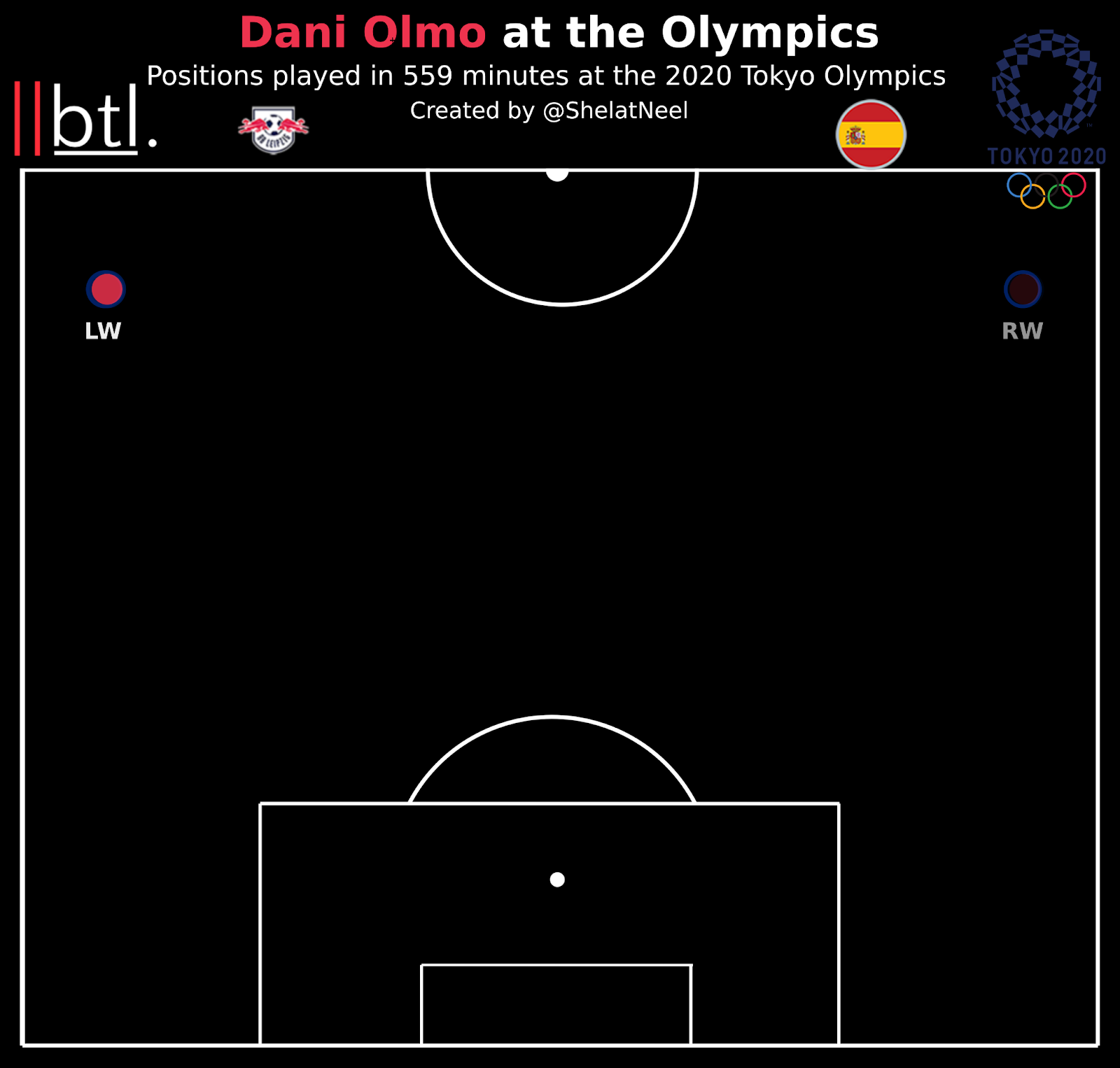 Again, though, shooting wasn't exactly his forte as he only netted once in 12 attempts, but the rest of his attacking productivity was right up there. That included 34 duels won, 9 successful dribbles and 8 chances created, 2 of which were converted into assists.
Besides that, much like his Spanish teammates, Olmo's movements in the attacking third were very sharp and lively, both to create openings for others to exploit open spaces. There are a few rumours floating here and there about the 23-year-old attacker's future, but he will most likely stay with RB Leipzig for this season.
Alexis Vega
The only other Mexican to return with multiple goals, as well as assists, was Alexis Vega, who looked very lively on the left flank.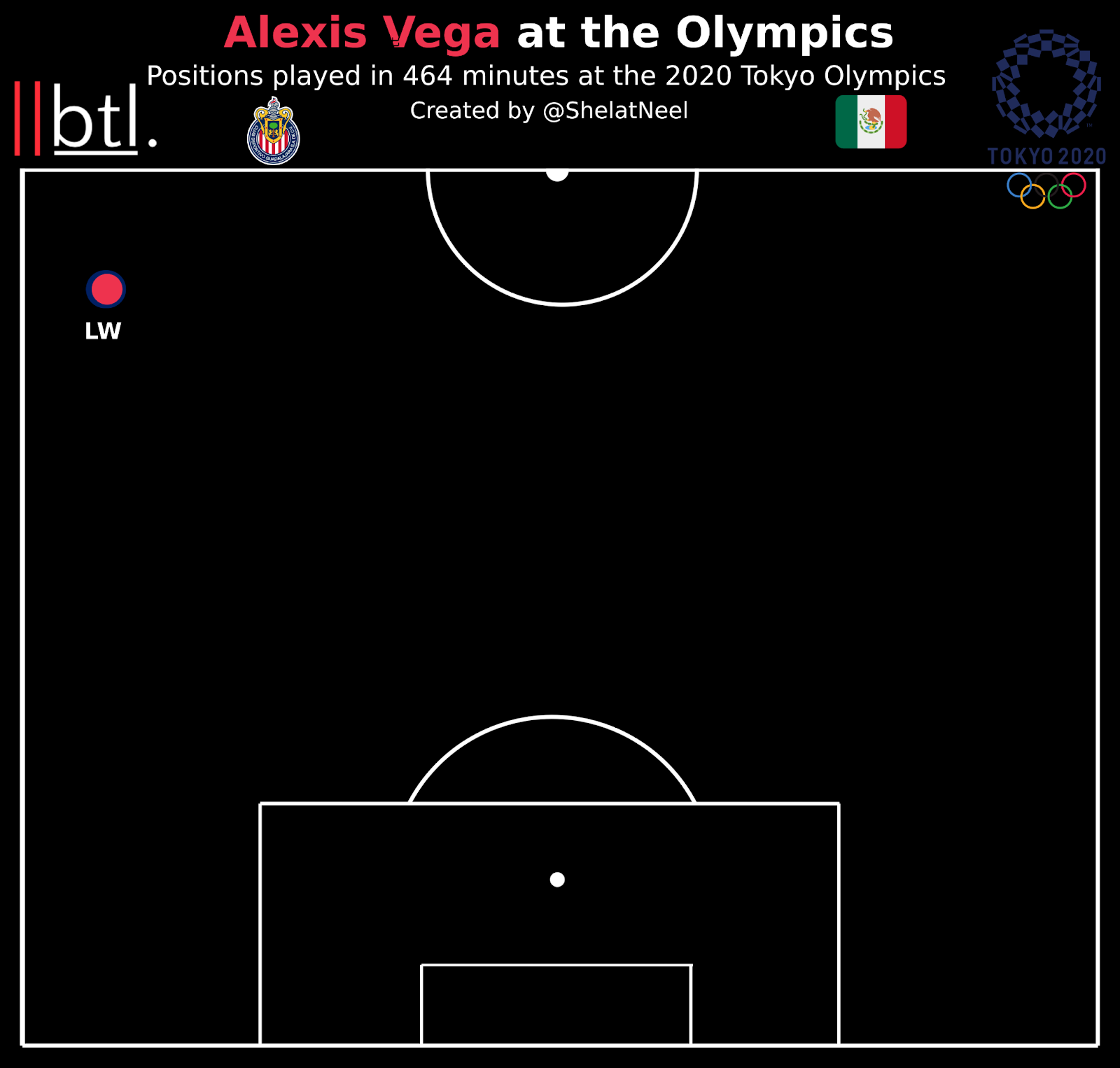 His 3 goals and 2 assists came from 8 shots and 13 key passes to add to 14 successful dribbles. The Guadalajara man made some very good late runs into the box and moved into dangerous positions in the attacking third, which is evident in his goal involvement map.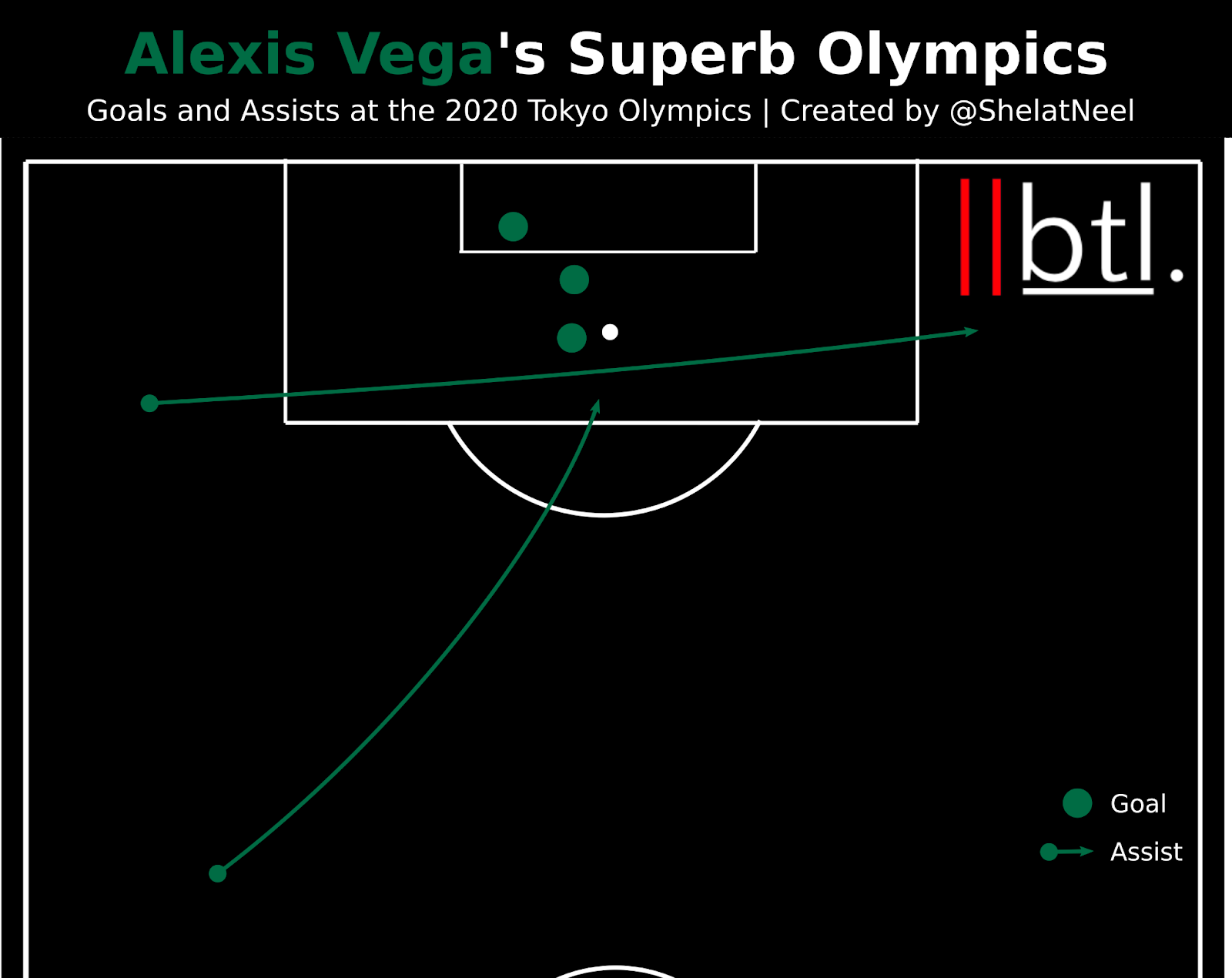 The 23-year-old winger has under 18 months left on his current contract in Mexico, so clubs all across Europe's top divisions should be looking at him if they need a versatile forward who knows where the back of the net is.
Mikel Oyarzabal
The position of striker seems to be an issue for Spain at every level of international football, but they did have at least one central attacker who regularly finished off his chances. Mikel Oyarzabal also was the only non-Mexican to register multiple tallies in both the goals and assists column.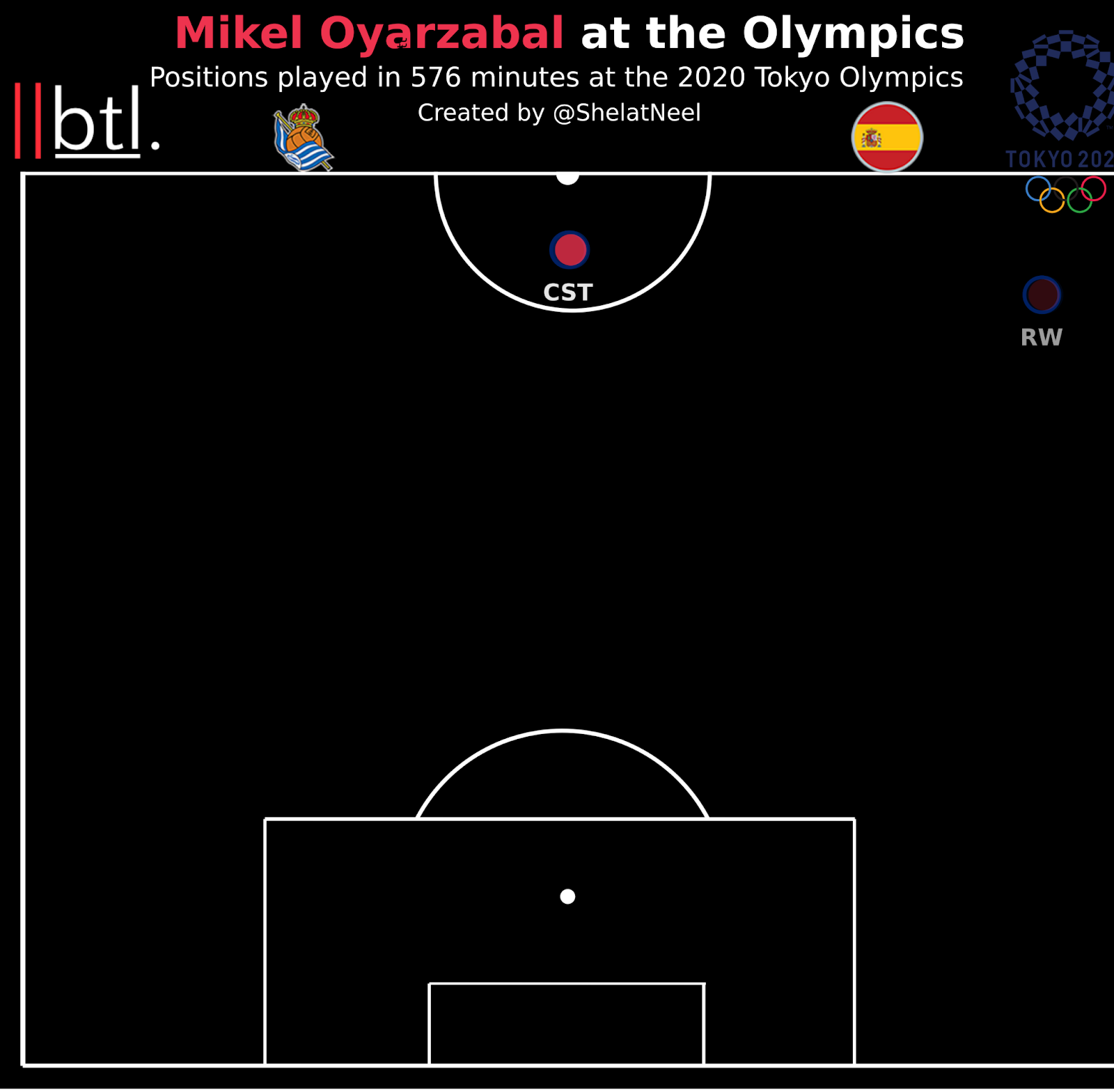 Part of Oyarzabal's success in front of goal was down to the fact that he wasn't afraid to let fly – he attempted 19 shots. To add to that, he created 10 chances, 2 of which were chalked down as big chances. Again, a lot of that was down to smart movement, as his goal involvement map shows.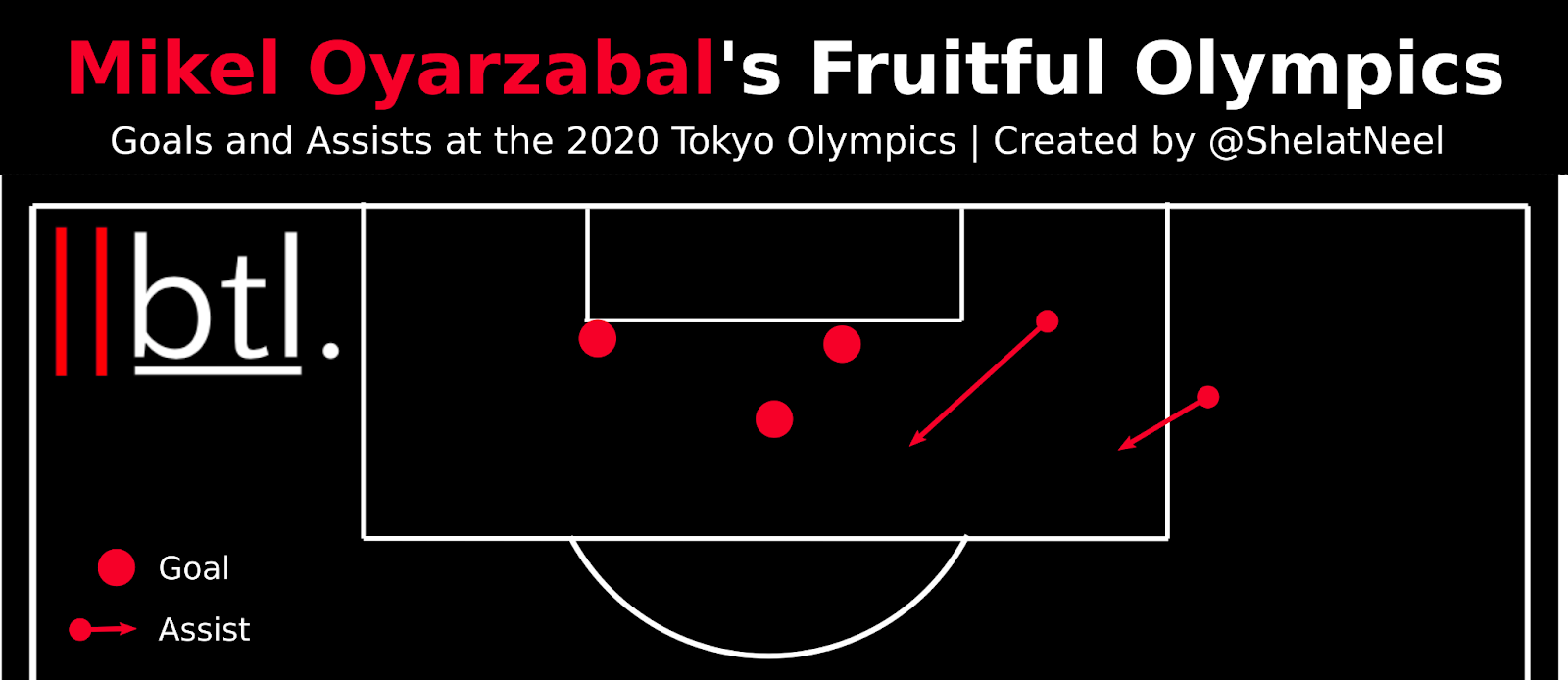 The highly-rated 24-year-old forward has been with Real Sociedad all his career, racking up close to 250 appearances. With three years left on his current contract, Oyarzabal was loosely linked with a move to Manchester City earlier this summer. While those rumours have cooled off, other top European clubs must be keeping an eye on him.
Richarlison
It's always hard to leave out the Golden Boot winner, so Richarlison is the final man in our squad.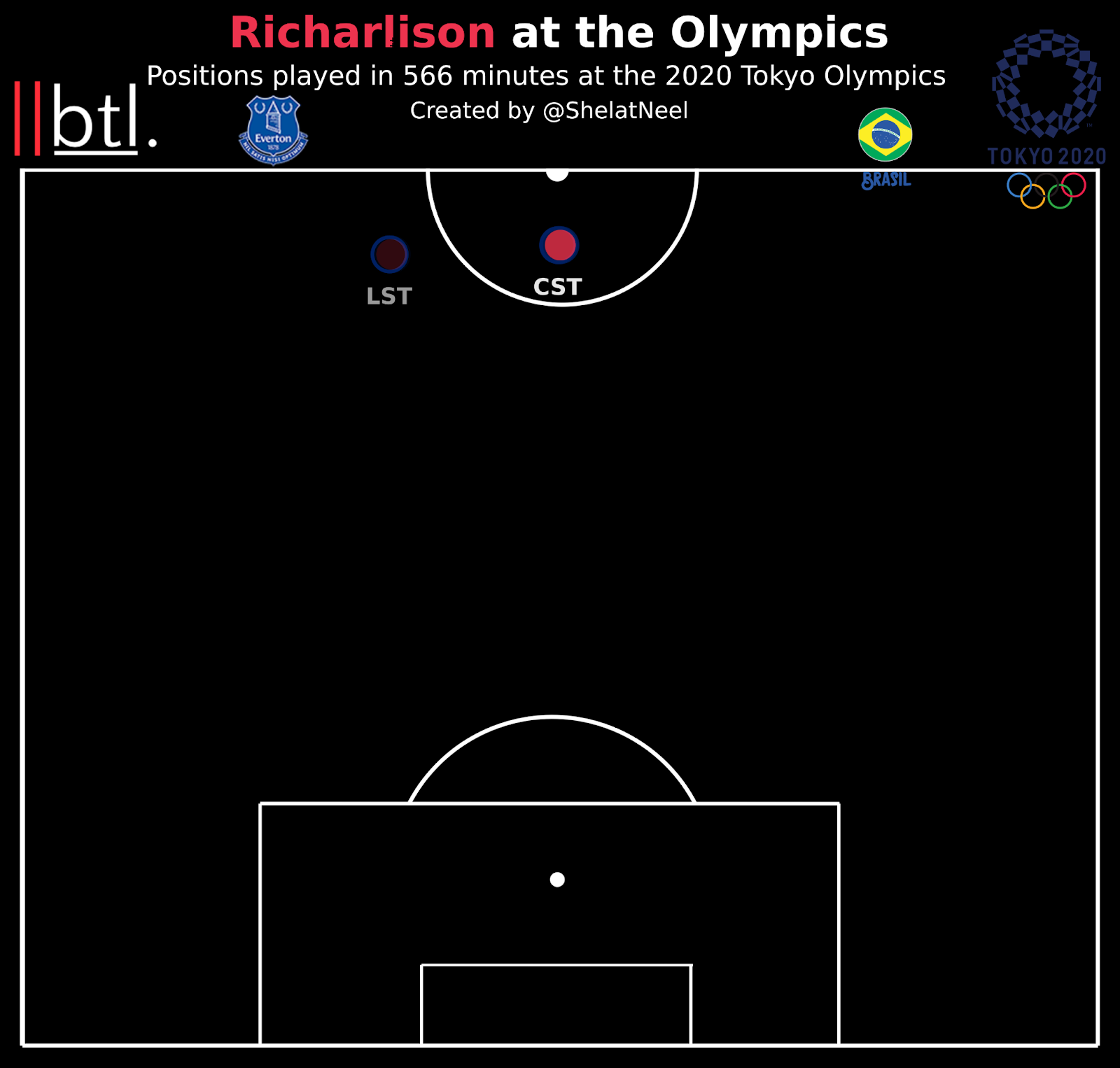 A wise man once said, "You miss 100% of the shots you don't take", and Richarlison certainly subscribes to that school of thought. His 21 attempted shots were the highest of anyone in the tournament, therefore, even though he hit the target with just 52.3% of them and missed three big chances, his 5 goals were greater than what anyone else managed at the tournament.
To add to that, the Brazilian forward made 8 key passes and got an assist, helping out in matters of creation too. He also turned possession over in the attacking third on more occasions than anyone else in the tournament as he did so 8 times, showing his hard work off the ball.
After a busy summer, Richarlison will return to Everton to find new manager Rafael Benítez in charge, who certainly has the Olympic winner in his plans.
Full Squad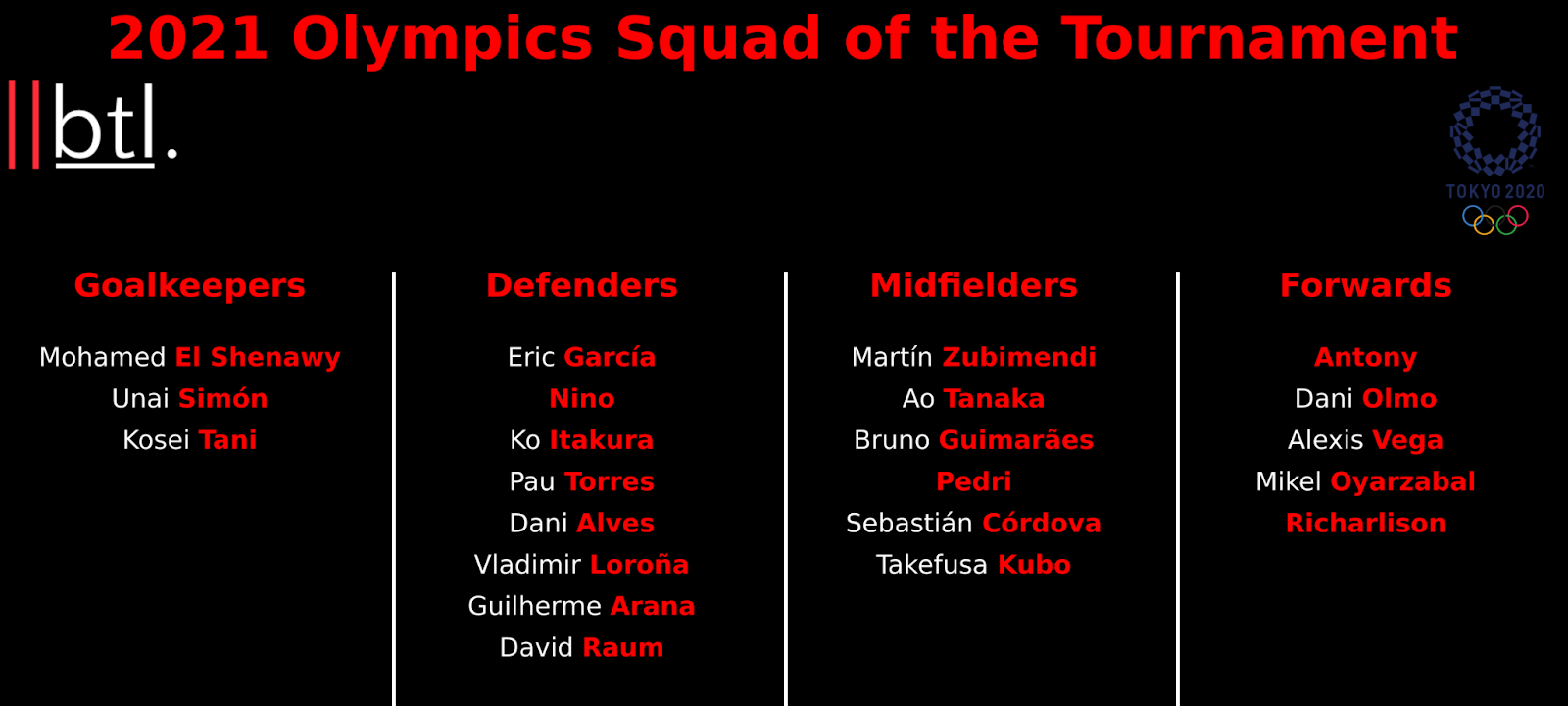 By: Neel Shelat / @ShelatNeel
Featured Image: @GabFoligno / Leon Neal – Getty Images
Stats courtesy SofaScore, FIFA, Transfermarkt and FotMob.