The Best Performers From the 2020 European Championship
It took a year longer than planned due to some rather unforeseen circumstances, but the 16th edition of the UEFA European Championship (adamantly titled Euro 2020 even though it's 2021) finally got underway on the 11th of June. After precisely a month's worth of action across Europe featuring the continent's best national sides, Italy lifted the coveted trophy by defeating England on penalties.
Naturally, there were many players who excelled for their national teams, so let us take a look at the best of the bunch and pick a 26-man squad, even if Luis Enrique disapproves of it.
Gianluigi Donnarumma
The first player in our squad is quite obvious – the player of the tournament, Gianluigi Donnarumma.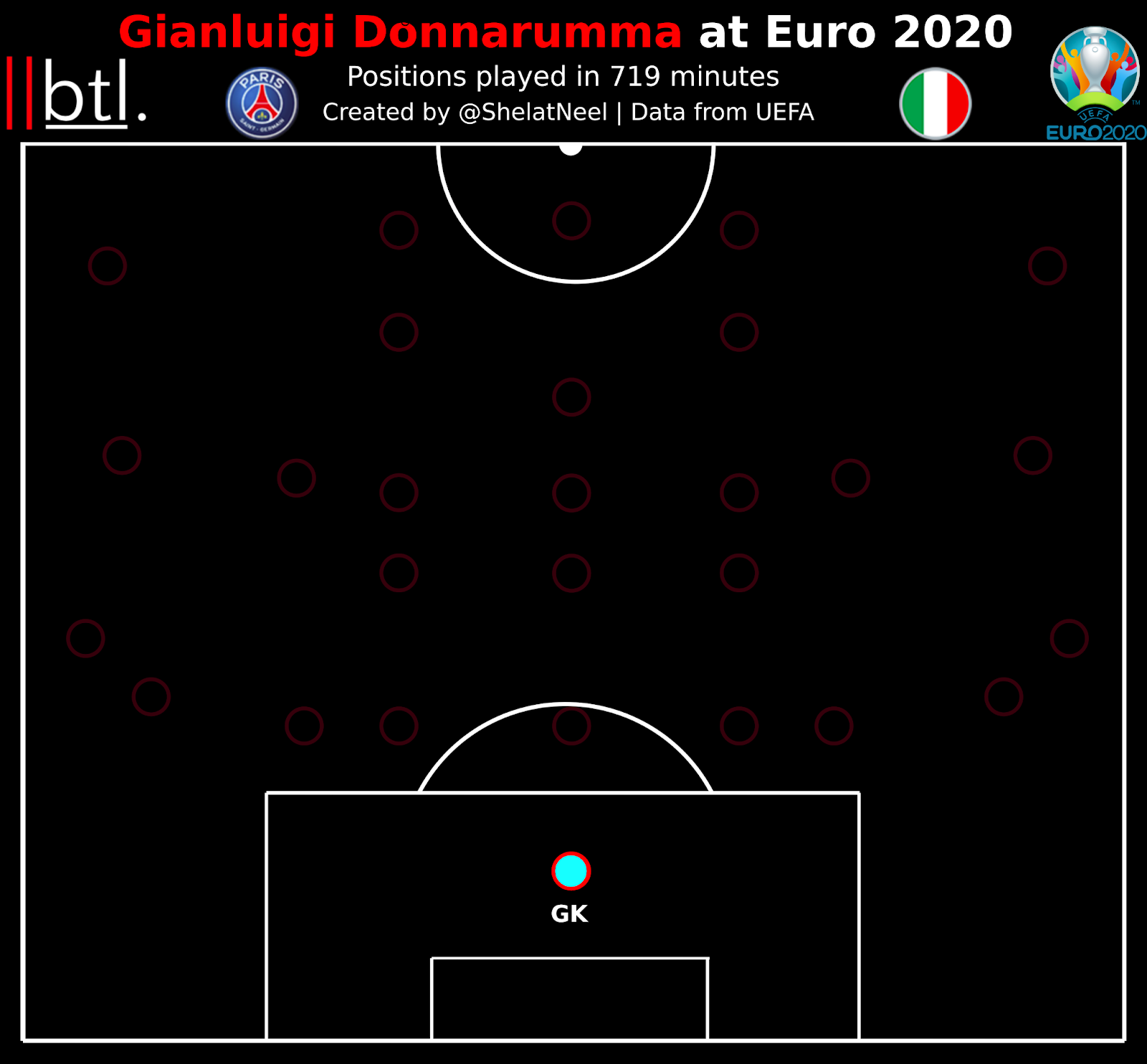 The Italian goalkeeper ended the tournament with the greatest net positive PSxG (Post-Shot expected Goals) which measured at 1.5. On the ball, he had the joint-most passes attempted with 210 and second-most touches and carries with 259 and 158 respectively among his compatriots.
The young shot-stopper's greatest contribution, though, came in two penalty shootouts in the semifinal and final respectively, as he put in two imperious performances to ensure his nation's success.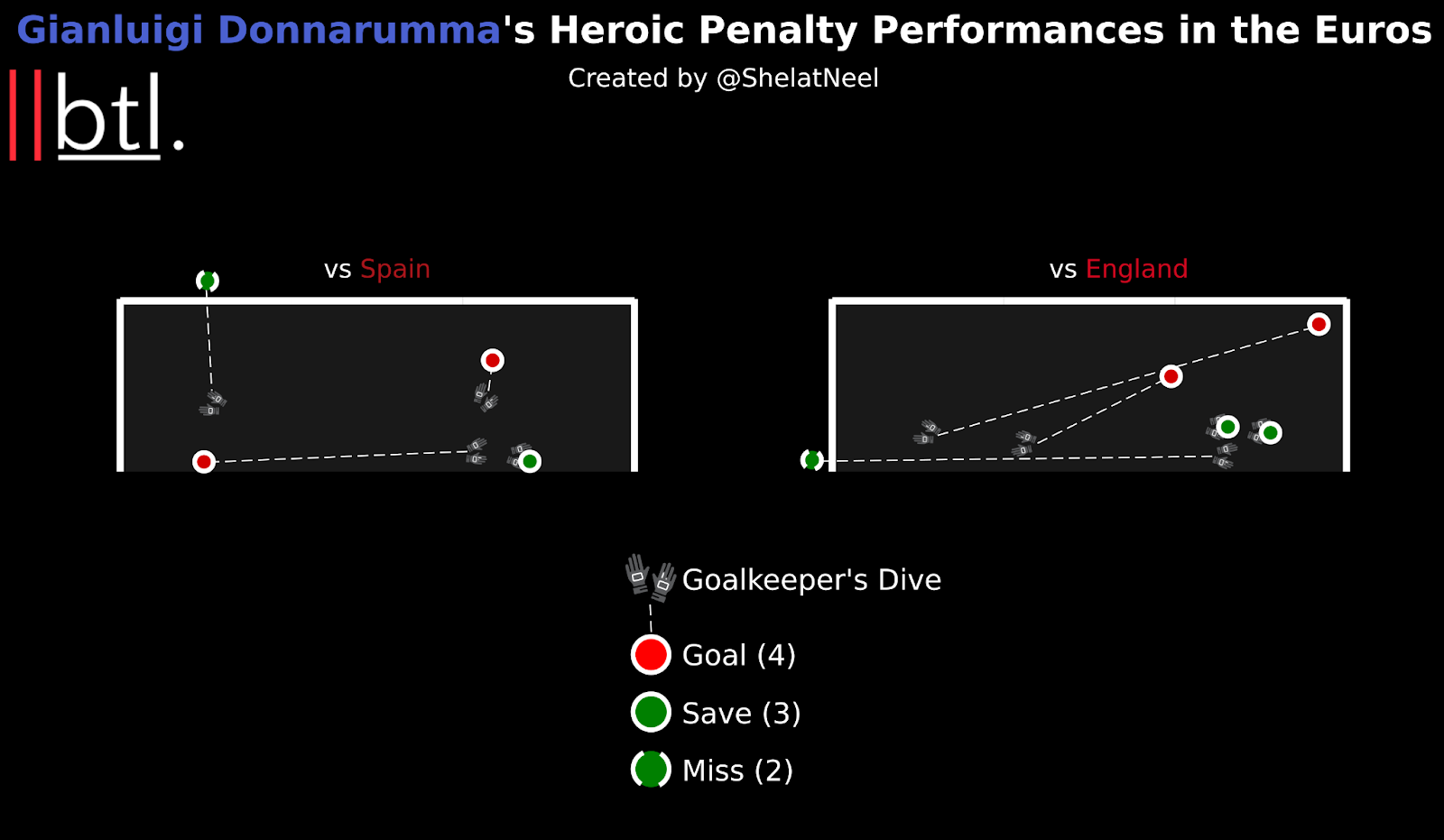 The 22-year-old keeper very recently joined Paris-Saint Germain after his contract at AC Milan expired, so his next objective will be to take the first-choice spot away from Keylor Navas.
Jordan Pickford
The other goalkeeper to feature in the Euro 2020 final penalty shootout finds a spot in our squad too.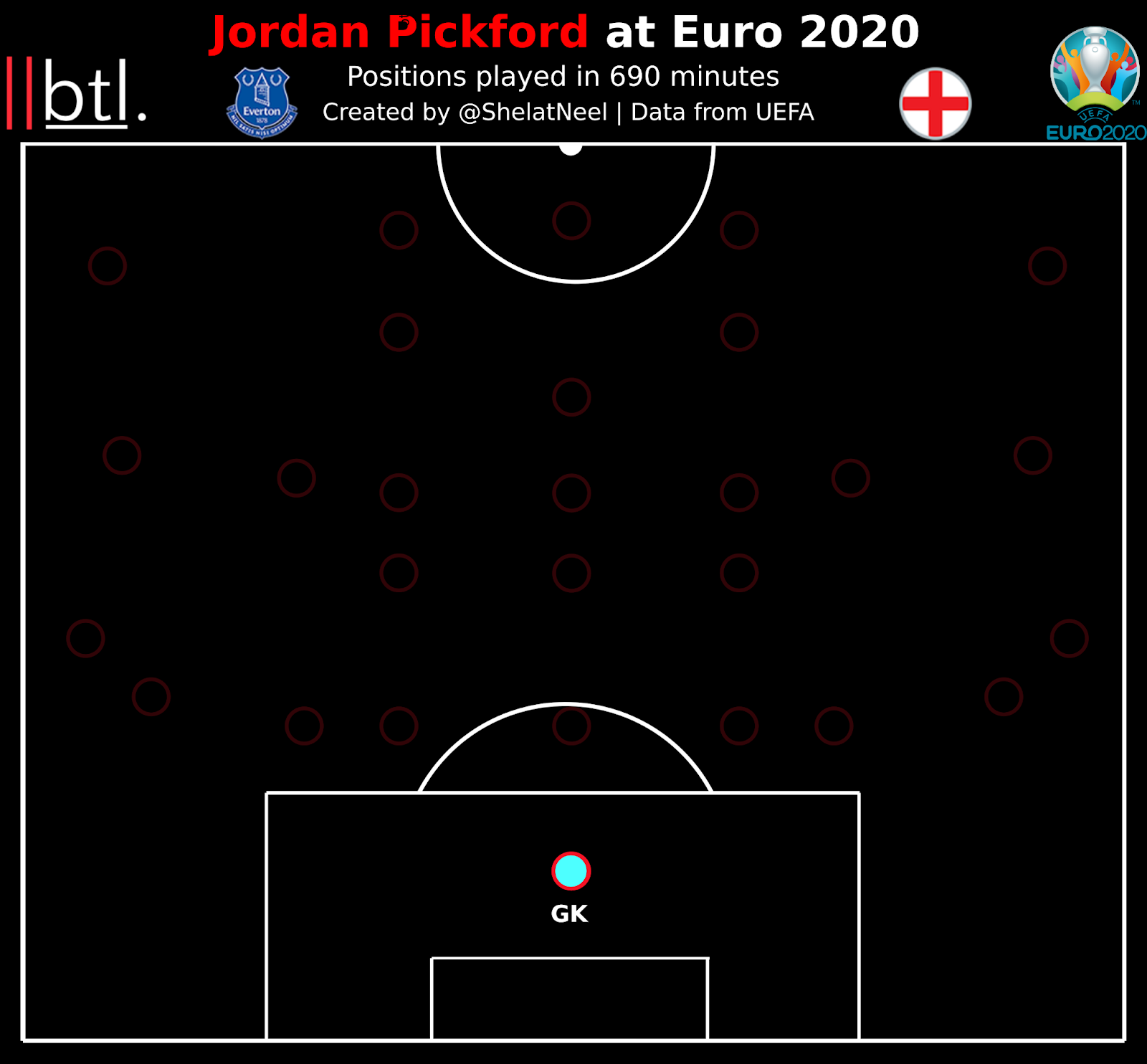 He too was very useful on the ball, racking up 276 touches and 210 attempted passes – more than any other keeper in the tournament. His two goals conceded were fewer than any of his opposite numbers (bar Salvatore Sirigu, who played for just two minutes) too, so he naturally had the greatest clean sheet percentage and save percentage weighing in at 71.4% and 88.2% respectively.
He made 14 very important saves, including some very good ones to come away with a positive PSxG of 0.7.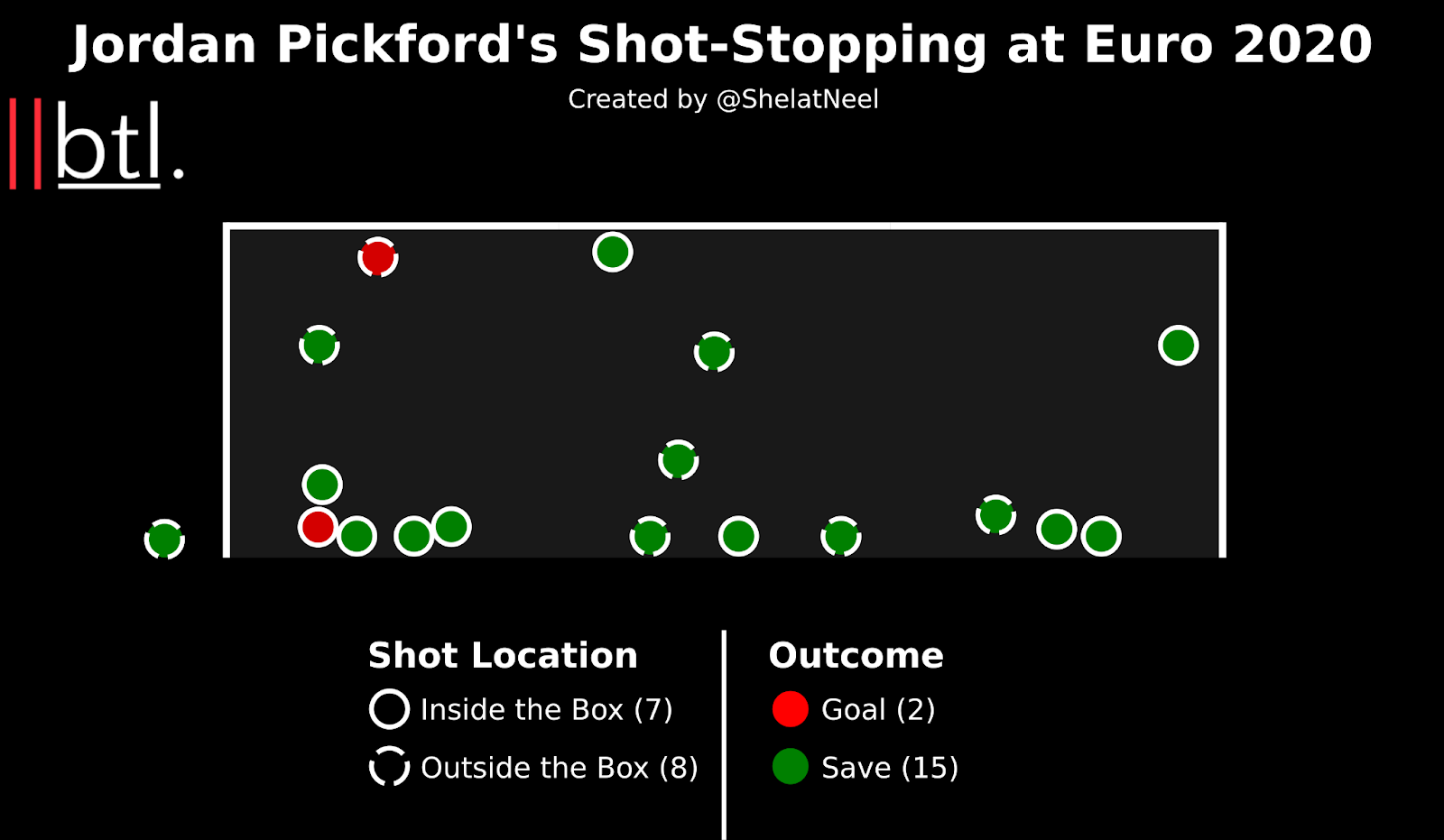 The 27-year-old keeper has three more years on his Everton contract, where his next job will be to keep the number 1 jersey under Rafa Benítez.
Yann Sommer
Switzerland had a memorable run to the quarterfinals (which ended in penalty heartbreak), and the undisputed star for them was Yann Sommer.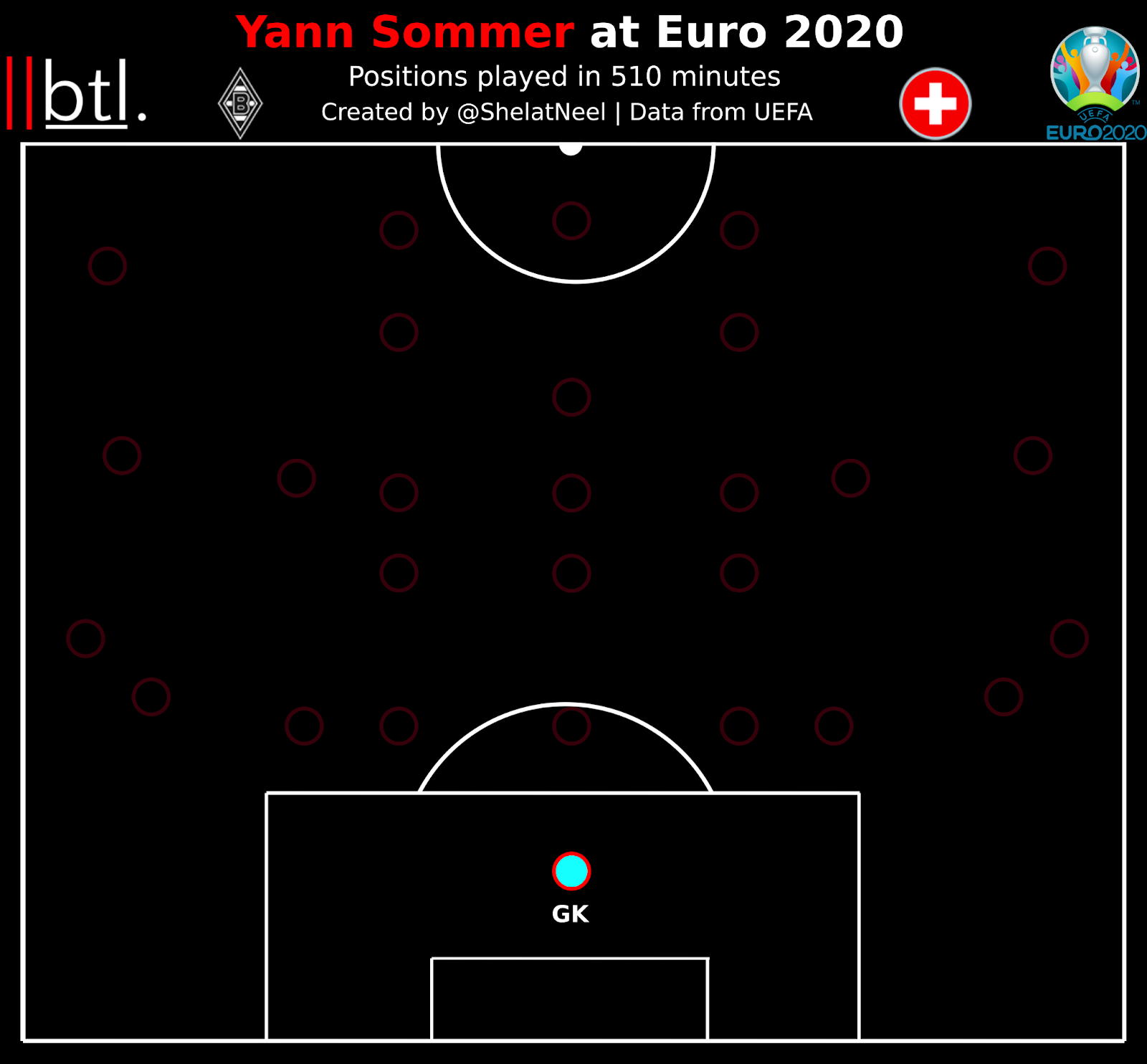 The Swiss conceded nine goals in the competition, including five in their two knockout games, but the second figure could well have been twice as high had it not been for their goalkeeper's heroics.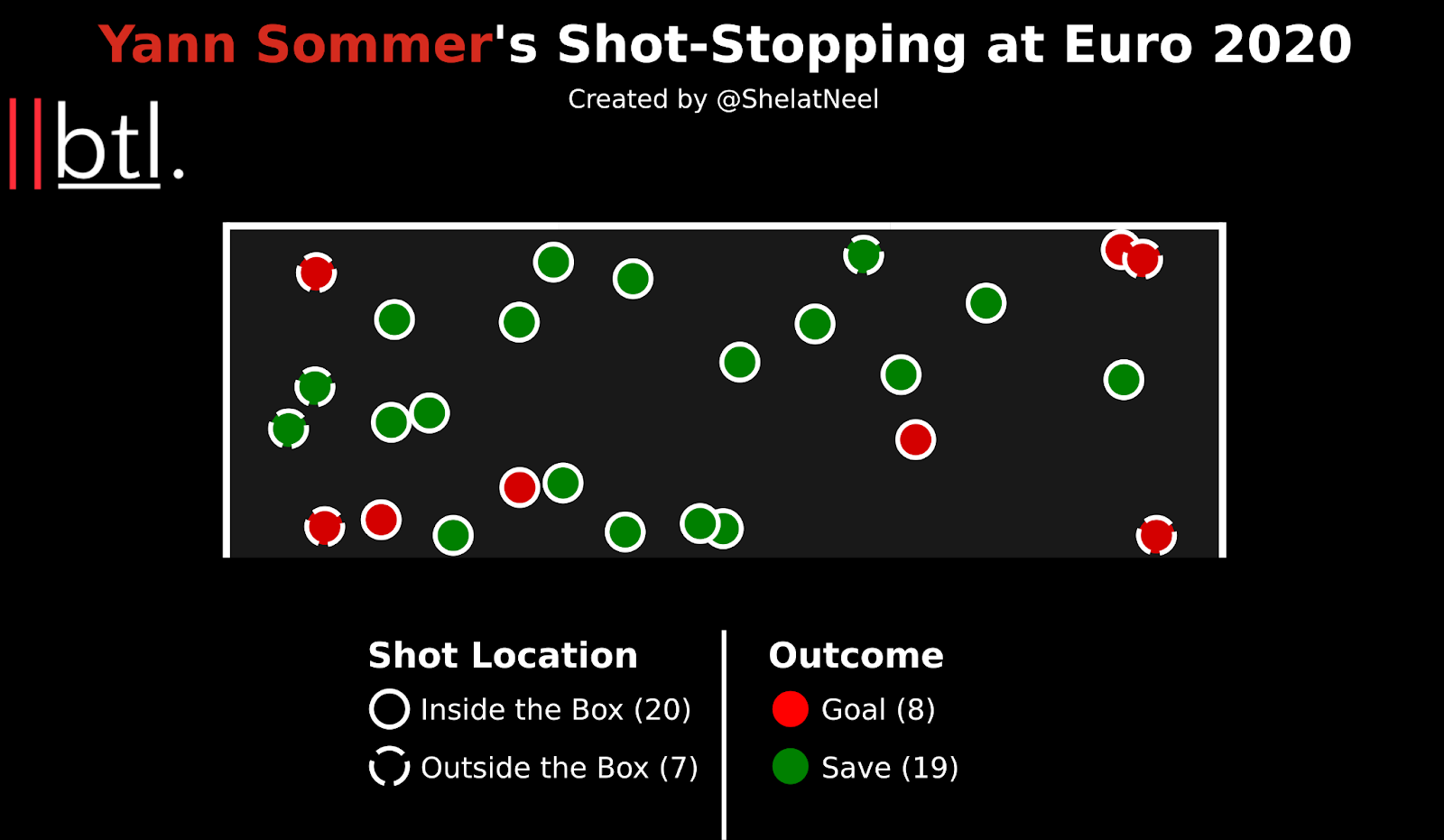 In the round of 16 and quarterfinal, the Swiss goalkeeper faced 16 shots on his goal which were worth a total 5.1 PSxG, but he only conceded thrice (Spain's was an own goal so it does not impact Sommer's shot-stopping stats). To add to that, he was in goal for two penalty shootouts, during which he made a couple of saves including the match-winner against France from Kylian Mbappé's strike.
The 32-year-old keeper has a couple of years left on his Gladbach contract, and as he is still renowned as one of the Bundesliga's best in his position both in terms of his shot-stopping and footwork, new manager Adi Hütter is expected to keep using him as the main man between the sticks.
Leonardo Bonucci
Italy's defence was exceptionally solid on their way to Euros success, and the man who was at the heart of it throughout was Leonardo Bonucci.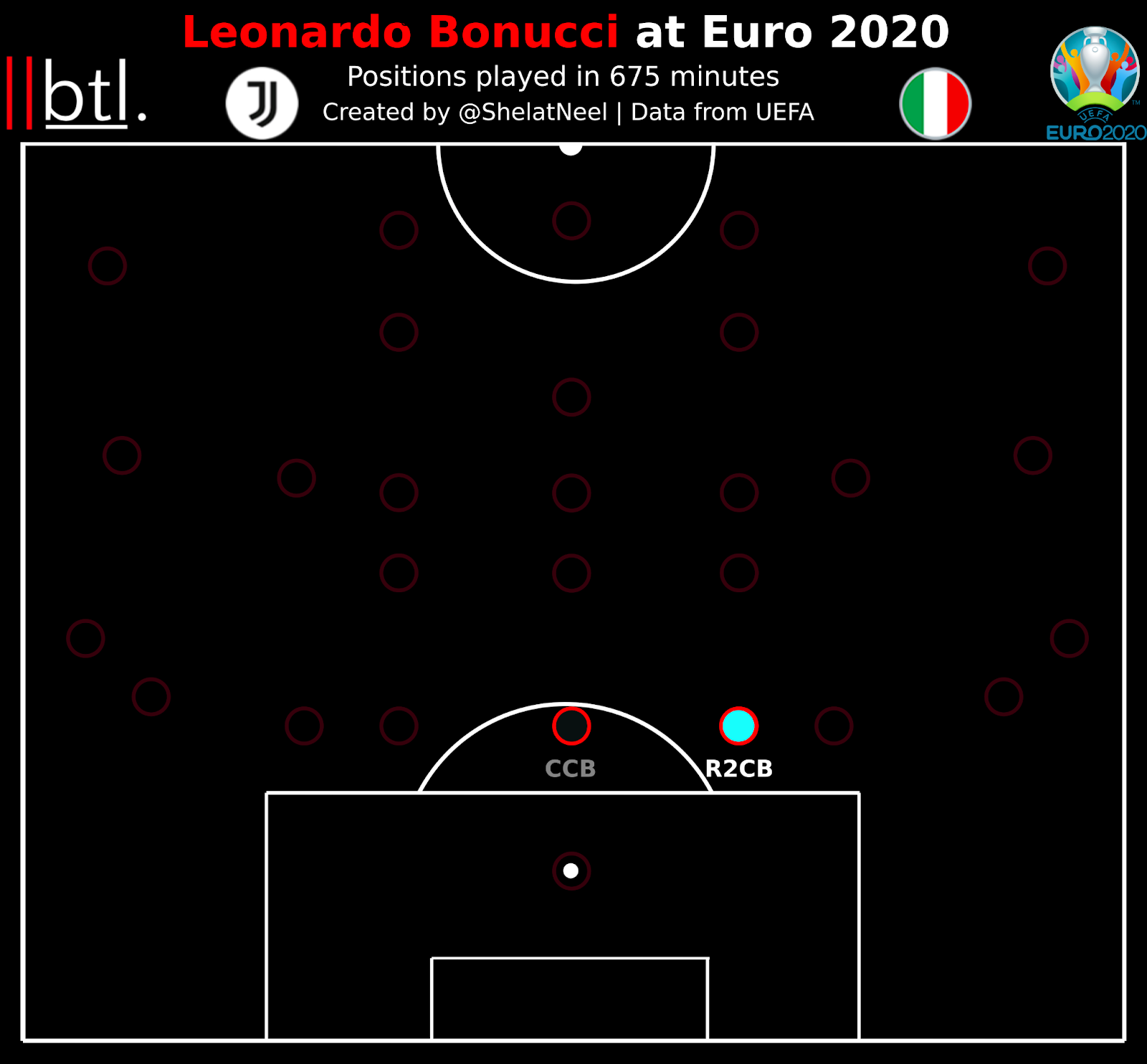 His solid defending quite obviously led to some very good statistics, as you can see below.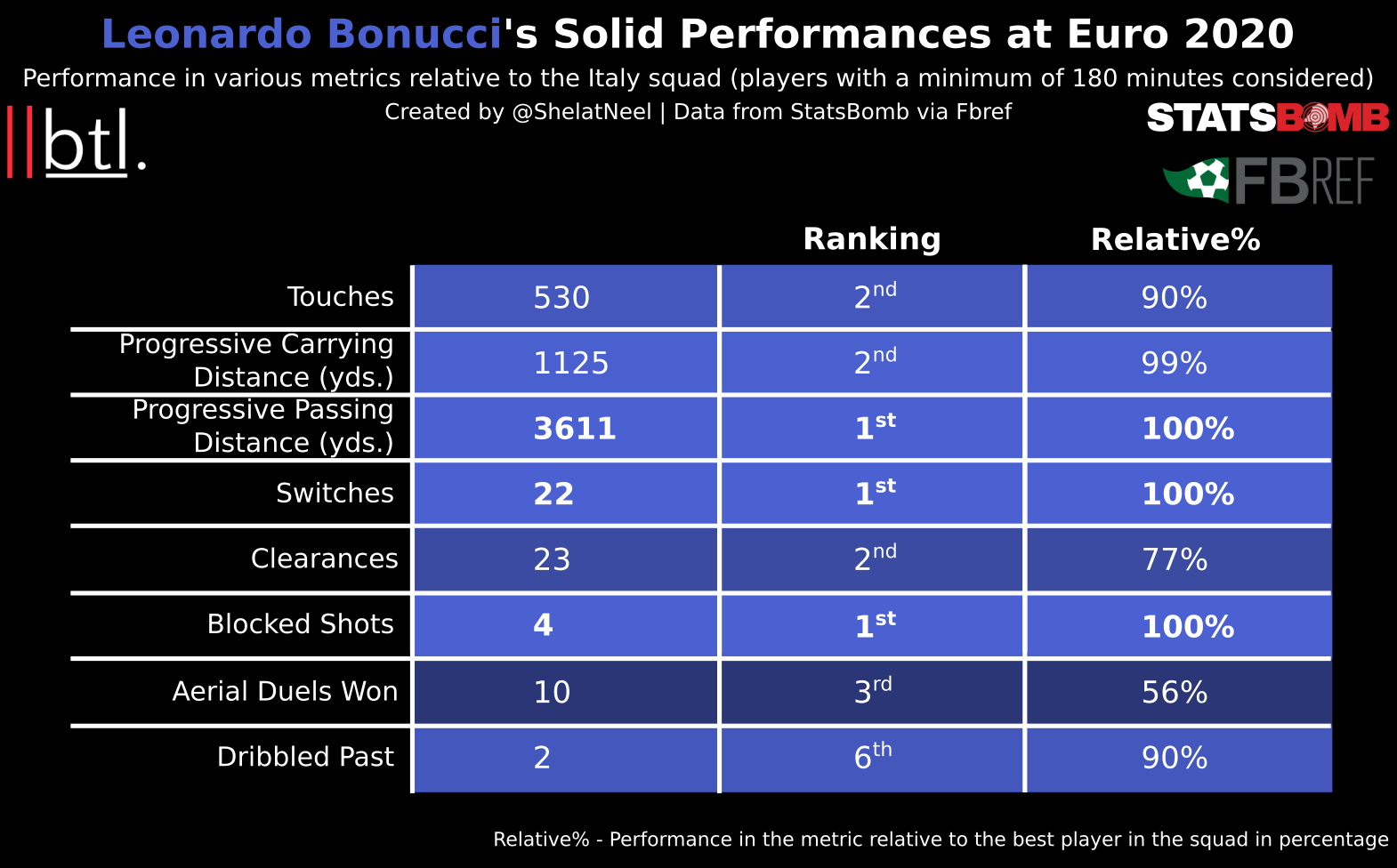 To add to this, he netted the equaliser in the final after a scrap from a corner, before going on to slot a spot-kick home in the shootout too. The 34-year-old centre-back's Juventus contract runs till 2024, so that is where he is expected to remain for the foreseeable future, especially after the return of Massimiliano Allegri.
Simon Kjær
Often when analysing football, we can be guilty of overlooking the human element of players, which is why a captain like Simon Kjær is invaluable. His heroic actions and inspiring leadership during the horrific events in Denmark's match against Finland left an imprint on almost everyone watching, and besides that, the football he played was not bad either.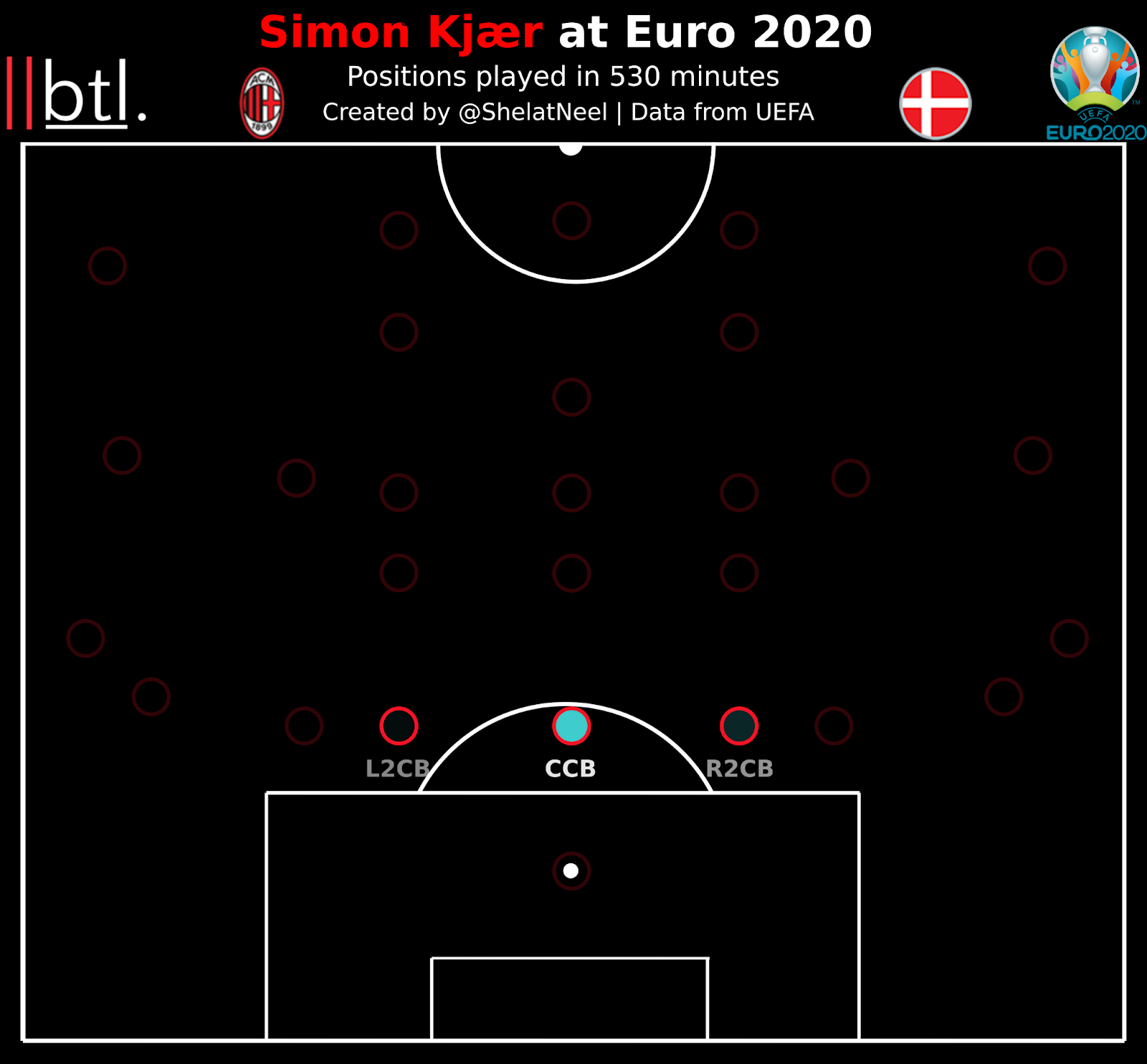 Playing in the centre of a back-three or on either side of a four, the Danish captain was exemplary at the back even as his side conceded seven times, one of which was an inadvertent and unavoidable own goal on his part.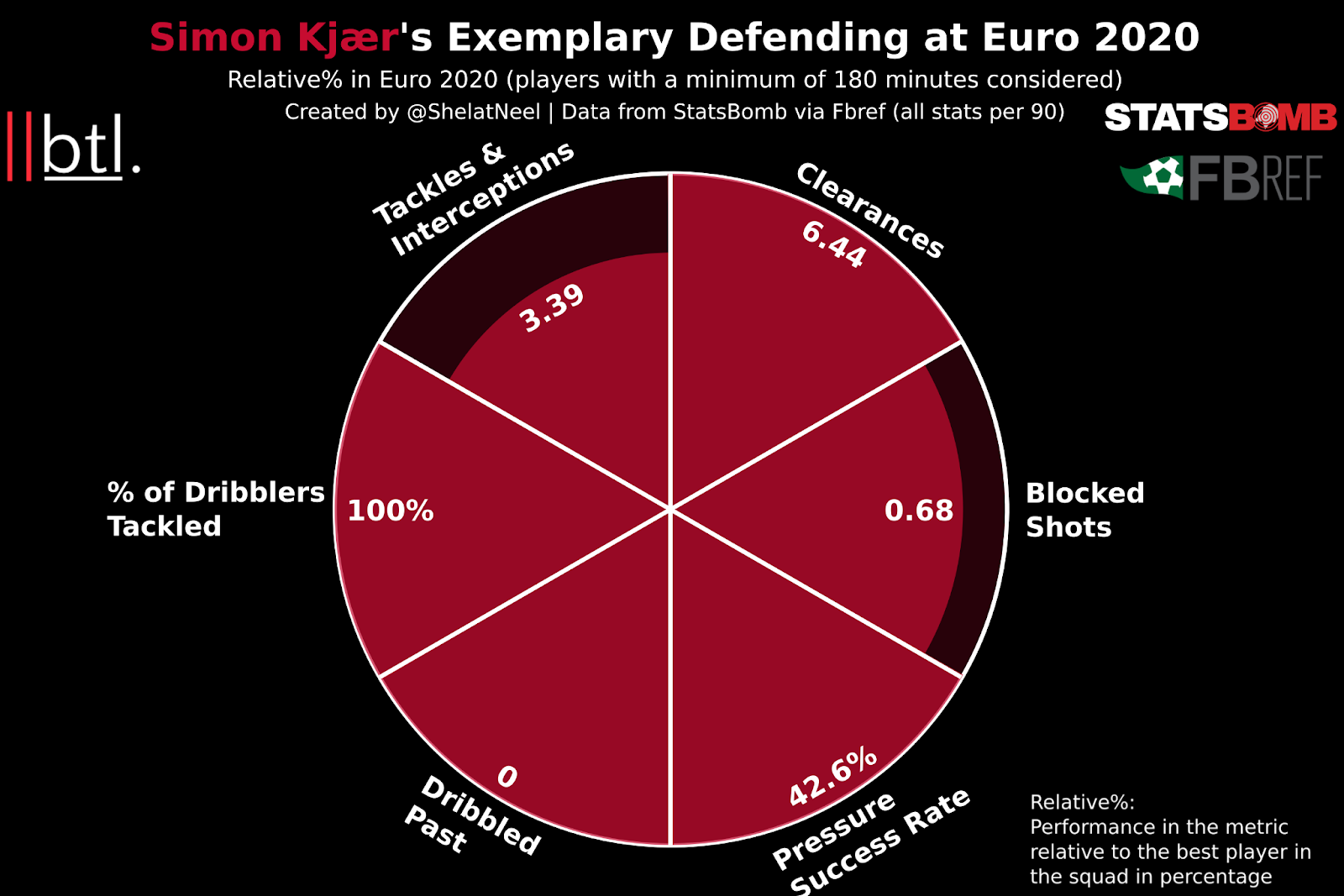 Ball progression wasn't his greatest forte, but a cumulative progressive distance of 354 yards covered in 56.3 touches per 90 is not bad at all. The 32-year-old centre-back has one season left on his contract at Milan, but his performances and actions at the Euros have led to the club considering making him their captain, with a contract extension offer coming his way as well.
Harry Maguire
Harry Maguire missed the final stretch of the club season due to an ankle ligament injury, but he managed to fast-track his recovery to be fully up to speed in time for the knockouts. The performances he put in after that would make you think that he had been fit for the last six months.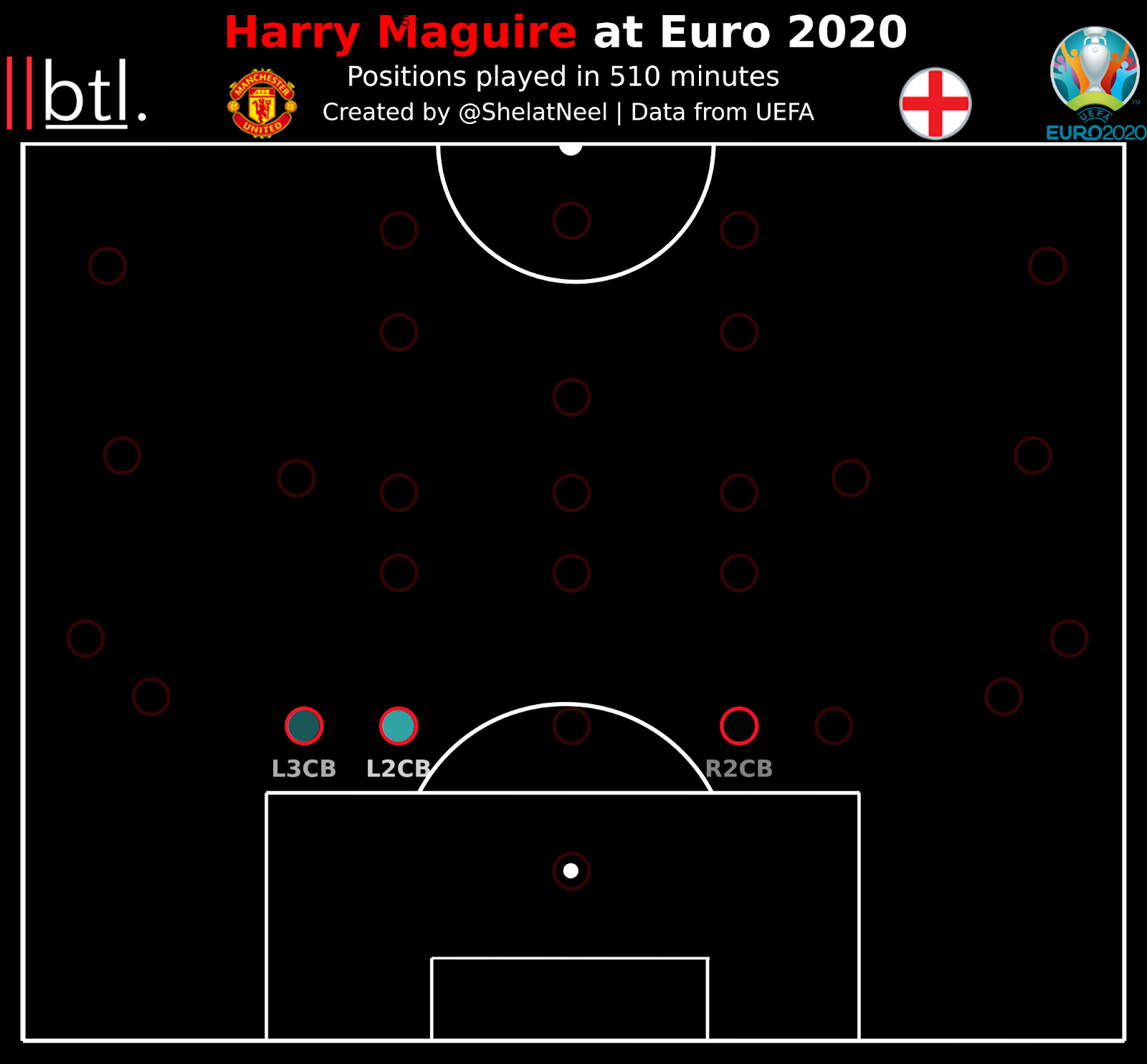 His introduction to the England side not only gave them added defensive stability, but it also vastly improved their possession-play as he was the best ball-progressor in the side by some margin, as these statistics indicate.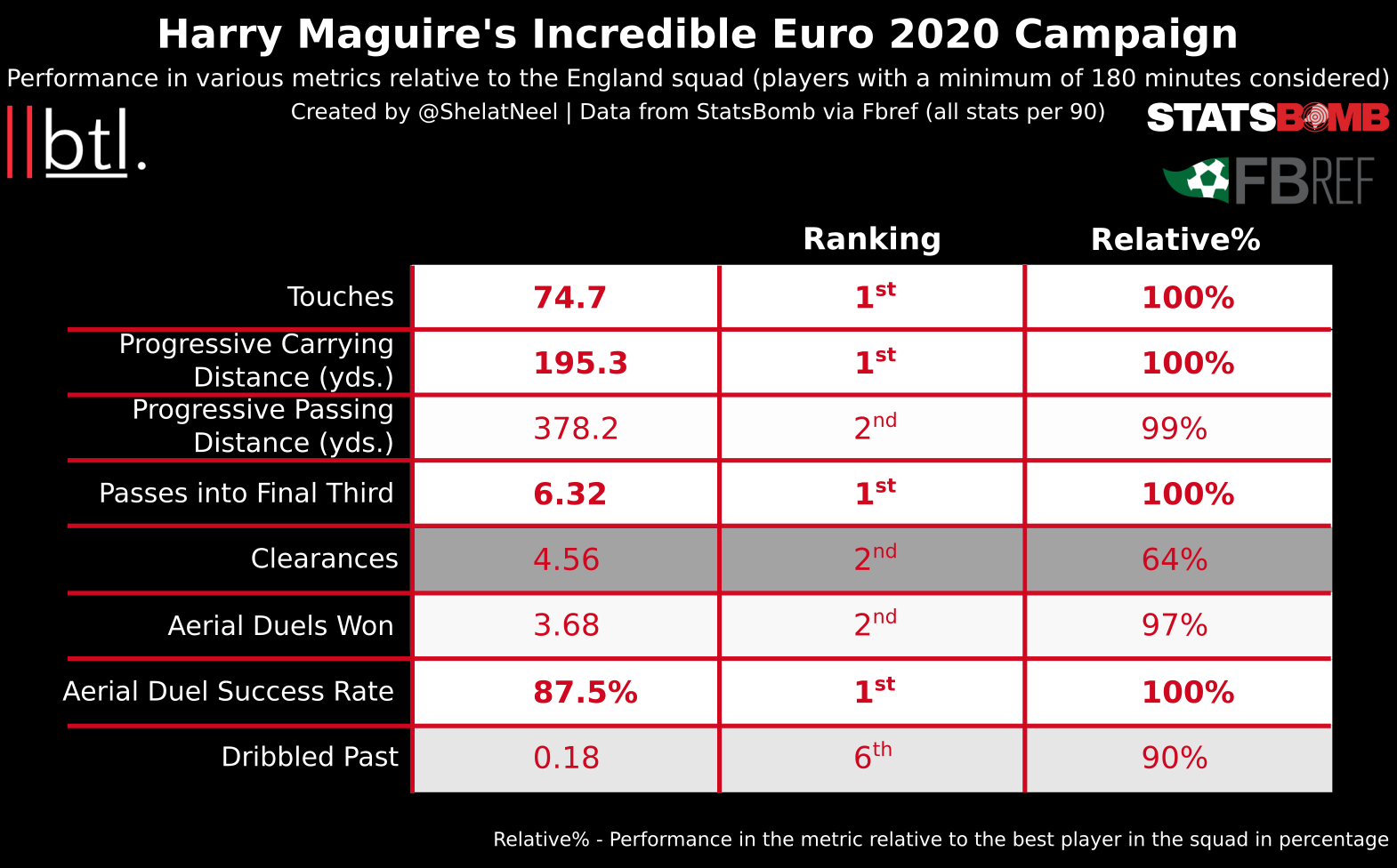 England conceded just two goals all tournament and none from open play, so Maguire was responsible in part for keeping the likes of Patrik Schick, Thomas Müller, Andriy Yarmolenko, Kasper Dolberg and Ciro Immobile quiet in their matches.
The 28-year-old defender joined Manchester United at the start of the 2019/20 season and quickly went on to become their captain, and with a contract till 2025 at least, he is expected to stay at Old Trafford.
Giorgio Chiellini
Giorgio Chiellini was a breath of fresh air at the Euros just for the way he carried himself – always smiling and joking, even before something as tense as a penalty shootout. He also made defending look as joyous as goal-scoring, which is just how it should be.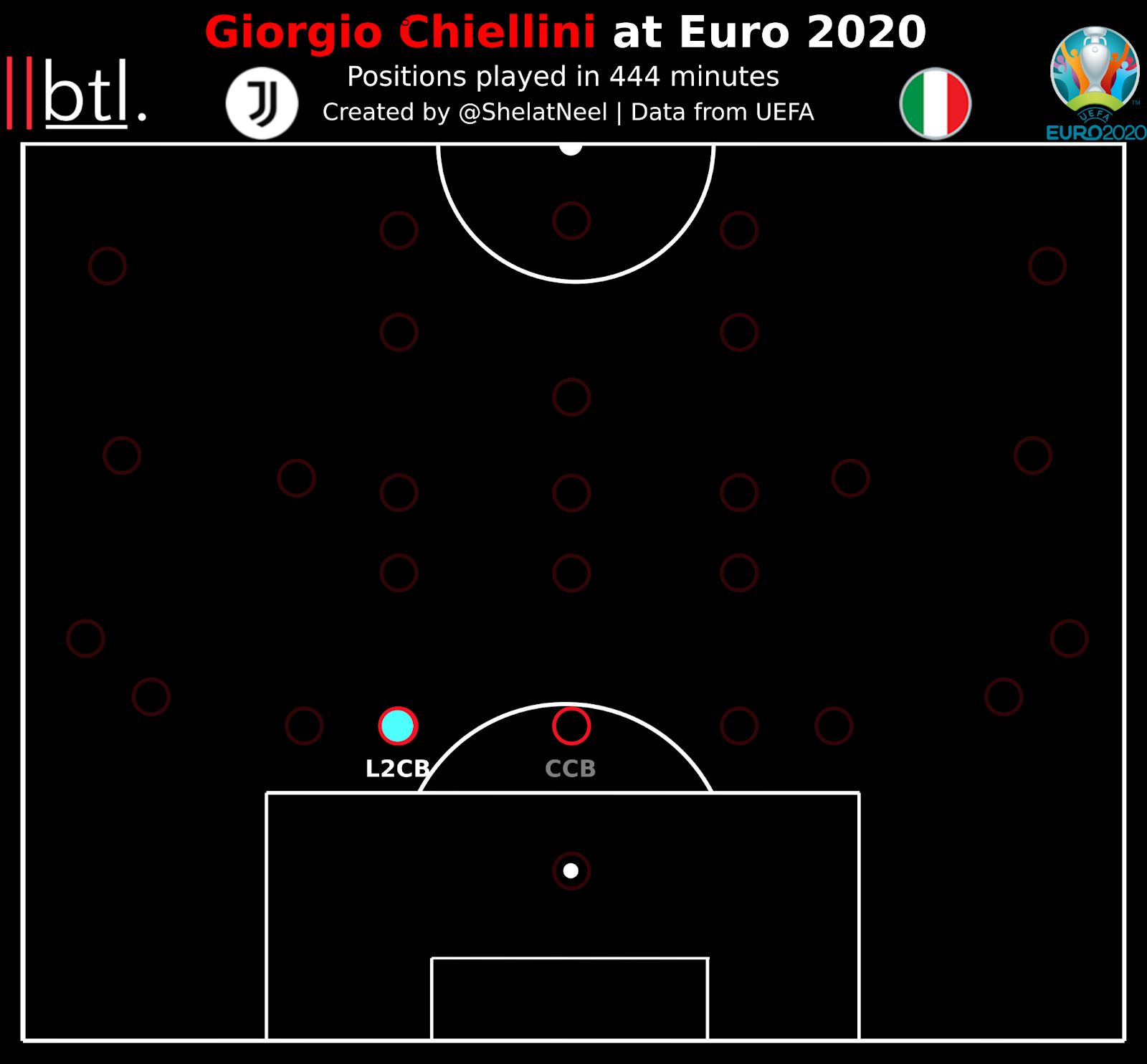 There are some things that a stat sheet cannot capture, such as this incredible last-gasp challenge in extra time of the final.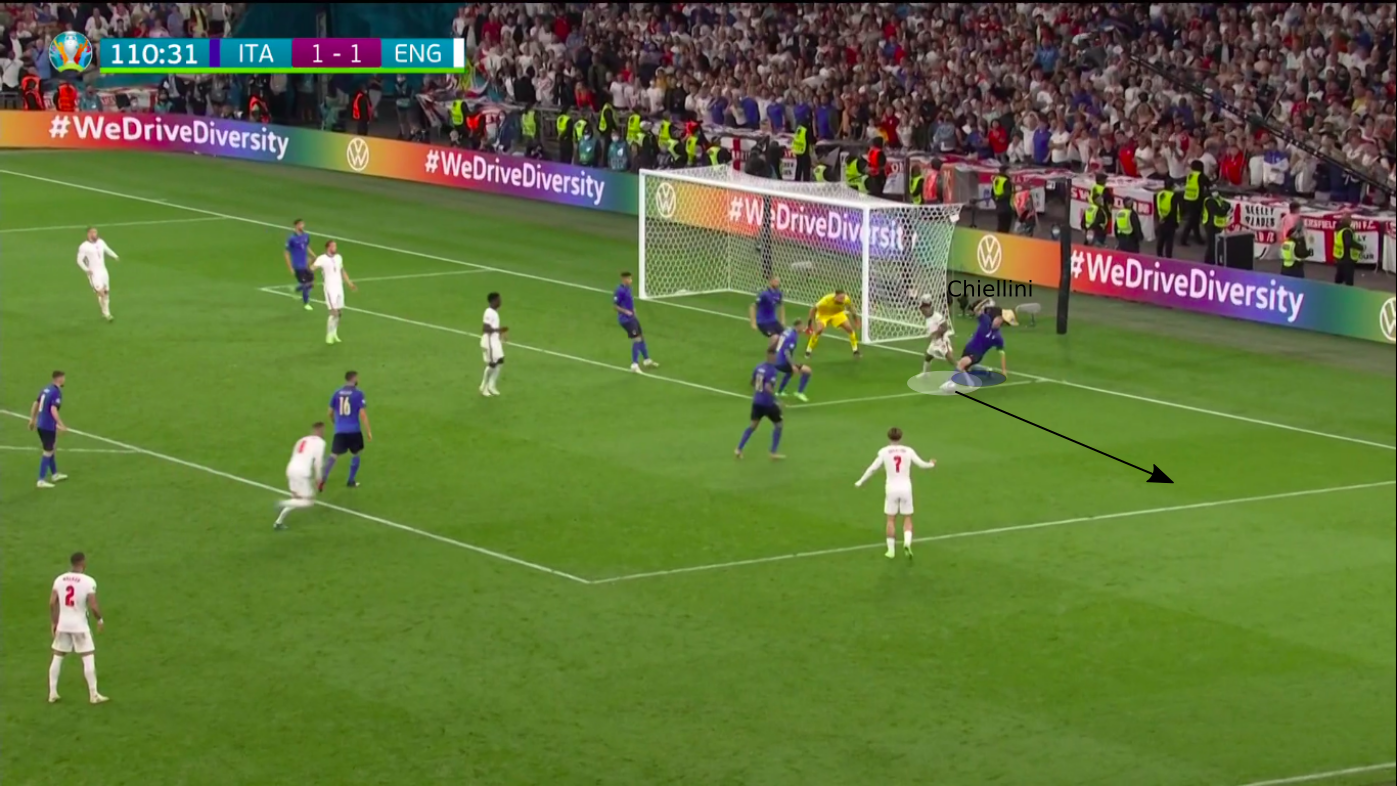 The stat sheet did, however, accurately capture most of the rest of his work, which was simply inspirational.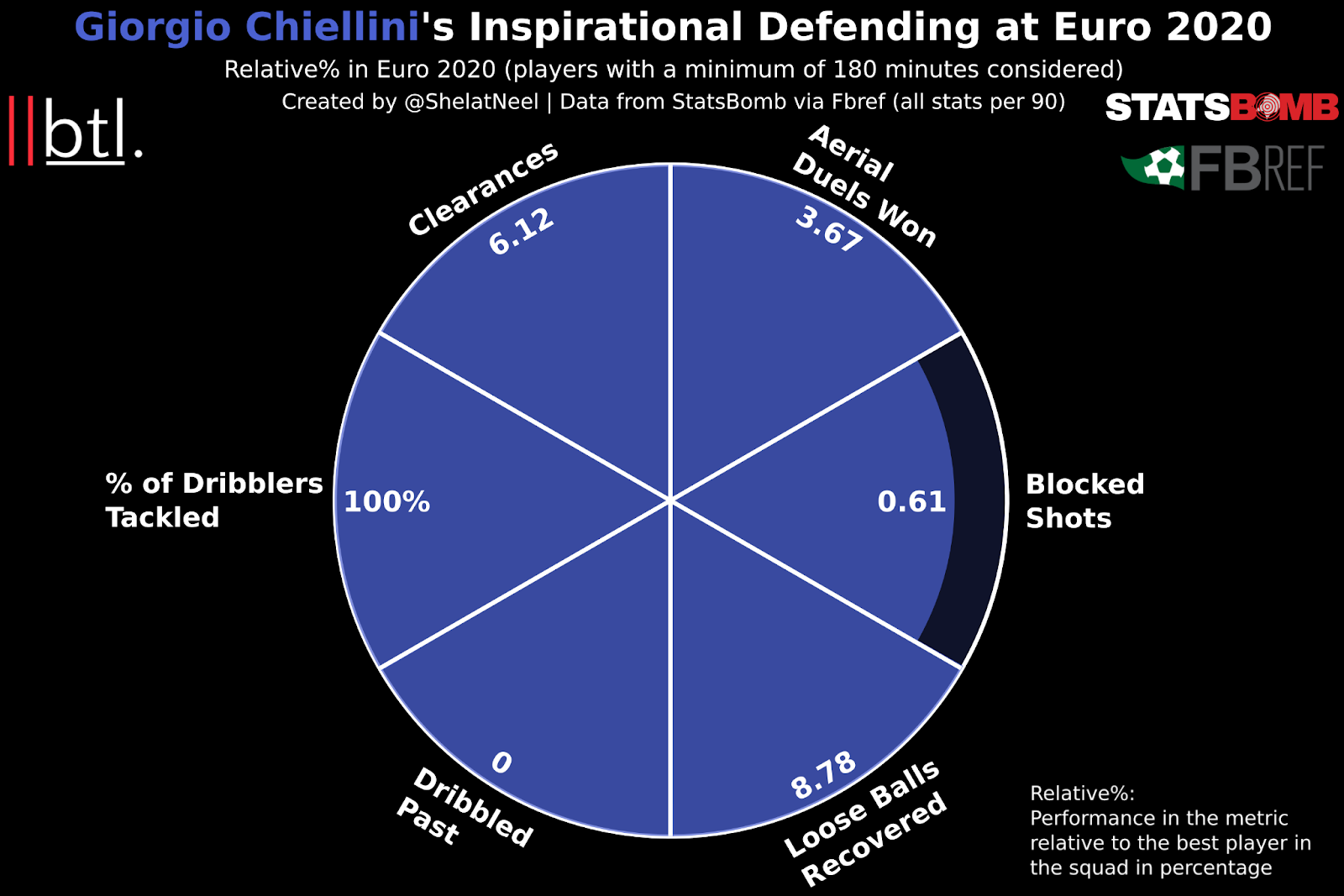 Leonardo Bonucci did the majority of the on-ball work as we saw previously, however his compatriot chipped in too with an average of 3.47 passes into the final third and 393.6 yards of progressive distance covered in 74.1 touches per 90.
Above all, Chiellini just seemed to enjoy his football, knowing that this was quite possibly his last Euro and perhaps even international tournament. The 36-year-old defender might feature in some more club football, though, as he is set to re-sign with Juventus as his last contract expired at the end of June.
Kyle Walker
There were few orthodox right-backs who impressed in this edition of the Euros – even more so in way of attack – but Kyle Walker caught the eye of most viewers not for his lung-busting overlapping runs, but for his invaluable recovery pace and defensive contribution.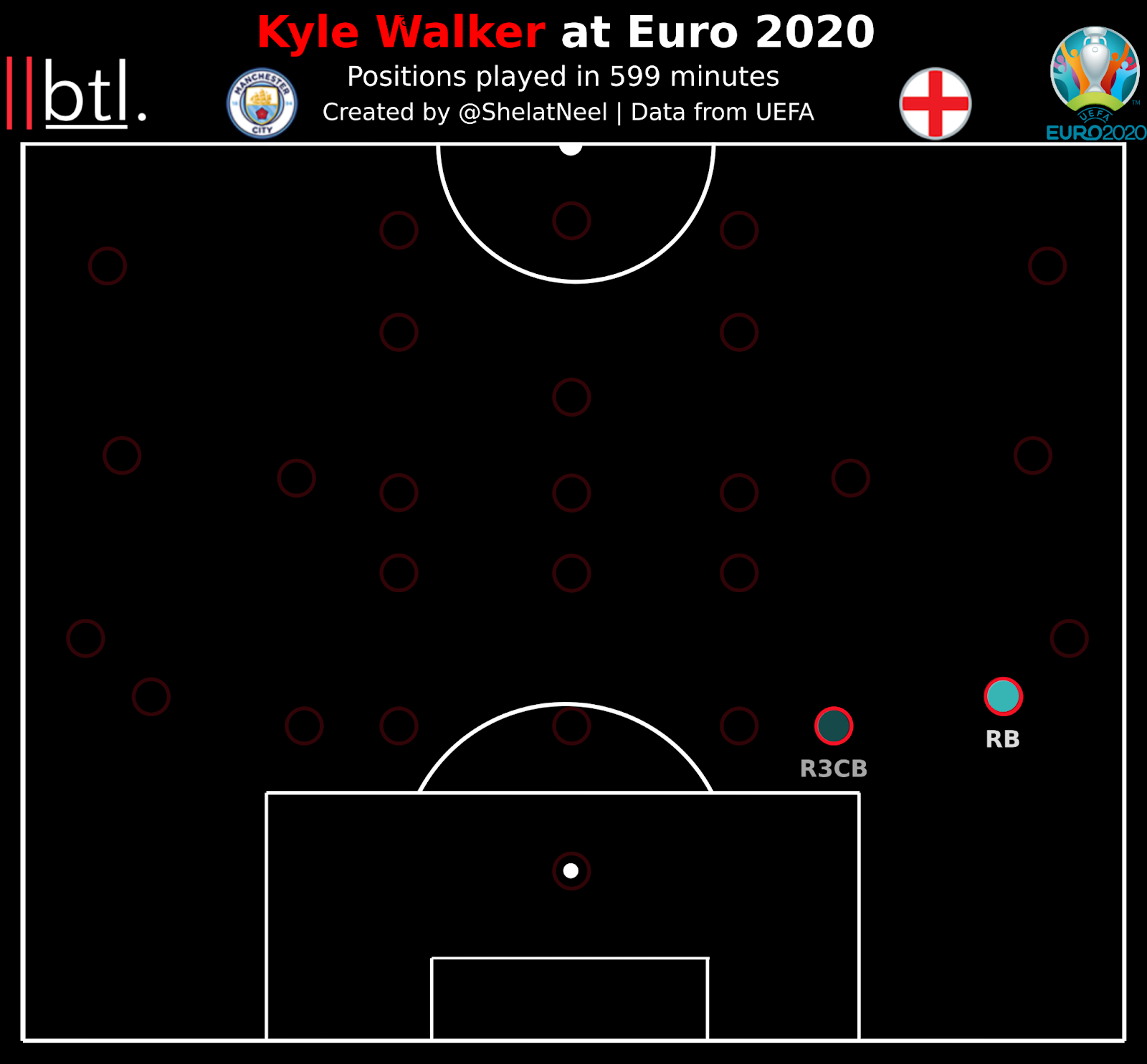 Clocking up a top speed of 32.8 km/h to make 19 interceptions (a tally that none of his teammates could outdo), the right-sided defender bailed his side out on multiple occasions, most notably in the semifinal against Denmark.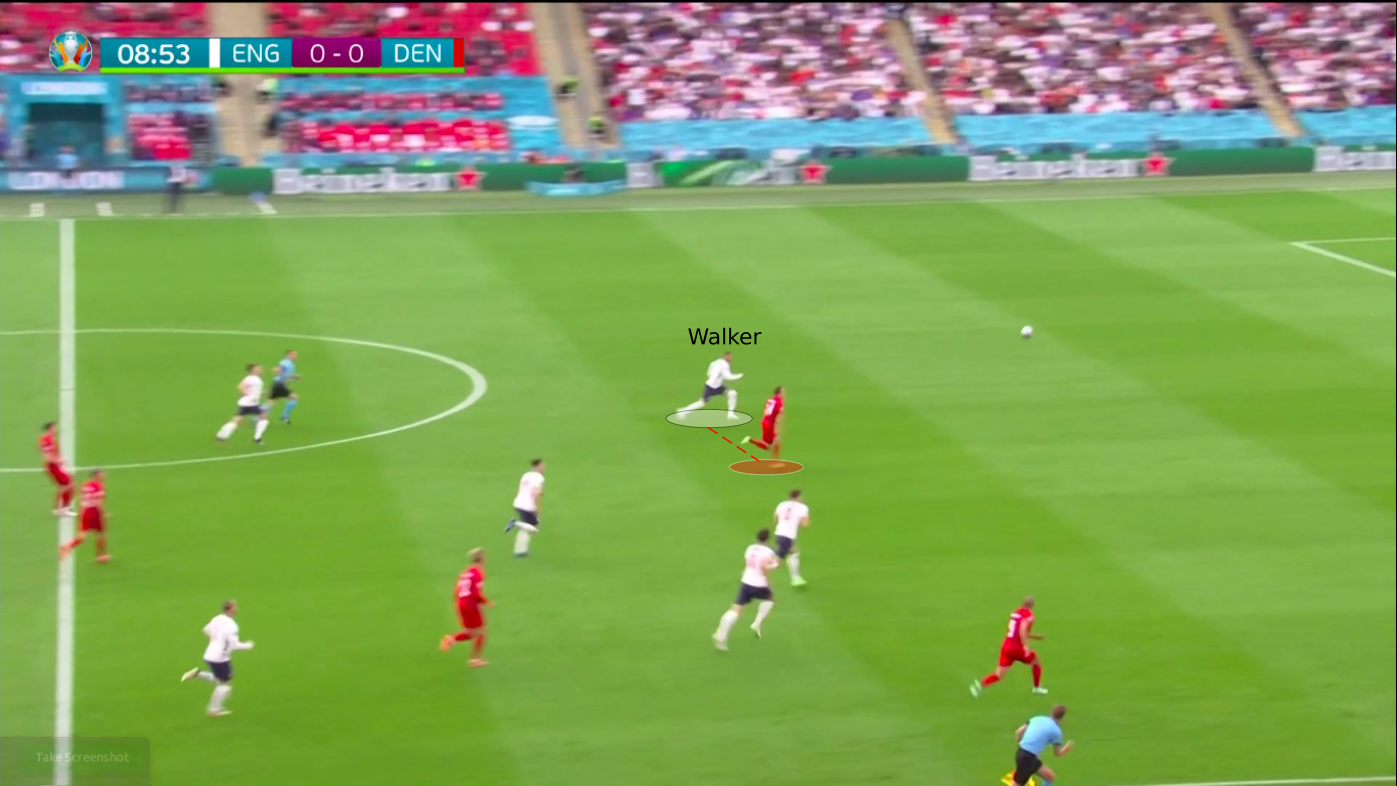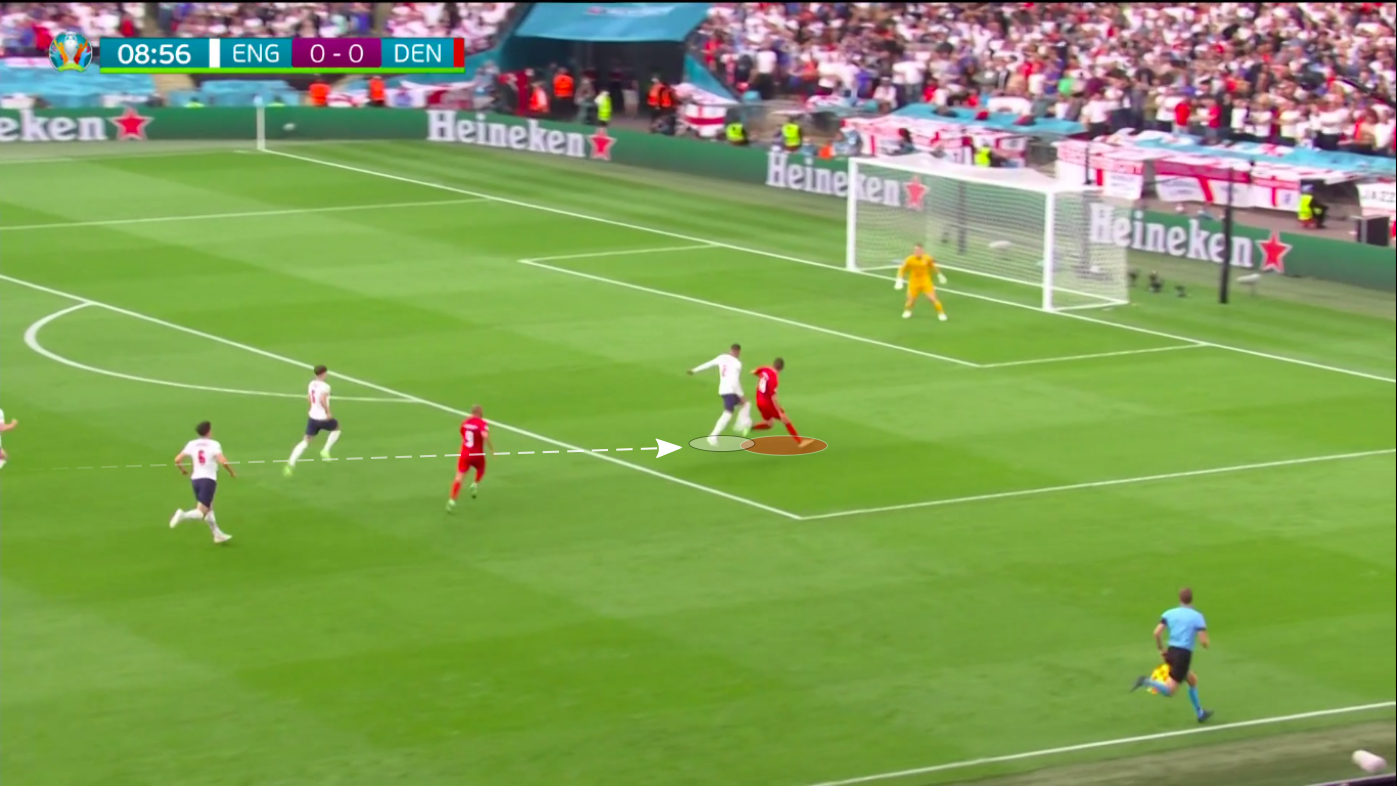 Besides this, Walker was handy in helping his side get up the pitch, managing the second-most successful passes and carries with 346 and 299 respectively. The 31-year-old full-back signed a five-year contract extension with Manchester City in 2019, and there seem to be no indications of him wanting to move anywhere else in the near future.
Leonardo Spinazzola
Wrong-footed full-backs and wing-backs (especially on the left) were a key feature of Euro 2020, and nobody did it better than Leonardo Spinazzola.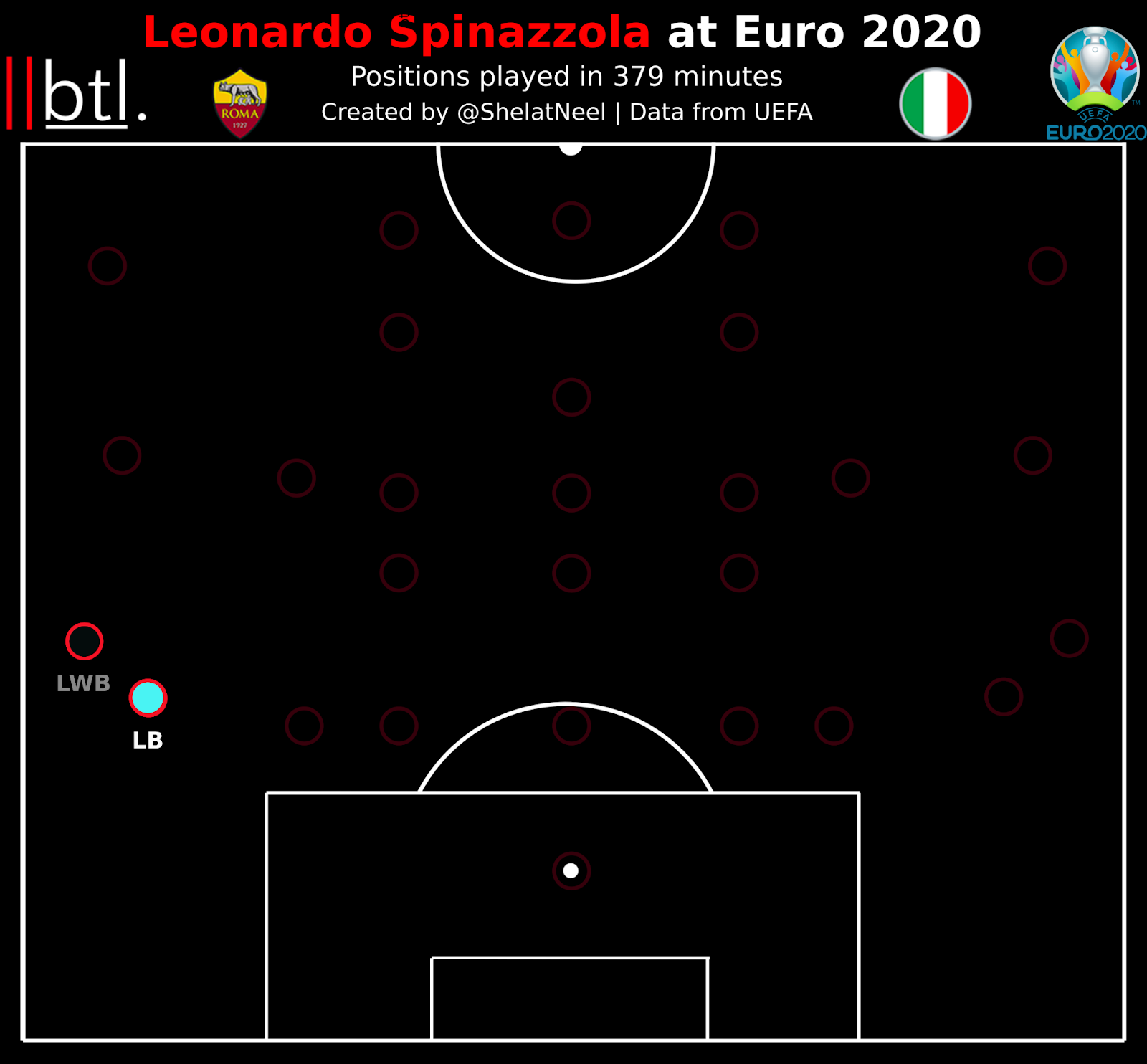 Roberto Mancini's well-drilled Italy side came about as close to top-tier club-level football on an international stage as possible, and the left flank was their main hive of activity. Spinazzola effectively operated as a wing-back (although he certainly was part of a back-four on paper) as he had full freedom to get forward and exchange positions with left winger Lorenzo Insigne and either Manuel Locatelli or Marco Verratti in midfield, which caused chaos in opposition lines. That should explain his heatmap, which looks like this: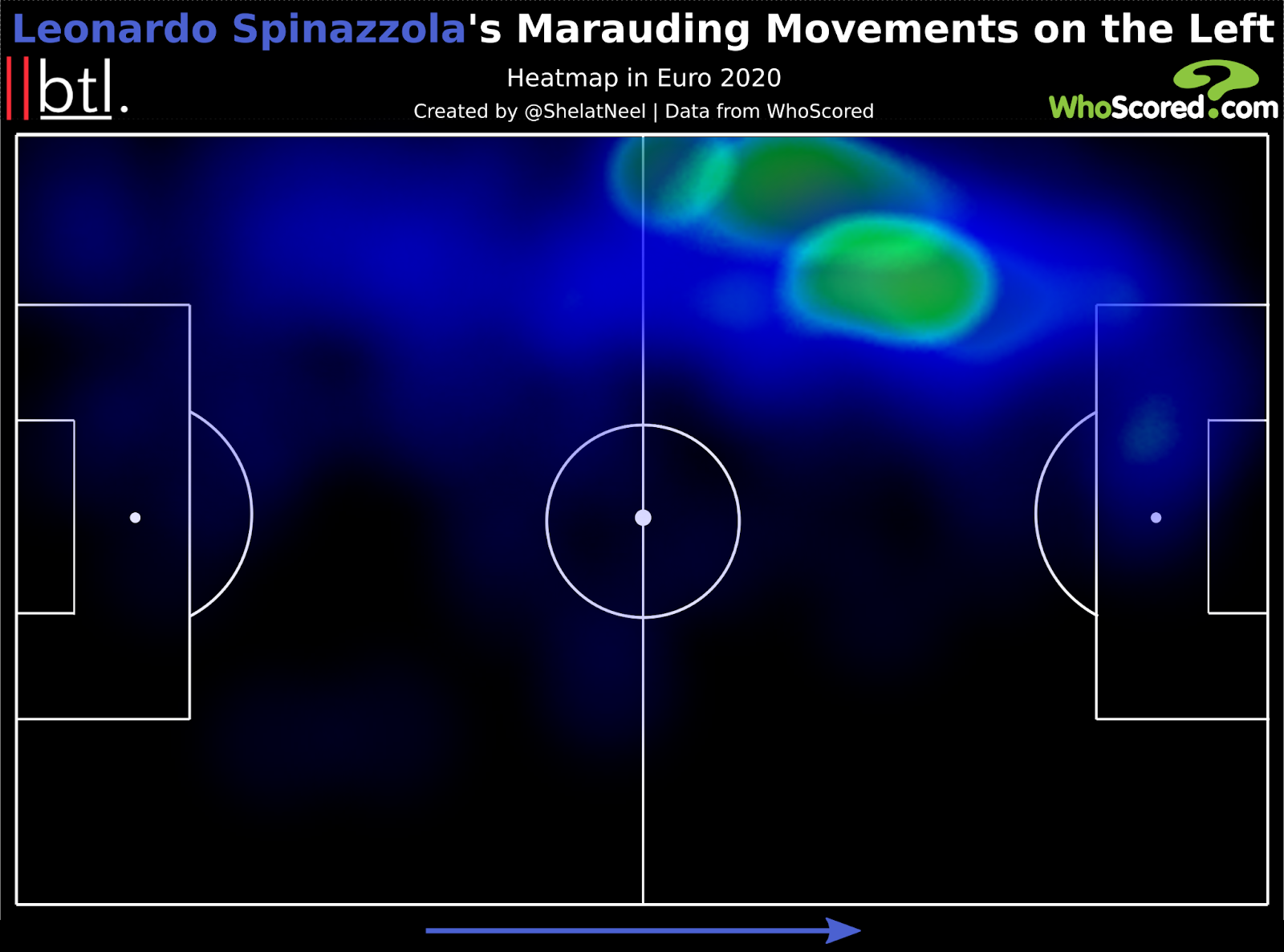 In 378 minutes of action, Spinazzola racked up 17 shot-creating actions (two of which led to a goal), which was higher than any other defender as of the quarterfinals. His primary partners-in-crime – Lorenzo Insigne and Marco Verratti – managed 23 and 22 respectively at the time, and a fair few of those would certainly have been down to his off-ball movements.
If there were any more doubts about his importance to Italy's style of play, they should have been put to bed in the semifinal and final, which were the only two matches of the tournament in which the Azzurri failed to register a win on the stat sheet.
The 28-year-old left-back's tournament came to a premature end when he, unfortunately, ruptured his Achilles tendon in the quarterfinal win over Austria, and with that injury set to keep him out for five to six months, it is safe to assume that he will not be making a move away from Rome this summer even though a fair few clubs were interested by his performances in the Euros.
Luke Shaw
There were many players who benefitted from the one-year delay to the Euros, and Luke Shaw was certainly among them as he sprung to first-choice left-back for England on the back of a very good season at Manchester United.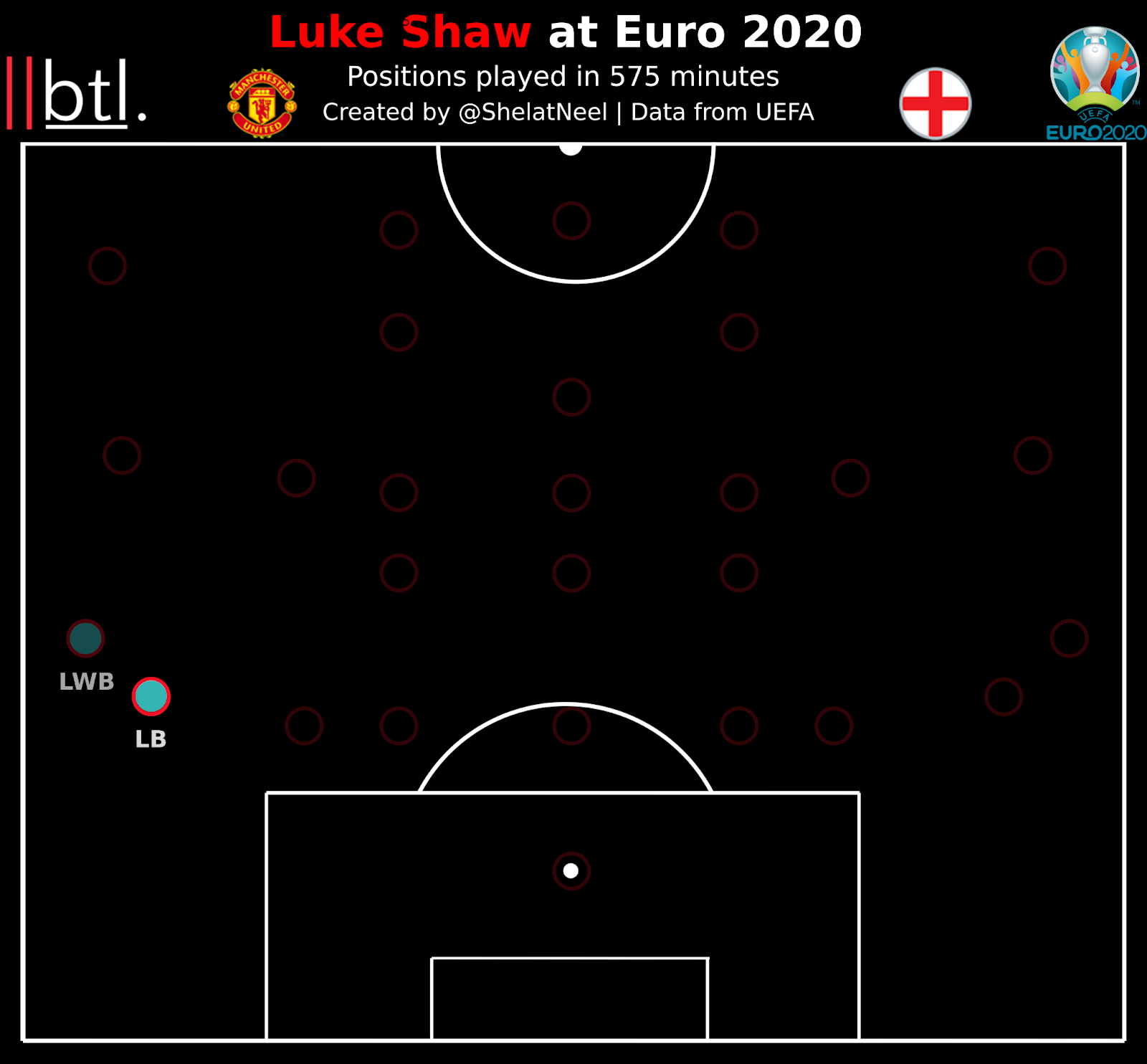 Ultimately playing on the left of both a back-three and back-four, the ex-Southampton man looked adept in either system, finishing as his nation's top provider with three assists and scoring the opening goal in the final too. Such overlapping runs and cut-backs were a key feature of his game, as they brought him a couple of his assists (the outlier was a free-kick swung into the head of Harry Maguire).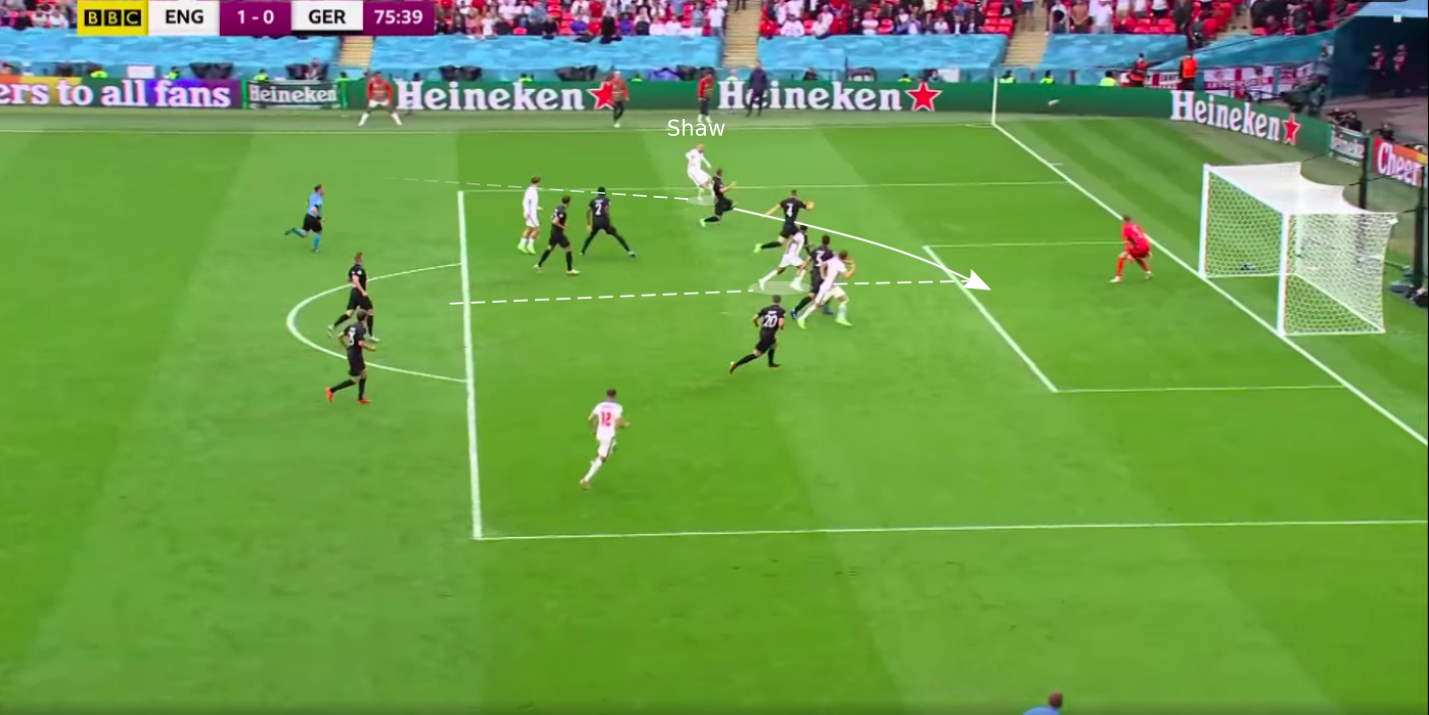 Apart from his creativity, the English left-back's ball progression was crucial to his side's play too.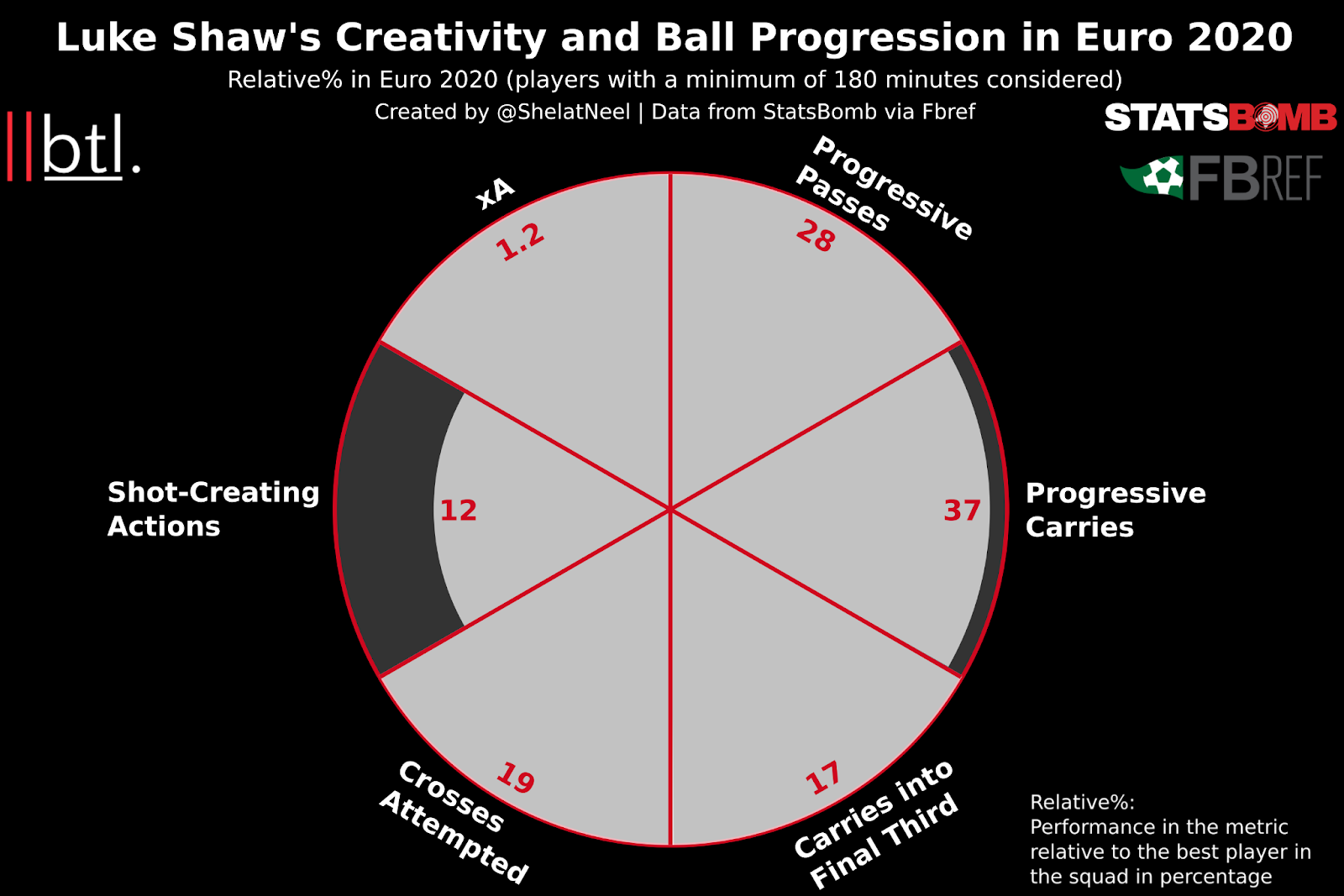 He wasn't bad defensively either, chipping in with 18 tackles and interceptions, 12 clearances and 8 blocks. Having nailed down the starting left-back spot at Manchester United now, the 26-year-old full-back could be handed a new contract that would tie him beyond 2023, which is when his current deal expires.
Denzel Dumfries
There were many a buccaneering wing-back at the Euros, but few looked as threatening in attack as Denzel Dumfries the Dutchman.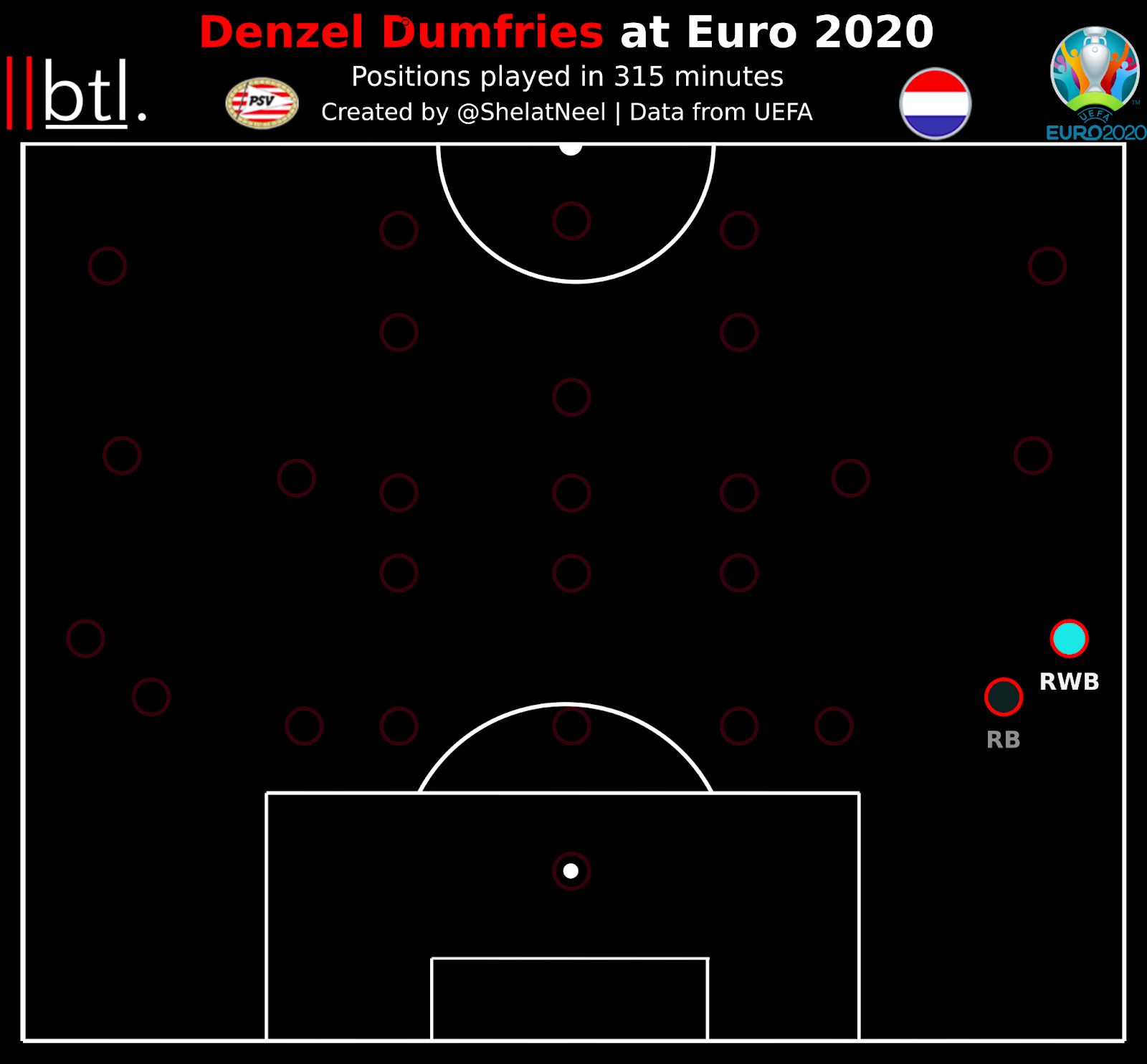 The Netherlands may have suffered disappointment as they crashed out of the Round of 16, but Dumfries looked bright in all of the four matches he played, much like his heatmap from the tournament: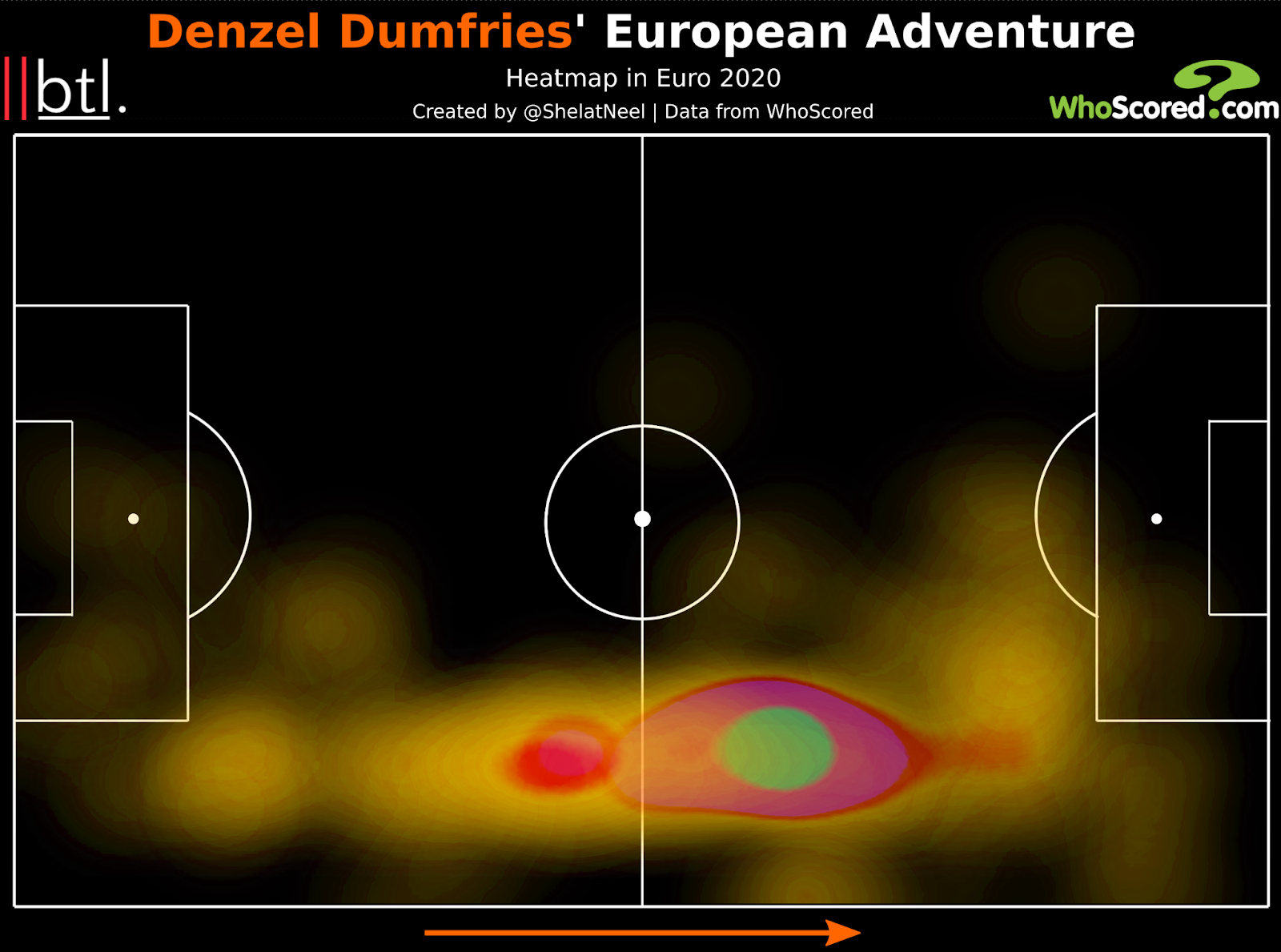 In the process burning a hole into the right side of the pitch with his constant running, the PSV captain established himself as one of the biggest goal-scoring presences in his side, with his two goals placing him joint-second in that category.
Those strikes were not flukes either, as he accumulated the second-highest npxG (non-penalty expected Goals) with 1.9 while also managing 1.14 shots on target per 90 – the highest average in his squad. Dumfries had a very useful knack of finding himself free at the back post, which is exactly what was responsible for his goals.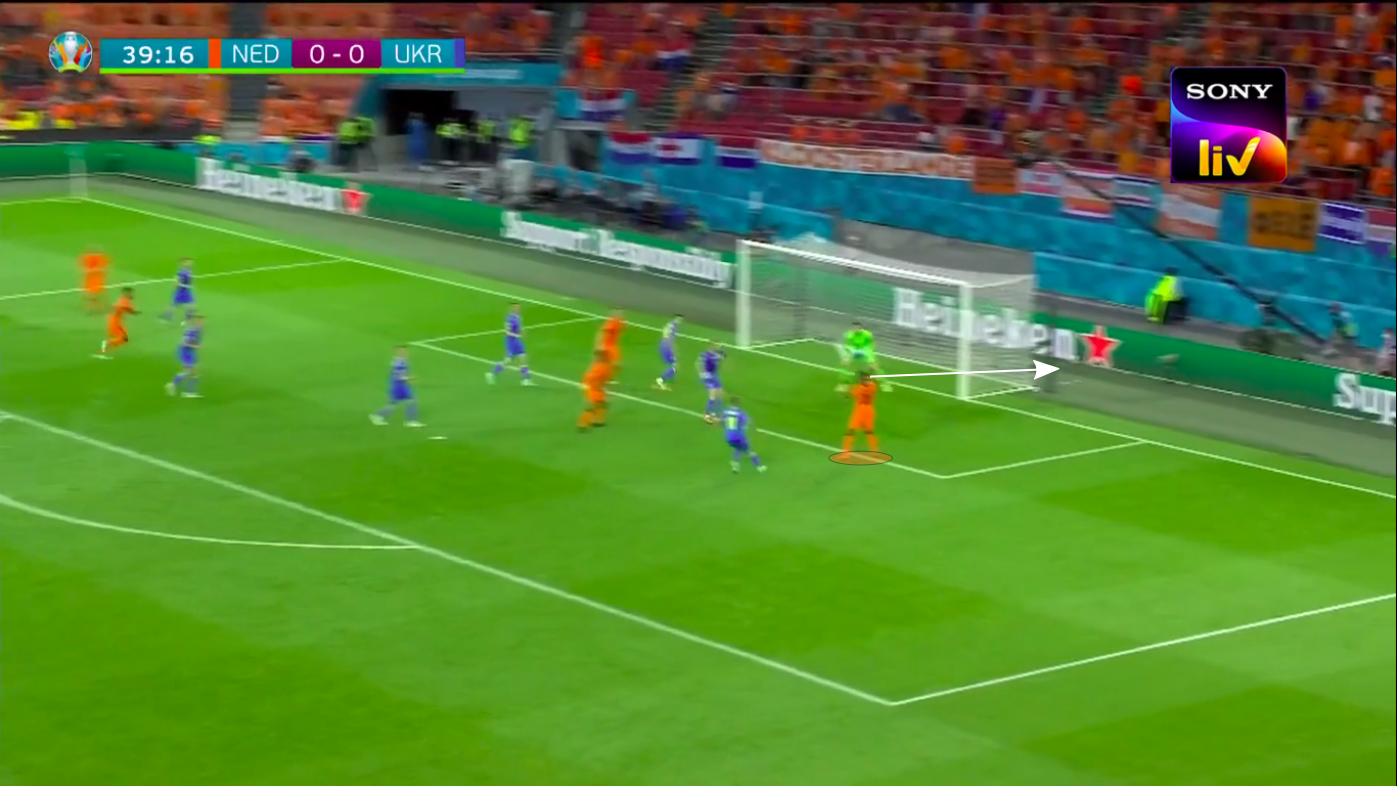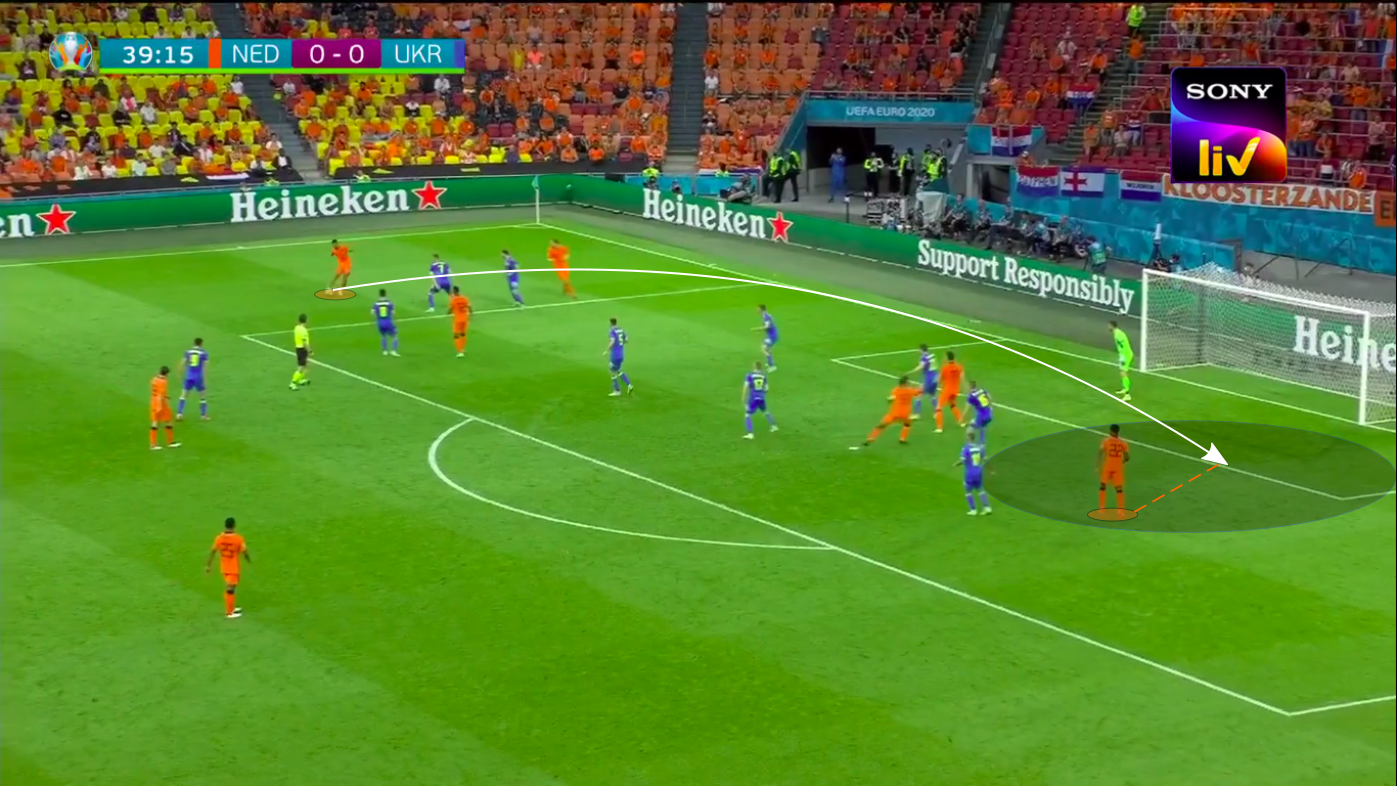 In this instance, the PSV man was very wasteful as he sent his effort wide, but as is evident by the fact that he scored twice, he did take certain other chances.
The 25-year-old did not exactly light the Eredivisie up this season, but his performances at the Euros have obviously attracted attention. His PSV contract just has a couple of years left on it now, so the Eindhoven-based outfit might cash in on a satisfactory offer this summer, with Everton currently said to be the most interested side.
Joakim Mæhle
The best wing-back of the tournament, though, probably was Denmark's Joakim Mæhle. Primarily used on the right by his club, the wing-back had to adapt to the opposite flank for his country due to their lack of options in the position, and boy did he deliver.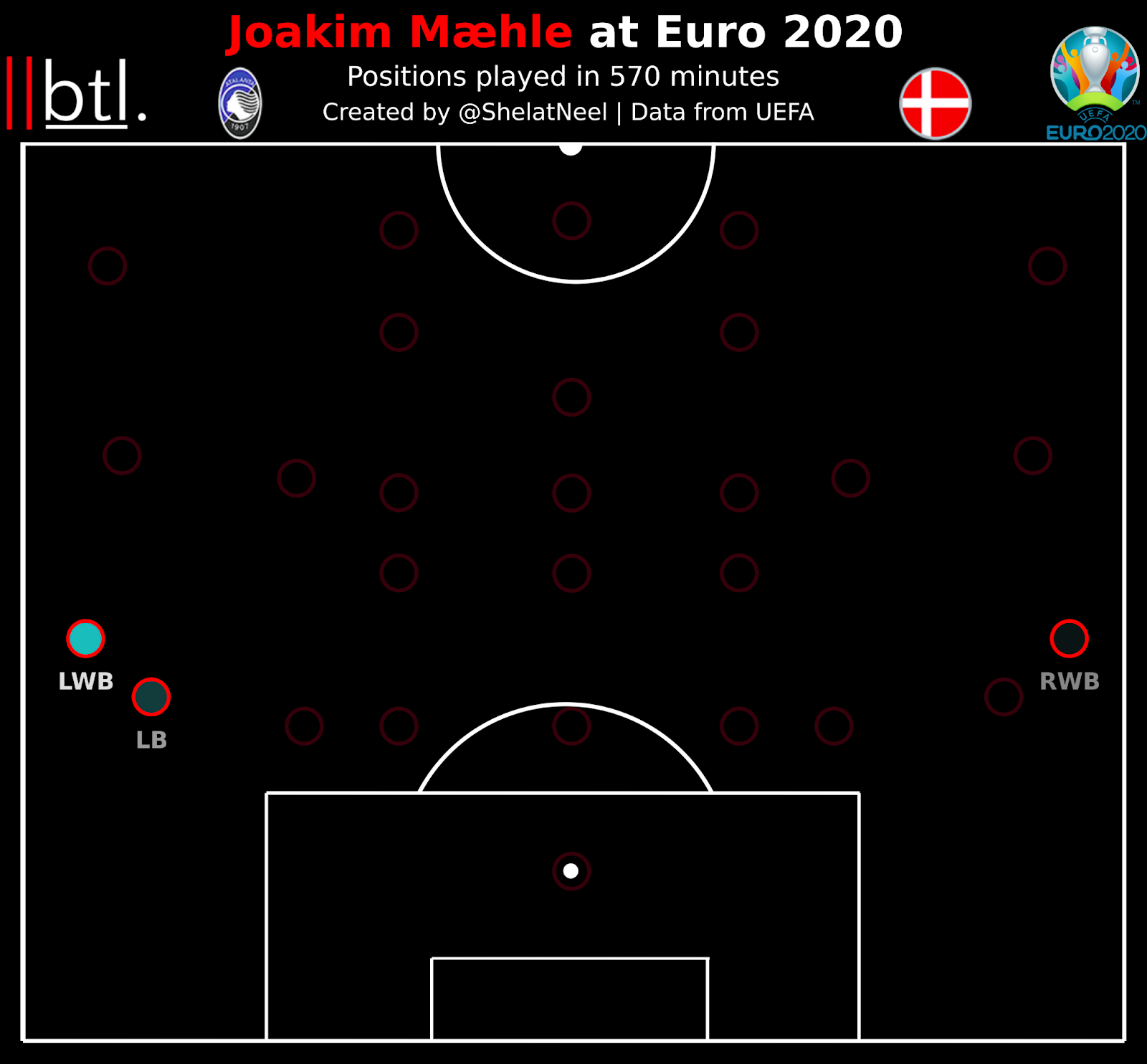 With two goals and an assist, Mæhle was joint-top in terms of goal involvements for his country, while ranking third in terms of overall npxG + xA with 1.8. He took the second-most shots in the Danish squad with 10, while his 15 SCA, 23 attempted dribbles, 60 progressive carries and 24 tackles and interceptions make for very good reading too. He had some style too, as his trivela assist in quarterfinal showed: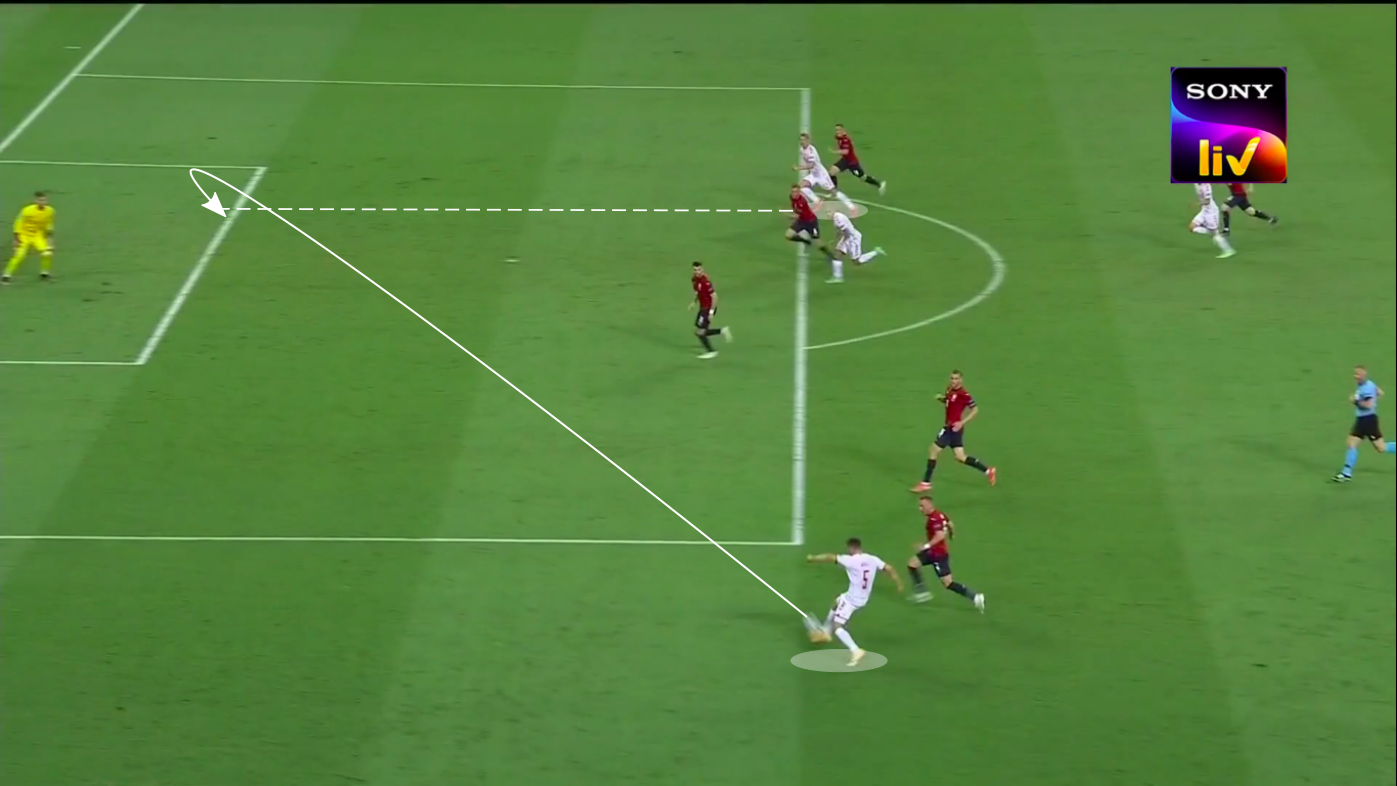 Having just joined Atalanta from Genk in January, the 24-year-old wing-back should be expected to stay put for now and challenge the likes of Hans Hateboer and Robin Gosens for the wide positions in Gian Piero Gasperini's line-up.
Jorginho
No outfield player spent more minutes on the pitch than Jorginho, who was simply exceptional in Italy's midfield. While he might not quite be cut out for a Ballon d'Or yet, he certainly deserves a spot in the team.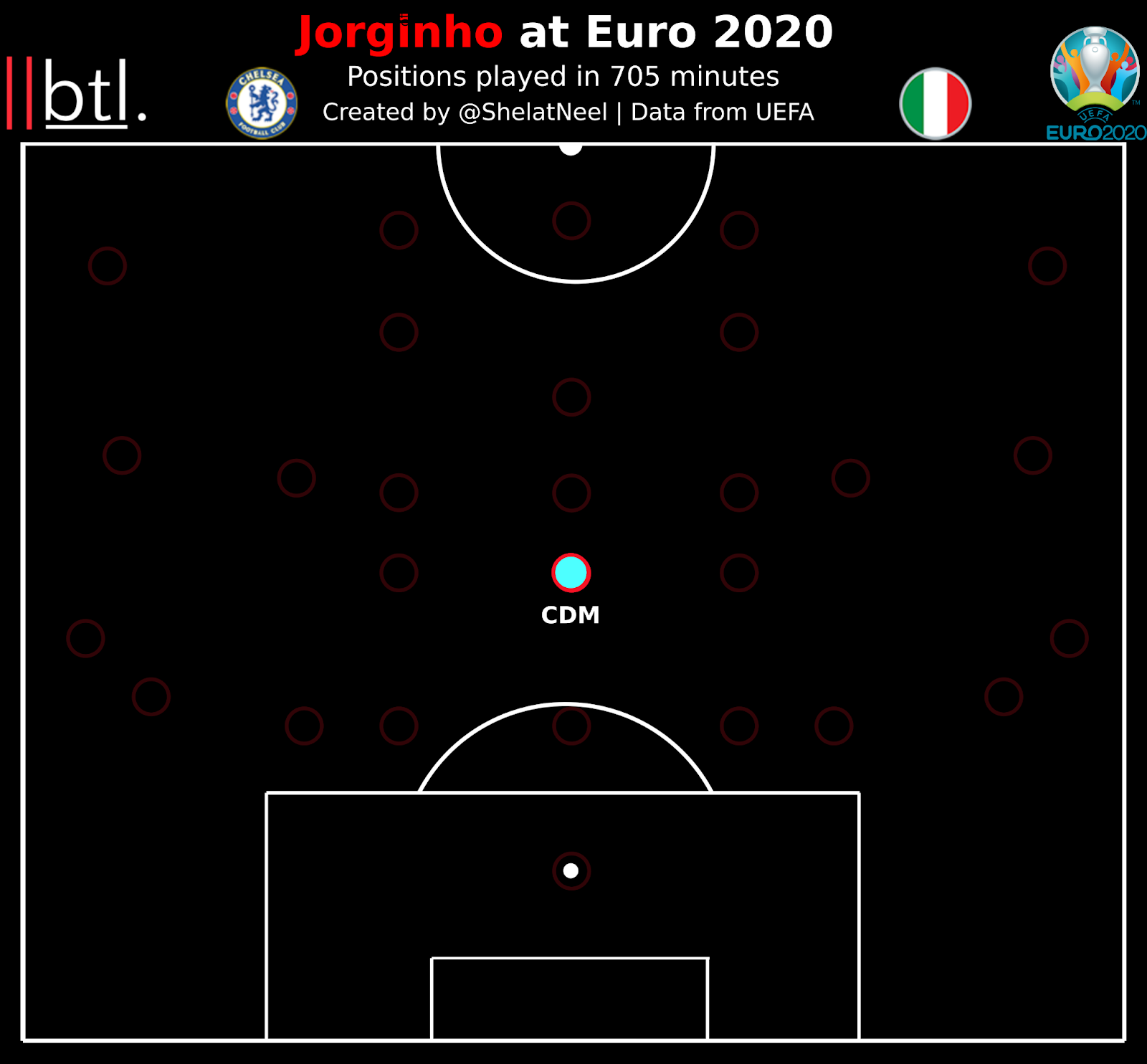 There are accusations levelled at him for being a system player, but either way, he was an imperious presence at the heart of midfield in Roberto Mancini's 4-3-3, leading to some mightily impressive statistics.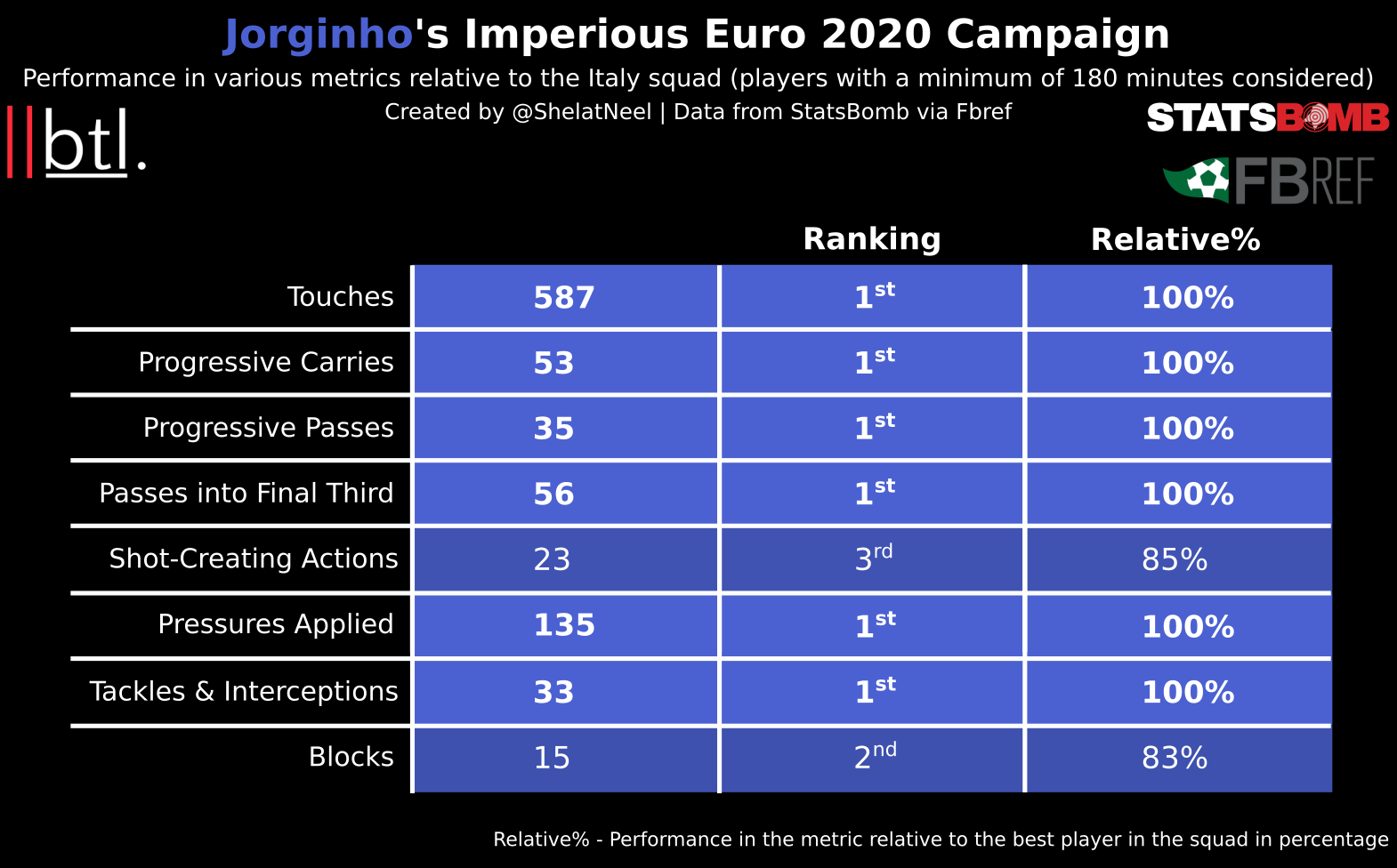 There's no point in saying much more, because the numbers really do speak for themselves. The 29-year-old midfielder has two more seasons left on his Chelsea contract, but on the back of a solid season at the club level as well, he is reportedly set to be offered an extension.
Kalvin Phillips
Kalvin Phillips covered more distance than all but one other player at the Euros (that man, of course, being Jorginho) as he ran for 83 kilometres in seven matches. Operating in a more advanced role than what he has usually done for his club, the Yorkshire-born man absolutely shone in a variety of systems deployed by Gareth Southgate.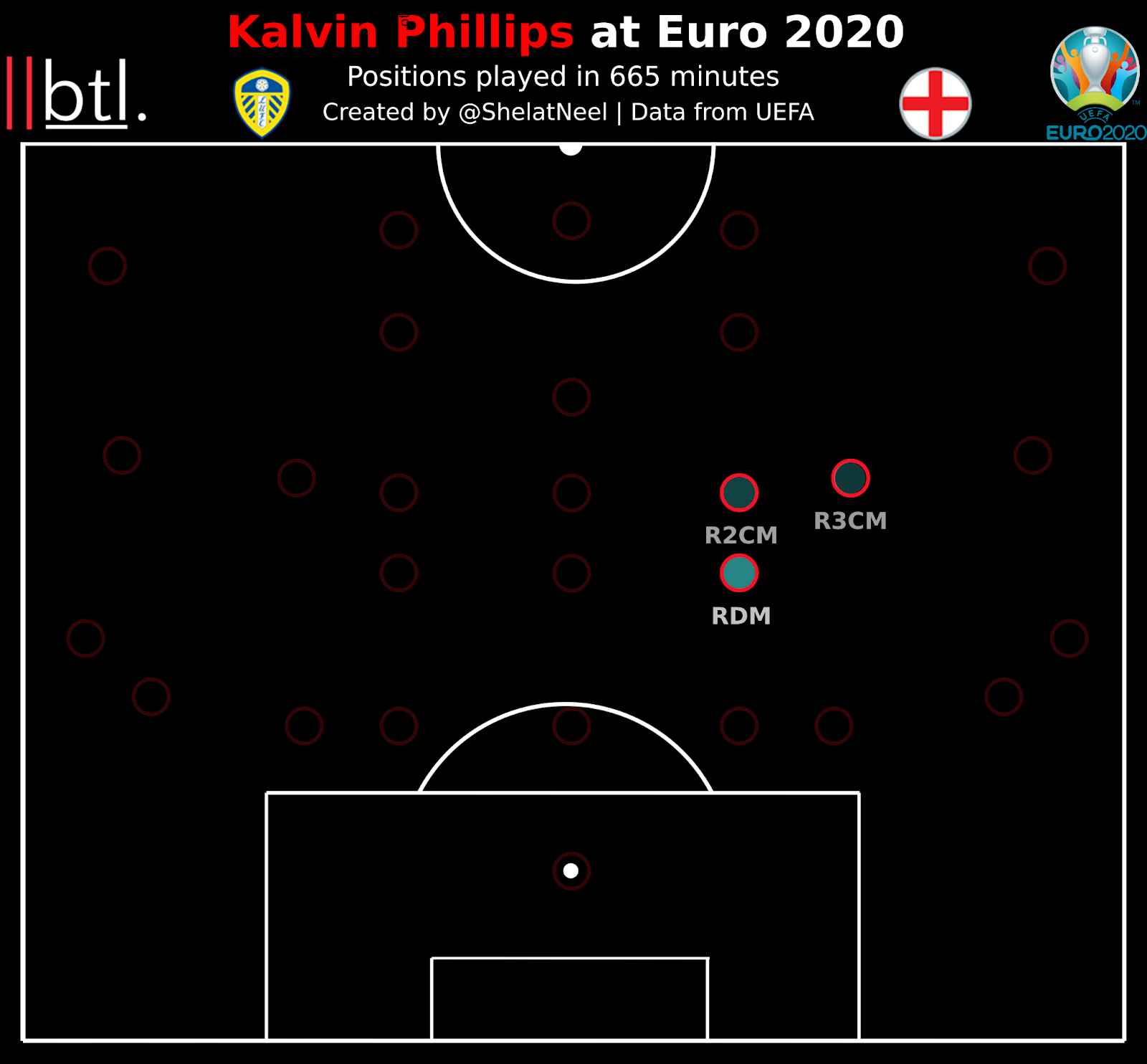 To better illustrate his role, let's take a look at his tournament heatmap, which evidently looks like that of a box-to-box midfielder.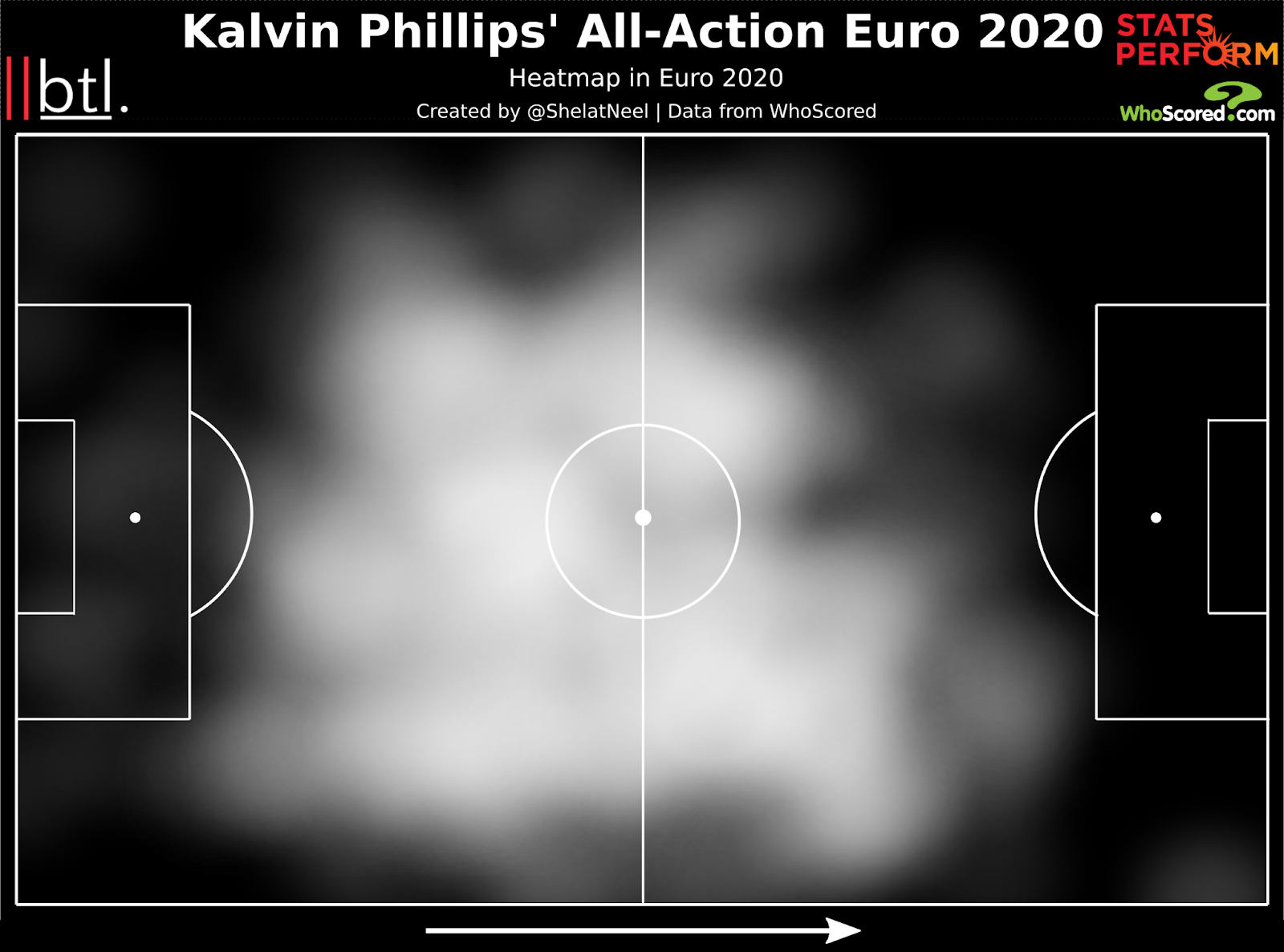 The Leeds United man was, therefore, useful to his side in both facets of the game – attacking and defending. Going forward, he contributed in terms of ball progression primarily, managing 410 touches over the course of the tournament with 29 passes and carries into the final third. To add to that, he chipped in with 7 SCA of which 2 were GCA (Goal-Creating Actions), including an assist against Croatia.
Out of possession, he applied 229 pressures (over 100 more than any of his teammates and comfortably the most in the tournament), made 24 tackles and interceptions, 14 clearances and 12 aerial duels won at a success rate of 70.6%.
The 25-year-old midfielder is a fan favourite at Leeds United, with fans dubbing him the 'Yorkshire Pirlo', and he clearly is happy at his hometown club with a contract till 2024.
Pierre-Emile Højbjerg
Losing Christian Eriksen (and the manner in which it all happened) undoubtedly impacted Denmark hugely, but the man who stepped up big time in midfield was Pierre-Emile Højbjerg.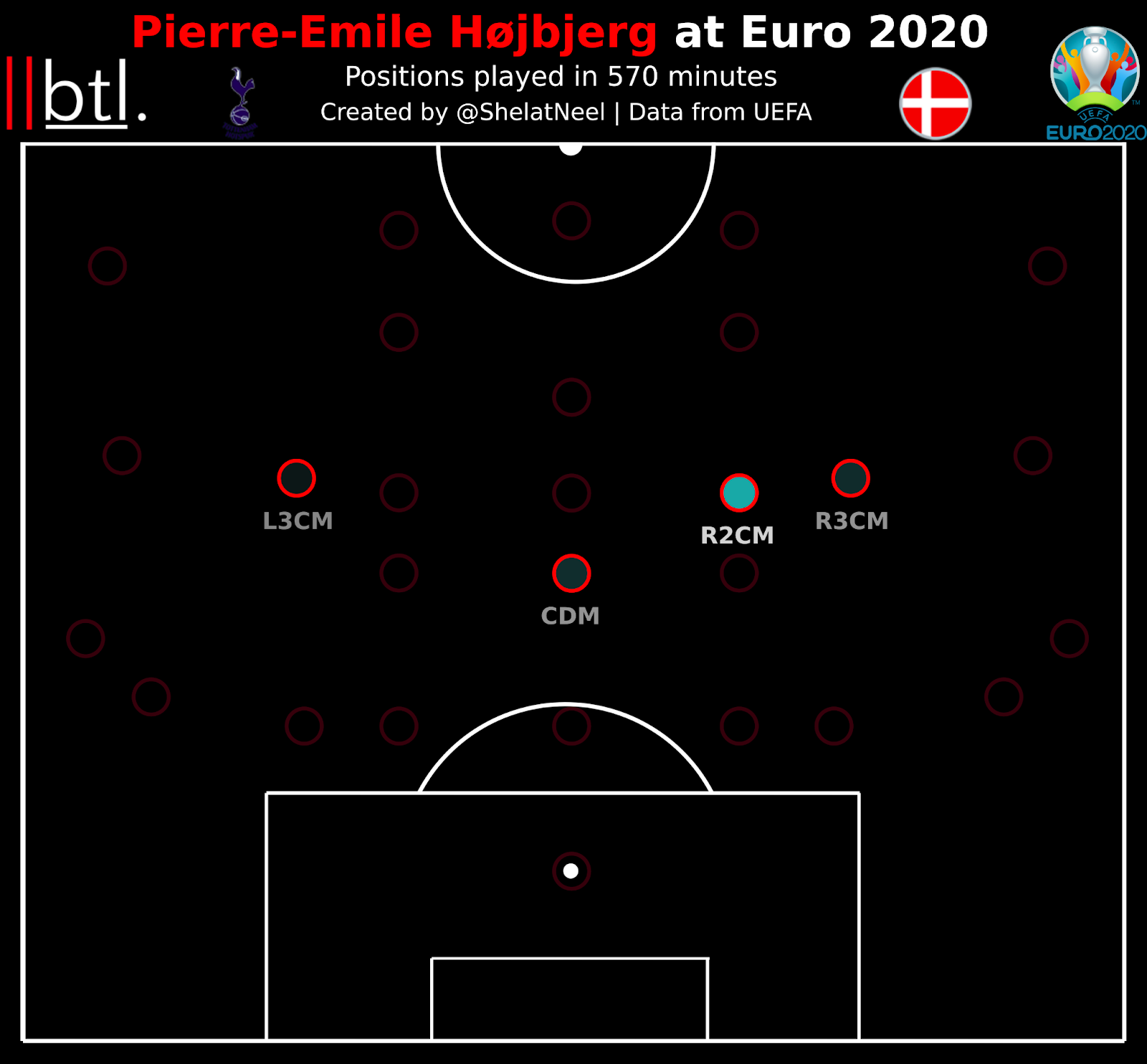 His three assists made him the top provider for Denmark, while taking him joint-second behind Steven Zuber in the tournament. The Tottenham man not only impressed in the defensive aspect (which is his primary strength), but also looked very bright going forward in a more advanced role.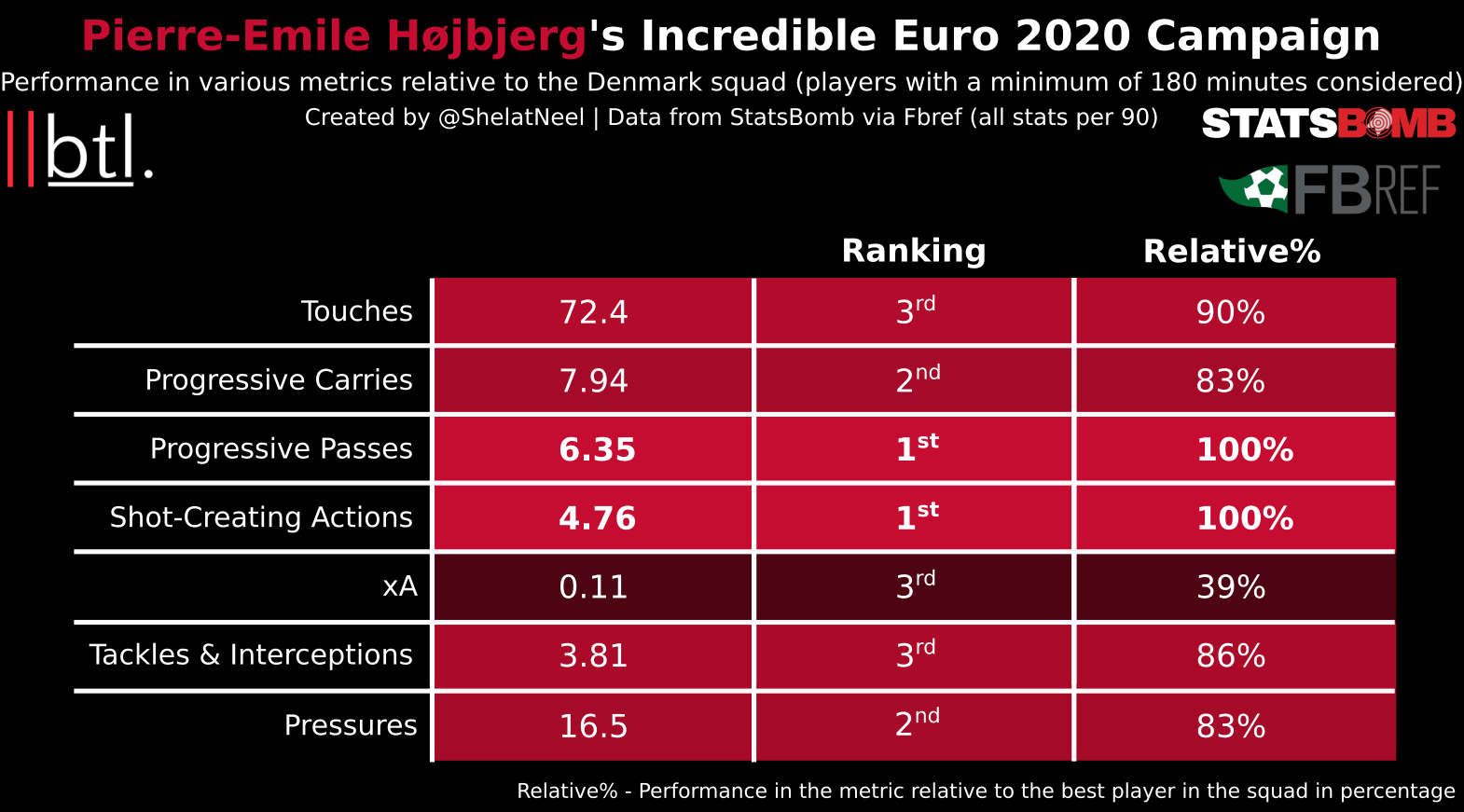 When he will return to North London, the 25-year-old midfielder will find a new manager in charge of Tottenham as Nuno Espirito Santo has been appointed as José Mourinho's long-term successor, so he will have a bit of work to do to re-establish himself as the first-choice starter in midfield, although his Euro performances will certainly help.
Paul Pogba
France's Euros campaign might not have gone to plan, but one man who certainly was exceptional was midfield maestro Paul Pogba.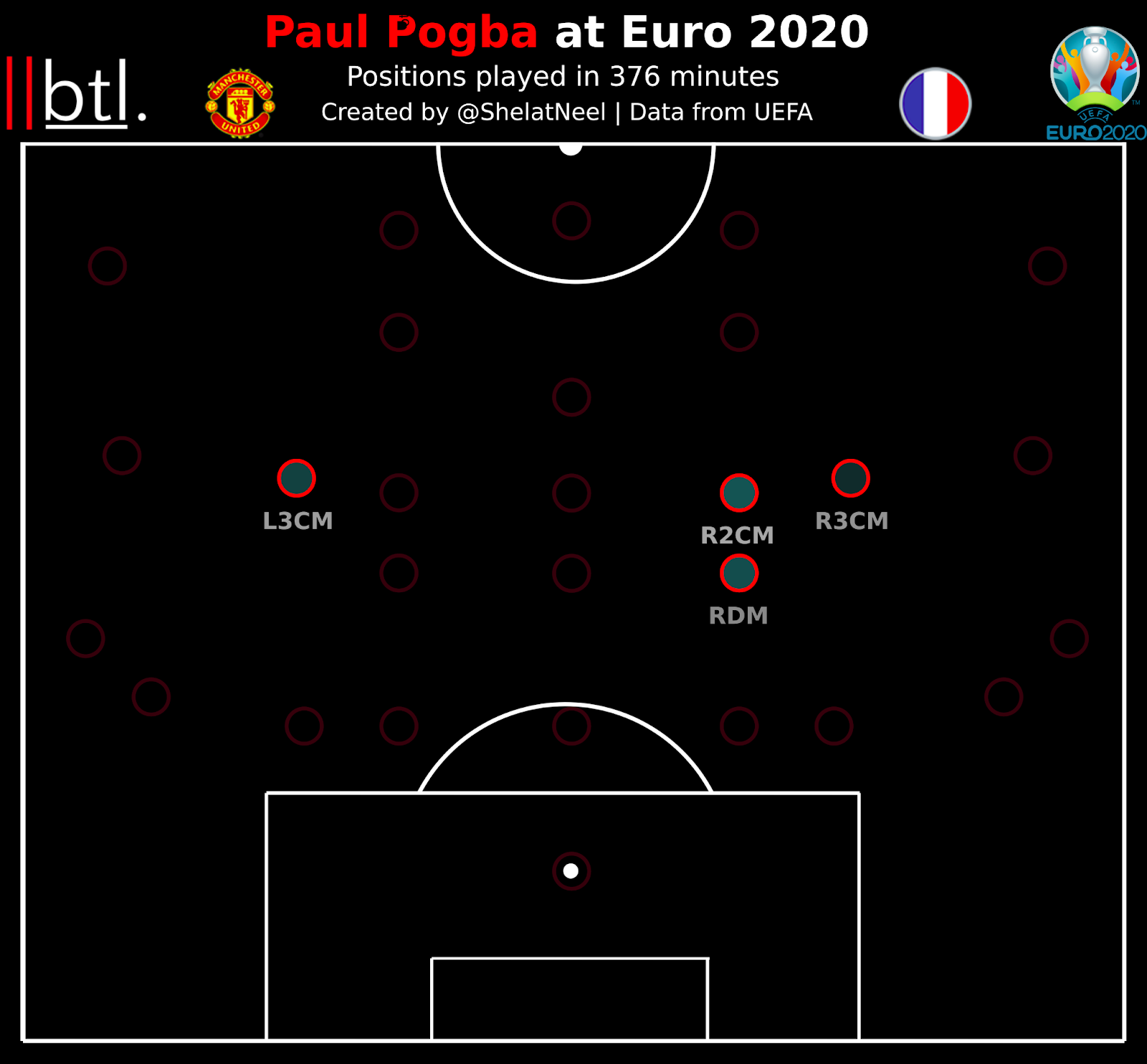 Playing both in a midfield duo and trio, Pogba lit the field up with his wonderful footballing ability. He made some sensational plays that will surely be popping up on Euro 2020 highlights reels for years to come, such as his insane pre-assist to Lucas Hernandez for France's first goal of the tournament and his impossibly pinpoint curling effort to make it 3-1 against Switzerland. He made some amazing line-breaking passes too, such as this one to send Kylian Mbappé through on goal.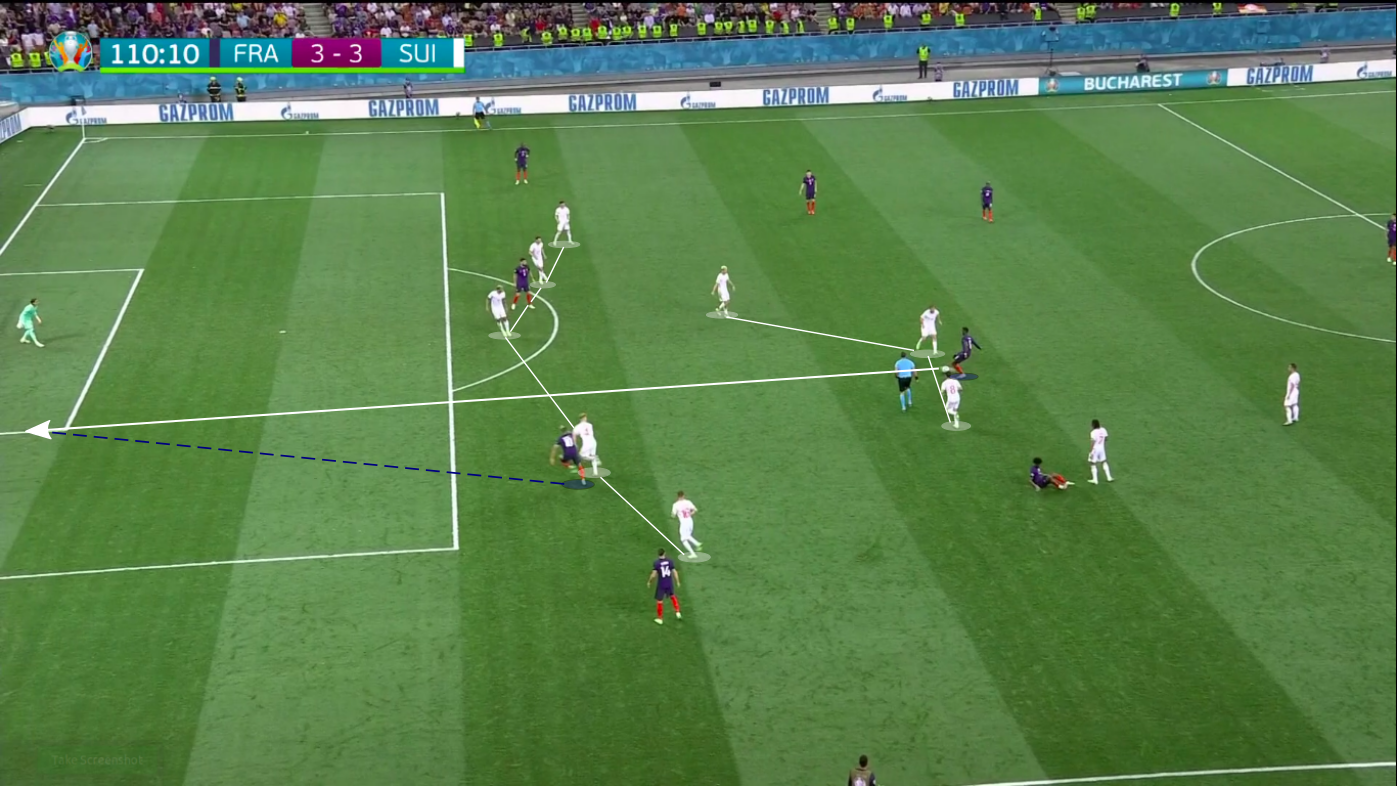 Overall, he was arguably the most consistent performer in the French squad, impressing not just in terms of midfield control, but also at the sharp end in goal-scoring metrics as well as in the defensive aspect: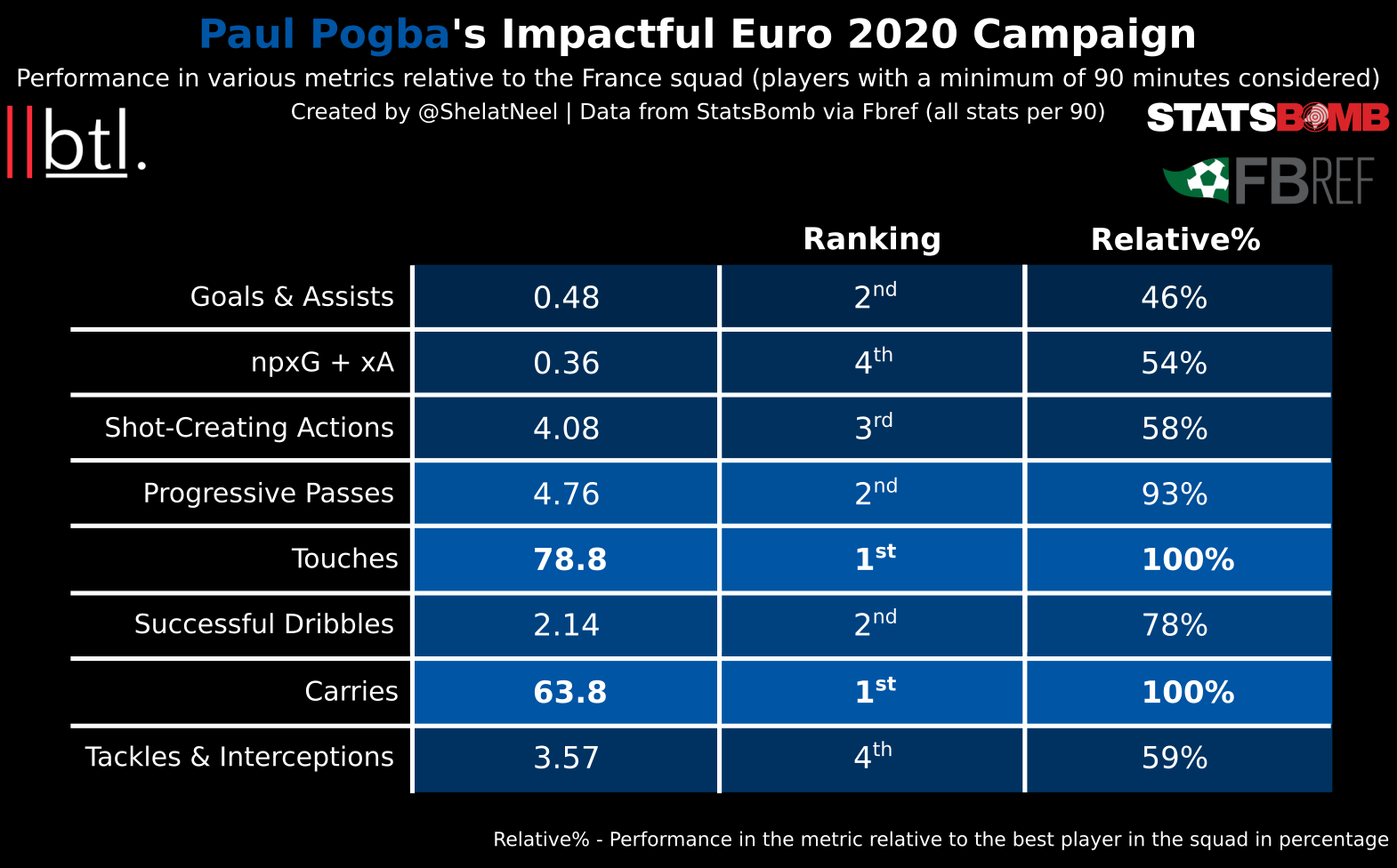 The 28-year-old midfielder just has a year left at Manchester United in his current deal, so the possibility of a transfer certainly exists, as does that of a contract extension. He will certainly not be able to replicate such quality at a club level simply because no club side will afford him such amounts of space and time on the ball, but his talents would undoubtedly make a fine addition to most teams.
Marco Verratti
Marco Verratti missed Italy's opening matches due to a knee injury as Manuel Locatelli strongly impressed, leading to some questioning his inclusion in the round of 16 tie against Austria. His performances thereafter, though, were more than good enough to silence any doubters.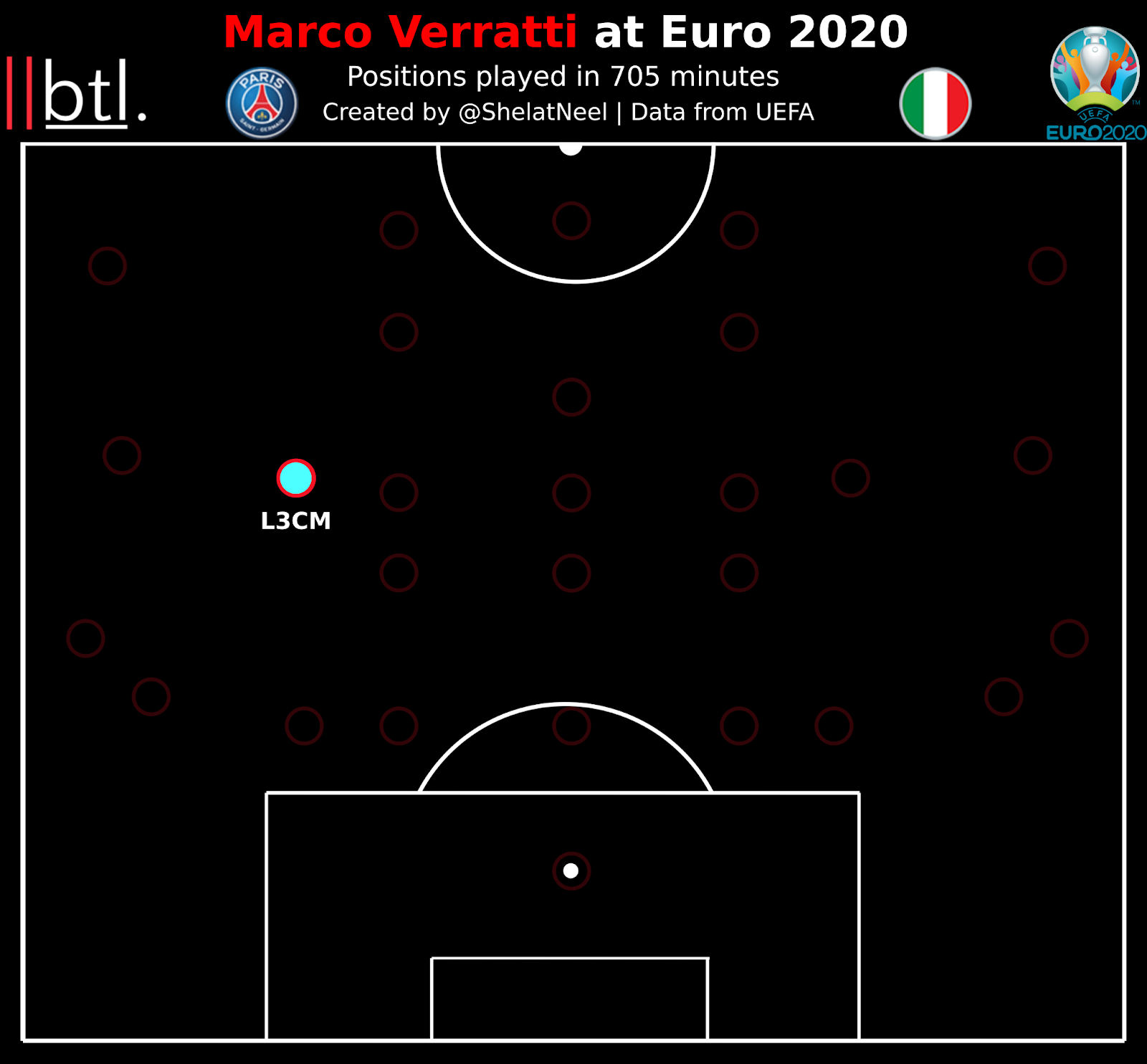 He set up two of his side's goals (one against Wales and one in the quarterfinal against Belgium) to finish the tournament as the joint-top provider, but some of his other creativity stats looked even better, including a grand total of 26 SCA which was just one fewer than squad leader Lorenzo Insigne in 120 fewer minutes of action.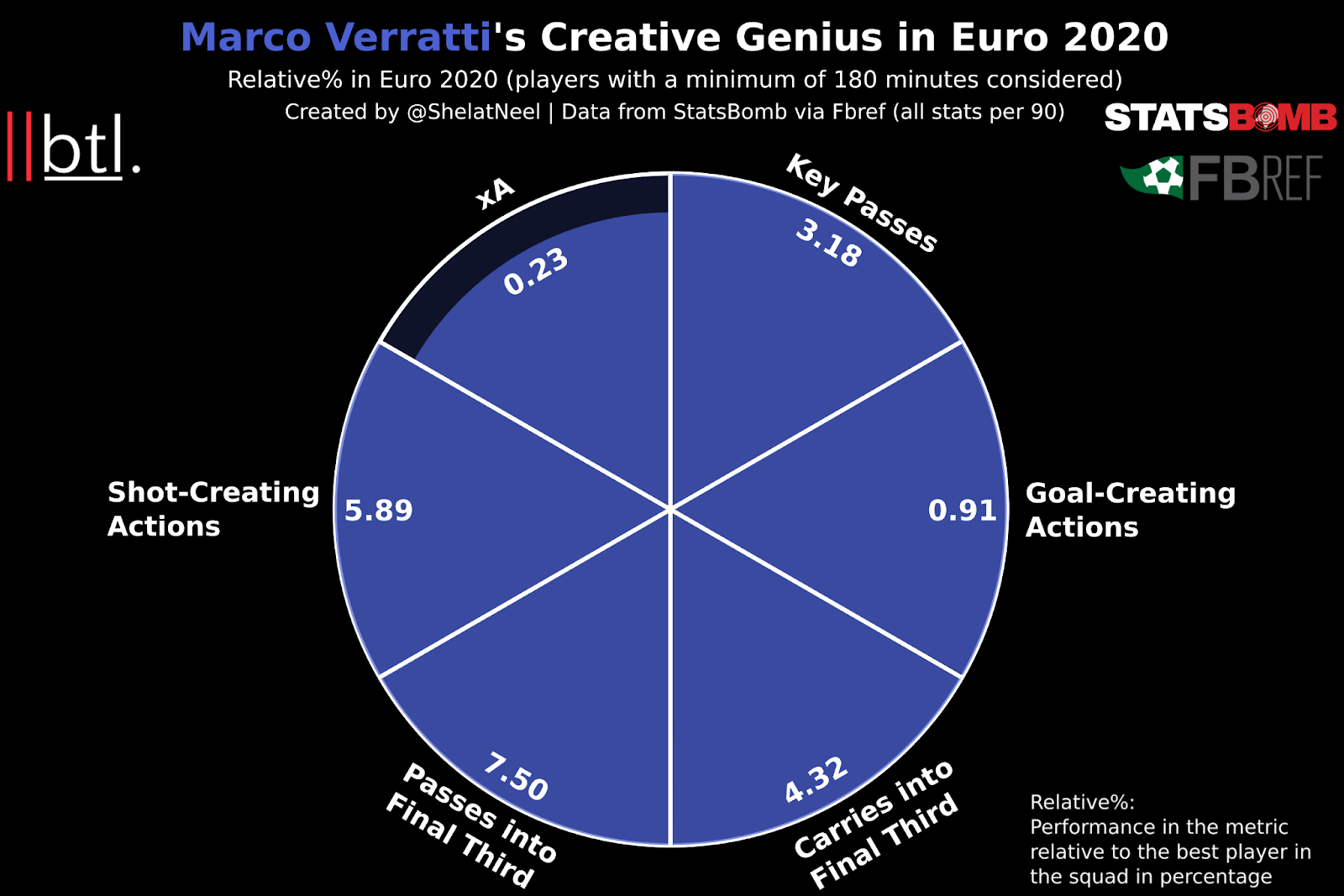 Besides this, the PSG midfielder contributed heavily out of possession too, with his averages of 5.45 tackles and interceptions and 5.91 pressures applied per 90 ranking him all the way up at first in the Italian squad.
The 28-year-old Pescara academy graduate has a contract till 2024 with the most notable French capital club, and with a complete lack of transfer rumours surrounding him, it is safe to assume that he will be staying there.
Pedri
Barcelona fans already knew that Pedri is a mercurial talent having watched him play his 50th game for the club as an 18-year-old, but the whole of Europe is in agreement now as he stole the show in Luis Enrique's possession-based system for Spain.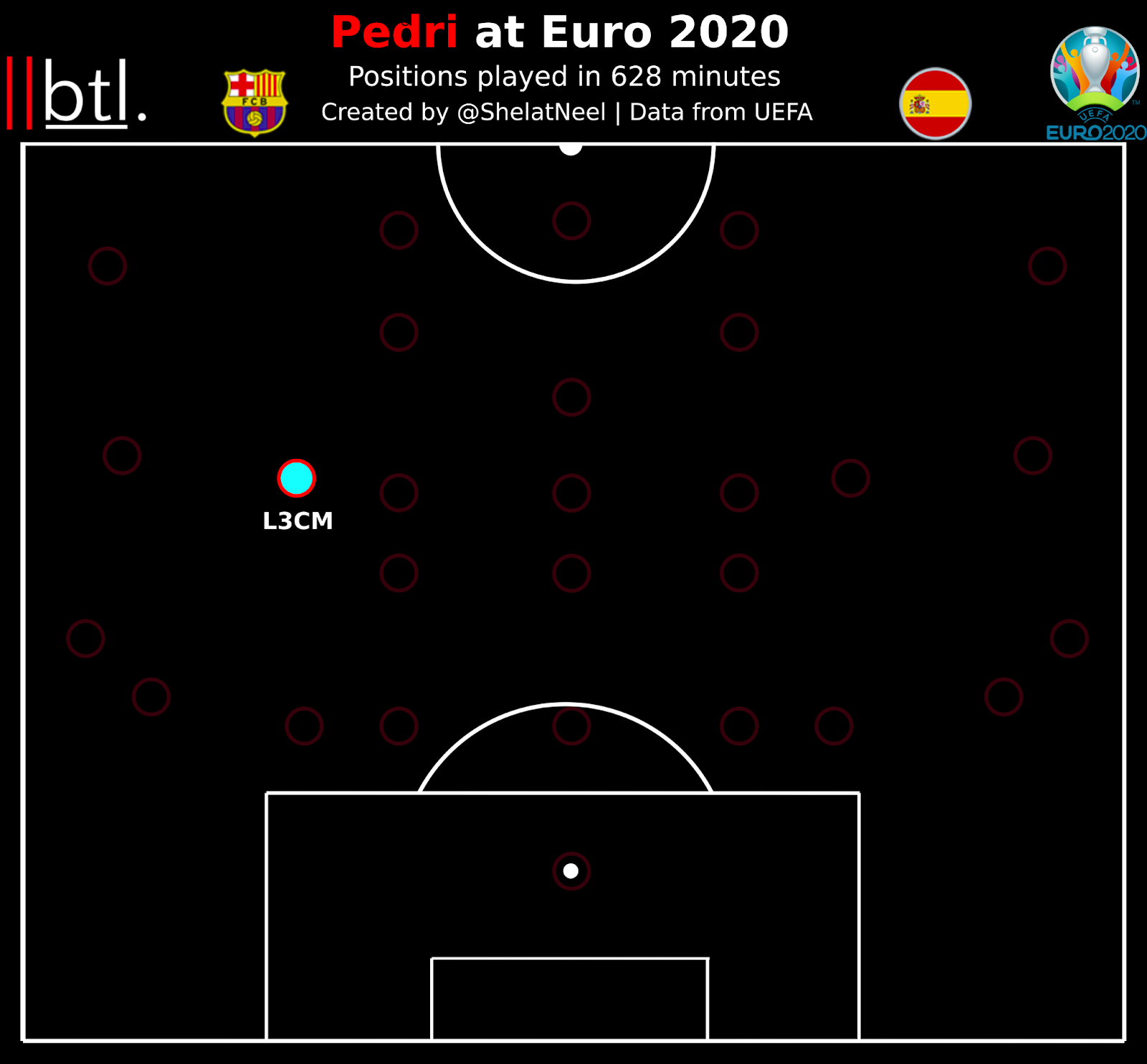 In fact, he was arguably their best player, utterly dominating proceedings from midfield against some of the best in the business. His numbers were, unsurprisingly, absolutely phenomenal.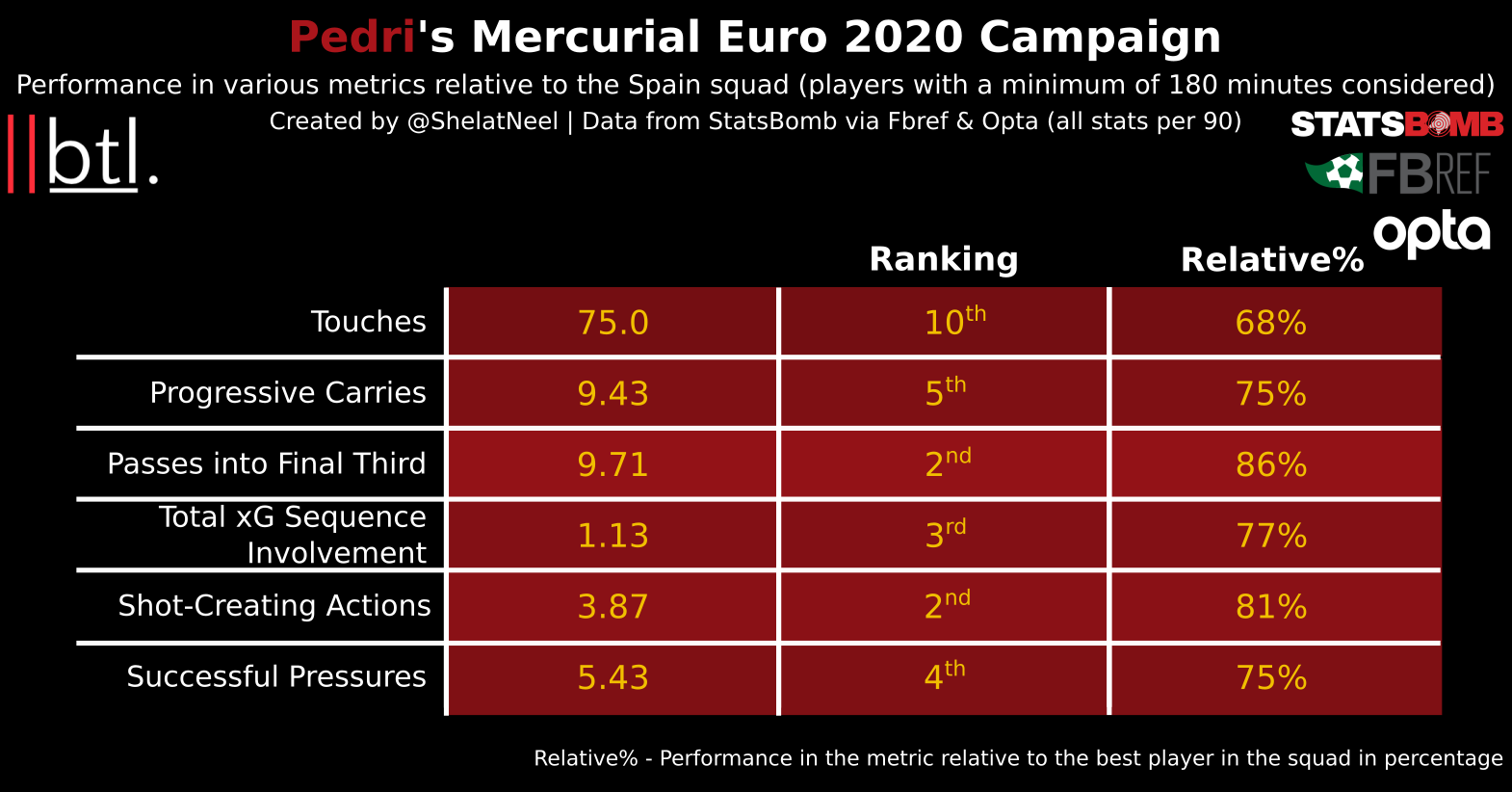 While he might not have topped his side in any of the above metrics in a per 90 dataset, it is important to remember that the young midfielder played all but two minutes, meaning that he had to operate at a very consistent level. Therefore, looking at the overall numbers might b the best way to put his brilliance into perspective, which is where he was the best in not just the Spanish squad but the whole tournament at the semifinal stage in terms of passes into the final third (68), carries into the final third (29), total xG sequence involvement (7.86), SCA (27) and GCA (5).
The 18-year-old sensation is already an integral player at Barcelona, and with the clubs' ongoing financial troubles, it is nigh impossible that they will sign any competition for him, so if all goes well, he could have a century of appearances as a teenager. Pedri's current contract expires in the summer of 2022 but has a unilateral two-year extension clause, so his future most likely will remain in La Liga as his release clause reportedly is a rather hefty €400 million.
Emil Forsberg
Sweden had a decent run in the tournament as they topped their group (ahead of Spain) but went out in the Round of 16, and the main man for them was Emil Forsberg, who netted four of their five goals.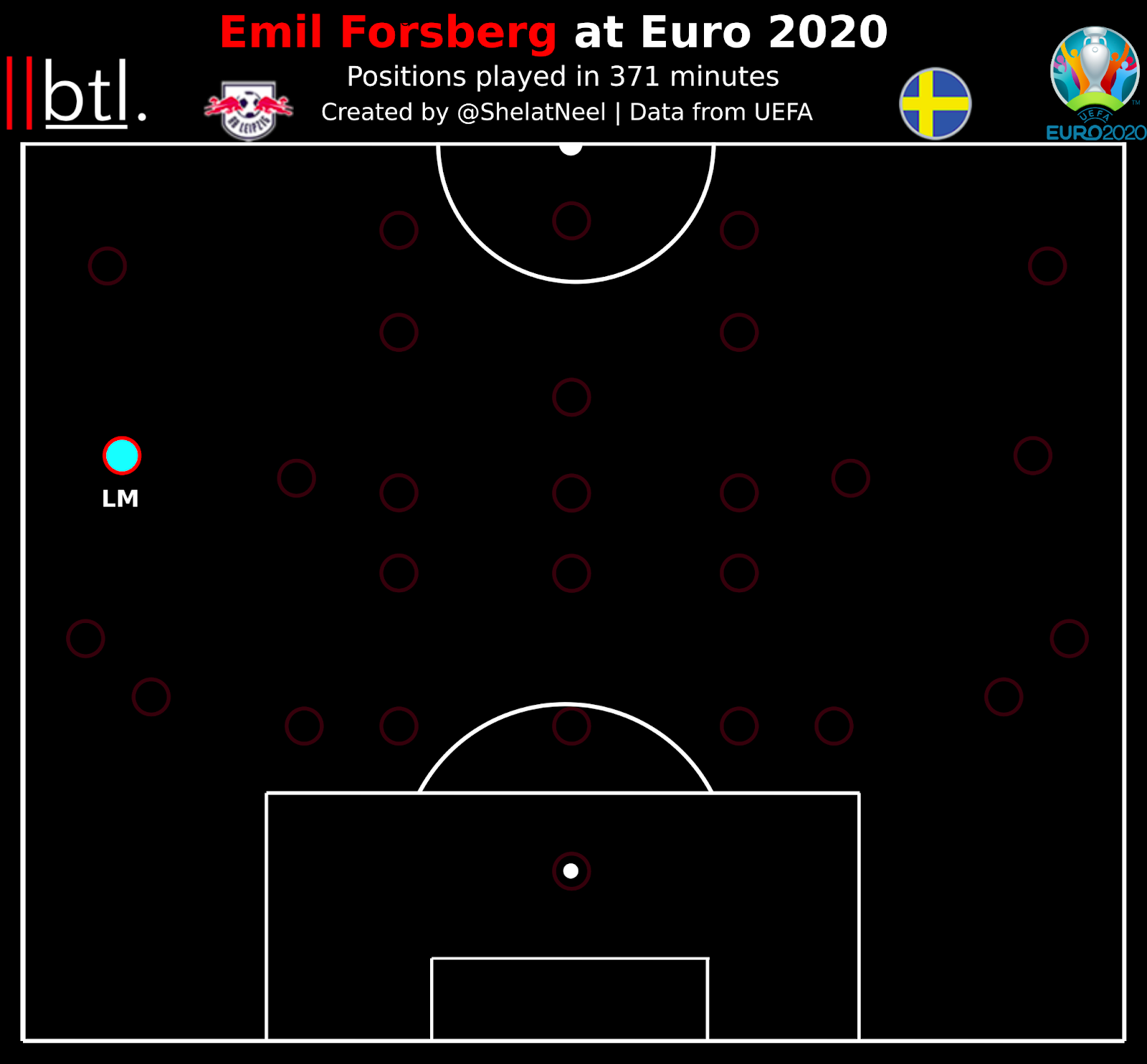 Although he was solely used on the left of midfield in a 4-4-2, Forsberg's heatmap tells a better story about his actual role on the pitch because he drifted into the central areas quite often.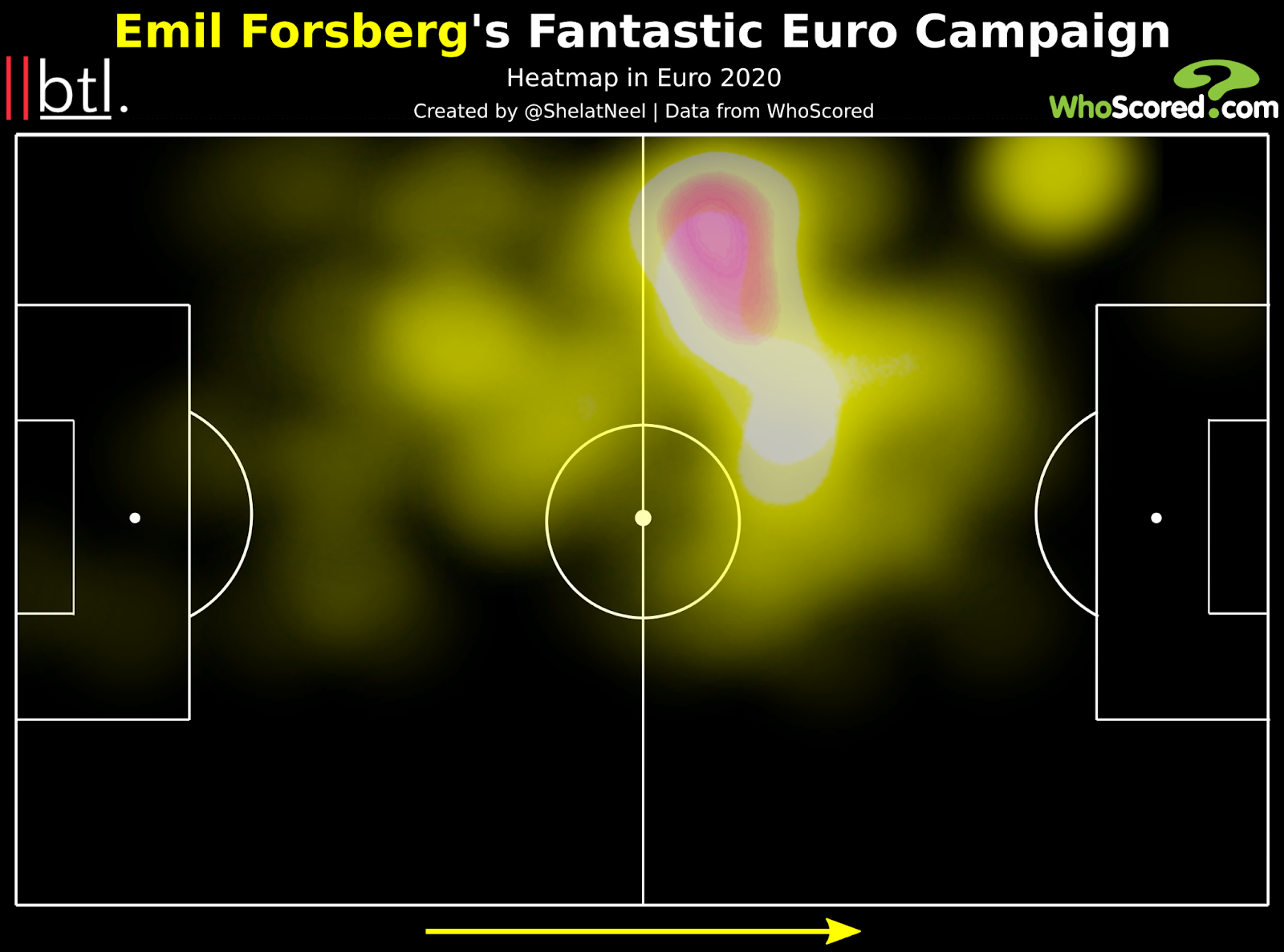 The main feature of the Swede's work at the Euros was his long-range shooting, where he quite often created the chances for himself with his excellent dribbling.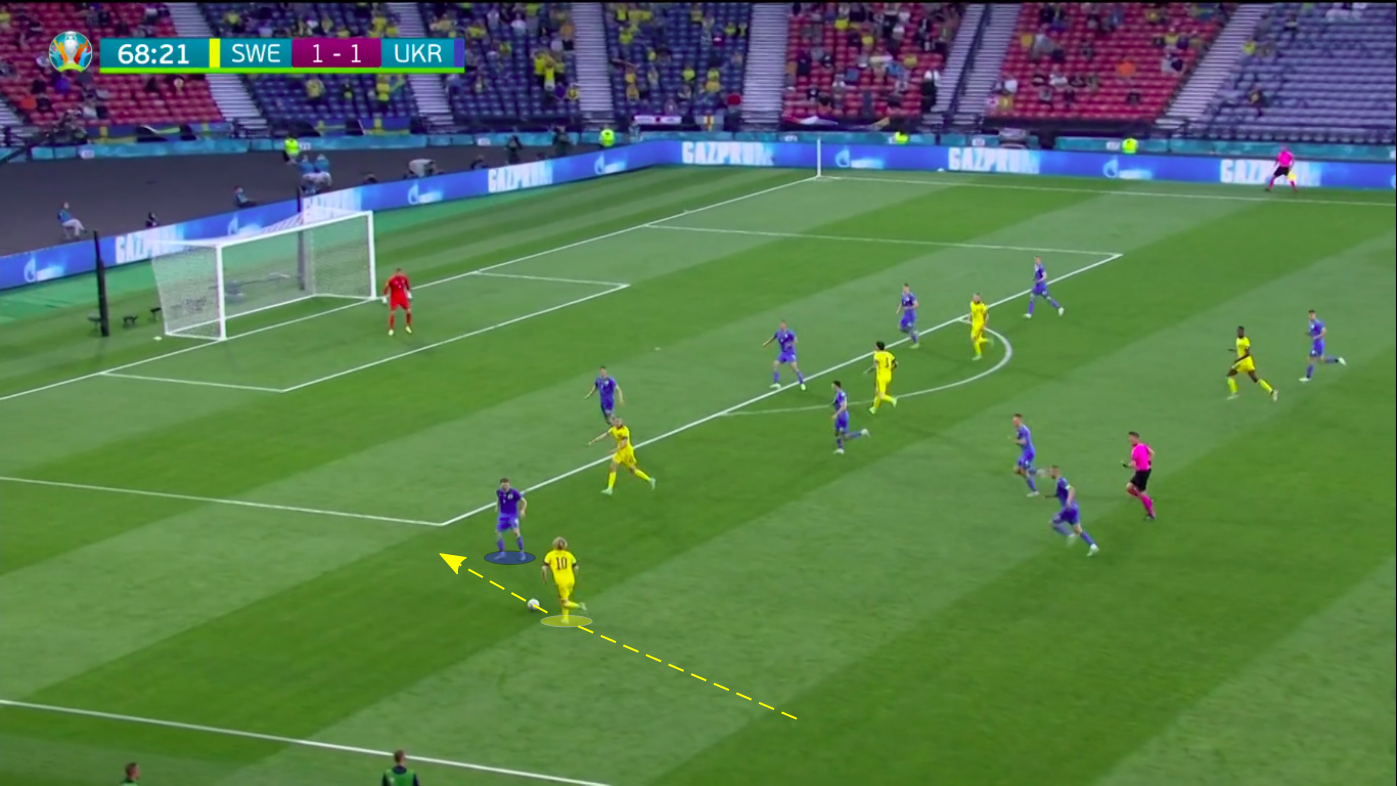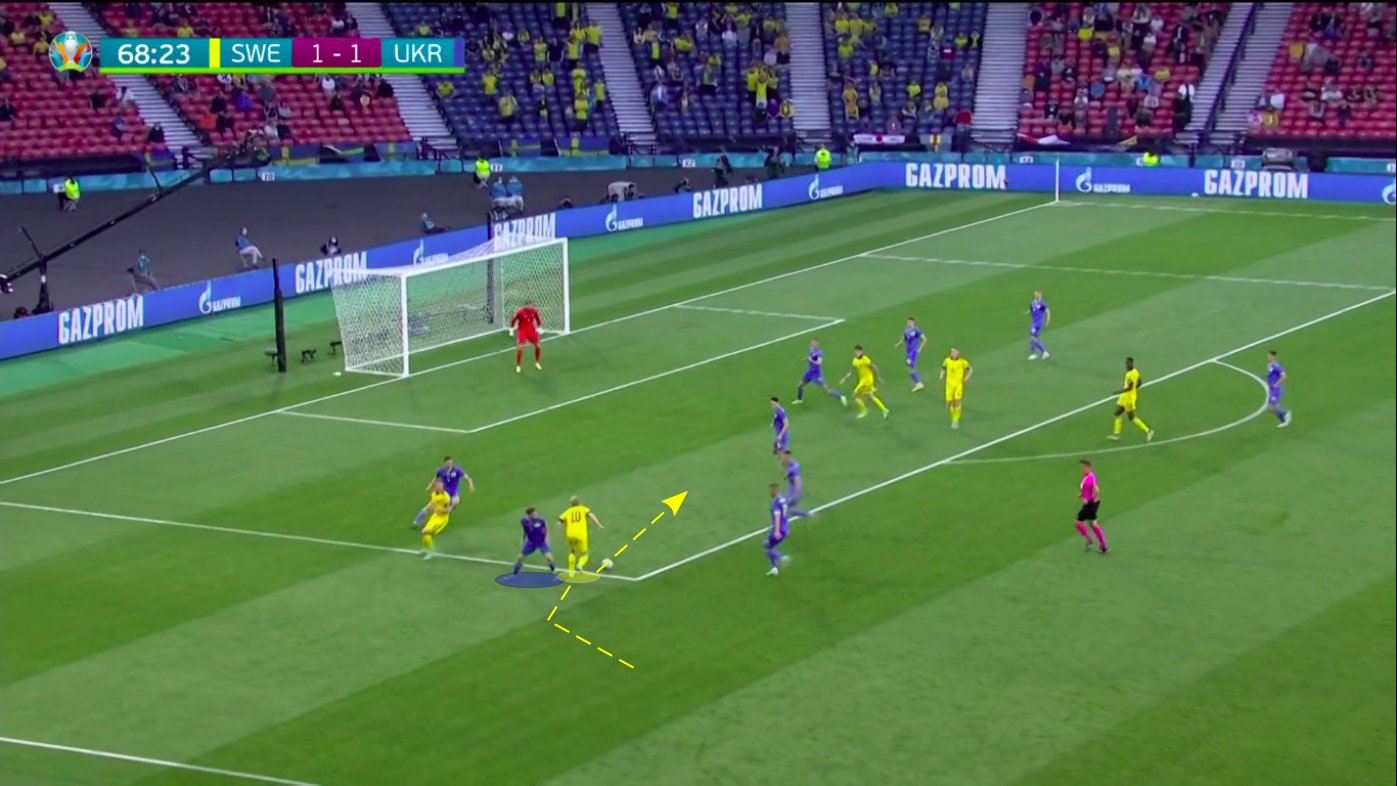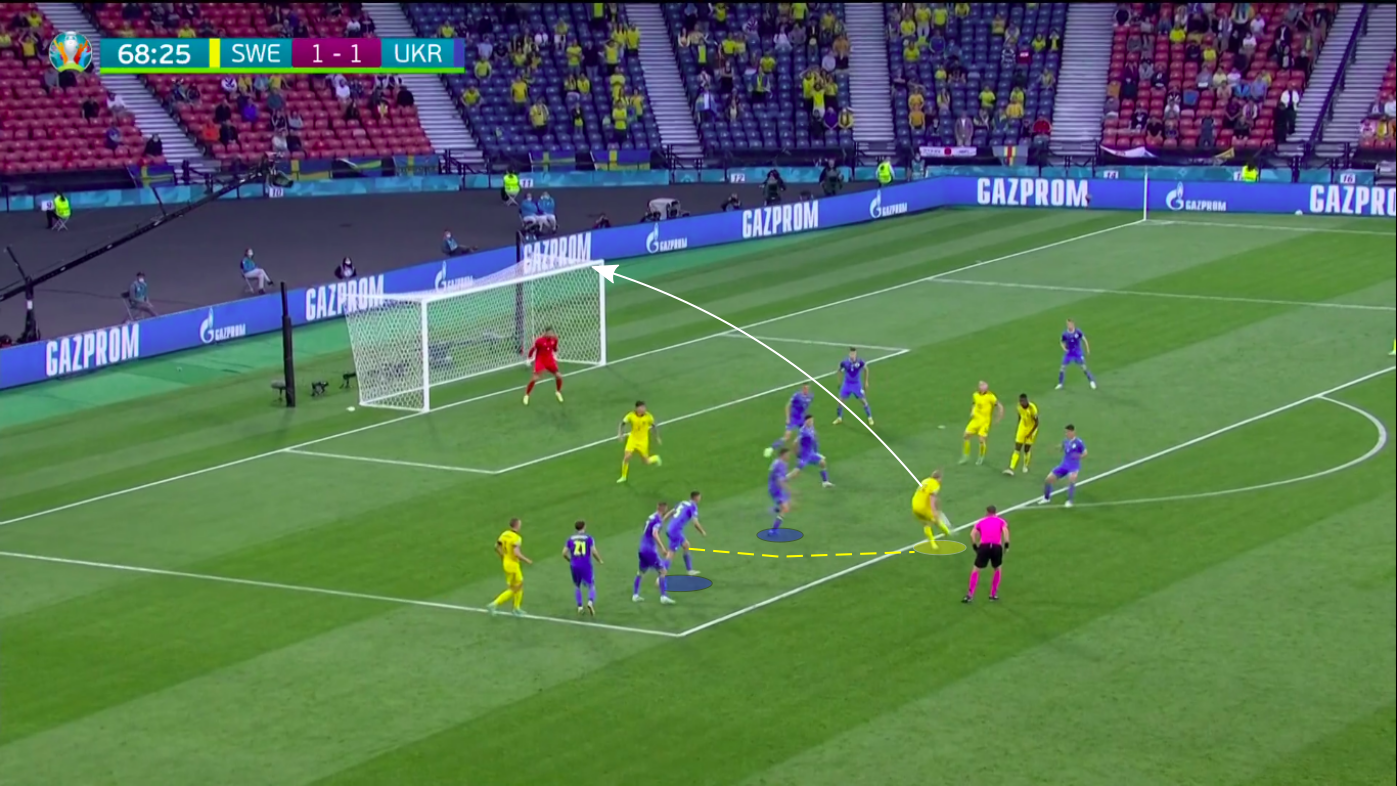 Shooting from an average distance of 19.2 yards, four of Forsberg's 14 efforts went in, including a penalty and an effort from outside the box. In spite of overperforming his xG by 2.3 thanks to his long-range shooting (ruining the Temple of xG in the process), Forsberg was the unluckiest player at the Euros as far as woodwork hits are concerned, as he struck both the post and crossbar once each.
The RB Leipzig man's performances in other metrics were commendable too, such as his average of 2.44 SCA (Shot-Creating Actions), 1.22 key passes, 1.95 attempted dribbles and 7.32 progressive carries, all per 90. The 29-year-old attacking midfielder has four more years in his contract at Leipzig, and he is expected to stay there for the foreseeable future at least.
Kevin De Bruyne
Our friends over at GoalPoint were handing out ratings for every performance in the Euros, and no player managed a higher average than Kevin De Bruyne's 7.28.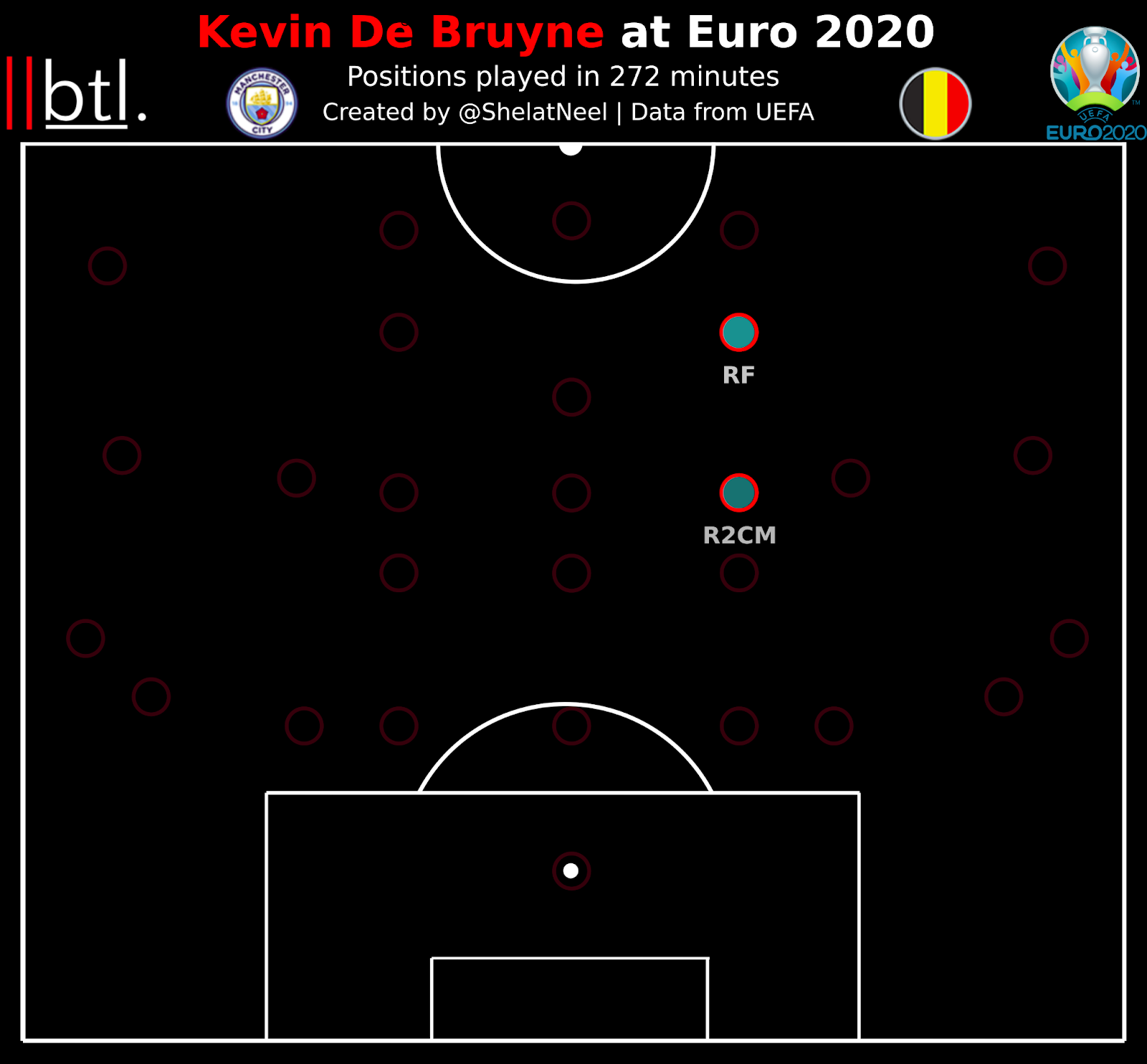 We'll take a closer look at some of his stats soon, but before that, just marvel at this assist he provided after sitting three defenders down within nine minutes of coming on for the first time following a facial injury.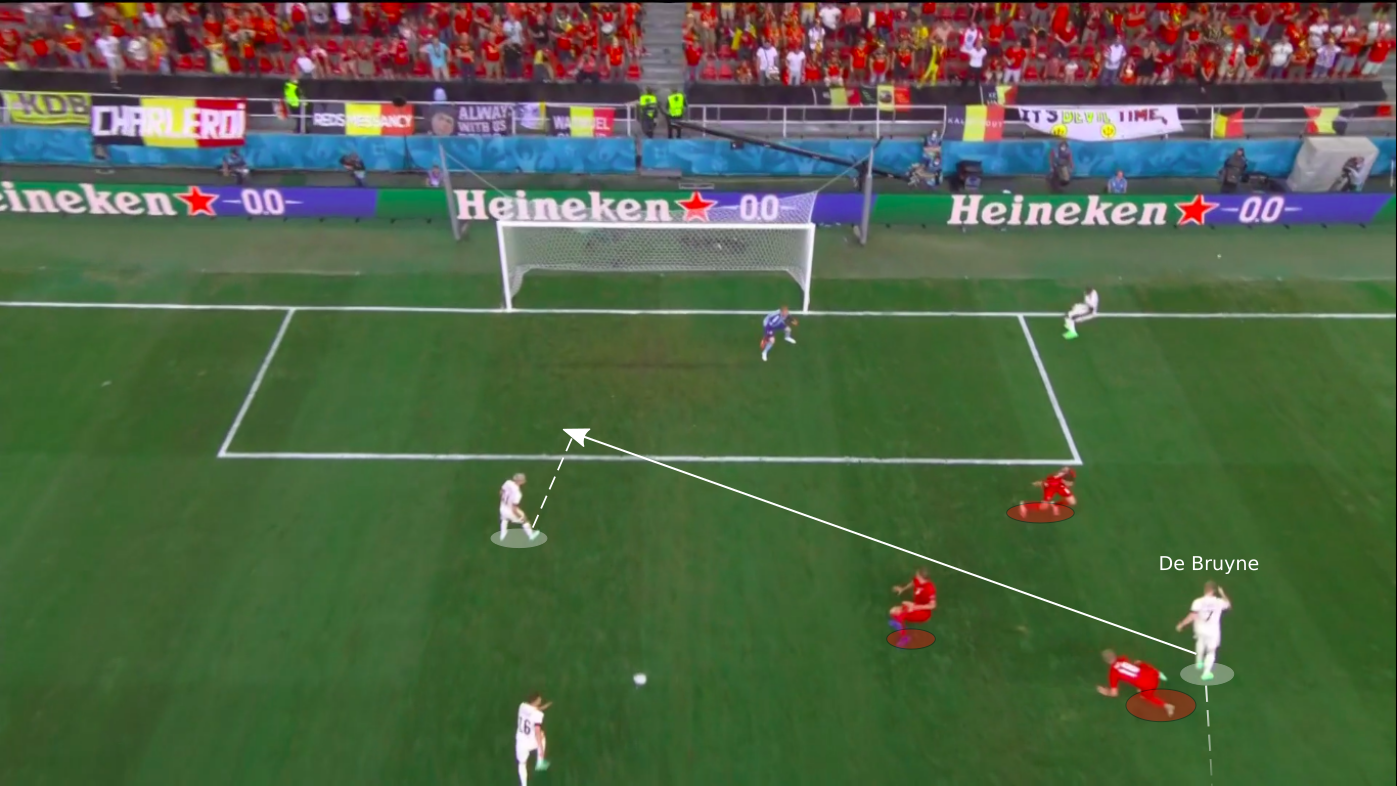 Despite playing just over three full matches' worth of minutes, De Bruyne generated the highest xA of the tournament with a very good 2.2, along with the one goal he scored against Denmark. 4.33 key passes, 5.98 SCA and 6.67 progressive passes per 90 represent some very good creativity and passing, while 10 progressive carries and 2.33 players dribbled past in the same dataset show no lack of endeavour with the ball at his feet.
The 30-year-old creator very recently signed a contract extension keeping him till 2025 at Manchester City, but the overall impact of that deal might live even longer as it was a rare case of negotiation for a top-tier player without the involvement of an agent.
Mikkel Damsgaard
Mikkel Damsgaard did not even feature for a minute in the first group game, but after securing a starting spot in the second match, he simply never looked back.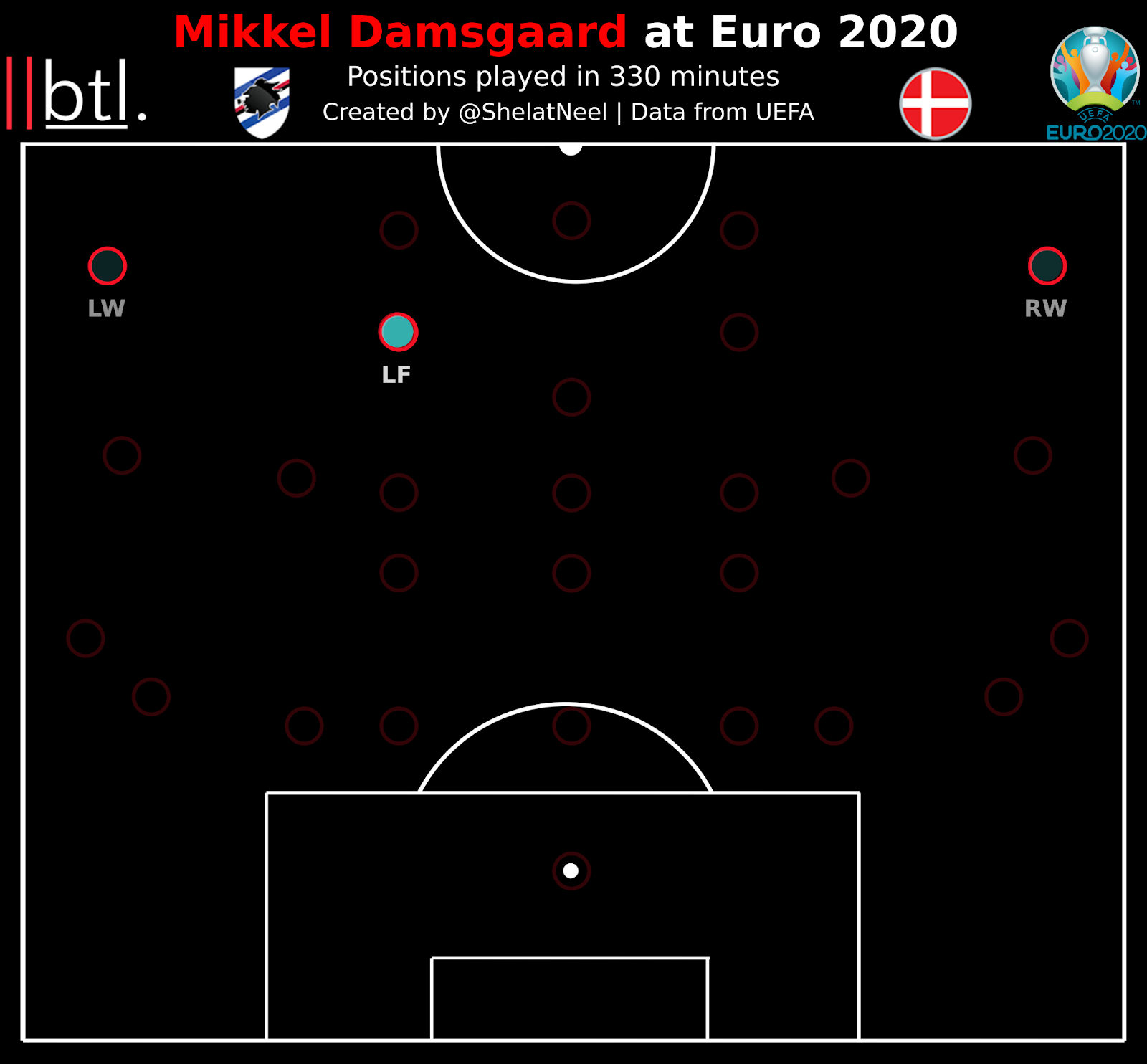 The Danish forward scored two goals, but he strictly dealt in showstoppers as his nine shots were taken from an average distance of 20.9 yards, with both of his goals coming from outside the box too, including the only direct free-kick goal of the tournament.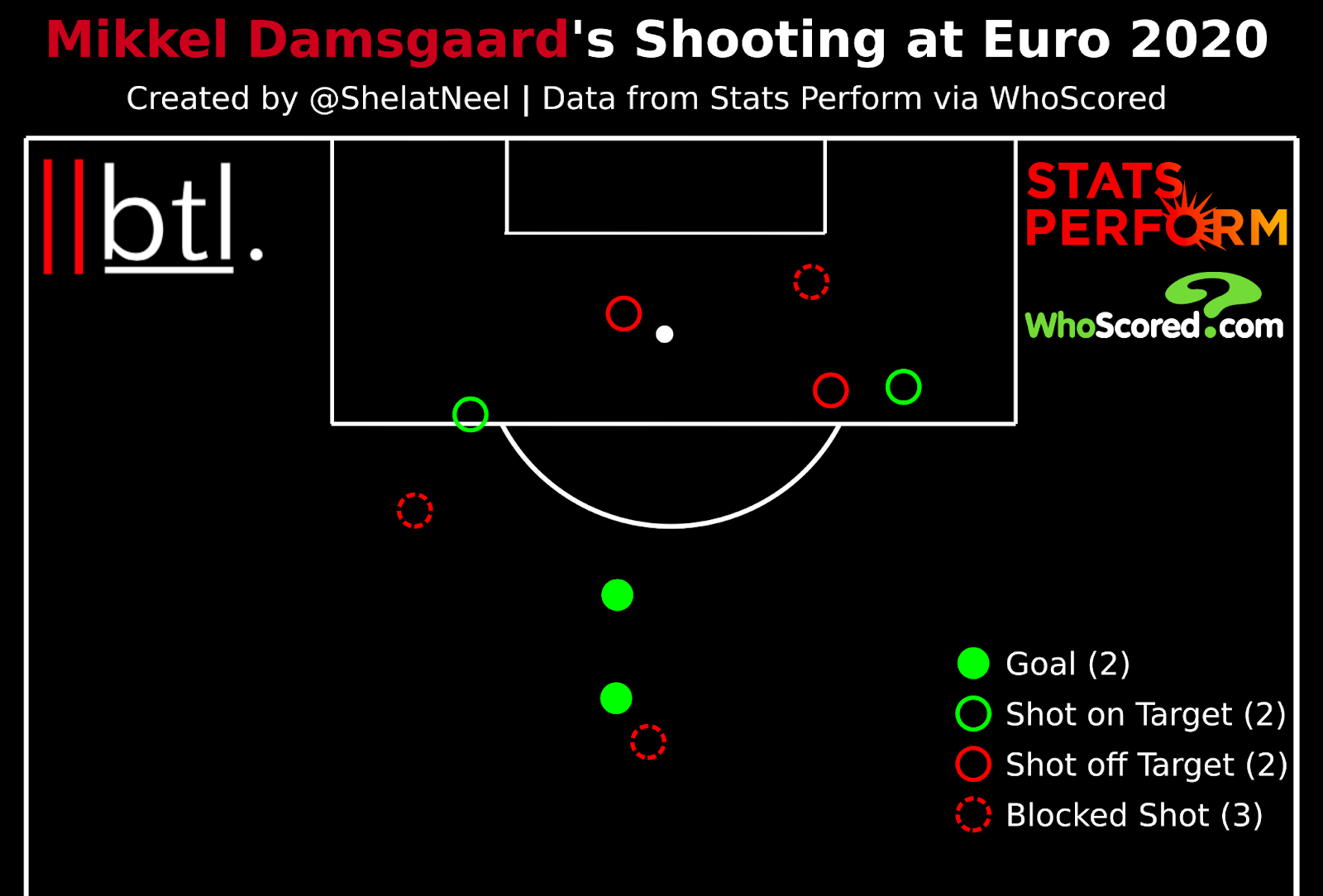 He added an assist to this against Wales, converting his joint-second best average of 0.35 xG + xA per 90 in the Danish squad to 0.83 goals and assists. To add to this, the Sampdoria man managed 3.05 SCA and a squad-topping 1.67 successful dribbles in the same dataset.
The 21-year-old had a decent debut Serie A season as he featured in all but three league matches, and while there are rumours suggesting some bigger European clubs might be interested in his services, there is nothing concrete to suggest that he will be leaving Sampdoria in the near future.
Federico Chiesa
Federico Chiesa started the tournament operating as a second-fiddle to the impressive Domenico Berardi, but as we progressed through the knockouts, he not only established himself as the starting right winger, but also became the most important player in Italy's attack.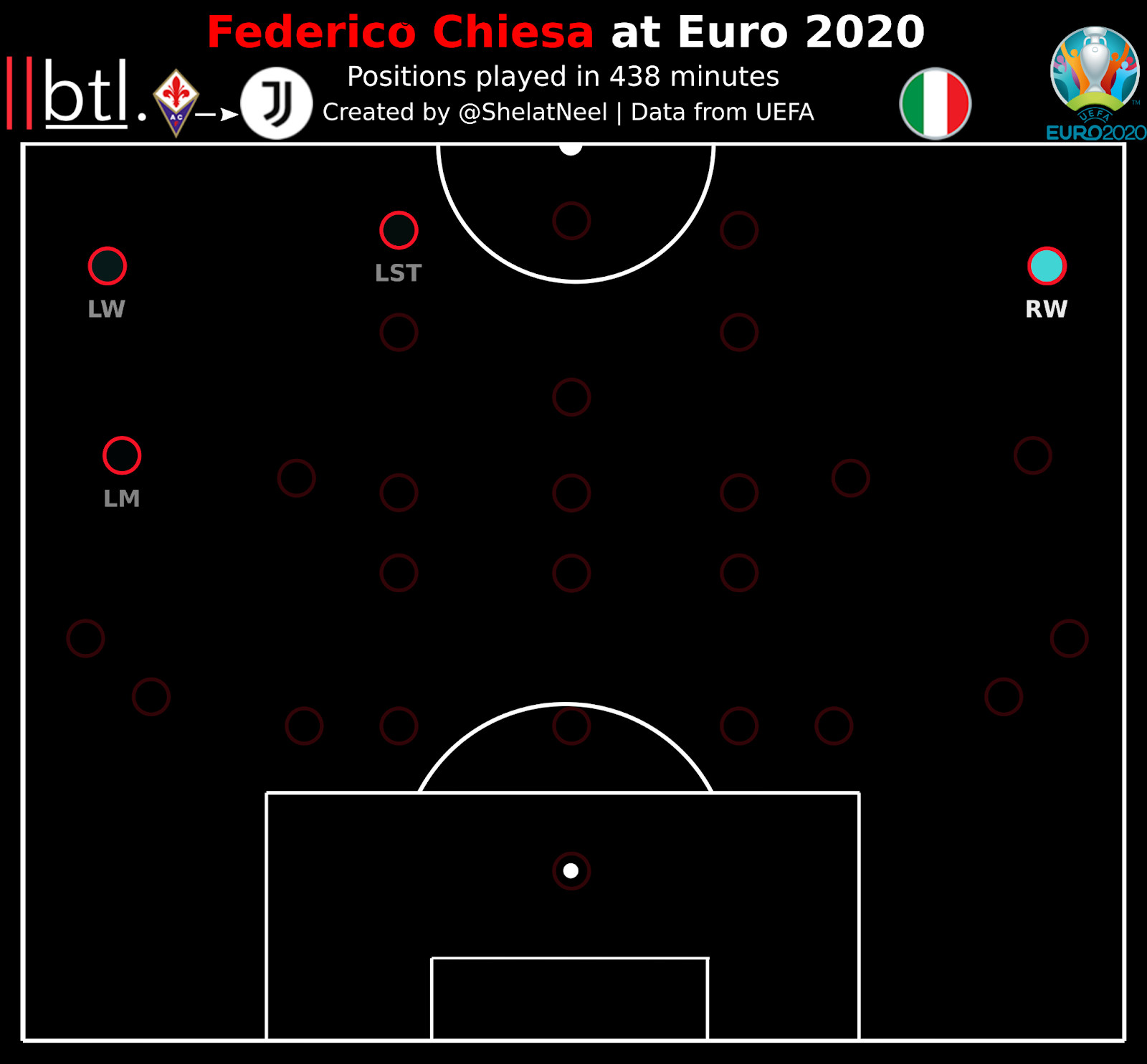 Statistically, the winger wasn't too outstanding as he only managed an average of 0.33 npxG + xA per 90 (which placed him way down in sixth in the Italian squad for players who played 180 or more minutes), but he took a fairly sizeable 3.28 shots in that time period, meaning that his xG/shot average was a very low 0.05 (only Giorgio Chiellini and Marco Verratti had worse numbers). Just 1.22 key passes and 3.08 SCA in the same dataset show a relative lack of creativity too.
However, what the numbers fail to capture is how Chiesa almost single-handedly kept his nation's attack in play at the most crucial times when the opposition were dominating possession, including the semifinal and final. Therefore, the dribbling stats look good for him, including an average of 2.04 players dribbled past per 90. His goal against the run of play versus Spain epitomised his importance to Italy.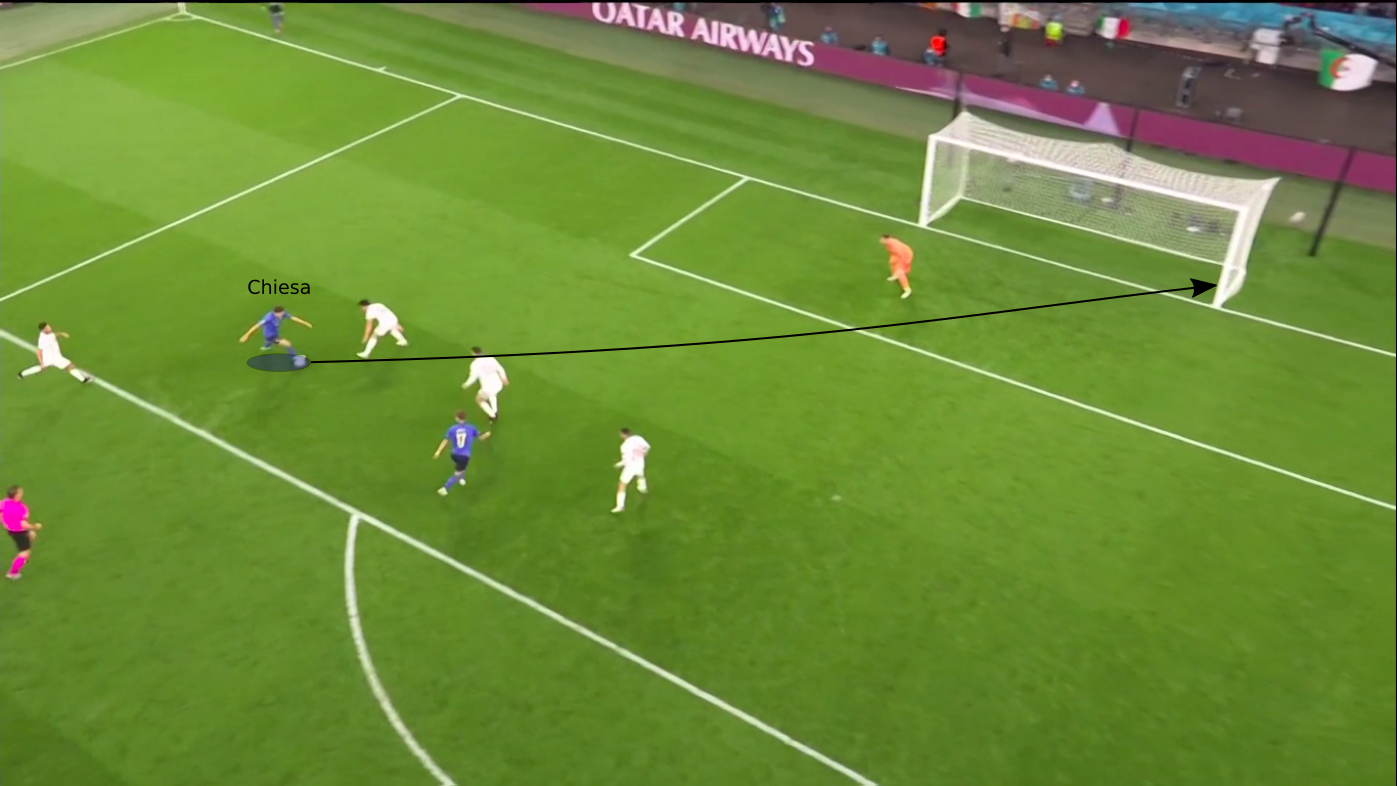 The 23-year-old forward is currently midway through a two-year loan at Juventus from Fiorentina, but there is a conditional obligation to make that move permanent, so expect to see that news soon.
Raheem Sterling
On the back of a sub-par club season, there were questions asked around Raheem Sterling's inclusion in England's first XI of the Euros, but by the time we reached the final, there were calls for him to win the Player of the Tournament award.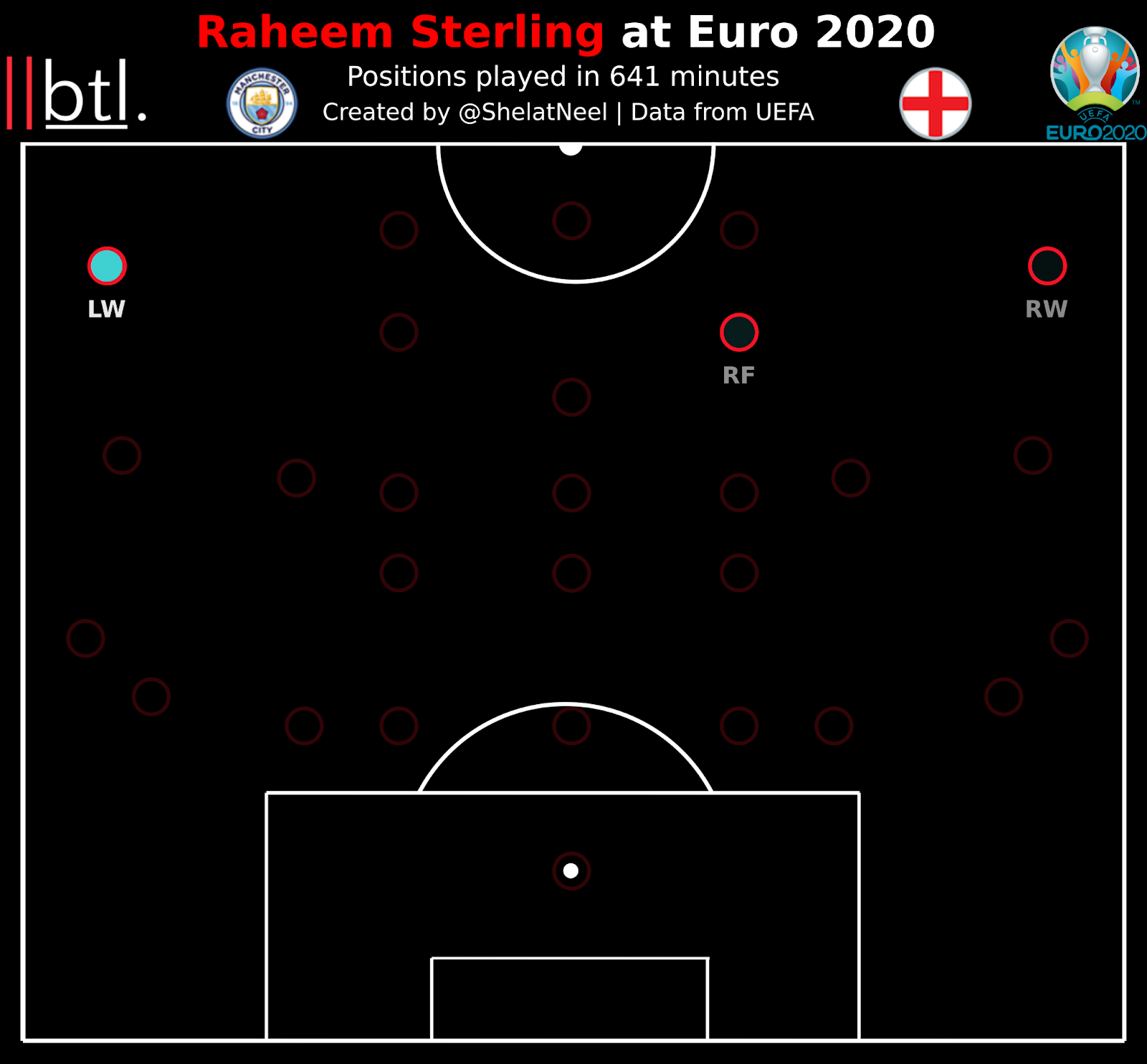 He netted three goals (all of which broke the deadlock) in the competition, setting up one more too. He didn't outshoot Harry Kane as his tally of 14 attempts was one fewer than his captain, but he did manage more on target with 8.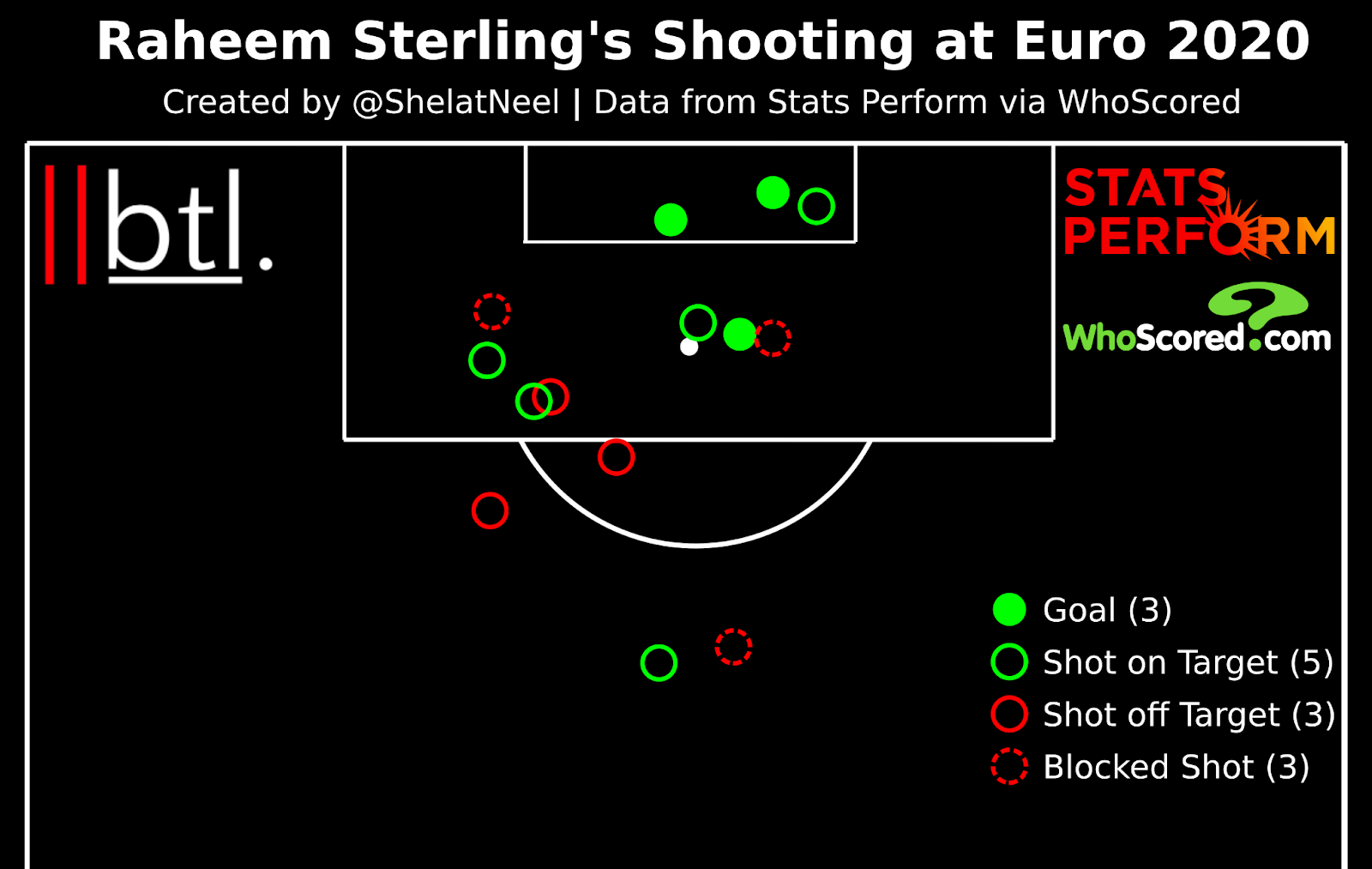 His goals were, clearly, all tap-ins, which point to his smart runs and movement in the box as the primary cause of his exploits. There wasn't any major amount of luck involved, as his xG weighs in at 2.4 along with an xA of 0.7 and 17 SCA.
His dribbling was exceptional too, as he beat more players one-on-one than anyone else in the tournament with 23, while also managing a very high number of progressive carries at 39. He drew 12 fouls as well, one of which was a match-winning spot-kick against Denmark.
There have been rumours that the 26-year-old forward might move away from Manchester City after there was little action in terms of a new contract as his current deal expires in two years, but there is a strong possibility of him staying as well.
Dani Olmo
Almost every Spanish player (apart from Pedri) had to operate in a variety of roles due to Luis Enrique changing systems and personnel between almost every match, but Dani Olmo excelled wherever and whenever he was deployed.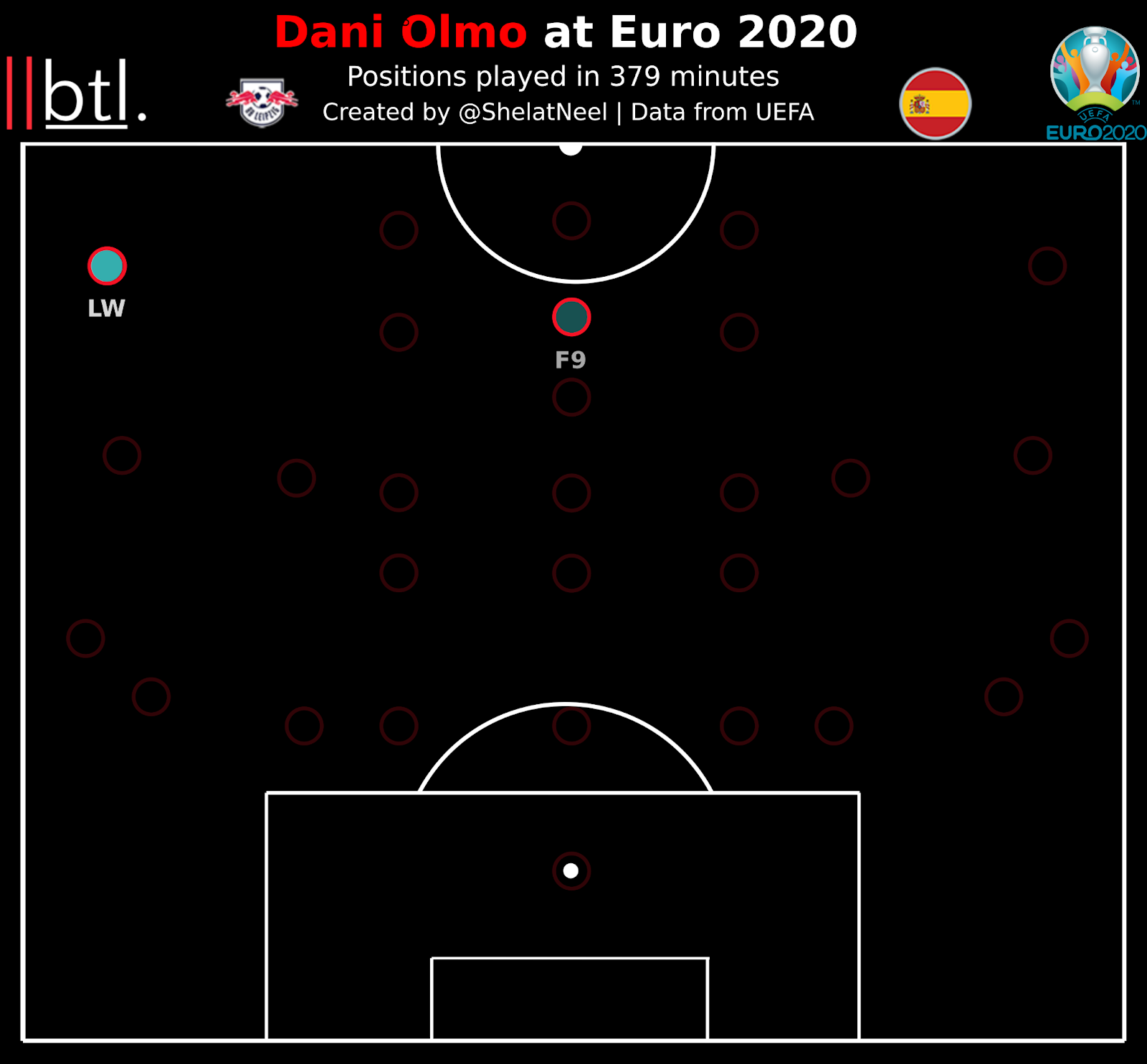 He failed to score but did get three assists, however his underlying numbers suggest that he might have deserved more. The RB Leipzig forward outshot everyone in the competition with 22 efforts on goal that totalled to an xG of 2.0, but somehow nothing went in.
His creativity was obviously quite good too, as he averaged a very high 0.40 xA and 4.76 SCA per 90, while also dribbling past a squad high of 3.33 opponents to show good quality with the ball at his feet too.
Above all, Olmo's understanding and interpretation of the game and ability to create and move into space stood out, especially when he was used as a false-nine for a large period of the semifinal against Italy. The assist he got in that match was after a striker came on, but it was no less impressive.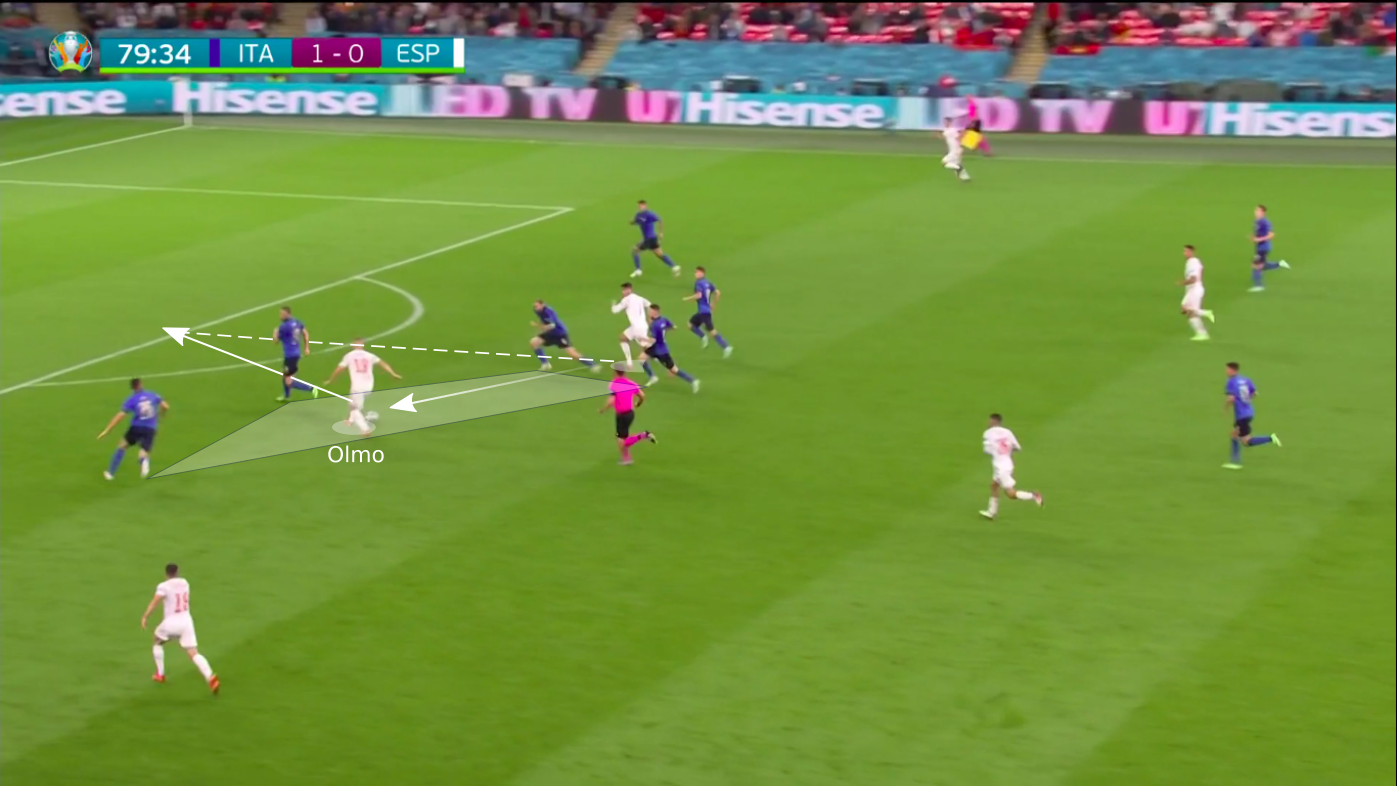 Like Damsgaard, the 23-year-old ex-Dinamo Zagreb attacker has been linked to a number of big clubs by the rumour mill, but nothing serious seems to suggest that he will be leaving Leipzig this summer.
Patrik Schick
The Czech Republic certainly exceeded expectations as they reached the quarterfinals, and the leader of their charge was striker Patrik Schick.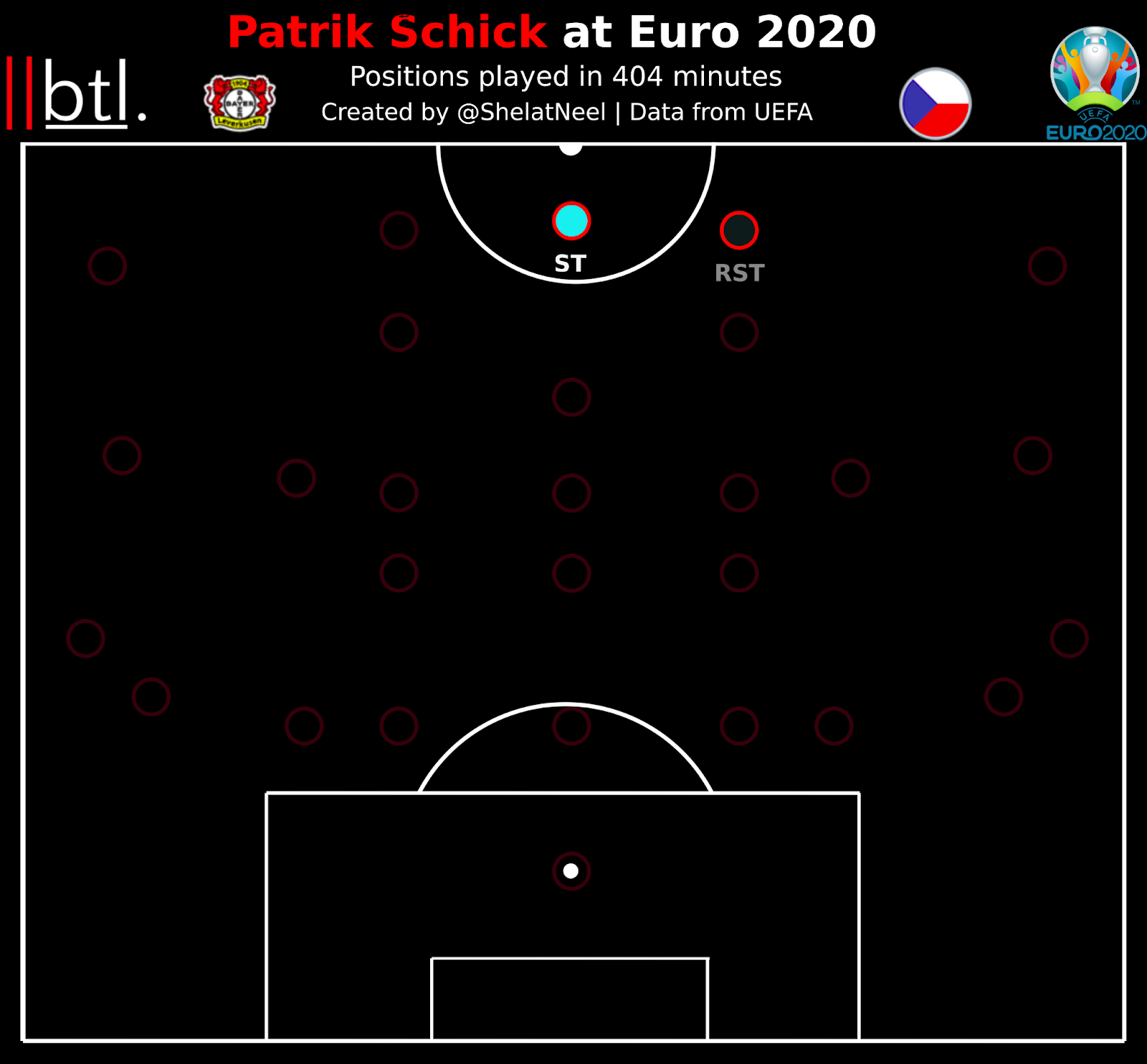 With four non-penalty goals, (CHECK) the Bayer Leverkusen striker topped the charts in that regard (CHECK), while matching Cristiano Ronaldo's five goals (CHECK) in the Golden Boot race. His shooting was so good that it forced us to enlarge our shot map.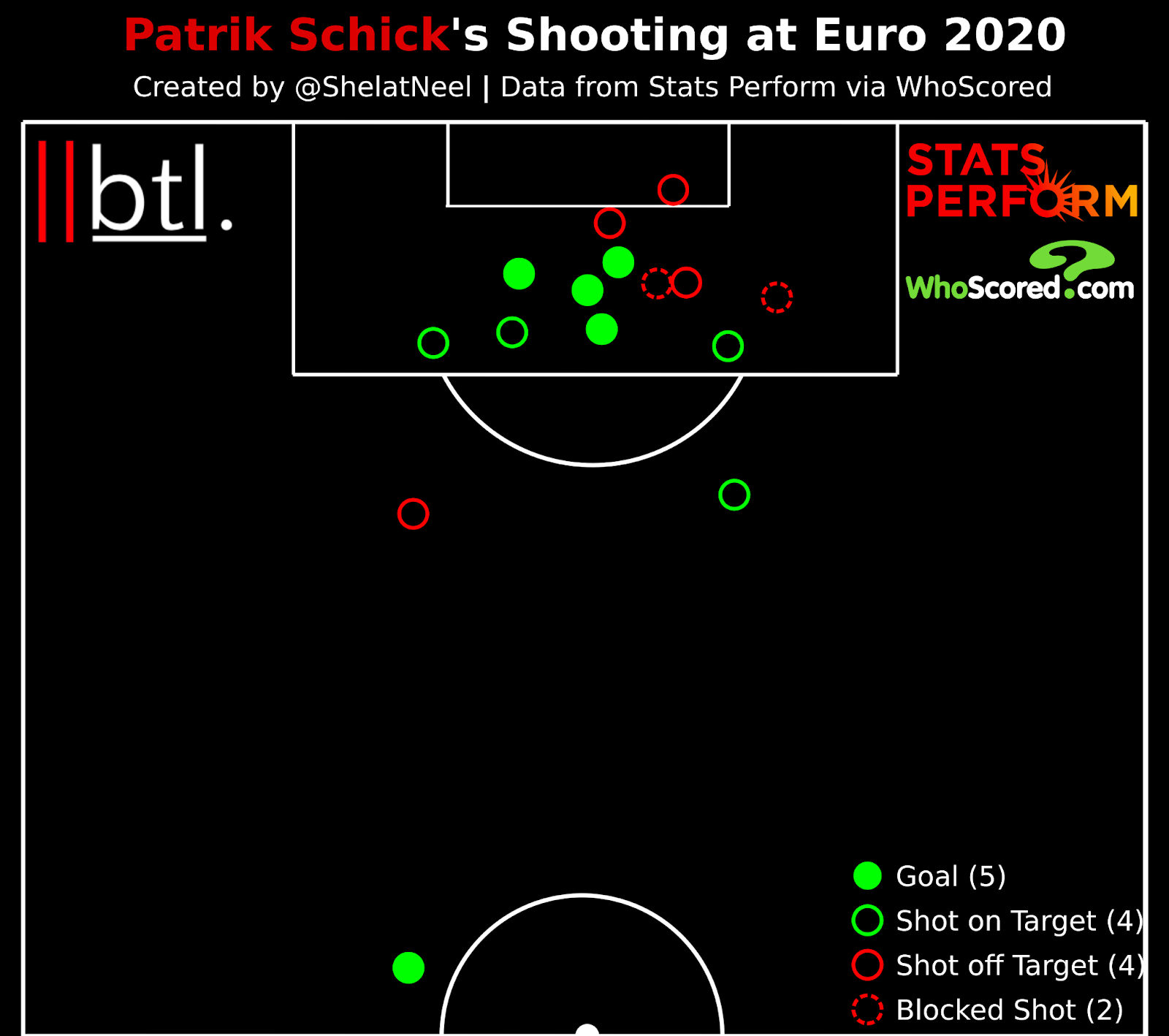 Apart from that wondergoal against Scotland, Schick did most of his business inside the box, scoring all of his other goals (including a penalty) and firing the majority of the other shots from there. In spite of that, he ended up outdoing his xG of 2.4 by a bit over double, which was the greatest overperformance of that metric in the tournament. Further, having scored all but one of his nation's goals in the tournament, the ex-Roma striker's 83% contribution to his side's scorelines was higher than what any other player managed.
The 25-year-old forward completed a move to Bayer Leverkusen from Roma last summer for a reported €26.50 million, so although many teams across Europe would have taken notice of his showings in the Euros, they will probably have to pay a hefty fee to lure him away from North Rhine-Westphalia.
Romelu Lukaku
Belgium's quarterfinal exit led to many claiming that their 'Golden Generation' would pass on without any international trophies lifted, but one man who should be back for the next Euros is Romelu Lukaku.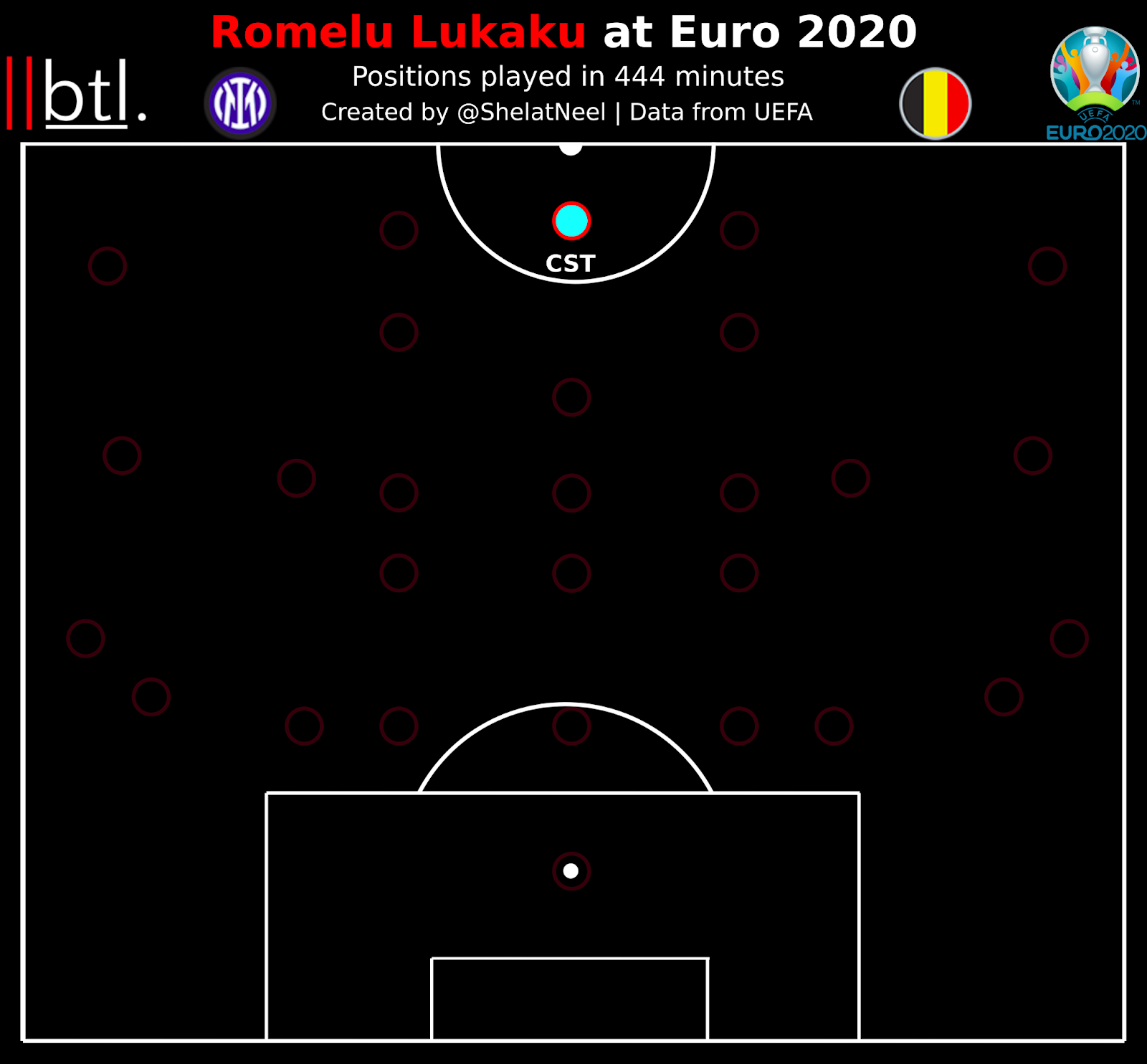 The striker converted an xG of 2.9 into four goals, meaning his shot conversion rate was a very high 33.33%.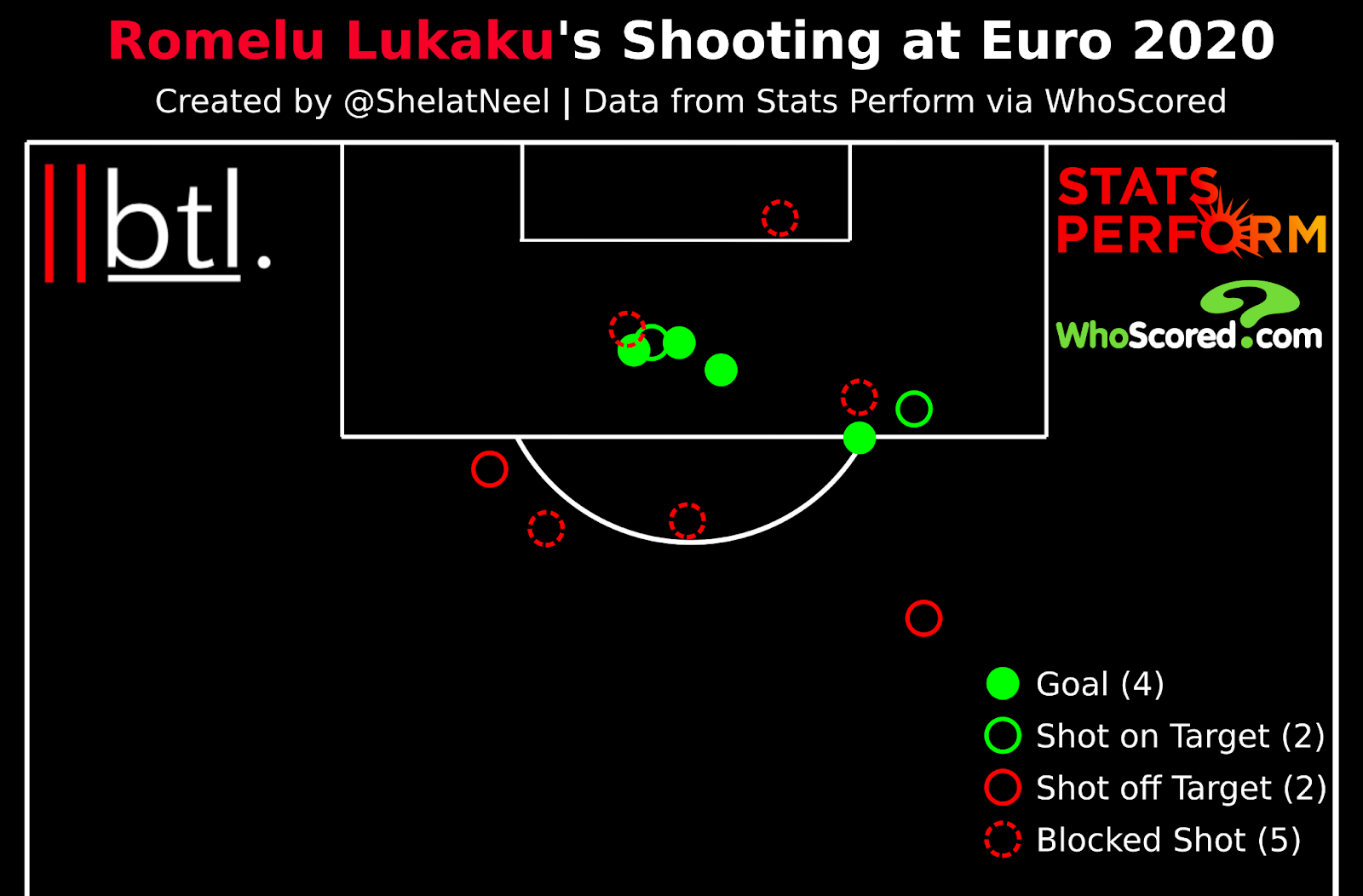 To add to that, his hold-up play was very good too, as he completed 101 carries and completed 9 of his 15 attempted take-ons, playing a key role in both of his side's goals against Denmark in terms of getting them into the scoring positions despite not being statistically credited.
A 24-goal Serie A season with Inter means that there is no shortage of interest for the 28-year-old striker's services from Europe's biggest clubs, but he has himself stated that he intends to stay there for the upcoming season at least.
Final Squad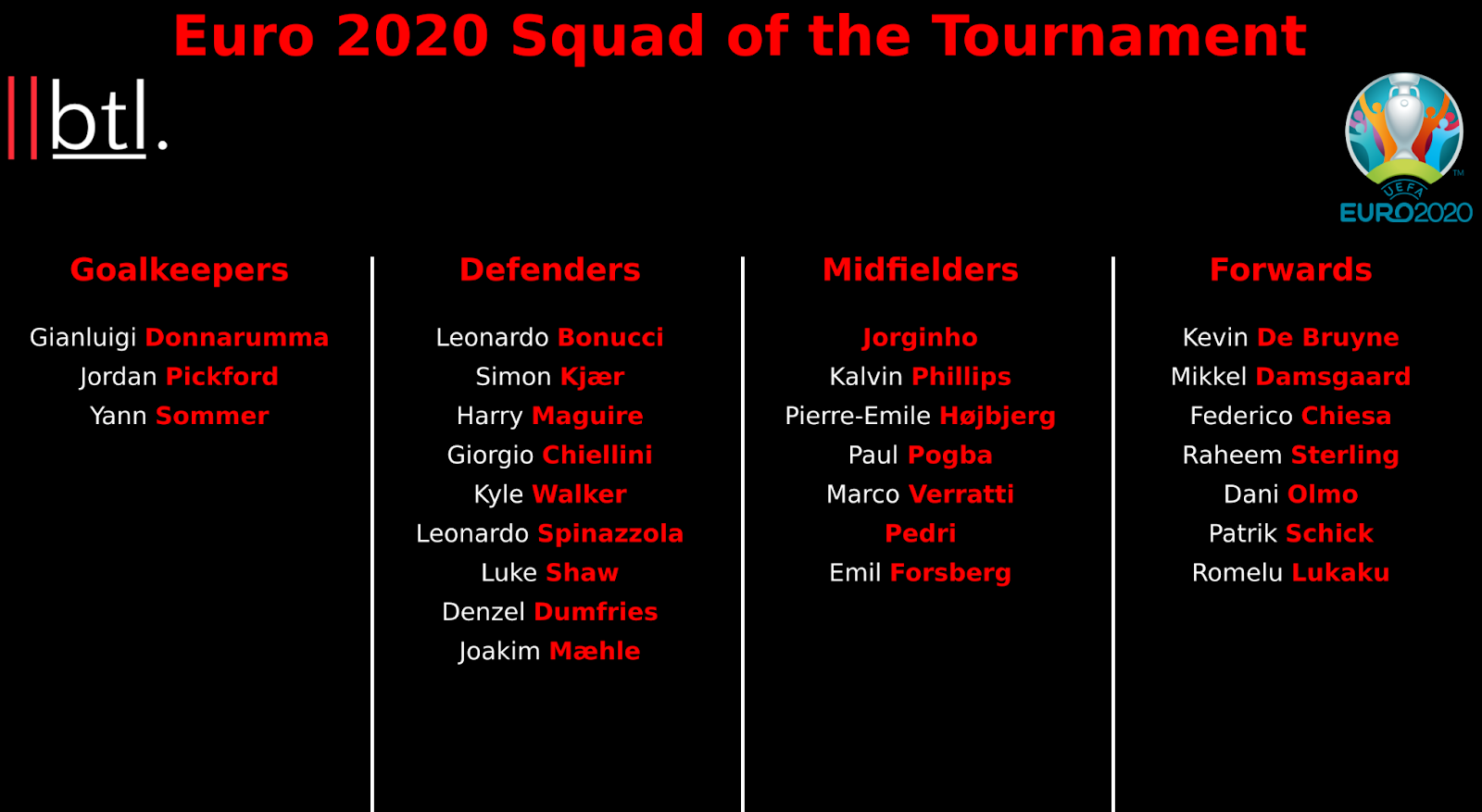 By: Neel Shelat / @ShelatNeel
Featured Image: @GabFoligno / Patrick Elmont – UEFA / Michael Campanella – UEFA / Guido De Bortoli – UEFA 
Stats courtesy Fbref, Transfermarkt, UEFA, The Analyst, GoalPoint and WhoScored.