The Best Performers From the 2021 Copa América
It's a shame that Amazon or Netflix were not making a documentary following the 2021 Copa América, because if they were, we would have a lot of juicy content. Not from the matches or the main tournament (which was incredibly exciting in itself), but from all the drama prior to it. Three locations, national team protests, last minute squad changes with positive COVID tests in the dozens – it was all a complete mess.
Despite all of that, the 47th edition of the South American tournament got going in Brazil on the 13th of June. Nearly a month later, Argentina emerged victorious by beating the hosts and defending champions in the 28th and final match of the tournament thanks to the only goal of the match. There were lots of exciting South American talents and established stars on display in the Copa América, so let us take a look at the best of the bunch by picking a 28-man squad.
Wuilker Faríñez
Venezuela may not have made it past the group stage, but their Copa América campaign was eventful to say the least. Eight COVID cases among the players just a day before their opening clash against Brazil made things incredibly complicated, but the minor good news was that first-choice goalkeeper Wuilker Faríñez was not among those who would be missing out, and his performances proved crucial in making his nation's campaign look more than respectable in the circumstances.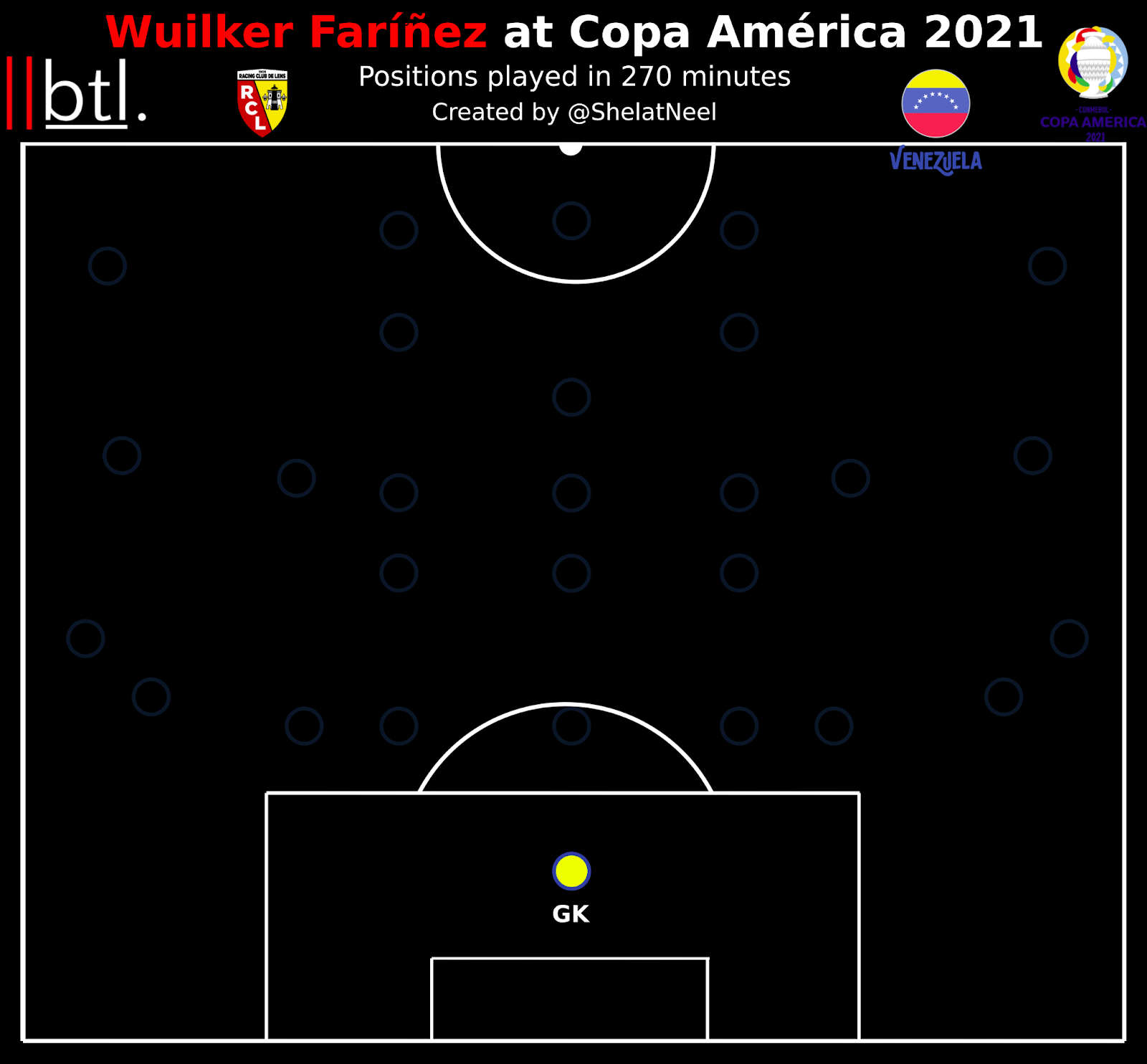 After sitting out the curtain-raiser against Brazil, Faríñez featured in the remaining three group stage matches, where he kept a clean sheet against Colombia and put in strong performances against Ecuador and Peru.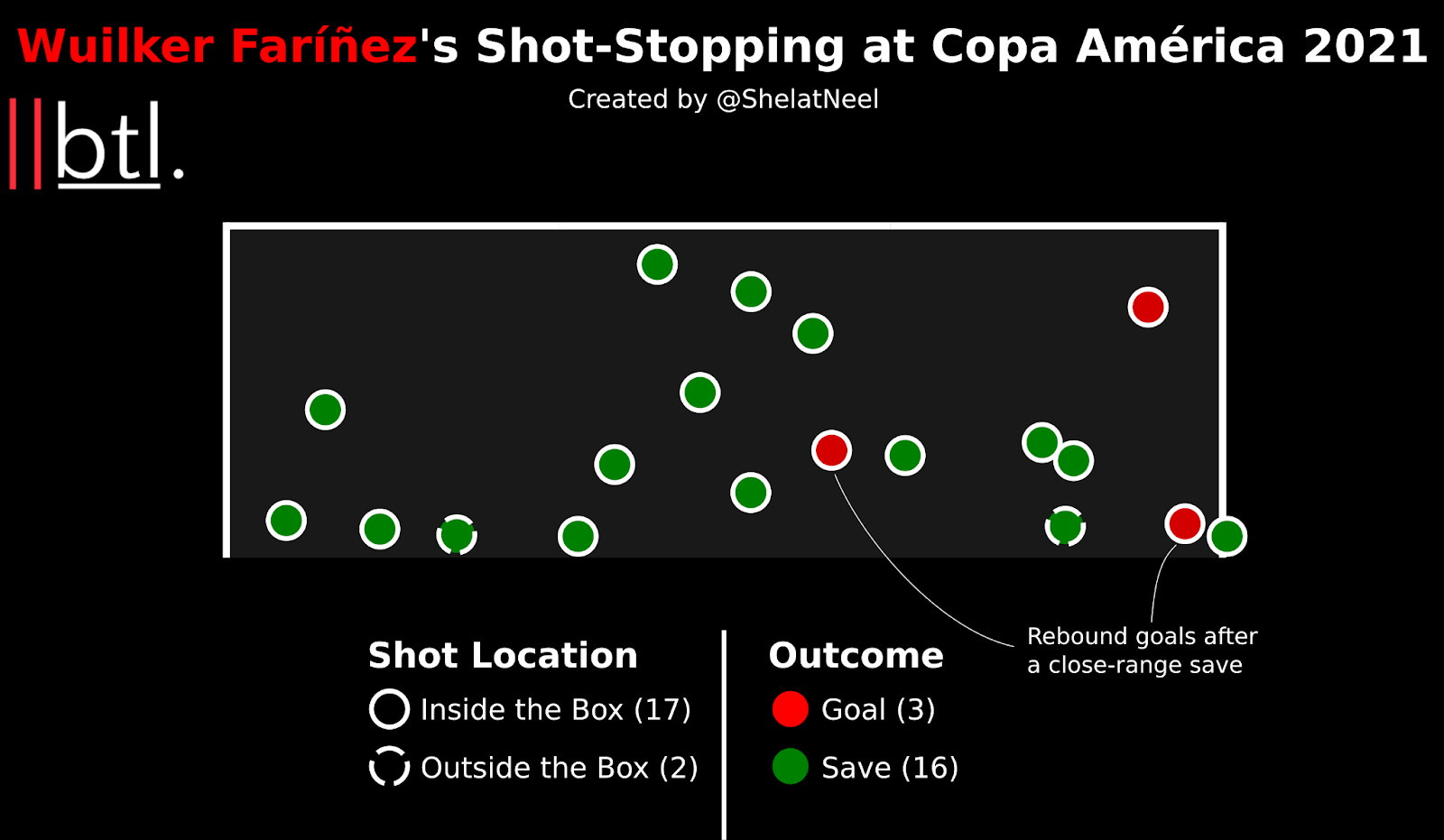 Faríñez's numbers were outstanding too, as he made 15 saves with a save percentage of 83.3% and kept out 1.8 goals according to the PSxG model, all of which placed him second in the group stage in those respective categories.
The 23-year-old keeper has just joined RC Lens on a permanent transfer after spending a season there on loan from Millonarios, during which he made three appearances for the senior side. With his contract in France now running till 2024, he will hope to give Jean-Louis Leca a real run for his money to be the first-choice goalkeeper for Franck Haise's side.
Carlos Lampe
The football gods have some explaining to do as to how Bolivia failed to pick up a single point and went out in the group stage despite putting in four brilliant performances, three of which involved Carlos Lampe's heroics in goal.
The 31 shots on target he faced were at least 11 more than any other goalkeeper in the group stage, and he came up with some truly stunning saves.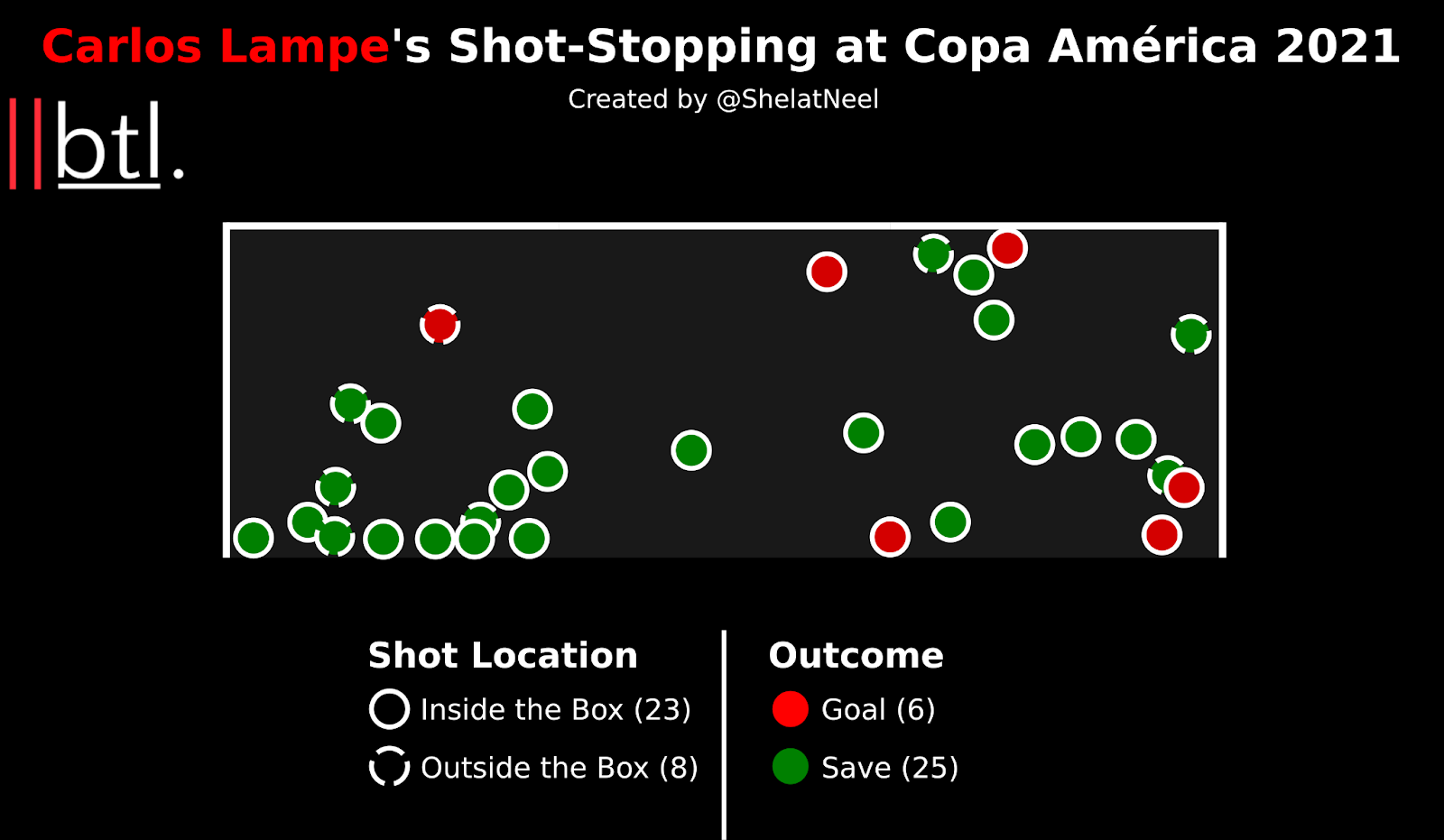 Although Bolivia conceded seven goals when Lampe was between the sticks, their keeper was hardly at fault, as one penalty, one own goal, one one-on-one and two tap-ins were among the goals. Despite that, Lampe's numbers make for some extraordinary reading, most notably a net positive performance relative to the PSxG (Post-Shot expected Goals) which measured at 5.6 (basically meaning that Lampe stopped 5.6 goals).
Further, the Bolivian shot-stopper was very comfortable on the ball too, as he averaged 30.7 successful passes at a completion rate of 78%, while also receiving 16.3 passes and racking up 45.7 touches, all per match. The 34-year-old goalkeeper's contract at Always Ready was set to expire at the end of the year, but it's clear that his performances have not gone under the radar. Vélez Sarsfield have secured his services on an 18-month paid loan with an option to buy, and Lampe will be looking to win a starting spot under Mauricio Pellegrino.
Emiliano Martínez
Argentina might have never reached the final had it not been for Emiliano Martínez, whose penalty shootout heroics helped them get past Colombia in the semifinals. He had a great tournament overall too, with his four clean sheets exceeding the tally of any of his counterparts.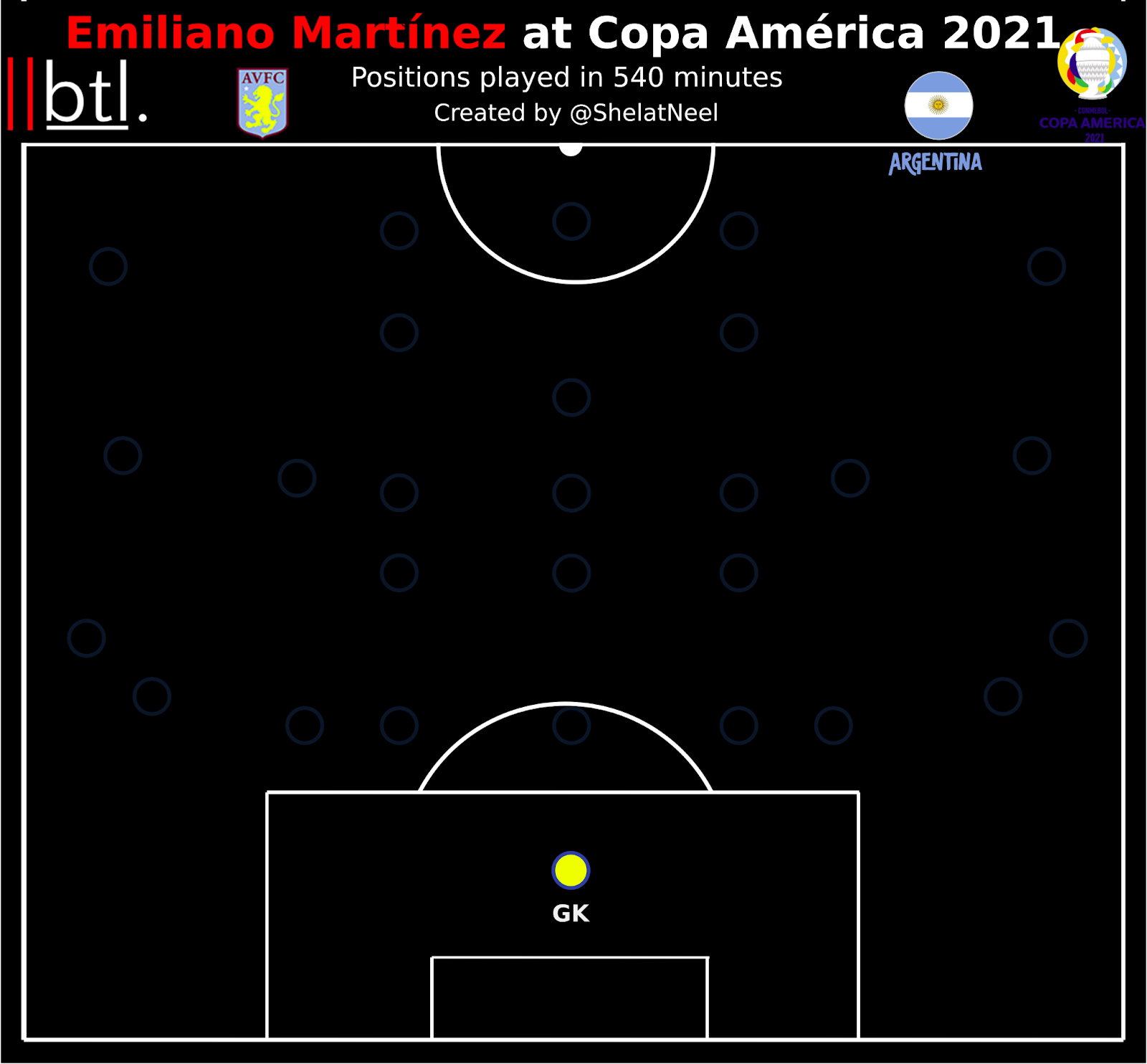 In six matches, Martínez faced 15 shots on his goal, keeping all but two out. His saves included a couple of crucial ones in the final against Brazil and three important stops in the semifinal. That match went to penalties too, which was when the keeper really shone as he kept three spot-kicks out.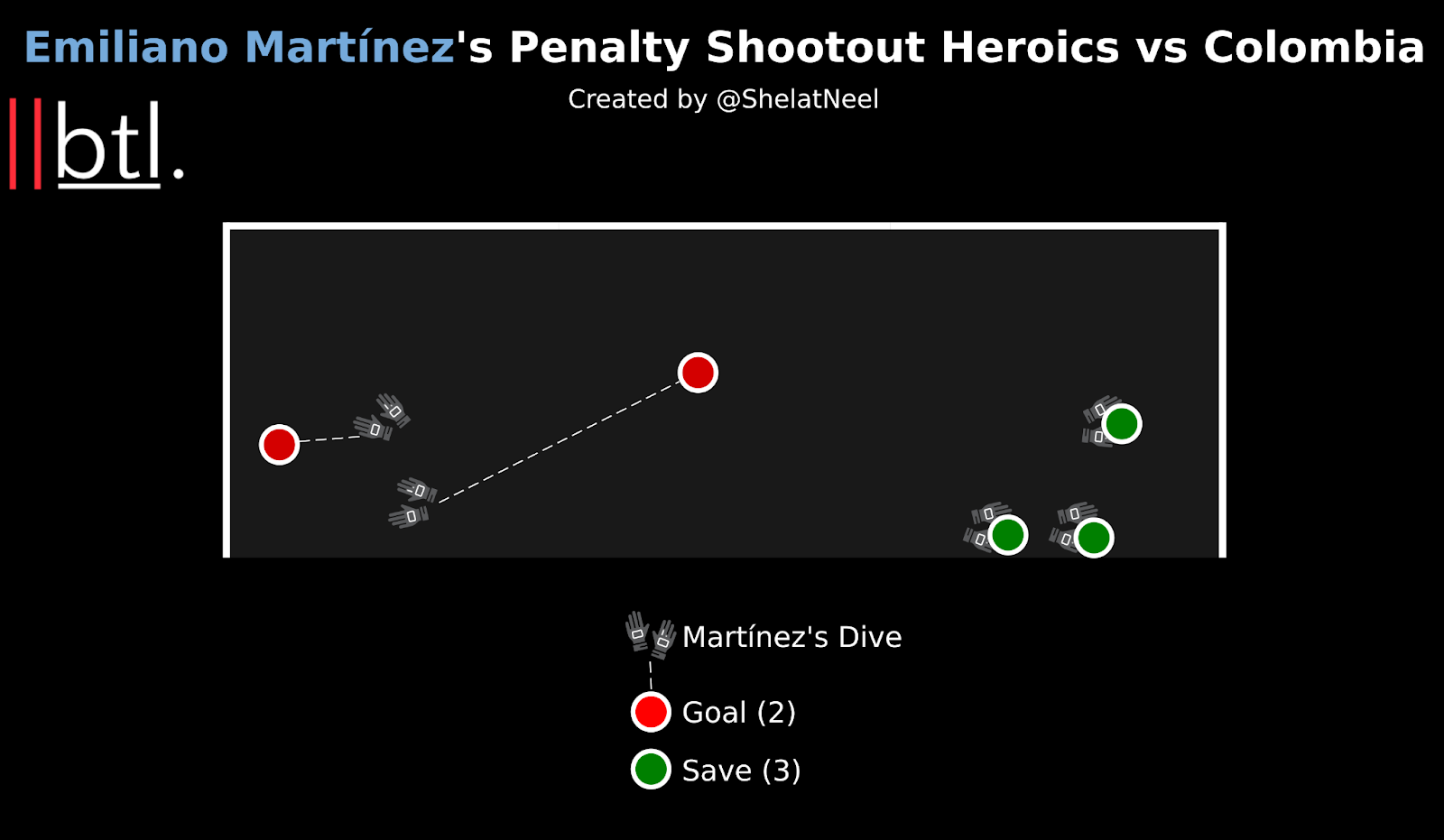 The 28-year-old shot-stopper has three years left on his Aston Villa contract having joined the club from Arsenal last summer, but at this rate, other bigger European clubs will surely be keeping an eye on him.
Cristian Romero
Cristian Romero only featured in three Copa América matches due to fitness troubles, but his performances – especially in the final against Brazil – were nothing short of heroic.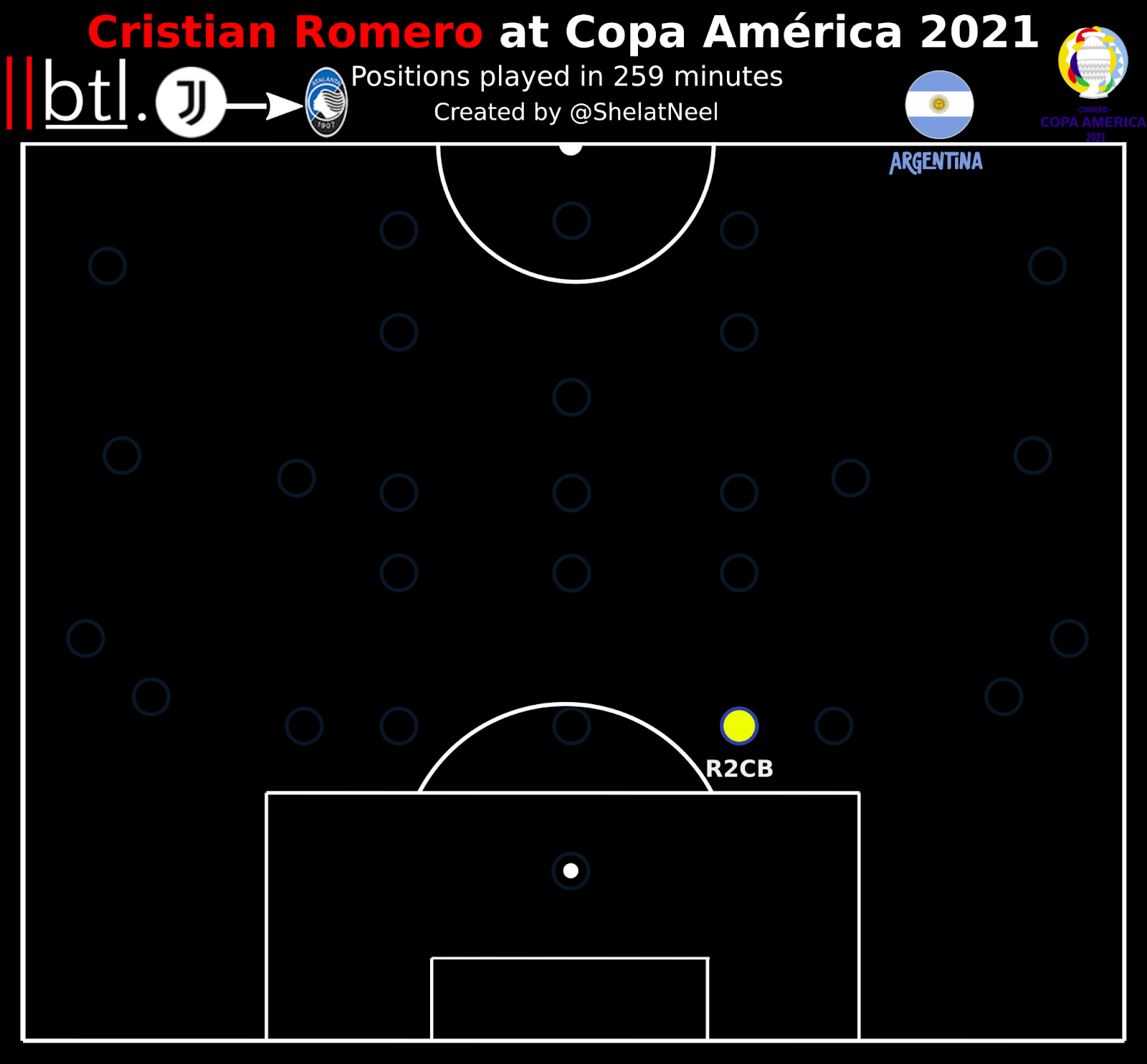 The Atalanta centre-back was quite proactive with his defending, which is why 40% of his tackles and 21.7% of his pressures applied came outside the defensive third. This can be a risky approach as the team's defence can easily be breached if a centre-back gets caught upfield, but given the fact that Romero was never dribbled past, it is safe to assume that this never happened to Argentina because of him.
He was fairly adventurous with his passing too, as his conservative passing rate (percentage of attempted passes which were short) was just 26.7%, but his overall completion rate which reads at 90.5% shows that he was not wasteful in any way.
The 23-year-old defender is currently on loan at Atalanta from Juventus with a year left on the deal, but the club are set to exercise the option to buy with the deal reportedly all but official. However, the likes of Manchester United, Barcelona and Tottenham are said to be interested in getting his signature, so he may well not be in Bergamo at the start of the 2021/22 club season.
Yerry Mina
Colombia only conceded five goals until their third-place play-off match against Peru (when they let in two more), and a large portion of their defensive solidity must be attributed to Yerry Mina.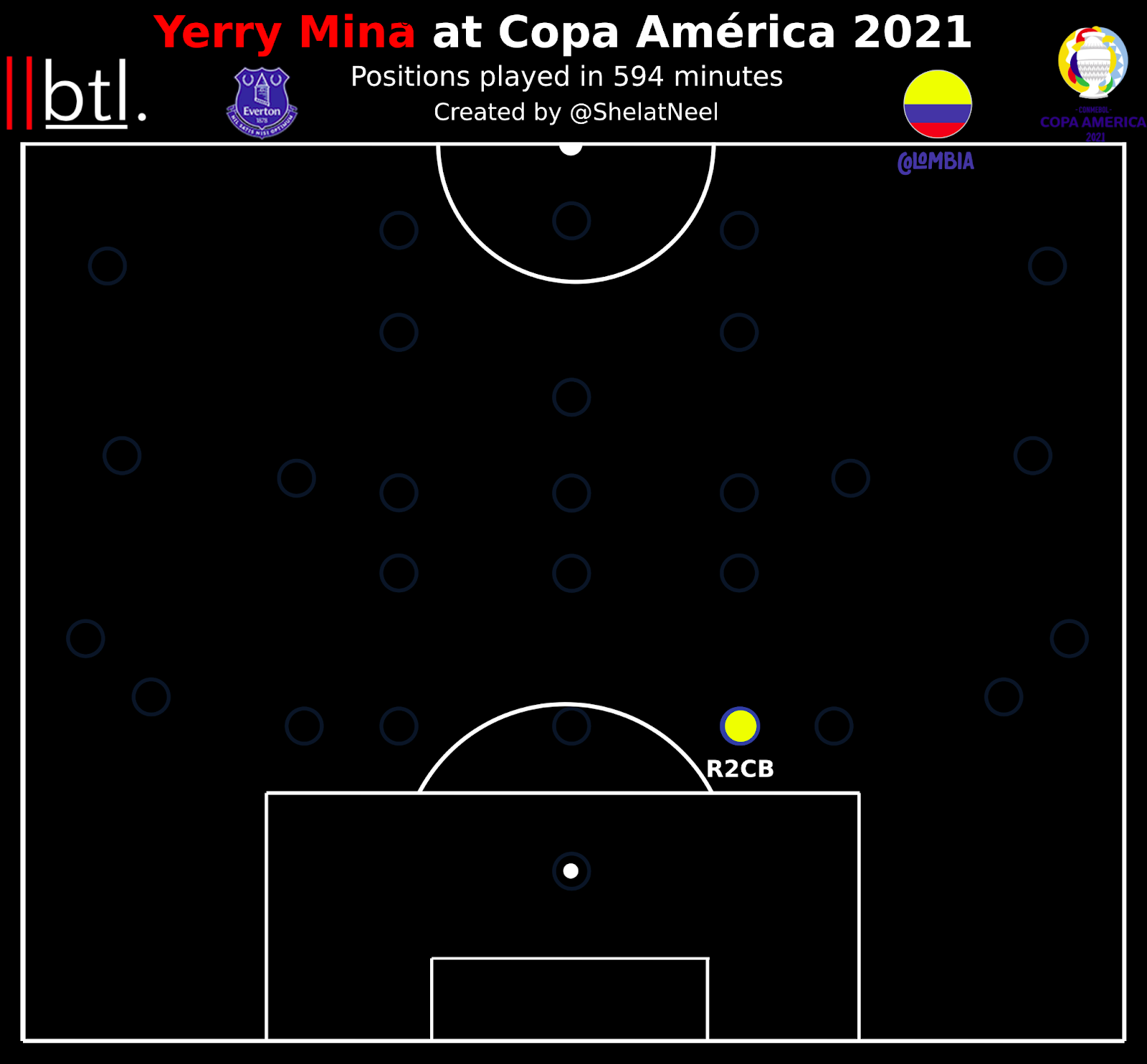 He was particularly exceptional in the air, where his 32 aerial duels won were at least 10 more than anyone else in the tournament, and at a success rate of 88.9%, he was third-best in that sense with the two players above him winning just six. The Everton defender was pretty good in various other metrics too: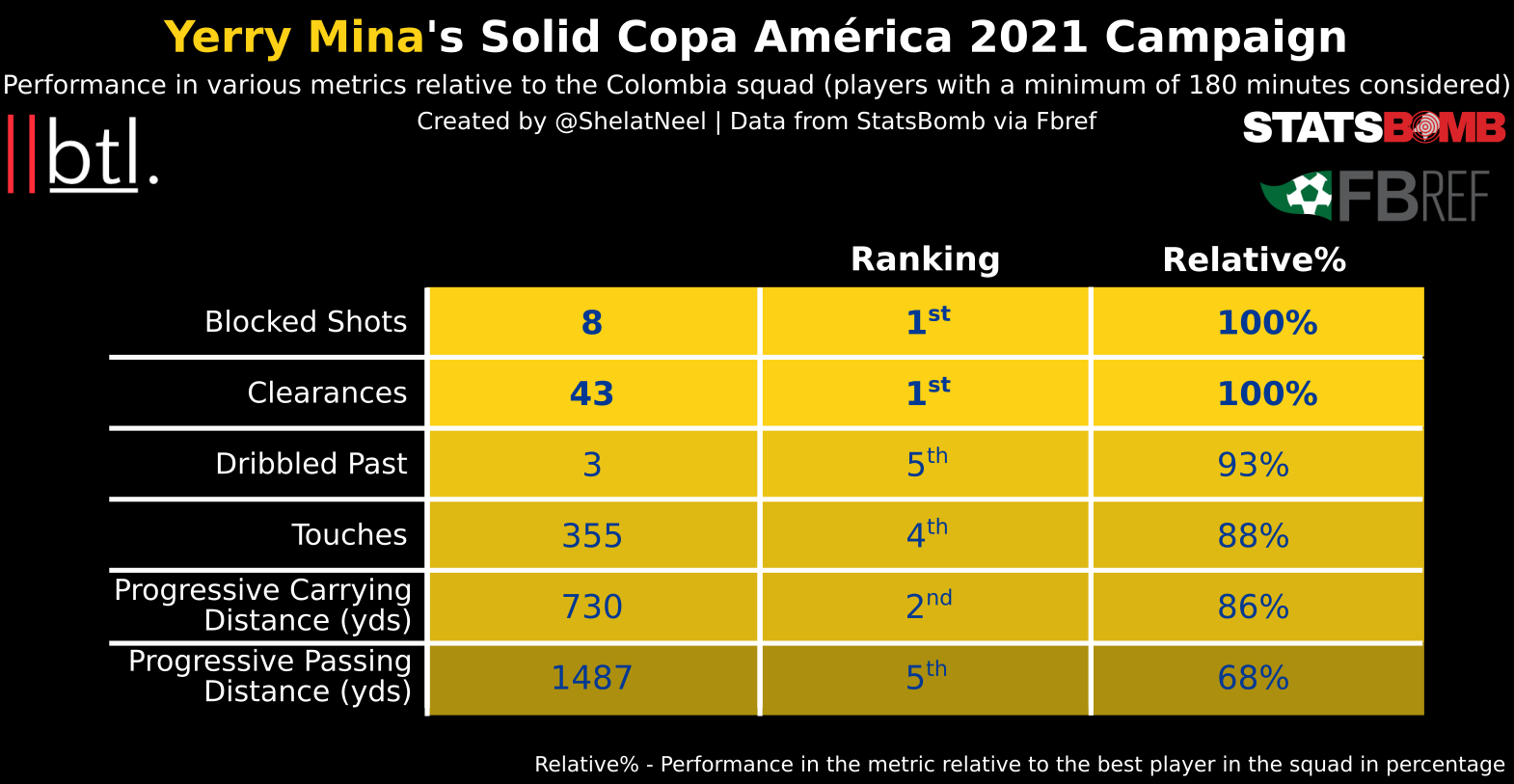 The 26-year-old defender has a couple of years left on his contract at Everton, and with new manager Rafa Benítez set to have a number of centre-back options at his disposal, Mina will certainly have to fight for a spot in the starting XI every week.
Marquinhos
Marquinhos played all but one match for Brazil, watching just three opposition shots hit his net when on the pitch and playing in either central position in a back-four, so his Copa América campaign certainly was successful.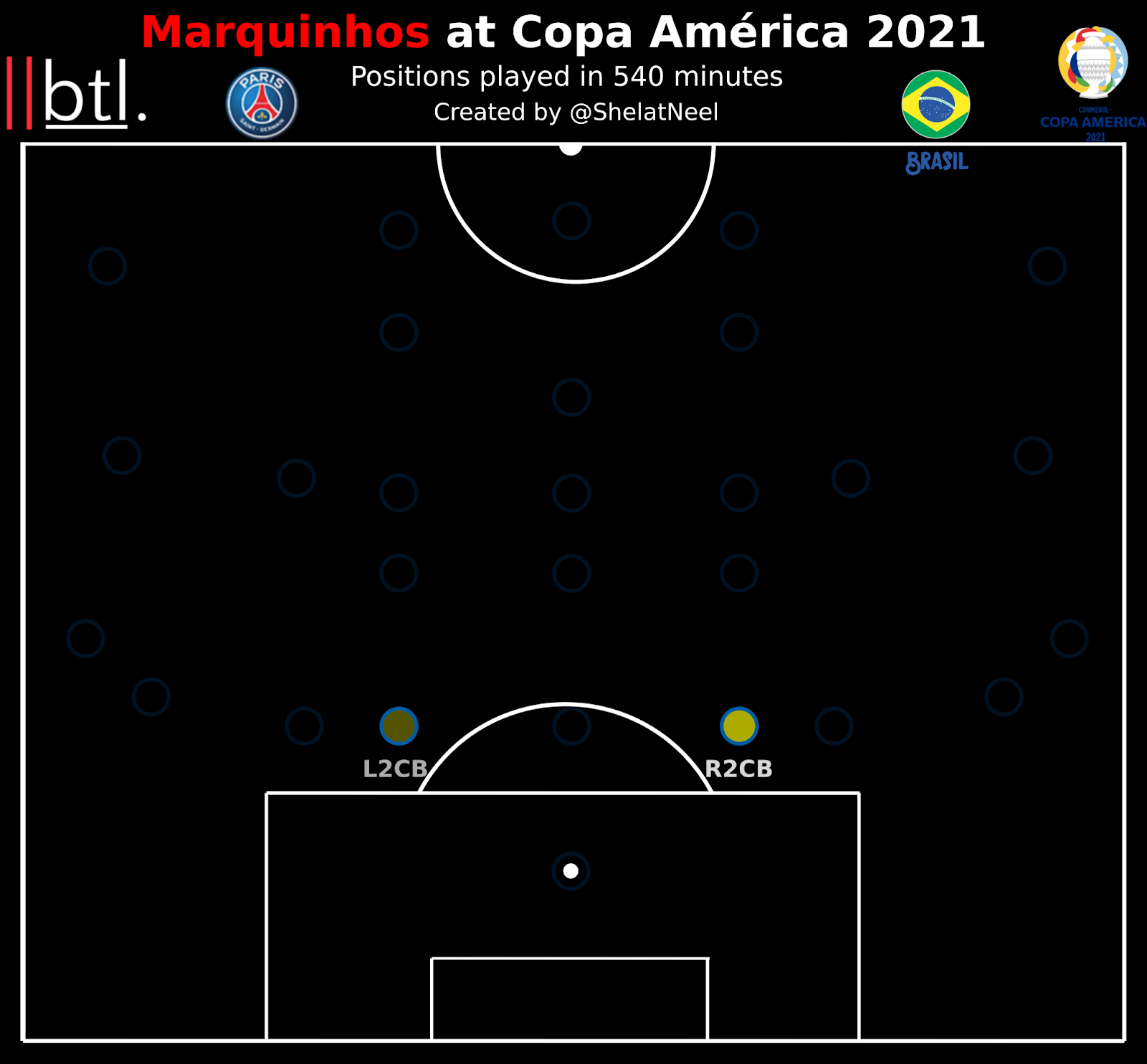 Looking at the statistics, it becomes clear that Marquinhos was solid both with his ball progression and defending, working to the strengths of his centre-back partners (either Thiago Silva or Éder Militão) by being more aggressive with his defending.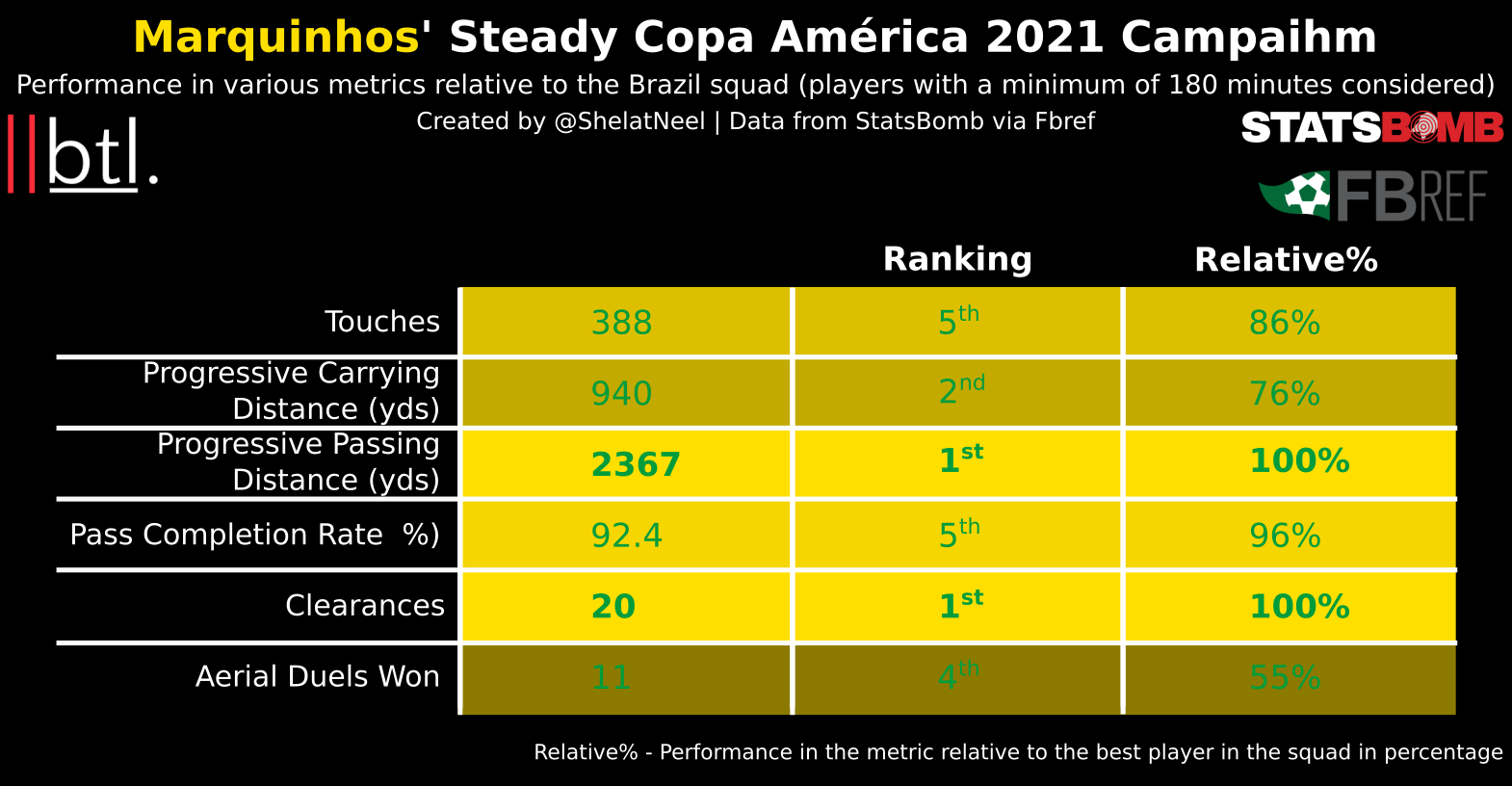 The 27-year-old Brazilian is the captain of Paris Saint-Germain, and having just signed a contract extension in January, there can be no questions of the fact that he will stay in France's capital for the foreseeable future.
Nicolás Otamendi
Every player who managed 450 or more minutes for winners Argentina has a spot in our squad of the season, and Nicolás Otamendi is one of them.
Despite being nicknamed 'El General', Otamendi was rather shaky in Manchester City defence in his last couple of years in England. However, he was one of Benfica's better players in 2020/21 after securing a move to Portugal, and he certainly translated that form to the Copa América with some imperious defensive displays.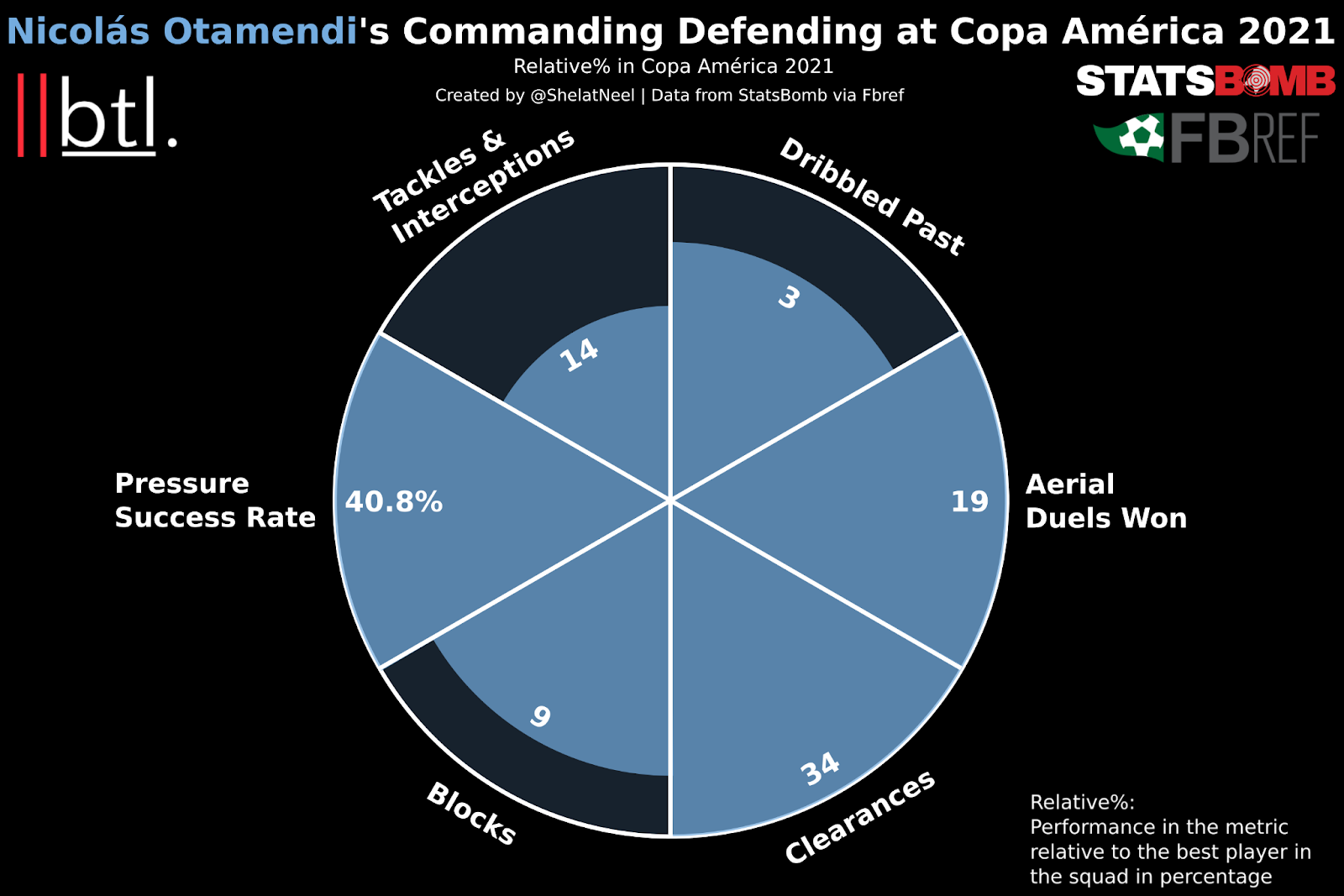 As aforementioned, the 33-year-old centre-back has only been at Benfica for a year, so he is expected to stay there until his contract expires in 2023.
Piero Hincapié
Ecuador might have failed to win a single Copa América match in spite of their run to the quarterfinals this year, but they won over many fans with their attractive brand of football. At the base of it was teenage centre-back Piero Hincapié, who played all but one minute for them.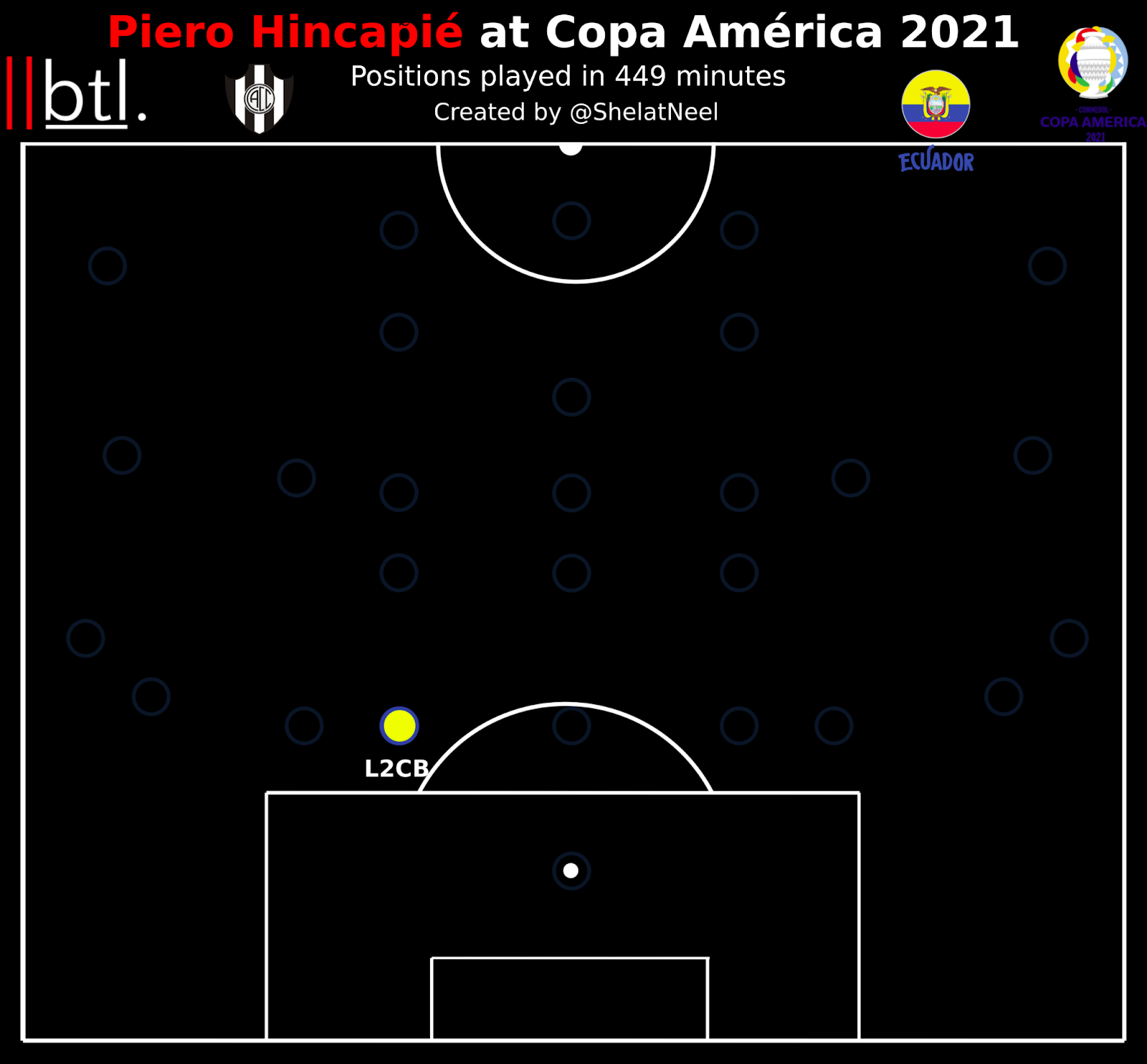 Had you not known, it would have been very hard for you to tell that the Ecuadorian defender had not even crossed 20 yet, such was the maturity he showed in his game (maybe barring the red card he picked up against Argentina, although a case can be argued saying that his decision to foul the opponent was a good one given that we were in the dying stages of the match when a one-on-one would have proven fatal). Hincapié was brilliant both with and without the ball, as his numbers indicate: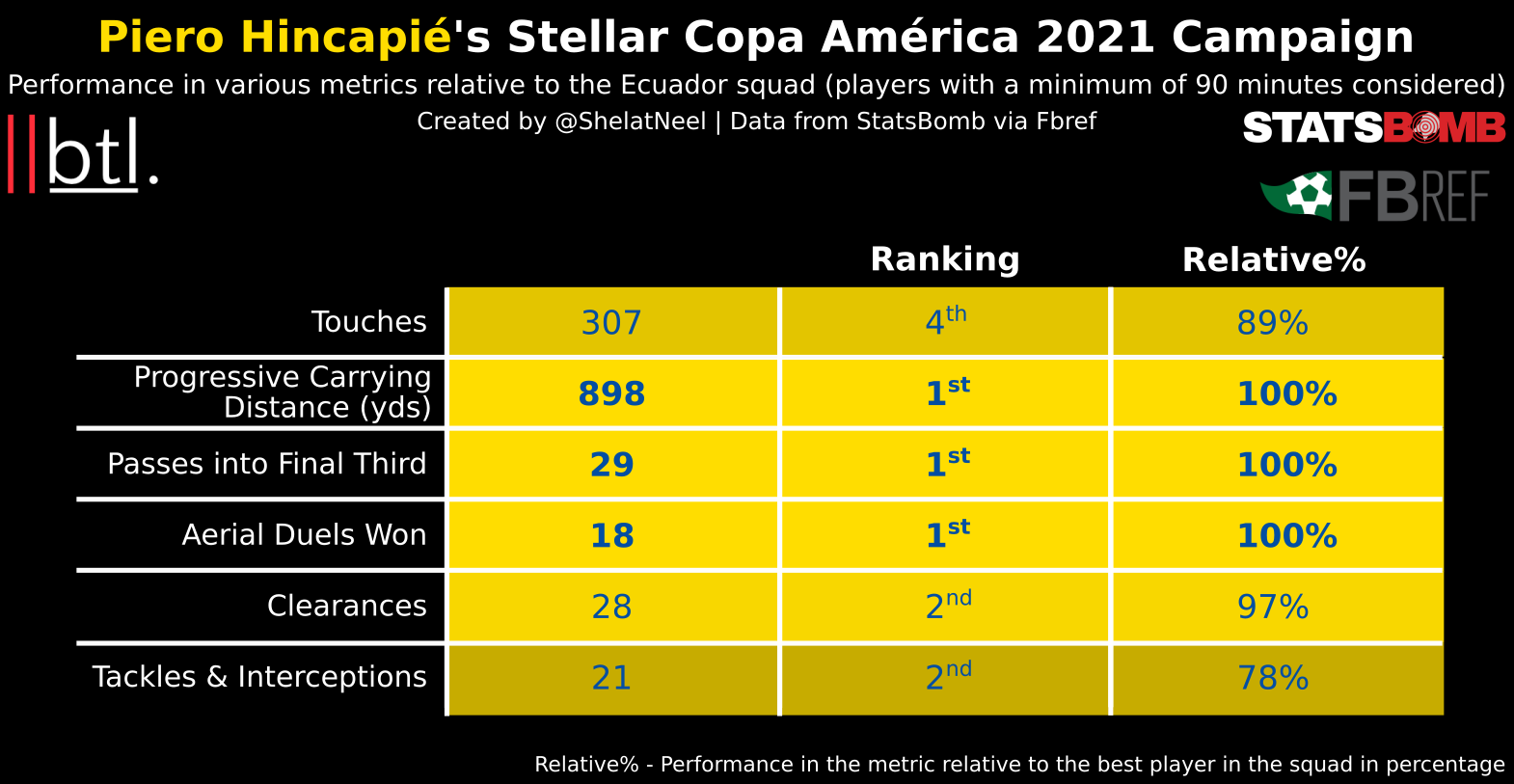 At just 19 years old, the Talleres centre-back undoubtedly caused many heads to turn after his brilliant performances, which is why the likes of Bayern Munich and AC Milan are said to have been watching him closely, but in the end Lazio seem most likely to strike a deal.
Ángelo Preciado
Continuing with Ecuadorian defenders, Ángelo Preciado is the first full-back to figure in our squad.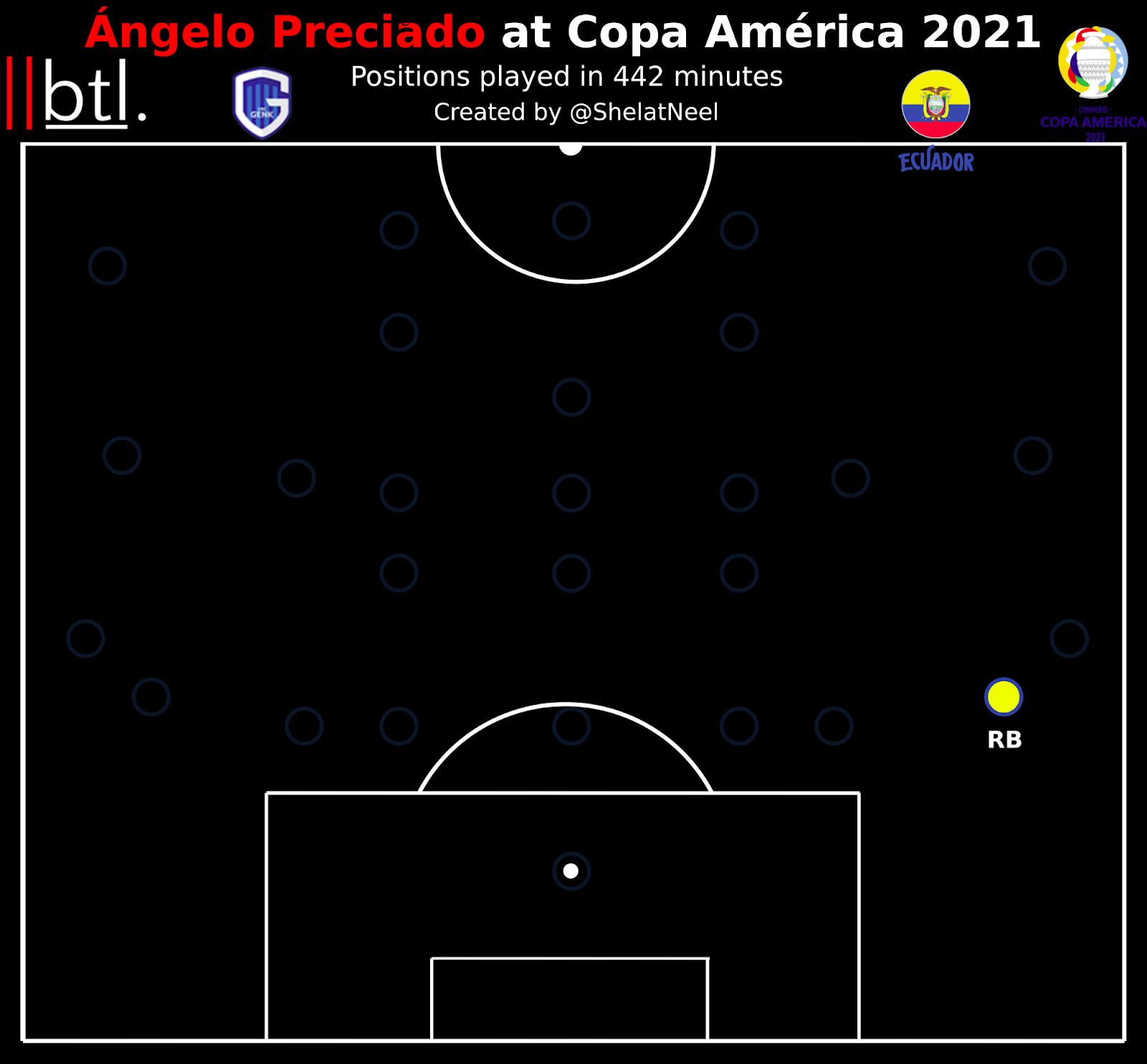 Truthfully, he did not quite set the tournament alight as his counterpart on the left seemed to do (as we will explore soon), but he certainly got the job done without complaints.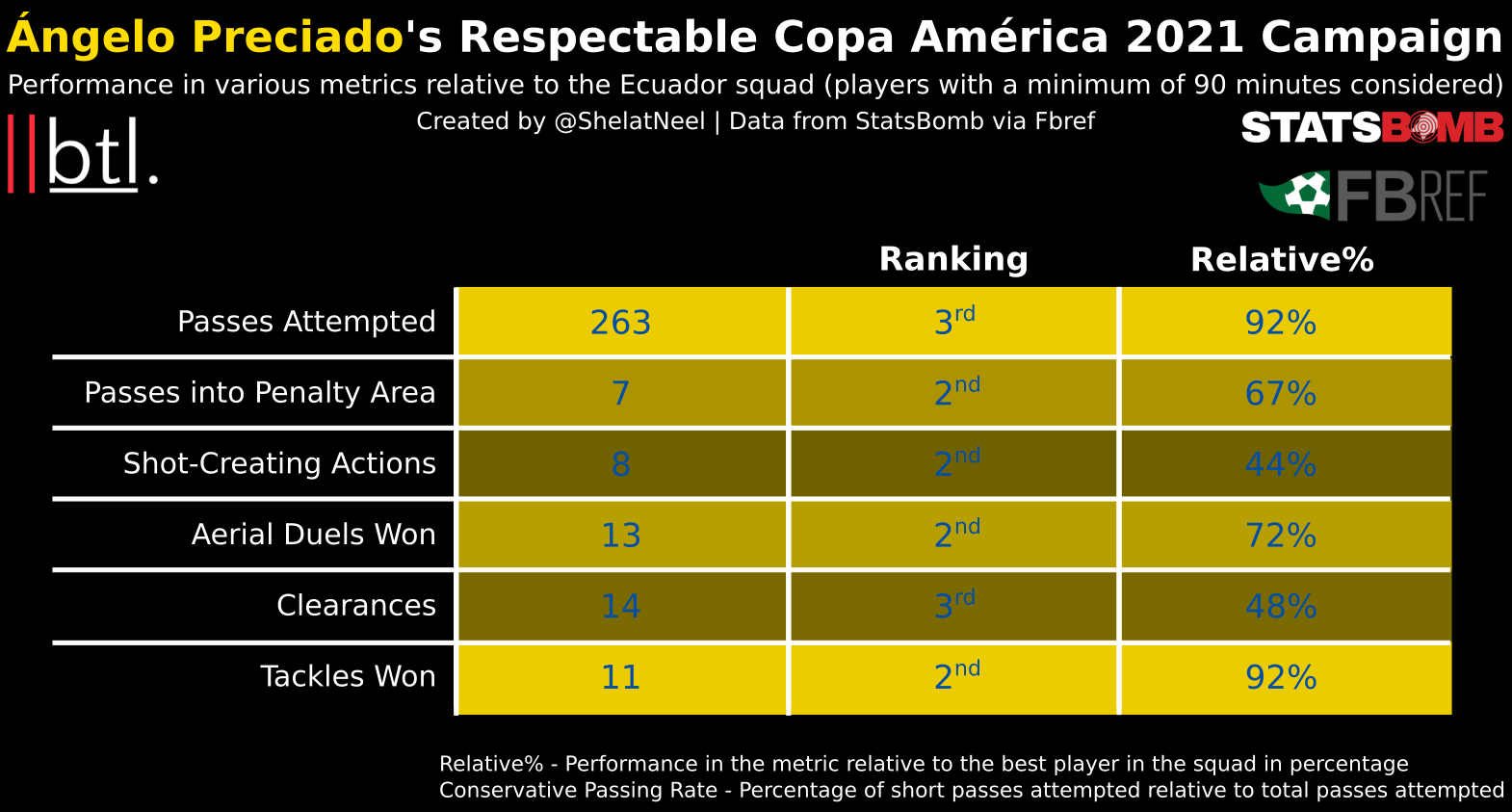 Having only joined Genk this January from Independiente, the 23-year-old full-back has a good bit of time to make an impression on the Jupiler Pro League as his contract runs till 2023 with a club option to extend for two subsequent years.
Nahitan Nández
Uruguay's tournament certainly did not go to plan as they were knocked out in the last-eight stage, but Nahitan Nández won't be the most displeased man in the squad as his performances caught the eyes of a few notable clubs even as he played in an unnatural position away from midfield.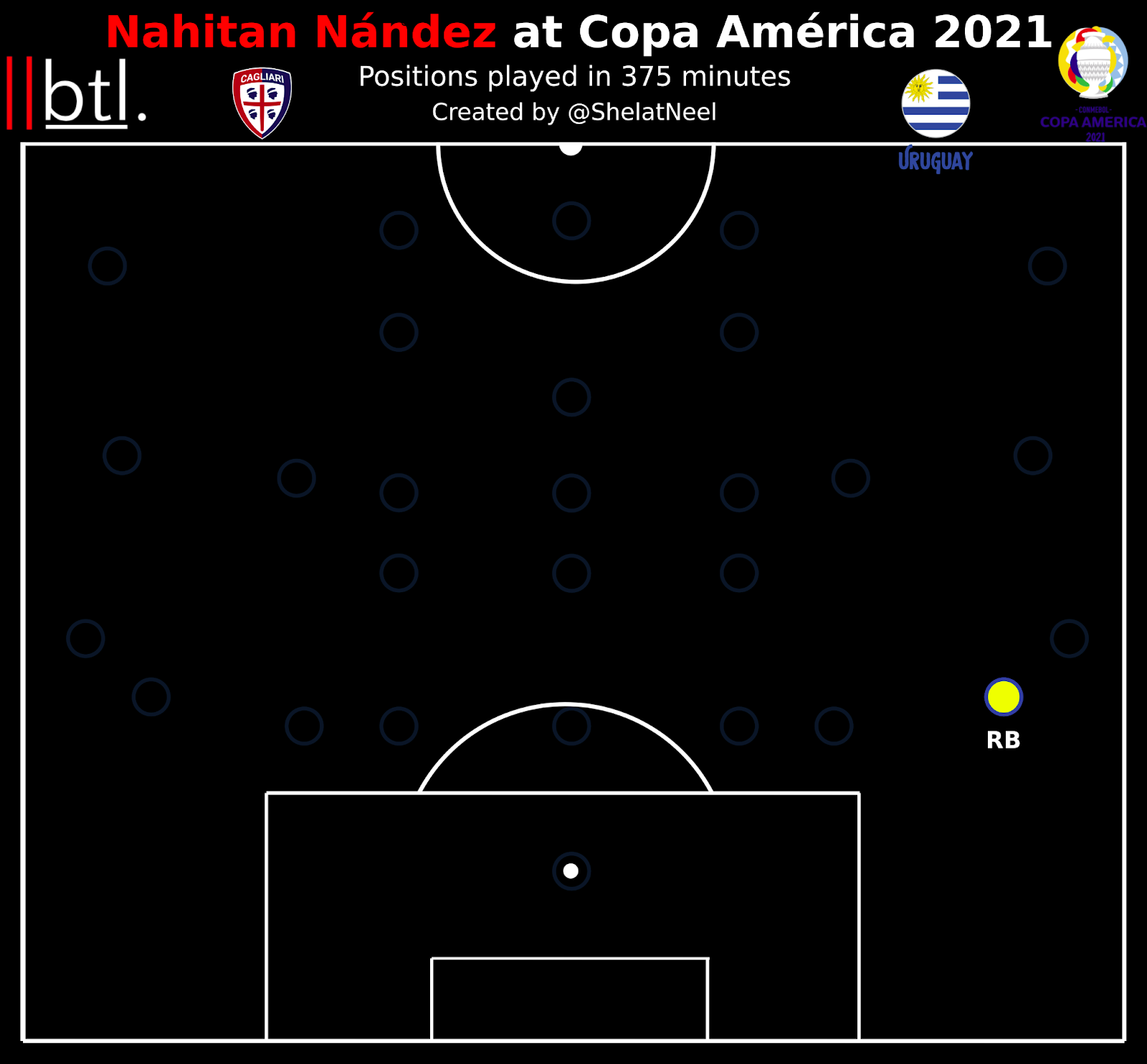 He certainly liked to get forward, as was evident with the fact that north of 52% of his 260 touches came in the attacking third, and when he won the deciding penalty in Uruguay's final group game against Paraguay.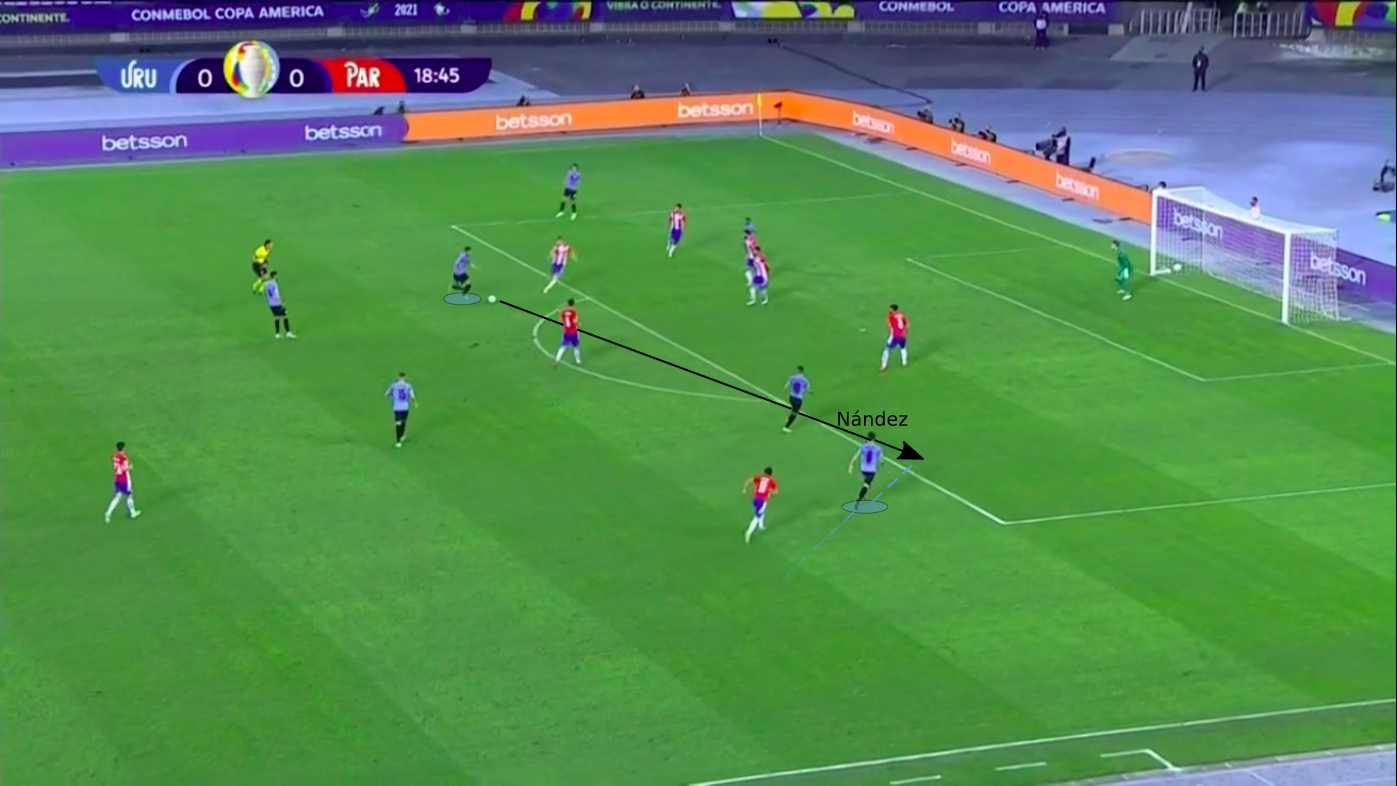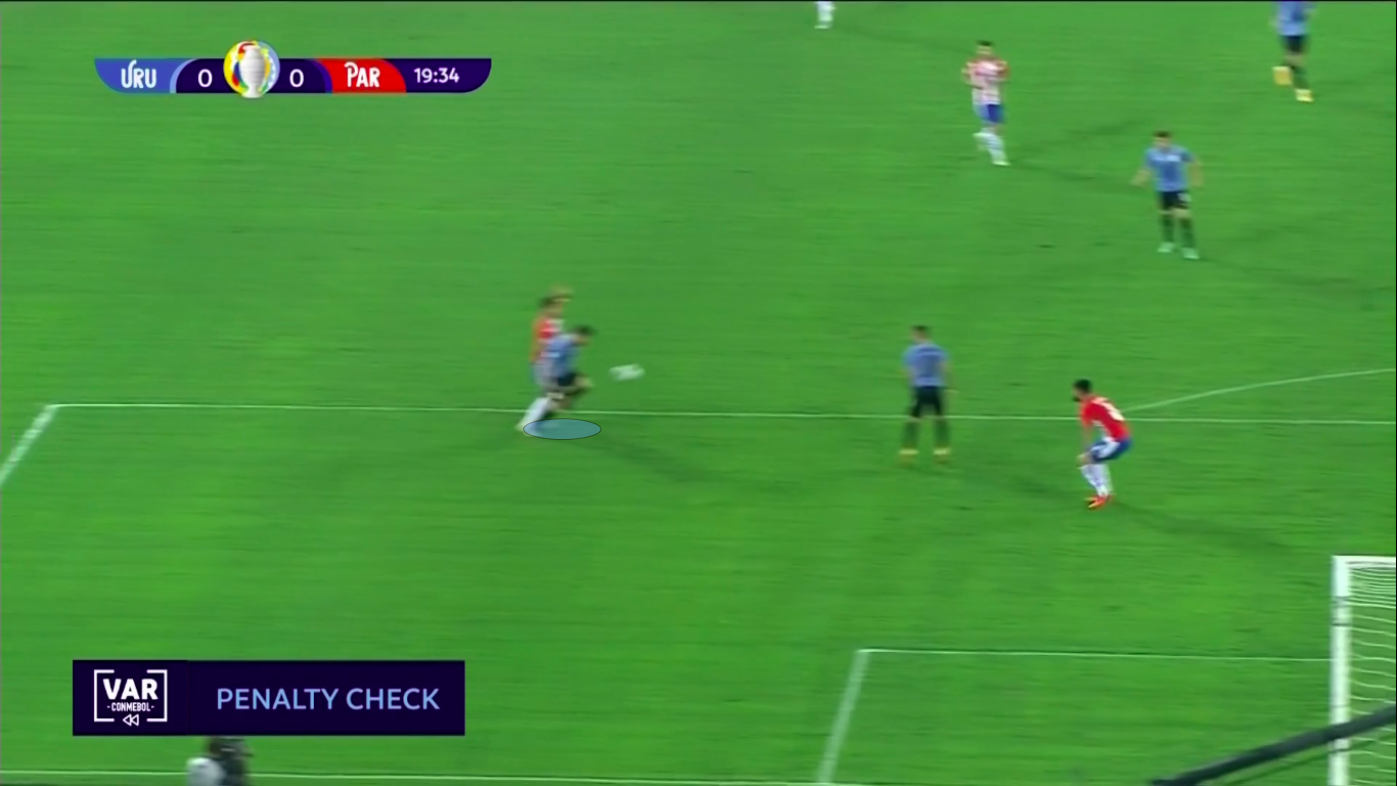 Naturally, therefore, his attacking stats looked the best, including 7 SCA (Shot-Creating Actions), 15 attempted dribbles (bettered by nobody in the Uruguay squad) at a success rate of 80%, 6 carries into the penalty area and 32 progressive carries. The right-back wasn't bad defensively either, making 19 tackles and interceptions and 6 clearances.
The 25-year-old midfielder's agent said that he expected his client to change clubs this summer, and since Leeds United have been interested in him for over a year now, Elland Road has to be a plausible destination.
Pervis Estupiñán
Ecuadorian defenders evidently did well in the tournament this year, and Pervis Estupiñán was no exception to that. In fact, he was the chief architect of their exciting football, enthralling in both defence and especially attack on the left flank.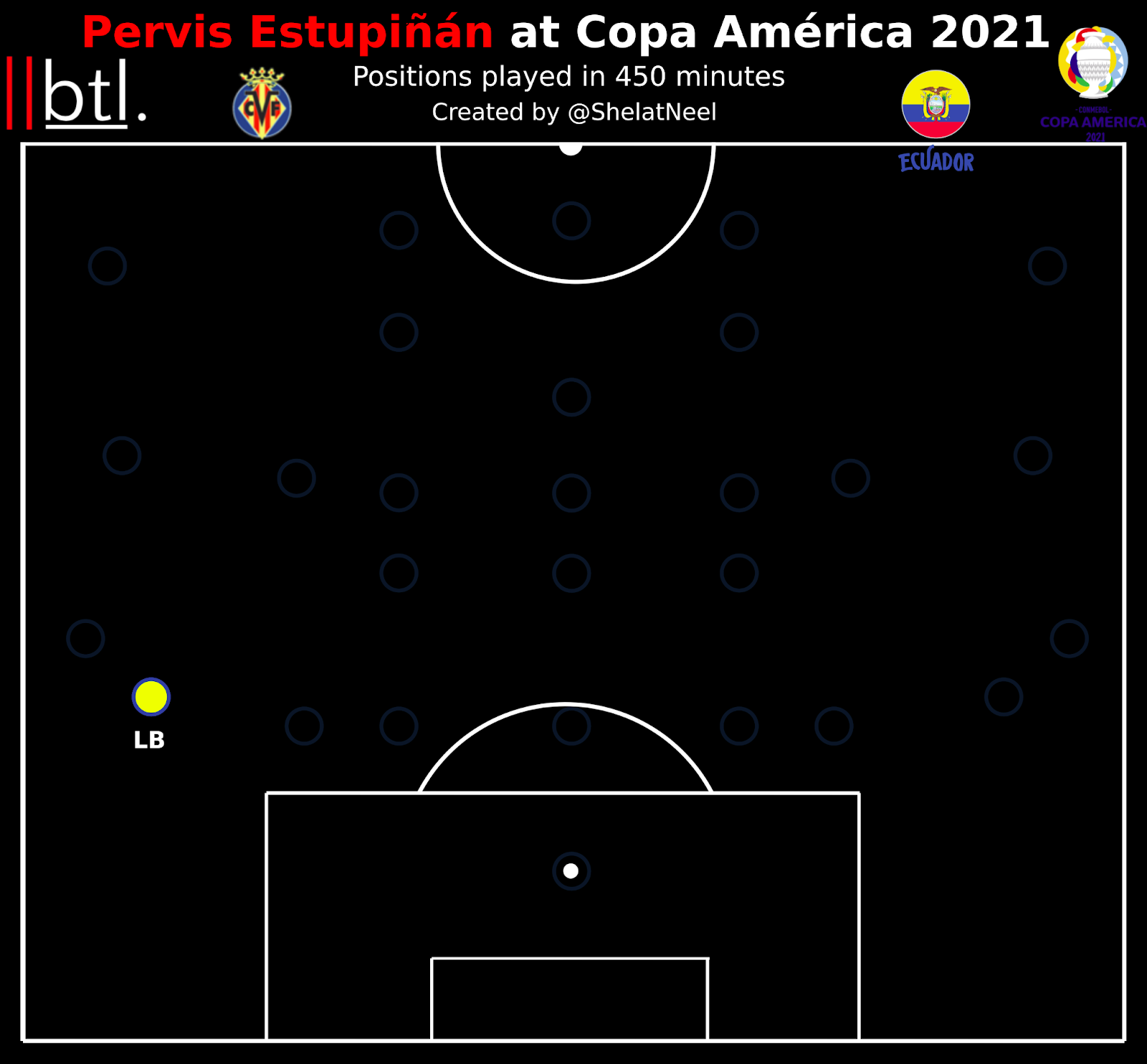 Gustavo Alfaro's 4-4-2/4-4-1-1 system had a fair bit of emphasis on overlapping full-backs, and Pervis Estupiñán absolutely stole the show on the left flank. He topped his national side across a large set of metrics, including SCA, where his 18 were the third-best in the competition at the quarterfinal stage – behind only Lionel Messi and Neymar.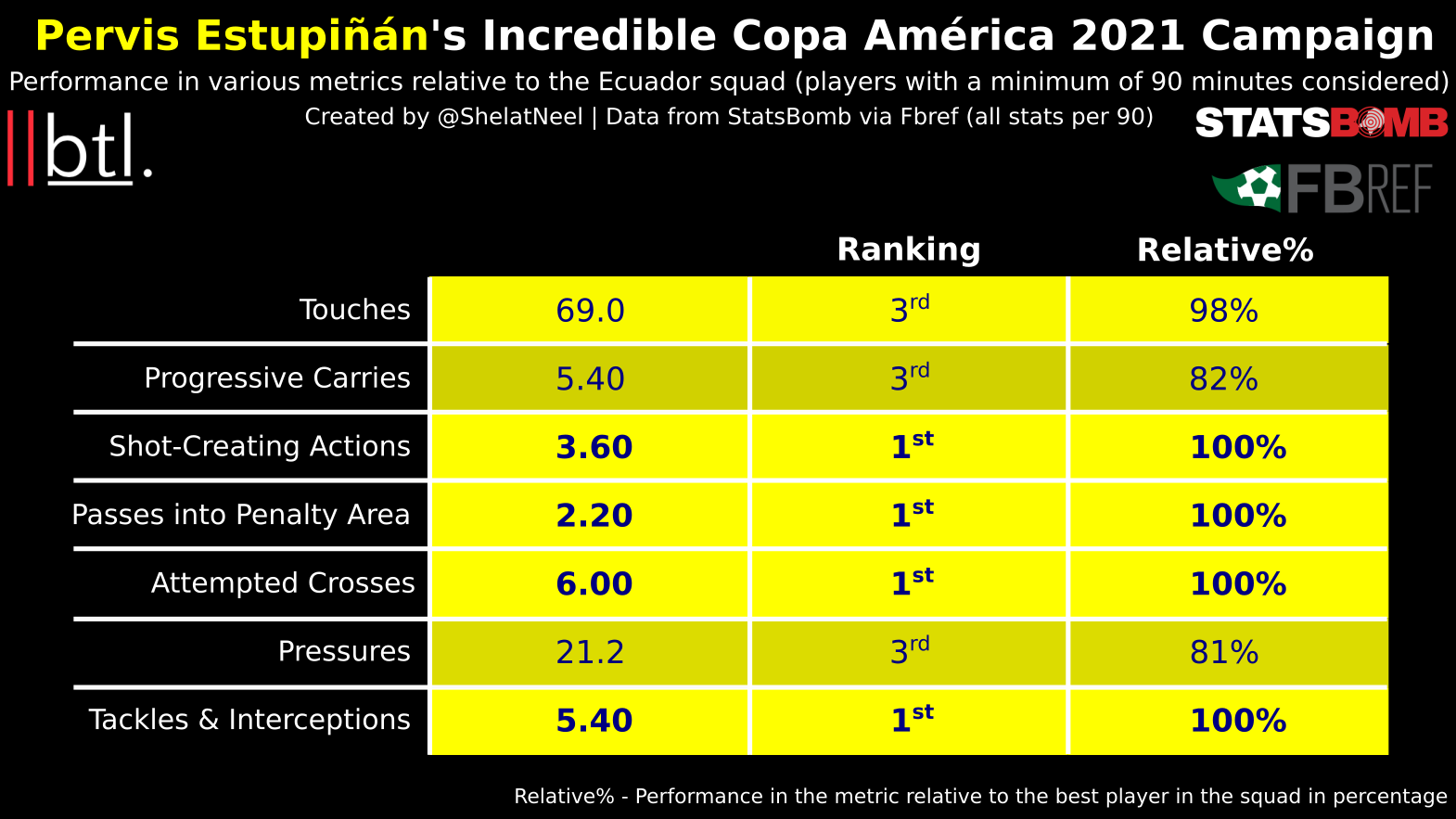 The 23-year-old left-back joined Villarreal from Watford less than a year ago, and with a contract running all the way until 2027, he has plenty of time to make a serious impression in Unai Emery's side.
William Tesillo
The final full-back in our squad is William Tesillo, who had a good run in the tournament on the left of Colombia's defence.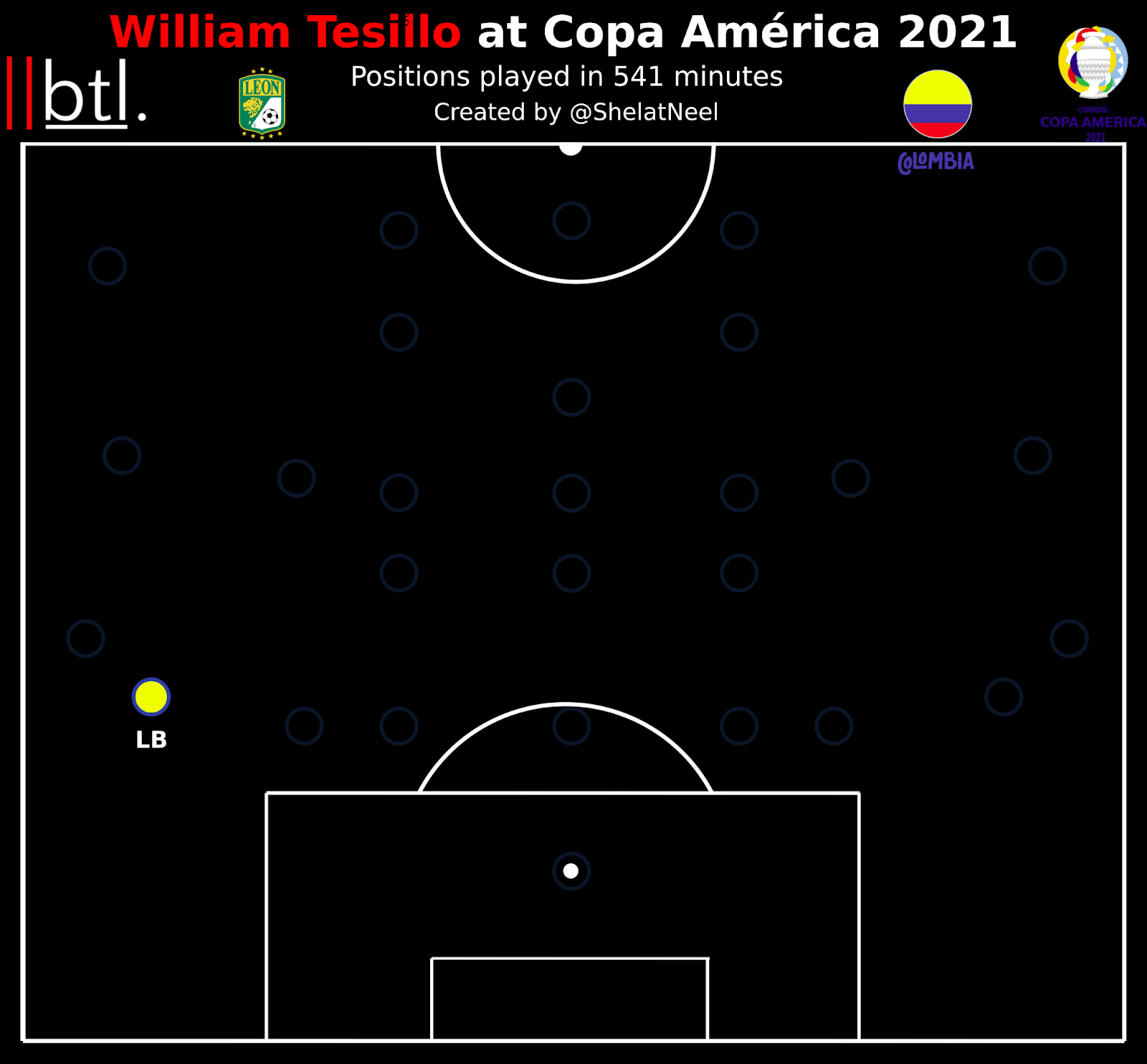 The Club León left-back did not have the best of tournaments in terms of attacking as he managed just 8 SCA, but given the fact that his favoured position is centre-back, you might be able to understand why. His passing was alright as his 36 passes into the final third were good enough for second spot in the Colombia squad, but it was his defending that really impressed.
The 31-year-old's contract was reportedly set to expire come the end of June, but he has since joined some training sessions at León, so you would imagine that he will be staying there.
Casemiro
Brazil dominated possession in pretty much every game they played in the tournament, and a major reason for that was Casemiro's presence in holding midfield, which allowed them to commit bodies forward in attack while having surety in front of their backline.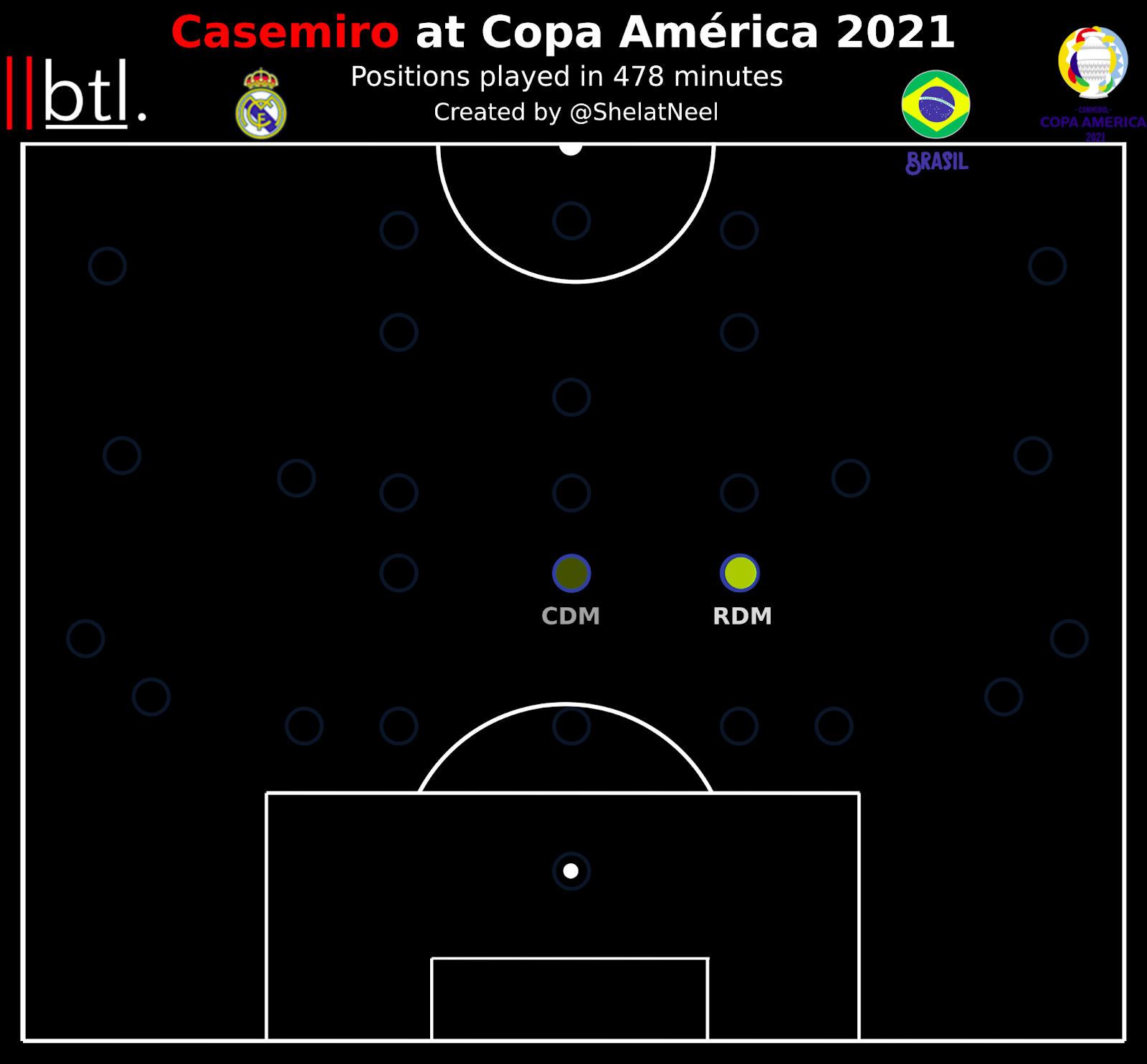 Most readers will probably have watched Casemiro a fair few times for Real Madrid and know what his game is all about, so it is best to let his numbers do the talking here.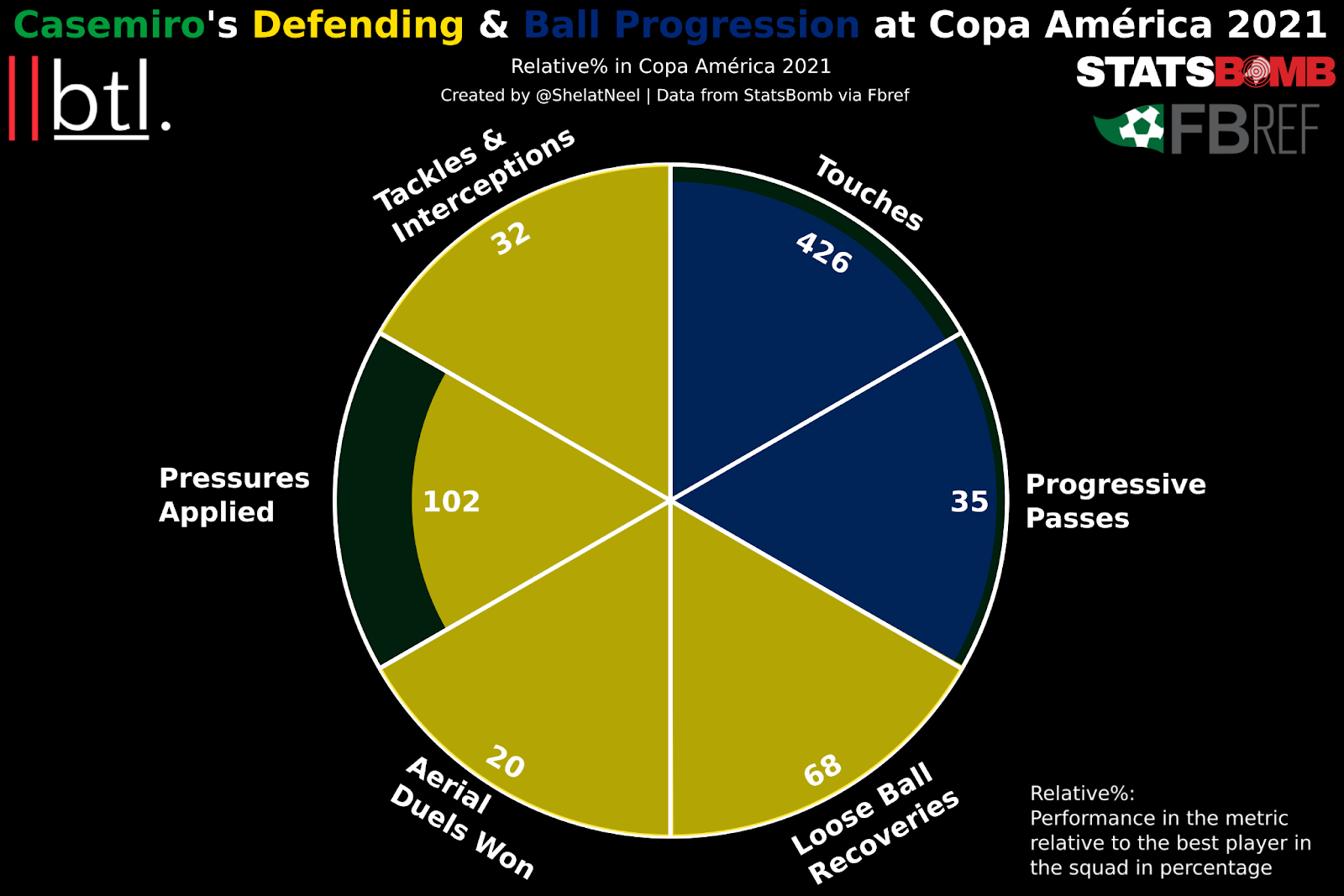 The 29-year-old holding midfielder will reunite with Carlo Ancelotti when he reaches Madrid, and with a contract till 2023, he has a bit of time to assess his next options.
Wílmar Barrios
Colombia had a good tournament too as they reached the semifinals and took Argentina all the way to penalties before getting knocked out, but eventually securing third place by beating Peru. Wílmar Barrios was one of the main reasons for this success, as he was simply exceptional for them in midfield.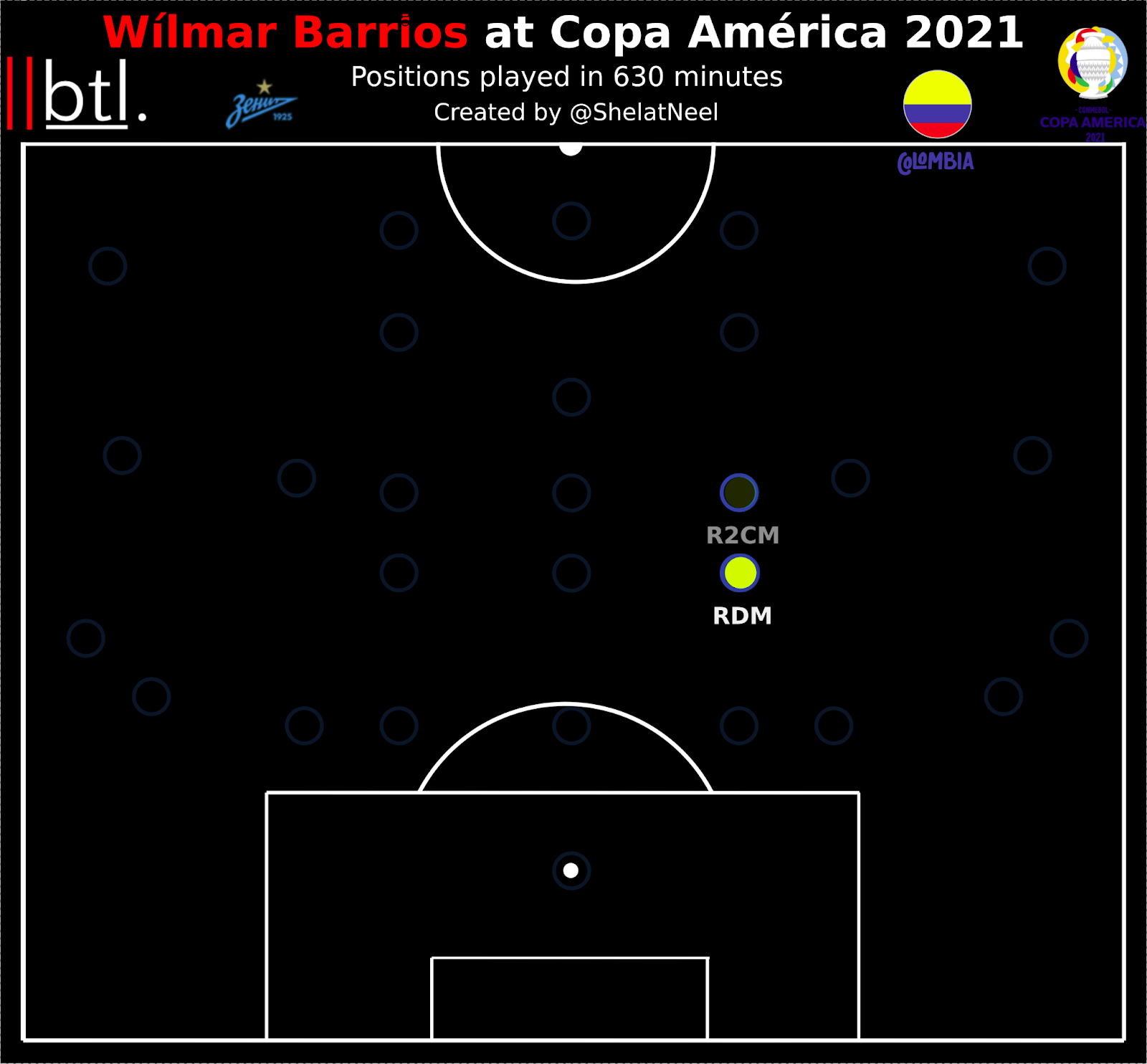 Barrios' defending in transition was especially notable, as he did his best to contain many big names including Neymar in Colombia's 100th-minute defeat to Brazil and Lionel Messi in their 1-1 semifinal draw. He topped not just his teammates, but also the whole of the Copa in a variety of defensive statistics including tackles won (22), interceptions (17) and pressure success rate (41.4%).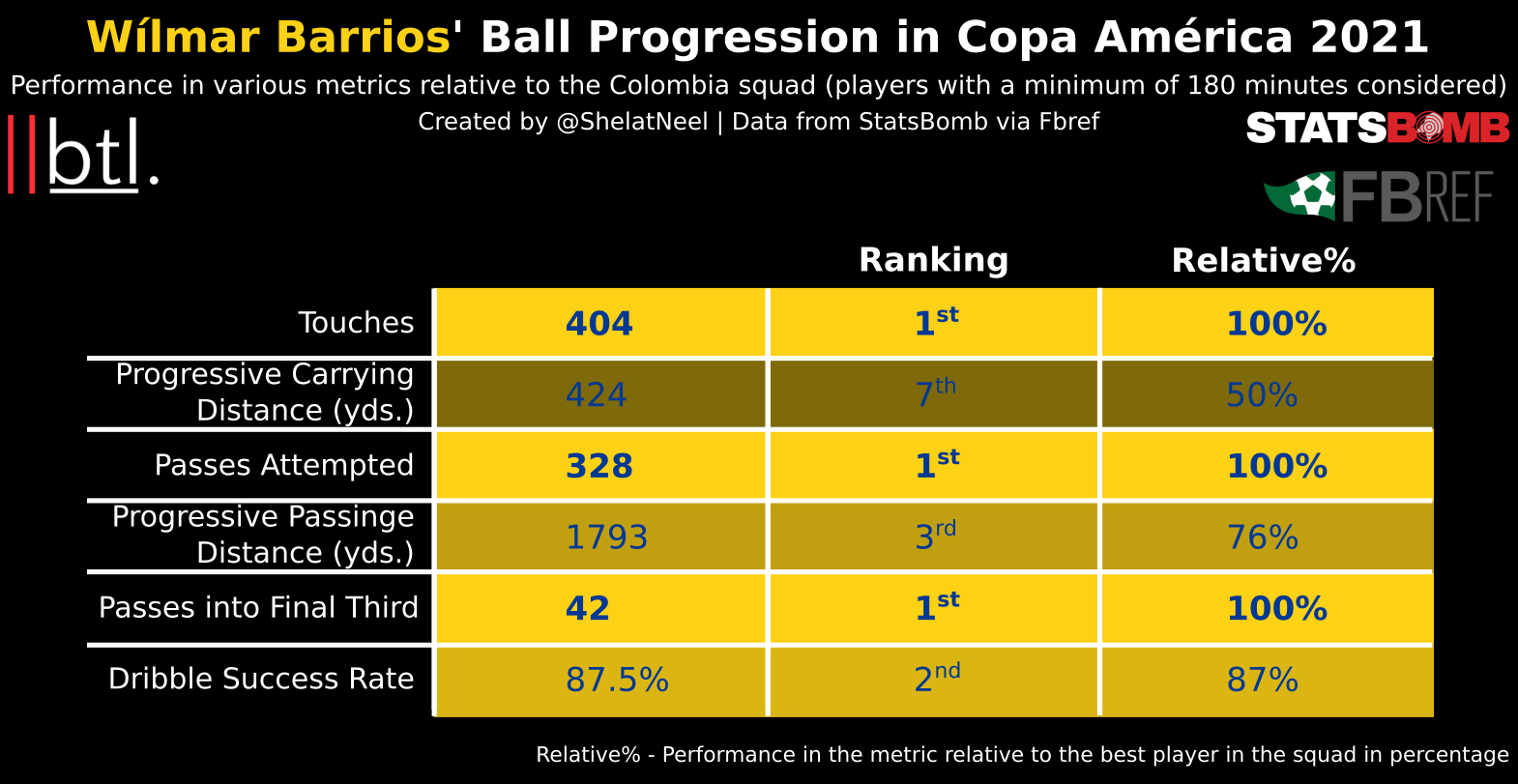 That was not all, though, as he was very handy in terms of ball progression too, as seen in the above image. The 27-year-old defensive midfielder has a couple of years left on his contract with the Russian champions, but after such performances, teams in Europe's big five leagues must be looking at him.
Yoshimar Yotún
Peru's Copa América was certainly one they will look back at in satisfaction, as they finished second in their group behind Brazil and were just about edged out by the Seleção in the semifinals. They played some very good football too, and Yoshimar Yotún was key to that.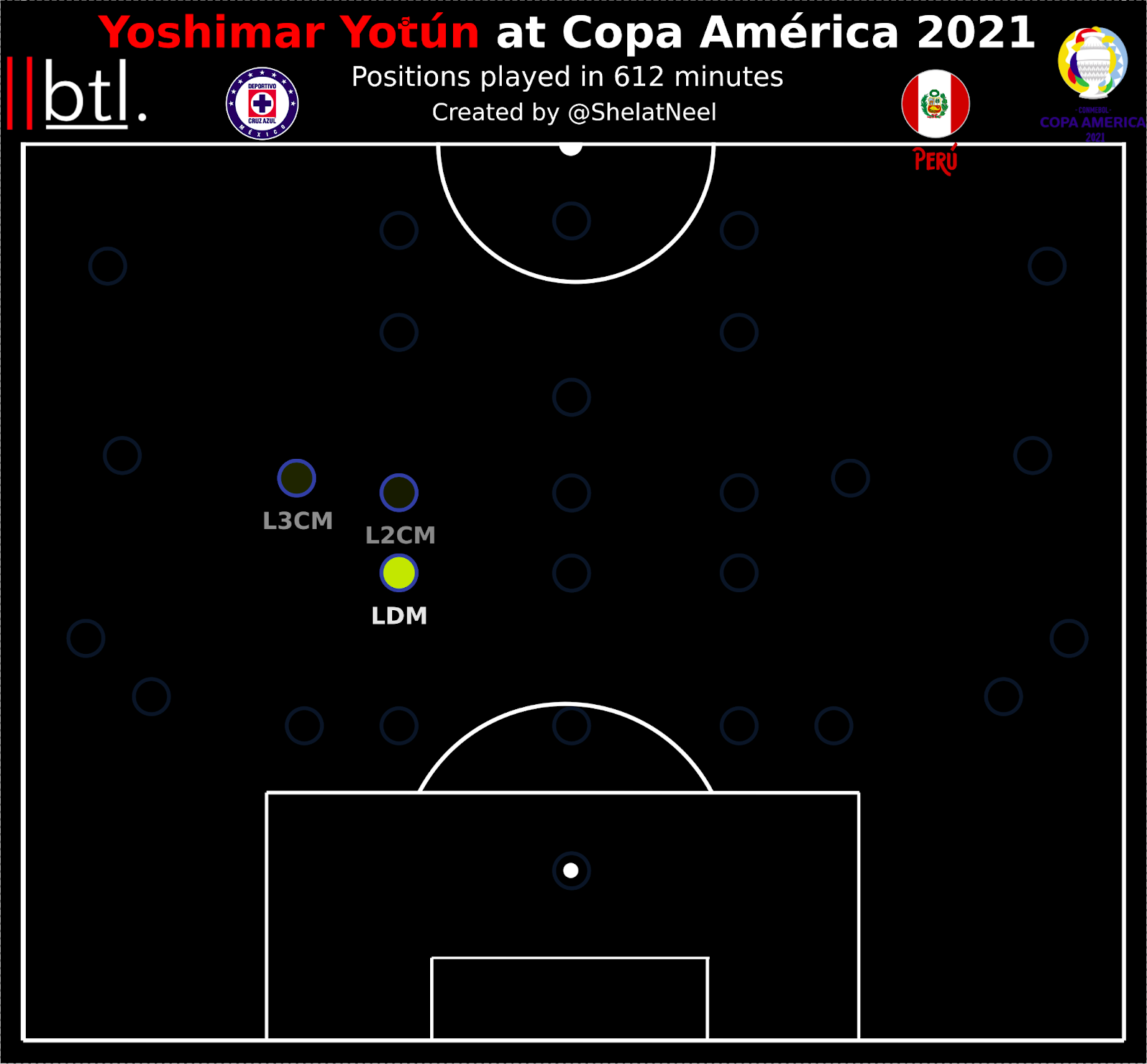 With an average of just under 50% possession in spite of facing both Brazil and Colombia twice each in seven matches altogether, Peru's midfield duo had their work cut out. Renato Tapia was certainly not bad, but Yotún was just something else, as the statistics indicate.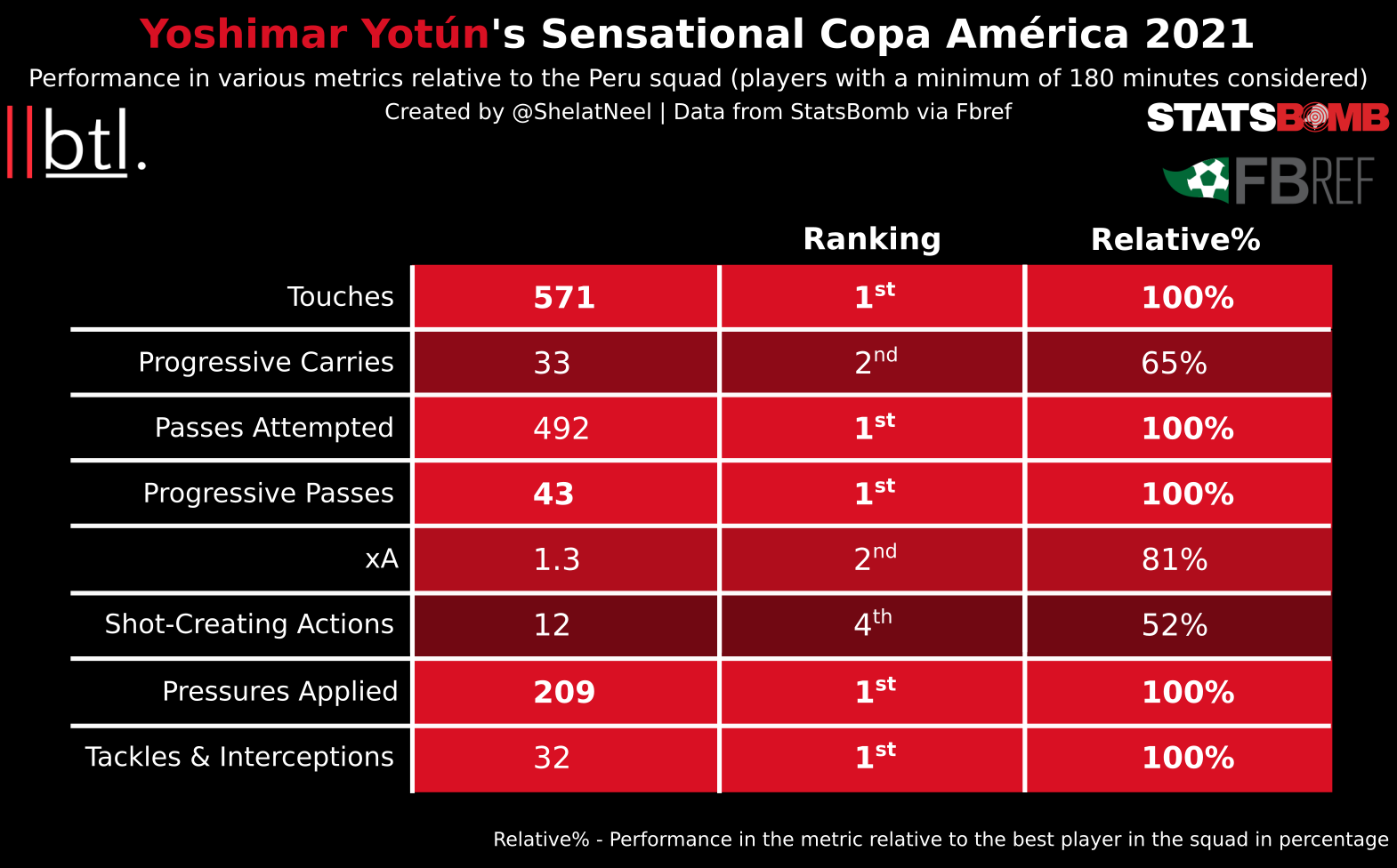 Among these metrics, he also topped the competition in terms of touches, progressive passes and pressures applied. Like Tesillo, the 31-year-old midfielder's contract was set to expire last month according to certain reports, but he too has been pictured back in training with his club Cruz Azul, so he may well be staying there.
Rodrigo De Paul
Some of Argentina's previous Copa América failures can be put down to the fact that their attacking systems were often too Messi-reliant, but that certainly was not the case this time as Rodrigo De Paul, among others, stepped forward to share the creative burden with the Barcelona legend.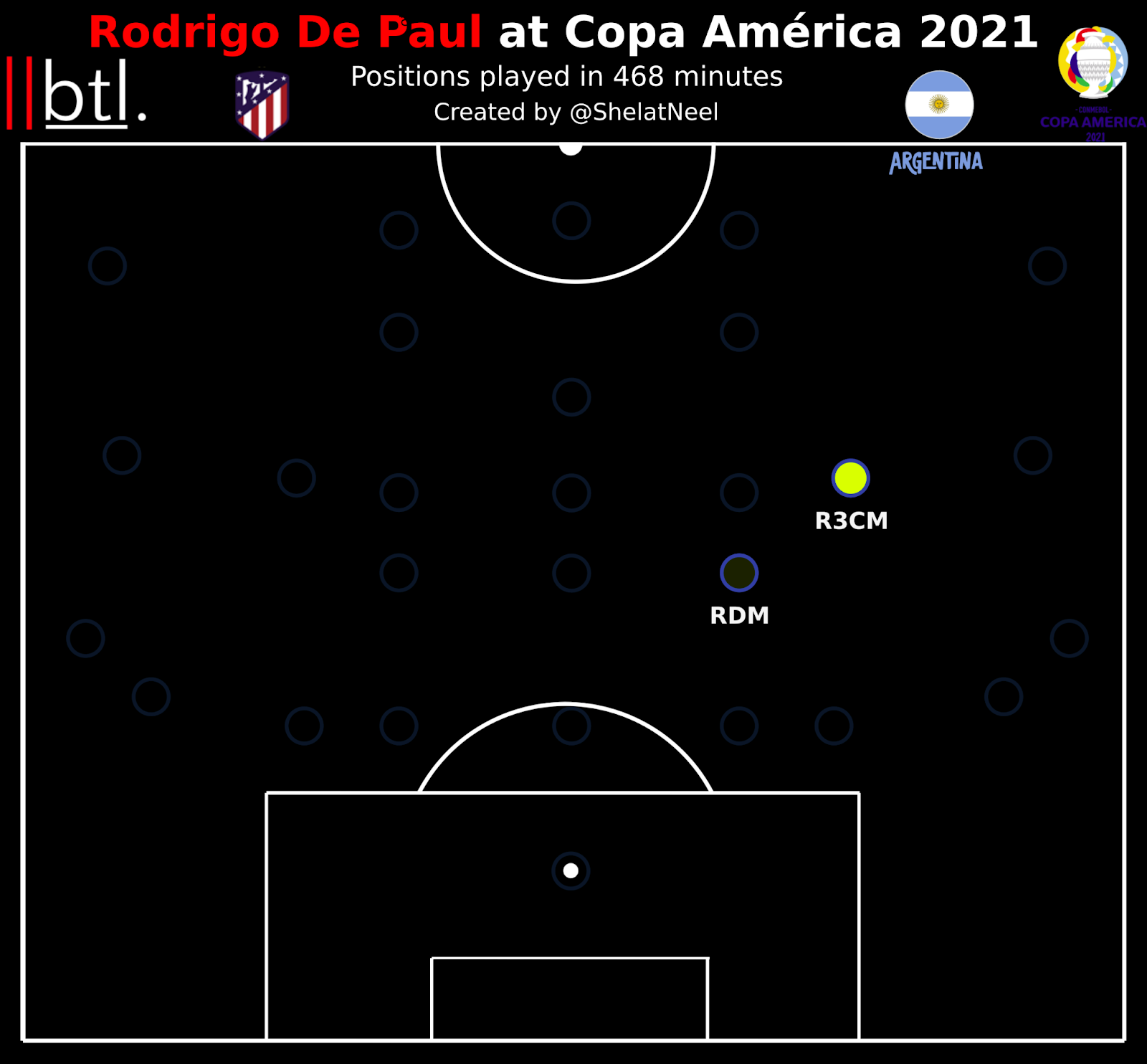 It is unfair to compare any Argentine player to their squad in any attacking metrics because Lionel Messi single-handedly makes everyone else look terrible, but looking at his stats alone, De Paul certainly is not bad. 4 progressive passes, 5.27 progressive carries, 0.15 xA, 1.45 key passes and 2.71 SCA all per 90 represent a very good tournament, which certainly would have helped Messi and co. in attack.
He was also responsible for setting up the solitary goal of the final with a pinpoint long ball, although there must be questions asked about how a player of his quality was allowed to have so much space.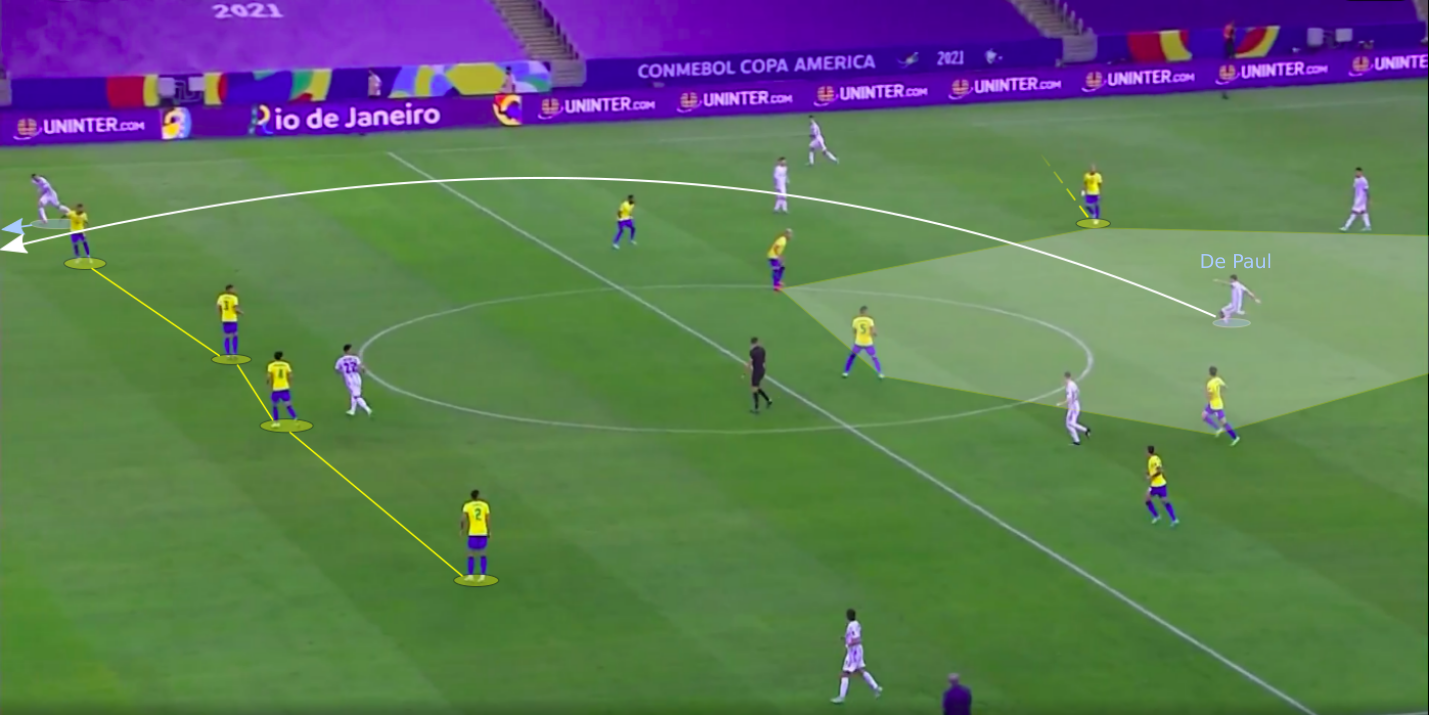 To add to that, the ex-Valencia man worked very hard in defence with 19 tackles and interceptions and 87 pressures applied at a success rate of 34.5%. The 27-year-old midfielder was recently unveiled as Atlético Madrid's first signing of the 2021 summer transfer window, so it will be interesting to see how he does under Diego Simeone.
Fred
Casemiro's quality also freed up Fred in the Brazilian midfield, who excelled in a more advanced role as he racked up over 500 minutes for the Seleção.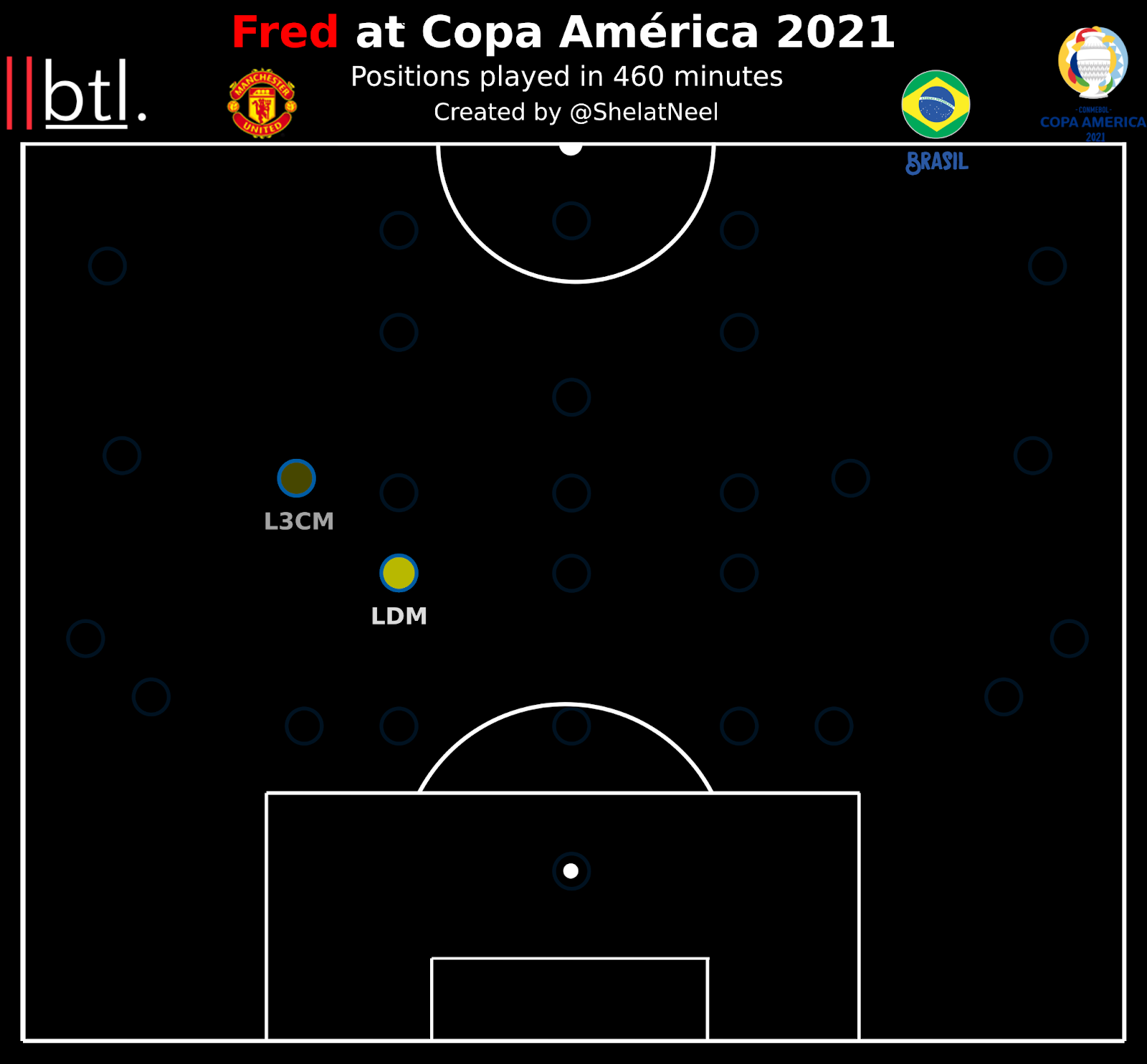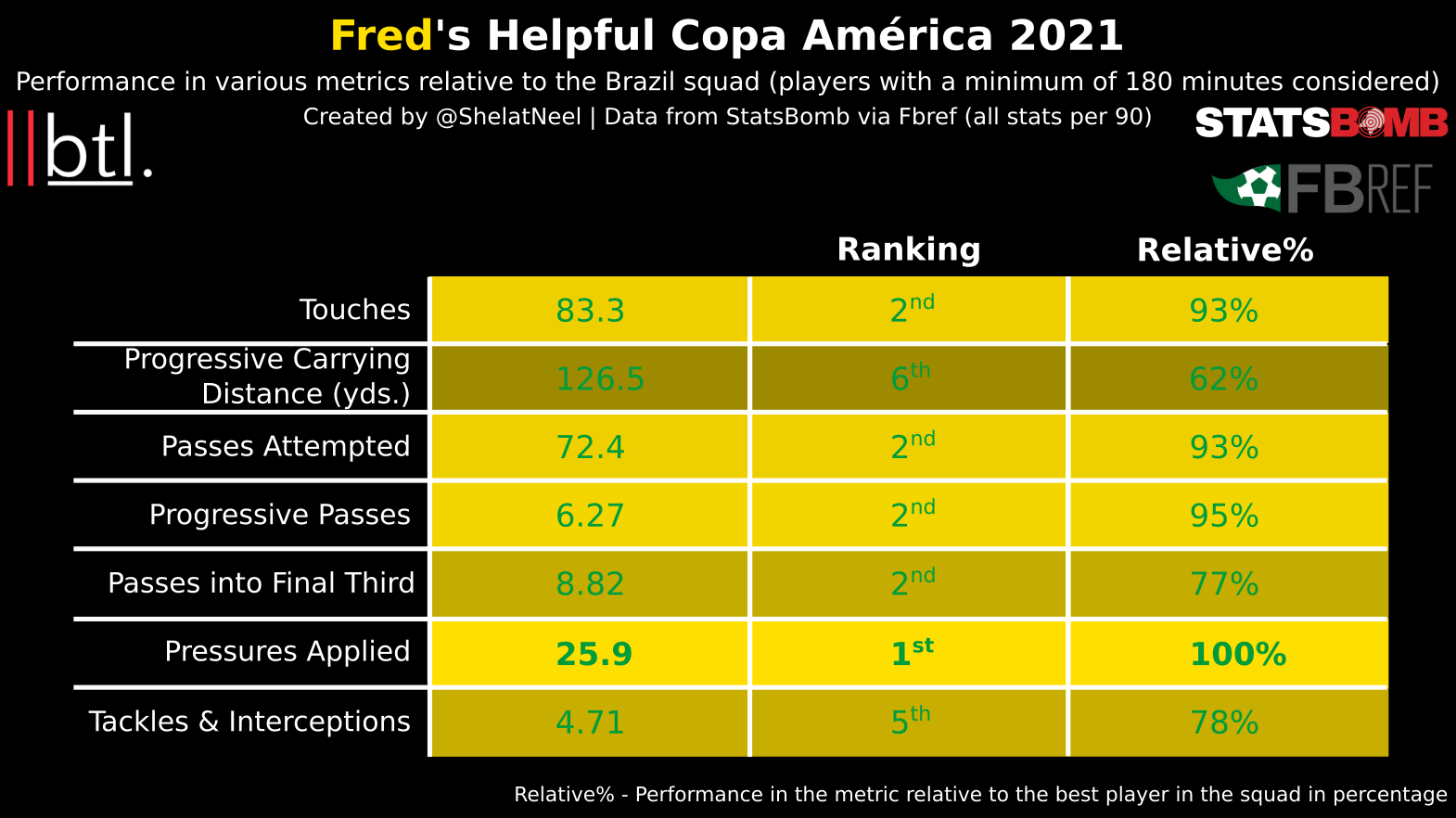 Statistically, the Manchester United man impressed both in terms of ball progression and defending. The 28-year-old Brazilian has two years left on his current contract with Manchester United with an option to extend for a further year, and since he is an established starter under Ole Gunnar Solskjær, he will most likely stay there.
Federico Valverde
Being a Real Madrid player probably means you're good at football, but Federico Valverde is really really good, as he showed in his Copa América campaign.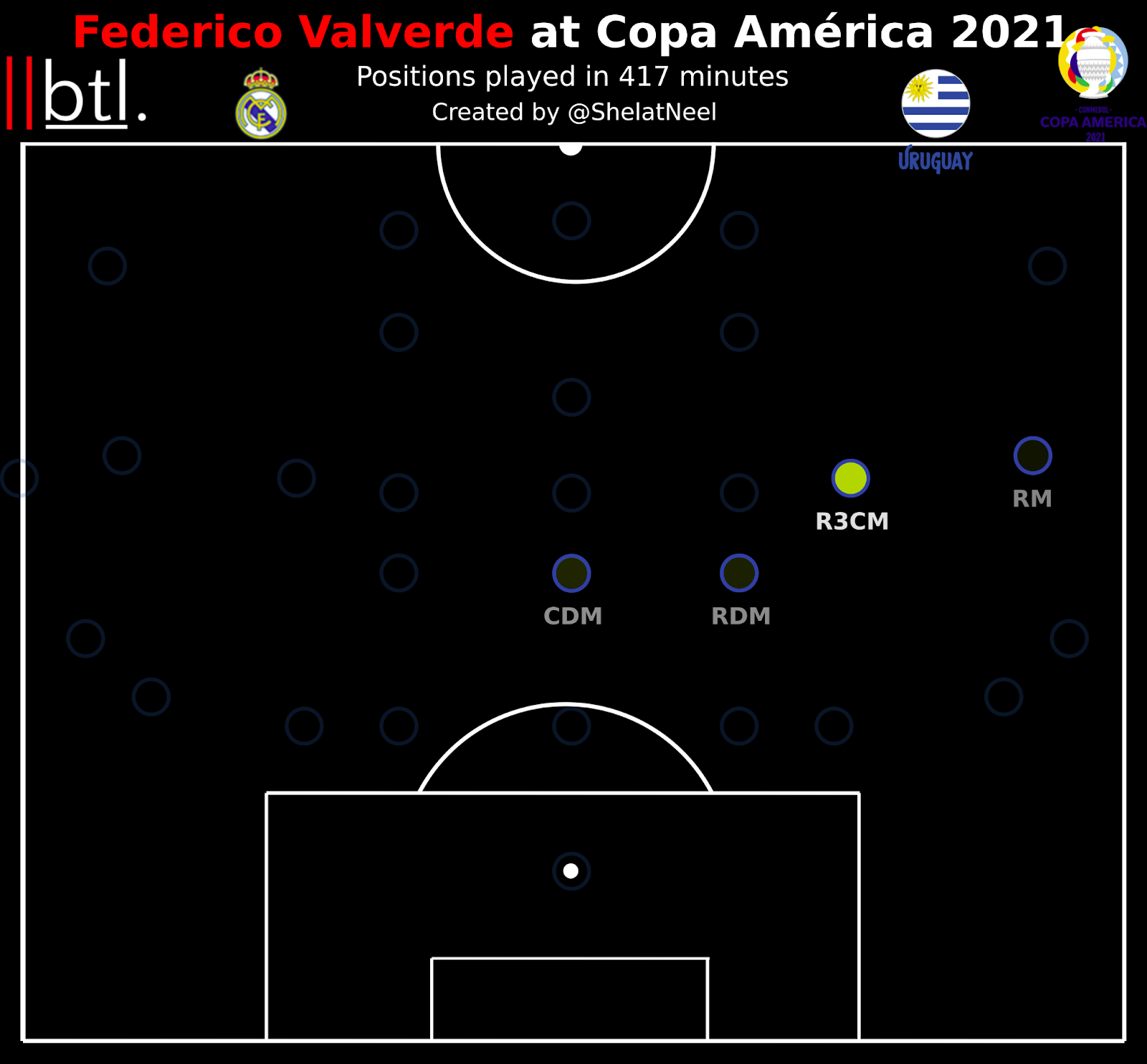 The Uruguayan midfielder played in a relatively advanced role, so although he saw less of the ball, he was incredibly productive in helping his side get forward and helped out a fair bit in defence too.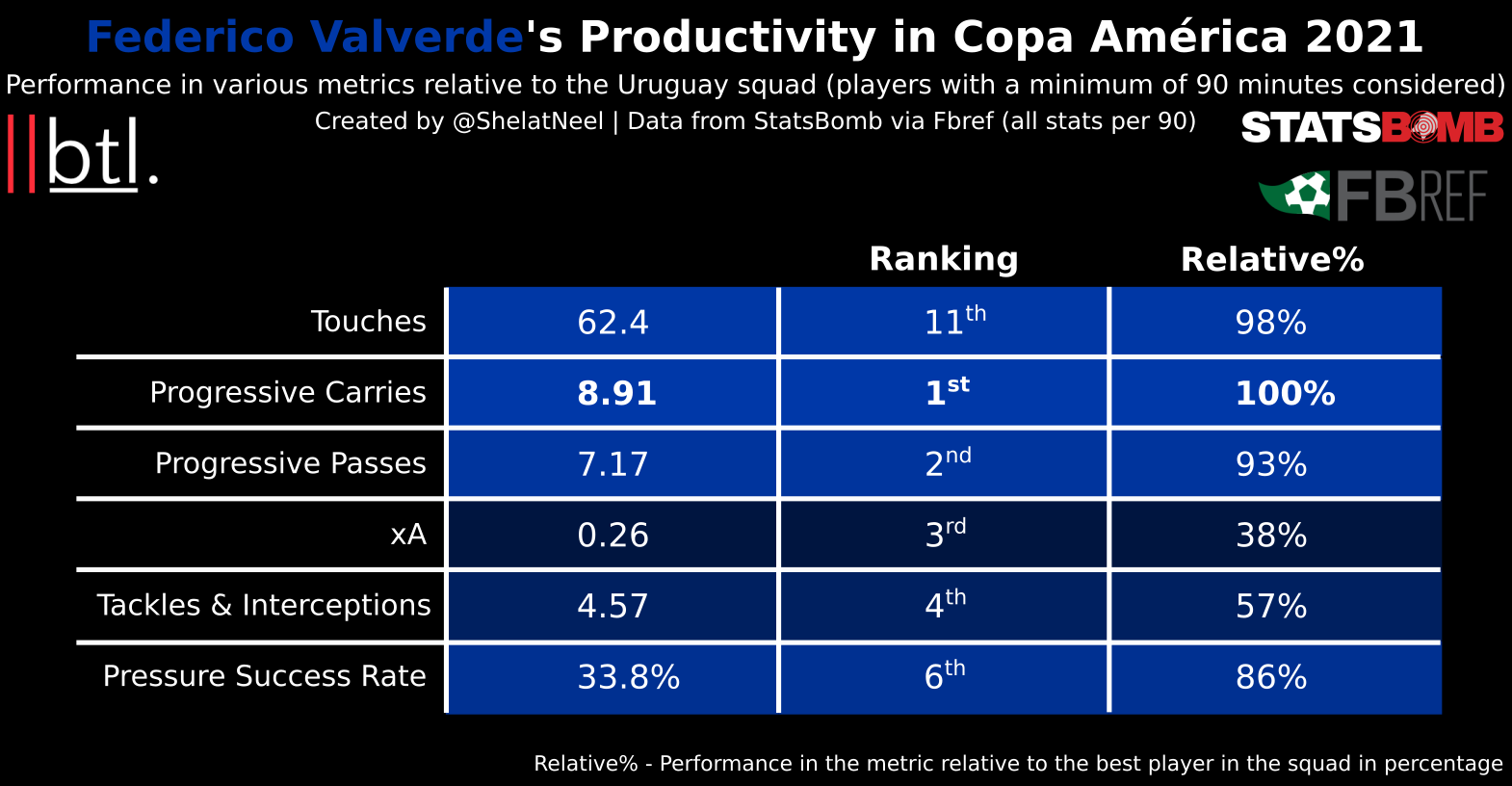 With Carlo Ancelotti coming in to take charge of Real Madrid after Zinedine ZIdane departed at the end of the last season, Valverde will hope to establish himself as a key part of Los Blancos' midfield, especially with their current trio of Casemiro, Toni Kroos and Luka Modrić all nearing the twilight of their career.
Juan Cuadrado
Juan Cuadrado was used in a more attacking position by Colombia than what he has been used to with his club of late, but that did not stop him from having a brilliant Copa América run.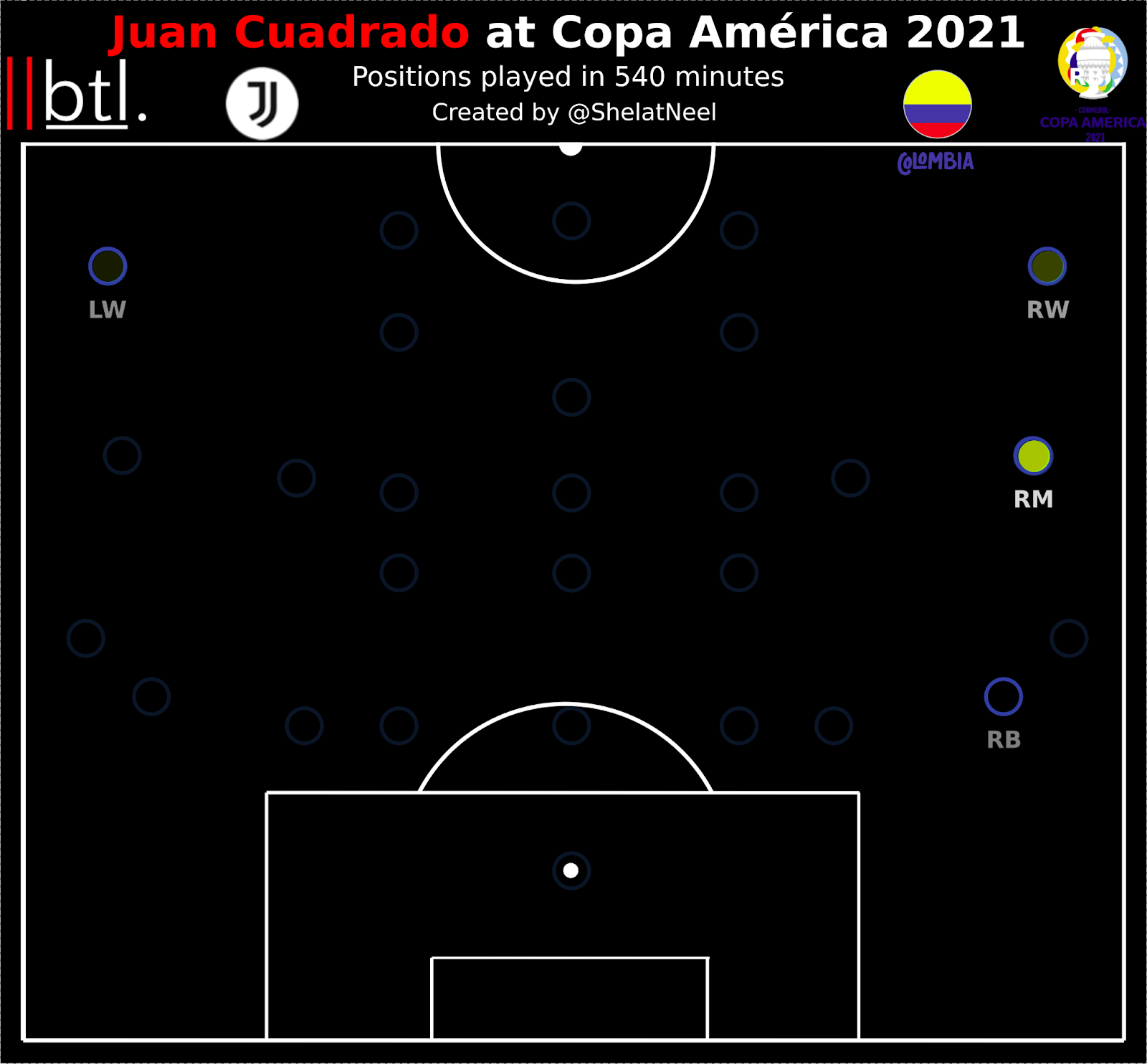 The statistics look very kind on him, as the Juventus man topped the Colombia squad in terms of xA with 1.4, key passes with 17, SCA with 25 and crosses with 24. He had one assist to show for his efforts, which was a very good cross for Luis Díaz's incredible overhead kick goal against Brazil.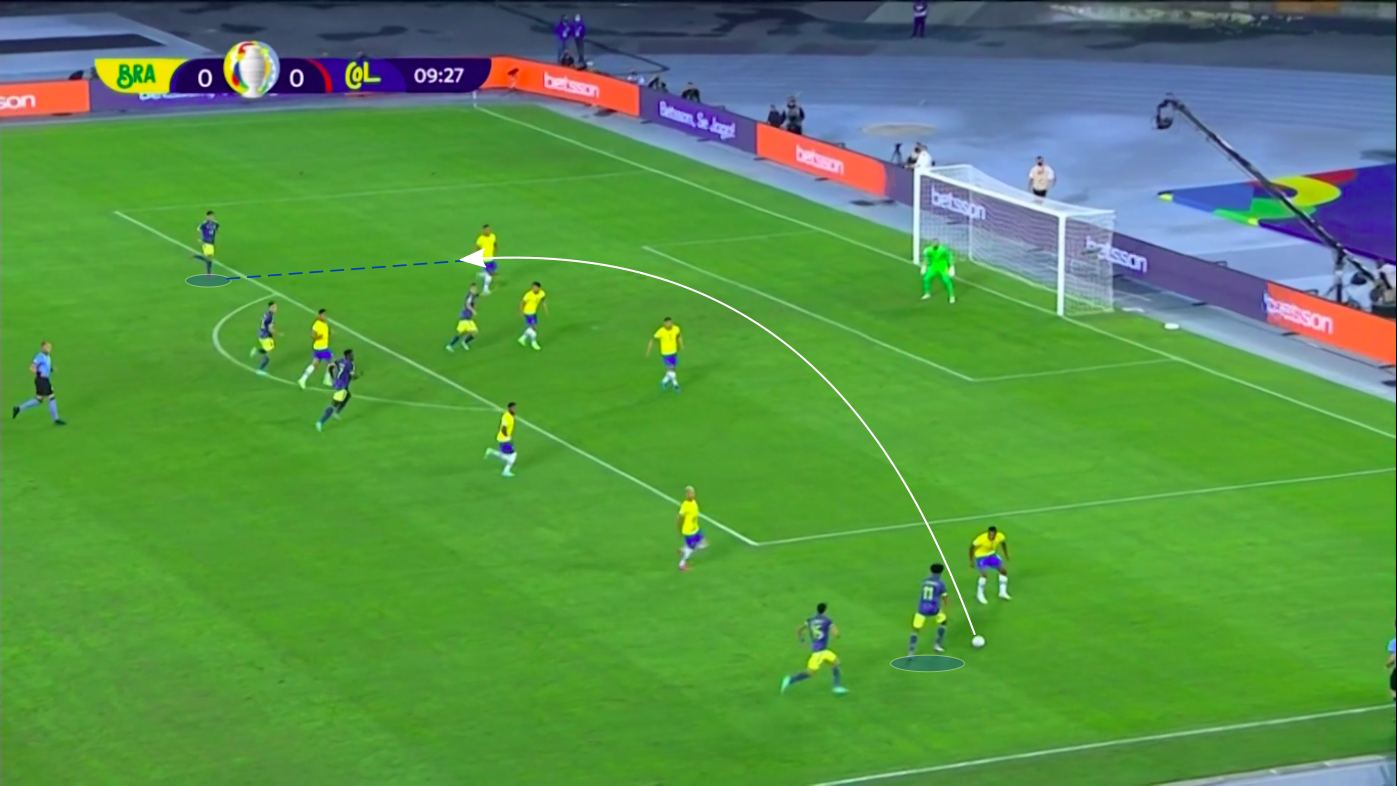 The 33-year-old Colombian has one more year left on his contract at Turin, but he may well stick around for a longer period of time as reports are suggesting another extension might be imminent.
Ángel Romero
Paraguay impressed many on their run to the quarterfinals, and one of their star men was Ángel Romero.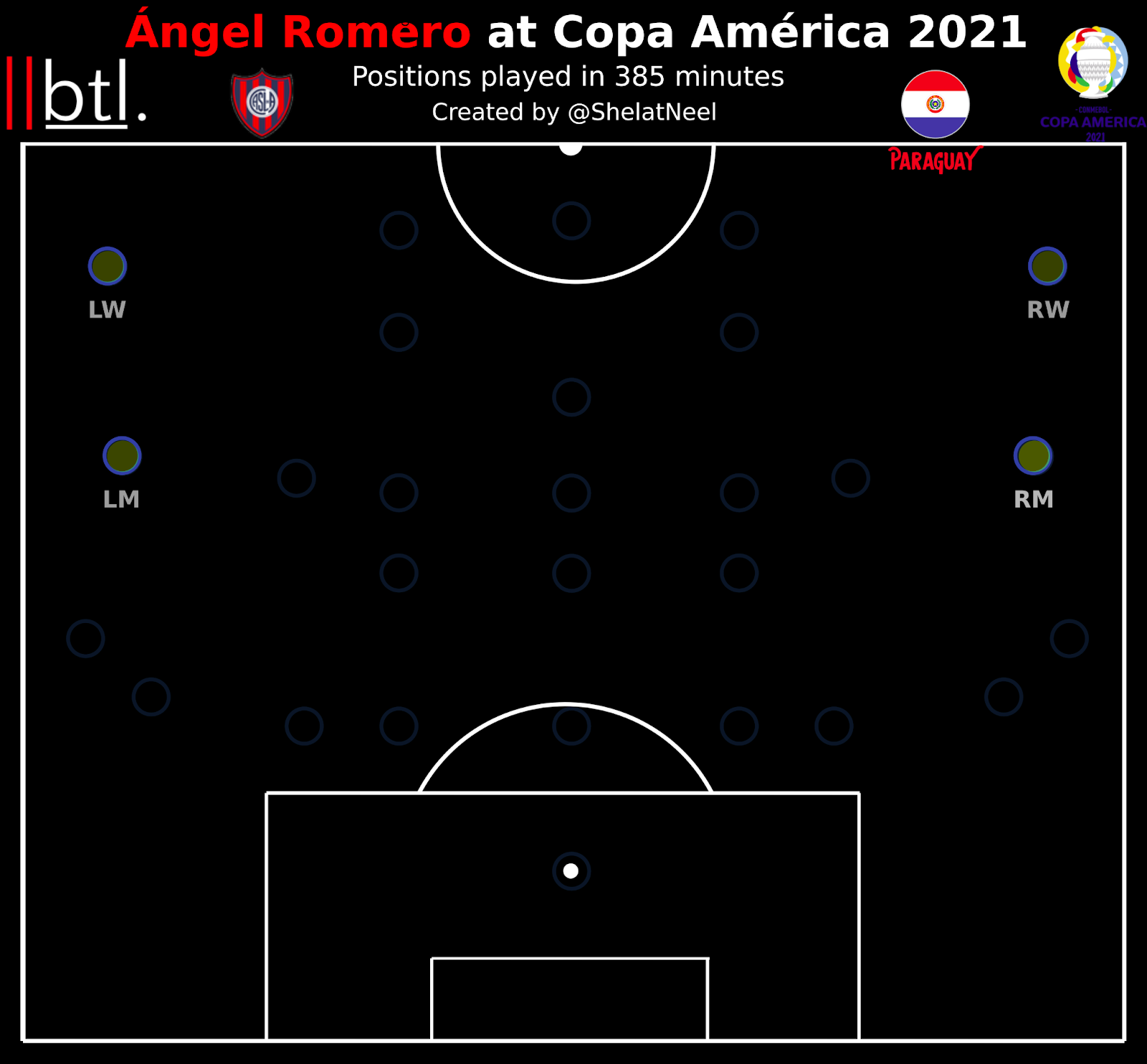 The versatile winger scored a couple of goals as his playing time was almost split evenly on either flank (although he certainly looked better on the left, which is where both of his goals came from). His chance-creation was not bad either, as he finished the tournament with a very high 17 SCA and similarly respectable 1.0 xA.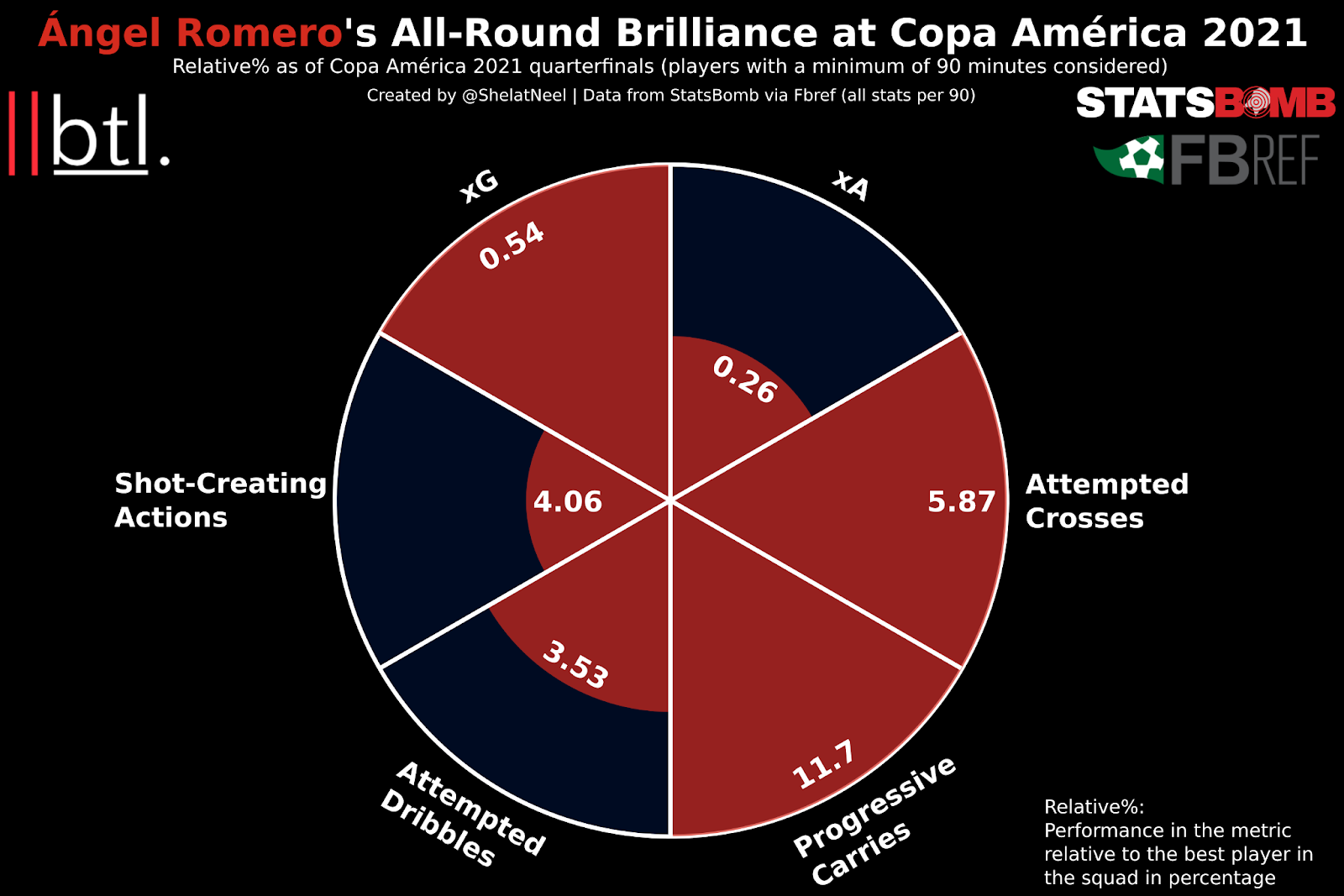 The attacker, who turned 29 just a couple of days after the quarterfinal, has a year left on his current contract in Argentina, but with few reports to go by, one can only guess what the future holds for him.
Edwin Cardona
Edwin Cardona might not have played as much as he would have liked in the Copa América, but when he did step onto the pitch, he was just delightful.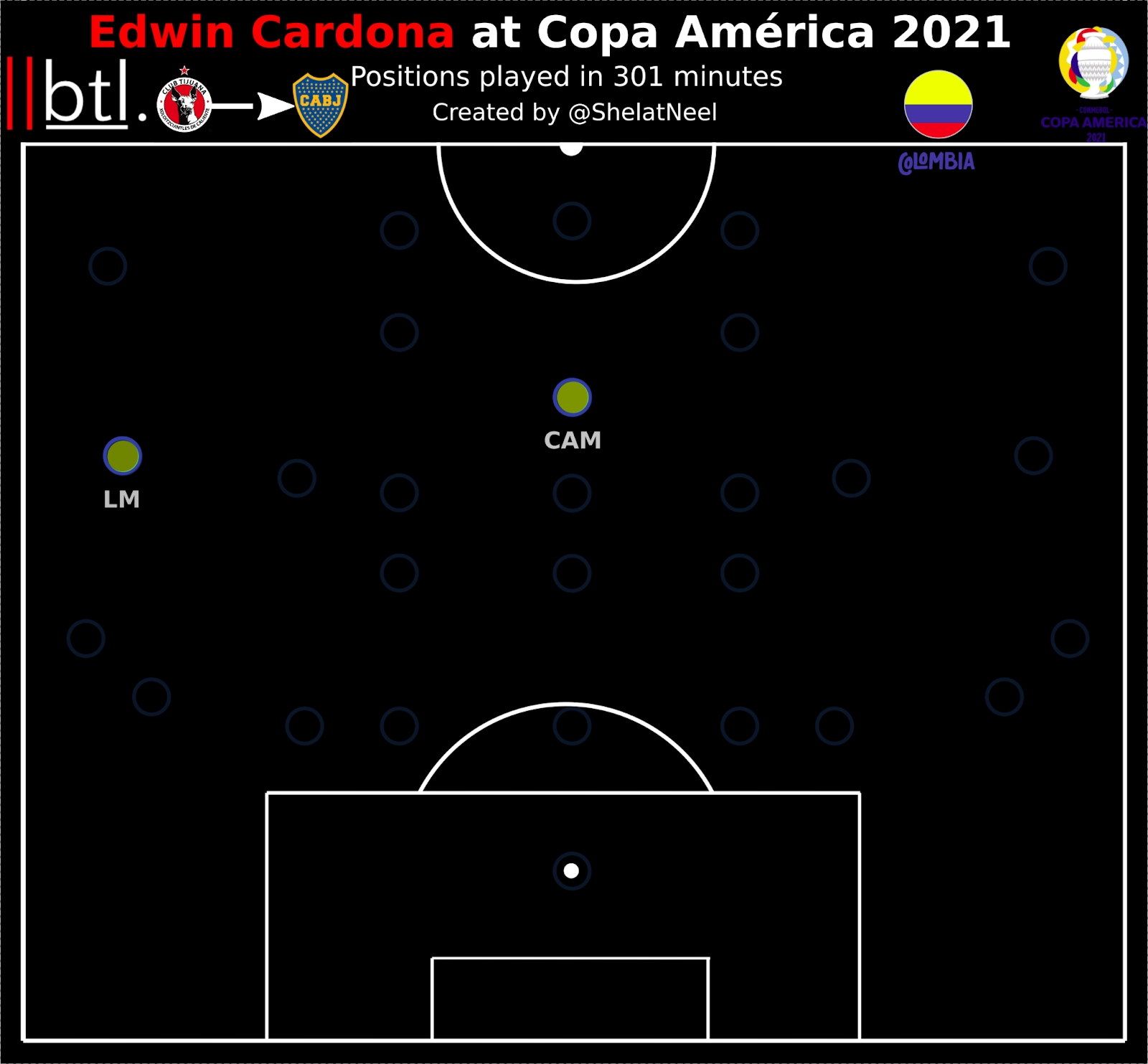 Sometimes, you take a look at some stats and are blown away by a player, but in other cases, you just have to watch them in action. The latter is absolutely true for Cardona.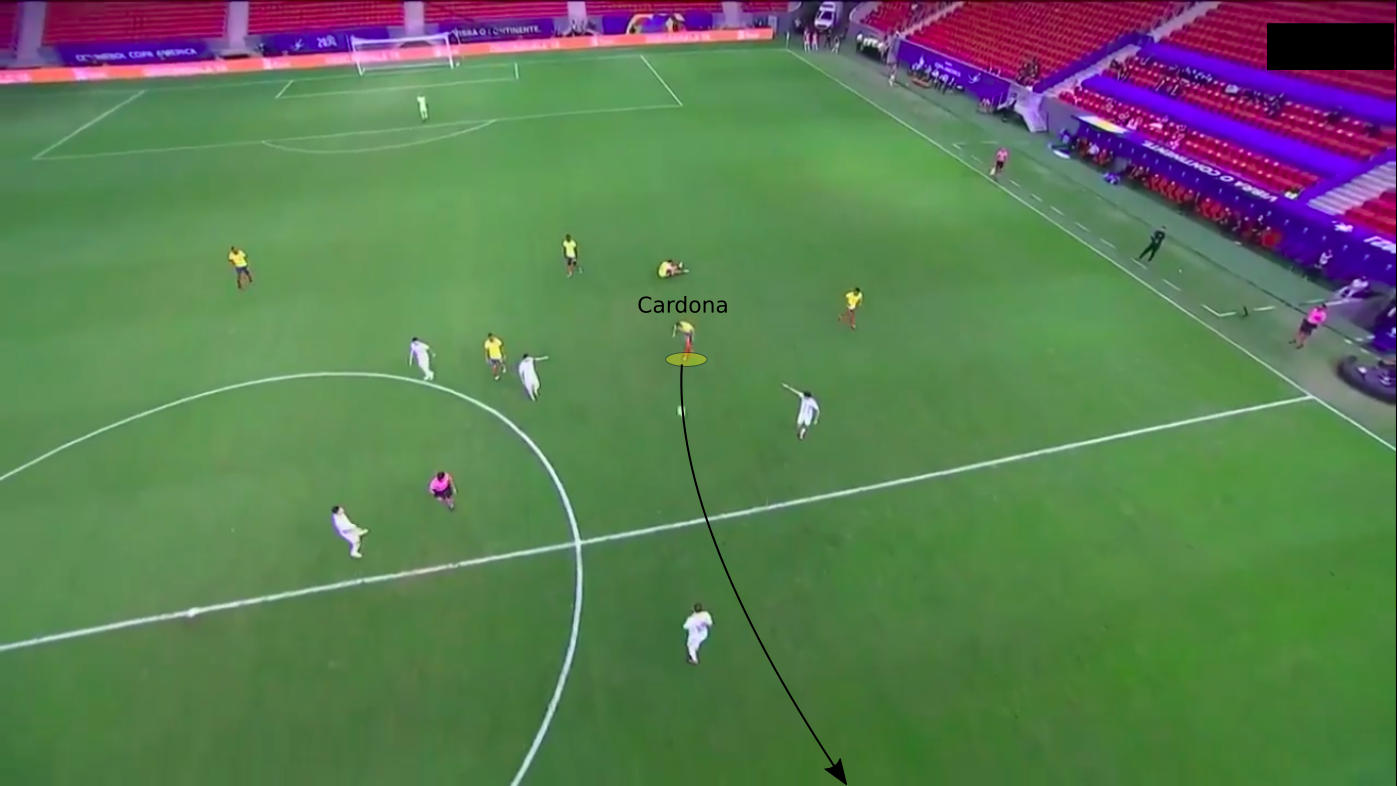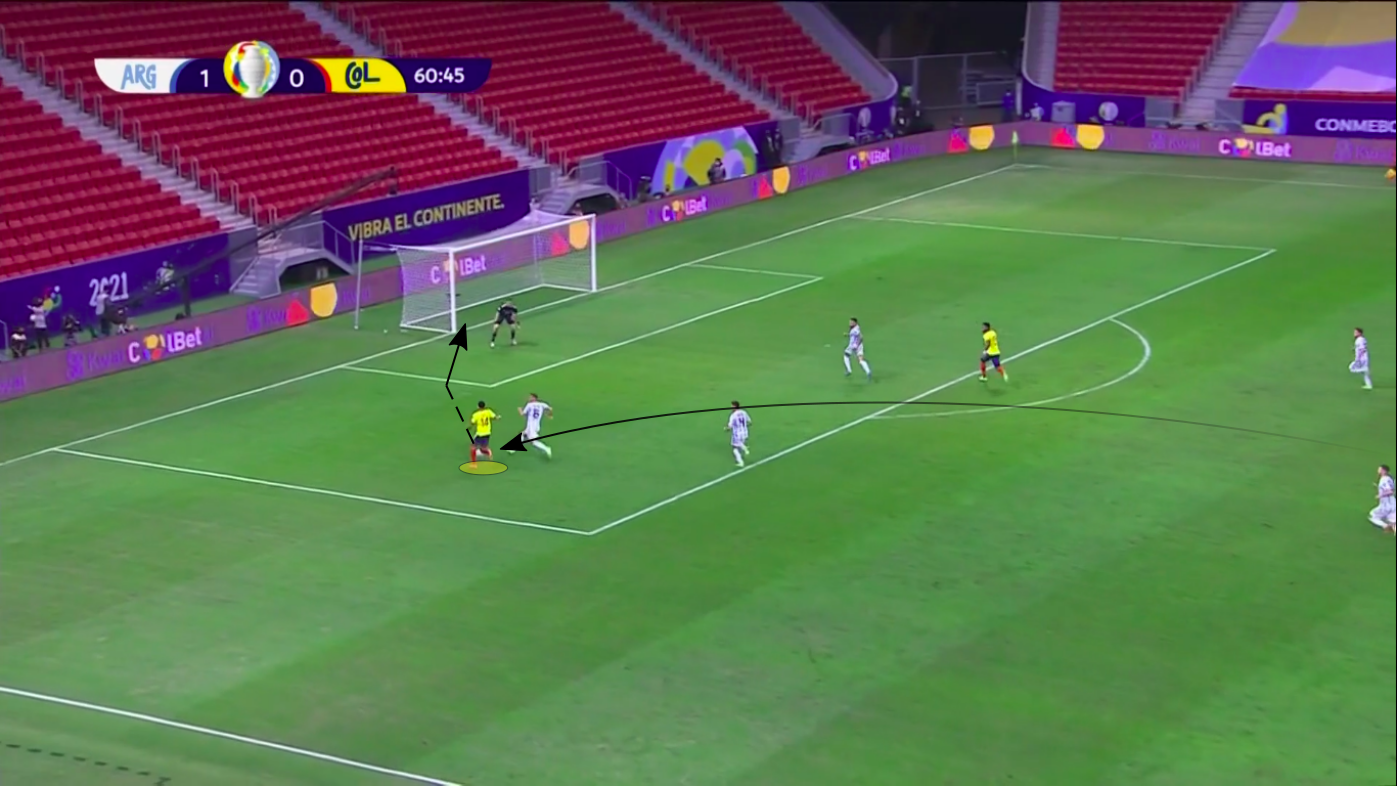 Credit must be given to Díaz for his finish too, but more on that later. Cardona's numbers were quite impressive too, though, including 7.84 progressive passes, 3.26 SCA and 2.16 key passes, all per 90. He scored a goal after an intricate set-piece routine too in Colombia's opener against Ecuador, which proved to be worth three points.
The 28-year-old midfielder is currently on loan at Boca Juniors from Tijuana with his deal expiring at the end of this year, but the Argentine club do have an option to buy.
Luis Díaz
In recent years they should have started handing out an award to the third-best player in the Copa América because of how unbelievably good Lionel Messi and Neymar are. If they were doing so, Luis Díaz would most likely have taken it home this year.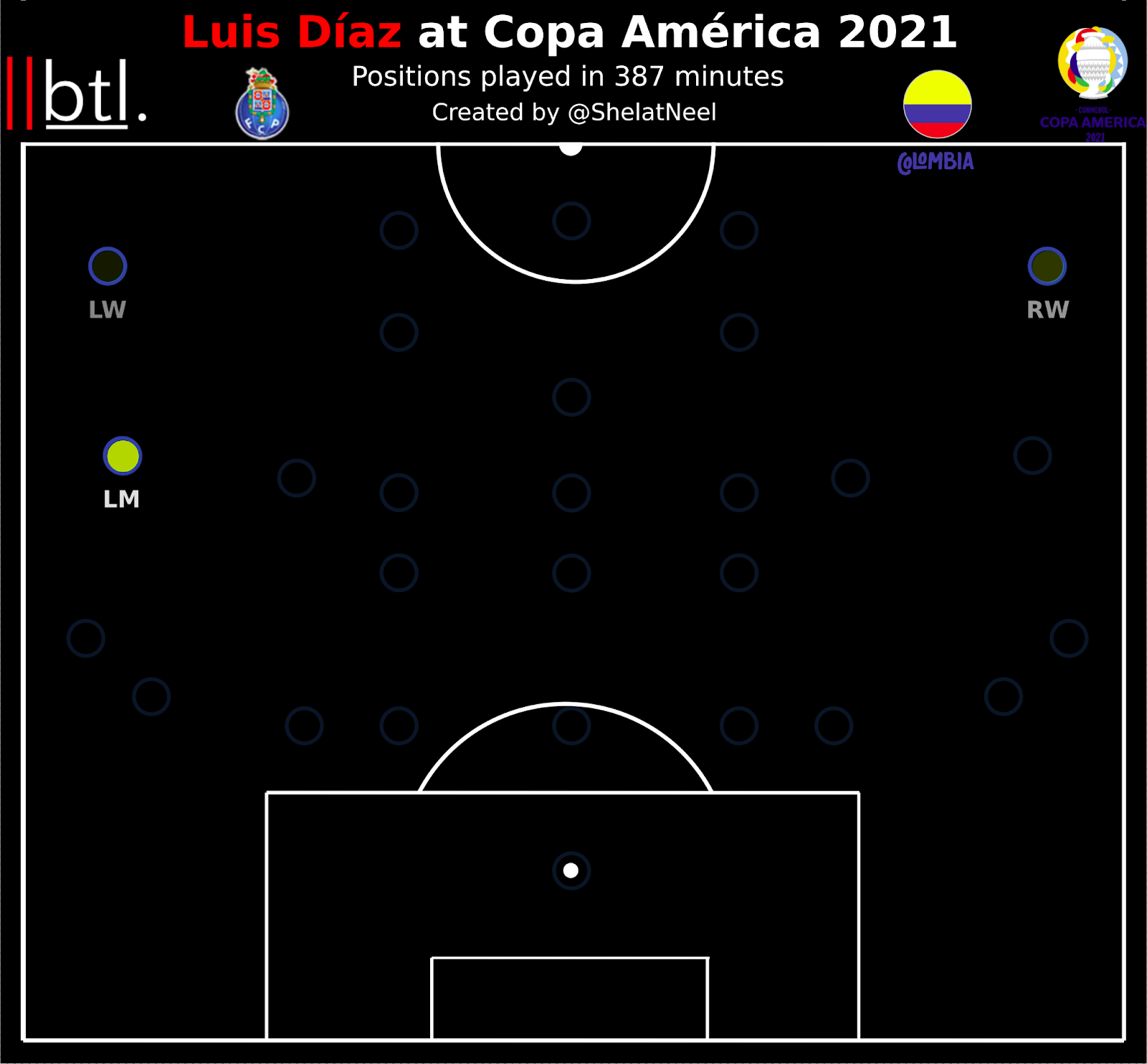 We've already had a look at a couple of Díaz's goals while focusing on some of his teammates, but the best of the bunch came very late on, as he scored a stoppage-time winner against Peru to secure third-place for his nation.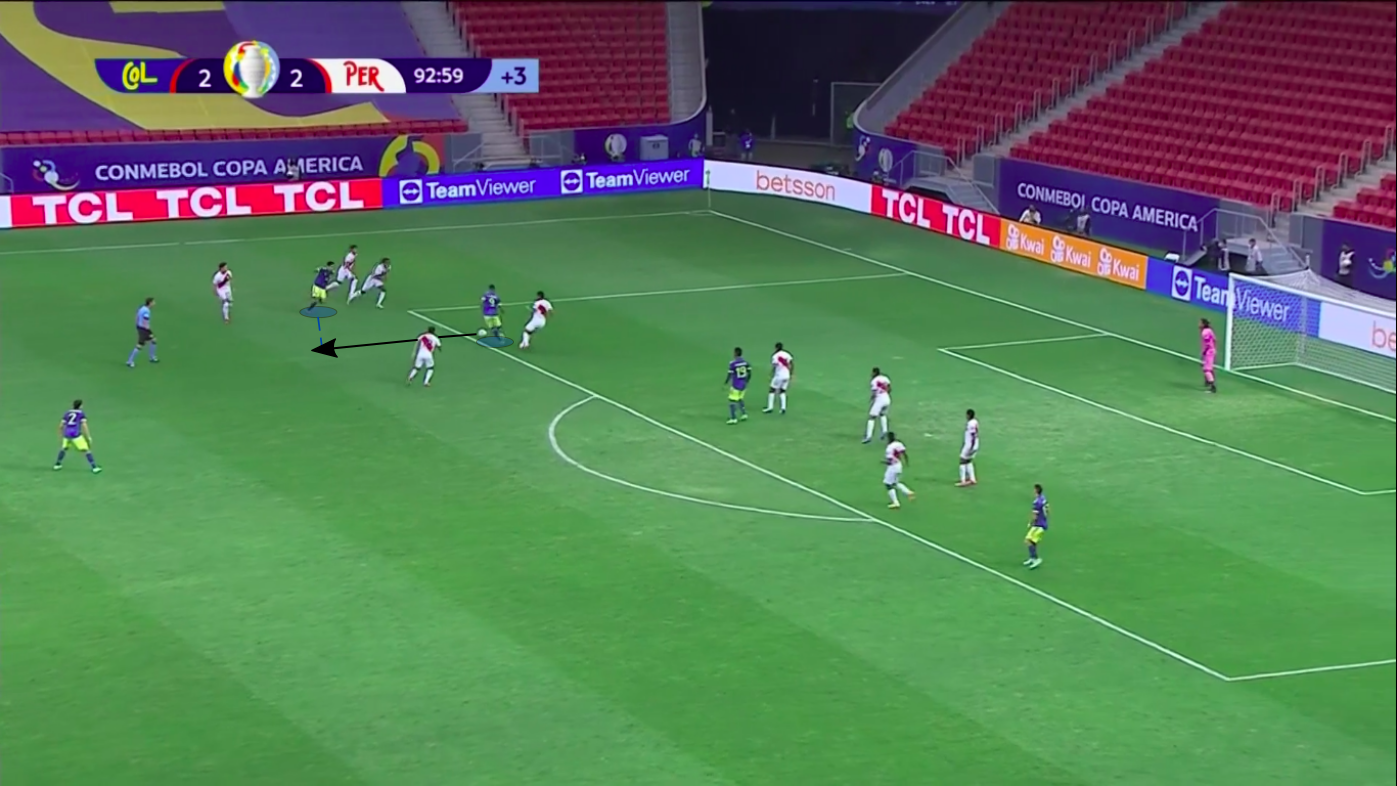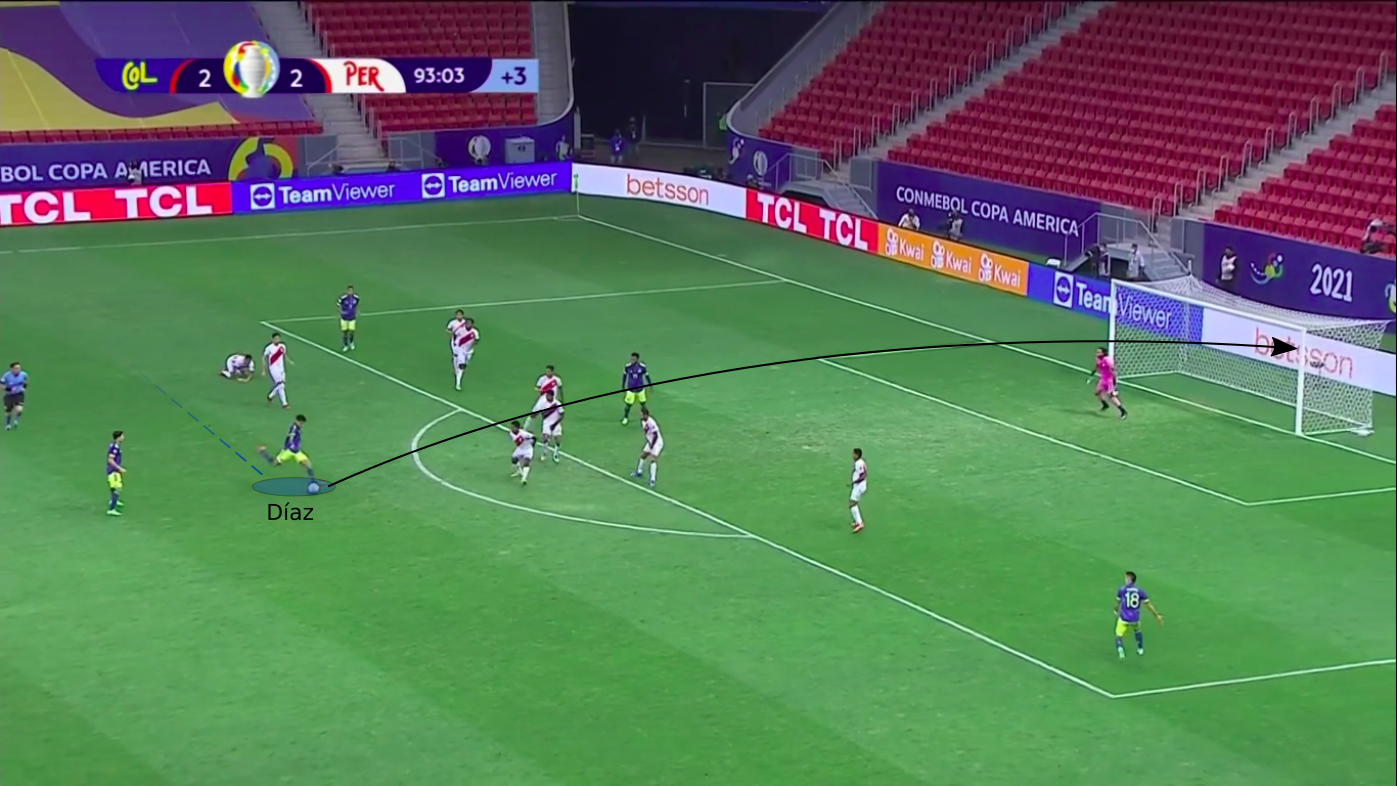 With all of these strikes, the winger finished as joint-top scorer in the competition with four goals which also put him undisputedly on top of the non-penalty goals chart, and such long-range efforts meant that his xG overperformance was a whopping 3.3. His dribbling was exceptional too, as he attempted 32 of them and was successful 81.3% of times.
The 24-year-old winger has three more years on his contract at Porto, but such performances have naturally attracted interest from some of Europe's top clubs.
Lucas Paquetá
Neymar was – as we will quite obviously discuss – simply brilliant for Brazil, but in the rare occasions when he was contained or kept away from the action, Lucas Paquetá delivered the goals for Brazil.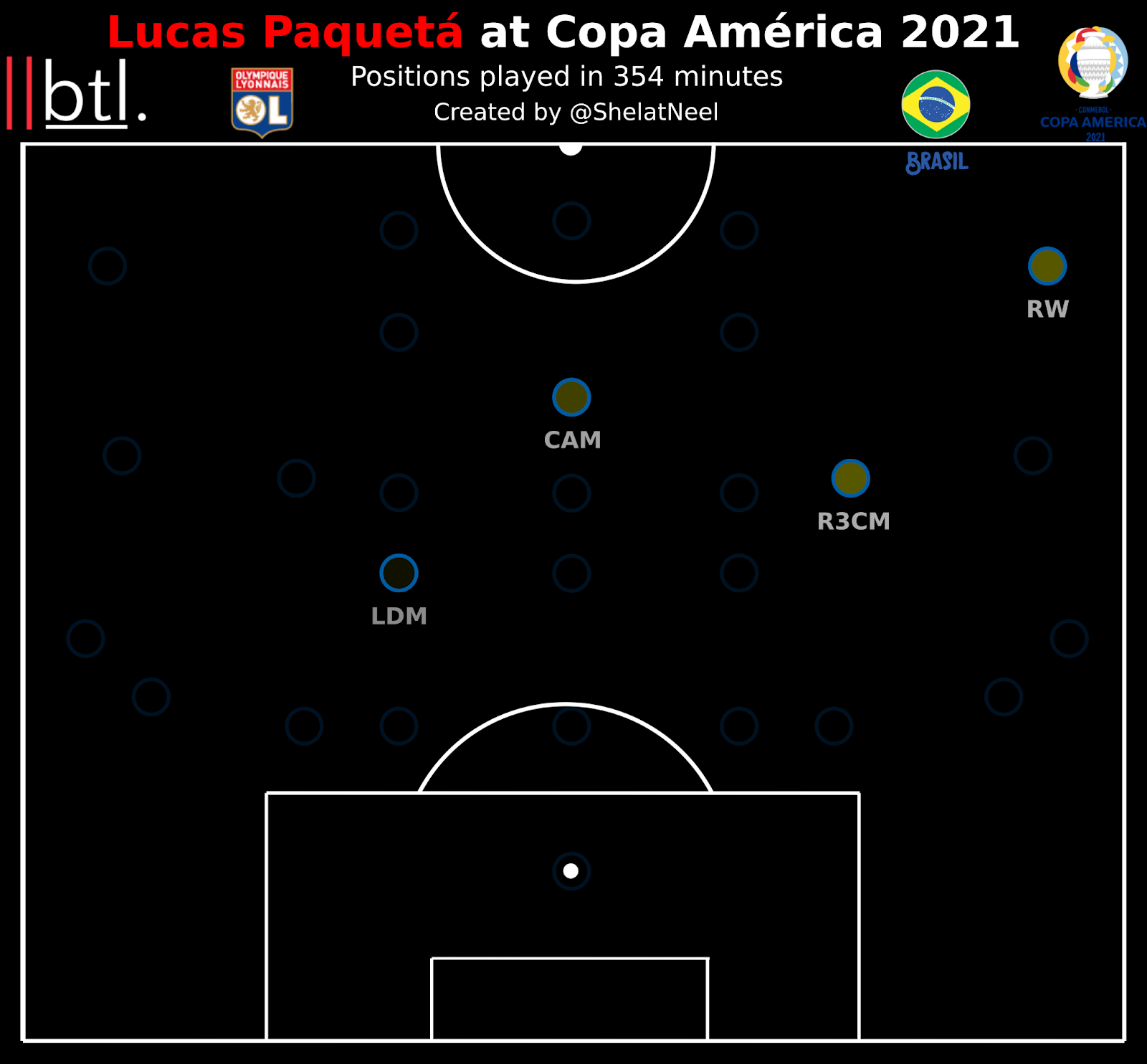 Playing in a variety of midfield roles primarily, the Lyon man impressed both in terms of chance creation and goal-scoring, netting both of Brazil's knockout goals as well racking up impressive numbers with a total npxG + xA of 0.51, 5.13 progressive passes, 1.54 key passes and 3.05 SCA per 90. His defensive contribution was not bad either, as he averaged 5.38 tackles and interceptions per 90.
The 23-year-old attacking midfielder has a contract till 2025 in Lyon, and given his impressive recent form, he should be able to make a positive impression on new manager Peter Bosz.
Ángel Di María
Ángel Di María is evidently not a part of Lionel Scaloni's favoured XI as he was only handed two starts, but when he was needed most, the veteran winger delivered by scoring the winning goal in the final. His impact off the bench was exceptional too as he came on in all but one of the remaining matches.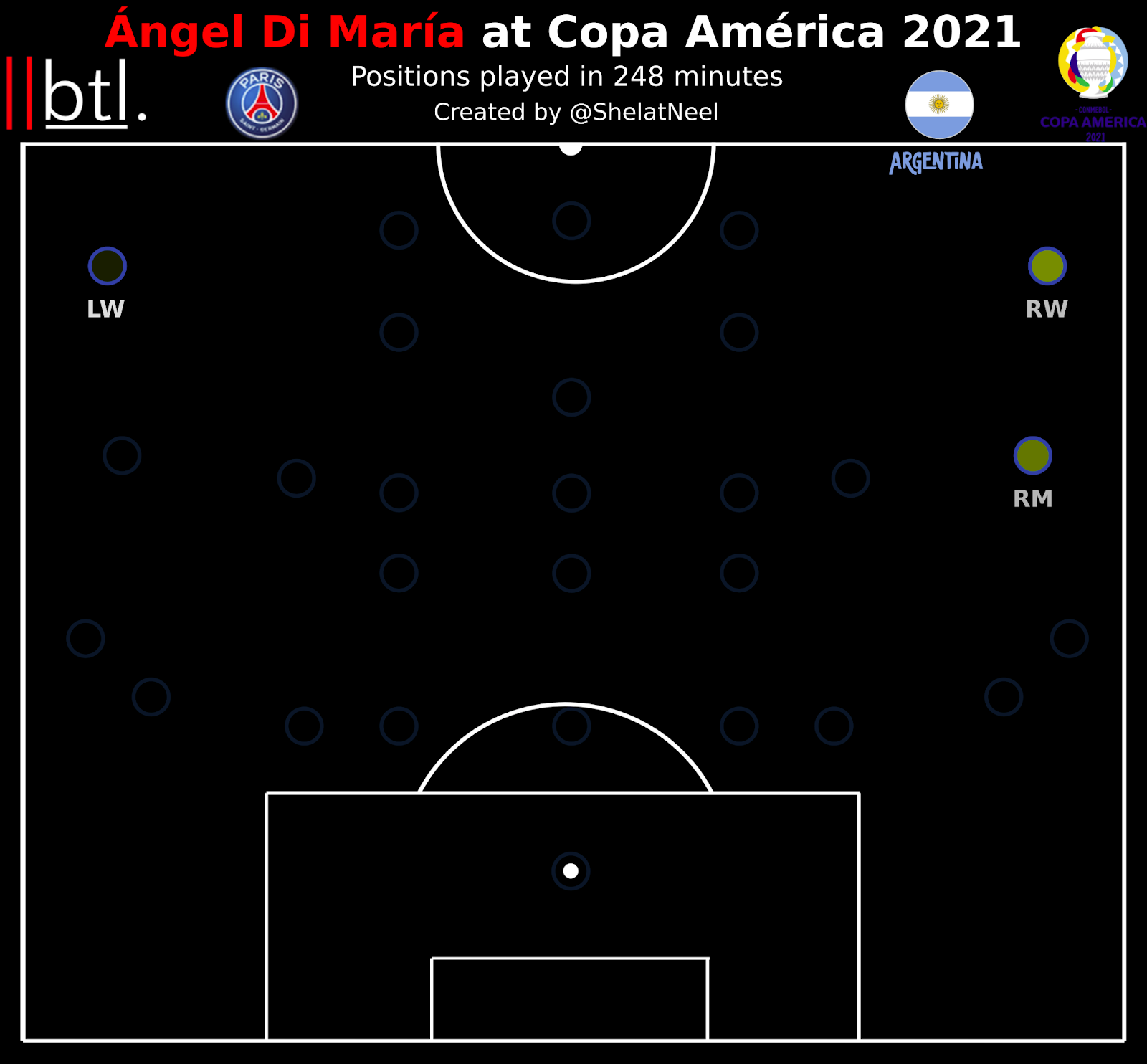 Because of that, his per 90 stats look incredibly impressive, including 0.67 npxG + xA (level with Lionel Messi) which translated into 0.65 goals and assists. To add to that, he managed 1.61 key passes, 4.87 SCA and a squad-topping 4.84 successful dribbles in the same dataset.
Although he averaged 3.65 shots per 90 (which was the highest of anyone in the Argentina squad), Di María scored just one goal, but it was invaluable as it proved to be the solitary strike in the final.
The 33-year-old winger has a contract till the end of the upcoming season with PSG along with an option to extend for another year, so that is where you should be able to catch him playing club football in 2021/22
Lionel Messi
Need we say much about this man?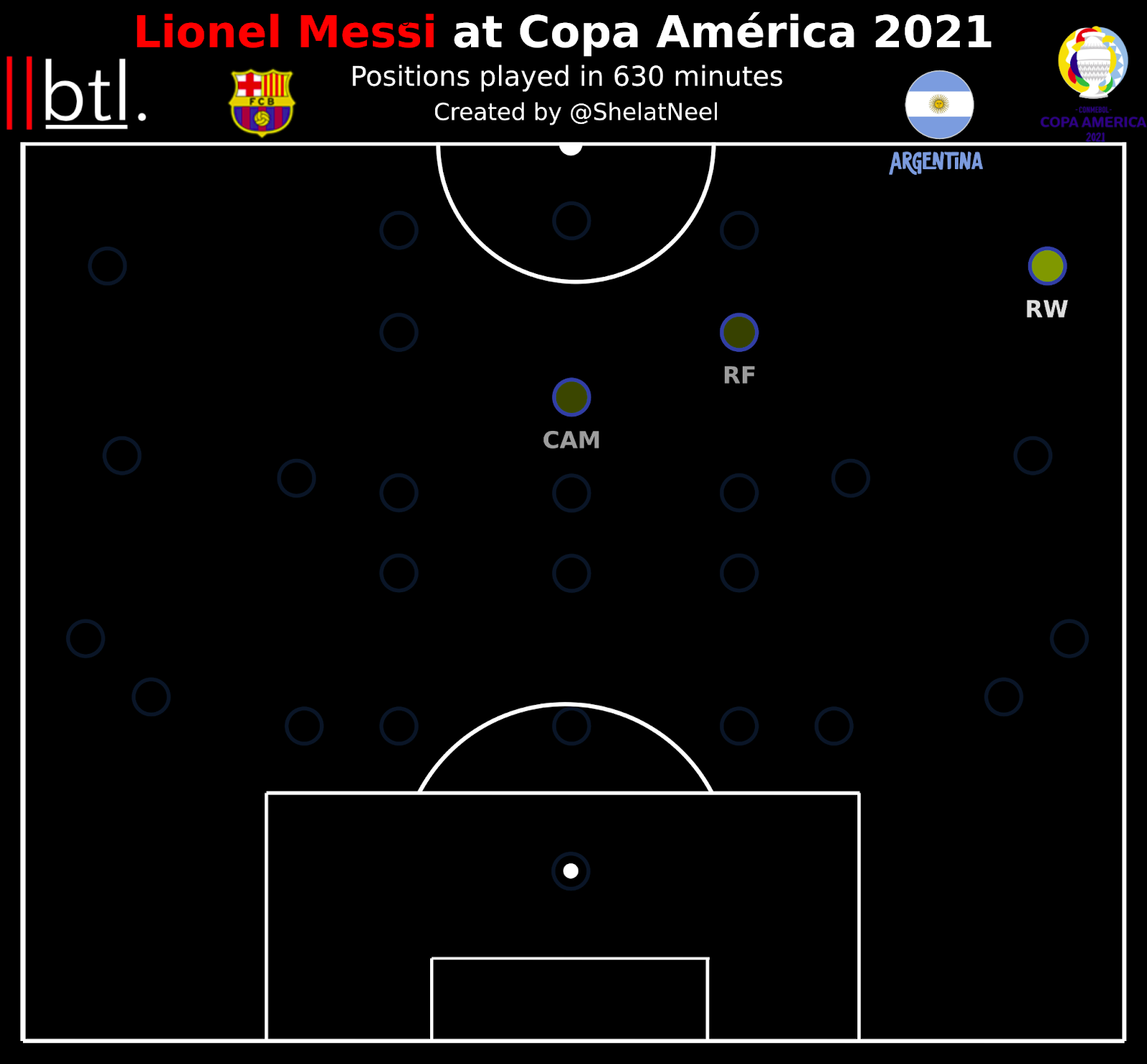 For most players we've looked at their stats relative to the rest of the squad, but in Messi's case, we will need to explore his performance relative to the next-best performer in the competition.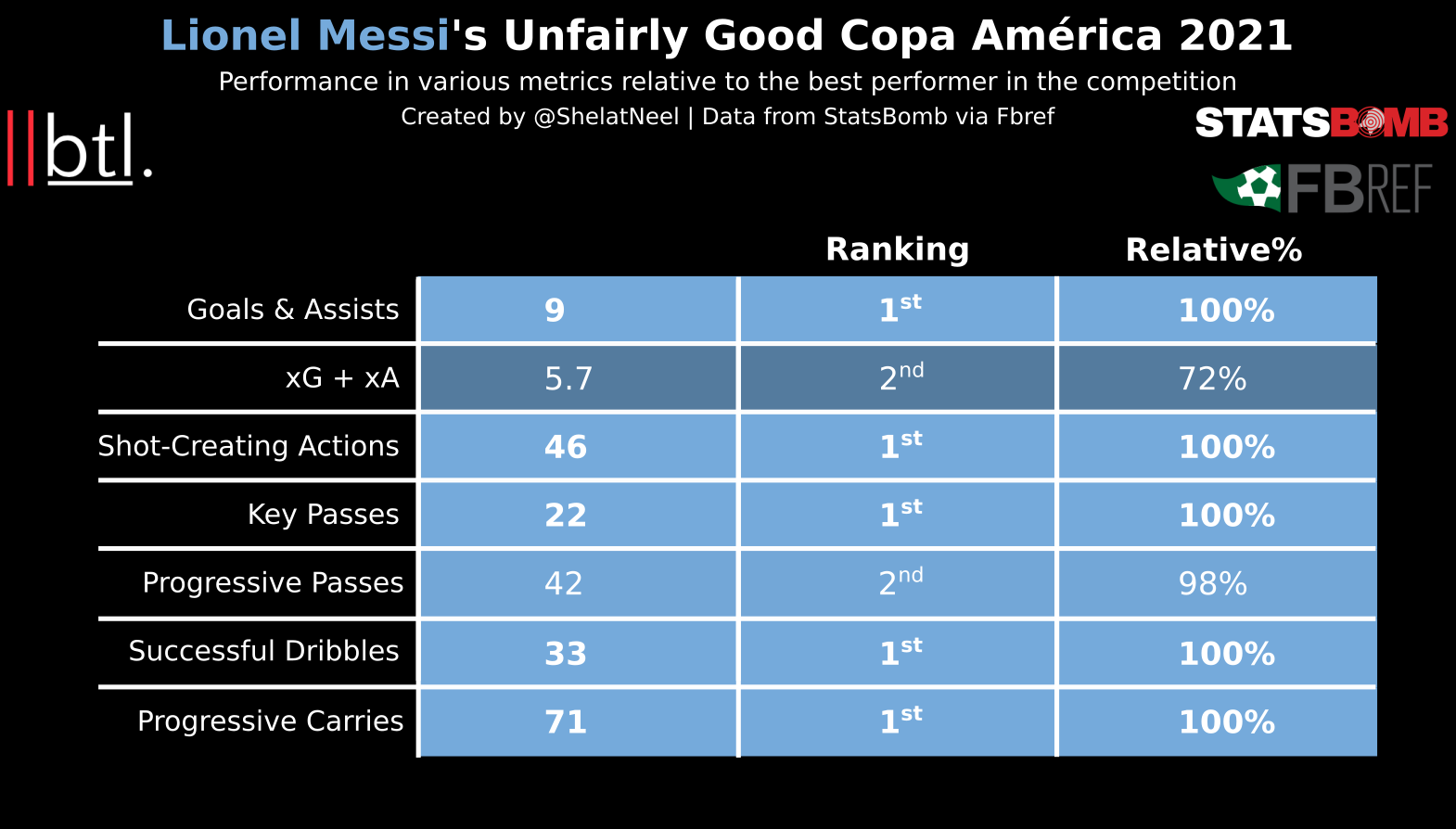 The Argentine great finished the competition as top-scorer with four goals (two of which were direct free-kicks), top provider with five assists, and obviously therefore, player of the tournament. At the time of writing, the 34-year-old forward is a free agent, but all reports are indicating that he will re-sign with Barcelona after taking as much as a 50% pay cut, so Cules should not be worried.
Christian Cueva
Peru's attack could certainly get firing on its day, and the man supplying the rounds on most occasions was Christian Cueva.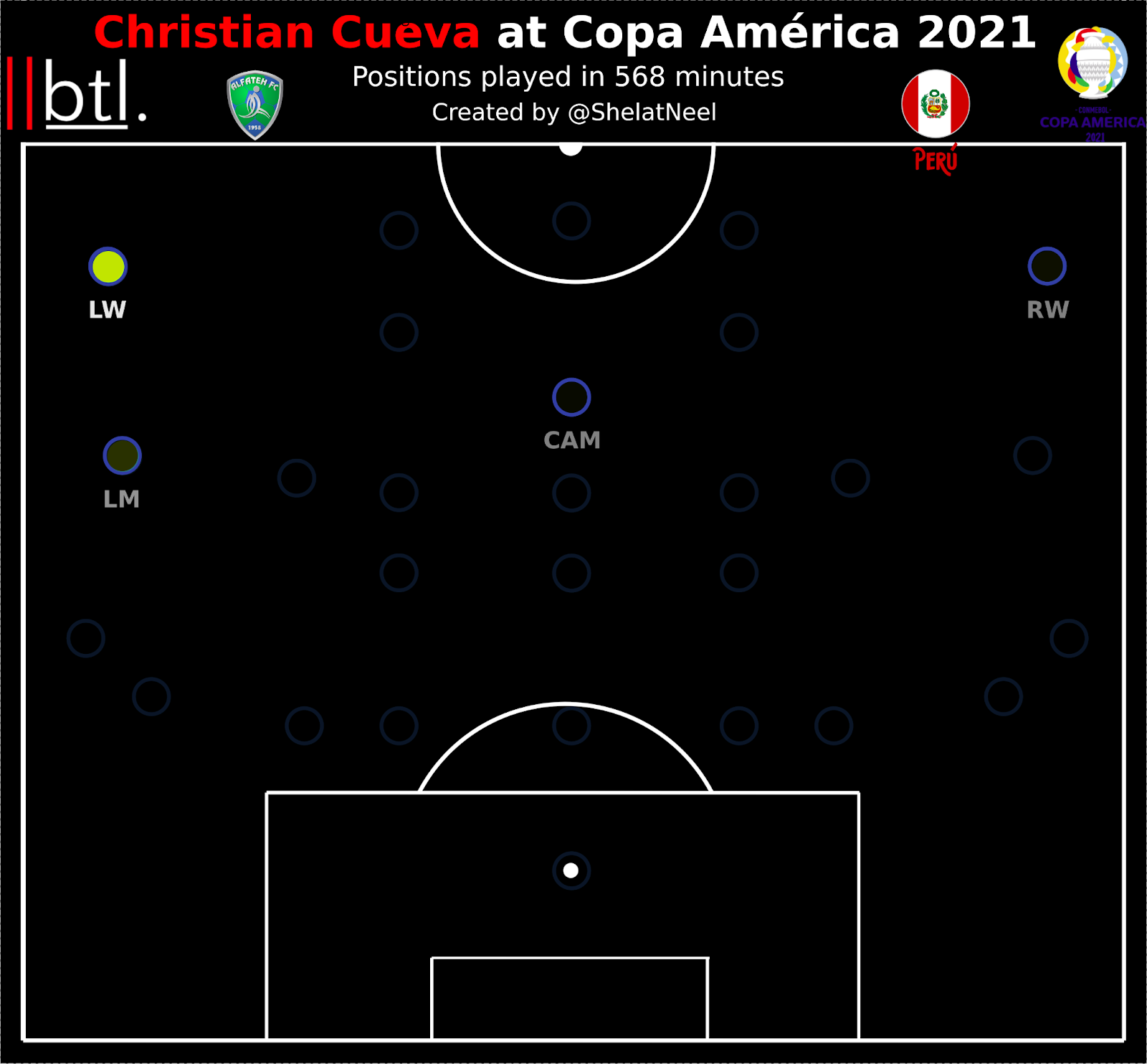 The veteran creator was at his very best for Peru in the tournament, supplying a couple of assists and putting up some very good numbers both in terms of creativity and ball carrying.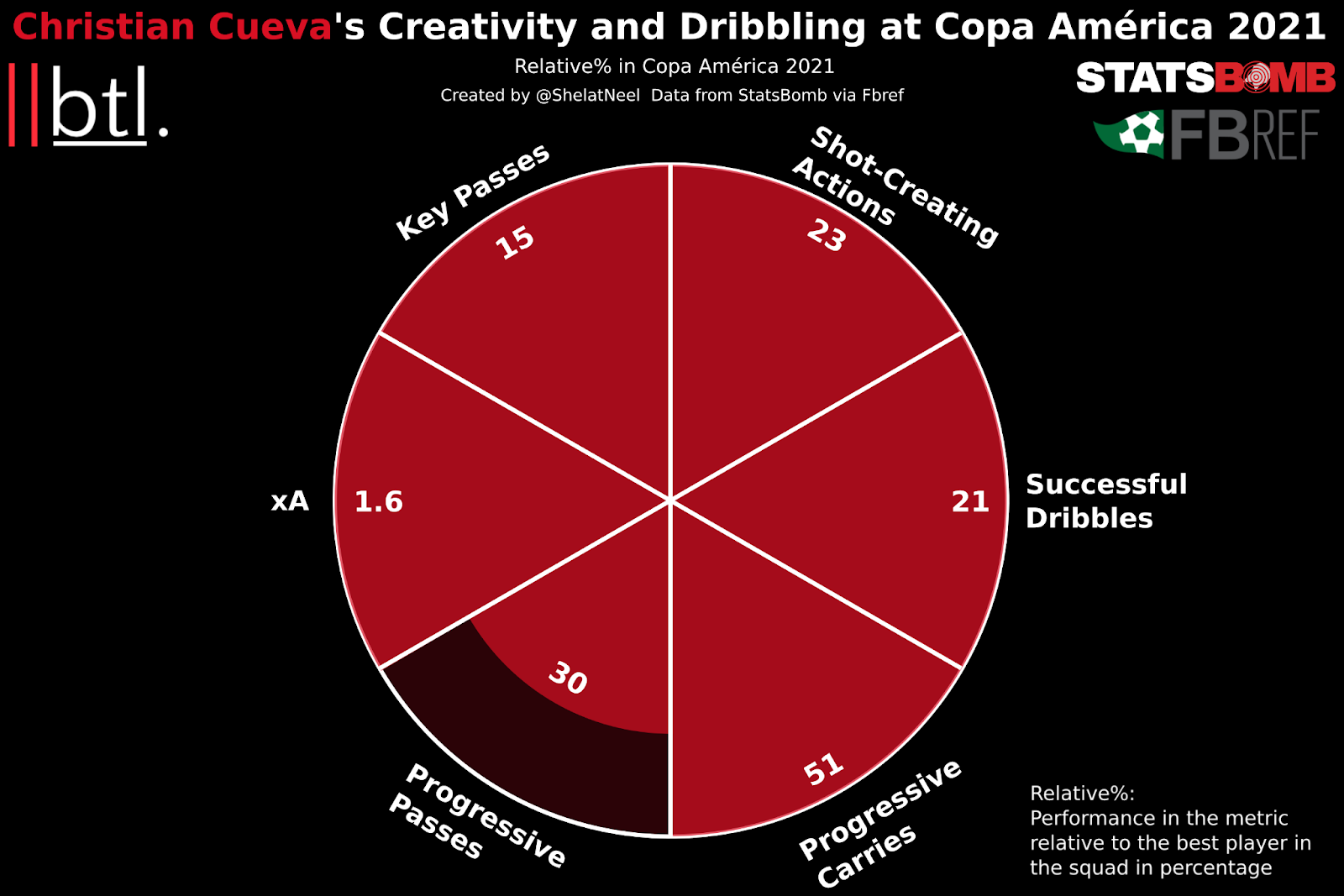 All of those qualities were on display when he assisted the opener in the third-place playoff.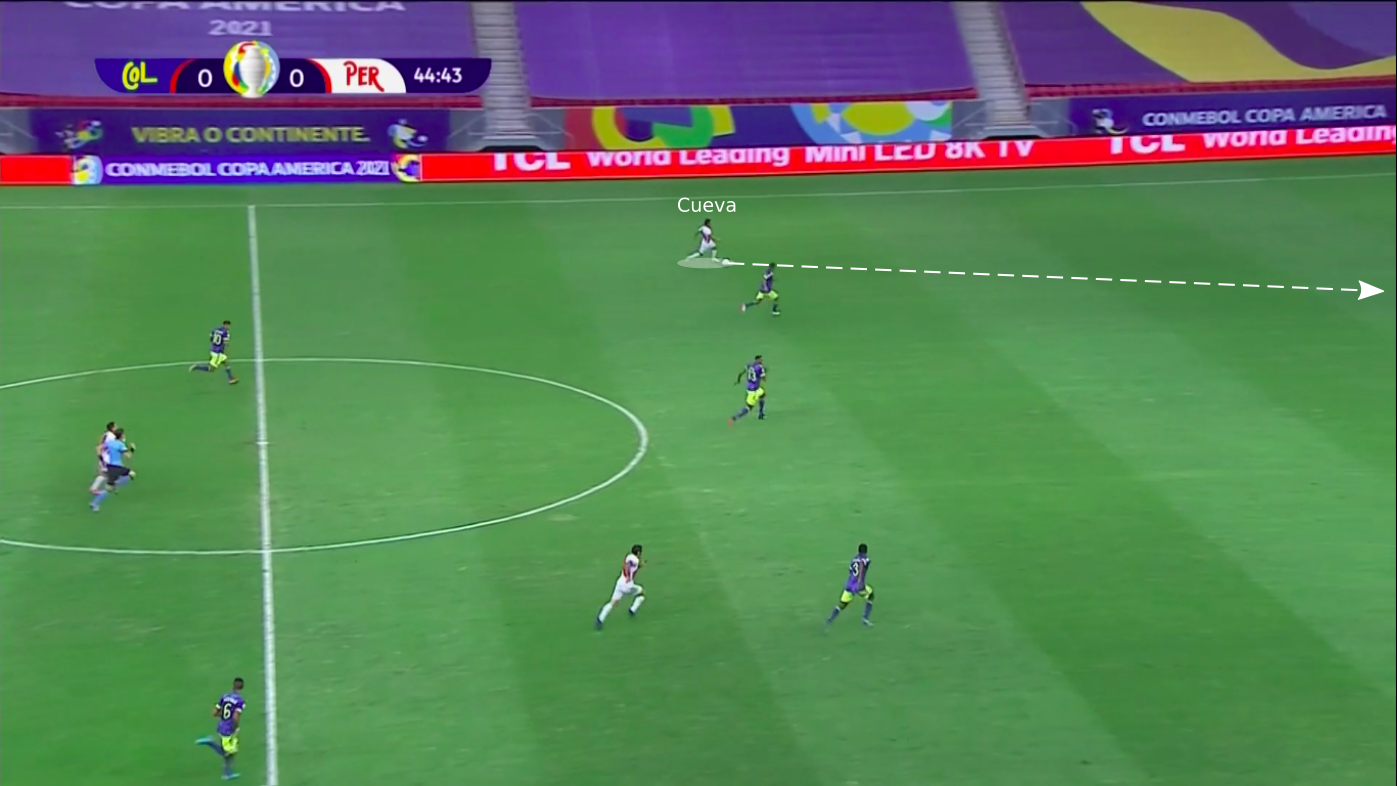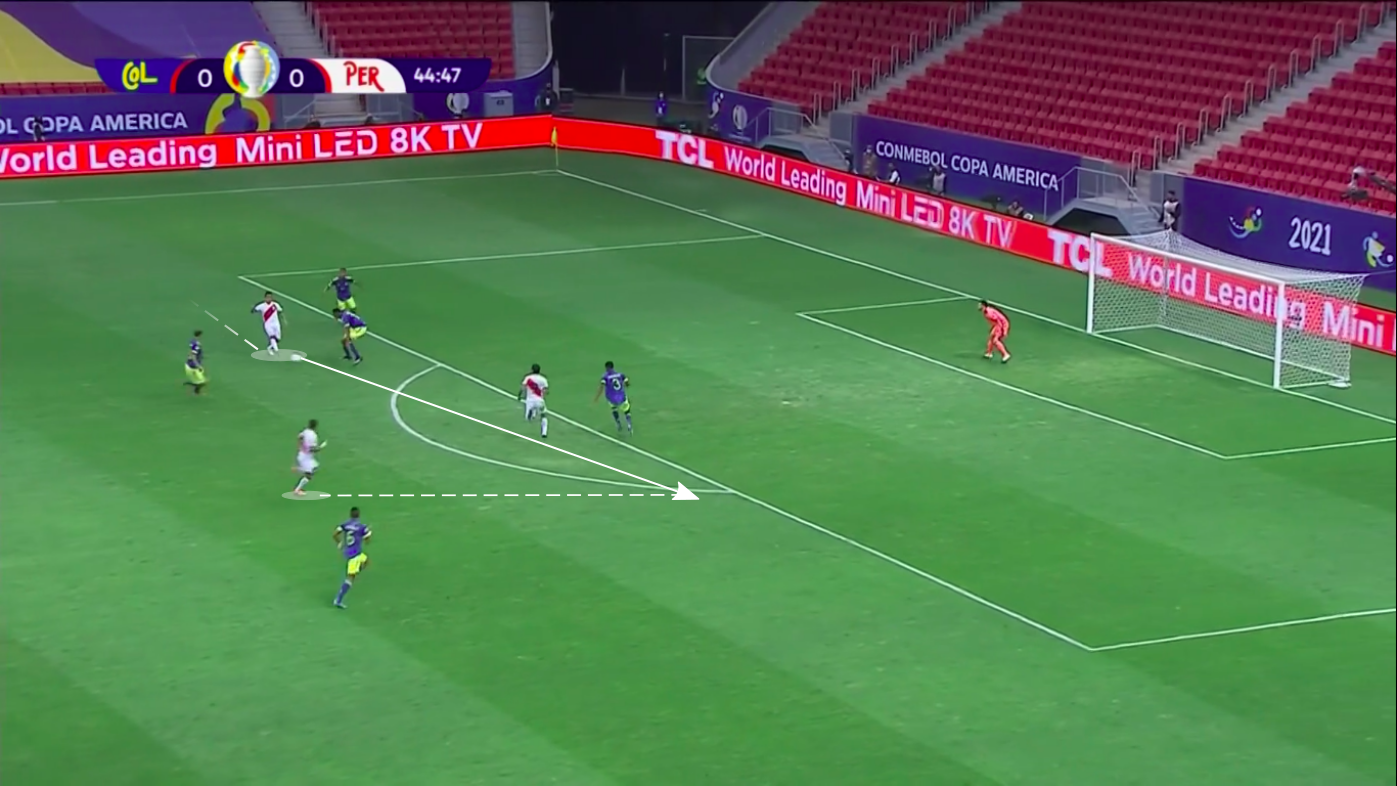 The 29-year-old creator has one year left on his contract at Al-Fateh with the club holding the option to extend for two subsequent years, and such performances certainly make that a greater possibility.
Neymar
Need we say much about this man either?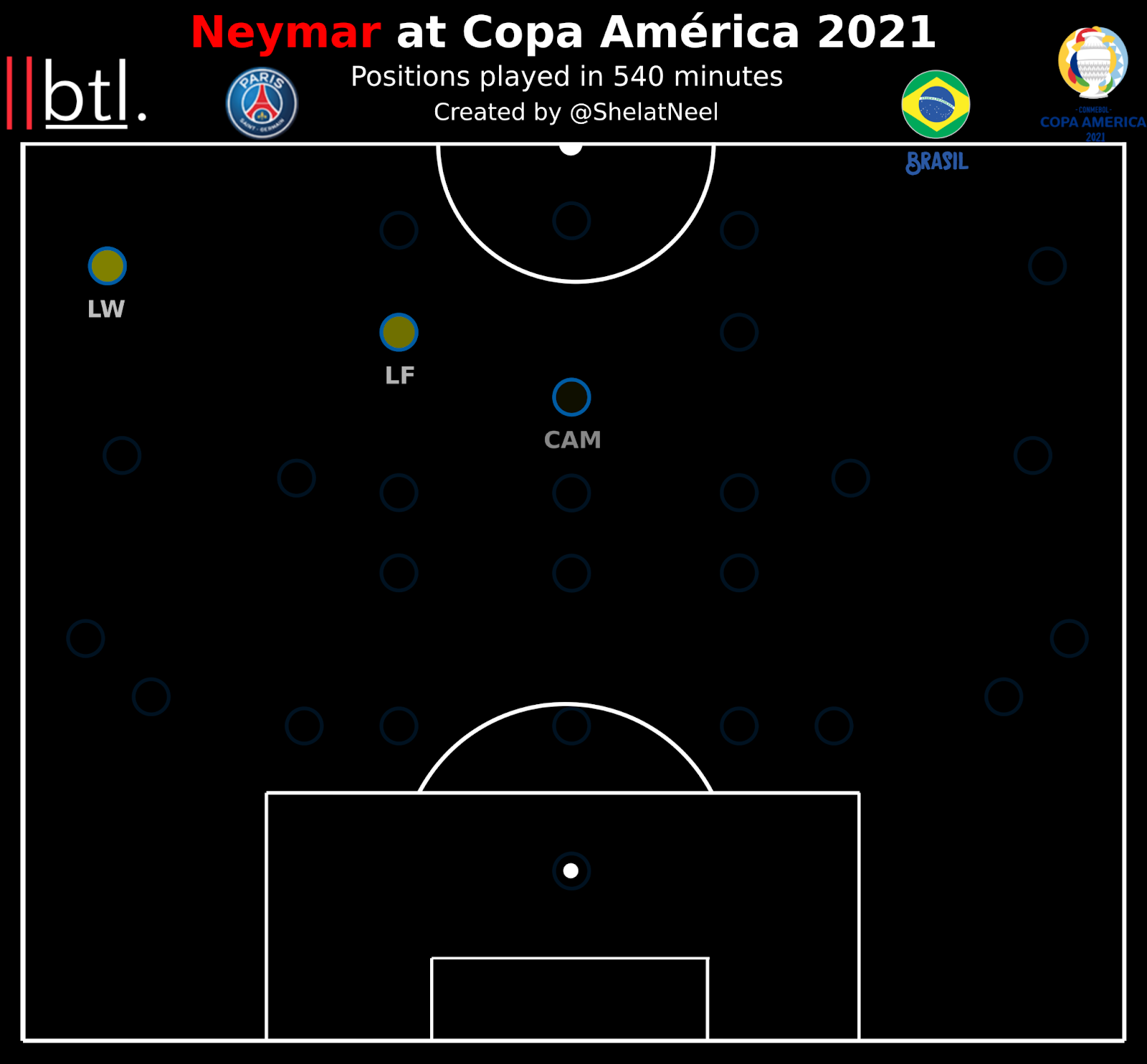 Much like his Argentine friend, he too can only be fairly assessed on competition-topping standards.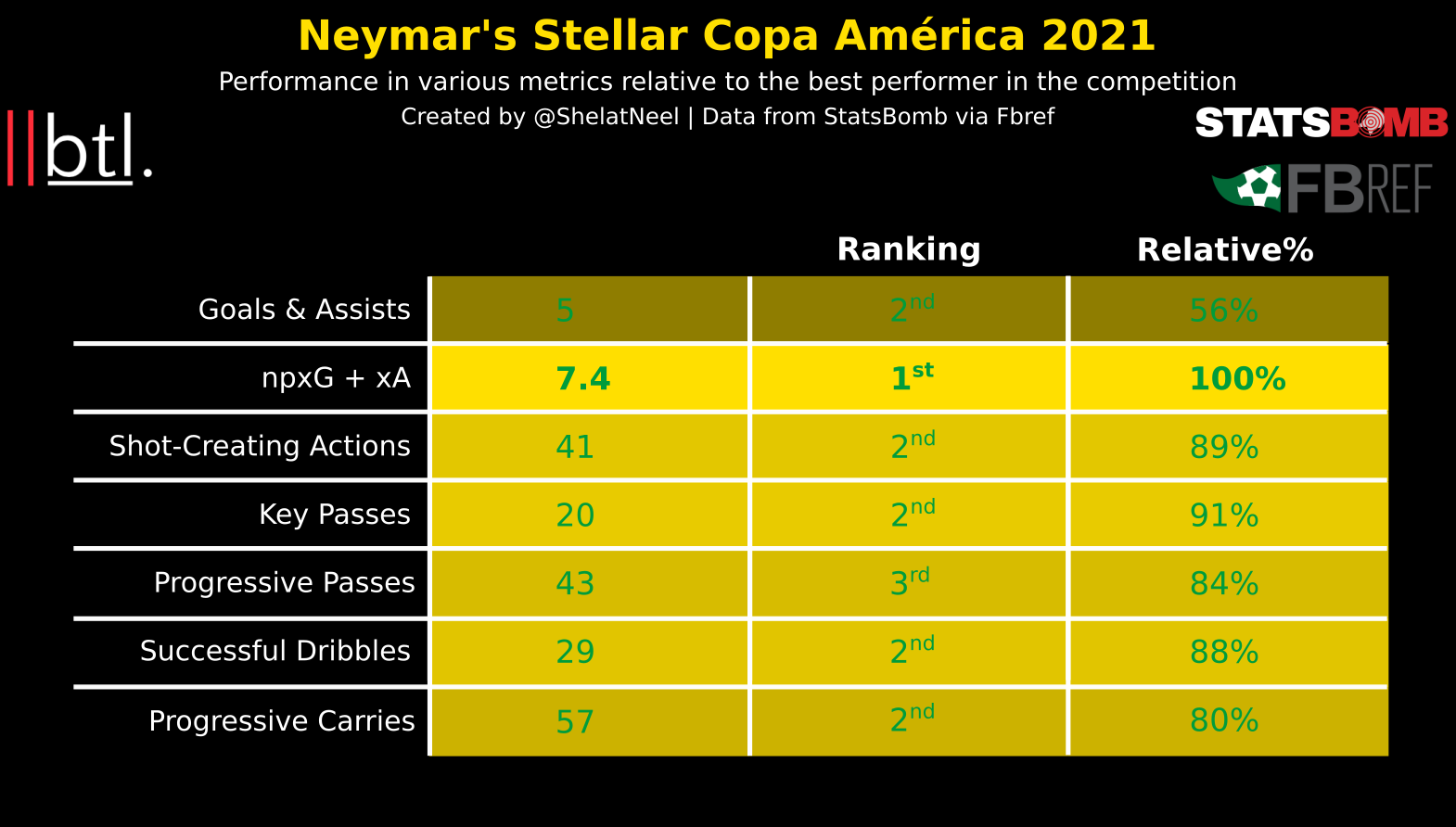 Much like his national side to its corresponding opponent, Neymar was second best to Lionel Messi in most cases, but he is surely not a bad person to finish behind. In spite of having a host of other talented attackers, Brazil's matches were often Neymar-shows, so you should not be surprised to see him take on and beat up to four or five defenders before setting up a goal or creating a chance if you revisit the highlights.
The 29-year-old attacker very recently signed a contract extension that will keep him in Paris till 2025, so his future is quite clear.
Eduardo Vargas
Eduardo Vargas' time in Europe is (temporarily at least) over as he too has crossed 30, but he certainly still possesses serious threat in and around the box, as his performances in the Copa América showed.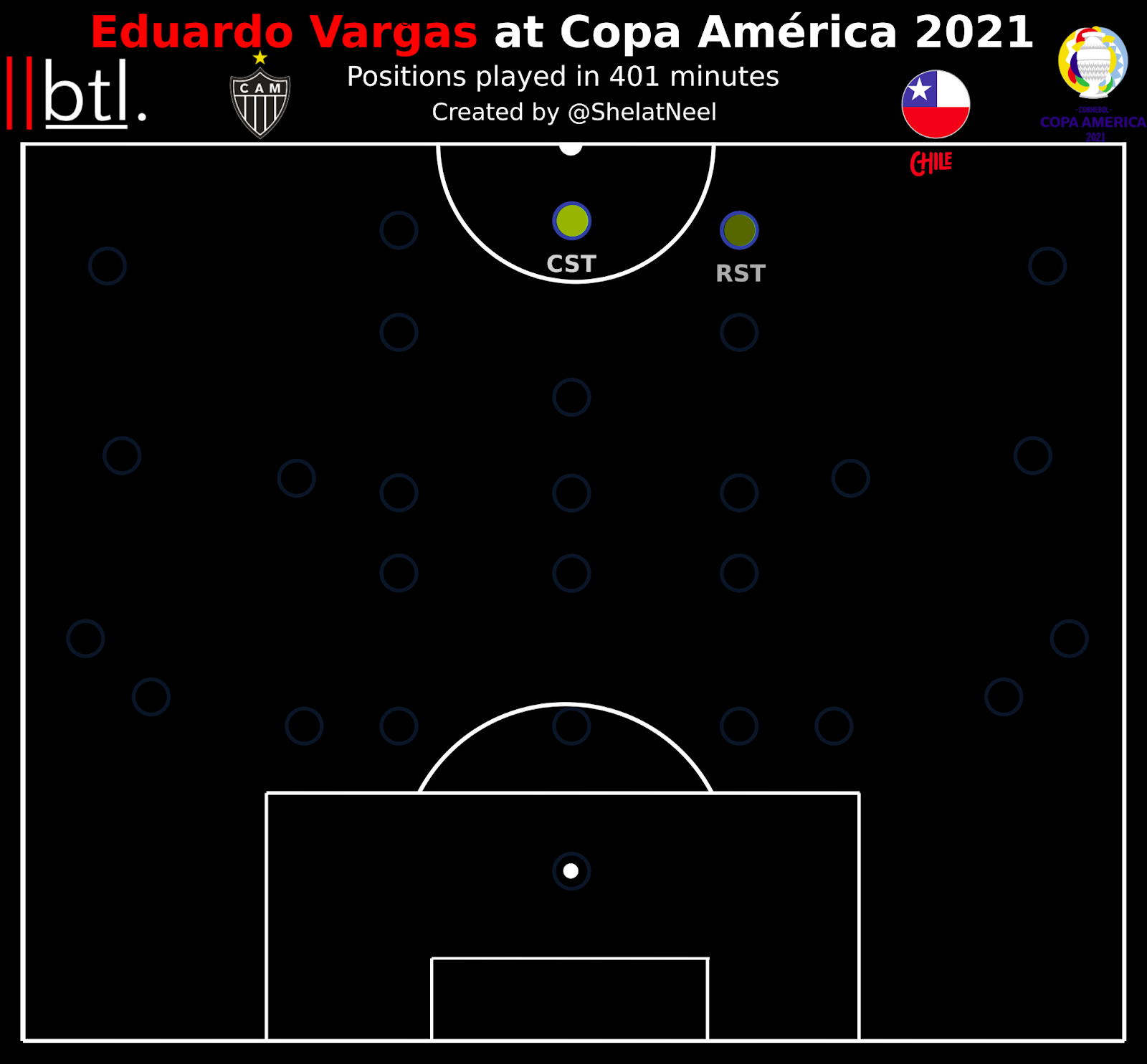 Vargas was Chile's main man up front as he returned with two goals and an assist, doing well across a variety of different metrics, including SCA where he managed a whopping 16. To add to that, the ex-Hoffenheim forward attempted a joint-Chilean-highest 11 dribbles and got the better of seven opponents in the process, additionally managing four key passes.
His smart movement around the box and clinical finishing were epitomised when he opened the scoring against Uruguay with a very good goal.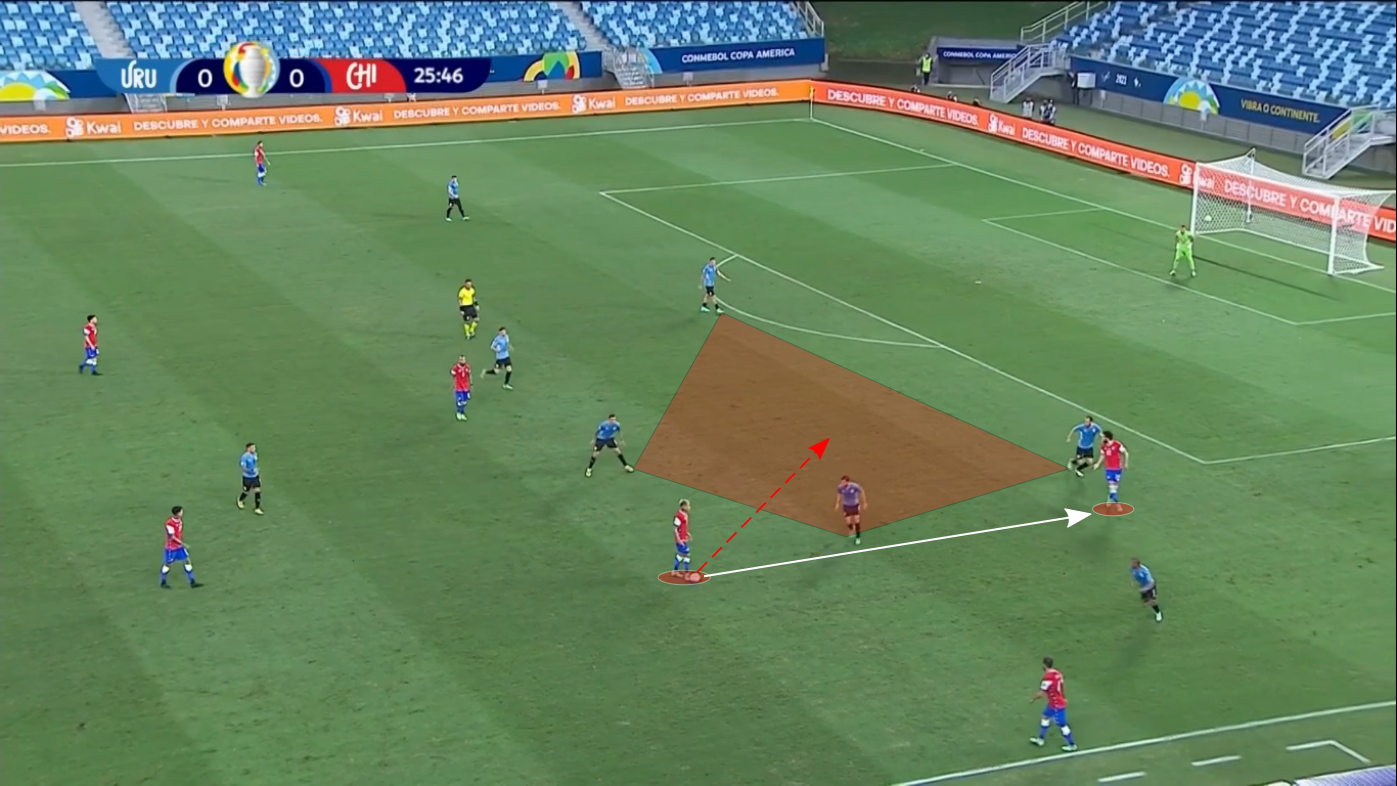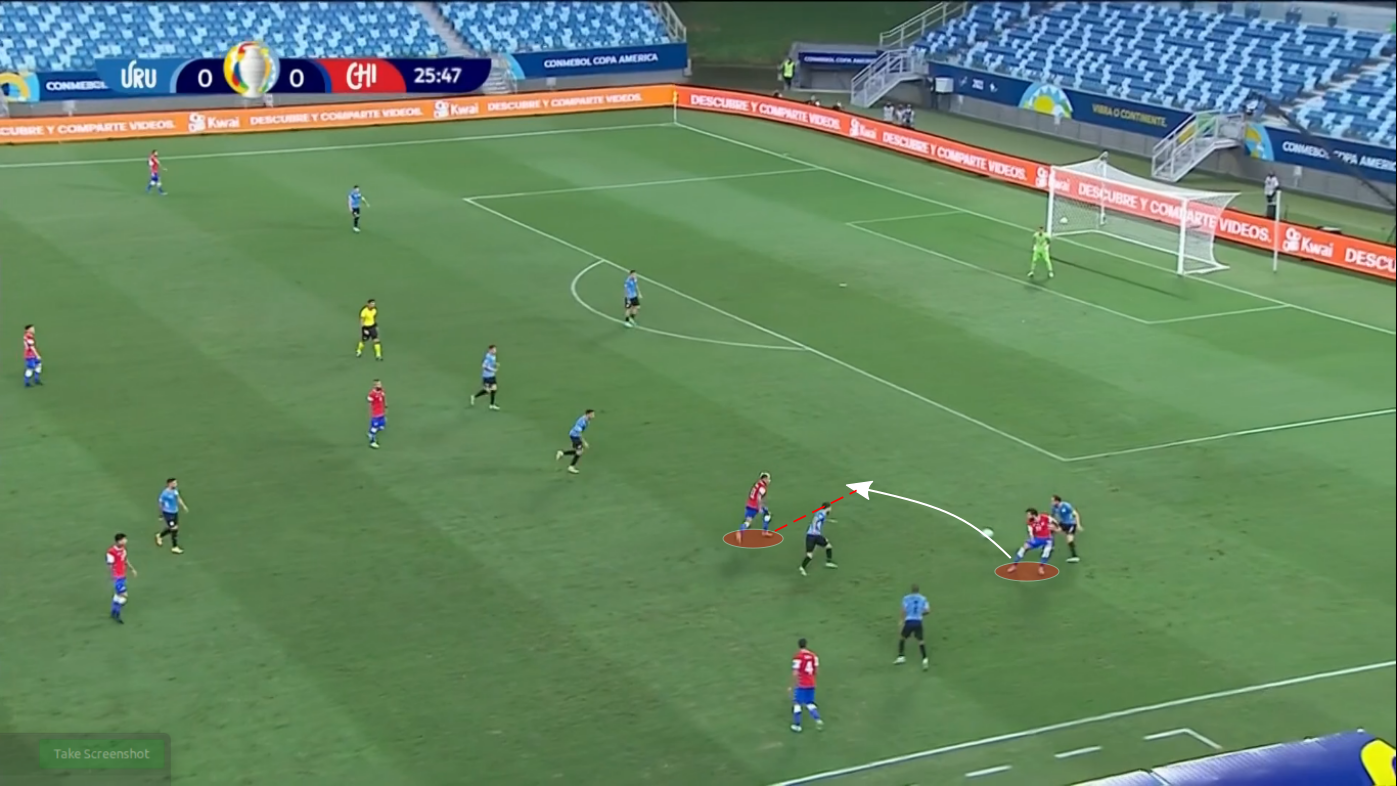 Final Squad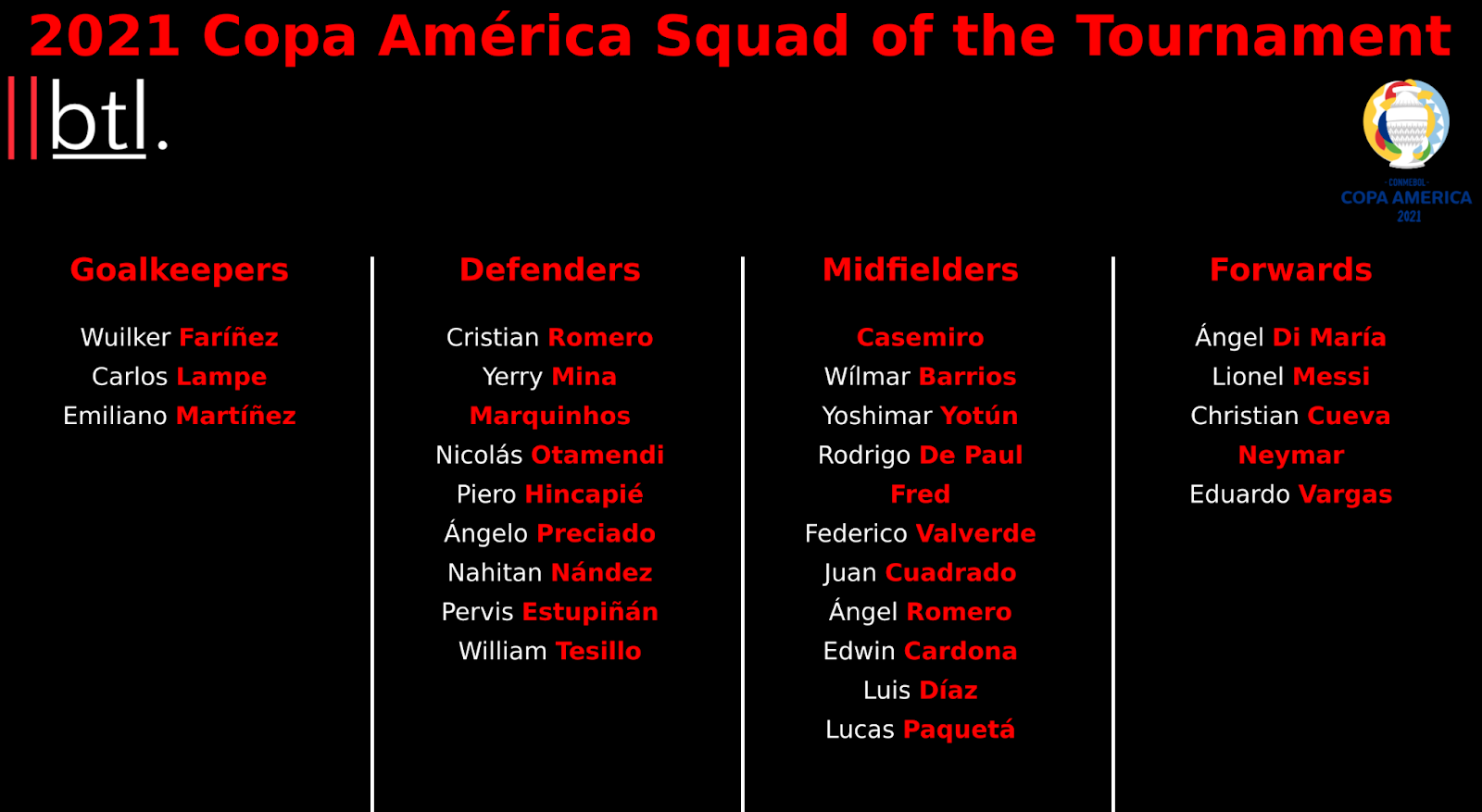 By: Neel Shelat / @ShelatNeel
Featured Image: @GabFoligno / Buda Mendes – Getty Images
Stats courtesy Fbref and Transfermarkt.