Napoli's Scudetto Win and Victor Osimhen's Capocannoniere-chasing Form
The away section of Udinese's Dacia Stadium, intoxicated with ardor, erupted with the sound of catharsis. An eternal place in football folklore had been filled and an incredible journey to their first league title since the halcyon days of 'Dios' had concluded. Victor Osimhen's second-half equalizer had seen Napoli draw 1-1 at Udinese and secure their first Scudetto in 33 years, cementing their place atop Serie A's totem pole. Today, we're going to take a look at the history of Napoli and how they returned to the promised land.
Founded in 1926, Napoli would go through various highs and lows over the next four decades before winning their first major trophy and beating SPAL in the 1962 Coppa Italia Final, becoming the first Italian side to win the cup whilst playing in the second tier. That same year would see them earn promotion to the top-flight, only to be relegated for the fourth time the following season. Upon returning to Serie A, they would finish third in 1965/66, narrowly missing out on the Scudetto to Helenio Herrera's Inter, whilst also winning the Coppa delle Alpi, a friendly tournament.
They would solidify their status as one of the top teams in Italy over the next few years, finishing second to Milan in 1967/68 and coming third in 1970/71 and 1973/74. The '70s would see Napoli continue their rise, finishing two points behind champions Juventus in 1974/75 and winning the Coppa Italia in 1975/76. However, they would suffer a decline and narrowly avoid relegation in back-to-back years, culminating in an 11th-place finish in 1983/84.
One month after avoiding the drop by a point, Napoli broke the world transfer record fee and signed Diego Maradona in a €12 million deal from Barcelona. The Partenopei gradually rebuilt their squad, bringing in the likes of Ciro Ferrara, Salvatore Bagni and Fernando De Napoli, finishing eighth and third. The following summer would see Maradona head off to Mexico and play a vital role in attack as Argentina claimed their second World Cup trophy, beating West Germany 4-2 in the final.
The 1986/87 season would see Napoli finally break their duck, finishing three points clear of Juventus and winning their first-ever league title whilst also thrashing Atalanta 4-0 in the two-legged Coppa Italia Final. They would follow up their domestic double with back-to-back second-place finishes, winning the UEFA Cup in 1988/89 and following that up with another Scudetto. Napoli were on top of the world and Maradona was their Messiah, a scintillating playmaker with a vision, dribbling skill, ball control and passing ability like none other.
And soon, it all came crashing down. Maradona led Argentina to yet another World Cup Final, where they lost to West Germany, but at the end of the tournament, he was forced to take a drug test and tested positive for cocaine. He was banned for 15 months and would never play for the club again. Napoli would kick off the 1990/91 season with a 5-1 win against Juventus in the SuperCoppa — little did their fans know, this would be the club's final trophy in 22 years.
The Partenopei finished eighth and would suffer a gradual decline both on and off the pitch, culminating in their relegation in 1997/98. They would return to the top-flight in 1999/00 only to drop down the following season; by August 2004, they were declared bankrupt and fell to the third tier. Film producer Aurelio De Laurentiis bought the club in 2004 and led them to two promotions in three years, with Napoli spending their first few seasons in the middle of the table before finishing sixth in 2009/10, its highest finish in 16 years.
Napoli spent a club-record €17 million on Palermo's Uruguayan striker Edinson Cavani, who would score 33 goals in all competitions as Napoli finished third and reached the UEFA Europa League Round of 32. The following year, they finished fifth under Walter Mazzarri and reached the Champions League Round of 16, whilst also beating Cesena, Inter, and Siena en route to the Coppa Italia Final, where they would win 2-0 in Rome via goals from Cavani and Marek Hamšík.
Cavani scored 38 goals in all competitions and finished as the Serie A top scorer with 29 league goals in 2012/13, but ultimately, it wasn't enough as they finished second, nine points behind Juventus. The summer of 2013 brought about plenty of upheaval, with Rafael Benítez replacing Mazzarri as the club's manager and Gonzalo Higuaín joining the club from Real Madrid following the sale of Cavani to Paris Saint-Germain.
Kim Min-Jae: The South Korean Defender Who's Filling a Kalidou Koulibaly-Sized Hole in Napoli's Defense
Benítez led Napoli to the Coppa Italia Final and a third-place finish only to depart after a trophyless campaign, with little-known manager Maurizio Sarri taking charge. Napoli would finish in the top three in each of his three seasons in charge, dazzling neutrals with an attractive style of play as the likes of Jorginho, Kalidou Koulibaly, Dries Mertens and Lorenzo Insigne, only to miss out on the Scudetto to Juventus on every single occasion.
Carlo Ancelotti replaced Sarri at the helm and guided them to a third second-place finish in four years, only to be sacked midway through the 2019/20 campaign. Gennaro Gattuso took charge and led them to a seventh-place finish as well as another victory in the Coppa Italia before following that up with a fifth-place finish and a trophyless campaign. Enter: Luciano Spalletti.
The Partenopei would challenge Inter and Milan for the Scudetto only to drop off in the final months of the season, losing to Milan, Fiorentina and Empoli and drawing to Inter, Cagliari and Roma. After yet another late collapse, Napoli embarked on a lengthy rebuild with veterans like Koulibaly, Mertens, and Insigne departing the club, whilst young, up-and-coming players such as Khvicha Kvaratshkelia, Kim Min-jae and Mathías Olivera joined the club.
Napoli would kick off their Serie A campaign in style, thrashing Hellas Verona 5-2 and beating Monza 4-0 before drawing to Fiorentina and Lecce. 11 straight wins would follow, with Napoli entering the World Cup break in stellar form. They began 2023 with a 1-0 defeat at Inter, only to bounce back with eight consecutive victories. Pretty soon, it became inevitable that Napoli would return to the promised land and end their Scudetto drought.
A 1-1 draw at Udinese on May 4 would confirm their triumph, with Napoli celebrating their win by beating Fiorentina 1-0. It has been a historic campaign for Napoli, who would top their Champions League group and reach the quarterfinals for the first time ever, only to lose to Milan, and they have been rewarded by winning their first Scudetto in 33 years.
Napoli have been able to develop a unique tactical identity under Spalletti, prefering a slow and intricate build-up play that takes advantage of Zambo Anguissa and Stanislav Lobotka's dynamism in midfield and Kvaratshkelia's creativity in attack. With nearly 4.5 passes per sequence, they have been able to control the flow of possession and work the ball towards the likes of Osimhen and Hirving Lozano in attack whilst also keeping the side defensively compact.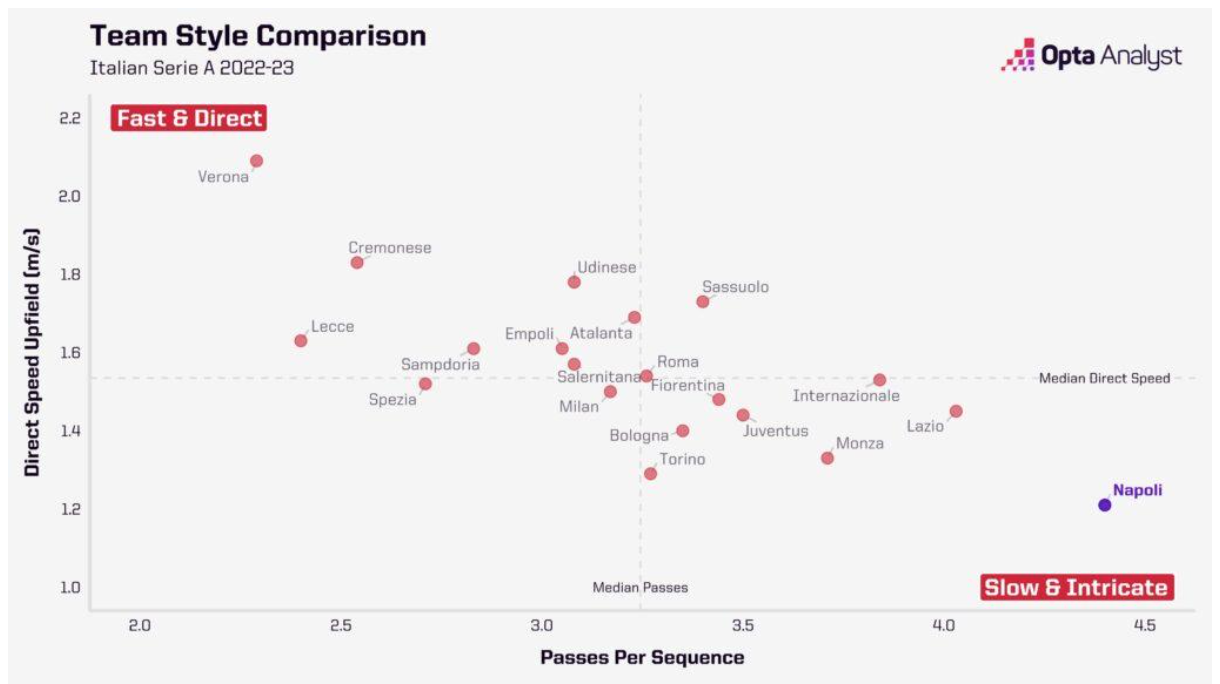 Photo: Opta Analyst
According to Opta Analyst, Napoli made 381 total shots, with 141 shots on target and 718 touches in the opposition boxes, whilst also averaging 62% possession. Spallletti's side would emerge as one of the most attacking sides in all of Europe, registering 73 goals in 36 league matches whilst also boasting the best defense in Serie A with just 26 goals conceded.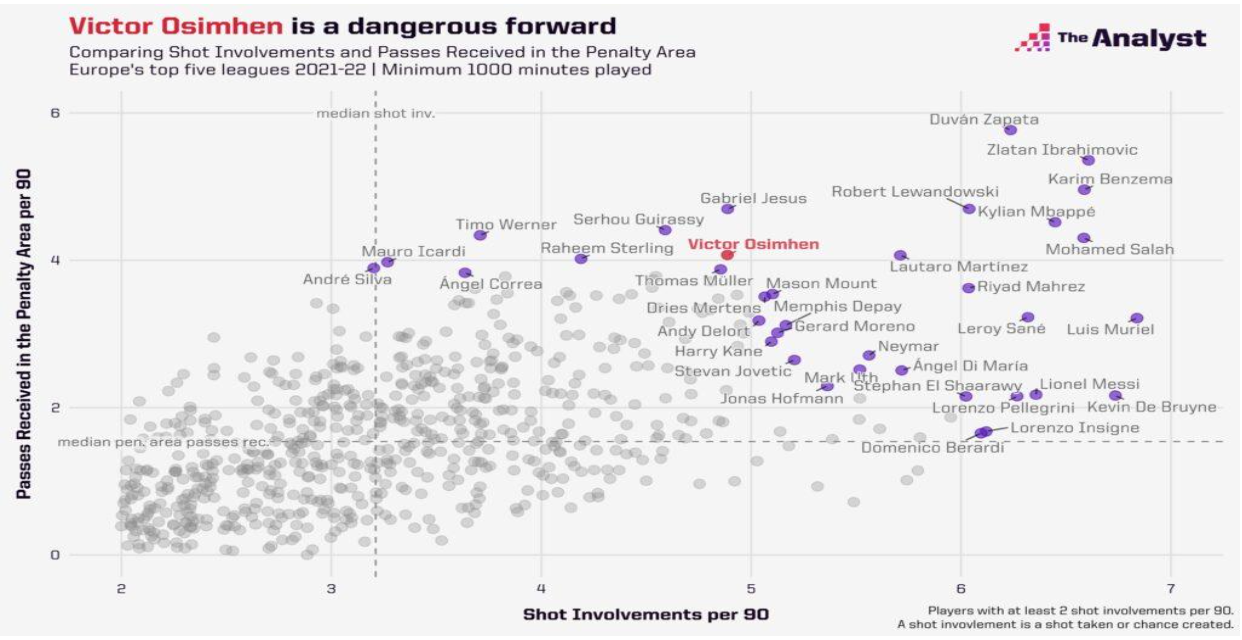 Photo: Opta Analyst
One player who has been vital to Napoli's success is Victor Osimhen. After an impressive debut campaign following his arrival from Lille, the Nigerian has taken his game up another level with 28 goals in all competitions and 23 in the league, three above second-placed Lautaro Martínez. He has solidifed his status as one of the best center forwards in Europe alongside Harry Kane, Robert Lewandowski, Erling Haaland and Karim Benzema, and he looks set to become the first African to finish as top scorer in Serie A and win the Capocannoniere award.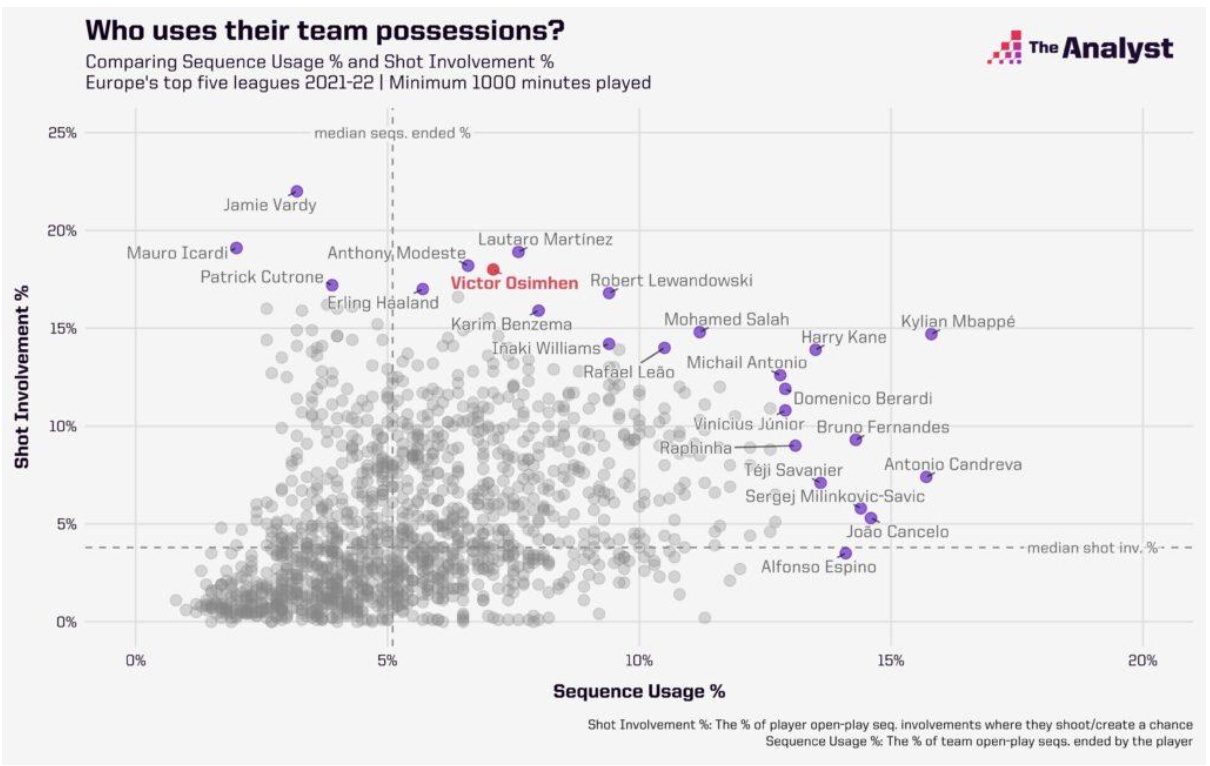 Photo: Opta Analyst
Napoli have reclaimed their spot atop Italian football's elite and trounced the competition. After beating Inter 3-1, they'll be looking to get their 28th league win of the season at Bologna before closing out their season with a visit from last-placed Sampdoria. And yet, it seems like they could be set for another rebuild this summer. Sporting Director Cristiano Giuntoli is set to depart for Juventus, Luciano Spalletti is reportedly considering a departure, whilst other players like Victor Osimhen and Kim Min-jae could be set for a departure. No matter what, though, Napoli's 2022/23 season will go down in history as the side that finally ended the drought and brought them back to the promised land.
By: Ogunniyi Abayomi / @OGUNNIYIABAYOM1
Featured Image: @GabFoligno / @GabFoligno / DeFodi Images