A Starry Night at the San Siro? Analyzing Red Star Belgrade's European Chances
For decades, the prospect of drawing FK Crvena zvezda (Red Star Belgrade) in Europe would be enough to thoroughly excite fans across the continent. Over 30 years since their last European trophy, this is no different. They notoriously possess one of the most imposing fan bases.
In addition to this, their long-established unity and passion for the club make them a daunting prospect for opposing sides. And when the Europa League knockout ties were drawn, Red Star were drawn with A.C Milan, in a draw that left both sets of fans yearning for the prospect of getting the full match day experience.
Nonetheless, this second leg of their Round of 32 fixture promises to be one to watch. Despite facing a rejuvenated side, spearheaded by the forever enigmatic Zlatan Ibrahimović and chasing their first Serie A title in ten years, Red Star have plenty of reasons for optimism.
Importantly, the Serbian champions have made a great start to their domestic campaign, unbeaten after 21 games and top of the league. In addition to this, Red Star's goal tally of 55 makes them Serbia's best attack, and their 8 goals conceded in the league underline such outright supremacy which can allow them to shift their concentration fully on the task at hand against their illustrious visitors at the San Siro. 
Dejan Stanković's side made it through Group L in the Europa League quite convincingly with 11 points. Their last defeat came in the Europa League against Hoffenheim in October. Crucially, Red Star's resilience they displayed at home to Milan in the first leg will give them a sense of confidence and hope for the second.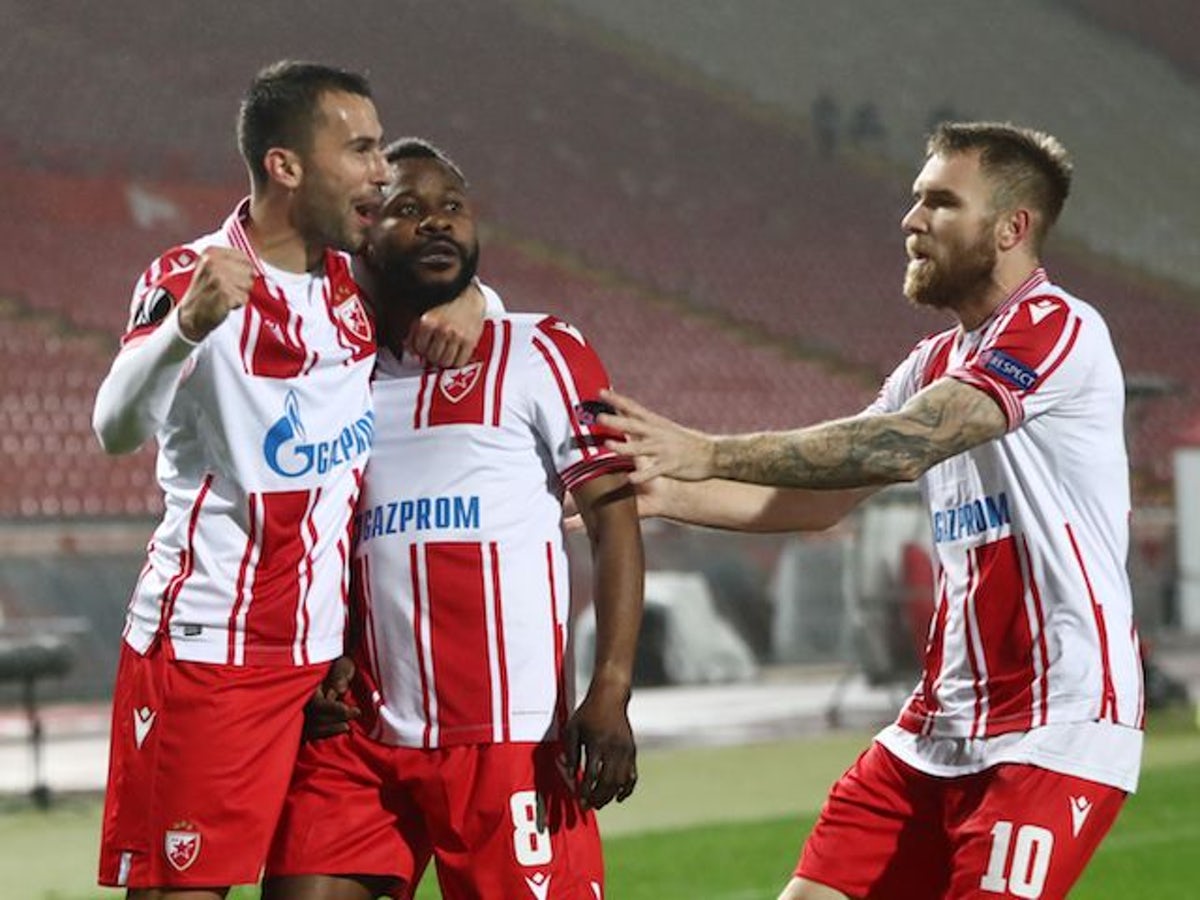 Photo: Reuters
"Performances in Europa have always been a major part of how a coach or player is judged at this club." These were the words of Nenad, a huge Red Star Belgrade fan who runs the Twitter account @RedStarEnglish. Stanković, a Champions League winner during his time at Inter Milan, has been a huge hit with Red Star fans. He has a charming yet imposing personality. A personality perfectly suited, at least on the outside, to lead Serbia's biggest club. 
Nenad also added, "We are probably not going to win the Europa League but fans will always wish for a big-name opponent in the knockout stage." This is what makes Red Star uniquely Red Star, as a club they can capture a 'take on the world' mentality that can be hugely startling for opponents. 
The first leg in Belgrade perfectly demonstrated Red Star's resilience and gall in the face of a huge challenge. And this is exactly what this is – an uphill battle. Going to the San Siro off the back of conceding two away goals is a big enough challenge for most teams in the competition. 
When interviewing Nenad on his team's performances so far, he concluded that Red Star are both able to "defend like crazy despite looking certain to concede." In addition to this, goalkeeper Milan Borjan is capable of world-class saves and already in their run in Europe this season has saved his side against Belgian side Gent.
In European football knockout ties, everything remains possible. This is an open tie, with the first leg ending 2-2 and both sides capable of extraordinary individual and team performances. Red Star boast experience this season in hanging on to slender leads and battling hard with exceptional defensive durability. 
Despite the backdrop of requiring an 'all hands on deck' performance in Italy, the Serbian champions pose an obvious attacking threat. El Ben Nabouhane has 5 direct goal involvements in 7 Europa League matches and Mirko Ivanić has 10 Serbian Superliga goals this season. These two both started in the first leg and undoubtedly be among Milan's biggest threats in the second. 
"I'd have to say it is the team spirit that was the base for every win. We will demand that the team gives it a real try to beat anyone," said Nenad.
This is what we can expect in the second leg of this tie. Perhaps not fireworks but likely a spirited performance that encapsulates the frustration of not playing in front of fans, being knocked out of the Champions League qualifiers, and drawing the first leg. As well as the determination to turn all of that into what could well be another memorable European night for FK Crvena Zvezda. 
By: Louis Young
Featured Image: @GabFoligno / picture alliance