Benevento and Inzaghi Ready to Prove Their Value
Dominating the competition like very few before it, Benevento earned promotion to Serie A for just the second time in its history after comfortably finishing on top of Serie B in 2019/20. Under the guidance of Filippo Inzaghi, the Stregoni broke records in the Cadetti as they went on to seal their promotion with seven rounds remaining. 
Redemption will be sought after by Benevento and "Super Pippo" though as both club and coach will be willing to prove that they belong in Serie A despite past failures.
The club from the Campania region had a horrific debut campaign in Italy's top flight in 2017/18, losing its first 14 matches, waiting until Round 19 to get its first victory of the season, and it finished on the bottom of the table after suffering 29 defeats from 38 matches. 
Meanwhile, Inzaghi had a successful playing career at club level and for Italy in the 1990s and 2000s, but he has not reached those lofty heights as a coach yet. 
He was appointed as coach of AC Milan in 2014/15 but he was sacked after the Rossoneri could only finish 10th in Serie A. Lega Pro club Venezia hired him for the 2016/17 campaign, the club earned promotion to Serie B, and the Lagunari reached the Serie B play-offs in the following season.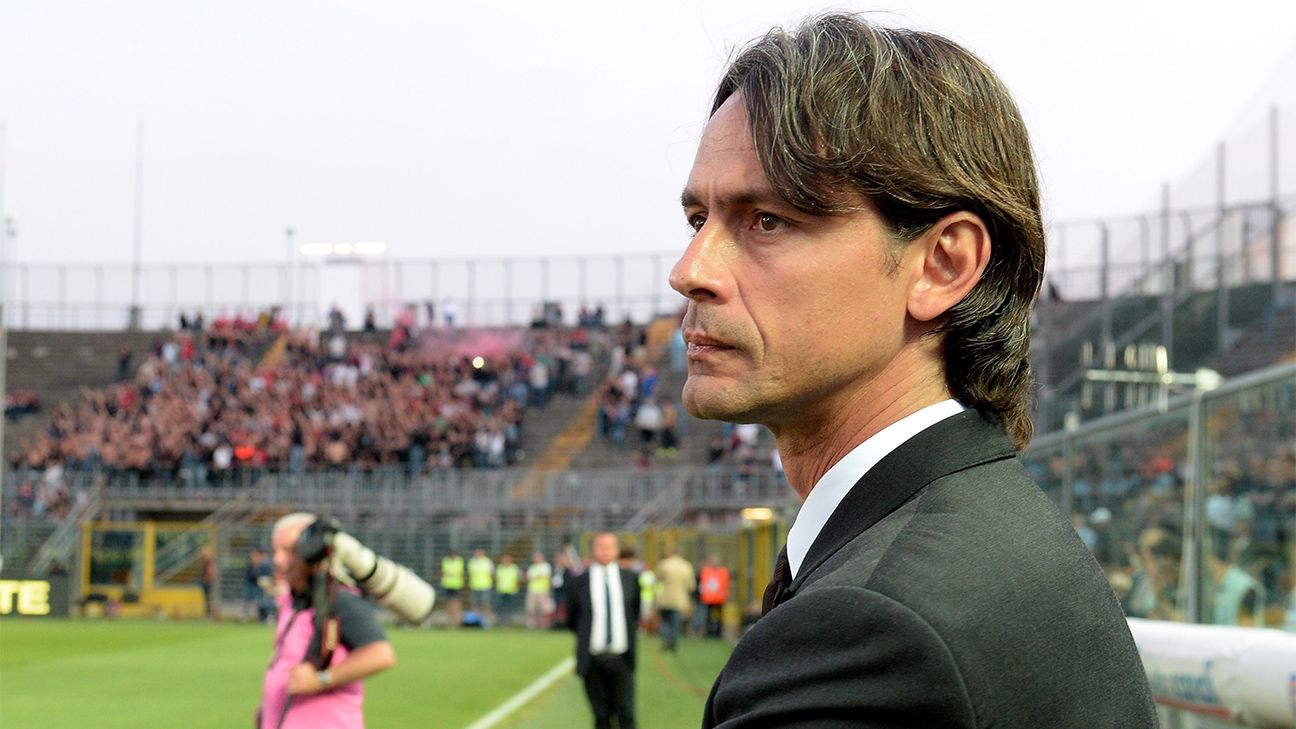 Photo: Dino Panato / Getty Images
Bologna employed him for the 2018/19 season but his second spell as a Serie A coach was a disappointment as the Felsinei fought to avoid relegation and he was sacked in January 2019 after they were defeated 4-0 at home to Frosinone.
Benevento hired Inzaghi for the 2019/20 season with an option for another year and Stregoni president Oresto Vigorito acquired players capable of helping the southern Italian club challenge for promotion.
Workhorse midfielders Pasquale Schiattarella and Përparim Hetemaj as well as versatile forward Marco Sau were signed for free from SPAL, Chievo Verona, and Sampdoria respectively, adding Serie A experience to the squad and making the sacrifice to drop down a level.
German winger Oliver Kragl was also signed for free after Foggia went bankrupt and he also had brief Serie A experiences with Frosinone and Crotone. 
Meanwhile, goalkeeper Lorenzo Montipò, center-back Massimo Volta, and winger Roberto Insigne joined Benevento on permanent deals from Novara, Perugia, and Napoli respectively, having joined the Stregoni on loan the season before.
It was up to "Super Pippo" to fit those new acquisitions into the squad with those who were already there and they too weren't novices in playing in the top flight. 
Right back and captain Christian Maggio had a respectable Serie A career at Sampdoria and Napoli and he featured for Italy at major tournaments. Left-back Gaetano Letizia and playmaker Nicolas Viola played for Benevento when it was in Serie A for the first time whereas defender Luca Caldirola played in the German Bundlesliga for many years and represented Italy at youth level. 
Benevento had won five of its first eight Serie B matches in 2019/20 and was on top of the table twice before succumbing to a 4-0 defeat away to Pescara. That loss temporarily put the Sanniti in second place but they did not relinquish first place after defeating Cremonese 2-0 in Round 10.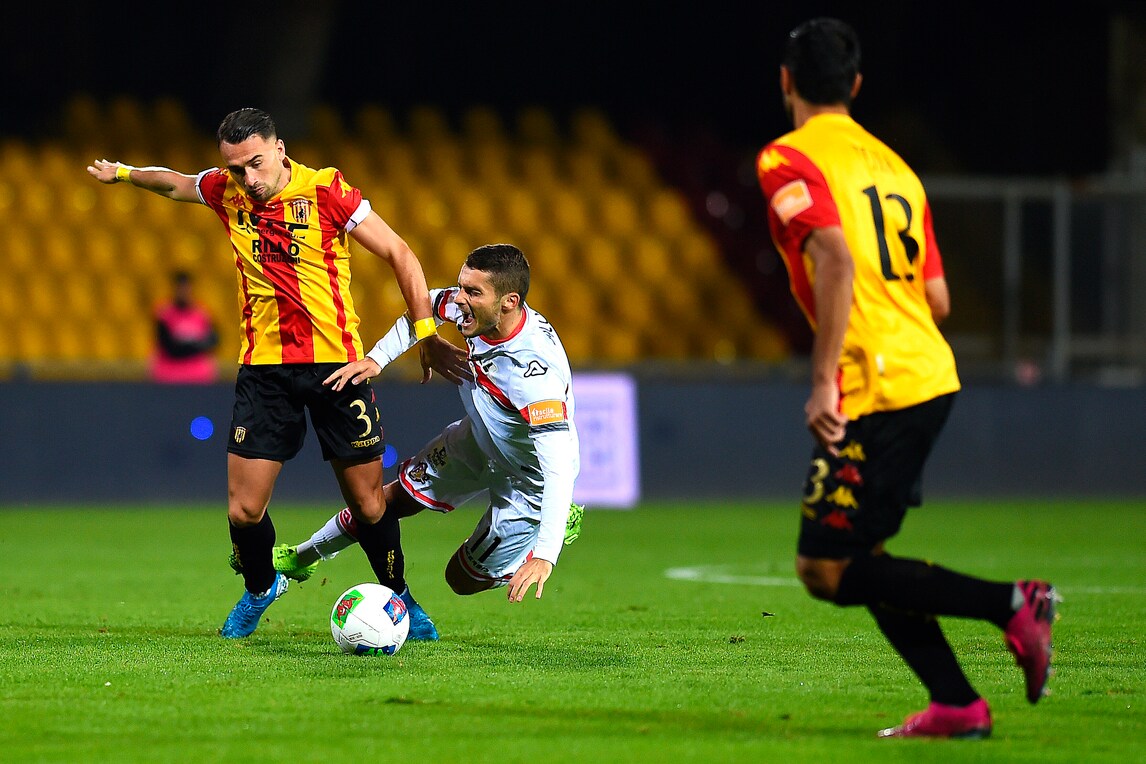 Photo: LaPresse
The home win against the Grigiorossi started an unbeaten run of 22 games which included some comprehensive victories too. The Stregoni thrashed Trapani 5-0 in Round 15 and they registered 4-0 victories against Ascoli and Pescara at home as well as Virtus Entella away. 
Not even the Coronavirus outbreak was able to break the Campanian club's momentum, beating Cremonese away in their first game after the lockdown in Round 29, and a solitary goal from Marco Sau against one of his former clubs Juve Stabia two rounds later was enough to seal the Serie B title. 
When it had sealed Serie A promotion, Benevento was 24 points ahead of Crotone and Cittadella, who shared second place at the time, and the Campanian side secured its place in Italy's top flight earlier than any other side previously. 
At the end of the season, the Sanniti had scored the most goals in the division with 67, they also had conceded the least goals with just 27, and they were the only team to have lost less than 10 matches, suffering four defeats. Records for a 20-team Serie B competition were broken by the Stregoni in the 2019/20 season. 
They equaled Ascoli's record from 1977/78 with 26 victories from 38 matches, their tally of 86 points is the highest since three points have been awarded for wins back in 1994/95, and they finished a record 18 points ahead of Crotone. They also equaled Palermo's 2013/14 Serie B record for consecutive away victories with eight.   
Inzaghi started using the 4-4-2 formation early in the season but he eventually developed a preference for the 4-3-2-1. The latter formation allowed him to incorporate Schiattarella, Viola, and Hetemaj into midfield simultaneously while Roberto Insigne and Riccardo Improta would play behind Sau. When Gabriele Moncini arrived from SPAL in January, he would occasionally operate as the lone striker and Sau would take Improta's place on the field.  
Despite coaching the highest-scoring team in the division, Inzaghi did not have to rely on one player for goals and there was an even spread of goal scorers in the side instead.
Sau finished with 13 goals, which was seven less that leading goalscorer Simy from Crotone and that put him seventh overall in Serie B. After the diminutive Sardinian, Viola had scored nine for Benevento, Roberto Insigne found the back of the net eight times, and Massimo Coda contributed with seven.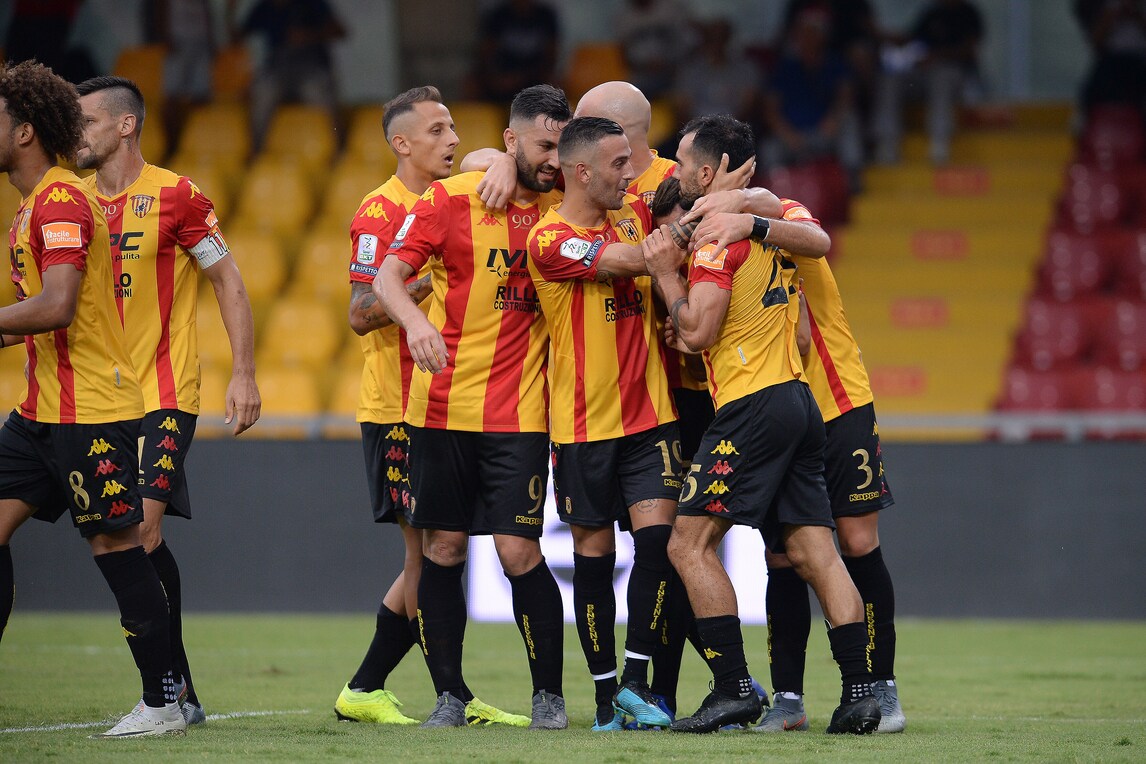 Photo: LaPresse
Although Benevento had dominated the Cadetti, Vigorito is not resting on his laurels and he has strengthened the squad so the Campanians avoid a repeat of their first season but there were some hiccups early on in the transfer window.
Former France striker Loïc Rémy was close to joining the club but he failed his medical, a transfer for former Chelsea and Liverpool forward Daniel Sturridge never eventuated, and any hopes of signing German winger André Schürrle were dashed when the World Cup winner announced his retirement.  
Despite those failures, Benevento has acquired players that are already familiar to Italian football. Uncompromising Polish center-back Kamil Glik has been purchased from AS Monaco for €3 million and the 32-year-old already has Serie A experience due to his time at Bari and Torino.
For the midfield, Moldovan international Artur Ioniță has signed from Cagliari for €1 million, and a deal has been completed for Fiorentina midfielder Bryan Dabo, who has reportedly signed a two-year contract with an option for a third.
Up front, Benevento has acquired forwards from the Genoese clubs. Versatile forward Gianluca Caprari has joined from Sampdoria for a loan deal worth €1.5 million with an option to be bought outright for €7.5 million while Gianluca Lapadula has arrived from Genoa for €4 million.
Ivorian winger Gervinho has been linked with the Sanniti for a while and they are prepared to offer Parma €4 million for the 33-year-old, but there is no news yet on whether he will stay with the Ducali or not.
Making these investments demonstrates that Vigorito has been prepared to back Inzaghi and give him a team that will allow him to succeed as well as avoid the embarrassments of the past.
The scars of the past might take time to heal but both Inzaghi and Benevento might be in position to genuinely compete in Serie A instead of just making up the numbers and becoming whipping boys for the second time in four years.
By: Vito Doria
Featured Image: @GabFoligno / Danilo Di Giovanni / Getty Images