Crystal Palace and Patrick Vieira – Overachievers with a Big Future
In what has been a truly great Premier League season, one of final day ecstasy for Manchester City but agony for Liverpool and Burnley, you would be forgiven for overlooking the overachievement of clubs not fighting at the pinnacle of the table or even for continental qualification. But in the case of Crystal Palace, it seems that the huge leap they have taken over the past 12 months has been noticed by almost every English football fan. 
Despite a new and relatively inexperienced manager and a refreshed first-team squad Crystal Palace have adjusted to the post-Roy Hodgson era almost seamlessly. They have demonstrated their ability to fight against the Top Six, playing progressive yet tactically flexible football.
Only a lethal Chelsea side stopped them on their journey to facing Liverpool in the FA Final and they have developed some of the most exciting young English players whilst solidifying their Premier League status without breaking sweat. We take a look at why Crystal Palace's season, their first under Arsenal legend Patrick Vieira, should be held as one of the most notable achievements of this Premier League season.
Crystal Palace players, fans and executives would have been looking at the 2021/22 season with serious concern – the club was staring into the unknown. The management team had confirmed that they would not remain at Selhurst Park for the coming season, 7 first-team players were out of contract at the end of the season and the squad had an average age of 27.7.
The bliss security of the Roy Hodgson era was approaching a swift and wide-reaching end and the club's apparent lack of forward planning was beginning to alarm fans and onlookers. The management team that had been so successful at establishing and stabilising the club as a keystone of the Premier League were all moving on.
One of the oldest squads in the league was about to disband, 7 players were to leave the club following the culmination of their contracts, no Premier League club was facing such a radical change to its fabric than Crystal Palace. 
After initial reports that Nuno Espirito Santo was in the running for the job, the fanbase's anxieties seemed to be temporarily quelled. He was a coach who had proven himself capable of coaching a defensively solid side whilst prioritising attacks in transitions seemed like a good fit for Palace's talisman Wilfried Zaha.
He could likely bring in players designed to attack at speed, his connections to Jorge Mendes would likely bear fruit in the form of exciting young players from the continent and suddenly the mood in South London improved. But as Tottenham's seemingly impossible search for a manager went on, Nuno ended up on the other side of the Thames and the apprehension of the Crystal Palace faithful bubbled to the surface again. 
So, Steve Parish and the Crystal Palace board turned to a Premier League legend. A big-name midfielder who orchestrated some of the most captivating battles in the League's history, the captain of the immortal Invincible side of 2003-04, Patrick Vieira.
Now whilst Vieira's name will forever hold credence in Premier League corridors, for his tenacity in the middle of the park, his ferocious competitiveness and his natural ability on the ball, he had not yet turned heads with overwhelming success in management. 
Whilst his time at New York City FC had earned plaudits for their attacking intent and off-the-ball high-press, a team that possessed Frank Lampard, Andrea Pirlo, and Number 1 Draft Pick Jack Harrison did not come away with any silverware. They were knocked out of the Playoff semi-final after a loss to Toronto in 2016 and suffered the same fate in 2017, that time at the hands of Columbus Crew. 
Vieira's time at Jim Radcliffe-backed OGC Nice had again drawn some eyes towards Vieira's promise as a coach. He succeeded Lucian Favre with a 7th-placed finish in 2018 before they went one better the following season. However, Vieira was sacked from the hot seat after 5 consecutive defeats which saw them slide down Ligue 1 and eliminated them from the Europa League Group Stage.
There was no doubt that Vieira had the potential to become a great coach, the question was whether he had arrived in arguably the most competitive division in world football at the right time.
Was he the right man to continue the work that Roy Hodgson had done so well? Was he the right man to lead a weary-looking Crystal Palace squad into a new age? Did he have the experience to build a new, younger, fresher side into a force that could compete in the Premier League?
Parish and Viera had a large in-tray to deal with before the latter could set any expectations for the forthcoming season. Scott Dann, Andros Townsend, Patrick Van Aanholt, Mamadou Sakho, Gary Cahill, James McCarthy, and Wayne Hennessey were all set to leave for free at the end of the season.
This group had made a combined 732 Premier League appearances for Palace and would leave a large leadership void at the very core of the squad. Parish and Vieira had to build a brand-new spine for a team that for so long had relied on its physical strength through the middle. 
But Palace's recruitment did not disappoint. The club spent £75.99 million with the knowledge that they would recoup no money for those leaving in the summer. This was the biggest spend in the club's history and a 159% increase on their average net spend over the last decade, it was a bold, albeit risky statement of intent. 
First, Palace reinforced the centre of their defence. Marc Guehi signed from Chelsea for £21.00 million to replace Scott Dann, Joachim Anderson joined him at Centre Half for £15.75 million after a promising loan spell at Fulham the previous year.
Secondly, they bulked out the centre of their midfield. Will Hughes joined from Watford for only £6.30 million and Chelsea's Connor Gallagher joined the club on a season-long loan. The latter would turn out to be one of the signings of the season, and Vieira's push to have Gallagher as a priority would turn out to be a shrewd piece of business.
Finally, Palace strengthened their attacking line which, with the exceptions of Zaha and Eberechi Eze had become stagnant. Ossuane Edouard joined from Celtic for £14.67 million, John Mateta's loan from Mainz was made permanent for £9.9 million, and Michael Olise was signed from Reading for £8.37 million, a coup for a player of his immense talent. 
Parish and Vieira's work in the summer was sublime and should go down as one of the most underrated transfer windows of any club in the League. They had assembled a younger, faster, stronger side, with a much-improved technical floor to allow Vieira to implement his possession-based tactical style.
Crystal Palace: What's Next for the Eagles As They Look to Build on an Impressive First Season Under Patrick Vieira
Most impressive was that this vast improvement in the technicality of the squad was financed by the money that Manchester United decided to pay them for Aaron Wan-Bissaka in 2019. Now it was down to Vieira to prove his credentials as a manager, by formulating a tactical style that would allow his tricky wingers to thrive in attacking transitions, whilst maintaining a stoic defensive line. 
Vieira implemented a fluid tactical system onto his Palace side and as a result his squad were able to structurally adapt to the changing nature of the games that they played throughout the season. However, there has been a level of underlying tactical consistency.
Palace usually operated with a back 4 and Vieira was consistent in his defensive selection; Marc Guehi, Tyrick Mitchell and Joachim Anderson all became mainstays in the side, missing only 8 Premier League games combined.
The French manager also preferred a midfield three, usually deploying Chelsea loanee Conor Gallagher in an advanced right-sided Number 8 role, with Kouyate and James McArthur alongside him providing him with defensive security. 
This allowed Palace to line up with a front three led by mercurial talisman Wilfried Zaha. Vieira rotated his front three much more willingly than with the other two lines of his formations, Zaha and Jordan Ayew were the most consistent starters with 33 and 23 respectively.
Edouard, Benteke, Mateta, Olise and Schlupp were all fighting for a consistent starting position but Vieira also demonstrated enough tactical know-how to select tailor-made front lines for the opposition that they faced.
Palace's tactics, as mentioned, were fluid. Whilst they regularly began games in the 4-3-3 formation it was clear that Vieira and his coaching staff had instructed the midfield unit to be flexible in their defensive structure, often sitting in a 4-1-4-1 in defence, pulling both wingers in line with the central midfielders and defending in a structurally solid mid-block.
Palace also exhibited their ability to press high in a 4-4-2 shape. During the 3-0 win against Arsenal in April, Palace pressed with this shape and forced errors from both Cedric Soares and Nuno Tavares consistently which strongly disrupted Arsenal's ability to progress the ball from their own defensive third. It was a perfect demonstration of Palace's ability to become tactically flexible depending on what opposition they were facing. 
But their performance against Manchester City was arguably the best demonstration of how far they had come under Vieira, and how far they could go. Palace lined up in a 4-4-1-1, with Connor Gallagher as a right-sided number 8.
Vieira seemed content to allow City to maintain possession of the ball in less dangerous areas, forcing them to play through what was a very solid mid-block. This frustrated City, causing Kyle Walker and João Cancelo to drift wider and higher in an attempt to stretch what was a very well-organised and compact Crystal Palace.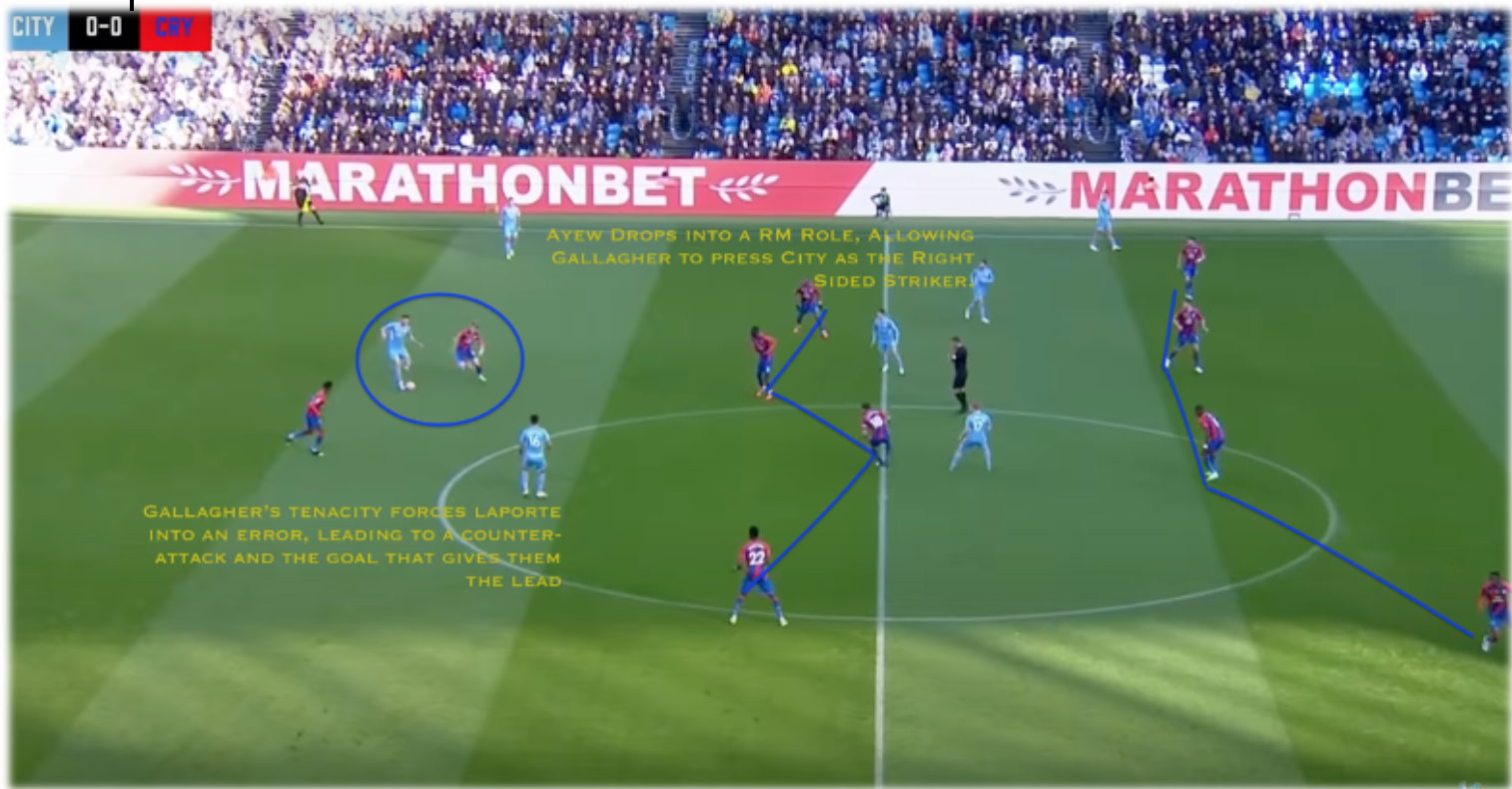 It was here that Gallagher would shine, instructed to step out of his right-sided number 8 role and become the right-sided striker, directly pressing the City centre-backs. It was the same high-pressing 4-4-2 that undid Arsenal months later.
Gallagher's energy, relentless tenacity, and his smart pressing meant that he could disrupt City's possession and win the ball back in more dangerous areas while City were in a shape offering them little protection from the transitional pace of Zaha, Edouard and Ayew.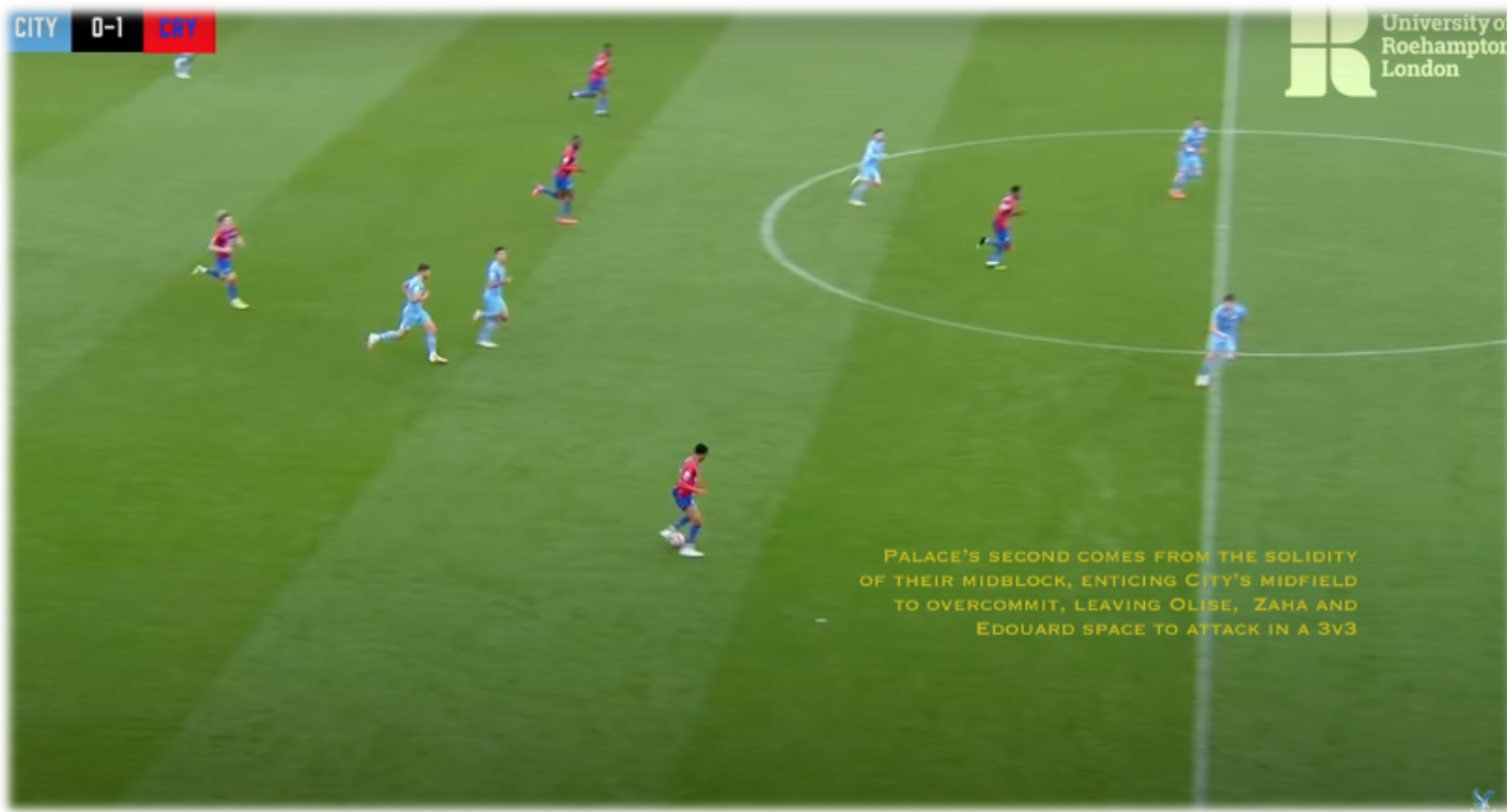 If a potential move for Ferguson does not materialise, another attractive fit for Palace would be Fiorentina's Szymon Zurkowski. Playing his football on loan at Empoli last season, statistically Zurkowski seems to be a player that could quite possibly replace the gap that Gallagher should leave.
He is equal to Gallagher with 1.4 successful dribbles per match, just shy on blocks with 1.8 but is ahead in his combativeness with 2.3 Tackles. Crucially, Zurkowski is also an effective presser of the ball, something that Palace will sorely miss in their midfield next season. He finished the season with a 5.46 SP per 90, shy of Gallagher's 6.99 yet certainly still a number that could turn the heads of Palace's scouts. 
If Palace want to continue their policy of looking to the "Top Six's" academies for young talent, Manchester City's James McActee could be an option. His technical floor is very strong and is highly regarded by City's staff.  Although this seems unlikely as it would be a riskier move as he is unlikely to offer the physical prowess that Gallagher possessed as his senior game-time has been limited. 
Crystal Palace were one of the most refreshing aspects of a thrilling Premier League season and under Vieira they could become a real force in the top half of the table next season. If Palace end the window with a strong central midfield addition, and potentially an additional striker to help lift the burden of Zaha, there is no reason why they should not achieve a top-half finish.
They have an exciting, dynamic squad with a manager who so far has demonstrated his ability to organise a strong defence, a vibrant attack and to execute specifically designed tactical plans against the best possible opposition. 
By: Charlie Watkins / @90PlusFour
Featured Image: @GabFoligno / Sebastian Frej / MB Media / Getty Images