Hamburger SV: The Most Exciting Side in German Football?
Five years after suffering relegation, der Hamburger Sport Verein are showing early signs of being a genuine challenger for promotion to the Bundesliga. After a 93rd-minute winner from Ransford-Yeboah Königsdorffer to seal a 2-1 victory over Hannover, HSV became the first side in the history of the Zweite Bundesliga to win 8 away matches in a row, before drawing 1-1 to Kaiserslautern and losing 3-0 to St. Pauli after being reduced to 10 men within 28 minutes. They currently find themselves third in the second tier, two behind SV Darmstadt, level with Paderborn and five above Heidenheim and Hannover.
Though it's not the first time that HSV has been challenging at the top of the table since suffering relegation from the Bundesliga, there's a sense that it's now or never for Tim Walter's side. The competition is weak in comparison, the tactical blueprint is fully accepted by the team, and the squad looks perfectly balanced with veteran players boasting extensive lower-league experience and young, hungry talents ready to prove themselves in the second division.
While HSV never seems too far away from the next slide into internal chaos, and full-blown combustion, could this finally be the year that the former Bundesliga great returns to the topflight after 5 long seasons lost in the abyss?
This article is an adaptation from Adam Khan's German Football Newsletter. Want Bundesliga & Bundesliga 2 updates throughout the entire season? Subscribe here.
Tim Walter is currently one of the most interesting managers across Europe, deploying a risky and extremely fluid system that can quickly cross the line from controlled chaos into the realms of all-out madness.  
At VfB Stuttgart, his self-confidence verging on arrogance ultimately blew up in his face – leading to his dismissal after just over half a season in charge – but after a difficult acclimation period in Hamburg, his squad now seems to embrace his unique principles of play leading to some of the most attractive, and successful football in the Zweite Bundesliga.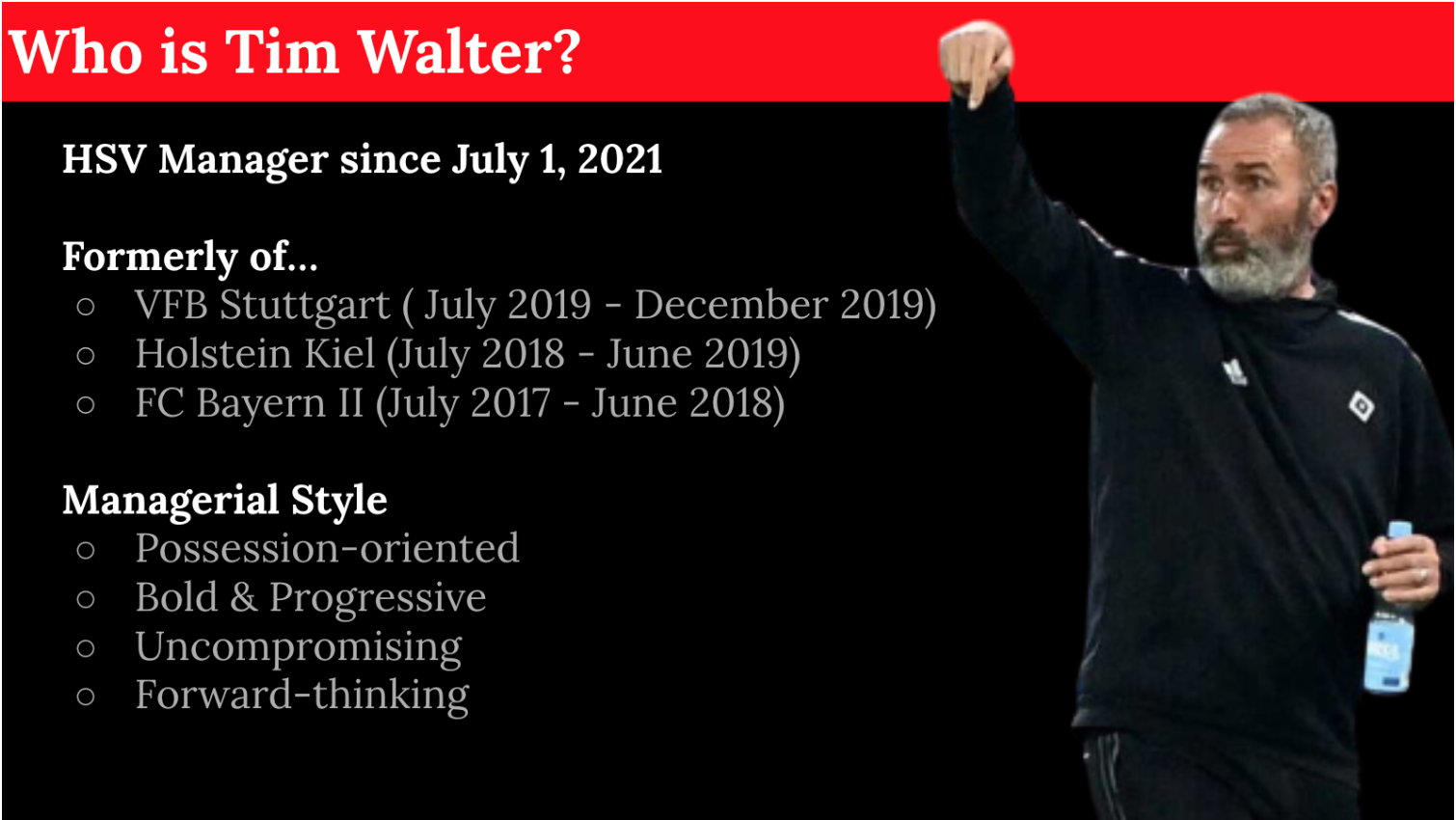 Particularly the blueprint for his build-up phase in the game is fascinating. Whereas typically other managers look to generate numerical advantage by pushing fullbacks into midfield – looking at you Pep Guardiola! – Tim Walter has opted to go an entirely different route, vacating central zones altogether!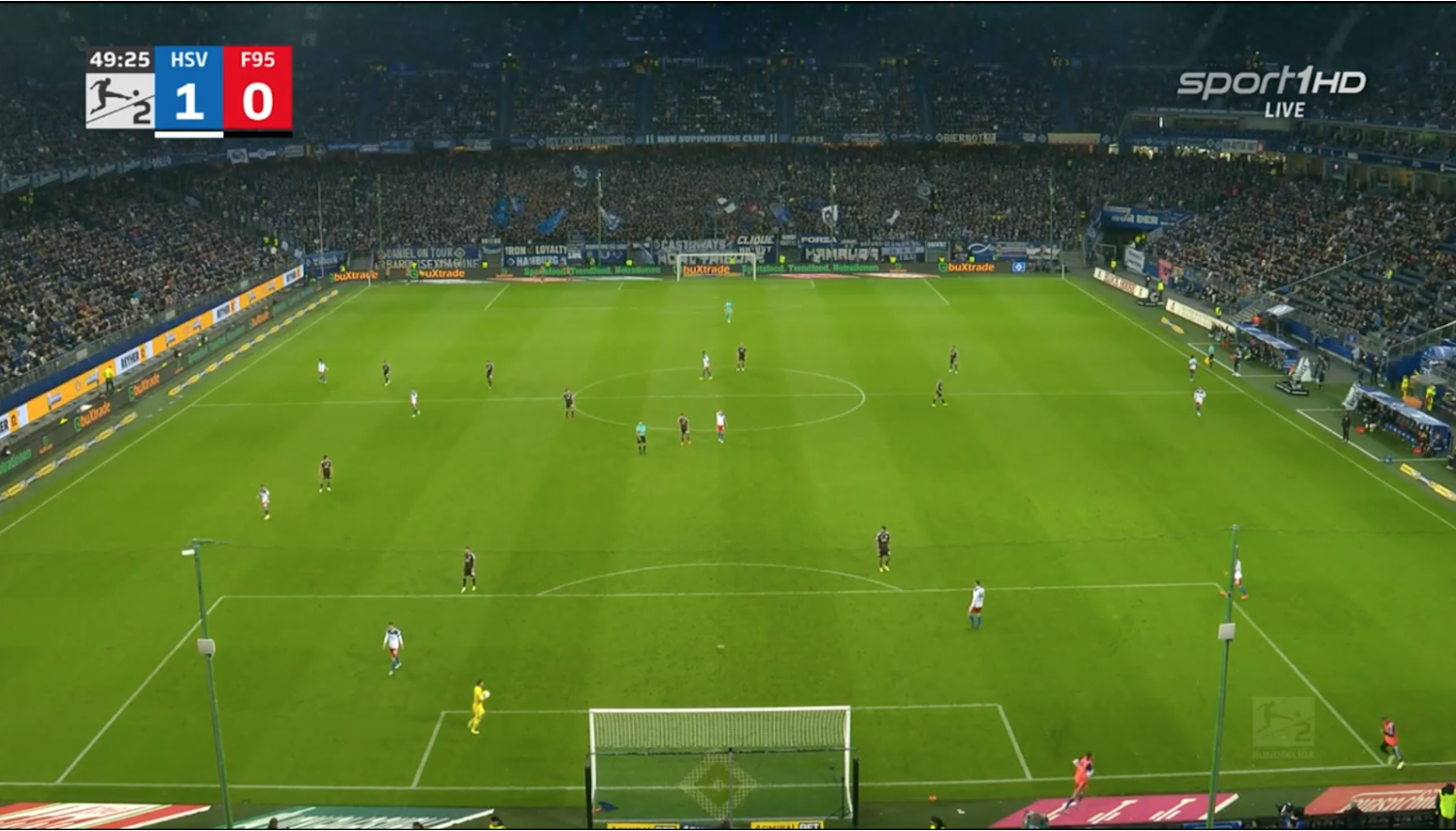 Hamburger SV set up for a goal kick earlier this season. Notice the large space that they have vacated in the central zone ahead of their own penalty area. 
On the surface, it seems counterproductive to give up an area of the pitch deemed so integral to every aspect of the game in and out of possession, yet Walter isn't giving it up, but merely temporarily vacating it in order to catch opponents out with positional movement. Captain Sebastian Schonlau and goalkeeper Daniel Heuer Fernandes are at the heart of a backline that regularly sees centre-backs venture into midfield, fullbacks invert, and a goalkeeper form a back-3.
Rather than a typical formational setup where each player is designated to a certain role (i.e left centerback, right midfield), at HSV, Walter provides a tactical blueprint before handing the keys over to his squad in the hopes that they have the requisite awareness and game-intelligence to fill each position amongst constant movement and positional-rotations.  
The fear of an errant pass, or a poor movement leading to a certain goal would disway most managers from such a risky build-up, but Tim Walter views this situation purely in optimistic terms – constantly pursuing these precarious moments because his squad has the quality to break through. The following clip from HSV's last home match v Fortuna Düsseldorf is a prime example of Tim Walter's brave build-up in all its glory.
Throughout the 46 seconds that Hamburg needs to go from their goalkeeper to a shot on target, Walter's side swap positions on countless occasions in order to probe for an opening or instigate a press from their opponents. When centre-back Sebastian Schonlau finally finds an opening, the formation offers little to no resemblance to the 4-1-2-3 they are supposed to be set up on paper as.
A look at the numbers also highlights just how confident HSV have been in their approach to possession. In the top 3 tiers of German football, only FC Bayern and one-of-a-kind FC Magdeburg hold more average possession, whilst HSV's persistence on a short-passing game highlights their desire to lock opponents into a false sense of security, before pouncing with a ball over, or through, the advanced line of pressure.
After 10 matchdays, HSV have played 79 fewer long balls than any other side in this season's second tier, and their average per game of 31.73 is the fewest a team has ever completed since data provider Wyscout began recording the statistic ahead of the 2015/16 Zweite Bundesliga campaign.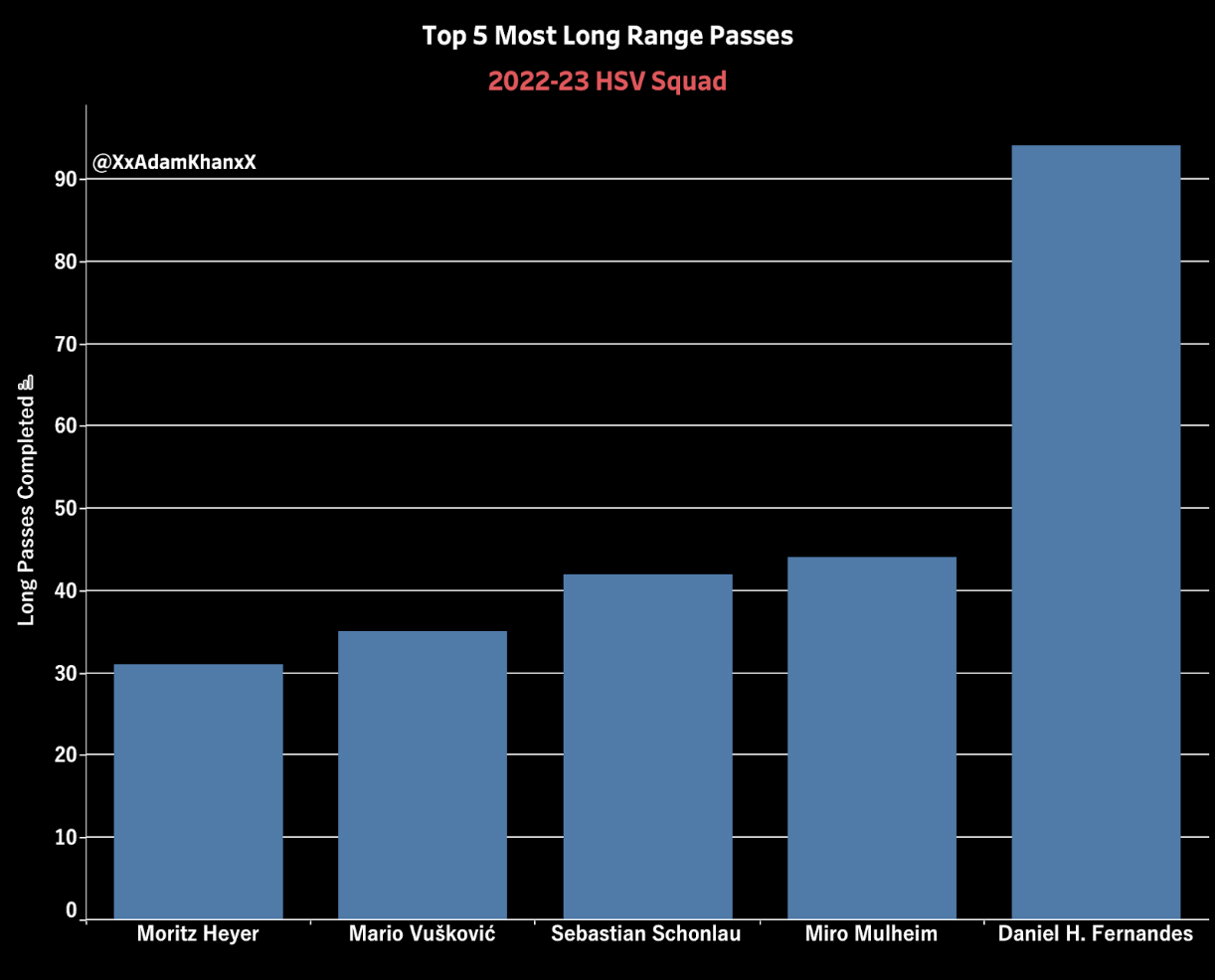 Bar goalkeeper Daniel Heuer Fernandes, the entire side is determined to bridge space with short passes that have a high chance of reaching their target, and luring the opposition's press into a false sense of security. 
For the casual viewer, it may seem that Hamburg's attacking players are allowed to move and produce in the final third as they wish, however, for those well-versed in Tim Walter's football, there is a clear playbook that HSV follows after breaking the first line of pressure. 
For a start, Hamburg looks to get their advanced midfielders on the ball in areas where they can directly engage defenders and carry possession forward. With the space Hamburg create in the build-up phase, there is almost always room to be exploited for the likes of Ludovit Reis (22), László Bénes (25), or Sonny Kittel (29) when they receive possession.. 
In the same way that HSV's short-passing game draws in opposition pressure after a goal kick, the same principles are followed in the attacking phase led from the midfield.  When one of Hamburg's central midfielders charges with the ball towards the final third, the opponent is forced to make a decision to either step to the ball carrier -and potentially allow passes into the space vacated – or remain in their defensive shape and allow the ball-carrier to continue his progression.
Though it requires more skill to carry possession forward and engage defenders in such a manner, the questions it poses of an opposition defence far outweigh what a simple vertical pass could offer. 
In the clip above, Reis opts against a pass in order to carry possession forward. Through his movement with the ball, a Holstein Kiel fullback is forced to engage with him, and thus opens a passing lane into HSV's right winger. 
With ball carriers possessing the right combination of bravery and timing, it's a constant win-win for Walter's side. One either gets a shot off on target – leading to a situation we saw in the first clip where László Bénes was able to get a dangerous shot on target – or the opposition engages with the ball-carrier, exposing themselves in wide channels and allowing crosses into the aerially dominant Robert Glatzel. 
While in possession, HSV are best described as a 'structured chaos' storming through the division,  against the ball they are amongst the most organised, and hard-to-beat outfits in German football. With just 6 goals conceded, Hamburg not only have the best defence in the Zweite Bundesliga, but after 10 matchdays, Tim Walter's side has let in the fewest goals since the 2005/06 campaign where HSV finished 3rd in the Bundesliga. 
It's a testament to the strong work the squad has done to adjust to Walter's principles, but it's also proof of the manager's own adaptability and progress which was questioned in previous stints at Holstein Kiel and Stuttgart. Whereas last season Hamburg's intense pressing was routinely undone on the counter, this year Walter has added more structure and compactness to HSV's approach out of possession. Rather than immediately chasing after the ball, Hamburg will often fall back into a compact 4-4-2, closing passing lanes, and forcing balls wide where they can attack with a numerical advantage.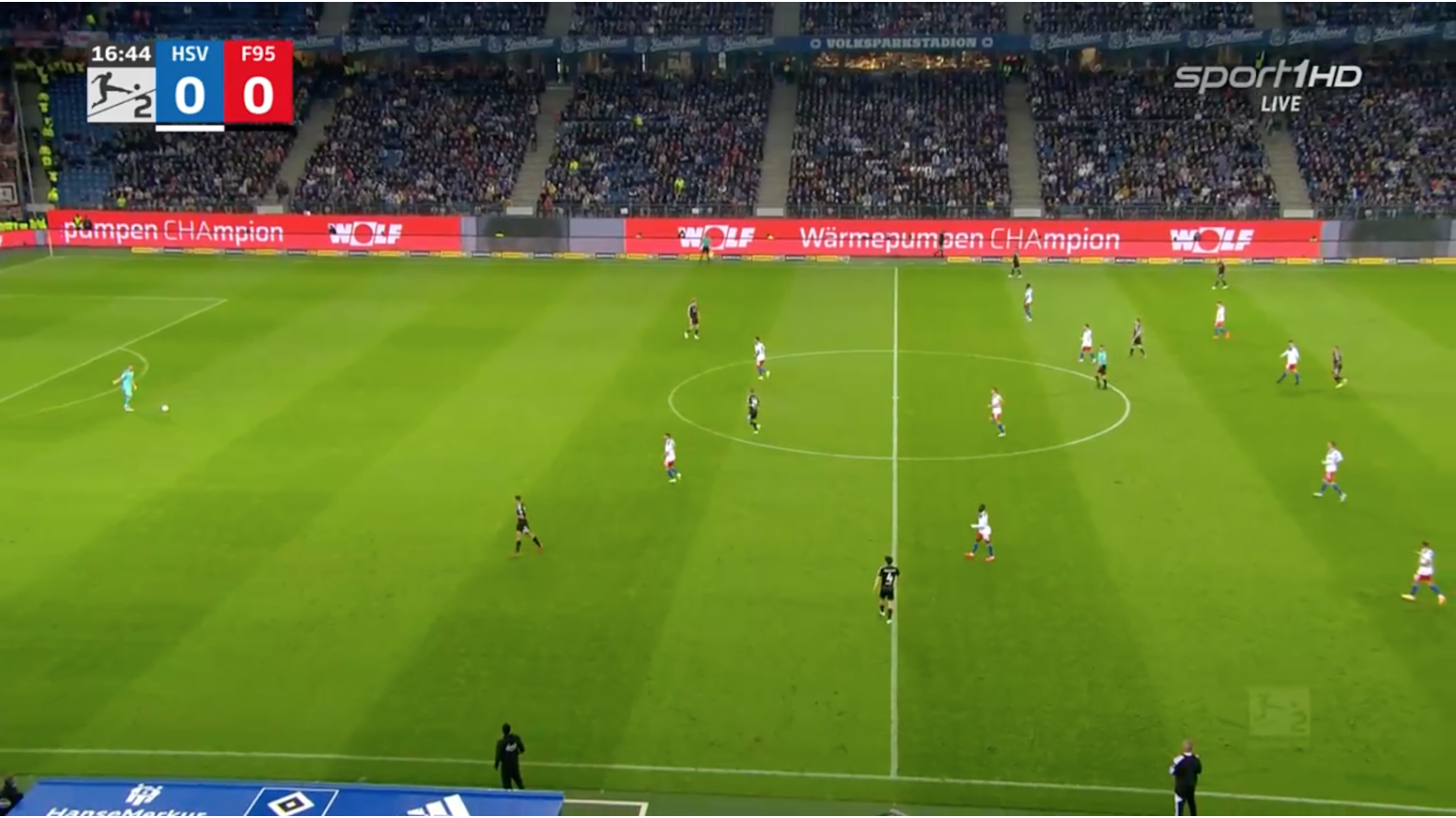 HSV set up in a clear 4-4-2 out of possession, forcing the ball wide and eliminating any vertical passes which can easily break through their lines of pressure. 
Only relegated Erzgebirge Aue conceded more goals than HSV on the break last season, but this campaign, Die Rothosen have addressed their shortcomings and are still yet to concede after a counterattack. It's a clear indicator that Walter has found a better balance between the full-throttle match plan he desires, and a tactical outlook that can set HSV up for topflight promotion. On the odd occasion when HSV's defence is breached, the North-German outfit is still far from defeated, calling upon one of the best goalkeepers in Germany to bail them out. 
Though Daniel Heuer Fernandes hasn't always been a celebrated figure since signing for HSV in 2019, the 29-year-old goalkeeper has been remarkable since Tim Walter's arrival. His ability in possession was always viewed as crucial in allowing Hamburg to build out of the back with such bravery, but his incredible shot-stopping has also been a facet of his game that has truly only come into its own this season.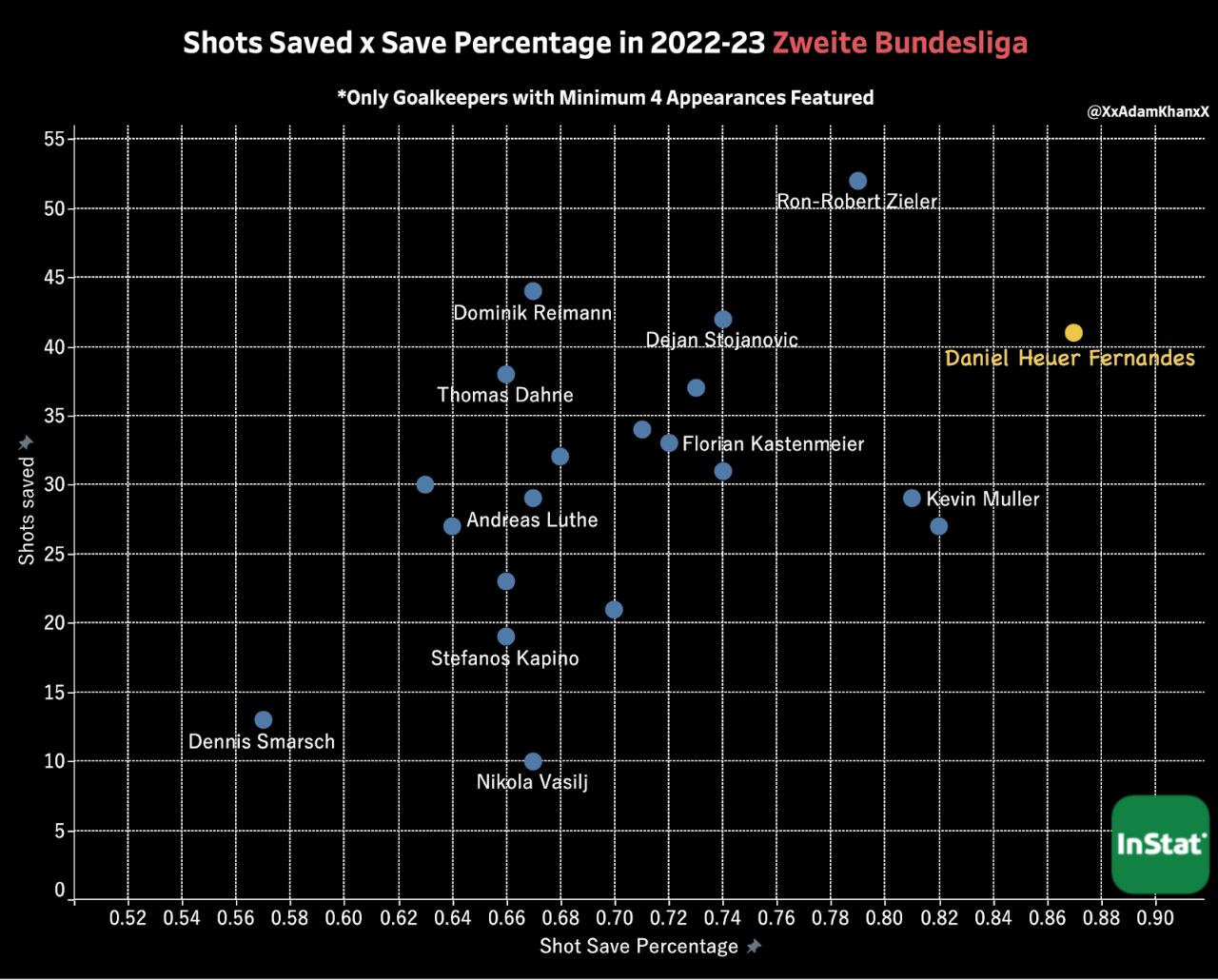 With an 87% save percentage, Heuer Fernandes leads the entire division for his ability to keep opponents at bay. His remarkable save percentage is even more impressive given that just 3 other goalkeepers have been forced into making more saves this season. 
One of, if not the biggest, issues for HSV last season was their inability to turn draws into victories. Of their 39 matches in the 2021/22 league and cup campaign, HSV drew a staggering 15. Only FC Bayern suffered fewer defeats in one of Germany's top 3 tiers last season, but the incessant draws ended up costing Hamburg in their fight for promotion. It was clearly an area Walter needed to address over the off-season, and the early signs are positive as HSV are the only side in the Zweite Bundesliga who have yet to draw a match after 8 gameweeks. 
Probably the biggest change is in regard to how HSV are able to manage a lead. Last season, HSV won just 68% of the league matches they scored first, but at the time of writing, Die Rothosen have a perfect record when taking the lead. Across the opening 10 matchdays, HSV have scored first on 7 occasions, and subsequently always taken home all three points. 
In addition to ensuring victories don't slip away, Tim Walter has been able to call upon an impressive bench to inject an attacking spark late in the game. This was already an important aspect of Hamburg's game last season, and after 10 game weeks it is again proving vital with 2 goals and 4 assists contributed from substitutes off the bench. 
Only Karlsruher SC and SC Paderborn have seen more contributions from players off the bench, but it's hard to argue that the importance of these goals overshadows what we've seen from Tim Walter's reserves. Goals or assists from László Bénes, Sonny Kittel, and Xavier Amaechi have given Hamburg a 2:0 lead in 4 of their 10 matches this season, while Ransford-Yeboah Königsdorffer's 60-yard solo was decisive in taking all 3-points from the Heinz von Heiden-Arena last weekend. 
After making his international debut for Ghana, Königsdorffer capped off a fantastic week with a stoppage-time winner for HSV. He, like so many others this season, used his short cameo to impress and make a difference for Die Rothosen. 
With 25 points after 12 matchdays, HSV are officially on course for their best-ever season in the Zweite Bundesliga. The fans who sell out the Volksparkstadion are fittingly dreaming of a topflight return, but Tim Walter & co. will know just how long a season can be in Germany's second tier.
Since suffering relegation in 2018, Hamburg have been top of the table on 36 different occasions without ever making it over the goal line, and Walter's side will be well-warned by the fact that of the last 4 sides to be top of the table on matchday 10, only one of them actually managed to earn promotion.  
Only time can tell then how prepared this side is, but the difficult tests are coming thick and fast. After taking on defending champions RB Leipzig in the DFB-Pokal, HSV will host FC Magdeburg before travelling to second-placed Paderborn on October 30 in what could be a vital fixture for both sides' promotion hopes. 
Want more German Football Content? Subscribe to The German Football Weekly now to never miss an upload!
By: Adam Khan / @XxAdamKhanxX
Featured Image: @GabFoligno / Stuart Franklin / Getty Images