Inter Milan: Assessing One of Europe's Best Central Midfields
With strong rumours of Italian wonderkid Sandro Tonali looking likely to swap Brescia for the hustle and bustle of Milan in the very near future, Internazionale are enjoying a revival after years of underwhelming performances both at home and abroad.
Without a major trophy since their 2011 Coppa Italia victory, 'I Nerazzurri' have struggled to track down an imperious Juventus side in their hunt for domestic silverware and even though the drought looks likely to continue into next season, boss Antonio Conte has got his Inter boys playing some of Europe's most attractive football. His side's already dominating and powerful central midfield is a key reason as to why Inter Milan have done so well this season and as to why the team from Lombardy are being backed to make a real run for the title next term.
Resuming the season with a draw against Napoli in the Coppa Italia semi-final second leg last Saturday, a result that ultimately saw them lose 2-1 on aggregate to the eventual champions, Conte and his Inter Milan looked to bounce back against lowly Sampdoria this weekend in Serie A.
Photo: FILIPPO MONTEFORTE/AFP via Getty Images
Sitting nine points adrift of Juventus with a game in hand prior to kick-off, it's still unlikely that 'I Nerazzurri' will chase down the title holders going into the later stages of the delayed 2019-20 season however with a match-up against Getafe still awaiting, Inter could yet still take the Europa League crown this season. Successful or not in Europe this term though, there's still plenty of hope that the blue side of Milan will really push for silverware next season on all fronts. 
Over the last three seasons, Inter Milan have spent around £368 million in an attempt to rejuvenate their fortunes and start to challenge towards the top of Serie A and in the Champions League once again.
With an average age of 22.6, the club's acquisitions over the last six transfer windows have usually being focused on bringing more talented and youthful players to Milan that can link with Conte's older players to create a new philosophy at the Giuseppe Meazza. This blend of youth and experience is proving to be a hit in the fashion capital of the world and has already seen Inter improve on the pitch and pull away from hated rivals AC in their pursuit for Serie A glory. 
Inter Milan's central midfield is the powerhouse for Conte's ambition. Adding Christian Eriksen from Tottenham to his depth chart in January, Conte's central midfield now consists of the Dane, Marcelo Brozović, Nicolò Barella, Stefano Sensi and Matías Vecino whilst Roberto Gagliadini and Borja Valero offer cover. Inter's players have collectively ran further than any other side in the Serie A this season as Conte deploys his high-paced game plan amongst his troops. 
The Key Players
The kingpin and anchor-man of Inter Milan's central midfield, Marcelo Brozović is one of the most underrated players currently playing in Europe's top leagues. The Croatian defensive midfielder who helped his country to the 2018 World Cup Final has arguably become Inter's most important player under Antonio Conte.
Now into his sixth season with 'I Nerazzurri', Brozović joined the club from Croatian side Dinamo Zagreb in January 2015 for a bargain fee of around £4.5 million and has gone on to make 187 appearances to date for the Italian giants. This season, the Croatian international has again put in consistent performances match after match, playing 34 times across all competitions.
Photo: Alamy
Capable of performing in any role in the centre of midfield, Brozović is now used by Conte as the defensive midfielder at the heart of Inter Milan's midfield. He offers Inter a solid base to build attacks and covers the back three when the wing-backs are caught up field whilst attacking down the flanks.
Making on average 2.4 tackles per match this term, Brozović loves to break up the play and then distribute the ball quickly to the attacking players in the side. His pass completion rate of 89.5% in Serie A this season ranks him 6th highest of all central midfielders in Italy's top-flight and he isn't shy of having an attempt at goal, shooting 1.9 times per match.
Always offering himself as an option for a pass, the Croatian is influential in dictating the pace for Inter and is an integral part of Conte's plan to play out from the three central defenders. With three goals and five assists across all competitions, Brozović is still a sizeable presence in an attacking sense and with him in the starting eleven Inter Milan average 2.17 points per match in Serie A. 
Normally deployed as the attacking playmaker role, Christian Eriksen has enjoyed a steady start to life with the Italian powerhouse since his January move for Tottenham. Brought to the club for just £18 million during the January transfer window due to his contract running to a close with the Premier League outfit in the summer, Eriksen is viewed as the club's most important attacking focal point in midfield.
With Brozović sat behind in midfield acting as cover, Eriksen has the freedom to assert his attacking prowess whenever in possession and with two goals and an assist through nine matches, his link up play with strikers Romelu Lukaku and Lautaro Martinez has been a joy to behold so far for Inter fans.
This was perhaps most evident with Inter's first goal against Sampdoria over the weekend, Martinez backheeling the ball to Lukaku who played a lovely one-two with Eriksen to open the scoring. The assist was vintage Eriksen, playing a lovely, deft first time pass perfectly into Lukaku's stride who made no mistake from close-range. 
Photo: Getty
But Eriksen's level of influence and skill is best summed up when taking into consideration Tottenham's form since his departure in late-January. Spurs have only won three out of ten matches since his move to Milan and now lack that leadership in the centre of the park as a result.
With the exception of talisman Harry Kane, Eriksen was arguably the most important player in Spurs' recent rise to Champions League regulars and with 69 goals and 89 assists in 305 appearances for the London club, Internazionale could have the player they need in order to topple the Juventus dynasty. 
Currently on loan from Cagliari, Nicolò Barella often plays alongside Brozovic and Eriksen in Inter's midfield three. With a permanent move to the San Siro imminent in the summer with a fee of £22.5 million already agreed, Barella has largely impressed during his debut season with 'I Nerazzurri'. A naturally gifted box-to-box midfielder, Barella is often used as the legs and pace in midfield by Conte. But Barella also offers a lot more than just the energy in midfield. 
Despite still being only 23 years old, Barella has thrived alongside his more experienced partners in midfield this term. The Italian sports newspaper 'La Gazzetta dello Sport' has previously compared him to Liverpool hero Steven Gerrard, describing Barella as a player with good technique, vision, stamina, and physical strength as well as an ability to win balls, which enables him to break down possession and subsequently start quick attacking plays.
The young Italian international also has the capability to play more defensively or in a more attacking position, explaining that he enjoys playing as a 'mezzala' where possible. Scoring three times and assisting on six occasions in his 31 matches with Inter Milan to date, Barella is viewed as a long-term key cog in the Inter Milan machinery by his coaches and fans alike. 
Photo: Getty
Another central midfielder currently on loan at Inter Milan, Stefano Sensi has also enjoyed a relatively successful first spell with the Italian giants. With an option to buy at the end of his loan spell, Conte is reportedly very likely to ask for a deal to be made permanent with a fee of £22.5 million agreed with parent club Sassuolo.
Despite being hard-hit by injuries, Sensi has still managed to impress at the San Siro this season especially during the start of the campaign. Through the first seven matches of the season, Inter won six and Sensi himself had three goals and two assists before various injuries hampered his playing time.
While he operated in a more advanced role under Roberto De Zerbi at Sassuolo, Conte has instead used Sensi as a deep-lying playmaker in Milan. With his range of passing and great vision, it's not difficult to see why. The central midfielder's spatial awareness means he often finds gaps to drive into, significantly pushing back the opposition and creating channels for his teammates to take advantage of.
Sensi has mostly played on the left of Inter's midfield three this term and from this area, he has impressively and seamlessly linked defence to attack with deadly precision and decision making. His development has in recent times led to appearances for the Italian national team with Sensi being highly praised by Italy manager Roberto Mancini, as the former Manchester City manager calling him: "good, technically gifted, and fast." 
Photo: Getty
With the cover of Matias Vecino, Borja Valero and Roberto Gagliardini, Inter Milan possess one of the strongest central midfields in Europe. 
The System in a Nutshell
As seen again with their starting line-up against Sampdoria this weekend, Conte loves to have three central midfielders playing in very different roles, a defensive anchorman, a box-to-box midfielder and an attacking playmaker. In order for this system to fully work and excel all three central midfielders need to be on the top of their game as each role is just as crucial for another as it is to itself.
Normally set up in a 3-5-2 or 3-4-1-2 formation depending upon personnel, the system Conte adopts with Inter Milan offers both defensive stability and gives his side the ability to dominate matches offensively. The below graphic represents Conte's arguably strongest XI if all players are fit and healthy. 
This season, Inter Milan have looked particularly solid defensively and as a result have the third best defence in Serie A behind Juventus and Lazio, both above them in the current standings. Only losing on three occasions out of 26 top-flight matches, Conte has made sure that his side are defensively sound, conceding just 25 times in the process.
Alongside the ever-present Stefan de Vrij and Milan Skriniar, the arrival of the well-travelled and experienced Diego Godin on a free from Atletico Madrid has proven a masterstroke. The Uruguayan's presence and tutelage has in particular worn off on youngster Alessandro Bastoni who at the age of 21 has a big future in Milan and has shown his quality this season so far when called upon. 
But the defence has help from elsewhere thanks to Conte's set-up as energetic Brozovic sits in front of the back three for both stability and to act as an always available out ball from the back. With the Croatian midfielder sitting in the hole, it also often stops opposing counter-attacks, slowing down the opposition to a point where the wing-backs can tuck squarely back into the defensive line. With him in the side, Inter Milan are proving to be really tough to beat. 
With the midfield tracking back as a three, Inter sit nicely into a 5-3-2 formation and often leave very little space between the lines for the opposition to expose. Conte's men also like to defend from the front if possible, adopting a somewhat half gegenpress when the opposition have the ball very deep in their own half. With the energy of Brozovic and Barella sat in midfield, or others if the team is rotated, both cover a large amount of ground centrally so Inter are rarely caught outnumbered through the middle of the park. 
It's instead in attack though where the central midfield on the whole of Inter Milan really excels. With Brozovic sitting behind the play and quickly distributing the ball forwards whether centrally or out wide, Inter Milan can overwhelm almost any opposition. In transition the two wing-backs fly forward to offer width whilst Eriksen takes up an even more attacking position behind the two strikers.
The extra central midfielder, the box-to-box player, in this case Barella, also forcefully joins the attack not fearing that his side will be caught out on the counter as Brozovic covers. All three positions can be interchangeable if necessary and it's not unusual to see Barella furthest forward or Brozovic resembling more of an advanced playmaker if the situation allows. 
As seen below, the formation will almost resemble an attacking 4-4-2 shape as the three centre backs split to cover the open ground out wide with Brozovic slotting in alongside the central centre back.
As shown in the below situation versus Napoli in the second leg of the Coppa Italia semi-final, Inter commit a lot of men to the attack in order to break down their opposition.
With the exception of Stefan de Vrij, every player is in the final third of the opposition's half in an effort to try and break down the defence, offering multiple passing lanes in order to find a substantial gap. What's more intriguing about this image is that this phase of play occurred when the visitors were leading 1-0 and did not need to chase the game so much.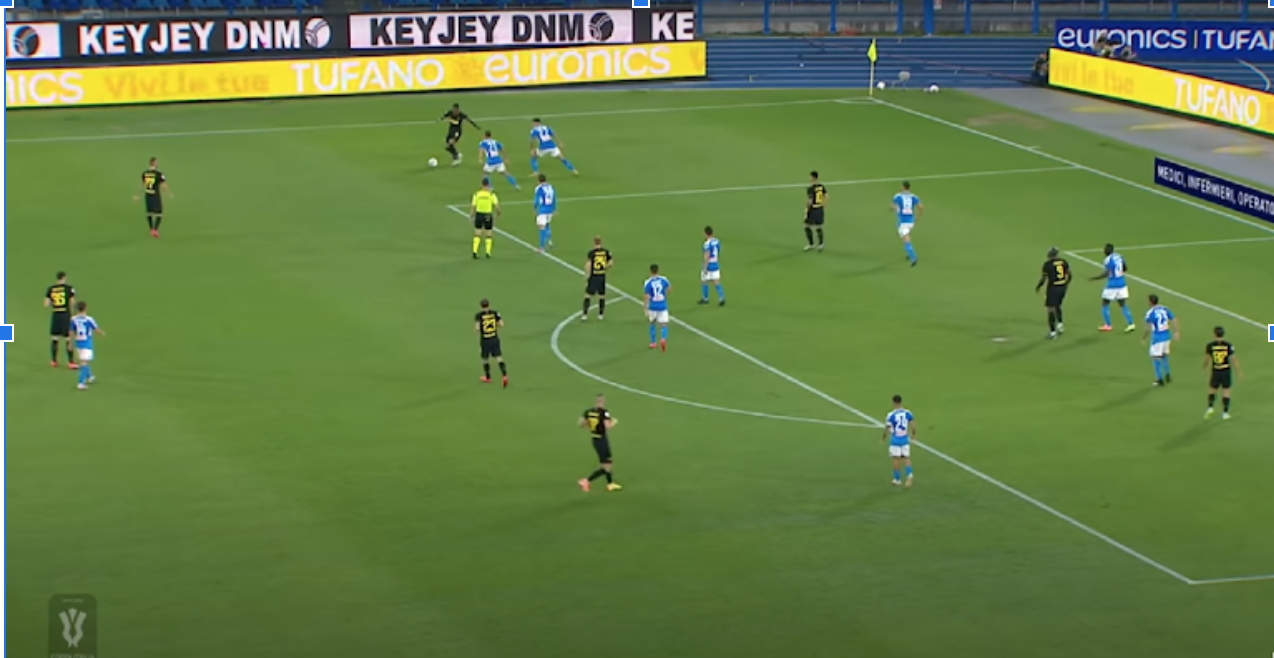 Of course Conte's system is not fool proof and in the same match against Napoli, Inter Milan were exposed on the counter-attack with Dries Mertens scoring the vital goal which sent the home side to the Coppa Italia final but more often than not, the system gets results and it's pushing Inter Milan towards that all.
Granted Antonio Conte's reign with Inter Milan won't be deemed a true success until trophies are won but under his guidance 'I Nerazzurri' continue to close the gap on Juventus. If Sandro Tonali joins in the near future to add even more depth in the middle of the park, Inter Milan could soon be back amongst Europe's elite.
By: Nathan Evans
Featured Image: @GabFoligno