Poli in the Pandemic: Life in the Romanian Second Division during the COVID-19 pandemic
Amid the chaos, confusion, and cancellations that have characterized football during the COVID-19 pandemic, each region, league, and club has dealt with things in a different manner. While most reporting has focused on how the beautiful game will move on in the top five leagues of Western Europe, they are far from the only ones dealing with the slow climb back to playing. And so, Politehnica Timișoara steps onto the stage.
Located in Timișoara, the capital of the western Romanian county of Timiș, Asociația Sportivă Politehnica Timișoara (often referred to as ASU Poli) is just one of the nineteen clubs currently playing in the Romanian second division, or Liga II.
Photo: Trabantos / Shutterstock
The club's season is currently on hold as Romania joins the globe in the battle to contain and recover from the COVID-19 pandemic. As of the writing of this article, Romania has 14,499 confirmed cases, with 6,144 individuals recovering while 876 have died. According to Stiri Oficiale, Timiș is in the upper range of the nation's county's in that regard, with 479 cases and 14 deaths.
ASU is a phoenix club of FC Politehnica Timișoara, who won two Romanian cups, competed for the Liga I title from time to time, and made 32 appearances in European football across the Champions League, Europa League, and Cup Winners' Cup before dissolving in 2012.
The new club began to climb its way up the Romanian pyramid, scaling up to the third tier from the fifth tier in just three years. ASU would earn promotion to the second tier on their first try, debuting for the first time in the 2016-17 season, where they have remained since.
After finishing tenth in the 2018-19 Liga II season, and seeing rivals ACS Poli Timișoara relegated, ASU Poli have had a back and forth 2019-20 season. The club sit in 11th place with 32 points from 22 games, just 16 points behind their ending count of 48 from the last season. 
The club have 16 games left in their season and are seven points behind Turris Turnu Măgurele, who currently hold the third-place promotion playoff spot. The top two clubs in Liga II are automatically promoted to the first division.
Poli have several players in the upper ranks of Liga II's statistics, with forward Mircea Axente making the battle for top goal scorer with eight, six behind leader Albert Voinea, and goalkeeper Rareș Murariu only three behind assist leader Vla Muțiu.
Narcis Dragan, Poli's American Media Representative, explained how the club is handling its relationships with its squad, staff, and community. Like many clubs, digital communication has become key for Poli.
"We do organize online meetings with the board and the leaders in each department: staff, coaches, sponsors and supporters,"-Dragan. "Each of the parties gives updates of their segment and the staff & coaches communicate with the players to apply the physical individual training and nutrition, both with the main team and academy."
The club have also pursued eSports and otherwise online opportunities to stay active, including the formation of an eSports team and taking part in various celebrations of anniversaries, including that of Stadionul Dan Păltinișanu, the original Politehnica Timișoara's home stadium, which has also housed ASU Poli. The stadium is named after Romanian international Dan Păltinișanu, who made over 250 appearances for FC Politehnica Timișoara, primarily as a center back.
"We had some virtual matches with our new founded eSports team in national competitions or international supporters' friendly matches where people who watched could buy virtual tickets," Dragon continued. "We had an anniversary raffle celebrating the 57th year since the inauguration of our old stadium Dan Păltinișanu in which we gave away 57 (plus a few more) prizes. But mainly we are getting focused on our online shop with a lot of new items in store."
A fan-owned club, Poli have also seen their sponsors come into play to help figure out how to proceed during this complicated time. The club's supporter-owed identity remains crucial to them during the pandemic.
"The sponsors who are also coming from among our supporters are trying to find financial solutions for getting forward… we are the only professional supporters' owned club in Romania. No politics involved, no owners. It's just supporters."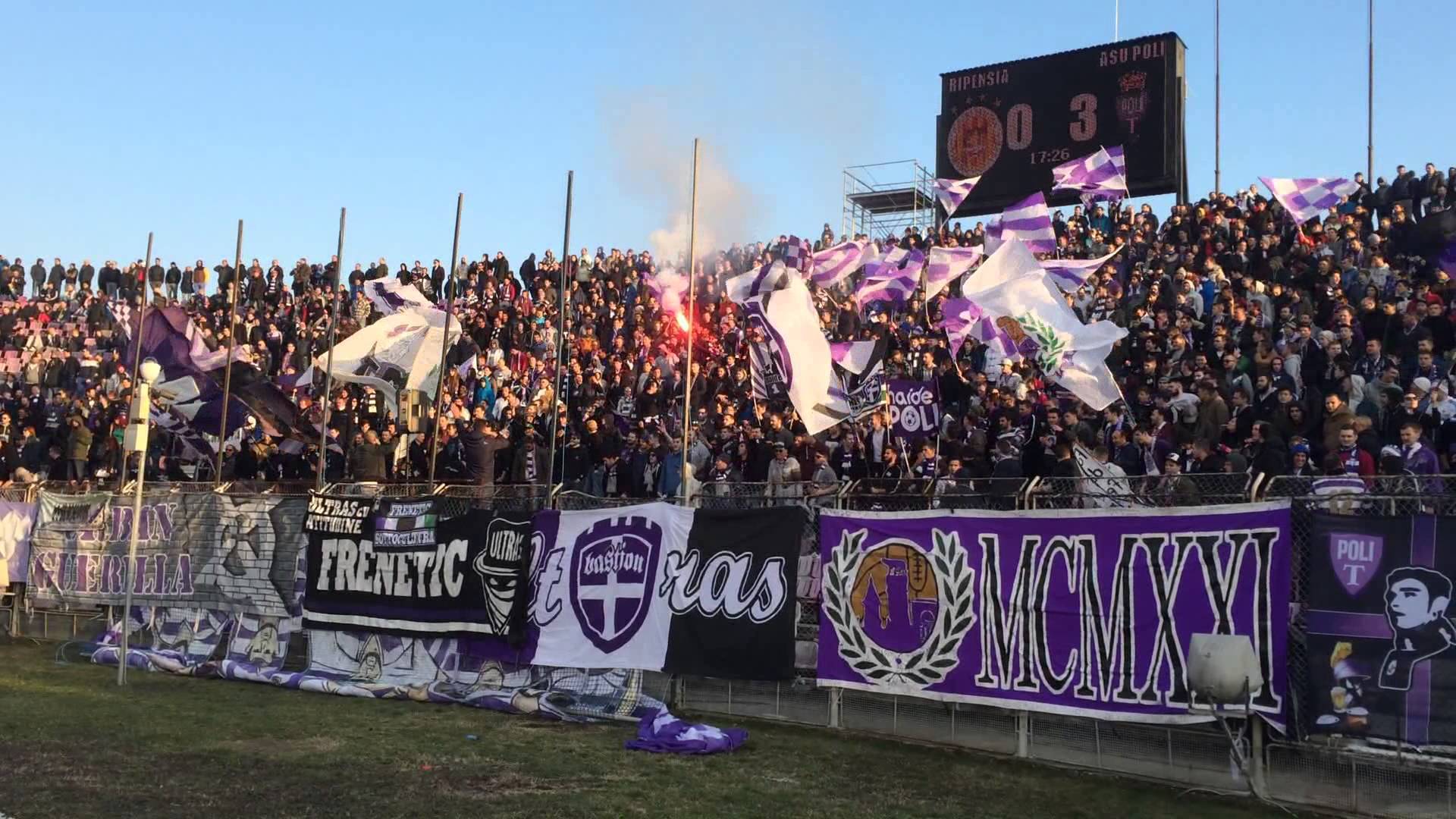 Outside of club-related expenses, Poli have also carried their supporter-focused identity into helping the everyday needs of Timişoara. 
"We are helping the medical teams and elderly people by volunteering with different actions," Dragan explained. "We are a community team, so we try to help out with anything and everything we can.

We started in our neighborhoods by helping elderly people who needed someone to do their shopping. Then we started producing our own Poli-branded masks. We delivered and donated facial shields for different hospitals in need, we also donated food for a few families with low or no incomes. These are only a few examples. We try our best to give back to the community. We keep our supporters updated every day on our social medias with any changes taking place."
Timişoara itself, as with the rest of Romania, has been closed down. Dragan did note that there was a plan to reopen later this month, though as with all nations at this time, plans are open to change. 
"Timişoara is, like the entire country, under emergency state," Dragan explained. "It is said that from 15th of this month the emergency state will be over. People are trying to follow the measures set in place by detail as we all want to cut out this coronavirus curve."
Despite the push by some to get football restarted as soon as possible, Poli have supported the idea of cancelling their season, regardless of their potential promotion hopes.
"We expressed our position in an official statement on April 28th in which we said that we want this actual second league Season to be canceled," Dragan stated.  "There are only a few months available and playing [every] 3 days might be too much for our players health condition and it would be an enormous financial effort."
A chief concern of the club is its financial reliance on match day sales, which would not be helped by closed-door games. Without rich investors, the club would need that direct line to its supporters to be able to safely fund further activity.
"Our budget mostly comes from our fans," Dragan continued, "so not having them in the stands is already a loss for us both financially and morally because their support at each match counts a lot. We call them our twelfth player."
For supporter-owned clubs like ASU Politehnica Timișoara, the summer of 2020 and the choices made regarding the 20/21 and 21/22 seasons will not just be affecting the enjoyment of fans. Instead, these conversations and choices may well define the security of the clubs themselves.
There are still countless questions to be answered when it comes to how football will look and operate as the COVID-19 pandemic continues to develop. Amid those questions, far more than the leagues with major international television deals are being affected. Perhaps more importantly, those clubs, despite a smaller slice of the limelight, are making themselves part of the search for a solution.
By: Dominic José Bisogno
Photo: Gabriel Fraga