Analyzing Carlos Corberan's West Bromwich Albion
On October 25, 2022, Carlos Corberan was hired as head coach by West Bromwich Albion after a dismal start of the season left the pre-season promotion hopefuls 24th in the Championship table and with only one win in the last 11 league matches. Since then, the former Huddersfield boss has taken the Baggies to within one point of the playoffs after winning 8 in 10. Corberan has reignited the passion of what was so recently a lifeless West Brom fanbase which when taking into account the state of the club off the pitch is no easy feat.
The Foundations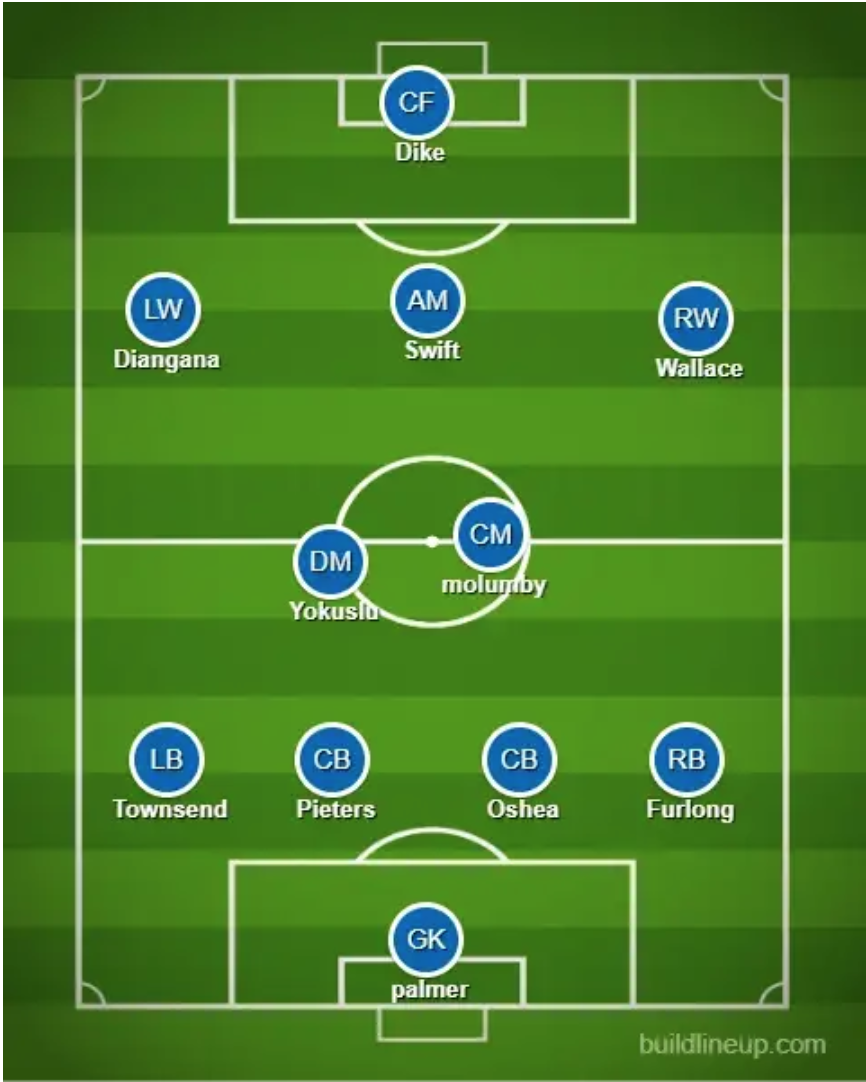 West Brom's most recent line-up
Since his arrival, Corberan has mainly started with a 4-2-3-1 formation. There has been some slight experimentation with a midfield of Tom Rogic, John Swift as well as Okay Yokuslu playing as a lone 6 in a 4-3-3, but it was unsuccessful due to Rogic and Swift lacking the physicality and defensive ability to offer sufficient cover out of possession. The 4-2-3-1 has all of the players in their natural position and will more than likely be the approach for the rest of the season should the midfield not see significant investment in January.
Off-the-ball Structure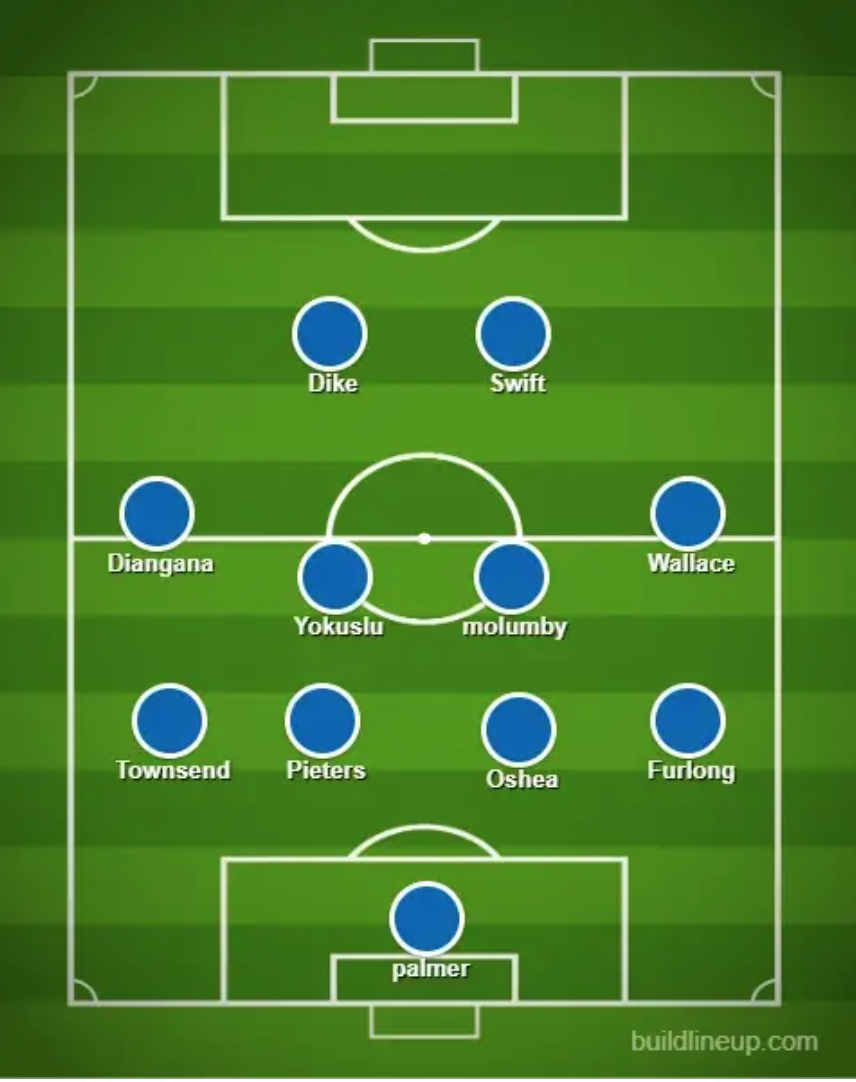 West Brom's 4-4-2 mid-block
Out of possession, West Brom have operated in a 4-4-2 formation. The transition into defence is simple. The 10 joins the 9 and forms a front 2. As well as this Both the wingers track back to help against wide overloads, which at times makes it look like a 6–2–2 out of possession, this allows West Brom's numerical superiority on the last line of defence meaning they're less likely to concede to a free man at the back post.
This is a major improvement as Steve Bruce's Albion had a real issue with conceding cutbacks. Corberan has put a stop to Albion conceding first which West Brom fans know happened all too often under Steve Bruce. Since Corberan's first match against Sheffield United (which he only had 4 days to prepare for) West Brom have not conceded a non-penalty goal.
West Brom's defensive transition (numbers represent positions rather than squad numbers)
West Brom's Philosophy Out of Possession
Since Corberan, has come in the culture at West Brom has changed off the pitch being fit is a necessity. It's been reported by the Daily Mail that players have been placed on a strict diet and undergo frequent weight checks. This is because on the pitch Corberan believes his players must be ready to play at a high intensity for the entire match.
As well as this, compactness in the defensive phase is key, no matter how West Brom are defending, whether it be a mid block like the game against reading or a high press like against Preston it is done as a unit. Corberan has made defending simple, every player has a task and they must perform that task to a high standard or they won't play. No matter the structure, the way the players are asked to defend won't change.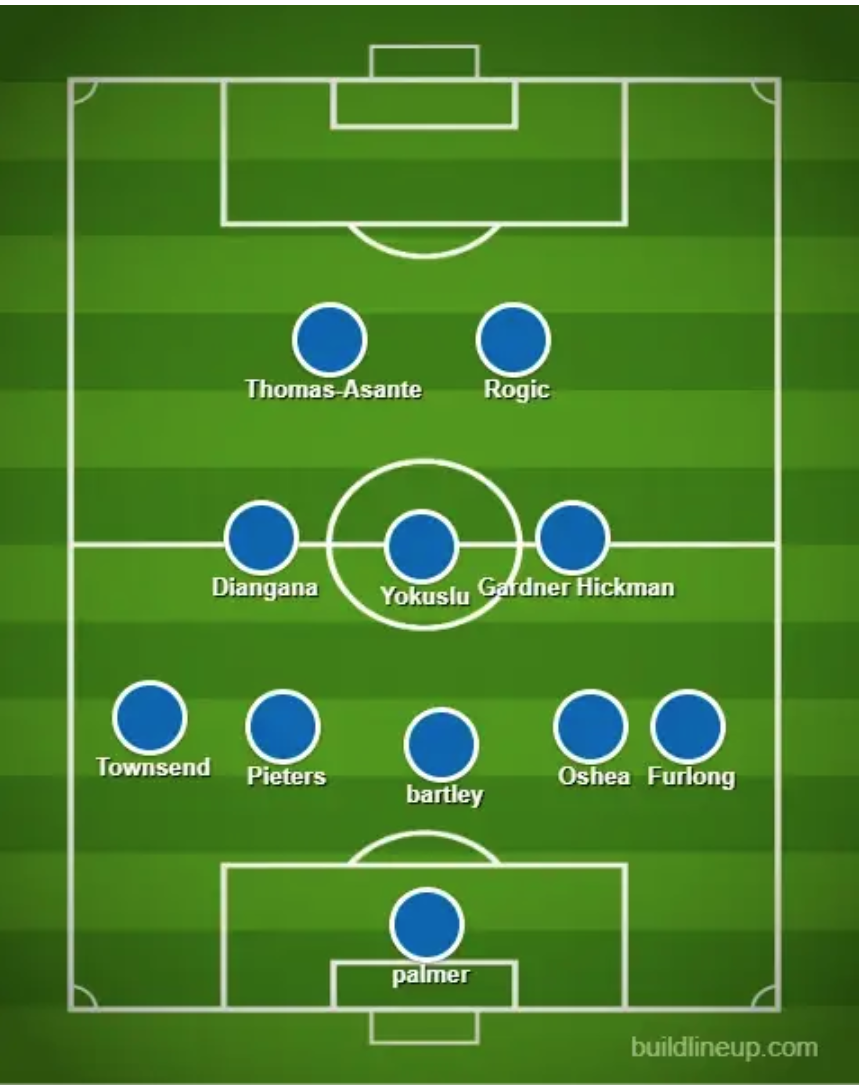 West Brom utilizing a 5-3-2 late on against Stoke City
A 5–3–2 is drastically different to a 4–4–2 on paper but West Brom still defended in the same way just with more numbers.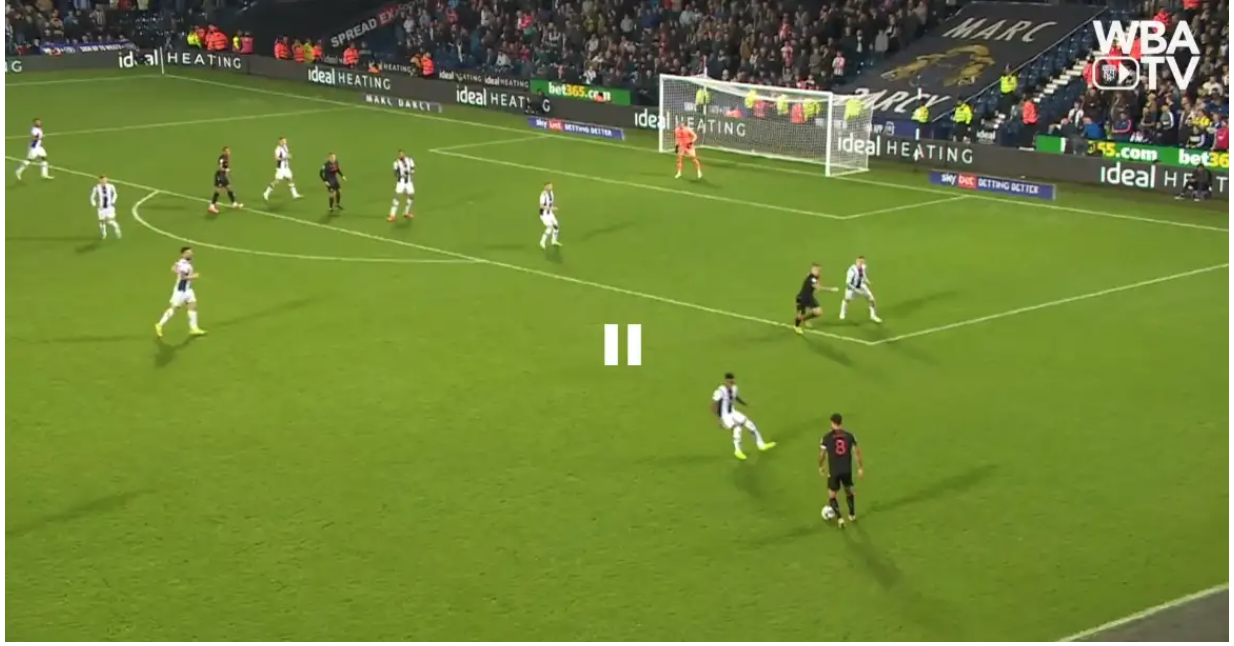 Grady Diangana pressuring Lewis Baker on the right of Stoke's attack
For example against Stoke, Grady Diangana (playing left centre midfield) would go out and press Lewis Baker (operating as a wide right midfielder) when they had the ball out on the right showing that despite West Brom lacking a winger they would still not be overloaded out wide.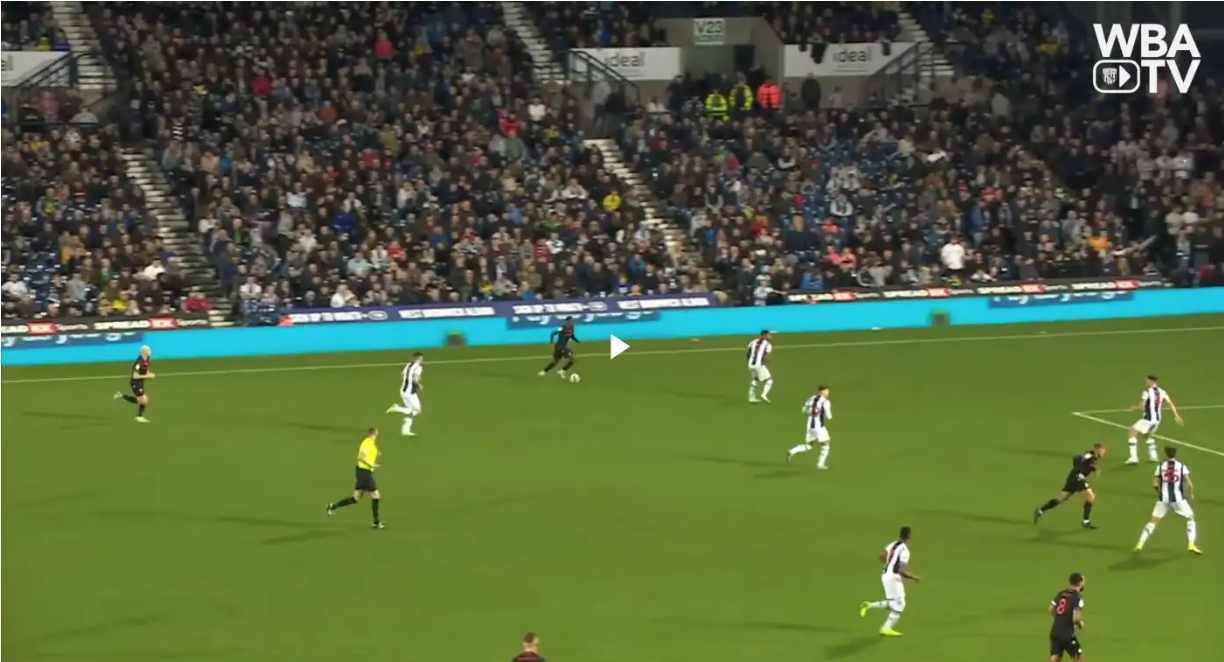 Here's an attack on the opposite side. Stoke's left winger, Tariq Fosu has the ball which leads Darnell Furlong to step up. In theory this would leave Taylor Gardner Hickman to deal with Stoke's left centre midfielder, but due to Will Smallbone's wider position Tom Rogic, who at the time is playing right of a front two, drops deeper to deal with Stoke's left centre midfielder. No matter what structure the expectations stay the same. Everyone, no matter the position must be ready to defend.
West Brom's Build-up Play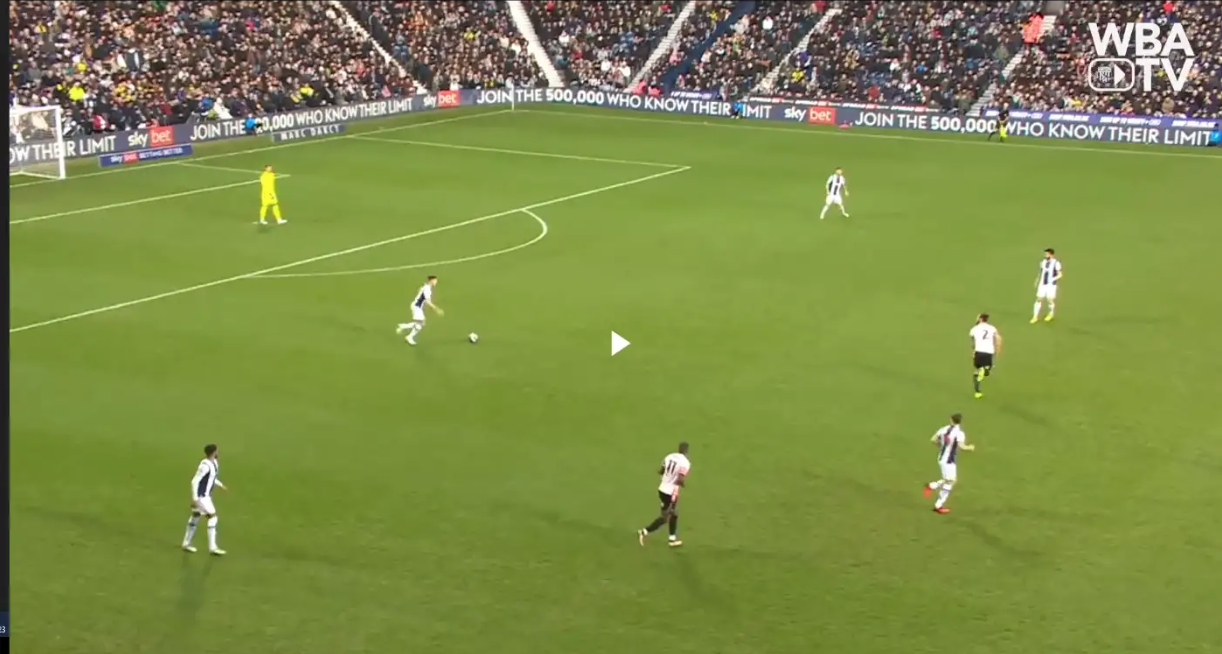 West Brom's 3-2 build-up structure vs. Reading
Against Reading, Albion mainly built up in a 3–2. But it was made easier due to Reading having a relatively immobile front two meaning they couldn't press the centre backs with intensity. This is how Corberan wants Albion to build up in an ideal world. Unfortunately it's not that simple, especially for a West Brom team that doesn't really have any defenders seriously comfortable with playing against an intense press. Coventry was a wake-up call for Albion.
So far the Baggies had come up against relatively passive presses but Coventry pressed high and with numbers. It was a shock to the system and West Brom didn't know how to cope. The game was, for the most part, a constant wave of sky-blue pressure and in the first half at least Albion didn't have an answer to it.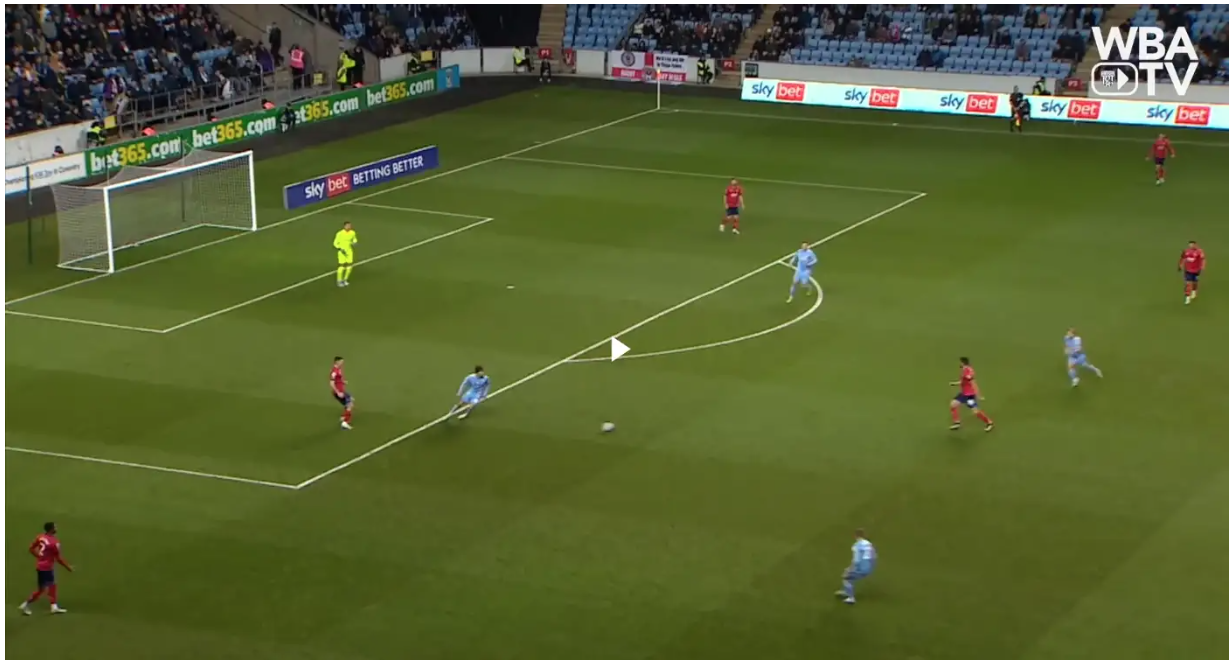 West Brom's 4–2 buildup early on vs Coventry
The image above shows no matter what Corberan will prioritise having numerical superiority in the build up. West Brom consistently outnumbered Coventry in the build up phase by playing with 6 and even sometimes 7 players in their own half. This should've made playing from the back simpler but due to a mix of the midfielders not knowing when to drop deep for the ball and a lack of bravery on the ball it meant Albion really struggled to progress play from the defensive to the attacking third consistently.
Another issue they found was Okay Yokuslu struggling due to being crowded out. The Turkish international was clearly a pressing trigger for the Coventry midfield as for most of the first half he seemed to be surrounded by 4 or 5 players. When West Brom did get the ball into him he was jumped on instantly which made getting the ball up the pitch through him incredibly difficult.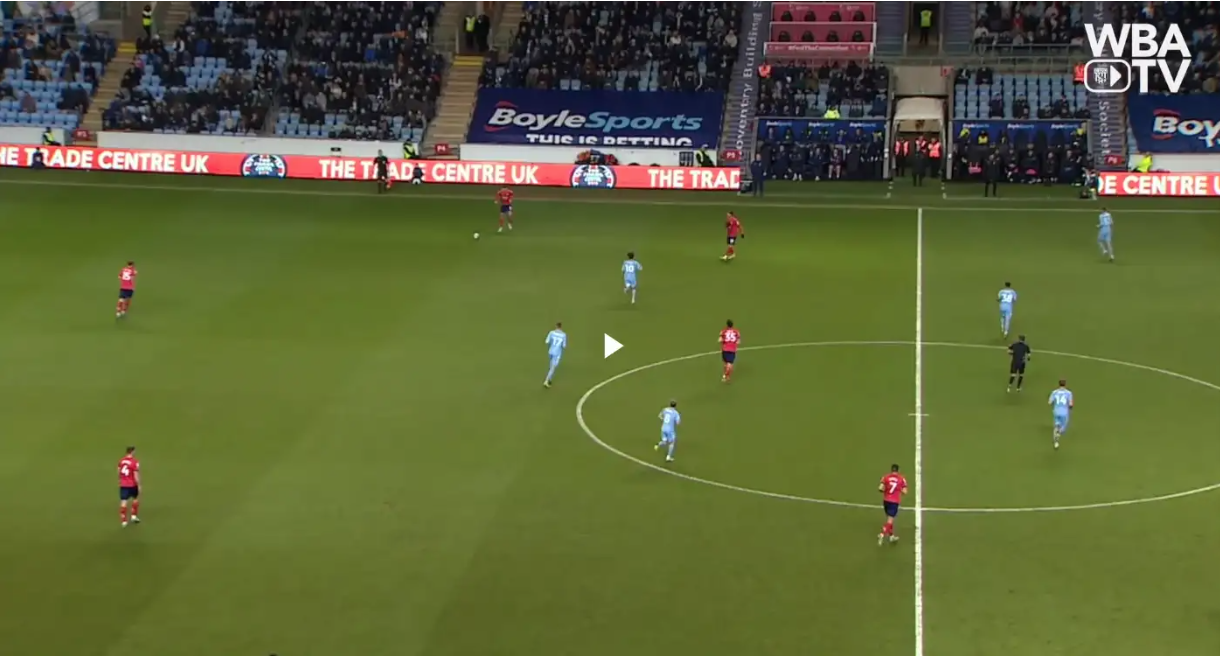 Yokuslu being crowded out in the build up
This is what made the Coventry press so effective. Despite West Brom having more players in the build up phase than Coventry it was actually almost impossible to get the ball into the player who under Corberan is usually tasked with receiving the ball from the centre backs, turning and breaking lines when possible. Coventry's plan was to starve Yokuslu of touches and it worked with him only having 47( the fewest of any West Brom player who played the full 90).
To address this issue Corberan subbed Molumby on for Rogic and pushed Swift into his more natural position further forward. This made it harder for Coventry to press due to Molumby being more comfortable on the ball in deeper zones than Swift. It also meant Albion had a quicker and more able ball winner off the ball. Since this change, Molumby has started every match and recently won the man of the match award against reading.
West Brom's Principles in Possession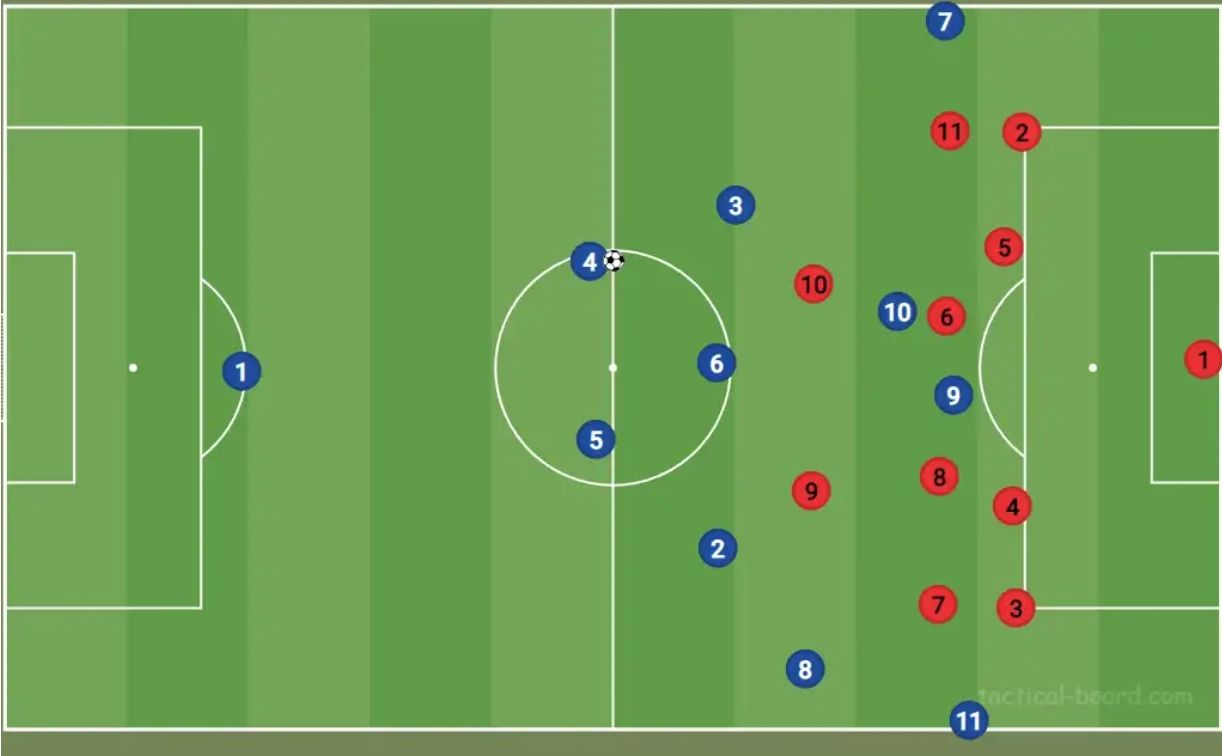 West Brom's structure in possesssion
West Brom for the most part play in a 2–3–5. That being said, it's relatively fluid with right hand side rotations and the 10 being given a free role. As well as this, both full backs are given licence to get further forward and at times West Brom rely on Yokuslu to act as a one man rest defence. The full backs invert either side isolating both wingers against the opposition full back.
The system is positional whilst allowing players a sort of controlled freedom with predetermined rotations on the right side of the pitch. in possession philosophy On the attacking transition, Corberan allows West Brom to play instinctive and direct football when the opportunity presents itself. However for the most part Albion use transitions to get into their attacking shape.
From this shape, they usually pass the ball patiently, slowly moving around the opposition block up to the point where enough space has opened up to get at the opposition's last line of defence. This Daryl Dike goal against Sunderland is a perfect example of this. Being patient with the ball and when the moment to "kill" comes, Albion attack with pace and precision.
Goal at 4:43
A big part of Corberan's philosophy with the ball is players should be comfortable receiving the ball in different zones than they'd usually occupy. It's a very fluid, Bielsa-inspired style of play which will probably become more apparent as he spends more time with the squad. Currently the main rotation we see is on the right side of the pitch where the winger, midfielder and full back can all be seen operating each others zones at times.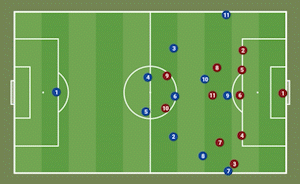 West Brom's right-hand side rotation
Darnell Furlong is probably the player who has benefited most from this rotation as he often finds himself in central areas of the pitch with more passing angles to choose from. Furlong's form improved from the day Corberan joined, as he was offered more protection in defence and given more freedom when the team has the ball.
Before Corberan joined right back was seen as a problem area for West Brom but now a lot of fans have come to love the former QPR man in his new role. Jayson Molumby's man of the match performance against reading was influenced by this rotation as despite playing as a central midfielder he made the majority of his passes wide right, this led to him assisting the winning goal from an advanced position on the right wing.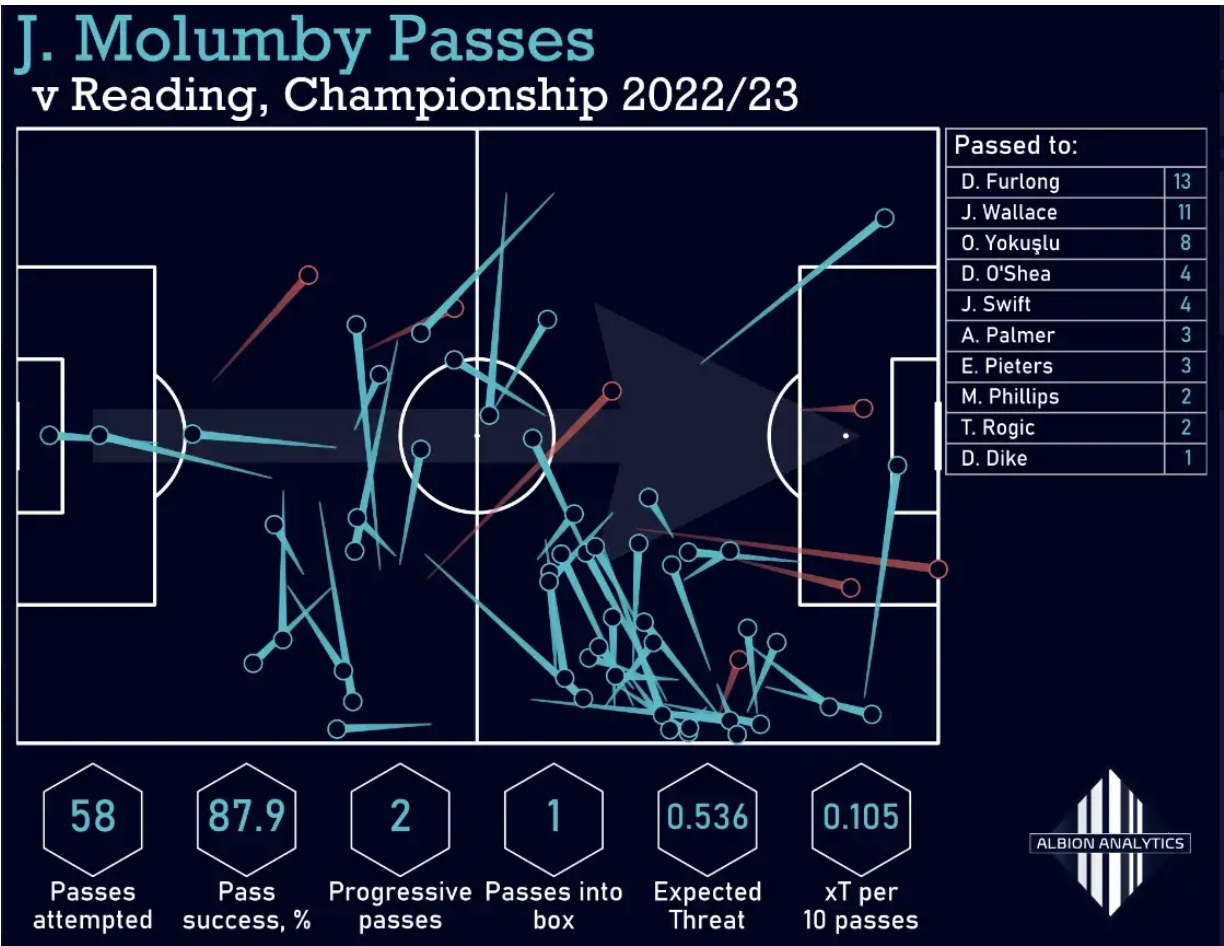 Jayson Molumby's pass map vs Reading via analyticswba
When attacking, West Brom usually enter the box from out wide using crosses and cutbacks to create dangerous opportunities. This is mainly because the highest volume creators in Jed Wallace and Diangana play out wide. A lot of West Brom's longer passes also tend to be in between the full back and centre back leading to a lot of box entries from either half space.
This simplifies the game for forwards Daryl Dike and Brandon Thomas-Asante as a lot of the time they don't need to think about their run and just aim for the space between full back and centre back, Thomas-Asante has become a master of this as he frequently chases down through balls and gets high quality chances from the left half space which makes sense given his time playing as a left winger for Salford.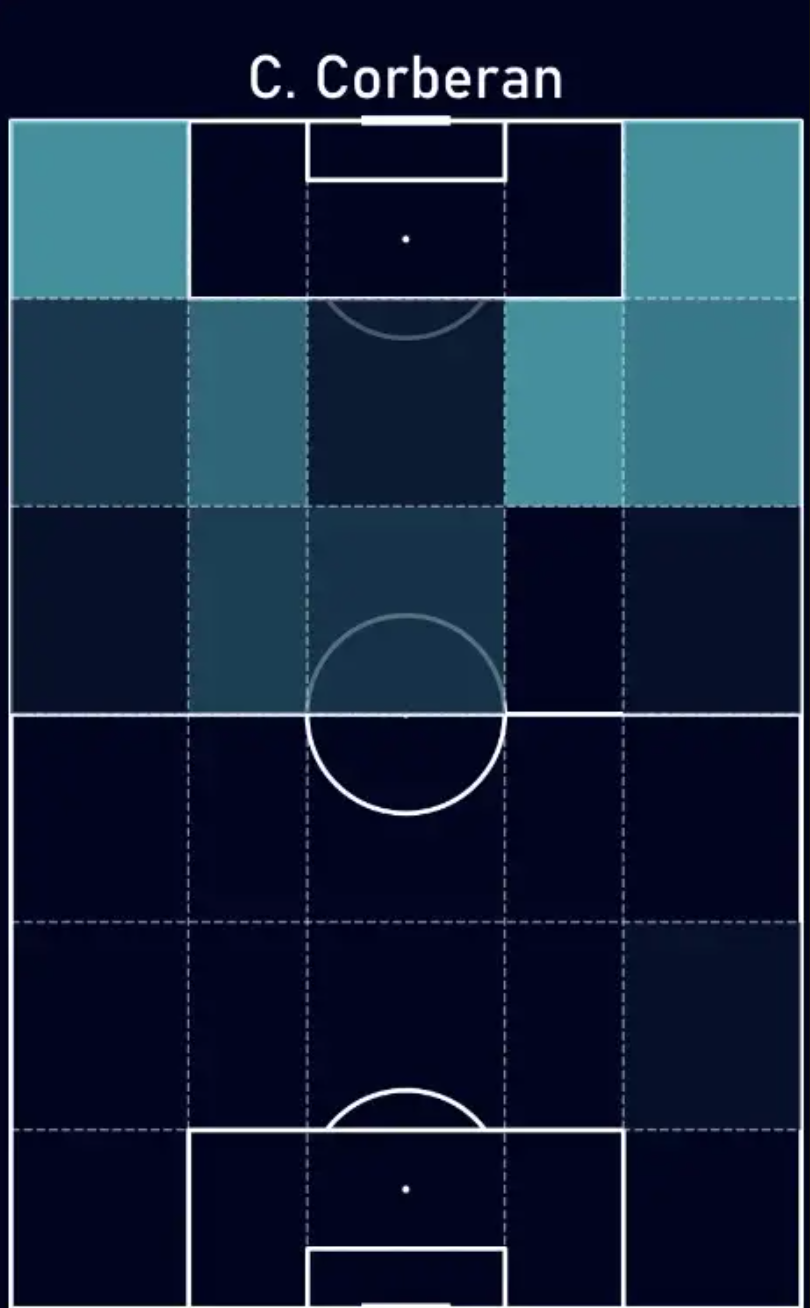 West Brom's box entries under Corberan via analyticswba
If West Brom create a chance through the middle of the pitch it is usually on transition as opposed to settled play, the Wallace goal against Rotherham probably being the biggest indicator of this.
Goal at 1:07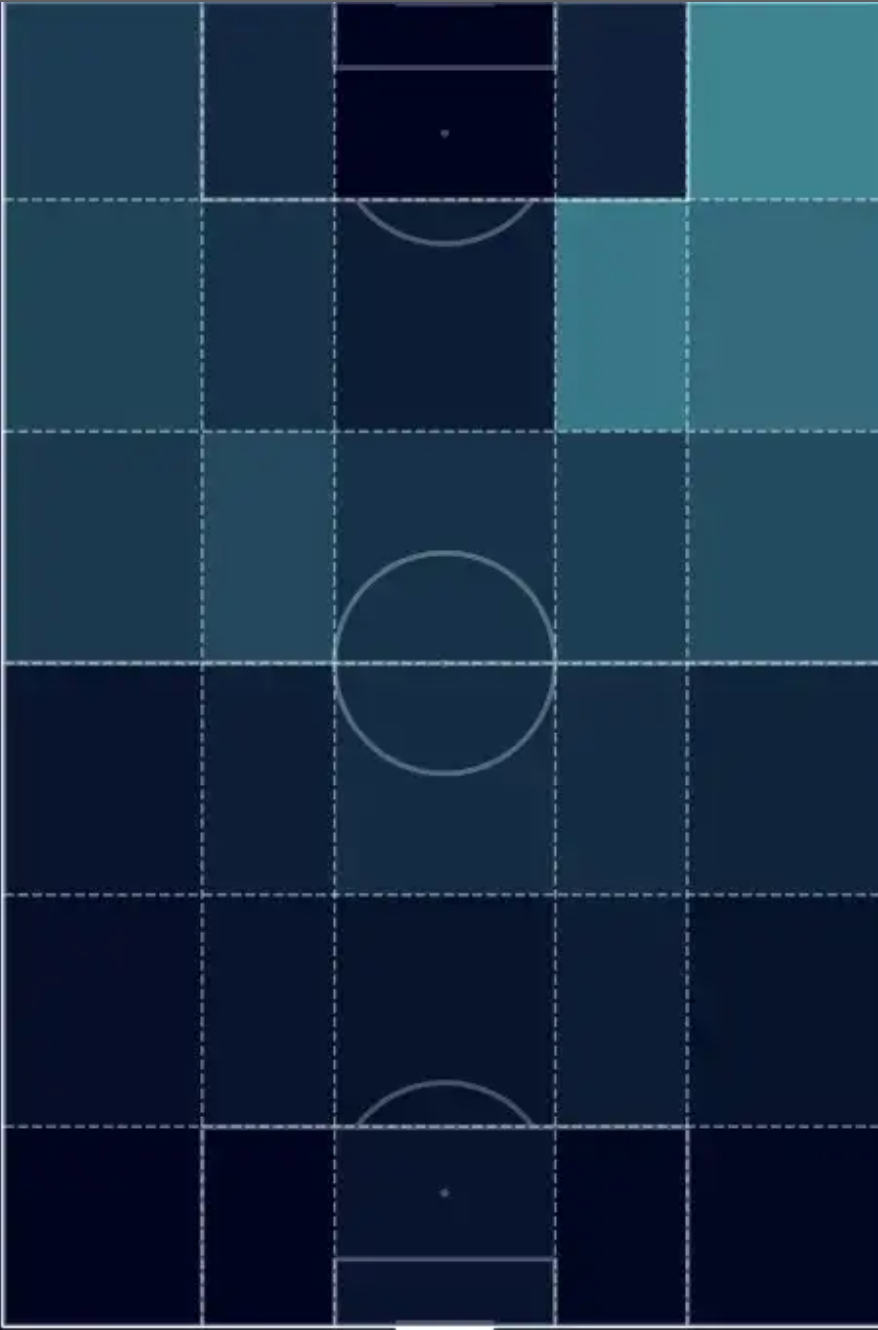 West Brom's expected threat map since Corberan's arrival
This xT map shows that West Brom share the responsibility of moving the ball fairly evenly up until they reach the final third.
Under previous managers such as Valerien Ismael, who insisted on like-for-like changes no matter the game state or situation, West Brom players would be disheartened if they didn't feature in the starting 11 as it meant they wouldn't have sufficient opportunity to impact the game but this is no longer the case at The Hawthorns. In the 14 goals scored since Corberan's arrival, 5 have been scored by substitutes. This is genuinely incredible considering West Brom fans would be able to predict the timing of substitutions just over a year ago.
Attention to Detail
Albion fans were told when Corberan arrived of his meticulous nature. This goal against Rotherham is a perfect example of this.

Rotherham think they have West Brom's throw-in under control due to them crowding out any nearby options

Thomas Asante blocks the Rotherham defender with his body, thus allowing Wallace space on the ball

Wallace crosses the ball allowing Diangana to score with his first touch of the game
The most important action in this sequence is undoubtedly Thomas-Asante's body block. It allows Wallace the time and space to play the cross into the corridor of uncertainty. Corberan's Huddersfield were known for trying to create small advantages to score goals from set-piece situations and this goal is no different. A tiny action that makes a big difference and a goal that is almost certainly not scored under any other coach.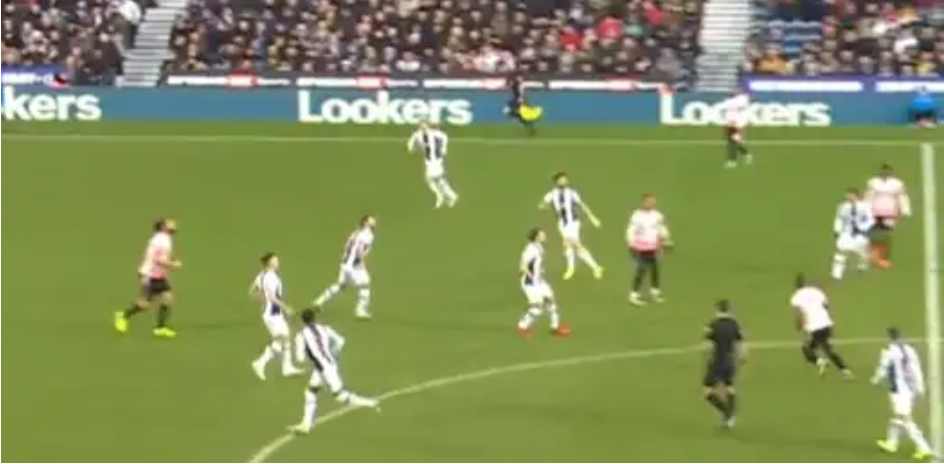 Reading's long goal kick
Look how West Brom are set up for this Reading goal kick. Condensing the pitch into one 8v5 situation in Albion's favour. This set up made Reading's usual strategy of booting it long and playing for 2nd balls ineffective due to being so heavily outnumbered.
Pair that with the aggression Albion showed to make first contact and Molumby's tenacity to get to the 2nd ball and it makes Reading's go-to way to get up the pitch near enough impossible. This is the type of attention to detail that was so clearly missing from this West Brom side earlier in the season and now that it's here West Brom fans are desperately hoping it's here to stay.
Final Thoughts
I think Carlos Corberan's final vision for this West Brom side is more similar to the 4–3–3 that was on show against Rotherham than the 4–2–3–1 that we've seen in recent weeks, but that can't be achieved until an overhaul of the squad which with the club being in so much trouble off the field doesn't look to be coming soon.
With that being said in the present Corberan has made football that's simple for the players and exciting for the fans. Since his arrival, West Brom fans have been given 90 or so minutes a week where they can forget about the troubles off the field and completely get behind those on the pitch. He's quickly turned the atmosphere at The Hawthorns from toxic to supportive and if he's anything like those fans, maybe Corberan too believes West Brom are on their way to the Premier League.
By: Rickylee Griffiths / @rickyleegriffi2
Featured Image: @GabFoligno / Adam Fradgley / West Brom