Analyzing Erik ten Hag's First Match in Charge of Manchester United
The Erik ten Hag era has officially begun at Manchester United — well, sort of. The Red Devils began their pre-season tour with a 4-0 victory over long-time rivals, Liverpool. Of course, it was only a friendly game and three of United's four goals were scored against a Liverpool side consisting largely of reserves, but we were given a peek into how Erik ten Hag wants his side to play.
The Dutchman started the game with what is presumably his strongest (available) XI at the moment and the signs were certainly promising, even if there's still some work to do. Many tactical traits that have epitomised Ten Hag's philosophy were on display in this performance and that's a welcome sign that his methods are getting through to the players. So, how exactly did the former Ajax manager set his team up for this game?
Firstly, it was immediately evident that Erik ten Hag wanted his side to adopt the "juego de posición" style of play, which — for those who are unaware — is the philosophy of "positional play"; a concept most often associated with Pep Guardiola.
The main tenet of juego de posición is how players position themselves relative to the ball and to their teammates. Generally speaking, there should be no more than three players occupying the same vertical or horizontal lines when the team is in possession of the ball.
The purpose of this is to maximise the number of available passing lanes through which teammates can be found. This was evident when Manchester United were in possession, especially in wide areas where the full-backs and wingers appear to have good chemistry already.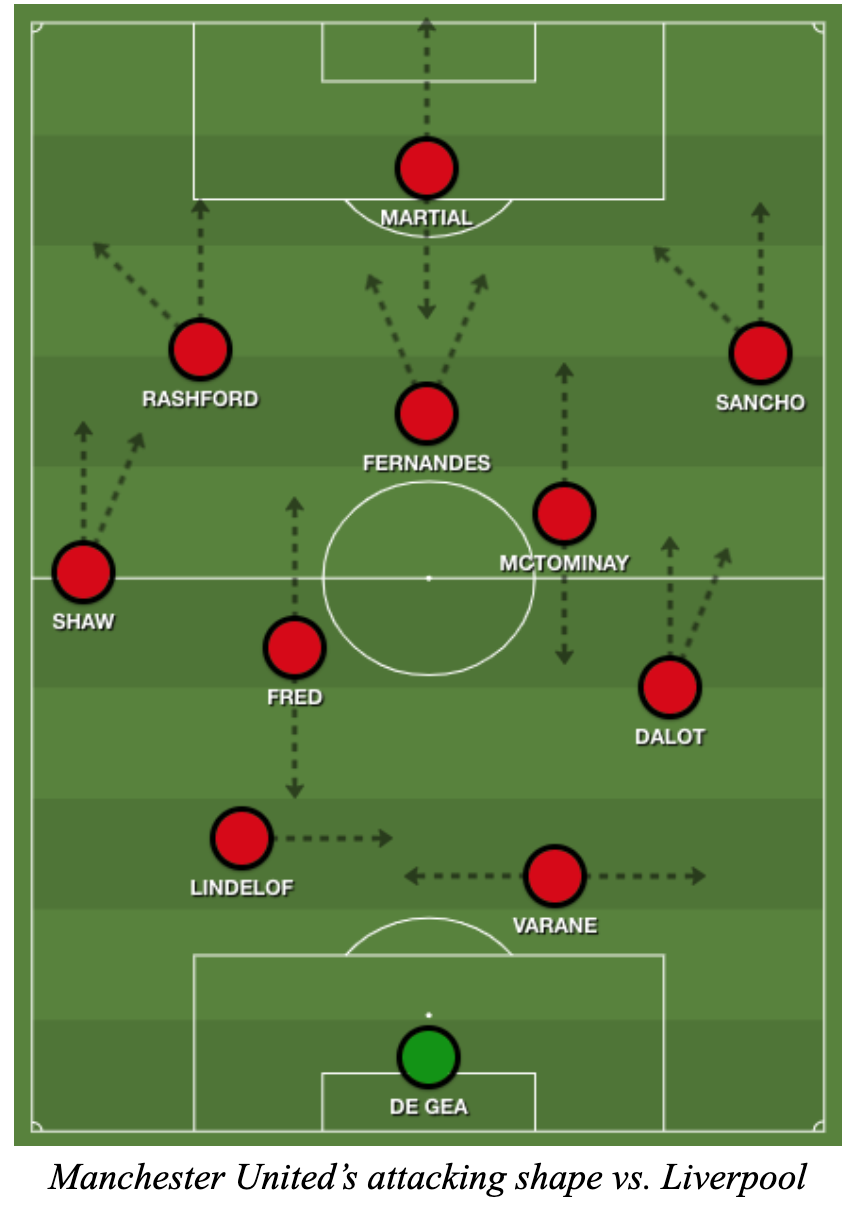 As the above diagram shows, the spacing was crucial to how Ten Hag wanted his team to play. Jadon Sancho tended to have a high-and-wide starting position, which subsequently resulted in Diogo Dalot playing as an inverted full-back in the half-space.
On the opposite wing, the inverse was present. Rashford spent more time as an inside forward, with Luke Shaw holding the width. As mentioned prior, these are key tenets of positional play.
The midfield pairing of Scott McTominay and Fred also largely avoided playing on the same horizontal line in possession, thus giving United more unpredictable and penetrative passing lanes.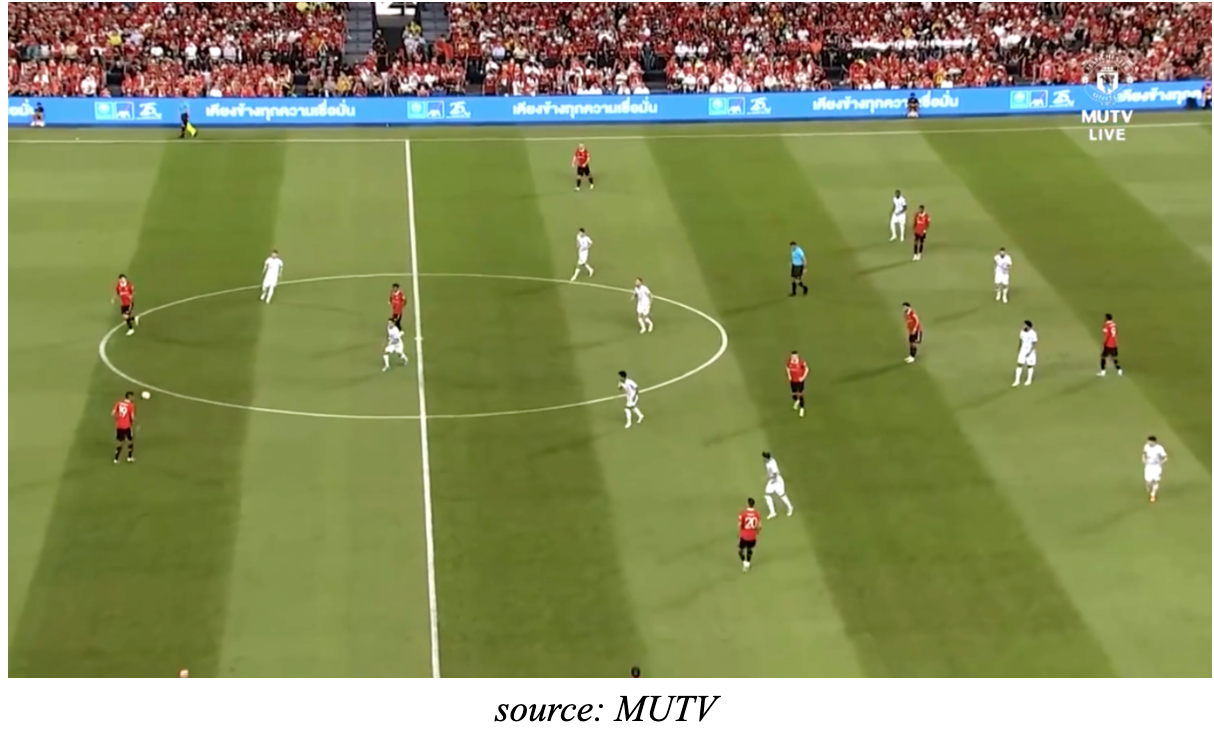 The characteristics of positional play are evident in the image. Shaw positions himself in a wider position and Rashford subsequently moves into the half-space. On the right wing, Dalot is in the inverted full-back position and Sancho stays high and wide to stretch the pitch, so much so that he's actually off-screen.
Dalot was also very proactive going forward, often making underlaps ahead of Jadon Sancho which were difficult for the defenders to track on their blind side. One of these runs led to a great chance for United where the Portuguese full-back managed to burst forward into the box and unleash a powerful shot against the post.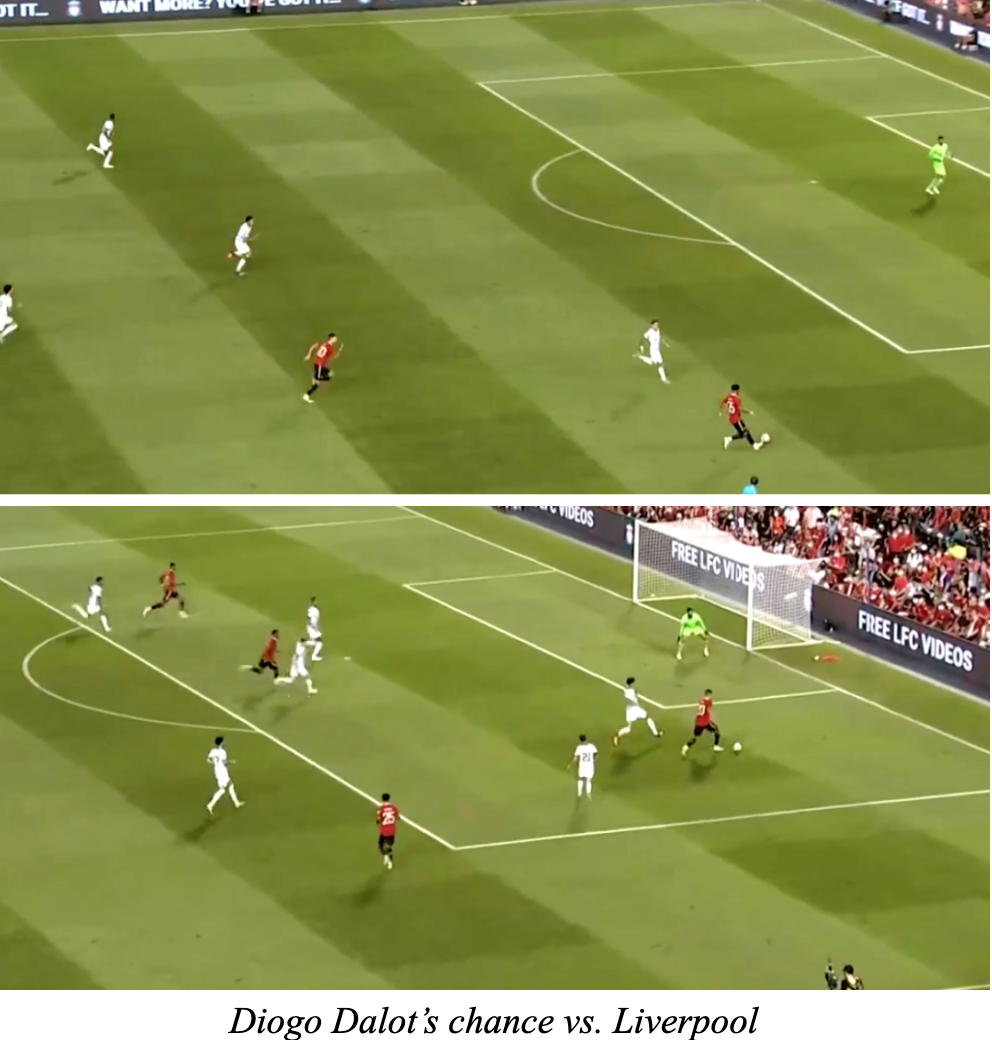 Sancho's positioning throughout the half was also particularly fascinating as he was positioned near the touchline far more often than in the half space; this may be an indication as to why Erik ten Hag is targeting Ajax's Antony as a potential signing to bolster United's forward options.
Antony is a left-footed right winger who tends to have an extremely wide starting position from which he can cut inside and cause indecision in the opposition defence. A player like Antony would diversify the team's options offensively and also allow Jadon Sancho to play off the left more often — a position in which he's equally, if not more, adept.
Bruno Fernandes has already shown more positional discipline under Erik ten Hag than we've previously seen from him. In the past, we might've seen United's talisman dropping extremely deep to collect the ball at the expense of having creators positioned higher up the pitch.
However, against Liverpool, Fernandes often positioned himself closer to Anthony Martial and trusted his teammates to advance the ball up the pitch. The Portuguese playmaker is commonly seen as the club's most creative player and, as such, he often feels the need to help United's deeper midfielders who aren't as technically proficient as he is.
The likely acquisitions of Lisandro Martínez and Frenkie de Jong will play a major role in allowing Bruno Fernandes to be more disciplined positionally without United losing the positive ball progression they need in deeper positions.
When Liverpool defended in a mid-block, United often built up in a 2-1 shape. This is another common tenet of how Erik ten Hag wants his teams to play, but this isn't usually the case in the first phase. When building up from deeper zones, the Dutch tactician usually instructs the deepest midfielder to drop next to the centre-backs and create an overload from there.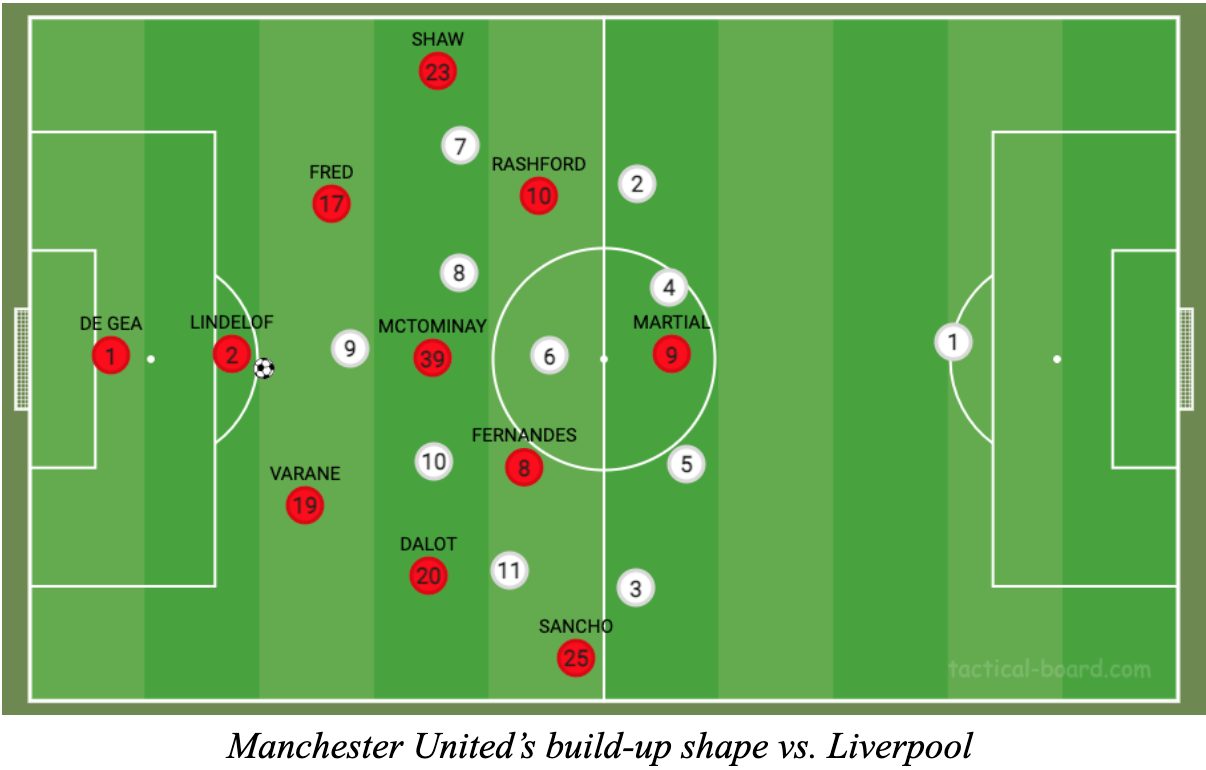 Fred played the role that Frenkie de Jong usually occupied at Ajax where he'd essentially become the left centre-back to assist in build-up in the first phase. This also goes some way to explaining why the manager is desperate to add De Jong to his side and allow him to play in his favoured role.
That said, Fred did a pretty decent job, though there were moments where he seemed a bit confused with his positioning, suggesting he may need some work to get fully acquainted with the role and its requirements. De Jong would be a natural fit in this position and this would also allow Fred to play higher up the pitch where he's far more comfortable.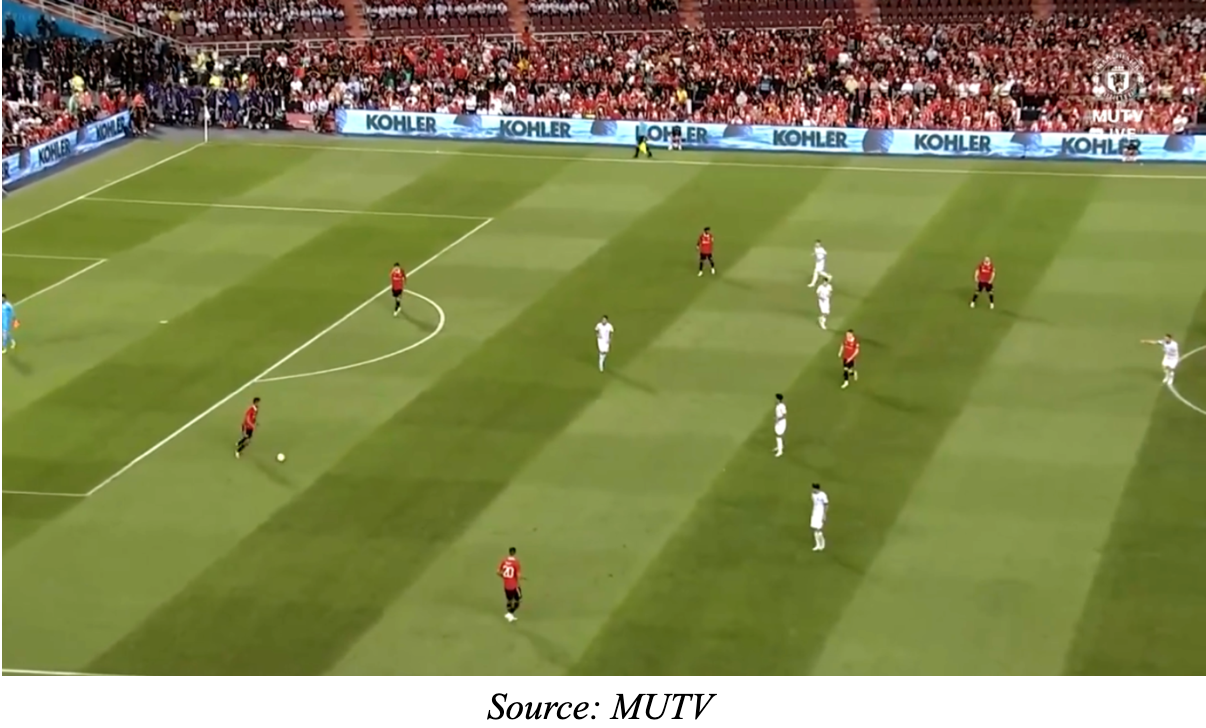 The above image gives a game-accurate view of the previously described build-up shape. In this instance, Luke Shaw is also inverted, much like Diogo Dalot. The England international helps to create a central overload in this position which subsequently frees up the wide players to have more space in which to operate.
Overloads are another key tenet of juego de posición as they allow players to seek advantageous positions that draw opposition defenders into particular zones, thus freeing up other zones on the pitch.
In this instance, both full-backs are inverted — this narrows Liverpool's shape and forces the backline to cover large spaces against United's best dribblers and creators. These are all promising signs of how Erik ten Hag envisions his side operating with the ball.
Finally, perhaps the most noteworthy aspect of Manchester United's first half performance was just how aggressively they pressed high up the pitch. A bad touch, the position of the ball on the field of play or a particular player having possession of the ball would all trigger an aggressive and concerted press by the Red Devils in an attempt to win the ball back or force a decision that eventually leads to a turnover. This included the manner in which the United players would counter-press in the event of their own turnover.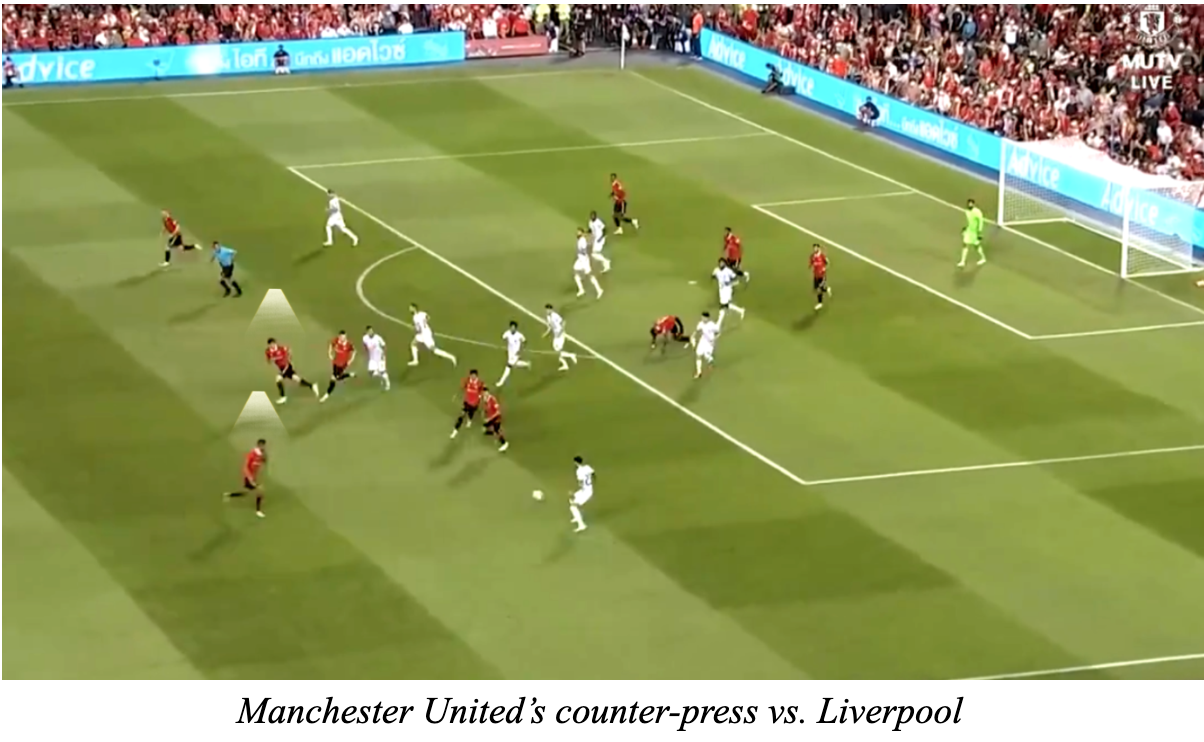 This is an extremely brave way to press; if done successfully, it can completely suffocate the opposition. Varane and Lindelöf are in the final third when United lose possession of the ball and Varane instinctively steps up to make a tackle to prevent a Liverpool counter-attack.
Erik ten Hag has spoken of his desire to have the team press aggressively, especially near the opposition goal. There were instances during the first 15-20 minutes where Manchester United didn't press (or counter-press) particularly well, allowing Liverpool to find large amounts of space from which to attack and create chances that may well have been finished by better players.
The press did improve as the half progressed which suggests that these were largely growing pains for the Red Devils, but the United boss definitely has some kinks to iron out before his players are truly ready for the new season.
It's important not to overreact to an early pre-season performance, whether good or bad. Match fitness is usually the main objective of pre-season and that will certainly be the mentality in the Liverpool camp.
That said, for a Manchester United team learning a completely new style of football under an extremely detail-oriented coach, the adoption of his philosophy is important to look out for. There is still plenty of work to be done, but the signs are promising and the incoming signings should only serve to improve how Erik ten Hag's men play in and out of possession.
By: Lebohang Mwamuka / @lebzygold
Featured Image: @GabFoligno / Soccrates Images / Getty Images