Analyzing Lazio's First Loss Under Maurizio Sarri
After an impressive start to life under Maurizio Sarri that saw them defeat Empoli 3-1 and Spezia 6-1, Lazio returned from the September international break with a disappointing 0-2 loss to Milan at the San Siro. They have been unable to bounce back in form thus far, losing to Galatasaray in the Europa League and drawing to relegation strugglers Cagliari at home.
The latest match saw Lazio go down 0-1 to Torino in the 76th minute as Marko Pjaca headed home a cross from Wilfried Singo to open the scoring for the hosts. The Biancocelesti managed to eke out a draw after Koffi Djidji tripped Vedat Muriqi in the box, allowing Ciro Immobile to convert from the spot. It is another poor result for a team that headed into the international break atop the league, but has skidded in form since their loss to Milan.
Going up against the Rossoneri, Sarri made two changes to his line-up from the previous match against Spezia. Manuel Lazzari and Patric dropped out of the defense for Luiz Felipe and Adam Marusic, whilst Simon Kjaer, Franck Kessie, Alessandro Florenzi and Ante Rebic displaced Alessio Romagnoli, Rade Krunic, Alexis Saelemaekers and Olivier Giroud, respectively.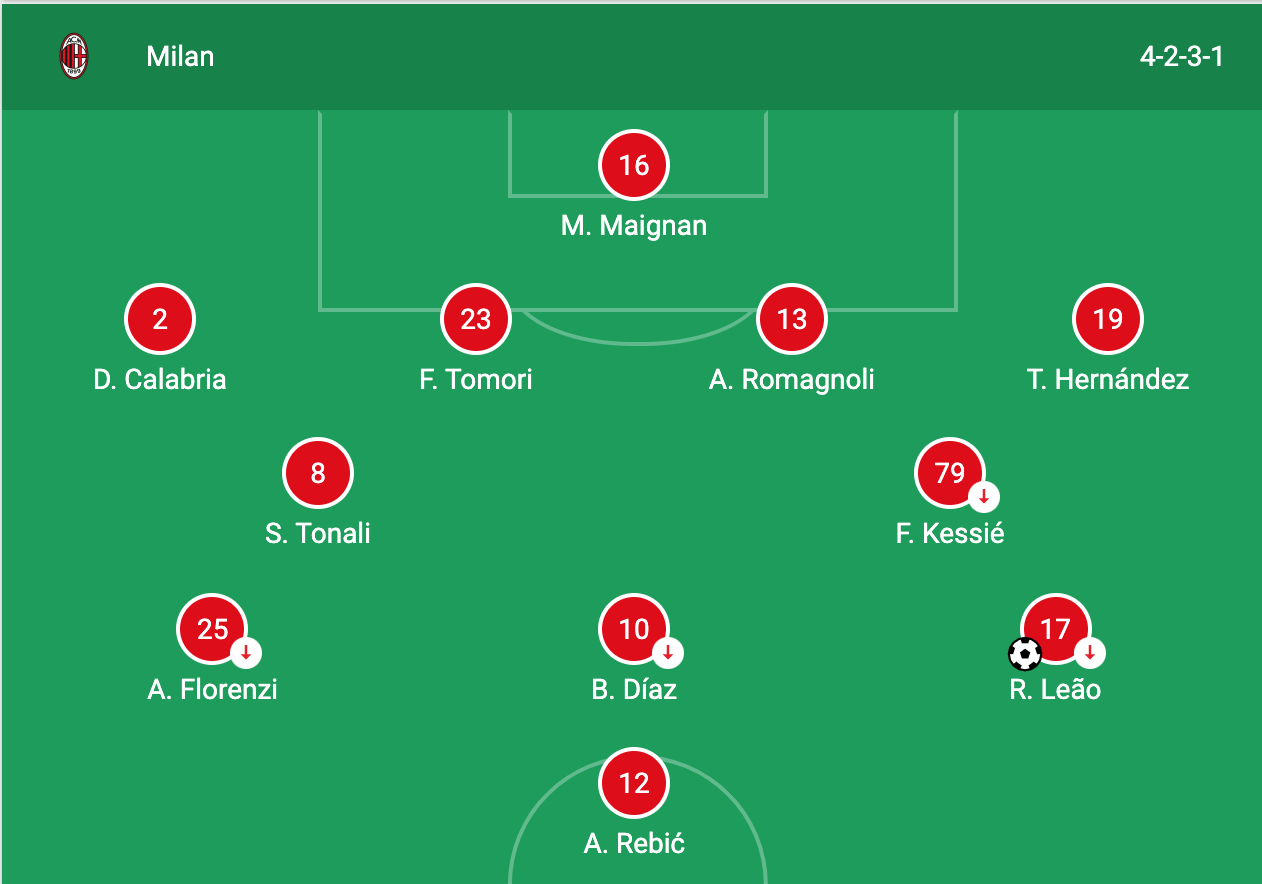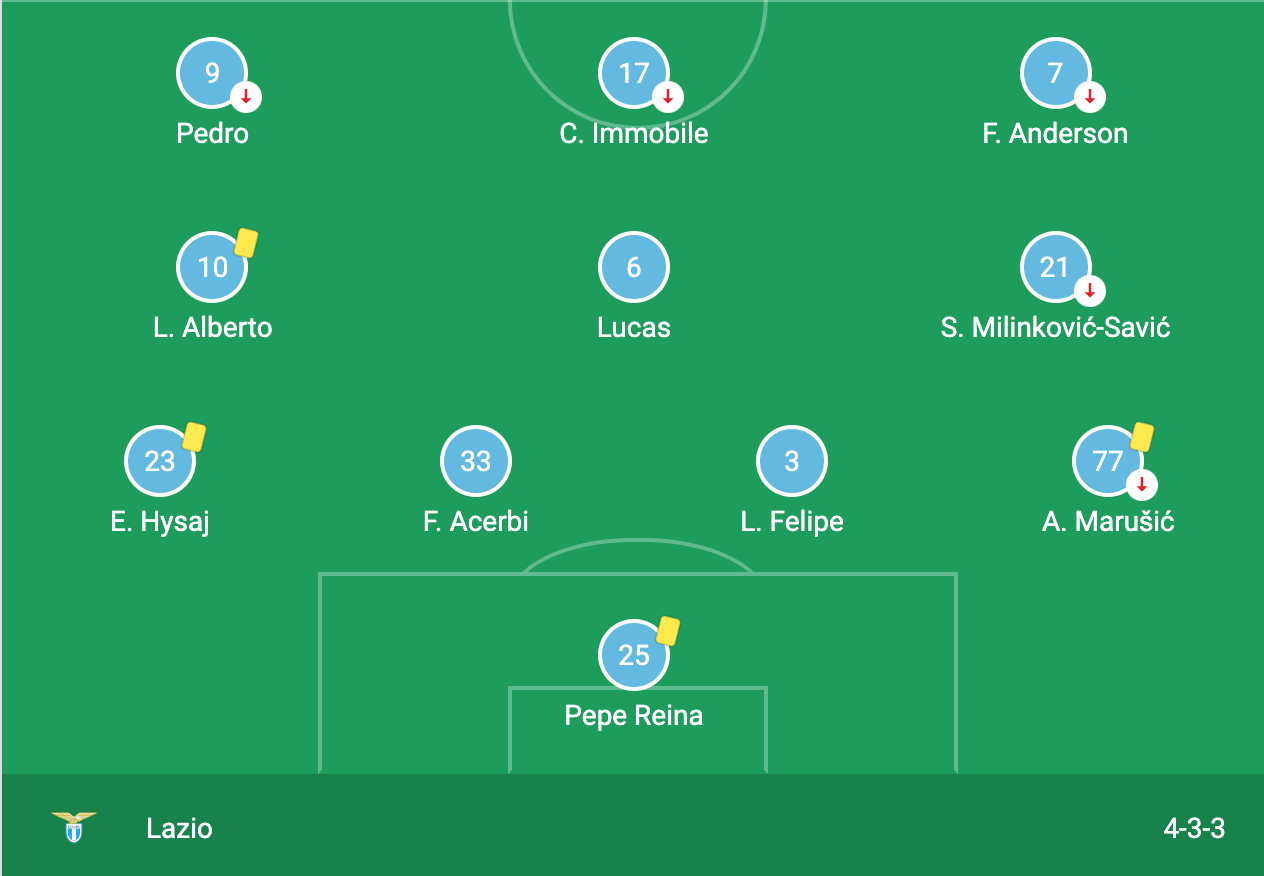 Lazio began the game the same as usual; after kick-off, Francesco Acerbi booted the ball towards the right side with the mission of 1) winning the first ball thanks to Sergej Milinkovic-Savic's height, or winning the second ball with their aggressive press.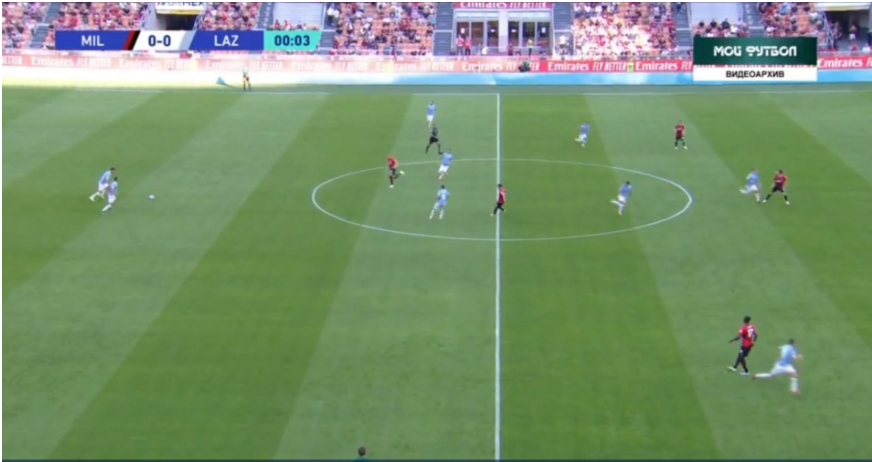 This time, just like in the past two games, Lazio failed to win the first ball, but they won the second ball higher up the pitch without putting a lot of pressure as Milan's captain heads the ball in wide for Elseid Hysaj in the left half-space.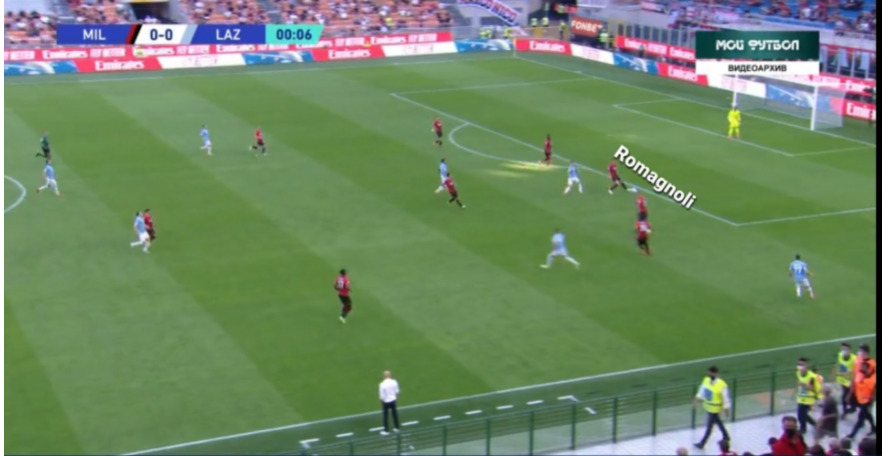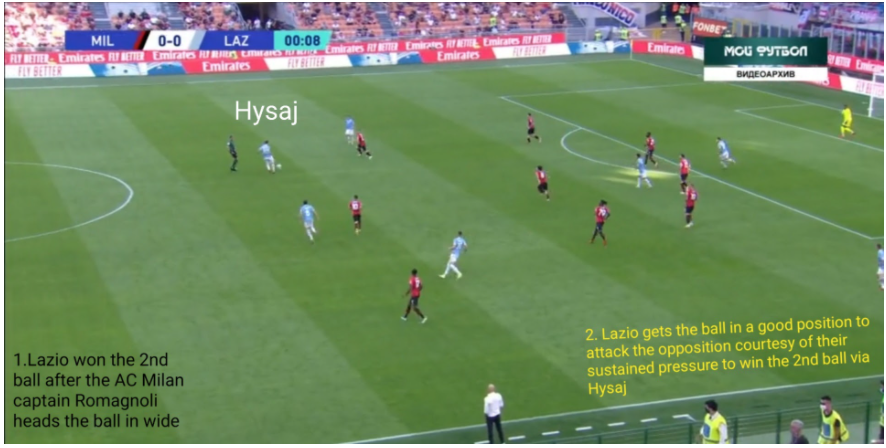 Lazio failed to take advantage but retained possession higher up the pitch. One of their biggest weaknesses under Sarri has been, whenever they lose the ball, they try to win it back by using various payers in one place without an organized press, which can in turn see them picked apart by quick passing and become exposed on the counter. This is also how they conceded early goals against Spezia and Empoli.
It wasn't any different against Milan. In the third minute, the Rossoneri managed to successfully break through Lazio's press, which saw them pick up a free kick in a dangerous position, where they failed to score.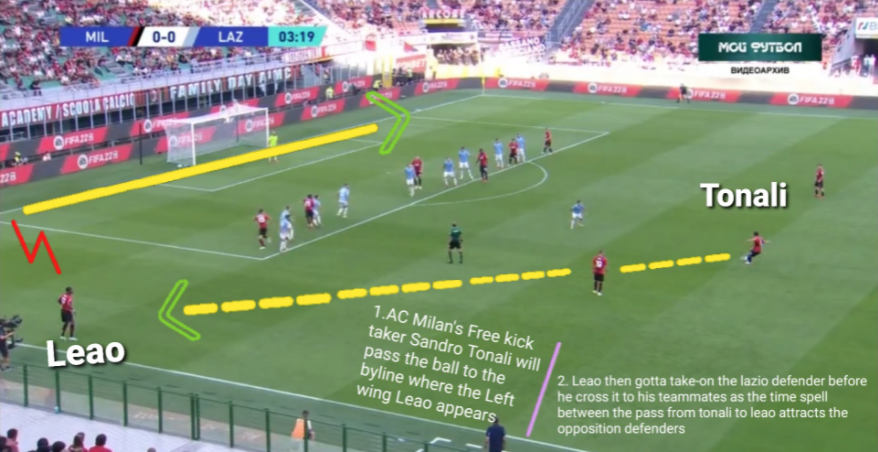 Lazio in Possession
Lazio utilized an asymmetrical 2-3-5 shape in possession as the two center backs stayed in their original positions. Lucas Leiva was joined with Lazio's two fullbacks to create a midfield three, although Marusic and Hysaj weren't stationary and were allowed to overlap and underlap, with one staying back whilst the other could move higher up the pitch.
The attacking midfielders (Milinkovic-Savic and Alberto) would move higher up the pitch on both the right and left half-spaces but would also drop deep to help their teammates in the build-up or take on the opposing players and create space for their teammates.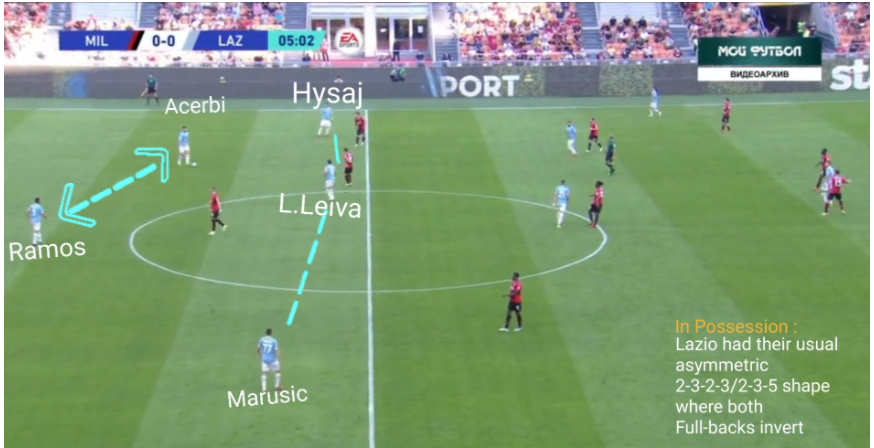 AC Milan off the Ball
Without possession, AC Milan used both high and midblock pressing and utilized a solid low block as well. One of the most impressive things about their shape off the ball was the way Brahim Díaz aggressively marked Lazio's 34-year-old regista Lucas Leiva, causing the Biancocelesti's build-up play to struggle.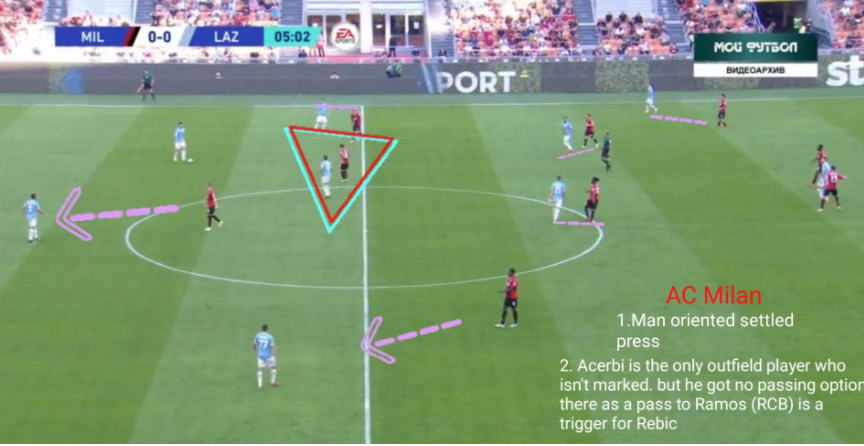 As seen above, Acerbi is the only outfield player who isn't being aggressively marked by Milan players so he has ample time on the ball but doesn't have an easy passing option. One thing that any possession-heavy team such as Lazio will do in this scenario is drop the defensive midfielder between the two center backs in order to stretch the opposition's press and overload them with a numerical superiority in the build-up, but Lucas Leiva neglects to do so in this case.
One of the most intriguing battles of the season saw Franck Kessie go up against Sergej Milinkovic Savic, with the Ivorian pushing forward to attempt to shut down the creative, clever Lazio dynamo. As Acerbi searched for an option, Kessie was focusing on shutting down Milinkovic Savic, who shrewdly dragged him to the right side before running in behind to lose his marker.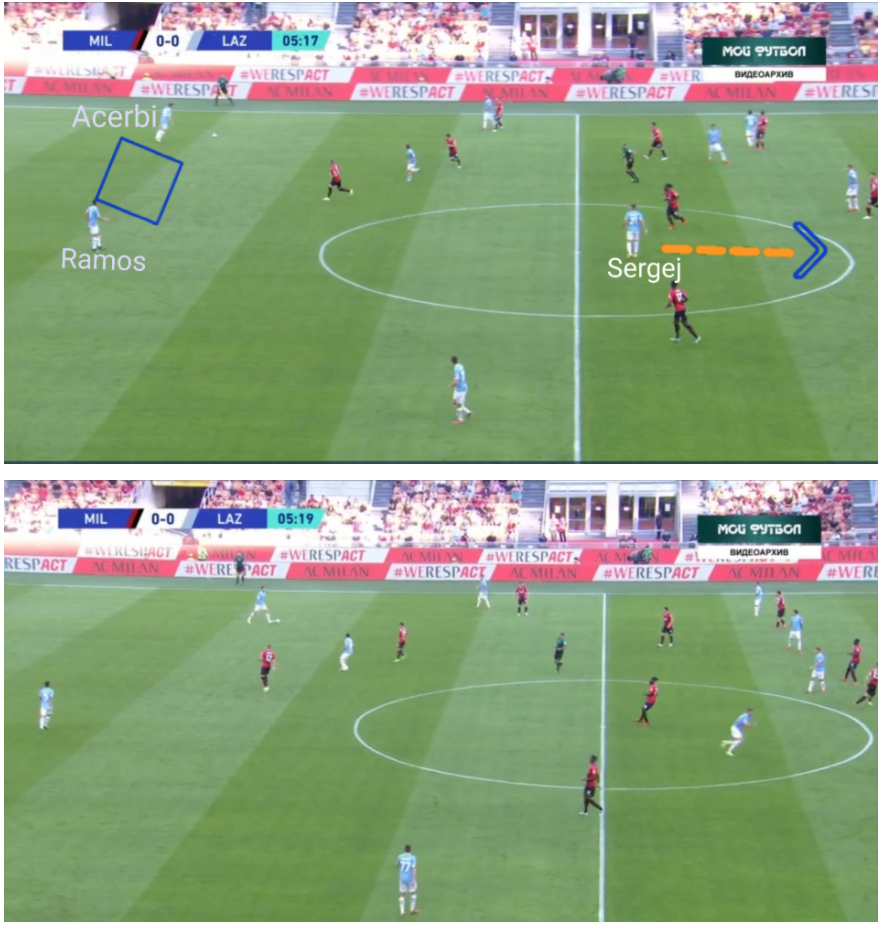 Milinkovic-Savic has now freed himself from Kessie and is ready to receive in a good position to attack the opposition. However, Acerbi wasn't brave enough to pass the ball in time to meet the Serbian's run in behind the defense, and SMS was forced to come back to receive the ball due to Acerbi's failure to make the first-time pass.
Lazio's Build-up Play
Building up from the back was never a problem this season with Lazio until they faced off against Milan, who started in a 4-2-3-1 shape and stayed with that shape while pressing without the ball too. One major takeaway from their pressing structure is that their willingness to put the numbers up higher up the pitch just like Sandro Tonali does here to mark Luis Alberto, who was dropping deep to help his Lazio teammates in the build-up.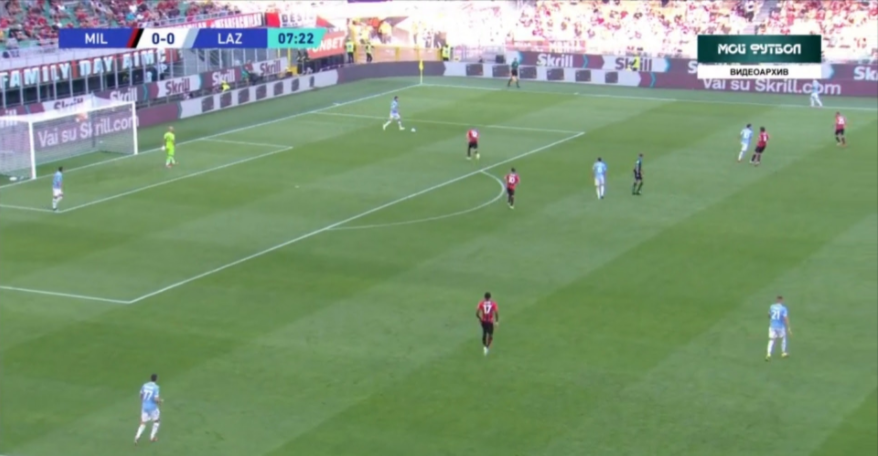 Ante Rebic is pressing the ball carrier Acerbi, and against a lesser team such as Spezia or Empoli, Acerbi may have elected to pass it back to Pepe Reina who is an excellent ball-playing goalkeeper, which would create a dilemma for the striker who is now tasked with either pressing the goalkeeper or not.
However, this time Acerbi felt the pressure and rather than passing it back, he chose to take on Rebic and boot the ball up the pitch, which resulted in Lazio losing possession.
End-to-end Action
As seen in the below picture, Milan prevent Lazio from progressing the ball through the center of the pitch, leaving the Biancocelesti with two options to progress: play it wide or kick it long. Lazio chose to play it wide.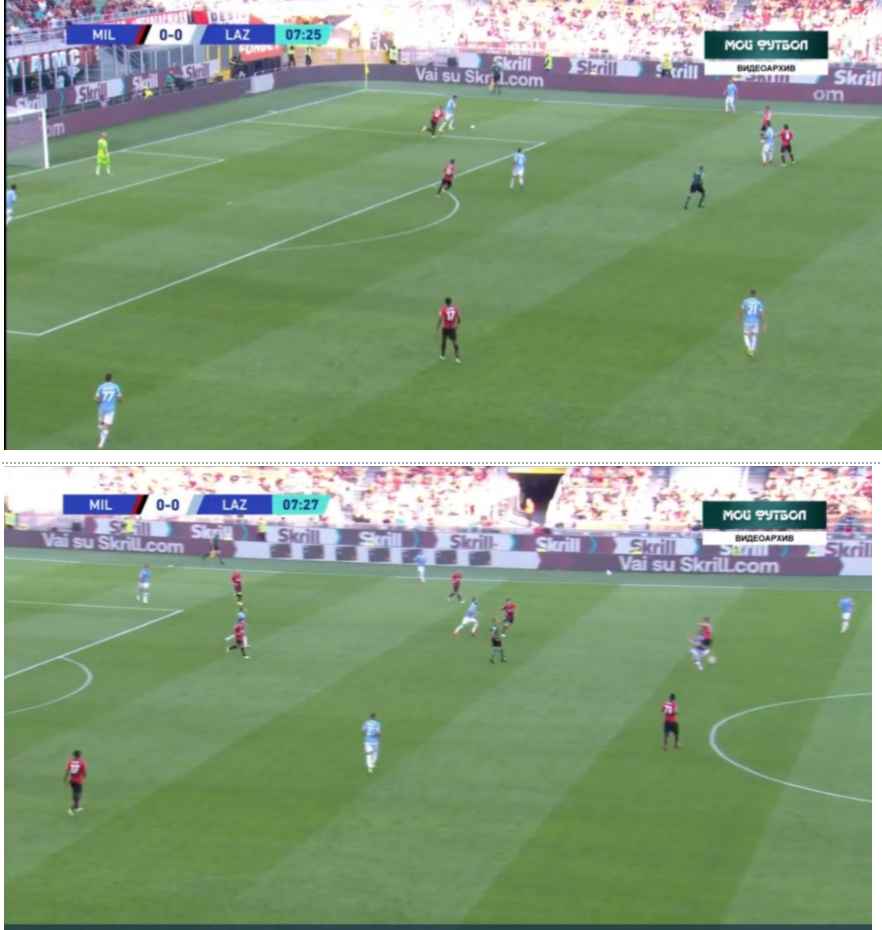 In the above picture, we can see Brahim Diaz stepping out of his central attacking role to press the defense whilst keeping Leiva in his cover shadow, an excellent job by the youngster that saw him take various players out of the game with his clever positioning and relentless pressing.
Acerbi is nevertheless able to receive the ball, albeit whilst being closely marked by Rebic, but if the Italian defender can escape pressure and pass the ball quickly to Hysaj, Lazio can have the time and space to break through the flanks as Florenzi wasn't marking Hysaj as close as he should've. However, Acerbi's failure to play the quick pass meant that Florenzi could recover and close down Hysaj, with Milan now shifting from a 4-2-3-1 to a 4-3-3 off the ball.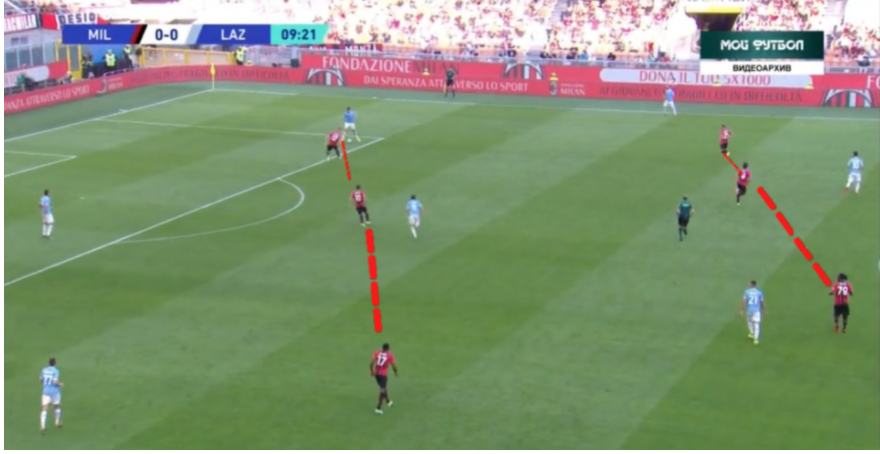 Hysaj receives the ball under immense pressure from 2 Milan players and he just doesn't have a clear passing option too, which makes the problem worse. But there were some positives on this move from Lazio as they didn't get a space to play into before, but now they did and it's about who's willing to drop into that space.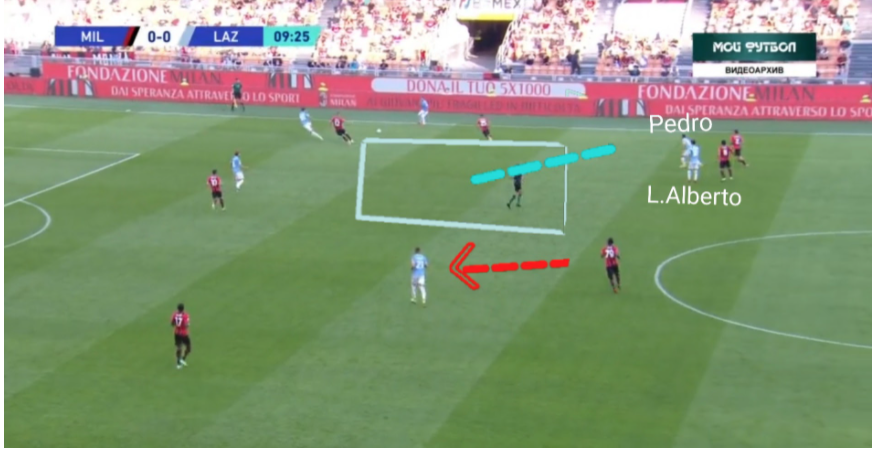 By playing out wide, some holes open up which can then be attacked by Lazio, but Hysaj doesn't have any close passing options as Milinkovic-Savic is still being closely followed by Kessie whilst Tonali and Davide Calabria are also marking Pedro and Luis Alberto. They nevertheless have enough space to threaten Milan which is why Pedro dropped deep into the hole to receive, and thanks to Hysaj's spatial awareness and dribbling, the Spanish winger was able to receive.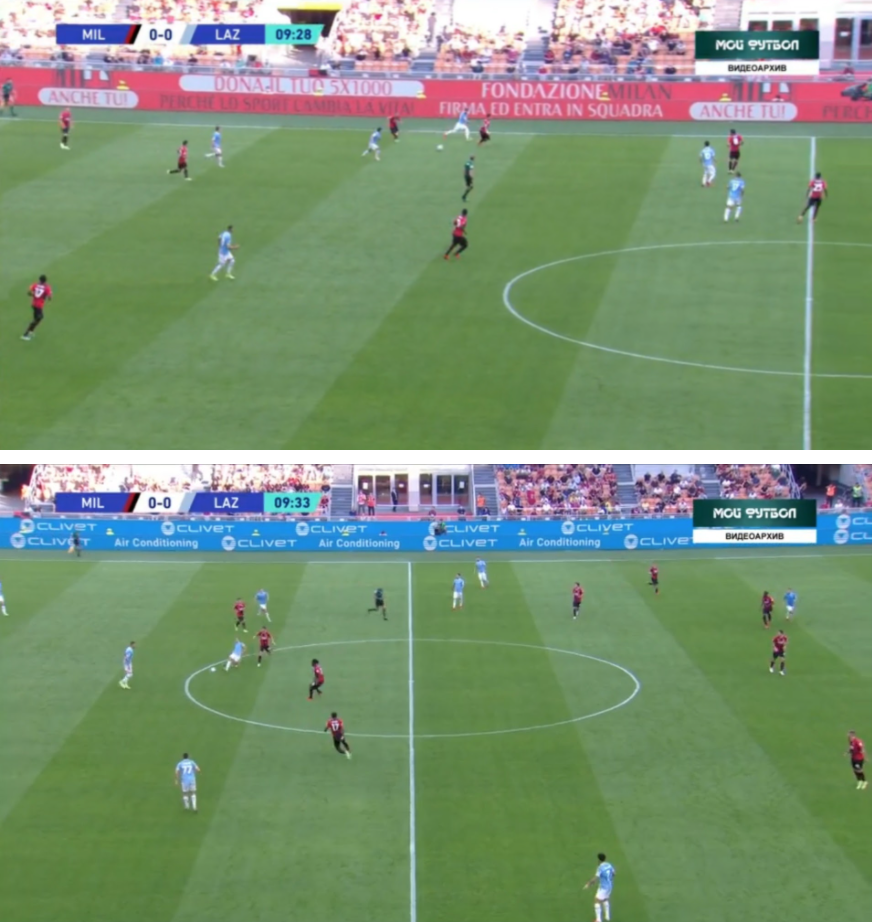 Now Pedro is able to find Marusic with a quick switch of play, and they can now attack wide thanks to some excellent combinations with Felipe Anderson. Thanks to this quick switch, Lazio achieved a 2v1 numerical superiority against Theo Hernandez. Anderson can either pass it to Marusic, who is underlapping on the right half-space, or take on Theo.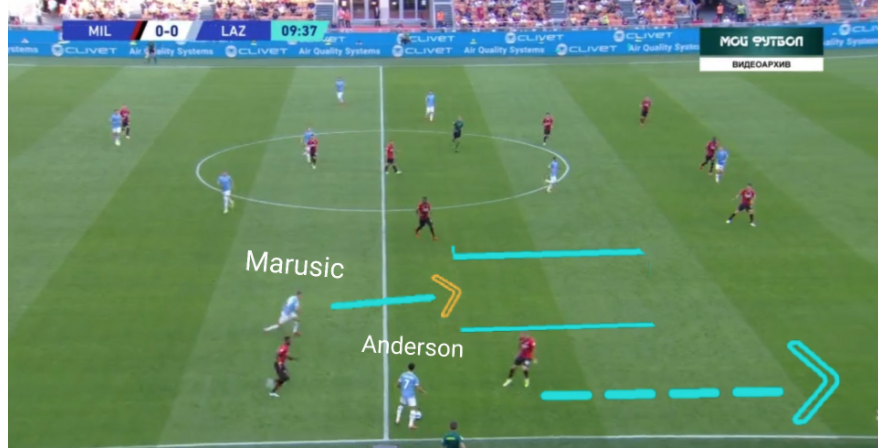 Felipe Anderson chose the first and the sensible one, but Marusic lost the ball to the on-rushing Rafael Leao, who followed him. Perhaps Lazzari would have been able to maintain possession, but this nevertheless saw Anderson outnumbered by Milan players when he tried to regain the ball by counter pressing.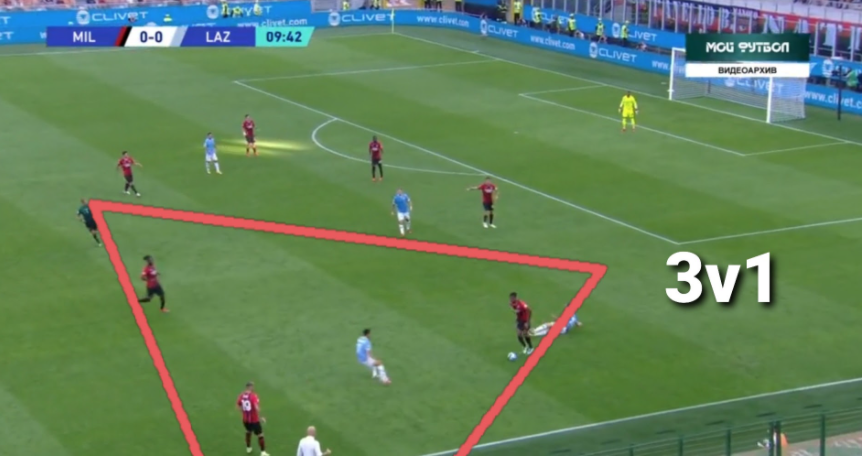 From there, you can expect Milan to build via their numerical advantage but this only lasted for nine seconds as Lazio players swarmed in numbers to force them to make a mistake and stop a counter, which they succeeded in.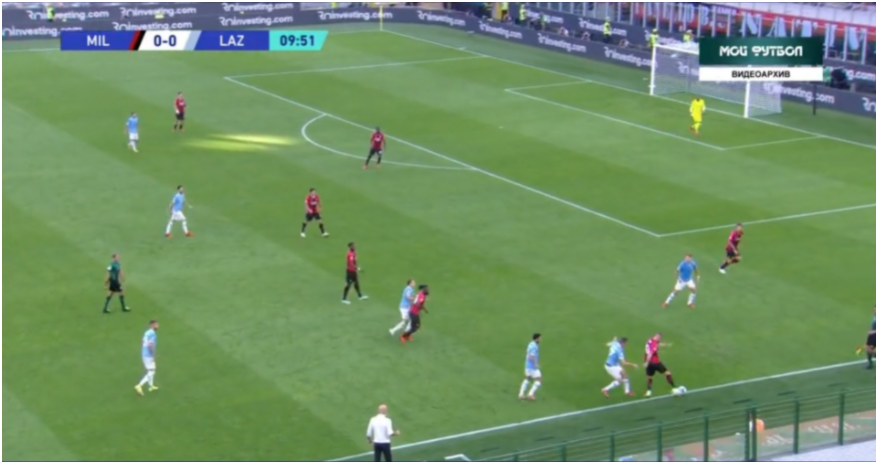 Lazio players have returned to their previous off-the-ball shape after failing to win the ball, but they nevertheless stop Milan from breaking on the counter.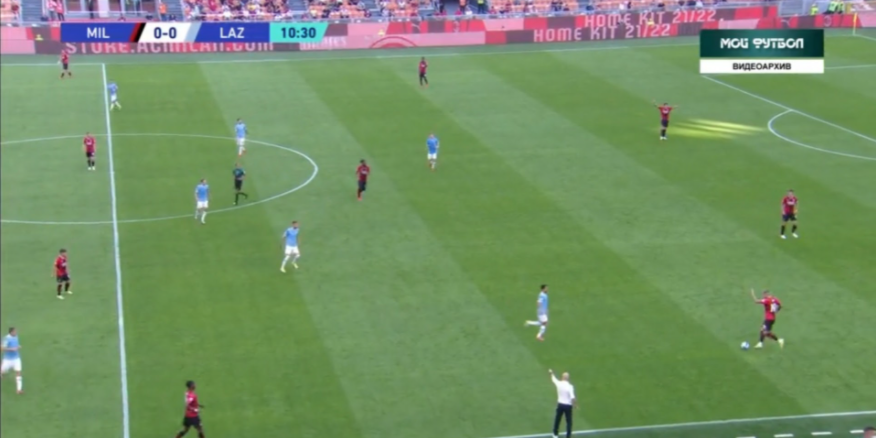 Off the ball, Lazio have adopted an interesting principle under Sarri: a 4-5-1 through the center, and a 4-4-2 out wide. If their press is shifted wide to the right, Anderson will step out to change the formation to a 4-4-2; if it is shifted to the left, Pedro will do the same on the left flank.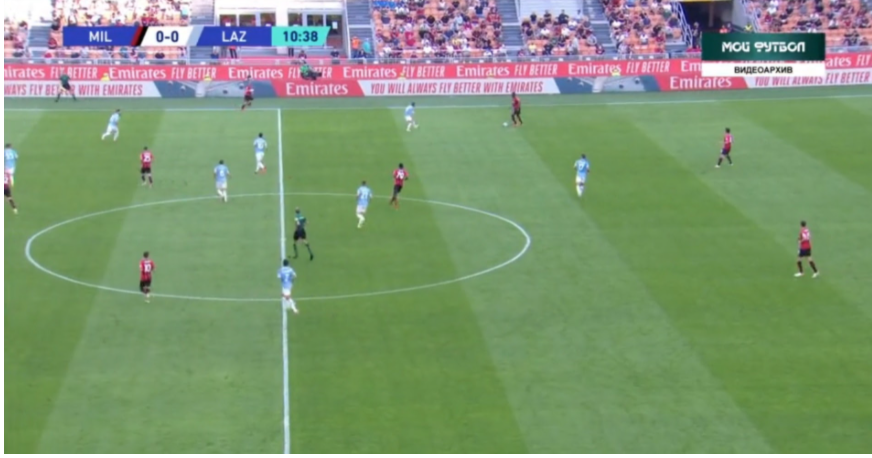 Milan had different shapes in possession, and in this scenario, it is a 4-1-4-1 with Tonali dropping deep and Fikayo Tomori moving to the right back position which pushes Florenzi to the free 8 role. Pioli knew that dropping Tonali to a deeper role would result in various advantages, one of them being his excellent long-range passing.
The Italian midfielder attempts to find Rebic in this scenario, but Acerbi anticipated the pass. However, his poor control means that Rebic can regain possession and play a cutback pass to Calabria. Milan typically attracted various Lazio players to one area before hitting them with a quick break, and even if they did lose the ball, they would win it back higher up the pitch thanks to their sustained pressure.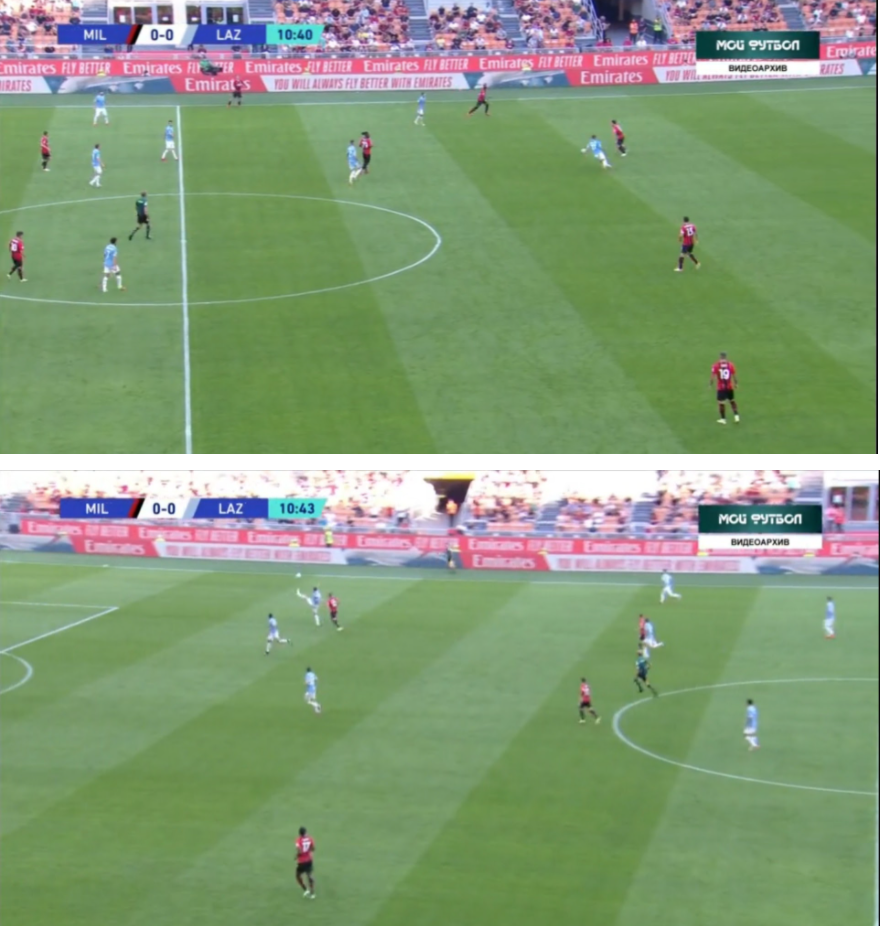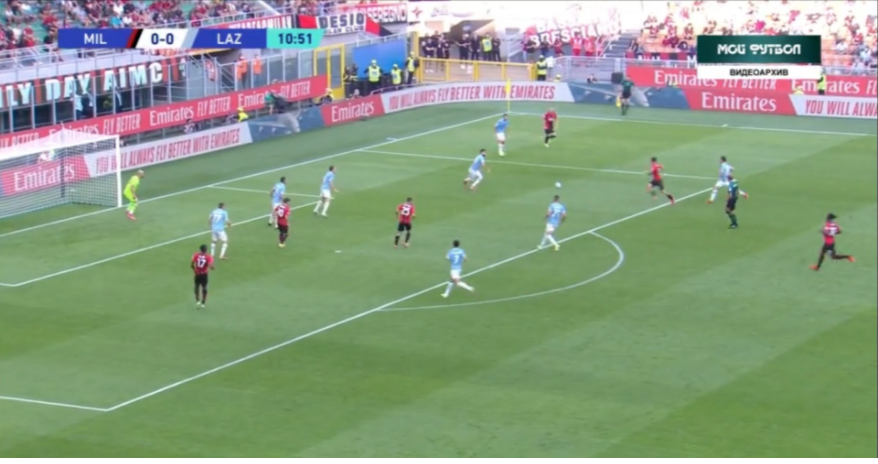 AC Milan in Possession
Milan's shape in possession was constantly interchanging, which caused problems for Lazio. The two center backs, Romagnoli and Tomori, would remain in their starting positions, whilst Tonali and Kessie would be joined with one of the fullbacks to create a numerical superiority in the build-up, whilst the other fullback pushed forward to attack.
We can see in their shape that from the four players up front, two of them were fullbacks (Calabria and Florenzi). However, whilst Florenzi has typically played as a right back throughout his career, he operated higher up the pitch in the right half-space, with Calabria and Leao tasked with maintaining the width on both flanks whilst Brahim and Florenzi operating as free 8s in the half-spaces.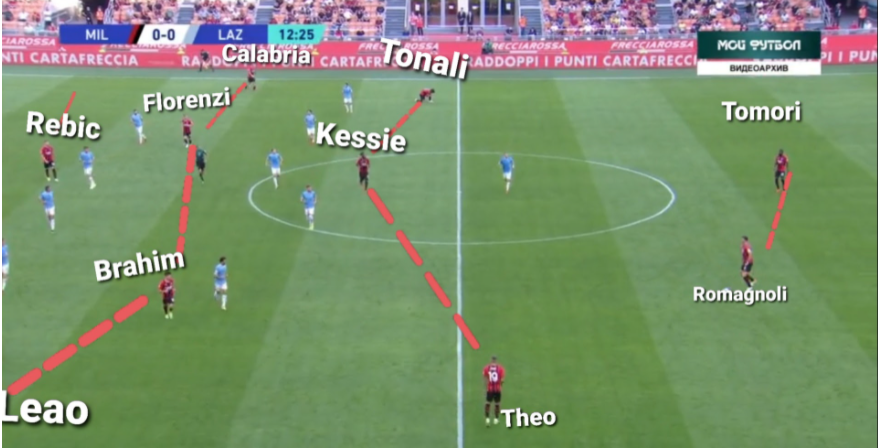 The 30-year-old was selected in this big game thanks to his experience and defensive know-how, and Pioli's bet paid off. After joining on loan from Roma, it remains to be seen whether Florenzi will continue to beat out Alexis Saelemaekers for the starting spot on the right side of attack.
In the above picture, Rafael Leao is holding the width on the left side of the pitch, but when Hernandez receives the ball, we saw an eye-catching rotation as Brahim dropped to the wing where Leao was playing. Brahim offers superior control in tight spaces to Leao, and when he moves wide, he drags out an opposing defender to create space in the half-space. This rotation also made sense as Leao's ability as an outlet allowed him to take up dangerous positions and make incisive runs in behind the defense.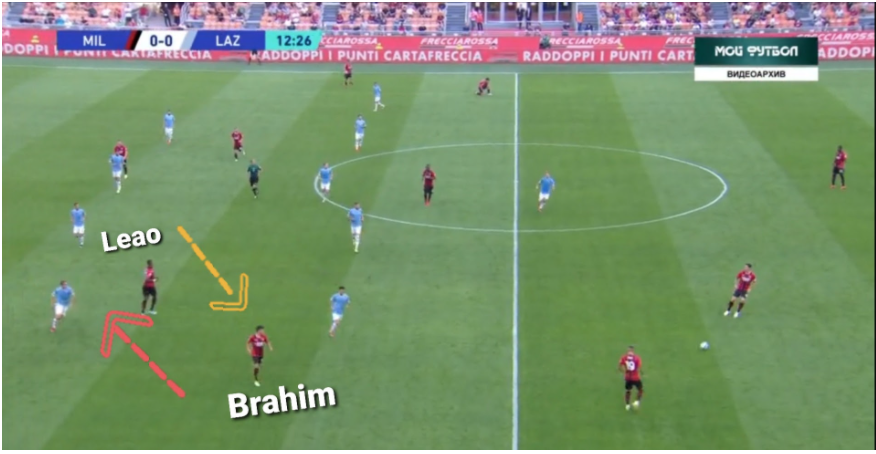 Milan can play out of Lazio's press with excellent combination play down the flanks, playing quick passes thanks to their technical security on the ball and willingness to attack the opposition.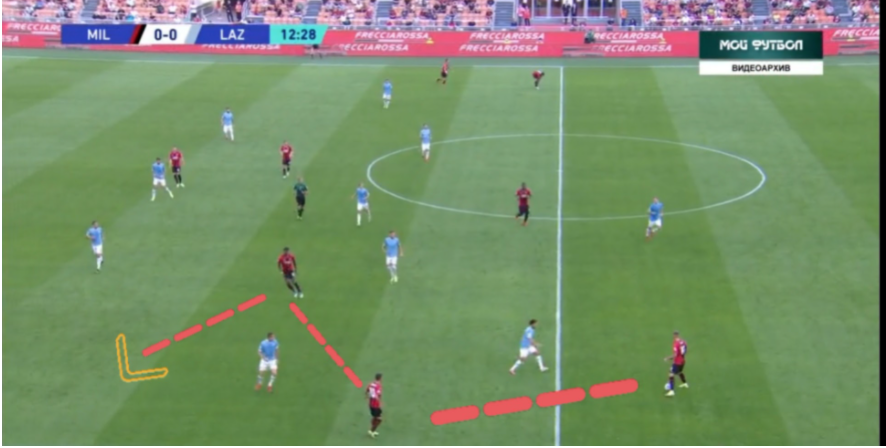 Lazio's Struggles in Build-up
After two impressive performances against Empoli and Spezia, Lazio's build-up struggled massively against Milan's pressing structure that was expertly engineered by Pioli. We see in the below examples how Lazio attempt to build up through the back via Luiz Felipe, who doesn't have a clear passing option and decided to play it Milinkovic-Savic, who was being closely followed by Kessie.
Lazio eventually lost possession in their own half as the Serbian midfielder attempted to pass the ball quickly to Marusic, who then found himself under pressure by Kessie. Moving forward, Lazio should seek to involve Reina in the build-up play even more, as he and Acerbi were the only unmarked players in this example. However, after Luiz Felipe receives the ball, both of those players found themselves in Rebic's cover shadow.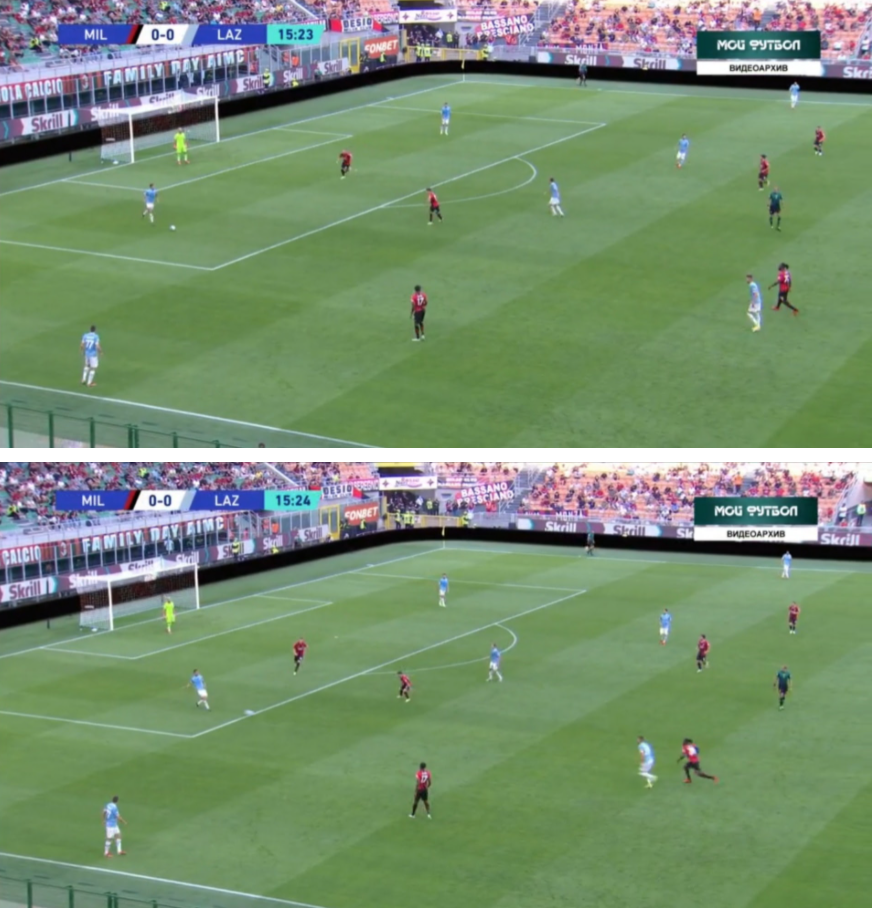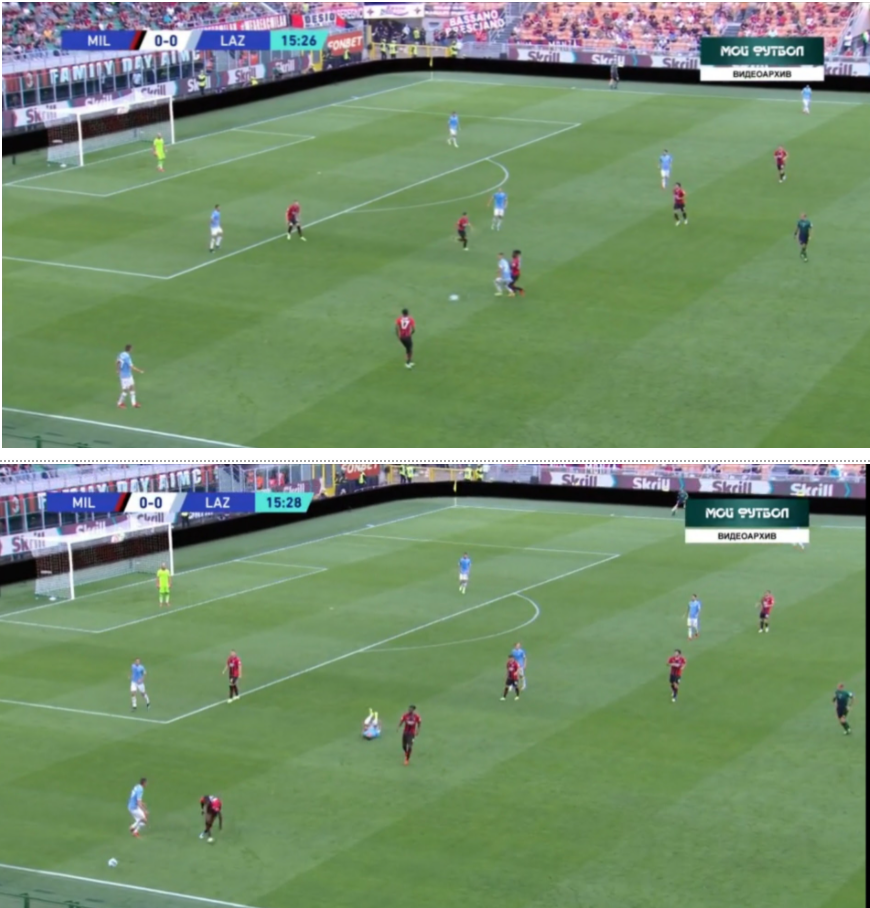 It wasn't all negatives for Lazio, however. In the below example, Lucas Leiva drops between Francesco Acerbi and Luiz Felipe to help them evade Milan's press, which then draws even more Milan attackers further forward and creates a massive hole in midfield.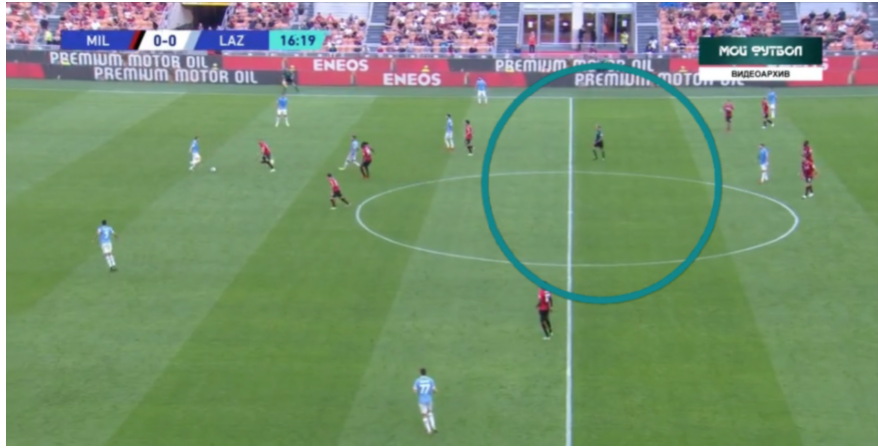 However, Lucas didn't just remain a stationary libero in the middle of a back three. He dropped deep to aid their build-up play with shrewd movements on the blind-side of their opponents and occupied the space that was left vacated after Hysaj advanced up the left flank. Someone needed to fill Lucas' vacant position, and it was Pedro who dropped from the left half-space to the center.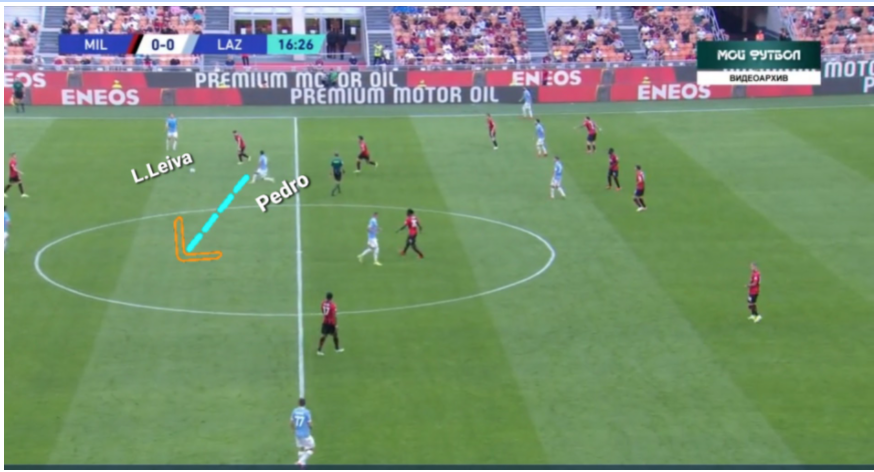 Pedro then played a quick pass to Luiz Felipe and started to make a run in behind the opposing defenders. Those quick passes, rotations, clever movements and switches were the reason Lazio could not only escape pressure, but drag the opponents out of position and attack the underloaded flank.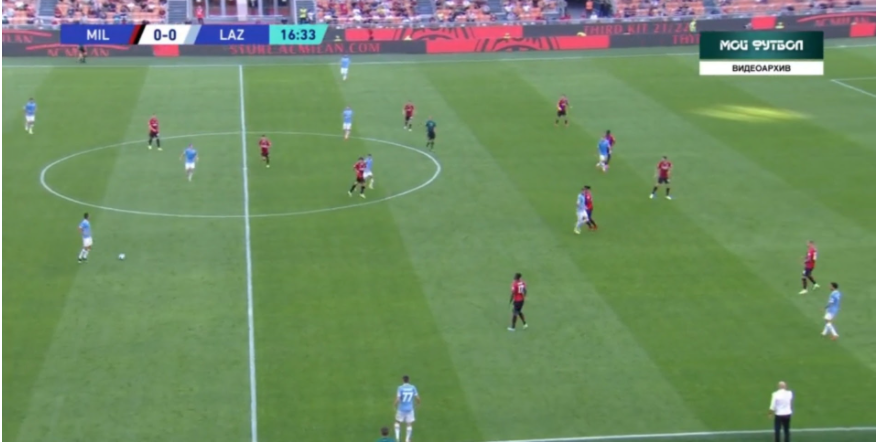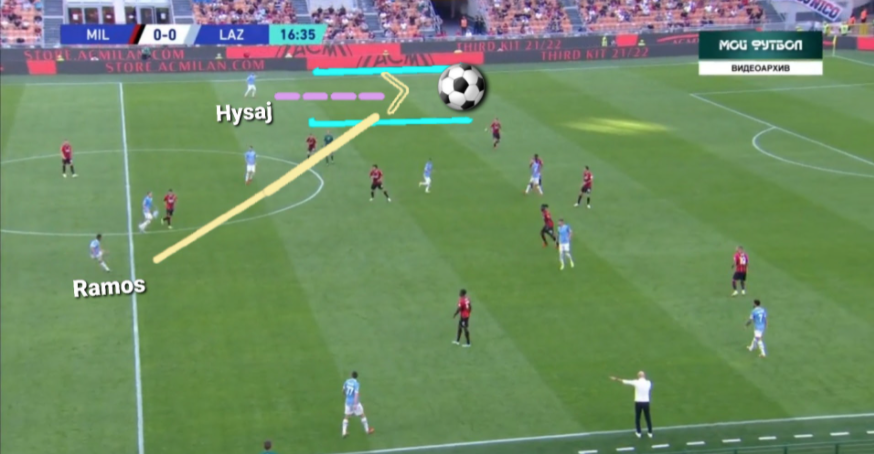 As a result, the Milan players are dragged out to the right flank which created a space on the left flank to be attacked. Luiz Felipe played the switch to Hysaj, but in the time in between the pass being played and the pass arriving, the Milan players showcased their strengths and were able to delay the first-time cross.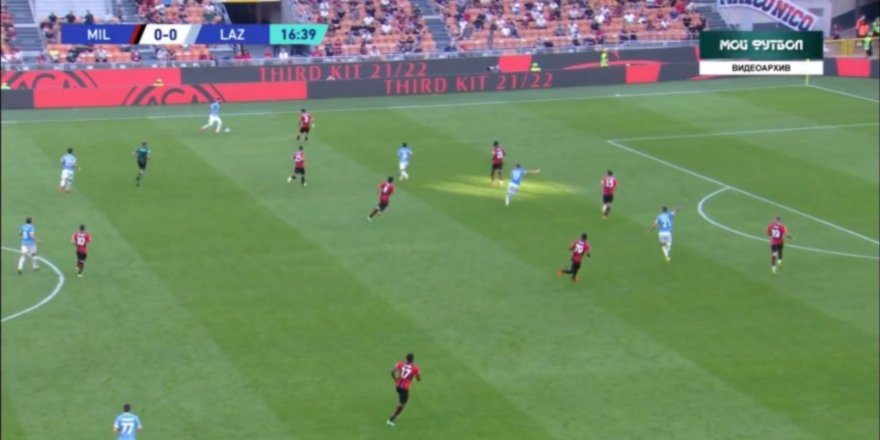 Davide Calabria excelled in this aspect when it came to closing down Hysaj, and once again, Milan's man-marking and communication reigned supreme. Kessie instructed Hernandez to follow Milinkovic-Savic, and the Ivorian dropped wide to block the free player who was moving onto Hernandez's blindside.
Nevertheless, Hysaj's ability to progress the ball with both feet proved a constant threat for Milan, and he played a dangerous cross with his right foot, finding Ciro Immobile, who attempted a dangerous header that forced a brilliant save from Mike Maignan.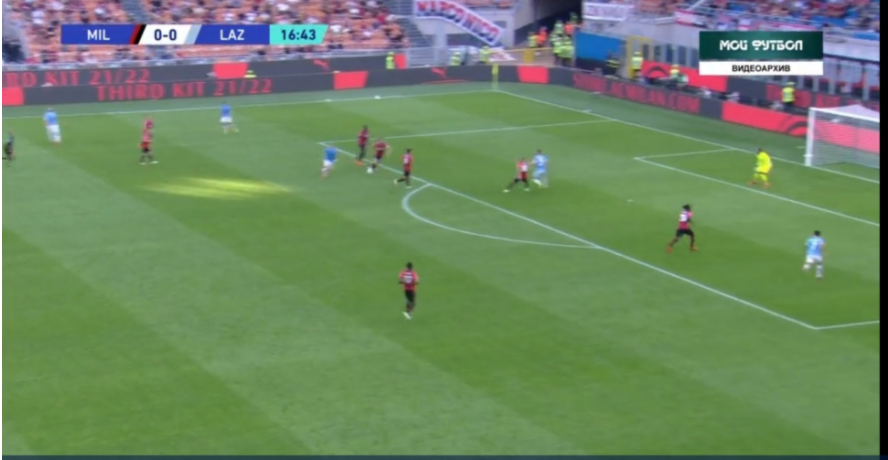 AC Milan's Attacking Transitions
The bulk of Milan's attacking opportunities came from quick transitions and an aggressive pressing structure, and in the 45th minute, they received their just rewards. Several Lazio players found themselves high up the pitch in an attempt to create a goalscoring opportunity, but Milan's aggressive, organized pressing structure prevented them from playing through the middle and eventually forced a turnover.
Tomori stepped out of position to help outnumber Lazio and win the ball back, and quickly released it to Brahim, who quickly released it to Rafael Leao before Lucas Leiva could close him down. When the counterattack started, every Milan player up front shifted from defence to attack with Hernandez bursting forward to help provide support.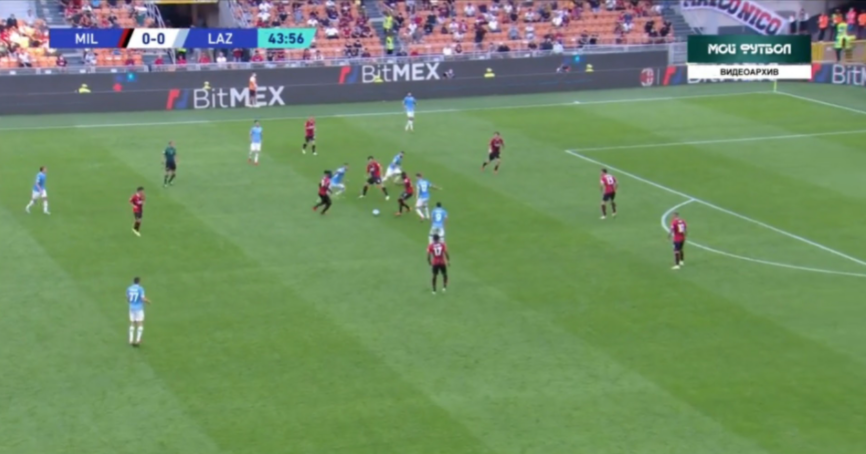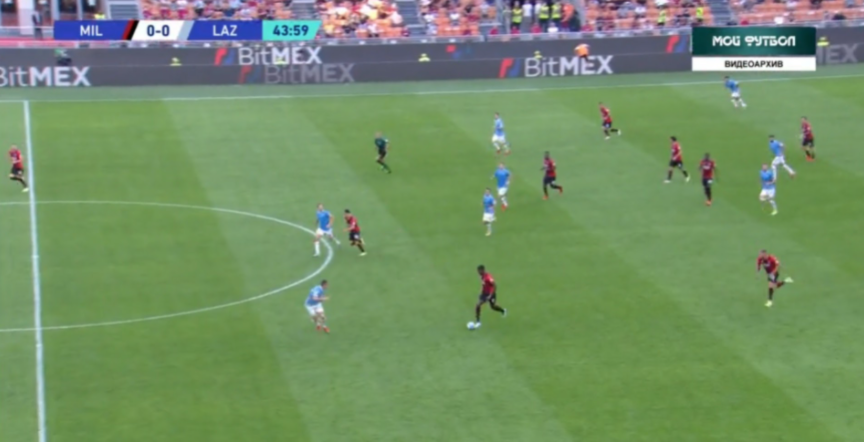 This, in turn, forced Marusic to back off of Leao and focus on Hernandez, whilst Leiva was simultaneously focusing on blocking Brahim's run and winning the ball back. Leao nevertheless cut inside and wiggled past Leiva and burst forward towards the edge of the box, before selflessly playing a pass to Florenzi, who played it back to the Portuguese forward with one touch.
As such, Lazio's defense were dragged out of position as they helplessly retreated to prevent the counter-attack, and neither Luiz Felipe nor Pepe Reina were able to stop the former Lille striker as he controlled the pass and quickly finished into the back of the net.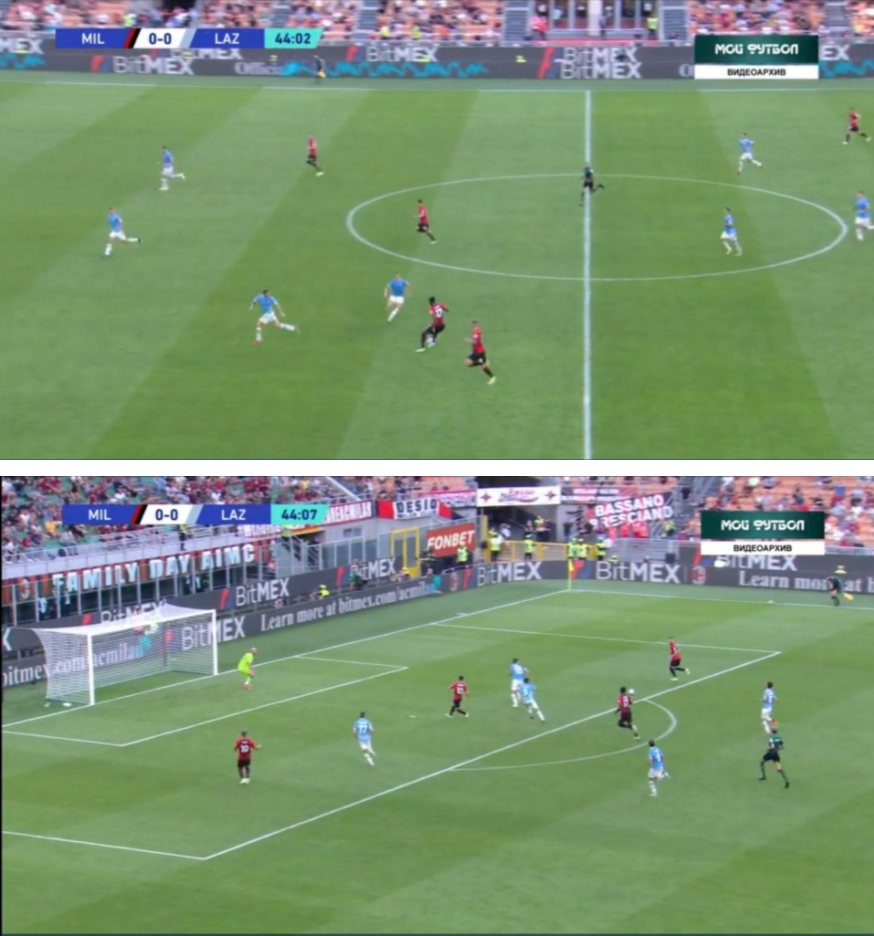 Milan came close to doubling their lead before the break as Immobile brought Kessie down in the area, but the Ivorian's shot blasted off the top post. Not to worry; the Rossoneri would hold onto their clean sheet and double their lead in the 66th minute via Zlatan Ibrahimovic, who had replaced Rafael Leao just six minutes prior and made his long-awaited return from injury.
Once again, Lazio were caught napping on the counter after losing possession in an advanced area. Substitutes Alexis Saelemaekers and Tiemoue Bakayoko exchanged quick passes before Sandro Tonali launched a world-class, first-time through ball to break the lines and find Ante Rebic in ample space on the left flank, taking five Lazio players out of the game with just one pass.
Lazio nevertheless were able to maintain a 3v2 numerical advantage, but they made various mistakes whilst defending the counter. Rather than moving closer and battling for the ball, Luiz Felipe conceded Rebic plenty of space to attack and charge forward, whilst Hysaj wasn't quick enough to track back.
With Acerbi ball-watching and not tracking Zlatan's movement, Rebic had ample time to drive into the box and pick out Zlatan with a superb low cross, and the Swede calmly tapped it into the back of the net from close range to seal the victory.
Whilst watching Luiz Felipe and Francesco Acerbi's failure to close down spaces during the loss to Milan, one could not help but remember Sarri's quote from 2018 during the first weeks of his time at Chelsea. "Some players play for 10 years looking at the man, so you have to change the way of thinking of this player. I want to defend by looking only at the ball."
Milan currently find themselves level with Inter and two points behind perfect Napoli, who have scored 14 goals and conceded just twice under Luciano Spalletti. Lazio, on the other hand, have slid to seventh in the league after their 1-1 draw to the Granata, and they will be looking to get back to winning ways in the Derby della Capitale on Sunday.
By: @HalfSpaceNat
Featured Image: @Juanffrann / Anadolu Agency – Peter Byrne – PA Images