Analyzing Leeds' Tactics Under Marcelo Bielsa
Since returning to the Premier League after a 16-year absence, Leeds United have become one of the most entertaining teams to watch in Europe, and whilst they have struggled early on with three points from their first six games, they were able to get their first win of the season as an early Diego Llorente goal saw them pick up three points against Watford.
Leeds' devotion to Marcelo Bielsa's buccaneering style of attacking football has been a great spectacle to watch — a great respite from the dark ages of the past two decades at Elland Road. In this article, I will analyse the tactics which have built Leeds' free-flowing footballing style, and also the problems which come with it. I will do this by looking at Leeds both in possession and out of possession, beginning with an analysis of their ideas off the ball.
Out of Possession / Against the Ball
Out of possession, Leeds have employed a very aggressive man-marking philosophy. This philosophy incorporates Leeds players across the pitch.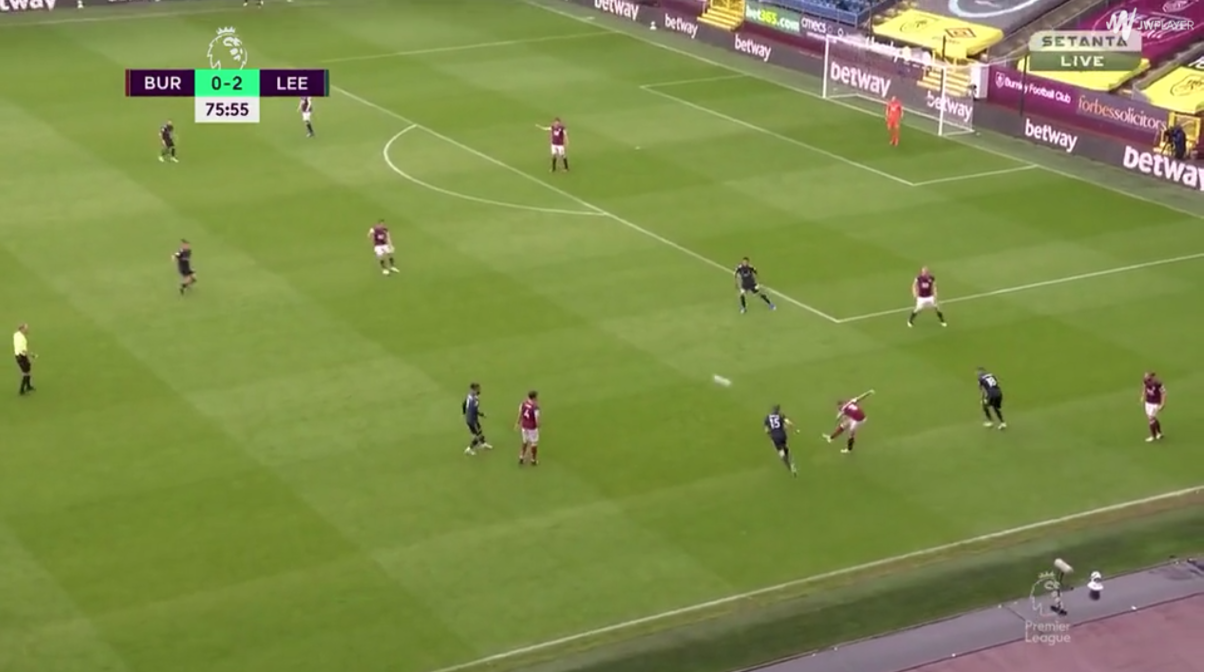 Here, all the Leeds players move aggressively to man-mark their opponents.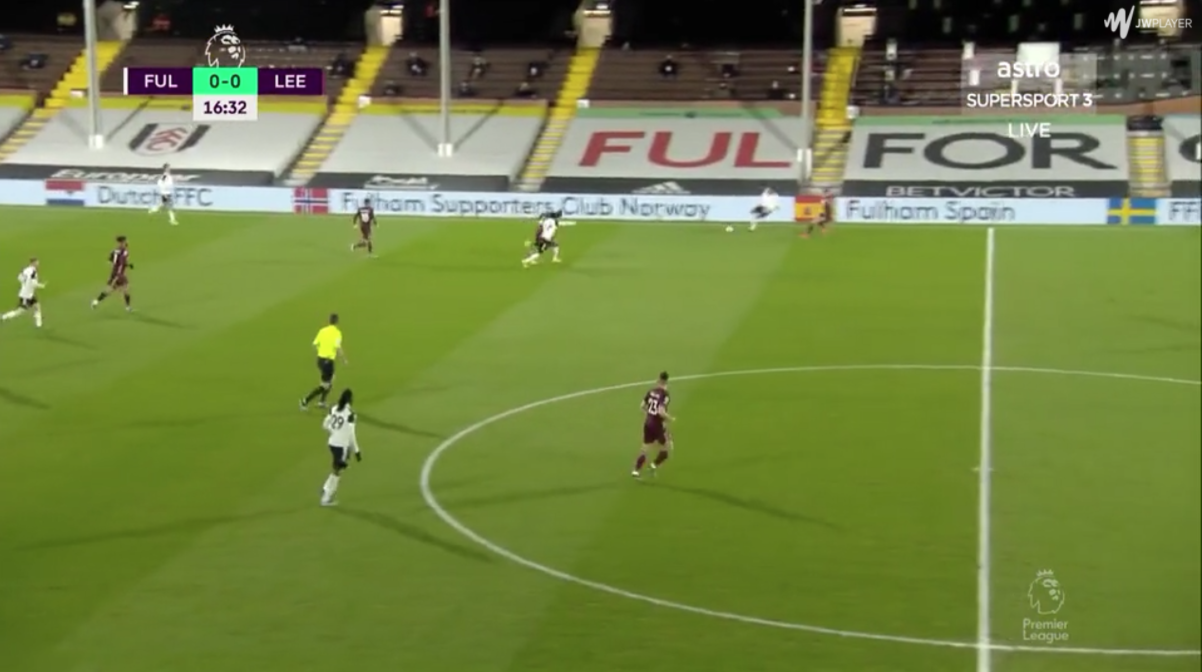 Here, the Leeds centrebacks are aggressive to man-mark and to prevent any opportunities for ball progression. 
Leeds also use man-marking in counter-pressing situations after they have won the ball back. Using man-marking in counter-pressing situations, however, can be ineffective. This is due to the space given to the opponent who has recovered with the ball.
In their man-marking scheme, the potential to press the player who has recovered the ball is wasted to protect options; this can, in some situations, allow Leeds' opponents to be able to play the ball.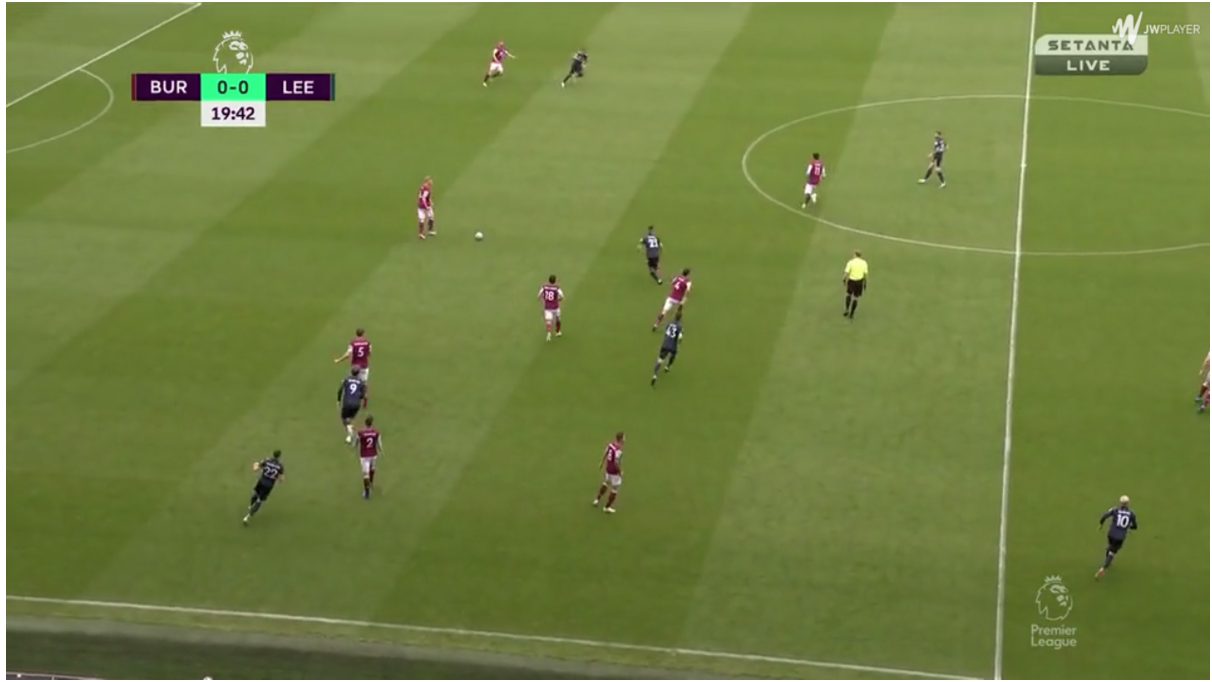 For example, here Burnley have a good opportunity to construct an attack due to Leeds orienting themselves man to man when they lose the ball. 
Whilst this approach to counter-pressing gives Leeds their structure quickly, it also gives the potential for their opponents to quickly create a good attack and loses the potential for good ball turnovers. Leeds' defensive philosophy of man-marking is very effective at preventing ball progression when players have good intensity to stay with their man. This is because, due to the nature of man-marking, all attacking players have a defender pressing them.
Due to this, the attacking team are in a situation where ball progression is difficult unless they are very effective at rotating the ball. Man marking, however, can create problems if the structure is broken. This is because every player is orientated towards an opponent so big gaps can open up between defending players, which can be exploited if the press is broken.
Situations like these are dangerous for the defending team. One solution to this problem however, is to have a good work rate off the ball. This can be seen in Leeds' intensity and discipline in their press so that their press is hard to break. 
In Possession / With the Ball
In possession, Leeds mostly used a 4-1-4-1 formation with wingers (who are at least initially) very wide. This shape however is very rough as Leeds players constantly look to find solutions by getting themself into small amounts of space. This idea of players having the freedom to find space is their main idea when they have possession.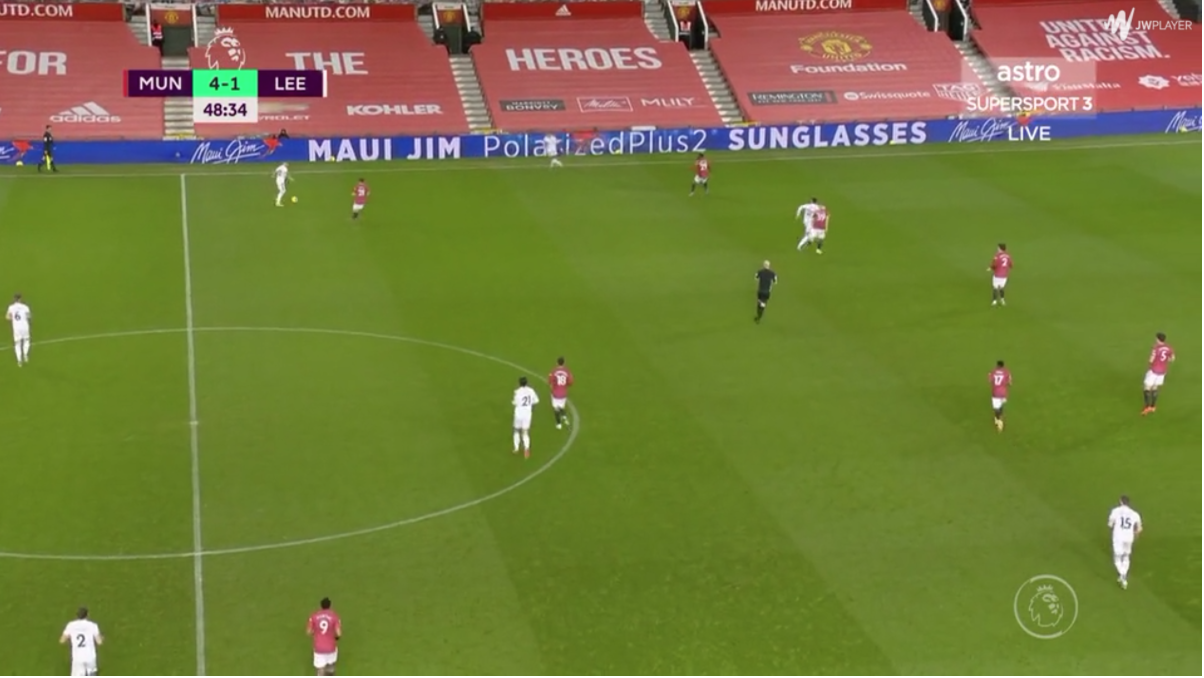 Here is an example of the freedom given to Leeds' players as Rodrigo Moreno makes a run into space.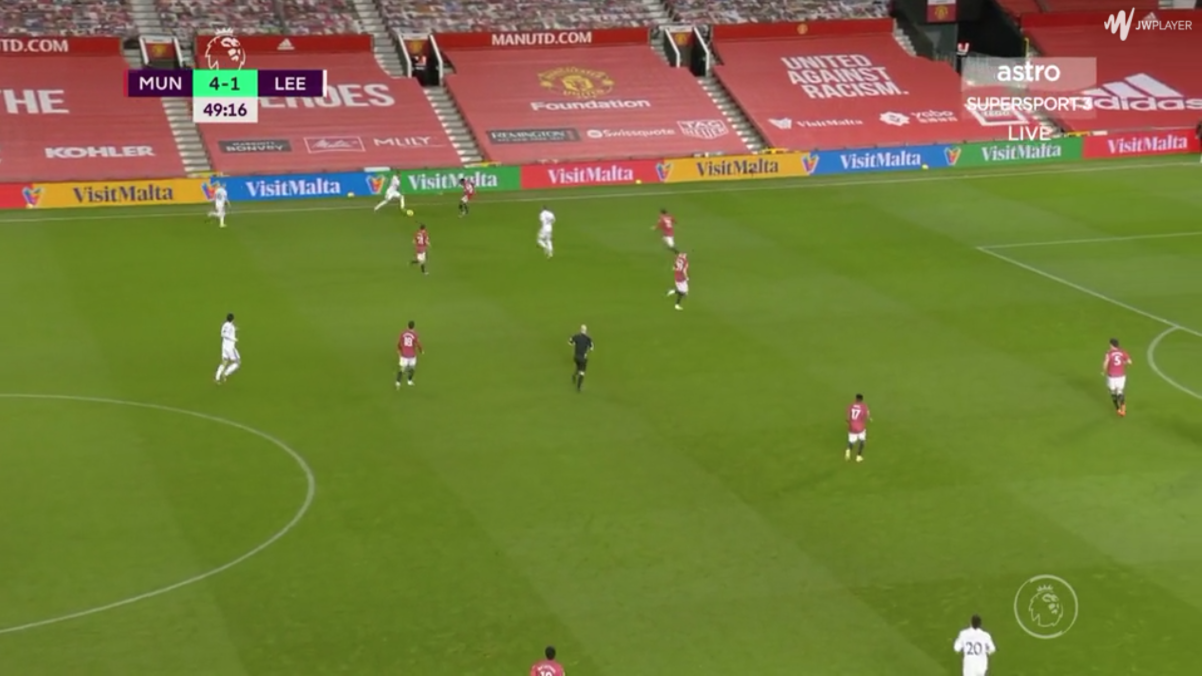 Here is another example where Mateusz Klich frees himself to receive the ball.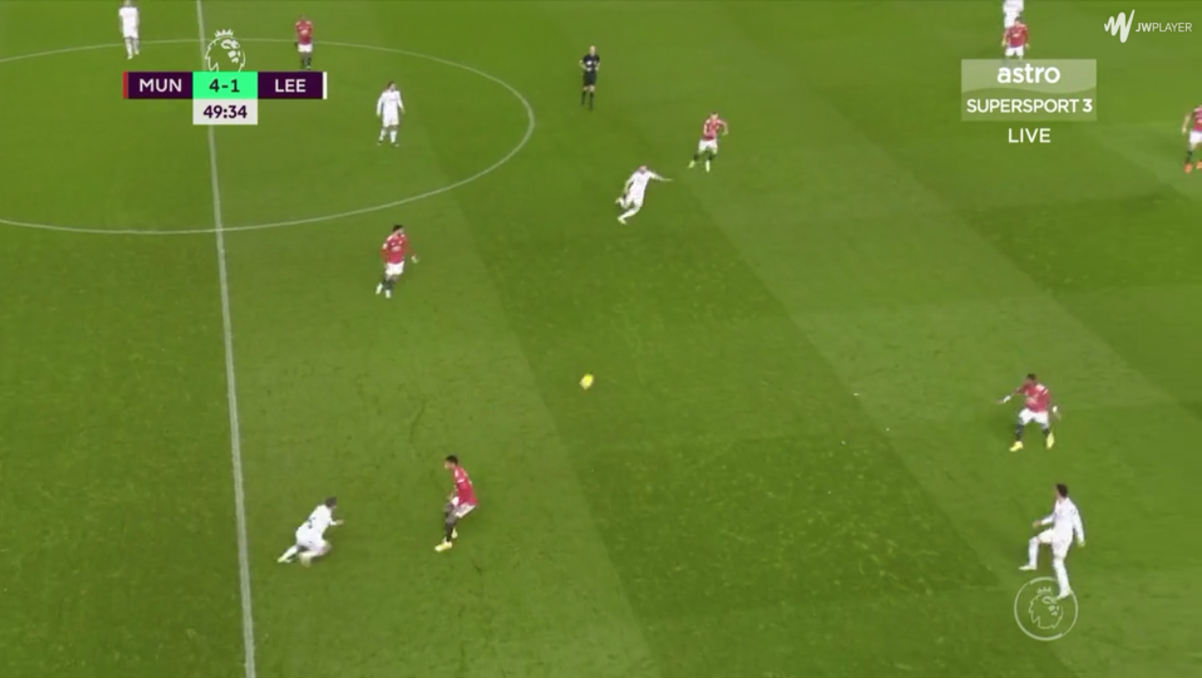 A third example of the freedom of Leeds players – Rodrigo and Klich both drift wide to free themselves. 
All Leeds' players having freedom is a very unique philosophy but also a very effective one which creates a great spectacle. Leeds' players constantly having the freedom to find solutions creates a big potential for ball progression as there are lots of chances to get the ball forwards to a player in space. This allows Leeds to be able to play progressive, entertaining football as they can construct attacks easily. 
Their attacking freedom however can hurt them sometimes. This is because in search of solutions on the ball, Leeds can compromise their defensive shape by opening spaces in key attacking areas. One example is Manchester United's first goal in their 6-2 over Leeds at Old Trafford: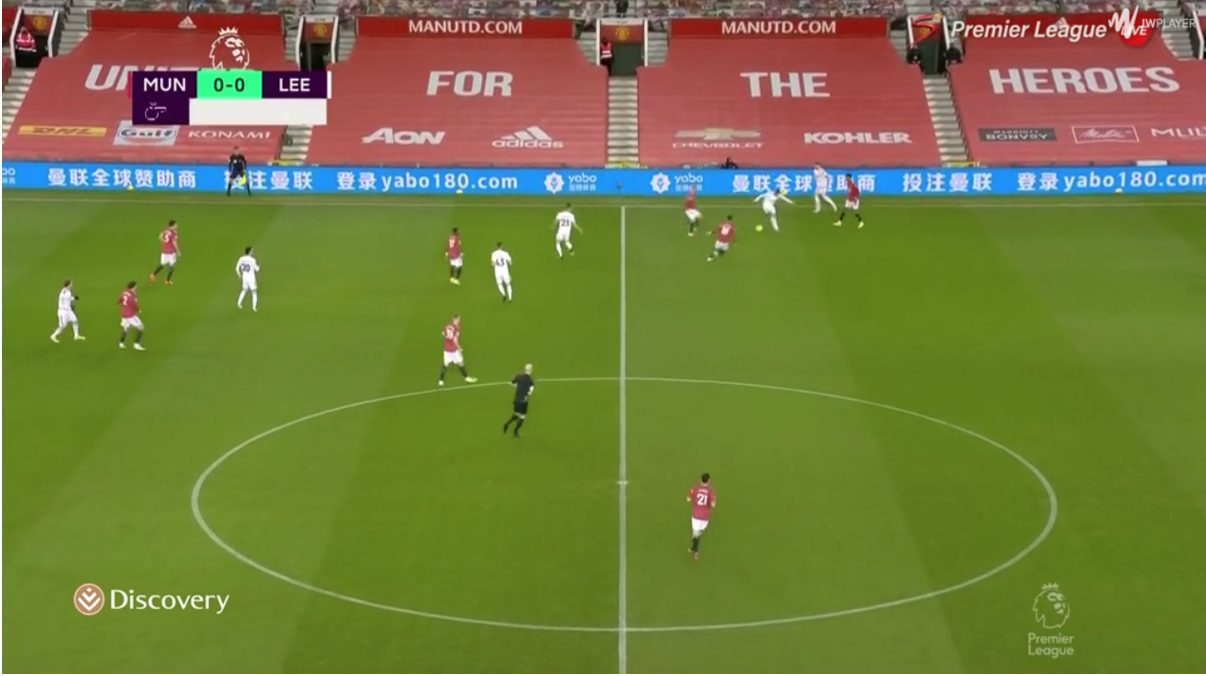 Here Leeds' freedom is shown with the positioning of their defensive midfielder making a run beyond their winger.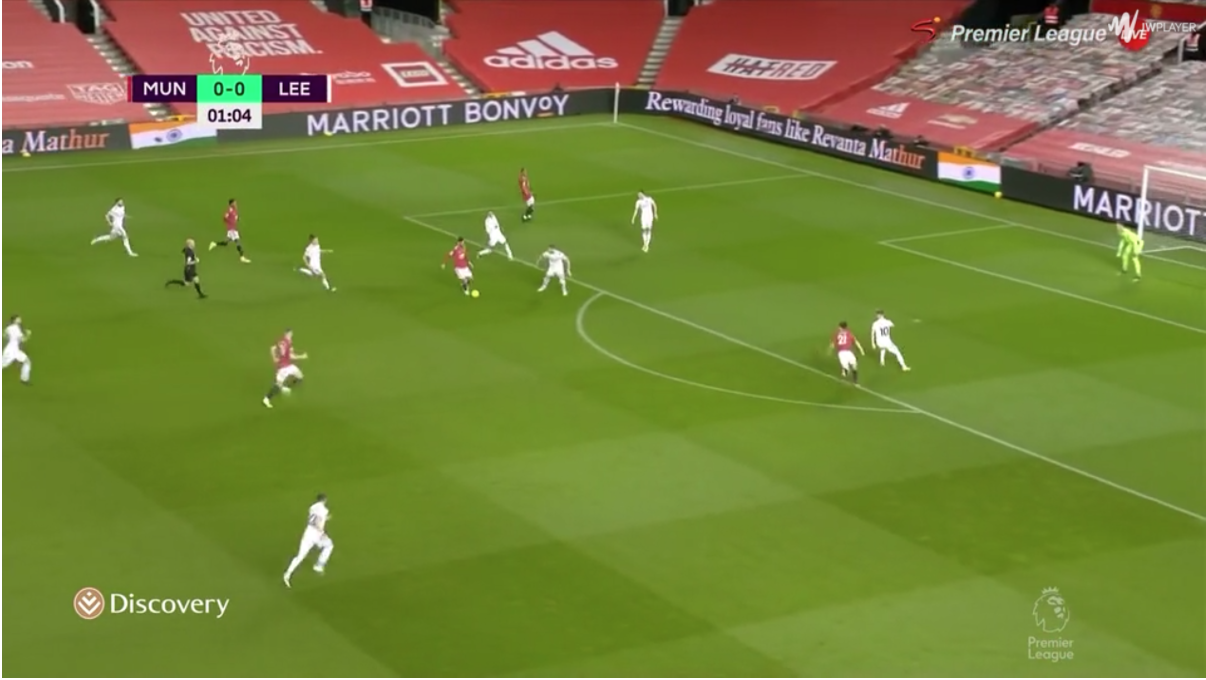 This action creates a big space for Scott McTominay as their defensive midfielder is far away from his position. Also, Leeds' man-marking means that players are reluctant to leave their man to cover this space. 
Situations like these, however, aren't that detrimental to Leeds; due to their ability to progress the ball, and the intensity of their players off the ball. Their ability to progress the ball means that the ball is more likely to be up the pitch when they lose it. The intensity Leeds show off the ball helps them to protect themselves against these situations as defending players can often get back in nonextreme cases. 
Another key idea for Leeds in possession is to attack quickly. This involves Leeds transitioning in all areas of the pitch, including ball turnovers or when the keeper recovers the ball as Illan Meslier often tries to start fast attacks. Leeds' ability to transition fast is facilitated by their players creating space for themselves – this allows players to be able to receive the ball more easily which will move the ball up the pitch quickly.
Leeds attacking fast indirectly is a massive tool for them due to the space it brings in attacking situations. For example, in the following image, the overload which Leeds have from a turnover situation gets maintained by their fast transition forwards. This then results in a goal.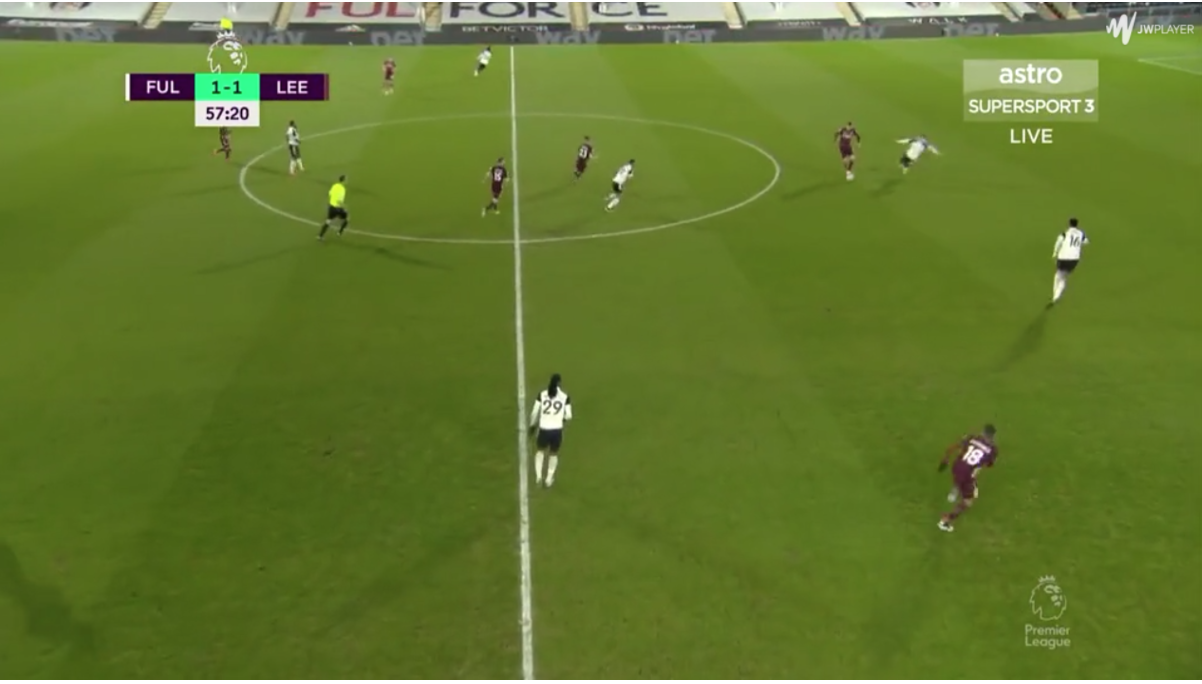 Leeds win the ball back in a good area from a Kalvin Phillips tackle.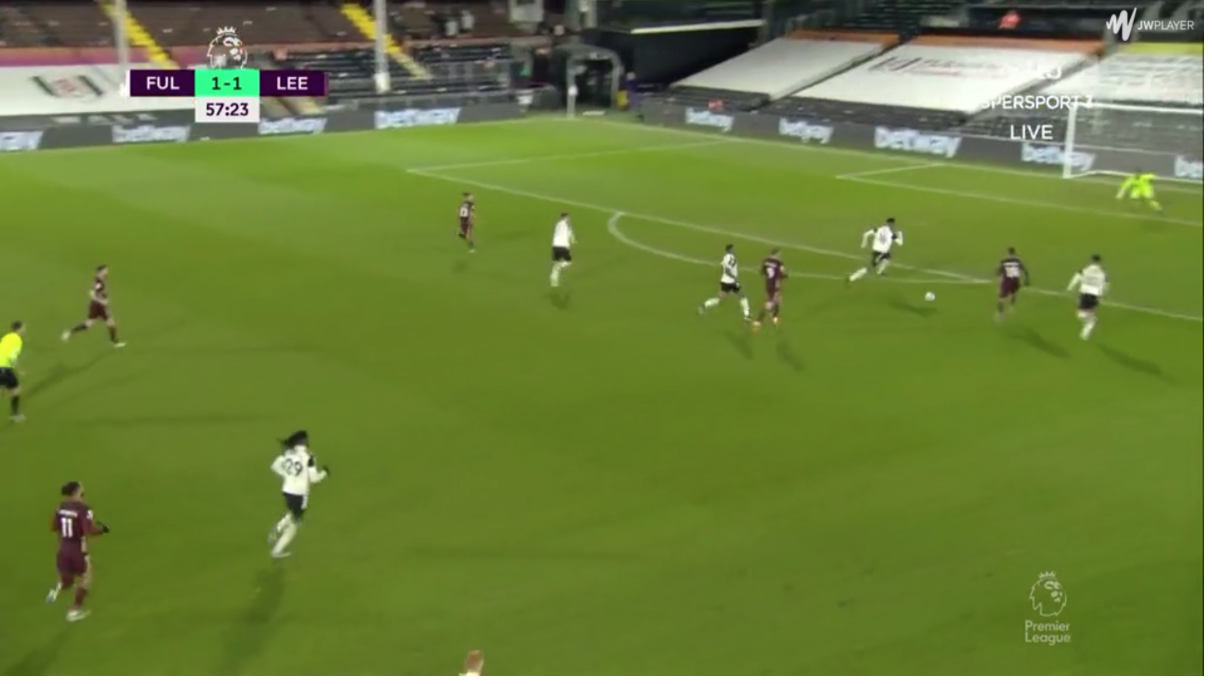 The overload they have is maintained because defenders can't get back as quickly as the ball is moved forwards. This gives Raphina the space in front of goal.
The idea that overloads are created due to the ball being moved forwards quicker than defenders can get back (creating overloads) can be applied to many situations across the pitch for Leeds. This idea helps their players to consistently have space in good areas. This, therefore, helps them to play the exciting but effective style they play due to the space which the players have in key areas. 
Conclusion 
Leeds have been one of the most entertaining teams in Europe since coming back into the Premier League with their frantic style of play which often results in basketball-style end-to-end action. Looking forwards, Leeds have good potential to improve from their current position, they need to make good decisions in all areas of their business however, as to break into the European places they have to build a team that can compete with clubs who consistently have European football.
Also, some of their tactical issues such as how they control games and also their defensive solidity can cause problems for them. Overall, however, Leeds seem to be in a good place, and after picking up their first win of the season against Watford and breaking their duck, they have what it takes to push themselves out of their relegation fight and cruise to safety.
By: Harry Jones
Featured Image: @GabFoligno / Lindsey Parnaby – AFP