Analyzing Maurizio Sarri's First Home Game in Charge of Lazio
Lazio kicked off the Maurizio Sarri era with a 3-1 win against newly promoted Empoli, where Sarri coached from 2012 to 2015 and led to promotion. Their final match before September's international break saw them host Spezia, coached by Thiago Motta following Vincenzo Italiano's departure to Fiorentina in the summer.
Whilst Spezia started in a 3-4-3 formation, Sarri continued with his traditional 4-3-3 formation, making just two changes: Luis Alberto came in for Jean-Daniel Akpa Akpro on the left side of midfield, whilst Patric started on the right side of central defense in the place of Luiz Felipe.
Lazio started off with a 4-4-2 high-block pressing scheme, with Felipe Anderson joining Ciro Immobile up top whilst Pedro dropped deeper to the wing. This was a flexible shape as Sergej Milinković-Savić often stepped out from midfield to press, which then saw Anderson drop back to a wider, deeper position.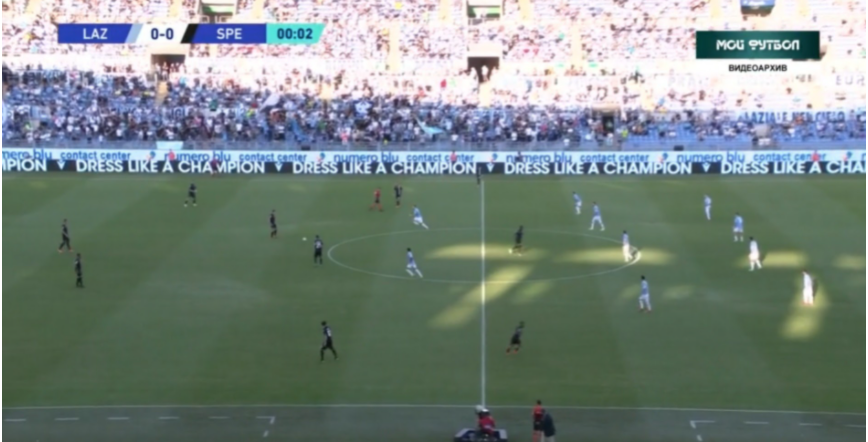 Lazio's aim was to block the passing options centrally to force the opposition wide to the flank where they could use the sideline as an extra defender to overload the opposition, which may then lead the opposition to kick it long or force them to make a mistake to regain the ball. Just like the first game, Lazio used a ball-oriented pressing structure, which, despite its advantages, can be easily manipulated and exploited by teams that disorganize its shape and break on the counterattack.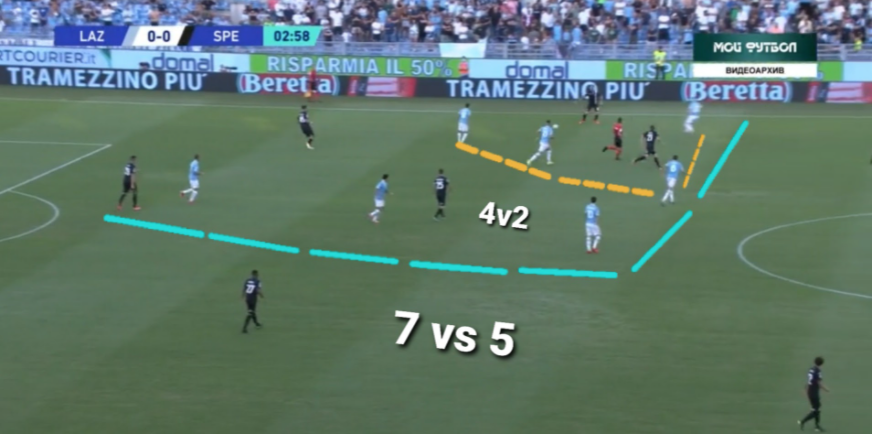 As seen in the below picture, Lazio players have outnumbered the Spezia player and created a 4v2 numerical advantage, something that happened during the Empoli match as well. They attempted to swarm the opposing player with a ball-oriented press that saw more than seven Lazio players push into one side of the pitch in an attempt to win the ball back, a strategy that, despite its obvious benefits, can also see them pulled apart by a quick series of passes from the opposition.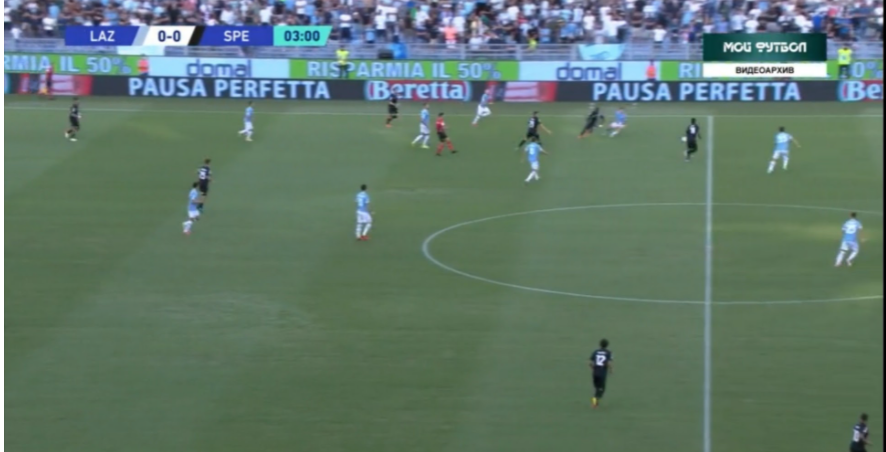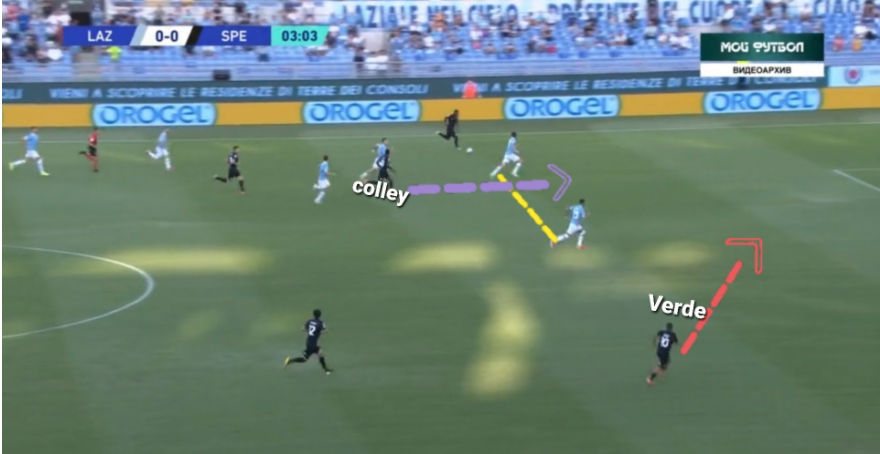 Once again, Lazio's disorganized ball-oriented pressing allows Spezia to quickly attack and have a chance of scoring; Elseid Hysaj is trying to close the gap between him and Francesco Acerbi, leaving a massive gap for Daniele Verde to exploit.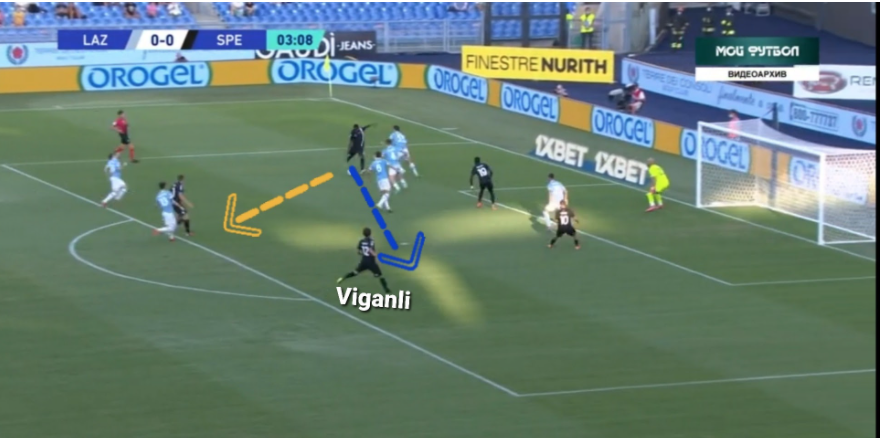 Spezia took the lead in the fourth minute, dismantling Lazio's shape and allowing Emmanuel Gyasi two quality passing options. Gyasi elected to shoot, which Pepe Reina punched away, but Verde tapped in the rebound to give the Aquilotti the lead.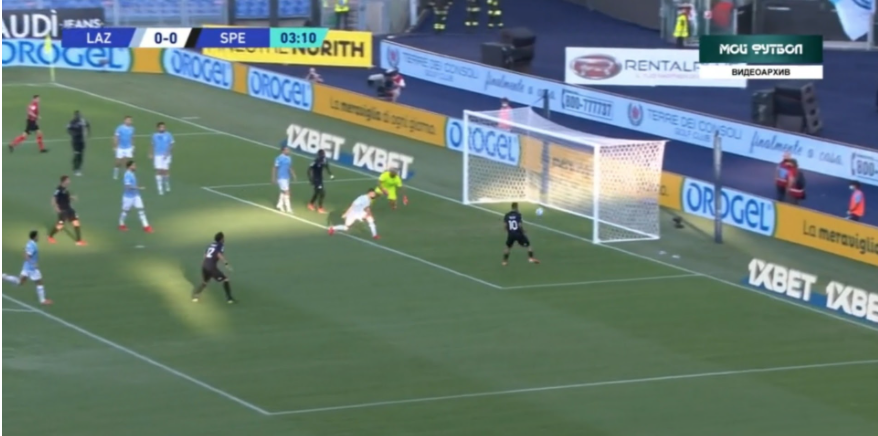 Lazio could've used the ball-oriented pressing to their advantage if it weren't for their lack of aggression, but for the second straight game, the Biancocelesti conceded within the first four minutes. However, they managed to equalize within a minute; rather than choosing to string together a few quick passes after the kick-off, they booted it long with the goal of winning the first or second ball.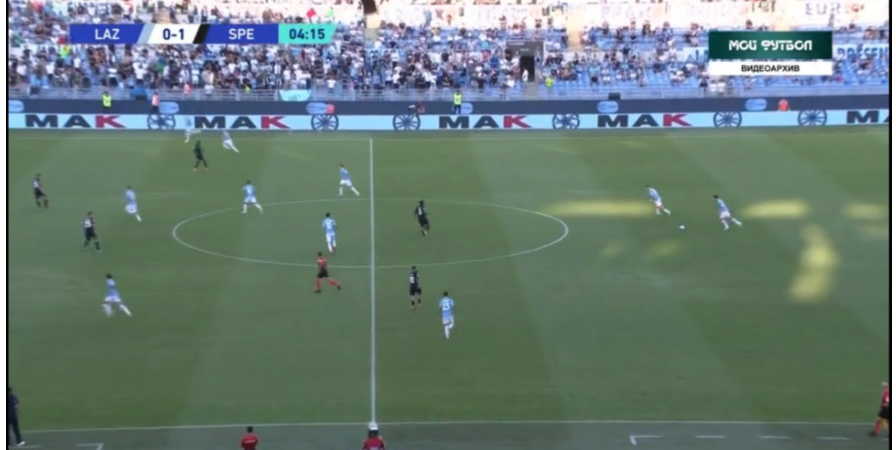 While they failed to win either, Ciro Immobile refused to give up and continued to press the opposition, eventually forcing Simone Bastoni to pass the ball to his nearest teammate. This is just what Lazio were aiming for, as their ball-pressing structure outnumbered Spezia players and saw Lucas Leiva make a tackle and deflect the ball towards Pedro, who found Immobile with the time and space to chip the ball past Jeroen Zoet.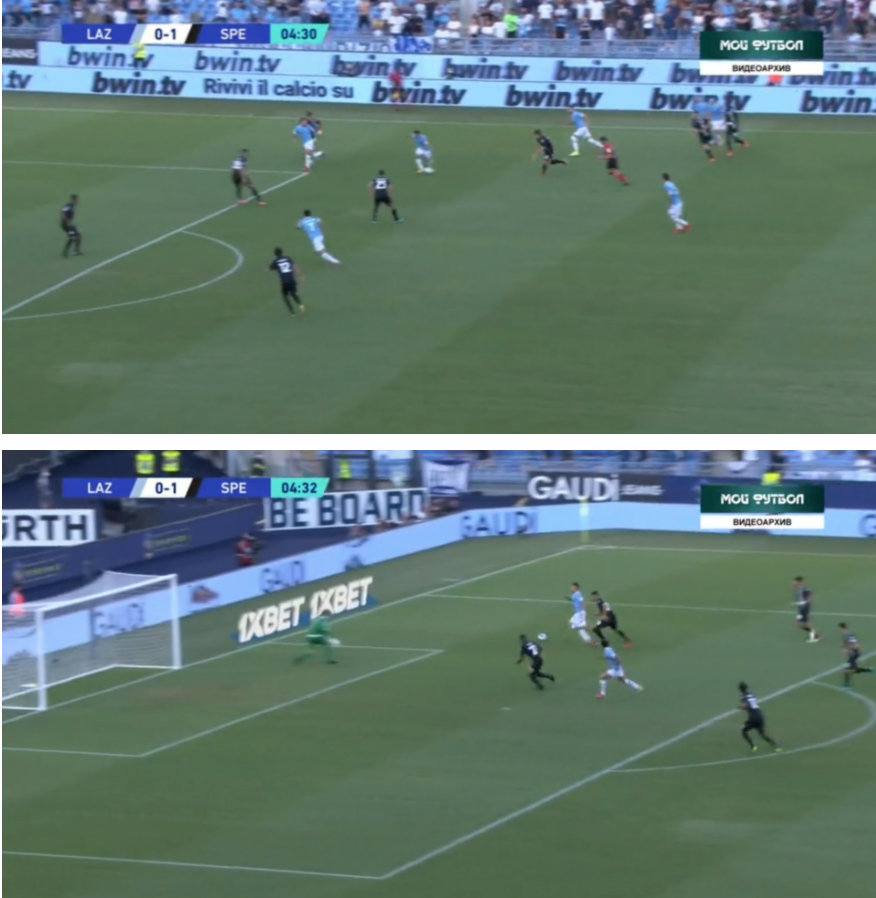 Lazio have utilized various asymmetries in possession, with Pepe Reina and his two central defenders forming a back three during goal kicks, which will resemble a 3-2-6 in build-up. Reina won't pass the ball to the center backs or the full back, but instead wait until the opposition tries to press him. If not, he will just kick the ball very long, aiming to win either the 1st or the 2nd ball and at times he will just kick the ball long in the big space for his wingers to attack it.
You may think that this is some sort of 4-4-2 mid-block side, similar to José Mourinho's teams, but this wasn't the case as Lazio sought to draw the opposition further forward, creating a large space in the back, which Reina can then exploit by a long goal kick. We see an example of this as Verde tries to press Reina, who boots the goal kick towards Lazio's strikers. A Spezia defender wins the first ball, but as he heads it, his teammates are not in close proximity to win the second ball.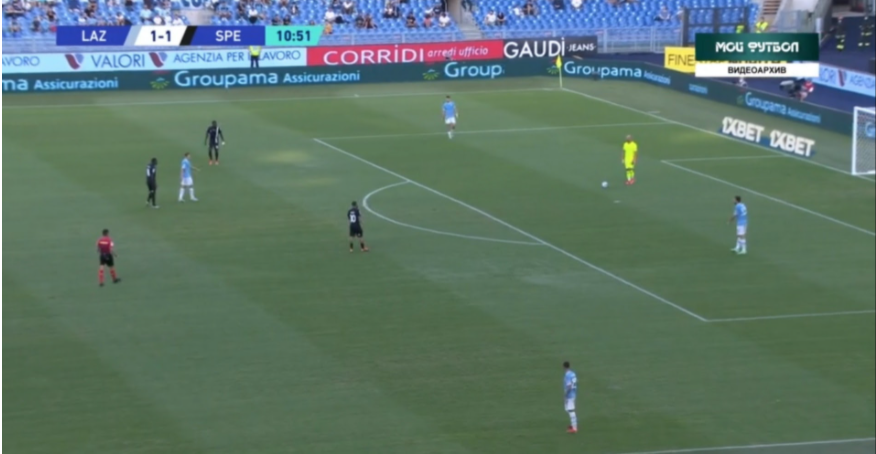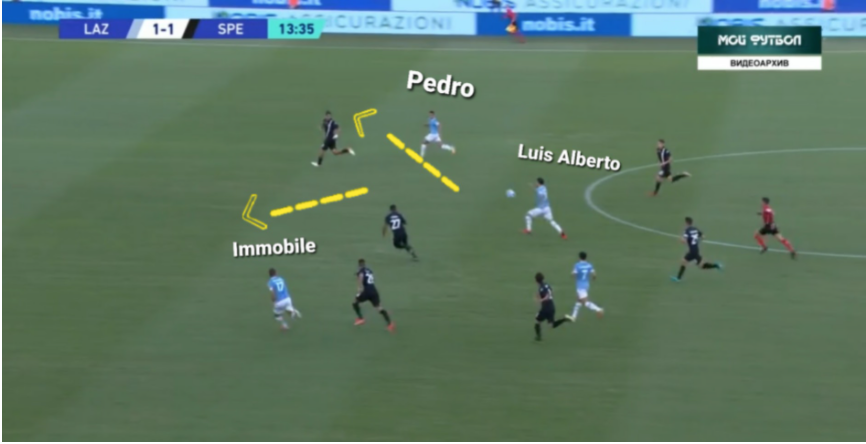 Lazio created the second goal as Luis Alberto knocked down Felipe Anderson's pass towards the path of Immobile, who turned and launched it past Zoet. As we can see above, Kelvin Amian Adou blocked the passing lane and forced Alberto to pass it wide towards Pedro, who retained possession and allowed Lazio to recover numbers in the final third.
Adam Marušić passed the ball back to Patric, who passed it to Acerbi. As soon as that happened, Anderson dropped deep to receive a pass and allowed Elseid Hysaj to push up and attack the vacant space. Because Sarri doesn't allow both fullbacks to attack at the same time, Marušić stayed back. These positional rotations sought to create space on the opposing defense and pulled the Spezia players apart from one another.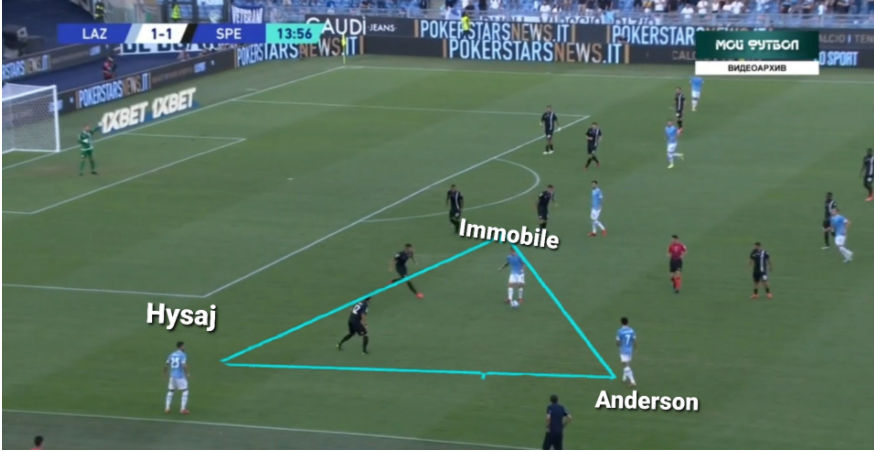 In one of these rotations, Immobile moves wide to create a triangle with Hysaj and Anderson. The Brazilian passed the ball to Immobile, who quickly dished it back to the ex West Ham forward, who then found Alberto, who laid it off for Immobile to convert from outside the box.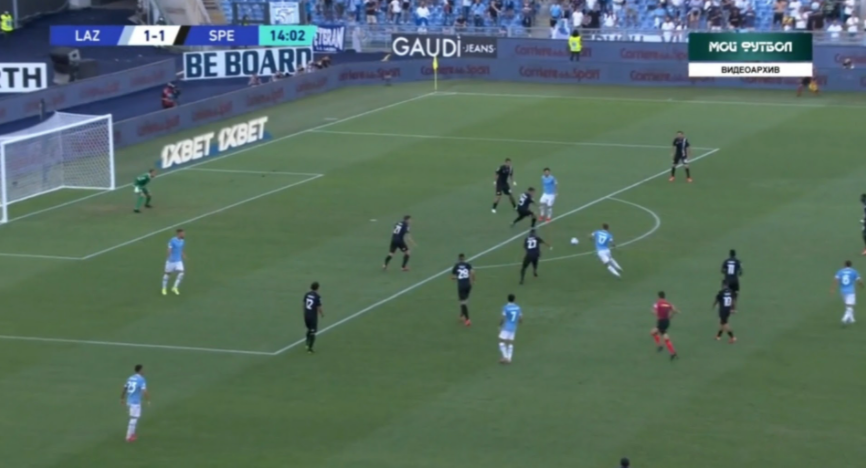 Here, Reina pushes up with the ball, but because Luis Alberto had dropped deeper, this shape looked like a 3-3-4-1 rather than a 3-2-6. Reina booted it long to Immobile, who failed to win the aerial duel, but once again, the Spezia defender headed it towards a Lazio player, helping the Biancocelesti regain possession in a dangerous area. Pedro then drifted towards his left to make a switch towards Anderson on the flank, who was able to enjoy a 1v1 attacking situation.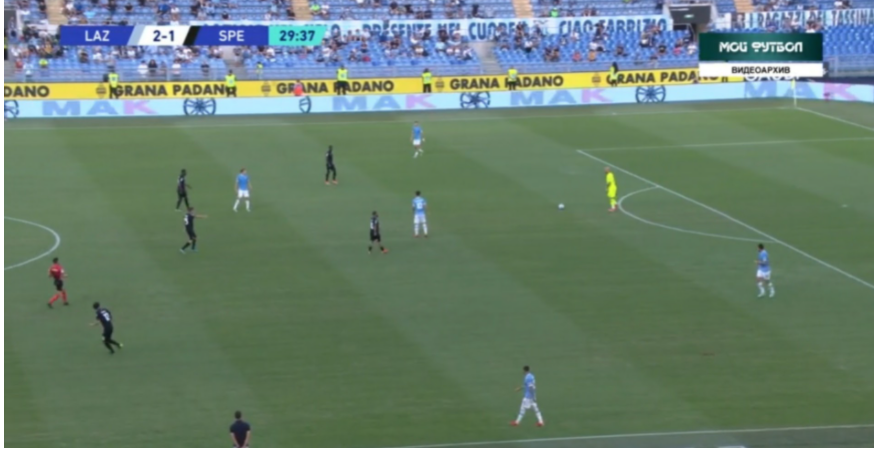 This pass creates a qualitative superiority for Lazio, with Anderson enjoying a 1v1 attacking situation. Anderson then takes on the center back, pulling Spezia's defense even further out of position, before finding Pedro who was running in behind the blind side of the Spezia defenders. The Spanish forward failed to convert from close range due to a poor first touch, but it was nevertheless a brilliant play to beat Spezia's offside line.
Lazio could have added a third goal before halftime but Zoet saved Immobile's effort from the spot. It didn't matter; the resulting corner kick saw Immobile rise above Luca Vignali at the back post and head home Luis Alberto's set-piece.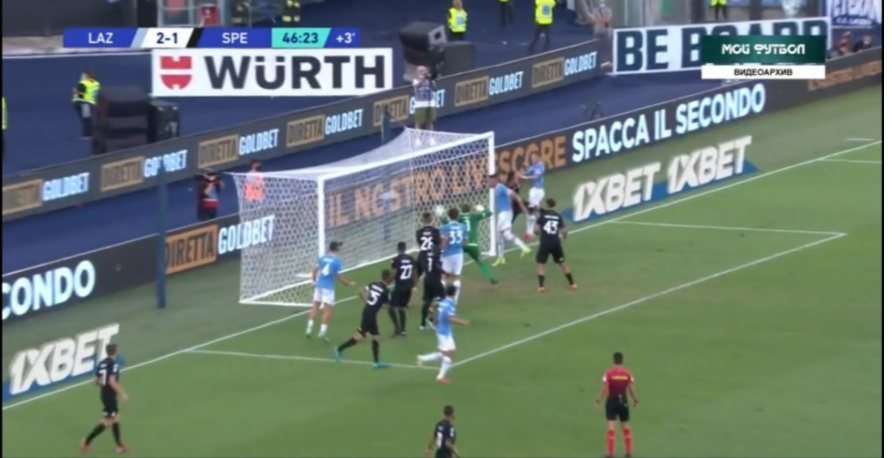 Pepe Reina's ball-playing ability has allowed the 39-year-old Spaniard to maintain a starting spot in goal over Thomas Strakosha, with Reina acting as a 'goalkeeping regista.' Once again acting as the middle center back, Reina finds himself under no real pressure from the Spezia players and elects to continue moving the ball further forward outside his penalty box before finding a clear passing option.
After patiently biding his time, Reina sprays a gorgeous pass to Felipe Anderson, who, after making an incisive run inside, dinks it over Kelvin Amian Adou's head, dribbles forward and calmly placing it into the back of the net.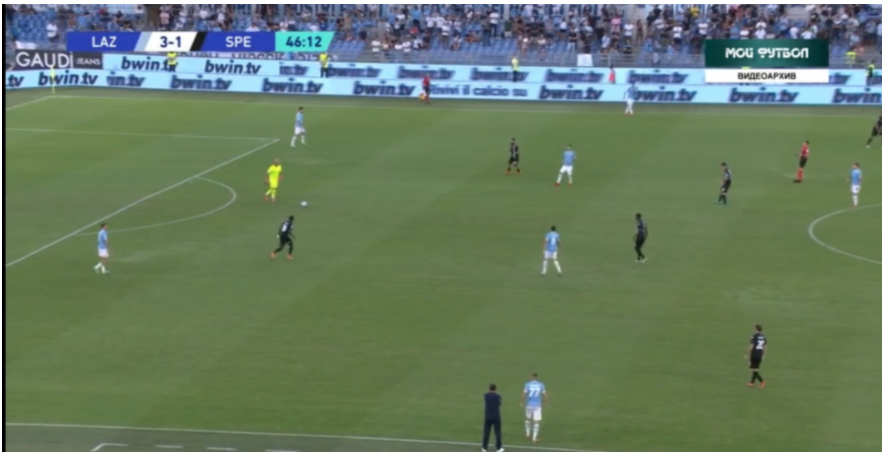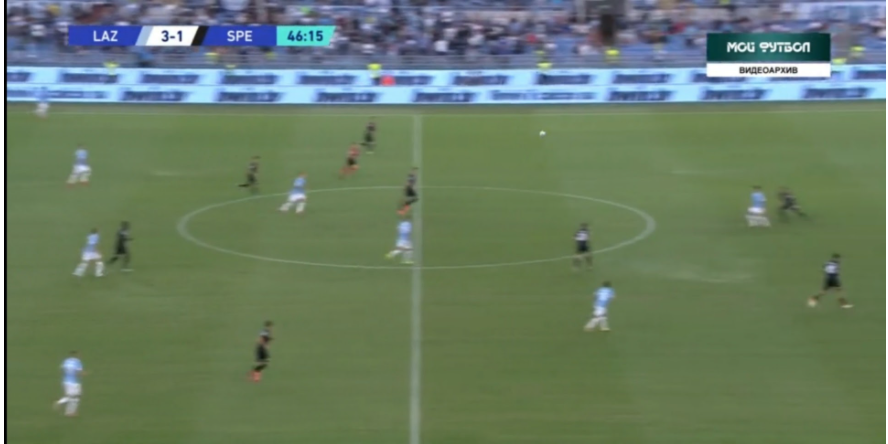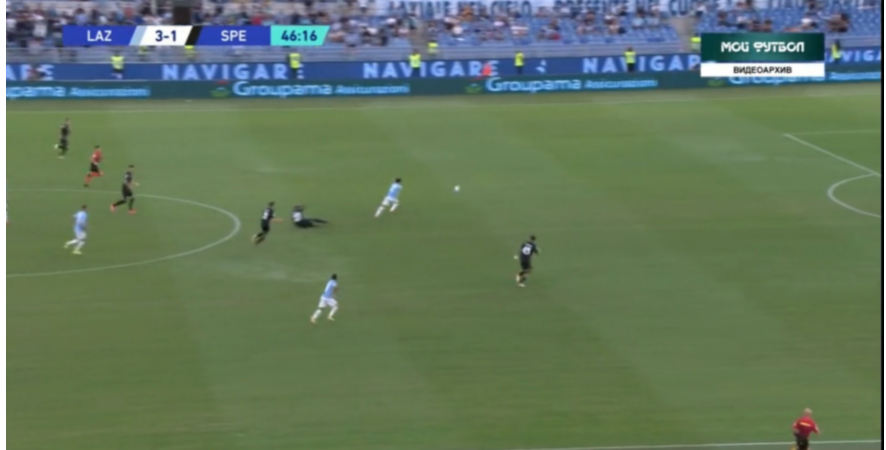 Maurizio Sarri's teams are known for their quick passing, which they do with the emphasis of attracting the opposing team and quickly finding the free man. They break down their opponents' pressing with a quick up-back-through method, which we see here against Spezia. Adam Marušić passes it to Sergej Milinković-Savić, who drops deep to receive, leaving space behind him as Spezia players are closely following the Serbian.
This serves as a trigger for Lucas Leiva to attack the vacated space. Milinković-Savić passes the ball to Pedro, who was in close proximity to him, and Pedro then finds Leiva with a beautiful pass, forcing a Spezia player to foul him to prevent a dangerous attack.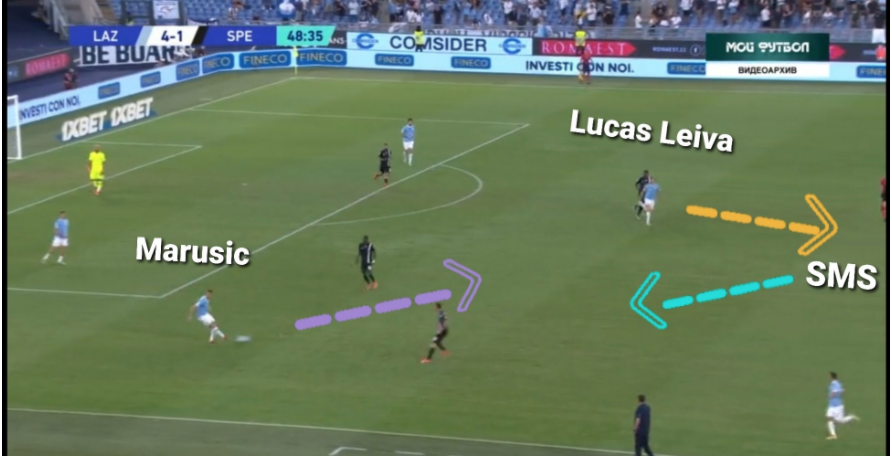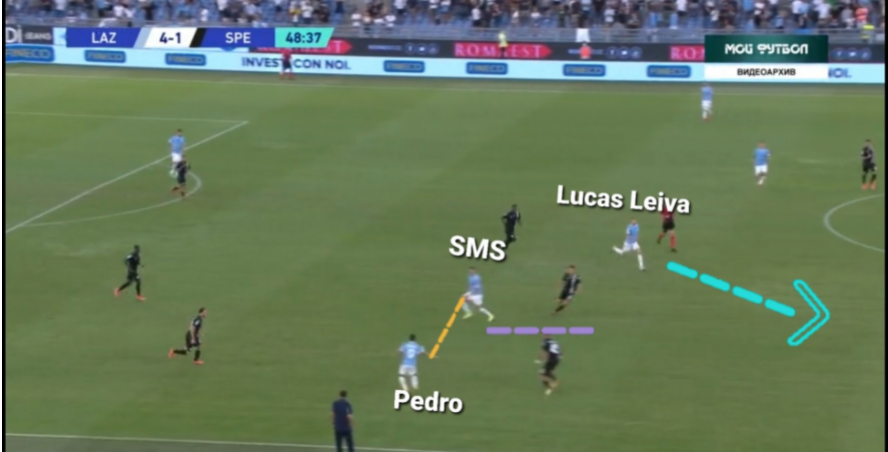 After Anderson extended Lazio's lead to three goals, Spezia soon found themselves reduced to ten men in the 54th minute. Reina blasted the ball long to Anderson, who was then hauled down by Kelvin Amian Adou. The French defender received a red card for preventing a goalscoring opportunity.
The Biancocelesti came close to adding a fifth goal, and they finally received their just rewards in the 70th minute. Anderson and Marušić hold their width on both flanks to stretch the opposition, and Lazio overload the center of the pitch with six players. One of the unmarked Lazio players was Elseid Hysaj, who found himself wide on the left flank, making a 2v1 scenario with Anderson on the wing.
A quick combination between Leiva, Immobile, Milinković-Savić and Alberto drags Spezia players to the middle of the pitch and allows Alberto to play a through ball to Hysaj. With Anderson pinning Spezia's right-sided defenders and stretching them apart from one another, Hysaj was able to make an incisive run into the vacated space, hold off Luca Vigali, and score the fifth goal.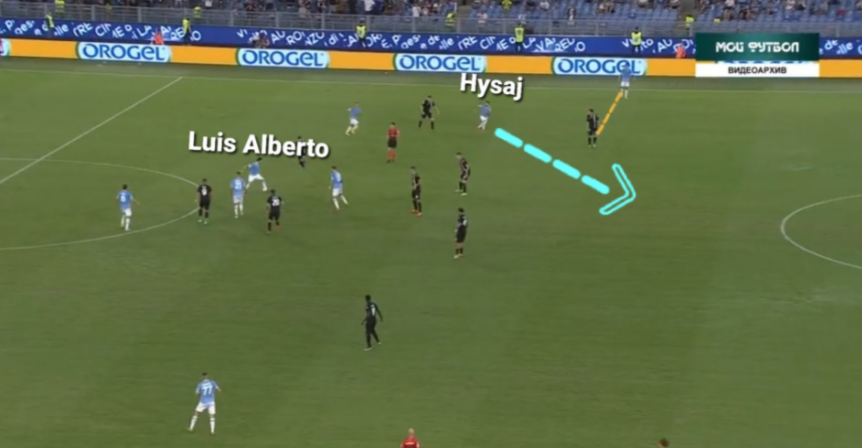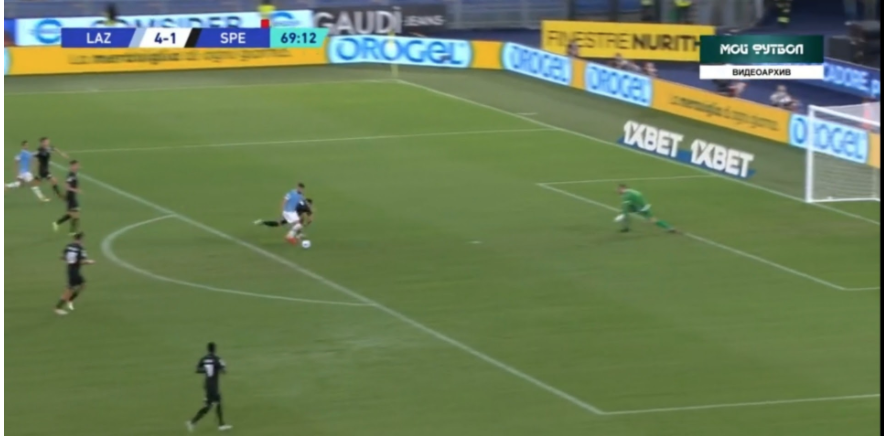 They refused to take their foot off the gas pedal, and in the 85th minute, their sixth goal came. Danilo Cataldi latched onto a pass from Hysaj, who played a pass to Raúl Moro. The Spanish teenager wiggled his way past Salva Ferrer and teed up his compatriot Alberto, who smashed home the final goal from the arc. Lazio players had completed 37 consecutive passes prior to Alberto's goal.
Despite conceding first in back-to-back games, Lazio have entered the international break leading the Serie A table with an impressive +7 goal differential, although they are level on points with Inter, Roma, Milan and Napoli. Next up? A visit to the San Siro to face off against Stefano Pioli's Milan, followed by a trip to Istanbul to take on Galatasaray.
By: @ftblnatt
Featured Image: @GabFoligno / Silvia Lore – Getty Images