Analyzing Xavi's First Game as Barcelona Manager
Xavi finally made his debut as a coach in the Barcelona dugout. Since the departure of Lionel Messi at the beginning of the season, it has been evident that this season is going to be very difficult for Barcelona. As Antoine Griezmann was released on the transfer window deadline day, Barcelona's star-studded forward line suddenly began to cross the line into agony. 
It appeared that Ronald's Koeman's dismissal was only a matter of time. Xavi finally made his debut in the Barcelona dugout after a short spell of 3 matches by Sergi Barjuan. However, the path in front of Xavi is not smooth at all. Barcelona has been out of the top four in the league table for a long time, and the threat of being eliminated from the Champions League group stage is quite real.
In this team, Xavi does not have a specific target man except Luke de Jong, but his performance should not persuade Xavi to include him in the lineup. Martin Brathwaite will return in January, while Ousmane Dembele has been out for a long time owing to injury. Due to a heart condition, Sergio Aguero may have to retire from football. Not only the forward line, but also the absence of Pedri in the midfield due to injury will bother Xavi a lot. 
In the meantime, Xavi made his managerial debut against city rival Espanyol in the Catalan derby. Barcelona did not play very well in Xavi's first encounter, but the 1-0 victory over Espanyol is still a positive outcome. Today, we'll discuss the details of Barcelona's tactics against Espanyol, focusing on the positive aspects of the game that were lacking during Koeman's tenure.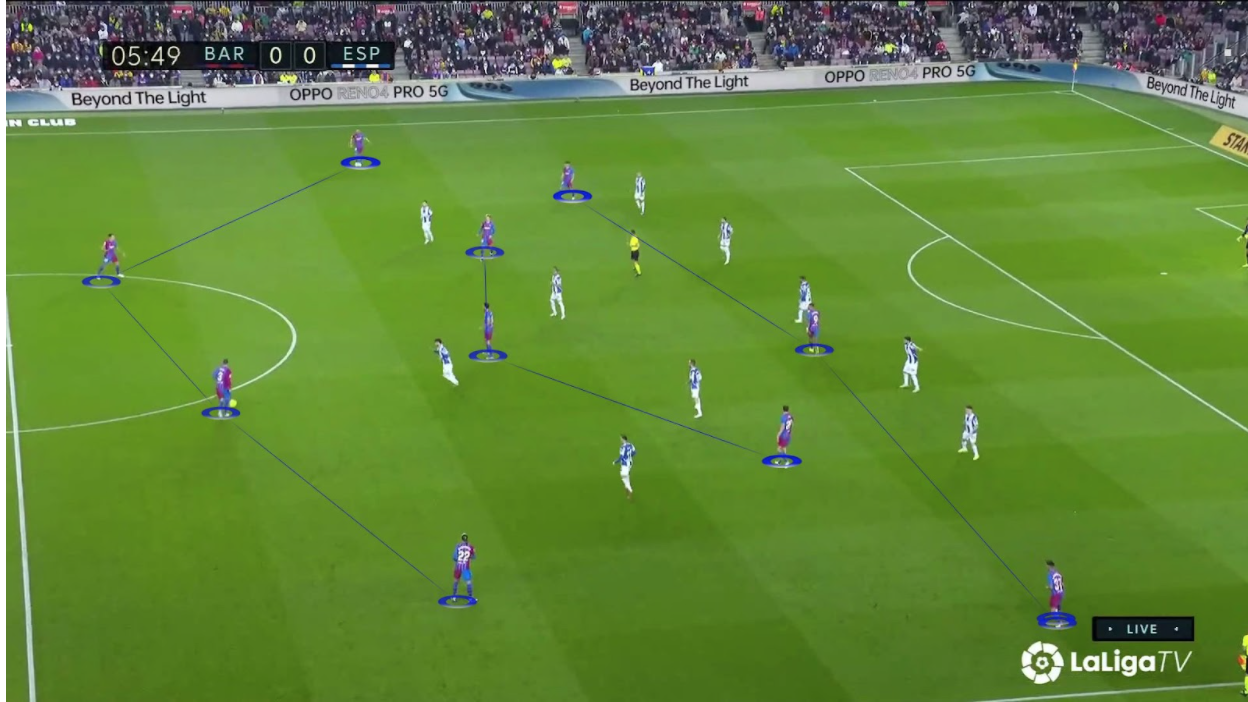 Barcelona started in a 4-3-3 formation at the beginning of the match which changed to a 4-1-4-1 formation when they were on the ball. Marc-André Ter Stegen was behind the goal. Gerard Pique and Eric Garcia were the two centre-backs. Oscar Mingueza and Jordi Alba were both fullbacks, however, Mingueza was rarely seen overlapping, typically forming a three-man backline with Pique-Garcia.
Sergio Busquets acted as a  pivot, with Nico González  and Frankie De Jong manning the inside midfield positions. Pablo Gavi and Iliàs Akhomach Chakkour were on the two wings, and their primary goal was to stretch Espanyol's defensive line by playing along the touchline.
Memphis Depay was in the forward position, and his main task was to hold the defensive line, but he was continuously dropping down from the line, allowing De Jong and Nico to run into the box.
Espanyol, on the other hand, used a 4-1-4-1 formation, but due to Barcelona's overload in the final third, David Lopez frequently dropped into defense, resulting in a five-man backline. If you want to take a break from soccer and try your luck at gambling, you can visit https://onlinekasynopolis.pl/gry-hazardowe-za-darmo-777/ and enjoy free games that provide many different bonuses and privileges for both beginners and more experienced players  
Barcelona in Possession
Barcelona had no trouble building up from the back since Espanyol's offensive players did not put much pressure on Barcelona's defense. Mingueza dropped towards the halfspace instead of pushing high up during the build-up, forming a three-man backline with Pique and Garcia, while Alba, as usual, pushed himself high up on the pitch into the wide area. Busquets then dropped down from the center line, creating a diamond with the back three players.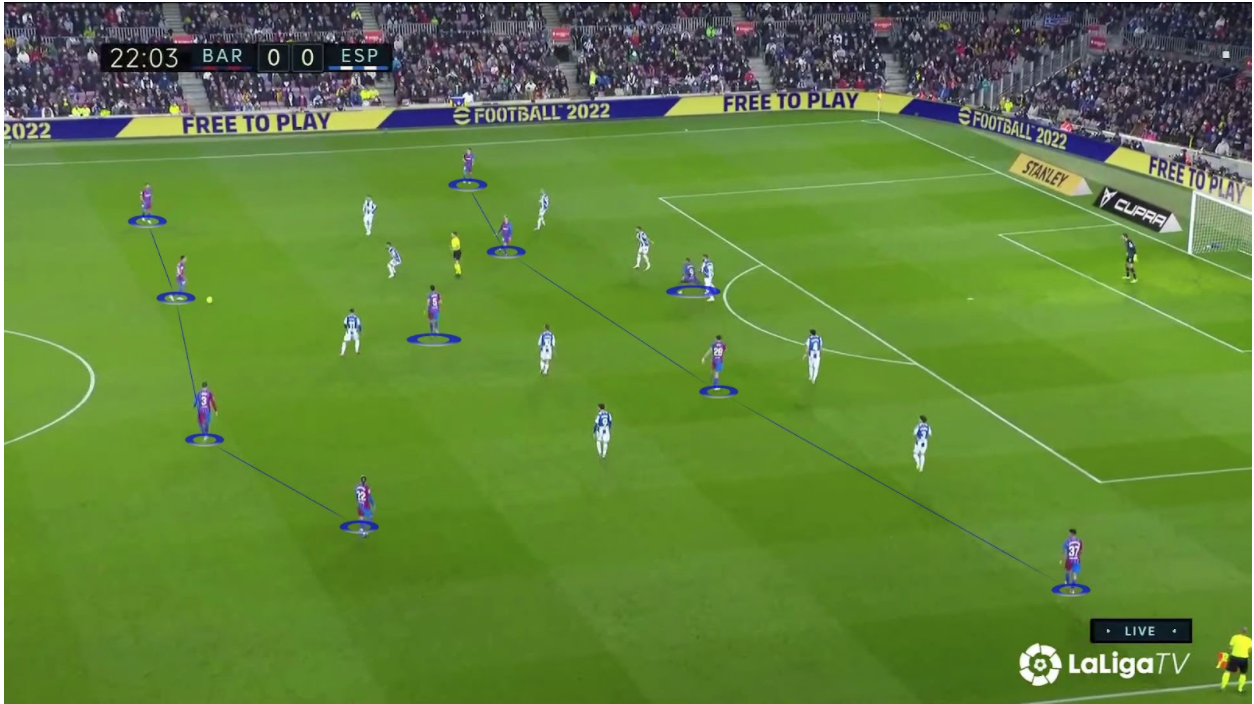 On paper, Barcelona used a 4-3-3 formation, but on the field, they played a 4-1-4-1 system. De Jong and Nico took positions in the half-spaces of ​​the opponent's half acting as inside midfielders. Early in the game, two wide wingers, two inside midfielders, and the striker created a 5V4 scenario in the final third against Espanyol's back four, that's why David Lopez drops between the two center backs.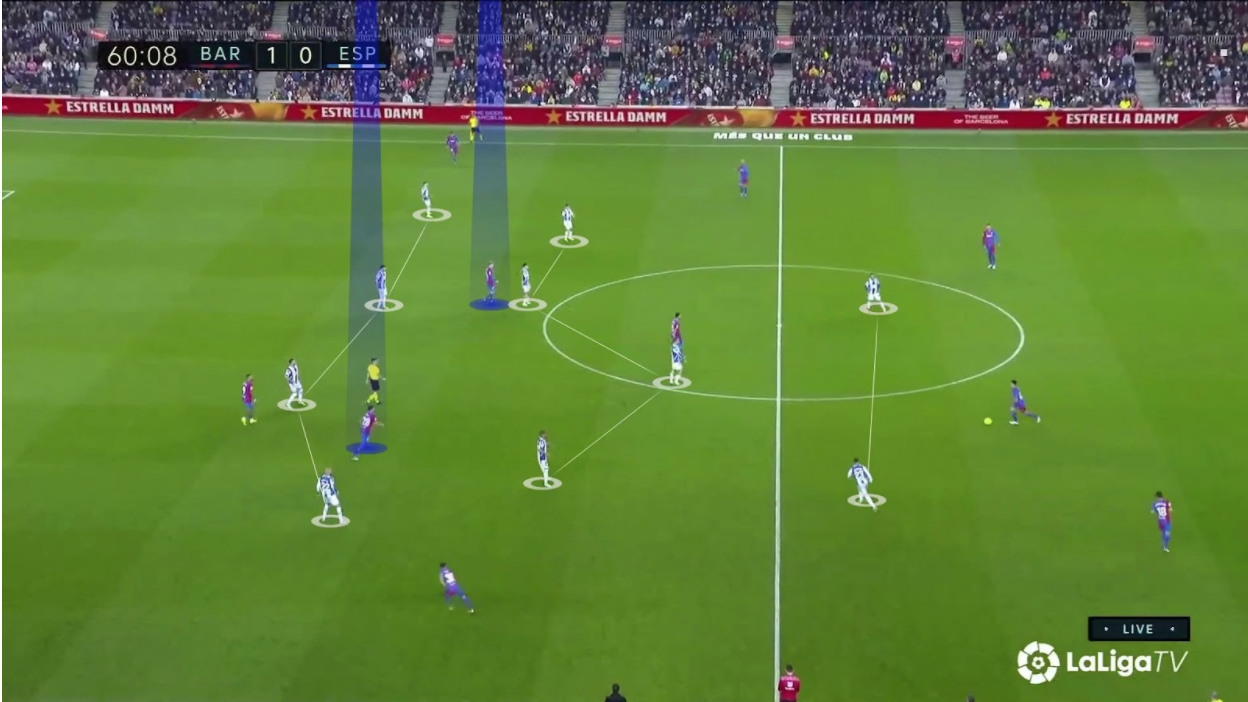 Both Frenkie and Nico occupied free space between Espanyol's midfield and defense line. As a result, Busquets or two center-back passes could have easily surpassed Espanyol's mid-block and reached Frenkie and Nico, who would have had enough space to turn the ball into free space of zone 14 after receiving the ball.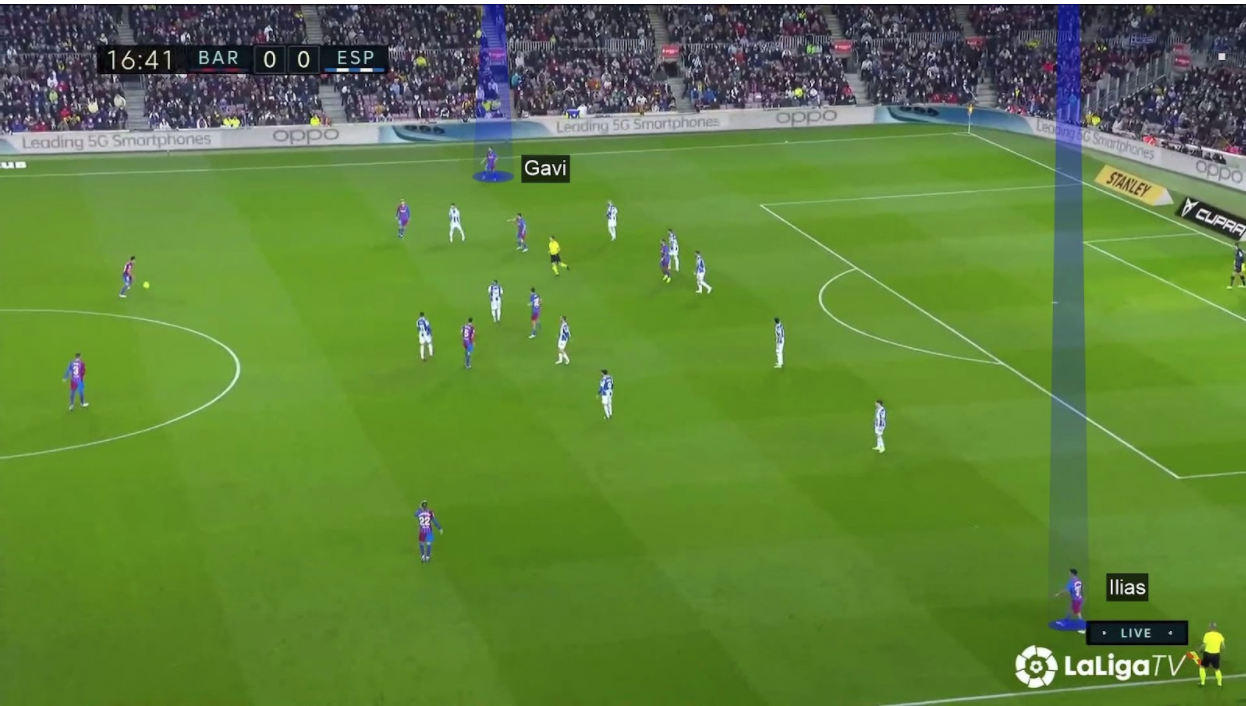 Gavi and Ilias, two wingers, were trying to stretch Espanyol's defensive line by occupying touchline areas in the final third. Gavi and Ilias both were wrong-footed, but they were not seen cutting inside to make a direct attempt.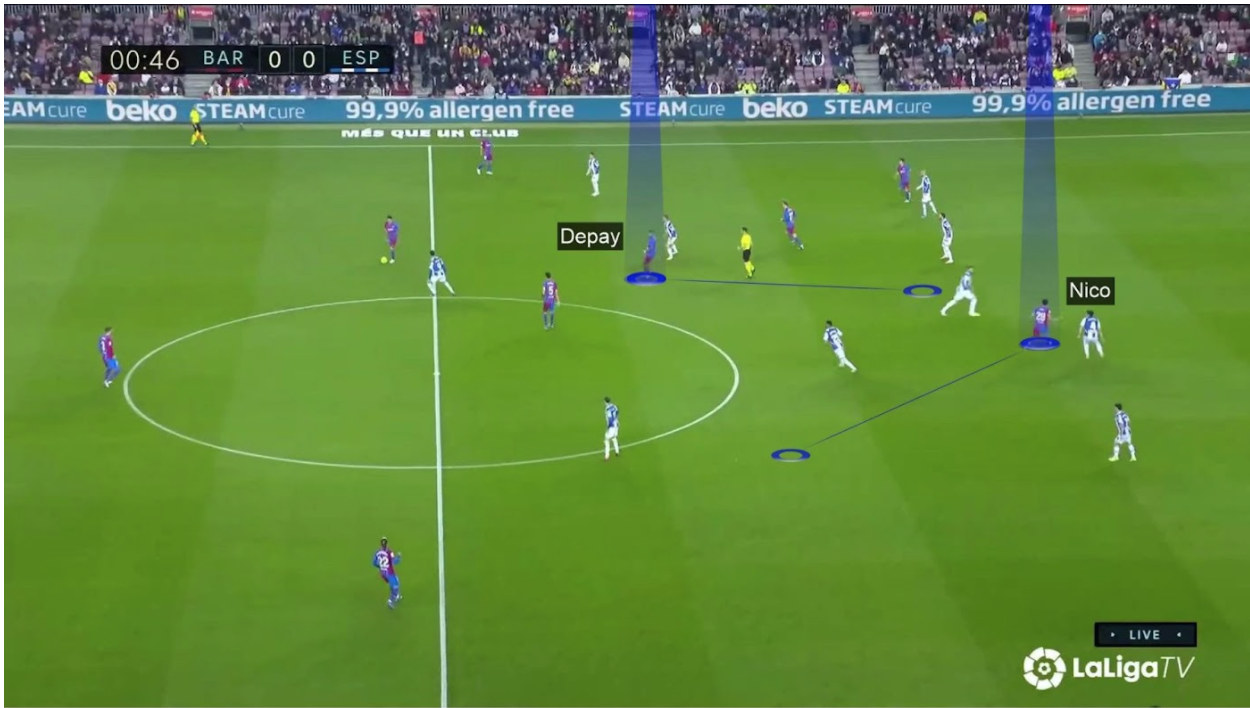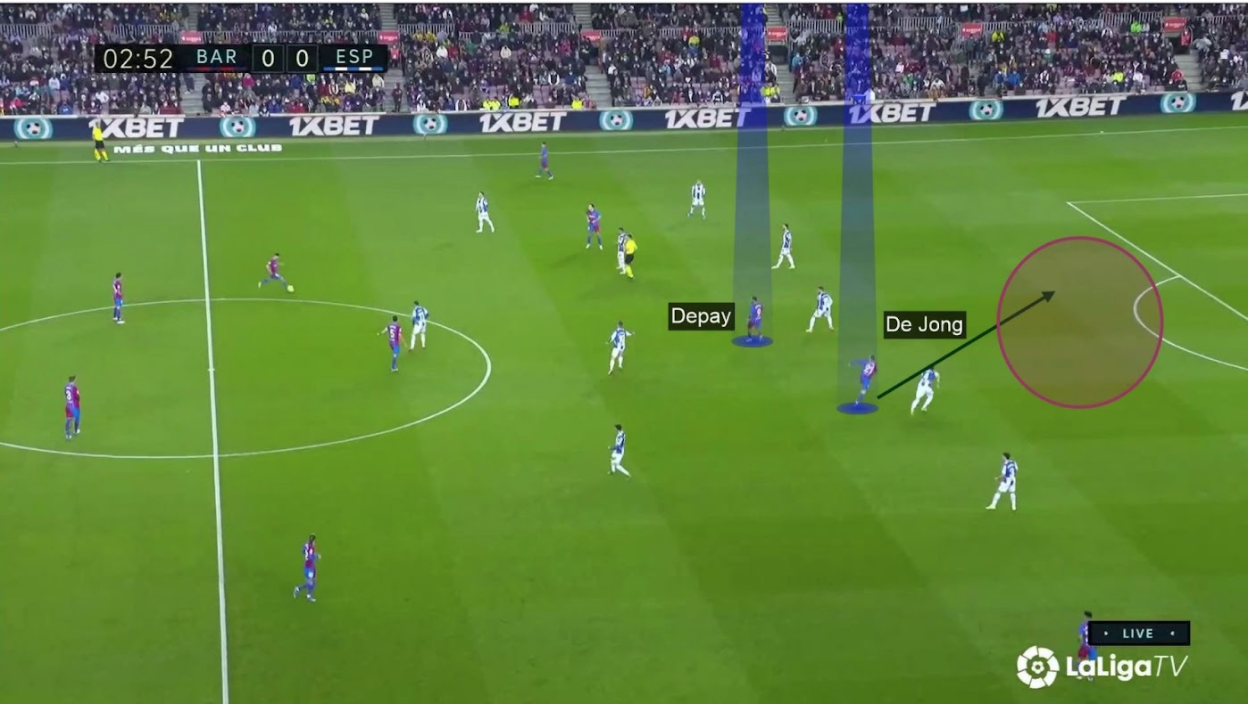 When the ball was in the midfield, Depay dropped a little deep off his line and dragged his marker towards himself. As a result, Espanyol's backline became more open, allowing two inside midfielders, De Jong and Nico to keep making continuous runs behind the defense in order to create a goal-scoring opportunity. However, after creating numerous decent chances, the Barcelona players were unable to score due to a terrible combination inside the box.
After regaining possession of the ball from Espanyol, Barcelona players frequently gave long balls to Depay instead of building up. After that Depay made diagonal runs to receive the ball, however he held the ball too long instead of taking quick attempts which gave Espanyol enough time to organize their defensive line.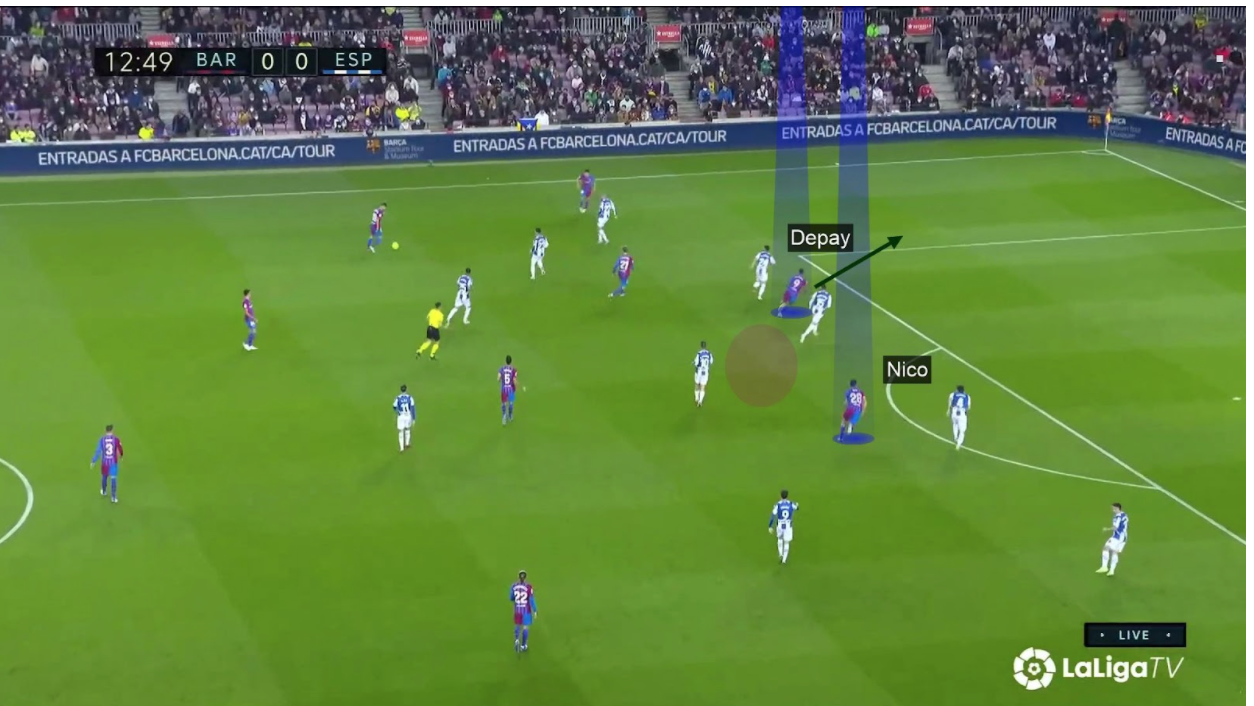 In the picture above, Depay made a diagonal run behind the defense while Garcia had the ball at his feet. When space opened up outside Zone 14, Nico moved centrally from the right half-space, took Garcia's pass, and quickly passed to Frenkie, who held the ball and passed it to Gavi in free space and a good goal-scoring chance had been created from Gavi's cross. 
Barcelona's left-side combination was impressive throughout the game. Gavi was not a traditional left-winger, so he frequently moved to the half-space rather than staying on the left flank. Alba was stretching the line by taking his position on the touchline at the time.
Espanyol's right-back Aleix Vidal and winger Adrián Embarba were repeatedly making mistakes in man markings due to Alba-Gavi-Frenkie's quick passing and position interchange. Let's take a look at the image below.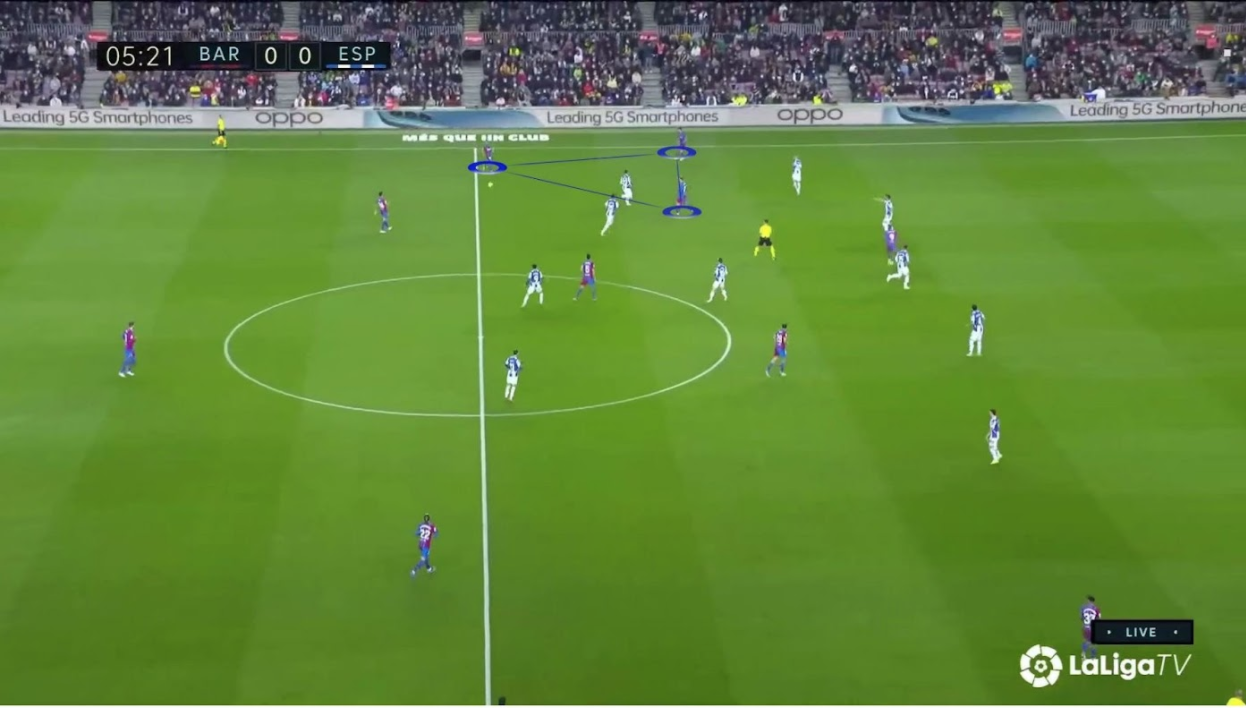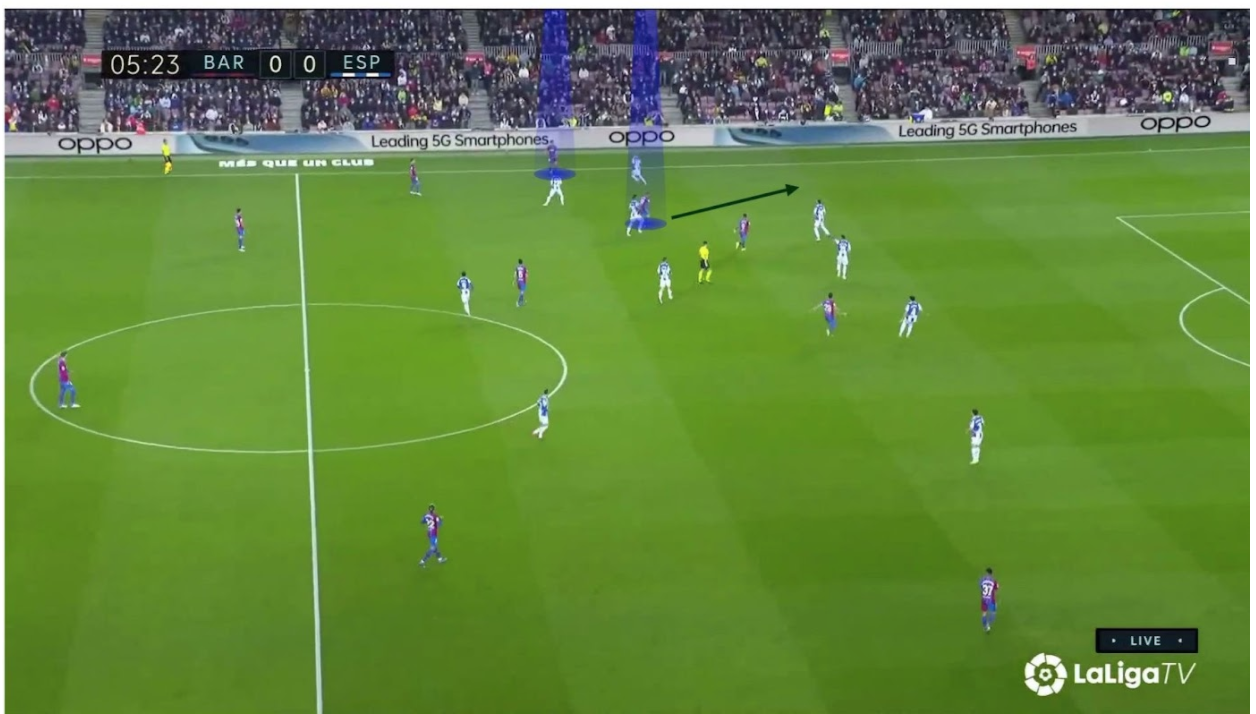 In the image above, Alba was initially holding the ball possession near the half-line, Gavi was positioned near the touchline area and De Jong was in the left half-space. Although De Jong was marked by Embarba at that time, Vidal was holding his position instead of marking Gavi, due to which space could not be created through the left side. When Alba passed the ball to Gavi, Vidal left his position to press Gavi. This freed up room on the left side, which De Jong took advantage of by running diagonally through it.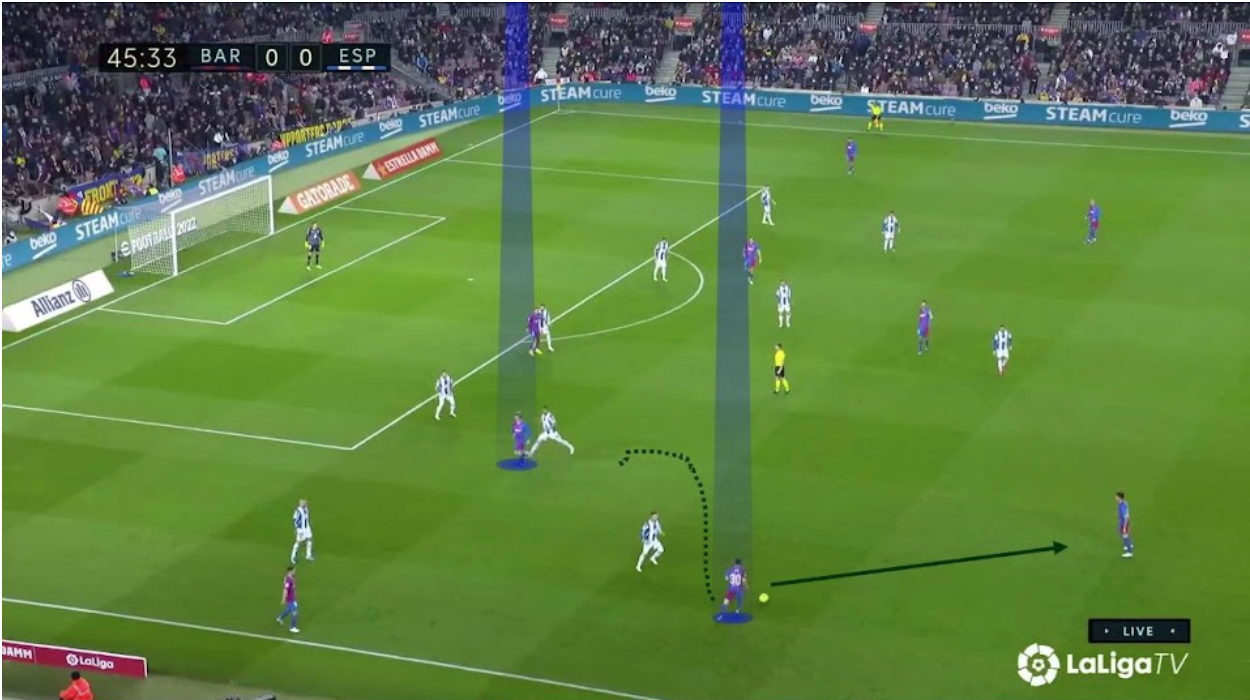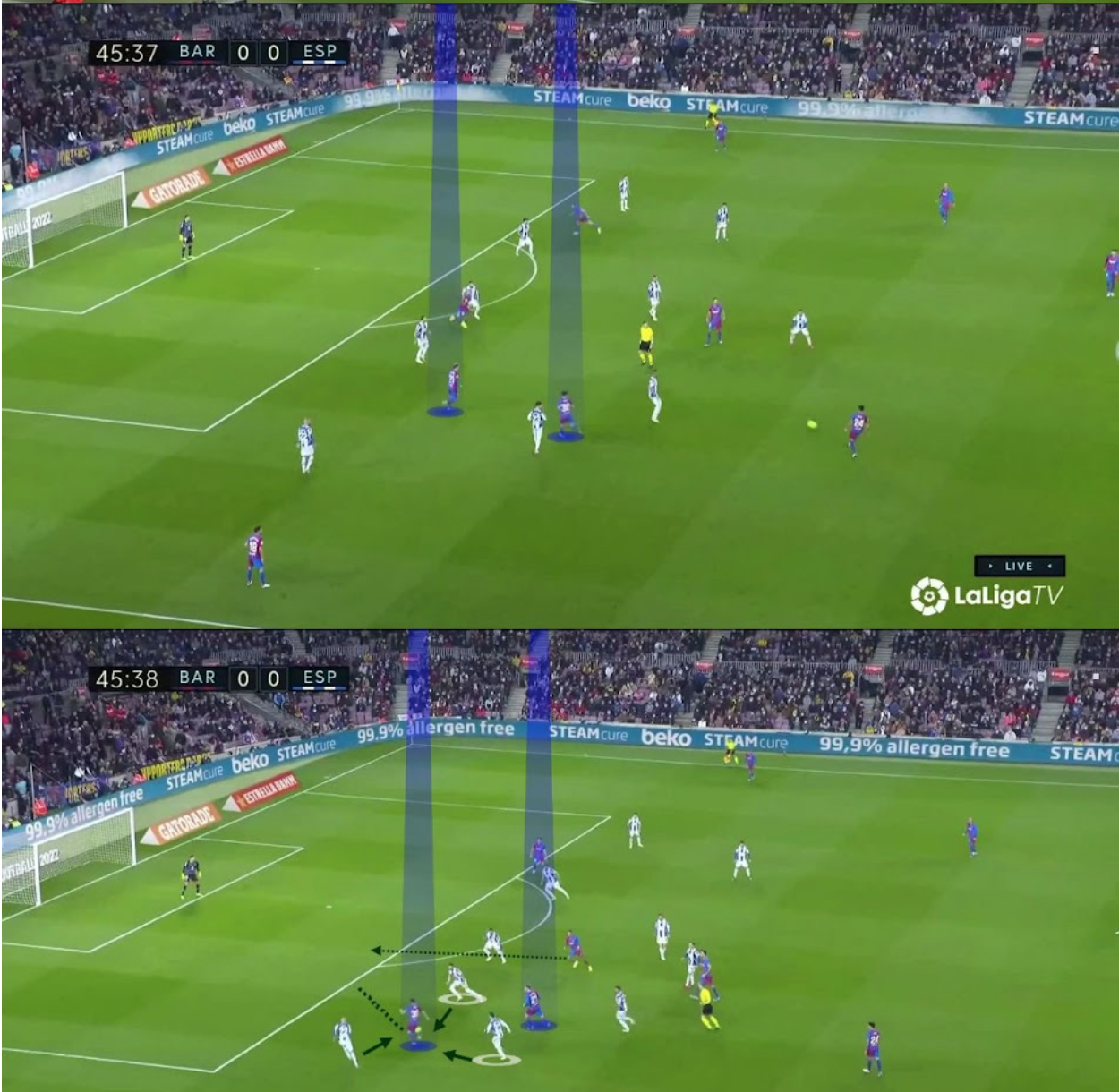 Alba was positioned in the final third's touchline region in the scenario above. After giving Garcia a back pass, Gavi took a forward run from the half-space area, and Embarba dropped down to mark him. De Jong was out of the box in the half-space area at that time. Busquets took a quick touch after receiving Garcia's forward pass and delivered the ball into the free area of the left half-space.
De Jong and Gavi's movement and understanding were impressive at the moment. Sergi Gomez, De Jong's marker, tracked him down and stepped up from his line when De Jong dropped below his line. At the same time, Gavi moved to that space and received a pass from Busquets.
Espanyol's defense is disorganized as Gomez moves forward. Depay then took a run behind the defense to receive the through pass from Gavi and Barcelona went on to score the game-winning penalty goal. 
The attacks through Barcelona's left side were visible throughout the entire game, but the right side was entirely unremarkable. The right side only had 21% offense for the entire contest, whereas the left side had 51% attack.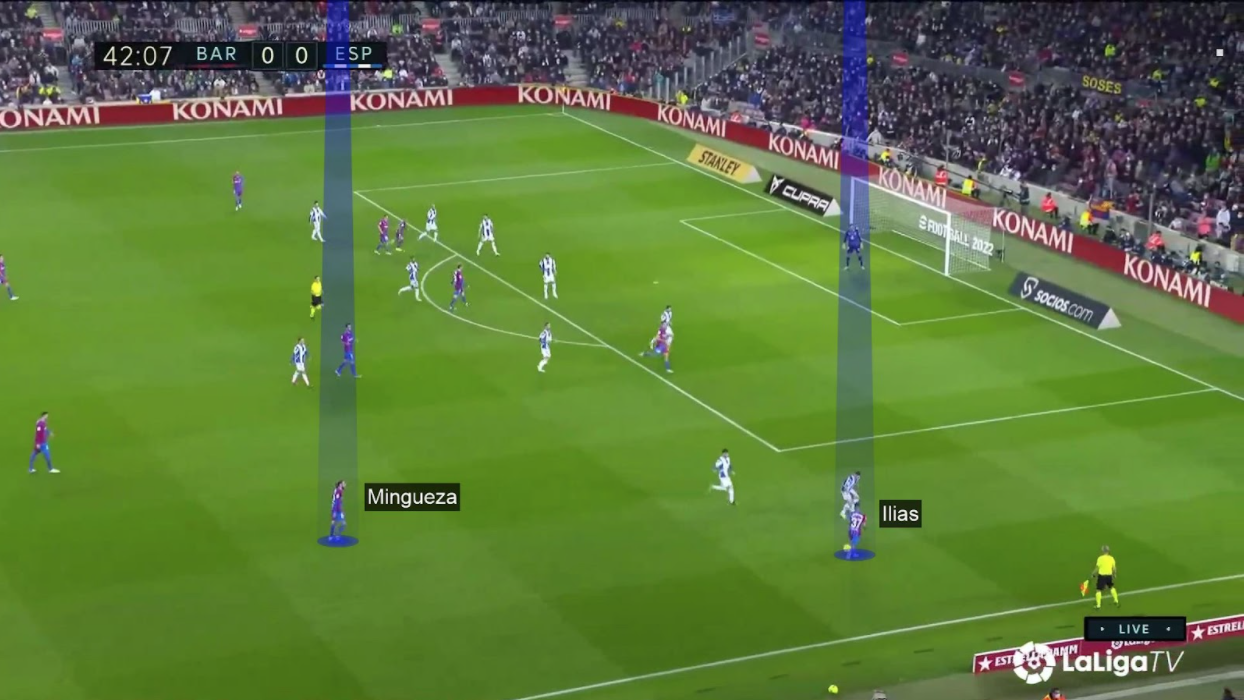 On the right wing, Ilias seemed to be lacking in confidence the entire time. Throughout the game, Mingueza did not appear to overlap much. As a result, Ilias frequently found himself in a 1V1 or 1V2 scenario on the right wing. His successful dribbling attempt was zero throughout the match, while his crosses were aimless since he was wrong-footed.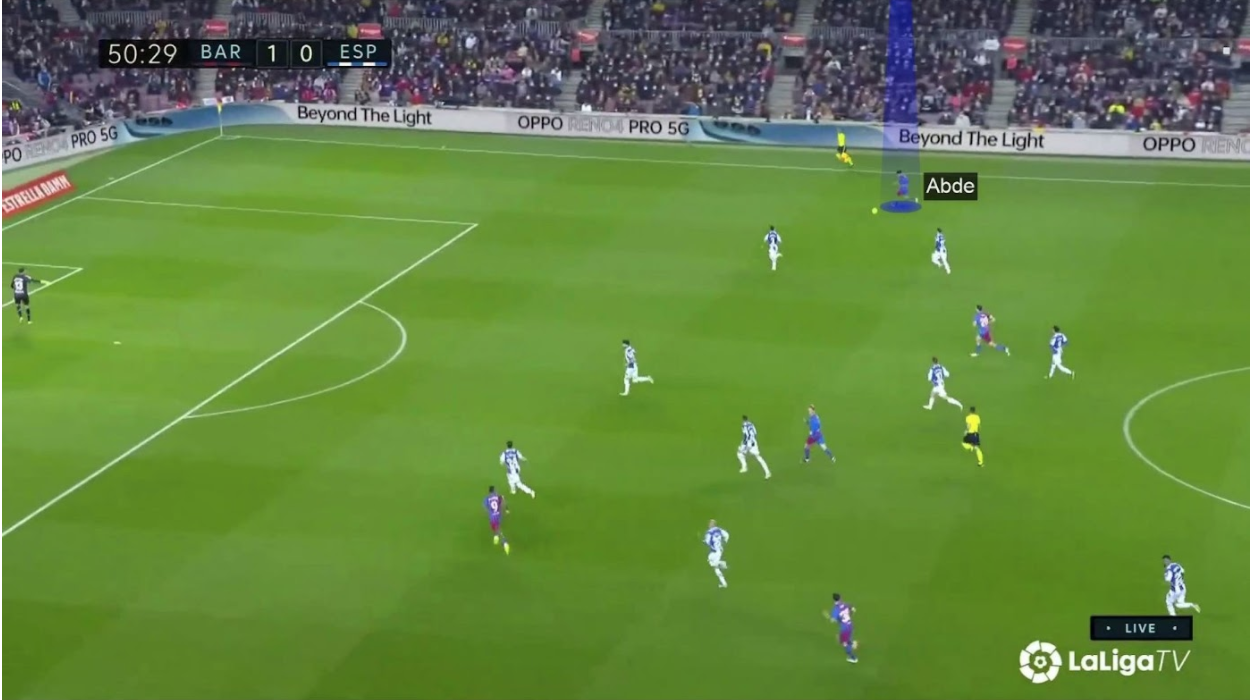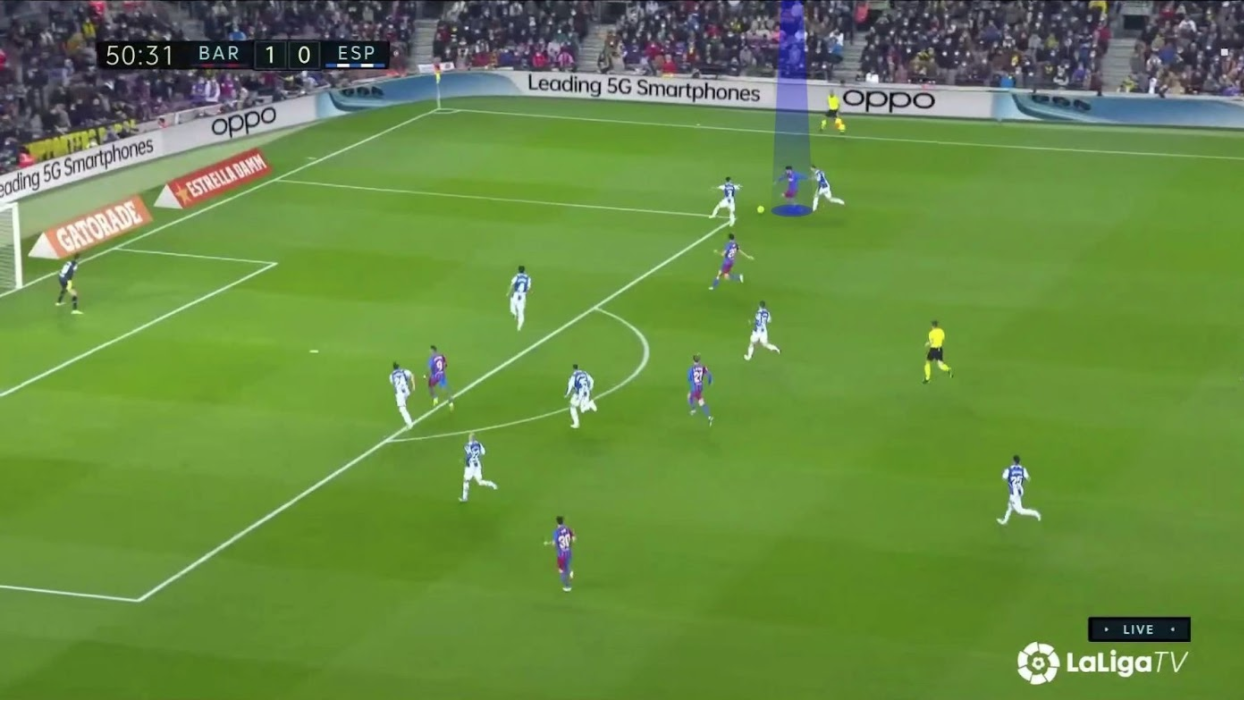 However, the right side became much more active after Abdessamad Ezzalzouli was introduced in the second half. Because Barcelona's attacks are mostly on the left side, there has always been a lot of open space on the right side.
Abdessamad continued to terrify Espanyol's defenders through the right wing, despite Ilias's inability to take advantage of the open space by dribbling and cutting in the box. Abdessamad attempted eight dribbling efforts, six of which were successful, after only 45 minutes of play in the second half.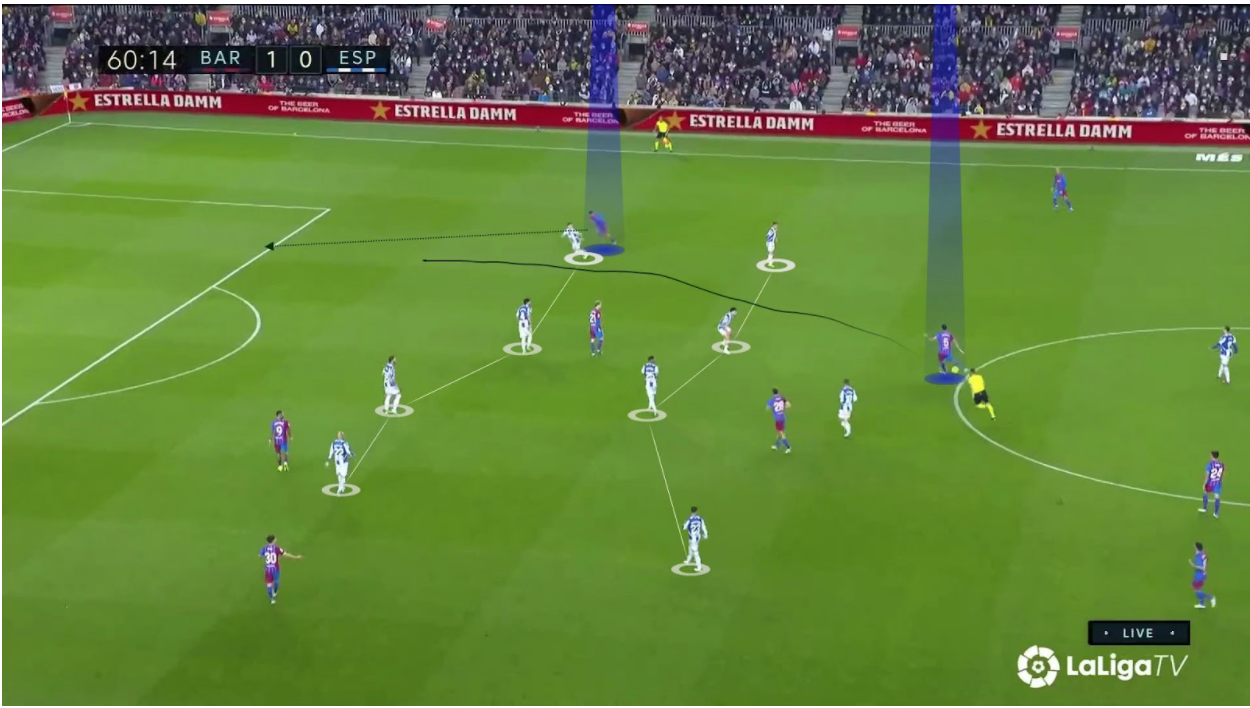 Espanyol's left-back Adrià Pedrosa was giving him free space without tight marking at the beginning after Abdessamad came in at halftime. Pedrosa began to tighten his mark on Abdessamad as a result of his continuous dribbling attempts.
That's why Abdessamad dropped a little further back from the front line, freeing up a lot of space behind the defense. When Abde took a run behind the defenders to receive Busquets's long through ball from the midfield, Espanyol's defense line was fully exposed.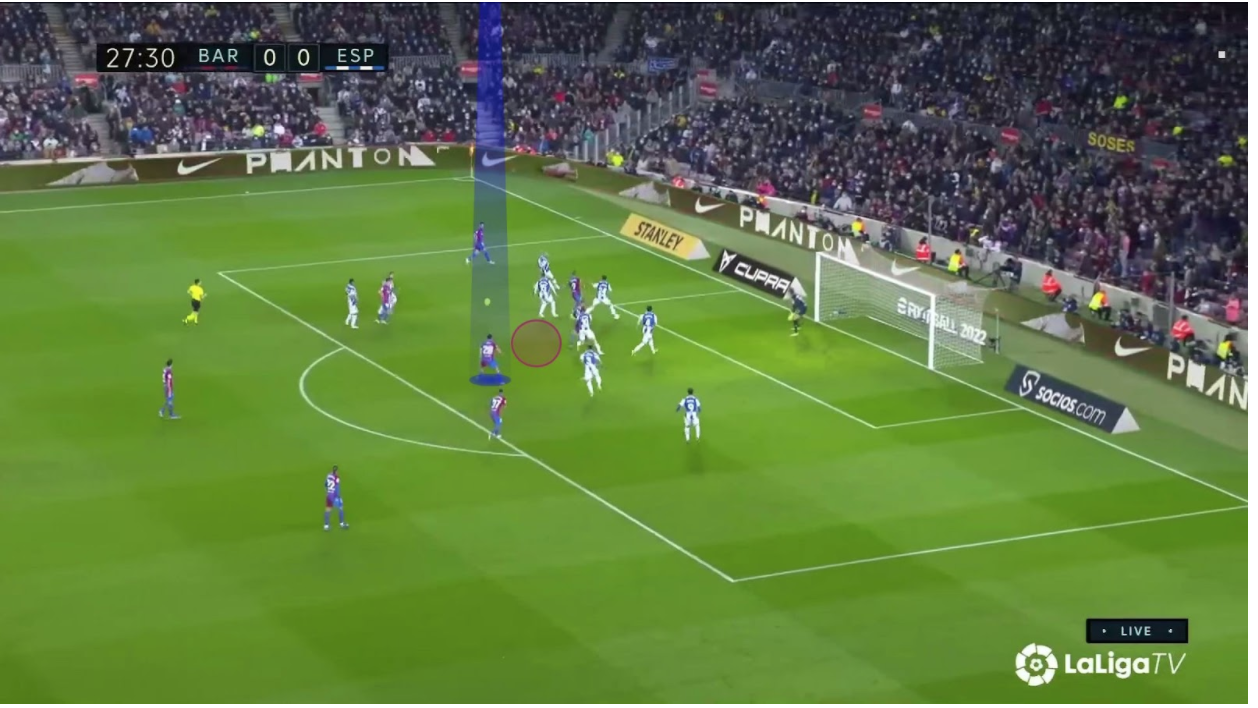 Alba's cross from the left flank was a good source of Barcelona's attacks in the final third. Because none of Barcelona's forward players are good headers, crosses were ineffective. During Messi's tenure at Barcelona, he was seen attempting shots by moving forward late and taking advantage of open space in front of the defense from Alba's low cross or minus. However, this scenario was not seen after Messi's departure. 
While Alba was crossing, Depay and De Jong moved forward in the image above. Nico was keeping his position rather than pushing forward, which helped him to create a pocket of space in which he could attempt a shot from Alba's ground cross.
Barcelona Out of Possession
While out of position, Barcelona's every player man-marked every Espanyol player, leaving them with no option but to play blind long balls.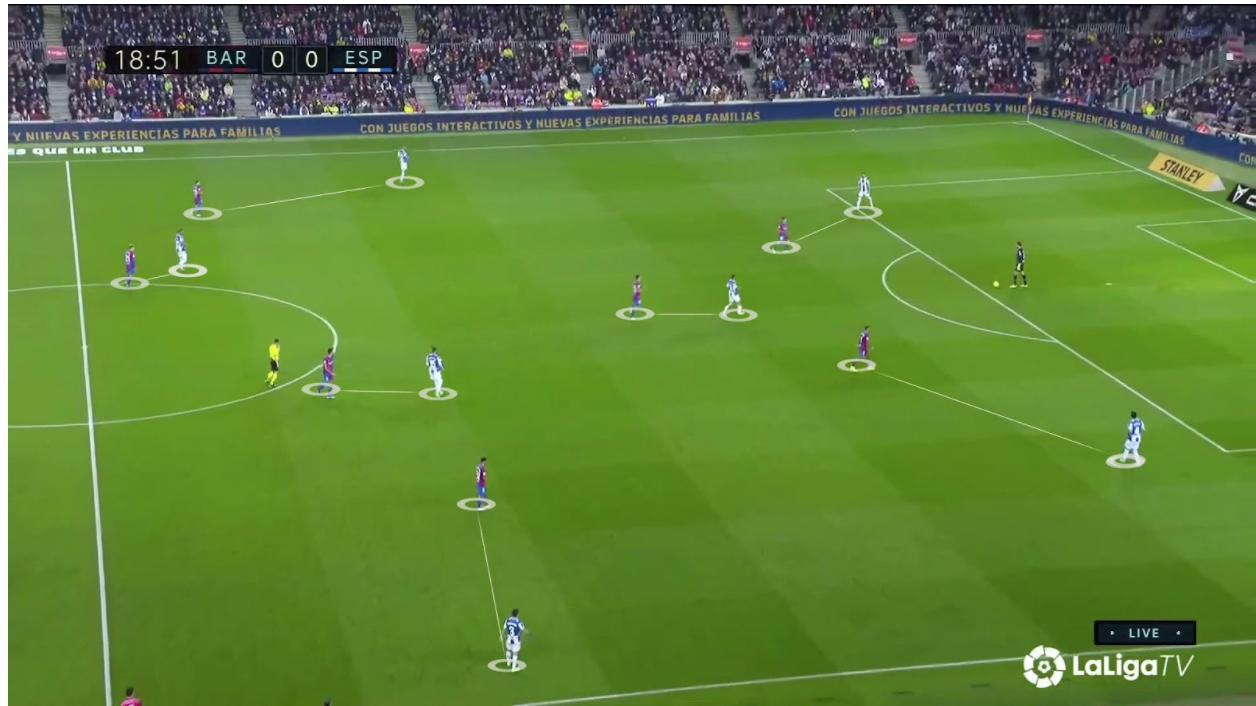 When Espanyol was building up from the back, Barcelona's 4-3-3 formation would have changed to 3-5-2. Gavi was marking Espanyol's right center-back Sergio Gomez at the time, and Depay would have moved in the right to mark Leandro Cabrera.
Nico marked Espanyol's single pivot Lopez and two wing-backs were marked by Elias and Alba respectively on either side. Frenkie dropped down and marked the other two Espanyol midfielders along with Busquets.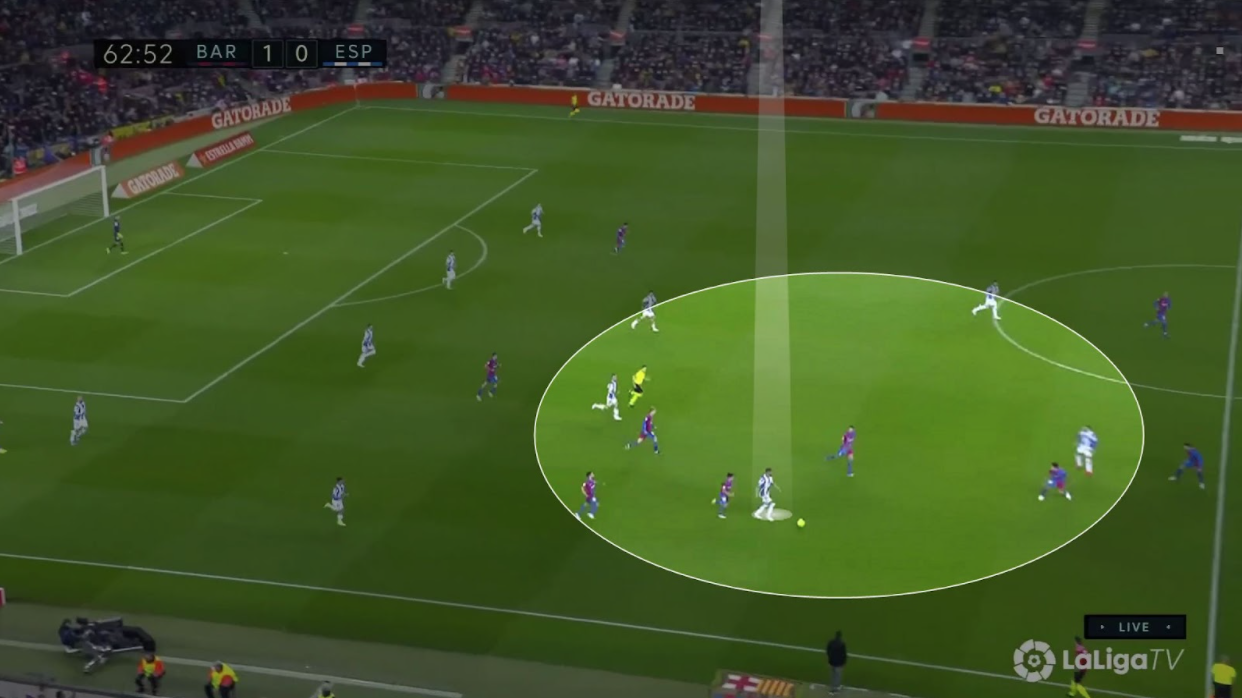 Barcelona players were not seen to be pressing too aggressively in their own half. But as soon as they lost possession in the opponents' half, they tried to retrieve the ball by blocking all possible passing options of the ball holder, constricting his area.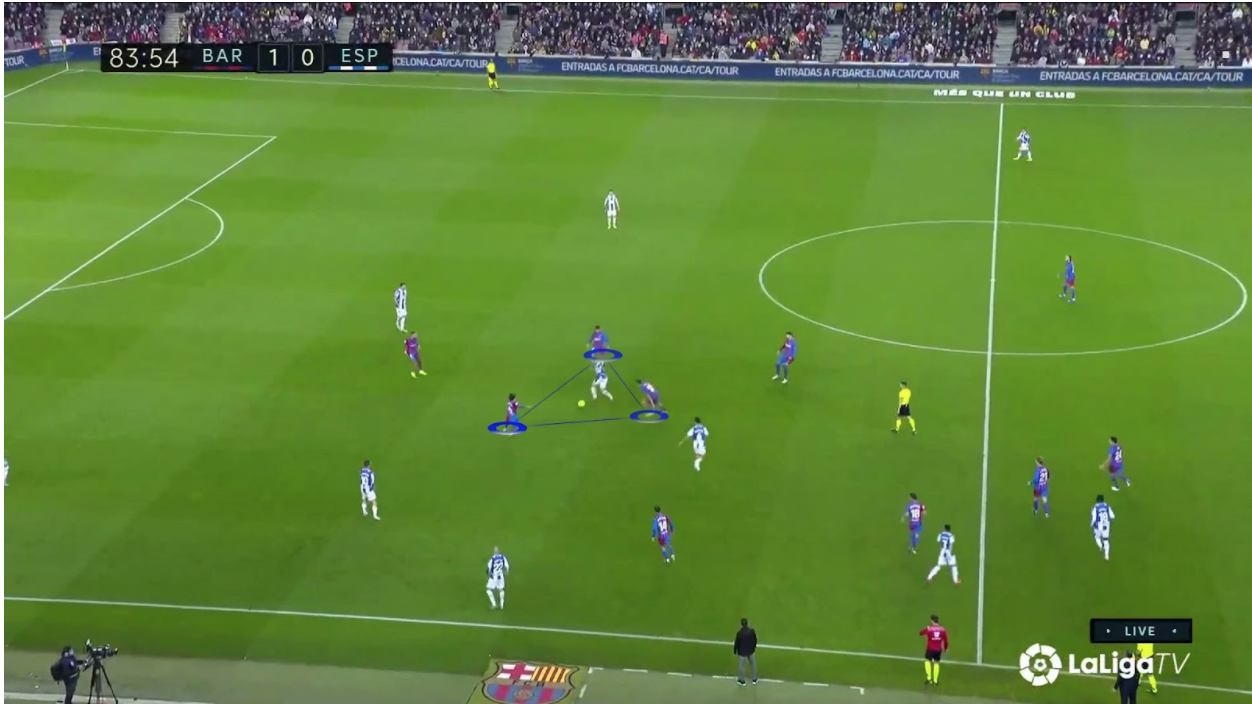 The triangular pressing pattern has also been observed in Barcelona's pressing system in some cases. This time around, three Barcelona players took part directly in pressing around the ball carrier in the opponent half. Two of them directly pressured the ball carrier and blocked his passing option, while the other attempted to win the second ball without joining in the press.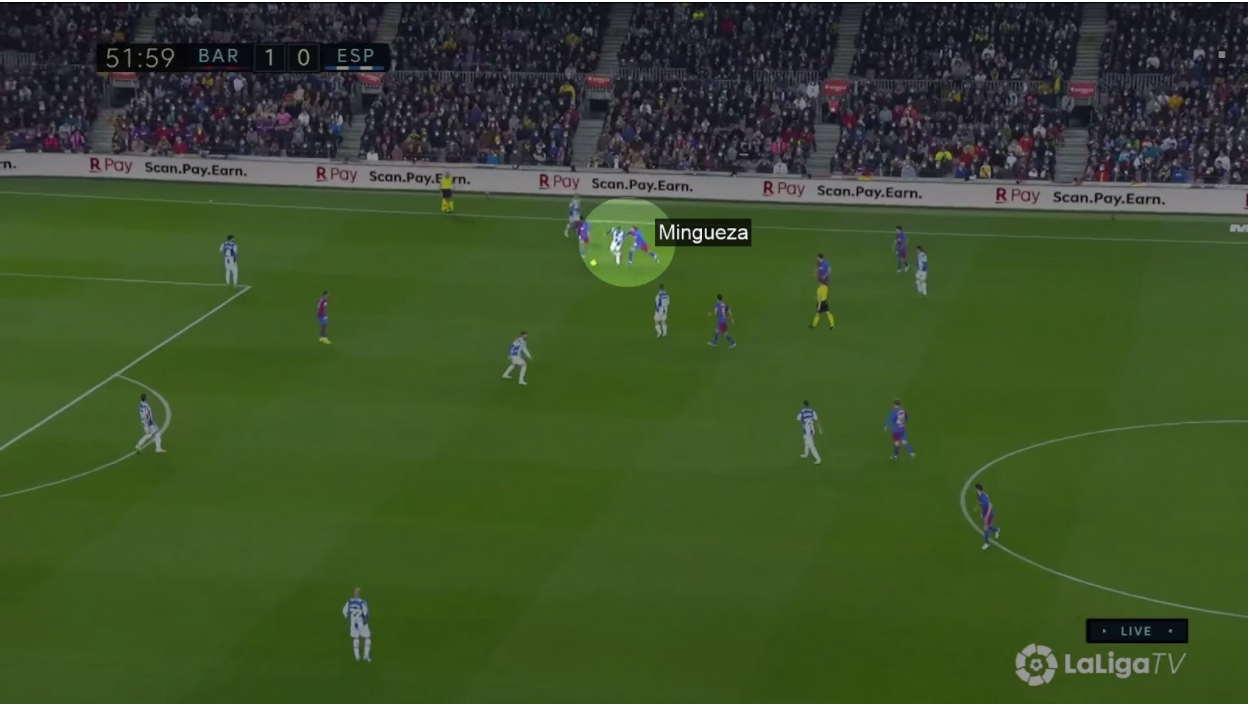 Every Barcelona player has man-marked Espanyol's specific players and has been seen pressing his own marked man, even sometimes going out of position. In the image above, Mingueza left his position by pressing his marker Raúl de Tomás and pushed above to the final third. Then Nico dropped down to cover the free space left by Mingueza.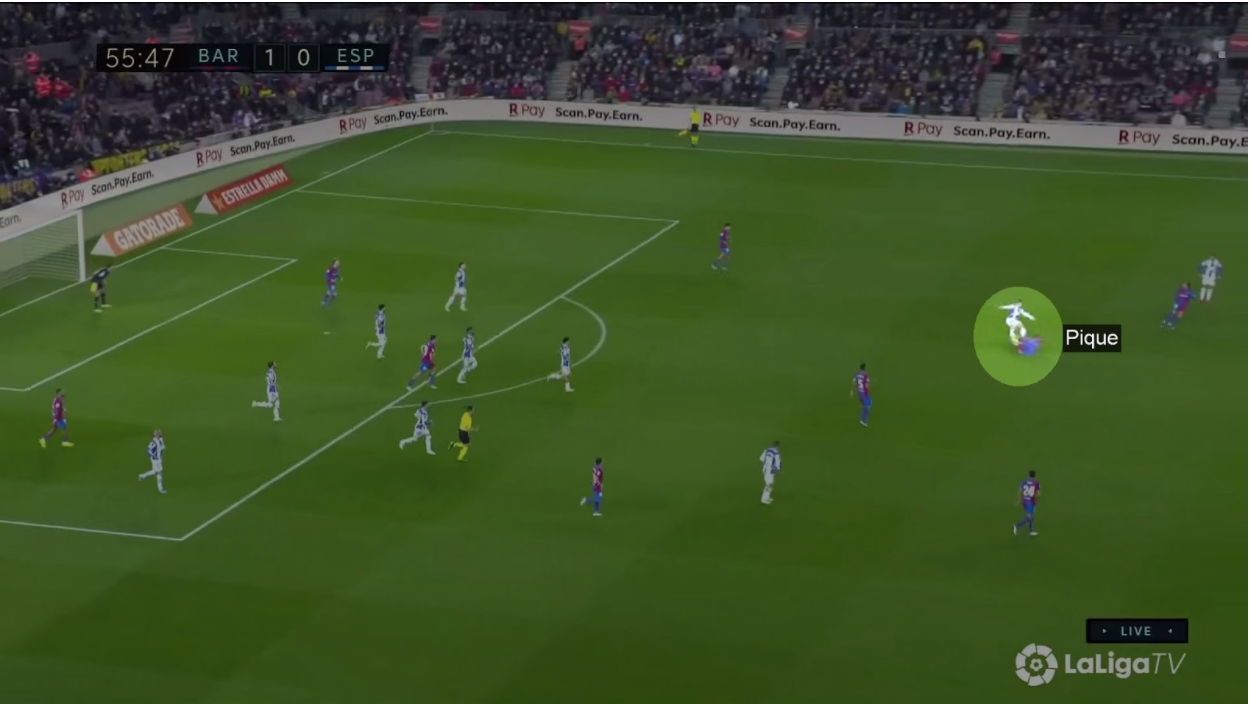 After losing the ball possession in the final third during the attack, Barcelona's defenders came out of their line and tried to intercept the ball high up on the pitch. Mingueza set up a three-man backline, so even if one of his teammates left his line to press forward, the defensive line remained somewhat intact.
That's why Pique-Garcia stepped out of his defensive line without hesitation, anticipating the ball and destroying Espanyol's counter-attacking possibilities.
Conclusion
Even though Xavi won the first match by 1-0, there have been some encouraging adjustments. The match's quick transitions from defensive to offensive and offensive to defensive were impressive. The efforts of the Barcelona players to quickly regain ball possession off the ball are the most eye-catching thing of the match.
Barcelona, on the other hand, lost control of the match when stamina was depleted towards the end of the game as a result of their high-intensity performance from the start. The game's conclusion could have been different if Espanyol's strikers had not wasted easy chances. Despite the fact that Barcelona produced numerous chances throughout the game, the forward players' misses were particularly notable.
That being said from the first match of Xavi, a change of coach will not solve the problem of Barcelona overnight. To return Barcelona to their previous grandeur, Xavi will need both time and a lot of quality players on the pitch.
By: Amartya Das Dip/@amartyadasdip
Featured Image: @GabFoligno / Pressinphoto – Icon Sport