Antonio Conte's First Premier League Match at Tottenham Wasn't a Classic – But the Signs Were There
Antonio Conte is, no doubt, one of the best innovators in the modern era. This makes his move to Tottenham Hotspur not only exciting but a true test to the genius of Conte. Spurs, for too long and since the peak Mauricio Pochettino days, have lacked a true tactical identity that can take them to the top. If anyone can install that with next-day delivery, it's Conte. 
Conte's sides, despite tweaking shape from club to club, always hold key principles that have stayed true to the Italian's success throughout the decade.  In his two opening games – a 3-2 win against Vitesse and a 0-0 draw against Everton – you can already see the blueprint.
The patterns, the structure, and the movements that tell you within time this side could be coached into a true Conte team. Of course, against Everton specifically, it wasn't always a smooth watch but that will come in time. It always does with Conte. 
Advanced Wing-backs
A key theme of a Conte side: the wing-backs pushing on to create attacking overloads in the final third of the pitch. This pattern has been the most obvious when watching Spurs' two most recent games. Emerson Royal and Sergio Reguilon have found themselves in completely new roles.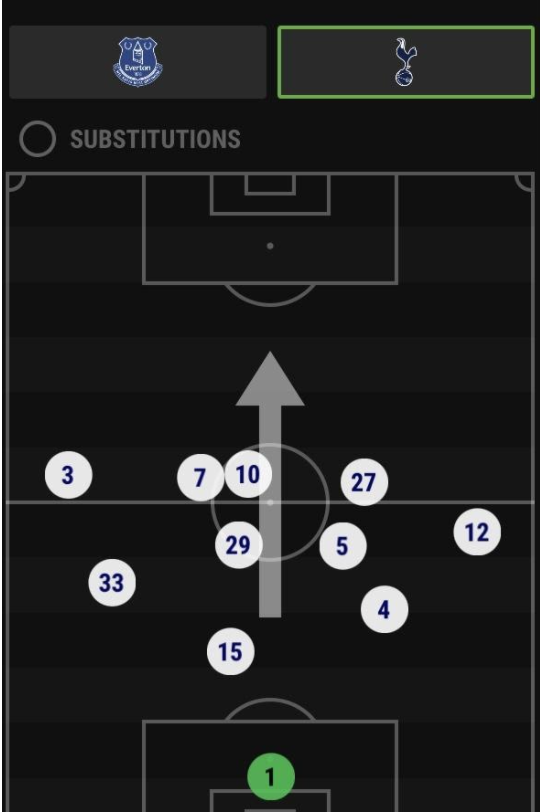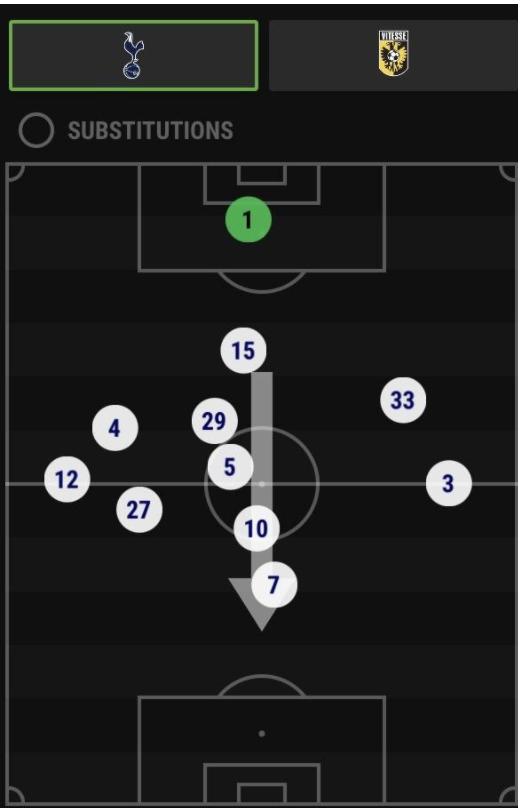 Photo: SofaScore
In the photos above, you can see the average positions of Spurs' players in the two matches. Reguilon (3) is Spurs' highest-positioned player in the match against Everton. Emerson (12) is slightly behind the half-way line but still level with the midfield two. We can observe similar sight against Vitesse, with players exactly level on the half-way line. 
Also, it is clear to see how they are afforded a license to do so. You can see Cristian Romero (4) closely behind Emerson in both images – making sure the space that he vacates is under safe control, with Ben Davies (33) doing similar with Reguilon. 
This simple structure is a key principle to recent Conte teams. Think of how effective Marcos Alonso, Achraf Hakimi, and Victor Moses were in an offensive sense under him for Chelsea and Inter Milan retrospectively. In fact, Spurs' only two chances in the first-half against Everton came from late surging runs from each wing-back into the box. 
For the simple fact that a crazy, frenzy of a Europa Conference League game against Vitesse is hard to draw a tactical conclusion from, this article will only dig deep into the 0-0 against Everton. In the example below, Reguilon has worked some space for a cross. Everton's defenders are too concerned by Lucas and Son in the box, so they don't notice Emerson, now with a full license in his new role, flying into the box as a late arrival.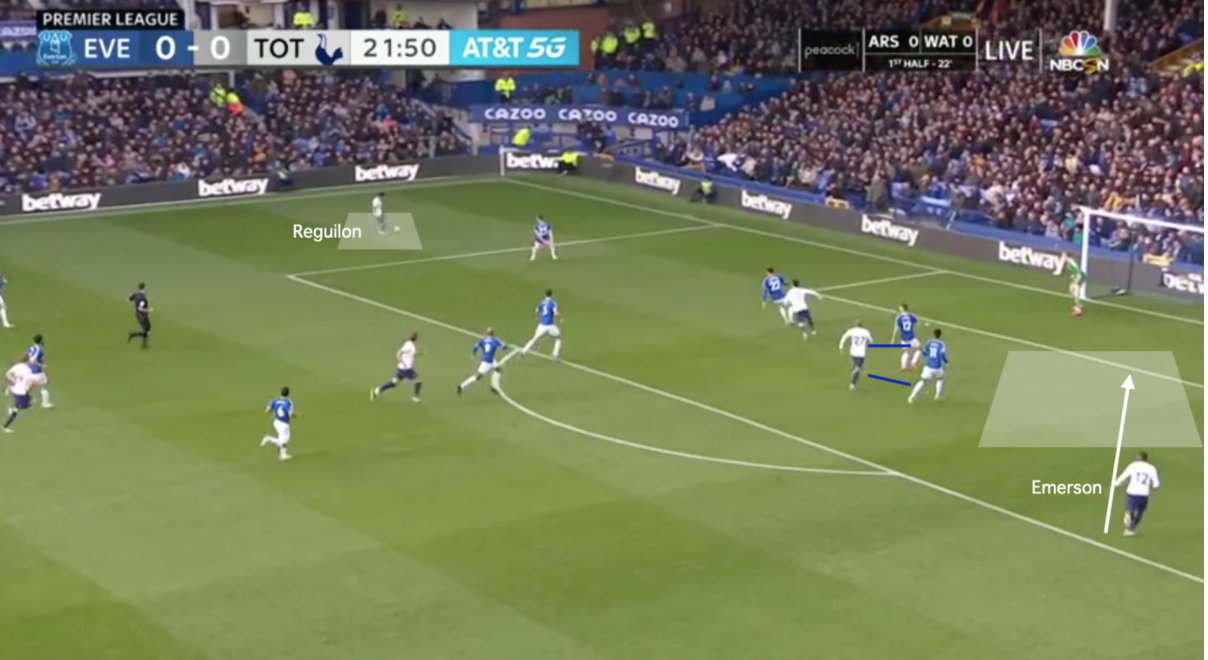 Reguilon's cross towards the emerging Emerson was too soft and floated so it gave Demarai Gray a chance to recover. Emerson did get a head on the ball, but it flew over the bar. The first example of a classic Conte theme that, with a bit more quality and time, could end up in the back of the net.
As you see below, the second example of this was a chance that should've ended up in the back of the net and it was from a late run from Reguilon this time.  Kane picks up the ball on the right-hand side and the Spaniard, on the left, steams into the box on Ben Godfrey's blind spot (like Emerson on Gray's in the last example).
This sort of late movement is often a big problem for defenders, especially when their side doesn't match up with a wing-back system. The opposition full-back can sometimes get caught between marking the space or the run behind them, or maybe even trying to stop a more central runner.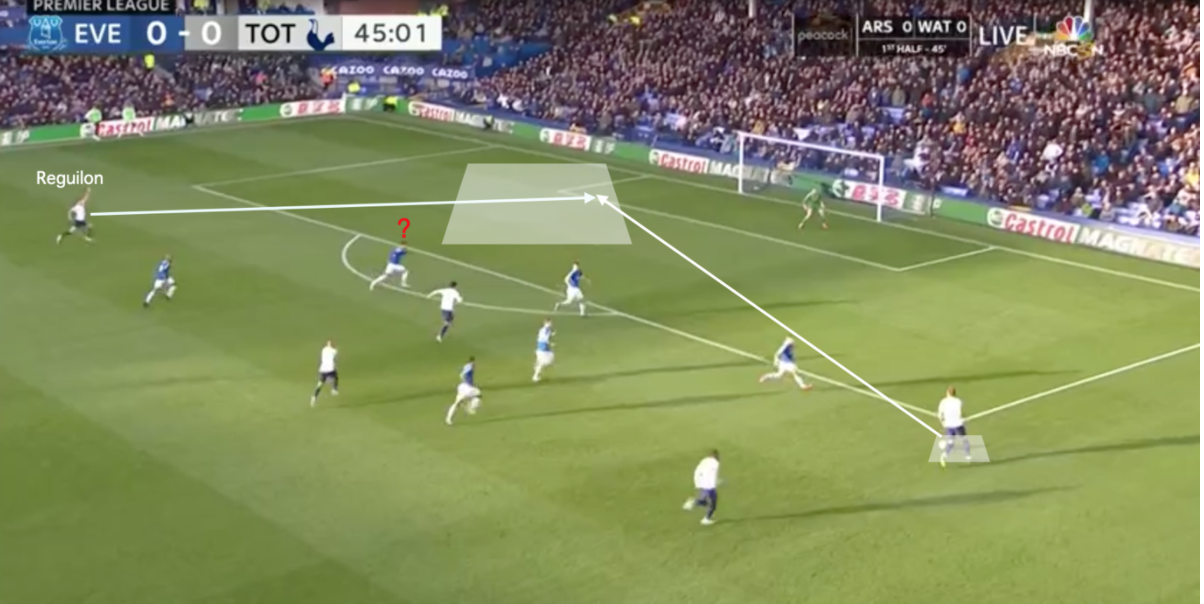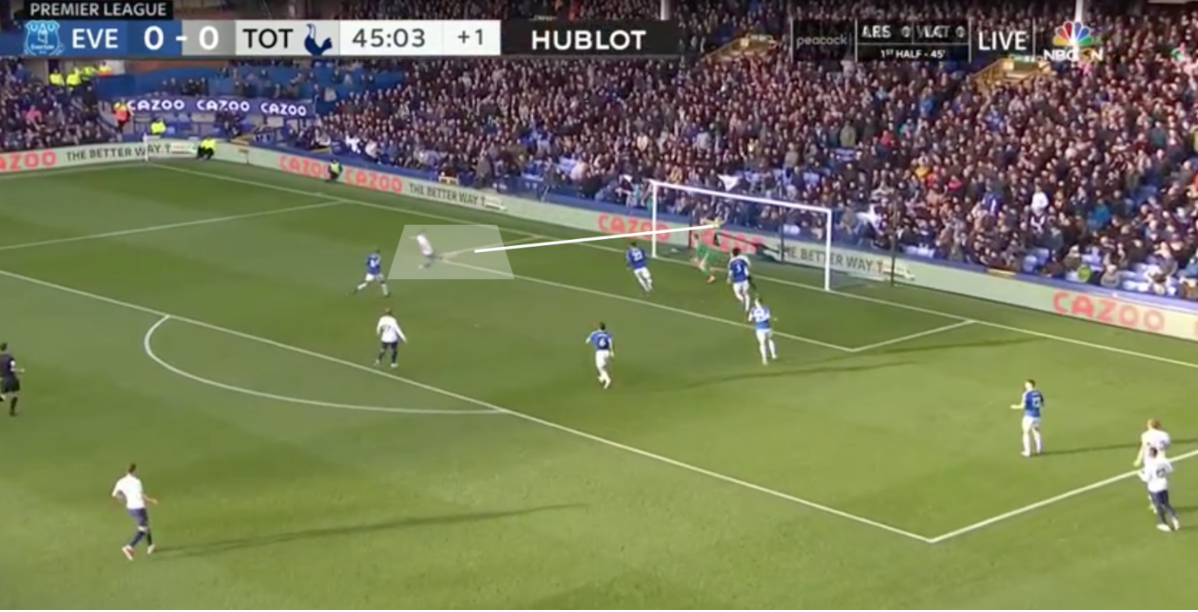 Kane picks out Reguilon with a beautiful teasing ball across the box which falls into the 24-year-old's path but, on the stretch, he can't keep the strike down and widely blazes it over. The wing-back would be the first person to say that it should've ended in the net bulging.
Scoping this mistake into a further issue, Reguilon is a player that has the ability to be a fantastic wing-back, but he is sometimes too erratic and doesn't quite have the calm, controlled tendencies that Conte will want in his machine. However, this is coachable. The 24-year-old has great attacking purpose and the energy that Conte requires: he just needs some traits tweaked.
It would not surprise anyone if Reguilon, with time and coaching, becomes one of the league's finest in this position. After all, Ashley Young, Victor Moses, and Matteo Darmian have won the league under Conte featuring as his wing-backs for Chelsea and Inter Milan.
Build-up Play
There is a lot to digest about Spurs' build-up play. For the first time in years,  there was a demand and intention to start the build-up play deep with the three centre-backs. Eric Dier, Cristian Romero, and Ben Davies all wanted to receive the ball in their own area.
The midfield pivot – Oliver Skipp and Pierre-Emile Hojbjerg – were also situated very deep to try and provide safe passing options as you can see in the image below. Moreover, Conte tried to lure Everton into a pattern we saw a lot when he was at Chelsea. 
The play would be situated on one side, the left in the example below, which brings over numbers and attention from the opposition. By doing this, it leaves the other wing-back with potential space to exploit if a switching pass can be found. David Luiz did this to Moses for fun in 2016/2017. You can already see in the first minute of play that Spurs are learning some of Conte's patterns of play in possession.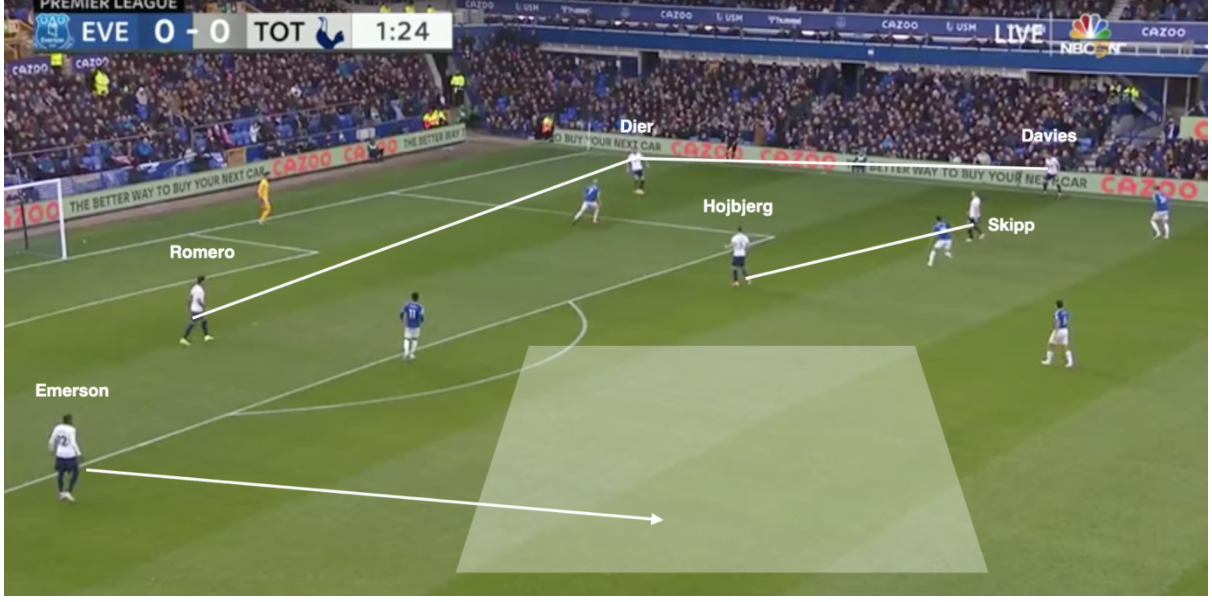 Speaking of the forward players, they were instructed to stay very high in the first phase of build-up play. This was where Tottenham struggled, there was a big disconnect between midfielders and attackers with little cohesion between the two. 
This was partly because Everton engaged Tottenham high which successfully stop their progression through the lines: Benítez's side did this well despite not turning the ball over much. But what it did do was block Spurs' front three eventually receiving the ball as Conte's side were not allowed to play through the thirds, which was the intention. 
A lot of Spurs build-up play was between the midfielders and defenders with little penetrative actions into their dangerous forwards. Tottenham kept the ball moving well, but it lacked a killer pass through the Everton press: another thing that could come with time under Conte's coaching.
This was why Spurs failed to get a shot on target, again. They just couldn't move the ball into good areas quick enough and when the rare opportunity came, which was usually a through ball to a runner, they didn't show enough sharpness and quality. It is something for Conte to work on — in fact, the creative disconnect between midfield and attack is probably his biggest issue right now.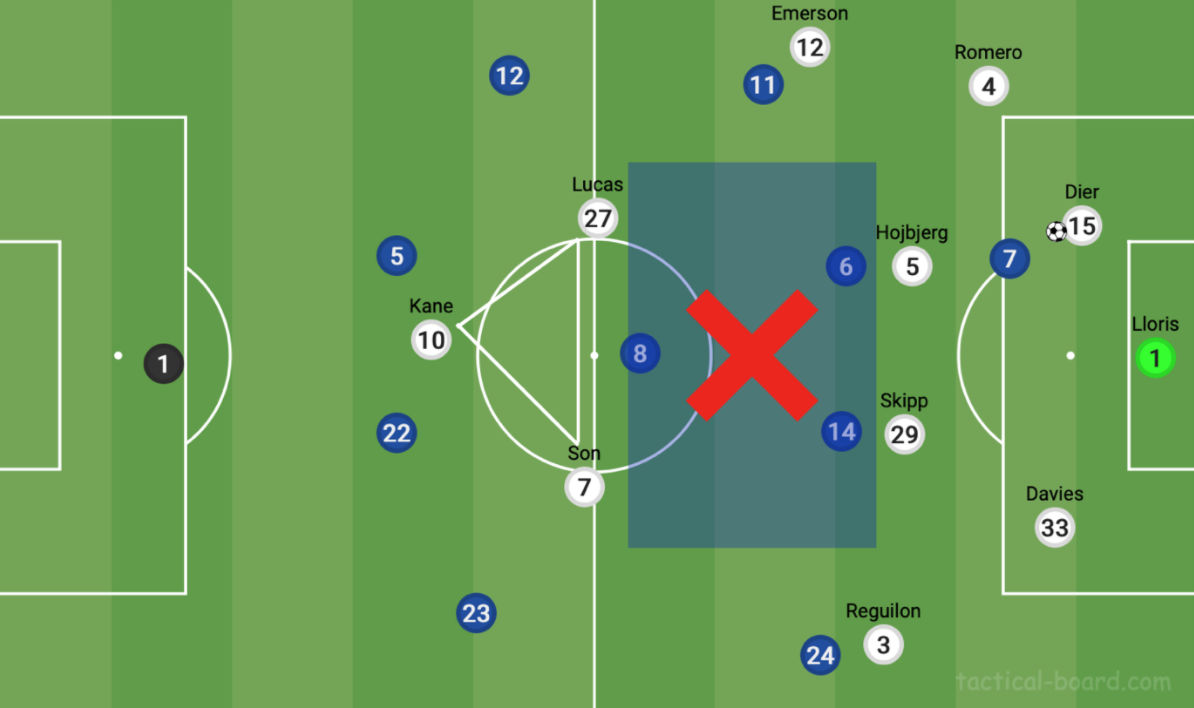 The only small joy Spurs got offensively was when they created turnovers through their midfield pivot pressing and then being quick in transitions. They almost won the game in the dying minutes when Giovani Lo Celso hit the post and the attack was started through this. The question surrounding Pierre-Emile Hojbjerg and Oliver Skipp playing together in midfield will only grow after this match. 
The pair have good individual qualities but struggle to show much impetus in possession, especially progressing the ball and breaking through a press: a key problem in Spurs' void of creativity this season. 
However, the instance below shows why they are chosen for their work off the ball. As a pass is about to be played into Mason Holgate, Hojbjerg presses him with intent – turning the ball over which Skipp can then pick up and start a dangerous counter-attack.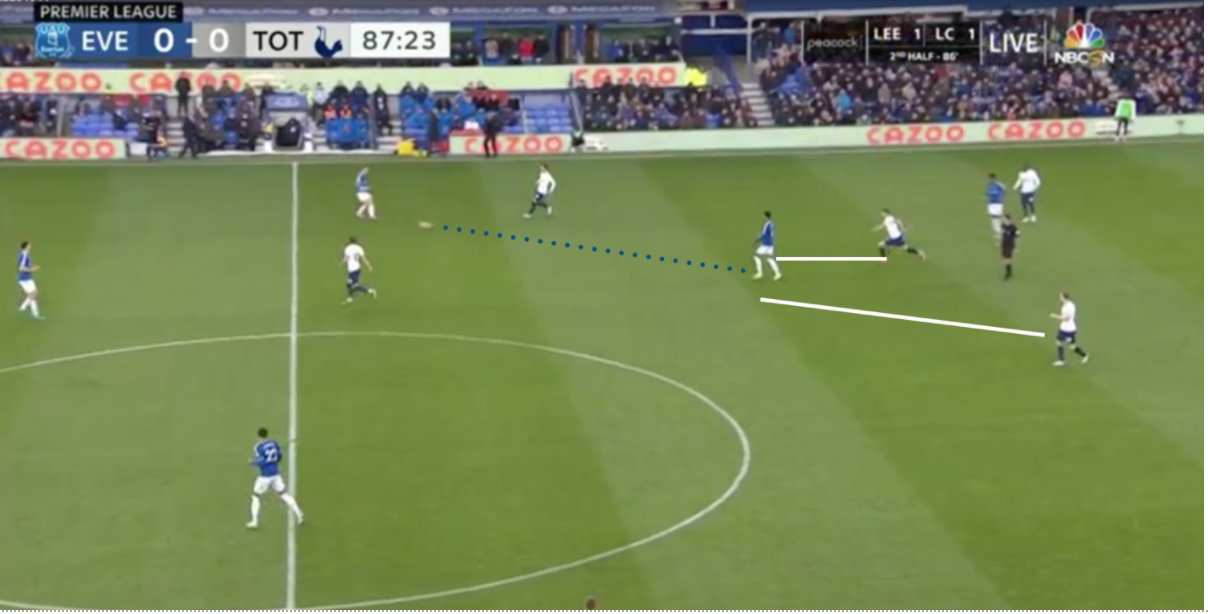 Oliver Skipp then eats up a lot of yards to tee up Giovani Lo Celso, whose curling effort hits the post from outside the box. It was the closest any side came to finding the opening goal.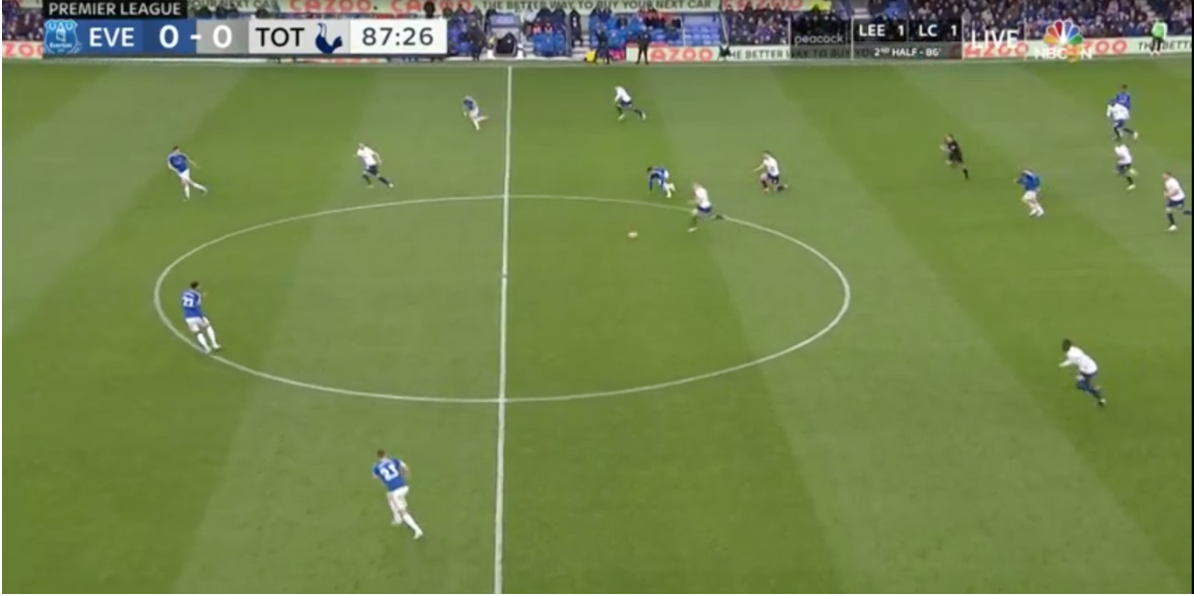 Despite generally holding a solid shape off the ball, Spurs did struggle to turn the ball over effectively – this was a rare example. Again, you can draw it back to Conte's Chelsea team. Nemanja Matic and N'Golo Kante did this a lot which then gave Eden Hazard, Pedro Rodriguez, and Diego Costa had a lot of joy in the transitions because they were kept so high up the pitch.
Whether Conte will stick with Hojbjerg and Skipp together because of this will be interesting. The feeling is that he will twist and put a more natural ball player like Tanguy Ndombele in for example. But you would lose the threat of winning the ball like above without the duo of Skipp and Hojbjerg. A riddle Conte must solve.
Off the Ball
Tottenham didn't press Everton high, but still showed more intensity and aggression off the ball than they did under Nuno. Overall, they defended well by only conceding 0.58 XG. Spurs' midfield two, as highlighted above, were quite aggressive in pushing onto the opposing midfield two (Allan and Ben Davies in photo below).
This formed a line of four in the mid-block by them joining Heung-min Son and Lucas Moura with Harry Kane the lone striker off the ball. If the ball was fed out wide, Spurs had the luxury of their wing-backs pushing in as well to stop Everton's progression down each wing.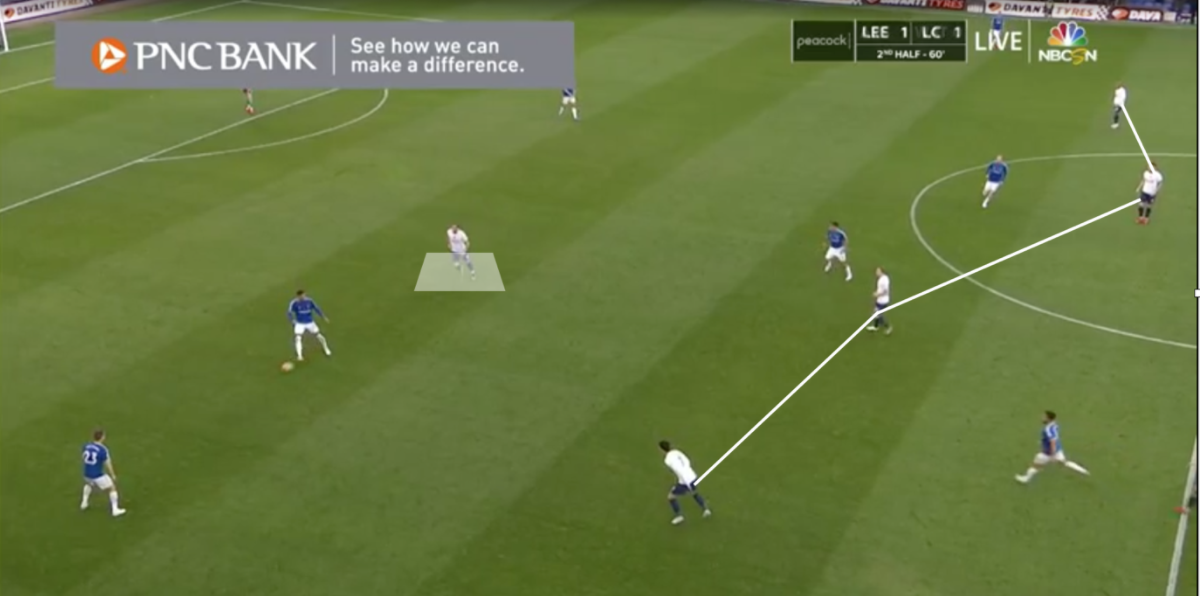 During the second-half especially, Everton forced Tottenham to lose territory and retreat. This brought out another Conte classic: playing a straight line of five in defence when they need to see through a game or a bad period. Spurs defended deep for sections of the game but did stop Everton from getting in dangerous areas for the most part due to their conservative 5-4-1 off the ball.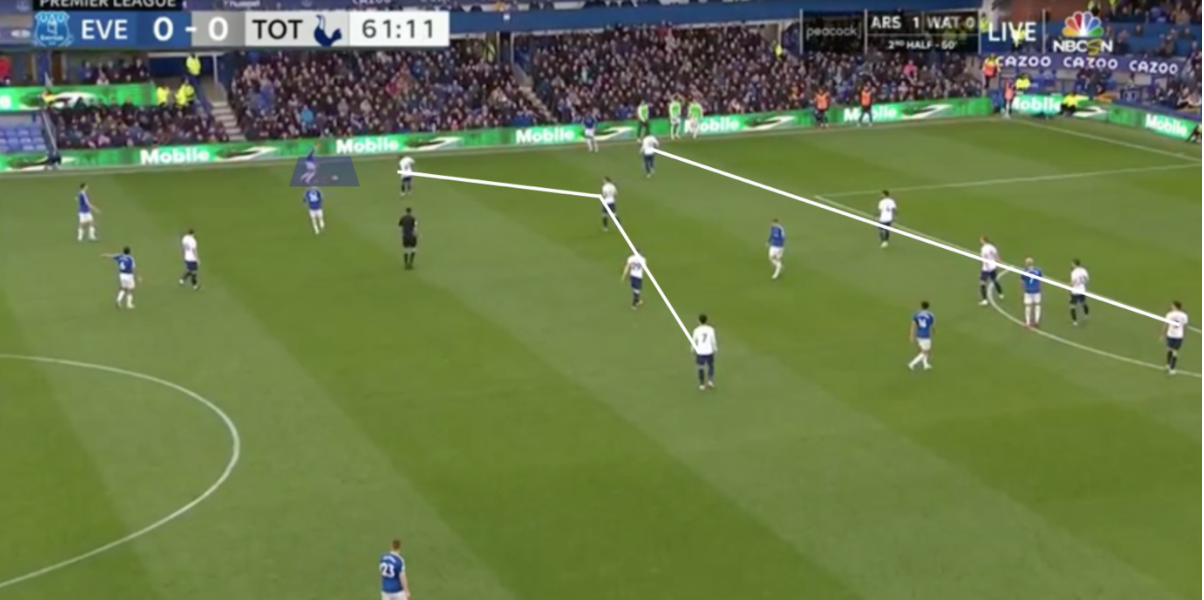 So, Conte's first Premier League match for Tottenham overall, on basic viewing, was disappointing. But given he has only had a couple of training sessions with this squad, it is impressive the number of patterns and structures he has already drilled into these players. Now, it is about fine-tuning these aspects so they, in time, can become a Conte machine. The signs are already there.
By: William Furness / @w_furness1
Featured Image: @GabFoligno / Chris Brunskill / Fantasista / Getty Images