Aston Villa: What Went Wrong and Can Steven Gerrard Fix It?
Aston Villa have certainly seen better times, and it's no surprise they recently sacked Manager Dean Smith after a horrible run of form that saw them lose six out of seven matches in all competitions. But Villa and Smith had been there before, at the tail end of the 2019-20 Premier League season, Villa were gifted a point by VAR's Hawk-Eye goal-line technology against Sheffield United when the edge of the line was obscured by players and the tech couldn't see that the ball had crossed the Villa goalline.
At the end of the season Villa finished one point ahead of Bournemouth who were relegated and doomed to financial free-fall. Although Villa would go on to justify their PL inclusion the next season with a 10th place finish, questions have arisen once-more this season after their most recent poor run of form left the Villains in 16th place in the Premier League after 11 match days.
Smith's replacement Steven Gerrard has made an immediate impact as Villa beat Brighton 2-0 in this weekend's clash thanks to two late goals from Ollie Watkins and the captain Tyrone Mings. What exactly went wrong with Dean Smith's Villa this season, and how can Steven Gerrard's Villa right the ship? 
Firstly, Dean Smith. Smith has managed Villa since the financial takeover by billionaires Nassef Sawiris, and Wes Edens was completed in 2018. Villa are Smith's boyhood club and he has never technically been sacked during a managerial career (until last weekend) still in its nascency that began in 2011 with his first job as manager of League One outfit Walsall.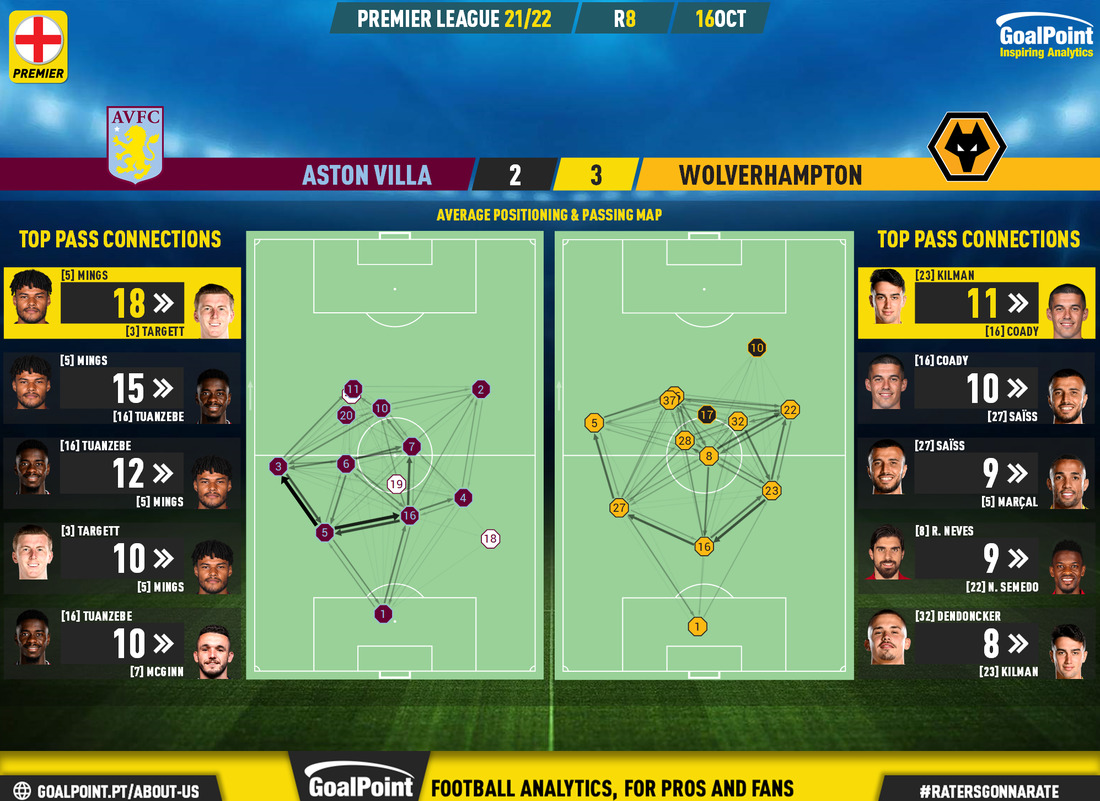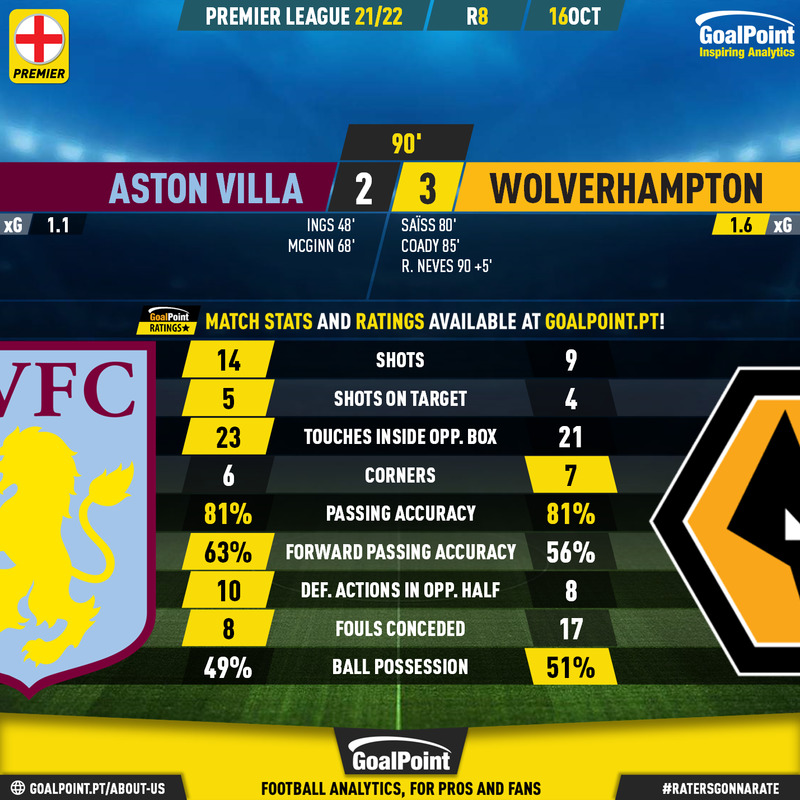 Top passing connections and key statistics from Wolves' 3-2 victory over Aston Villa, from Goalpoint.
Smith is a modern English coach, he preaches expression, team chemistry, and populates his squads with technically gifted wingers, old school center-halves and forwards who do the "dirty-work." Unfortunately, Smith's tactics have largely failed him since he arrived at Villa Park, at the time of his sacking, the team sat just two points from the drop zone despite having invested nearly $250 million in the last two years alone. Smith simply failed to adapt to the loss of their talismanic superstar Jack Grealish who left for Manchester City in the summer. 
Tactically, Villa have been inconsistent this season. For the first half of the season Villa used a 4-2-3-1 which has been Smith's favored formation steadily throughout his tenure that has allowed the focal playmaker in the team (Grealish previously, Emiliano Buendia more recently) operate in essentially a free role in whichever half space they prefer. But things weren't working out.
After a 3-0 loss to Chelsea early in the season, Smith began adding a center back to his formations, making room for Axel Tuanzebe or Kourntey Hause to step into the center of defense to create some compactness with John McGinn and Douglas Luiz . This seemed to work initially, Villa picked up all six points over their next two games, a 3-0 victory over Everton, followed by a huge 1-0 win at Old Trafford against Manchester United.
Things were looking up but there was still an issue: How to fit new signings Danny Ings, Buendia, and Leon Bailey into a system that required five defenders and two holding midfielders to really work. In the end, this dilemma foreshadowed Smith's doom. To add injury to insult, both Bailey and Ings have struggled with fitness issues this season and haven't had time to really get into the same team together.
During their last six matches, Smith chopped and changed formations regularly in a desperate attempt to find something that worked. He played a 3-4-1-2 in a 3-1 defeat to Arsenal that saw Buendia drop behind Watkins and Ings to help create a more fluid structure; this too, failed.
In his final game in charge against Southampton, Smith reverted, almost poetically back to a more traditional 4-2-3-1 which almost worked, Villa had some solid chances in the first half after going down 1-0 early, but still they were unable to climb out of the hole and ultimately dropped all three points.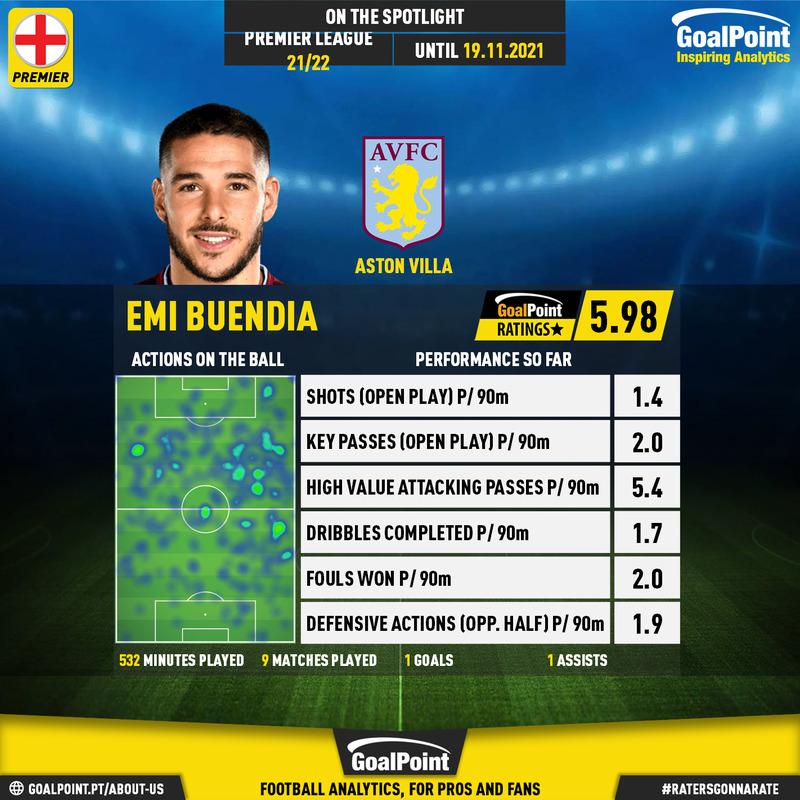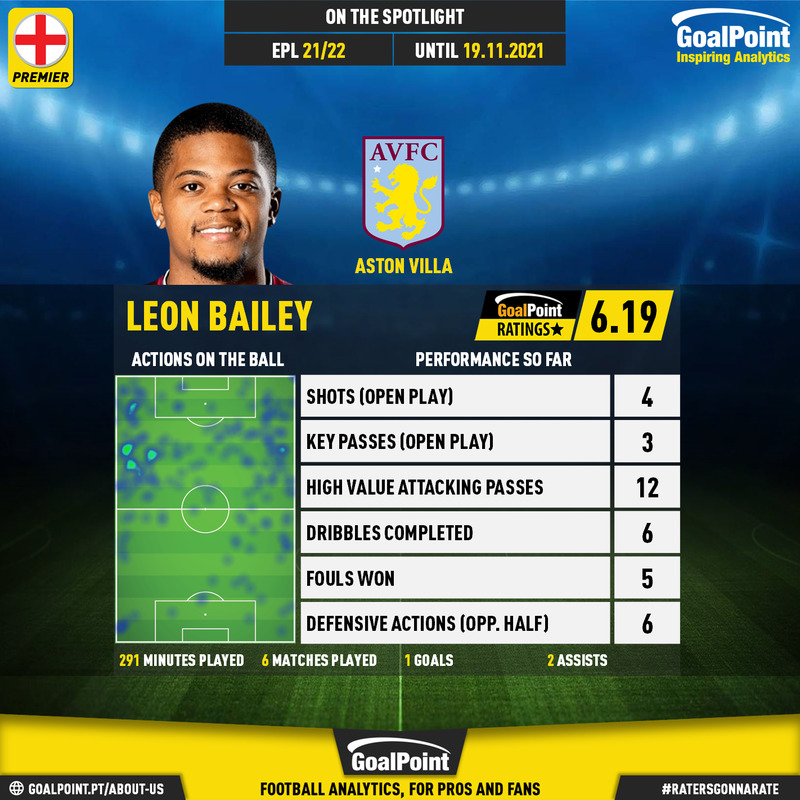 How Leon Bailey and Emiliano Buendia have fared since joining Villa this summer, from Goalpoint.
Smith's tenure was defined by inconsistency, he seemed to have a good grasp on the kinds of player's he wants in his squad and some of them have seen great success under him, namely Emiliano Martinez who has been a mainstay since his move from Arsenal last summer. But aside from signing "good" players, Smith has nothing else to show.
When a club are signing top profiles that seem to fit an identity that they are trying to build but throw away the tactical foundations of that "identity" as soon as they hit a rough patch, it is indicative of either a poor club structure in which the coaches and the board and/or sporting director are at odds, or a coaching staff who have ideas for how they want to the team to play but don't actually know how to execute those ideas on the pitch on matchday. I believe this Villa team suffers from the latter issue.
Smith never figured out how to keep his teams compact long enough to sustain real pressure, he relied on a pivot in McGinn and Luiz that didn't have enough physical presence to cover the backline effectively. When Villa moved to a 3 at the back, their wingbacks, Matty Cash and Matt Targett were unsure of where to be vertically on the pitch and made it easy for teams to overload Villa in midfield during the build-up phase because the Wingbacks were either too far up or too deep.
Further up the pitch, despite having top physical and technical strikers in Ings and Ollie Watkins, Smith never figured out an effective pressing structure. In a 3-2 loss to Wolves, they sustained a decent press while the ball was in and around the opposition box, but dropped off immediately once the ball got close to the halfway line, reverting to a single central pressing striker while the other striker dropped deeper to help on the counter if the ball was won back suddenly.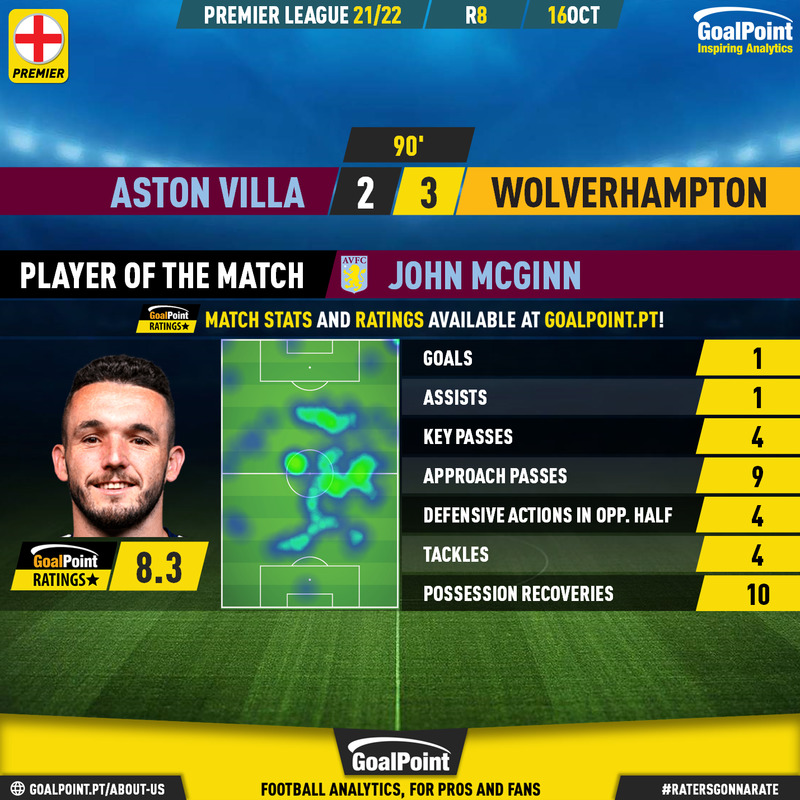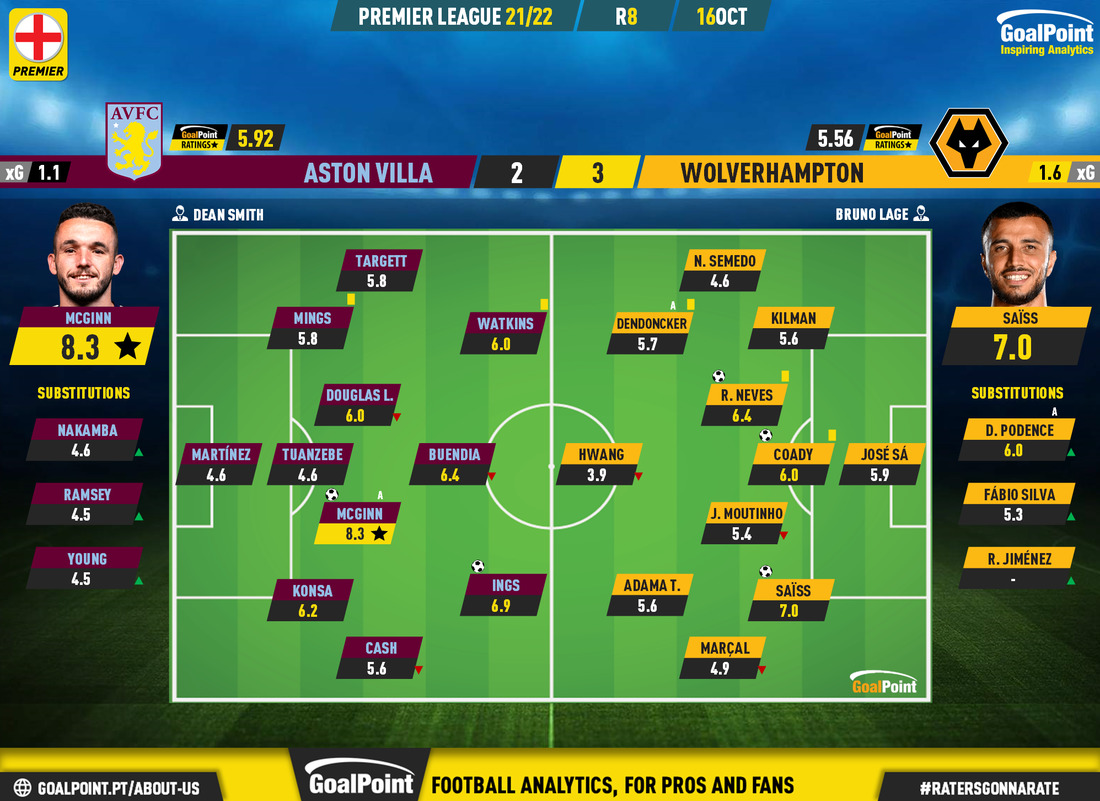 Player ratings and John McGinn's individual heroics from Villa's match against Wolves, from Goalpoint.
Simply put, Smith never set his teams up for consistent success, there were always gaps, even when they played 4-2-3-1, and adding a center back only complicated things because Smith was already poor at drilling his teams into a steady shape. So, it brings us to the question: what kind of manager is Steven Gerrard, and does his long-term vision fit the profiles he currently has at his disposal?
At Rangers, Gerrard deployed an effective 4-3-3 that was fluid in how it dealt with different kinds of defensive blocks. In open games, Gerrard used high wingers and a central striker to destroy teams on the break and against low-blocks deployed inverted wingers or creative forwards/midfielders to find holes in the block via the half spaces. On the defensive side of the ball, Rangers were compact and possessed such quality compared to their average opposition that they were able to stifle teams with their high and physical pressing.
Gerrard will need to create defensive solidity and has already signaled a change by playing a back four against Brighton, something that the Villa players are clearly more comfortable with, it remains to be seen how he will line up defensively against better teams but he's already making good decisions in that department since his appointment. 
There is no doubt that Gerrard can rescue Villa's season with the profiles he has at his disposal. They possess a team full of technically proficient attackers such as Buendia, Watkins, Ings, and Bailey and conversely have a decently structured midfield, although they need more defensive options in the middle. Gerrard would be spoiled for attacking options and would have three good center backs in Mings, Tuanzebe, and Hause with one great one, Konsa as the anchor.
With Martinez in goal and Cash and Targett on the flanks, Villa look a mid table team at worst on paper, a manager like Gerrard is the perfect fit for a team whose season will be defined in games against teams with lesser quality profiles who Villa should look to put two to three goals past consistently. Gerrard has also shown ability to squad-build, something Smith lacked, he signed eight players in the summer before last season with an average age of just 24.
Rangers subsequently won the Scottish Premiership unbeaten and reached the Europa League Round of 16 in the process. Gerrard has a structure, and an identity. Most importantly he knows how to get his attackers involved with each other, another thing Dean Smith struggled to do after losing Jack Grealish in the summer. 
Using the Touchline: A Deep Dive Into Rangers's Pressing Scheme
To create long-term success Gerrard must create an organized defensive structure that is clearly defined and systemic. It must be able to support weak links such as Tyrone Mings' issues playing out from the back and Emi Martinez's sometimes poor positioning. Moving into midfield, Gerrard needs a physically imposing #6 who is able to provide passing support during the build up to get the attackers going.
Against Brighton, Marvelous Nakamba was asked to step into this role but due to his limited passing range, it was John McGinn who was tasked with dropping in and around the six yard box to aid the buildup, unfortunately he was also needed in attack to pair Ramsey just behind the front three of Ings, Watkins, and Buendia.
This issue must be fixed if Villa want to sustain results under Gerrard. At times versus Brighton, Villa were too easy to play through and when they decided to stay compact they struggled to progress. This link must be repaired in the transfer market. Due to their high summer expenditure, don't expect Gerrard to have the funds to plug this gap until the summer.
Instead, judge Gerrard at the dawn of the next season after he's had two transfer windows and nearly a year at the helm. This Villa team are a few pieces away from really pushing for Europe, but their success will be contingent on their new young manager's ability to forge solidity and consistency on uneven ground.
By: Aden Suchak / @eyetestfb
Featured Image: @GabFoligno / Joe Giddens – PA Images