Atalanta 0-2 Juventus: A Highly Rotated Juventus Side Outfoxes Their Opponents in the Second Half
After a first half of no shots on target for either team, Juventus became more aggressive in their pressing and managed to get the three points.
Having recently regained their place in the top four after their 15-point deduction was reversed, Juventus have won three straight matches and are 90 minutes away from the Europa League Final after drawing 1-1 to Sevilla in Turin. After ending April with a 1-1 draw at Bologna, Juve defeated Lecce 2-1 before picking up 2-0 wins against Atalanta and Cremonese. They currently sit second, three points above Inter, four above Lazio and eight above Milan, and they look set to return to the Champions League next season.
Prior to this vital match-up against Sevilla, Massimiliano Allegri rotated his side with key players like Federico Chiesa and Filip Kostić dropping out. Juve went with a 3-5-2 with Wojciech Szczęsny in goal, Danilo, Daniele Rugani and Alex Sandro as the back three, Juan Cuadrado and Samuel Iling-Junior as the wingbacks, Manuel Locatelli, Nicolò Fagioli and Adrien Rabiot forming the midfield, and Arkadiusz Milik and Ángel Di María playing up top.
As for Gian Piero Gasperini's Atalanta, they were without various key players like Ademola Lookman and Rasmus Højlund, with La Dea going for a 3-2-4-1 with Marco Sportiello in goal and back three of Rafael Tolói, Berat Djimsiti, and Giorgio Scalvini. Davide Zappacosta and Joakim Mæhle played as the wingbacks, Marten de Roon and Éderson formed the midfield duo, whilst Teun Koopmeiners and Mario Pašalić were tasked with playing between the lines and linking up with Duván Zapata.
Juventus' Pressing and Attacking Plans in the First Half
With the contributions of Rabiot and Fagioli, Juventus used a high-pressing shape against Atalanta. However, Juventus' intention was to block Atalanta's midfielders from getting the ball, rather than pressing the center-backs. Allegri''s side also wanted to force Atalanta to hit long balls and aimed to win second balls.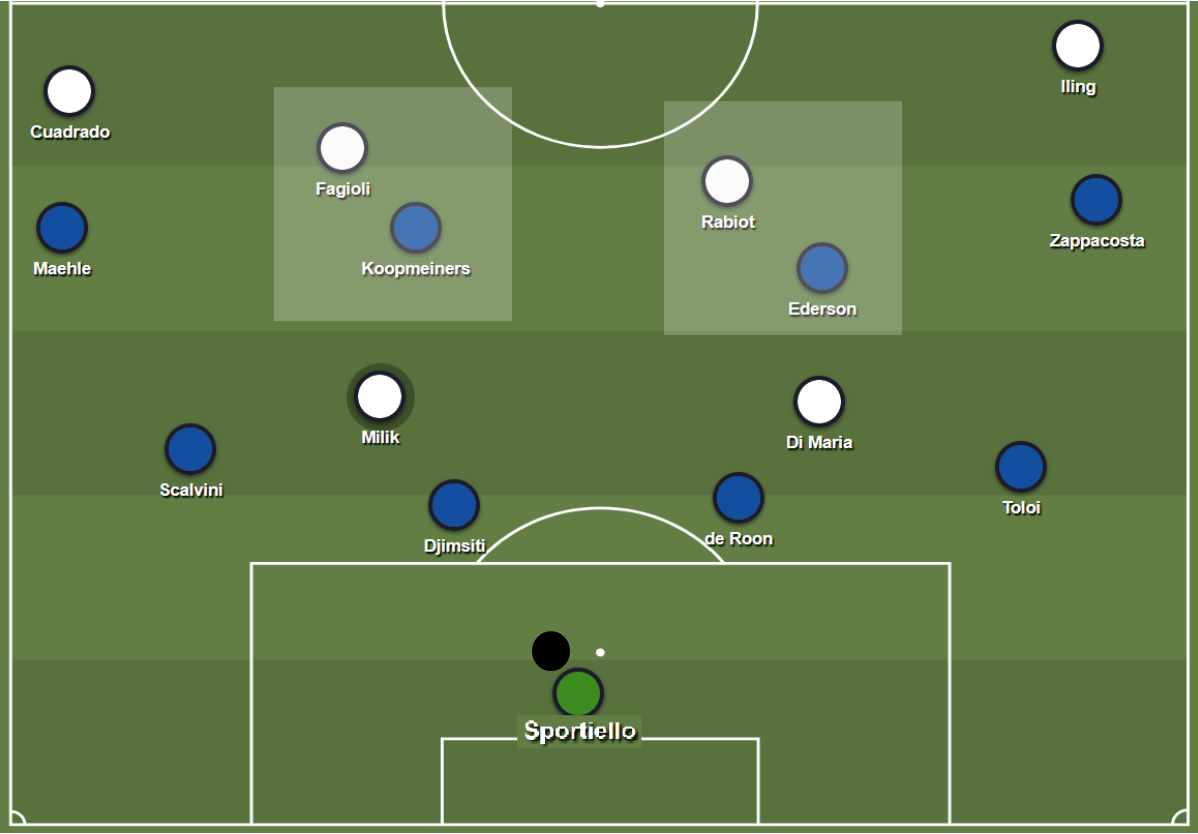 Fifth minute: Even though Allegri's Juventus seems to use a high press, they do not press Atalanta's center-backs aggressively in an attempt to regain possession high up the pitch. Instead, their aim is to prevent Éderson and Koopmeiners from receiving the ball.
When attacking in the first half, Juventus relied on Milik's link-up play and Di María's creativity with his dribbles and passes, but the duo failed to create danger due to their lack of efficiency and poor decision-making. Juve sought to gain numerical superiority against Atalanta's back five and as such, Fagioli and Rabiot were mostly positioned in the final third and often attempted to make late runs into the box.
When building up from the back, Cuadrado was positioned deeper and Iling-Junior was higher. In some instances of the game, Juventus tried to keep the ball on the right side and sent long balls to Iling-Junior on the left, creating a 1v1 opportunity with the opposition defender. Both of Juventus' wide center-backs against Atalanta are natural fullbacks and Juve relied on them when they had possession. They tried to support Juve's attacks from the back send long balls to the opposition half-space but to little avail.
Atalanta's Inefficiency in Attack and Scalvini's Performance
Starting the game with a front three of Pašalić, Koopmeiners, and Zapata, Atalanta struggled to create threats against Juventus in the first half. Gasperini's side has adopted a much more cautious and direct approach this season and it was the same story against Juventus, where they used high block and medium block pressing with 1v1 man marking and were not as aggressive as their opponents in pressing. Gasperini used both Pašalić and Koopmeiners behind Zapata, but the Colombian striker was often left isolated due to his more attack-minded partners like Jérémie Boga and Luís Muriel being left on the bench.
One player who did stand out was 19-year-old center back Giorgio Scalvini, who had the most touches on the pitch and who managed to complete 75 of his 85 attempted passes, the most on the pitch. He blocked a shot, completed two clearances, won four of seven ground duels, and completed three interceptions, but he also stood out from an attacking perspective and registered two key passes.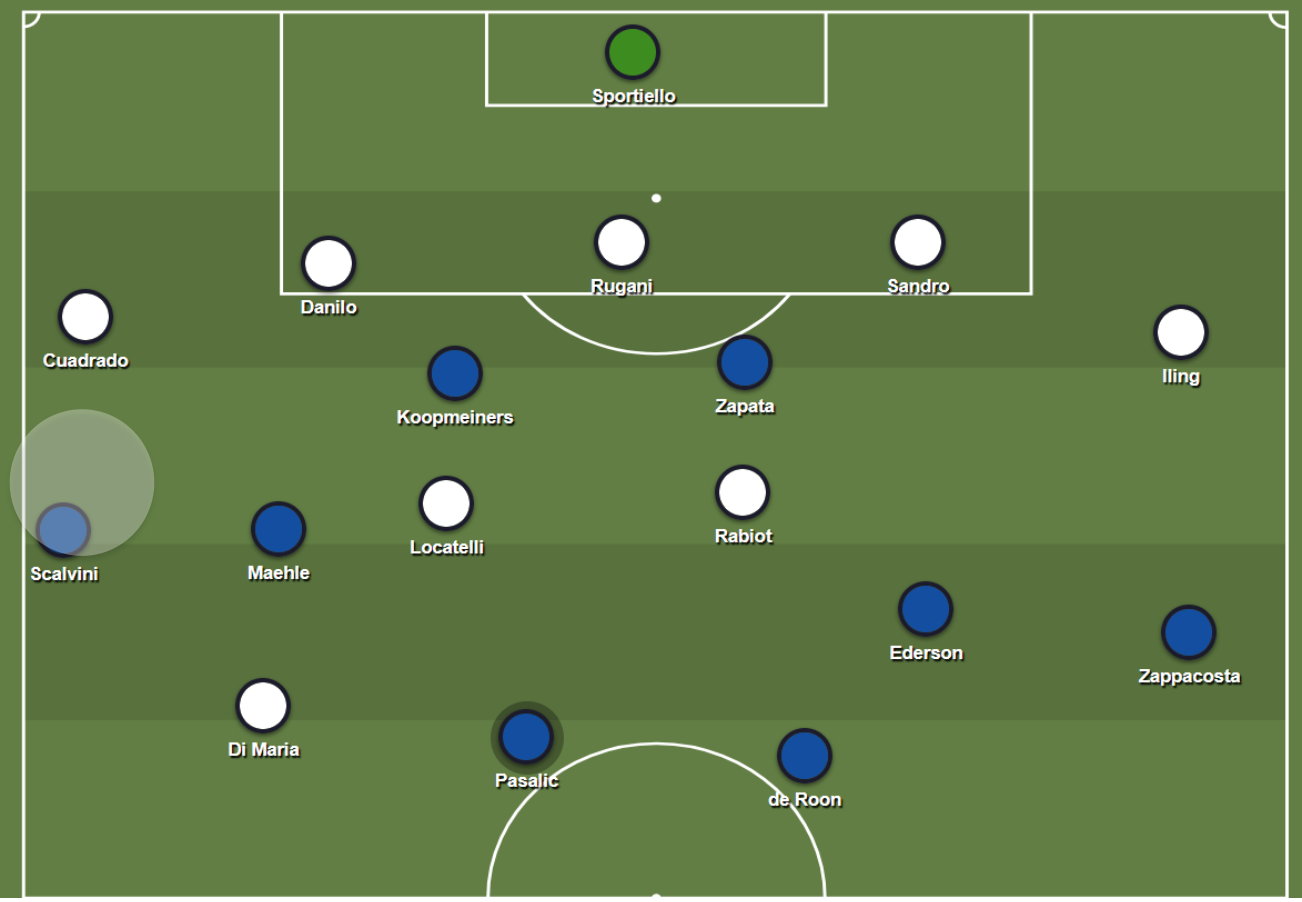 Both teams struggled to create chances due in large part to Juve's rotation and Atalanta's conservative choice of attackers, with neither side registering a single shot on target in the first half. However, Gasperini upped the tempo to start the second half, with Boga replacing Éderson in the 50th minute, whilst Allegri encouraged his team to have more of an aggressive high pressing strategy, which quickly paid dividends for the Bianconeri.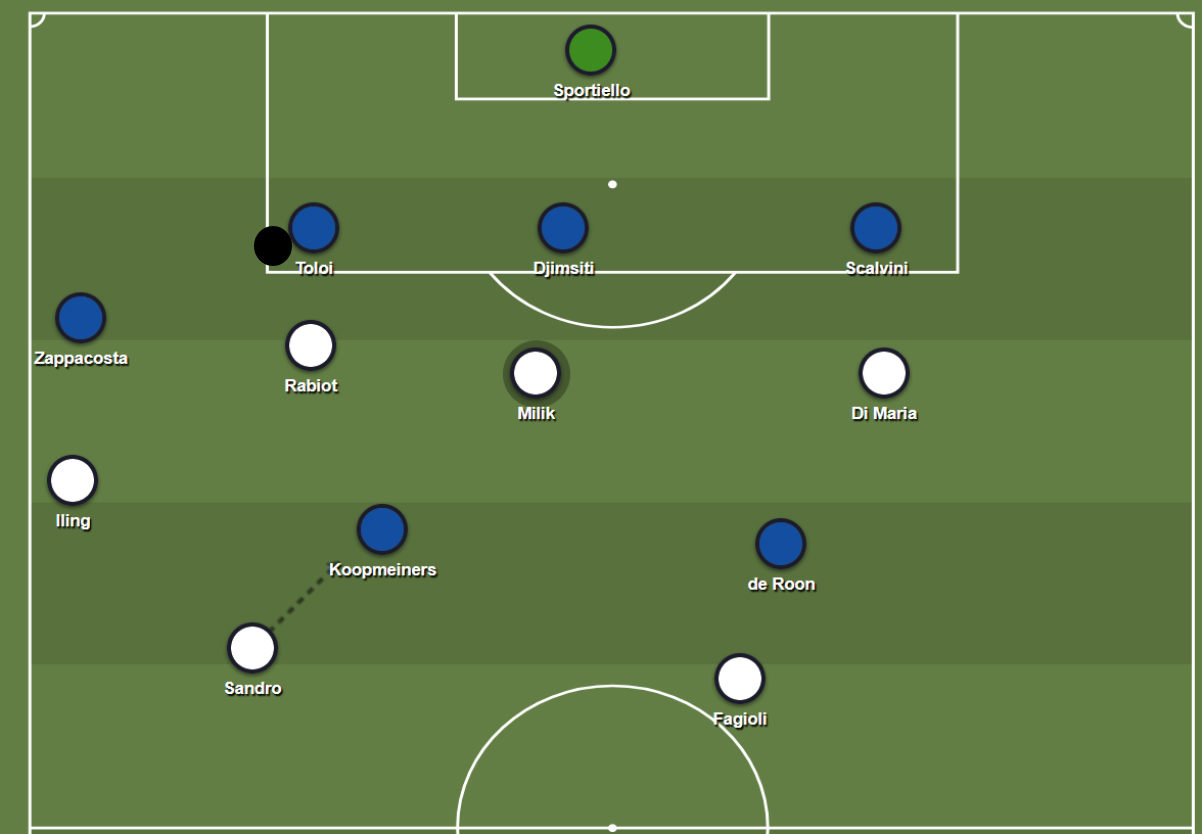 Juventus' high-pressing scheme in the second half. This time, Allegri's side applied a much more aggressive press by covering Atalanta's center-backs, with support from Iling-Junior and Sandro as well.
Juventus took the lead in the 56th minute and the goal also came after their pressing. Iling-Junior robbed Zappacosta of possession and sprinted into the box before dishing it off to Rabiot, whose cross bounced into the path of Iling-Junior who converted from close range. The 19-year-old, making his full debut in Serie A, became the third Englishman to score for Juve in the Italian top-flight after David Platt in 1992/93 and William John Jordan in 1948/49.
After taking the lead, Juventus abandoned their aggressive pressing with Atalanta having more possession and registering 24 shots (1 on target), with Muriel replacing Pašalić at the hour-mark. Five minutes later, Allegri brought on Paul Pogba and Dušan Vlahović for Milik and Fagioli. Juve defended in a low block from this point and attempted to create danger via long balls to Vlahović and counter-attacks, with Juve's backline and midfield being positioned close to one another. It eventually reaped rewards, with Vlahović scoring in the 98th minute to seal the victory.
Conclusion
Despite having 40% possession and 10 shots to Atalanta's 24 (5 shots on target to Atalanta's 1), Juve picked up a well-deserved 2-0 win against Atalanta, showing signs of promise with their aggressive pressing and low-block defending, before following that up with a 2-0 win against Cremonese. Juve have won 23 games in all competitions without conceding a goal this season — only Manchester United (24) and Barcelona (25) have more. Only Barcelona (28) and United (27) have kept more clean sheets this season than Juve (24), whilst only Napoli (42) have picked up more points in Serie A than Juve since the start of 2023 (38).
As for Atalanta, they followed that up with a 1-0 loss with Antonio Candreva scoring in the 93rd minute to secure Salernitana's top-flight status. La Dea have not kept a clean sheet since March 4, whilst their last clean sheet victory came on February 11. They currently sit seventh, nine points above Europa Conference League semifinals Fiorentina, one behind Roma and three behind Milan, and they are looking to make a return to European competition after missing out following last season's eighth-place finish.
Juve will travel to Sevilla and Empoli before hosting Milan and traveling to Udinese on the final day of the season, whilst Atalanta will host relegation battlers Hellas Verona before traveling to Inter Milan and hosting Monza.
By: Osman Can Erkut / @erkutosmancan
Featured Image: @GabFoligno / ANP / Getty Images