Barcelona's Ball Progression in El Clasico Should Have Yielded More Results
Barcelona lost the El Clasico last week to Real Madrid but can definitely vouch for the fact that in the biggest game in Spanish football, they certainly deserved more. The most striking thing about Barcelona was how easy they found it to get the ball from defence into attack yielding many promising chances. The Catalan side did hit the woodwork twice.
Strangely Madrid approached the game using a high press, whilst the midfield pivot would cut off the passing lanes to Gavi and Ilkay Gundogan. With Madrid's front two and Bellingham pressing, Barca were able to find a wide centre-back who could find Fermin Lopez down the line to turn and feed either Joao Felix or Ferran Torres. Even with Gavi and Gundogan unable to receive the ball it didn't matter, Ronald Araujo was able to find Fermin just in behind Madrid's press and quickly release their forwards.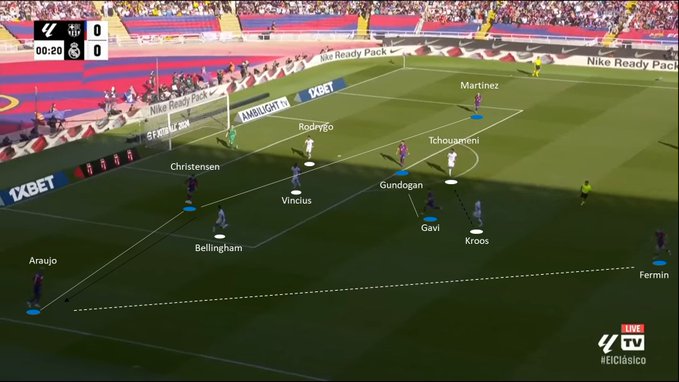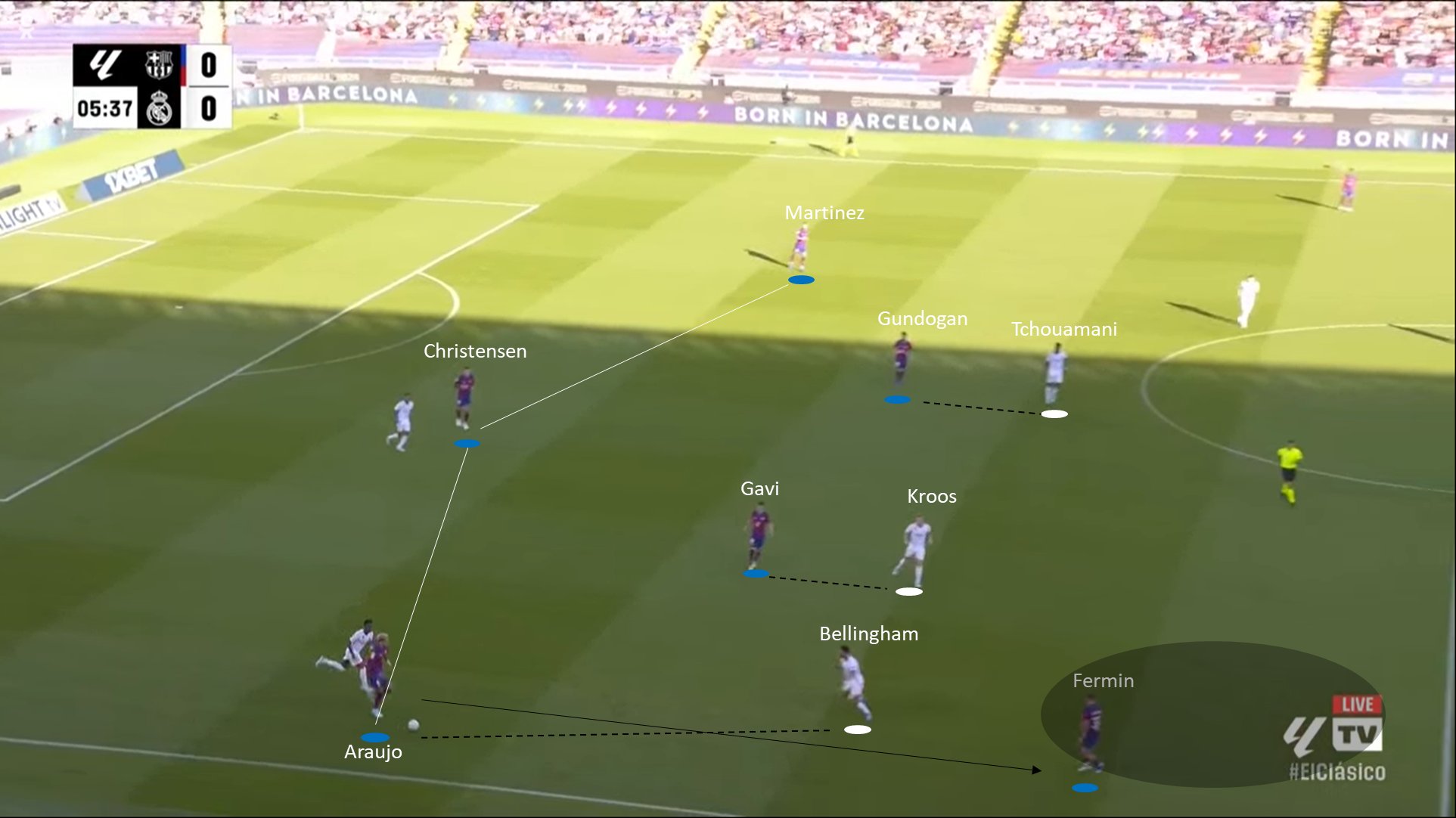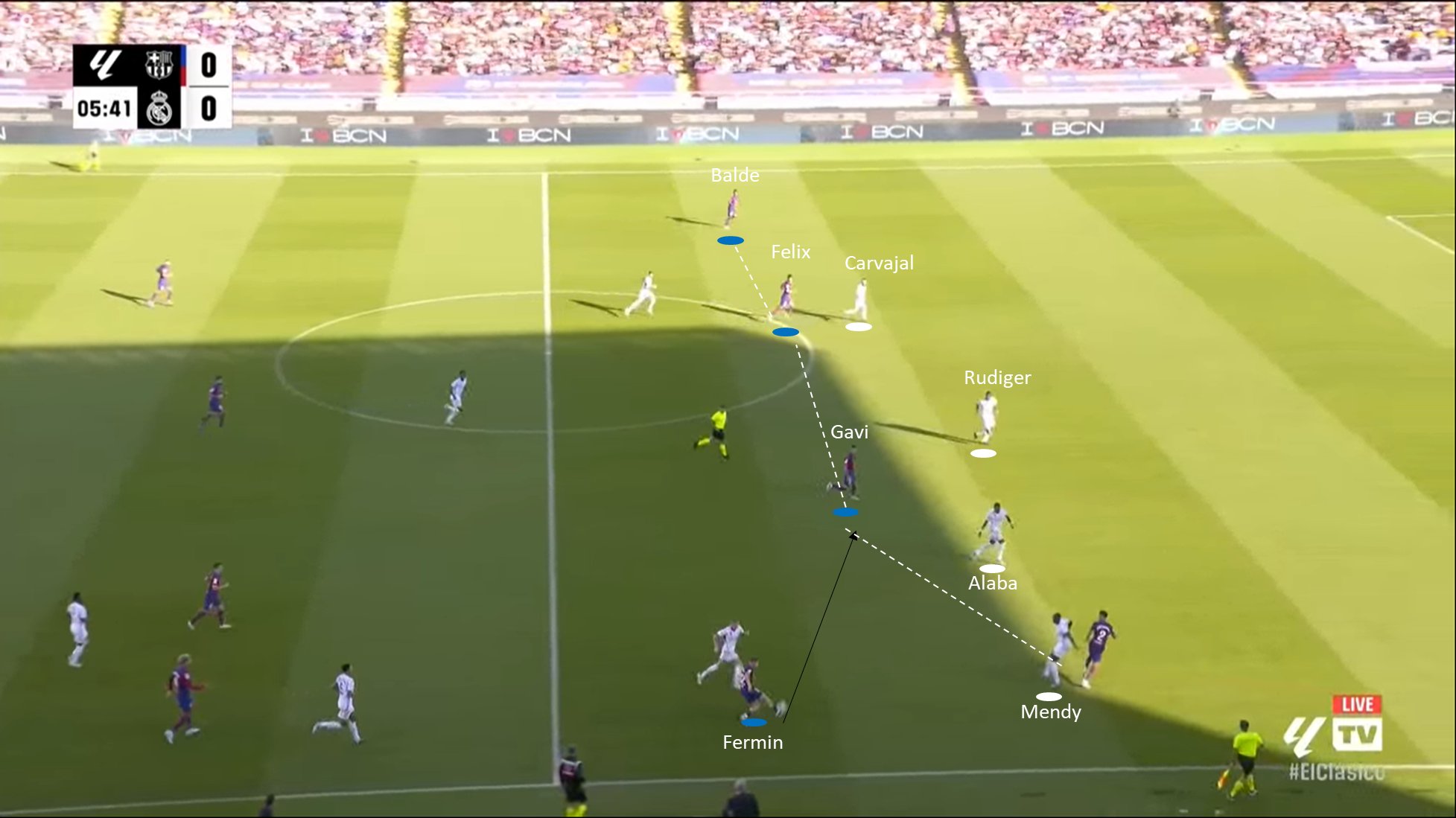 It intrigued me Madrid didn't change this almost the whole game because frankly there were just too many occasions where Barca progressed the ball successfully from defence to attack. Or if Fermin wasn't dropping and being the decisive link, the marking on Gundogan and Gavi wasn't really so tight or aggressive.
When your central midfielders have space and time, they'll easily be able to pick passes out to the forwards. Whenever Felix dropped for the ball he took Dani Carvajal out of the back five with him. Carvajal was man-marking Felix, but it meant when he dropped off for the ball he could drag the defender out of position from the back 5 that Federico Valverde was forming. Felix could receive and drop it wide or dribble, with Barca's front 5 pinning back Madrid's defensive line.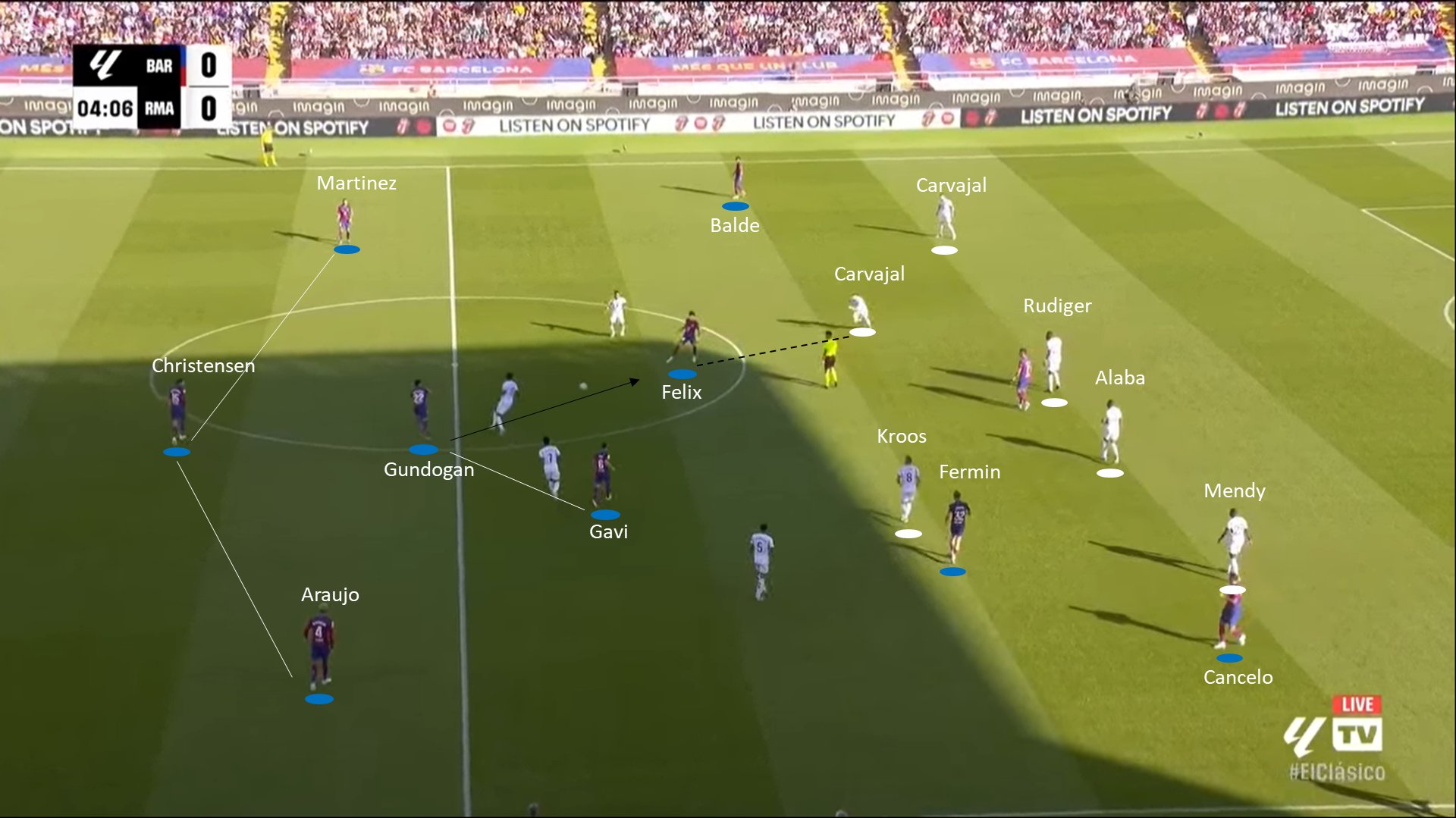 Progress the ball through defence to attack using Fermin or Gundogan and Gavi passing Madrid players in the process. Barcelona got to the box easily it was just chances that weren't converted. They could also transport the ball wide to Joao Cancelo and Alejandro Balde so they could cut in and cross or shoot. 
It feels like this possession-based Barcelona team, whilst excellent at keeping the ball at times, could be more penetrative, even though they created more than enough to win. Real Madrid's press was problematic because there was always an easy spare man to find meaning whoever was in the press was easily bypassed. Once the spare man had the ball he could find a wide winger, and a forward (Felix) would come across to combine dragging a defender with him.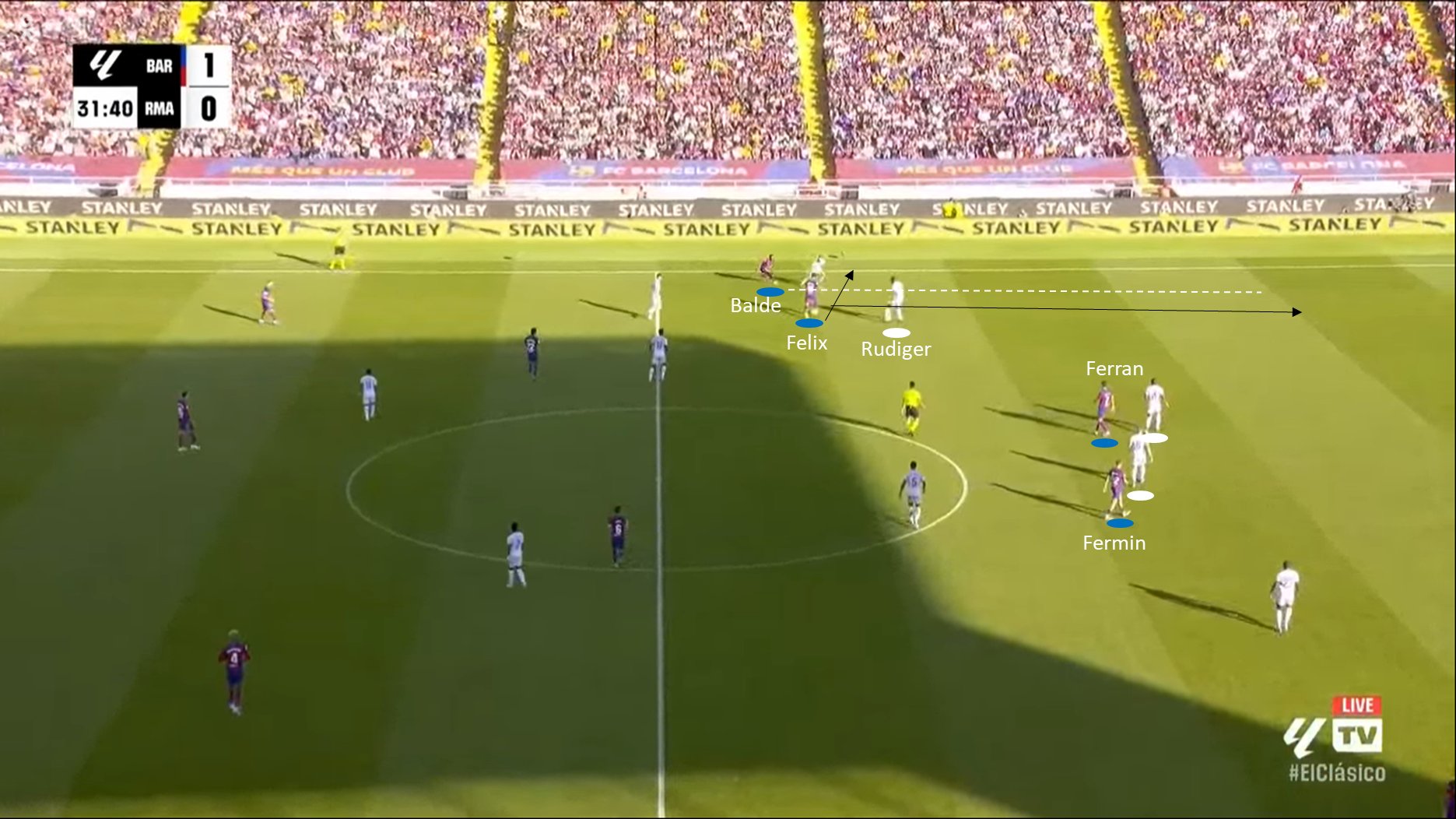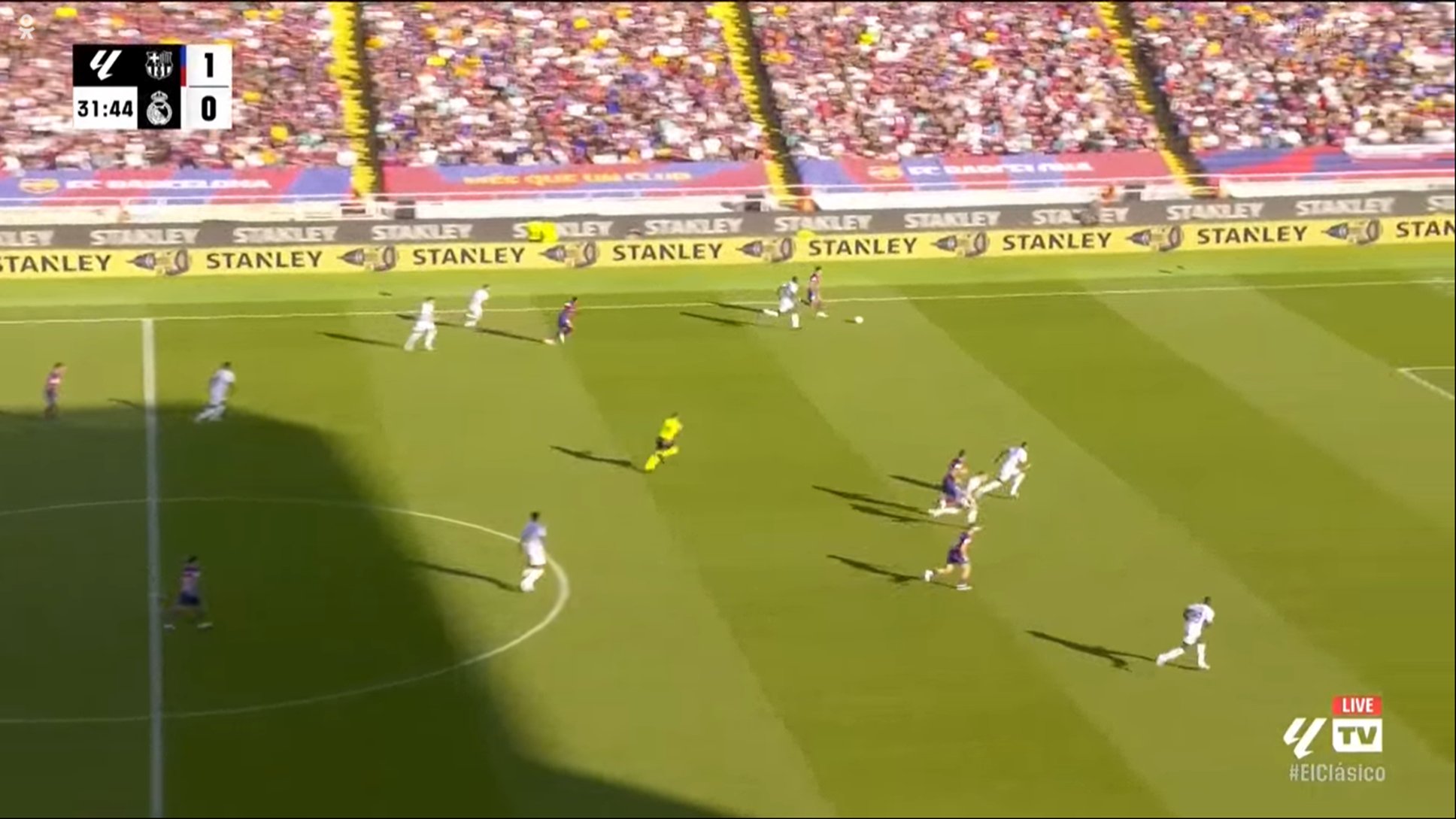 Madrid here have marked Gundogan-Gavi but it doesn't matter because Valverde is so slow to get out to Martinez, by the time he does he can play it wide to Balde, who along with Cancelo on the opposite wing could form a 4v5 pinning Madrid back with Toni Kroos deep.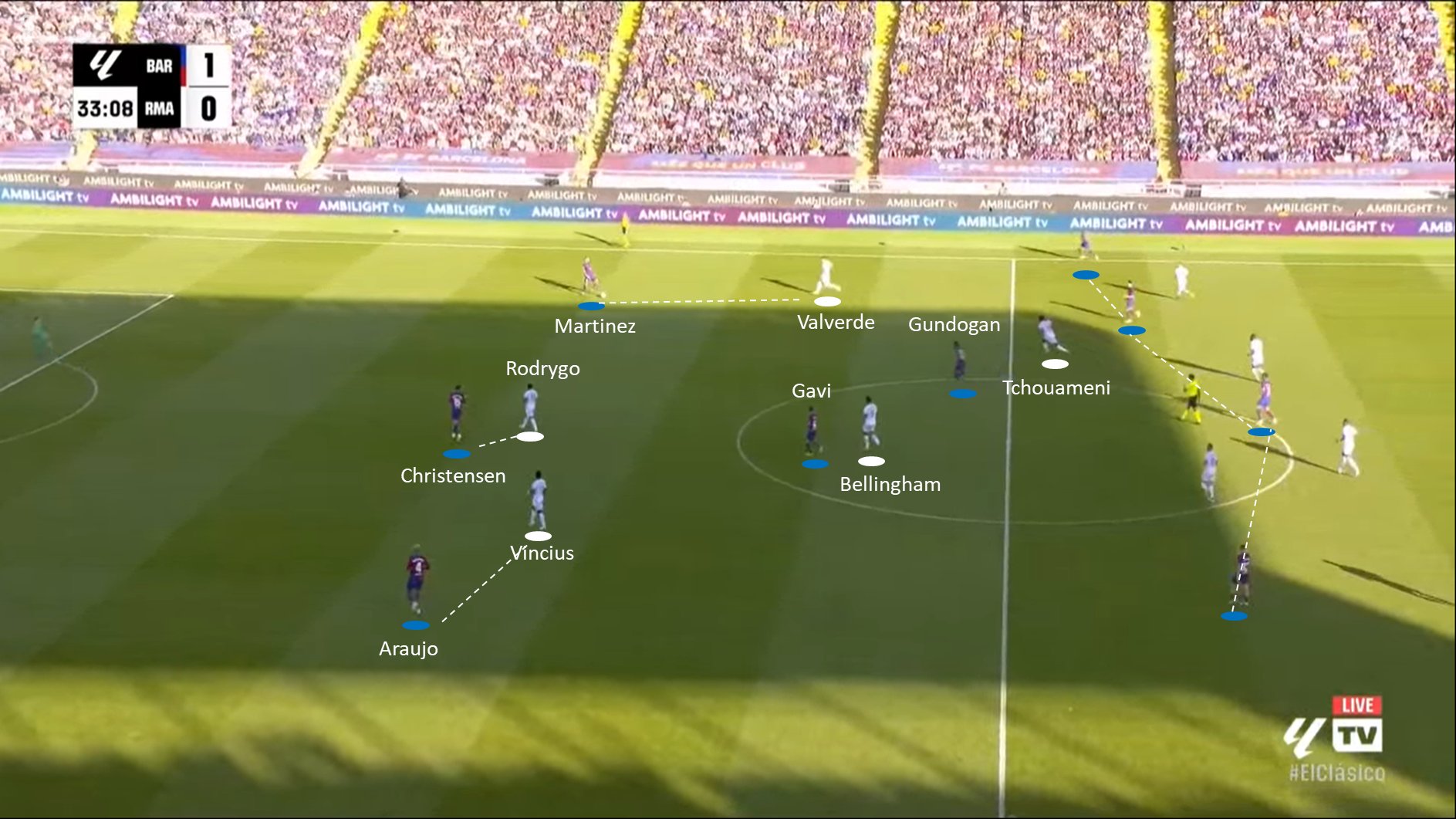 Barcelona didn't take their chances, so Real Madrid did what they do best. Stay in the game, no matter what. Unreliant on a system or patterns of play, Madrid are an elite team that possesses elite players to hurt you at any time, be it with Ancelotti's smart changes (Luka Modric, Joselu) or the calm, unnerved manner they operate.
Whilst the defending champions bounced back with a 1-0 win at Real Sociedad, with Ronald Araujo scoring in the 92nd minute, Real Madrid will be looking to pick up their 10th win in 12 league matches as they face off against Rayo Vallecano today.
By: Dharnish Iqbal / @dharnishiqbal
Featured Image: @GabFoligno / Pressinphoto / Icon Sport