Breaking Down the 4 -4 -2 Mid-Block: Analysing Leicester City's Possession Play against Villarreal's Mid-Block in the Pre -Season
After a season that saw them claim their first-ever FA Cup triumph and come within inches of Champions League football, Leicester City have started their 2021/22 campaign off on the right foot. The Foxes defeated Manchester City in the Community Shield thanks to a late penalty from Kelechi Iheanacho, whilst they condemned Bruno Lage to a loss in his first Premier League match in charge of Wolves, with a goal from Jamie Vardy proving the difference between the two sides at King Power Stadium.
Leicester's preseason fixtures saw them lose to Burton Albion and Wycombe Wanderers and draw 3-3 to Queens Park Rangers, culminating in a 3-2 victory over Europa League champions Villarreal. However, the win over El Submarino Amarillo was overshadowed by Fernando Niño's horrific tackle on Wesley Fofana, which has condemned Fofana to a lengthy spell on the sidelines and forced Leicester to sign Jannik Vestergaard from Southampton for a fee of £15 million to help make up the numbers in defense.
Despite the sour taste left from Fofana's injury, the Villarreal match saw Leicester come out on top against a formidable opponent and break down a stubborn pressing scheme and well-oiled 4-4-2 mid-block and exploit the spaces left by the opposition. Let's take a look at how Brendan Rodgers' side pulled off a victory against Unai Emery's Yellow Submarine and ended their 2021 preseason with a 3-2 win.
Before we go into detail about Leicester's plan in possession, we need to take a look at their shape in possession which was carried out for 1/3rd of the game. Their structure was as follows: center backs Çağlar Söyüncü and Fofana split wide in possession, fullbacks Ryan Bertrand and Ricardo Pereira shift higher up the pitch to allow the wingers Harvey Barnes and Ayoze Pérez to move inside + create a potential 5v4 numerical superiority vs Villarreal's back 4. Youri Tielemans drops to the right-back position to cover for Ricardo's overlapping runs, whilst James Maddison replaces Tielemans in the double pivot alongside Wilfred Ndidi.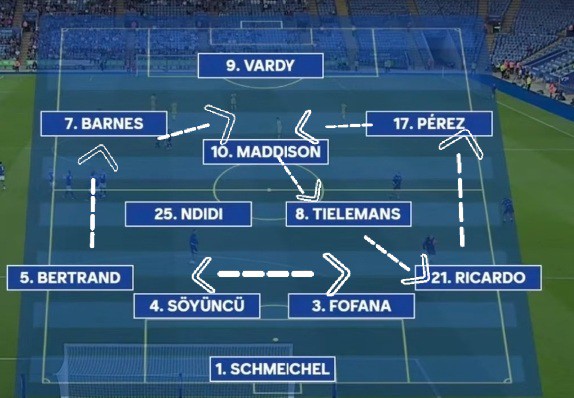 Numerical superiority refers to the number of players in a given zone or space in comparison to that of the opposition; for example, Leicester City's 4v2 against Villarreal's strikers. Villarreal started in a 4- 4- 2 formation in a mid-block with a man-oriented scheme, the main goal of which was to block the passing lanes both vertically and horizontally.
Leicester struggled to progress the ball through the center of the pitch due to the positioning of Villarreal's two strikers — Yéremi Pino and Niño — but if one of the two decided to press alone then a space would open up that could then be exploited. Villarreal utilized pressing traps in an attempt to win the ball back in advanced positions and overload one individual Leicester player with multiple pressers. The natural advantage of Villarreal's 4-4-2 helps them cover both wide and central regions of the pitch.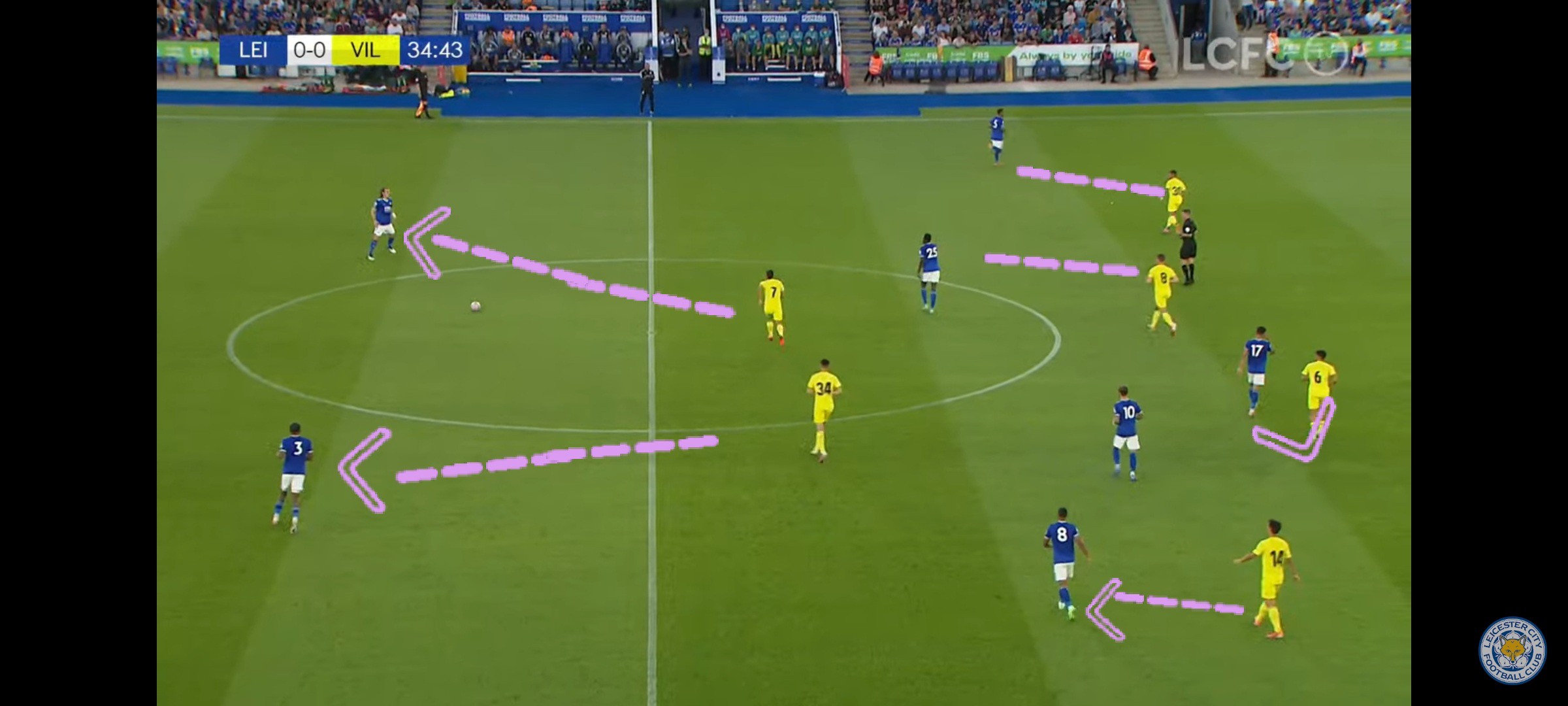 Despite this, Leicester still mainly have an advantage over their opponent because of their double pivots who created a defensive box with the center backs to outnumber Villarreal's two strikers, creating a 4v2 numerical superiority to beat the opposition's mid-block.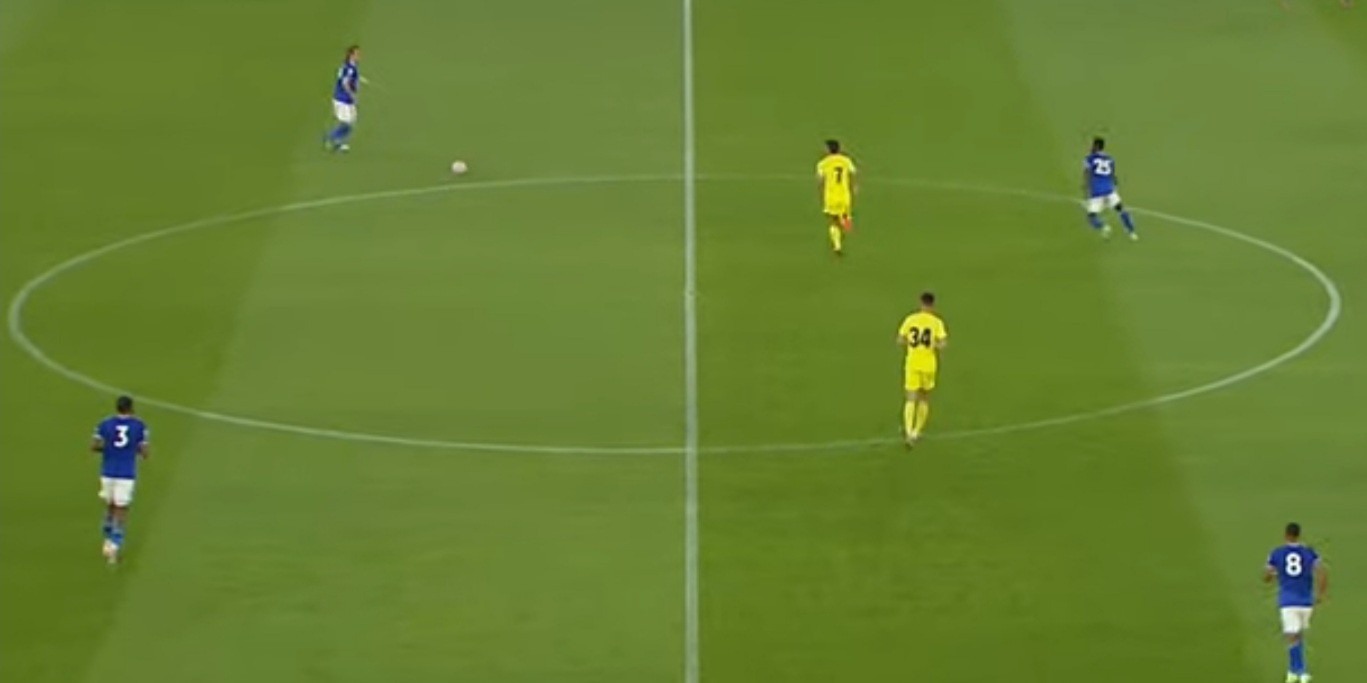 This begs the question: if Leicester's 4v2 numerical superiority theoretically could break down Villarreal's mid-block, why did they struggle to use it to their advantage? The reason for this lies in Villarreal's front two, who successfully put two players (Ndidi or Maddison as well as Tielemans) from Leicester's double pivot into their cover shadow whilst simultaneously marking the center backs, effectively making their numerical advantage meaningless.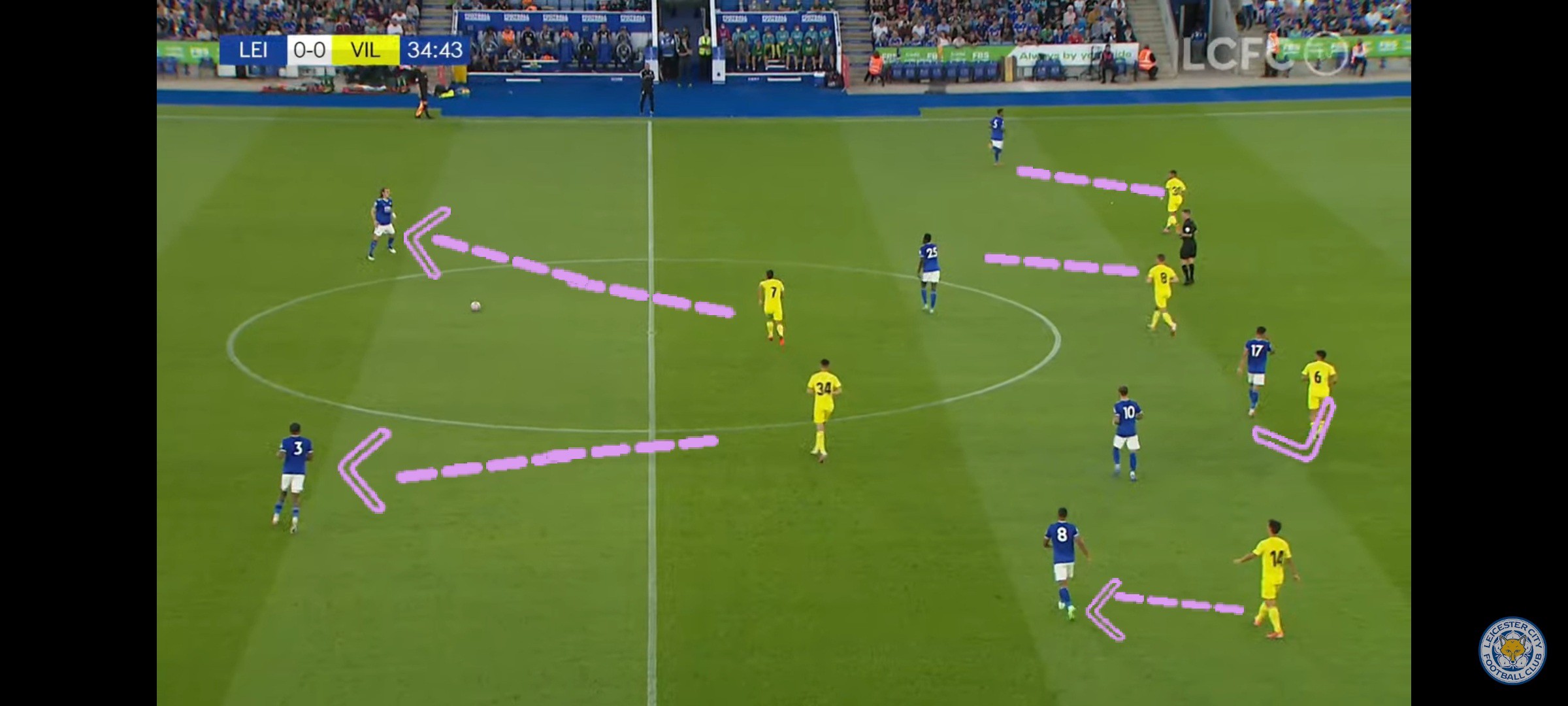 Every Leicester player is successfully marked by Villarreal players except Maddison in the picture above, which happened because Ayoze dropped deep to take out Manu Morlanes, who was responsible for marking Maddison. But the next picture tells us a different story, as the one and only free player here to receive the ball was still not an option as he was under the cover shadow of Niño. Morlanes did a great job by following Ayoze in the previous pic, as he had nothing to worry about with regards to Maddison.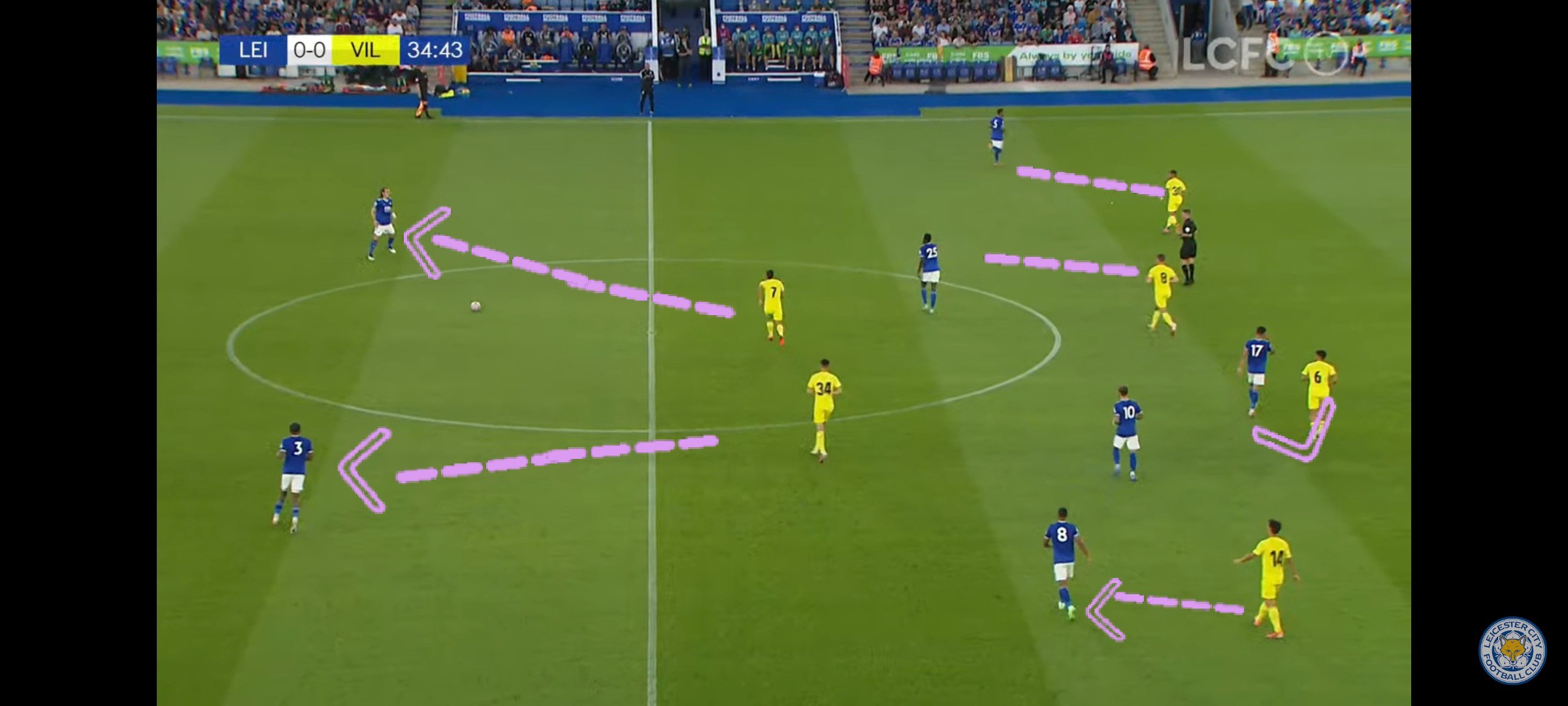 Now, let's take a look at the benefits of building in a 3v2 strategy. This method is used by the reigning Premier League champions and European champions, who faced off against one another in the Champions League Final.
"Look for the 3rd man (free man) to be able to turn and face the play. Everything is much easier when the first progression of the ball is clean," stated Juan Manuel Lillo, the assistant coach of Manchester City and a man who played an invaluable contribution in Pep Guardiola's development from player into manager, coaching Guardiola from 2005 to 2006 at Mexican side Dorados de Sinaloa.
This strategy is dependent on what the managers want and need; some teams like Chelsea and Manchester City will utilize their right back as a third center back whilst other teams such as Liverpool or Leeds United utilize defensive midfielders for this concept, as seen in the below example between Chelsea and Crystal Palace.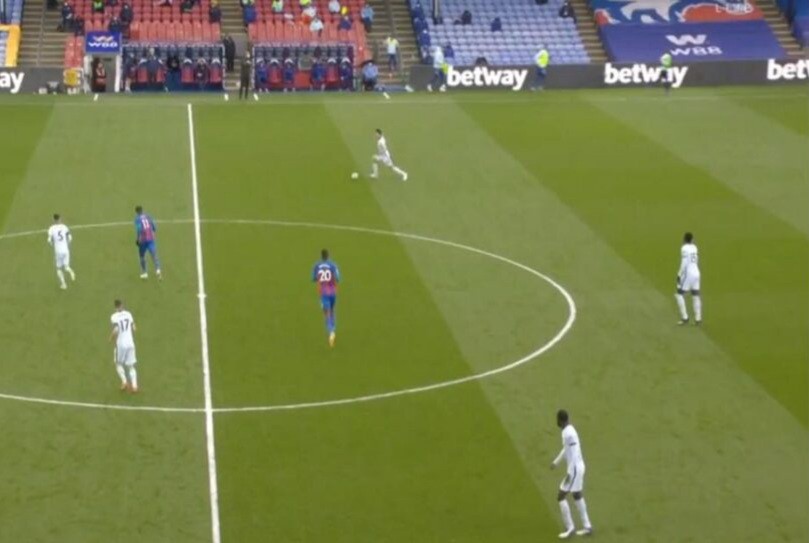 Azpilicueta can attack the opposition with time and space thanks to their man advantage in the backline which created a 3v2. So which option did Leicester opt for to get a 3v2? They used their defensive midfielder (1 of the 2 midfielders in the double pivot) Wilfred Ndidi to drop in between the gaps which was created by the splitting of the 2 center backs.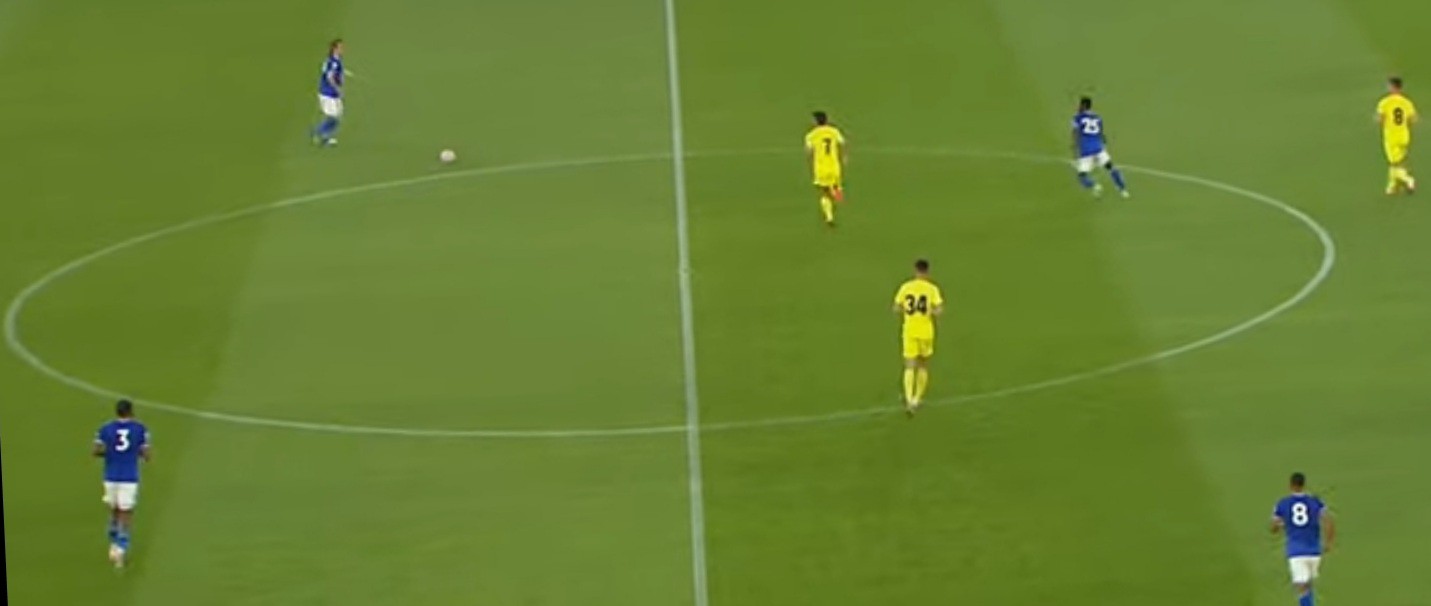 Ndidi starts to drop in between the lines, then Juan Foyth started to follow him but stops as he was aware that this would open a diagonal passing option for Harvey Barnes and Jamie Vardy.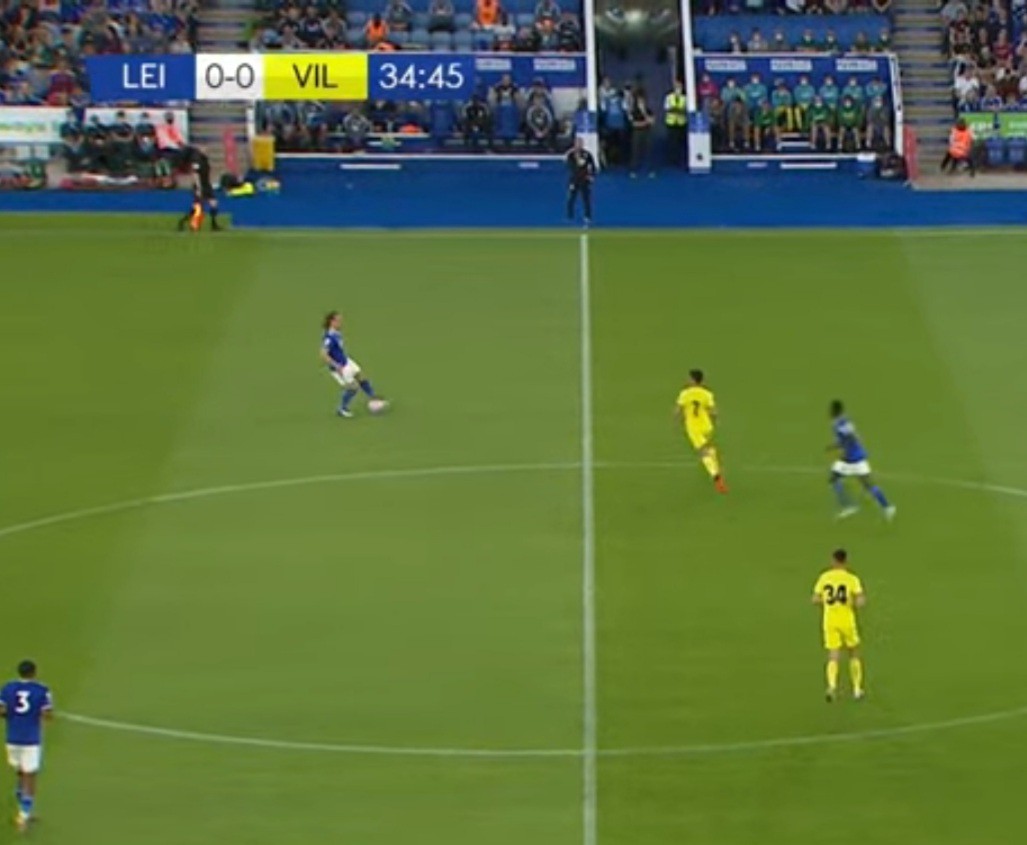 Ndidi drops on behind Pino who previously put Ndidi in his cover shadow. Söyüncü then passes the ball to Ndidi on the blind side of Pino to take advantage of his concentration being in a different area.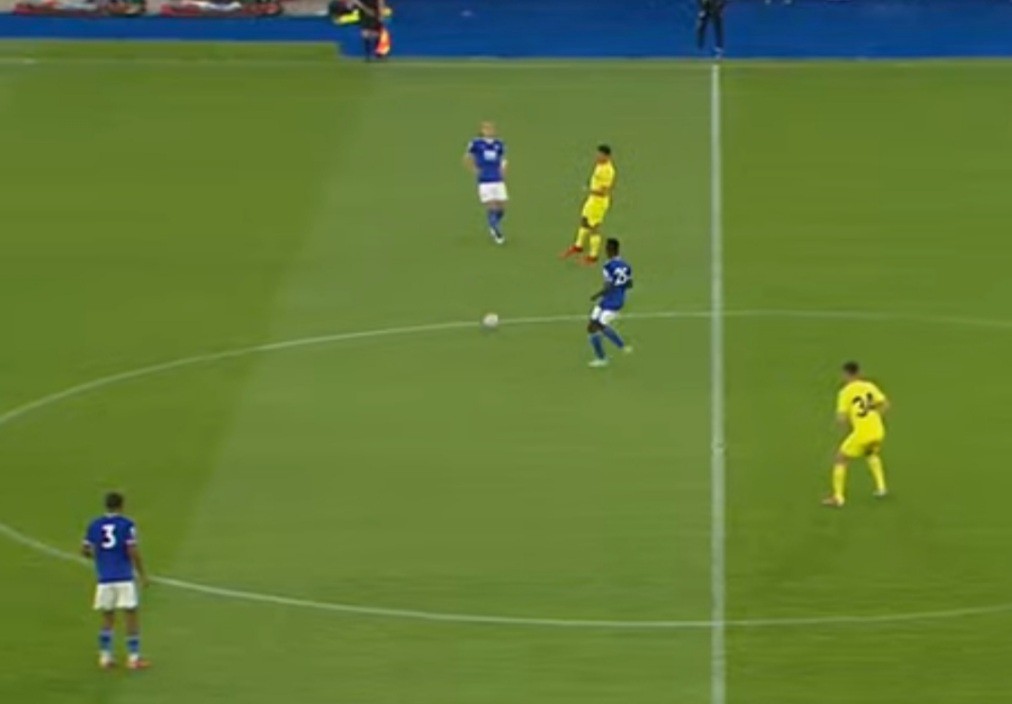 After dropping Ndidi to the backline to create a 3v2, Villarreal players marked the one player who was left alone in the double pivot (Maddison). As Ricardo was high up the pitch, Tielemans was mainly the one who was playing as a RB but he didn't stay up there as his teammate was outnumbered by the Villarreal players, so he decided to return to his main position (double pivot ) to create a 5v2 against Villarreal's two strikers, making things easier for Leicester.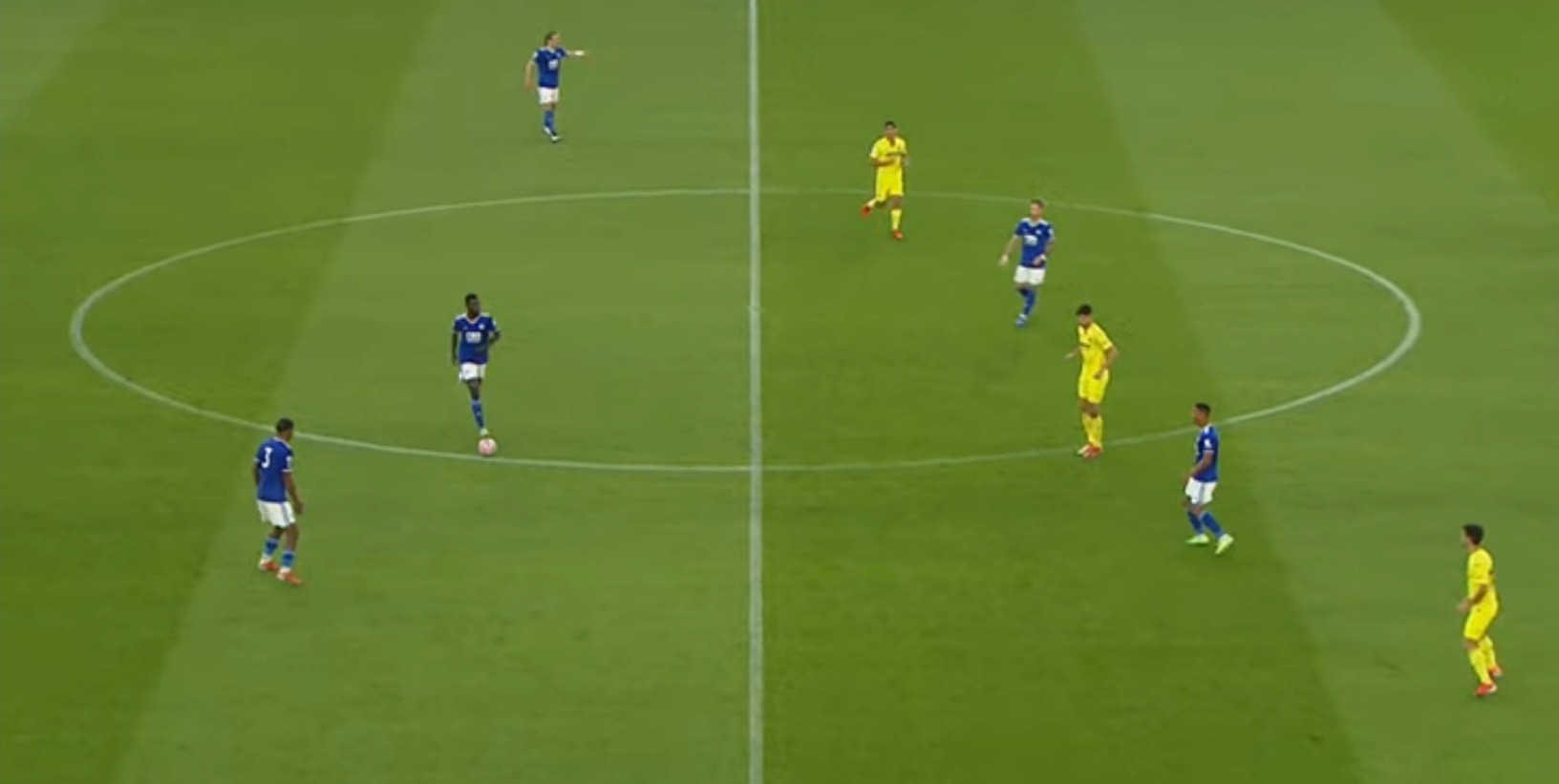 As always, communication is key in a team. We can see above that Söyüncü was communicating with Bertrand to ensure that the new signing stayed in the right position off the ball and stretch the opposition horizontally. They sought to drag their opponent to one side of the pitch and attack the underloaded flank with a direct switch. In order to drag the opponent to one side, you often need to overload that flank with multiple players, but Leicester's superb communication often misled the opponents into moving out of position.
Tielemans dropping to the double pivot dragged Alberto Moreno out of position to follow the Belgian, so now Ricardo only has one player to worry about 1v1 against Aïssa Mandi. Söyüncü's lengthy communication with Bertrand make Villarreal think that his next pass will be to Bertrand so they decided to move to the other side of the pitch horizontally to block the passing lane to him.
Villarreal utilized the sideline as an extra defender and utilized a ball-oriented passing scheme, and Leicester sought to exploit that by dragging the opponents to one side without overloading the ball-side and instead utilizing various movements and smart communication to mislead the opponent. Here, we can see Soyüncü with the time and space to play a direct switch.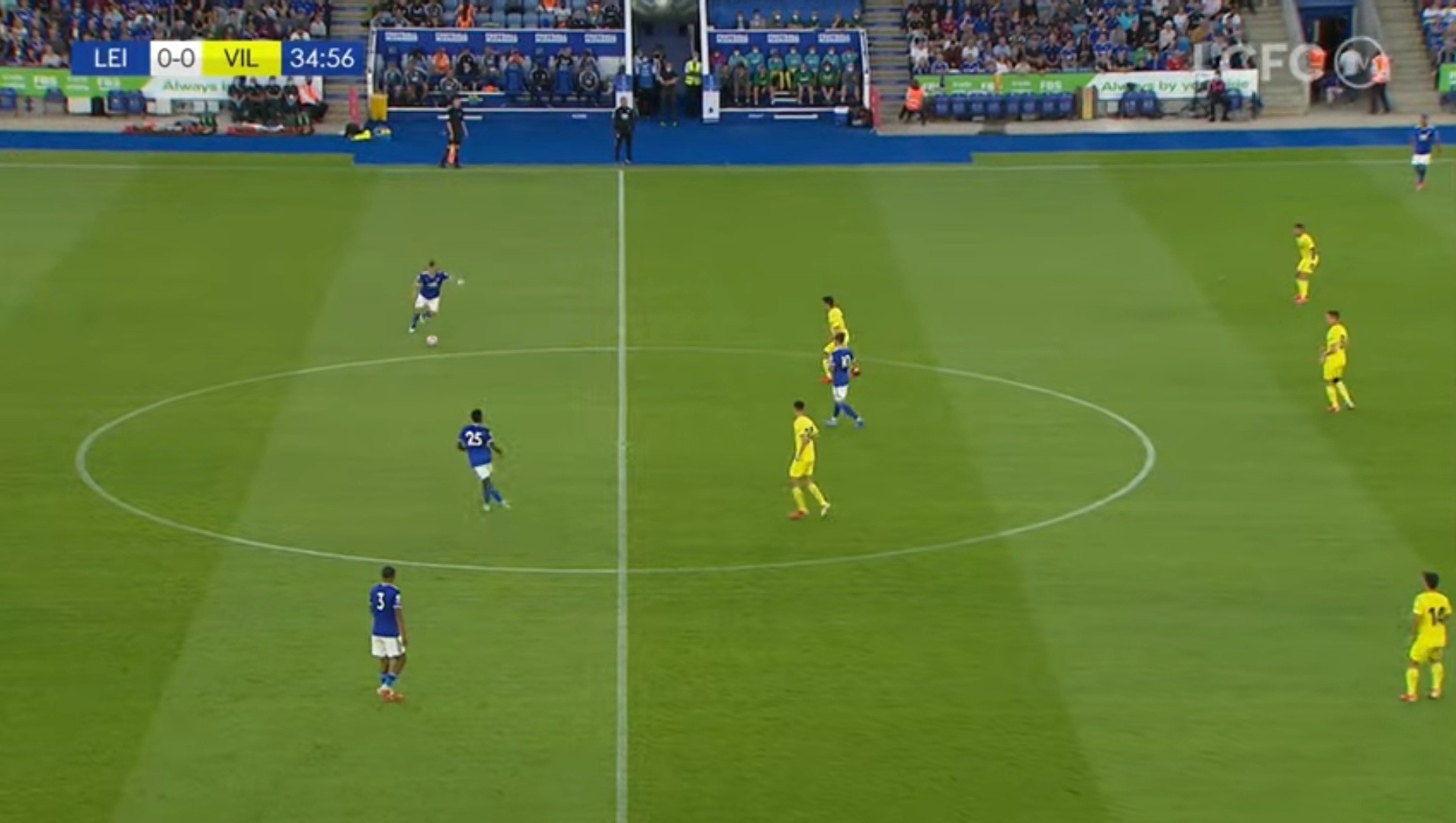 Moving on, Leicester City took a numerical superiority from the start in possession as their fullbacks were already advanced enough to create a 5v4 against Villarreal's back four who were out of possession. Due to Ricardo Pereira holding the width, Moreno had to follow him wide when he received the ball which stretched them like Rodgers wanted it to happen. That created a big space between Mandi and Raúl Albiol on the left side of defense.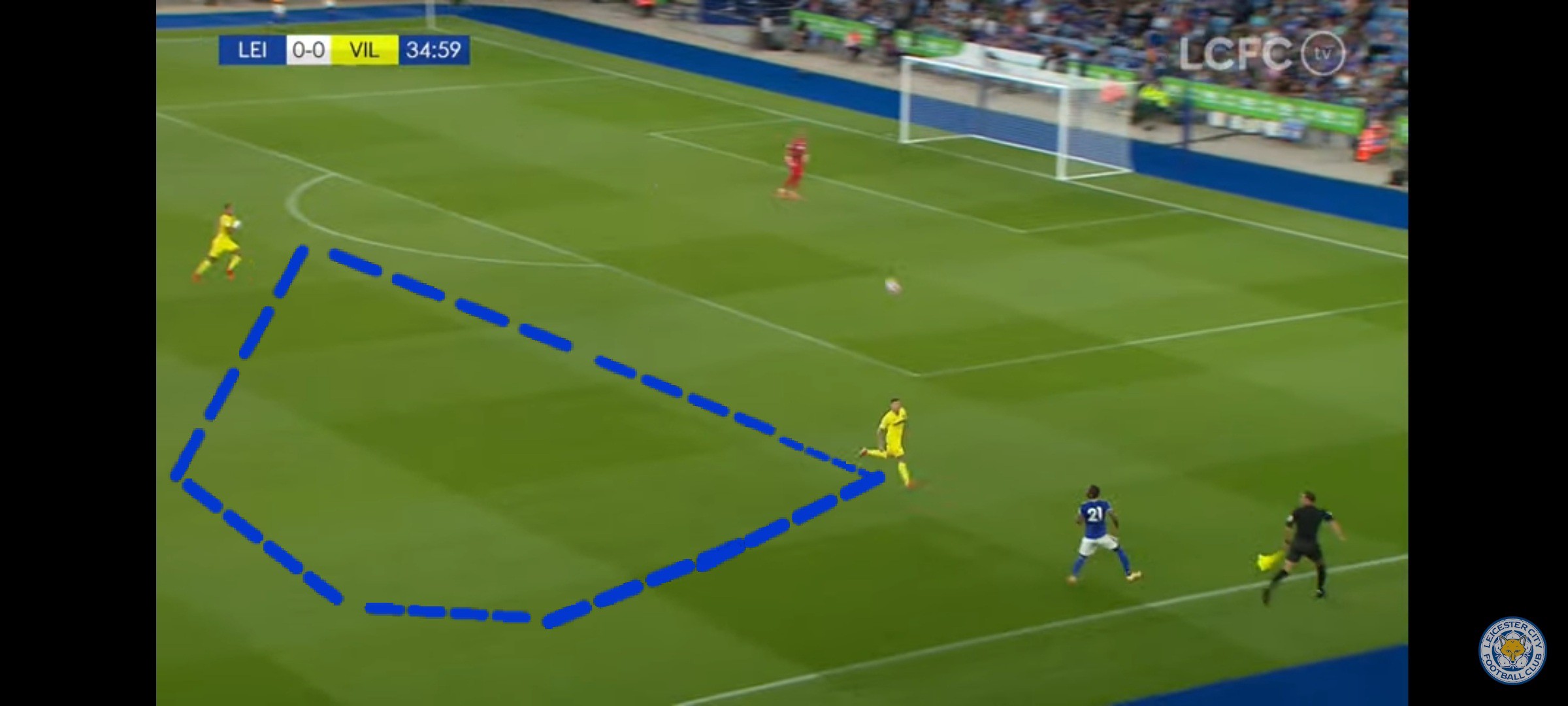 From there, Leicester had a qualitative superiority. Qualitative superiority is an idea that is well known. Searching for 1 vs. 1's, 2 vs. 2's, and more with your best players vs the opponent's worst players is a common strategy in football. "There's numerical, positional, and qualitative superiority. Not all 1 vs. 1's are a situation of equality,"-Paco Seirul-Lo.
So, how did Leicester exploit this space? Tielemans was the player who was used o attack the seams here as Leicester had a positional superiority against their opponent.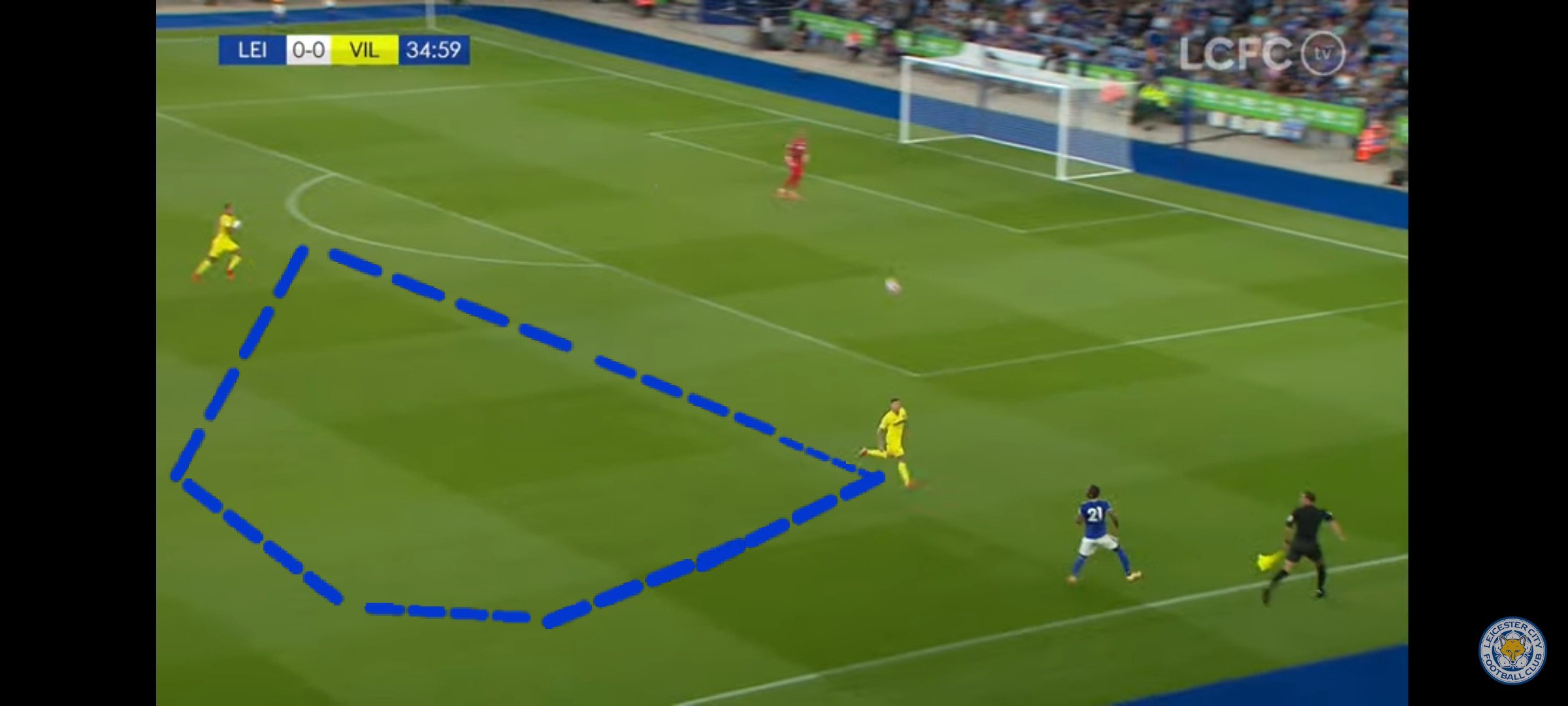 As seen in the above picture, Leicester did not have a single player in the box, so the player who was on the ball (Ricardo) decides to take on Moreno and progress the ball into the penalty box by carrying the ball with the aim of giving his teammates time and space to arrive in the box and provide a cutback or a cross towards them.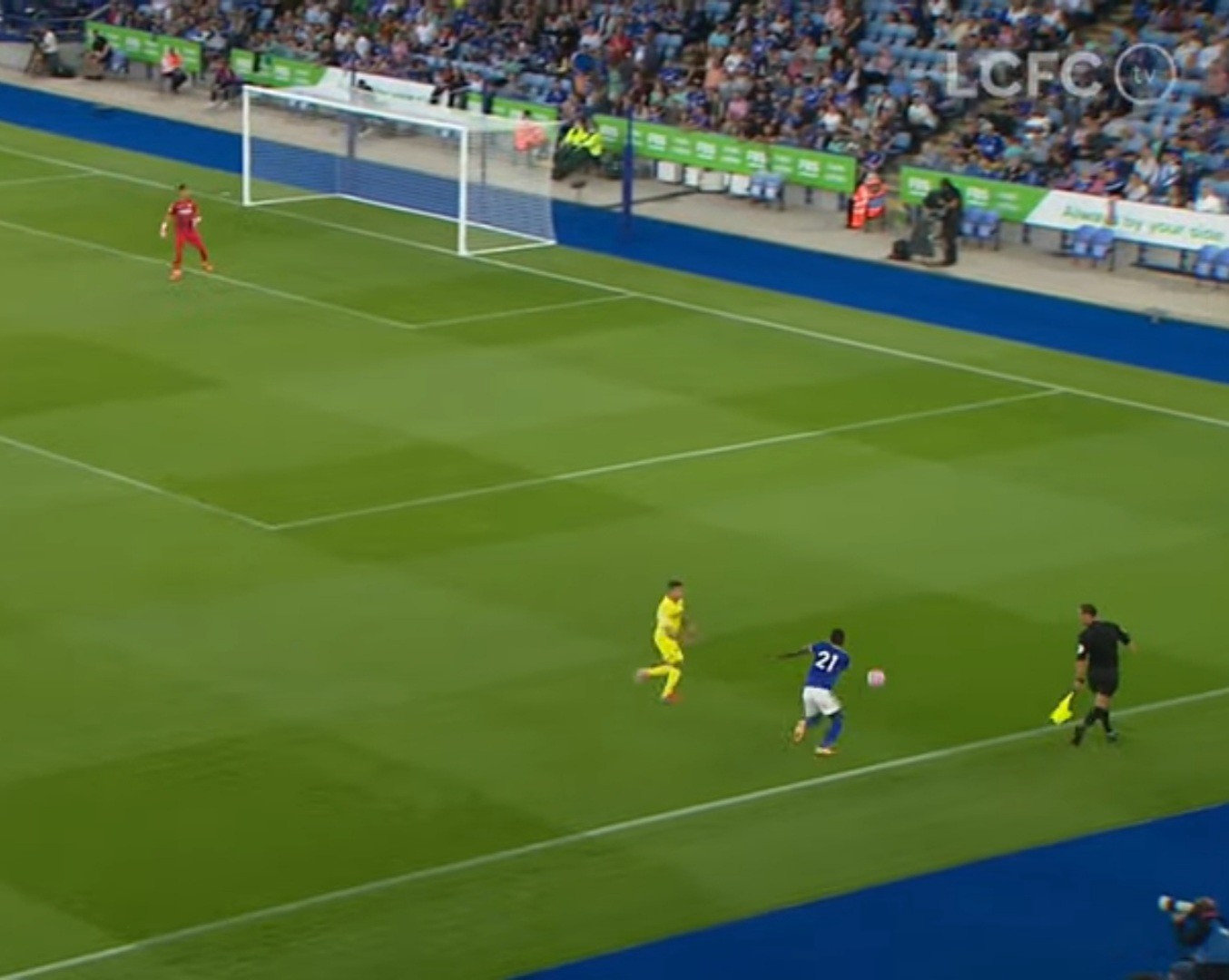 Ricardo Pereira takes advantage of the qualitative 1v1 superiority by entering the box at the right time as his teammates were providing him with options after he gives them time to do so. The Portuguese fullback decides to dribble again and create a shooting angle for himself while his teammates were waiting for a pass in the box. In the end, he gets fouled in the box but he didn't get a deserved penalty and instead allowed Villarreal to get a direct counter-attacking opportunity.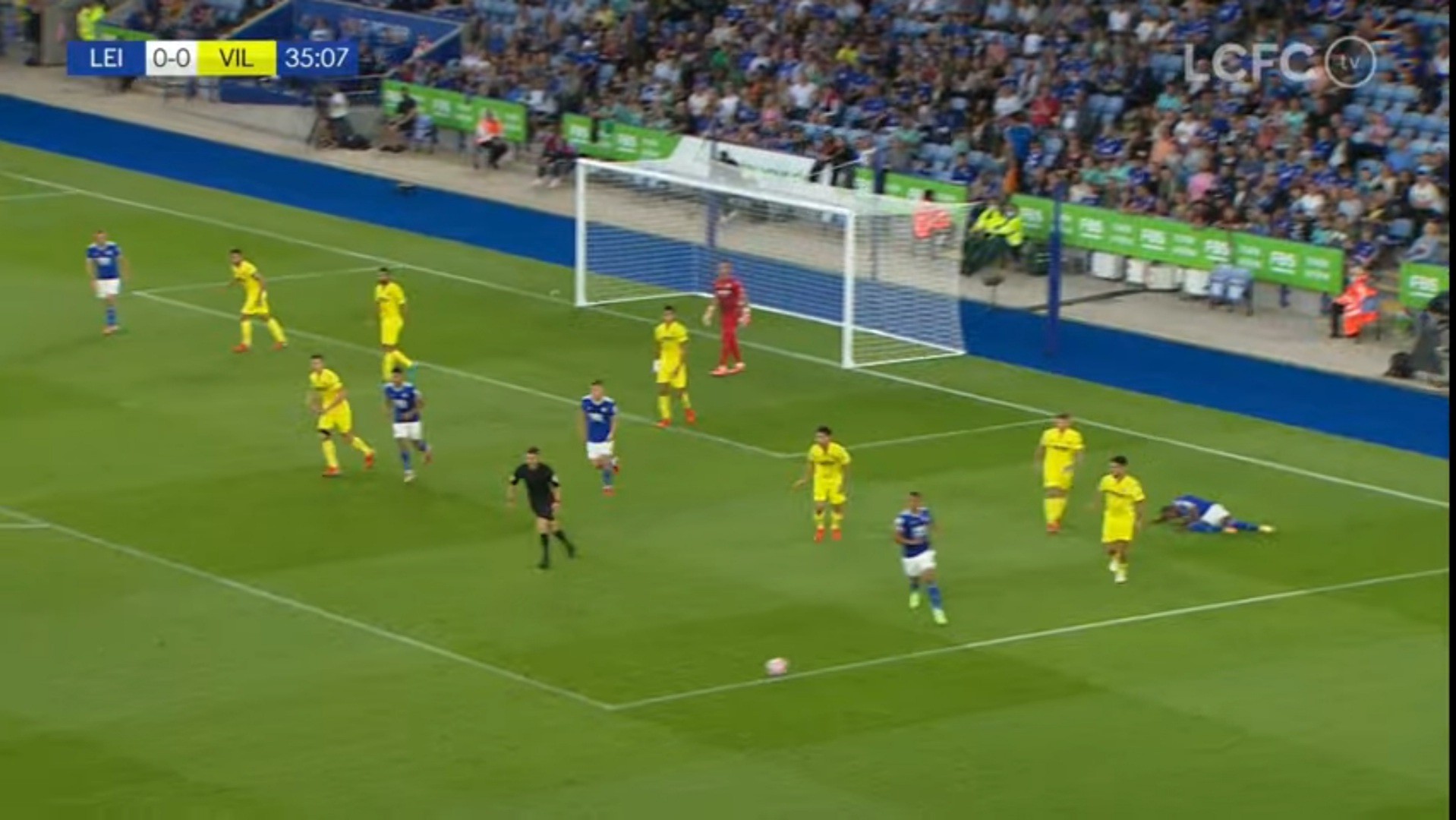 Leicester lost the ball in the box but they recovered it very well in front of the box thanks to their positioning and the rapid Fofana. Pep Guardiola is strict in enforcing his players' positioning as it will help them to have more time with the ball and in case they lose the ball, they can recover it very early because they have many players in between the lines. This prevents them from needing to run backwards to recover the ball.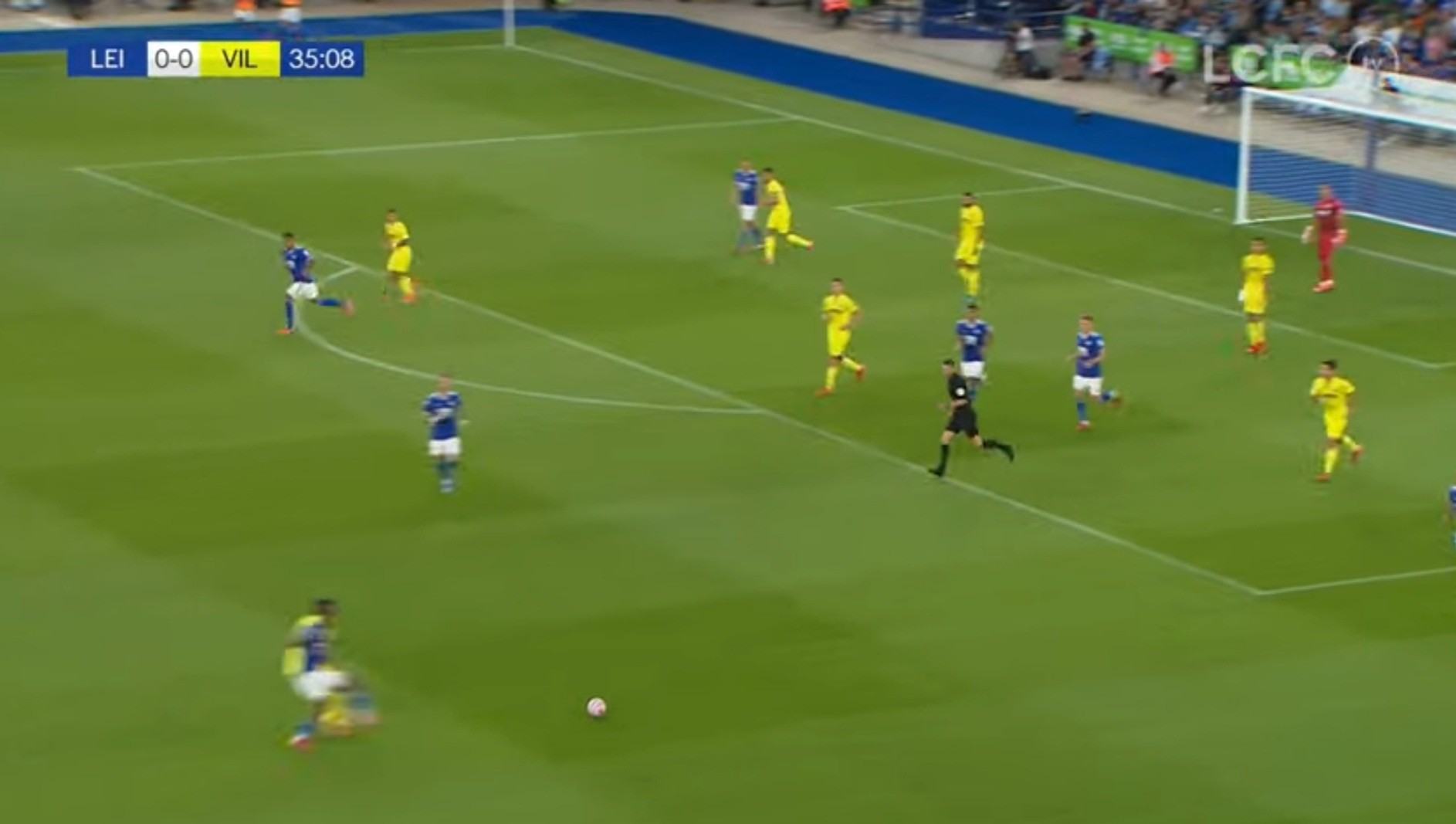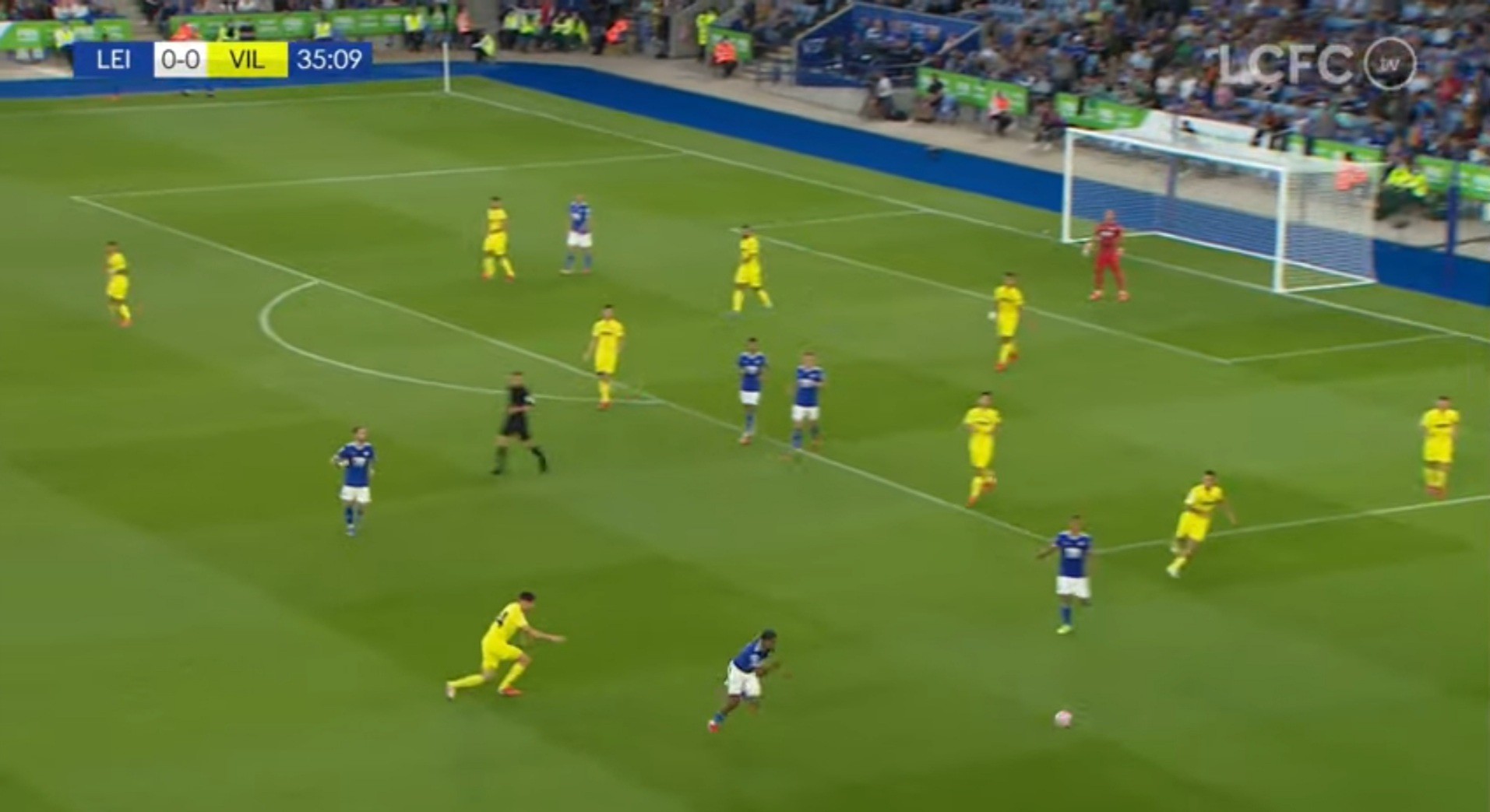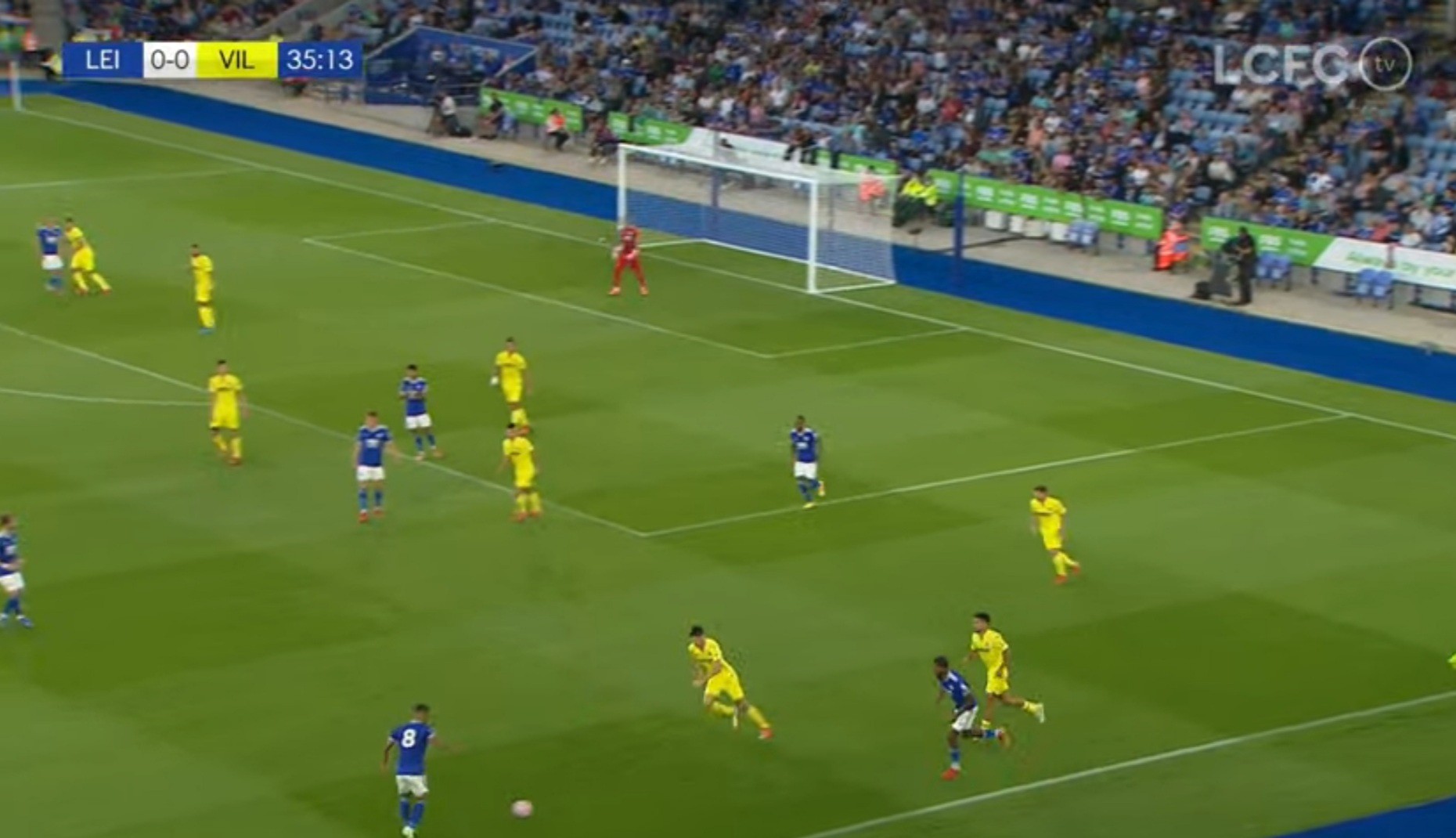 It took them just two seconds to recover possession and they started to create a wide triangle to help them get out of Villarreal's man-oriented press with a quick rondo. These two methods help them to retain possession, then attack again if there are options through and wide.
Then they passed the ball back to their own half after getting out of pressure as their opponents were not giving them a passing option. This wasn't a mistake as they dropped back to create space by attracting the opposition press to play through it.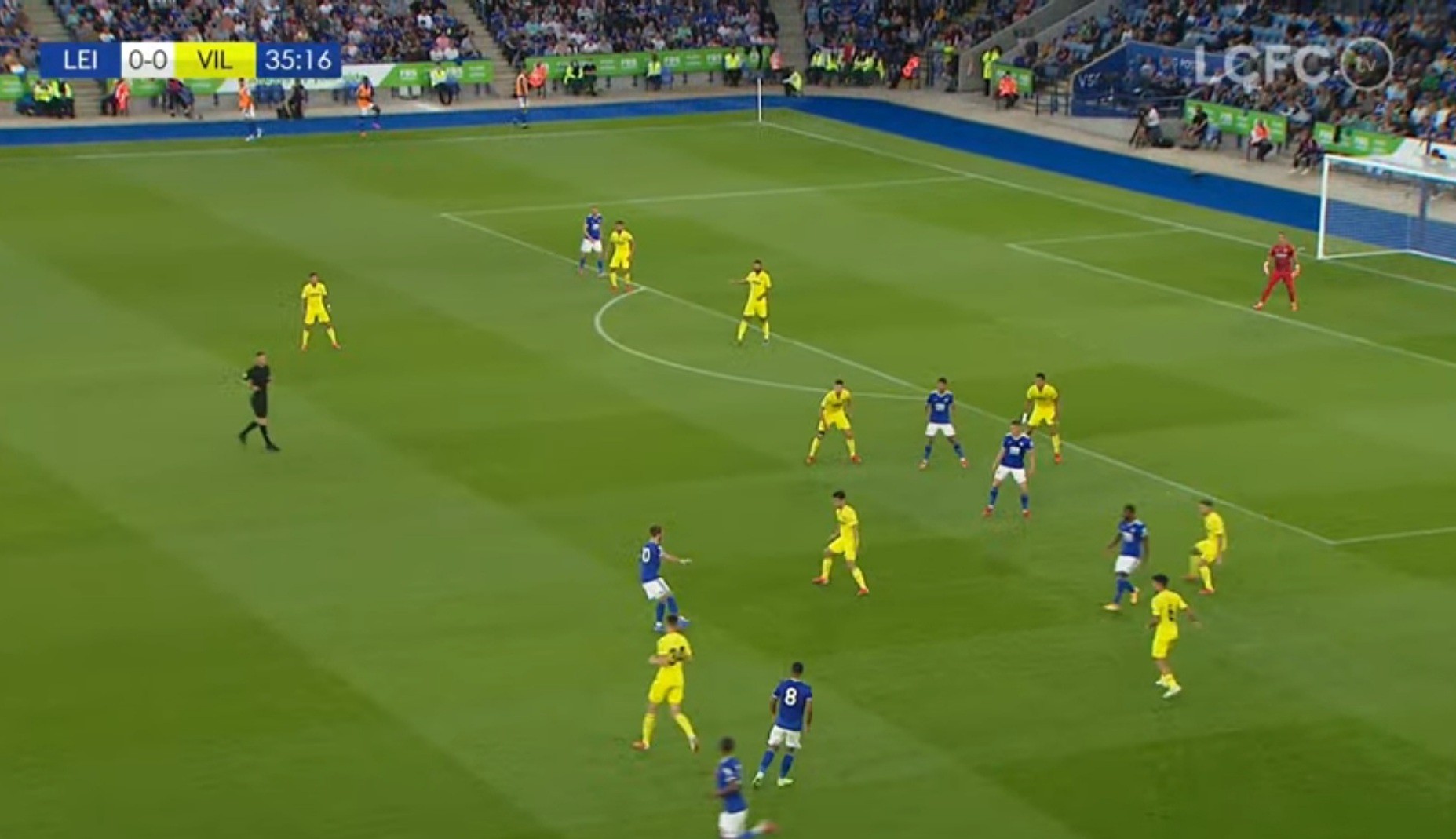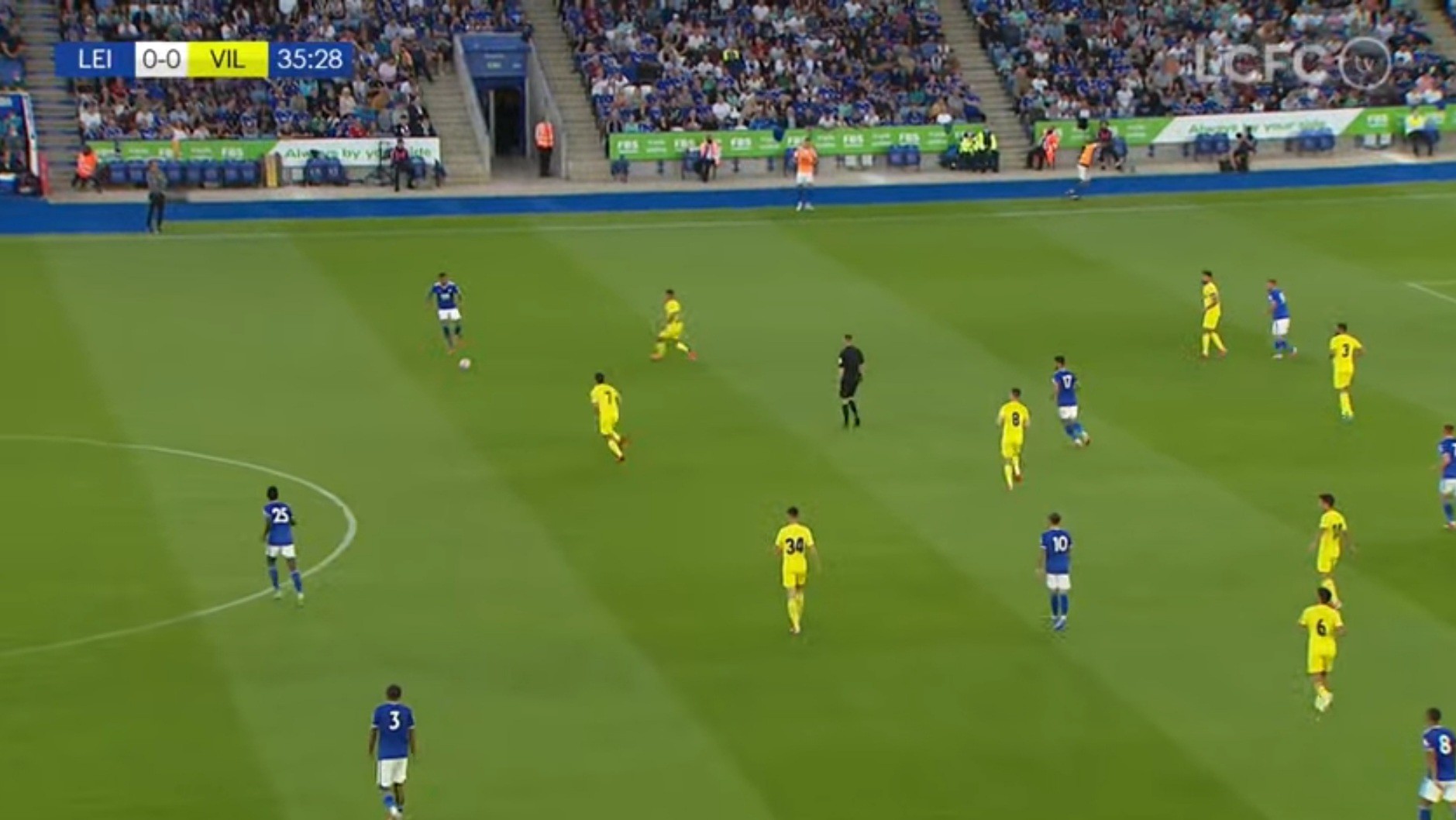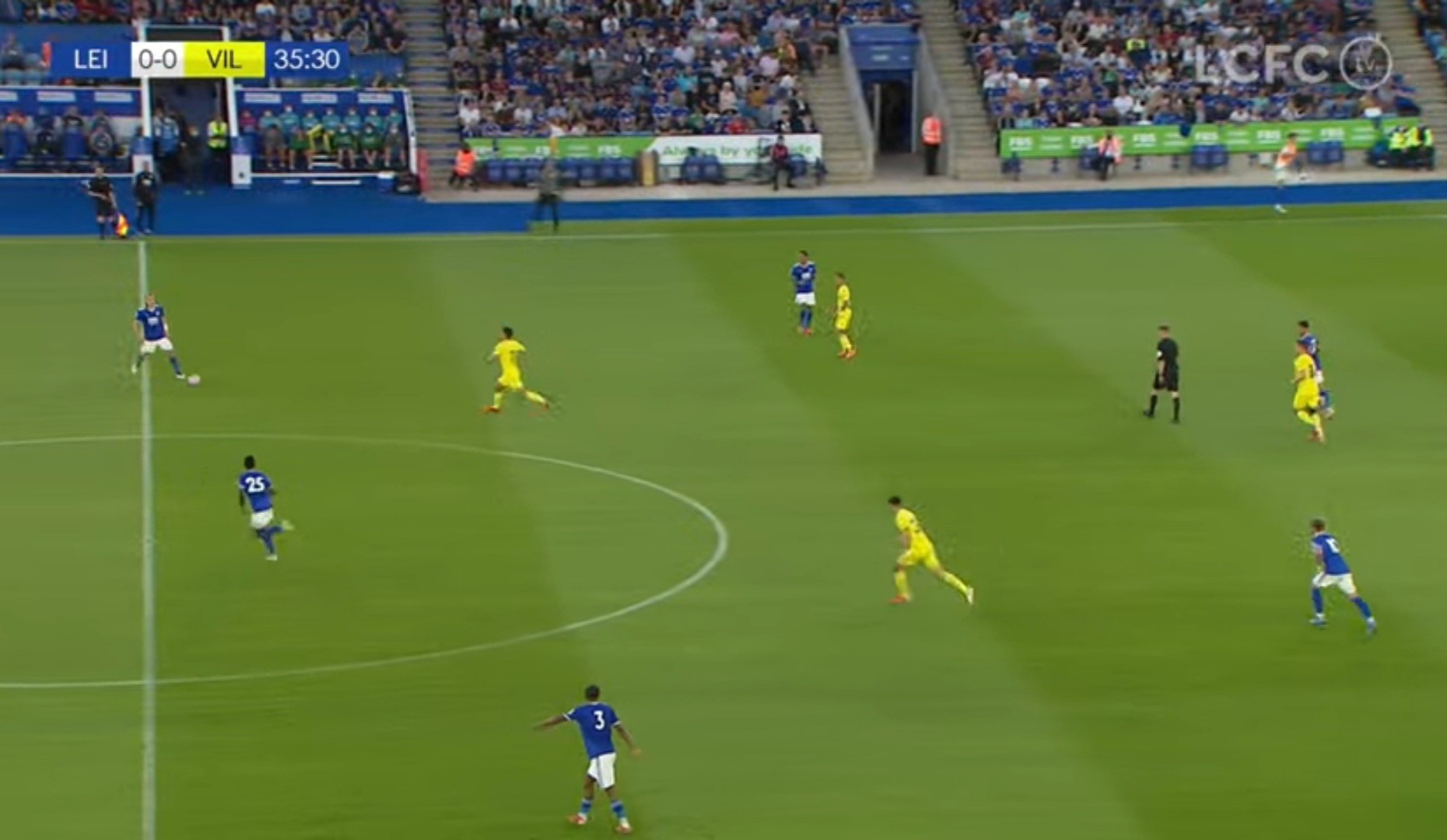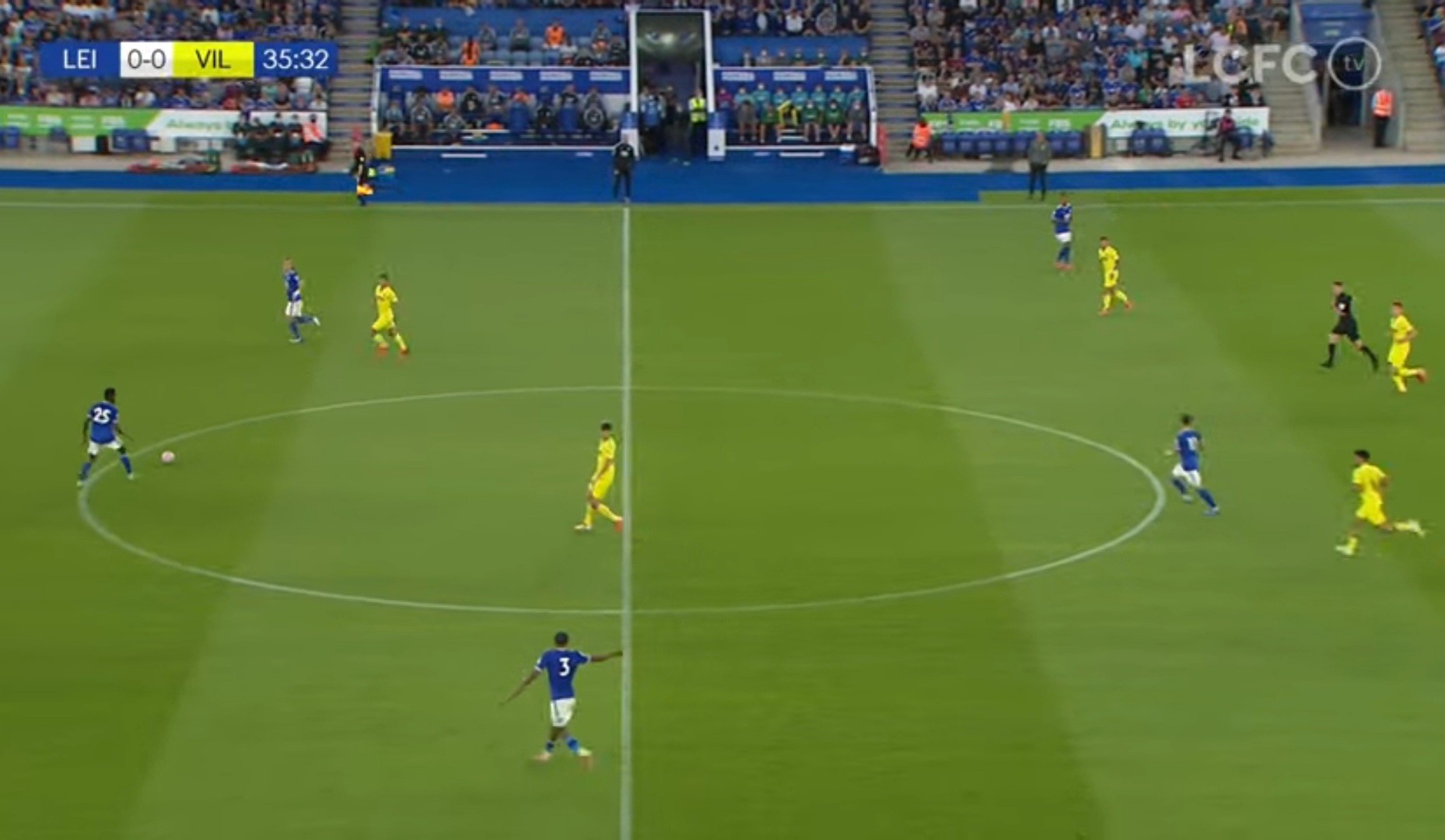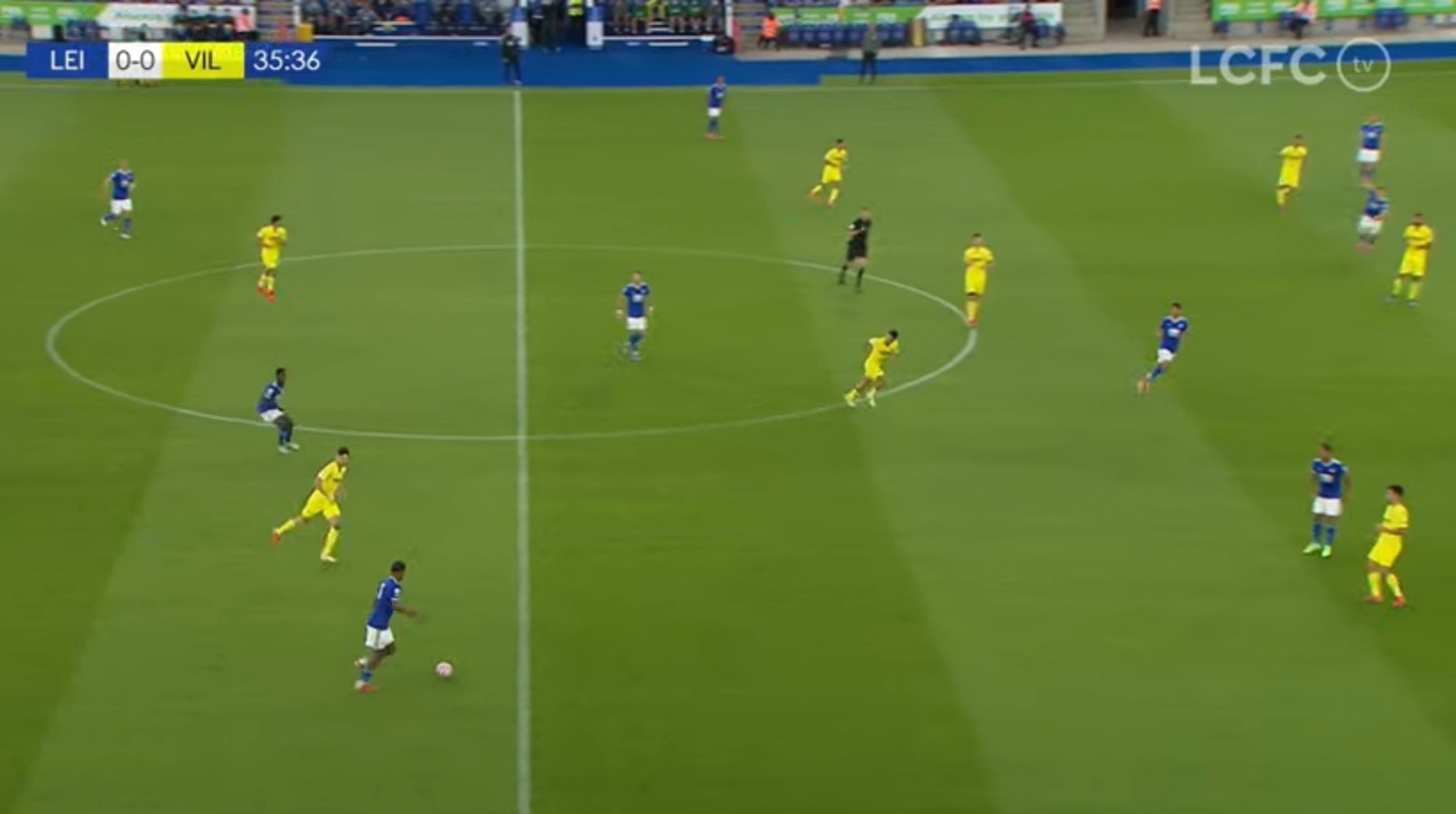 By using these various methods, Brendan Rodgers' Leicester defeated Villarreal's 4-4-2 mid block, often utilizing an asymmetrical 3-2-5 formation when in possession. It is clear that Leicester's victory was tarnished by Wesley Fofana's injury, and the following minutes after his substitution saw Unai Emery's side grab two goals in quick succession via Fernando Niño and Álex Millán, but Leicester have the quality to cope with this long-term absence and continue to solidify their status as a top six team.
By: @HalfSpaceNatt
Featured Image: @GabFoligno / Plumb Images – Leicester City