Bruno Lage: Profiling Wolves' Manager
Wolves are consistent again this season under new manager Bruno Lage who arrived in the summer from Benfica, replacing his fellow countryman Nuno Espirito Santo who moved on to Tottenham Hotspur.
Similar to Espirito Santo, Lage aims to play a hyper-compact system with three central defenders providing a strong foundation and wingbacks who provide width just behind or level with three forwards who lead the line. Examining Wolves' season up to this point will tell you one thing concretely, they haven't really skipped a beat since switching managers.
At the time of writing, the club sit 8th in the Premier League with 24 points after 17 games played. Almost halfway through the season, Wolves look solid, consistent and difficult to break down, despite having not scored a ton of goals.
A top-half finish is well within reach if they are able to navigate a congested Christmas period fixture list that includes games against Chelsea, Arsenal, and Manchester United.
To really understand Wolves and where the Lage project is headed, it's important to first understand how the team plays under Lage, then evaluate the sustainability of the system before finally looking at what kind of recruitment is needed to take the team to the next level.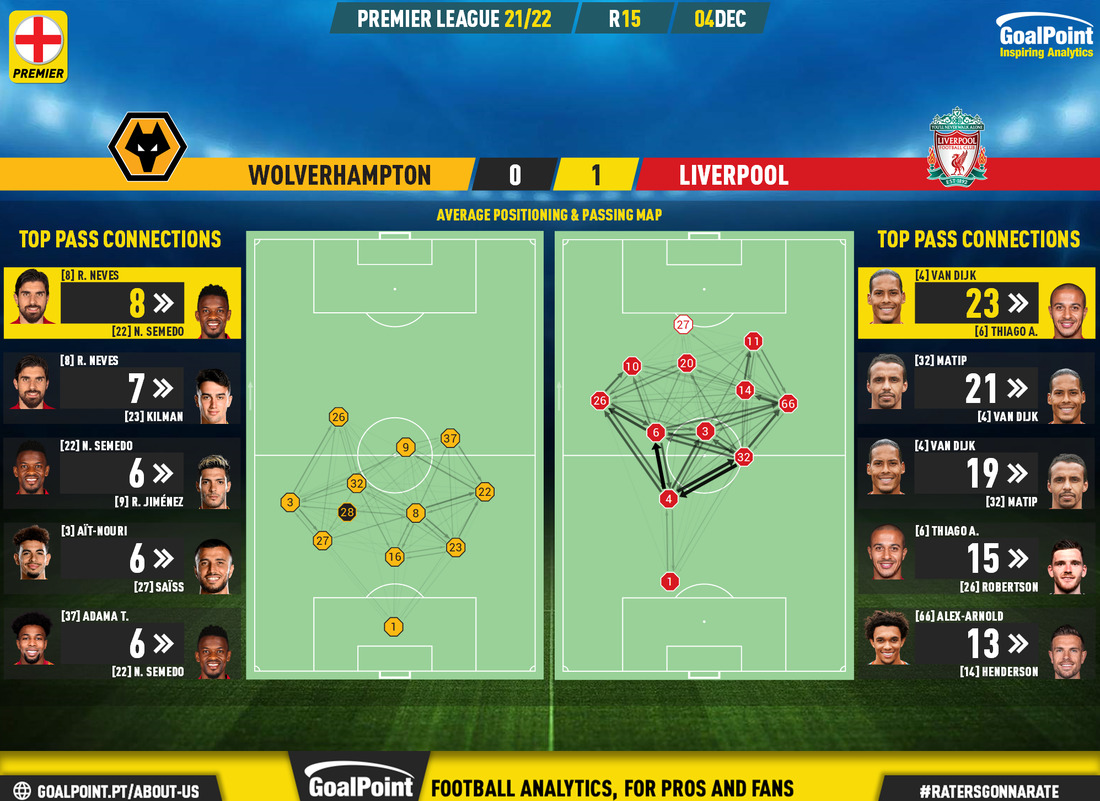 When analyzing Lage's system it's hard to understate how "compact" it is. Lage's definition of compact involves closing the halfspaces and reducing the opportunity for balls to be played between the lines with rigid player positioning.
This requires two central focal points; a center-back (Conor Coady) and a defensive midfielder (Ruben Neves) who help maintain the rigidity of the lines.
Going forward Wolves use this rigidity to transition quickly into an attack from a 2nd ball or a goal kick, since Lage likes each player to stick to a general, predetermined zone, the build-up play almost facilitates itself.
This rigidity actually helps the players express themselves more, for example, against the narrow 4-4-2 system of West Ham in November, Wolves moved the ball quickly into the wide areas once possession was regained.
After doing so, this pulled West Ham to one touchline which opened up space for switches of play between the opposite wingbacks or wingers who hit these switches with confidence knowing that their counterpart would be in their predetermined space to receive the pass.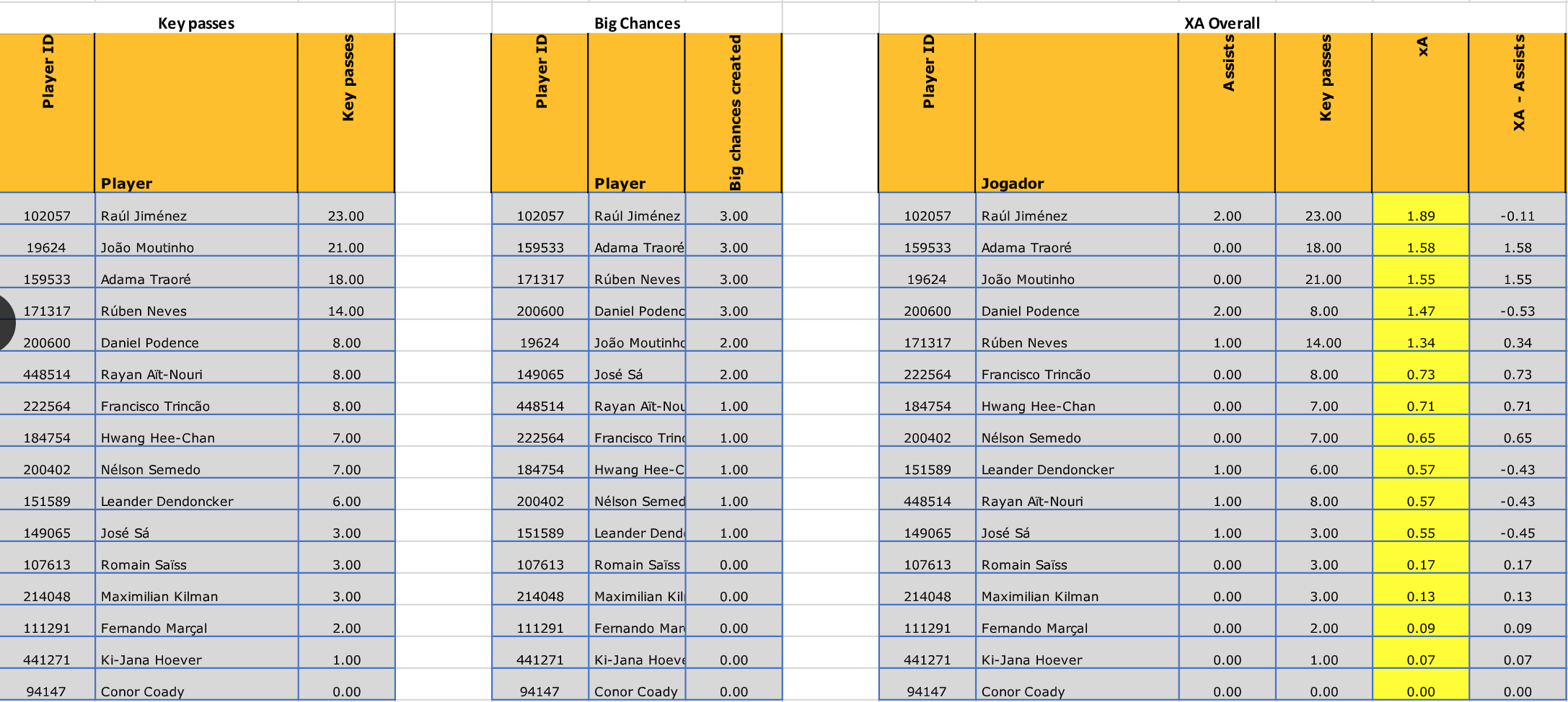 Another key element of Wolves' system is the depth at which their central midfielders play. When Neves plays as the focal point, he is asked to sit just ahead of the central CB and shuttle laterally back and forth across the line to offer a spare option and create overloads when the opposition try to press Wolves against the touchline. 
Going deeper into how Wolves play on the ball it is clear that Lage prefers slick, attractive football in possession to the more rinse and repeat, calculated approach that some of the other teams outside of the PL Big Six tend to prefer.
The players are encouraged to move the ball quickly to the spare man and take calculated risks when the opportunity arises. An example of this is the movement of Raul Jimenez who likes to pin the opposition backline high up the pitch, allowing the Wolves wingers to drop inside and combine with the wingbacks to progress play.
When the opposition attempt to flood the halfspaces and wide areas to win the ball back, Raul will look for 1v1 opportunities to run off the back of defenders. This is exemplified in his first-half chance against West Ham earlier in the season where he was able to run off the back of Craig Dawson after West Ham attempted to shift their block to cover the wide and half-spaces.
This adaptability is another symptom of the strict positioning that Lage implements. There is a certain pragmatic freedom encouraged here, Lage wants the players to master the fundamentals and routines in order to create beautiful moments. 
Out of possession, Wolves are incredibly well-drilled and difficult to break down while also utilizing an effective pressing rotation.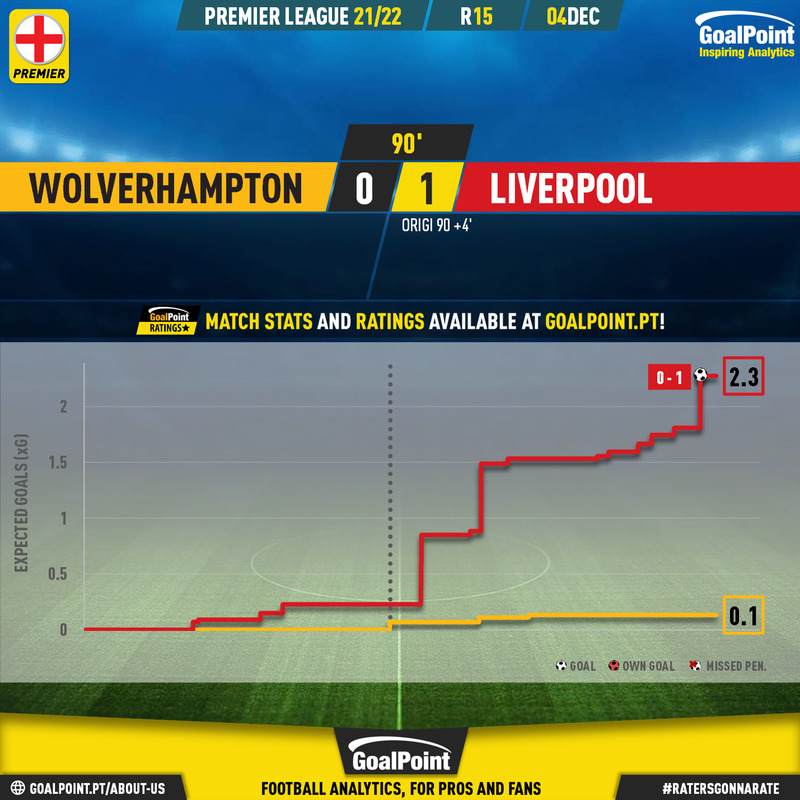 While the opposition are in possession in their own half, Wolves often press with all three forwards, leaving the two central midfielders and all five defenders back as cover. The forwards look to cut off passing angles while the central midfielders stay close to stopping the central progression.
The wingbacks stay wide and the entire back 5 step up together, creating a high line. When their press is broken Wolves defend in a 5-4-1 with the wide forwards dropping into the half-spaces to help cover the outside of the central midfielders who stay close together.
Even against the likes of Liverpool, the line stays relatively high, exemplifying how much Lage trusts his center backs and their reaction time and recovery pace. This high line also has something to do with how good José Sá has been at patrolling the edge of his area and coming to collect long balls over the top.
Lage's rigidity is most clear when Wolves are in their 5-4-1 and focusing on keeping the opposition at bay, their 5-4 block is easily one of the best in the league and teams like Liverpool and Manchester City have struggled massively at breaking it down. 
So, how have Wolves actually applied Lage's principles this season? While they do have one of the better defenses in the league – Their 14 goals against is 4th best this season – their offense has struggled to turn those fluid attacking patterns into balls in the back of the opposition net with only 13 goals to their name in 17 league games.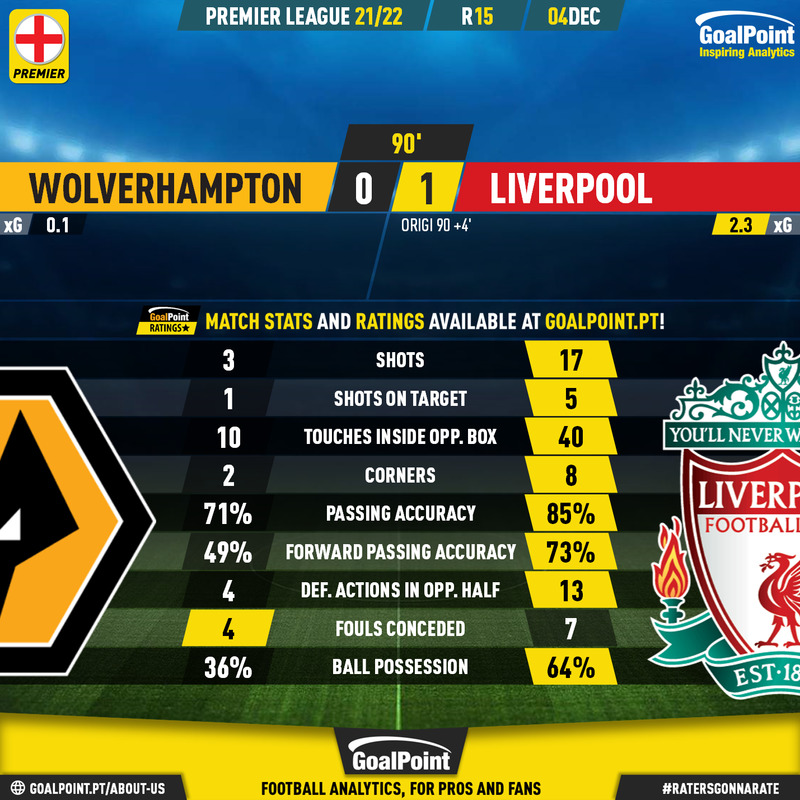 Looking at Expected Numbers doesn't really give too much more insight, they are underperforming their xGoals and overperforming their xGoals Against, not surprising when you watch them play. Some bright spots have been the decimating dribbling of Adama Traore who has been totally unleashed by Lage's fluid attacking patterns which has allowed him to basically be anywhere he wants in the attacking phase.
It's been nice to see Raul Jimenez back as well but despite his 5 goal contributions thus far in the campaign, his NPxG + xA sits at just 4.8 which is a worryingly low number for a team's star attacker. Given their woeful attacking numbers, it won't be surprising to hear that Wolves are second-worst in terms of goals scored in the league and 15th on total xG.
This open wound might be cauterized a bit by the imminent return of last season's starman Pedro Neto who had 11 goal contributions in just over 28 full 90s. Still, that won't be enough to secure Wolves' position higher up the table, in January they should be looking to find a reliable backup and eventual successor to Jimenez who will turn 31 before next season. 
Bruno Lage's Wolves are much different stylistically from their previous manager Nuno Espirito Santo, they play exciting, expansive, smart attacking football against most teams and when they face the top dogs they defend voraciously and with intense concentration.
Their team is full of physical, fast, and technically proficient defenders and midfielders and they have a number of forward outlets such as Raul Jimenez, Adama Traore and the newly emerging Hwang Hee-chan who looks a comfortable ball carrier with great work rate.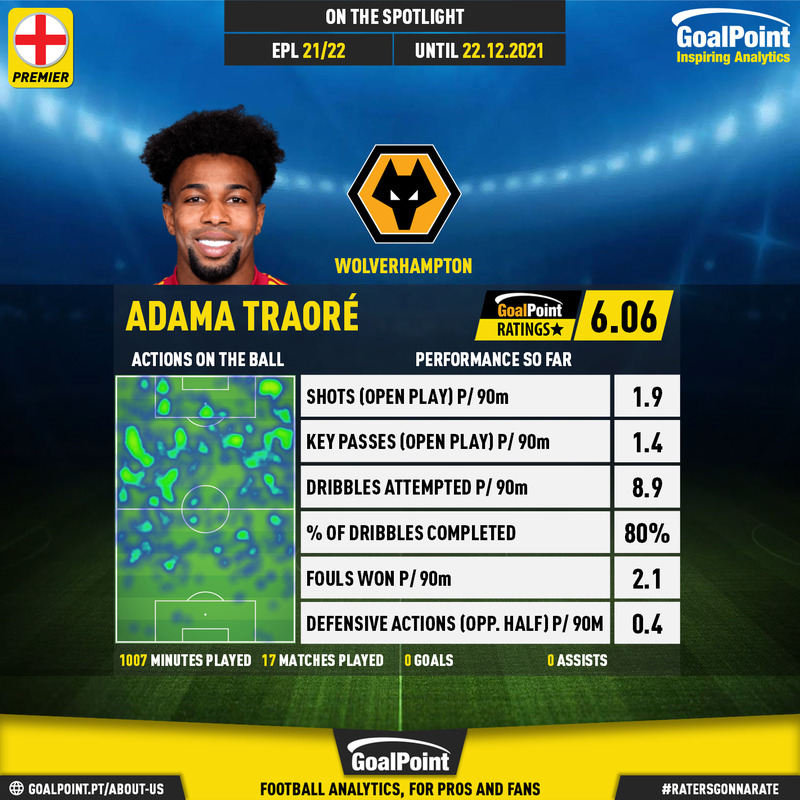 Their issues lie almost exclusively in their lack of an out-and-out goalscorer. Simply, they haven't replaced Diogo Jota. Francisco Trincao is a top prospect but he isn't physically ready for the Premier League and needs more time to adapt.
It's hard to make a judgment on how Hee-chan will pan out as a goalscorer at this level, he's got 4 goals this season but has only produced 2.2 xG and has looked physically bullied by some CBs when playing through the middle.
Without a true attacking threat, Wolves will begin to more consistently lose the hard games and struggle in the "winnable" and easy ones. Lage's system certainly has promise and with an elevation of profiles and more overall depth, it's not hard to see him at Wolves for a long time to come.
By: Aden Suchak / @eyetestfb
Featured Image: @GabFoligno / Jack Thomas – WWFC / Wolverhampton
All images via Goalpoint.