Erik Ten Hag's Ajax: A 4-3-3 / 4-2-3-1 Hybrid
After eleven games played, Erik Ten hag's Ajax sit first in the Eredivisie with 26 points and a staggering +35 goal difference. Since taking over in December 2017, Ten Hag has established a dominant and exciting style of play at Ajax, winning two Eredivisie titles and two KNVB Cups.
Whilst perhaps their 'peak moment' has been their deep run in the 2018/19 UEFA Champions League when they defeated Real Madrid and Juventus, they have merely improved and look better than ever with ex West Ham striker Sebastien Haller leading the line alongside the likes of Dusan Tadic and Antony.
Ajax have mostly lined up in a 4-2-3-1 this season that could look like a 4-3-3 at times. It's hard to pinpoint out what their build-up structure is mainly due to the fact that they have so many variations, but the key aspect here is how they maintain a higher tempo with short passes to create diagonal passing ranges to progress the ball from one end to another.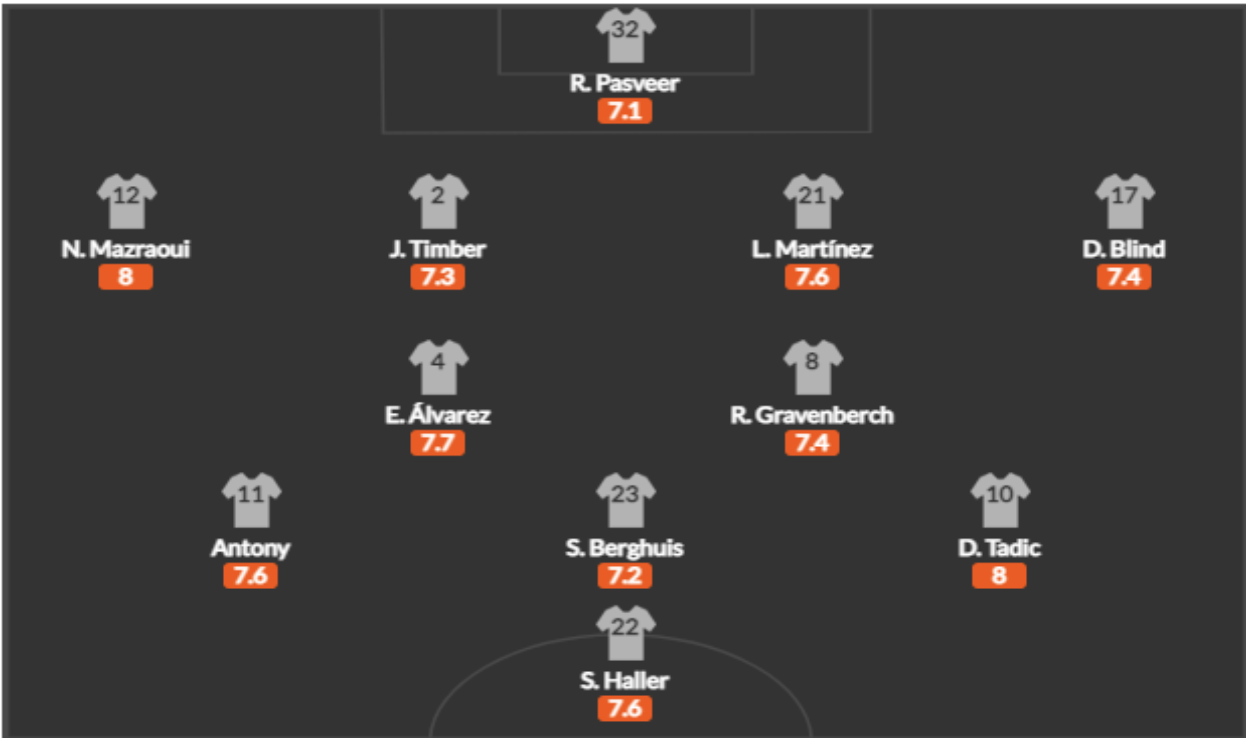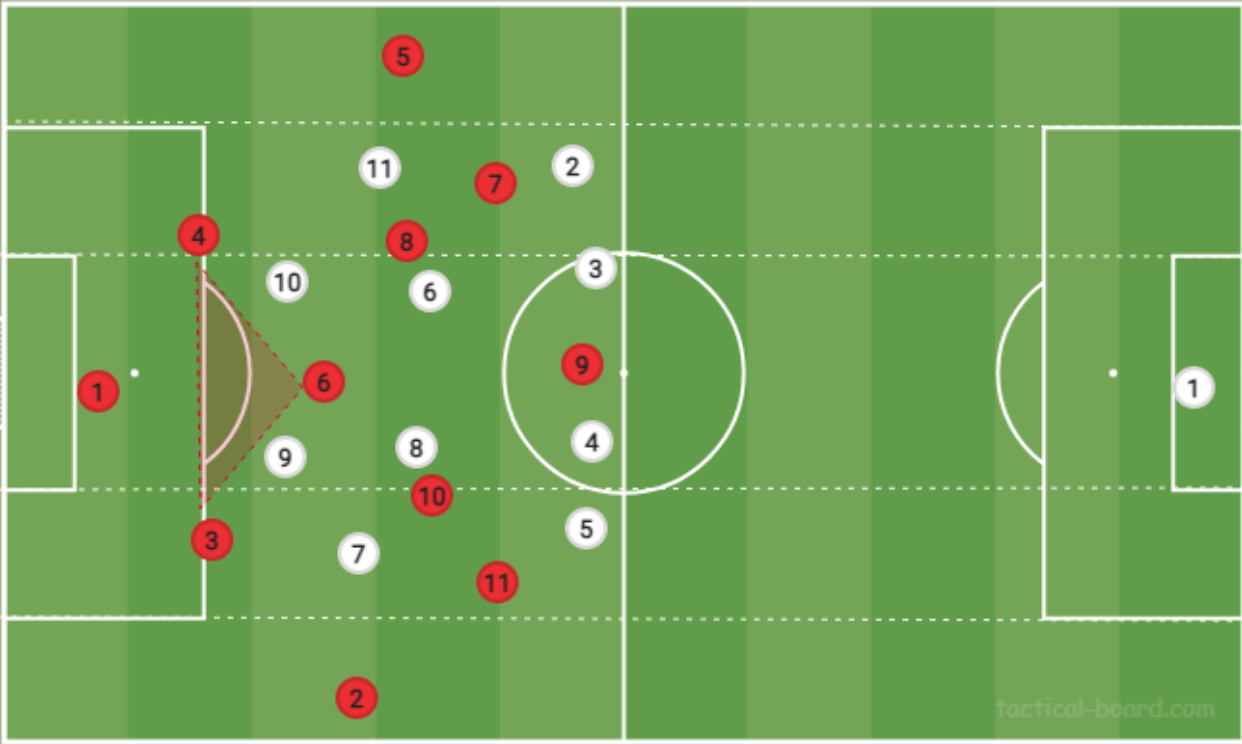 Ajax often set up with a 2-1 build-up structure with Edson Alvarez dropping deep to provide a close passing option to the two center backs — typically Jurrien Timber and Lisandro Martinez.  Both full-backs — Noussair Mazraoui and Daley Blind — move higher up the pitch, allowing both wingers to tuck inside into the half-spaces.
From there, either of the two things can happen:  Blind, the left back, will drop deep to collect the ball, allowing Ryan Gravenberch to move higher to create a 4-3-3, whilst enabling all three midfielders to occupy the three vertical lanes and creating a 3-1 shape in at the back with the width being held by the LW (Dusan Tadic).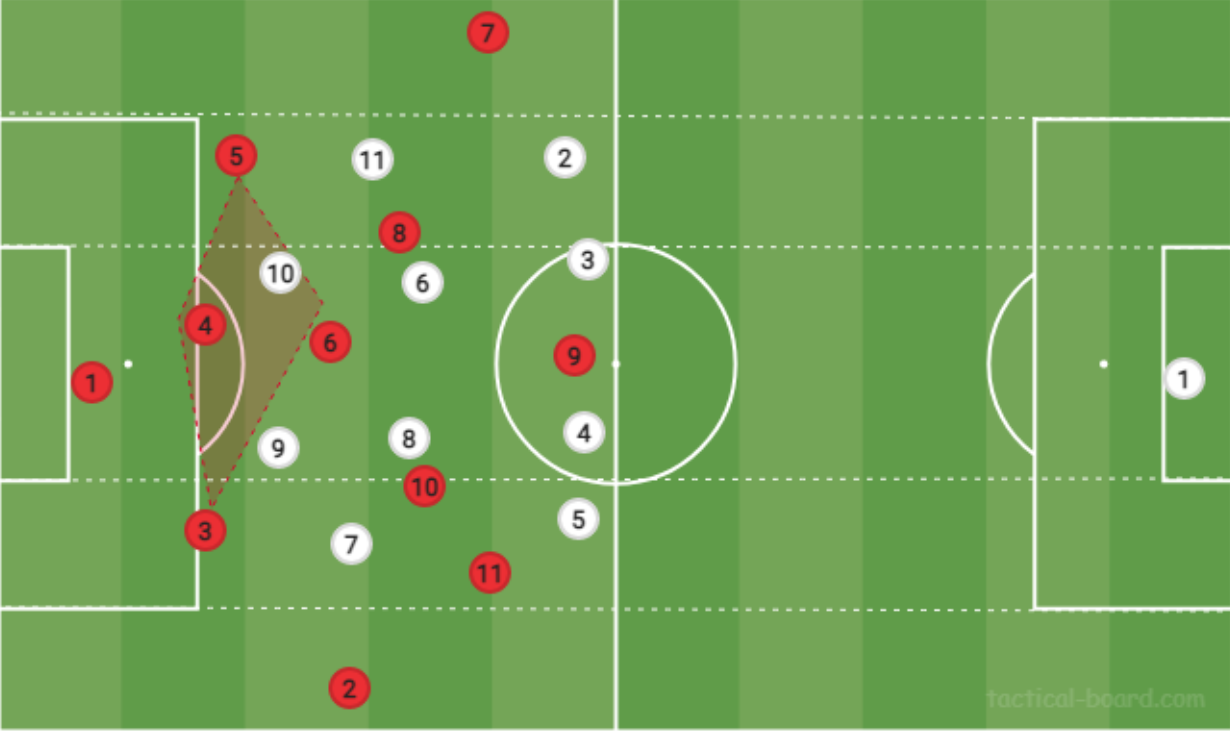 The second option is as follows: both fullbacks move higher up to create overloads on the flanks, whilst Ryan Gravenberch, similarly to the role Frenkie de Jong occupied in 2018/19, drops between the center backs to help progress the ball in the first third of the pitch. This effectively creates a 3-1 shape in the build-up and provides Ajax with a versatile approach in possession.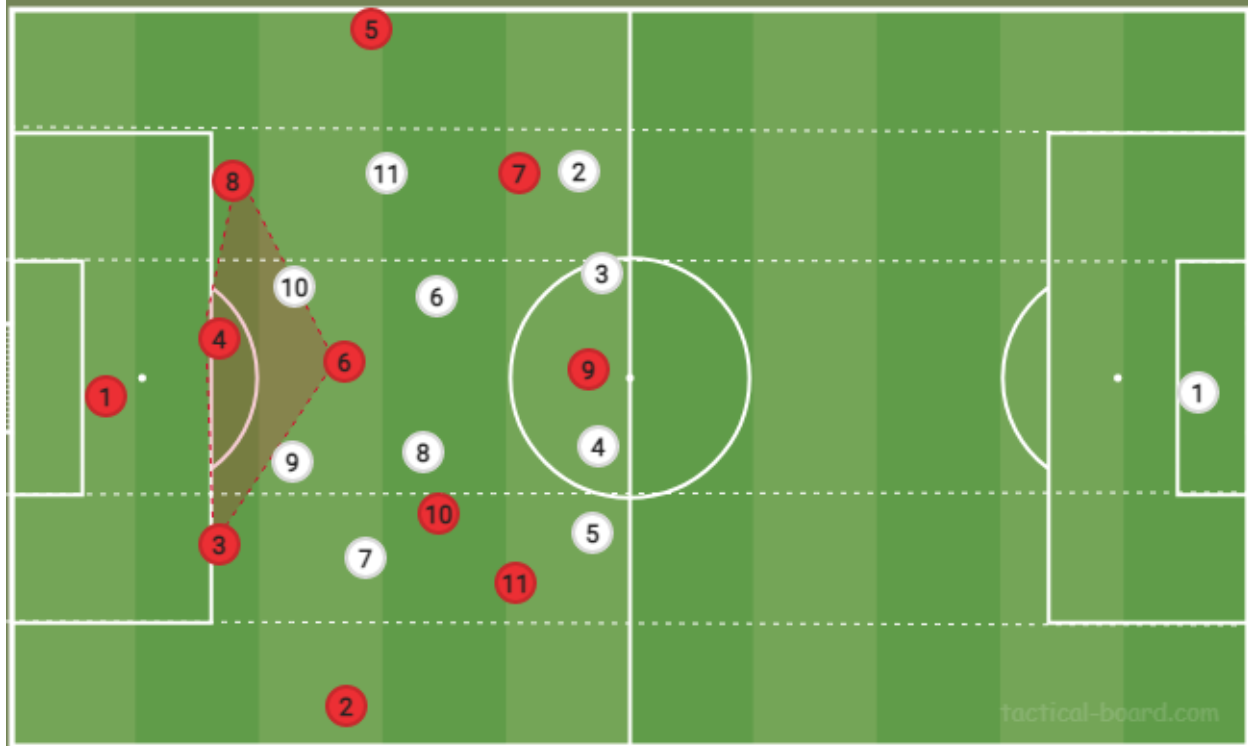 Various players have departed Amsterdam since that spellbinding 2018/19 campaign; Frenkie de Jong and Matthijs de Ligt immediately left for Barcelona and Juventus, whilst Hakim Ziyech and Donny van de Beek later departed for Chelsea and Manchester United. Nevertheless, Ten Hag has not shifted from his original plan.
Perhaps the biggest change from that 2018/19 season was the addition of Sebastien Haller from West Ham in January 2021. The Ivory Coast international has allowed them to play long and offer a much more direct approach in possession, a vastly different style to 2018/19 when Tadic occupied a false 9 role in attack.
Ajax tend to stack one side of the pitch to attract the opposing defense towards one flank, a strategy often in its full effectiveness against teams that are usually in a mid-block or a low-block. They are patient enough to look for specific spaces in between the lines and will look to disorganize the opposition defense by drawing them out of their rigid positions. 
They stack one side of the pitch to create diagonal passing lanes, often forming triangles and diamonds. Combine this with wall passes and bounce passes, Ajax are arguably the best in the world when it comes to breaking down deep blocks.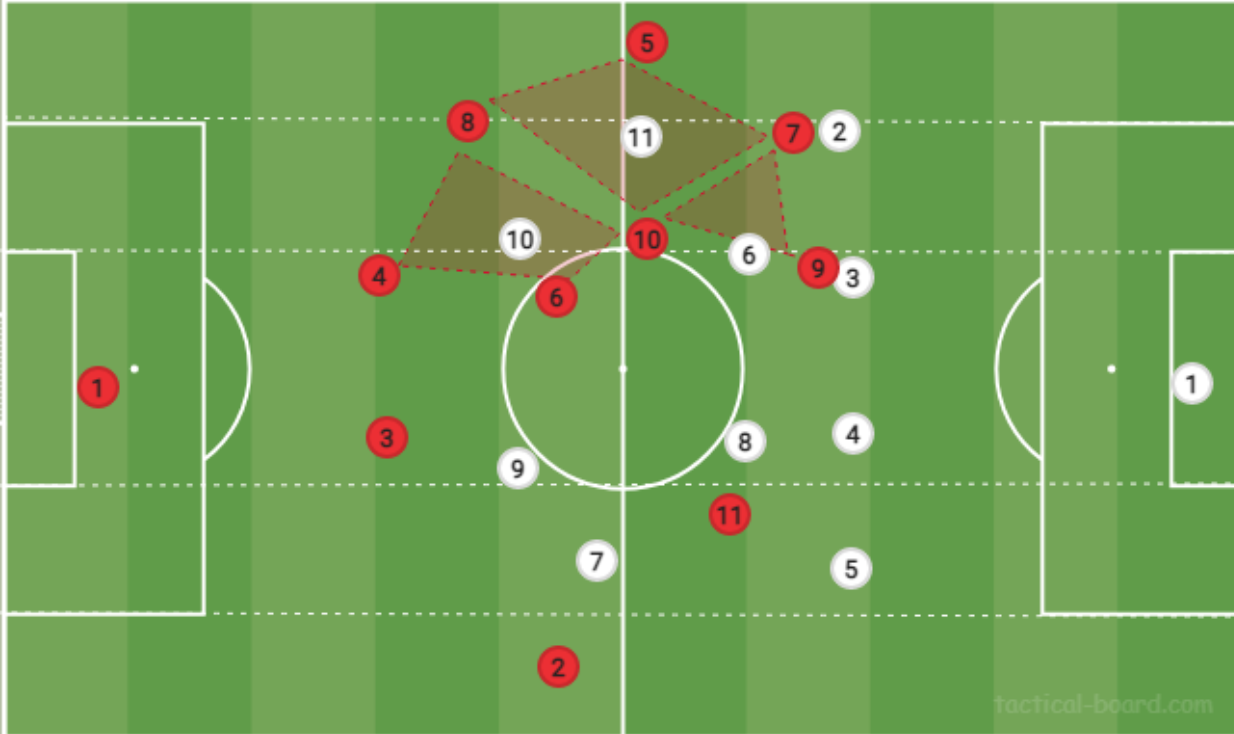 This is aided by Ajax's positional rotations or positional play, where they look to interchange positions with others to create fluid passing exchanges. When done correctly, Ajax are a team that's a nightmare to defend against, and because they stack one side of the pitch, their positioning is often narrow.
In doing so, this ensures that Ajax have multiple bodies around the ball so that when they cough up possession, they can almost immediately regain the ball, often using the byline as a second defender or forcing aimless long balls for the rest of the defense to collect.
However, this can also be a problem or Ajax as if the press is beaten, they can leave huge chunks of spaces in between the lines for the opposition to exploit, which can result in them being caught out of position and concede dangerous counter-attacking opportunities.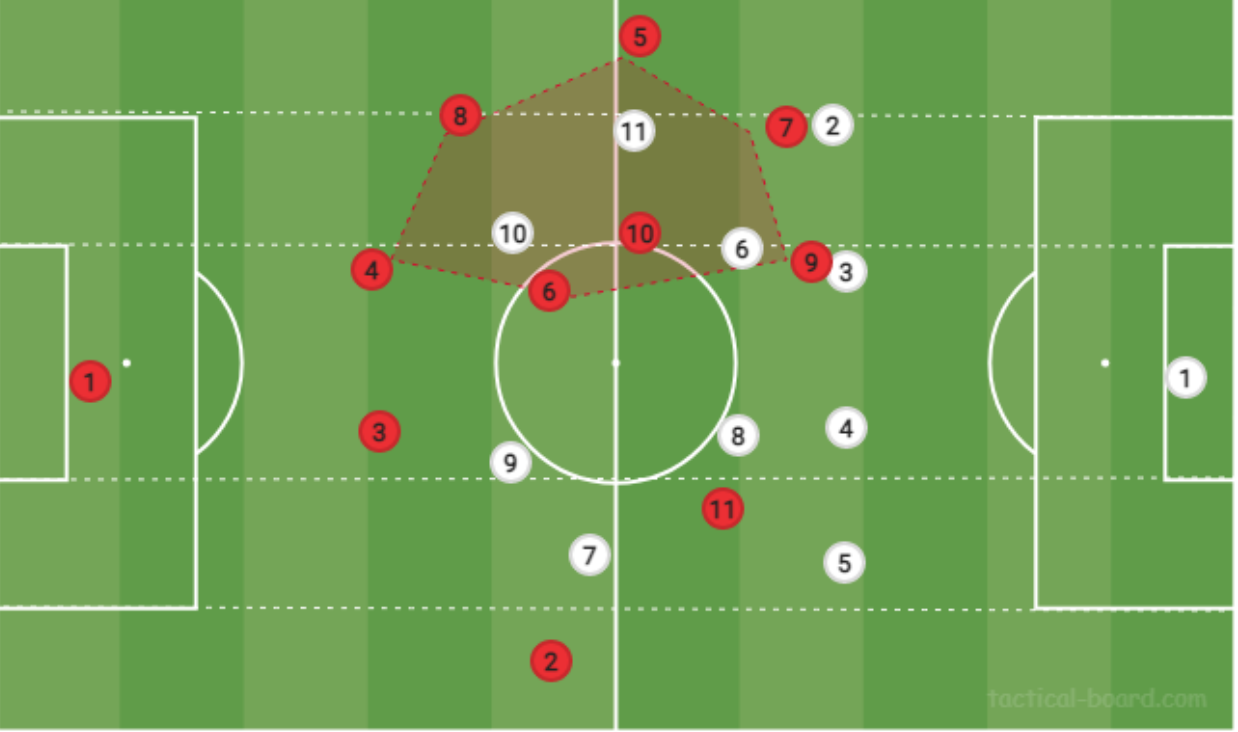 To conclude, Erik Ten Hag's Ajax is a tactically complex side that has established a brand of exciting football that is once again proving to be one of the biggest surprises and one of the best teams of the entire UEFA Champions League this season, and they may very well be on their way to another deep run the tournament.
After spells at Go Ahead Eagles, Bayern Munich's B team and Utrecht, Ten Hag has established himself as one of the most impressive managers in Europe at 51 years of age. Whether he decides to leave Ajax at the end of the season and try a new adventure in England or elsewhere, only time will tell, but he's well on his way to delivering another trophy-filled campaign at Amsterdam.
By: Arhum Sidiqqui / @MrArhumSiddiqui
Featured Image: Soccrates Images – Getty Images