Erik Ten Hag's Style Is Slowly Appearing at Manchester United
A disastrous start threw Erik ten Hag into the baptism of fire that is Manchester United. The English version of Hollywood FC, where there always appears to be a mountain of problems around the corner. Every minute detail that could be an issue is held under a metaphorical magnifying glass and used as content for the whole of England. 
The back-to-back defeats dispersed any optimism that might've come from an encouraging pre-season. Since the Brentford defeat, however, United have won three on the bounce for the first time since December 2021. Not just considering the gargantuan amount of confidence this team lost last season but also taking into account this is the third manager to take charge in the space of a year.
What will encourage Ten Hag the most, is there are flashes now appearing of the style we saw during his time at Ajax. Slowly but surely, the tactical patterns and sequences are beginning to come together even if Ten Hag doesn't quite yet have all the tools he wants and the players he currently has are executing actions in a non-formulated manner.
The one-touch passing and quick combos between the attackers were something that really stuck out to me against Leicester. In previous seasons and especially when Cristiano Ronaldo was on the field, the play felt labored, too slow reeking of a team that didn't really know what to do in the final third.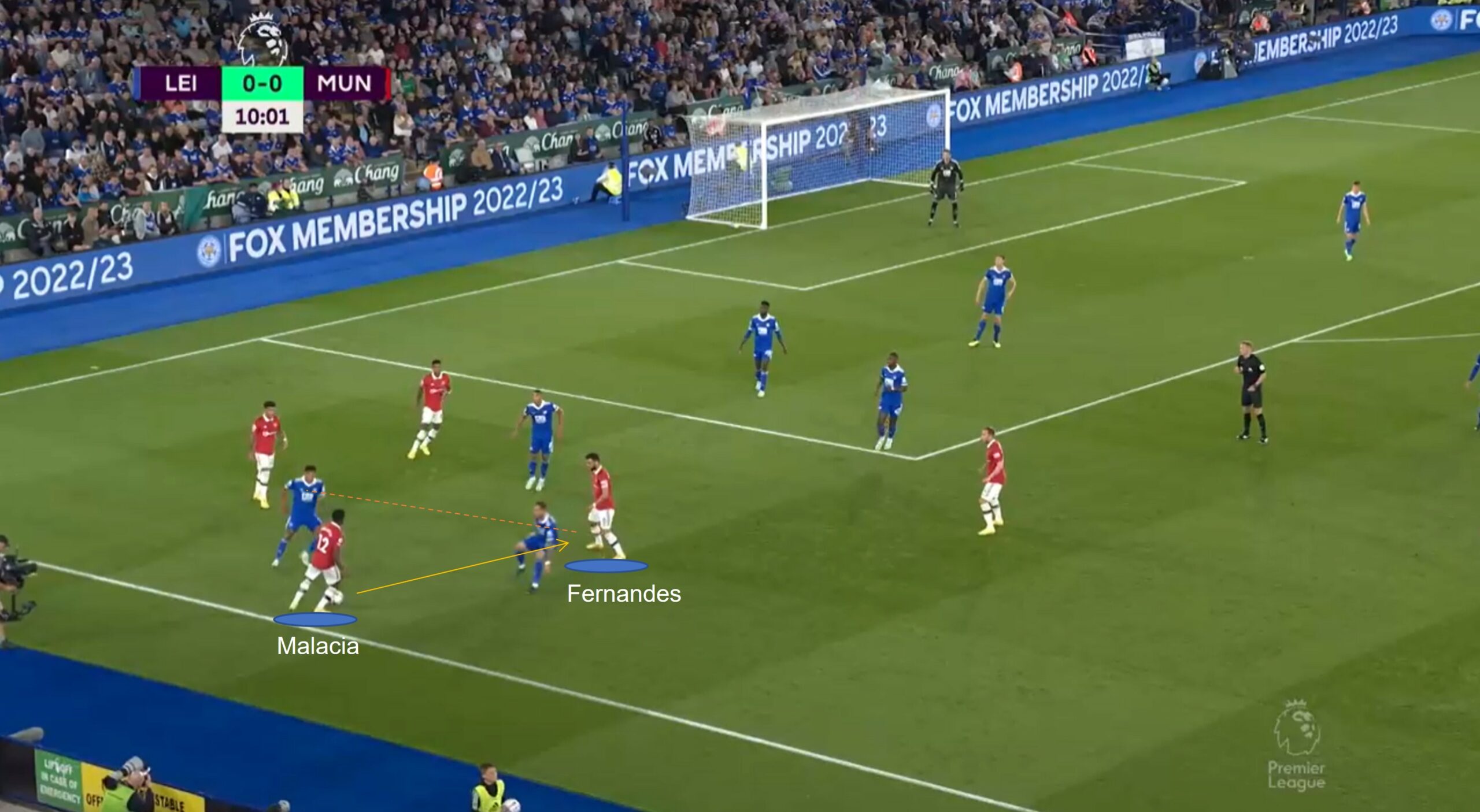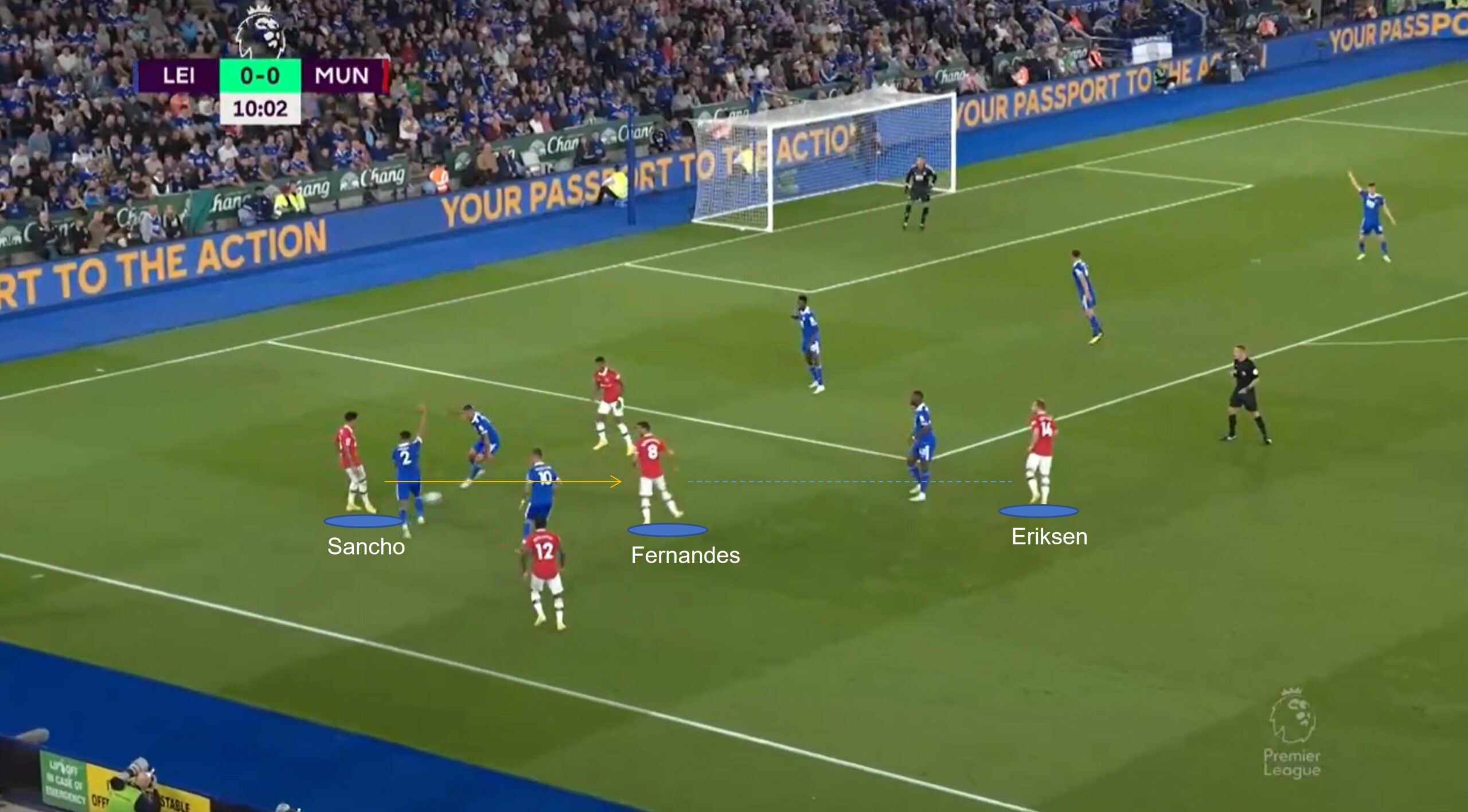 United are utilizing the attackers that they have playing the ball to each other in tight spaces, bypassing defenders forming boxes to pass to each other. In the following sequence, it leads to Eriksen in space who shoots wide.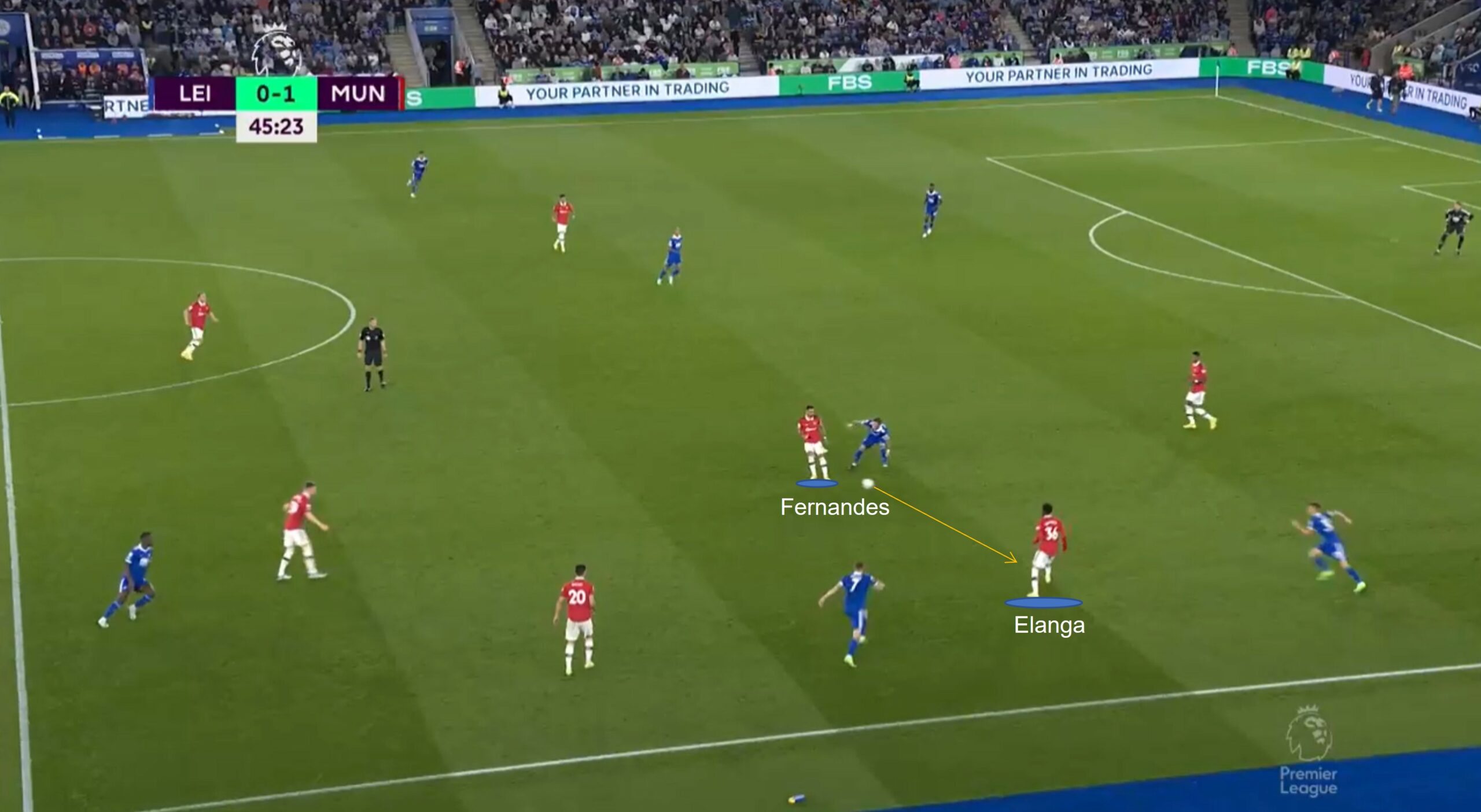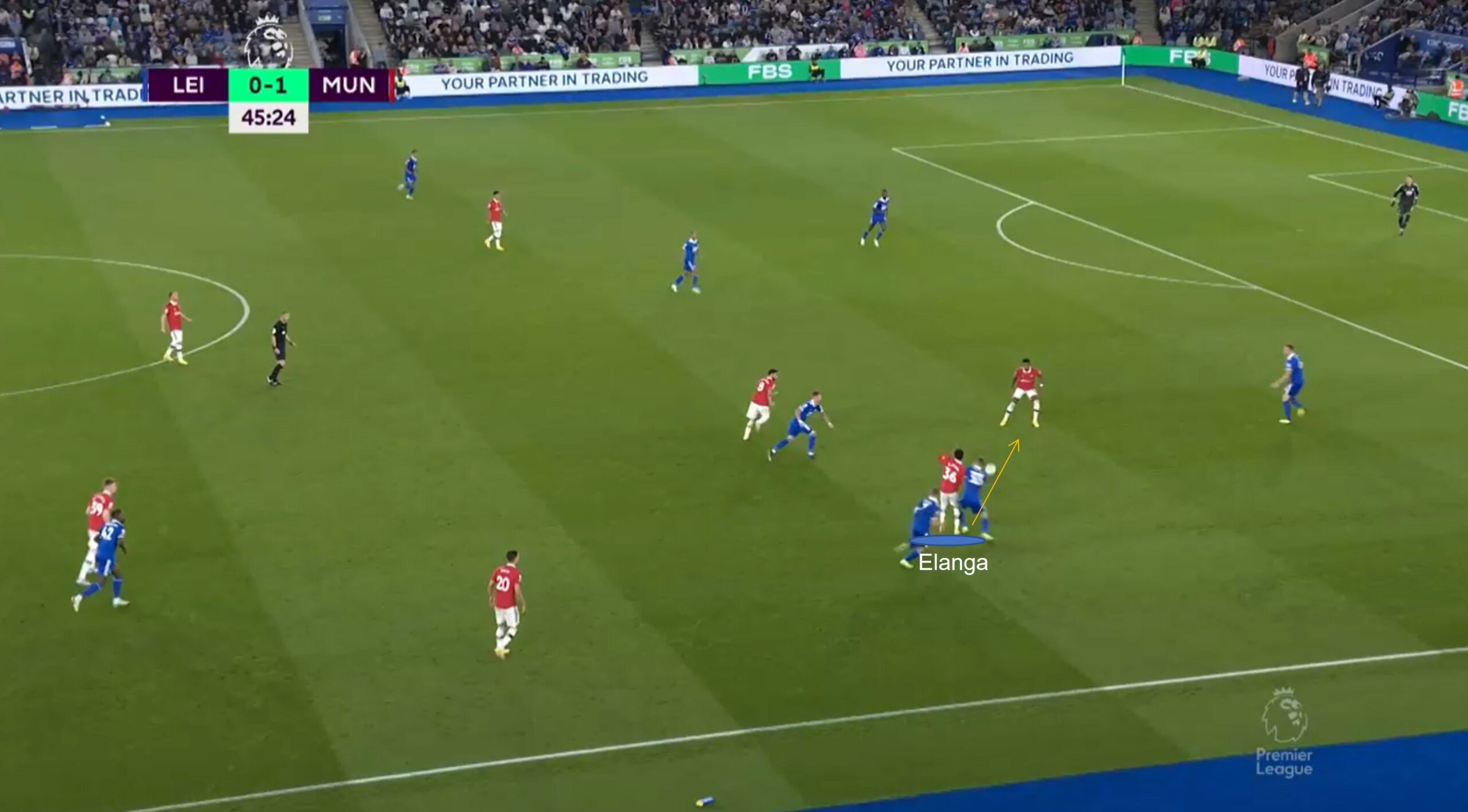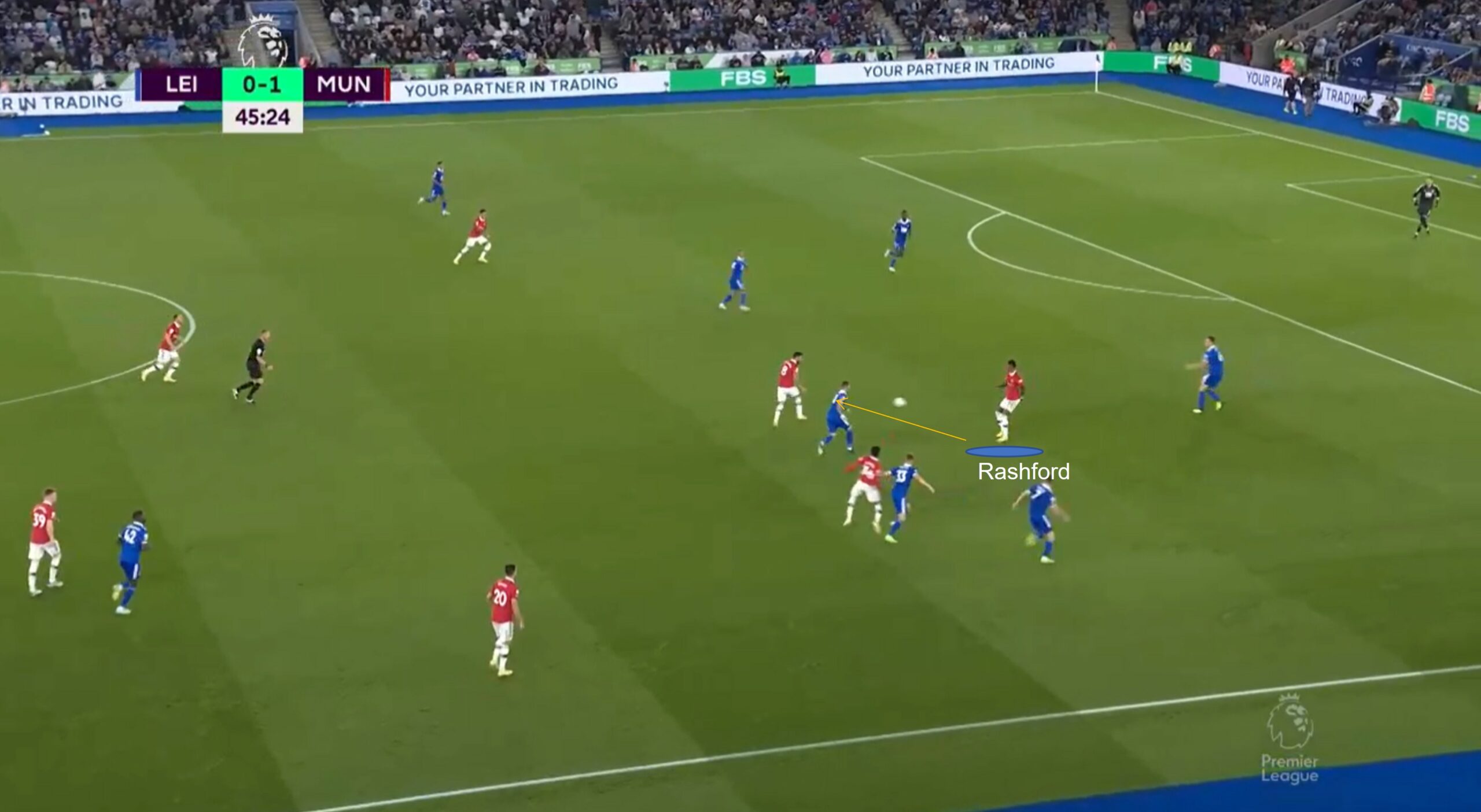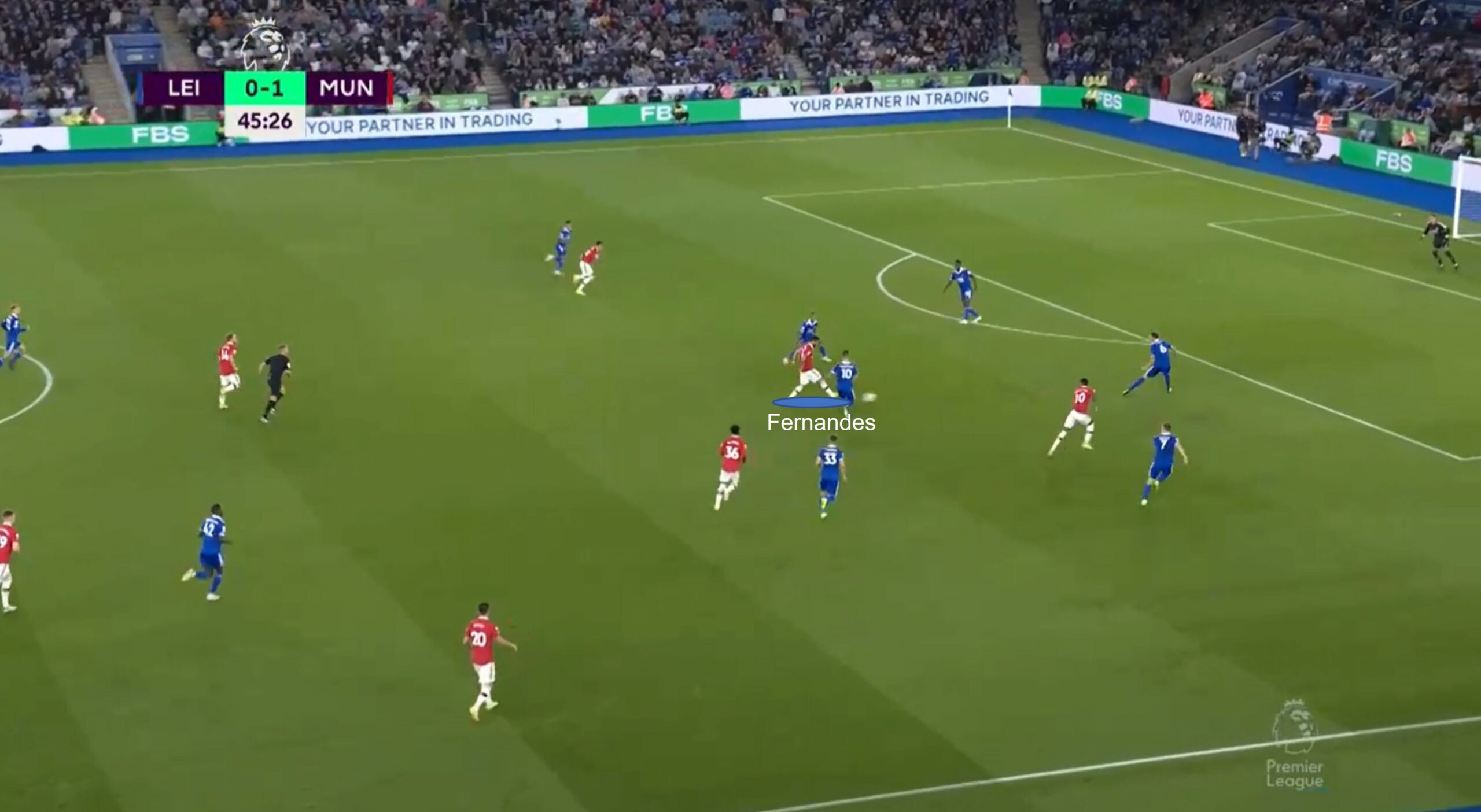 By doing this, the Red Devils can quickly move up the field with purpose bypassing defenders with a simple first-touch pass and move. It draws defenders to commit the tackle, but as the ball is being moved at pace leaves them scampering to chase the ball as it moves on to the next attacker.
Perhaps Leicester is a poor choice to use as an example, as they allowed United too much time to settle in possession, but another tactical component we saw exercised was the use of inverted full-backs.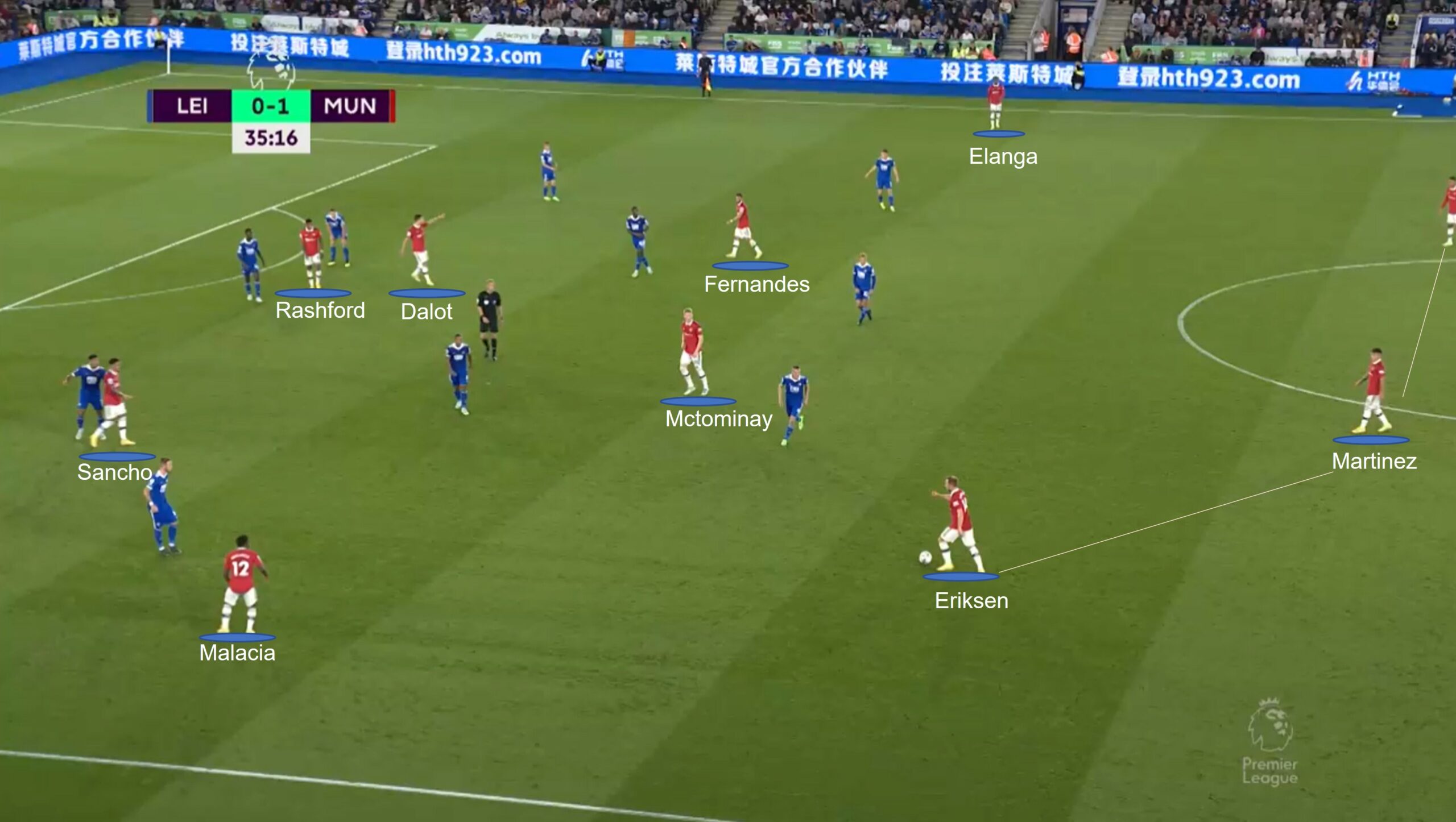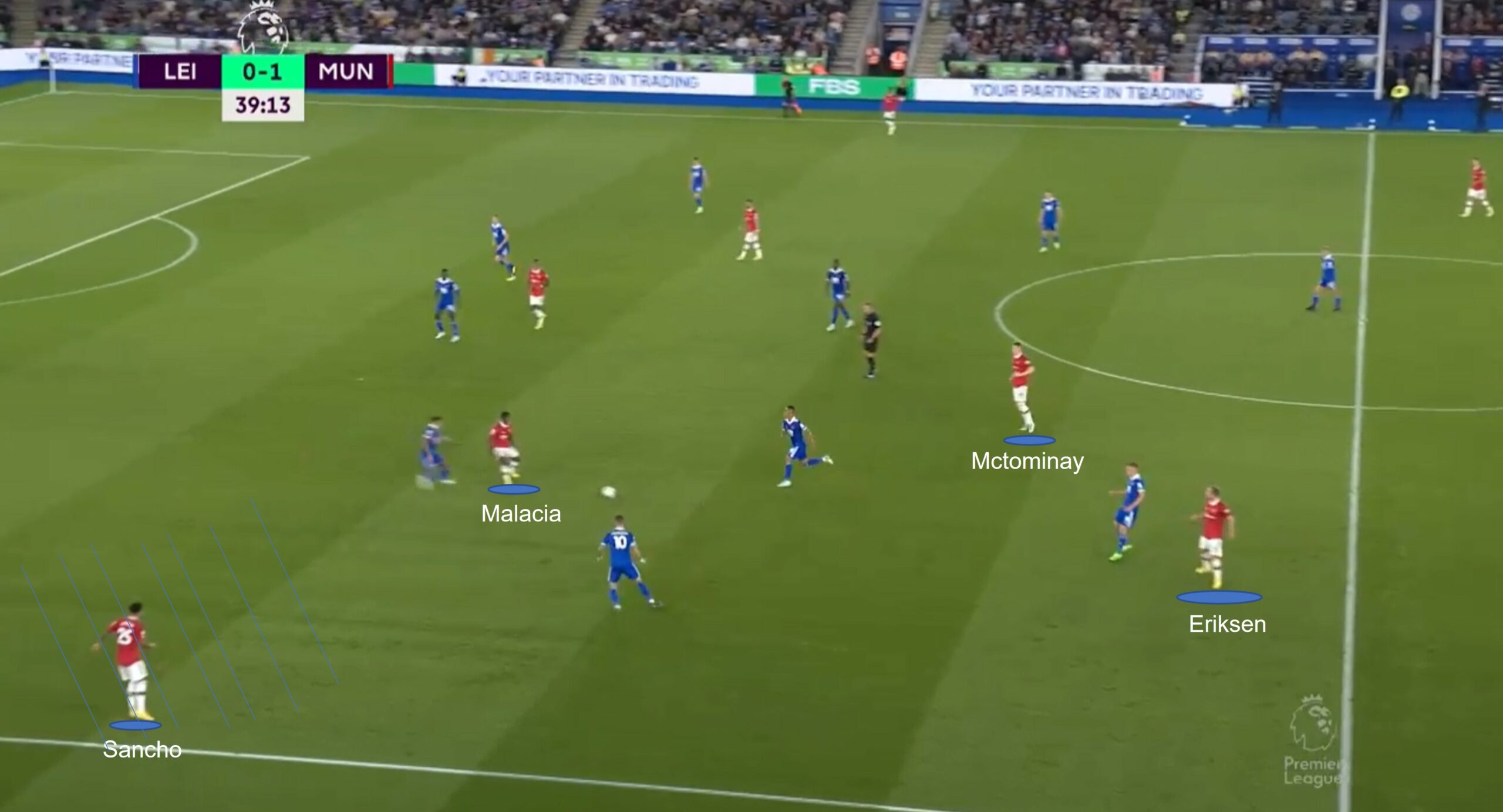 With United building up in a 3 at the back with Christian Eriksen conducting attacks from deep in the quarter-back role, you can see Diogo Dalot join into central space to become an extra man for Leicester to mark and for United to look to pick out but also stagger the central zone which now has four players occupying space. This allows Tyrell Malacia to pull wide but also because Leicester are dragged over to one side it leaves Anthony Elanga free.
Similarly with an inverted full-back pushed up they can also tuck in to draw out a centre-back which in this case leads Jadon Sancho to stretch Leicester whilst hogging the touchline so he can exploit the gaps left open created by Malacia's movement. This is particularly dangerous because if the movement of the wing back means it draws the centre-back out it leaves spaces in between the defensive back four.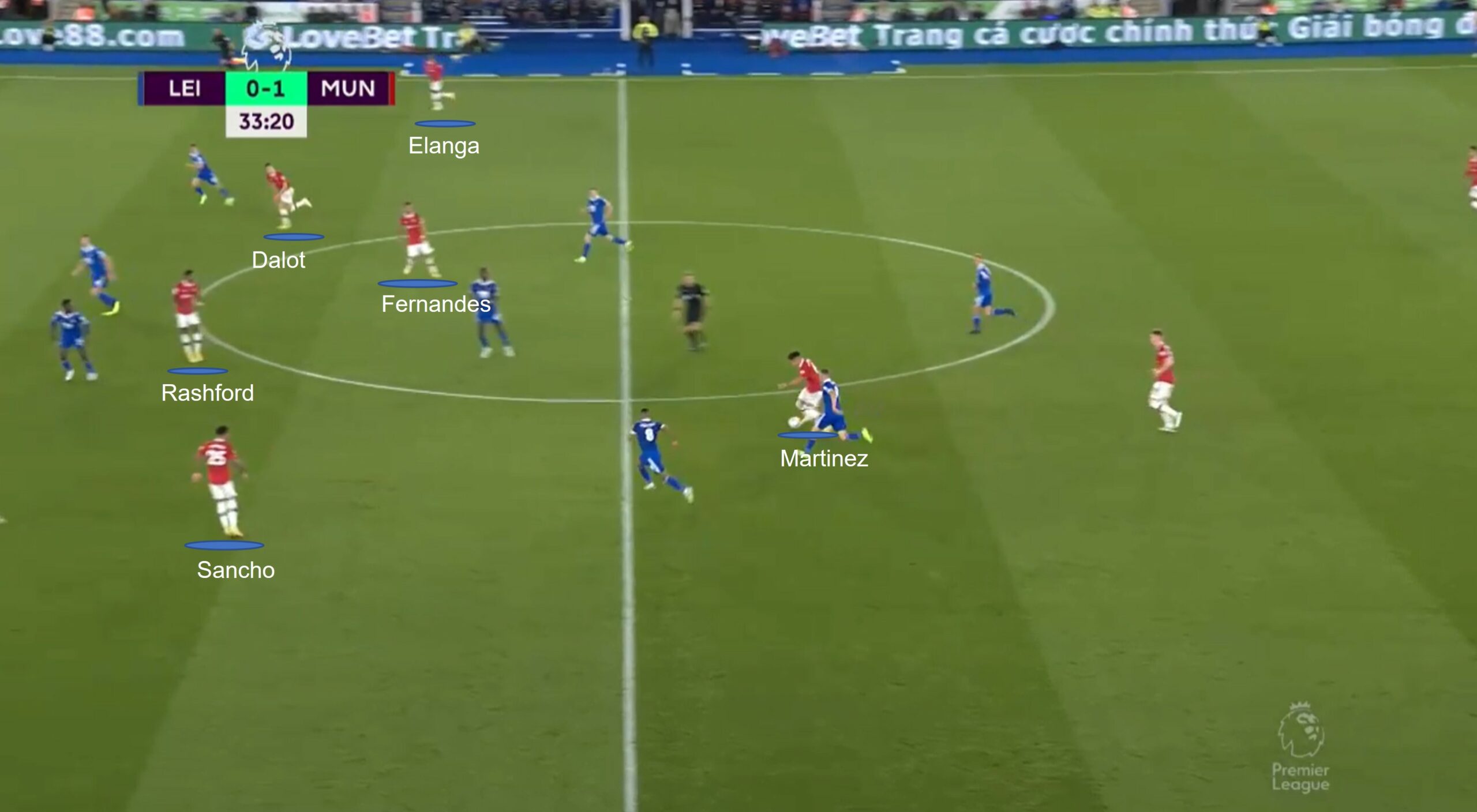 A defensive line like Leicester already had trouble keeping United's attack at arm's length so adding in an extra body for Leicester to mark gave the Foxes issues. It is still extremely early days, and Leicester are woefully out of form so there is of course no need to praise United profusely, but you can see that slowly but surely United and the players are at least showing signs that they can do what Erik ten Hag wants them to.
By: Dharnish Iqbal / @dharnishiqbal
Featured Image: @GabFoligno / Soccrates Images – Getty Images