Graham Potter's Brighton: Do the Seagulls Have Enough To Avoid Relegation?
In their last two league games, Brighton & Hove Albion have played some of the most beautiful football we've seen this season. Yet, they stay a side languishing in 16th place after having played 19 games. Many experts have predicted Brighton to find themselves in a tough relegation battle and not make it to the finish line. A roster full of injuries to key players hasn't benefited them either. And even then, their position in the league table seems unjustified given some of their performances this season.
There is but one main reason behind this unpredictable Brighton team – Graham Potter. The English manager was appointed in 2019, signing a four-year contract. Right off the bat, Potter inculcated his philosophy into the system and it had an instant impact. Although his style of play raised a few eyebrows, he never deviated from it. The faith he had in his team was immense and it gradually paid dividends. Sure enough, Brighton had their best season in the top flight – finishing 15th in the table with 41 points and a tally of 39 goals. 
Coming into the new season, they continued their run of form but some of their performances did let them down in potentially winnable games. And now, Potter's side find themselves struggling close to the bottom of the table. Worryingly, they haven't won any games at the Amex yet, with all three of their wins coming away from home. However, they have picked up vital points against the teams above them, also putting in their best display against Jürgen Klopp's defending champions, Liverpool.
Potter's managerial style sheds light on a lot of Brighton's strengths and weaknesses this season. Known to play an unconventional and progressive style of football, Potter is always asking more from his team. The underlying, most fundamental facet of his philosophy is adaptability. When he was at Swansea, Potter played ten different formations and the team ended up playing the most passes per 90 minutes in the Championship.
Something similar can be seen with Brighton too. Unlike other lower half teams, they believe in keeping the ball and trying to create fluidly from back to front. It's pretty evident that the players have had intense training with regards to staying composed on the ball and looking for more forward passes as and when they have the chance to. Potter's side have shown glimpses of this in a few games this season, namely ones against Manchester City and Leeds United. Although it has yet to excel, the signs seem to be convincingly positive.
Formation and Style of Play
As an adaptive coach, Potter likes to set up his team so as to match the opposition. Seemingly, in their last three league matches, Brighton have played a 3-4-1-2, a 4-1-2-1-2 and a 3-4-3 formation respectively.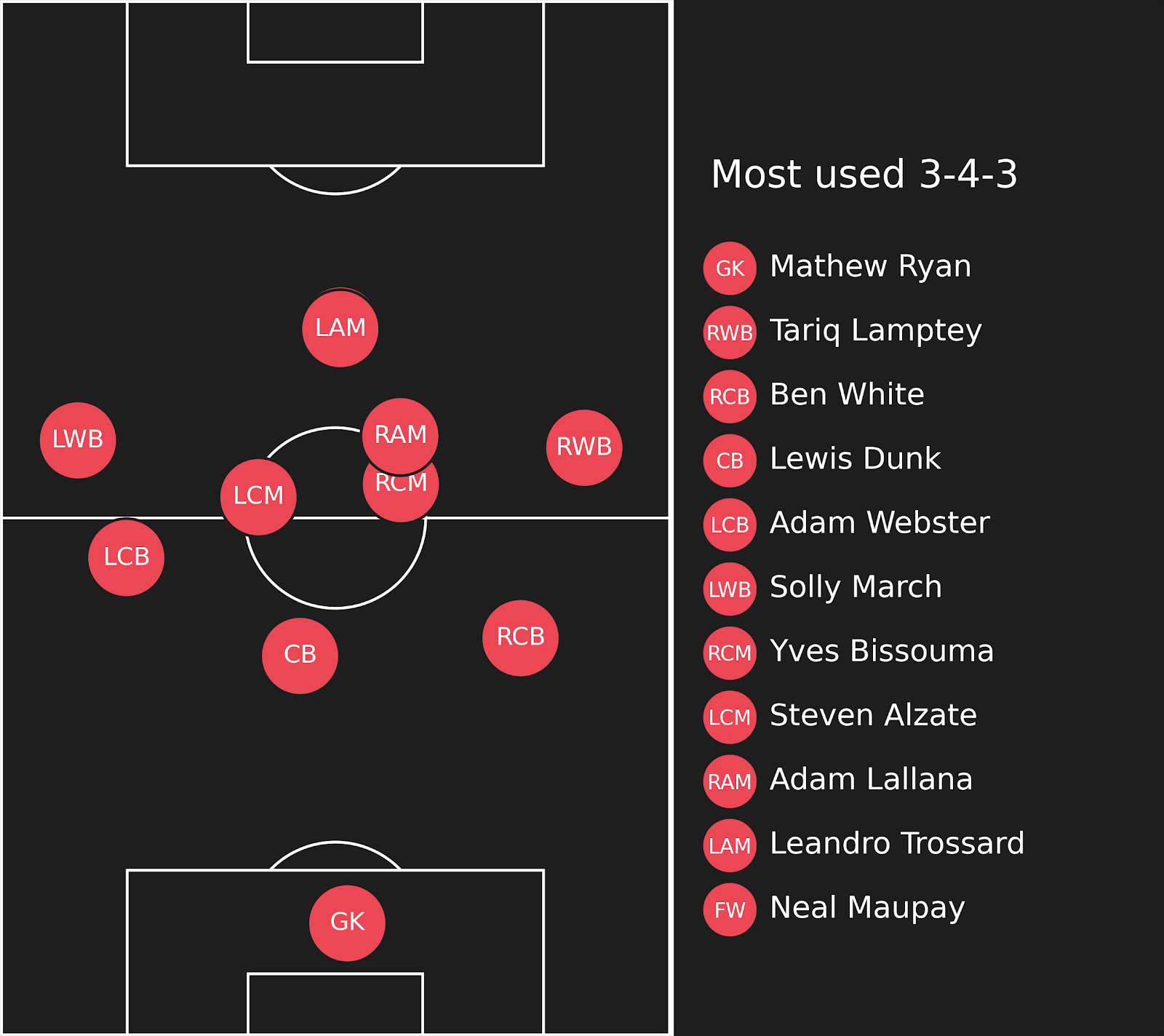 Photo: Twenty3/Wyscout
Having said that, Brighton usually tend to use a flexible 3-4-3 or 3-5-2 formation, with their wing-backs playing a crucial role in both attack and defense. Out of possession, they defend in a 5-2-3, with the wing-backs dropping alongside the central defenders to provide defensive cover. If the back five stay disciplined and in position, it becomes almost impossible for the opposition to penetrate them. 
The reason why Brighton still end up conceding can be traced down to momentary lapses of concentration at the back. If their wing-backs get caught high up, it exposes the centre backs because the opposition can create chances in the time the wing-backs take to recover. This season, they have also been unfortunate at times with injuries to the likes of captain Lewis Dunk and Tariq Lamptey. Their absences have impacted them adversely, leading to a concession of more goals.
Coming to the attacking side of things, Brighton can be seen to operate in 3-2-3-2 formation. The wing-backs move higher up the pitch, allowing the midfielders to overload the middle of the pitch, outnumbering their opponents. Another added advantage of this midfield overload is that it opens up the possibility of building up the play, instead of using a more direct Route One tactic.

Regarding the two forwards, Potter expects continuous pressing and aggression on the ball from them. Luckily for him, Neal Maupay is perfectly suited to this role and is deservedly Brighton's top scorer this season. His close control in and around the box is quality and the blind-sided runs he makes are superb. Combine this with strength and holding up, and you have a brilliant striker on your hands! 
Another interesting aspect of this system is when the 3-2-3-2 changes into a 3-2-3-1-1, with one of the strikers dropping deep to open up space in behind. This space is then exploited by the wing-backs and the frontman, while the midfielders make their way into the box to attack any crosses or cutbacks. In footballing terms, this would be called an "attacking overload."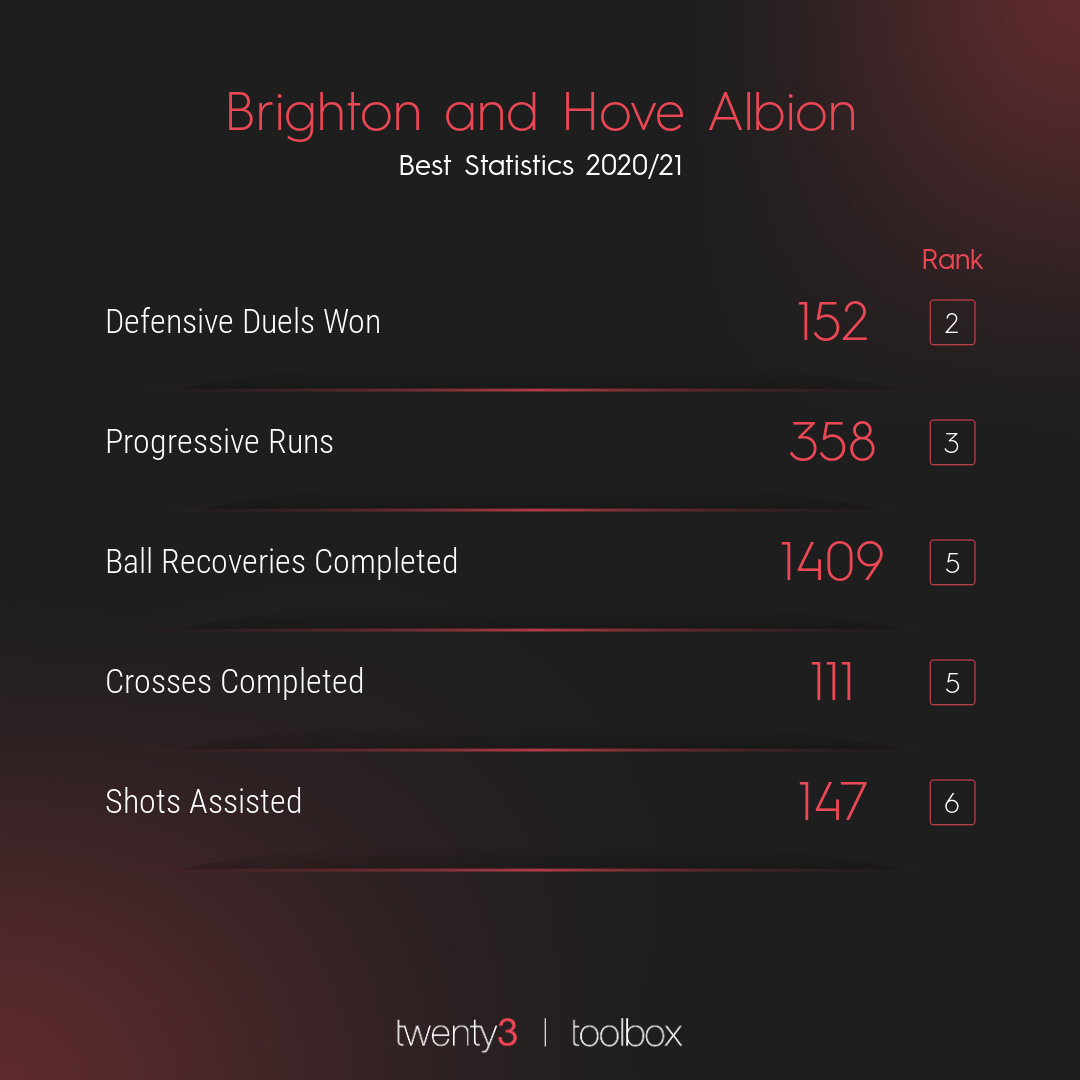 Photo: Twenty3/Wyscout
The Importance of Ben White and Tariq Lamptey
It's fair to claim that a lot of the Brighton players have massively improved under Potter's guidance. However, the two that have blossomed the most are Ben White and Tariq Lamptey. Having spent a season on loan at Leeds, White returned to Brighton a completely changed player. He'd won a couple of Player of the Month awards in the Championship while also claiming the Yorkshire Evening Post's Player of the Year award.
Described as a "cool and calm player," the young Englishman is also one of the most versatile players in the league. White can play anywhere in the defensive backline and his wonderful technical ability allows him to perform the defensive midfielder role too. White has attempted a total of 135 defensive duels this season while also having completed 83 interceptions and 149 ball recoveries.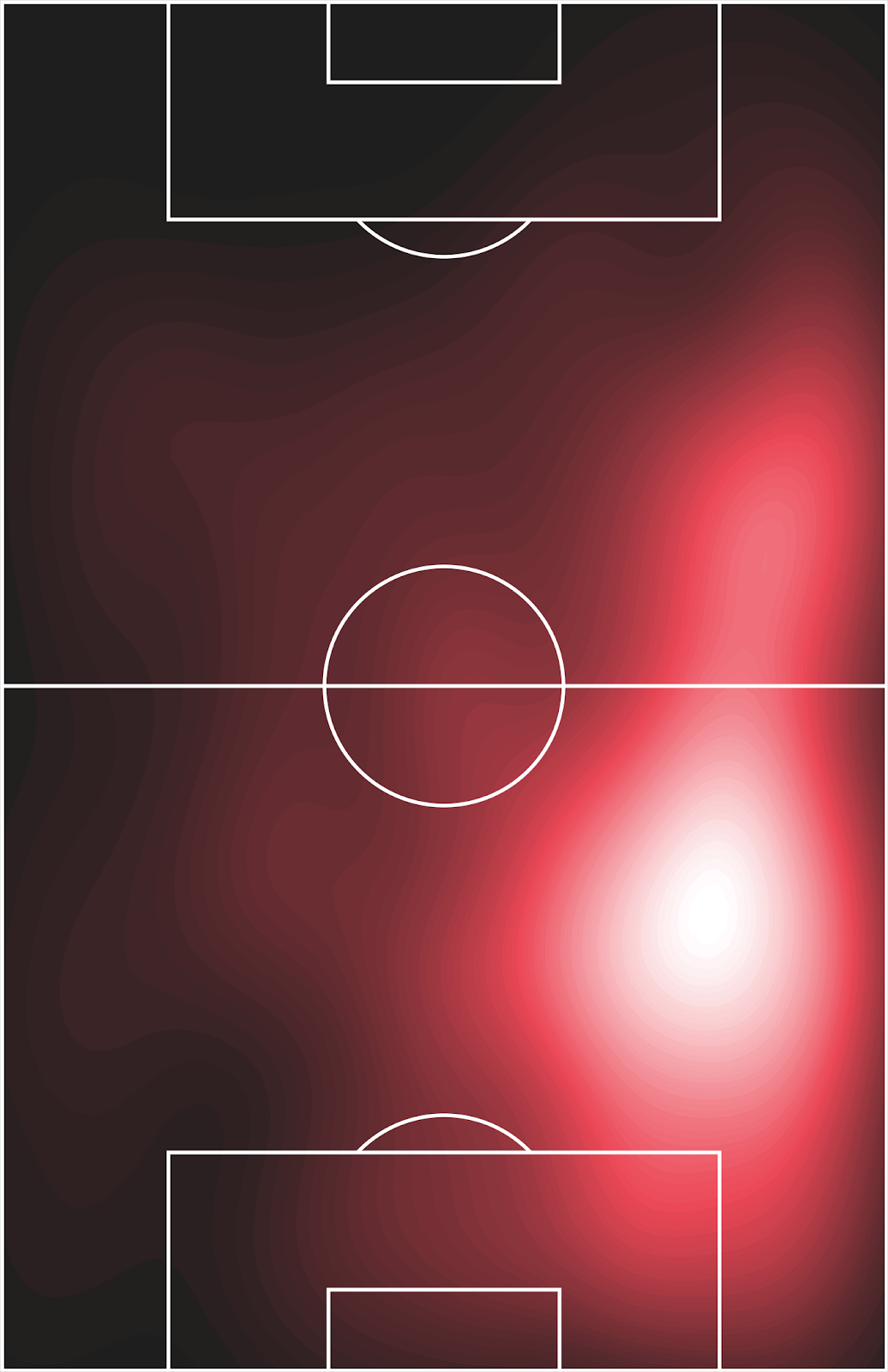 Ben White's heat map this season [Twenty3/Wyscout]
He is not scared to carry the ball forward from deep and always looks to play precise passes into any available half-spaces. White has completed about 67% of his dribbles and has made 19 progressive runs in the league this year. He has also played 216 successful forward passes with a passing accuracy of 85.59%. For someone who plays at the back most of the time, an xA of 0.5 isn't too bad either.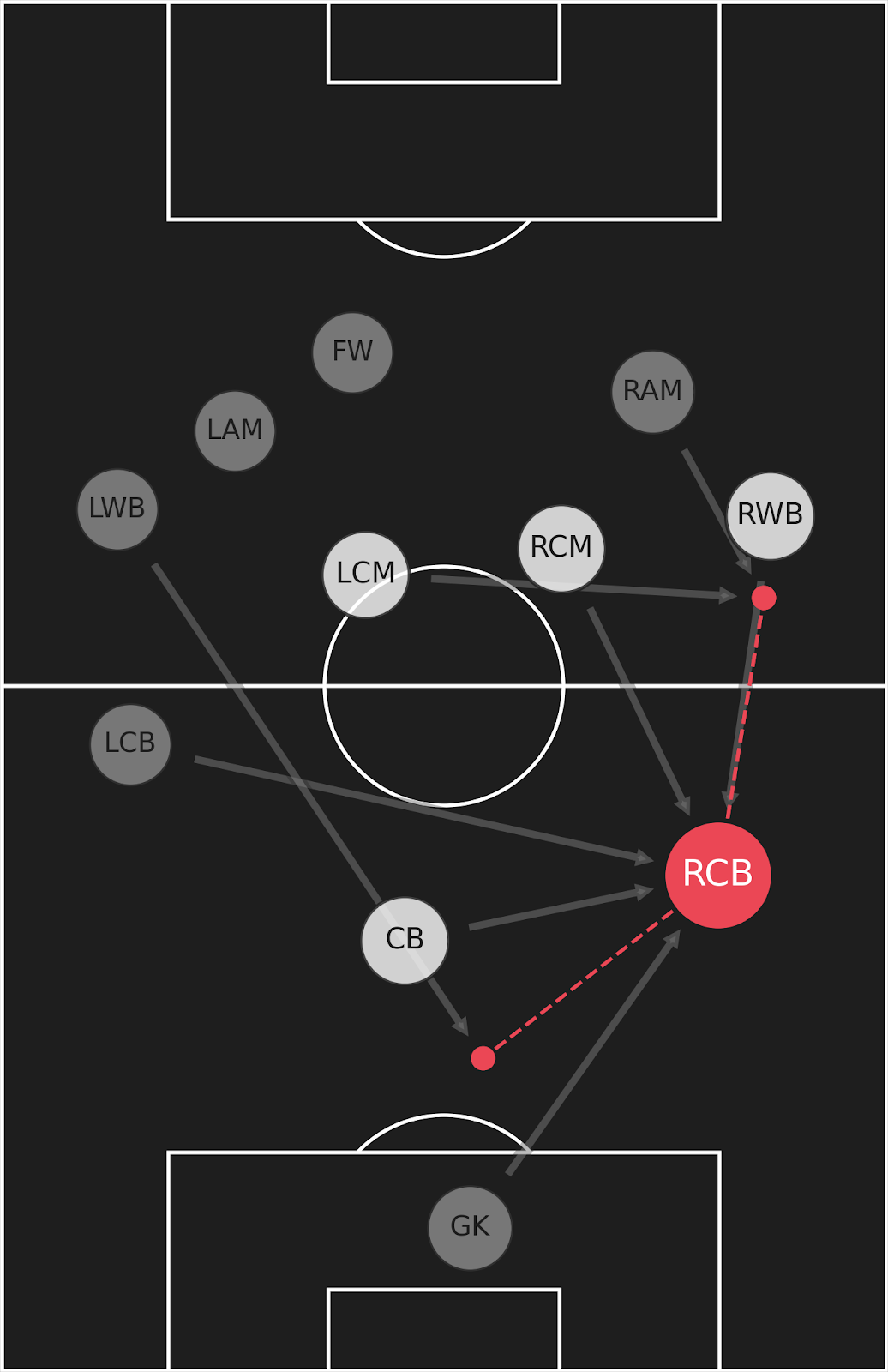 Ben White's average passing network [Twenty3/Wyscout]
Since joining from Chelsea last January, the 20-year-old Lamptey has burst onto the scene for the Seagulls. One of the most explosive players in the team, Lamptey has all but cemented his place at right wing-back. His speed allows him mobility up and down the pitch, whether it is for attacking or covering when getting countered. He loves taking on opposition defenders and can cross dangerously from any part of the right flank.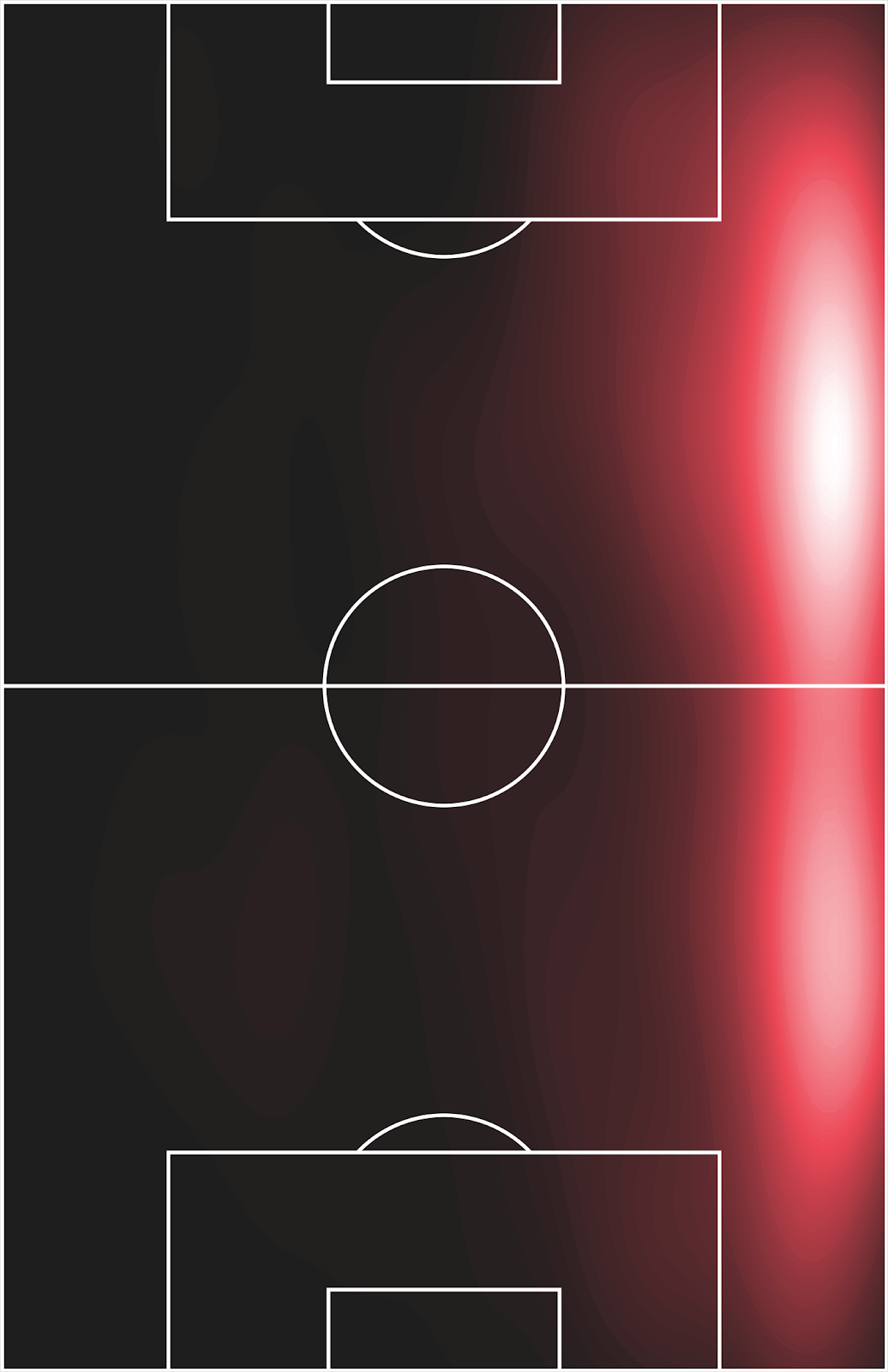 Tariq Lamptey's heat map this season [Twenty3/Wyscout]
The Englishman has won 89 defensive duels and has successfully recovered the ball 62 times. He has also completed 31 dribbles with a 57.4% success rate. Keeping in mind that his main role is still defensive, Lamptey has an impressive 41 successful progressive runs. Compared to White, he has a slightly better xA of 0.7.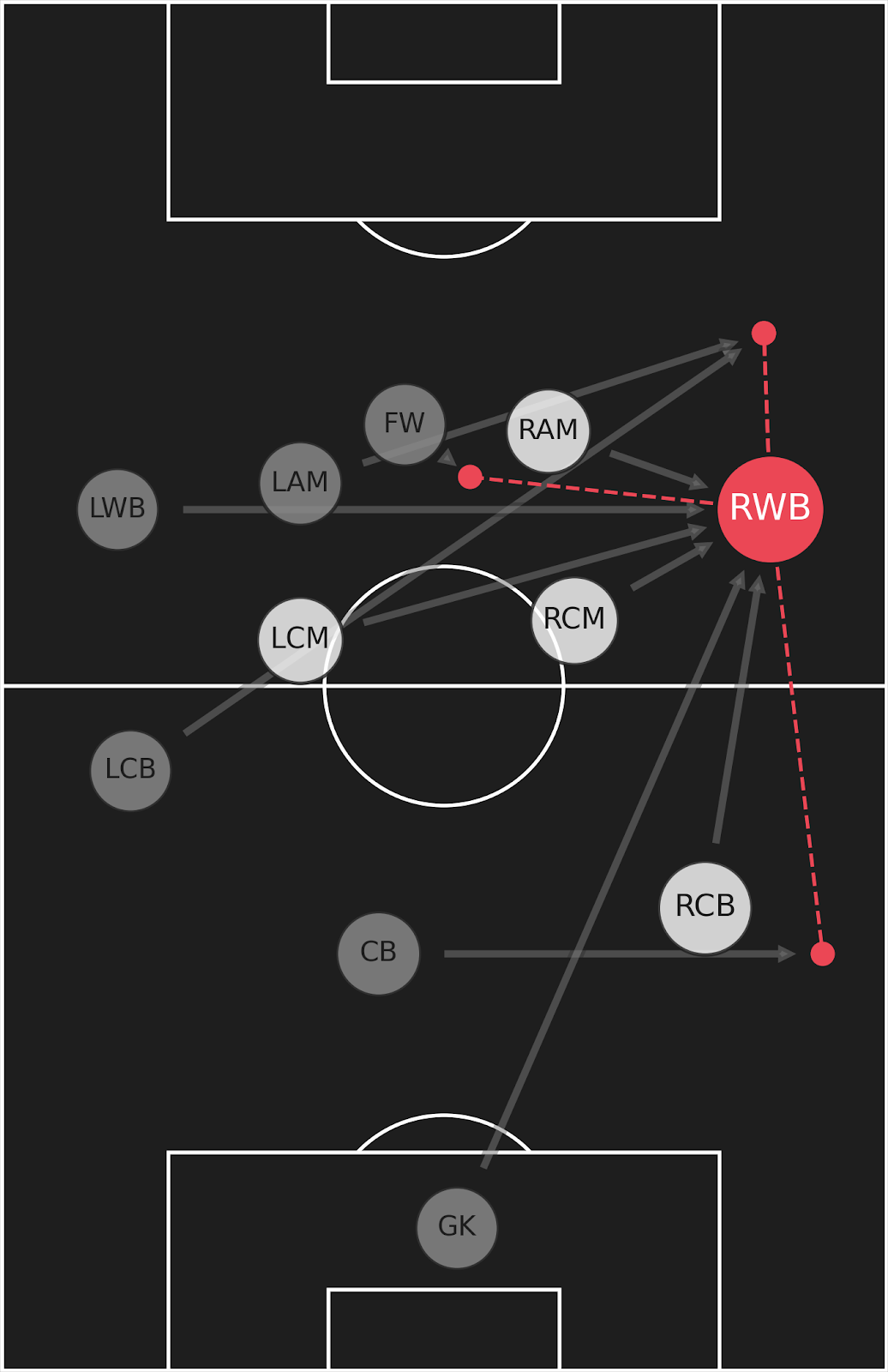 Tariq Lamptey's average passing network [Twenty3/Wyscout]
A Small Glimpse of the 4-4-2 Formation
One of the games Brighton played this season perfectly highlighted Graham Potter's adaptiveness to every single match. When Brighton were 3-0 against Wolves and Dan Burn was having a horror game, Potter changed the initial 3-4-3 system into a 4-4-2 because he wanted to prioritize defensive cover over chance creation. He also replaced Yves Bissouma with Davy Pröpper, a pure defensive midfielder replaced by a more technical one. This changed everything for Brighton.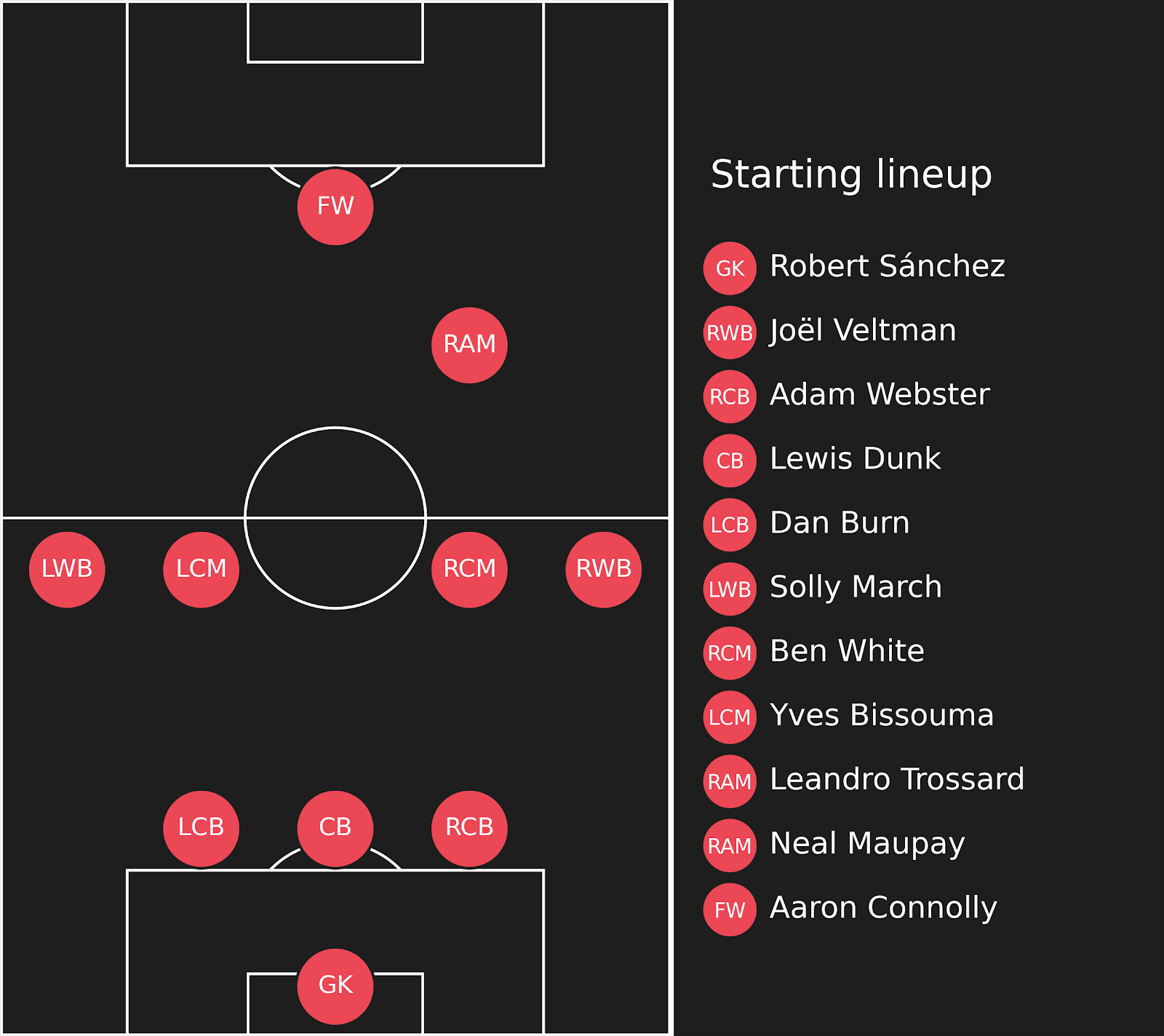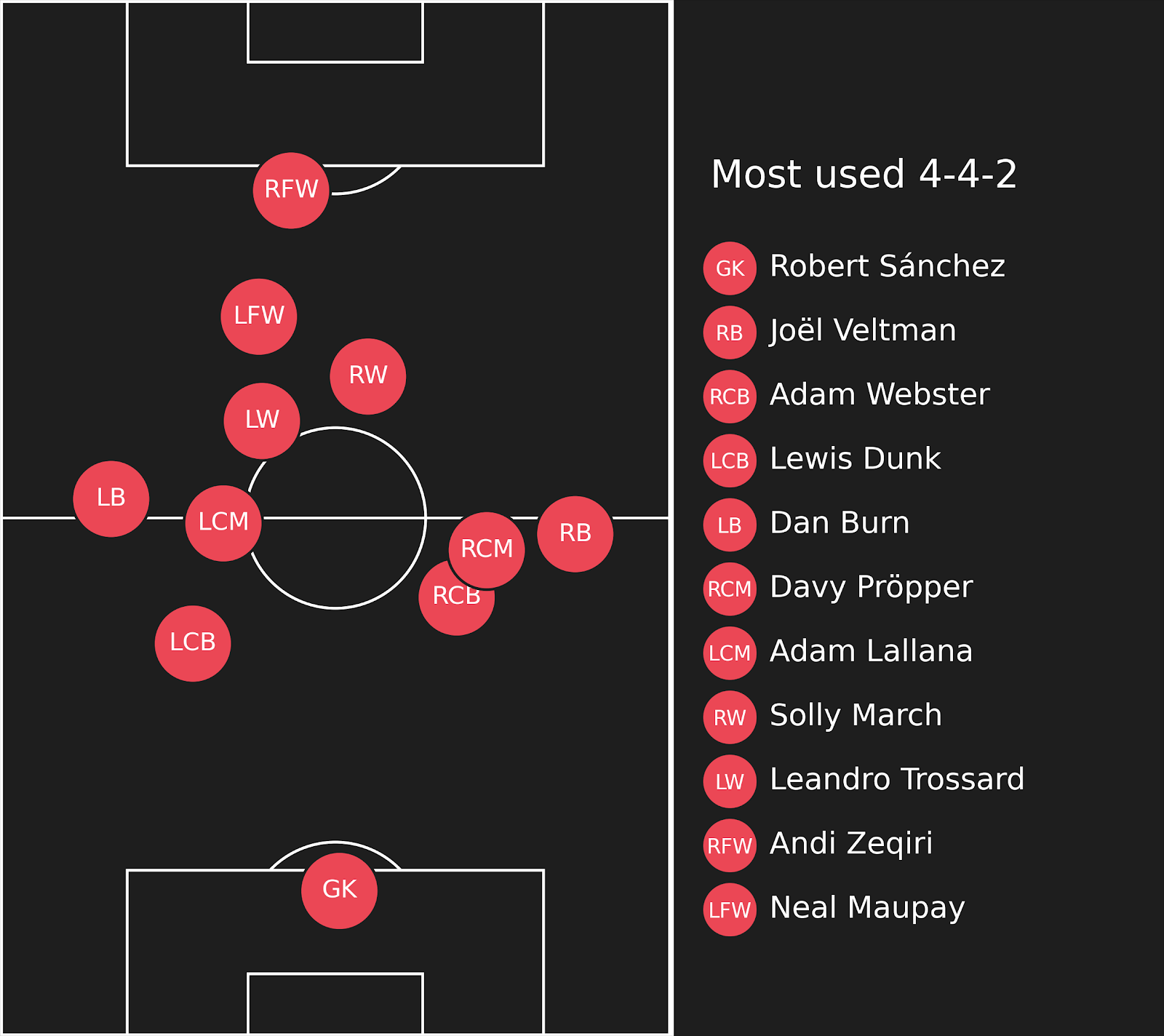 With four defenders now instead of three, Brighton were able to neutralize the Wolves attack more efficiently. Not only that, the excellence of White and Pröpper in the middle ensured that they were attacking and creating chances too. Brighton had more numbers in every exchange, especially against the likes of Adama Traorè who wreaked havoc in the first half but was shut down in the second. Brighton gradually started moving up the pitch and went onto rescue a point from the deaths as the match ended in a thrilling 3-3 draw.
By: Rahul Agarwal
Featured Image: @GabFoligno – Peter Powell – PA Images