How Arsenal Eked Out a Narrow Win against Manchester United at the Emirates
One of the most anticipated match-ups of the Premier League season's opening month came in North London, as Arsenal hosted Manchester United at the Emirates. Both teams took significant strides last season, with United finishing third in their first season under Erik ten Hag, whilst Arsenal ended their Champions League drought and finished second. Whilst Arsenal brought in Kai Havertz, Jurrien Timber, David Raya and Declan Rice over the past summer window, United completed deals for Andre Onana, Mason Mount, Rasmus Hojlund and Jonny Evans, as well as signing Moroccan midfielder Sofyan Amrabat on loan from Fiorentina on deadline day.
Mikel Arteta made several changes to the Arsenal side that drew 2-2 to Fulham the previous week, with Eddie Nketiah replacing Leandro Trossard and Oleksandr Zinchenko replacing Jakub Kiwior. With Thomas Partey missing out due to injury, Ben White moved to right back whilst Gabriel Magalhaes returned to the defense. As for United, we saw just one change from the team that pulled off a comeback 3-2 victory against Nottingham Forest, as Victor Lindelof replaced the injured Raphael Varane.
In the below video, we can see how Arsenal attempt to press with a 4-1 shape — Nketiah curls his run to close the passing lane to Lisandro Martinez, Kai Havertz and Martin Odegaard focus on shutting down Casemiro and Christian Eriksen, Bukayo Saka tracks Diogo Dalot, whilst Gabriel Martinelli remains close to Aaron Wan-Bissaka, ready to press Lindelof if needed. United were reliant on Andre Onana's ability on the ball, with his calmness, composure and distribution under pressure allowing him to break the lines and pick out Martinez with diagonal passes despite being constantly pressed by Nketiah.
Ten Hag's main idea, similar to 'La Salida Lavolpiana,' would see players make positional rotations in order to progress the ball from the first phase of build-up, with Casemiro dropping between the two center backs. This build-up shape would change from a 2-3 to a 3-2 strucutre depending on what phase of possession that United found themselves in.
Whenever Casemiro dropped deep, Havertz would push to press him, whilst Dalot would move inside, telling Rashford to go wide and create a 1v1 situation against White, before making a run into the final third. United utilized various ploys to progress the ball, trying to compensate for a lack of technical security in midfield. Dalot operated as a fullback, roaming from the flanks to the central areas, running into the final third to occupy Arsenal's backline, whilst also operating as a third center back at times.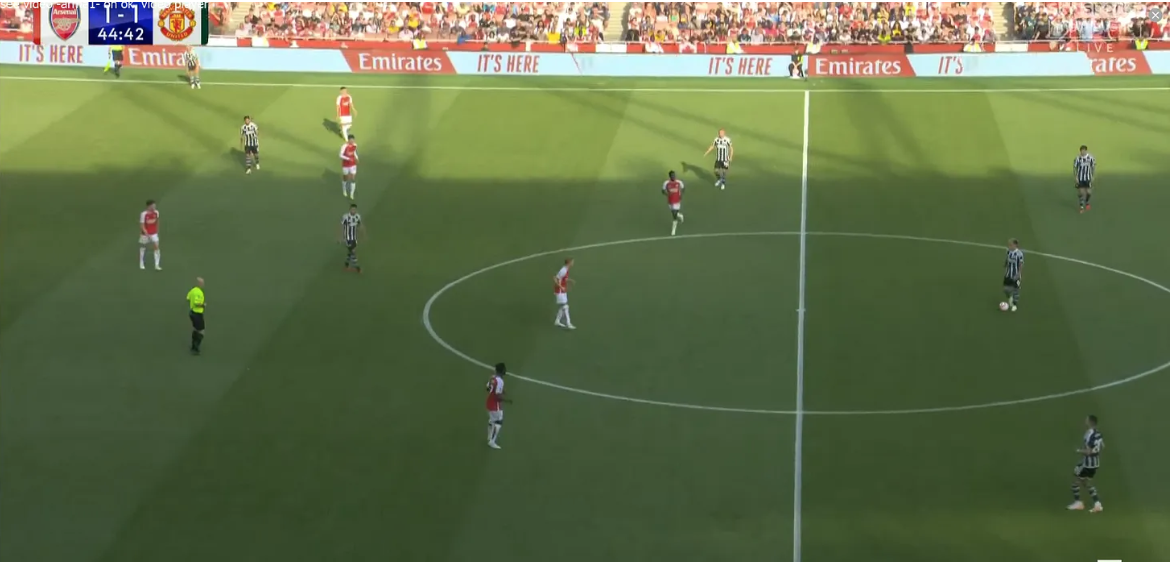 Dalot positioning himself as a third center back
What caught my eye watching United in possession is not just their inability to progress the ball through their midfield but also their lack of collective behaviors that make their possession flow easier. Non-verbal communication is lost, and in the next clip, you notice they can't beat Arsenal pressing without Bruno Fernandes dropping to give them the extra pass.
Casemiro's poor body orientation renders him unable to pick out his teammates in open positions, whilst Lindelof and Wan-Bissaka are far too passive in possession, failing to take initiative in carrying the ball forward, making too many back passes, and failing to exploit Arsenal's pressing structure — as such, Arsenal were able to close down the ball carrier and prevent them from building out from the back.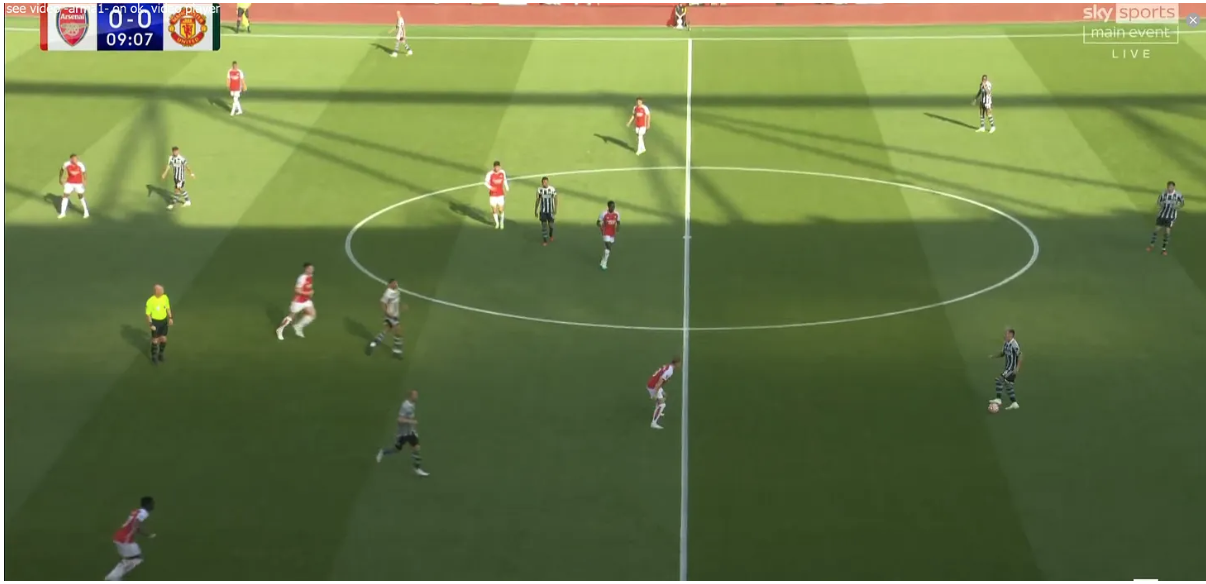 Martinez steps on the ball with the sole of his feet, inviting Odegaard to press
In the below video, we can see Martinez moving in behind, trying to escape Nketiah's curved run and receive freely to progress the ball into midfield.
Manchester United took the lead in the 27th minute via Rashford. Whilst initially attempting to force Rashford inside as Saliba was behind him, White was somewhat passive in his defending and Rashford took advantage, intelligently dragging him left before stopping for a second, pushing the ball to the right to create an angle for himself. Saliba also should have done better, as he had more time and space to react than White. Neither managed to make quick steps and try to block the shot with their backfoot, allowing Rashford to hit a world-class finish.
Arsenal have consistently carved out goal-scoring chances with set-pieces — in fact, they are perhaps overly reliant on them to create danger, a testament to the work that their set-piece coach Nicolas Jover has done, and a cause for concern as well. They tend to overload space to free a player up at the far post, Nketiah in the first half.
United defend corner kicks with a mixed system between zonal and man-marking, with five players defending a zone, four players forming an L shape between Casemiro, Bruno, Rashford and Lindelof. Dalot positioned himself at the far post, with three players marking their men — Wan-Bissaka with Saliba, Anthony Martial with Havertz, Martinez with Gabriel and Eriksen with Rice, with the latter blocking Eriksen and enabling Nketiah to receive, whilst Antony was waiting to pounce on a rebound and start a counter.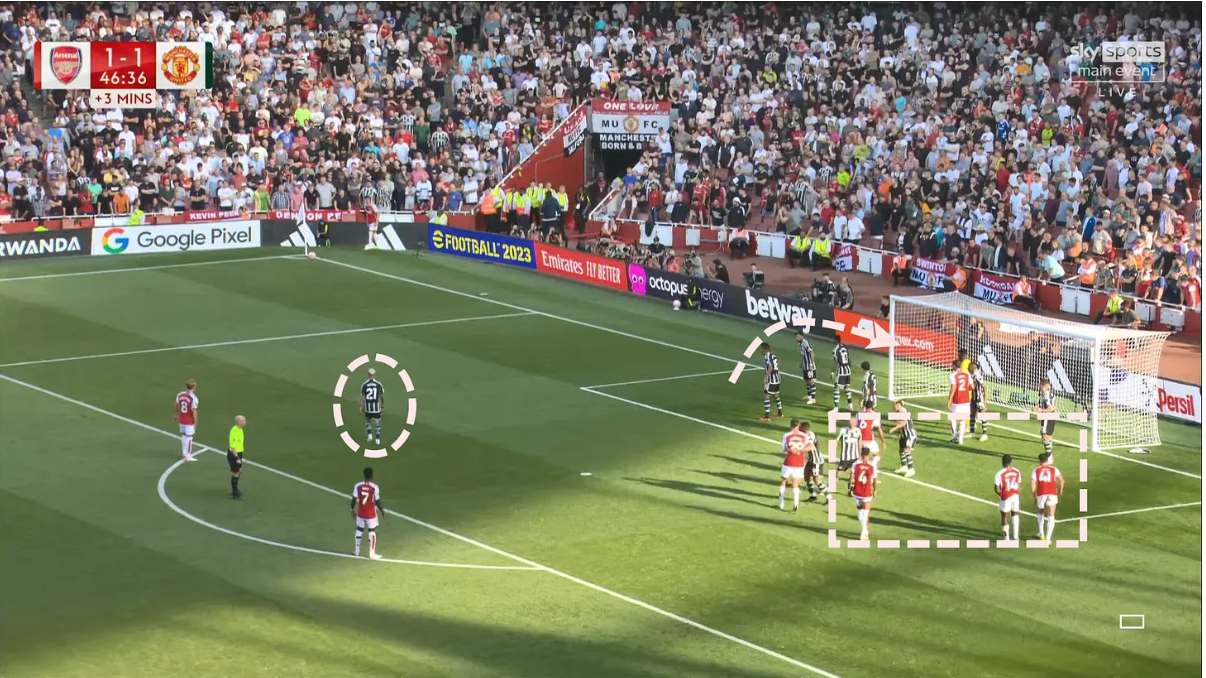 Arsenal make a 3v2 overload to enable Nketiah to be free at the far post
Rice asking for the far post delivery from Saka
Odegaard would equalize for Arsenal immediately after Rashford's opener, and the two sides looked headed for a draw until the 96th minute when Arsenal received a corner kick. Alejandro Garnacho attempted to defend the short option, Eriksen was ready to pounce on the rebound, four players were defending a zone, and Dalot stayed at the far post, with Rice, Gabriel Jesus and Gabriel Magalhaes overloading the far post with a 3v1 situation. Jesus and Takehiro Tomiyasu made a decoy run towards goal, whilst Gabriel Magalhaes blocked Jonny Evans, enabling Rice to receive and hit a world-class finish to give Arsenal the lead.
Whilst Declan Rice excelled in the center of the pitch, fellow midfield signing Kai Havertz continued to struggle with a static performance, lacking fluidity and failing to adapt to the team's positional game. Whereas Granit Xhaka understood his teammates' movements and was able to develop a synergy in midfield, the ex-Chelsea man looks like a fish out of water and may need time to adapt, as Arteta insists.
However, whereas Xhaka was a natural midfielder, Havertz is more of a forward, and whilst his off-the-ball movement and intensity in pressing are certainly an added boost, his technical and tactical shortcomings are cause for concern. In the below video, he mistimes his pass to Zinchenko, exhibiting his issues with communication.
As for Rice, whilst he still needs time to excel as a lone defensive midfielder, he shines when he has license to carry the ball forward, and these traits should come to the fore now that he is in a possession-heavy side as opposed to a counter-attacking outfit like West Ham. He has impressed with his technical attributes and pinpoint diagonals, and while there is plenty of room for improvement, he has proven that he has what it takes to provide value to Arsenal's midfield. In the below clips, we see how Rice moves from behind the opponent's line of pressure, scanning and making the run before making the final pass.
Arsenal will return from the international break with a match against Everton at Goodison Park, before hosting PSV Eindhoven in their first Champions League match since March 7, 2017 and hosting Tottenham Hotspur in the North London derby. As for United, they will host Brighton and travel to the Allianz Arena to face Bayern Munich, before traveling to Turf Moor and taking on Burnley.
By: @PEP42740065
Featured Image: @GabFoligno / James Williamson – AMA / Getty Images