How Bayern Munich Sent Paris Saint-Germain Packing From the UEFA Champions League
After winning the first leg 1-0 via a goal from Kingsley Coman, Bayern Munich defeated Paris Saint-Germain 2-0 via goals from Erick Maxim Choupo-Moting and Serge Gnabry, sending Les Parisiens packing from the UEFA Champions League at the Round of 16 for the fifth time in seven years. The Bavarians will take on Manchester City in the quarterfinals after a daunting start to April that will see them play fourth-placed Freiburg in the league and the cup as well as a decisive title battle against Borussia Dortmund
Bayern manager Julian Nagelsmann went with a 4-2-3-1 formation with Josip Stanišić preferred to João Cancelo and getting the start at right back in the absence of Benjamin Pavard. Cancelo would nevertheless make an impact with a devastating counter to set up Gnabry's goal in the 89th minute, with the two coming off the bench alongside Sadio Mané and Leroy Sané.
As for Paris Saint-Germain, Christophe Galtier opted for a 3-5-2 with a strike partnership of Lionel Messi and Kylian Mbappé after Neymar was ruled out for the rest of the season with an injury, with Fabián Ruiz slotting into midfield alongside Marco Verratti and Vitinha. With Presnel Kimpembe also sidelined for the rest of the campaign, Sergio Ramos, Danilo Pereira and Marquinhos would compose the back three ahead of Gianluigi Donnarumma, whilst Achraf Hakimi and Nuno Mendes occupied the wingback positions.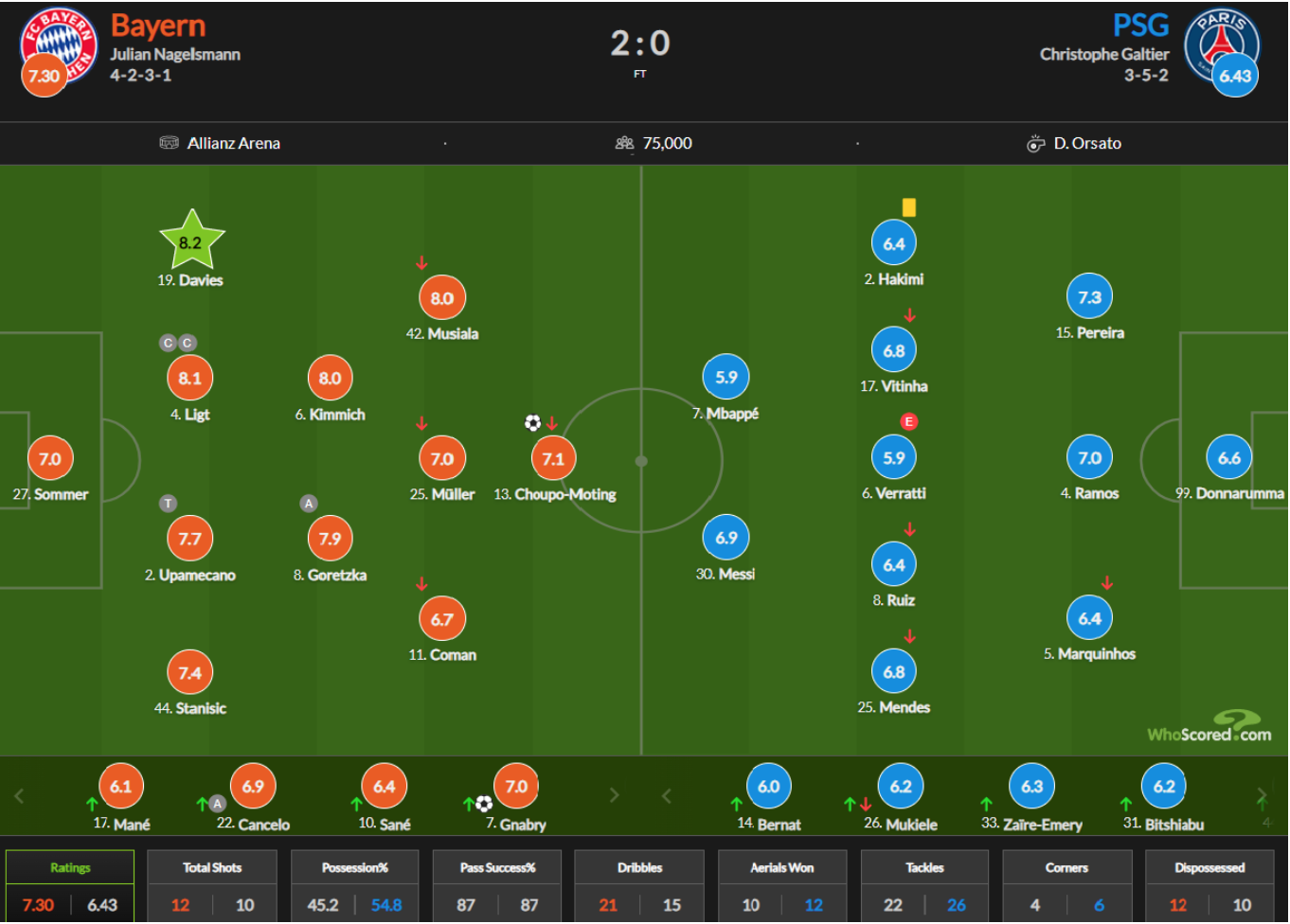 In order to compensate for a lack of pace and dynamism following Neymar's injury, Hakimi and Mendes were given license to push high up the pitch whilst Verratti was in charge of dropping deep and dictating play.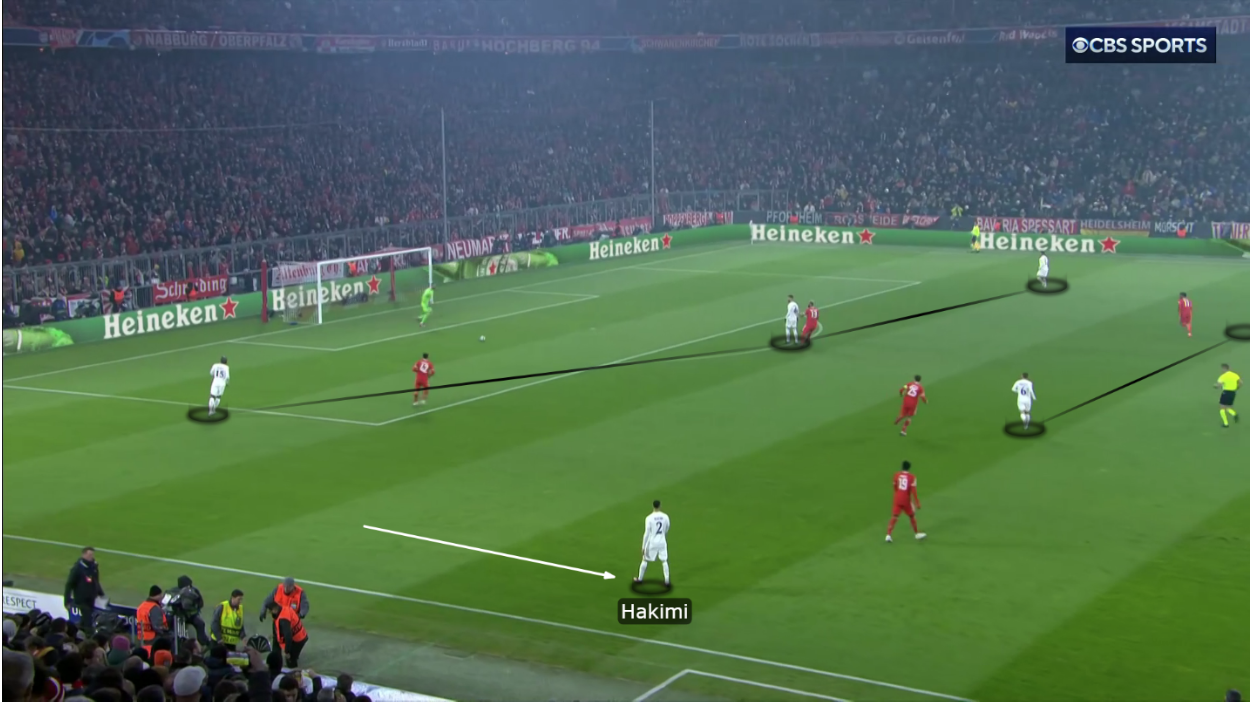 Bayern engaged in a high press with Choupo-Moting marking Ramos, Jamal Musiala on Danilo and Coman on Marquinhos, whilst Alphonso Davies kept a close eye on Hakimi. Thomas Müller stuck close to Verratti whilst Matthijs de Ligt was in close proximity to Messi and Joshua Kimmich stuck with Vitinha, whilst Stanišić marked Mbappé.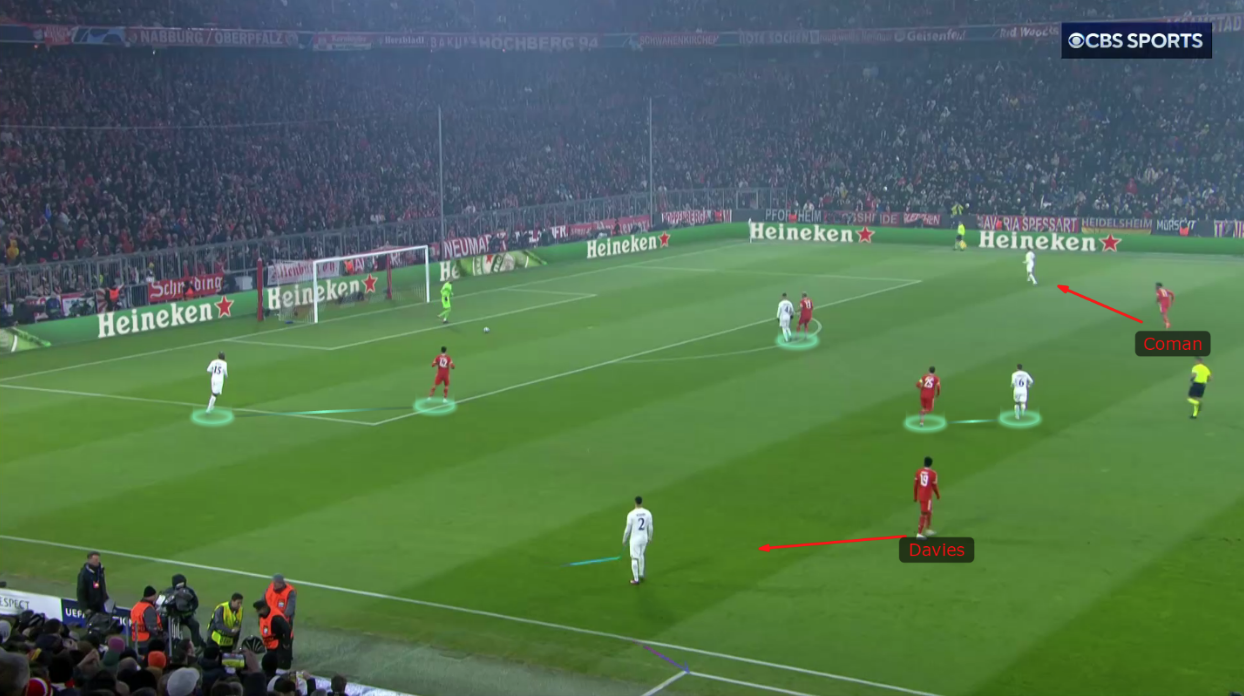 In order to compensate for this, Verratti would drop between the center backs to pull Müller out of position before playing passes into space and linking up with Messi, pushing forward whilst Fabián and Vitinha dropped back. De Ligt pushed high to stay close to Messi, and Bayern's numerical superiority in the wide areas meant that PSG were unable to play into space and enjoy success on the counter.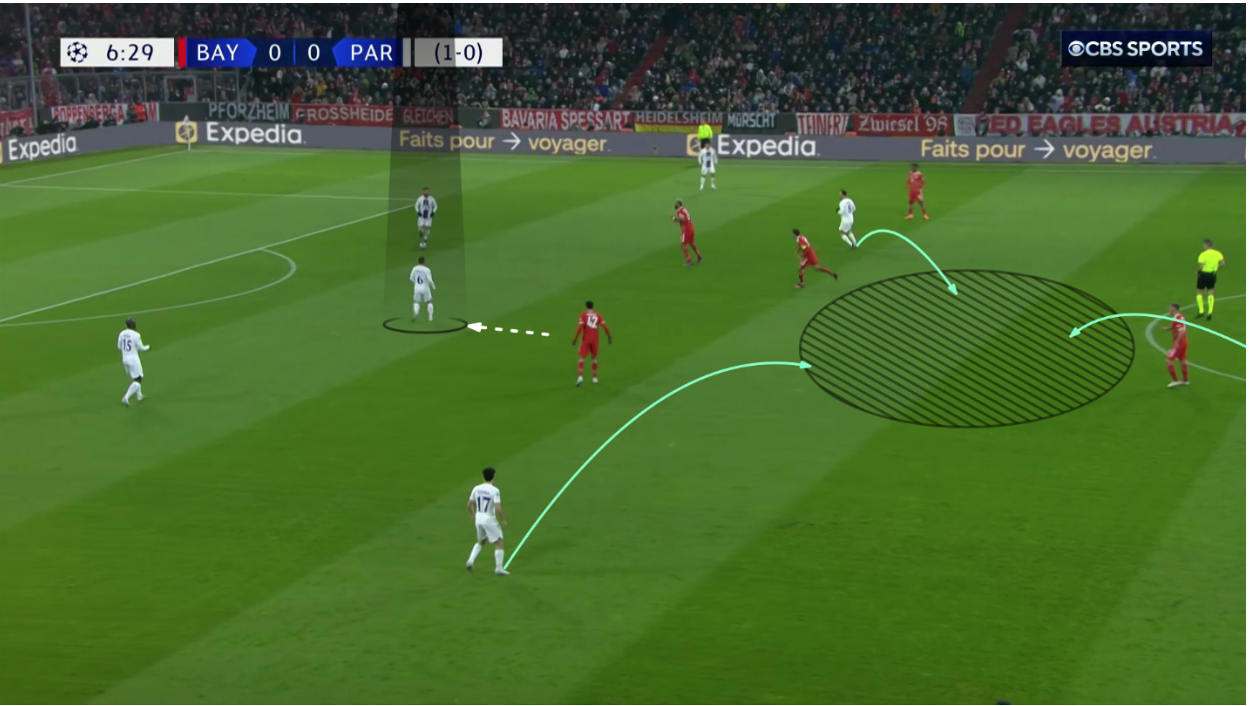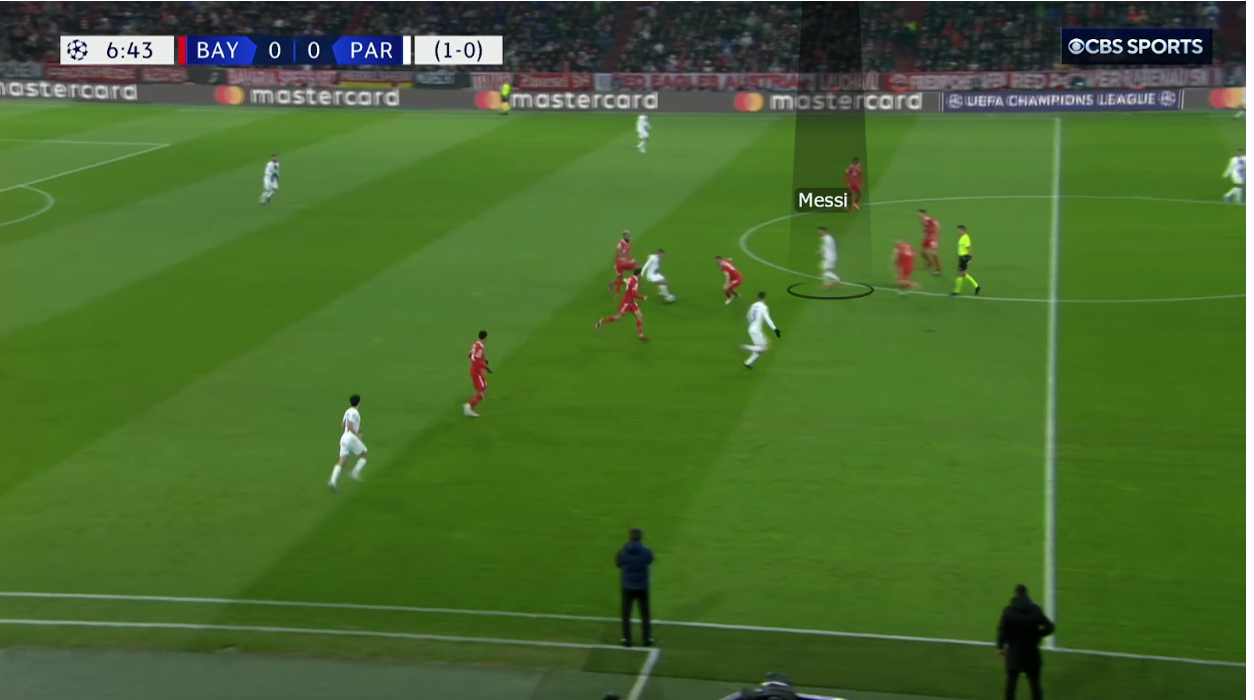 When the ball was rotated to Ramos, Choupo-Moting moved to press him, and Musiala and Davies shifted to mark Danilo and Hakimi in order, with Müller staying with Verratti and Coman close to Marquinhos, who was waiting to receive the ball.
When the ball reached Marquinhos' side, Coman would go to press on him, and with Mendes receiving the pass, Stanišić came to pressure him, after which Upamecano shifted in the space behind Stanišić to control Mbappé. At the same time, Fabián would move behind Leon Goretzka to receive in space before linking up with Mbappé, with their first attempt to break the press succeeding, albeit failing to create any danger.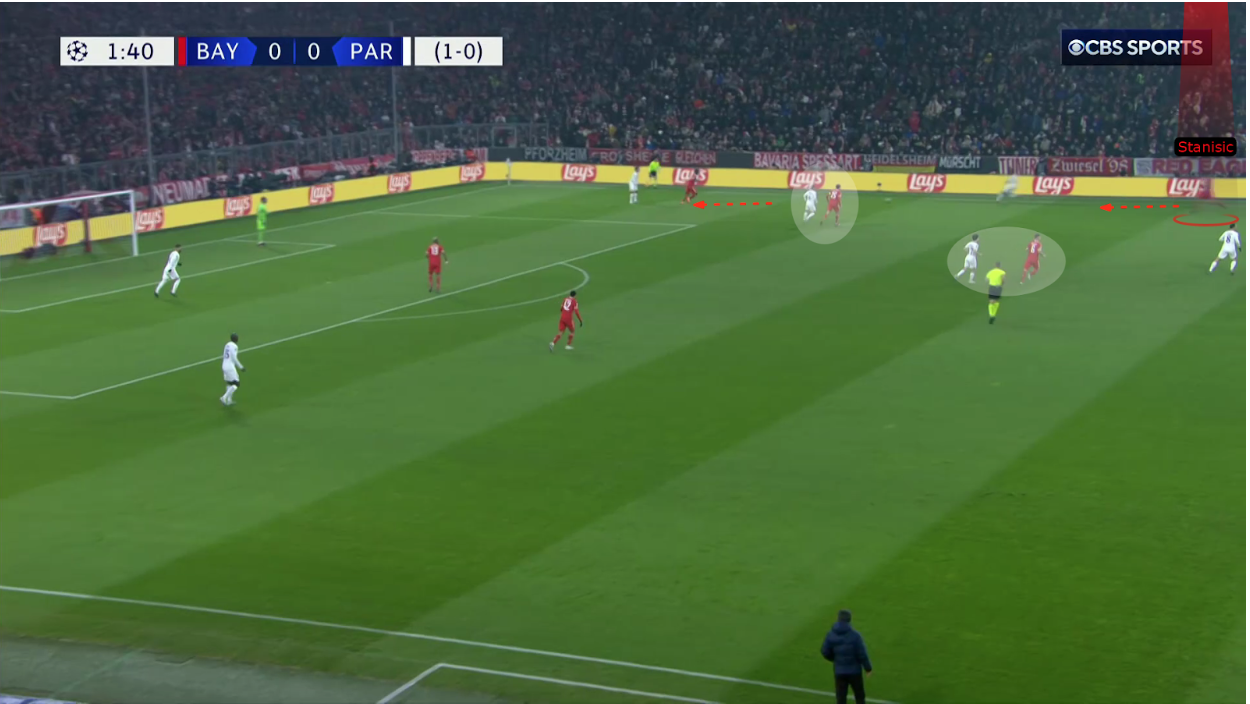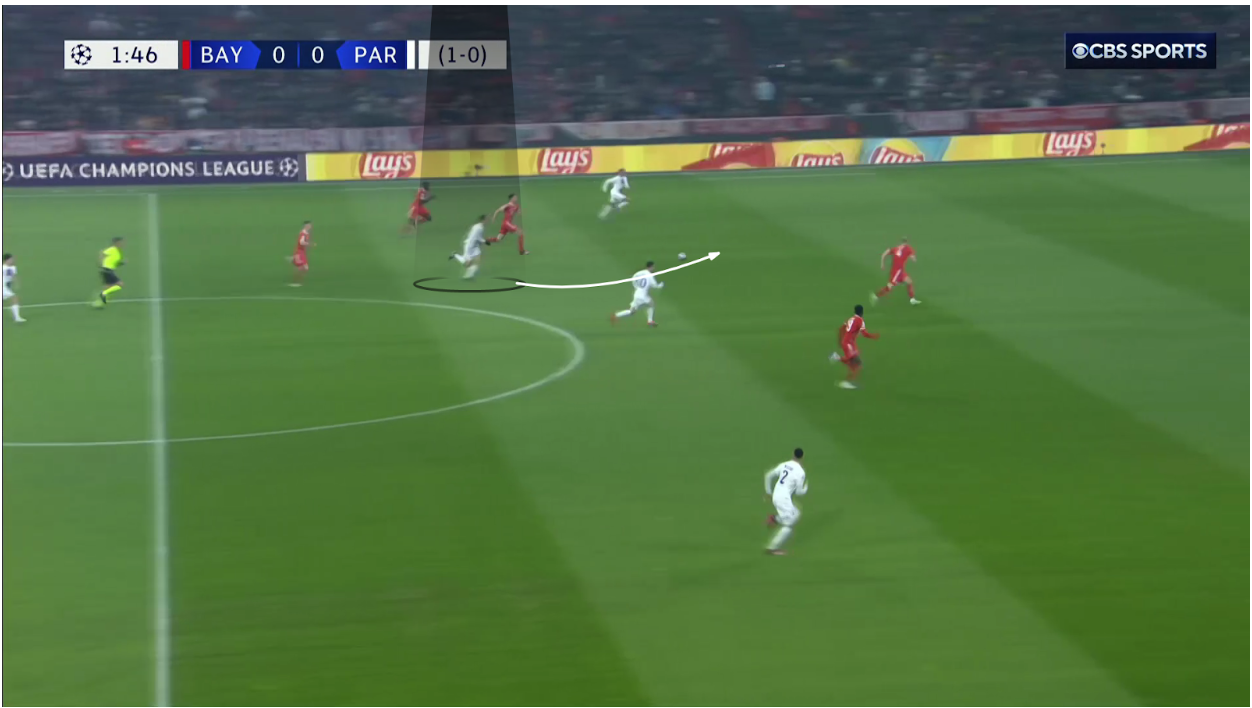 When the ball reached Hakimi, Davies would move up to pressure him, and since there are no passing options, the Moroccan is forced to return the ball. With Verratti dropping between the defenders to try to progress the ball, Hakimi moved forward whilst Vitinha drifted towards the right flank to drag Kimmich and create space in depth for Verratti and Messi to link up.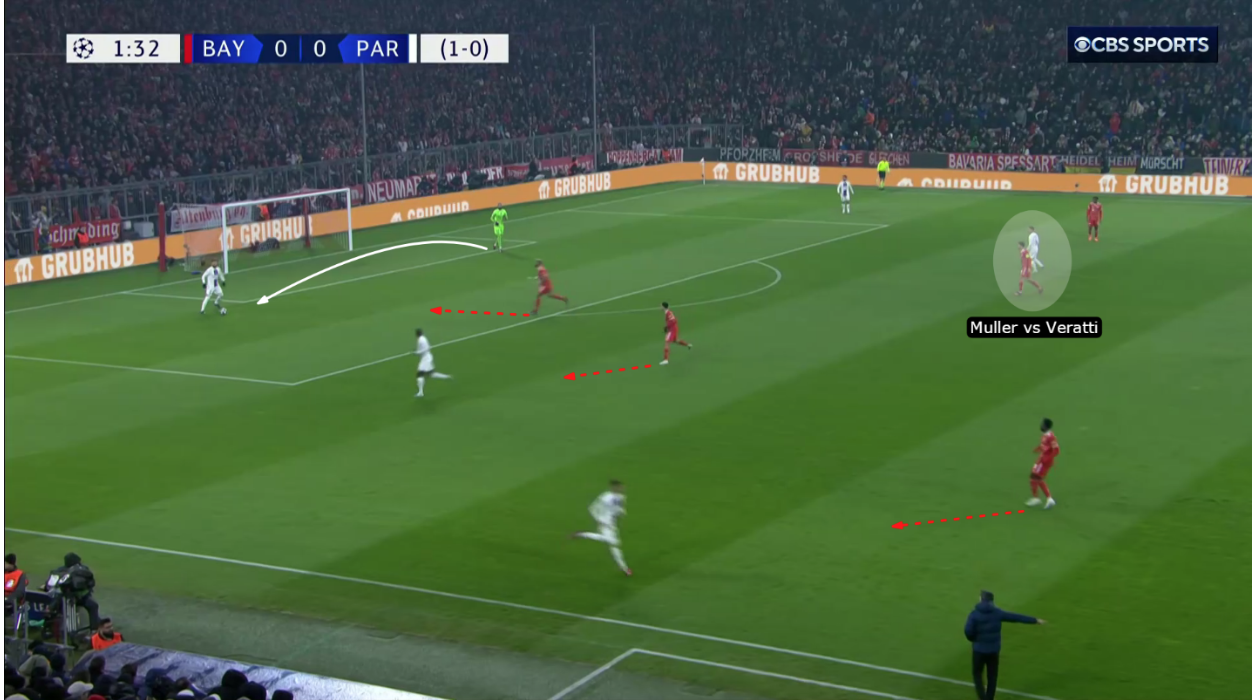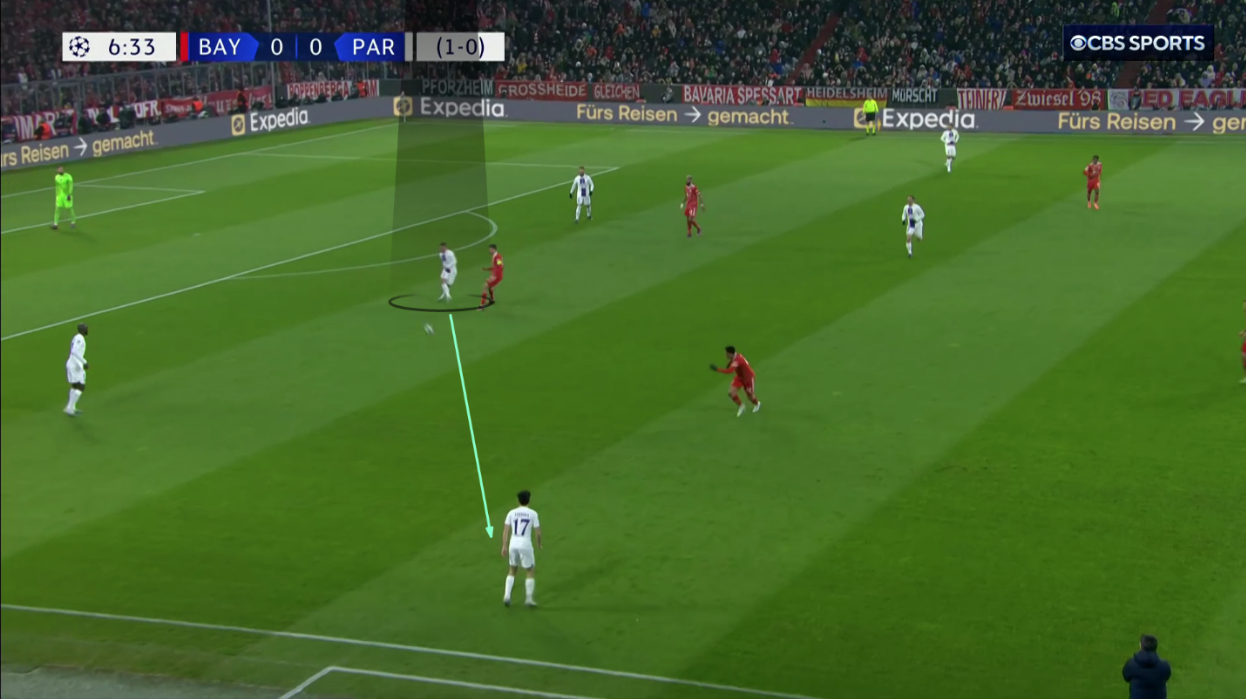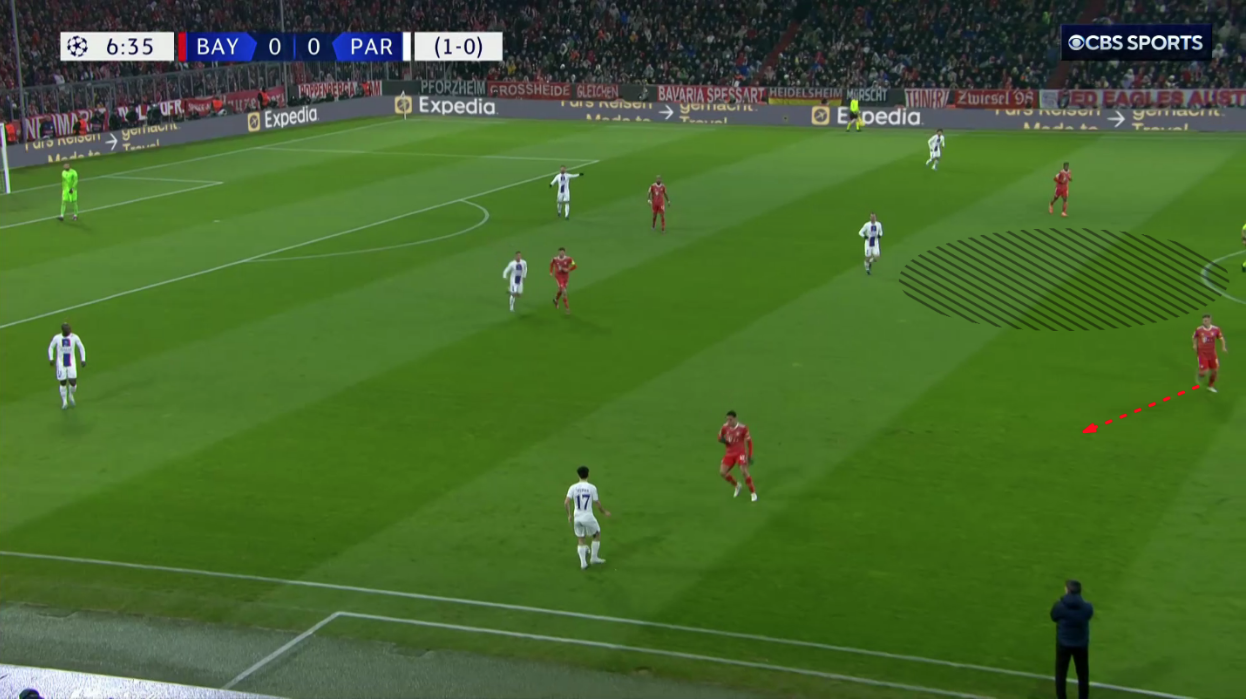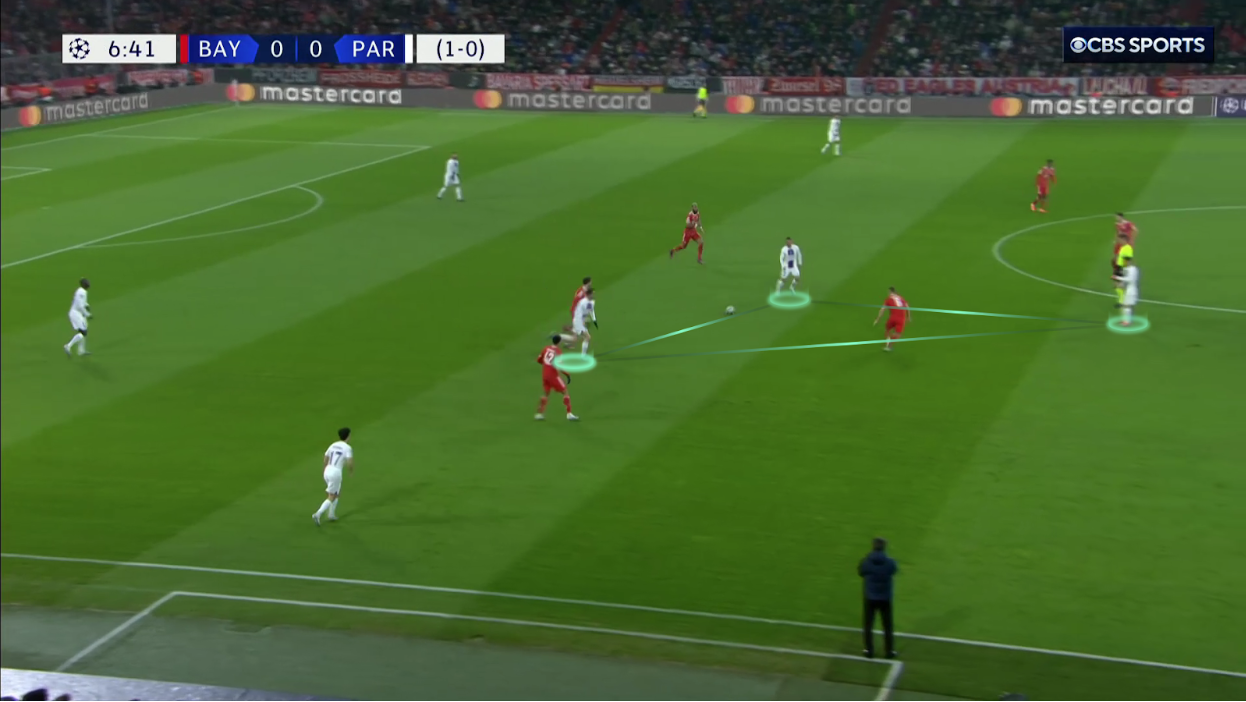 PSG's defense was thrown into disarray in the 36th minute as Marquinhos was forced to withdraw the match due to injury, with Nordi Mukiele replacing him but lasting until halftime before coming off for 17-year-old El Chadaille Bitshiabu. This would see PSG shift to a 4-3-3 formation in the second half.
In the below example, Choupo-Moting would put pressure on Ramos and try to close down the passing lane, whilst Müller stuck close to Verratti, Musiala went with Danilo and Coman stayed between Fabián and Mendes. Müller begins to press Mukiele whilst Coman keeps an eye on Mendes and Goretzka stays close to Fabián.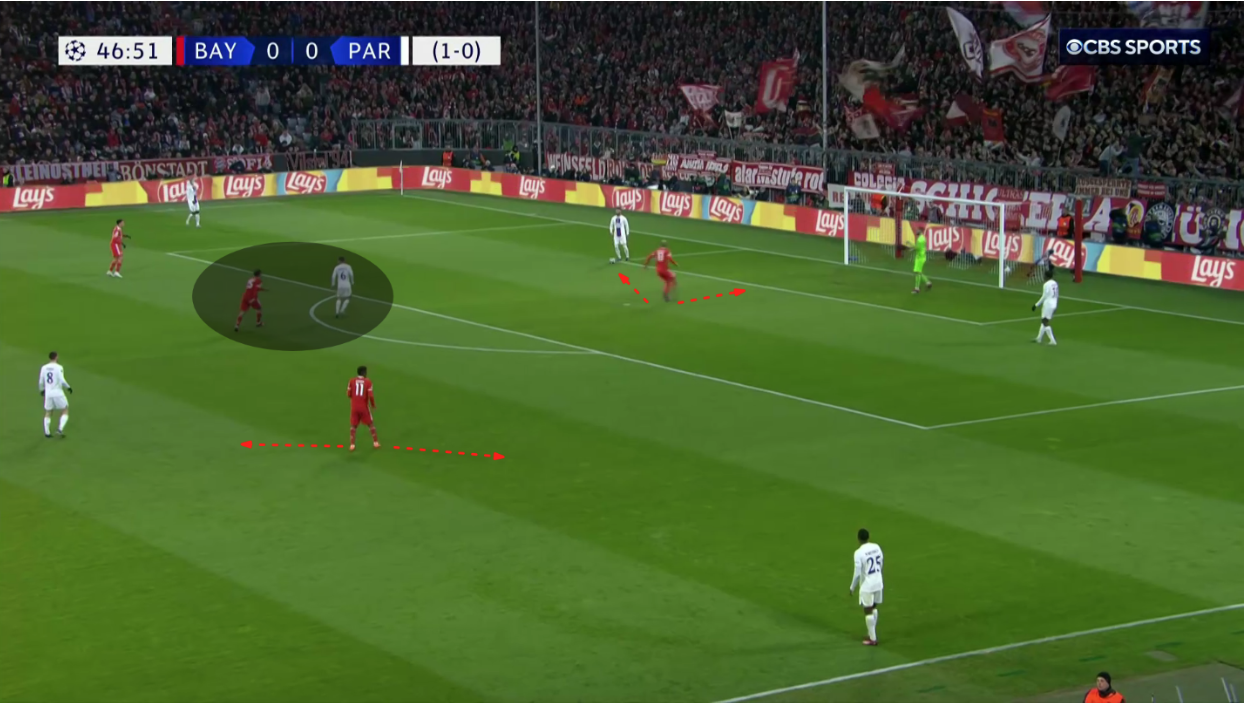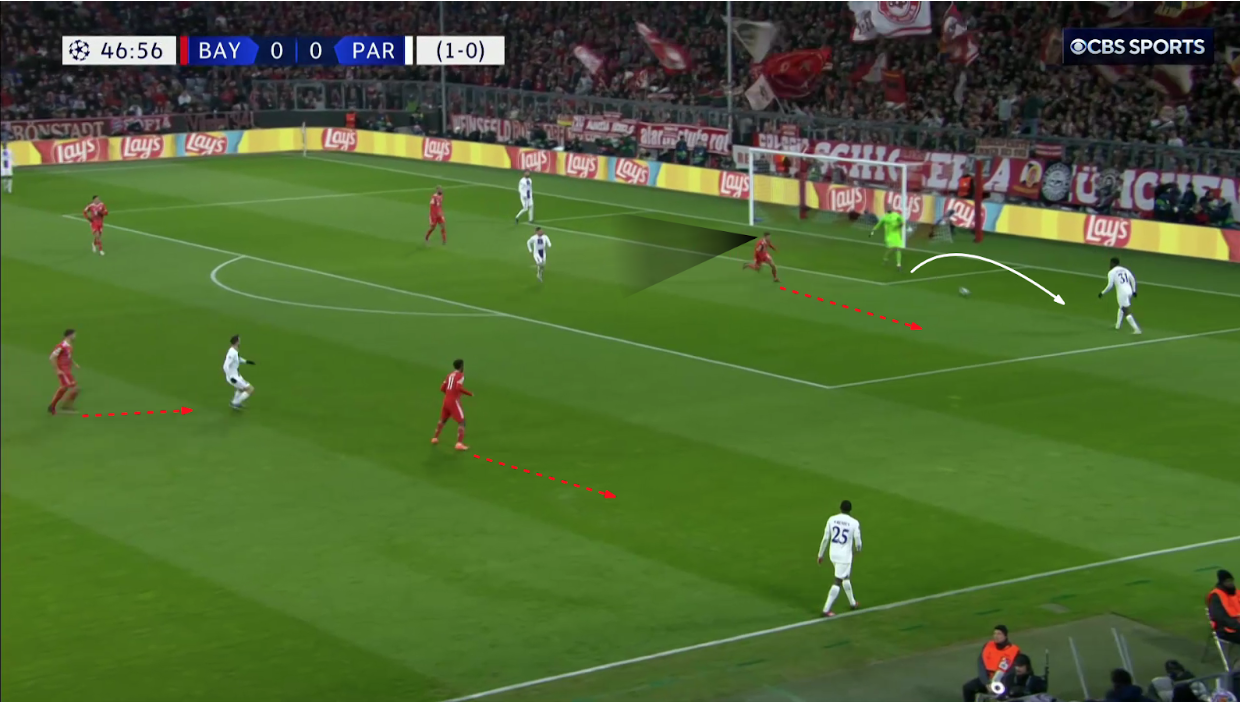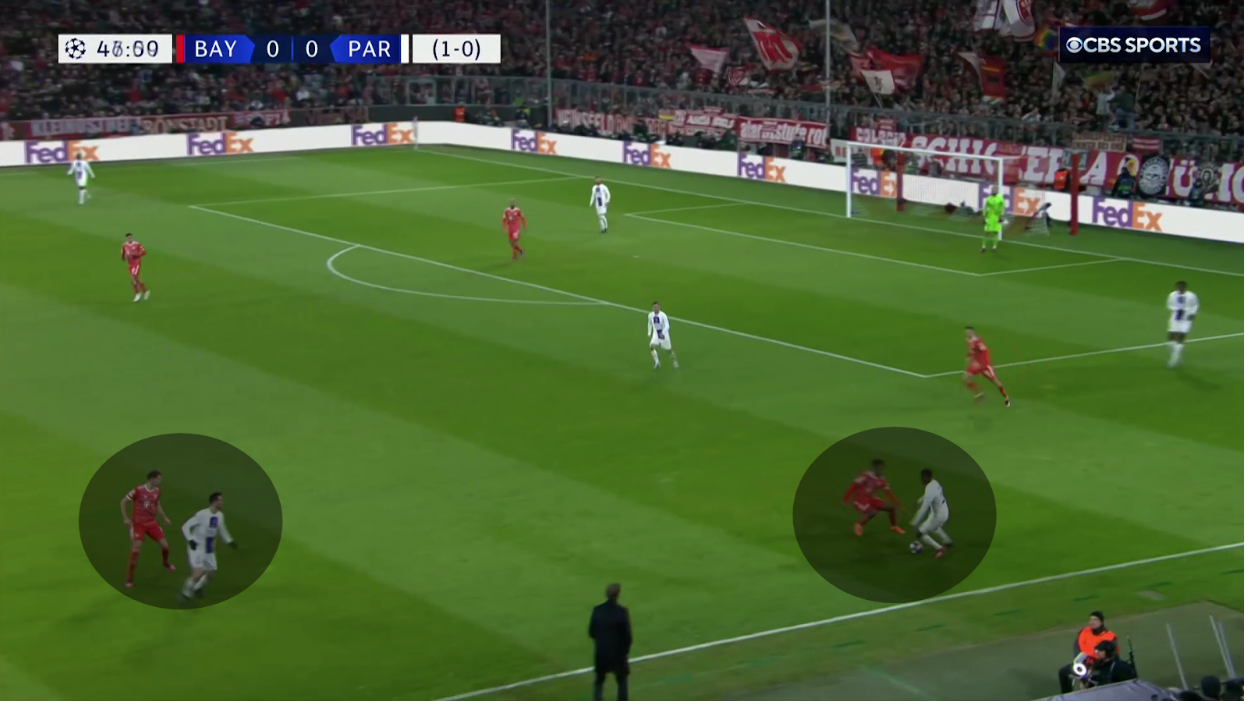 With Choupo-Moting leaving his position to press, Müller and Sané switched positions but the pressure approach did not change and PSG's issue progressing the play out from the back continued. Mbappé was forced to drop deep to receive as Messi was isolated by teammates and closely watched by two Bayern players — with the lack of a third attacking threat, Mbappé was unable to find another player to link up with and move the ball forward.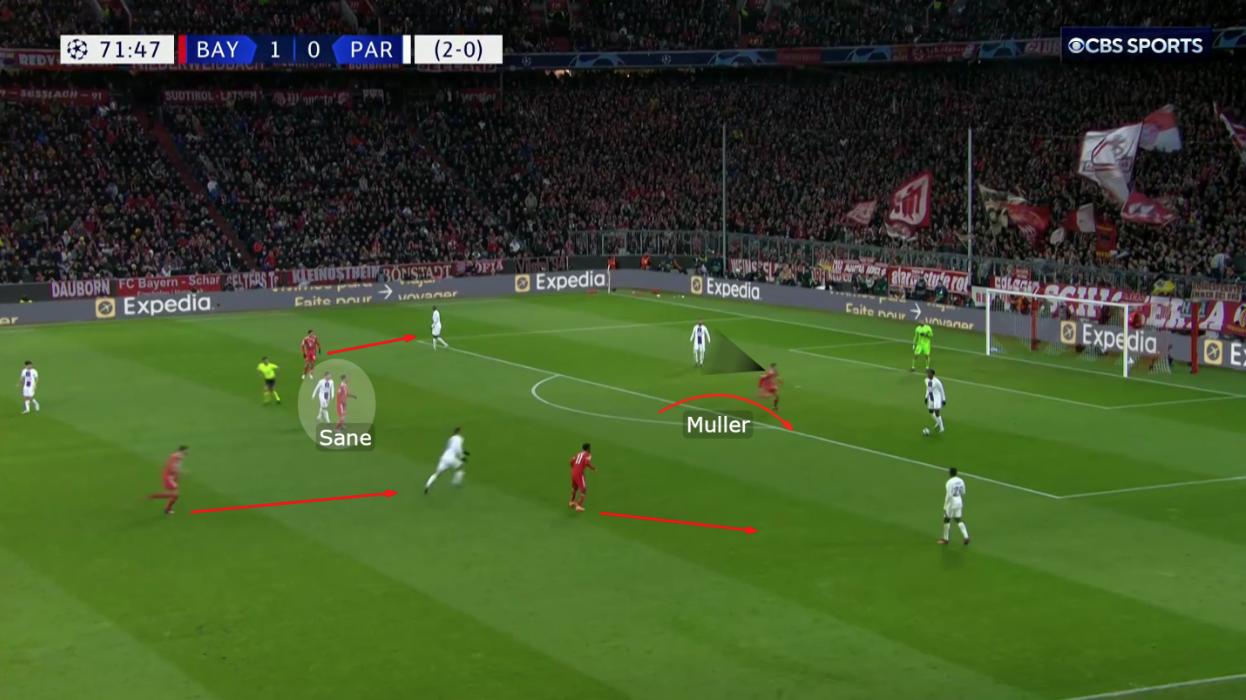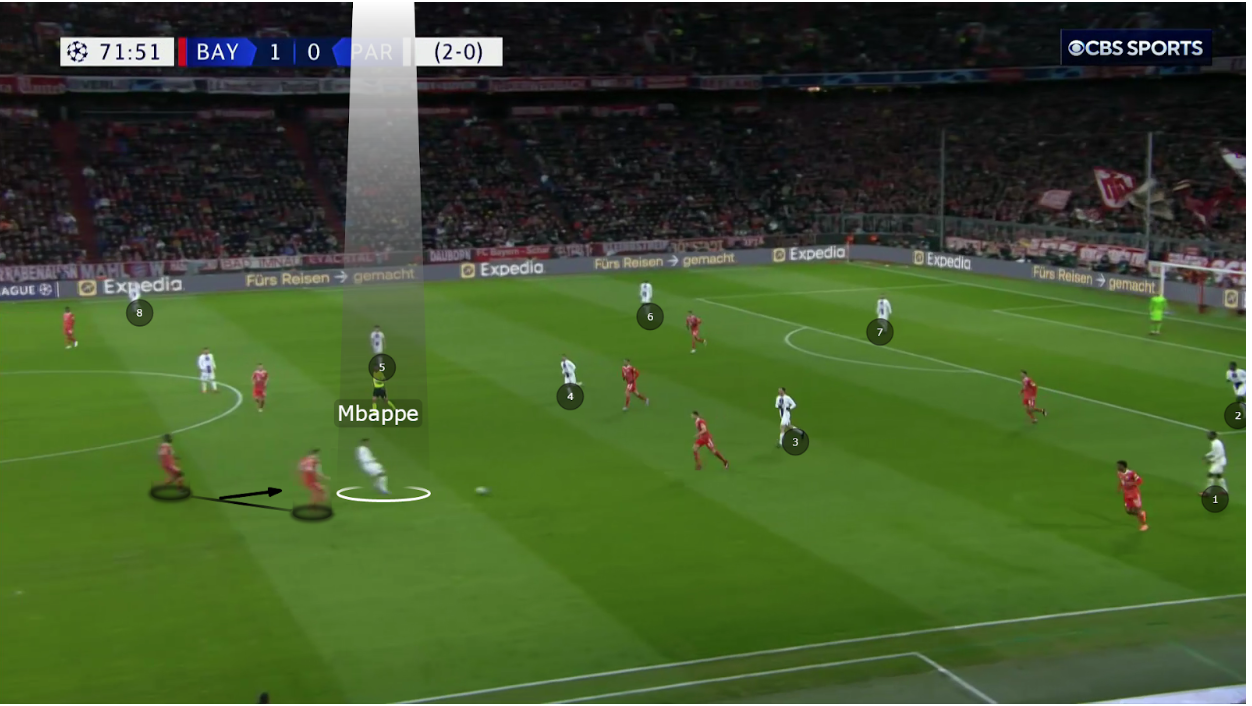 How Paris Saint-Germain Progressed the Ball Against Bayern's Mid-Block
PSG's structure during the progression phase was a 3-2-4-1 with the wing-backs pushing forward and Messi dropping deep to offer another central passing option whilst Bayern continued with 4-2-3-1. Choupo-Moting stuck on the CB and tried to close the passing line towards Verratti, Coman watched Marquinhos and Musiala stuck close to Danilo, while Müller would remain in space to close down any player who dropped deep to receive.
Messi's positioning between the lines attracted the attention of both Coman and Müller, opening up a passing lane for Mendes, who was unmarked due to Fabián's movement in the half-spaces, with the Spaniard pulling Goretzka with him and attempting to link up with Mbappe or Fabián, but Upamecano and De Ligt held their own and eliminated the threat.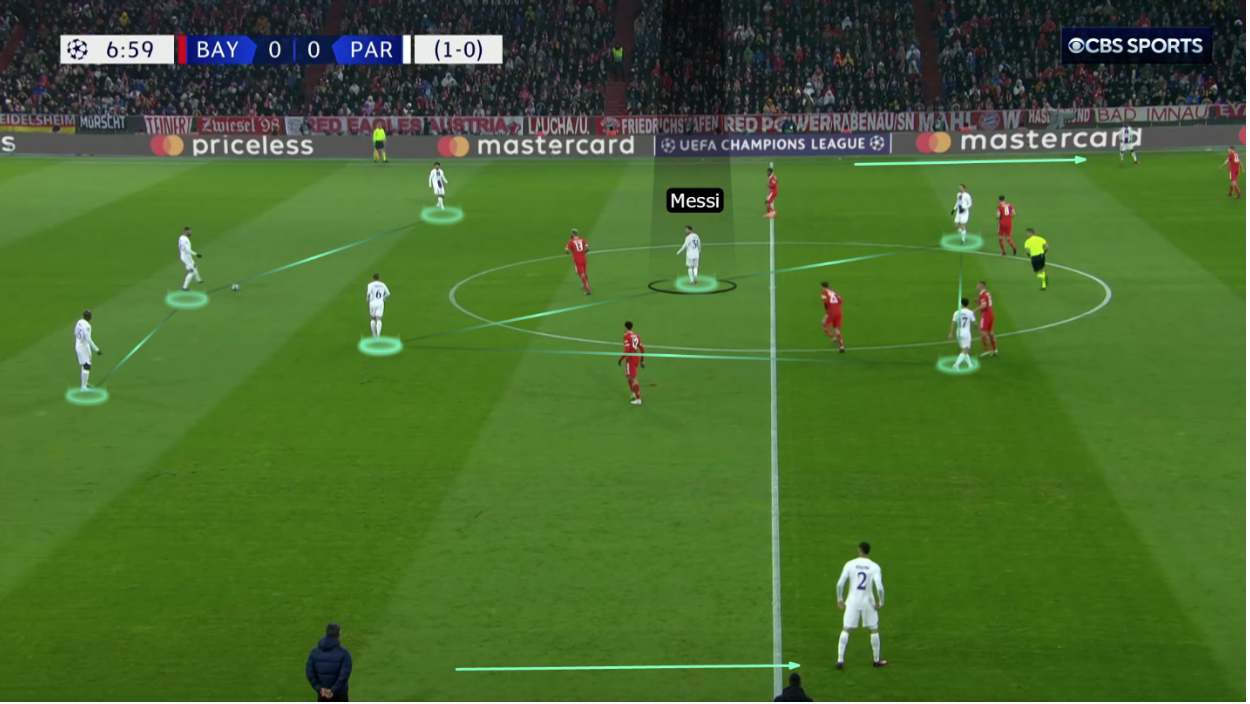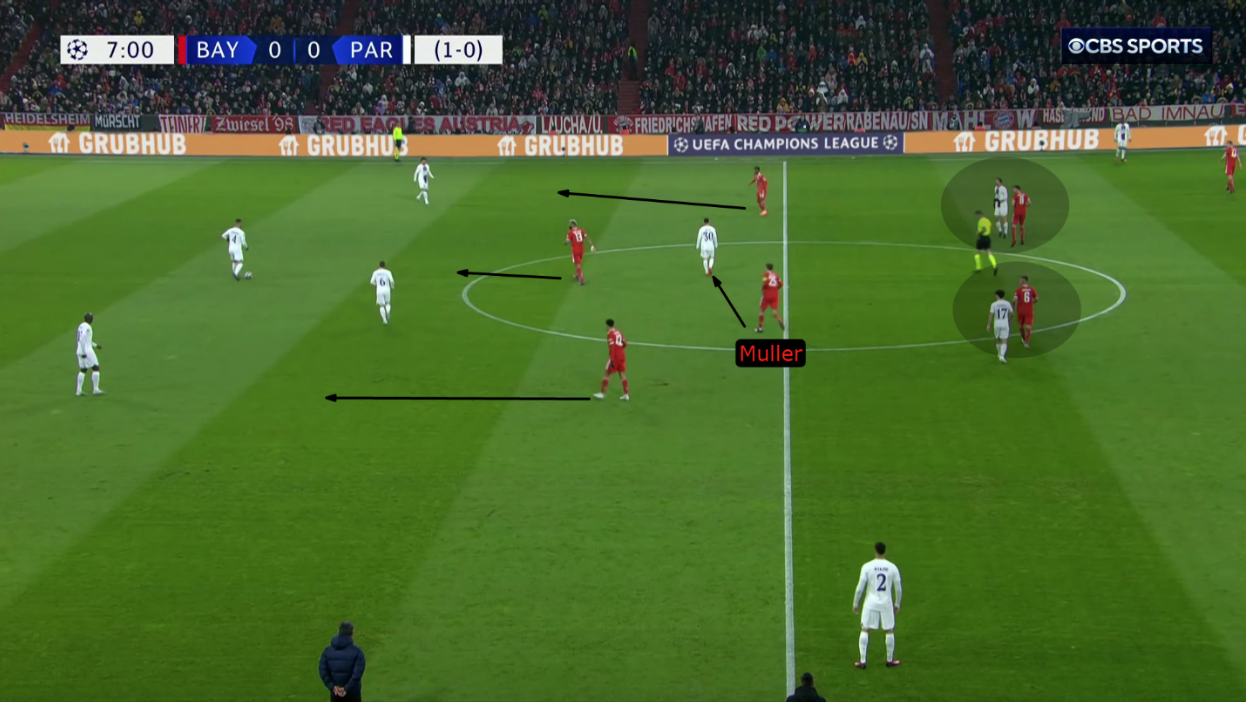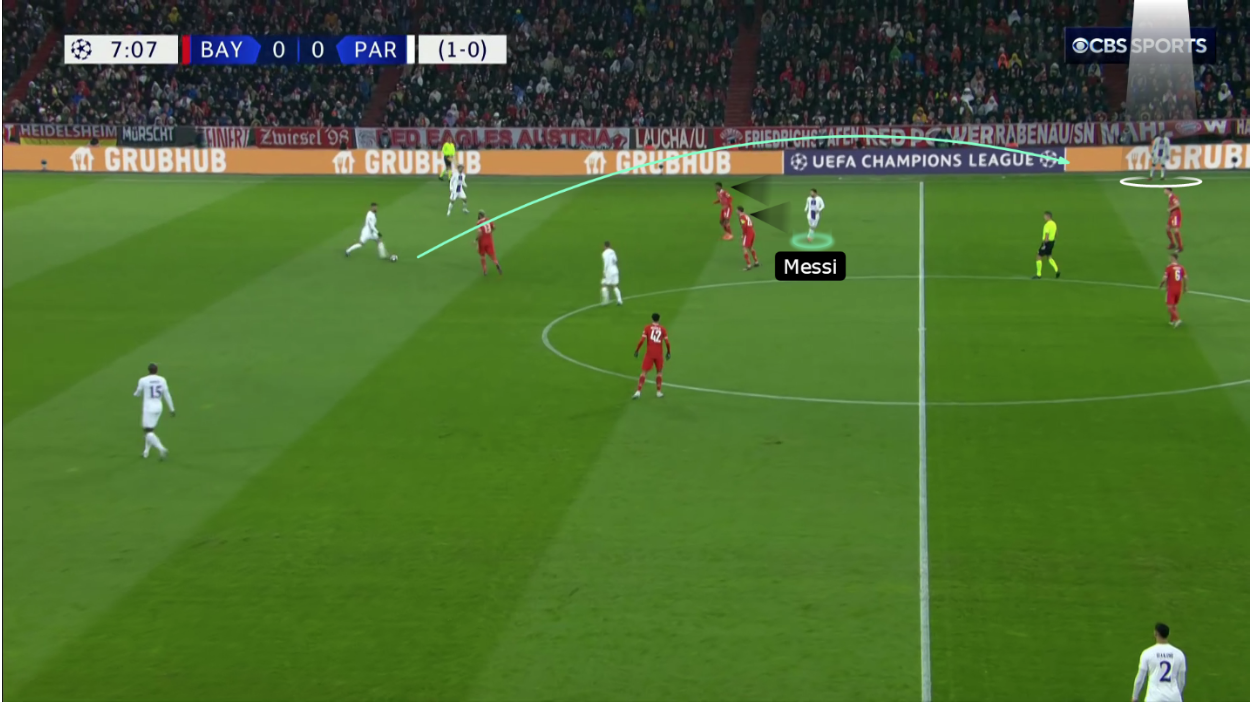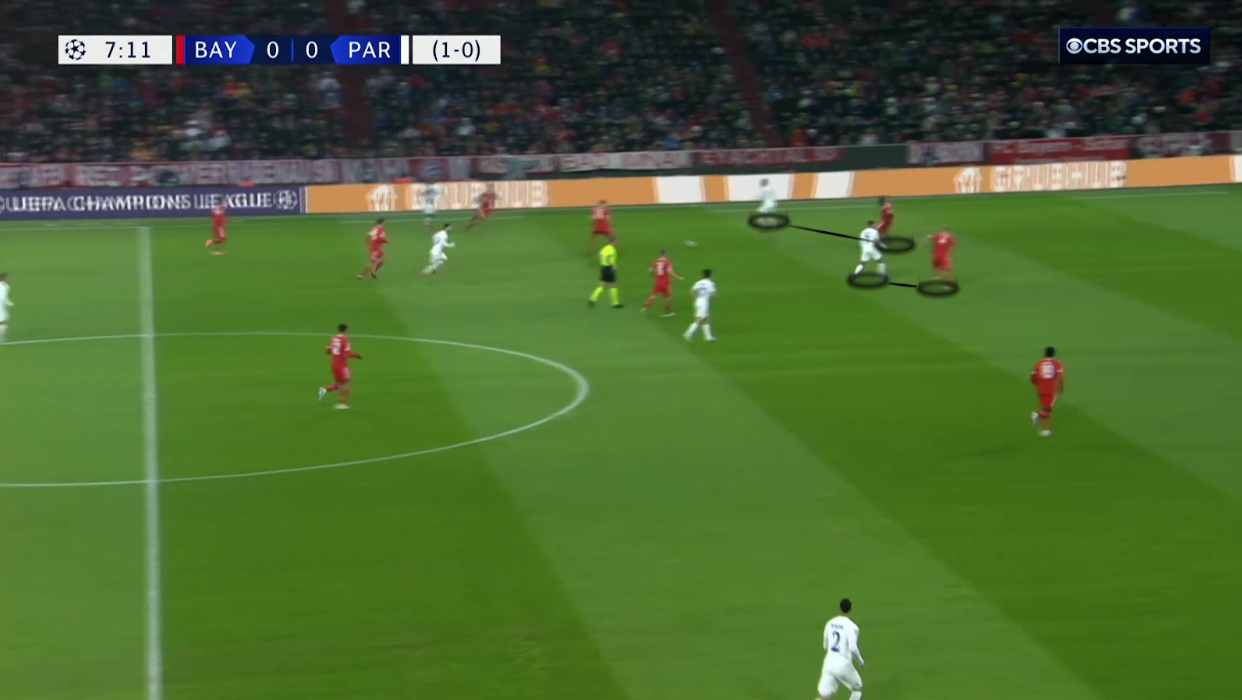 When Verratti was falling backward to try to take the ball or pull the Bayern players out of possession, Messi would move to the flank or deep between the lines to try to receive and link with Mbappé, but Kimmich and De Ligt rushed to press and made sure that the Argentine found himself in a 2v1 scenario whenever he received.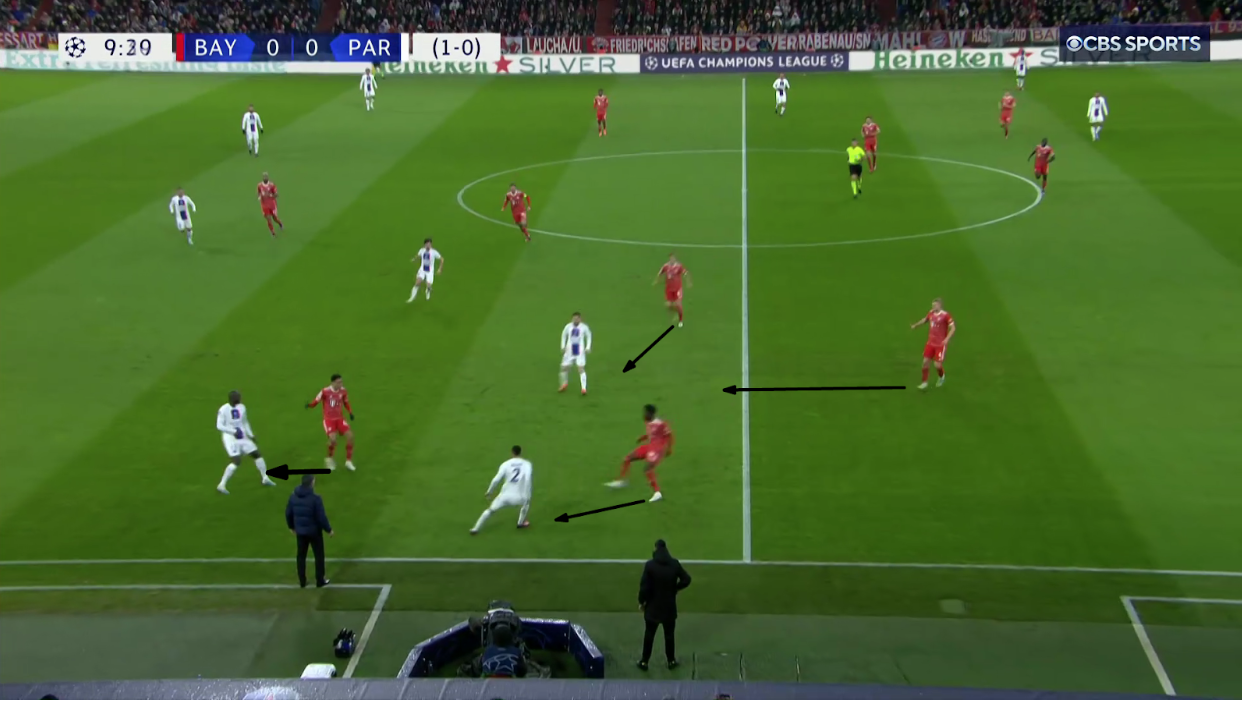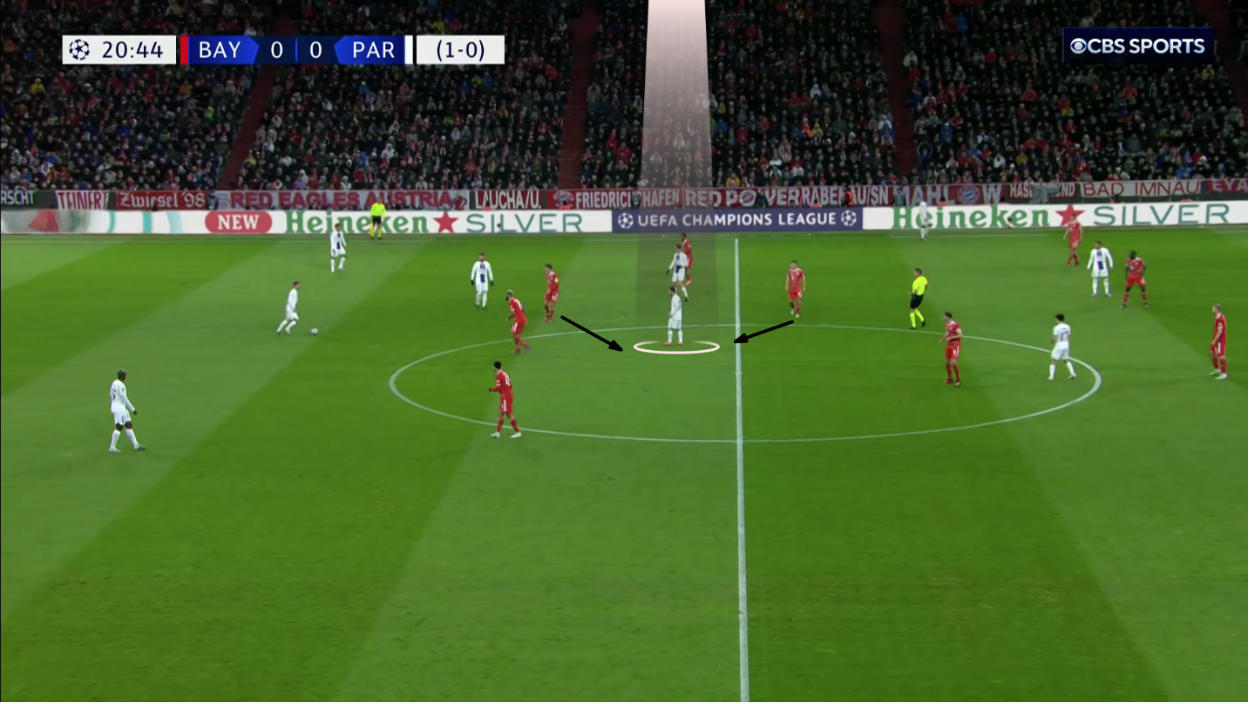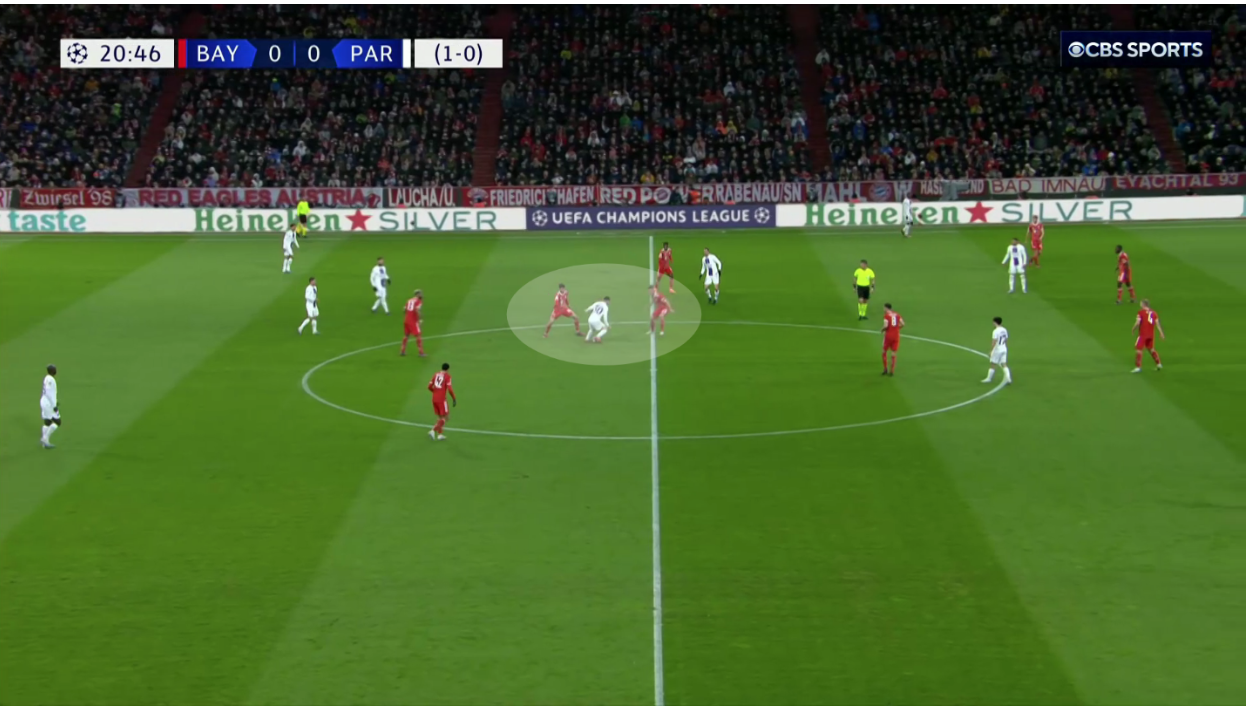 One of the rare moments where PSG managed to trouble Bayern was when Fabián shifted to the left and dragged Stanišić with him, forcing Mbappé to make an off-the-ball run and evade Upamecano, whilst Goretzka rushed to close down Fabián which left Mendes free to receive in between the lines due to Kimmich still retreating after previously marking Vitinha.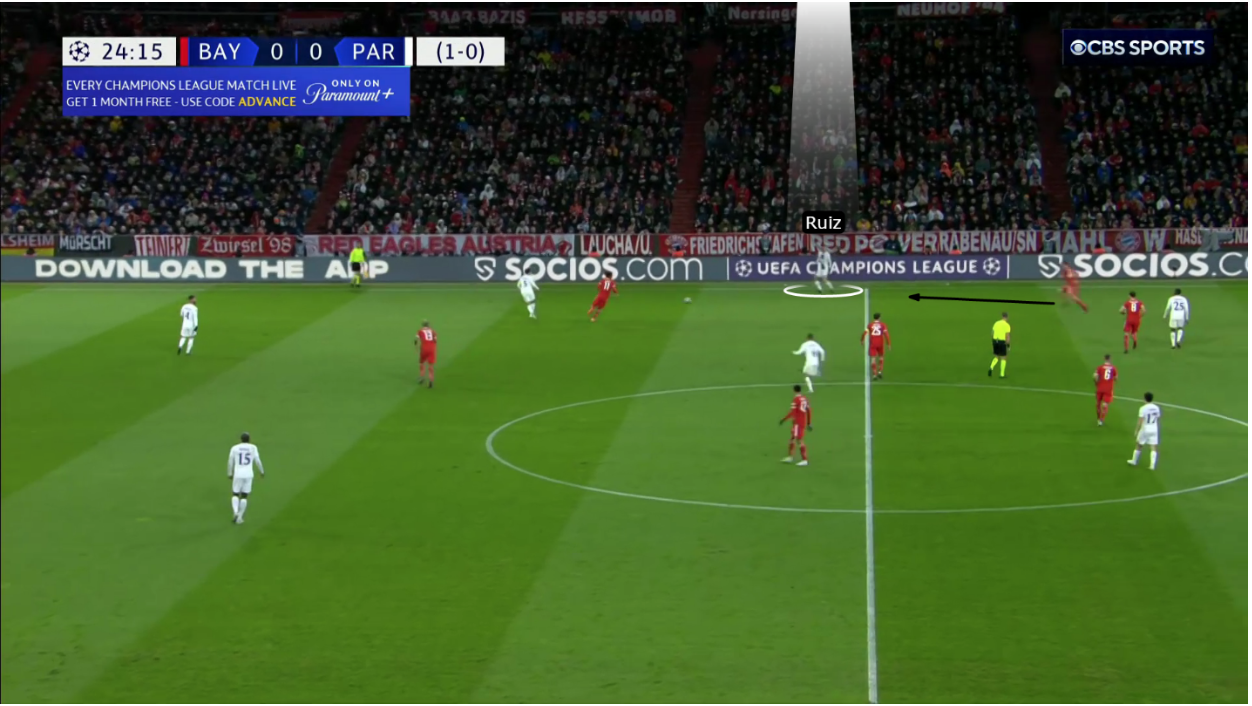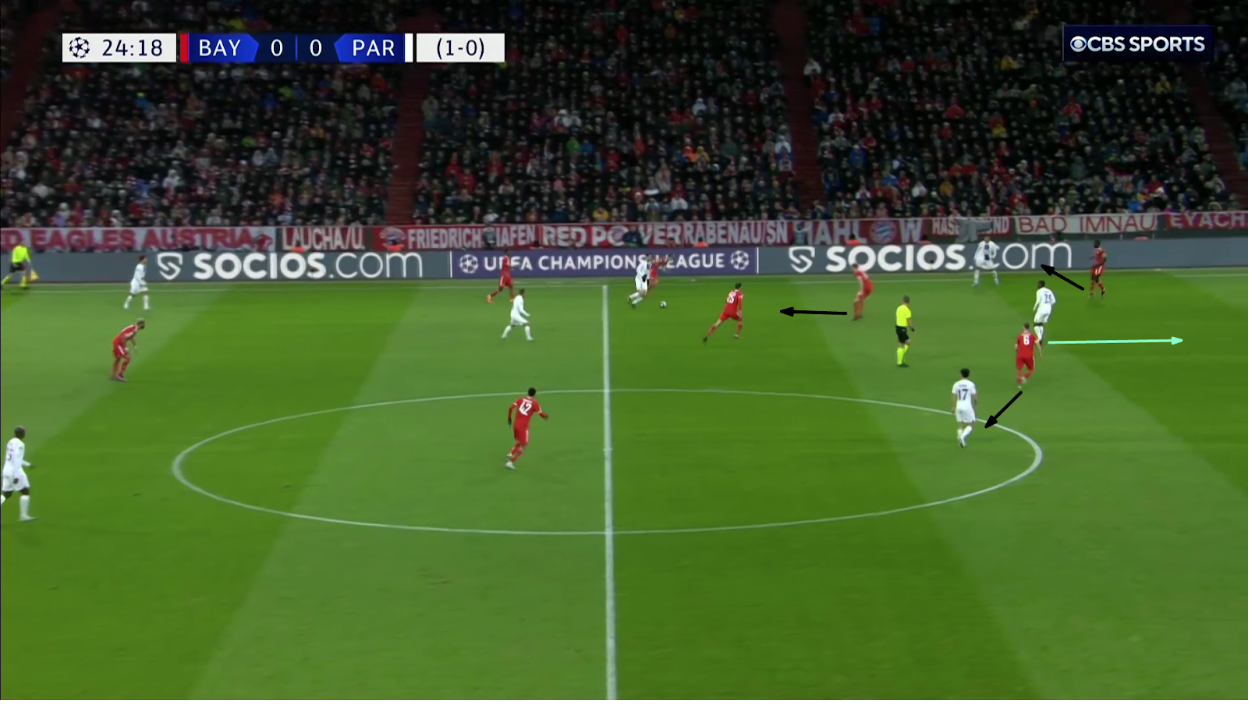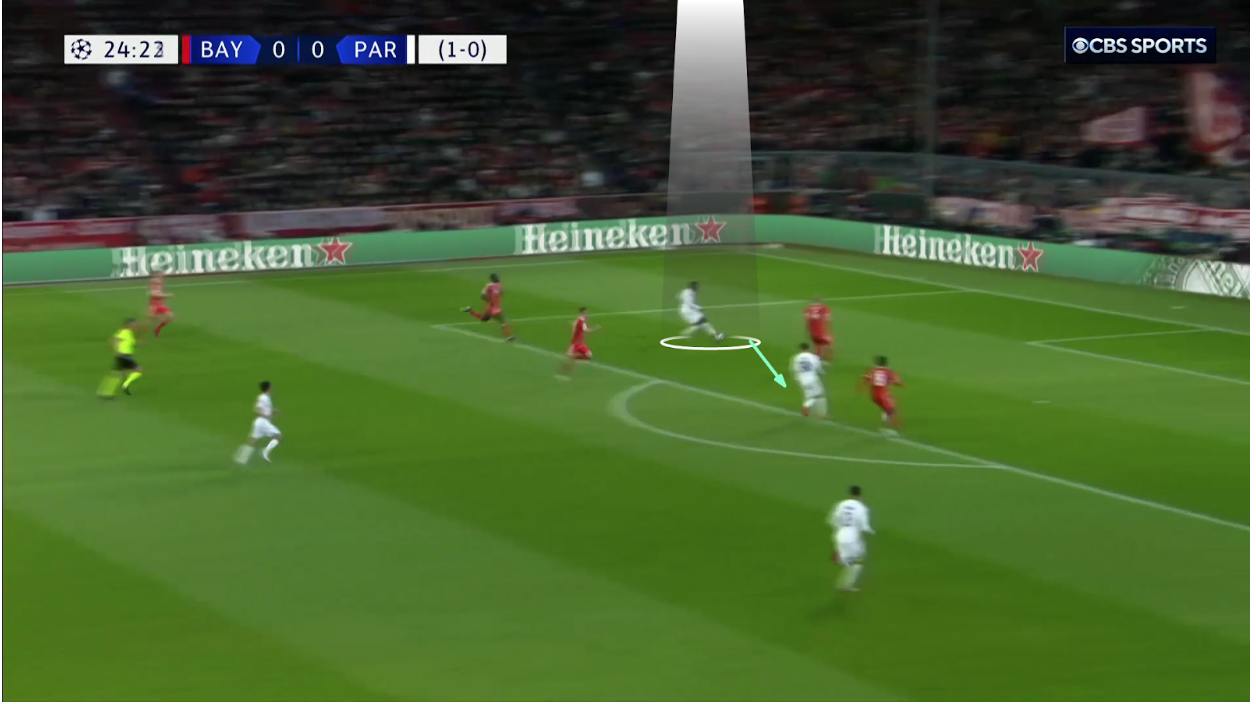 PSG's High Press vs. Bayern Munich's Build-up
Messi and Mbappé lead the press on Bayern's center backs whilst Verratti stays close to Kimmich, Hakimi marks Davies, Vitinha follows Musiala and Fabián sticks to Goretzka. With Bayern now operating in a back three in possession, Davies pushed forward and Müller dropped deep with Goretzka and Musiala in midfield whilst Kimmich occupied a wide position. When the ball reached Stanišić, Fabián would pressure him, whilst Mendes' close marking of Coman meant that Bayern were often forced to play long to Choupo-Moting or Müller.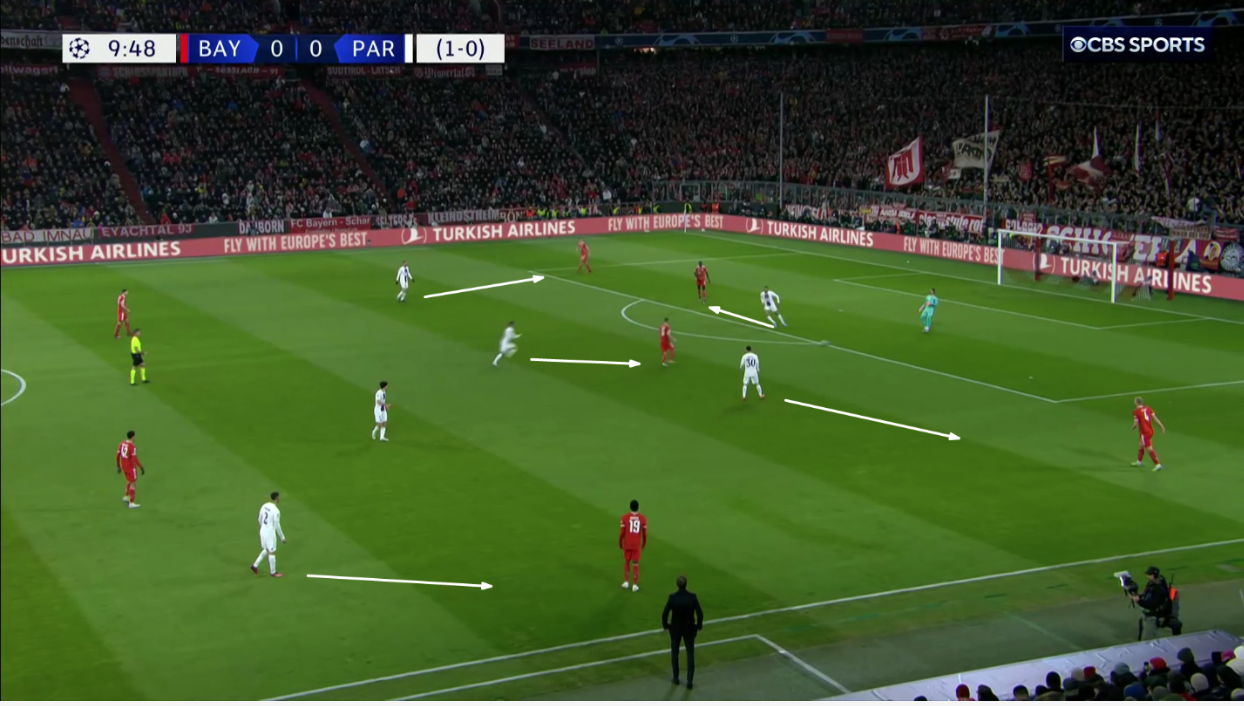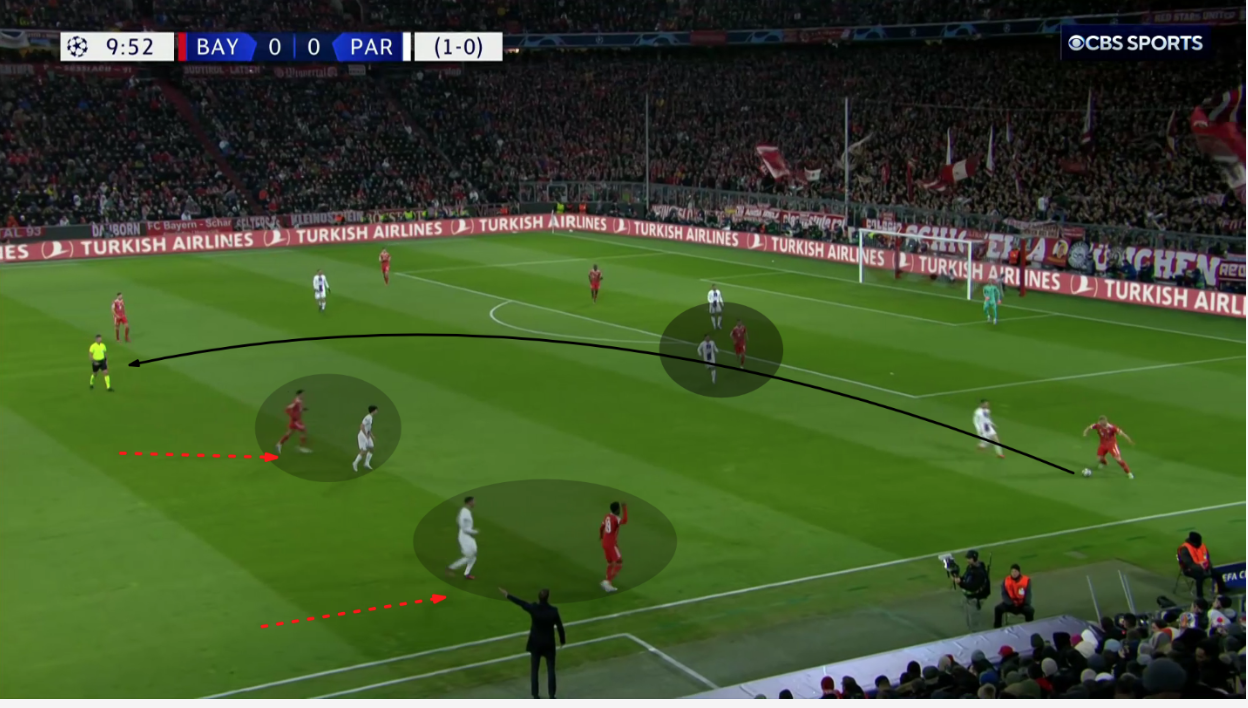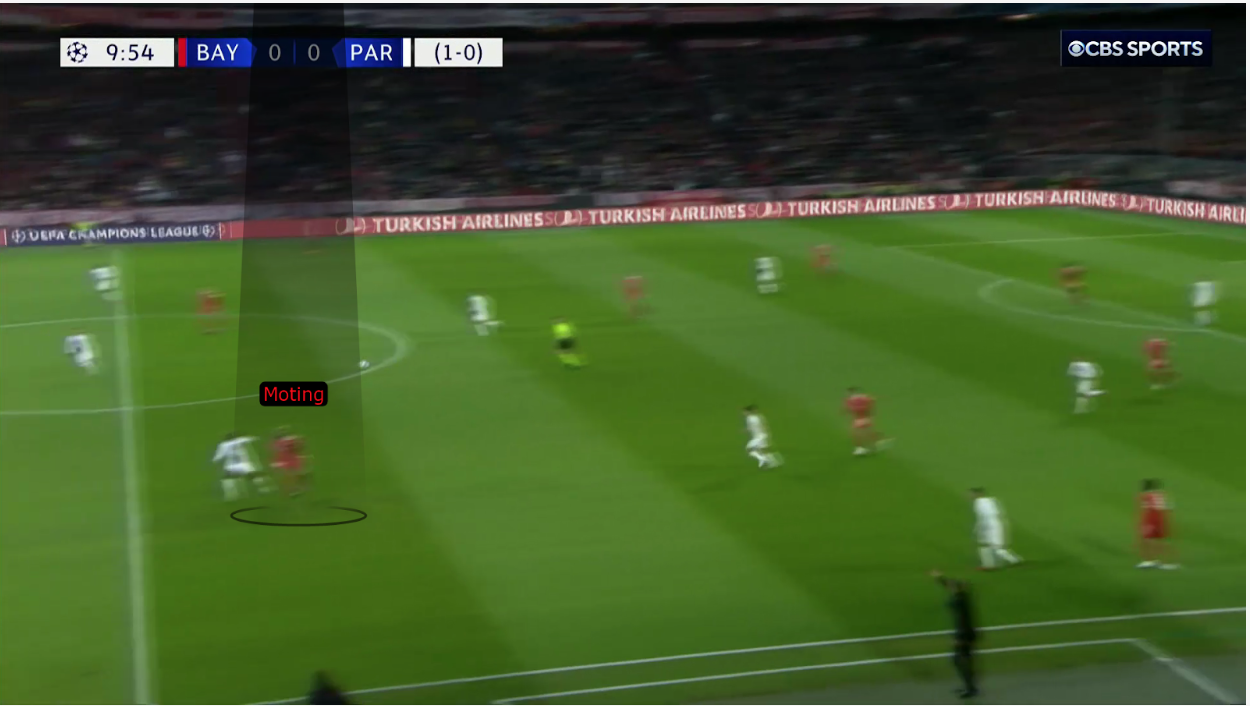 When Musiala moved to the right to receive or support Davies as a potential passing option, Hakimi would put pressure on Davies and Verratti stayed with Kimmich. The passing options were scarce and as such the ball was shifted backward and to the other side, with Stanišić being marked by Fabián and Coman dropping to receive a pass, whilst Mendes would come out to press. At the same time, Verratti would move to the empty space and leave Kimmich to cover the space or win the second ball.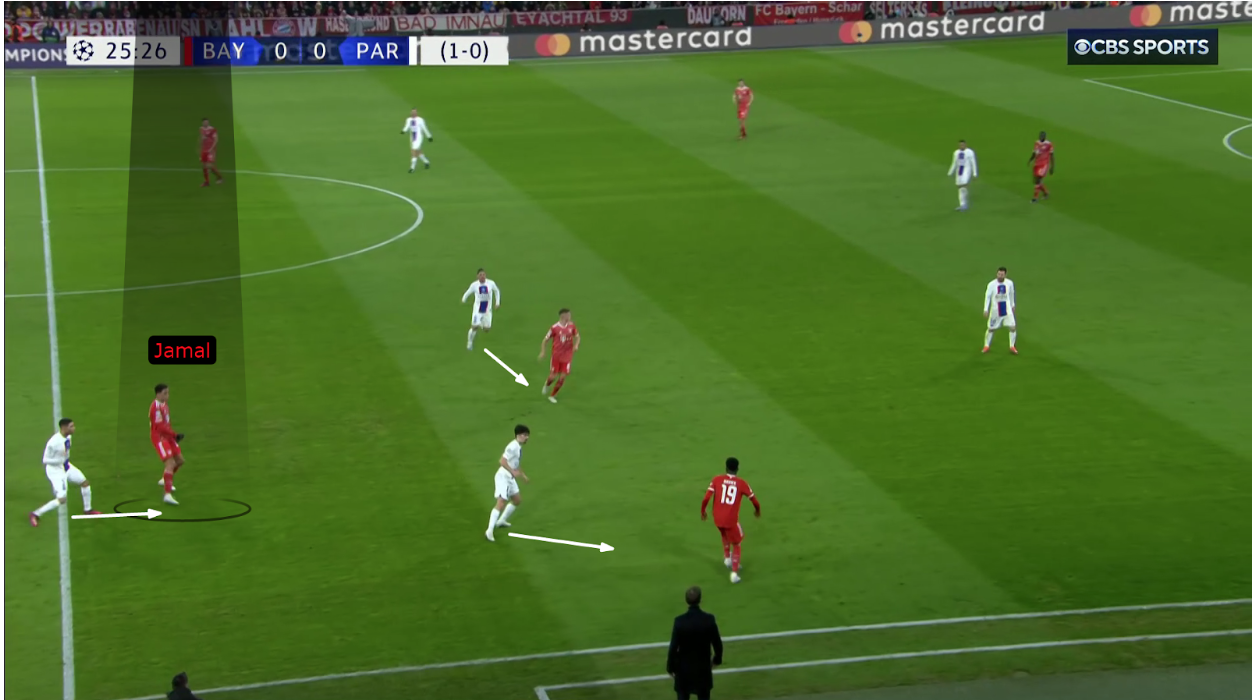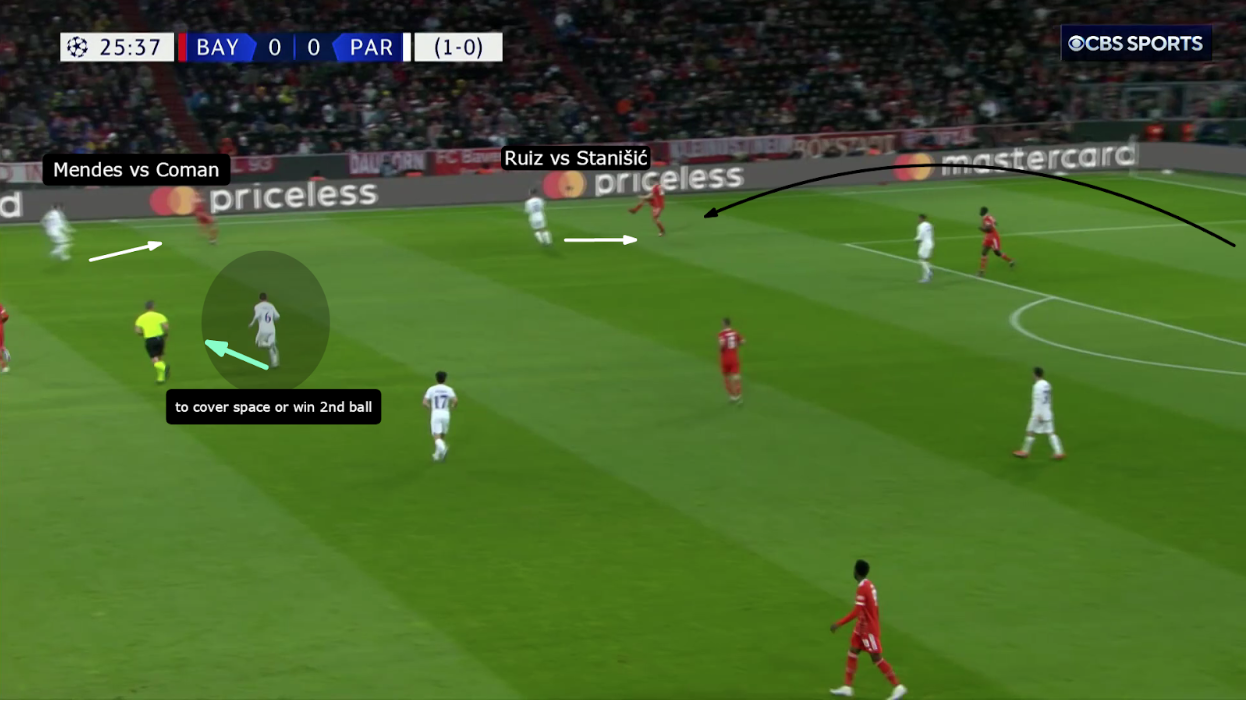 PSG's Mid/Low Blocks vs. Bayern's Progression Phase
PSG was defending in a 5-3-2 shape with Messi and Mbappe in the first line of attack, but their lack of work off the ball meant that when the ball reached De Ligt, he had ample space and time to receive due to Messi's failure to mark him. Vitinha would push forward to close down the Dutch center back, causing Musiala to move between the lines and receive before playing it to Davies, who crossed it into the box.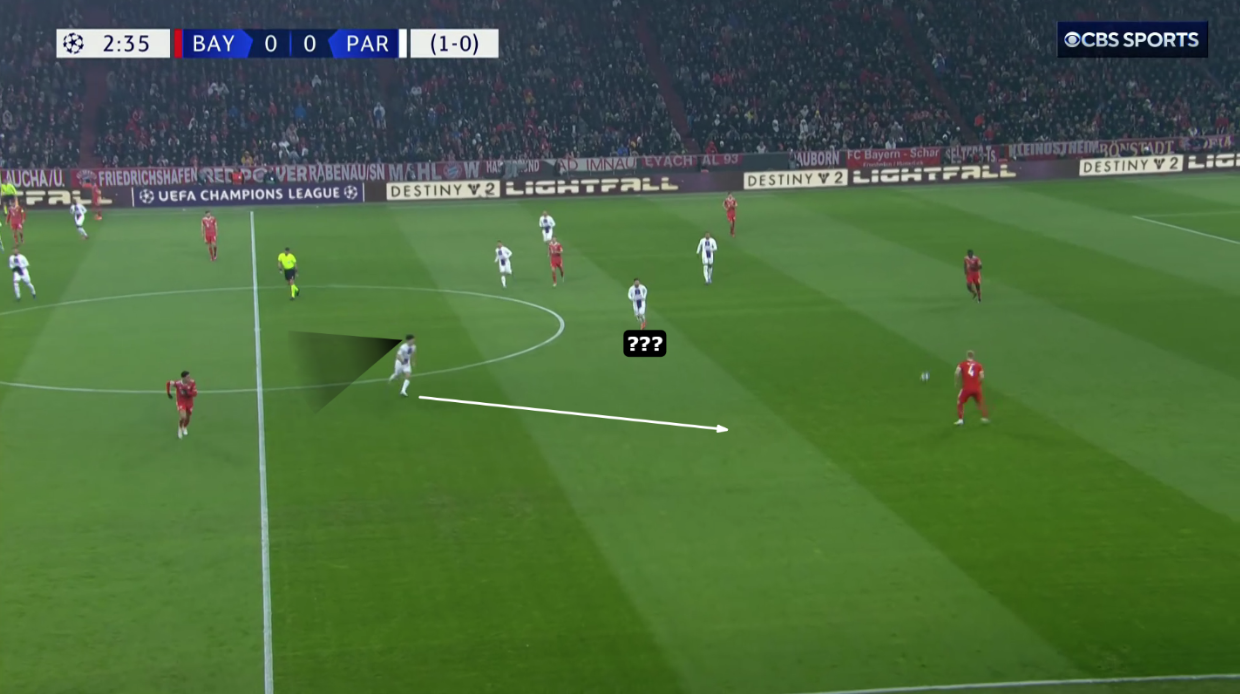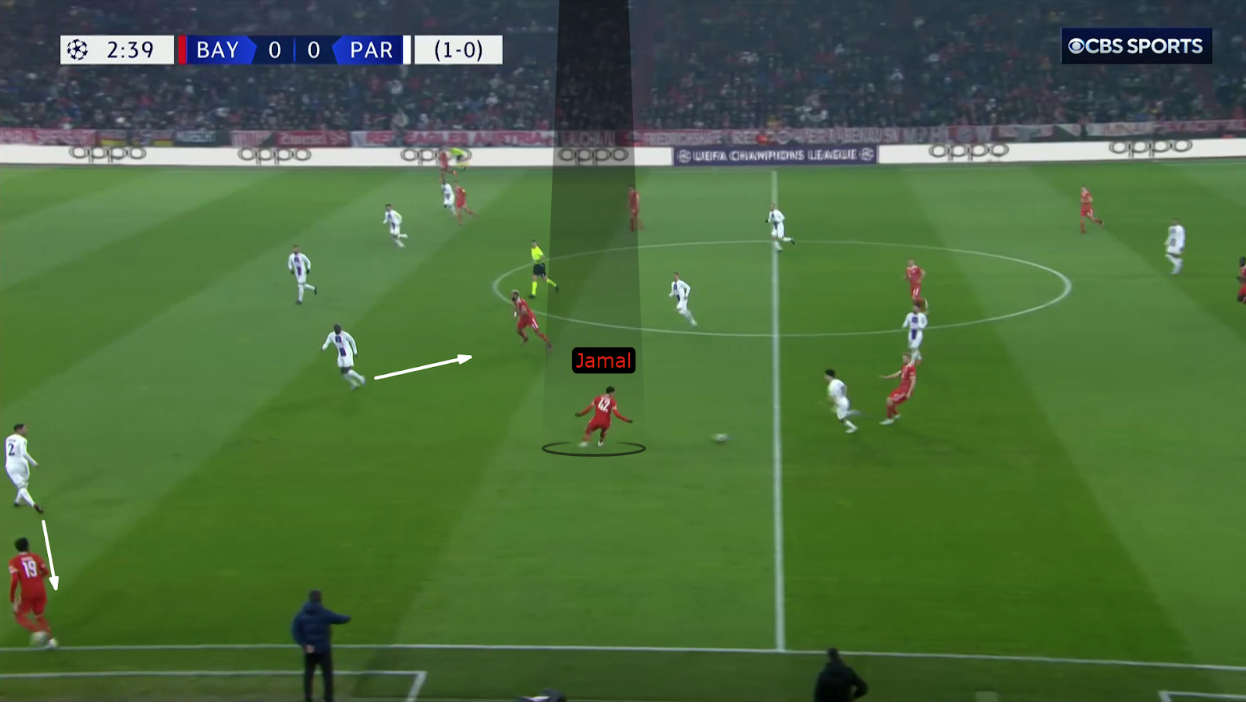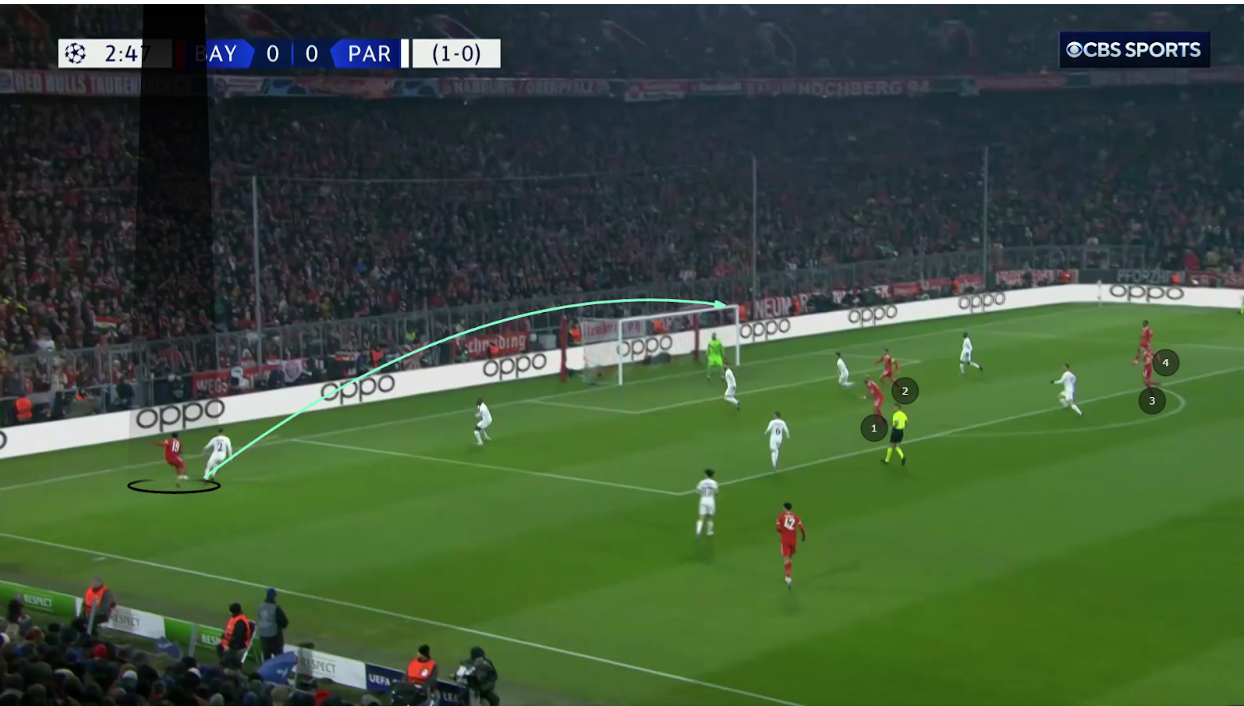 PSG midfielders struggled to control Bayern's five-man attack, and the ball carrier was always able to find a passing option with Musiala and Goretzka occupying the half-spaces and Müller playing as a second striker alongside Choupo-Moting.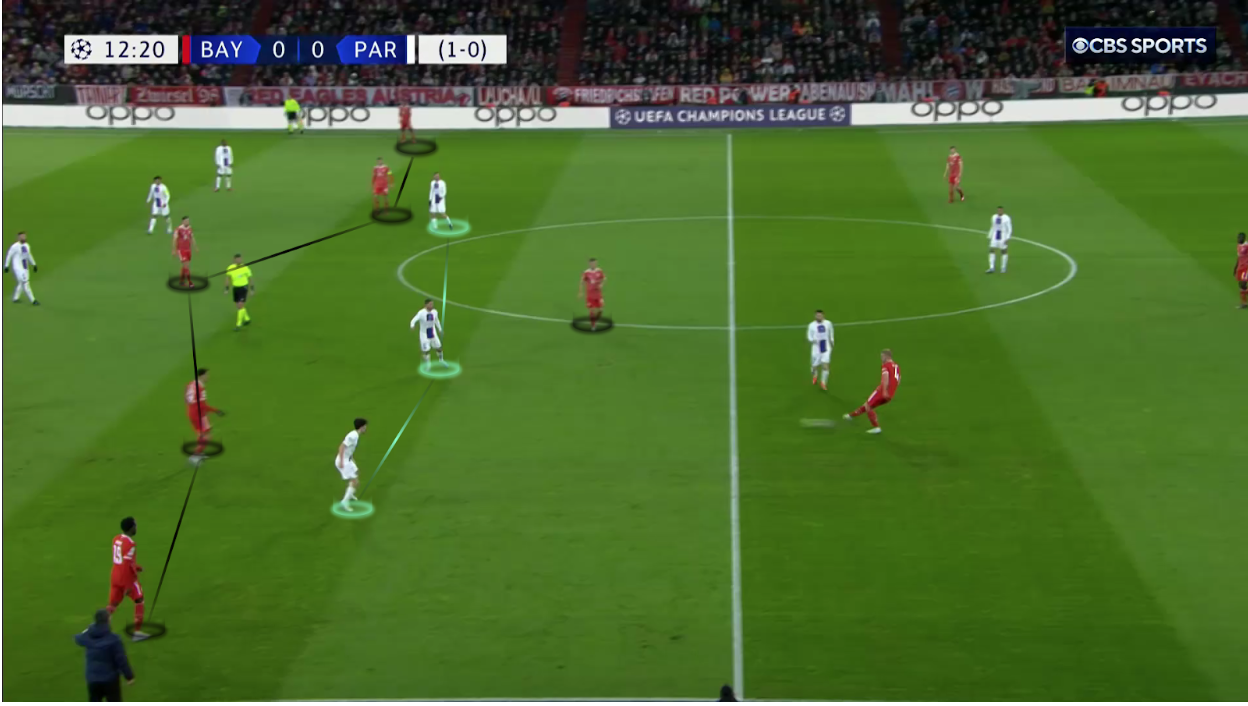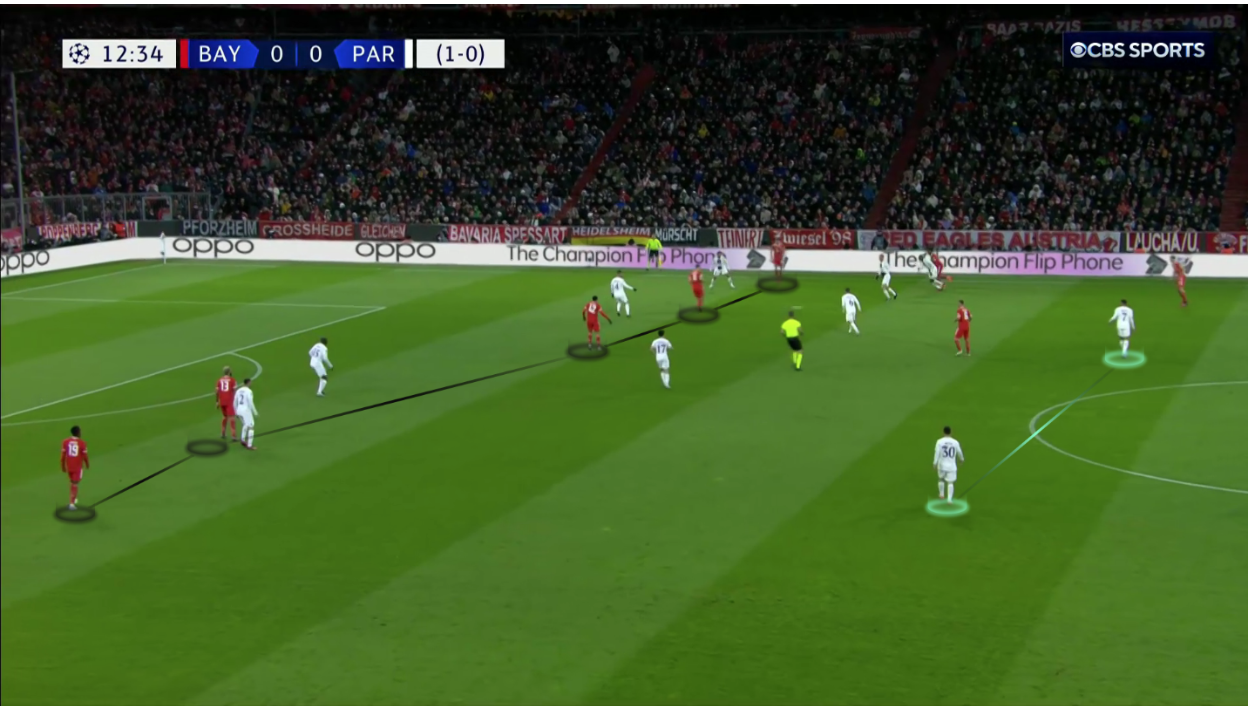 How Did Bayern Stop Mbappé and Messi From Creating Danger in Transition?
In the below example, Messi drops deep to receive the ball and De Ligt pushes forward to stop the transition at its root, whilst Mbappé is being closely marked by Upamecano and Stanišić remains vigilant to prevent Mbappé from receiving in space and bursting forward on the counter.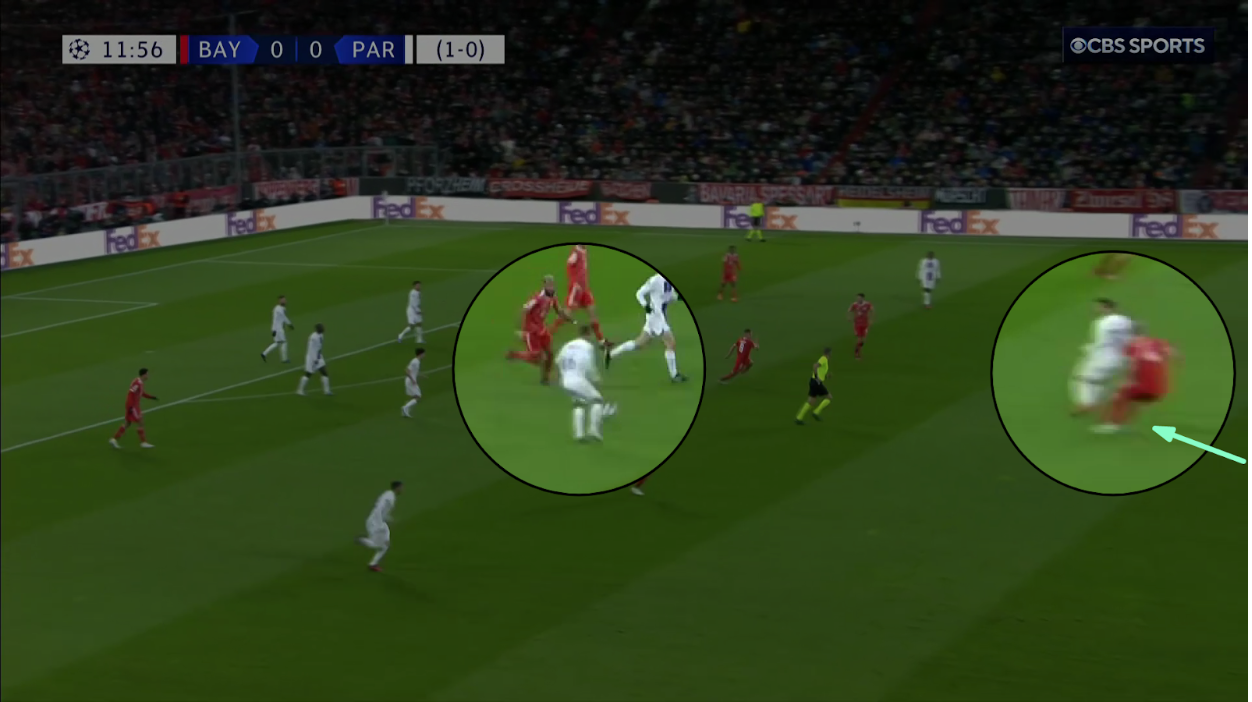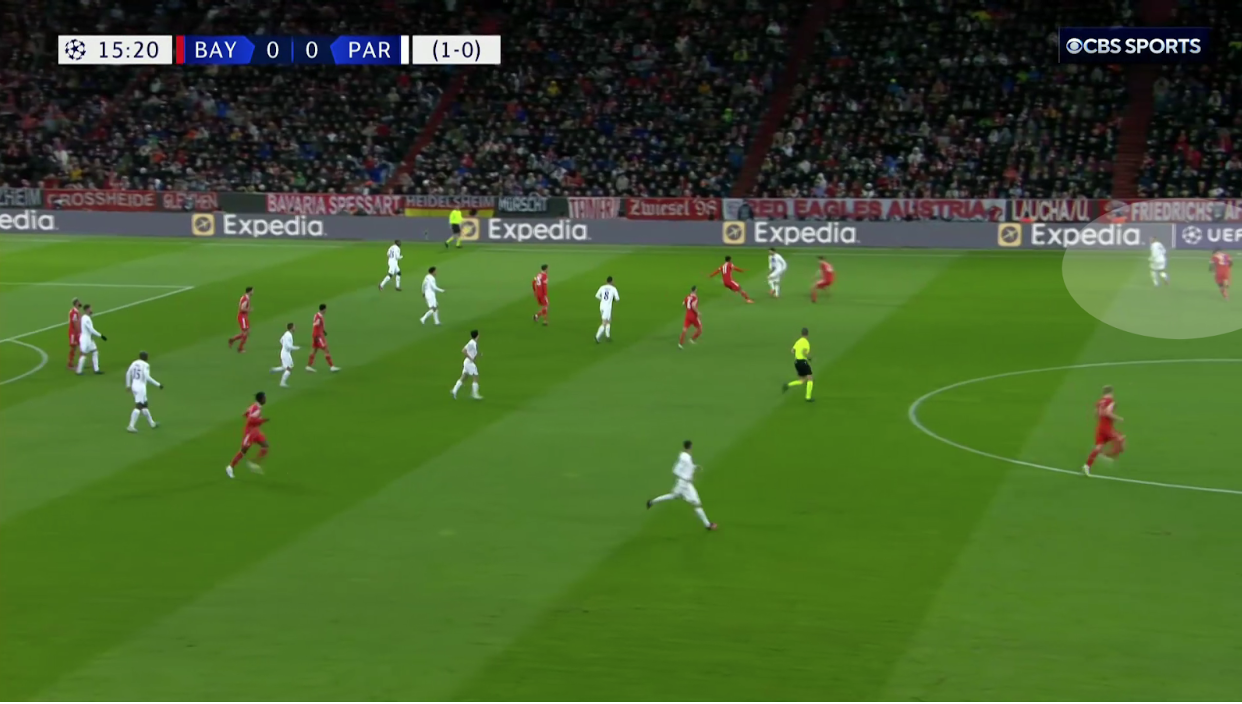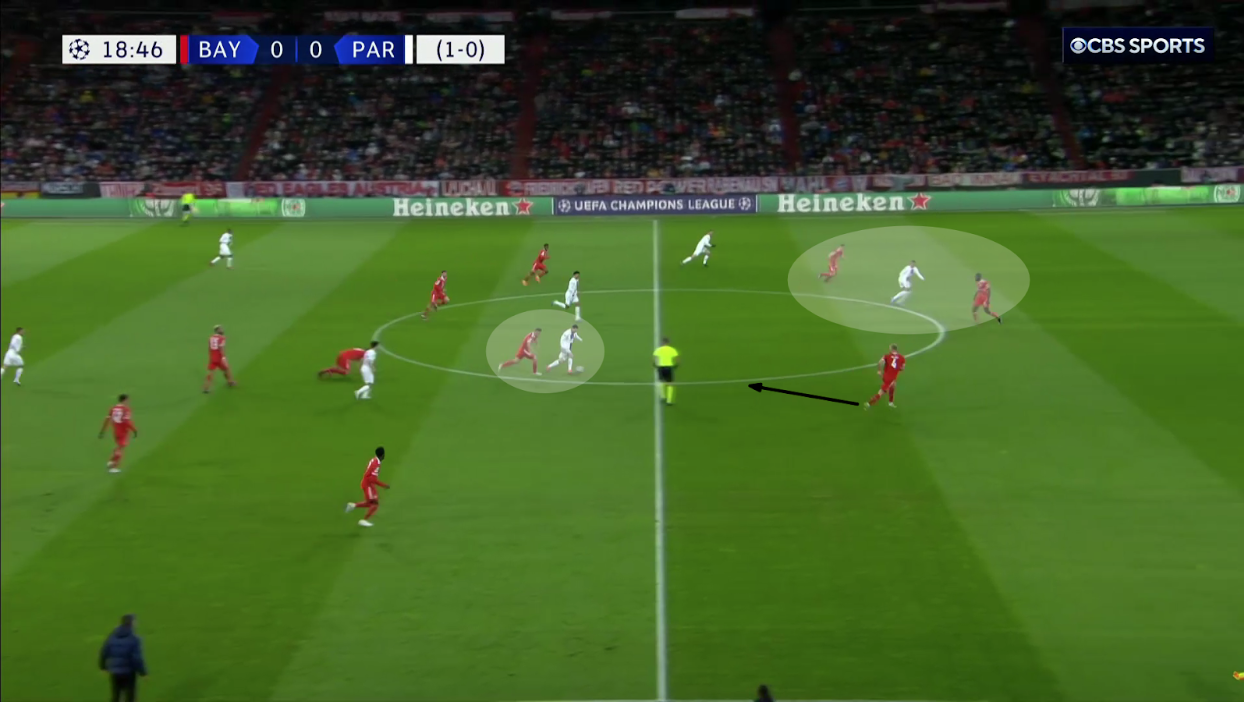 Bayern Munich have since followed this victory up with a 5-3 win over Augsburg and a 2-1 defeat to Bayer Leverkusen — they sit one point behind league leaders Borussia Dortmund with nine matches left and will be taking on BVB in Der Klassiker on April 1. As for PSG, they would beat Brest 2-1 via a 90th-minute winner from Kylian Mbappé before losing 2-0 to Rennes — they sit seven points clear of Marseille atop the Ligue 1 table and, unlike Bayern, are out of both cup competitions.
By Mohammad Bani Atta / @TacticalZone14
Featured Image: @GabFoligno / @GabFoligno / Alexander Hassenstein / Getty Images