How Burnley Returned to the Promised Land Under Vincent Kompany
Burnley bid farewell to a seven-year spell in the Premier League in 2022 — their longest uninterrupted spell in the top-flight since the '60s — after suffering relegation, with the club replacing interim manager Mike Jackson with Vincent Kompany. The Clarets parted ways with manager Sean Dyche in April after ten years at the helm, emerging as a thorn in the side of England's top teams and earning European qualification for the first time in a half-century.
Under Dyche, Burnley became famed for their defensive stability and direct style of play, relying heavily on crosses to physically imposing target men like Chris Wood and Ashley Barnes and operating in an old-school 4-4-2 formation. That has shifted under Kompany, with the Belgian opting for a more expansive, possession-heavy style where they look to take the game to the opposition and dominate from start to finish, a trait that was rarely seen under Dyche.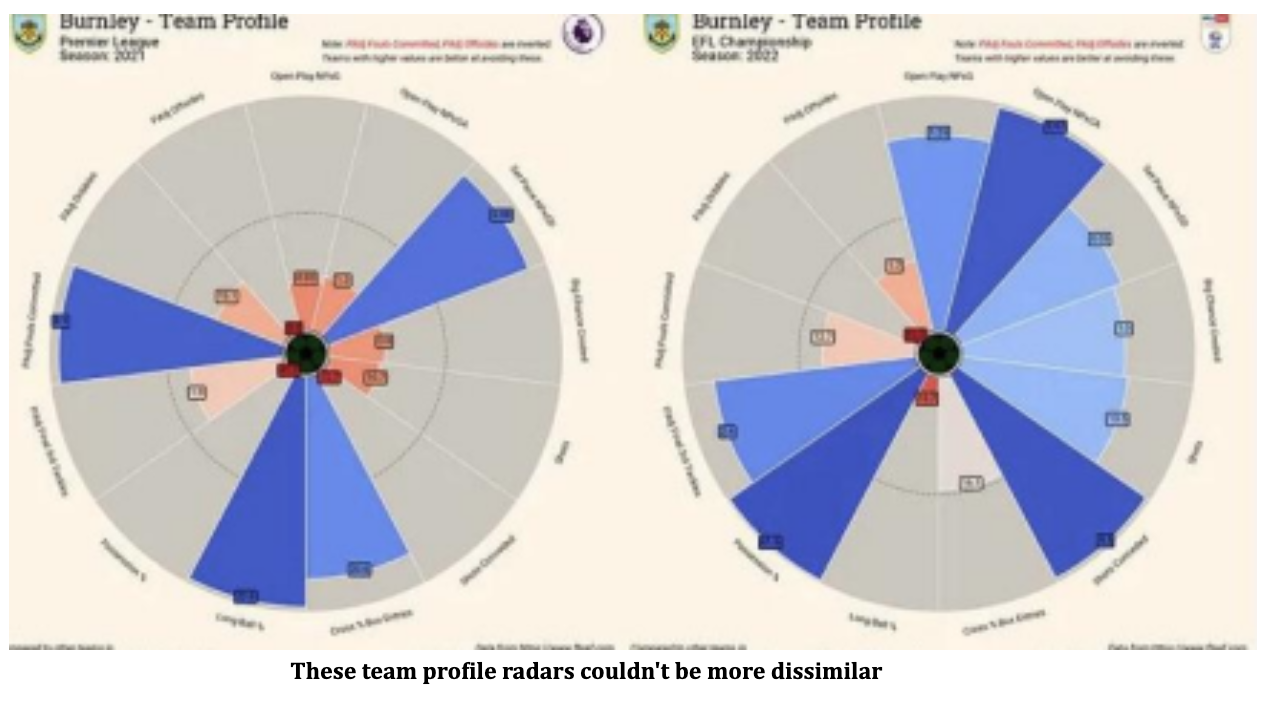 Despite losing several key players like Nathan Collins, Dwight McNeil and James Tarkowski, the Clarets immediately bounced back to the Premier League, finishing 10 points above Sheffield United and 21 above Luton Town, registering 29 wins, 14 draws, and only 3 losses. They became the sixth team in Championship history to surpass the 100-point mark and the first since Leicester City in 2013/14, beating Cardiff City 3-0 on the final day of the season to secure the feat. Today, we're going to be delving deep into Kompany's tactical setup at Turf Moor with a particular focus on their win against Cardiff.
Build-up Phase 
As we all know, Vincent Kompany was coached by Pep Guardiola for several years and naturally took out some of City's ideas and adapted them to his current club. One of them is the need to keep the ball for as long as possible in order to hurt the opposition, and the employment of inverted fullbacks is an excellent tool for that because it adds strength to the midfield. The other fundamental notion driving Burnley's organizational moment is mobility and the importance of having the correct places occupied by the right players.
Seven Kompany Signings That Inspired Burnley's Brilliant Season
In Burnley's model, the right-back, the role usually played by Connor Roberts, is the only inverted fullback, while the left-back Ian Maatsen frequently intervenes in the build-up as a third center-back. Roberts is a player with good technical quality, especially on his pass, and he has the capacity to find his teammates between the lines when he plays in that role. The Welshman is neither a very explosive nor a quick player, and he had some concerns as a typical fullback, particularly in transitions, but Kompany made a wise decision in changing his role to maximize his qualities.
In the build-up, Roberts is positioned next to Josh Cullen, offering a solution between the attackers and midfielders. Maatsen, alternatively, assists the team in an early phase by dropping next to Taylor Harwood-Bellis, making a three-man line (Maatsen has since returned to Chelsea whilst Harwood-Bellis has returned to Manchester City). Both Scott Twine and Brownhill occupy the space between the opposition's midfield and defensive lines.
Brownhill's outstanding season was largely due to the freedom of movement granted to him by Kompany. In 41 games, the Englishman registered eight goals and seven assists. Ashley Barnes, the striker, frequently slips to the midfield,  leaving the opposing center-backs with no reference to mark. Anass Zaroury and Johan Berg Gudmundsson are positioned deep and open on the flanks.
With so many players inside, Burnley not only has a numerical advantage in the midfield, but it also benefits the players on the flanks, who can receive the ball with plenty of space and without being pressed. Below in Figure 1, we can visualize  Burnley's display during the build-up moment.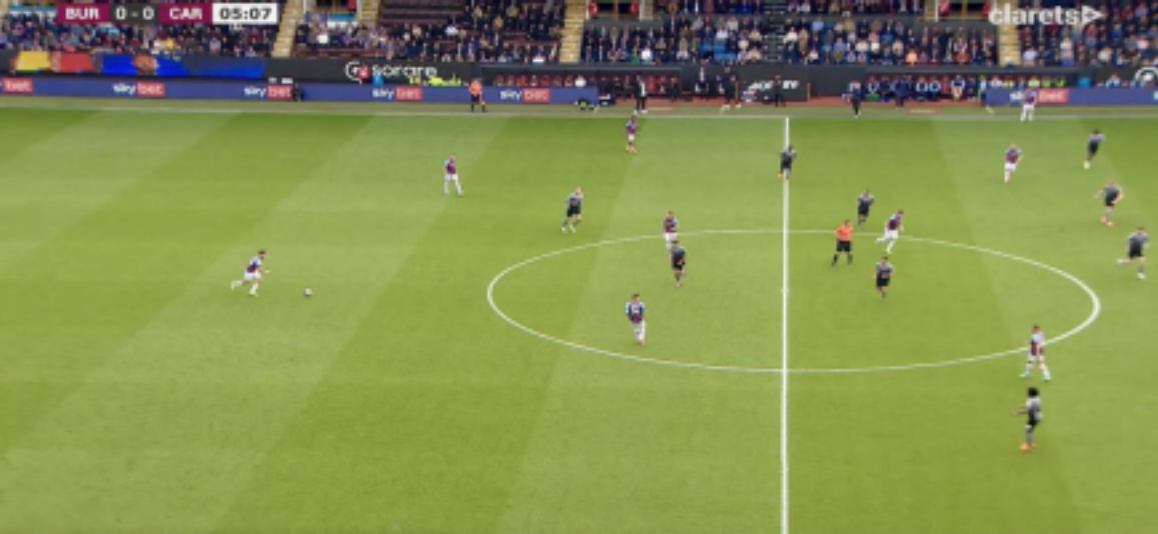 Figure 1: Burnley's build-up phase
We can identify a similar display in Pep Guardiola's Manchester City. In the case of the treble winners, Bernardo Silva and Jack Grealish, both superb players on the ball, position themselves deep and open on the sides, allowing them to confront the opposing fullbacks with plenty of space. 
Attacking Play 
As previously said, Vincent Kompany places a great deal of emphasis on the build-up phase and his team's ability to build from the back, with his goalkeeper playing a key role in this. Despite being a goalkeeper with great distribution, Muric did not participate that much attacking-wise due to the medium-low block used by Cardiff. The center-backs, Harwood-Bellis and Ameen Al-Dakhil were in the spotlight regarding the offensive part of the game.
Basically, they were playing as central midfielders, which is a consequence of Cardiff's approach to the game. Al-Dakhil, especially, stood out for his ability to carry the ball to lure the opposition and then find the best-positioned teammate. Both remained super calm and composed on the ball during the whole game, which is mandatory for a team with this style of play. 
In possession, Roberts and Josh Cullen form a duo in the center of the pitch, with Cullen controlling the tempo of the game amazingly, always knowing where to pass the ball and when to move forward. He finished the game with 97%  passing accuracy. In a riskier role, Roberts performed an excellent job as he was able to find his teammates in a good position multiple times.
Kompany expects the players who play between the opposition's midfield and defensive lines to continually make runs behind the opponent's defense. This type of movement, in my opinion, is one of the most important aspects of Burnley's attacking system. Figure number 2 shows Twine running in behind and Barnes instantly takes advantage of that situation.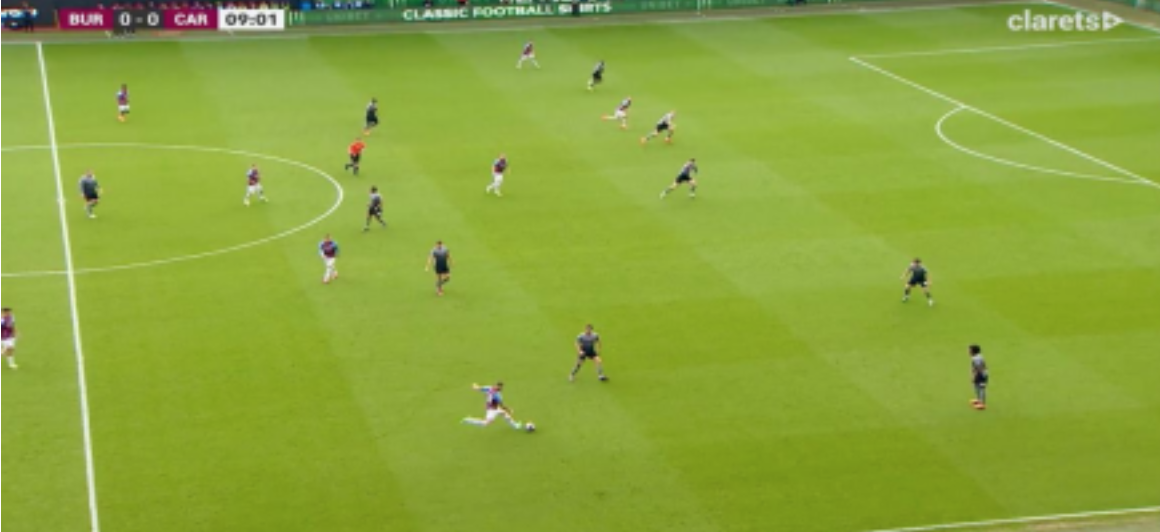 Figure 2: Twine's movement allows Barnes to receive the ball 
Twine's run was really smart because it allowed Barnes to get the ball without any pressure.  When making the run, Twine obligates both center-backs to control the space between their defensive line and their goalkeeper, so Barnes comes a little deeper and receives the ball unmarked in a promising area. The English striker ended up deciding poorly, but this kind of play was recurring and damaged Cardiff's defense throughout the game.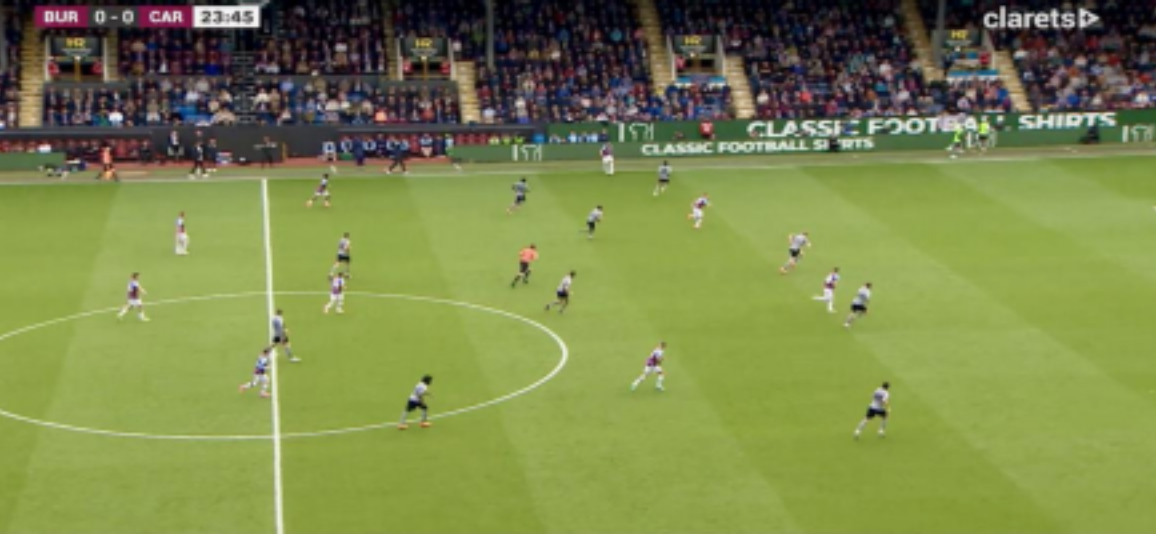 Figure 3: Twine exploits the space between the opposition's center-back and right-back 
Cardiff's players were mispositioned, as illustrated in Figure 3. I can identify a  tremendous defensive blunder in this play. The distance between Cardiff's center-back and right-back is huge, therefore Twine immediately exploits that space and receives a pass from  Zaroury. Furthermore, Cardiff's central midfielder, who plays more on the right side, should be closer to his right-back. As I previously stated, this type of movement was prevalent throughout the game, with Twine constantly threatening the opposition. This kind of run was also common on the right side of the pitch, as illustrated in Figure 4.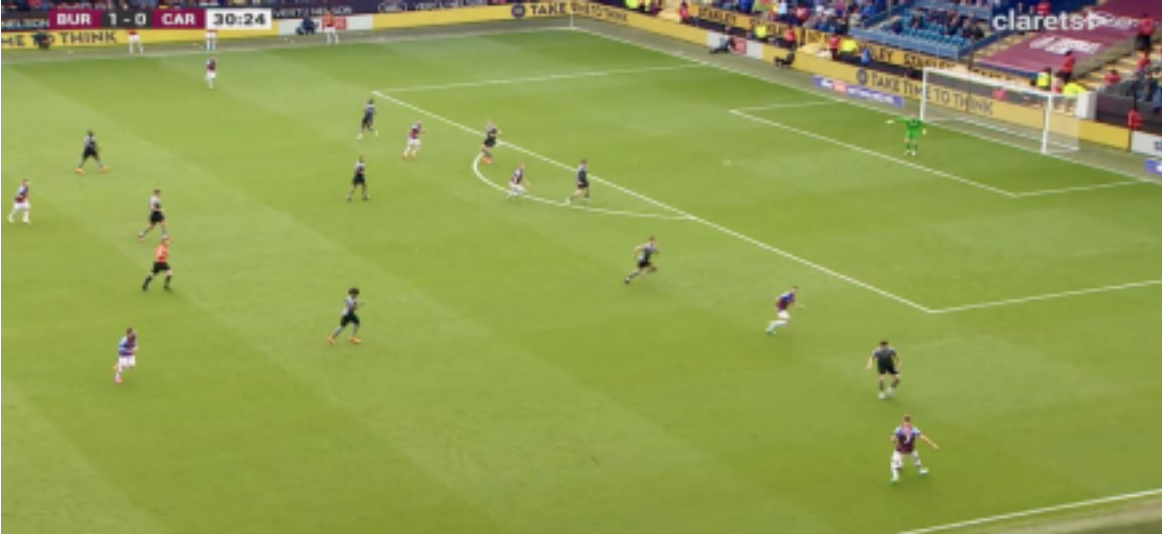 Figure 4: Incisive movement from Brownhill to receive the ball in a dangerous area 
Defensive Phase 
Under Sean Dyche, Burnley was known to be a super resilient team, capable of rolling with the punches and bouncing around on the ropes, to borrow a boxing metaphor, and they haven't relinquished this gritty spirit under Kompany, as one of the greatest defenders in Premier League history has set the Clarets up for success with a league-best 35 goals conceded in 46 matches.
Burnley were strong in defensive transitions and starved Cardiff of chances going forward, with their attacking players eager to get stuck in and press high up to win the ball back — Barnes committed five fouls in the first half alone. When Burnley lost the ball, they completely suffocated their opponents, and on several instances, Cardiff's players had no choice but to clear the ball as far as they could.
Cardiff tried to build from the back on a few occasions, as they essentially tried to play long balls to their striker Connor Wickham who is the typical English number nine. He is strong, tall, and can hold the ball quite well. However, the few times they tried to do so, Cardiff came across a very well-organized Burnley team. Kompany's men defended in a 4-4-1-1 setup with a very interesting particularity, which is illustrated in Figure 5.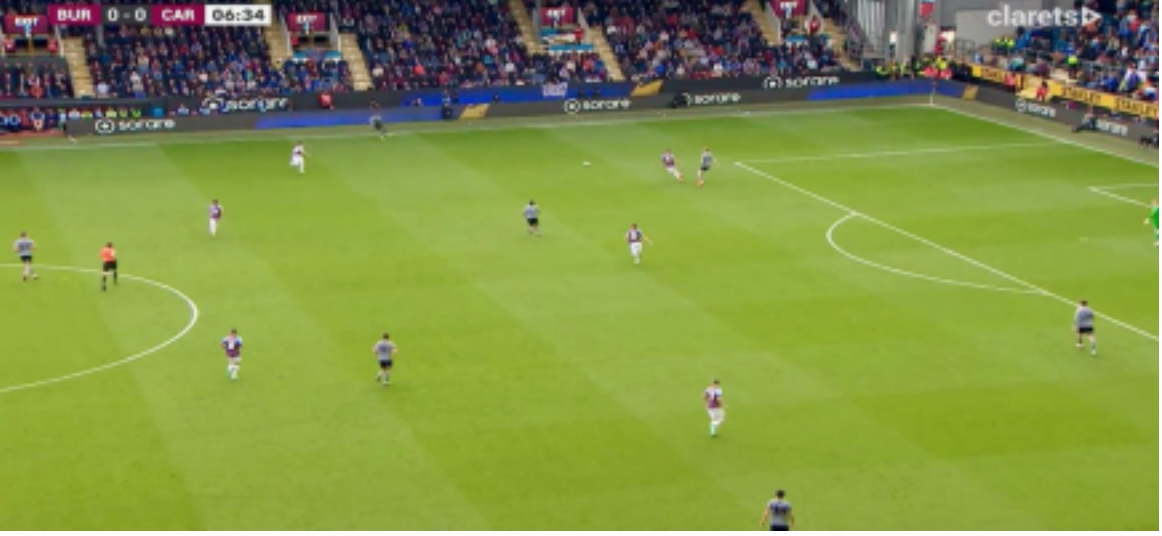 Figure 5: Burnley's pressure out of possession
In figure number 5 we can identify two different lines. The first line is formed by Twine and Barnes.  The second is composed of Zaroury, Cullen, Brownhill, and Gudmundsson. Twine applies pressure on the center-back with the ball, while Barnes stops the center-defensive midfielder from receiving the ball by positioning near him. The ball moves to the right-back and Zaroury instantly pressures his direct opponent. The above-mentioned intriguing particularity is Gudmundsson's movement. 
The Iceland international moves closer to the left center-back leaving the opposition with no spare players in the build-up and allowing Burnley to win the ball very high up on the pitch. This is something we're used to seeing from coaches such as Pep Guardiola and Mikel Arteta, and it's great to see Kompany successfully executing it. 
Can They Do It in the Prem?
Starting with the transfer window it has been fun and busy. James Trafford looks a superb goalkeeper and I'm really interested to see who will start in goal against Manchester City in the opening week. Arijanet Muric had an impressive season, but now he has the competition of a goalkeeper who didn't suffer a single goal in the U-21 Euros and who made a last-minute double save to keep out a penalty and secure a 1-0 win against Spain in the final.
I really like the signing of Zeki Amdouni from Basel. Costing a reasonable €18.6 million, this is a shrewd piece of recruitment by the Clarets", as the electric, versatile attacker has all the ingredients needed to be a success. Dara O'Shea is a handy extra body in defense to complement Jordan Beyer, who has made the move from Borussia Mönchengladbach permanent. Nathan Redmond brings Premier League experience to a side that lacks it.
More recently, the Clarets signed Sander Berge from Sheffield  United and he's a player that can add quality and strength to the midfield. However, they have also suffered some key departures with Nathan Tella — their top scorer with 19 goals — returning to Southampton, whilst Maatsen and Harwood-Bellis have also returned to their parent clubs. All three made more than 30 league starts last season, but whilst they will be hoping that O'Shea's arrival will take care of things in central defense, they have yet to sign a left back following Maatsen's loan return.
In terms of playing style, it is realistic to wonder whether possession-based, short-passing football can be replicated following promotion. Burnley were used to being the team with the most ball possession in almost every Championship game, but now they will face teams that equally enjoy having the ball as well as having better players. However, I believe Kompany and his players will have a season of success.
They should play with the same courage as they did in the Championship. Sticking to ideas has worked for other promoted Premier League sides, and Kompany's success is built on the same attitude as other Guardiola disciples: don't sacrifice your ideals; adapt your methods. Burnley may not always dominate possession or have the freedom to attack with the same vigor, but they will pose a threat on the counter and will back themselves to beat teams either way. And, if they can make Turf Moor a fortress where they only lost once in 26 games last season, they may just have what it takes to stay up in the Premier League.
First up for Kompany's men? A visit from treble winners Manchester City.
By: Tomas Reis / @tomasmreis10
Featured Image: @GabFoligno / Rich Linley – CameraSport