How Celtic Had Real Madrid Worried For 45 Minutes
In today's piece, I will be going over the Champions League game which was played between Celtic and Real Madrid and how Celtic's system caused Real Madrid issues for the first half. Real Madrid did end up winning the game 3-0, where all the goals came in the 2nd half but for this write-up, I will be looking at some key points from the first half and break this down. 
First Half Analysis:
From the kick-off, Celtic was sprinting after the ball and pressed with intent. As per the below, we can see this which ended up being a throw-in for Celtic moments after.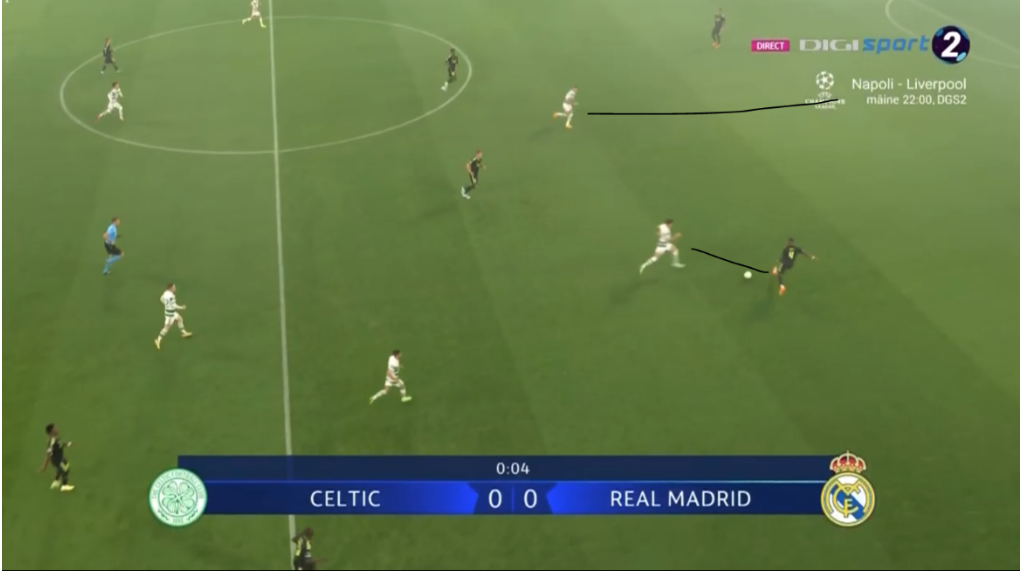 Within the first minute and a half, Celtic already had 2 corners that they wanted to take very quickly and had Real on the back foot. This image below was one of the main reasons why I wanted to write about this today. Celtic had lost the ball and as per below, we can see that Celtic was trying to box in Madrid and not allowing them to get away lightly. Vinicius however, did manage to get out of this by a long ball back to the keeper.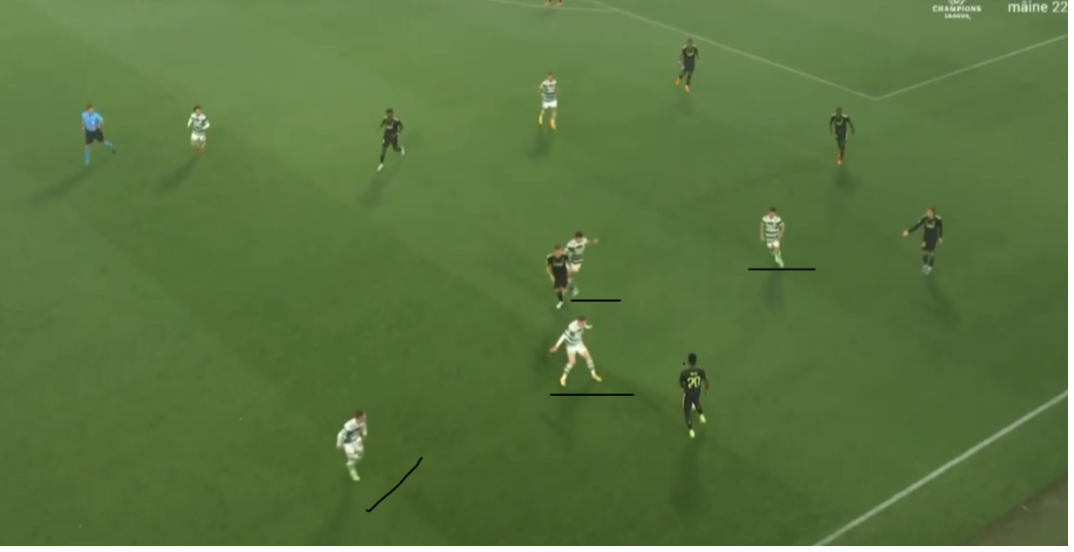 Just before the 10-minute mark, below we can see Madrid looking to get forward and a ball played into Karim Benzema. We can see Celtic got bodies back and covered each angle to make it hard for Benzema to get away. Celtic ended up intercepting and winning the ball back. This is another example of where Celtic was suffocating Madrid and making it really hard for them.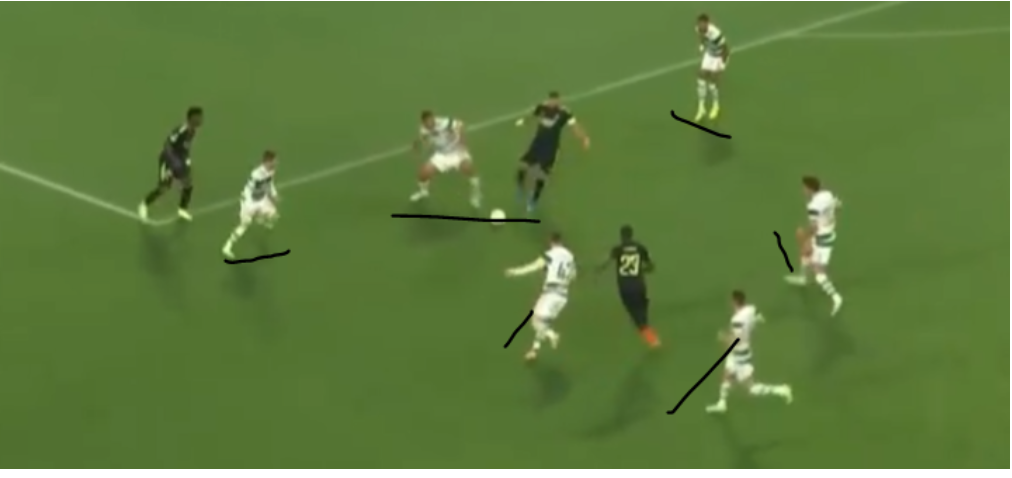 Now, we will now look at Celtic's attacking work rather than defending or pressing. Just after a corner for Real Madrid, Celtic went on the break and as per below, this was a great first-time pass from the player at the top of the image which set his teammate through on goal. This did catch out Madrid's defence as it appears they were not expecting that type of pass to be played.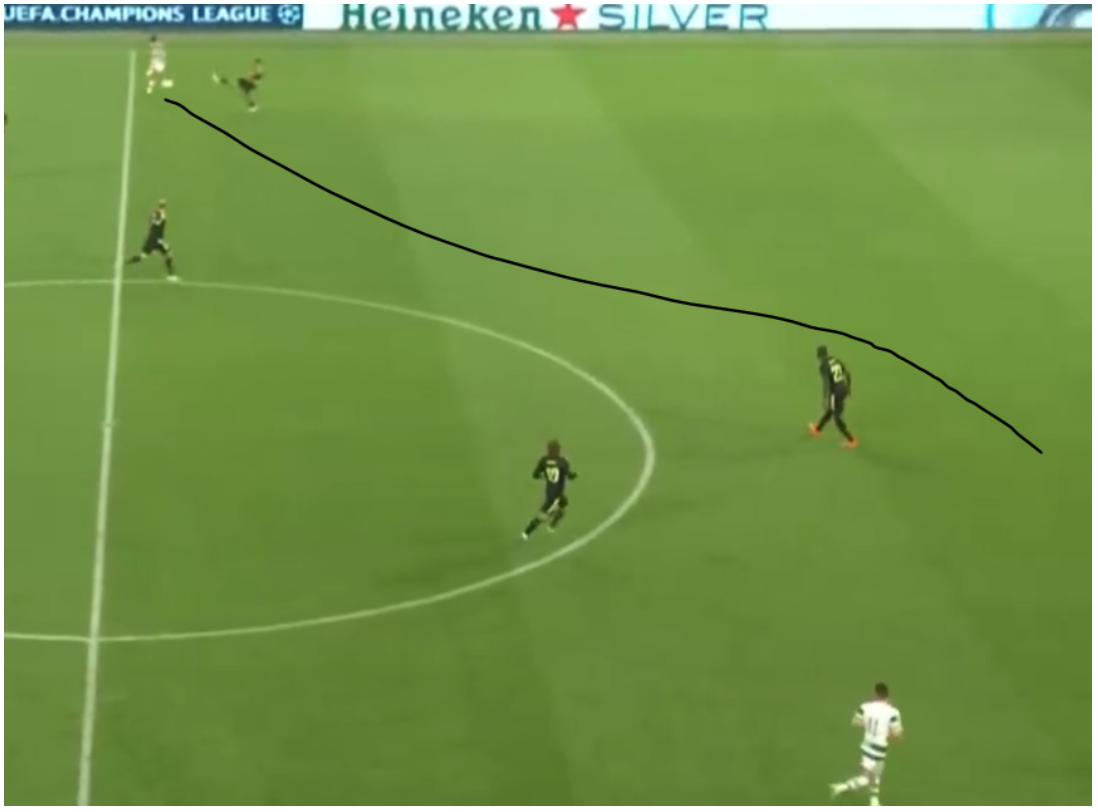 Again, another threat on the attack from Celtic as Callum McGregor hits the inside of the post and was unfortunate not to score. This may have changed the game and given Celtic more confidence if this had gone in however, at the same time, Madrid may have started to take the game more to Celtic. 

Just before the 35-minute mark, we can see here some stats at this stage of the game. Although Madrid dominated possession, Celtic had more attempts and corners which just shows the type of game this was already.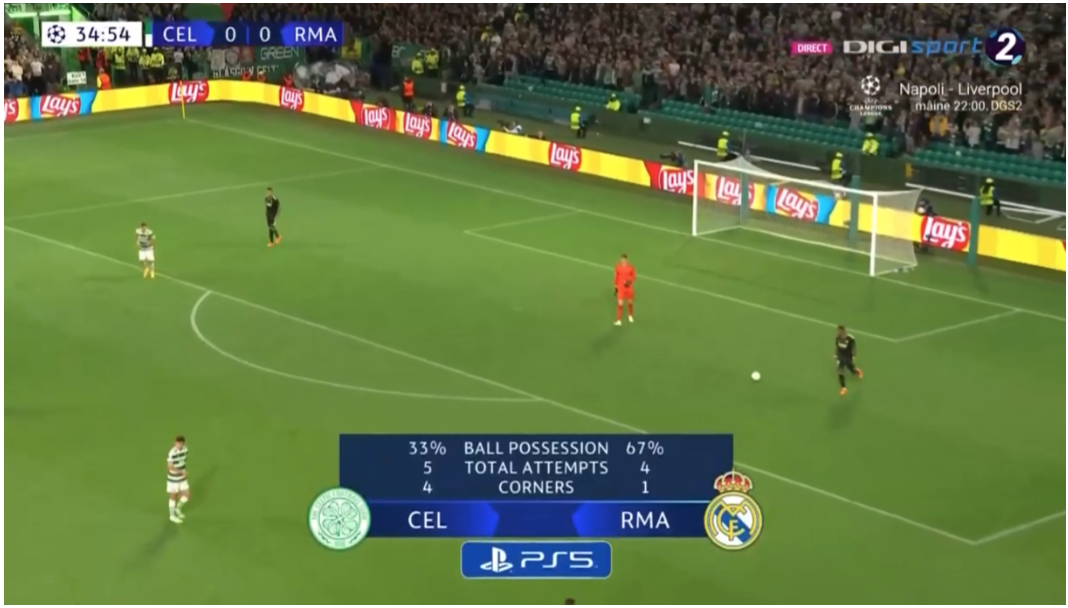 Just before halftime, in the image below we can see that Vinicius had the ball and looked to drive at the Celtic defence however, yet again Celtic just had too many players back and a lack of players forward for Madrid. This ended up forcing Vinicius to go backwards and pass it off.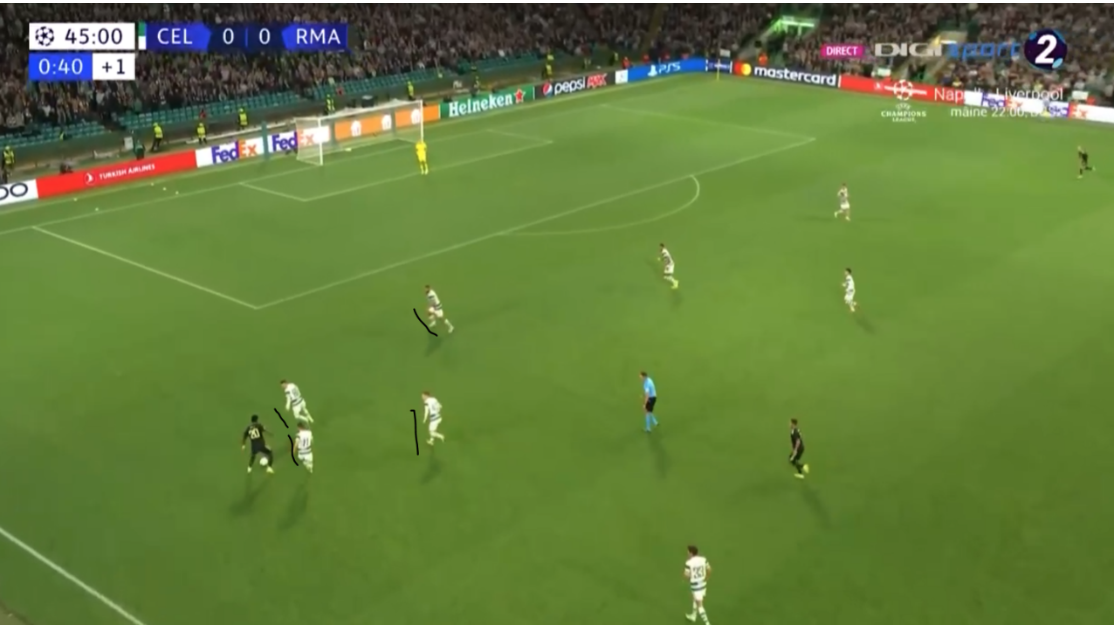 Conclusion
From the above, we can see that Celtic did cause Madrid a few issues in the first half which was most likely not expected by most. Not only did Celtic work hard, press with intent and get bodies back when required, but also were brave in going forward. Celtic were not parking the bus or playing it too safe, they mostly just went out and played how they would against any team and had Madrid thinking a good few times in that first half.
Overall, it looks like the players stuck to the game plan and the fans also played a part in making Madrid feel not as comfortable as most anticipated. If Celtic continue to go about their business as they did as per above (the first-half display) in future Champions League games, then other teams in the group should be wary.
By: Dhillon Gill / @_iamdhillon
Featured Image: @GabFoligno / Steve Welsh – PA Images