How Chelsea Sunk Manchester City's Battleship in Porto
After a unique season that seemingly progressed infinitely, European club football concluded with the Champions League final on Saturday with Thomas Tuchel leading Chelsea to their second European crown in a resounding five-month turnaround since his arrival at Stamford Bridge. Throughout the knockout stages of the Champions League, in particular, Chelsea looked the most prepared and formulated side in execution almost like every player knew exactly what their role with each passing game, it rarely seemed as though it wasn't going according to Tuchel's plan, the final was no different.  
If you have been living under a rock or were too busy enjoying the June sunshine, Pep Guardiola stayed true to his 'overthinking in big games' narrative like a maverick professor who experiments just a little too much with alchemy when he is close to the right formula, in the Champions League anyways. As line ups were produced before kick-off the hullabaloo was of no Fernandinho, no Rodri, no CDM, all, out, attack.
It Was the Biggest Party of the Season and Only One Team Turned up
It is an operatic subplot in City and Guardiola's quest for a UCL title since he had Lionel Messi in his arsenal. The genius who is too ingenious for himself.  Although the gossip was all about the exclusions of a CDM, it is worth mentioning that an out of form Raheem Sterling who has scored once in his last nine league games came in to play on the left having played a total of eight minutes in the four knockout games against Borussia Dortmund and PSG.
Was it a Tuchel master class (seriously we need another adjective for when a manager's brilliant plan comes off) or a Pep blunder? Well, a bit of both, the game threw up some fascinating tactics:
Werner's Runs and Stones Shakiness
Timo Werner, so mercilessly mocked this season as the next Mateja Kezman, not least because of the hype and high monetary spent on him and German counterpart Kai Havertz in the summer,  gave a fabulous account of himself in the final. Now, yes Werner has missed a lot of guilt-edged chances this season which Tuchel himself has admitted to being annoyed at after the 1-1 first leg semi against Madrid, or of course, this fabulous 'when the waiter walks past your table with the food you thought was yours' reaction to a miss vs West Ham.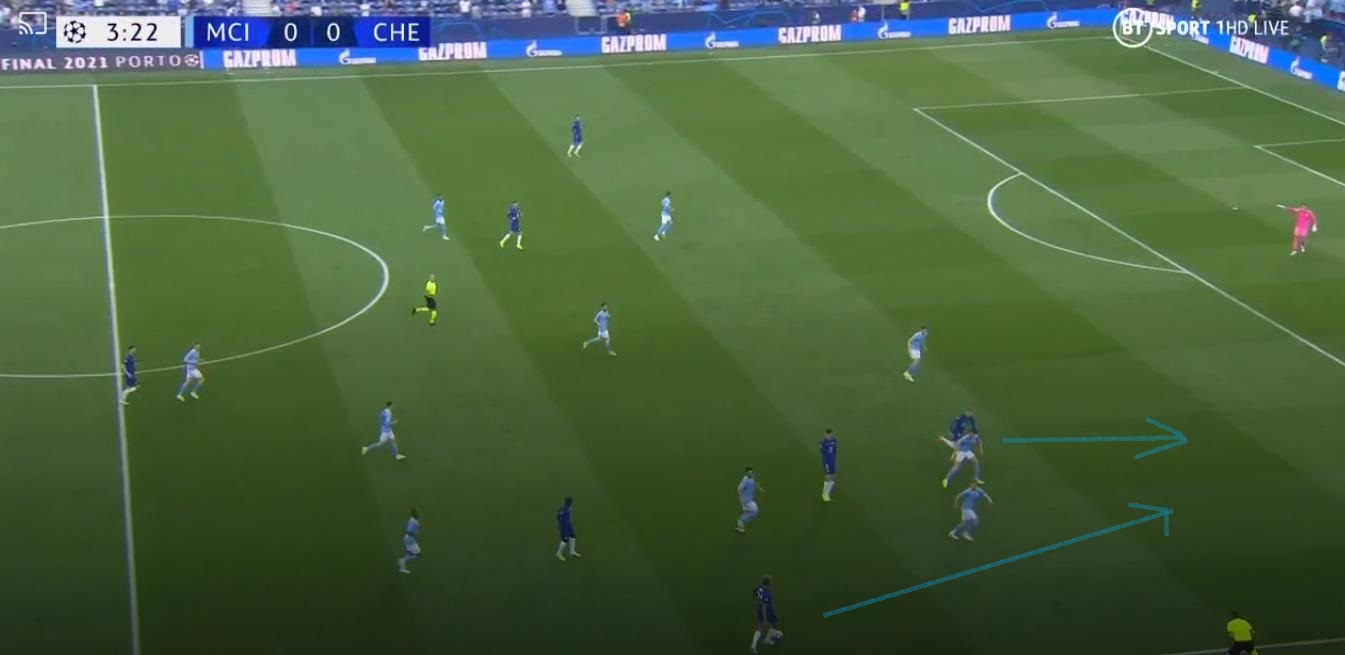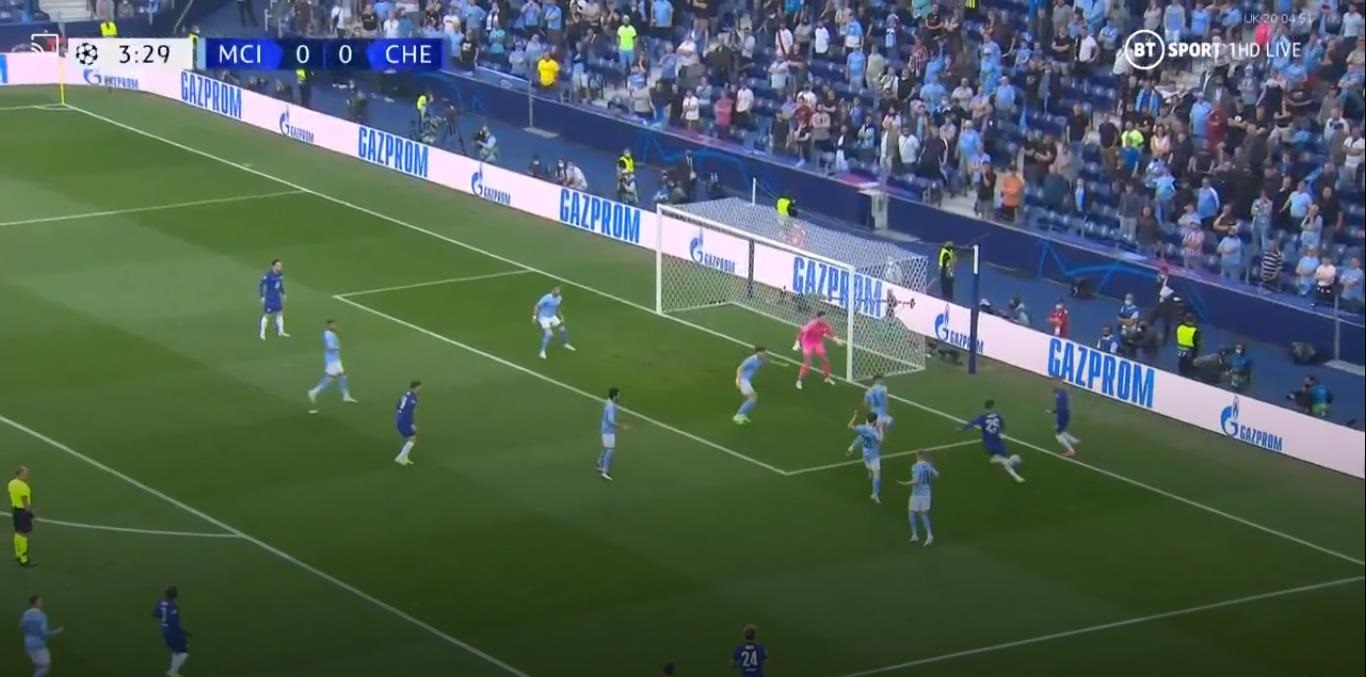 However, his movement has been second to none and with a dollop of confidence next year he could explode in the Premier League as he caused John Stones problem after problem. In the third minute of the game, Reece James zips it down the line for Werner to run in behind Stones, which results in Havertz getting into a dangerous position, early in the game this should've been a warning to Stones and City as Werner actively ran in behind and into the channels throughout, even as the game wore on which gave Chelsea the added opportunity to fire direct long balls for Werner to chase alleviating pressure put on them.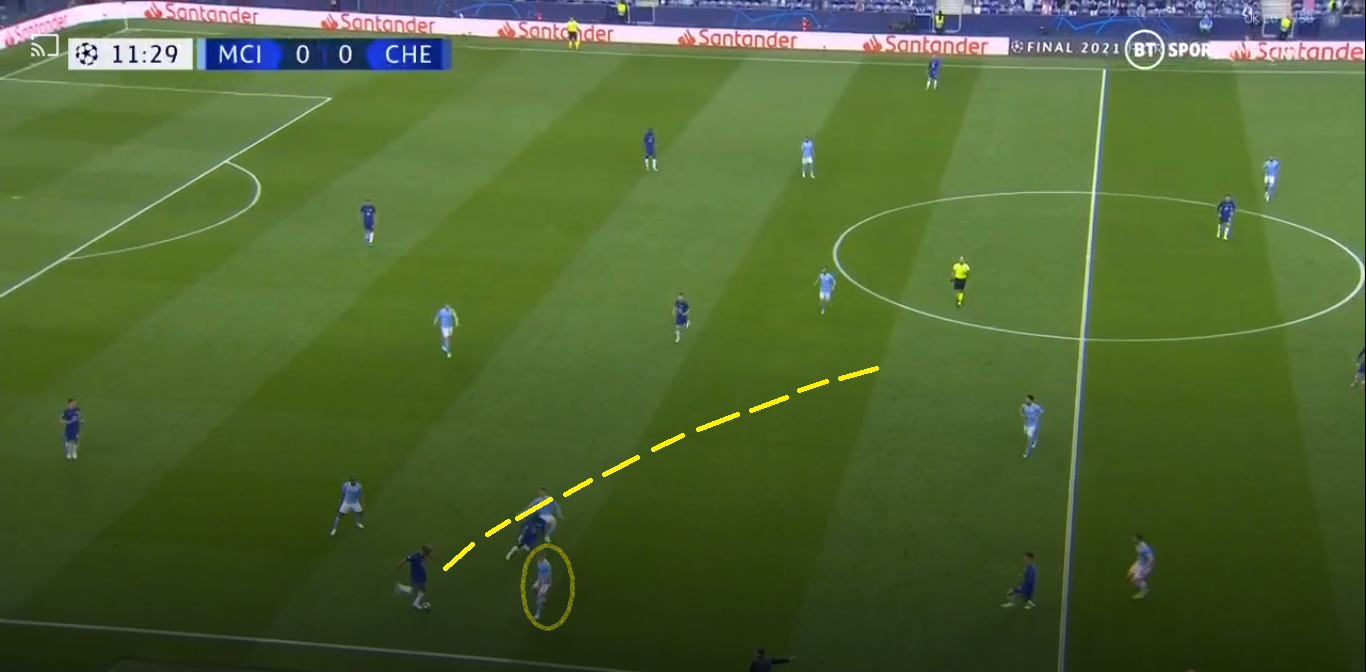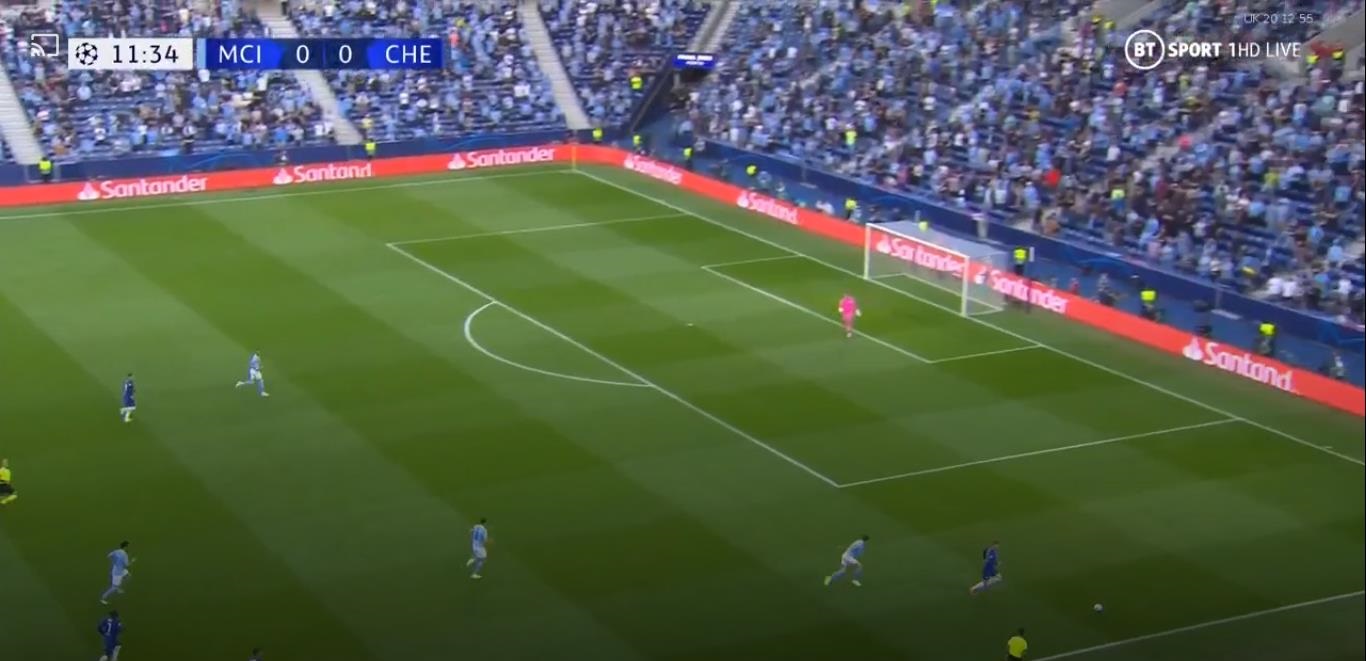 The same combination of James and Werner was at it again, this time with a lofted ball upfront, Stones made a mess of the clearance leading to Werner being in a brilliant crossing position once again, as Oleksandr Zinchenko playing as the full-back tucking in is caught high up the pitch, it leaves Stones exposed vs Werner, but in this situation Stones really should be clearing the long ball without Zinchenko's help, it was a resemblance of the opening 20 where Stones looked anything but secure.
As another long ball is played over the top Stones makes a hash of it again which resulted in Havertz crossing for Werner only to have him miss his kick. In the opening 30 minutes, Werner could've had two Champions League final goals capitalising on his clever movement and a shell shocked Stones, at the moment Werner is extremely effective but not clinical. 
Chelsea's Brilliant Shape and City's Inability to Penetrate
Chelsea's shape rarely budged, and rarely has budged since Tuchel found the one that suits him best since his arrival  Starting in a familiar compact 5-2-3 where normally Mason Mount drops in the 2 and plays a more advanced role Chelsea were extremely compact, Guardiola said in a BT interview before the game how well Chelsea play because of the short distances between them. They are the most well-drilled and tactically disciplined team in Europe, it is satisfying watching players execute a laid-out plan so well, City rarely had a sniff.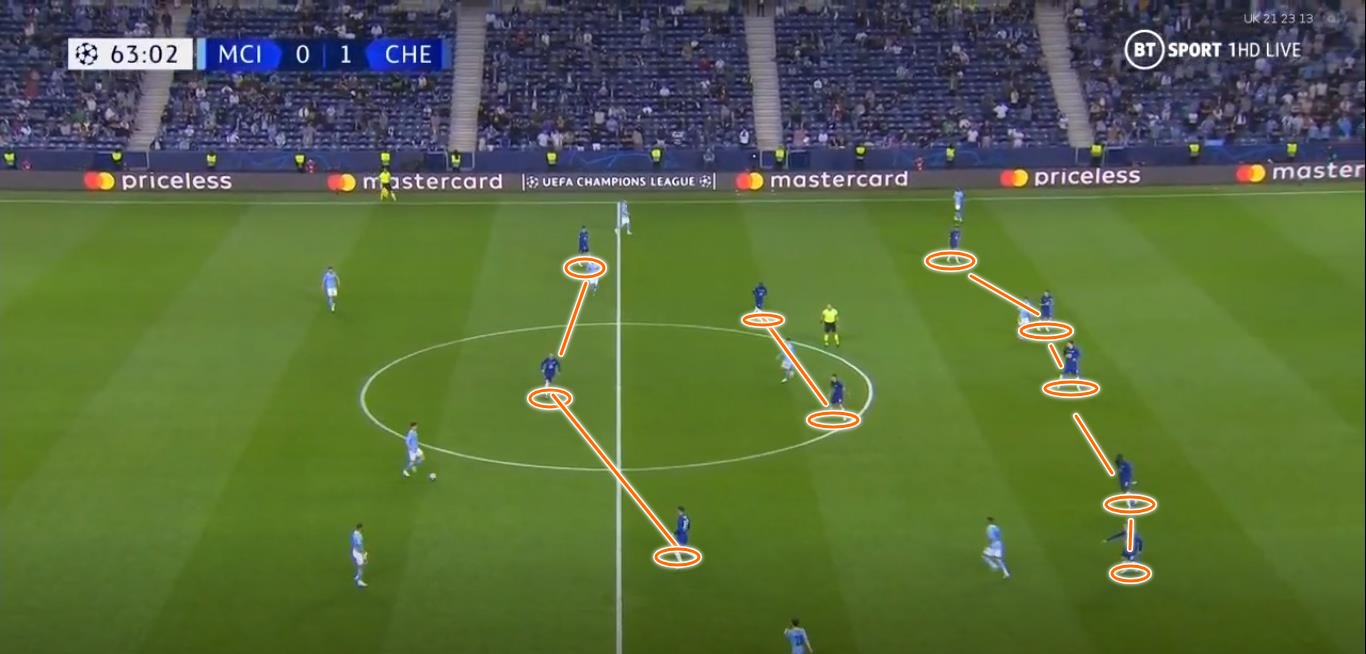 City's inability to create any penetration at all stemmed from the fact that they rarely ever had a pass on. With Kevin de Bruyne operating as the false nine, City lost his dictative play from the middle or even dropping deep in defence like he normally does to patiently pick a pass so City increase the tempo to strike at opponents.
I was more surprised that it was De Bruyne from the start chosen to lead the line and make runs in behind, it changed later with Phil Foden, Riyad Mahrez and Ilkay Gundogan taking up more central positions, but it is a little dumbfounding that Pep put his playmaker in the number nine role as opposed to those three players or even a striker, Guardiola only actually changed things too when De Bruyne went off injured. 
Look at the images below, where on earth is there actually a pass on for Man City? Highlighted in orange are the passes that are most likely to occur and in blue the ones that are at risk and will most likely be quelled by Chelsea.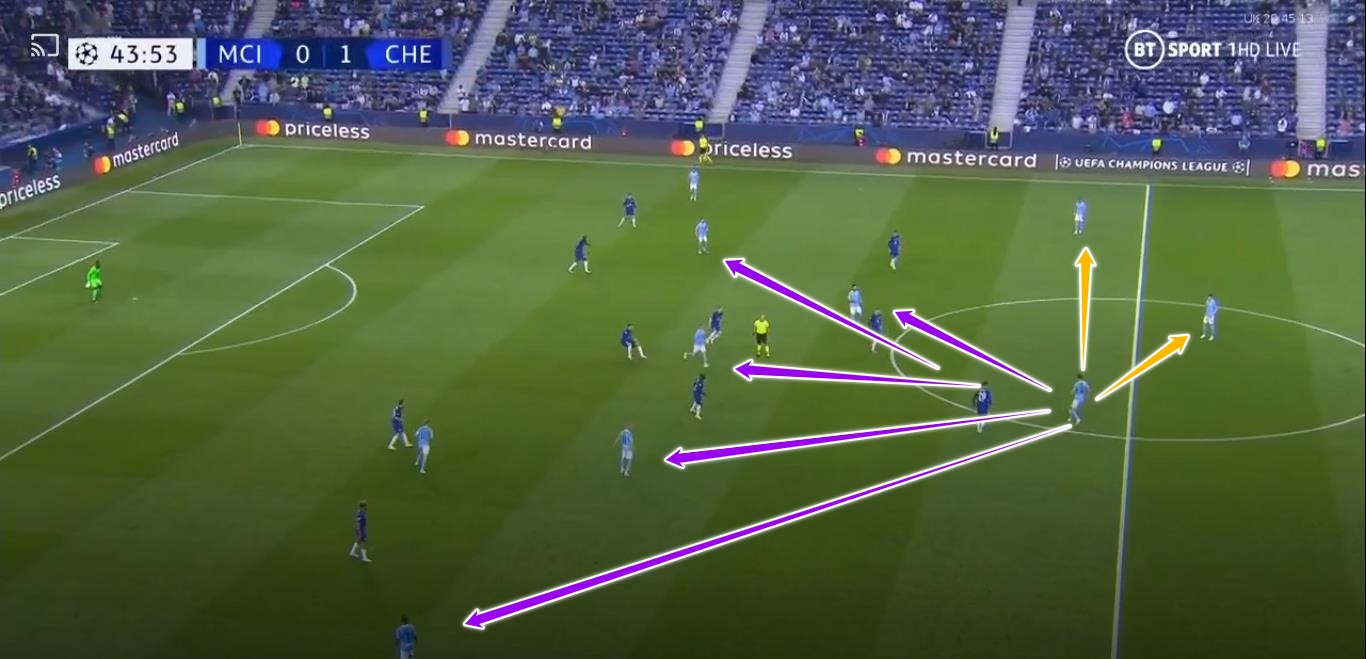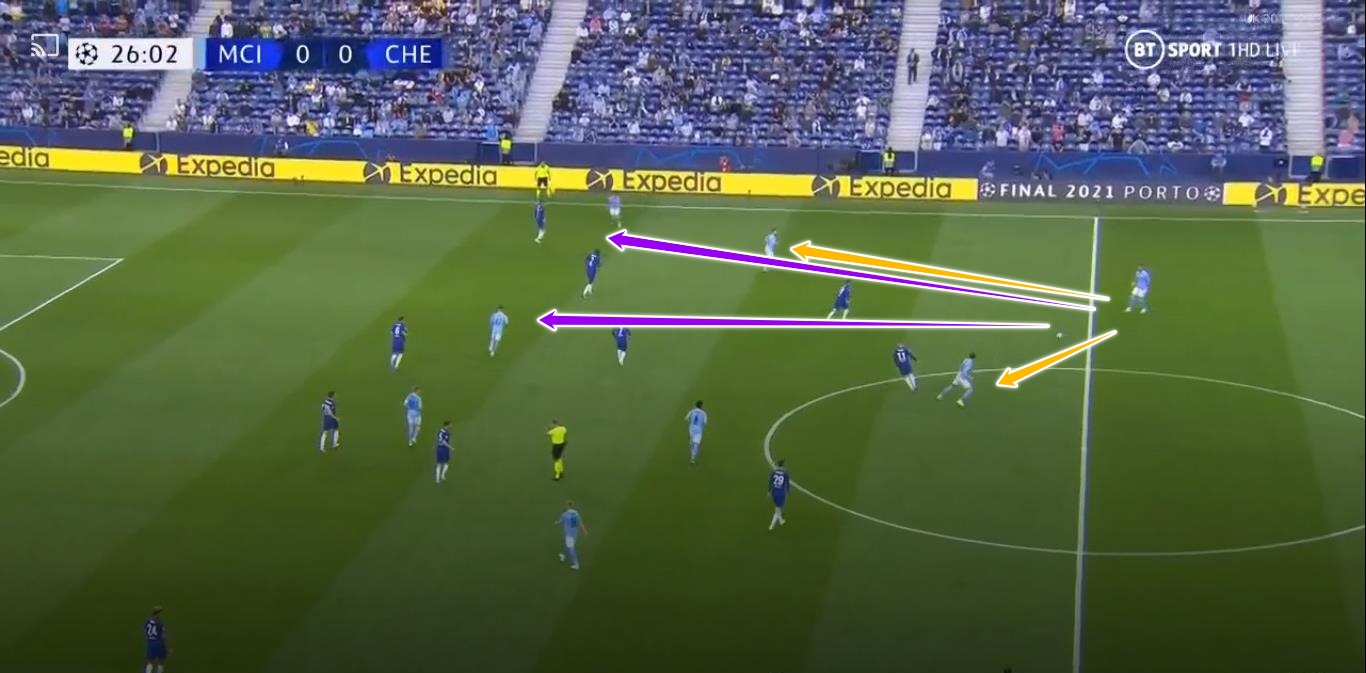 The amount of blue to orange arrows as a ratio is telling. There are scant options on the ball because there was always a Chelsea shirt within close proximity closing down either space or the man. Even in the second half where City had to be more urgent with the ball, Chelsea resorted to a comfortable low block that was just deeper but still limited options brilliantly.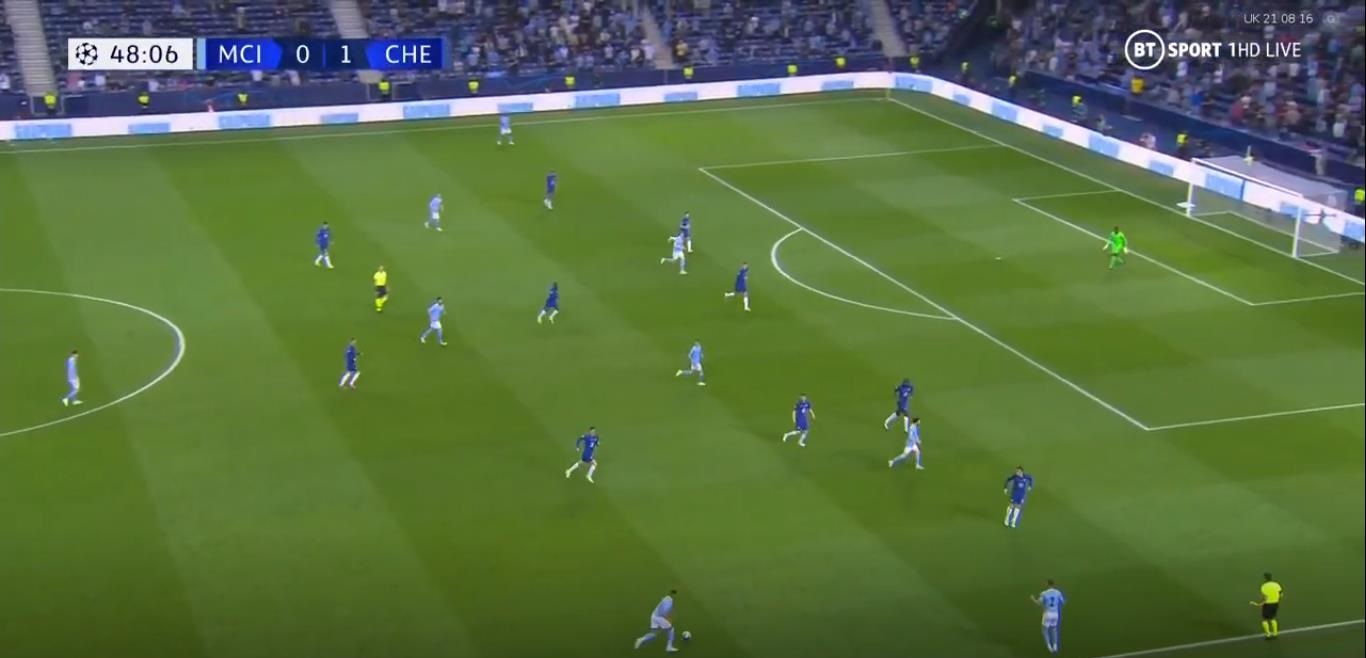 In parts of the game Cesar Azipilicueta and Antonio Rudiger pushed up when one of the attackers dropped deep for the ball as Jorginho or N'Golo Kante was able to drop in defence and cover. Then you had Havertz and Mount ordered to stay central and tuck in to close the space and even make the forward line compact without pressing, if City wanted to go out wide meanwhile, James and Ben Chilwell got incredibly touch-tight to Mahrez and Sterling. 
Chilwell, in particular was all over Mahrez like a nasty rash so the Algerian was never able to cut in and be a threat like normal, Mahrez could be seen complaining to the referee about how tight Chilwell was, he nullified him with such success.  The times where City did get into good positions with their use of slow, patient build-up before rapidly going to 0 to 60 in the blink of an eye was out wide in dangerous crossing positions, and Chelsea always had one of the three CB's sliding in to defend them away in the box.
Chelsea Dangerous in Transition 
Against Real Madrid in the semi-final and at their best under Tuchel this year, Chelsea's counter-attacking football has been magnificent. They counter punched and pounced on City brilliantly when their robust shape turned the ball over for them and were able to advance in transition.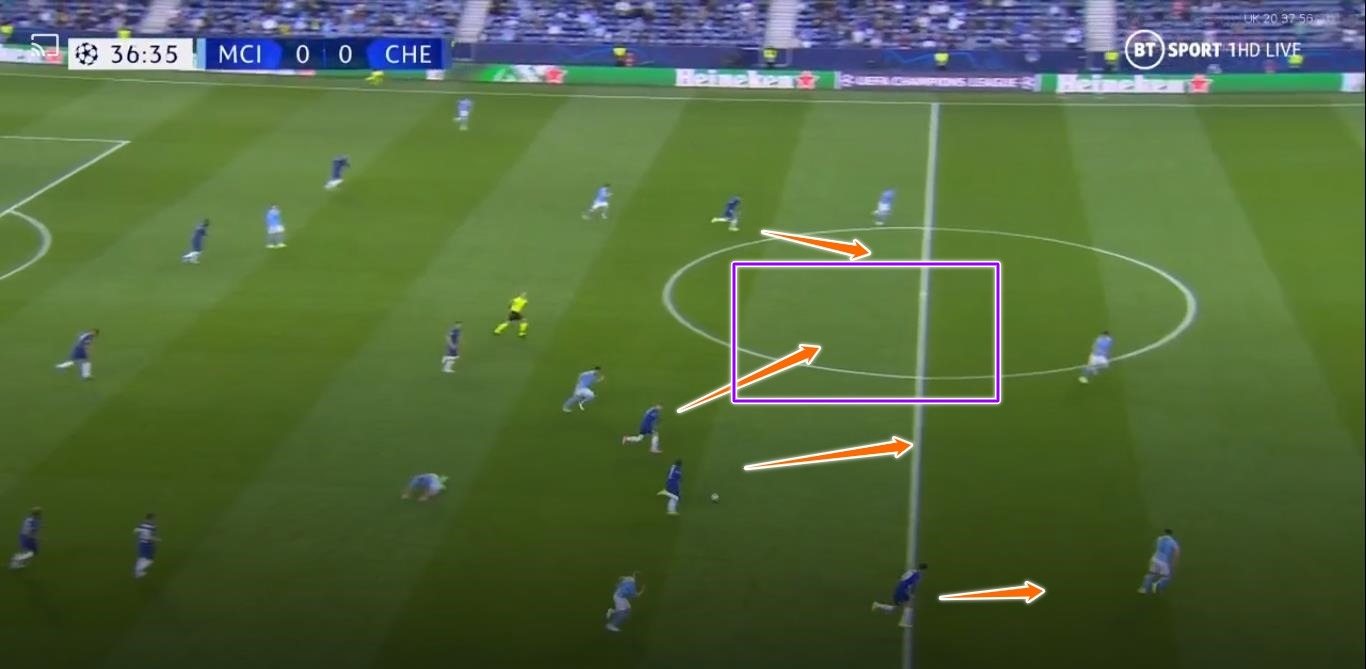 As De Bruyne gives the ball away Kante dispossesses him and you can see Gundogan scampering back which was a frequent occurrence in the first half whenever Chelsea attacked, as Chelsea's three attackers burst forward into the spaces, with Zinchenko tucking in to try and give City another central option it left the right even more exposed.
The rectangle highlights the gaping holes left for not having a Rodri or Fernandinho in there, now would City be more secure with one in there? That is another question but certainly, a natural defensive midfielder would ensure you wouldn't see Gundogan galloping back in desperation, as routinely Chelsea front three were normally left to face just City's defensive back three.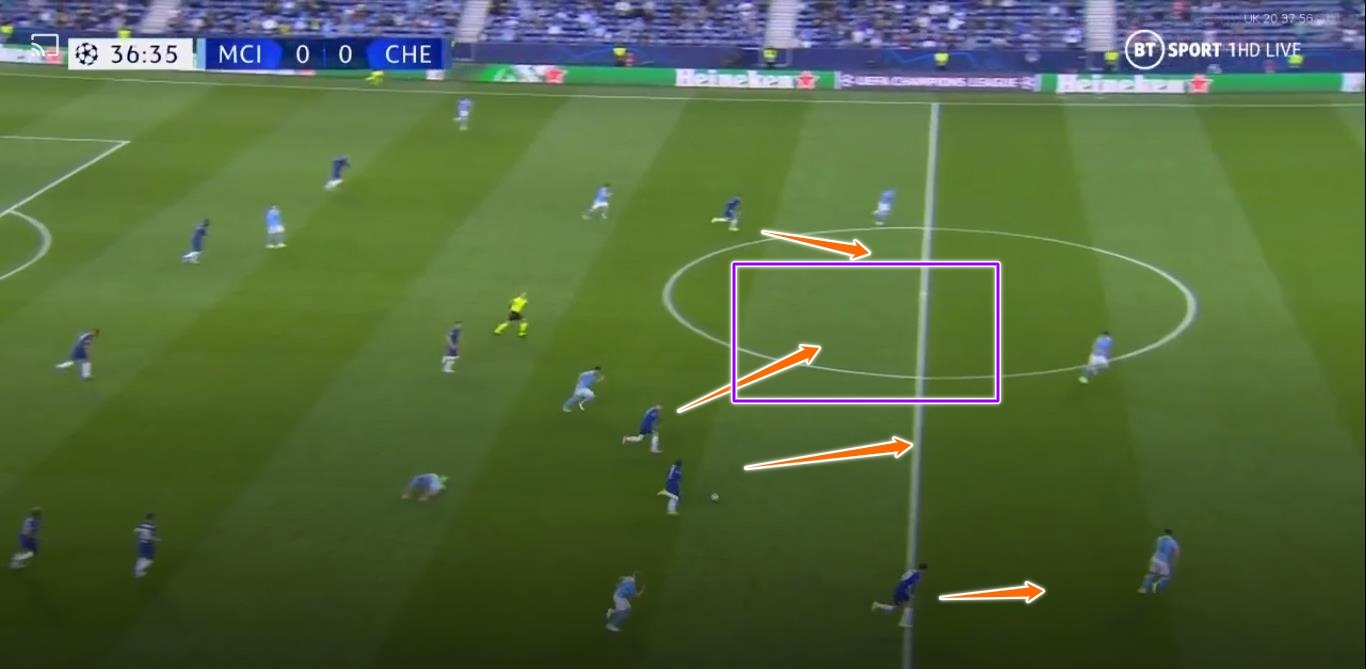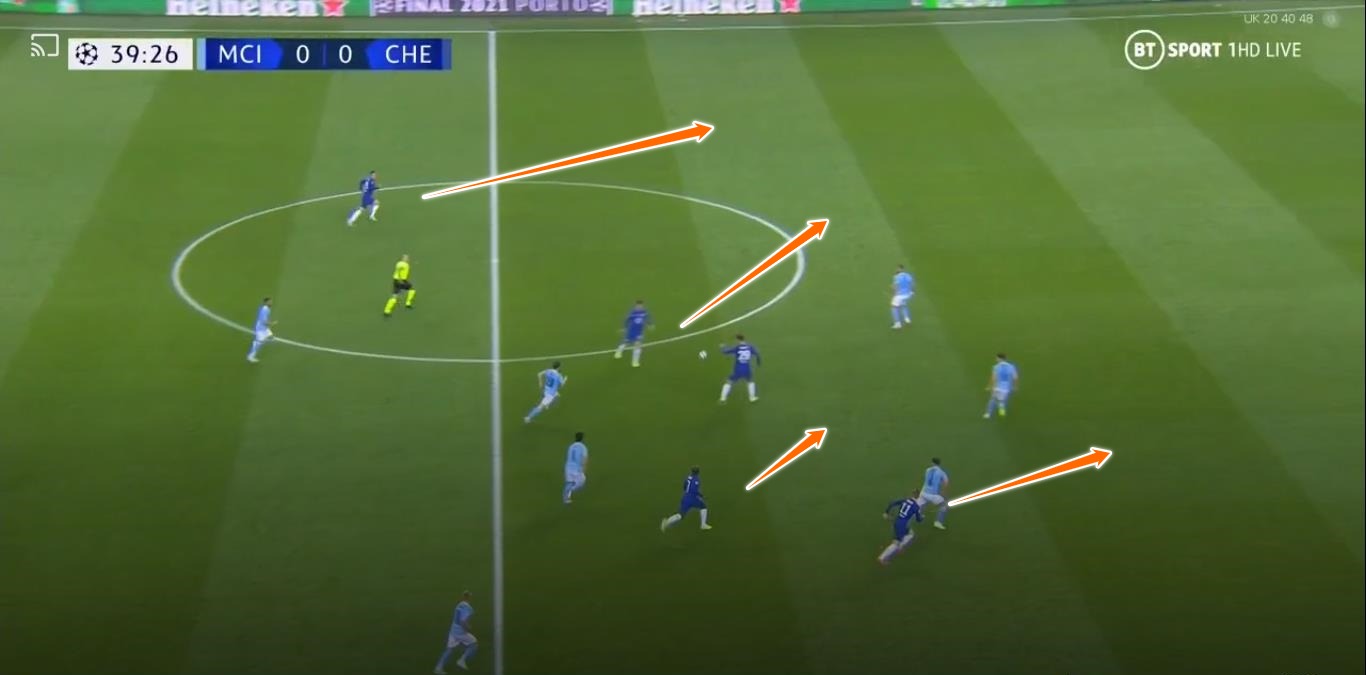 When Kante wins the ball you can see the gaps emerge, even if Bernardo Silva and Gundogan are closer, because Kyle Walker has had to shift over to make the shape at the back tighter, it has opened up space for Chilwell to gallop forward and cause a headache. 
You can see the wide space between Gundogan and the rest of the defence again as Chelsea this time, work the ball from a long sideways pass to Chilwell who releases Mount down the left with Havertz and Werner darting toward the box and Zinchenko left behind.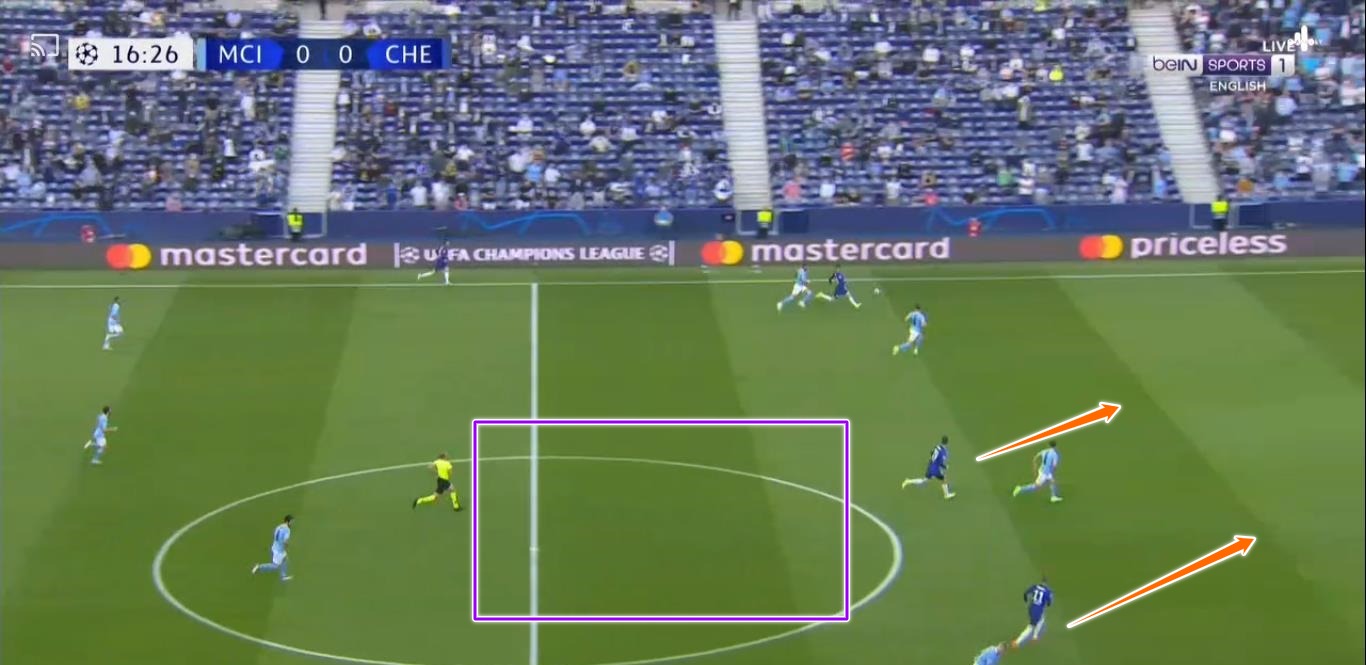 For the crucial goal Chelsea scored they did exactly as above, they worked the ball over to Mount with City scant in numbers and their being swaths of space he was able to take his time to measure Havertz's run and pick the pass, as well as Walker and Zinchenko trying to push up it means Zinchenko isn't goal side when tracking Havertz, Werner is pushing Dias out wide and Stones is attracted to the ball, there was just so much space for Chelsea to exploit in the center when they recovered the ball.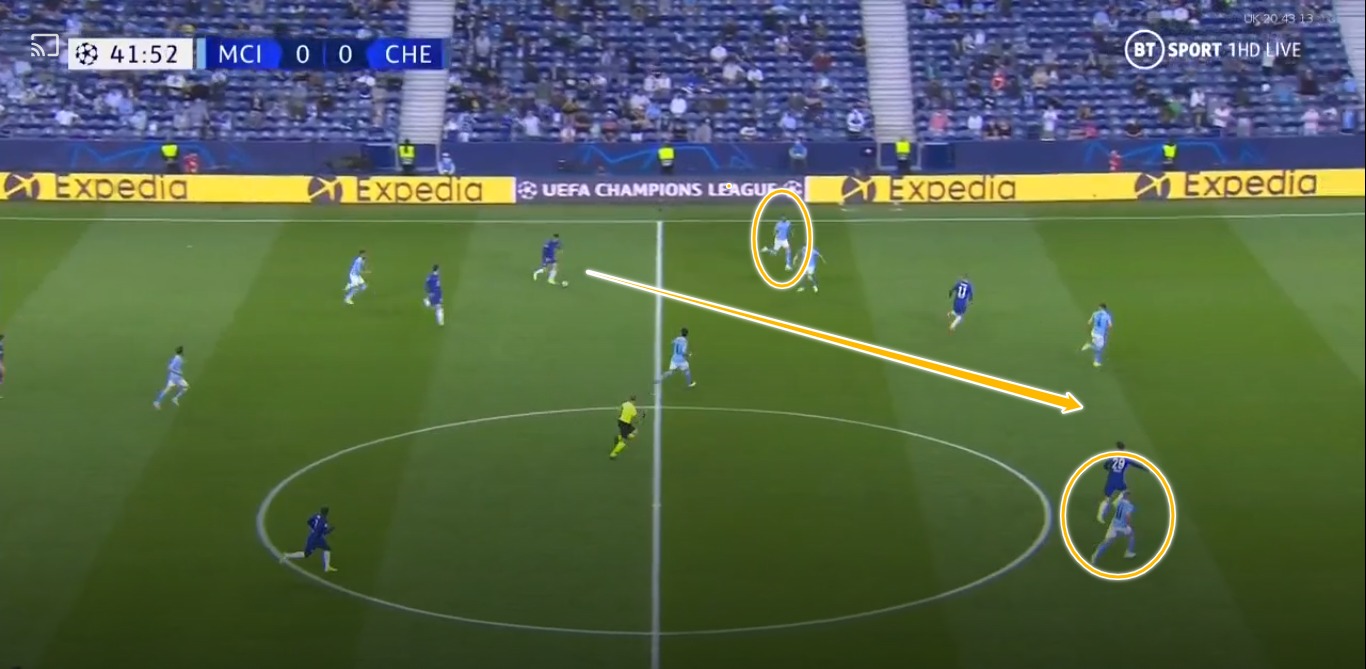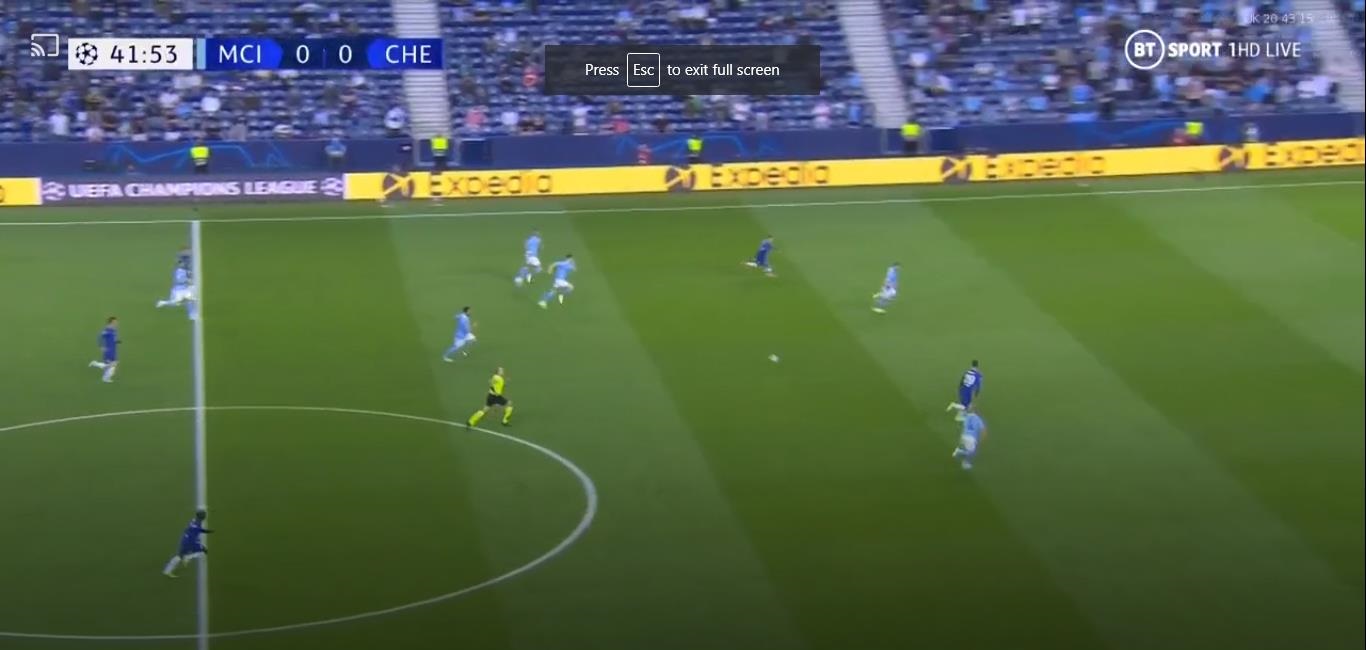 It was salient that City played such a high line without a defensive midfielder marshaling or providing protection in the middle, when you have dangerous midfielders like Mount and Kante who can release attackers after ball recoveries, Gundogan is not really the player you would want there. 
City did try to grab the onus more in the 2nd half and later stages in the game moving to something like a 3-2-1-4 system throwing Fernandinho on so he would play centrally in the 2 with Zinchenko whilst Foden tried to drop and pick the ball up as Mahrez (who is out of the picture) and Sterling stayed wide until Aguero was subbed on for Sterling so him and Gabriel Jesus offered the option of two strikers. Crucially though it was never enough, bar crosses into the box from wide which Chelsea snuffed out Chelsea were comfortable worthy winners.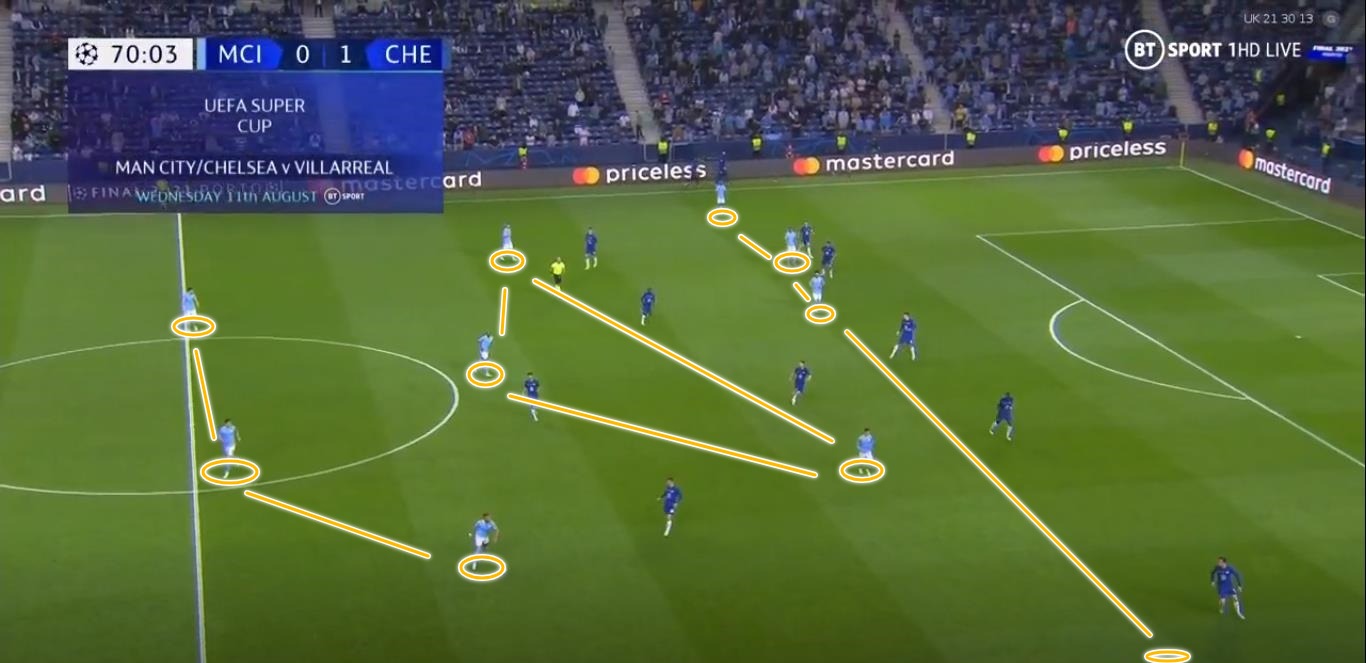 As 70 minutes clocked up, the camera panned to Guardiola etched with a look of despair and worry on his face, as he squinted at the board to see how much time was left, almost dreading that deep down he will rue the unnecessary tinkering to a City side that looked calmer than ever despite hairy moments against Paris and Dortmund.
If the idea was to try and blow away their opponents with relentless attack, Chelsea ensured that was never near the case. City are deserved Premier League champions that romped to the title not taking anything away from Guardiola or this side's brilliance, but I felt most of the Premier League never attacked or played the right way against them, when teams did (Chelsea, Man Utd, Brighton) you can see the results.
In spite of all the Guardiola discourse, there should be massive credit given to this well-drilled, tactically astute and relatively youthful Tuchel side with whom he has had a mere five months to work with. This could be the start of a new Chelsea dynasty. 
By: Dharnish Iqbal
Featured Image: @GabFoligno / Jose Coelho – AFP