How England Could Line Up Without a Recognised Left Back
Gareth Southgate's latest England squad selection has raised a few eyebrows for a couple of reasons. The first is there are no natural left backs in the squad despite Ryan Bertrand and Bukayo Saka being available.
The second is that the central midfield options are noticeably starker than usual. While Jack Grealish and Kalvin Phillips could be handed their first senior caps, Jordan Henderson, Harry Winks and Alex Oxlade-Chamberlain all missed out due to injury.
But Southgate's inclusions and omissions (peculiar as they may seem) point towards some sort of plan. So, I drew up a number of systems which the manager could use given his selection ahead of the Nations League games against Iceland and Denmark.
4-3-3 (5-2-3 in defence)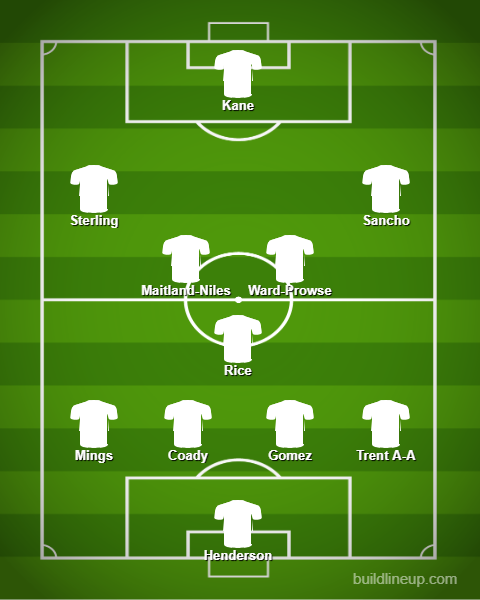 The first system Southgate could go for resembles a 4-3-3 on paper but is more of a 3-1-3-3 in attacking phases.
The lack of a natural attacking left back would be compensated for with Maitland-Niles playing as a makeshift left wingback to give England some thrust down this side. The Arsenal man performed well at left wing back for Mikel Arteta despite being right-footed and reportedly preferring to play in central midfield. 
By playing him on the left of a midfield three, Southgate can take advantage of the 23-year-old's ability to run in behind as an auxiliary wide player as he did to torment César Azpilicueta and Reece James in the FA Cup final.
This was a tactic which Arteta also implemented against Brighton where Bukayo Saka, a player who could thrive in this system, was listed as a central midfielder but played more as a left wing back to stretch the Seagulls' narrow and compact shape to penetrate the gaps that emerged.
With Raheem Sterling cutting into the left half space ahead of him, this would give Maitland-Niles the entire left channel to bomb up and down as he has done so impressively for Arsenal. 
Mings, as the only left-footed defender in Southgate's squad, fits well on the left of a back three and will find comfort in this role given his experience as a left back earlier in his career. The 27-year-old is capable of threading balls down the touchline to an advancing Maitland-Niles and would avoid telegraphing his passes inside as he would not have to awkwardly switch the ball on to his right foot.
The same applies for Joe Gomez on the opposite side but the Liverpool defender would benefit from the help of James Ward-Prowse operating on the right side of midfield as a no.8. If Iceland or Denmark opt for a low block marking Jadon Sancho, Trent Alexander-Arnold and Ward-Prowse, Gomez has the ability to drive forward with the ball from defence to commit markers and open passing lanes.
Conor Coady makes the most sense as the sweeper in England's back three as this was the role he performed so well in to earn Southgate's attention last season. The Wolves skipper was among the top ten centre backs in the league with the highest progressive pass distance and did so playing every minute of the campaign.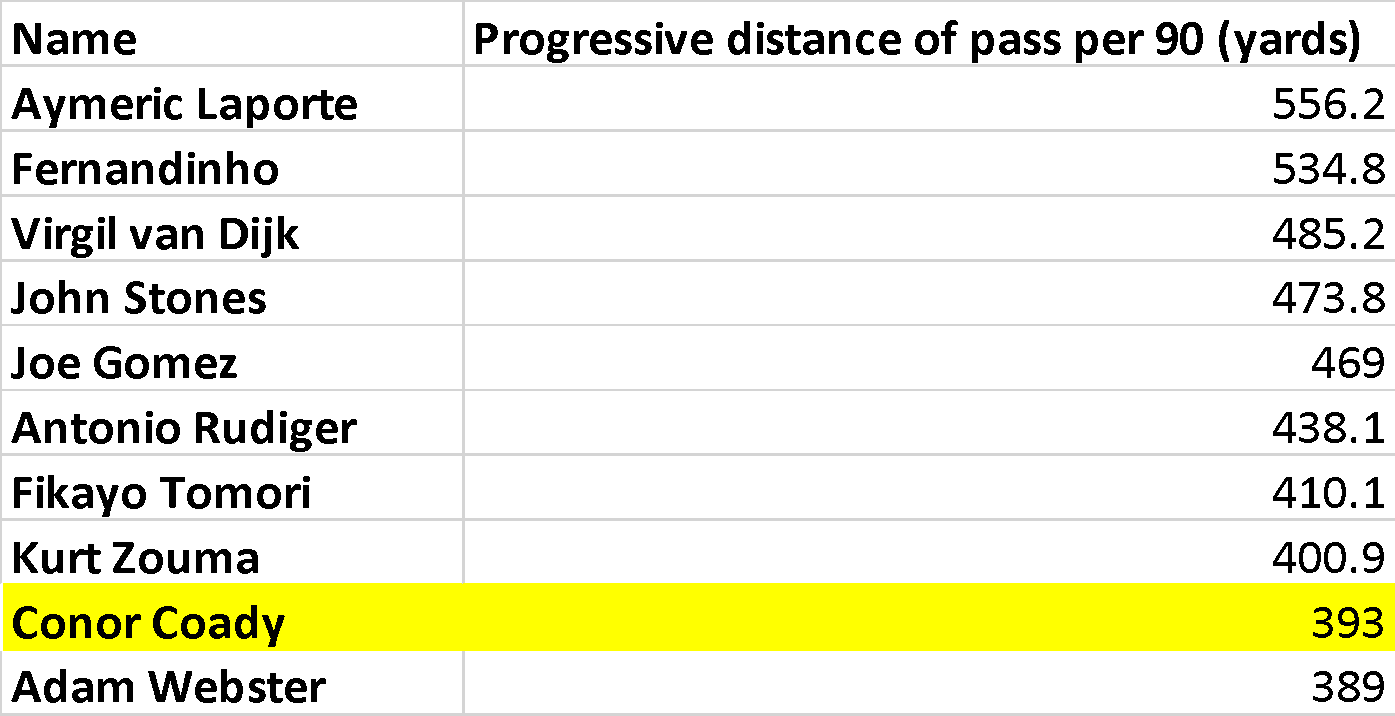 With Declan Rice anchoring the midfield, this would give England a diamond base in the first phase of build-up. If Iceland or Denmark's forwards decide to press in this instance (whether with a front three or two), there should always be at least one unmarked passing option. 
But if the opposition's midfielders join in to intensify their press, Maitland-Niles and Alexander-Arnold can stretch the pitch to provide a way out either by dropping deeper for a short pass or running in behind their defence.
Both Sterling and Sancho are perhaps two of the most gifted wingers in world football but their threats come largely as inside forwards, finding as much comfort going inside or outside their opposition full backs. Their reputations as England's most dangerous players will likely result in double-team treatment which could open up space for their teammates to exploit instead.
Of all the central midfielders Southgate has selected, James Ward-Prowse appears the most balanced option. The Saints captain made 5.89 progressive passes, 3.53 passes into the final third and 1.61 key passes (all per 90) as the most used player last season. He also ranks highly among Southampton's best pressers in Ralph Hasenhüttl's intense pressing system.
While this is a competent defensive return for a midfielder, Ward-Prowse played the majority of last season in a double-pivot alongside a more destructive partner in Oriol Romeu or Pierre Emile-Højbjerg – so he should find relative comfort in being partnered with Declan Rice in midfield.
In addition, the 25-year-old provides Southgate with another option for set pieces and is a terrific crosser of the ball – attributes which make England's right-hand side in this system all the more threatening. With the combinations he can strike up with Alexander-Arnold and Sancho to overload the right flank, Ward-Prowse is best placed to occupy this position in the system.
The front three is a more fluid affair. The only benefit from Rashford's injury for Southgate is that it gives him a clearer idea of who to start up front. Both Sterling and Sancho can be expected to switch wings throughout the match, drag their markers one way and then the next and run in behind whenever there is space to exploit.
With this, Kane will drift between the lines to link with James Ward-Prowse and Maitland-Niles, help feed through balls to the wide players and arrive in the box for the cross or cut back.
Three-Man Systems
Alternatively, if he prefers a more assertive approach, Southgate could line England up in either a 3-4-3 or 3-5-2, which helped England to a fourth-place finish at the last World Cup. The same principles would apply from the 4-3-3 but these systems pack more of an attacking punch.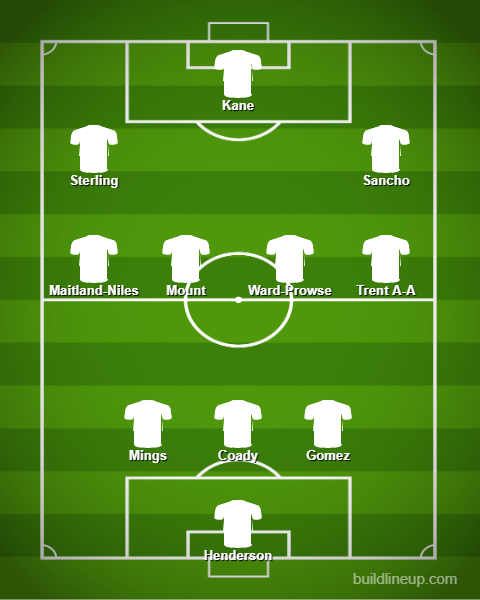 In the 3-4-3, Mason Mount would replace Rice as Ward-Prowse's midfield partner. Both are capable of progressing the ball, are diligent pressers and provide the technical quality necessary for such a crucial role in the hub of the team. The latter is a quality which Mount brings at the expense of Rice and adds a level of dynamism the West Ham player does not bring in a double pivot.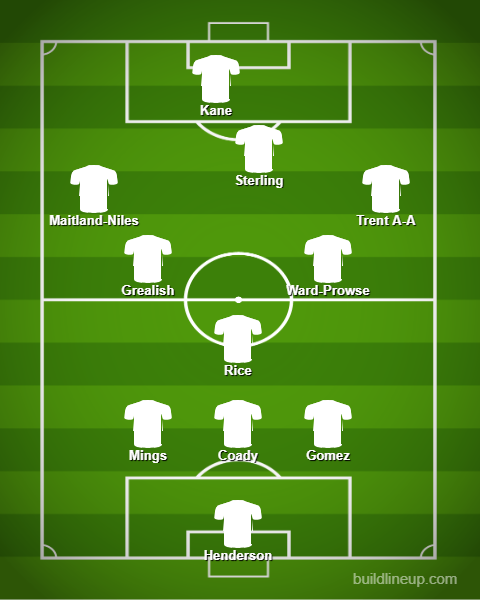 But the 3-5-2 would be the most ideal approach given the personnel at Southgate's disposal. With the introduction of Jack Grealish for Sancho, England could field the most balanced combination of midfielders their squad can generate with Grealish as an advanced no.8, Ward-Prowse as a box-to-box no.8 and Rice as the single pivot ahead of a back three.
Grealish also restores an attacking symmetry which the 4-3-3 lacked, allowing the Villa captain to combine with Maitland-Niles on the left in a similar way to Ward-Prowse and Alexander-Arnold on the right. A player as proficient a dribbler as Grealish is an asset to most midfields and he would add a directness which their other midfield options cannot match.
The benefits of this system are also easy to see when comparing it to how it was used during the 2018 World Cup. The two no.8s in Russia were Dele Alli and Jesse Lingard, players who should really be deployed as no.10s. With Ward-Prowse and Grealish, England now have no.8s who are more efficient with the ball and whose strengths complement each member of the midfield trio.
Further forward, Sterling's role just behind Kane would involve linking the rest of the team to the attack by picking up positions between the lines, in both half spaces and even deeper if need be. The front two could swap their positions as Kane is comfortable drifting away from the front line to thread passes through to his pacey attackers like Sterling.
However, given Grealish's late inclusion and the fact Southgate views him as a forward, it is unlikely he will thrust him straight into the starting eleven against Iceland or even Denmark three days later. Nonetheless, Southgate faces the unfavourable task of pulling together a cohesive team with missing parts and the 3-5-2 would be the best way to ameliorate his side's chances of winning despite such glaring gaps in the selection.
By: Ahmed Shooble
Featured Image: @GabFoligno