How Jürgen Klopp Dominated the Premier League: Liverpool 2019/20 Tactical Breakdown
On May 12, 2019, Liverpool missed out on the Premier League title by one point to Manchester City.
They accumulated 97 points, a total which in any other season (aside from 2018/19 or 2017/18) would be more than sufficient to win the title, but toppling over a Pep Guardiola dynasty is never an easy task.
But as they took a lap around Anfield for the last time that season, there was a feeling of desire and determination, not one of defeatism and misery.
This bump in the road would not falter their attitudes, but instead, motivate them to go the extra mile. They knew that, sooner rather than later, there would nothing in their way stopping them from achieving their dreams.
Finally, in the 2019/20 season, a culmination of five years of hard work came to fruition for Jürgen Klopp's Liverpool, who looked destined to win their first Premier League title in club history before the COVID-19 outbreak caused all of Europe's major leagues to suspend activity indefinitely.
Despite a quiet transfer window, Liverpool emerged louder than ever as the most dominant side in European football. Over the 12 months, they haven't merely beaten the rest of the opposition; they've decimated them.
In this tactical analysis, we will break down Klopp's side and analyze what made them so special in every phase of the game, from their dynamic solutions in the build-up, to attacking philosophies, incredible set pieces, and out of possession principles. 
Formation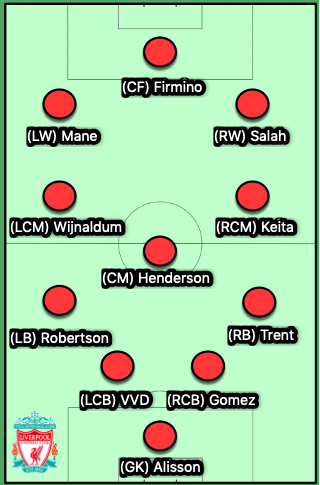 Build-up
Starting off from the back, what makes Liverpool different from the rest is just how dynamic Klopp is in his approaches in the build-up phases.
He has many different solutions to different problems that are posed to his team by opposition coaches, and his squad is flexible enough to execute them. 
When the opposition commits to pressing Liverpool, they usually look to eliminate vertical passing options and force them wide.
In turn, this forces them to pass all the way back to the goalkeeper, who would then be forced to play it long. However, this does not play out the way opposition coaches would hope. 
One of Klopp's solutions is to utilize the goalkeeper as an extra passing option, almost as an extra defender.
What's important here is Alisson's positioning: if he received the ball closer to goal he would be easily pressed.
But instead, he positions himself as a outfielder would, creating numerical superiority against the opposition in the first line of pressure, making a 3v2.
The two center backs split wide, making it difficult for them to be pressed as the ball moves through the players and allowing the fullbacks to come forward and provide balance in width, further stretching the opposition press and pinning the opposition wide players back.
This also allows them to maintain numerical superiority in midfield as they do not have to sacrifice a midfielder dropping into the defensive line.
Most opposition presses cannot account for three midfielders, especially against a 4-4-2 press which most teams utilize.
As you can see in the image below, this is executed perfectly. Joe Gomez has time to dribble after he receives it, as the Atletico press shifts toward him and Trent Alexander-Arnold pushes forward to vacate space for Gomez to carry the ball into.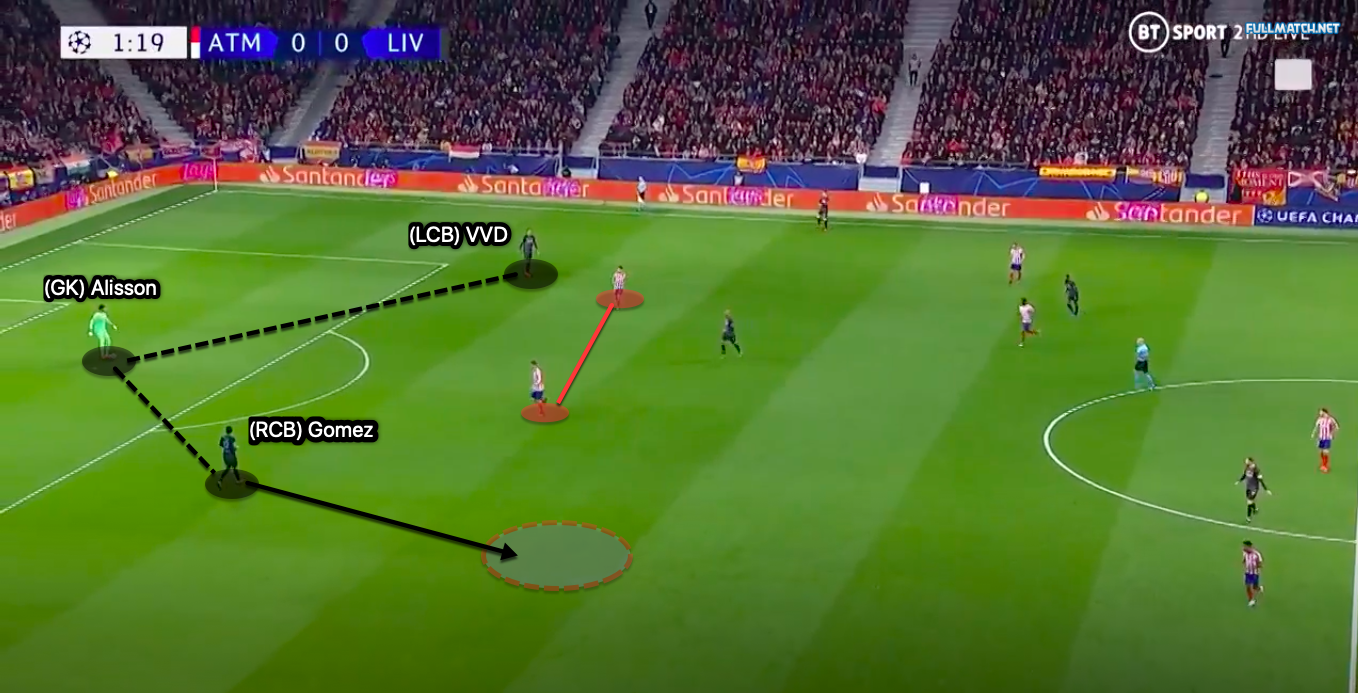 Another solution through short passing is the implementation of a diamond pattern. This facilitates a few in-possession principles that Klopp has, allowing access to quick switches of play and getting the fullbacks into space.
This diamond seen below features two center backs and two midfielders. By creating numerical superiority against the first line of pressure and giving every player two passing options, Liverpool can move the ball around with ease around the diamond.
It also provides the cover for the fullbacks to go forward, as seen with Alexander-Arnold allowing for balance of width in Liverpool's attacking shape.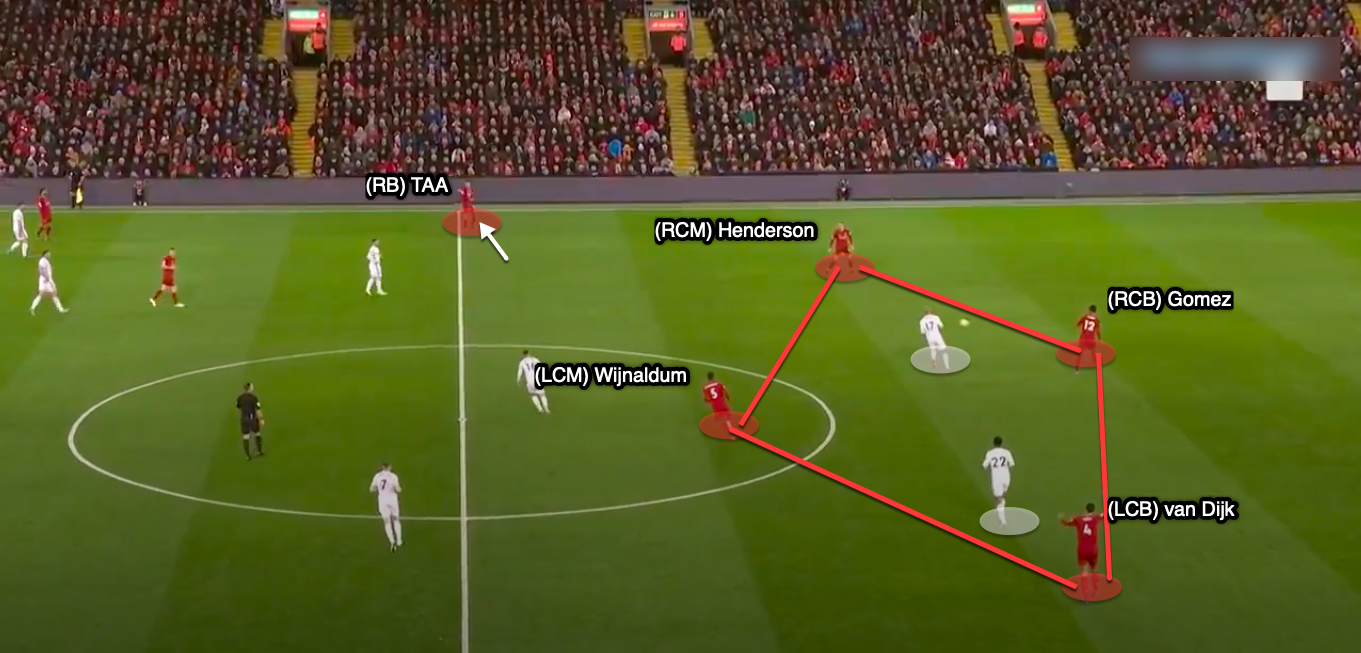 They are also  dangerous when they decide to be more direct during this phase, and when their methodical build-up lures rival players into Liverpool's half, they fully take advantage of this.
Virgil van Dijk or Alisson usually initiate this with their great passing range. In one pass, they can bypass multiple lines of pressure and immediately put the opposition into defensive transition.
This subsequent phase is executed perfectly through the positioning of forwards and midfielders, as one midfielder, often Alex Oxlade-Chamberlain, Naby Keita or Jordan Henderson joins the attacking three to create a numerical advantage against the back-peddling defenders, who have no support from their midfielders and no time to assess the situation at hand.
Seen below, Manchester United committed their midfield and four other players to their press. This then left their defensive line in a 4v4 when their press was bypassed through this solution.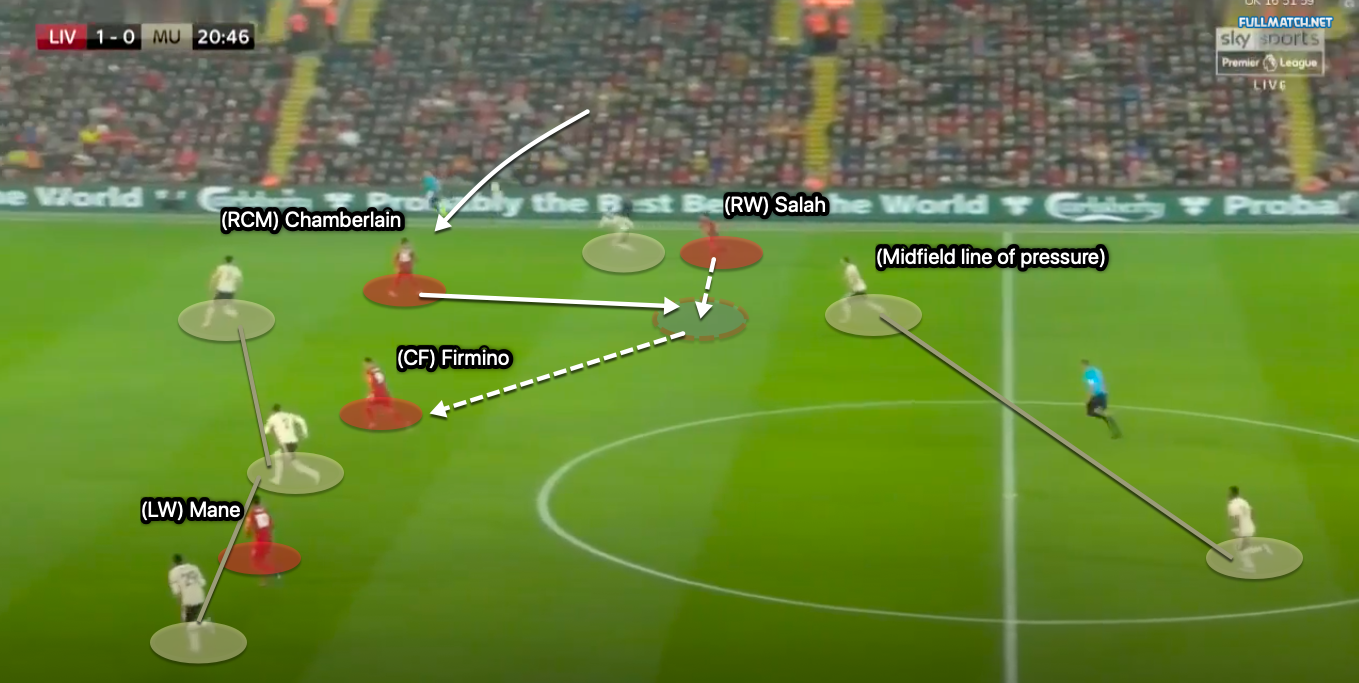 What happens when they are facing a 4-3 press from a 3-4-3, rather than a 4-2?
One of the midfielders drop into the defensive line and a fullback stays behind, sacrificing numerical superiority in the midfield.
Although they would have a 3v2 in the midfield, it would be tough for the defenders to play through a 3v2 disadvantage. This then creates a back four, as seen below. This forces Liverpool's forward to charge forward and provide width, which now creates a 2v1 situation on the flank with Mohamed Salah.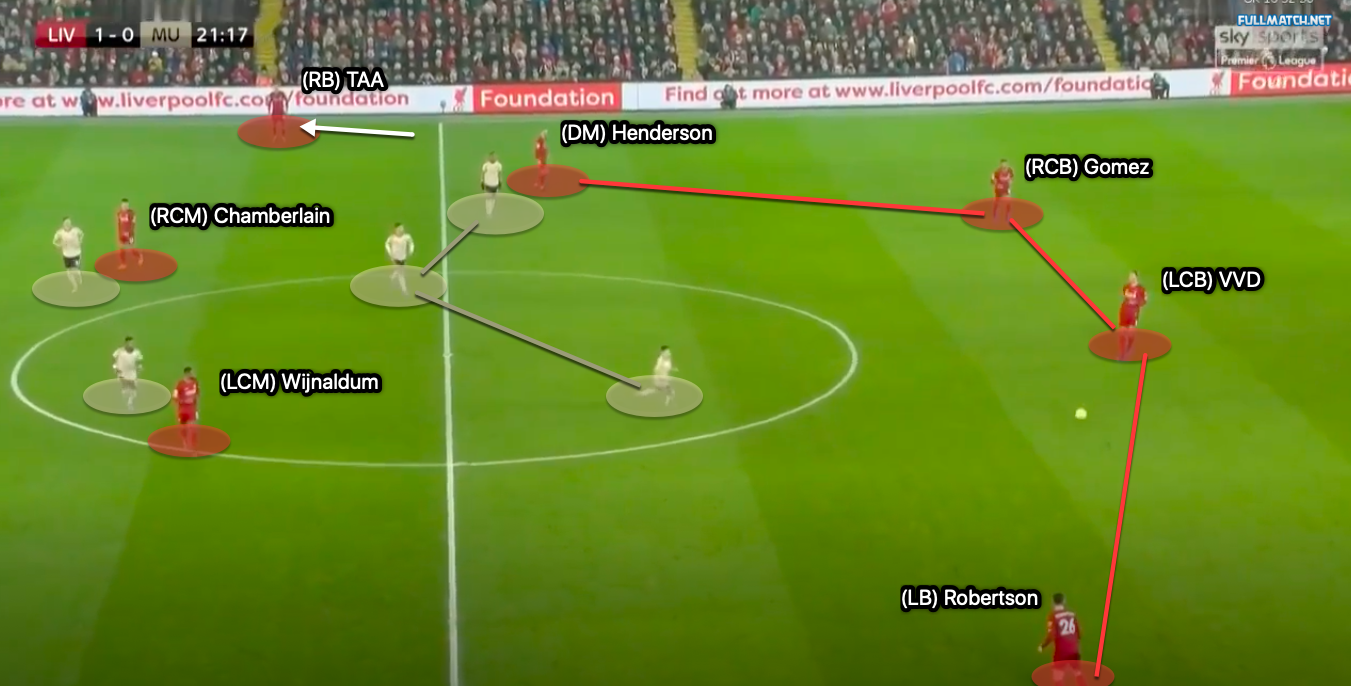 Liverpool can still maintain their numerical superiority in midfield through Roberto Firmino dropping back.
Although Klopp didn't opt for this option in the game against Manchester United, Firmino's tactical intelligence can be a huge value to the team as it gives them a vertical option and more numbers in the central zones when playing through a press.
The Brazilian's movements can drag a defender away from his position altering the opposition defense while creating a 3v2 in midfield against the opposition 2 man midfield press.
The off the ball movements of the Brazilian contribute to an unbelievably dynamic set of solutions for the German coach.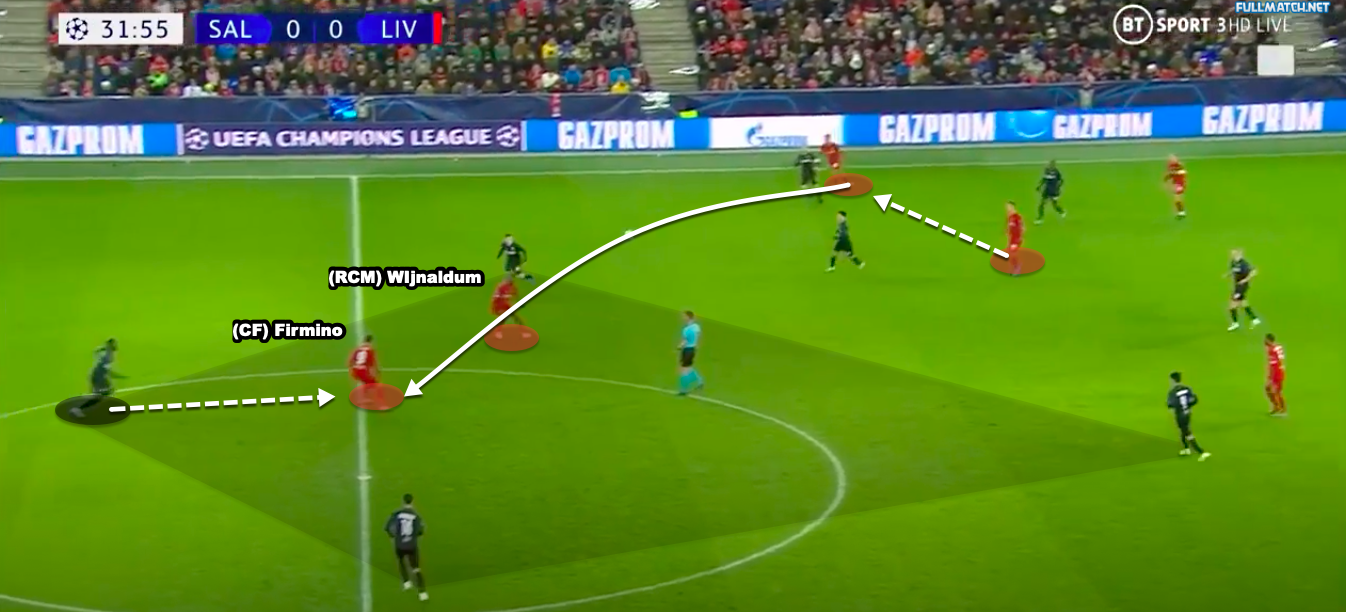 Attack
Klopp wants Liverpool to attack the opposition as quickly as possible. This means that teams have less time to shift from side to side on a switch of play, process what's happening around them, or in the case of defensive transition, have time to settle into their defensive shape. 
They achieve this via micro-tactics, finer details that amount a larger idea, and in this case, attacking the opposition at a high tempo. By attacking at high tempo, Liverpool gives teams less time to shift from side to side and plug up space.
Thanks to the team's quick switches of play, the team's attacking structure provides a balance of width no matter where the ball is.
One common sequence is the fullbacks switching play through a long ball. This happens when opposition look to crowd the ball-near side and prevent space in wide zones.
Fullbacks Trent Alexander-Arnold and Andrew Robertson have exceptional passing ranges, and they commonly execute these switches of play to each other when they spot the opposite in space across the pitch. 
In the example below, Red Bull Salzburg are closing down on Robertson in the left flank, who does not have any good short passing angles. If he opted for one, it would most likely result in the possession ending in a turnover.
So instead, he looks for space, and finds it in his opposite fullback and executes the switch of play.
This then leaves Salzburg's left-back in a 2v1 against Salah and Alexander-Arnold with acres of space to work in. Liverpool can then instantly progress toward Salzburg's penalty area and the shape does not have time to shift to prevent a penalty entry.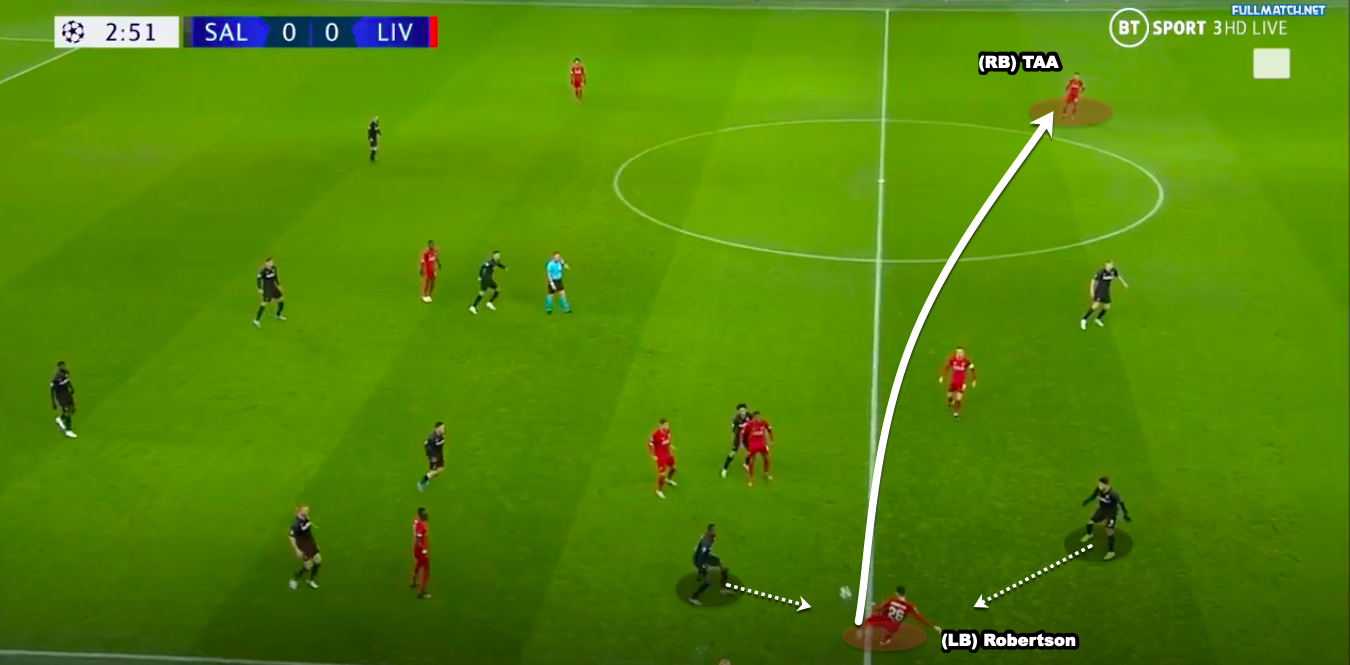 The 4-3-3 morphs into a 2-4-4 of sorts once the ball is in the attacking third.
A wide midfielder and forward will occupy a wide zone with a fullback pushing forward. If there is no space as the opposition look to crowd the ball-near side, the midfielder and center back will be positioned cleverly to receive the ball in a position in which they can then move the ball to the opposite side of the pitch.
This contributes to the idea of playing at a high tempo to always be attacking the opposition through space as they constantly look for the gaps on the pitch. 
Below is their season's attacking zones percentages. As you can see they primarily operate in the wide zones 74% of the time when attacking the opposition half.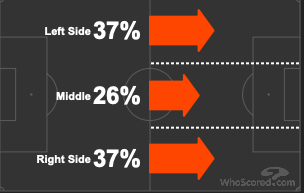 Some would say that the attack is fullback-focused. Alexander-Arnold has 14 goal involvements, and on the opposite flank, Robertson has eight.
When the fullback is found in space inside the attacking third, they look to produce a goal-scoring opportunity through crossing.
Inside the box, the front three becomes very narrow and looks to make runs to get onto the cross.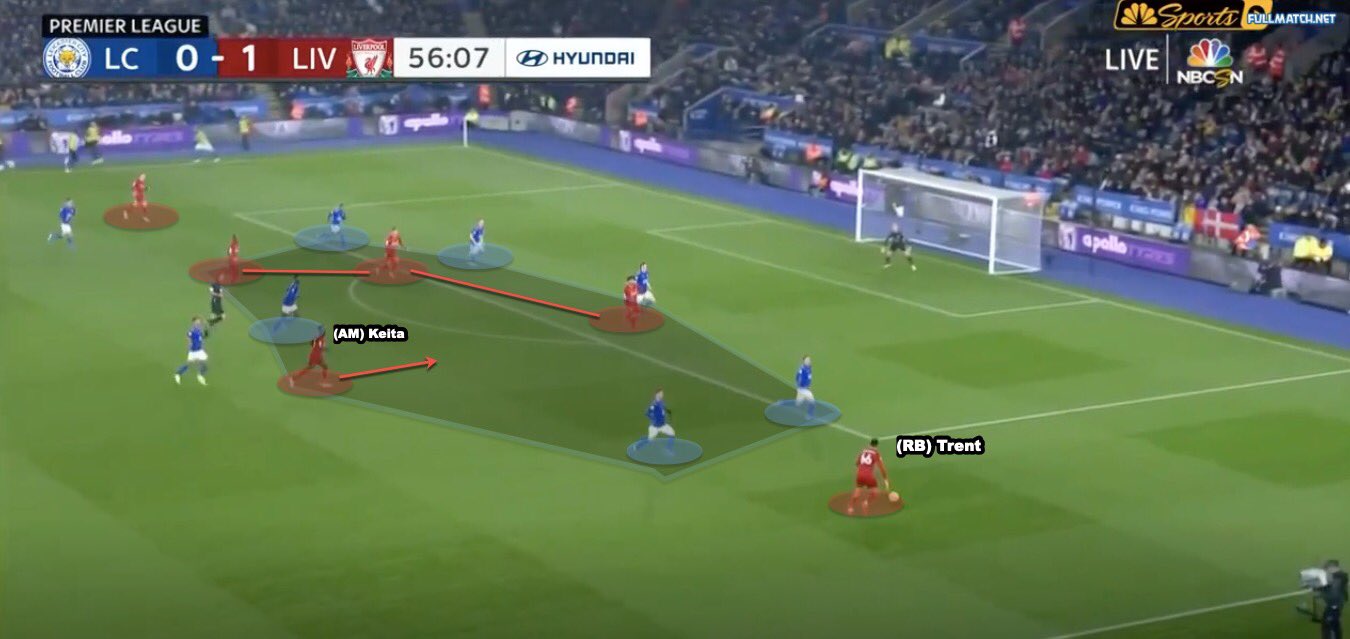 A midfielder will make a run to the edge of the box. This way, they can win any potential clearances and again retain possession to start another attack.
They've executed these sequences with great success as it has brought out the best in their forwards on an individual level. Mohammed Salah has scored 16 goals and Sadio Mane has 14, with a 0.62 xG90 and 0.54 xG90 respectively. 
Pressing:
Pressing and Klopp have always been two intertwined words.
Coming from Germany with a reputation for deploying an intense high press, Klopp has tweaked his definitive style into a much more controlled press.
Since arriving, his team have never topped the charts in passes allowed per defensive action in the opposition half. It's not intensive, but detailed and dynamic, with various solutions to various scenarios, and opposition tactics similar to their buildup play. 
Liverpool press in a 4-3-3 shape with the goal of controlling the opposition passing angles and options.
The 4-3-3 allows for a lot of dynamic solutions and traps. Whether the opposition are building at the back with 2 or 3 in the defensive line, they cannot achieve numerical superiority against Liverpool's first line of pressure.
Against a back three, the wide players can press one of the wide players in the defensive line, which in turn can create a cover shadow against the opposition fullbacks.
In most sequences this results in the opposition being forced to pass backwards or opt for a long pass. The 2nd line of pressure, made up of the three midfielders, is option-oriented depending on where the ball is.
As the ball shifts, the second line shifts side to pressure players receiving the ball in wide zones.
In some cases like against Leicester City, the opposition manager will commit many players to try and play through the press which sees them struggle to connect passing sequences together once they progress into the attacking third as they are in significant numerical disadvantages. 
Here against Wolves in this example, they create a back four, utilizing their goalkeeper in an attempt to create numerical superiority against Liverpool's first line of pressure cleverly using the goalkeeper.
But the option orientation of the second line of pressure pays dividends, as the right sided central midfielder is initiated to press forward then equalizing the numbers and creating a cover shadow against the passing option of Joao Moutinho, leaving Wolves with no short passing options.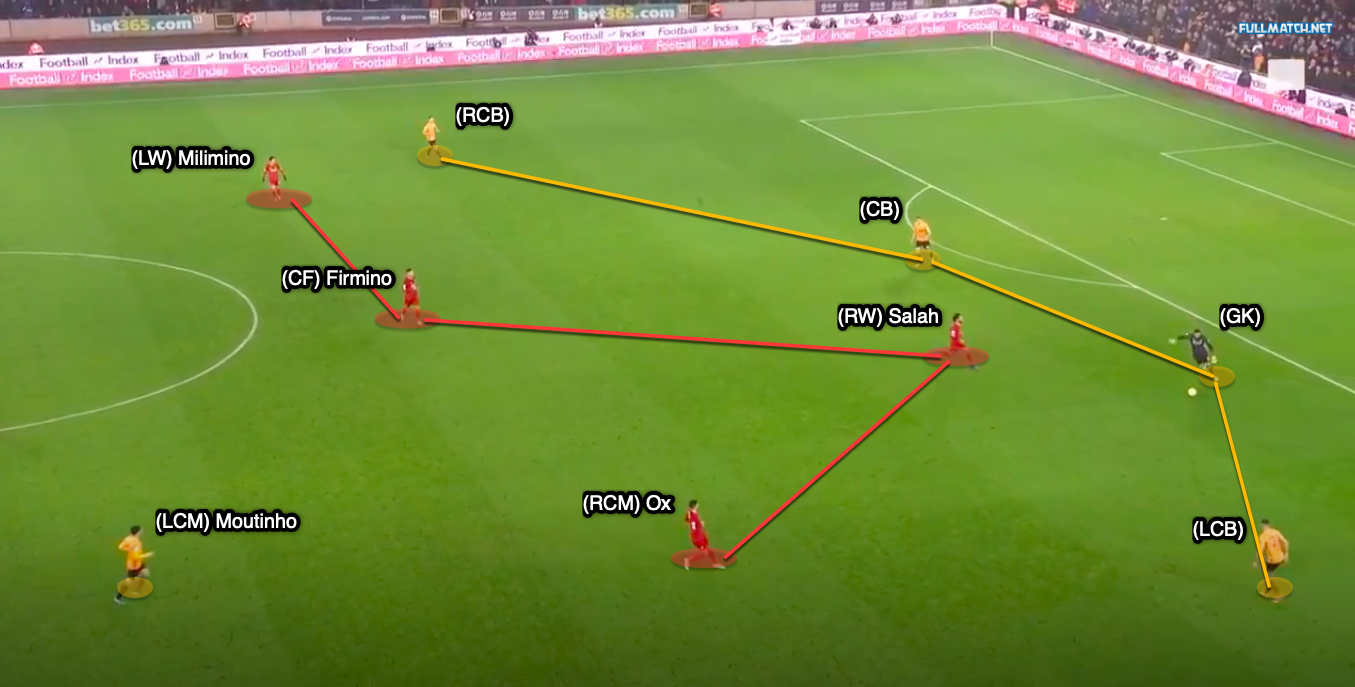 Out of possession
Just like their offensive advanced metrics, since Jürgen Klopp took over it has been nothing but improvement.
In the 2017/18 season they had an xGA of 35.75 but now boast an xGA of 28.99 this season the second best only behind Manchester City.
They move into a 4-4-2 shape in their defensive third like many teams do. But their structure and principles are more detailed than most.
It is a "all hands on deck" approach as every player has a role and responsibility. 
Through analysis, we can break down some of the pieces of this structure. In the wide zones usually most teams leave a wide player and fullback to defend, sometimes resulting in a team being able to create wide overloads against them.
In Liverpool's case whichever side the ball is one dictates which forward assists in preventing an overload. In this case it is Roberto Firmino comes over to their left flank making a 3v2 against Wolves as they look to attack this space.
If Adama Traoré looks to try and create a new passing angle or option for the wide players, Milner is tracking him and his movements. 
If Wolves somehow create a solution, the back post is covered as well as Pedro Neto is in a 2v1 situation himself and would not be able to get onto the end of a cross inside the box.
Raúl Jiménez is also starved for space if an entry was created in their box as both center backs are occupying him, with additional support from Jordan Henderson.
A switch of play through the midfield is also covered through the other striker as Salah occupies the passing option to Moutinho. Which then leaves their options to pass backwards and Liverpool are given an opportunity to move back into their press.
With such organization and commitment from the 10 outfield players, it's easy to see why clubs struggle to create solutions in the Red's defensive third. 
Set pieces
In the 2018/19 season, Klopp initiated an overhaul of the club's set piece routines as he looked for a way Liverpool could gain an advantage in this area of their tactics.
Peter Krawietz, a member of the coaching staff analyzes the opposition searching for potential areas to exploit. The day before a game they implement these set pieces into their training.
The hard work has paid off as the team with the most points also have the most set pieces scored.
The highest goalscorer outside of Liverpool's famed front three is surprisingly center back Virgin van Dijk, whose output is a product of this work (not to discredit his own abilities). 
Their set pieces follow the theme of this Liverpool team being dynamic and making multiple solutions for success. We can see this in their goal from a corner against Wolves in the Premier league. 
Wolves defend corners with a mix of zonal and man-marking, with four players tasked with occupying the six yard box and another four at the top of the box going man-for-man.
Liverpool in this sequence look to create separation to markers moving toward the penalty area and back-post. They achieve this through multiple movements around the four at the top of the box.
Wijnaldum firstly leaves his marker and runs toward Moutinho who is occupying the run toward the penalty area. Virgil van Dijk then begins to move toward the marker left by Wijnaldum, with Henderson following him. 
The Dutch center back then makes a movement toward the opposite direction while Henderson continues to surge forward unmarked.
This change of direction from van Dijk leaves the defender in a terrible position, where his body orientation doesn't allow him to be able to see the ball if he moves toward the back post and Henderson is already at full speed moving the other way.
The delivery could have gone to either of the two, showcasing the dynamism in this routine but it would go to the penalty area where Henderson was unmarked and unmatched.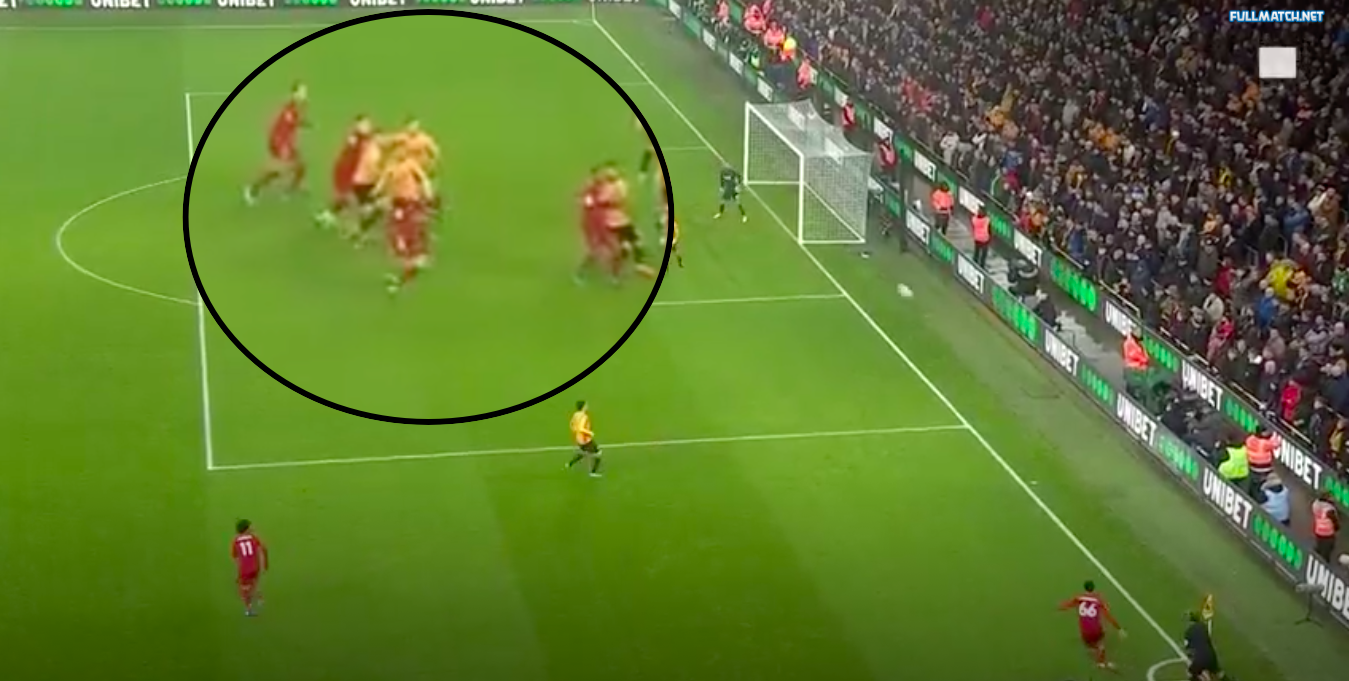 Conclusion
Klopp has said in many interviews that when a player asks a question, you must have the answer. With this Liverpool team, it certainly seems like he has all the answers.
Liverpool did not dominate expected goals tables. They didn't have overwhelming and complex passing sequences orchestrated with flair.
But with Klopp and his coaching staff, they have looked toward the finer details and seemingly look to have an unlimited number of solutions to tactical problems they face on the pitch across their various and unique challenges up and down the Premier League. 
By: Craig Moniz
Photo: Gabriel Fraga